Back to german article
Amazon Prime Deal Days 2023 - 40 percent off Outdoor, Camping, Bushcraft, and Survival Equipment.
Get great outdoor deals with up to 40% discount during the Amazon Prime Deal Days in October 2023. Affordable offers for camping, bushcraft & survival.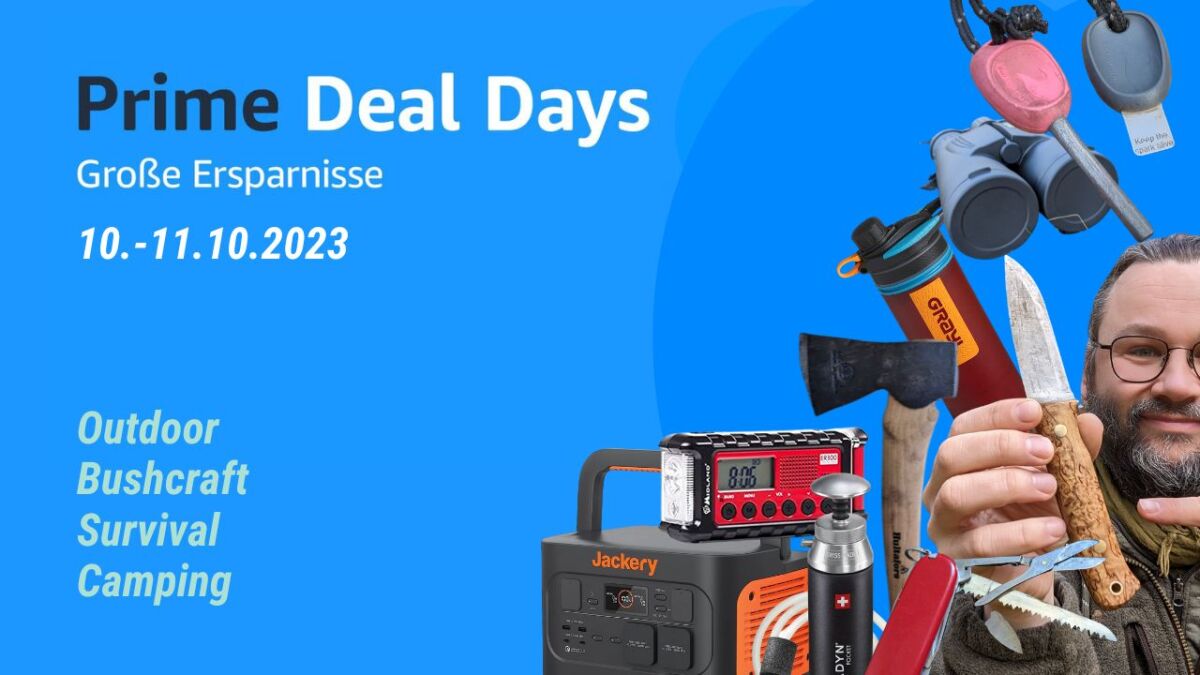 ---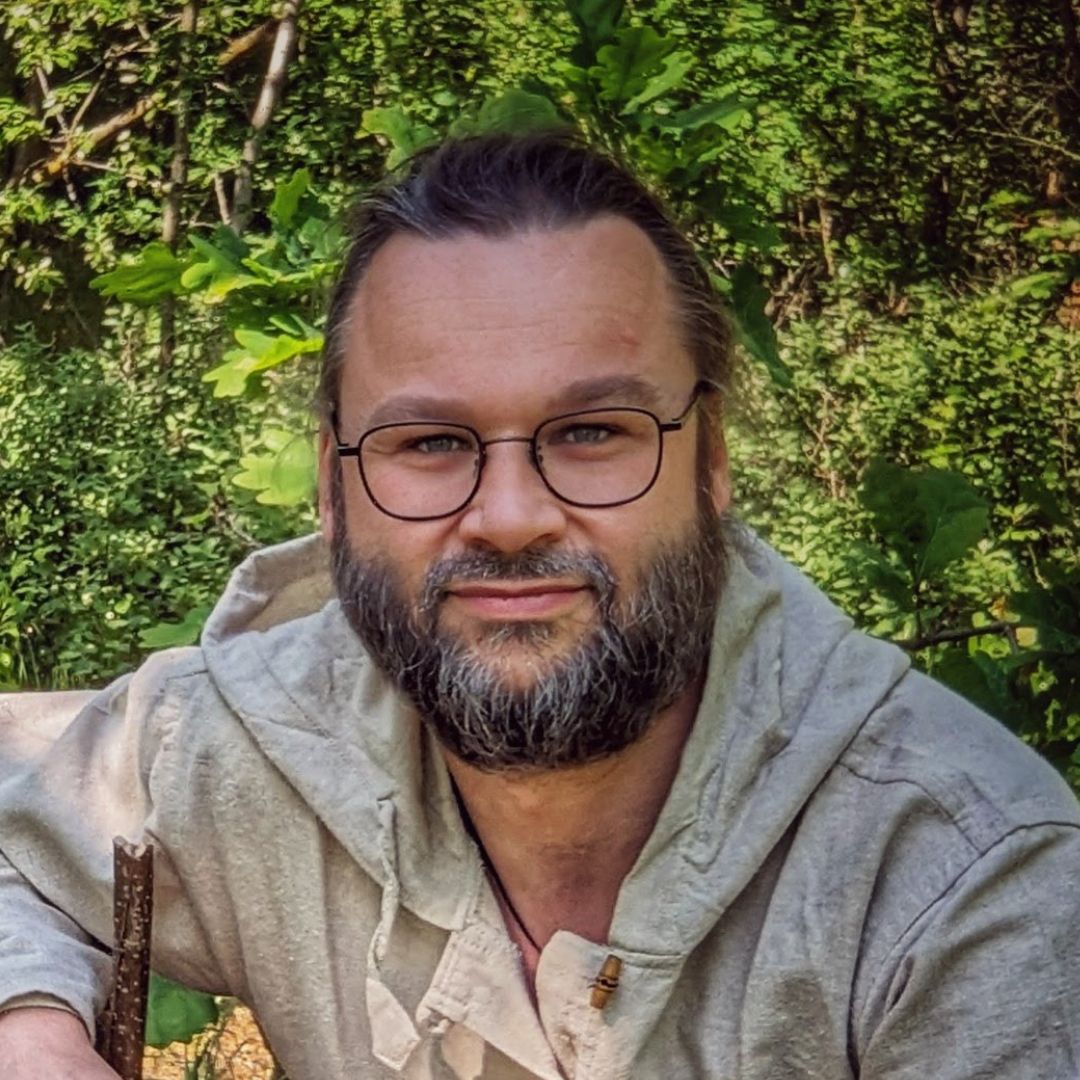 ---
👉 The key facts from this guide
The Amazon Prime Deal Days (10-11.10.2023) offer great discounts on outdoor equipment.
There are affordable offers for tents, cookers, fire starters, and more.
Up to 40% off on well-known branded products.
Perfect for upgrading camping gear.
Act quickly, the stock is limited.
All top deals in a clear list.
The Amazon Prime Deal Days on October 10th and 11th, 2023 are a real highlight for outdoor enthusiasts.
In addition to attractive offers from many product categories, there are also great bargains and discounts to discover in the outdoor equipment and leisure articles section.
The Prime Deal Days from Amazon are the perfect opportunity to stock up on your camping equipment, get new gear for trekking tours, or buy special gadgets for your next adventure - all at particularly low prices.
No matter if tents, sleeping bags, backpacks, stoves, knives, or other camping utensils: Amazon offers a wide selection of products from top brands.
Especially great is that the LIGHT MY FIRE Feuerstahl Outdoor Scout or the GO!elements 100 m Paracord are on sale.
With discounts of up to 40 percent, outdoor enthusiasts can make great bargains here and update their equipment just in time for the next vacation season.
Amazon Prime Deal Days 2023: These offers are worth it
I have created a clear list for you with all the offers. Let's get started right away.
Product
Old Price
Discount
New Price

Tents and Tarps

Coleman Waterfall 5 Deluxe Family Tent, 5 Person Tent
€399.99
-27%
€292.99
Unigear Rainwater Cover, Tarp Rain Fly
€49.99
-41%
€29.59

Cookers

Campingaz Base Camp Compact Outdoor Cooker
€44.99
-27%
€32.89
Camping Cooker Set: 1-Burner Gas Cooker with Piezo Ignition, Including Carry Case and 4 Cartridges
€31.95
-41%
€18.95
Odoland Camping Cooker 3500W Gas Cooker with Piezo Ignition
€39.99
-41%
€23.79
Solo Stove Titan Camping Cooker
€109.99
-20%
€87.99
WALTER Portable Cooker, Gas Cooker, Camping Cooker
€39.90
-16%
€33.50

Fire

LIGHT MY FIRE Outdoor Scout Firesteel
€15.00
-25%
€11.25
LIGHT MY FIRE Outdoor Army Firesteel
€23.00
-25%
€17.25
BUSHGEAR Black Steels Firesteel - XXL Firestarter
€19.90
-32%
€13.47
BUSHGEAR Woodz Firesteel with Handmade Handle
€11.90
-34%
€7.90

Rope

GO!elements 100m Paracord
€34.99
-15%
€29.74

Water

Bachgold® Professional Outdoor Water Filter Bottle [650ml]
€59.99
-20%
€47.99
LifeStraw® Personal - Personal Water Filter
€22.46
-38%
€13.99
Waterdrop Outdoor Water Filter
€32.99
-22%
€25.64

Lights

Ledlenser ML4 Warm Light LED Lantern
€39.90
-36%
€25.66
klarus HM1 440 Lumen Rechargeable Gesture Sensor Headlamp
€24.95
-16%
€20.96
OLIGHT Perun 2 Mini Cold White LED Headlamp 1100lm
€77.95
-30%
€54.56
OLIGHT I3T EOS Mini LED Flashlight 180 Lumens
€21.95
-25%
€16.46
OLIGHT Perun 2 Headlamp with 2500 Lumens
€107.95
-25%
€80.96
OLIGHT S2R II Rechargeable LED Flashlight 1150 Lumens
€66.95
-30%
€46.86

Shovels

Fiskars Folding Spade for Campers and Mountaineers
€57.95
-33%
€38.79
YOUNGDO Folding Shovel 10 Functions, Multifunctional Folding Shovel
€39.99
-30%
€27.99

Solar

BigBlue 28W Portable Solar Charger 2-Port USB
€100.00
-40%
€59.99

Sleeping Mats

HIKENTURE Camping Sleeping Mat Small Pack Size
€49.99
-34%
€32.99
Self-Inflating Camping Mattress with Memory Foam
€97.80
-16%
€82.28
KingCamp Self-Inflating Sleeping Mat
€89.95
-17%
€74.95
Naturbummler ® Camping Sleeping Mat
€41.95
-29%
€29.71
KESSER® Camping Mattress Sleeping Mat
€26.80
-19%
€21.80
Grand Canyon Hancock 10.0 XW
€139.95
-40%
€84.00

Multitools

DRAGON CREEK Camping Axe Multitool
€39.00
-19%
€31.49
12 in 1 Camping Accessories Multitool
€29.99
-43%
€16.99
BIBURY 18 in 1 Pocket Tool
€30.99
-37%
€19.38
BIBURY 18 in 1 Pocket Tool
€21.99
-19%
€17.76
morpilot 25 in 1 Multitool
€16.99
-15%
€14.44

Clothing

DANISH ENDURANCE 3 Pairs Merino Hiking Socks
€49.95
-32%
€33.95
BALIGO 3-in-1 Multipurpose Rain Poncho Waterproof
€15.95
-20%
€12.76
Naturehike Down Socks Winter Ultralight Anti-Slip
€29.99
-20%
€23.82

Axes

Fiskars Universal Axe, Solid, with Blade and Transport Protection
€43.99
-32%
€29.99
Fiskars Axe Set, Universal Axe: Including Blade and Transport Protection
€58.99
-35%
€38.09
RAGON RIOT Axe Survival with Sheath
€44.99
-19%
€36.54

Saws

THORVALD Folding Japanese Saw 240mm
€26.90
-35%
€17.43
AIRAJ Saw (250mm), Camping
€12.99
-20%
€10.39
Fiskars Plus Folding Saw, for Thick Logs and Branches
€36.99
-18%
€30.49
Japansäge Klappbar, GLORITY 140mm Handsäge mit Doppelkanten
€21.99
-23%
€16.99
HARDTWERK Folding Saw ALPHA.130 (210mm)
€21.99
-23%
€16.91

Knives

Fiskars High Performance Knife with Holster
€17.99
-16%
€15.19

Cooking

Bestargot 750ml Titanium Cup Camping Pot Outdoor Mug with Insulation Bag
€50.00
-36%
€31.99
Bestargot Camping Titanium Pot Cup Mug Outdoor, 750ml Max French Press
€49.99
-41%
€29.59
Odoland Camping Cookware Set for 1-2 Persons
€42.99
-15%
€36.54
ZIMAIC Stainless Steel 5-in-1 Folding Cutlery Camping Cutlery
€14.99
-20%
€11.99
Odoland Cooking Pot Set for Camping, 10 Pieces, Camping Kitchen Utensils, Aluminum
€43.99
-15%
€37.39

Backpacks and Bags

VAUDE Ifen 19 Liter Hiking Backpack, Waterproof Backpack for Women & Men
€69.22
-11%
€61.51
OneTigris Tactical Waist Bag, MOLLE EDC Bag
€25.99
-15%
€22.09
Tatonka Norix 32l Hiking Backpack
€120.00
-33%
€79.99

Camping

KESSER Folding Camping Table
€84.80
-30%
€59.00
Tatonka Stainless Steel Bottle Steel Bottle Premium (500ml / 750ml / 1000ml)
€24.50
-10%
€21.99
Stanley Classic Legendary Thermos Flask 1.9L Nightfall
€74.95
-37%
€46.99
Excellent opportunity for adventurers and nature lovers to stock up on their equipment
The Amazon Prime Deal Days 2023 once again delivered impressive discounts and offers, especially in the areas of outdoor, camping, bushcraft, and survival.
With discounts of up to 40 percent, it is an excellent opportunity for adventurers and nature lovers to stock up on their equipment or equip themselves with new, high-quality products.
I hope that there is something beautiful and valuable for everyone who is following this special sale, which will accompany them on their future adventures.
And, did you find something for yourself? Please let me know in the comments.

Since this is a gear guide, here ...
---
🤝

8 reasons to trust my recommendation
Practical Experience: I have tested most of the products I recommend under extreme conditions myself.

Independence: As a wilderness mentor, I am not tied to any specific brands - this means my recommendations are unbiased.

Expertise: My many years of experience allow me to understand the intricacies and details of various products that a layperson might overlook.

Target group understanding: I understand the needs and challenges of outdoor enthusiasts, from beginners to seasoned experts.

Quality focus: I attach great importance to quality and longevity. These are characteristics that are crucial in the wild.

Clear communication: I try to explain the pros and cons of each product clearly and understandably so that you can make an informed decision.

Currentness: I always keep my guides up to date and adapt them to new findings or products.

Community Feedback: I work in wilderness schools, teach courses myself, attend courses and am active in various outdoor and survival communities and therefore integrate the feedback and experiences of others into my recommendations.
So when I introduce the best survival knives or flashlights, you can be sure that every recommendation is based on solid experience and extensive knowledge.
Was this guide helpful?
15 people found this guide helpful.
5.00 out of 5 points (15 Ratings)