Back to german article
What can you have for breakfast while camping? - 10 delicious breakfast ideas with recipes
10 quick breakfast ideas with recipes that are perfect for camping. With few ingredients, you get a delicious and varied breakfast.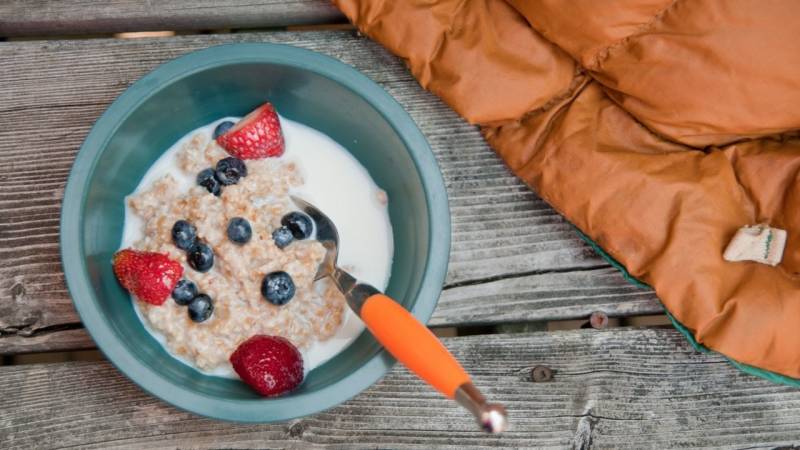 ---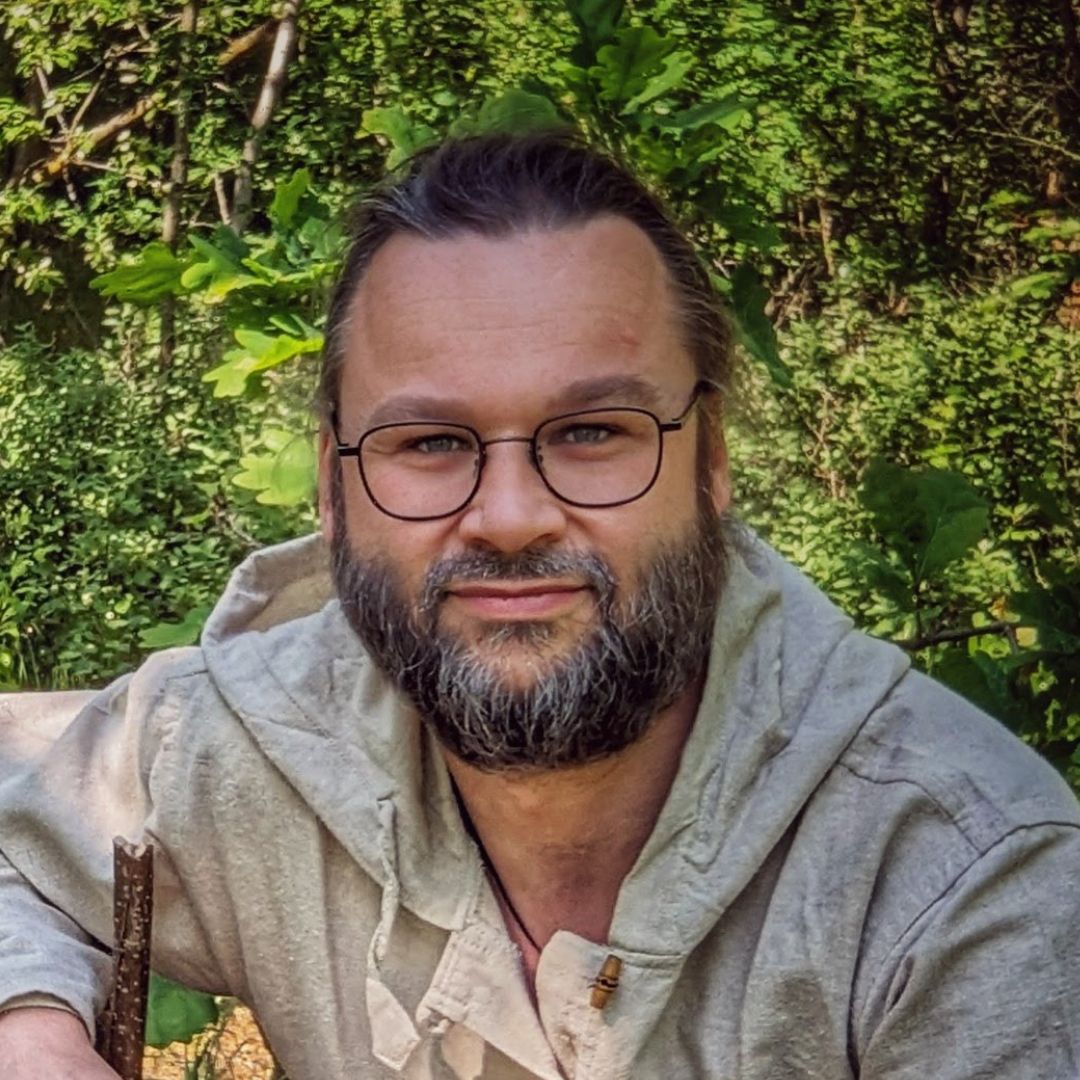 ---
👉 The key facts from this guide
10 varied breakfast ideas for camping
Oatmeal, muesli, and oatmeal pancakes as quick and energy-rich options
French toast, chia pudding, and overnight oats for something special
Hearty alternatives like baked beans with fried eggs, avocado toast, and savory oatmeal
Healthy farmer's breakfast with potatoes, vegetables, and eggs
Basic supply of groceries and spices for versatile camping cuisine
Preparation is key when camping.
You not only need to know where your next destination is, which campsite you are heading to, what clothing you need, and what important utensils you must not forget.
You also have to remember to take care of yourself.
Since a camper or a tent doesn't offer much space for countless ingredients and many foods spoil quickly, you need the right meal planning.
Breakfast is the most important meal.
To start the day well and have enough energy, you need to have a hearty breakfast.
But always just one slice of toast with jam can also get on your nerves eventually.
Therefore, today I will give you 10 breakfast ideas with recipes that are perfect for camping.
Thanks to a few ingredients and quick preparation, you can enjoy a delicious and varied breakfast anywhere in the world.
Have fun reading and trying it out!
1. Oatmeal - warm and quickly prepared
Oatmeal - or in German "Haferbrei" - is the absolute camping classic.
That is because you only need a few ingredients and it is also a warm meal.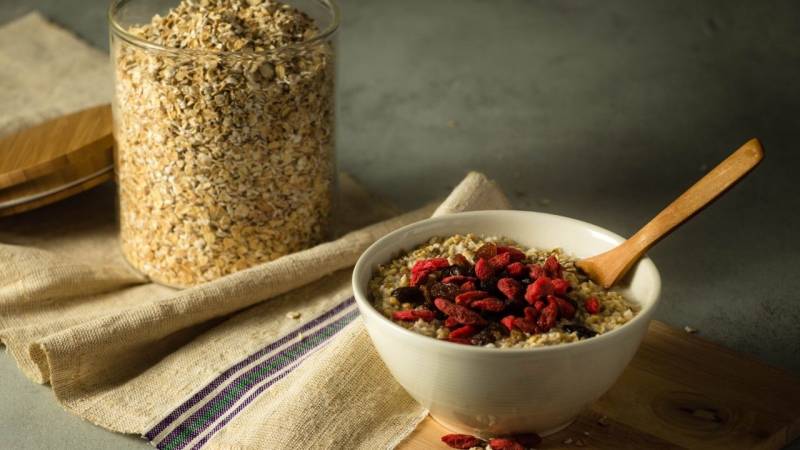 Especially when you're outside all day and the weather might not be so good, a warm breakfast feels perfect.
For oatmeal, there are countless recipe ideas and variations. However, I would like to recommend the classic basic recipe to you and give you a few ideas on how to pimp up this recipe.
Ingredients for 1 serving:
50 g oatmeal (equivalent to about 5 tbsp)
150 ml milk or water
Preparation:
Boil the oatmeal together with the milk or water in a pot and then turn off the heat.
Let the mixture steep until a porridge-like consistency has formed.
More tips:
For most people, this variation is more of a remedy for stomach cramps. In this variation, the oatmeal also only tastes to a limited extent. You have to add some sweetness to give it that certain something.
You can use either sugar or honey. Not only that, but you can also use cocoa powder for sweetening. However, the oatmeal will also become chocolaty.
The oatmeal serves as a base. You can pimp it with various foods. Fruit is best suited, of course. A small chopped apple mixed in works great.
Apples are robust and long-lasting. So they should be with you on your camping trip anyway. Just like nuts. Add a few nuts to the oatmeal and you have a delicious and nutritious breakfast.
Camping tip: Also bring dried fruits with you, such as dates or figs. They last a long time and are extremely sweet.
2. Muesli - quick and familiar
Muesli is ideal for camping kitchens. It is long-lasting and filling. Decide for yourself whether you eat it with milk or natural yogurt.
For the necessary vitamins, you can also simply add some fruit here and a few additional nuts on top.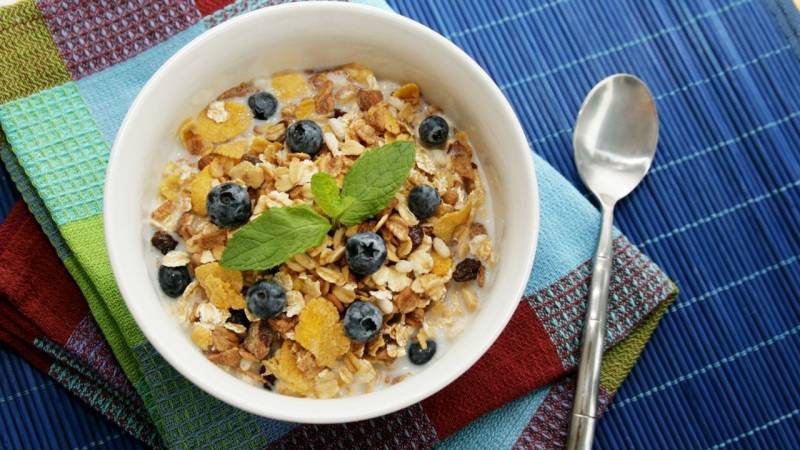 3. Oatmeal Pancakes - popular with children
I still remember how much I used to enjoy having pancakes for breakfast as a child. Why not bring this childhood memory to the campsite?
Here you have the choice of whether to prepare the pancakes traditionally with flour or with oats. However, most campers do not have flour with them. Oats are more likely to be part of the basic equipment.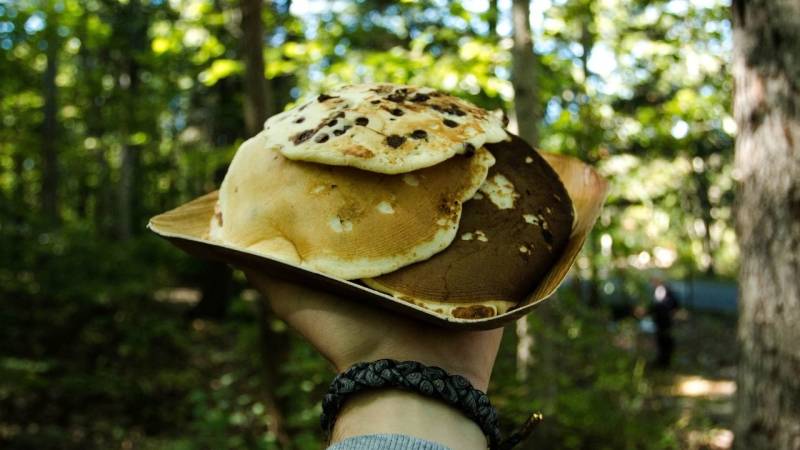 Therefore, here is a delicious recipe for healthy and energizing oatmeal pancakes!
Ingredients for 1 serving:
50 g oatmeal
100 ml milk
Half a banana or 1 egg
Preparation:
For the oatmeal pancakes, start by mashing the half banana and then add all the other ingredients.
Then mix everything well.
Grease the pan with some oil and drop small dollops of the mixture onto the pan.
Cook them like regular pancakes.
More tips:
If you prepare the pancakes without banana, they are probably not sweet enough. Here you can again help with some sugar or honey.
After baking, you can eat the pancakes as they are or enhance them with some fruit and yogurt. Jam and a popular chocolate spread also taste excellent when combined with the pancakes.
4. French Toast - unknown, but delicious
French Toast is a less common breakfast in Germany.
Furthermore, this toast variation tastes incredibly delicious and is versatile.
In addition, you only need a few ingredients. So a perfect recipe for your next breakfast in the camper!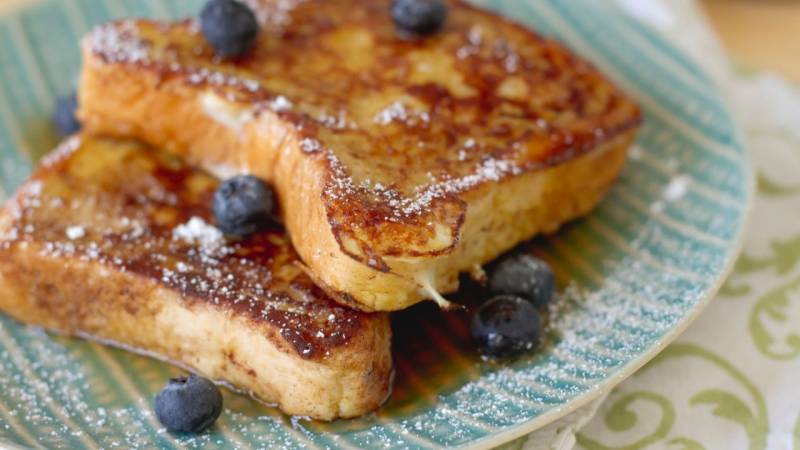 Ingredients for 1 serving:
2 eggs
3 slices of toast
50 ml milk
cinnamon and sugar
Preparation:
First, whisk the eggs together with the milk.
Then dip the slices of toast into the mixture and roll them in sugar and cinnamon.
Now fry the slices until golden brown in the pan.
More tips:
In America, French Toast is usually eaten with maple syrup. You can also freely choose what to eat the toast slices with here.
Moreover, you can smear the slices with chocolate spread while frying, fold them together and fry them. This way, the chocolate cream melts and turns the whole dish into a real breakfast sin. But it tastes really delicious!
5. Chia Pudding - Superfood while camping
Chia seeds are considered a superfood and a true miracle weapon in the kitchen.
Due to their high nutrient content, they are also ideal for your next outdoor adventure.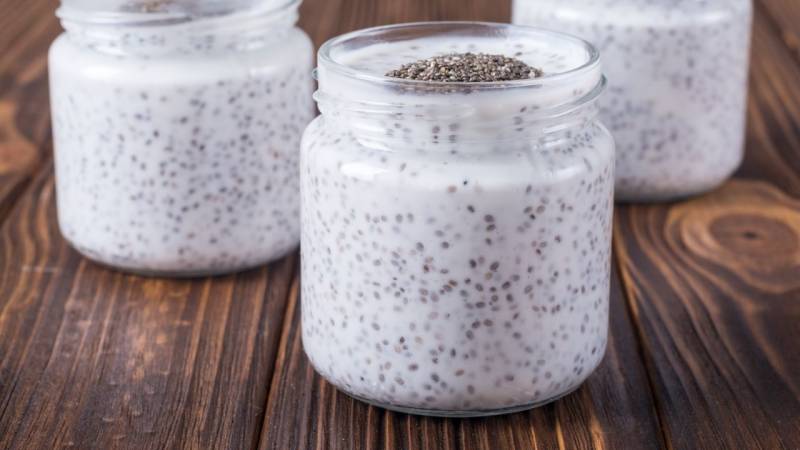 Chia pudding can also be prepared in various ways.
I will show you how I always prepare my chia pudding. The good thing about this recipe is that you prepare it the night before. It is therefore ideal if you have to leave early the next day and don't have time for a hearty breakfast.
You MUST prepare the chia pudding the night before; otherwise it will not achieve its familiar consistency.
Ingredients for 1 serving:
30 g chia seeds
200 ml milk
Half a banana
Some honey
Preparation:
Squash half a banana
Then mix all the ingredients together.
Put them in a sealable container and refrigerate. Done.
More tips:
As you can see, this recipe is super easy and delicious. The next morning, the mixture should have a pudding-like consistency.
For this, fresh fruit is also best suited. You can add it the night before or cut it fresh the next day.
6. Overnight Oats - the oats overnight
Another recipe that can be prepared the night before is Overnight Oats. This is again a dish with energy-rich oatmeal and is very versatile and adaptable.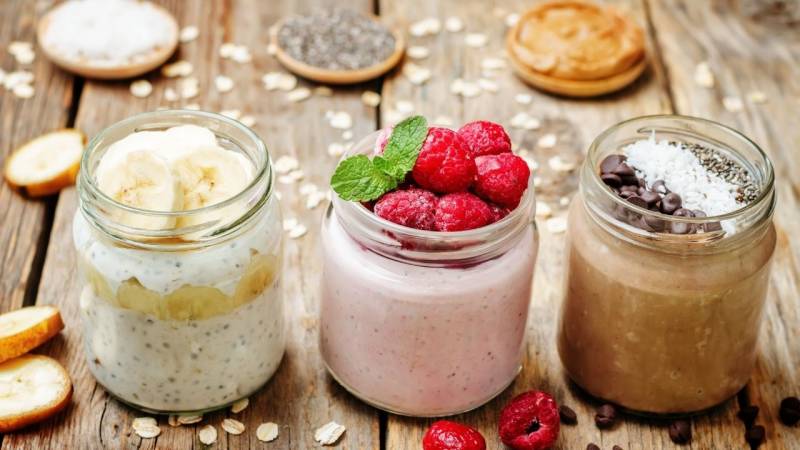 Ingredients for 1 serving:
50 g oatmeal
100 g plain yogurt
100 ml milk
Some honey
Preparation:
Mix all ingredients together and put them in a sealable container.
Let it steep overnight.
More tips:
The oat flakes can absorb the liquid well in this combination and make a delicious oatmeal. Here again, you have the opportunity to add various toppings to the oatmeal.
I always put an apple and nuts on it. I also add a tablespoon of peanut butter. However, you can be completely creative and indulge yourself according to your wishes.
7. Baked Beans with Fried Egg - hearty way to start the day
Both in England and in America, many people enjoy a hearty breakfast.
Beans and bacon are almost always on the breakfast table there. You can also use this idea when camping, as you only need a few ingredients.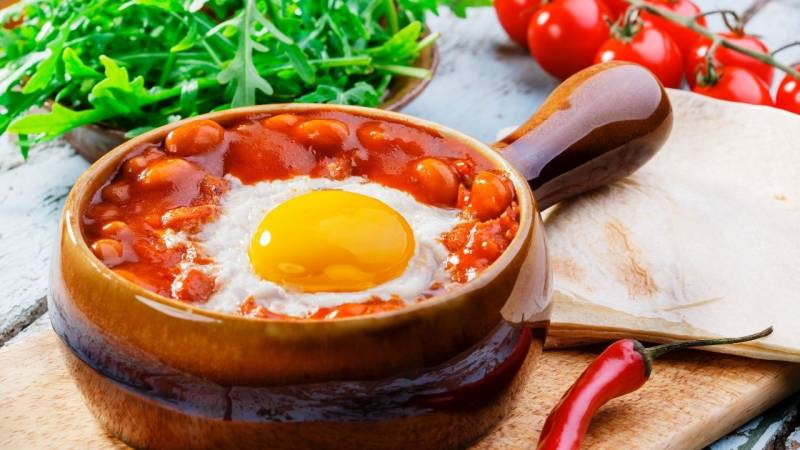 Baked Beans can be easily bought ready-made in a can, or you can also make them yourself. Here is my recipe on how to make them yourself.
Ingredients for 1 serving:
1 can of white beans
Half an onion
One garlic clove
5 tbsp of tomato sauce
Salt and pepper
Preparation:
Normally, baked beans are baked. However, you can also simply fry them in a pan. To achieve this, first fry onions and garlic and then add the beans.
Then add the crushed tomatoes and season the beans. Let them simmer for a few minutes until the beans become slightly softer. However, be careful not to let them become too soft, as they will otherwise fall apart and turn into a mush.
More tips:
The best accompaniment for the beans is a fried egg and, of course, bacon. The beans serve as an important source of protein and provide you with plenty of energy for your next adventure.
8. Bread with Avocado and Egg - healthy and protein-rich
The avocado is famously not the most environmentally friendly fruit, but very healthy and perfect for camping.
Through the healthy fats, the avocado provides a lot of energy and nutrients for the body.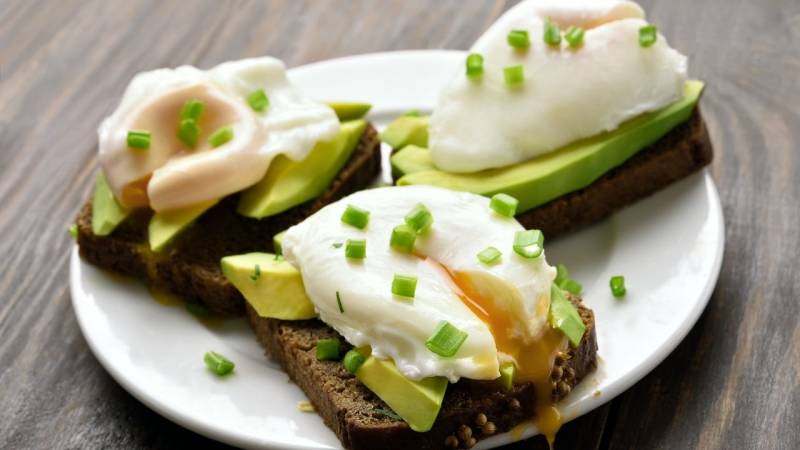 In addition, it offers a healthy alternative to conventional butter, providing variety. You can either spread the avocado directly on your bread and top it with a fried egg, or you can make guacamole out of it.
Either way, the avocado will last a few days if you keep it cool.
9. Hearty Oatmeal - Oatmeal with a Twist
Do you think oatmeal is only sweet? Think again! You can also make the most popular camping breakfast savory.
Again, there are countless variations. So, I'll give you another one that is perfect for the camping kitchen.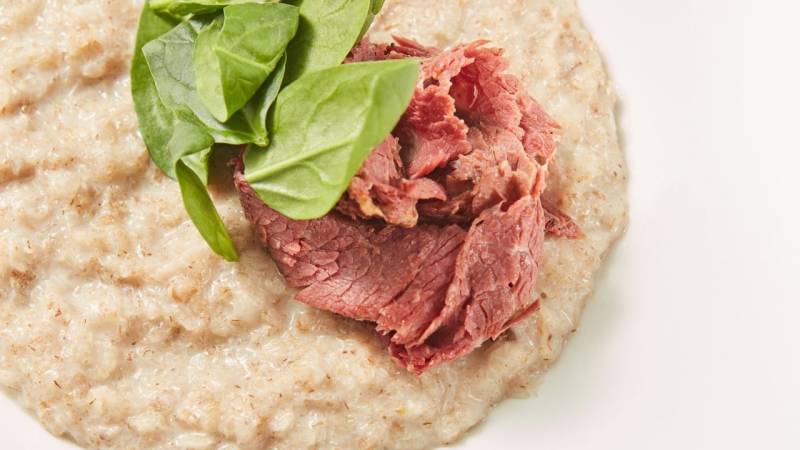 Ingredients for 1 serving:
50 g oat flakes
1 tbsp grated cheese (You can also use regular sliced cheese, as it will dissolve later anyway.)
A few spring onions or half a regular onion
1 pinch of vegetable broth
Ham cubes
50 ml water
Preparation:
If you don't have spring onions, start by frying the regular onion in a pot
Finally, add the other ingredients and let everything simmer once.
Again, reduce the heat and let the mixture steep until a mushy and creamy consistency is formed.
10. Healthy Farmer's Breakfast - starting the day off savory
Instead of greasy sausages and bacon, this healthy variation of the farmer's breakfast is perfect for camping. Plus, you only need 3 ingredients for this.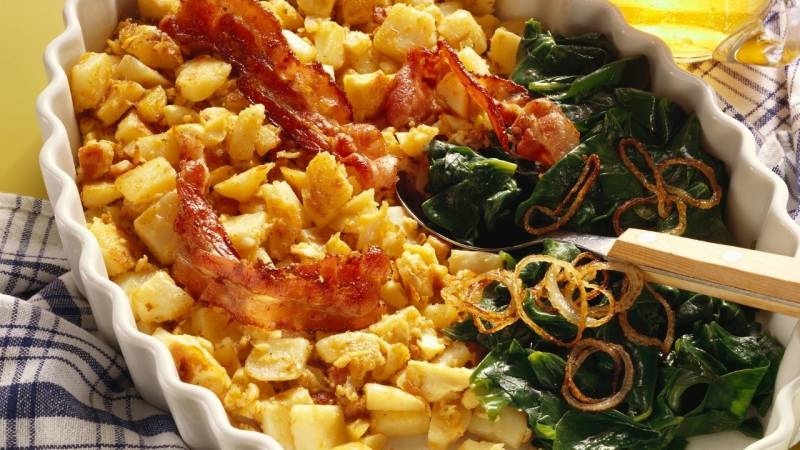 Ingredients for 1 serving:
2 potatoes or 1 sweet potato
Some baby spinach or Chinese cabbage (You can choose any vegetables here.)
2 eggs
Salt and pepper
Preparation:
You can peel the potato or leave it as it is.
Then cut it into small cubes and fry them. The smaller the cubes, the shorter the cooking time.
Now add the eggs and mix them with the "fried potatoes".
Then add the baby spinach or other vegetables and let it fry or wilt together.
Questions and Answers (Q&A) on the Topic
What foods should not be missing in a camping kitchen?
Next to classic cold cuts and jam, eggs, oatmeal, milk, fruit, and vegetables should not be missing. Bread should also be part of the basic equipment. With these ingredients, you can cook numerous dishes.
Do I need special spices when camping?
Salt and pepper should be included in every camper. You should also have sugar with you. The further choice is up to your desires. I like to have paprika powder, cinnamon, and dried herbs with me.
Can oatmeal be replaced by other foods?
Many recipes with oatmeal can be replaced with couscous, semolina, or even quinoa.
---
And, how do you like the breakfast ideas? Which one will you try first?

Was this guide helpful?
10 people found this guide helpful.
5.00 out of 5 points (10 Ratings)