Back to german article
Hiking in the rain: What, why and how? 7 tips to make it work!
Hiking in the rain can be a great experience if you know what to expect and why it's worth it. Here are 7 tips to make it successful.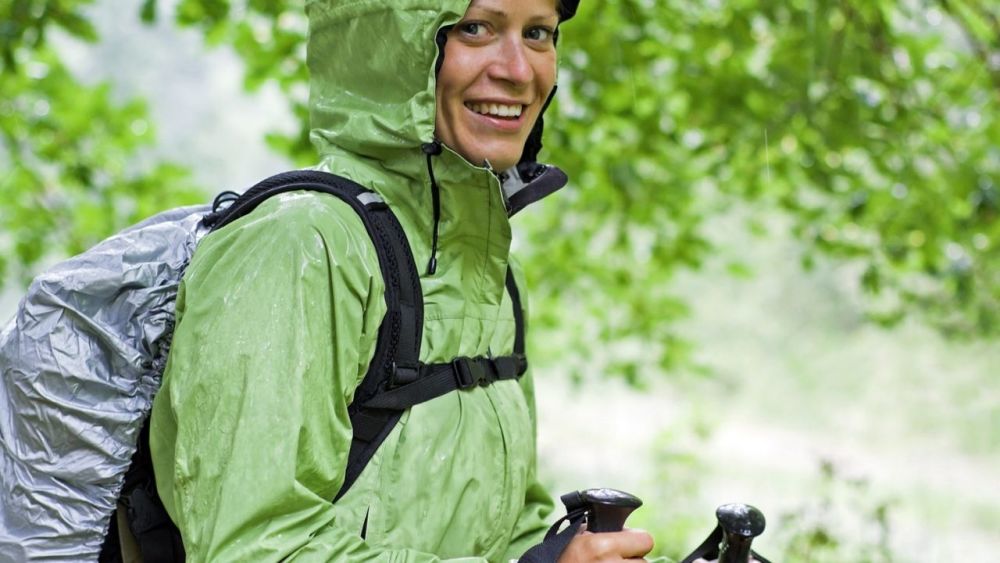 ---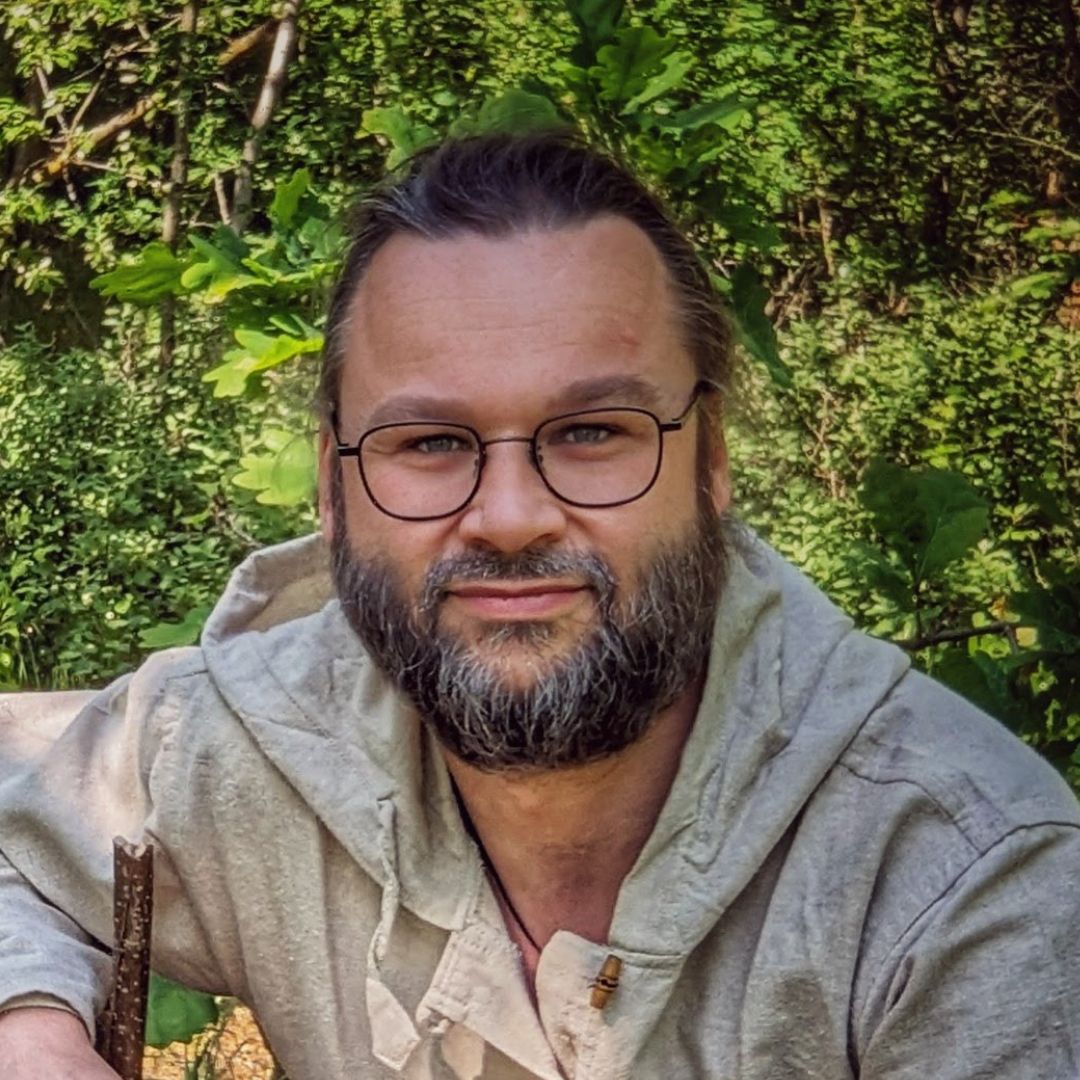 ---
👉 The key facts from this guide
Walking in the rain can be relaxing if you have the right attitude and equipment.
Invest in waterproof shoes, a rain jacket, and a waterproof bag.
Avoid cotton and choose moisture-wicking materials for your clothing.
Wear multiple layers of clothing and remove a layer if you get too warm.
Stay hydrated and bring enough water and snacks for the journey.
Be prepared to turn back if conditions become too dangerous or if you get lost.
Hiking in the rain is miserable. You're soaking wet, freezing, and can't even see where you're going because of the fog.
Sure, you can stay at home, but what's the point? You would just sit around and feel sorry for yourself, while missing out on all the fun, new experiences, and adventures that come with outdoor activities.
Hiking in the rain can still be an exciting time, but you should be prepared.
Fortunately, new advances in hiking technology allow you to be on the trail rain or shine.
Don't let the bad weather spoil your fun! With the right equipment, attitude, and a plan, nothing can stop you from hiking in the rain.
Should you hike in the rain?
It's the age-old myth that we are told about: "If you play in the rain, you will get sick".
According to doctors, however, it is not the rain that is the reason someone gets sick, but a weak immune system.
Aside from that, it is inevitable to hike in the rain. Whether in tropical countries or in four-season climates, the likelihood of getting stuck in bad weather is relatively high.
In this case, you should not let the bad weather like rain deter you from your plans.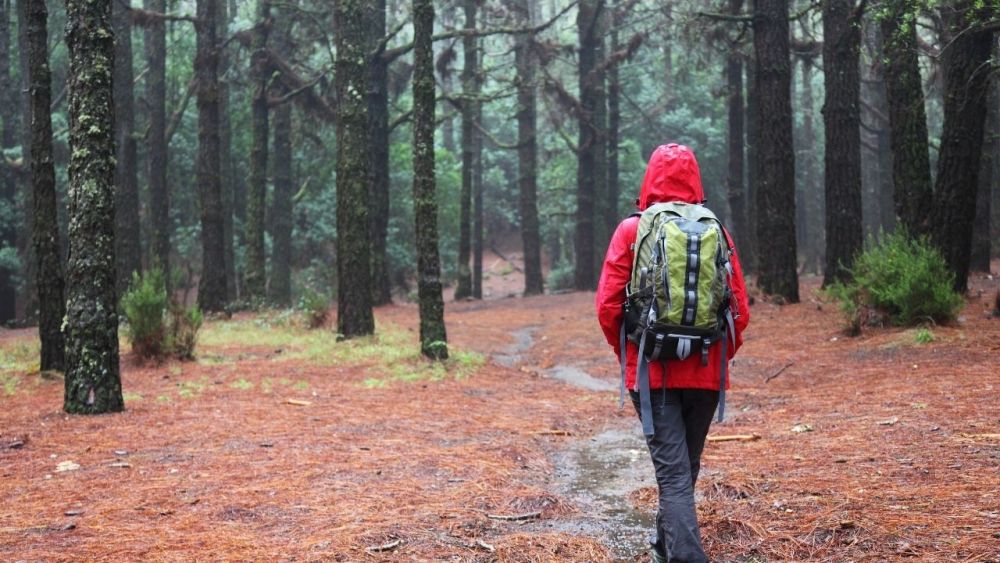 I have found that when hiking in the rain, it is better to adapt as long as you keep the following three things in mind:
Attitude towards rain
Suitable waterproof shoes and bag
A rain jacket
Sure, the rain can range from light drizzle to torrential downpours or a thunderstorm.
This is the moment when you do a happy dance, bring out your hot drinks, find shelter, coolly consider safety considerations, and assess the situation.
Your Attitude Towards Rain
Hiking in the rain can be a daunting task. You may be faced with slippery rocks, mud, and sometimes even steep climbs.
But the intimidating part of hiking in the rain is your attitude. It's easy to let the rain bring you down and make you feel incapable - but that's simply not true.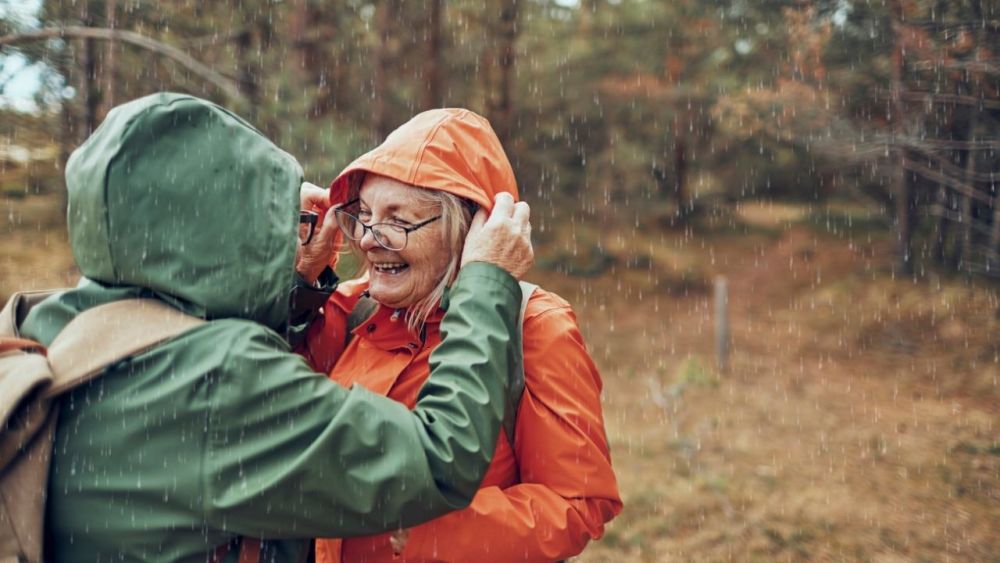 The rain is nothing that should put you in a bad mood. It doesn't matter whether it's raining or not, you can still have a good time.
If you approach the mountains with the right mindset, rain is an opportunity to test your skills and motivation.
When hiking in the rain, you should always stay motivated, as it is an opportunity to challenge yourself and enjoy nature.
How to Dress for Hiking in the Rain: Gear & Essentials
Hiking in the rain is a polarizing topic. Some people say it's a great experience, while others say it's not worth the risk.
We all know the saying "There is no such thing as bad weather, only bad clothing"!
If bad clothing were the only decisive factor, we would still be pretty screwed.
Clothing is important, but the right gear from head to toe is the way to prepare for a complete adventure while hiking in the rain.
If you're hiking in the rain, make sure you have gear that keeps you dry and warm. You'll need a waterproof jacket, good shoes, and a hat. It's also essential to stay hydrated, so bring enough water with you.
Equipment & Essentials for Hiking in the Rain
The magical system for preparing your hiking gear starts with a little trip planning - basically, you should have a cover or bag for almost everything you have in your backpack.
Protect your equipment with these options:
Waterproof hiking backpack (Women) (Men): The backpacks from Osprey are very popular for hiking due to their durability and the easy attachment of a backpack rain cover. The backpacks are practical, sturdy, and comfortable.
Backpack rain cover: Most backpacks come with a rain cover, but you can choose a lightweight or a highly visible one from Osprey.
Ziploc bags: This is a promising way to store and keep your valuables and wallet safe. While they are not completely waterproof, they still keep water away from your belongings.
Dry bags for emergencies: Here you can pack your essential clothing and equipment items in a dry bag to keep your clothes dry and waterproof.
Plastic bag: Trash bags/plastic bags are an absolute must in case you get soaked and need a cover for your shoes, phone, bag, etc.
The ultimate, essential hiking gear for rainy days:
What to wear when hiking in the rain
Your clothing is the most important thing you shouldn't forget when hiking in the rain. Below you will find some of the most important clothing items for hiking in the rain:
Choose moisture-wicking materials instead of cotton: Cotton is the worst material for hiking as it provides no insulation and easily gets wet, causing you to feel cold, sweaty, and increasing the risk of hypothermia. The best choice is moisture-wicking materials.
Buy a soft shell jacket or fleece jacket: Get a fabric that can repel water while still being breathable. A synthetic polyester lining improves breathability and quickly wicks away moisture. Avoid buying a standard down jacket as it offers little protection once it gets wet.
Rain jacket: Purchase a rain jacket with well-sealed seams to protect yourself from the elements! You can use this rain jacket for your outdoor adventures, from ski tours to any rainy adventure!
Fleece beanie: Don't forget to protect your head! Get a fleece beanie to shield your head from rain and cold. An ideal fleece beanie covers your ears and neck to protect them from cold and wind.
Waterproof hiking shoes: Waterproof shoes are essential when hiking in lower temperatures. Take a look at the different technologies Keen.dry vs. Gore-Tex vs. M-Select Dry.
Socks: Merino wool socks from Darn Tough are the best on the market!
Rain pants: The All-Weather Rain Pants by Columbia made of 100% nylon are excellent for hiking in the rain.
Gaiters: If you're hiking in snow or rain, pack lightweight polyester gaiters to protect your shoes and keep your socks dry.
On the go: 7 hiking tips for a rainy day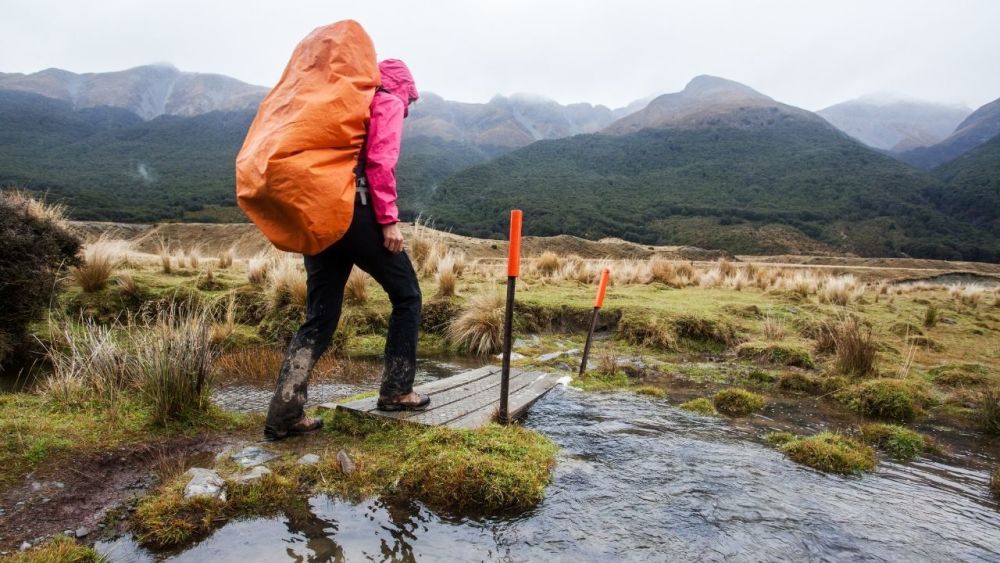 1. Prepare for the weather
It is important to plan ahead and prepare for the weather. This way, we can enjoy nature without having to worry about the weather.
The first step is to check our local weather app and see what the forecast is for the next one or two days. This will give us an idea of what to expect. If it looks like a storm is brewing, you'll need to decide whether it's worth going out or if it's better to stay at home and wait for it to pass.
If you are planning outdoor activities, you should also check the location conditions for that area before heading there. If hiking trails could be closed due to snow, you need to make sure that this information is considered when planning your hike.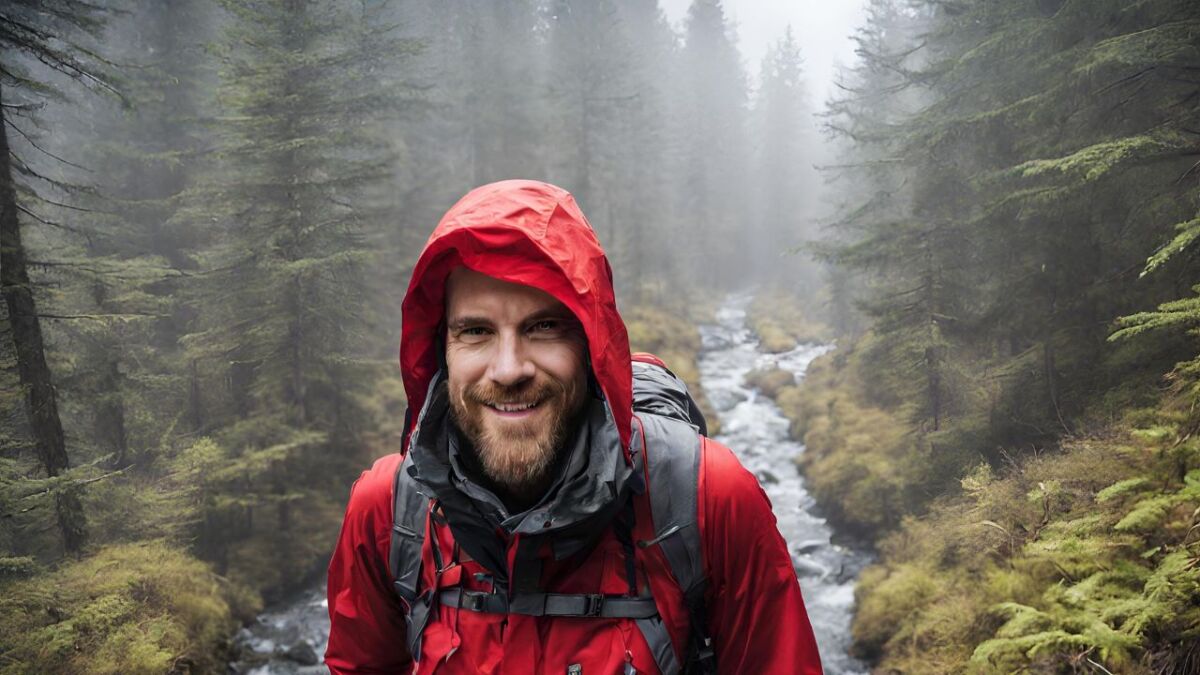 2. Make sure to hydrate and refuel
When it's hot, we usually drink water constantly, but in cool weather we do it only rarely.
But even in cold weather, staying hydrated is important for the human body to function properly. There are a few things you can do to ensure you stay hydrated:
Bring a water bottle and refill it whenever possible. You can also bring a thermos or another container with hot water to keep your drinks warm.
Always drink enough fluids - water, sports drinks, electrolyte-rich drinks (e.g., Gatorade), and fruit juices (e.g., orange juice).
Bring snacks like trail mix or chocolate bars on your hike, which provide carbohydrates and proteins for energy, as well as important vitamins and minerals like calcium and iron.
3. Dress in layers
Wearing a few layers of clothing can make you feel warmer, but it also traps sweat and reduces breathability.
In order to counteract this, experts recommend taking off a layer of clothing when you start to feel hot. For example, if you are wearing three pieces of clothing and start to feel hot, take off your jacket and put it back on once you have cooled down. This way, your body can breathe.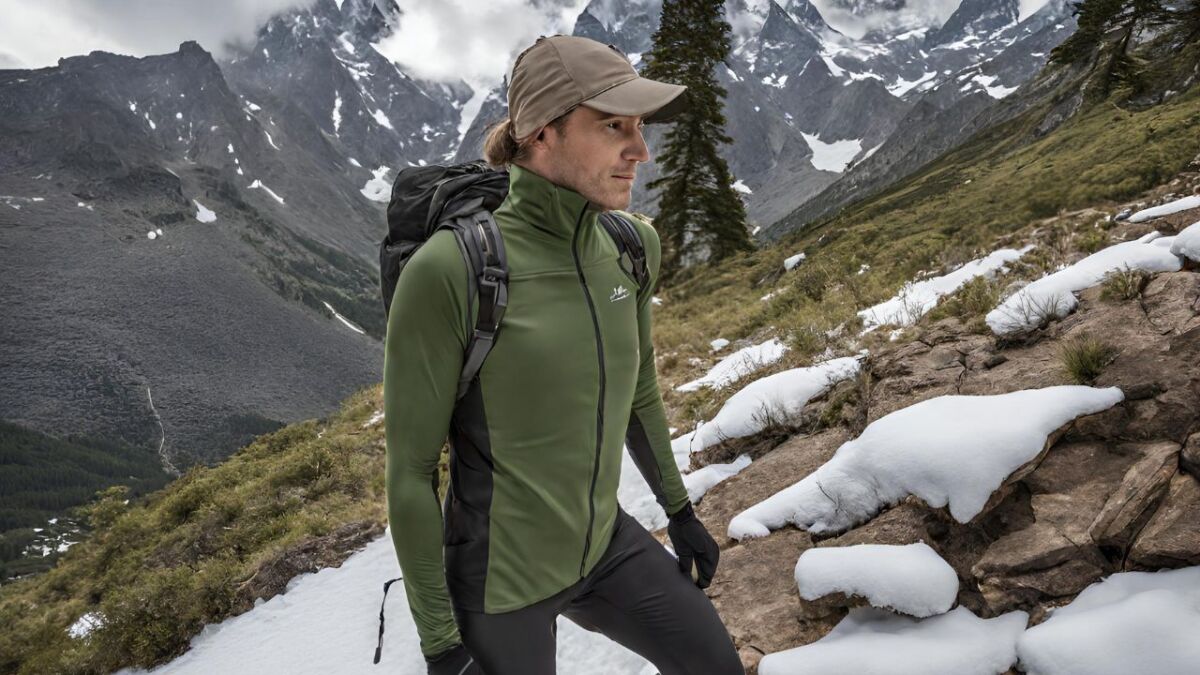 4. Customize your first aid kit
You can certainly buy a pre-made first aid kit, but if you have an allergic reaction, it's best to bring antihistamines, ointments, and other emergency equipment (such as a tick remover) to make sure you have everything you need!
5. Beware of lightning
Lightning and thunder are a common danger when hiking. Avoid high points, mountain peaks, open areas, and lakes or bodies of water.
Avoid contact with metal objects when a thunderstorm is passing by. Belts or backpacks with metal frames should be kept or set aside 30 meters away from you.
6. Think positively
You are here to enjoy the silence on the paths and the sounds of nature, and to let your true desires run free.
I had planned to go hiking one morning, but the conditions were muddy and rainy. Nevertheless, it was uplifting and I enjoyed it as always, and it didn't matter that I never made it all the way to the top.
7. Be ready to turn back if all else fails!
Buy maps in case you get lost on your way. For details, you can download Maps.Me, Windy Maps, Komoot, or AllTrails.
I recommend Windy Maps and AllTrails! If you get lost and the higher elevations are shrouded in dark clouds, trust your gut and turn back.
There will always be another time to do the hike again, and maybe it's time to go back and think about the hot shower, hot cocoa, and a good book!

Was this guide helpful?
14 people found this guide helpful.
5.00 out of 5 points (14 Ratings)