Back to german article
Test and review of the EBL Powerstation Voyager 500W + EBL Solar Apollo 100W Portable Solar Panel
Find here a detailed test and review of the EBL Powerstation Voyager 500W in combination with the EBL Solar Apollo 100W Portable Solar Panel
from Martin Gebhardt
|
Gear
| reading time 13 Min
---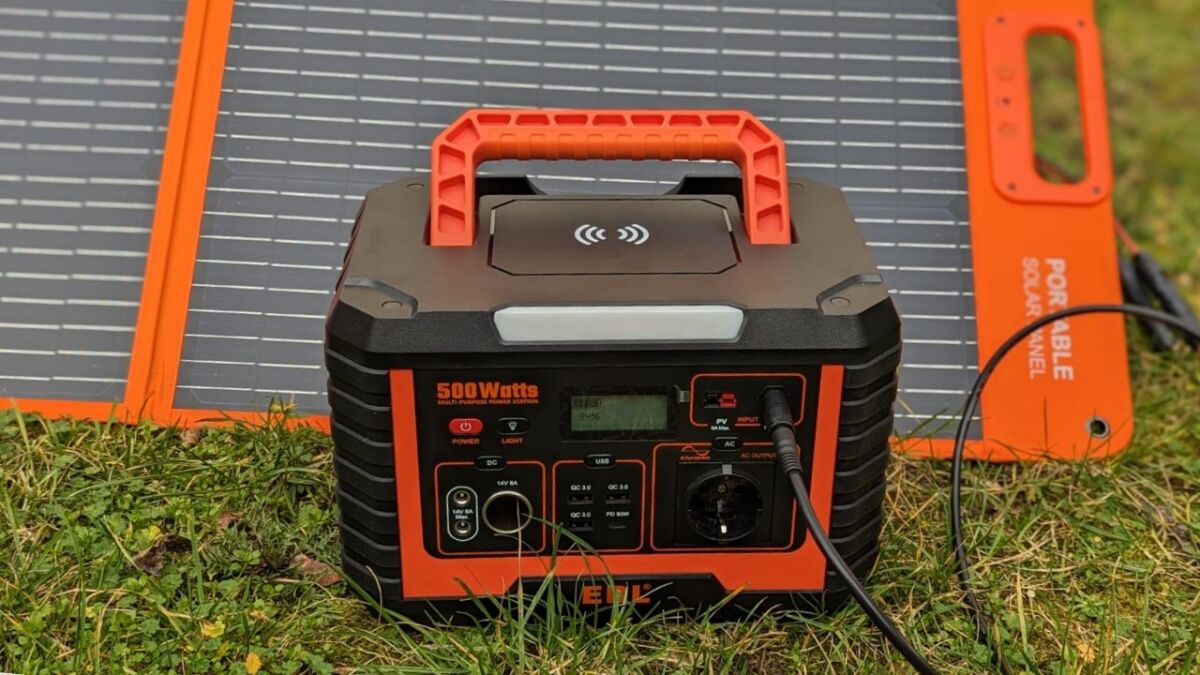 ---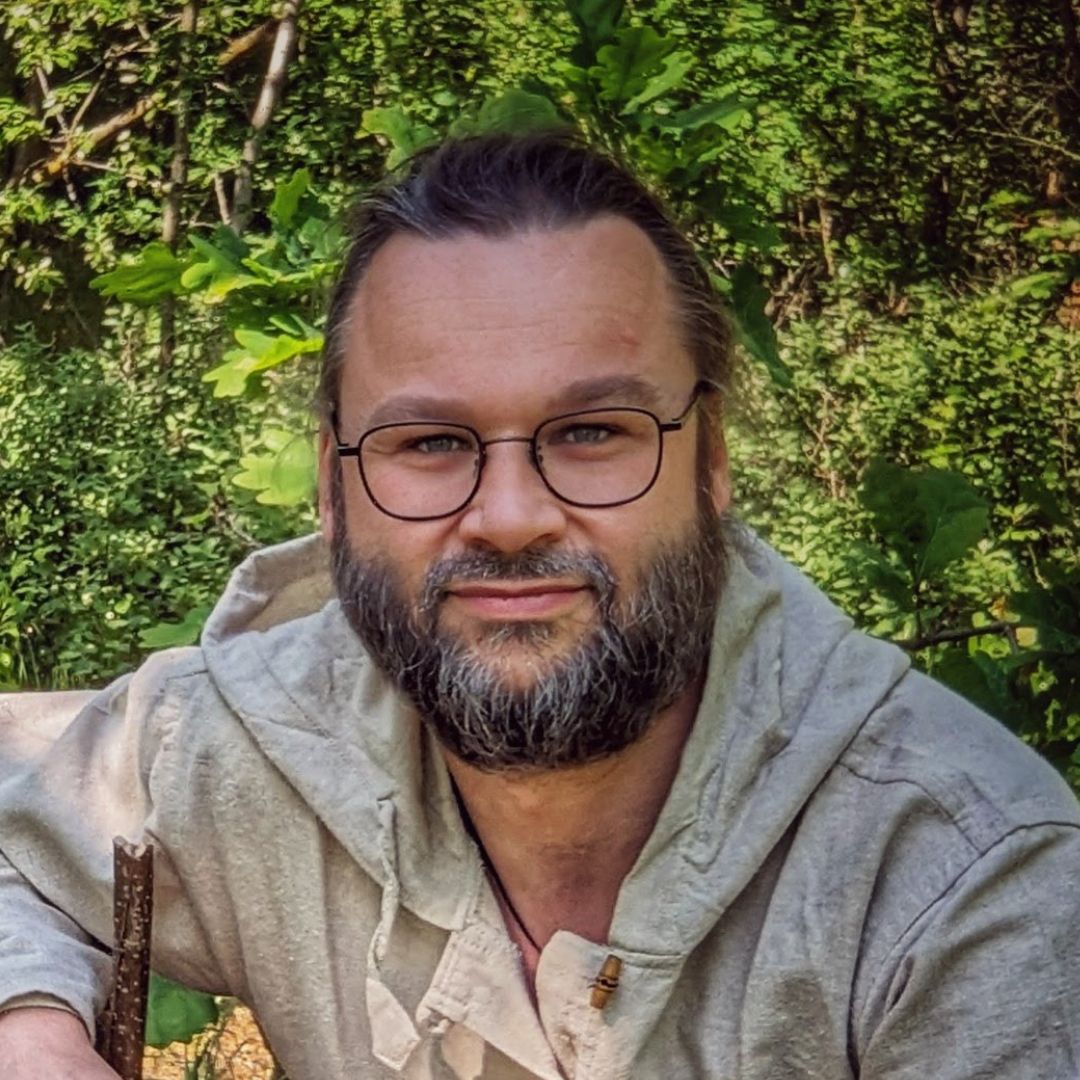 ---
👉 The key facts from this guide
The EBL Powerstation Voyager 500 is a portable power supply that provides a reliable energy source for your electronic devices, whether you're on-the-go or have an emergency at home.
The Powerstation has a battery capacity of 519.4 watt-hours and an inverter that can deliver 500 watts continuously. It can power a variety of devices such as smartphones, laptops, and even mini-fridges and televisions.
The Voyager 500 features various ports including a 230V AC outlet, three USB-A ports 3.0 (18W), a PD 60W USB-C port, and three DC outputs. It also has a contactless charger (10W) for smartphones.
The Powerstation can be charged in three ways: with the included wall adapter, the included 12V car charger, or with solar panels. It is compatible with many portable solar panels on the market.
The EBL Voyager 500 is lightweight and portable, making it ideal for camping, emergencies, or use in RVs. It weighs just over 6.8 kg and has a sturdy, well-attached handle for easy carrying.
Hey you, are you often out and about and in need of a reliable power supply for your electronic devices?
Or do you need to be prepared at home for emergencies?
Then the Powerstation Voyager 500W from EBL could be interesting for you!
I use it regularly when I'm on the road for days in the car and need to work online.
But it's also a great solution for power outages at home.
In this blog post, we take a closer look at the Voyager 500W by EBL, one of the first power stations from the manufacturer that has been producing high-quality batteries for 20 years.
The EBL Voyager 500W in detail
A portable power station is a kind of all-in-one box, with a battery, an inverter to convert 12V DC power to 230V AC power, and a solar controller.
There is more to it, but these are the main components that you will find in almost every portable power station on the market.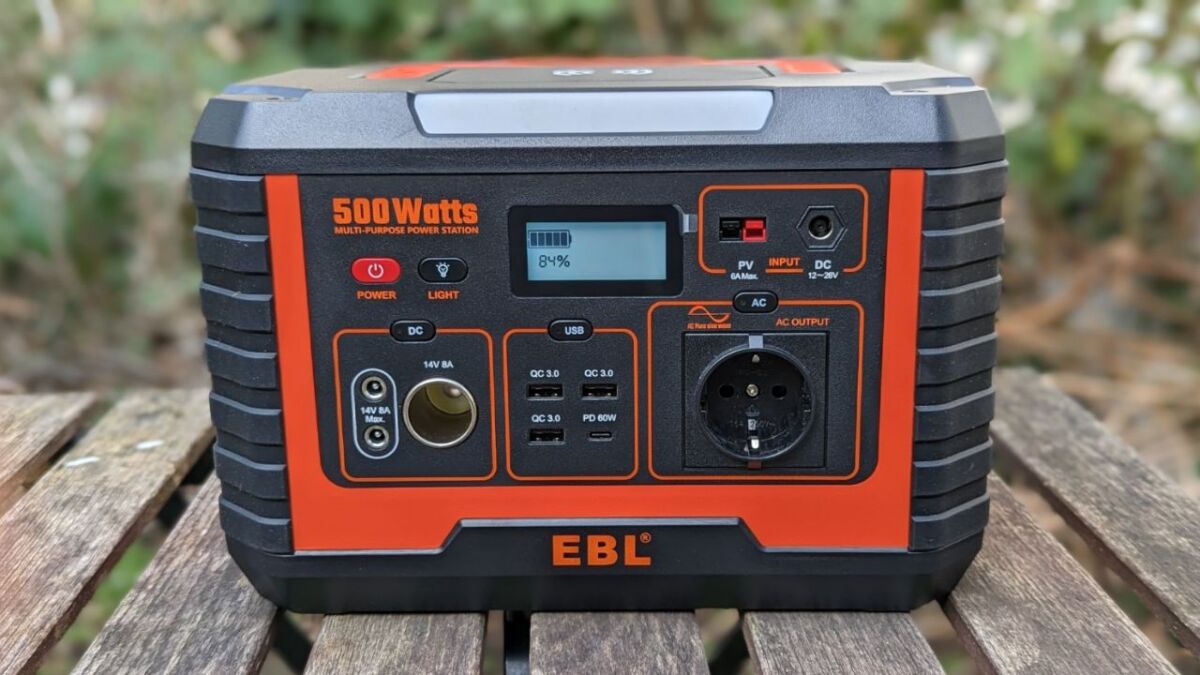 When you look at the specifications of a power station, you will usually see two numbers.
With the EBL Voyager 500 (also known as MP500), you get 519.4 Wh and 500W. The first number represents the battery capacity in watt-hours.
The second one indicates how powerful the inverter is. In other words: how many watts the AC socket on the power station can continuously output.
The short-term peak load is 1038W.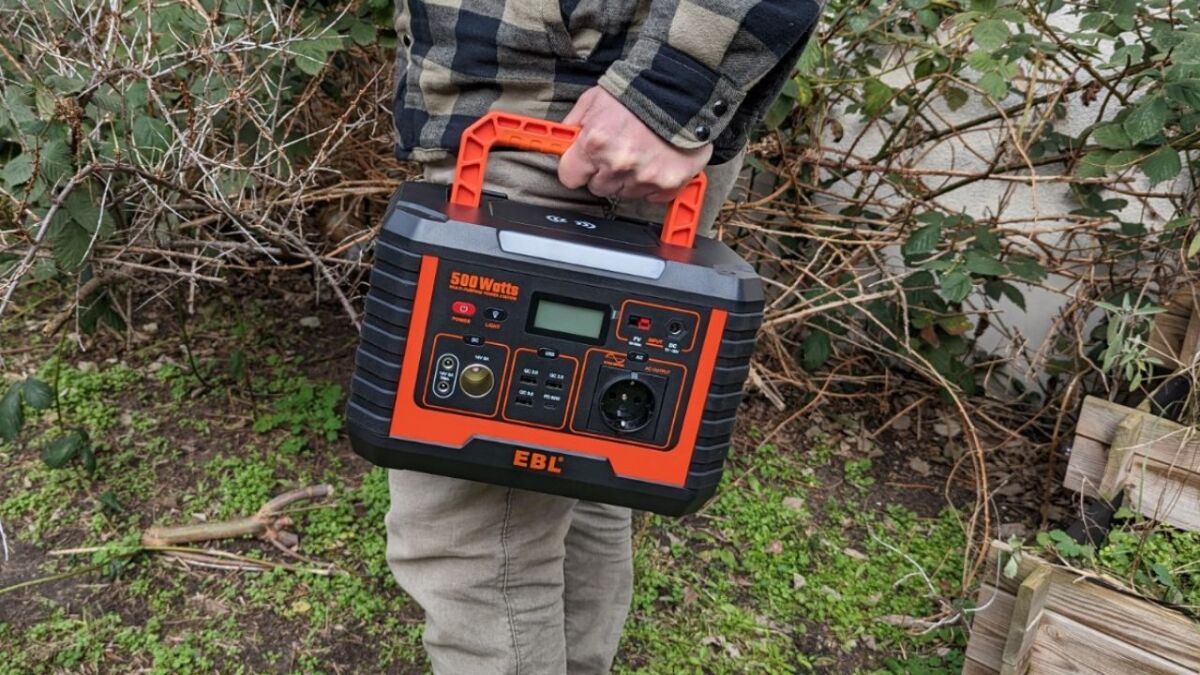 Battery Capacity
Let's start with the battery: The EBL Voyager 500 has a battery capacity of 519.4 watt-hours.
This means that you can operate a device with 50W power for almost nine hours (519.4 / 50 × 0.85 = 8.829 hours). A device with 50W consumes 50 watt-hours per hour.
The number 0.85 results from the fact that the inverter, which converts the 12V DC current into 230V AC current, is not 100% efficient, but rather about 85% (heat dissipation, etc.).
In just over three hours, I was able to draw a total of 445 watt-hours from the AC socket, proving an inverter efficiency of 86%.
If you know how many watts your device consumes, you can perform a similar calculation as above to find out how long the EBL Voyager 500 can operate it.
Here are some charging examples from the manufacturer:
44x Smartphone (10W)
10x Laptop (41.4Wh)
4.9x Drone (89.2Wh)
27x Switch (16W)
74x Camera
74x GoPro (5.9Wh)
Here's how long you can go with the fully charged Voyager (500 W):
6h Mini-fridge (40W)
4h Projector (85Wh)
2h Slow cooker (150W)
4h Electric blanket (120W)
7h Television (60W)
29h CPAP machine (15W)
110h Lamp (4W)
The Inverter/AC Outlet
A rating of 500W for the inverter means that the AC outlet on the front can continuously output up to 500 watts of power.
There is only one AC socket, but you can use a power strip and operate multiple devices at the same time as long as you do not exceed the 500W limit.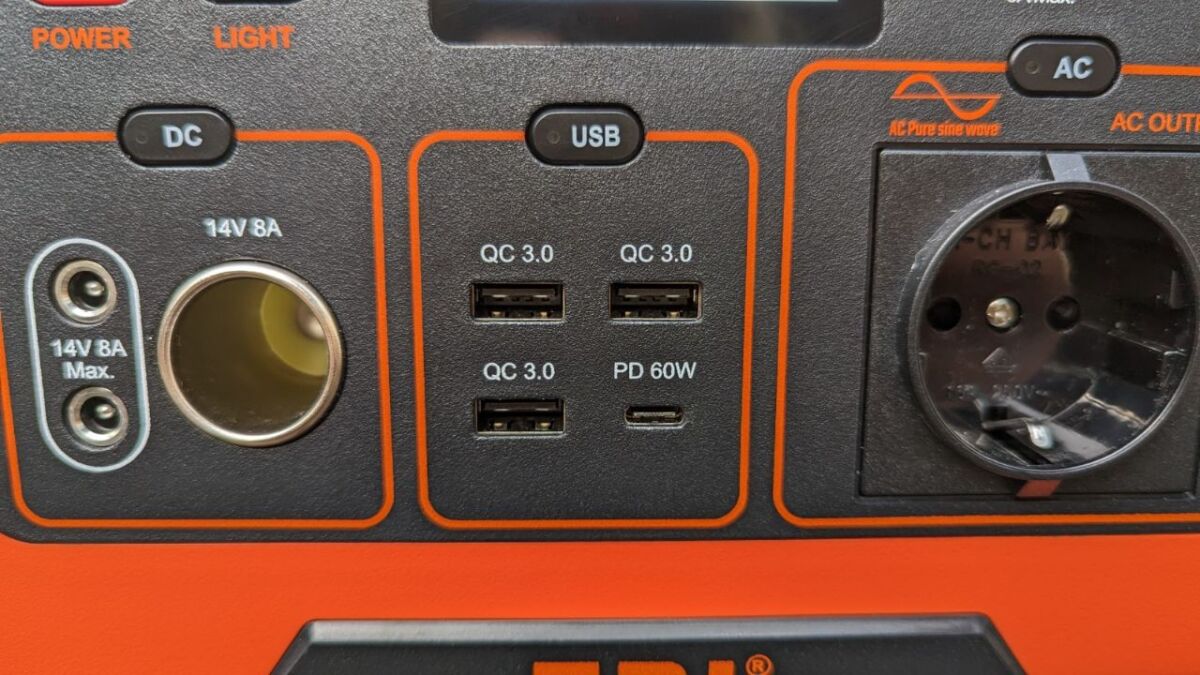 The inverter is a pure sine wave inverter that supplies sensitive electronics with power without any problems.
I don't have anything that consumes exactly 500W, but I was able to draw 450-470W from the AC socket for almost an hour.
This indicates that the inverter is just as powerful as EBL advertises it to be. The fans were running at full speed.
Entrances and Exits
Next to a 230V AC socket, there are three USB-A ports 3.0 (18W) and one PD 60W USB-C port.
These USB ports can quickly charge your portable devices such as smartphones, speakers, tablets, and lamps. I was able to draw the advertised power of 18W from the USB ports.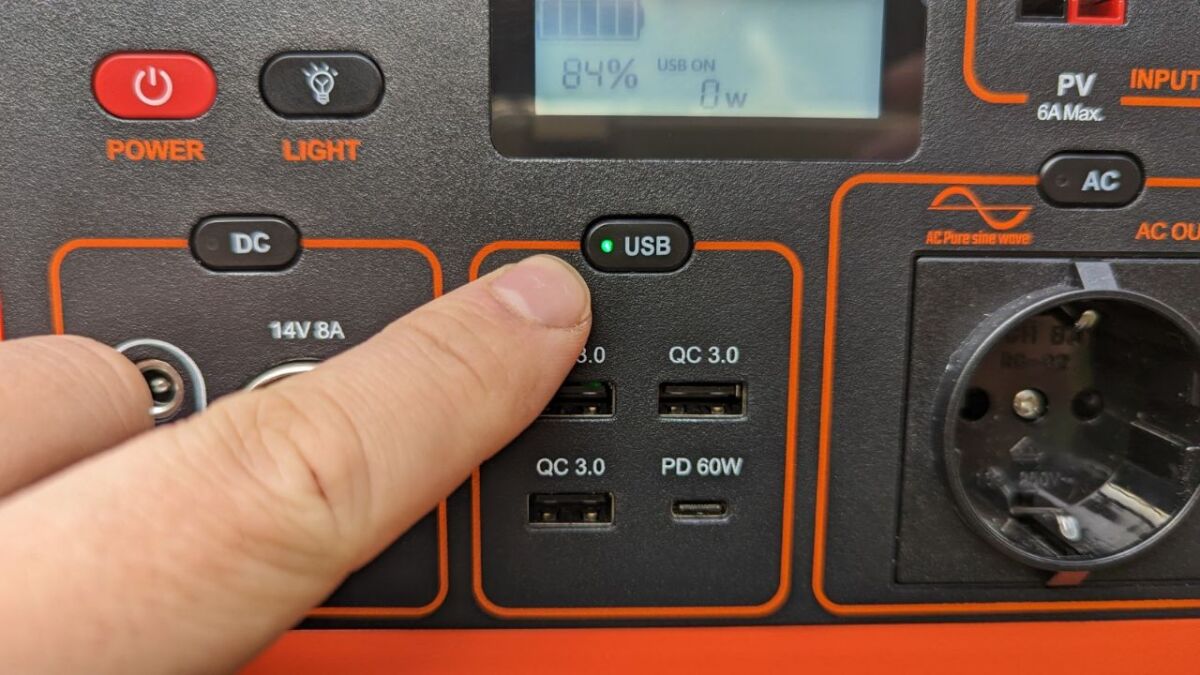 There are also three DC outputs, one of which is a 12V cigarette lighter port.
To get the most watt-hours out of a portable power station, you should use the DC or USB ports, as this is the most efficient way to power your devices.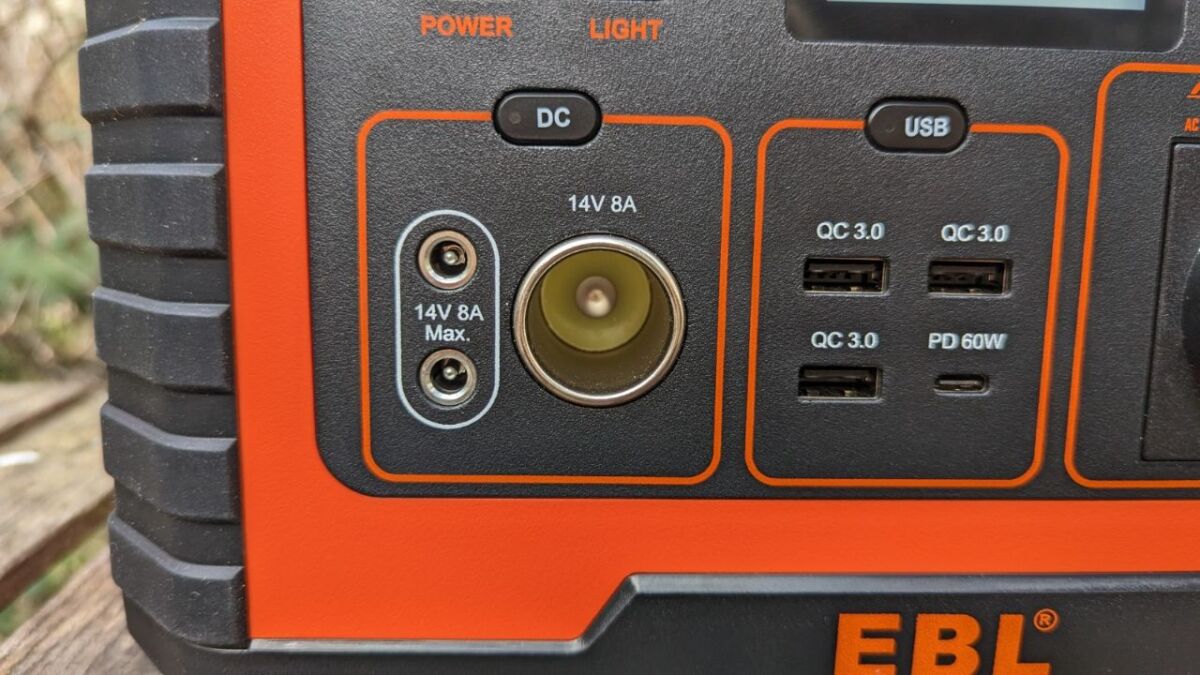 If you own a MacBook Pro from Apple, be sure to charge it using the USB-C port instead of the power adapter. This will save electricity because the inverter is not active.
I also really like that the Powerstation has a contactless charger (10W) for smartphones. I simply place my smartphone on top, and it charges - perfect because I don't have to plug in any cables.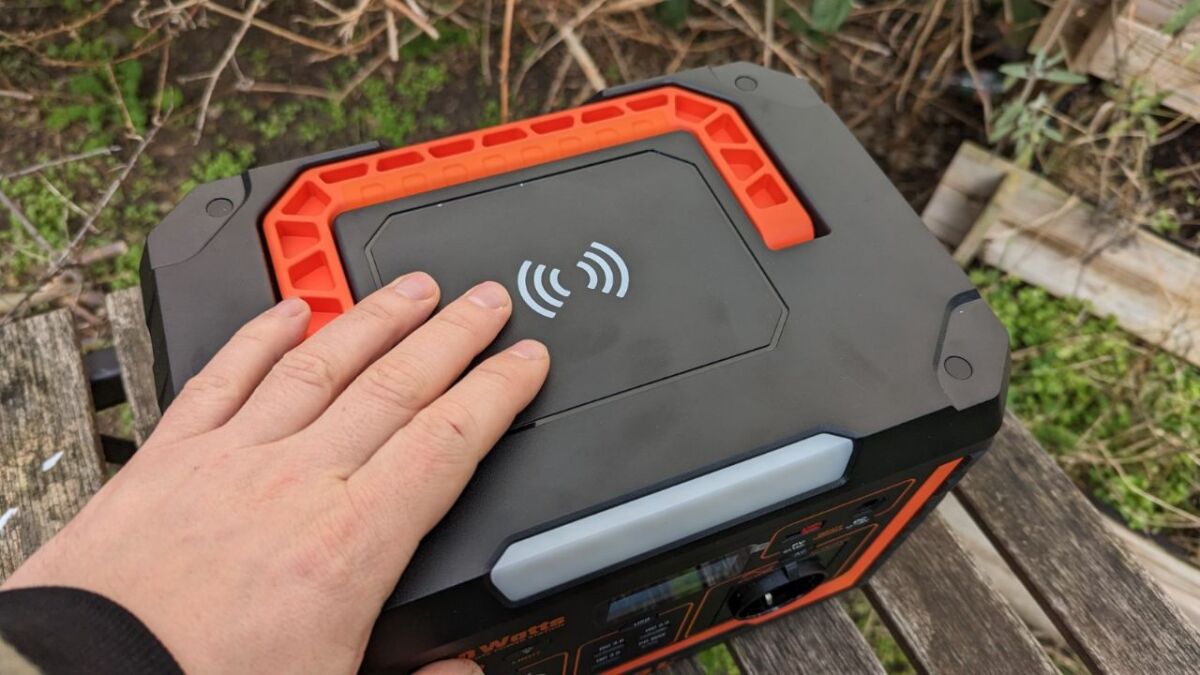 The Screen
The screen on the EBL Powerstation reliably displays the input and output wattage, the charge level in percentage, and a battery bar.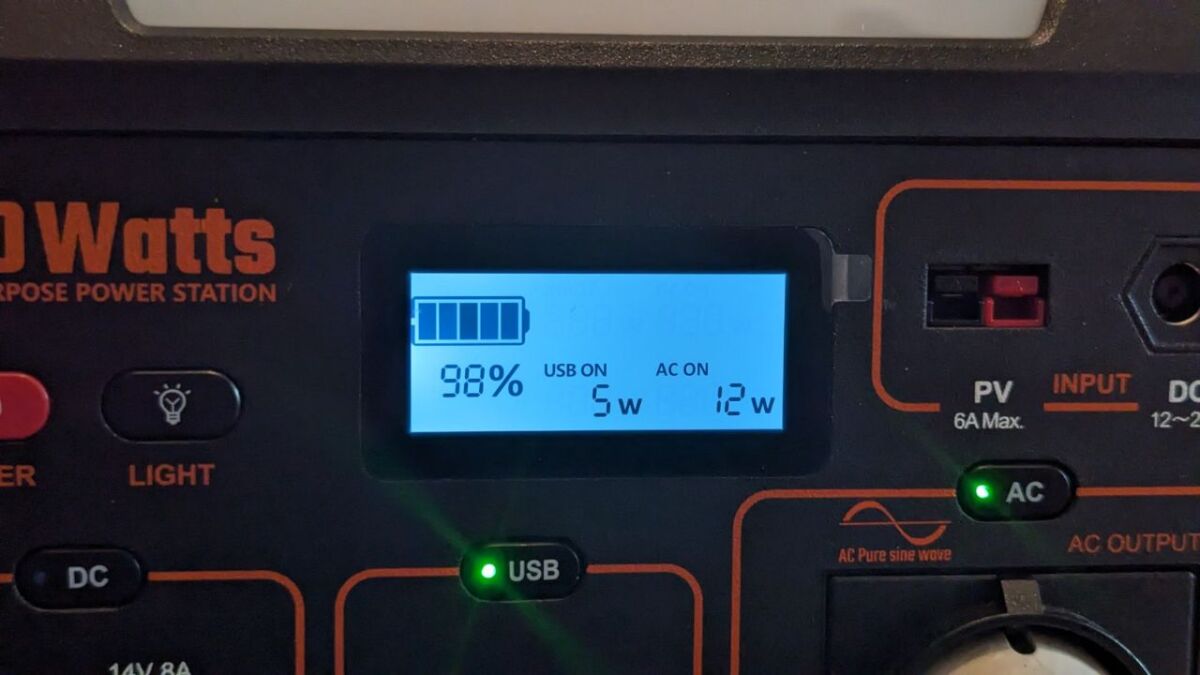 On the left side of the display are two buttons, with the power button you turn on the lighting, which makes it easier to read the screen.
During the day, the screen is readable outdoors even in sunshine, but indoors it is difficult to read without turning on the backlight.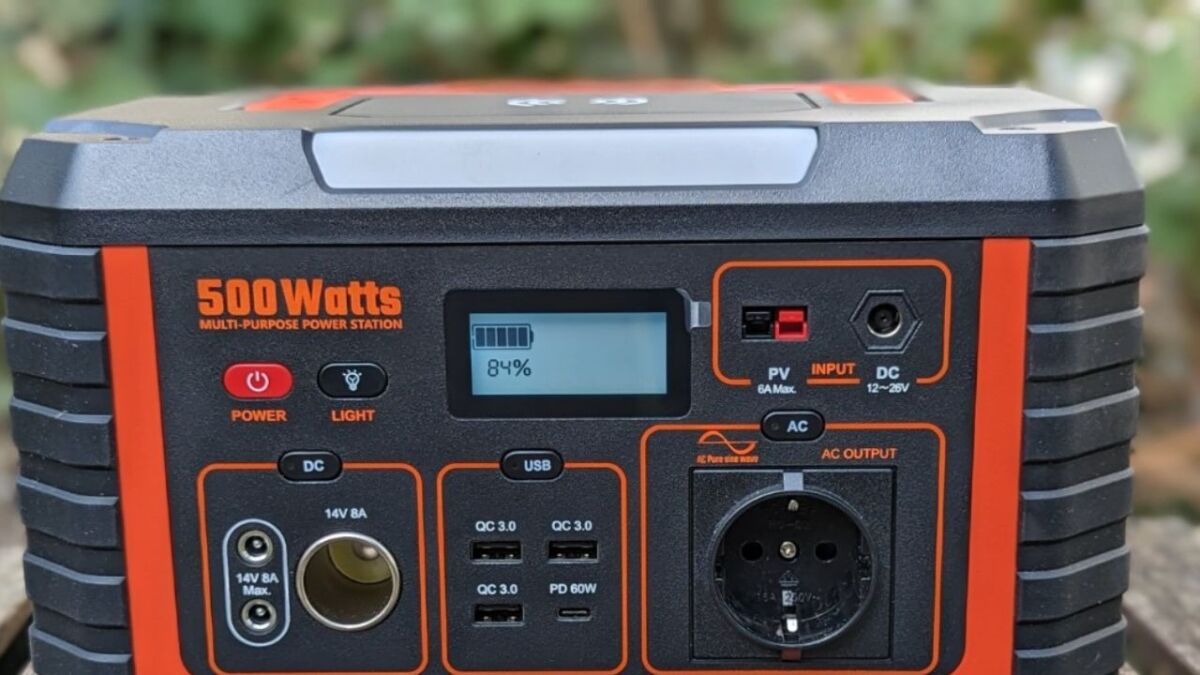 Charging / Solar Options
There are three ways to charge the EBL Powerstation 500. With the included wall plug power supply, the included 12V car charger, or with solar panels.
The input port on the Powerstation is an 8 mm DC port. This is great because it makes it compatible with many portable solar modules on the market.
To use third-party models with MC4 connectors, you do not need an adapter - it is already included.
The Powerstation supports 60W / 80W / 100W / 120W / 150W and 200W solar modules with 12-26V.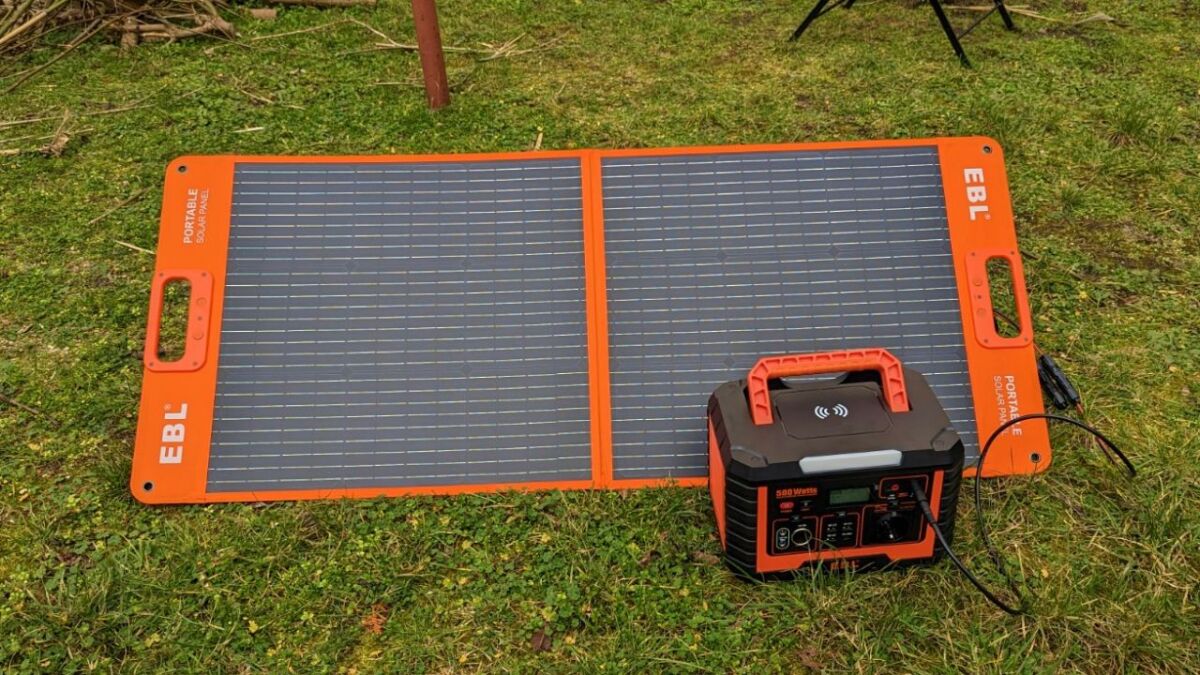 When using the supplied wall plug power supply, the Voyager 500 charges with over 100W and took 6.5 hours in my test to go from 0 to 100%.
The 12V car charger charged the Voyager with 35 - 45W and took about 11.5 hours.
When using solar modules, the highest input power I saw, regardless of the number of modules used, was 73W. Therefore, charging only with solar modules took about 8 hours from empty to full.
Please note that my tests with the Voyager were conducted in the spring. I assume that you will get more power from the solar modules when the sun is higher in the summer.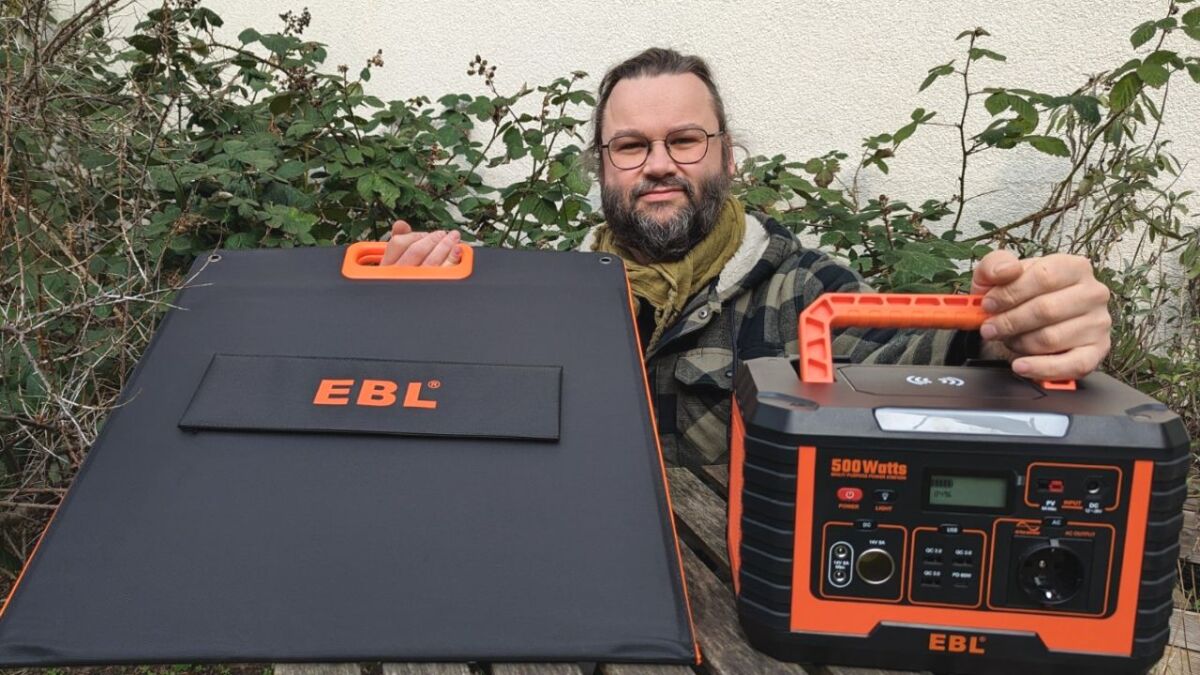 Lamp
There is a built-in lamp at the front of the power station, which is turned on with a button. It has an SOS mode for emergencies, which you activate by quickly pressing the button twice in a row.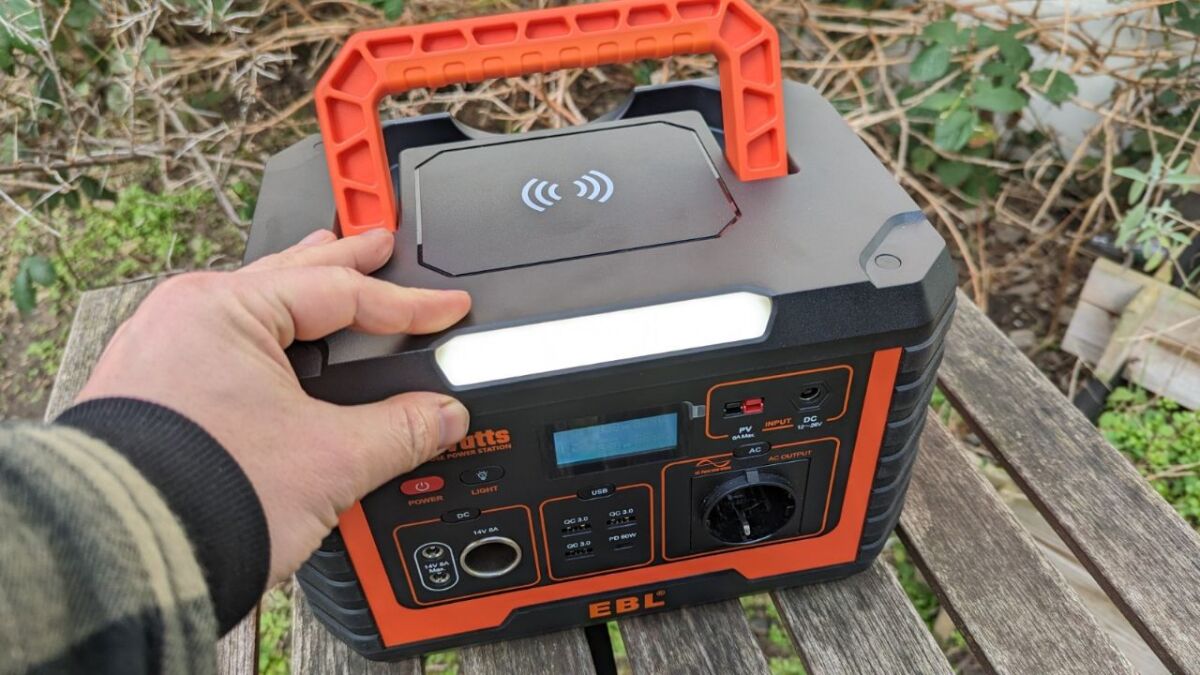 Delivery Contents
The EBL Voyager 500 includes both the wall and car charger. It comes with an MC4-7909 connection cable for solar modules and a user manual.
The video about the EBL Powerstation 500
Watch the video that I recorded for you. There you will find the most important facts summarized again.
The EBL 100W Solar Panel in Detail
What immediately caught my attention about the panel is its versatile use. I really like it when a solar module is compatible with other power stations.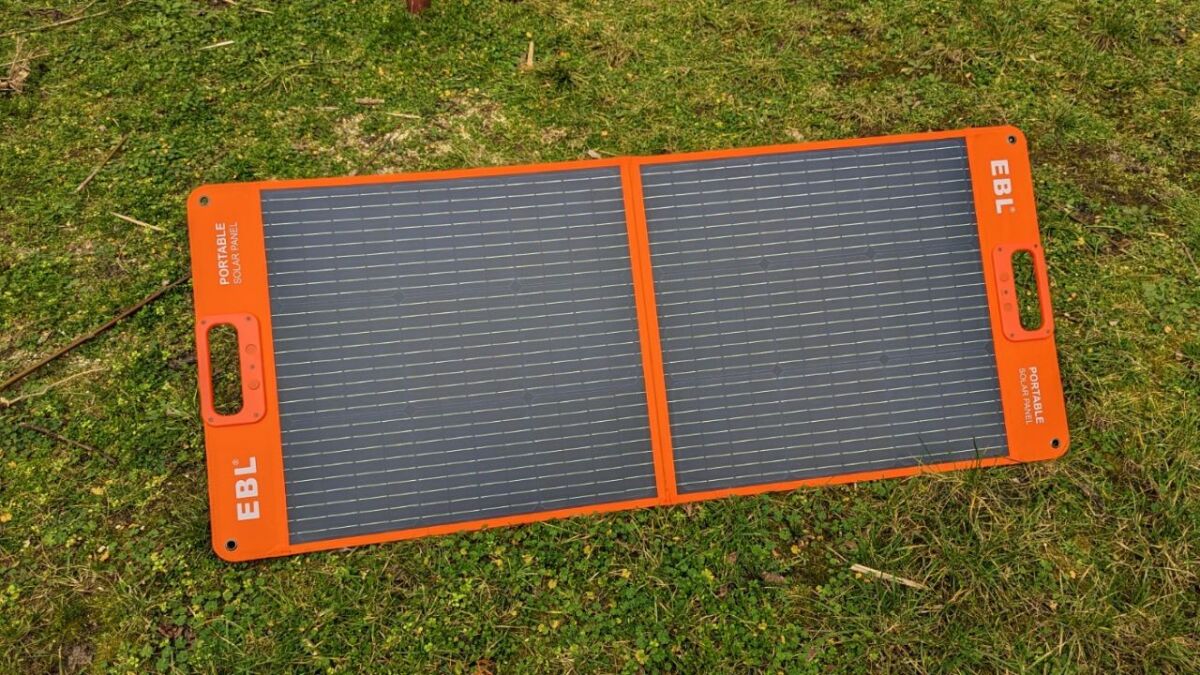 This is the case here because the solar panel from EBL has the following adapters:
5.5 × 2.1 mm
Anderson plug
3.5 × 1.5 mm
5.5 × 2.5 mm
7.9 × 0.9 mm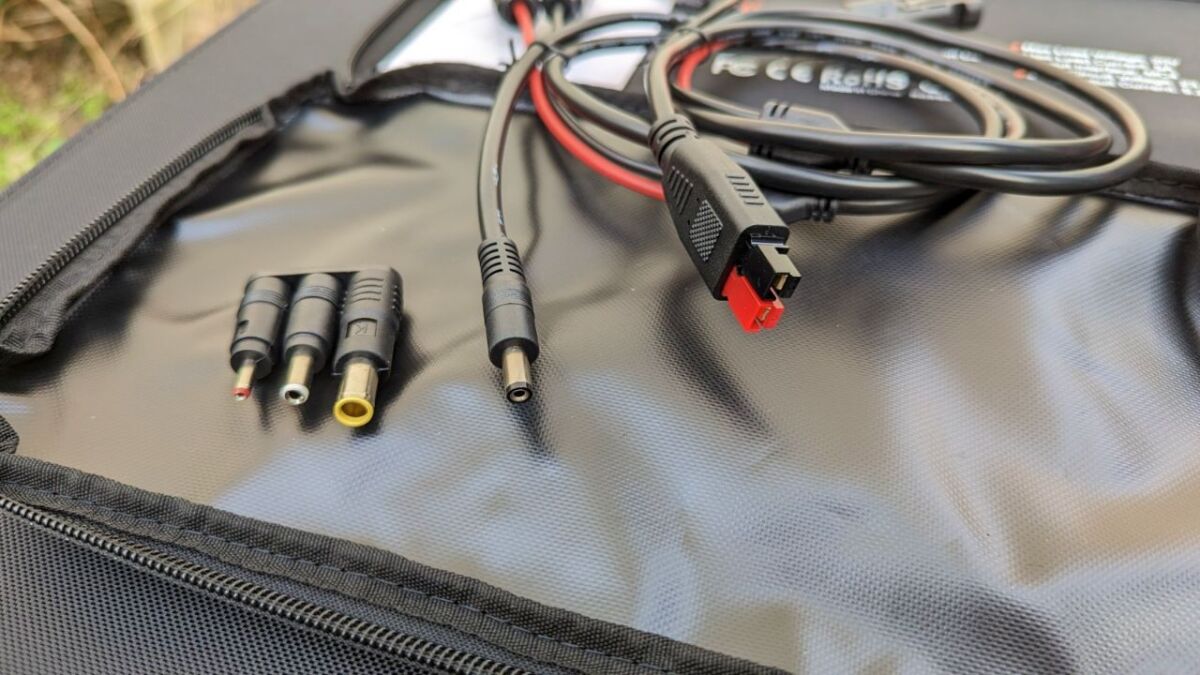 That means you can easily connect your Jackery Powerstation or your Bluetti Powerstation with it. This was often missing for me with other manufacturers and was a point of criticism. Here, the EBL Solarpanel 100W can score great.
Otherwise, the solar panel offers many specifications that other manufacturers also offer, such as an efficiency of 23%, IC protection against overcharging, overheating, and short circuits.
Furthermore, there are two fold-out stands included, which allow you to set up the panel at a 45-degree angle. The panel has IP65 water resistance - so it is protected against splashing water, but not against rain.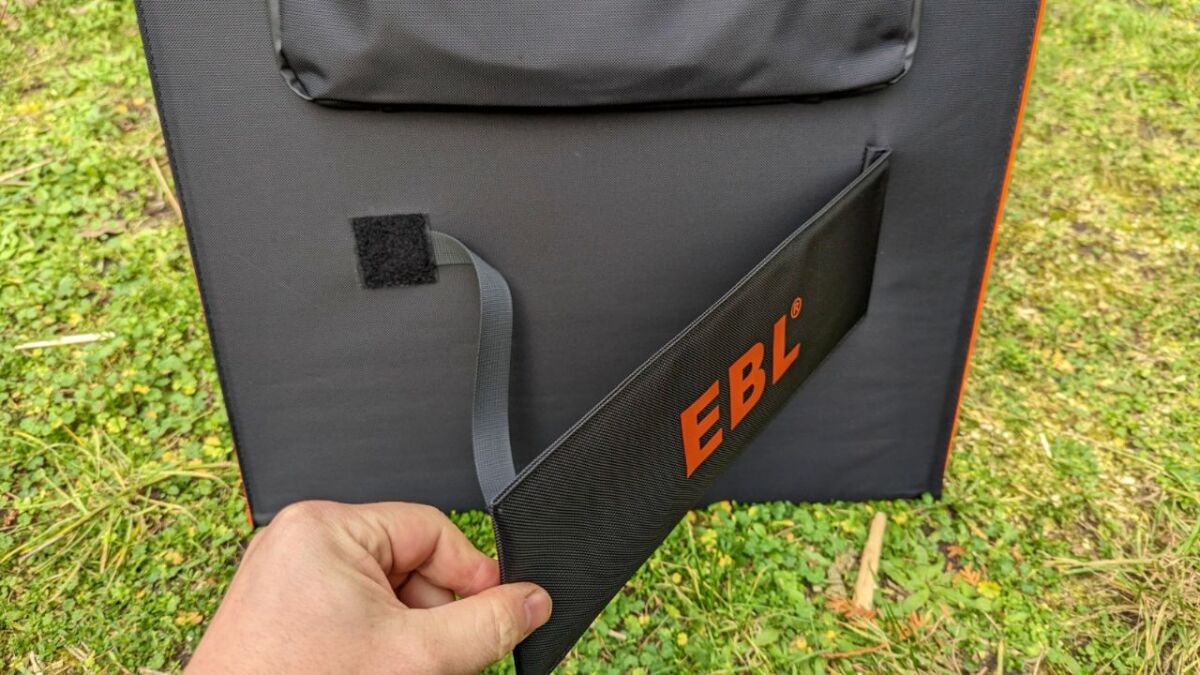 To transport, simply fold the panel in the middle and the magnetic device securely holds everything together.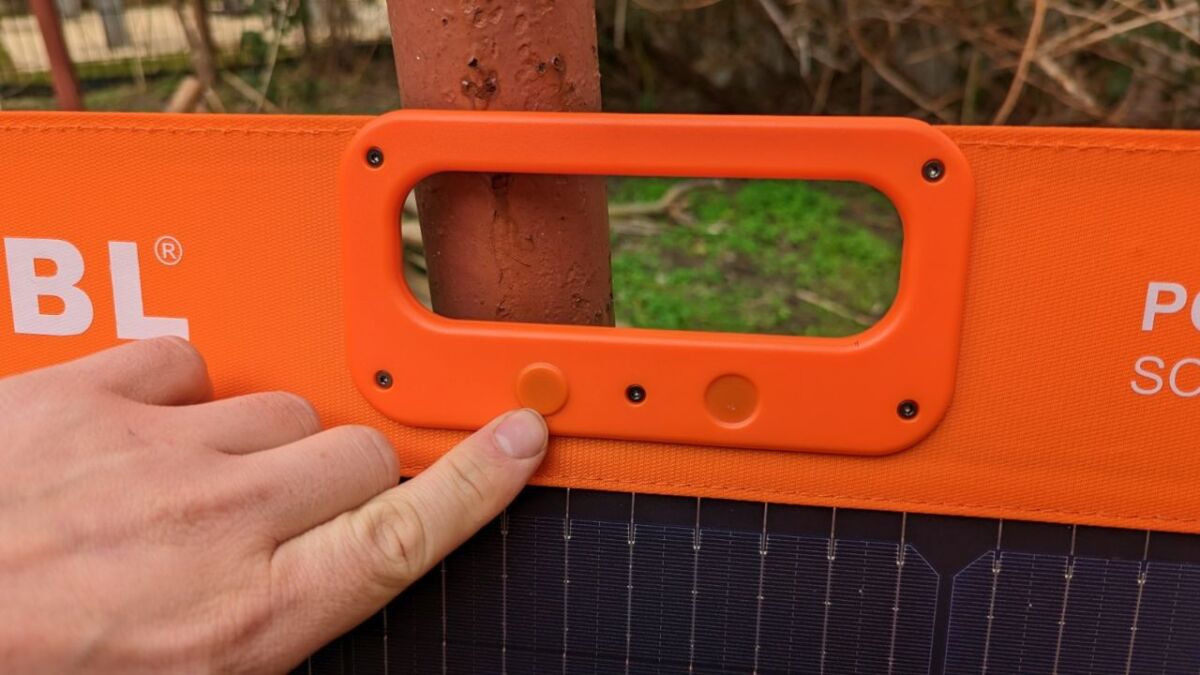 At the corners, you will find reinforced eyelets, which are great if you want to hang the solar panel on your camper or balcony.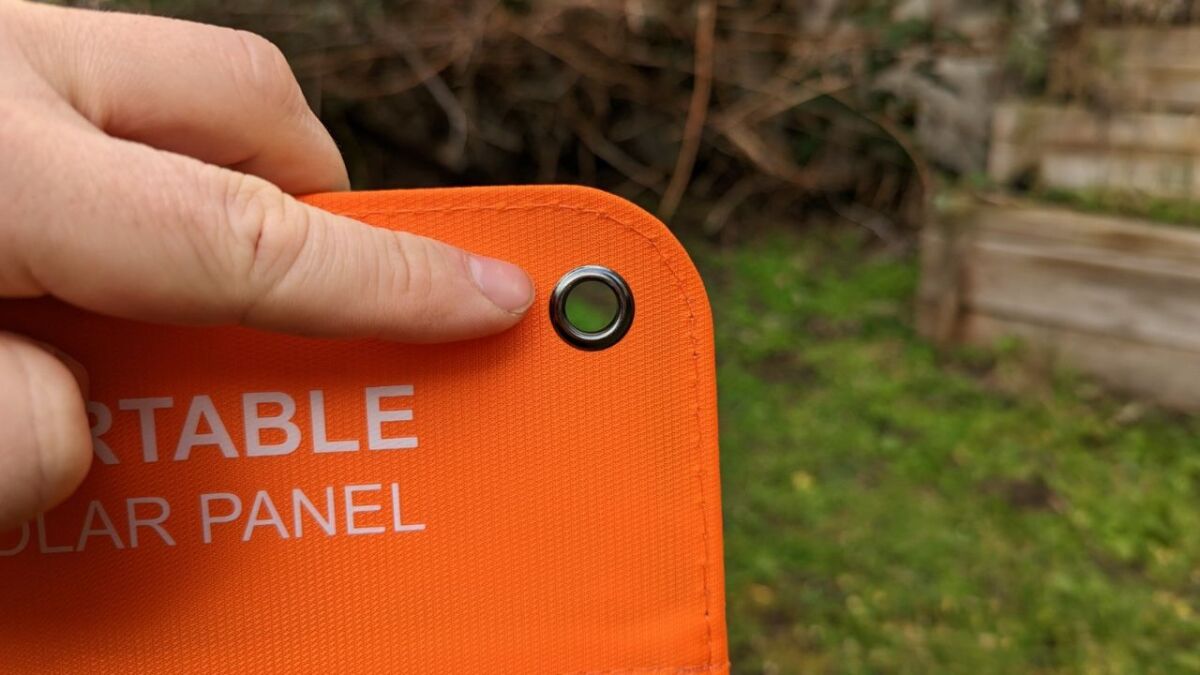 The panel weighs 5.14 kg and has dimensions of 72 x 60.5 x 8 cm.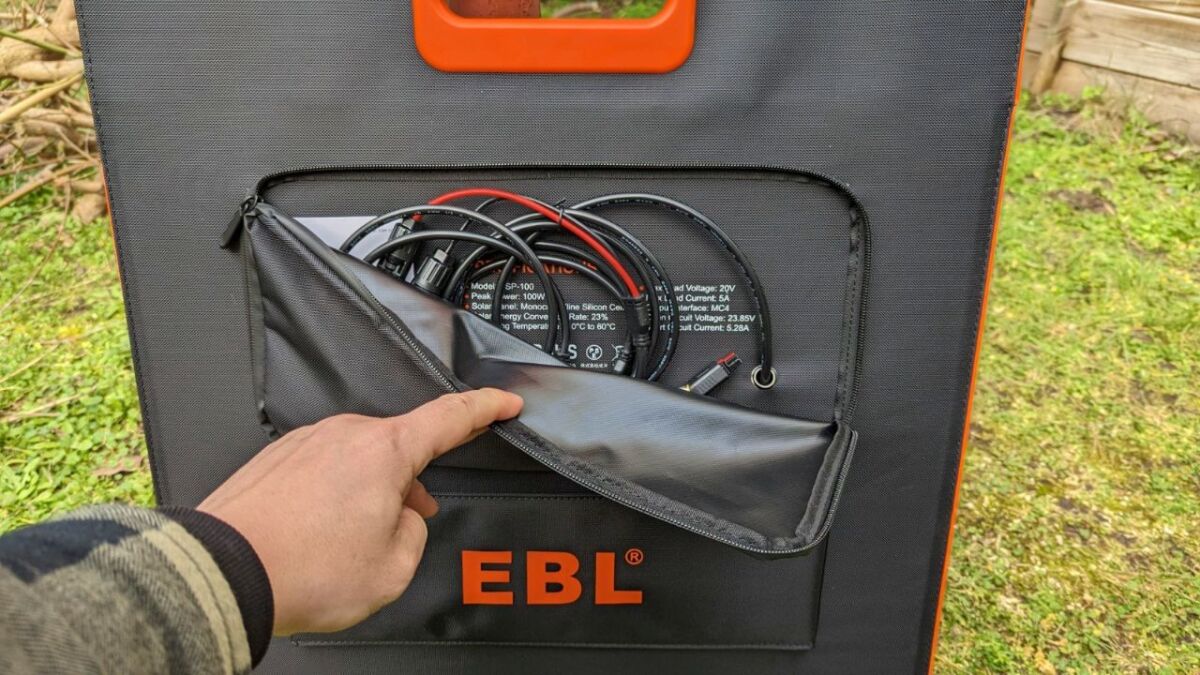 Unfortunately, there is one criticism: there is no USB plug on the solar panel. This means that I can only charge my smartphone or laptop with the panel. Other manufacturers have at least one USB-A port.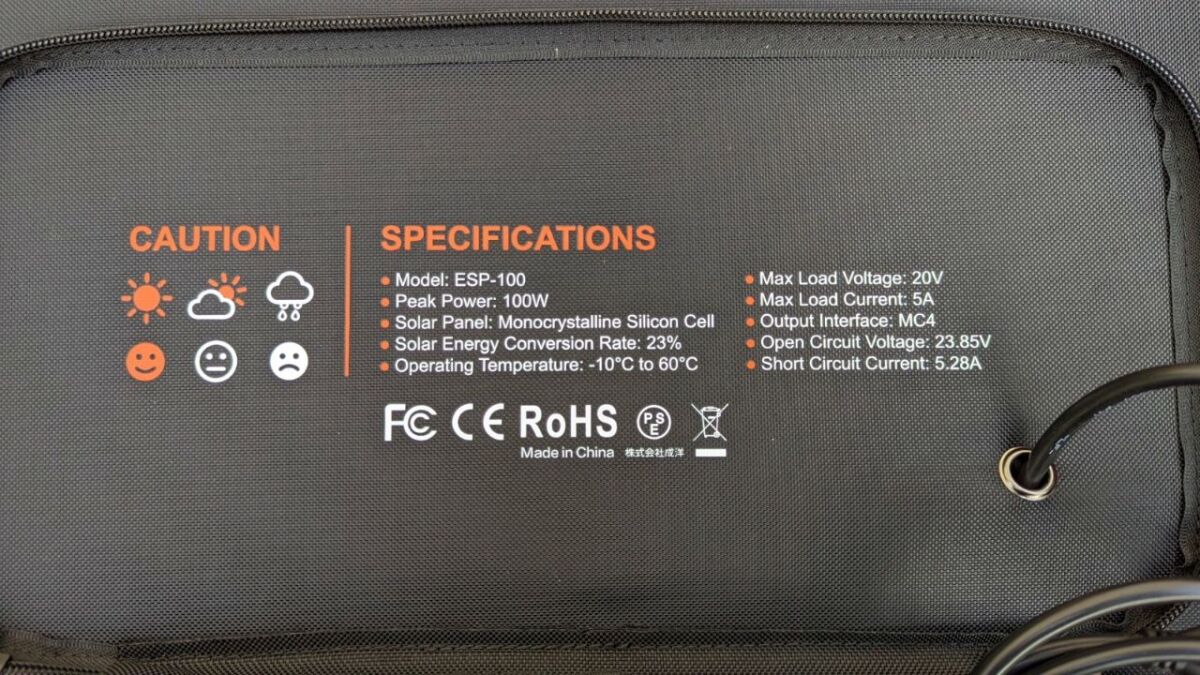 What I like about the Voyager 500 from EBL
There are many things that I like about the Voyager 500.
Not only is it powerful and portable, but it also has plenty of battery life and the ports that most people look for in a portable power station.
If you go camping and need to power smartphones, tablets, and a TV for a few hours, I have no doubt that the power station would last a whole weekend without needing to be charged.
That makes it a great power station for most people.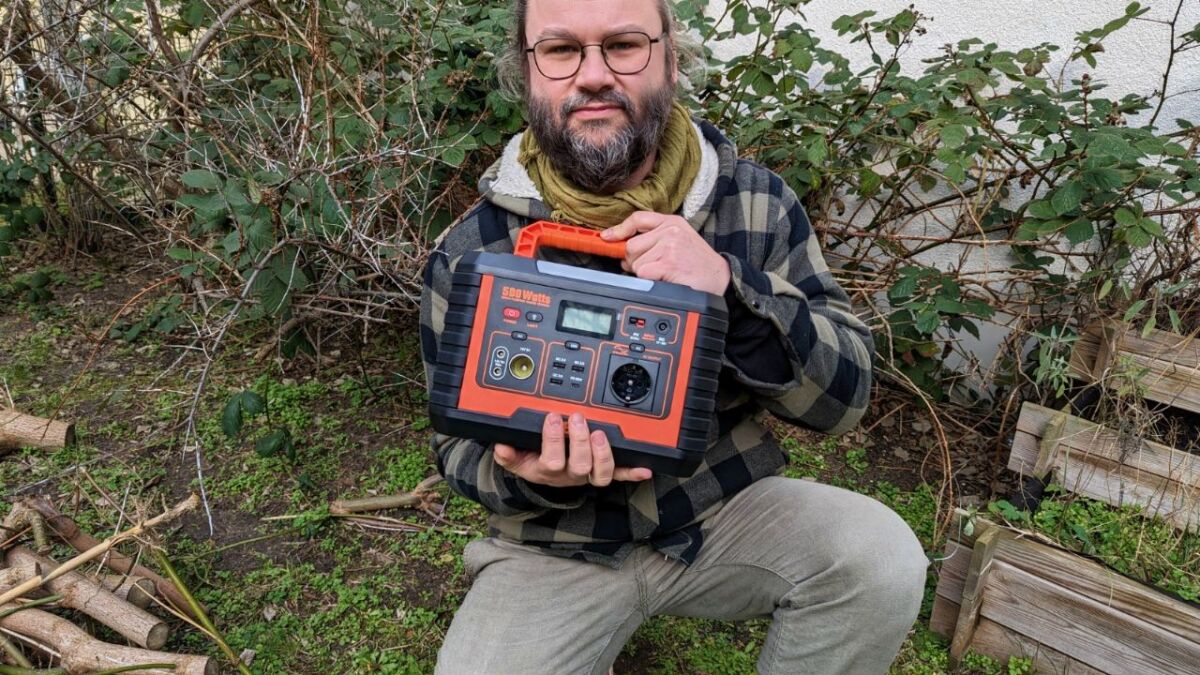 The Portability
For its performance, it is a well-wearable power station. It weighs just over 6.8 kg (7.8 kg with accessories), but has 500 watt-hours of battery capacity and a 500-watt inverter.
Thanks to its portability, it's easy to transport the Voyager and take it wherever you need it. I quickly loaded it into the car and stored it there.
Place it in a tent or next to the bed in your caravan to power your devices. Not every power station is as lightweight and easy to carry.
The handle on top makes it a bit bulkier when storing, but with a sturdy handle like this, it's not as frustrating as with some other collapsible handles. The handle is definitely stable and well attached to the housing.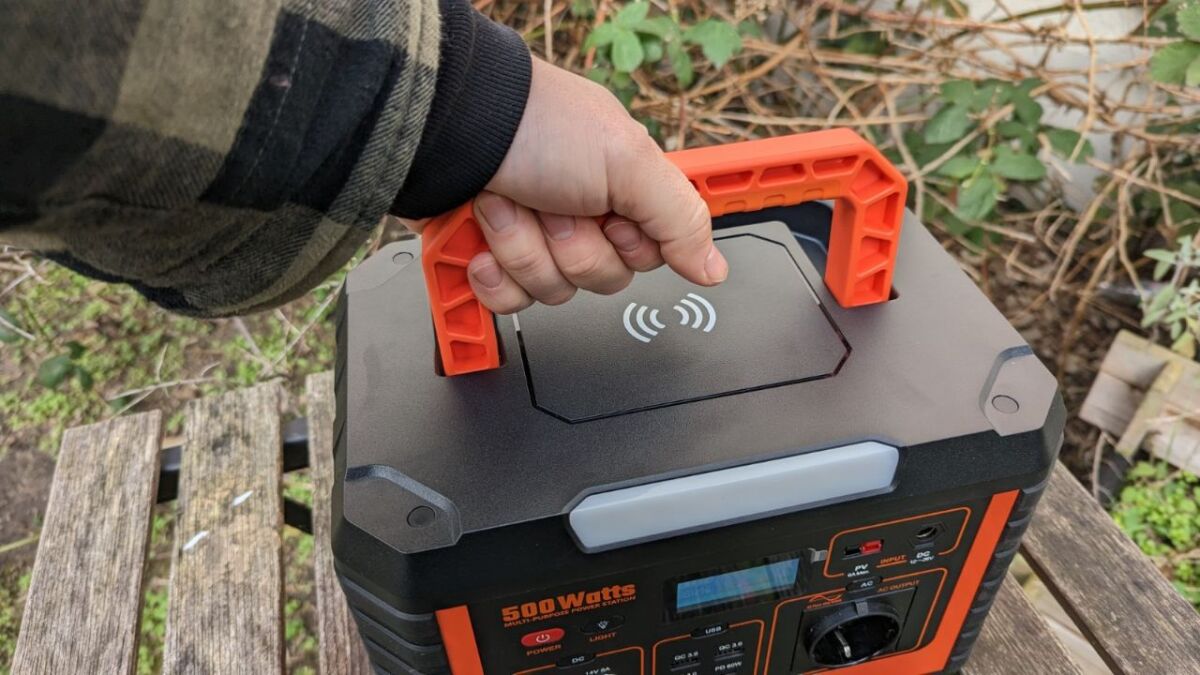 The Inverter
The large 500-watt inverter allows for powering large electronic devices such as a television and a gaming console simultaneously.
However, the Voyager will not operate heaters, air conditioners, or coffee machines, but it will supply small kitchen appliances such as beaters and small mixers with electricity.
I had no problems powering my MacBook Pro, television, PlayStation 4, or Nintendo Switch.
I was able to power my 32-inch television and PlayStation 4 for almost three hours with a running game. Approximately 150–170 watts were used.
As each connection type has its own on and off switch, the power station is effortless to use, and you always know what is being powered and what is not.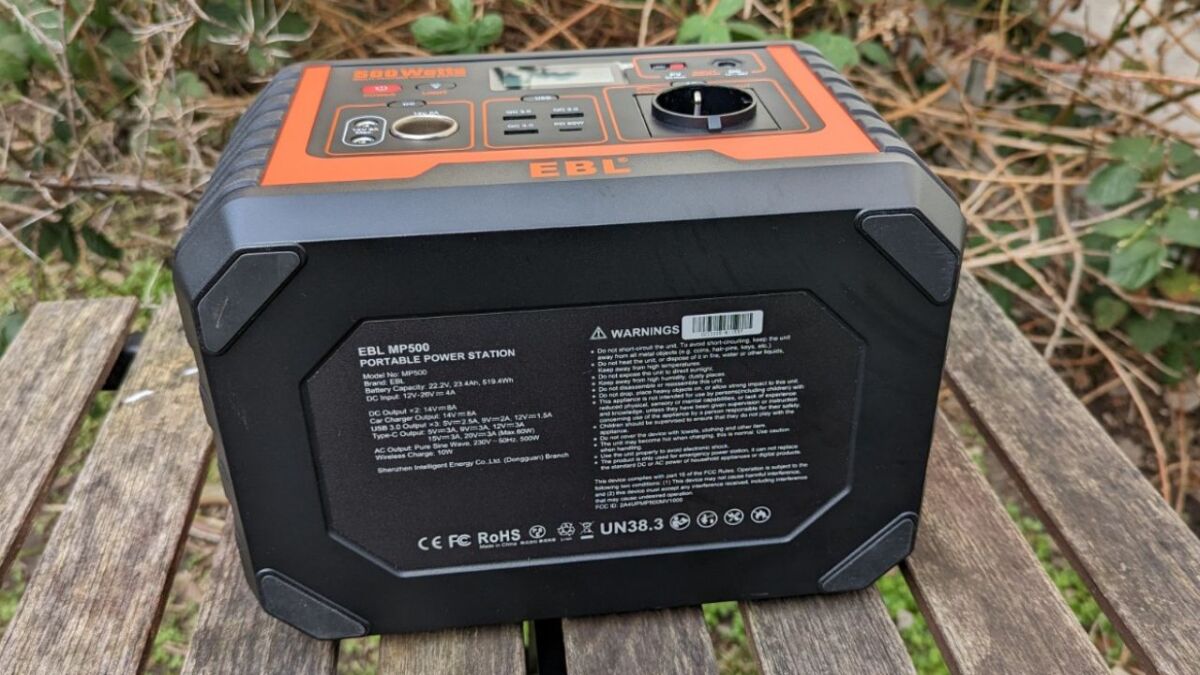 Charging with Solar Energy
Being able to charge a battery with solar modules is a liberating feeling and one of the most important reasons why I recommend power stations for campers.
The Voyager 500 can be charged in less than 8 hours with solar modules, and since you can use the battery while charging, you can work outside on a laptop all day.
Oh yes, you can also directly power your laptop or charge your smartphone with the EBL 100W solar panel if you would rather not use the power station.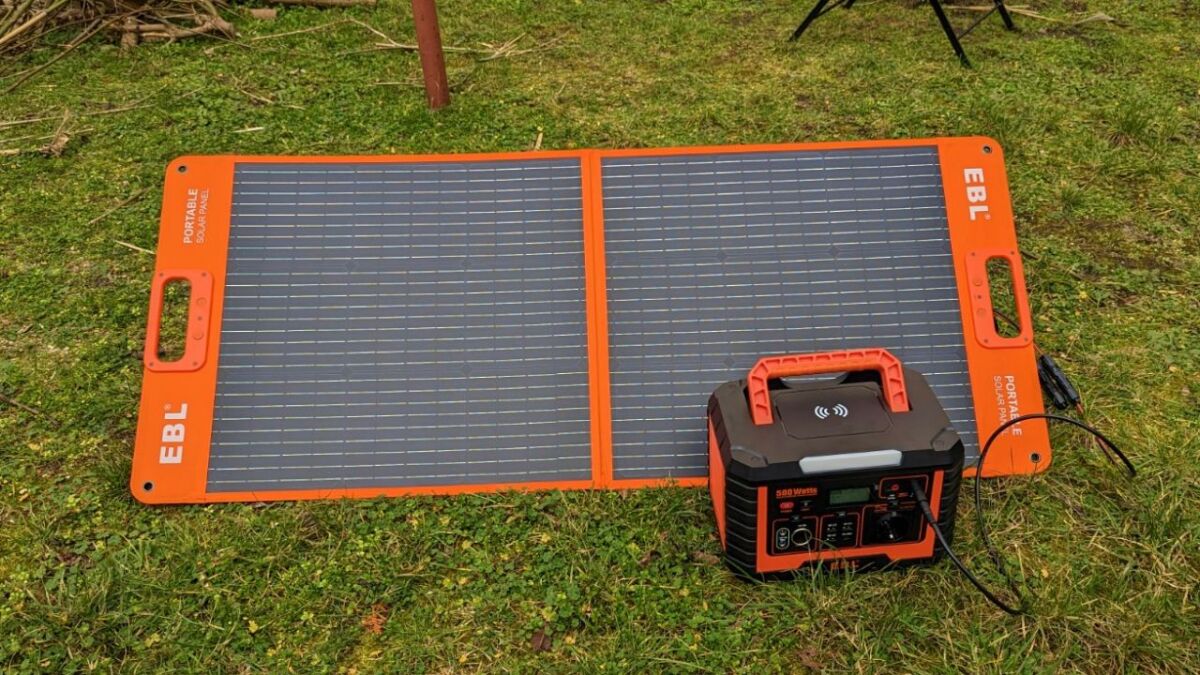 The Display
EBL has done something that I would wish for from every manufacturer of power stations.
This is the addition of a display that shows input and output watts and the charge level in percentage. In my opinion, it is the most useful information.
Details
There are several small details that I like about the Voyager 500.
Among other things, the integrated lamp. Some see it as an unnecessary feature, but I regularly need this gentle lighting in the tent and car.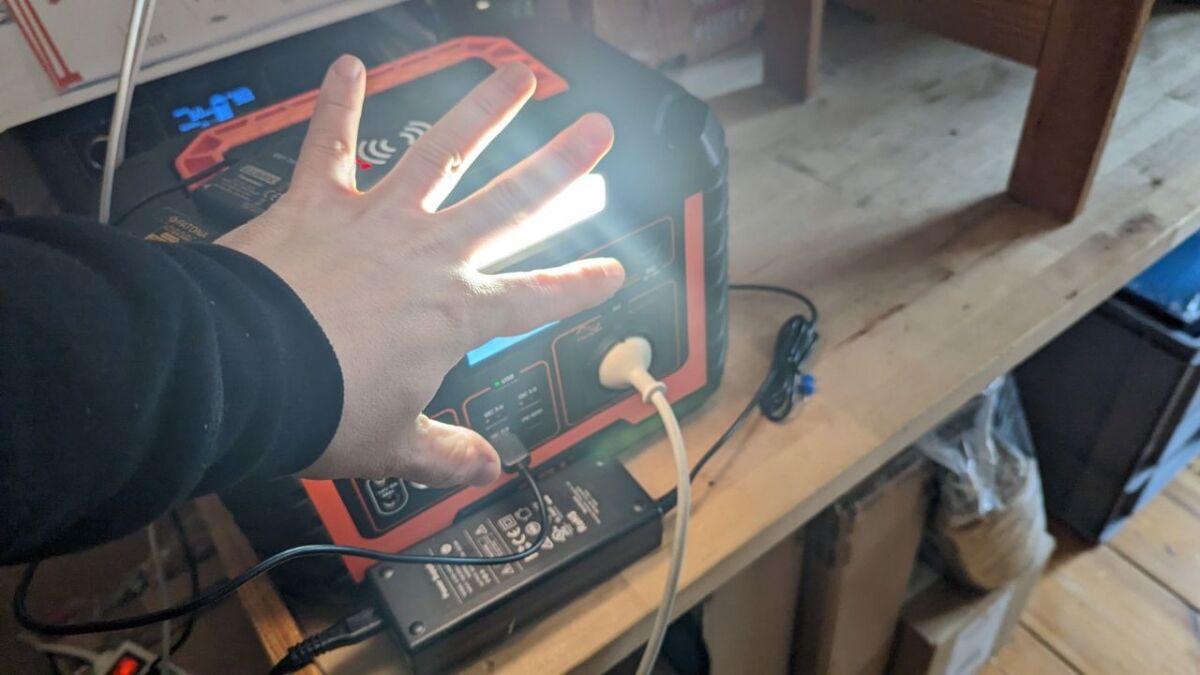 It's also great that the power station allows up to 105 watts of input current. Some other power stations only charge with 20, 30, or 40 watts. The more input current is allowed, the faster the battery charges.
The USB-C output with 60W is brilliant for me, as I can easily and quickly charge my MacBook Pro with it. This saves me the power-hungry detour via the inverter.
And yes, the contactless charger on the top of the power station is also fantastic, so I can simply place my Pixel 7 there and it charges.
I also like that I can completely turn off the power station by pressing the power button for a longer period of time.
What I don't like
There is always room for improvement, and here is what I would wish for in a future Voyager power station from EBL.
Ports
The outputs on the Voyager 500 are useful, but there are not enough of them.
I would like to have at least two AC sockets, as the inverter is so powerful. Now I have to use a power strip to supply more than one 230V device with power.
It doesn't need three USB-A outputs, I would rather have one more USB-C output.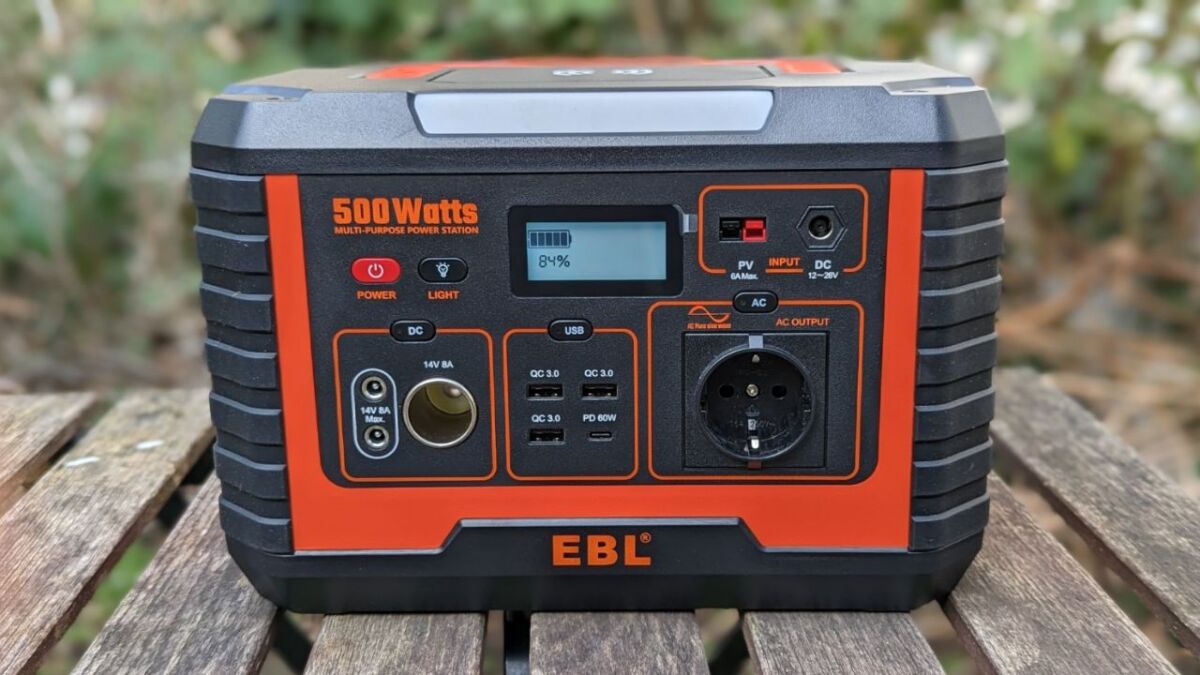 The illuminated display
The display contains all the information I require, but it is difficult to read when it is dark and the display only stays illuminated for 20 seconds when I press the display button.
I'm not always standing right next to the power station, so it's frustrating to have to go over there every time to check the charging status.
I wish that pressing a button would cause the illuminated display to stay on until I press the button to turn it off. It's a small detail, but it's disappointing not to know the battery level without pressing the button.
Another point in this context is how difficult it is to see which ports are active when using the Voyager outside in sunny conditions. The small lights on the buttons are not bright enough. This is not a problem at night or indoors.
Furthermore, it is difficult to look at the screen from above, it is necessary to go almost to the same height so that the display is visible.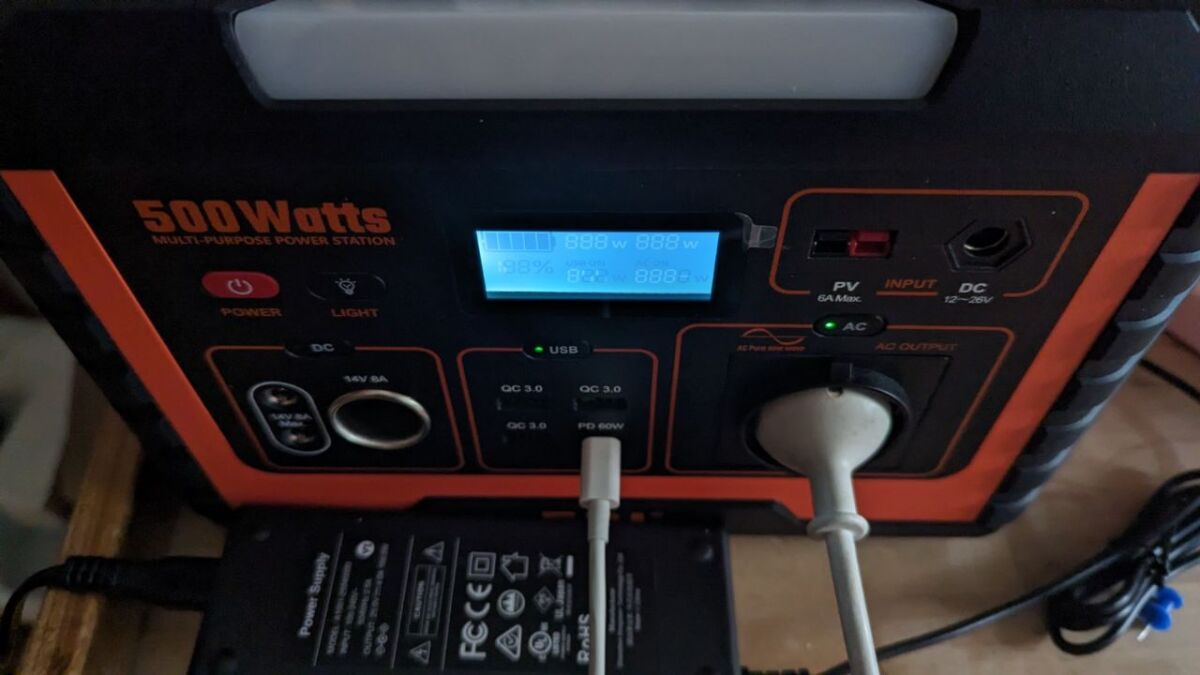 Portability
One of the biggest selling points of the Voyager 500 is its portability in relation to its performance.
With a weight of 6.8 kg and dimensions of 29.2 × 20.2 × 19.4 cm, it is very portable compared to many similar products.
It's not the type of power station you take on a hike, but for tent campers, emergencies, or RV owners, it's a great option that's easy to transport and store.
The built-in and foldable handle on top makes it easy to grip, transport, and store.
User-friendliness
With all the connections of the Voyager 500 from EBL, the relatively large battery and the inverter, it is a very useful power station that can be used in many situations.
It is a great camping buddy that keeps your smartphone, laptop, drone, and speaker charged for an entire weekend before the power station needs to be recharged.
Combine it with a solar panel, and you can stay outside as long as you have food and drink with you. Of course, the sun must be shining.
As the Powerstation has four USB ports (3x USB-A, 1x USB-C) as well as AC and DC ports, you can charge up to seven devices simultaneously.
So if you have a 100W solar panel and a 60W laptop, you can keep the battery fully charged while charging your laptop as long as the sun is shining.
My efficiency test of the inverter resulted in an efficiency of 86%, where I drew 445 watt-hours from the Voyager in just over three hours.
Questions and Answers
Q: What is the EBL Voyager 500?
A: The EBL Voyager 500 is a portable power supply that uses a battery to charge or power a variety of devices. It has 500 watts and weighs 6.8 kg.
Q: How does the EBL Voyager 500 work?
A: The EBL Powerstation is charged either through a socket, the 12V car socket or a solar panel and stores the energy in its internal battery. It has various ports for connecting your devices.
Q: How long does it take to charge the EBL Voyager 500 Powerstation?
A: The charging time depends on the type of charger. It can take between 5 and 7 hours to fully charge the EBL Powerstation with a power adapter, while it can take up to 9 hours to charge it with a solar panel.
Q: How long does the EBL Voyager 500 last?
A: The runtime of the EBL Powerstation depends on the types of devices connected and the power they require. However, a fully charged EBL Powerstation can provide long-lasting power and charge multiple devices at once.
Q: How many devices can I charge simultaneously with the EBL Powerstation?
A: The number of devices you can charge with the EBL Voyager 500 depends on the power each port can deliver. However, in general, you can charge up to seven devices simultaneously.
Q: How big is the EBL Voyager 500?
A: The size of the EBL Powerstation is 29.2 × 20.2 × 19.4 cm. It is compact and portable enough to be easily transported.
Q: How much does the EBL Voyager 500 weigh?
A: The EBL Powerstation with 500 watts weighs 6.8 kilograms without accessories.
Q: Can I use the EBL Voyager 500 outdoors?
A: Yes, the EBL Powerstation is ideal for outdoor use, such as camping or hiking. It is splash-proof, but should never be exposed to high humidity or rain.
Q: Can I take the EBL Voyager 500 on the airplane?
A: Basically, this is not possible. However, this also depends on the airlines. I recommend that you inquire with the respective airline beforehand to ensure that you are allowed to bring the power station on board.
Q: How long does it take for the EBL Powerstation to run out of power?
A: The discharge time depends on the types of devices connected and the power they require.
My conclusion on the EBL Powerstation Voyager 500
I like the Voyager 500 and recommend it for homeowners who need a backup battery in case of a power outage/blackout.
It is also great for people who go camping on weekends or need to use a CPAP machine, laptop, or other small electronic devices.
Full-time RV travelers could be limited by the slow solar charging and the single AC outlet. Unless you are certain that you don't need to charge anything quickly or operate more than one device at a time.
If you only use your smartphone and occasionally a laptop and expect regular sunshine on your journey, then the EBL Powerstation with 500W is completely sufficient.
Attention! There is currently a big discount promotion on Amazon! You can get a discount of €200 on the power station and a discount of €50 on the solar panel! So, you can save a total of €250. Click on the links below and activate the coupon!

EBL 500W Powerstation 519.4Wh Lithium Batterie (Peak 1038W), Mobiler Stromspeicher mit Reinen Sinuswellen 230V/500W Solargenerator Steckdose + USB für Camping im Freien, Notfall zu Hause, Outdoors
[Sichere und stabile Stromversorgung]: Das tragbare EBL Powerstation ist mit einem 519.4Wh Lithium Batterie ausgestattet, der einen verbesserten Chip enthält, eine Schnellladefunktion und mehr als 1000 Ladezeiten unterstützt. AC Steckdose mit reiner Sinuswellentechnologie liefert stabilen und sicheren Strom ohne Beschädigung und reduziert hörbare und elektrische Geräusche.
[Tragbare Solar Powerstation]: Es hat eine tragbare Größe. Sie können es leicht mit einer Hand am rutschfesten Griff aufheben. Laden Sie Ihre EBL Powerstation mit der Steckdose zu Hause oder während einer Autofahrt mit der Autosteckdose auf, sogar mit einer Solarpanel im Urlaub.
[Bis zu 10 gleichzeitige Geräte]: 3 x DC Steckdose, 3 x 3.0 Schnellladeanschluss, 2 x AC Steckdose, 1 x PD 18W USB C Anschluss und 1 x kabelloses Ladegerät für Handy. Es ist auch mit hellem SOS Licht und kann Ihres Smartphone, Tablet, Laptop, Kamera, Licht, Drohnen, Ventilatoren, Geräte im Auto, CPAP-Geräte jederzeit und überall mit Strom versorgen.
[Solarenergie & Ökostrom]: EBL 500W Powerstation unterstützt Solaraufladung und wird für die Verwendung mit Solarpanel zusammen empfohlen. Sie können Ihren wunderbaren Urlaub für Zeltcamping, Überlandreise usw. damit genießen. Stromausfall und Notfälle sind ebenfalls anwendbar.
[Erwerbung & Dienst]: 1 x EBL MP500 tragbare Powerstation, 1 x AC 100-240V Wandstecker Netzteil, 1 x 12V Autoladekabel, 1 * MC4-7909 Anschlusskabe, 1 * Benutzerhandbuch. EBL Official bietet Ihnen 12 Monate Garantie und hochwertigen Kundenservice.
kein Preis ermittelbar (B08GQZV2DX)
View Product
EBL100W tragbares Solarpanel für 240/300/500/1000/1500/2000 Powerstation, Wasserdichtkeit IP65 mit verstellbarem Ständer und Parallelkabel, für Camping im Freien, Wandern, Wohnmobilreisen
[Universelles Kompatibilität Solarpanel]: EBL tragbares 100W Solarpanel ist kompatibel mit den meisten Generatoren auf dem Markt, einschließlich vieler bekannter Marken. Sie können damit stressfrei 100W-2000W Energiespeicherleistung aufladen. Es ist mit vielfältigen Anschlüssen in mehreren Größen ausgestattet, die zu mehreren Computermodellen passen können.
[Intelligente IC & hohe Energieumwandlung]: EBL Solarpanel besteht aus fortschrittlichen hochreinen Solarzellen, die einen hohen Wirkungsgrad von 23% erreichen und bei starker Sonneneinstrahlung weitaus besser abschneiden als herkömmliches Solarpanel. Intelligente IC bietet Schutz vor Überladung, Überhitzung und Kurzschluss.
[Tragbarer Ständer und Verwendung]: Mit 2 Ständern kann das Solarpanel in einem Winkel von 45° verwendet werden, damit kann EBL SOLAR APPOLLO 100 Solarpanel 20% mehr Sonnenlicht abbekommen als liegendem Zustand. Das magnetische Griffdesign ist praktisch zum einfachen Zusammenklappen und Aufbewahren, Sie können es durch den weichen Gummigriff stabil zusammenklappen.
[Wasserdicht und langlebig]: EBL 100W Solarpanel besteht aus fortschrittlicher laminierter Technologie und langlebigem ETFE-Material. IP65 wasserdichtkeit kann vor Spritzwasser schützen, aber bitte nicht unter den Regen stellen oder in Wasser einweichen.
[Erwerbung & Dienst]: 1 x EBL Solar Apollo 100W Solarpanel, 1 x MC4 zum ANDERSON Kabel, 1 x MC4 zum DC5521 Kabel, 1 x 5.5*2.1 mm zum 5.5*2.5 mm Stecker, 1 x 5.5*2.1 mm zum 7.9*0.9 mm Stecker, 1 x 5.5 * 2.1 mm zum 3.5 * 1.5 mm Stecker, 1 x Benutzerhandbuch
169,00 €
View Product
If I were to work on my MacBook Pro for at least 8 hours every day on my journey, the Voyager 500 would not be able to keep up with my high-power consumption.
But it is more than sufficient to power small electronic devices for a few hours a day or a CPAP machine at night.
The larger EBL Powerstation with 1000 watts (displayed here on Amazon) would be a better choice for people like me.
I recommend combining the Voyager 500 (view on Amazon here) with a portable solar panel such as the EBL 100W Solar Panel (view on Amazon here).
Disclosure: Many thanks to the team at EBL for providing me with the power station and solar panel for testing. I was not paid to write this review.

Was this guide helpful?
14 people found this guide helpful.
5.00 out of 5 points (14 Ratings)