Back to german article
The Victorinox Huntsman in the test - A review of the popular Swiss Army Knife
Discover the Victorinox Huntsman pocket knife in a detailed test and review. Learn why it is the perfect tool for any outdoor adventure.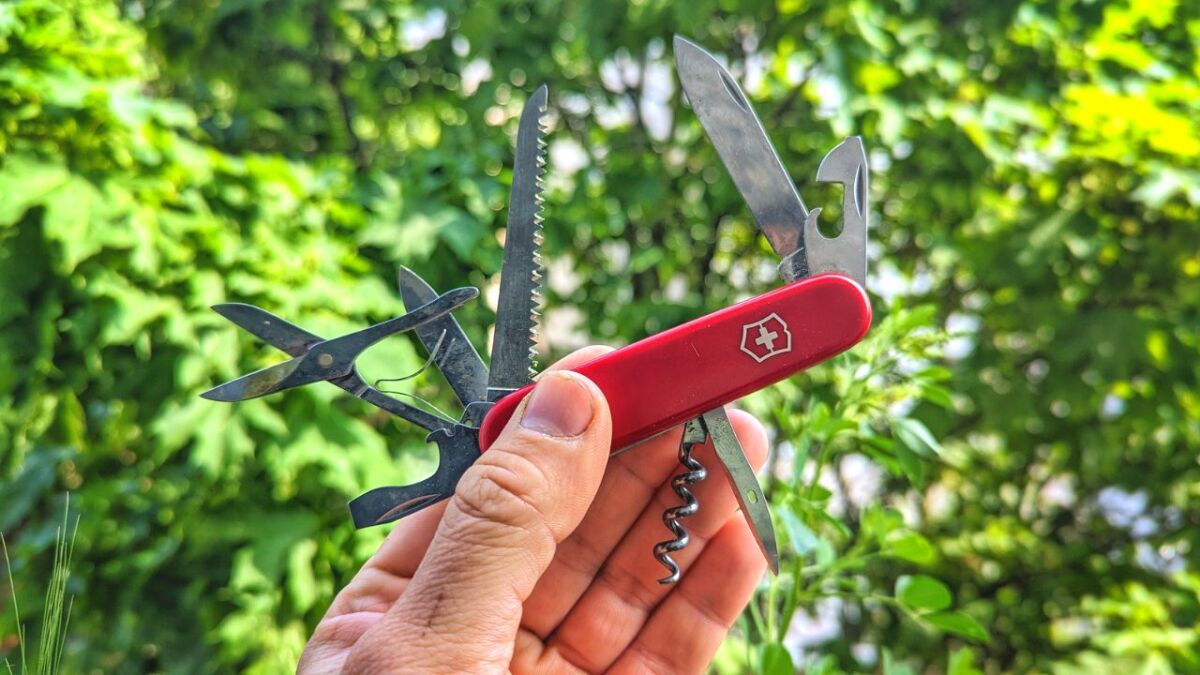 ---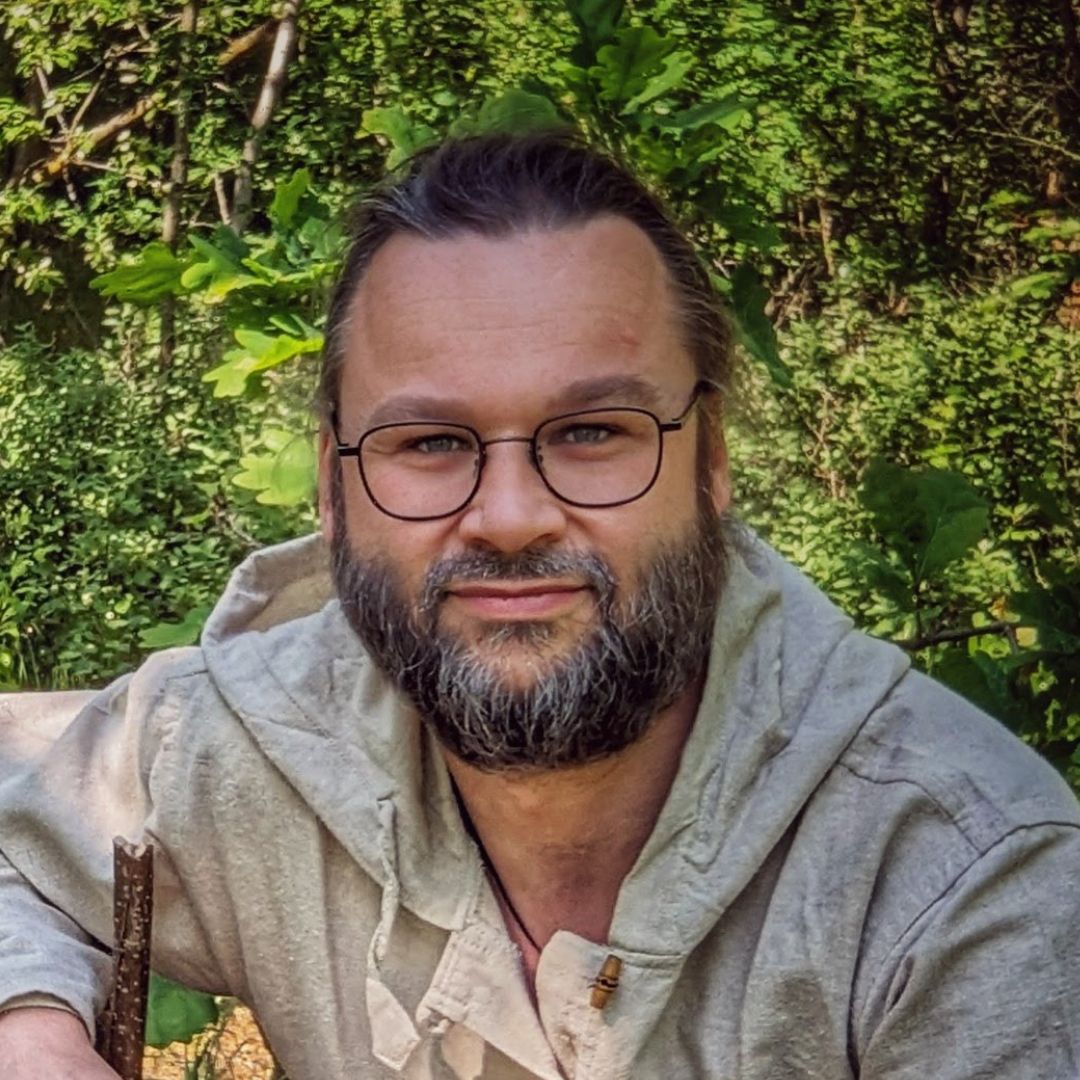 ---
👉 The key facts from this guide
The Victorinox Huntsman pocket knife is a versatile tool with 15 functions, ideal for outdoor activities and everyday use.
It is characterized by its robustness, design, functionality, and quality. The blades and tools are made of rust-resistant 1.4110 steel.
The handle scales of the Huntsman are made of Cellidor, a durable and high-gloss plastic. The knife is 9.1 cm long and weighs 97 g.
Despite its versatility and quality, the Huntsman is affordable compared to other high-quality pocket knives.
Victorinox offers a lifetime warranty for all material and manufacturing defects for the Huntsman pocket knife.
However, it is not suitable for professional or extremely challenging tasks, and the locking mechanism cannot be detected, which could pose a safety risk.
Before we get started, let me ask you a question: What is the one tool that you always have with you when you're out in the wilderness?
For me, it's the Victorinox Huntsman pocket knife.
It's been my faithful companion for years, and today I want to tell you why.
Whether you're a camper, hiker, professional craftsman, or just someone who loves being prepared - the Victorinox Huntsman is likely the best companion.
It's one of the most well-known and popular Swiss Army knives on the market, offering 15 functions for every day and adventure.
In the following review, I will take a closer look at the popular Victorinox Huntsman knife and examine its multifunctional properties.
My Victorinox Huntsman Test Conclusion – well-equipped with Swiss Quality
I want to get straight to the point and tell you about my experience with the Victorinox Huntsman pocket knife.
What do I like about the knife?
The balance between durability, design, functionality, and quality.
First, a pocket knife must be durable and able to perform the functions that I need.
It must support me in my work in the forest when I'm outdoors.
And the Huntsman does all of that!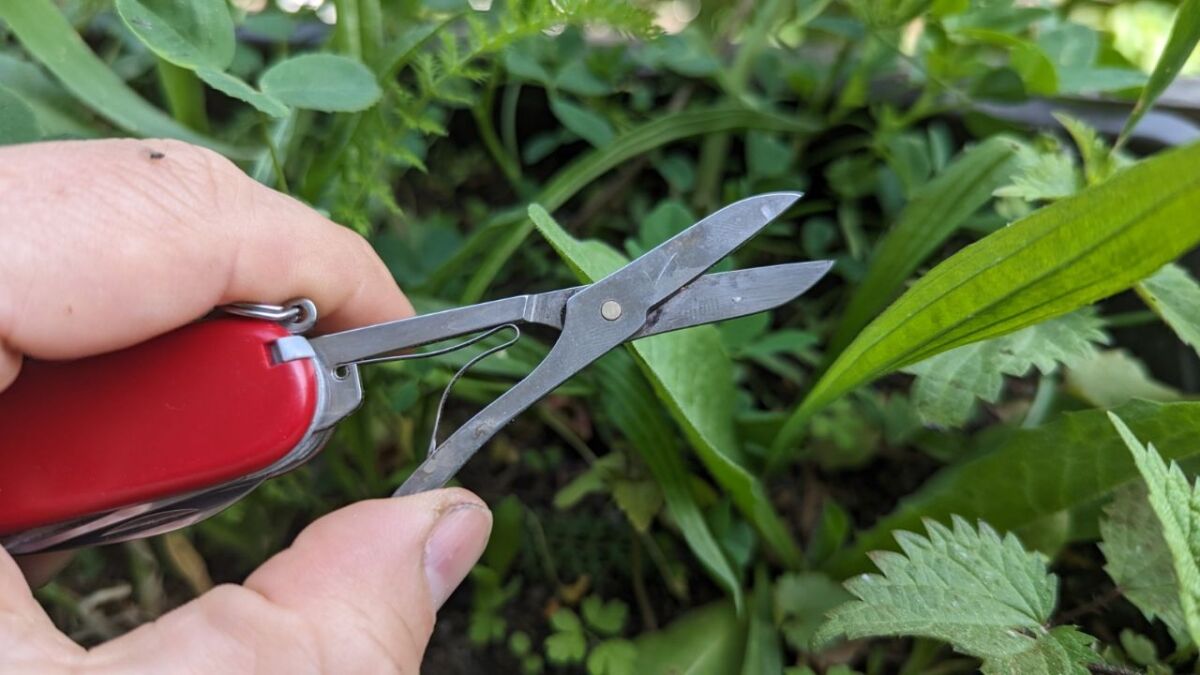 You probably know it - that characteristic design of a Swiss Army knife that immediately catches your eye. It's like an old friend, familiar and always ready to help.
Imagine yourself standing in the midst of the wilderness with nothing but 15 tools, all elegantly packed into this one small pocket wonder.
Yes, that's right, you heard correctly. Whether you're blazing a path through the underbrush, preparing a campfire, or maybe even building an improvised fishing rod - the Victorinox Huntsman is your faithful companion.
The wilderness can be fickle, as we both know. But with this Swiss Army Knife in your pocket, you're always prepared.
Cutting, sawing, picking, screwing - all of that is possible, and so much more! It's almost like having your personal MacGyver in your pocket.
But don't forget… no matter how good your tools are, the most important thing is always to respect and preserve the surrounding nature.
Because it's the true adventure and the Victorinox Huntsman is our faithful companion. What a team, right?
Daten aktualisiert vor 23 Stunden
Victorinox Schweizer Taschenmesser Huntsman, Swiss Army Knife, Multitool, 15 Funktionen, Klinge, Korkenzieher, Dosenöffner
HUNTSMAN: Mittleres Taschenmesser für die Jagd - Perfekt zum Sägen von Holz oder Schneiden von Seilen beim Klettern, Wandern und Campen. Mit Schere und Holzsäge.
FUNKTIONEN: 15 Funktionen - darunter: Klinge gross, Klinge klein, Korkenzieher, Dosenöffner, Schraubendreher 3 mm, Kapselheber, Schraubendreher 6 mm, Drahtabisolierer, Stech-Bohr-Nähahle, Schere, Holzsäge, Mehrzweckhaken, Ring, Pinzette, Zahnstocher.
EINE KLASSE FÜR SICH: Kompakt, wendig und auf jedes Abenteuer vorbereitet. Auch über 120 Jahre nach Einführung des ikonischen Schweizer Taschenmessers besitzen alle Taschenmesser die DNA ihrer Vorfahren - einzigartige Funktionalität und Zuverlässigkeit.
PRODUKTDETAILS: Länge 91 mm, Breite 26.5 mm, Höhe 21 mm, Gewicht 97 g, Material ABS / Cellidor, Farbe Rot, Geschärfte Klingenlänge 59 mm, Artikel 1.3713, Huntsman
HÖCHSTE SCHWEIZER QUALITÄT: Victorinox ist eine Schweizer Marke mit einem weltweiten Ruf für Handwerkskunst und innovatives Design. Wir nutzen unsere 130-jährige Erfahrung, um ikonische, hochwertige Messer, Uhren, Reisegepäck und Parfums zu produzieren.
35,70 €
UVP: 41,00 €
View Product
15 tools in one knife
The Huntsman provides me with more than 15 different high-quality tools in a compact format.
I can take it almost anywhere - it fits comfortably in my pocket or backpack.
Furthermore, the Victorinox Huntsman feels so good in my hand that it sets the standard for comfort and robustness. Its handle scales allow me to grip it securely, but the smooth surfaces also make it pleasant to hold.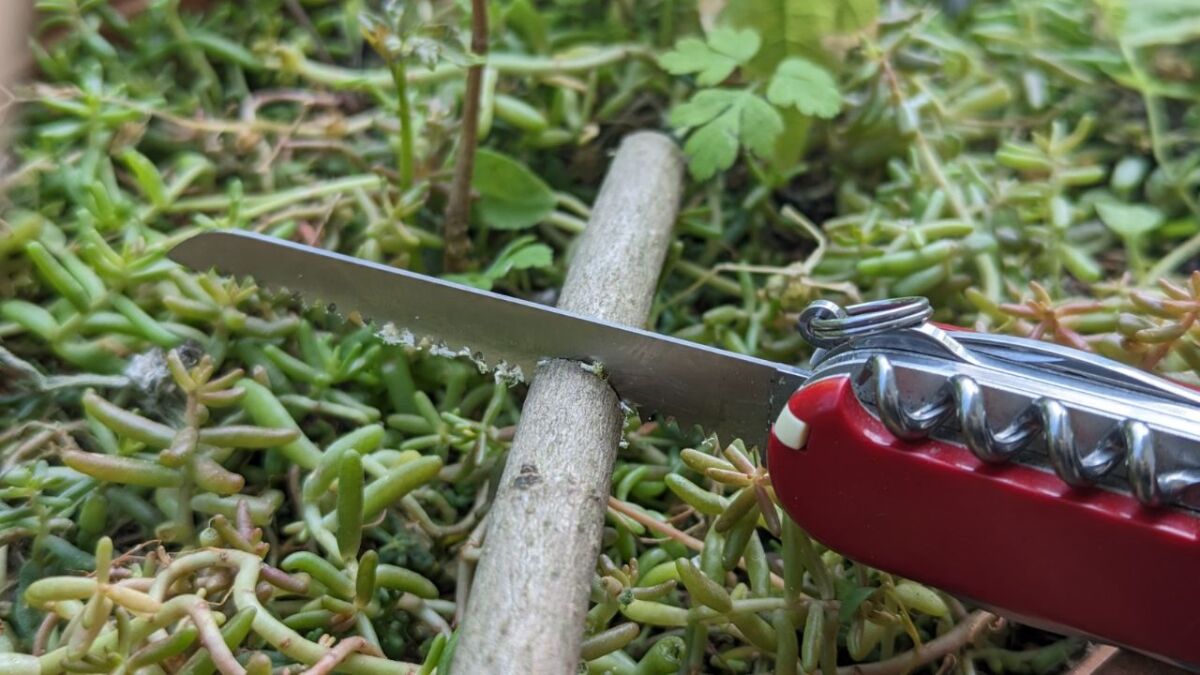 The durability of the stainless-steel blade contributes to its longevity.
And I just like the combinations of the tools. I often work with the wood saw, the small blade, the awl, and the scissors. Those are four things that I regularly need and really appreciate.
Sounds good already, right? Is the Swiss Army Knife something for you? Keep reading, because I will now introduce you to all the details.
Design and Construction of the Victorinox Huntsman
When it comes to multi-functional pocket knives with a compact size, the Victorinox Huntsman is the most popular and well-known model.
It is one of the best pocket knives that you can buy on the market. It offers a sturdy and reliable construction, a unique design, and a variety of useful functions. Therefore, it is a good choice for many types of outdoor activities.
In this review, we will take a closer look at the Victorinox Huntsman and discuss the different design and construction features of the knife.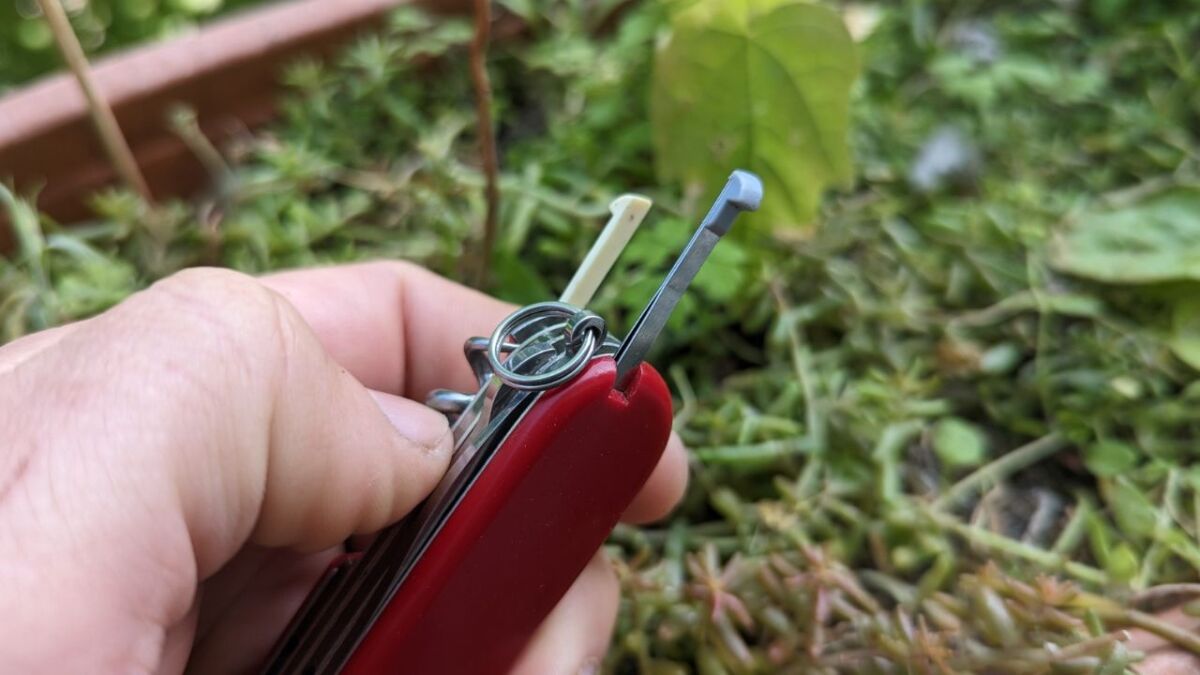 The Blades and Tools of the Huntsman - Material and Measurements
The Victorinox Huntsman is a popular Swiss Pocket Knife, made from a variety of materials.
Why do I like Victorinox? Because of the high-quality processing of the materials.
To ensure that all the functions of the knife work reliably under different conditions such as torture and extreme temperatures, Victorinox has used only high-quality materials in the knife.
The blades and tools of the Huntsman are made of rust-resistant 1.4110 steel, which has a Rockwell hardness rating of 56. This steel is extremely impact-resistant and remains sharp even with frequent use.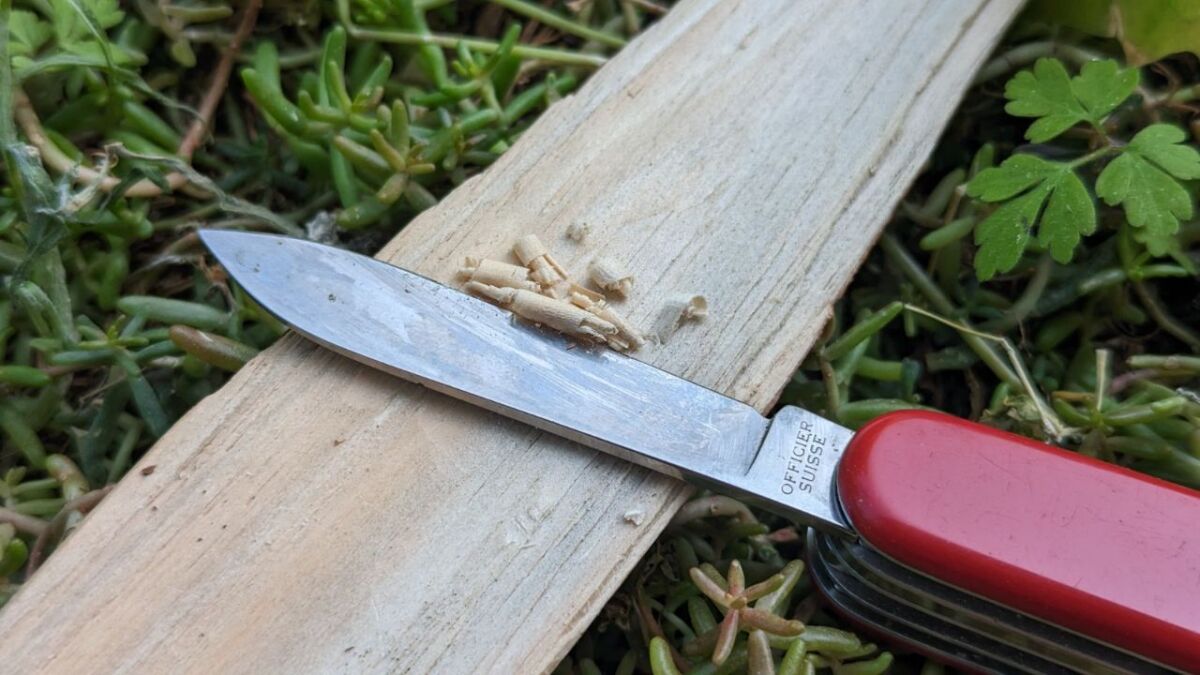 Under the rather technical name 1.4110 hides a true favorite of the Victorinox family. You may know it better as 440A if you follow American material nomenclature.
This rust-free steel, refined with an alloy of chrome and molybdenum, can be brought to a hardness of 56 HRC. Read more on the topic "What hardness should a knife have? - HRC simply explained".
What does that mean for us woodsmen?
Well, this steel holds a cut like a reliable friend and can be easily sharpened.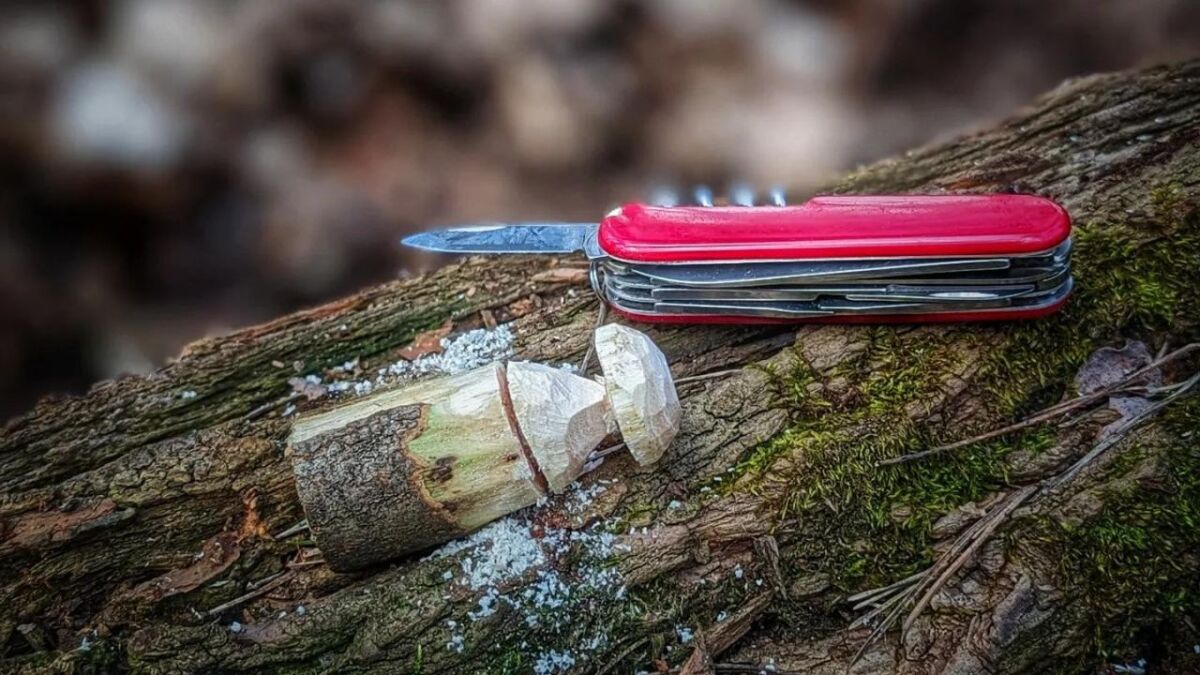 It's almost as if it has a built-in sense of balance. Victorinox, our Swiss Pocket Knife master, has chosen exactly this metal for its knives.
And if it's good enough for Victorinox, it's definitely good enough for us.
Here are the dimensions for the long blade:
| | |
| --- | --- |
| Blade height | 1.2 cm |
| Blade length | 7 cm |
| Length of sharpened blade part | 6.2 cm |
| Blade thickness | 2 mm |
| Blade finish | polished |
| Left or right-handed | both suitable |
| Blade shape | Drop-Point |
| Blade style | Plain edge |
| Sharpening angle | 20º |
| Sharpening method | Flat grind, European blade style |
| One-handed opening | no |
Handle Materials
The Huntsman's scales are made of Cellidor.
Cellidor is the brand name for a specific type of plastic that is made from cellulose acetate.
This material has been used by Victorinox for many years and is known for its versatility, durability, and high gloss finish.
It is often used for objects that must withstand frequent use and wear, including the handles of the popular Victorinox pocket knives.
The Cellidor handle of the Huntsman is comfortable to hold, durable, and has an appealing appearance that retains its shine over time. This way, your loyal pocket knife can maintain its charm for many years to come.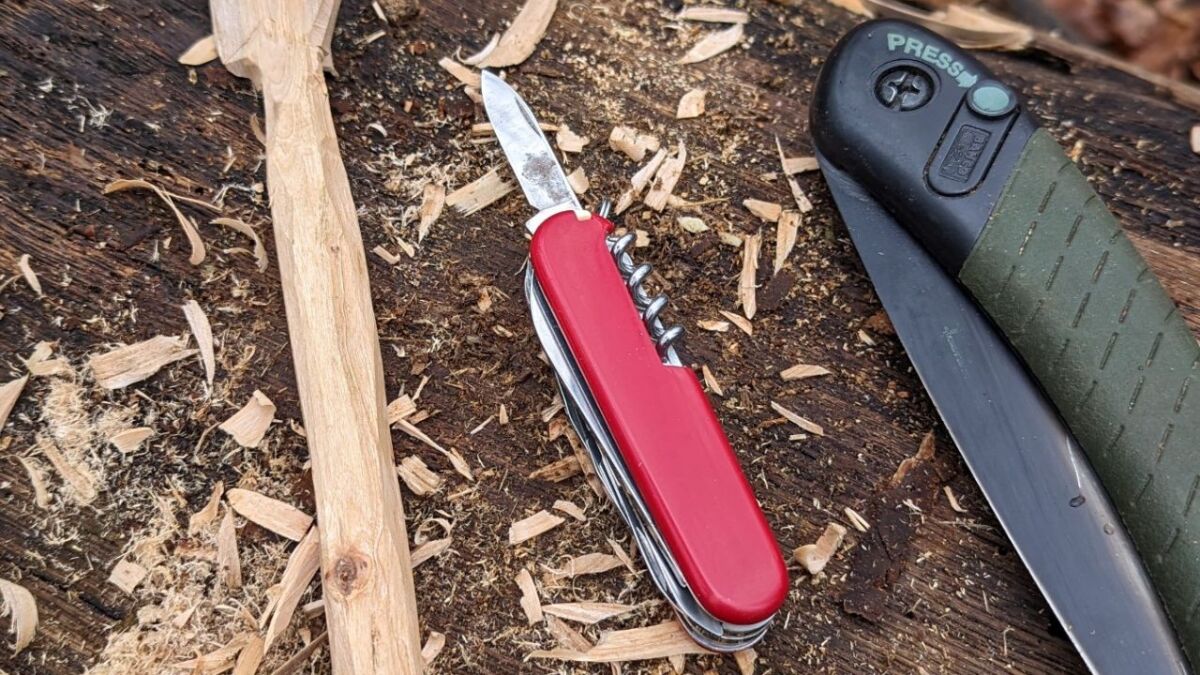 Size and Weight
The Victorinox Huntsman is a multi-tool for every occasion, especially because it is so compact and lightweight.
The Huntsman is 9.1 cm long when closed and weighs 97 g. This makes it larger than many of its competitors, but it still fits easily in your pocket or belt holder.
In my opinion, it has the perfect size to effortlessly fulfill all tasks without becoming too heavy.
The dimensions of the Huntsman are:
Length: 9.1 cm
Width: 2.6 cm
Height: 2.1 cm
Overall length when opened: 15.9 cm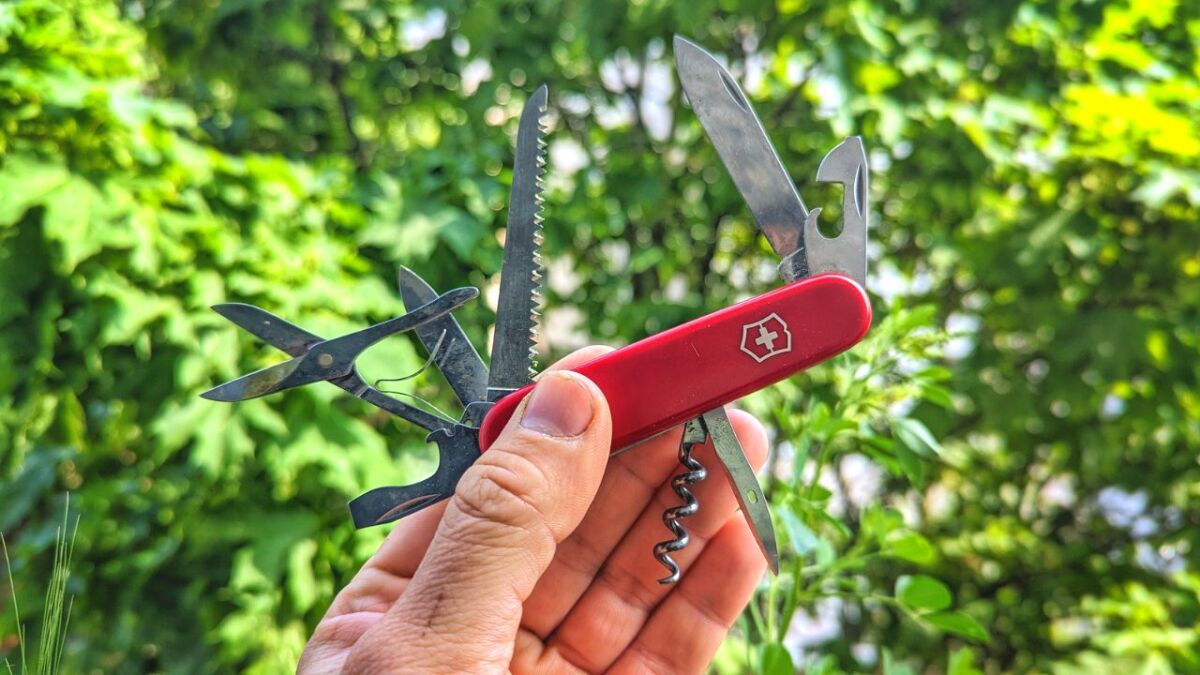 Ergonomics
Ergonomic design features contribute to the comfort and efficiency of using a knife. These features include handle design, weight and size, handle groove shape, knife division into segments, and maneuverability.
The Victorinox Huntsman has a fatigue-friendly handle design with solid construction. It is lightweight and has a wonderfully grippy material on the sides.
It is also comfortably easy to handle, making it comfortable for longer periods of use and allowing you to use it for longer.
In addition, the Huntsman's construction is divided into many robust and excellently crafted tool segments, from the blade to the saw to the scissors - nothing wobbles here.
This overall means more precision and efficiency in every operation.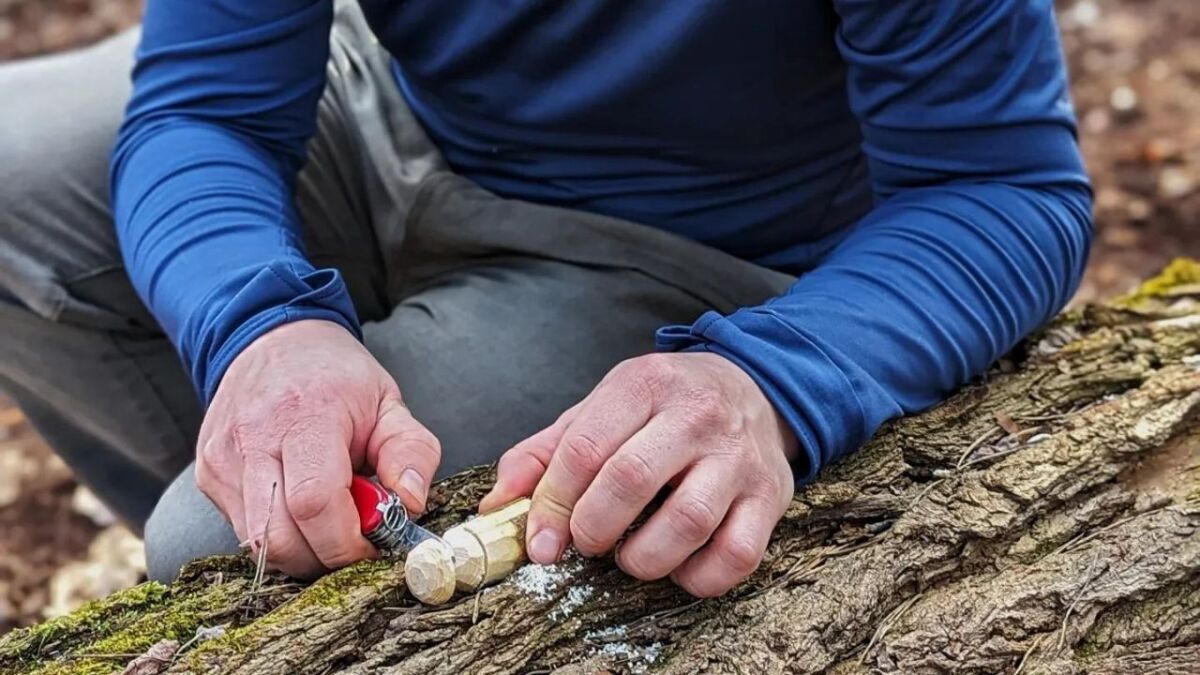 Functions of the Victorinox Huntsman Pocket Knife
The Victorinox Huntsman is one of the most popular Swiss pocket knives on the market. It offers a variety of useful functions that are versatile for everyone.
It is rugged, compact, and lightweight. Not only that, but it is a high-quality product that provides durability, reliability, and excellent value for money.
In the following, we will take a closer look at some functions of the Victorinox Huntsman.
The magnificent pocket knife
The heart of this Swiss multi-tool is the large blade - sharp as a razor and with a 6 cm cutting edge, waiting to spring into action.
Unfolded, the knife becomes an unshakable spearhead, capable of withstanding any challenge.
Do you hear that sound? The familiar click when opening and closing the blade is like a call of the wild, saying, "I'm ready for adventure!"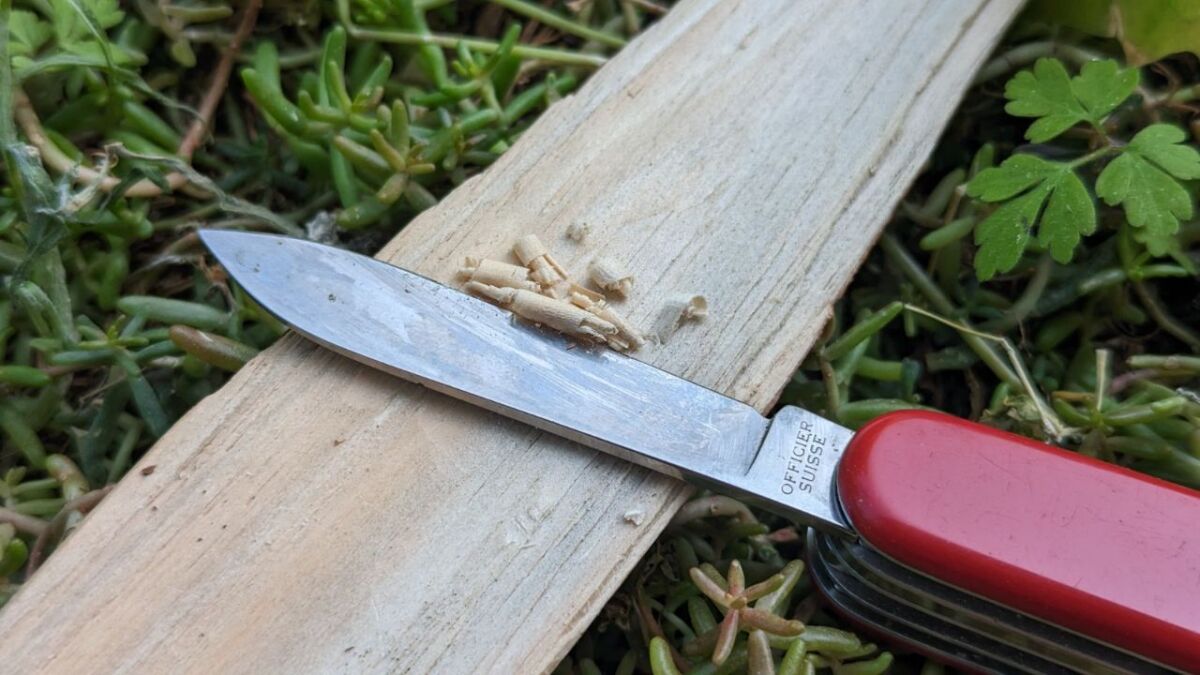 The Forest Mistress - the Wood Saw
With this wood saw, smaller branches, as thick as your arm, are only a brief interlude.
Look at the back, 1.2 mm pure steel and with a 1.6 mm serration, a true beaver among saws.
Thanks to the slimmer back, it never fears getting jammed in the wood and the friction always stays on track. Whether fresh wood or old pallets and planks - it saws them all.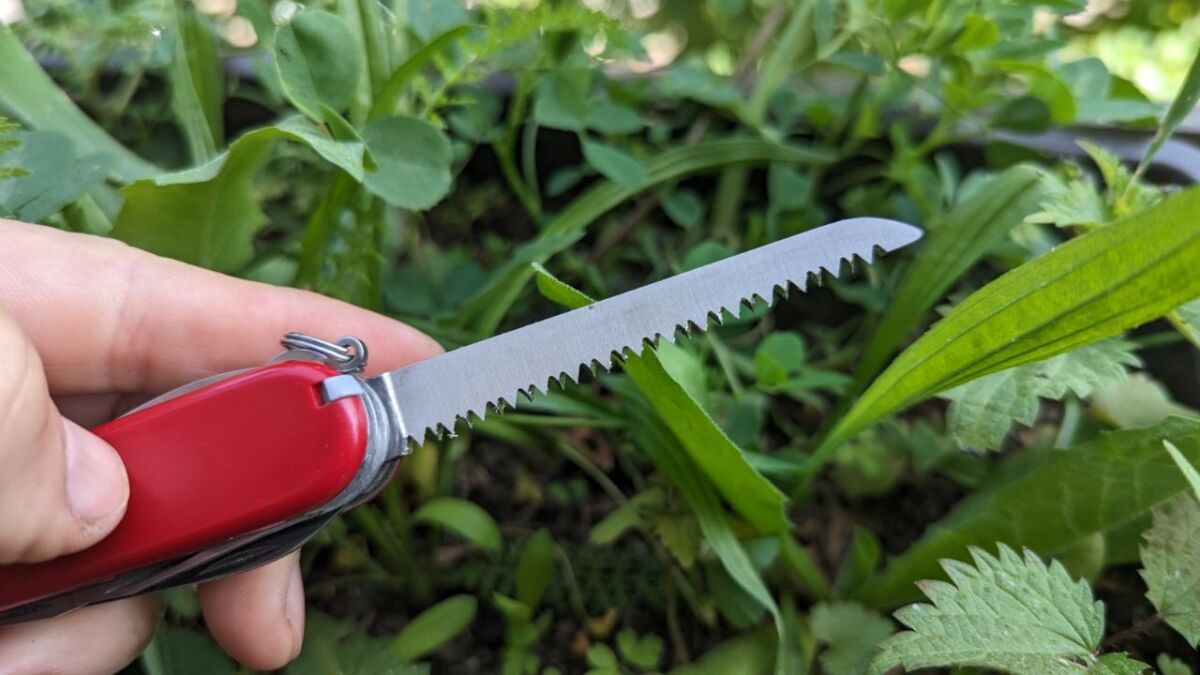 The Needle Detective - the Awl
Have you ever wondered what an awl is good for? Well, for everything the noble knife shouldn't touch.
The one-sided sharpened awl is the Sherlock Holmes in your pocket knife, perfect for marking wood and metal.
I mainly use the awl for projects where I need to drill holes in the wood. It's perfect for that.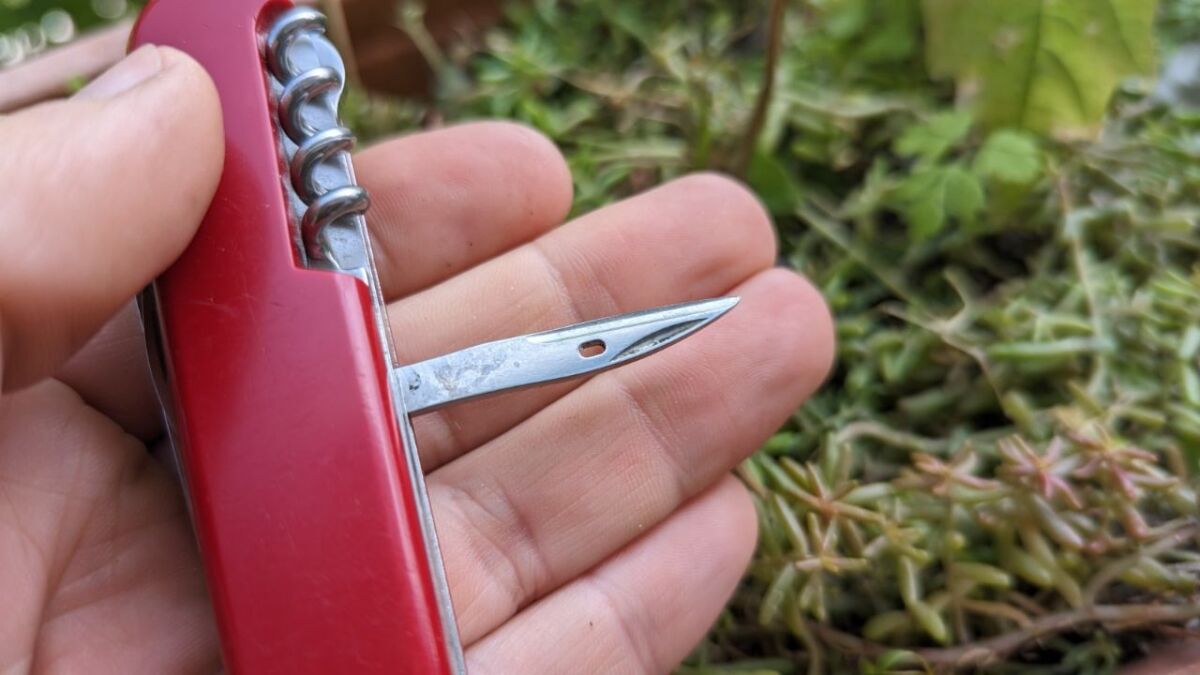 The Vinophilic Lifesaver - the Corkscrew
A soft pop and the evening is saved - the wine bottle is open.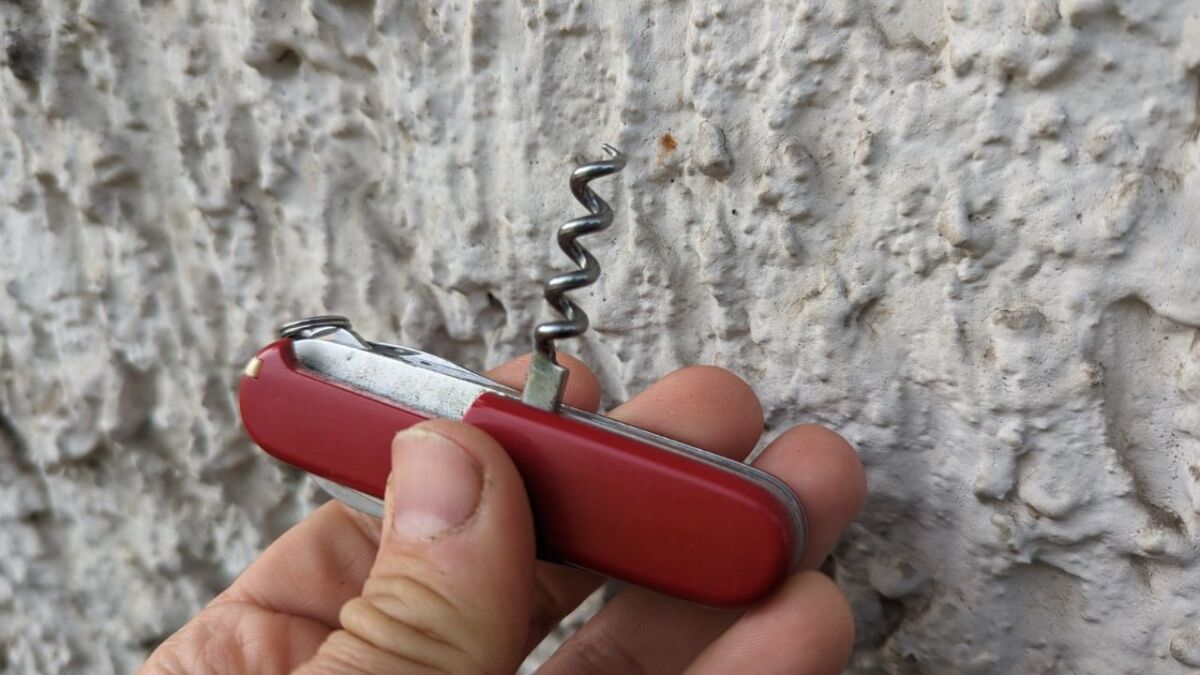 By the way, did you know that your pocket knife can even serve as an extended saw? Simply turn the corkscrew into a sturdy long stick, fold out the knife, fix the Huntsman and your saw is ready.
The All-Rounder - the Multipurpose Hook
The multipurpose hook is like the Joker in your deck of cards. Whether as a bottle opener, wire stripper or screwdriver, it is always there and ready to help you.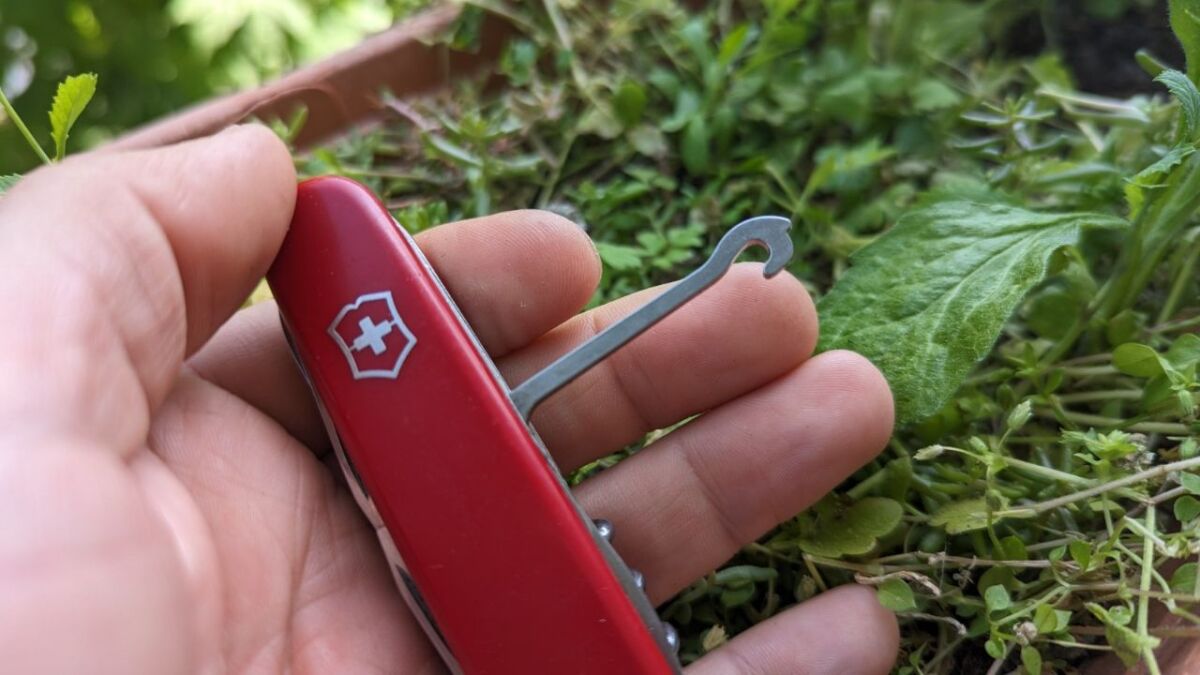 All tools at a glance
Awl
Ring
Multipurpose Hook
Small Blade
Large Blade
Toothpick
Can Opener
Screwdriver 3 mm
Corkscrew
Tweezers
Bottle Opener
Screwdriver 6 mm
Wire Stripper
Scissors
Wood Saw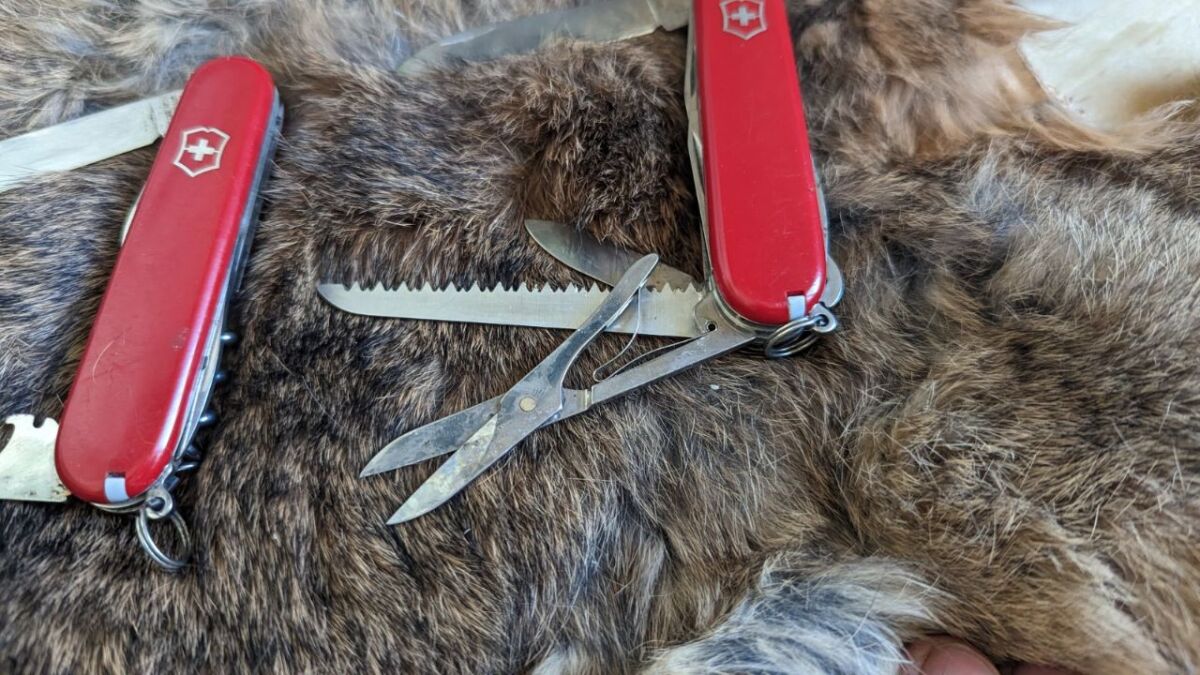 The Pros and Cons of the Huntsman
After examining the Victorinox Huntsman in detail, I would like to go into the pros and cons of this pocket knife.
With its robust construction, it is an excellent choice for daily outdoor use, in addition to its versatile functions.
It is capable of handling many tasks and offers solid value for money.
However, the Huntsman has its limits and should not be used as a professional tool - therefore, you should stick to other models for particularly work-intensive tasks.
The following points should help you make a decision:
Pros
Solid construction with robust design: The Huntsman is known for its rugged and durable construction, which can withstand rough conditions.
All tools made of stainless steel: This ensures a high durability and reliability of the tools.
Versatile functions for various applications: With 15 functions, the Huntsman is extremely versatile and can be used in a variety of situations.
Fairly good value for money: Despite its high quality and versatility, the Huntsman is relatively cheap compared to other high-end pocket knives.
Good blade, tool, and handle shell processing: This contributes to the overall quality and durability of the Huntsman.
Lightweight and always at hand due to its size: Despite its many functions, the Huntsman is compact and lightweight, making it ideal for on-the-go use.
Cons
The Huntsman is not suitable for professional or extremely challenging tasks: Although it is very versatile, there are certain tasks for which the Huntsman may not be suitable, especially professional or extremely challenging tasks.
The locking mechanism cannot be fixed: This could pose a safety risk, especially during intense use or when children are working with it.
The pocket knife has limited size and may be less suitable for some tasks: Although its compact size is an advantage, it could also be a disadvantage when larger or more specific outdoor tools are needed.
Price-performance ratio - value and quality in harmony
With the Victorinox Huntsman, you get more than just a pocket knife, it is a true all-rounder that won't let you down in any adventure – and all at a price that won't break the bank.
This masterpiece of pocket tools is a true chameleon, fitting for all situations and needs. Whether you need to build an improvised shelter or enjoy a crisp apple, the Huntsman is always ready.
What's truly remarkable about this piece of Swiss precision work are the countless functions that go far beyond the basics. It's almost like carrying an entire toolbox in your pocket.
To put it bluntly:
The Victorinox Huntsman is worth every penny.
It's not just a tool, it's a trusted companion that helps you write your story.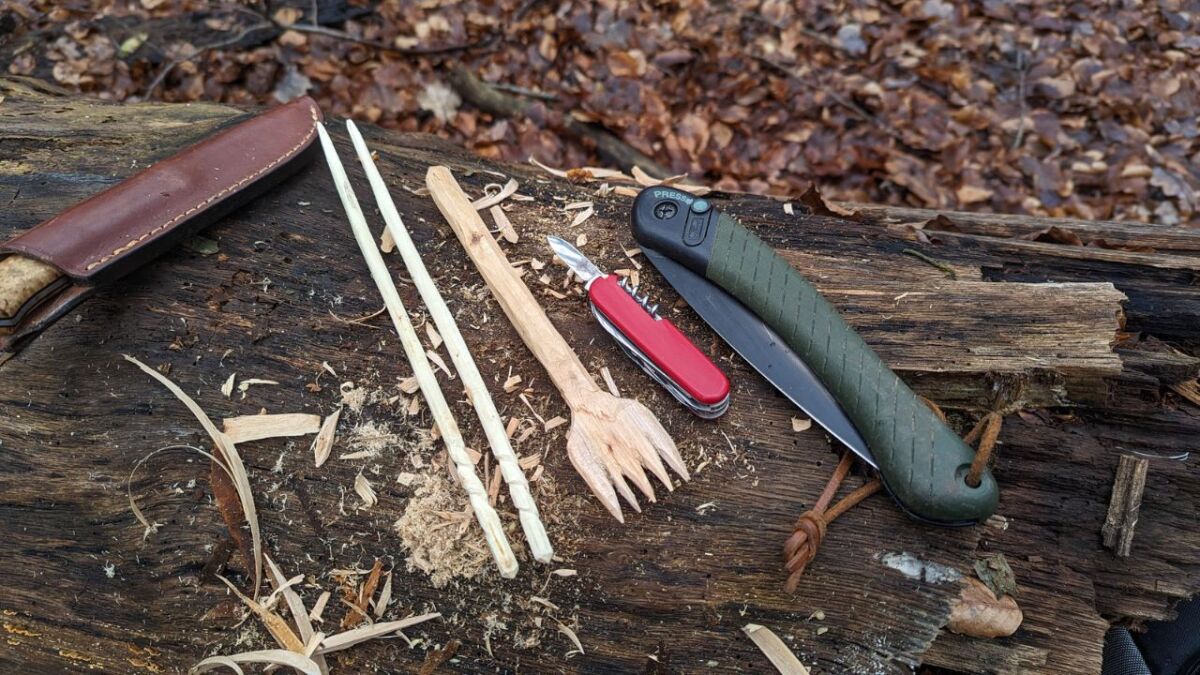 Loyal promises – the guarantee
Imagine finding a partner who is committed to being by your side forever.
That's how it is with a Victorinox knife. A lifelong alliance driven by unmatched reliability and attention to detail.
This is not an empty promise.
Victorinox offers a lifetime warranty against any material and manufacturing defects. So, you don't have to suffer in the shadow of manufacturing defects.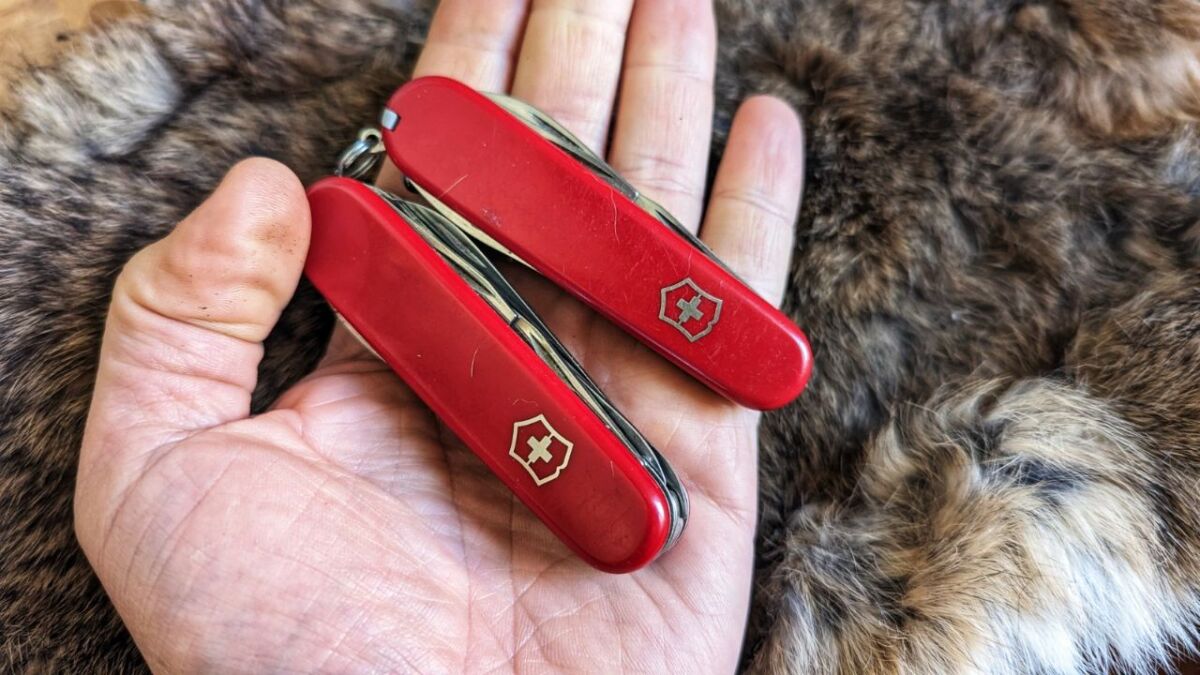 Questions and answers
What are the key features of the Victorinox Huntsman pocket knife?
The Victorinox Huntsman pocket knife has 15 different functions, including a saw, a pair of scissors, a can opener, a corkscrew, a tweezer, and a toothpick. It's an ideal tool for everyday use and for outdoor activities.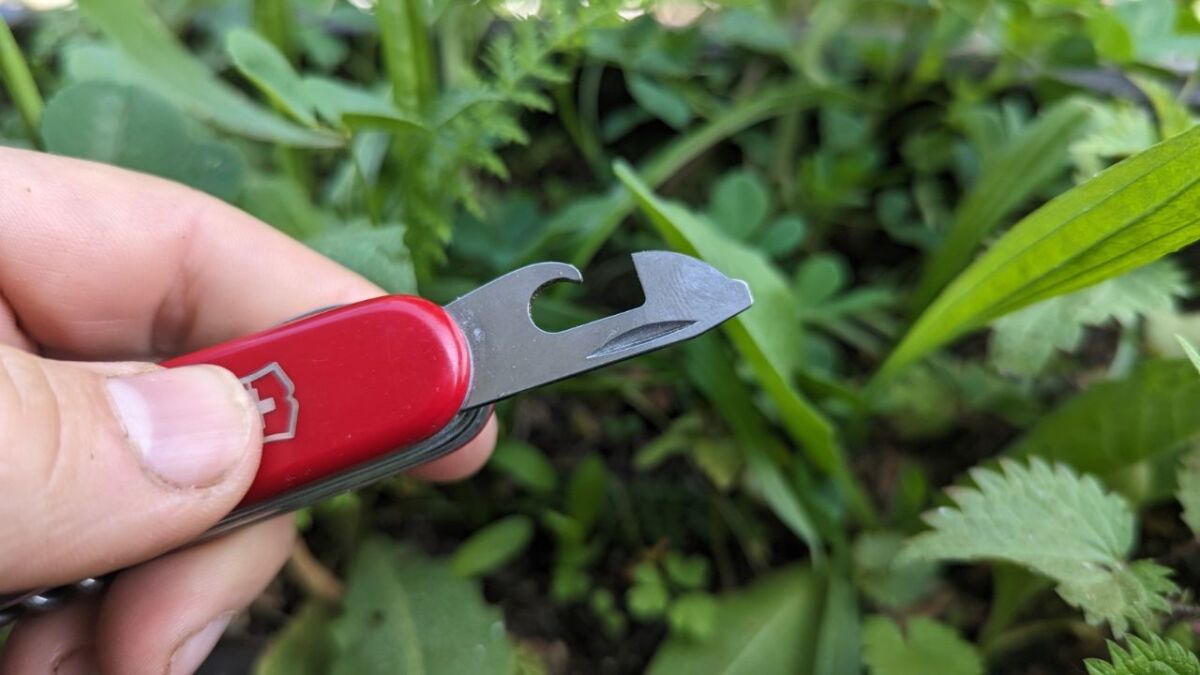 How good is the Victorinox Huntsman pocket knife?
The Victorinox Huntsman pocket knife is made of high-quality stainless steel and has a blade length of 7.5 cm. It's a rugged and durable tool that can handle a variety of outdoor tasks.
How easy is it to use the Victorinox Huntsman pocket knife?
The Victorinox Huntsman pocket knife is effortless to use. All functions can be easily opened and closed, and the blade is sharp enough to cut through various materials. It's an ideal tool for everyday use and for outdoor activities.
Is the Victorinox Huntsman pocket knife easy to carry?
The Victorinox Huntsman pocket knife is very lightweight and compact, making it easy to carry. It fits into most pockets, making it an ideal mobile tool.
Can the Victorinox Huntsman pocket knife be cleaned?
The Victorinox Huntsman pocket knife can be cleaned with soap and water. The blade can be sharpened with a sharpener when it becomes dull.
Is there a warranty for the Victorinox Huntsman pocket knife?
The Victorinox Huntsman pocket knife comes with a lifetime warranty. This means that the knife can be repaired or replaced at any time if there are any material or manufacturing defects.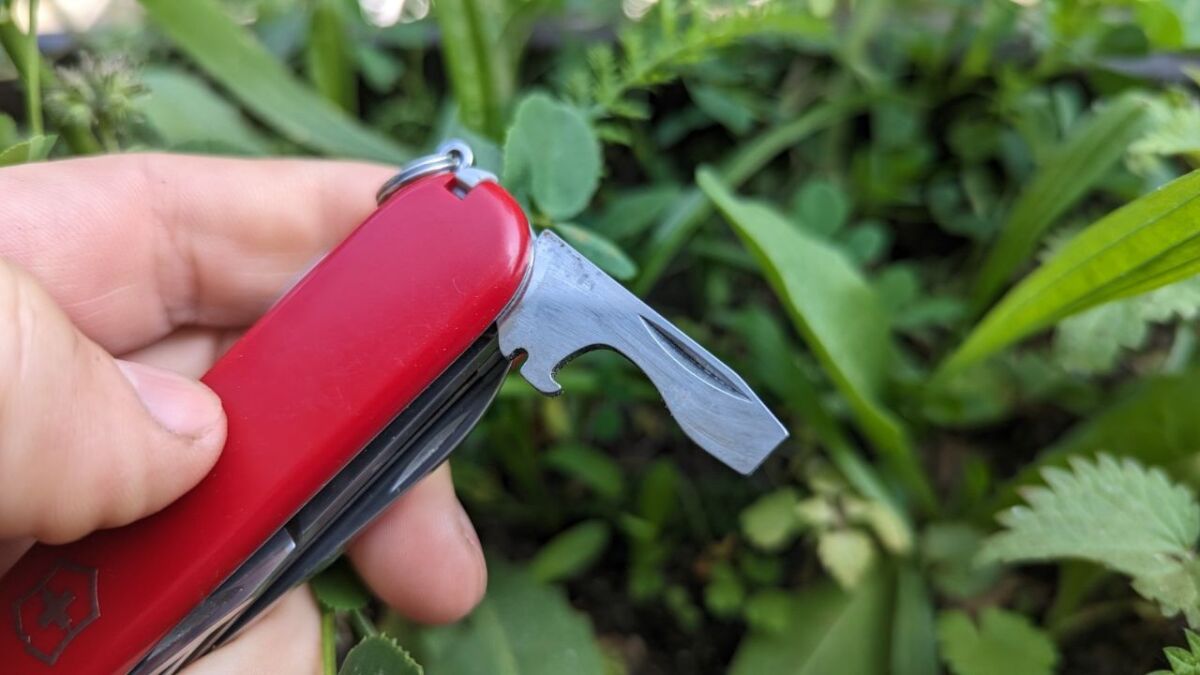 Final thoughts: The perfect companion for almost any situation
In the big family of Swiss Army Knives, the Victorinox Huntsman has a special place. It's not only one of the most popular, but also one of the best-selling models of all time.
Imagine having a mini-toolkit that's so compact you can carry it with you at all times. That's what the Huntsman is.
It's like a rock in the ocean - sturdy, reliable, practical, and with a design that's both functional and aesthetically pleasing.
The Huntsman is packed with features: from a large and sturdy knife, to a corkscrew and scissors, to a saw, screwdriver, and awl - it has everything you need.
With this incredible versatility, it's the perfect companion for anyone looking for a multifunctional and reliable pocket knife.
Should you get one?
Without a doubt, YES! Start your new adventure here.

---
Sources for the guide

https://everknives.de/messerstahl-fur-outdoormesser/#14110-der-liebling-von-victorinox

https://www.amazon.de/Victorinox-Taschenmesser-Huntsman-Funktionen-Schraubendreher/dp/B0001P151W

https://www.knivesandtools.de/de/pt/-victorinox-huntsman.htm
Since this is a gear guide, here ...
---
🤝

8 reasons to trust my recommendation
Practical Experience: I have tested most of the products I recommend under extreme conditions myself.

Independence: As a wilderness mentor, I am not tied to any specific brands - this means my recommendations are unbiased.

Expertise: My many years of experience allow me to understand the intricacies and details of various products that a layperson might overlook.

Target group understanding: I understand the needs and challenges of outdoor enthusiasts, from beginners to seasoned experts.

Quality focus: I attach great importance to quality and longevity. These are characteristics that are crucial in the wild.

Clear communication: I try to explain the pros and cons of each product clearly and understandably so that you can make an informed decision.

Currentness: I always keep my guides up to date and adapt them to new findings or products.

Community Feedback: I work in wilderness schools, teach courses myself, attend courses and am active in various outdoor and survival communities and therefore integrate the feedback and experiences of others into my recommendations.
So when I introduce the best survival knives or flashlights, you can be sure that every recommendation is based on solid experience and extensive knowledge.
Was this guide helpful?
15 people found this guide helpful.
5.00 out of 5 points (15 Ratings)