Back to german article
The 3 best survival axes (presentation + pictures)
Survival axes are all-rounders and practical companions in leisure time Regardless of survival, camping and trekking - with an axe, you are always well equipped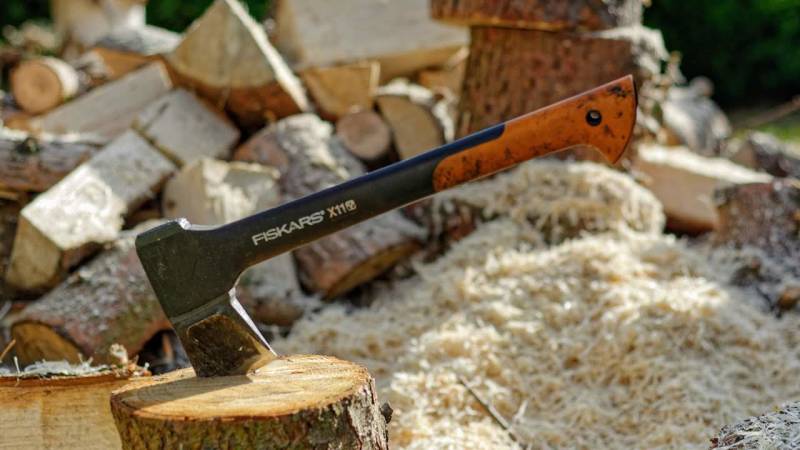 ---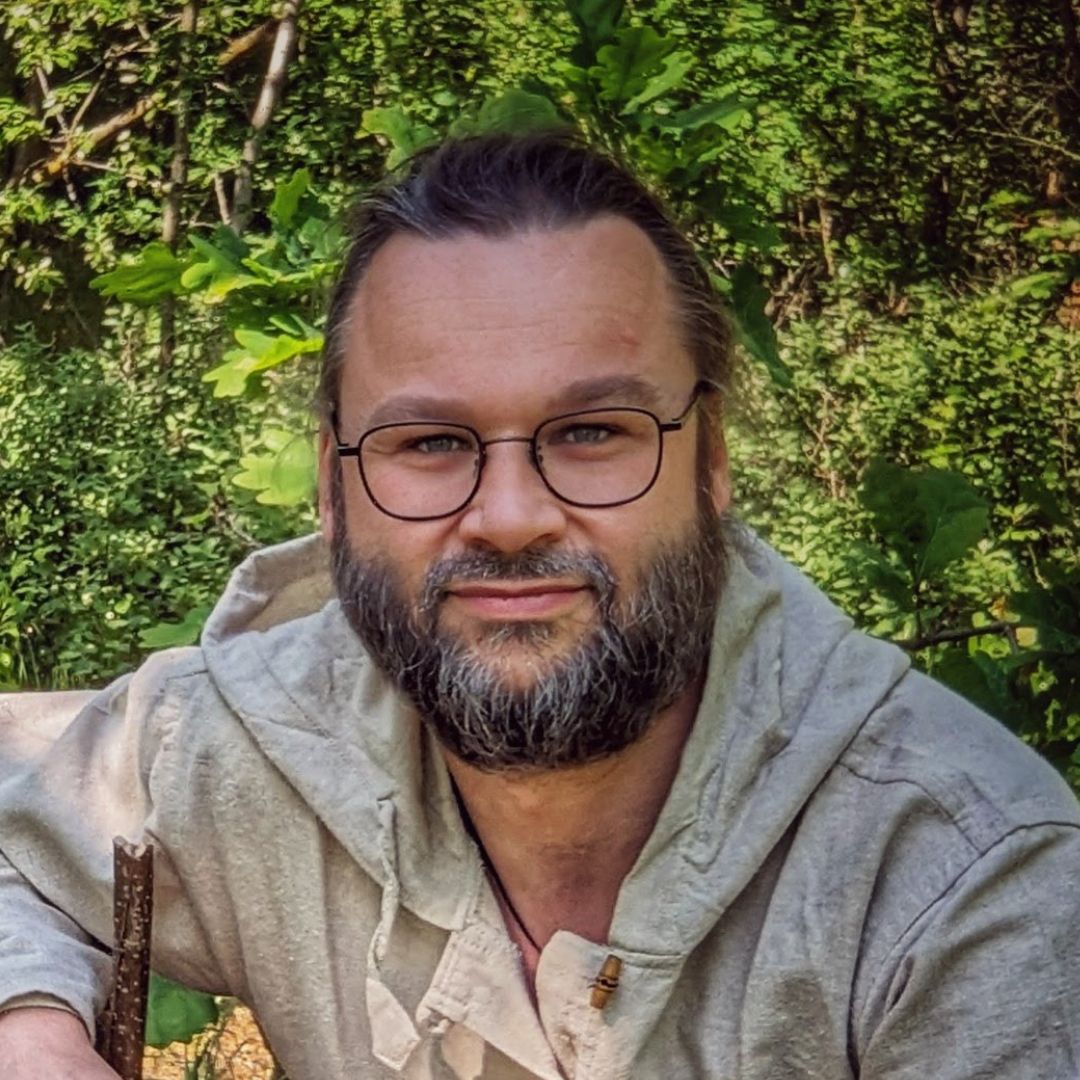 ---
👉 The key facts from this guide
What is a survival axe: A survival axe is a versatile tool designed for use in extreme conditions. It is easy to transport, durable, and reliable.
Fiskars Universal Axe X7: This axe is handy, lightweight, and has a sharp blade made of high-quality steel. It is ideal for splitting small logs and kindling.
Voodoo Hawk Mini Satin: This axe has a multifunctional blade and a metal knob at the end of the handle suitable for hammering. It is versatile and ideal for survival situations.
Wildmarksbeil by Gränfors Bruks: This axe is sustainably and environmentally friendly produced. It has a sturdy wooden handle and a blade made of recycled scrap metal. It is durable and visually appealing.
Selection criteria: When choosing a survival axe, you should consider the weight, length, handle length, and head shape. All of these factors influence the handling and efficiency of the axe.
Advantages over other axes: Survival axes are ideal for outdoor use and camping. They are durable, reliable, and easy to transport.
Survival axes are all-rounders and practical companions in leisure time.
Whether it's camping, hiking and trekking, or gardening - with such an axe, you are always well-equipped.
But what makes a good survival axe?
What are the characteristics of the blade and handle?
What materials are used?
Now I will address all of these questions, and you will know why these axes are so good.
Daten aktualisiert vor 19 Stunden
Fiskars Universalaxt, Inklusive Klingen- und Transportschutz, Länge: 35,5 cm, Antihaftbeschichtet, Hochwertiger Stahl-Klinge/Glasfaserverstärkter Kunststoff-Stiel, Schwarz/Orange, X7-XS, 1015618
Universalaxt (Gesamtlänge: 35,5 cm) zum Spalten kleiner Scheite und Anzündhölzer < 7 cm für den Kamin, Ofen, Grill oder das Lagerfeuer
Extra scharfe Klinge aus doppelt gehärtetem Stahl mit hochwertiger Außenbeschichtung, Perfekte Balance zwischen Axtkopf und Stiel für einen effizienten Schwung und ein kraftsparendes Spalten
Langlebiger Stiel aus wetterbeständigem, glasfaserverstärktem Kunststoff, Hohe Sicherheit durch unlösbare Verbindung von Axtkopf und Stiel, Fester Halt dank innovativem, rutschfestem Griff mit 3D-Struktur und hakenförmigem Griffende
Made in Finland, Hohe Langlebigkeit, Einfaches Nachschleifen der Axt mit separat erhältlichem Axtschärfer (Art.-Nr.: 1000601)
Lieferumfang: 1x Fiskars Universalaxt X7-XS, Inklusive Klingen- und Transportschutz, Länge: 35,5 cm, Gewicht: 640 g, Material: Hochwertiger Stahl/Glasfaserverstärkter Kunststoff, Farbe: Schwarz/Orange, 1015618
35,53 €
UVP: 54,99 €
View Product
The Universal Axe X7 from Fiskars is 35.5 cm long and weighs 640 grams.
This handy length and low weight are the first important features of a good survival axe.
You can operate the Fiskars X7 powerfully with one or both hands due to these features.
The blade is made of high-quality steel with a hardness of 55 HRC (What hardness should a knife have? - HRC simply explained). This makes it durable and resistant. The blade has a wide shape, making it suitable for a wide range of uses.
With the sharpness, hardness, and shape of its axe head, you can chop and work with wood precisely with the X7. Additionally, the blade of this axe has an anti-stick coating, resulting in reduced friction in the wood. This significantly facilitates all tasks with the axe.
One significant aspect is also the handle. Only if the axe can be gripped well and one does not slip, precise work can be carried out efficiently.
The X7 has a durable and lightweight handle made of fiberglass-reinforced plastic.
The handle has a non-slip surface and is ergonomically shaped. This ensures that the axe fits perfectly and securely in the hand during all tasks.
Head and handle cannot be separated in the X7. This makes it particularly rigid and provides high-power transmission during chopping.
At the same time, the weight distribution between the handle and the shaft is balanced. This also contributes to good maneuverability.
With the price of approximately 35 euros, you will receive the Fiskars X7, a mature and high-quality processed survival axe that will serve you well in all situations.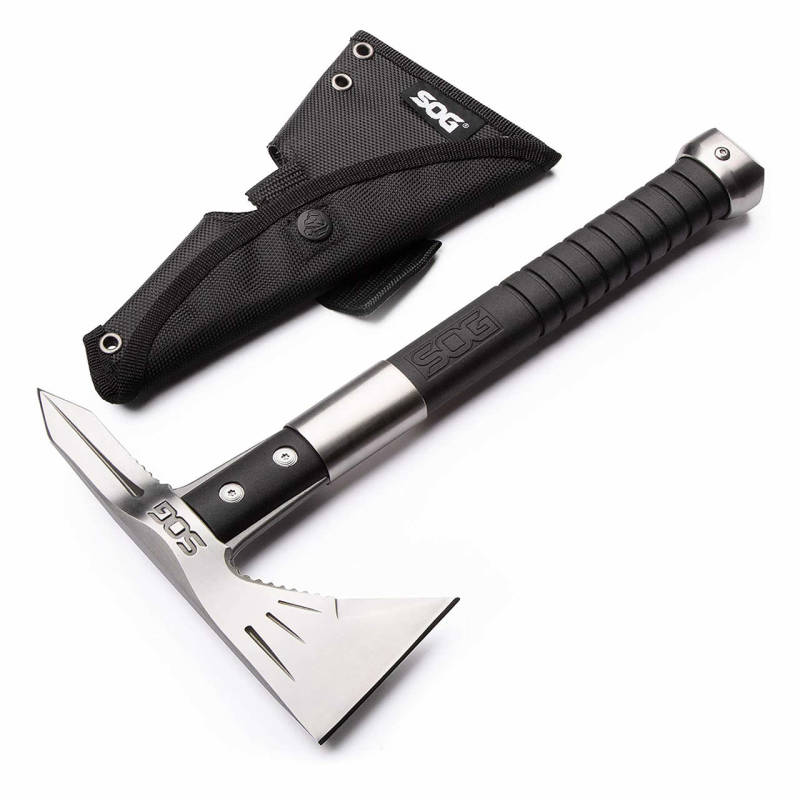 The Voodoo Hawk Mini Satin is a medium-sized survival axe measuring just under 40 cm and weighing a relatively light 680 grams.
The blade, made of stainless steel and satin-finished, has a hardness level of 52 RC.
It has a straight and wide cutting edge on one side, and on the other side it has a thorn-like shape. This allows for a variety of tasks to be performed either with the wide blade or the pointed thorn.
The handle of the Voodoo Hawk Mini Satin is made of fiberglass-reinforced plastic. As a result, it is very rigid and provides a comfortable grip for a variety of applications.
A metal knob at the end of the handle is suitable for hammer work.
The multifunctional blade, together with the metal knob and small size, make the SOG Voodoo Mini Satin a true multitool in the survival area.
Split wood, hack holes, or drive nails - with the Voodoo Mini, it's all no magic trick, but child's play.
The price of about 70 euros is not too high for this versatile high-quality axe, and the Voodoo Hawk Mini Satin will serve you well for a long time.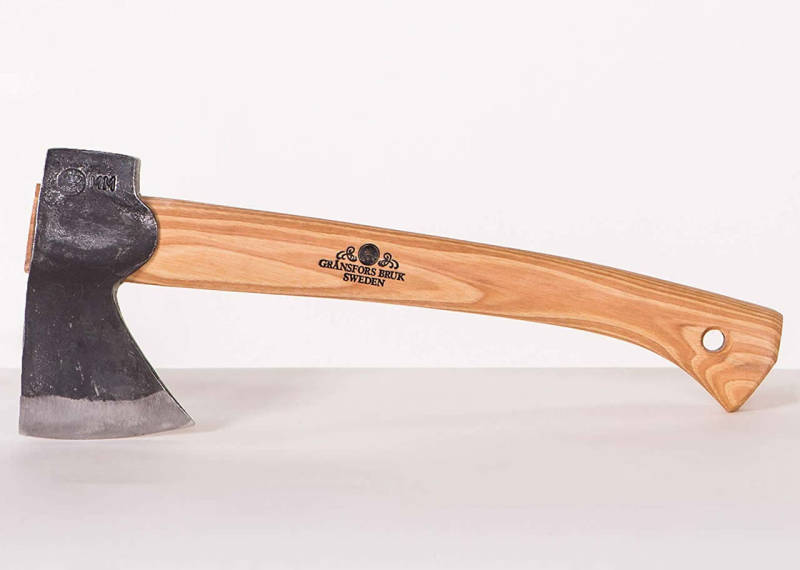 Daten aktualisiert vor 19 Stunden
Länge der Klinge:80 mm.
Gesamtlänge:360 mm.
Gewicht des Kopfes:450 g.
105,00 €
UVP: 134,94 €
View Product
The Gränfors Bruks Wildmarksbeil is a handy lightweight among survival axes, measuring 36 cm in length and weighing just under 630 grams.
Visually, this survival axe appears rustic and robust due to its wooden handle and dark blade. The materials used prioritize sustainability, durability, and high quality.
The handle is made of durable Hickory wood. This wood is particularly strong and flexible. It is ergonomically shaped and provides a secure and comfortable grip even with extended arms.
What I really like: The steel for the sharp blade is made entirely from recycled scrap metal.
The blade has a wide cutting edge and can therefore be used in a wide range of applications.
Overall, the axe is very well-balanced in terms of weight distribution and allows for flexible handling.
A special detail is also the blade guard made of vegetable-tanned leather.
With the Gränfors Bruks wilderness axe, you are not only acquiring a durable and long-lasting survival axe, but also a sustainably and environmentally friendly manufactured product.
The Gränfors Bruks Wildmarksbeil is not exactly cheap at just over 100 euros, but it impresses with its unique appearance and durability.
The name Gränfors Bruks has been synonymous with traditional Swedish axes of absolute top quality for over 100 years.
Furthermore, by purchasing the Wildmarksbeil, you are making a valuable contribution to sustainable and conscious consumption.
Read also: Hatchet or Axe - What is the Difference? (+Recommendation)
4 Things to Consider When Choosing a Survival Axe
The choice of the right survival axe is a daunting task. Before making a purchase, there are many factors to consider. Here are some of the things you should think about:
Weight: The weight of an axe depends on its size and design. Some axes weigh less than a kilogram, while others can weigh up to 1.5 kg or more.
Length: The length of your axe depends on where you want to use it, for example in the forest or in your garden.
Handle length: The length of the handle also depends on how much power you would like to exert - the longer, the more swing and force.
Head shape: Axe heads come in several shapes and sizes, designed for specific tasks such as splitting wood.
What are the advantages of a survival axe compared to other axes?
Survival axes are tools that have been developed for use in extreme conditions. They can be used in a variety of situations and are easy to transport.
They are also durable and reliable, making them the perfect choice for anyone who spends time outdoors or is an avid camper.
Read my comprehensive guide on the essential skills with an axe.
Summary
Survival axes should be handy and not too heavy, have a wide range of applications, and reliably perform their service.
All three axes presented are, in my opinion, great for survival use.
Depending on personal taste, you can choose between the Gränfors Bruks Traditional Axe from Sweden, the multifunction wonder from SOG, or the sophisticated and high-quality X7 from Fiskars.
With all three axes, the next trip into the wilderness is guaranteed to be a success.
Reading tip: Are you still looking for the best bushcraft knife? Then check out my bushcraft knife top list and you will find it guaranteed.
---
My questions for you:
Will you get one of the three axes?
Or is there another axe that you can recommend?

Was this guide helpful?
44 people found this guide helpful.
4.91 out of 5 points (45 Ratings)