Back to german article
The best bushcraft knife - your ultimate buying guide 2023
Which is the best Bushcraft knife Read the ultimate buying guide and check out my tips to find the best Bushcraft knife for you.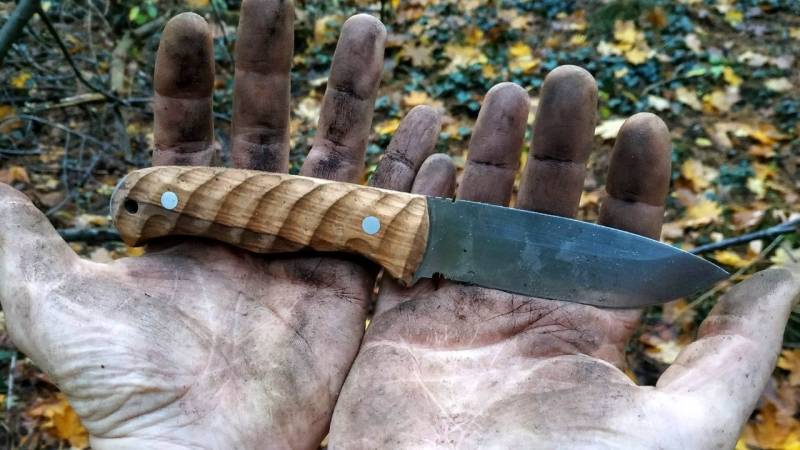 ---
---
👉 The key facts from this guide
Bushcraft: That means living well in the wilderness.
Your knife is your most important companion.
It must therefore not be difficult and cumbersome, but an efficient all-in-one tool. It must be able to handle everything one needs for effective survival.
Your knife should be able to prepare firewood, build a shelter, cut food, create traps for small animals, and even be used as a weapon in emergencies.
A proper bushcraft knife does all these things and more.
How do we start now?
I will show you my recommendations for bushcraft knives right away.
And thereafter, you will learn the basics about knives.
With my buying guide, you will find YOUR bushcraft knife. Or guaranteed to know in the end which type and design is right for you.
The Best List for Bushcraft Knives
Which is the best bushcraft knife you should buy?
My short answer is:
There is no THE perfect bushcraft knife that can do and combine everything.
It depends entirely on how you want to use it.
Often, a bushcraft knife must fulfill the following:
be useful for woodworking, such as carving
be a tool for meal preparation (cutting vegetables and meat)
it must not be too heavy
have a simple grind (easy to sharpen)
the blade should be under 13 centimeters (preferably under 12 cm to be legal)
Take a look at my shopping tips and then read my knife basics.
9 Shopping Tips for the Best Bushcraft Knife
With the now 10 featured Bushcraft knives, many Bushcrafters worldwide have gained good experiences. You can't go wrong with them. In the end, I have a cheap and good recommendation for Bushcraft beginners.
---
---
---
---
---
---
---
---
---
Now you know my recommendations. In order for you to better understand them, I would like to give you a closer look at all the basics of bushcraft knives.
Bushcraft Knife vs. Survival Knife vs. Pocket Knife vs. Hunting Knife
Let's take a closer look at the differences between a Bushcraft knife, Survival knife, and Pocket knife.
---
I do not recommend a folding knife because it does not provide the necessary stability for me and is unsafe due to the folding mechanism.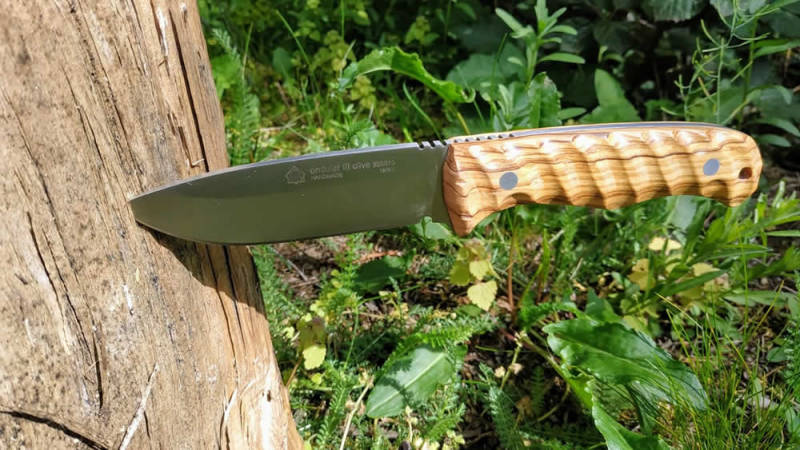 You will quickly find that there are various models and brands of bushcraft knives on the market. How do you now choose the right one for your needs?
There is no "best" bushcraft knife. It all depends on your situation.

Martin Gebhardt
7 Tips for Choosing the Best Bushcraft Knife
Now I will show you 7 important points that will make it easier for you to choose your knife. Take your time and read them, you will then be smarter.
1. Blade length
This is the most important factor for me when choosing a bushcraft knife.
Long blade: it is more cumbersome to carry the knife. The longer the blade, the heavier the knife becomes. On the other hand, a long and thick blade is suitable for heavy-duty tasks. A long blade is not suitable for carving.
Short blade: is better suited for finer and more delicate tasks (such as carving). On the other hand, smaller and thinner blades may break or bend during heavy-duty tasks.
Another note: In Germany, you are generally not allowed to carry a fixed blade knife with a blade longer than 12 cm. Keep that in mind when choosing your knife. In my guide to knife law in Germany, you will find more information.
If you need a knife that is longer than 15 cm, I recommend using an axe.
There are hatchets and axes that are perfect for bushcraft. Take a look at my article where I introduce the 3 great axes.
The good thing is: An axe is not covered by weapons laws, and you are allowed to own and carry it - no matter how long and big the blade is.
2. Blade Thickness / Blade Width
The back of the blade should be approximately 2 - 4 millimeters wide. That is enough to split sticks and branches. You can also perform carving work with it.
For comparison: A survival knife is usually thicker (3 - 6 mm) and can therefore be used for heavy work such as chopping wood. However, it does not cut as well as a bushcraft knife.
3. Blade Grind and Blade Design
There are different cuts, each with its advantages and disadvantages.
In the infographic below, I will show you the most common cuts for outdoor knives.
To get a comprehensive overview of the most common cuts, read my guide "What are the common knife cuts for outdoor knives?".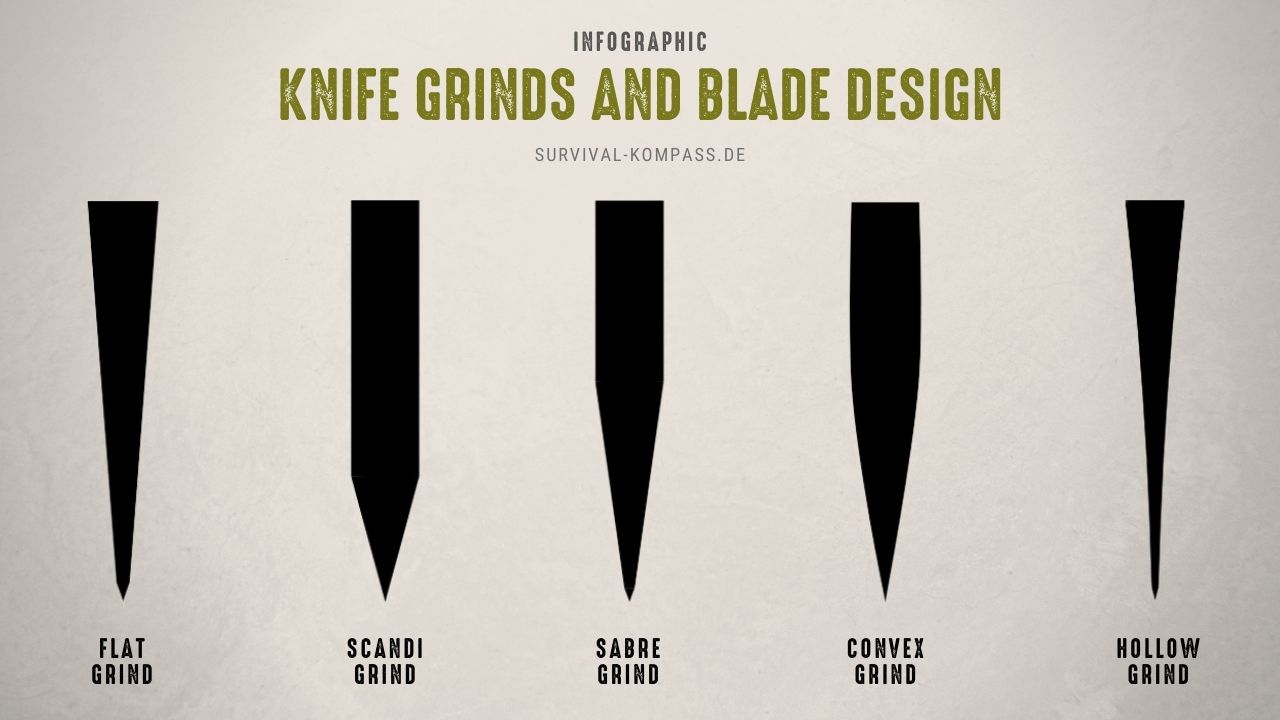 Flat Grind - sharp and durable
Most bushcraft knives have a blade design with a flat grind and a flat edge (also called "Flat Grind" or "High Flat Grind"). A good flat grind, for me, is a combination of Scandi Grind and Sabre Grind.
With the flat grind, you perform fine cutting tasks such as butchering animals or cutting food. Because the edge is so thin, it unfortunately does not hold up well if not handled properly. Even with a very hard steel, the edge can roll or break if you put too much pressure on the blade.
Scandi Grind - for woodworking
With the Scandi Grind (Scandinavian Grind), you can beautifully work with wood, but the blade is more delicate, and you should not chop wood with it. With a Scandi Grind, you can efficiently perform numerous types of cutting tasks.
Furthermore, the Scandi Grind is easy to sharpen. This is especially important for bushcraft beginners to know.
Imagine the Scandi Grind as a double-sided chisel. A chisel efficiently and controlled works on wood - perfect for Bushcrafters who are building a camp, preparing firewood, building a fire drill, building traps, and carving notches. A Scandi grind can remove large amounts of wood, but it is not optimal for Feathersticks.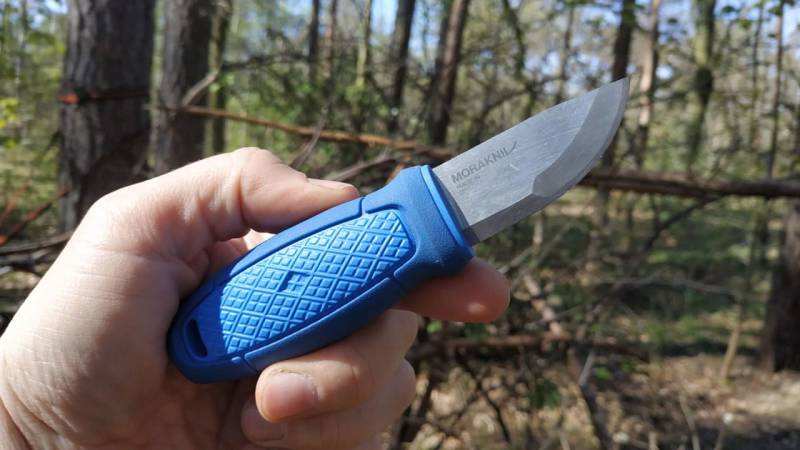 Sabre Grind - for heavy-duty tasks
The Sabre Grind is a combination of Scandi Grind and Flat Grind. The blade is therefore more stable and can be "abused" a bit more than with the Scandi Grind. With the Sabre Grind, you can split branches for firewood or even fell small trees if you don't have an axe or saw at hand. Choose a blade with a good weight so that you can chop well.
Convex Grind - durable and controlled cutting
The convex cuts about as well as a Scandi Grind, but is slightly less durable than a Sabre Grind. It is also called "axe cut", is a strong cut and the sharpness is little affected during work.
With the Convex Grind, you can remove small amounts of material and make finer cuts with control. The convex grind is a mix of durability and controllability. However, it is difficult to sharpen because there are no flat edges.
Hollow Grind - for filleting
When it comes to the Hollow Grind, it's all about a sharp blade. The thinner the edge on the knife, the better it glides through your material.
The hollow grind is one of the thinnest and weakest grinds you can get - but it is very sharp. You mainly use this grind for skinning, gutting, and slaughtering animals. It is not suitable for bushcraft work with wood.
4. Steel of the knife
There are different types of steel, here are the details of the two most important ones: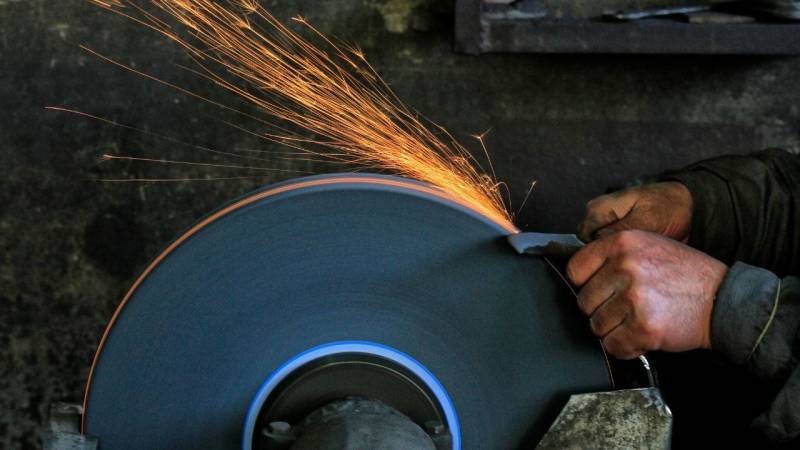 The hardness level of the knife steel
The steel of knives is divided into different hardness grades, and it is a measure of the steel's resistance to deformation. You can find this information in the product descriptions. The measurement is given in the unit "HRC" (What hardness should a knife have? - HRC simply explained).
The hardness of knife steels is most commonly measured using the Rockwell C test. Hardened knife steels typically have a hardness of 55 to 62 HRC. Most knives are equipped with 58 - 60 HRC, although some have up to 62 HRC.
Remember the following:
Soft steel (e.g., 55 HRC) = easy to sharpen, gets dull quickly
Hard steel (e.g., 62 HRC) = difficult to sharpen, gets dull slowly
Here's what you should pay attention to:
Cutting ability - The attribute outweighs all other factors. If the knife doesn't cut well, why would you want to carry it?
Edge retention - How long does the knife maintain its sharp edge? This is necessary if you intend to be on the go for longer periods without being able to sharpen it.
Sharpenability - A soft steel is easy to sharpen but also wears out faster. A hard steel is difficult to sharpen, but you only need to sharpen it rarely.
5. Handle Material
You can often choose between different types of knife handles, such as:
solid plastic
(hard) rubber
Micarta (fiber-reinforced plastic)
wood
The handle is usually made of wood when it comes to a traditional bushcraft knife. Wood is hard and looks good, but it absorbs moisture. Personally, I love knives with a wooden handle wholeheartedly, as it maintains a natural style.
Rubber and plastic are used to ensure a firm grip on the bushcraft knife. Rubber is a very secure material for me, as it doesn't slip even when it's wet or damp.
Other manufacturers of bushcraft knives, on the other hand, use materials such as Micarta or fiberglass material, which are very robust and therefore durable.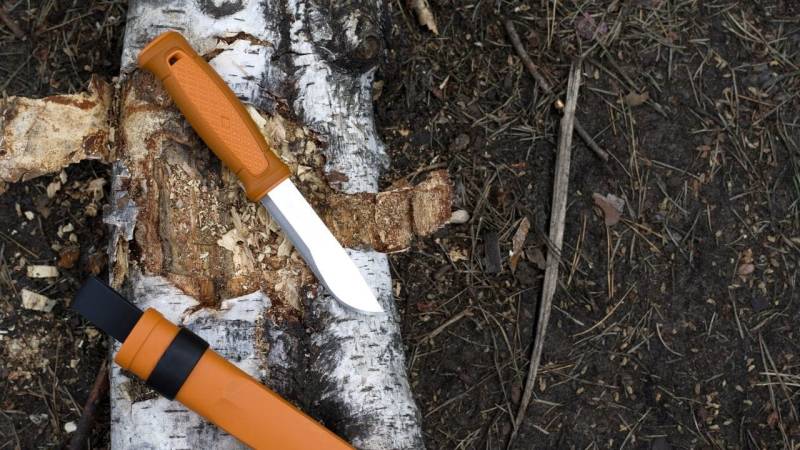 6. Knife sheath
A sheath belongs to a bushcraft knife. It protects the knife from contamination and secures it safely.
The knife sheath or case can be made of the following materials:
Leather: traditional, natural, and aesthetic, but it can discolor and wear out. Knives cannot be secured as well in leather sheaths.
Plastic: lightweight, durable, but not always stylish. Dirt, moisture, and impacts are not a problem.
Kydex: very durable. Kydex is a thermoplastic material that can be molded. Knife sheaths can be built from it, which are assembled with eyelets and rivets.
7. Knife care
Many people see their bushcraft knife as a tool - and it is. But tools need to be maintained.
Clean your knife after each tour, but preferably after each use. And then dry and oil it regularly, so it doesn't rust.
I'll give you these tips along the way:
do not dig with the knife
do not cut on a hard surface, such as stones
do not unnecessarily stab the knife into wood
do not pry with the blade of the knife
do not let your blade become too dull
do not expose the blade to high temperatures (e.g., in a campfire)
Manufacturer
Let's take a quick look at the manufacturers behind these sharp wonders.
Just like a good campfire joke, there are many renowned manufacturers who specialize in the production of bushcraft knives and impress us with first-class quality and functionality.
Here are some renowned outdoor knife manufacturers known for their excellent quality and functionality:
Mora of Sweden (Morakniv) - A Swedish manufacturer known for its robust and versatile knives.
Fallkniven - Another Swedish manufacturer known for its high-quality knives and cutting tools for outdoor enthusiasts and professional users.
Böker - A German manufacturer with a long tradition known for its diverse knives for bushcraft, hunting, and outdoor activities.
Helle - A Norwegian manufacturer appreciated for its handmade and traditional Scandinavian knives.
Victorinox - The famous Swiss manufacturer primarily known for its Swiss Army knives (Find my buying guide + top list here), but also for high-quality outdoor knives.
Since I am focusing on the knives themselves in this guide, I would like to recommend my other guide for detailed information on the best outdoor knife manufacturers.
There, I go into detail about the different brands and their special features - as if I were on an exciting search for clues in the forest. See my article on the best outdoor knife manufacturers to learn more and find the ideal manufacturer for your personal bushcraft knife.
Summary
To find the best bushcraft knife, you need to answer the following questions: WHERE and FOR WHAT PURPOSE will I be using it? The environment in which you will be working with the knife should also be taken into consideration.
Choose a few bushcraft knives from my list that caught your attention and compare them. Then you will determine which one you like the most.
Or check out my tips on the characteristics of knives, such as blade length, steel material, grind, etc., and you will surely find a bushcraft knife that suits you.
No matter which knife you choose, go out into nature and use it. "Dirt Time," as the survival expert Tom Brown Jr. calls it, is the most important thing if you want to strengthen your skills in wilderness craft.
---
And now to you?
What is the BEST bushcraft knife for you?
And please also tell us WHY it is the best knife for you.

Was this guide helpful?
105 people found this guide helpful.
4.93 out of 5 points (107 Ratings)