Back to german article
Test: Fenix CL26r Pro Led Camping Lantern Review
Are you wondering if the Fenix CL26r Pro is the best LED camping lantern? In my detailed review, I share my many years of experience.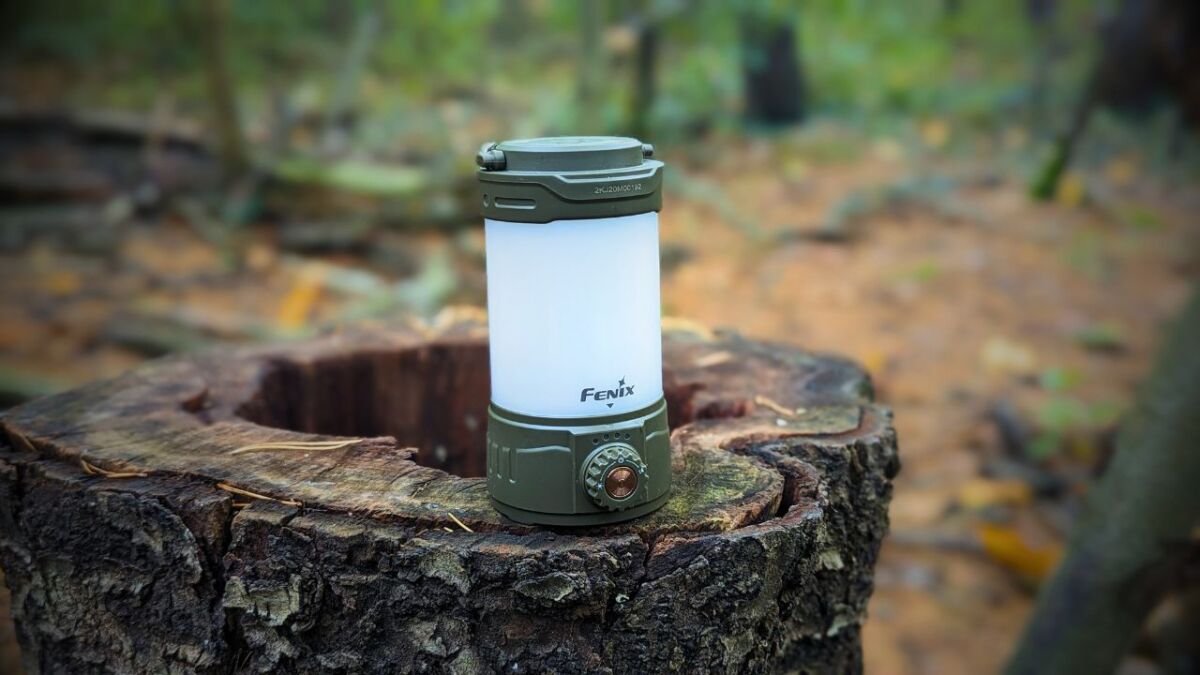 ---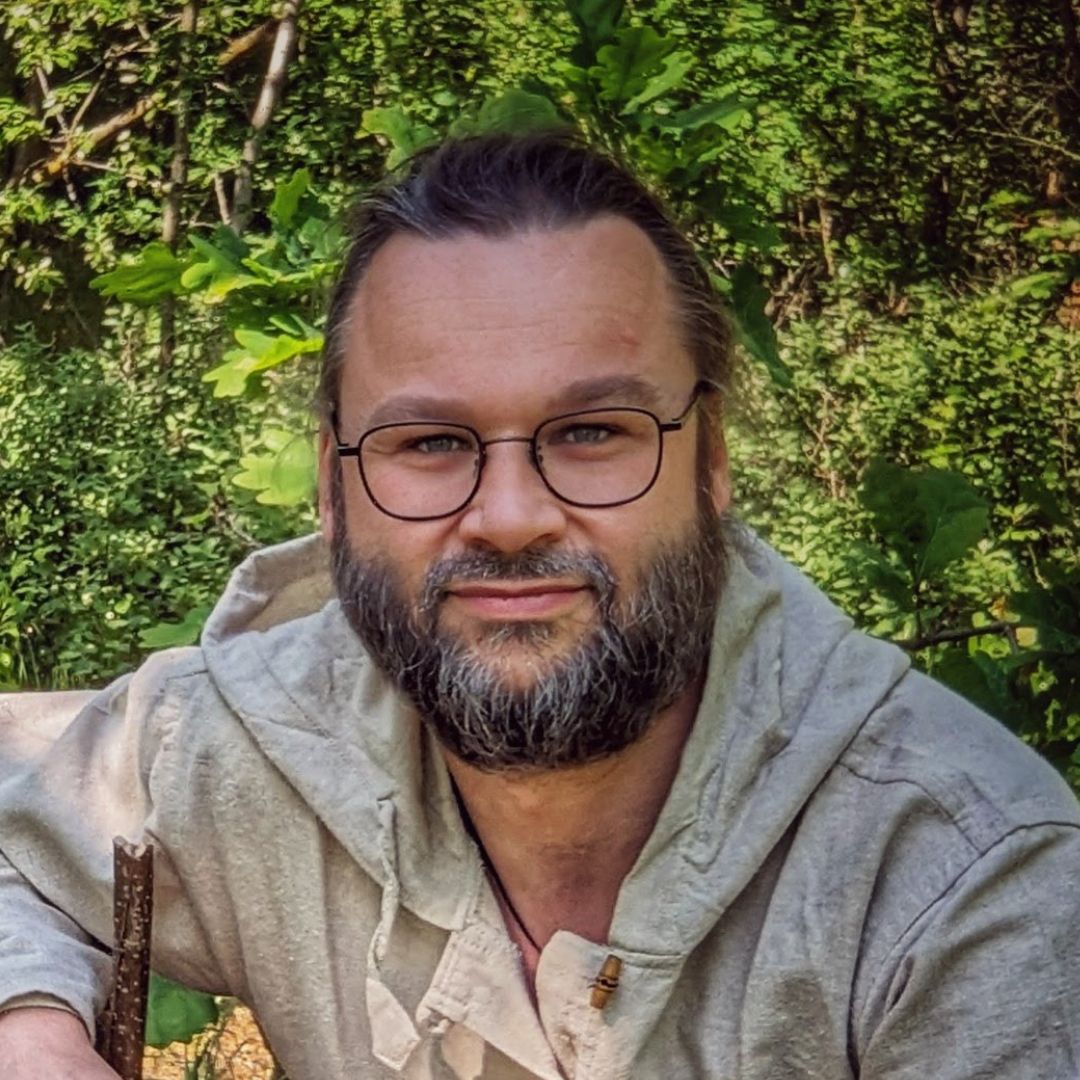 ---
👉 The key facts from this guide
The Fenix CL26R Pro is a top camping lantern with 7 white and 2 red light modes.
You can charge it via USB and even use it as a power bank.
Thanks to the magnet and the foldable hook, it can be securely attached in various ways.
It combines bright ambient light with a focused light beam.
With an IP66 rating, the lamp is shockproof, sturdy, and waterproof.
For you, the investment of around $79 is worth it due to its high-quality craftsmanship.
I have been searching for the perfect camping lantern for a long time, one that is bright enough and can withstand rough conditions.
Recently, I came across the Fenix CL26r Pro LED. It promised exactly that: an immense brightness of up to 650 lumens and a sturdy construction.
Of course, I had to put this thing through a stress test.
In my detailed review, you will find out if the Fenix CL26r Pro actually lives up to its promises.
I'll tell you why this lamp is my new loyal companion when camping.
So you know if the investment is worth it for you.
Fenix CL26r Pro Camping Lantern: The features that immediately catch my attention
The Fenix CL26R Pro is a high-quality and robust camping lantern. It offers bright, white and red light with various brightness levels, is waterproof and durable, has a power bank function, and can be flexibly attached thanks to its magnet and hook.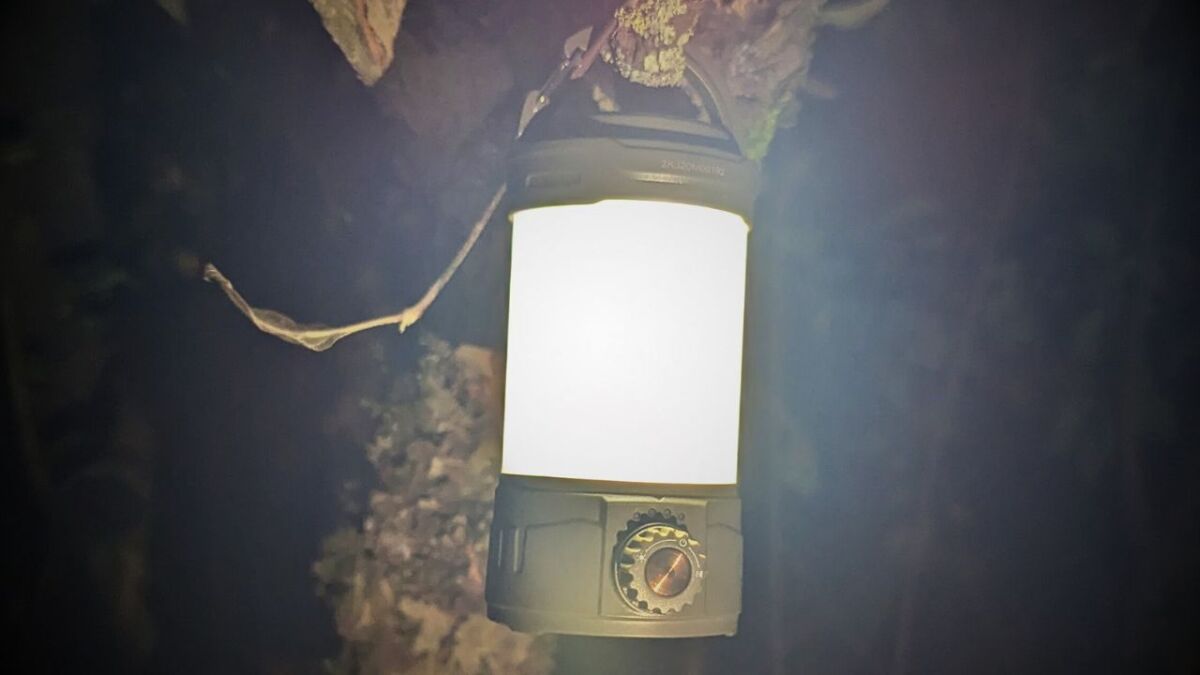 It is available in olive green, white marble, and camouflage and features a minimalist design.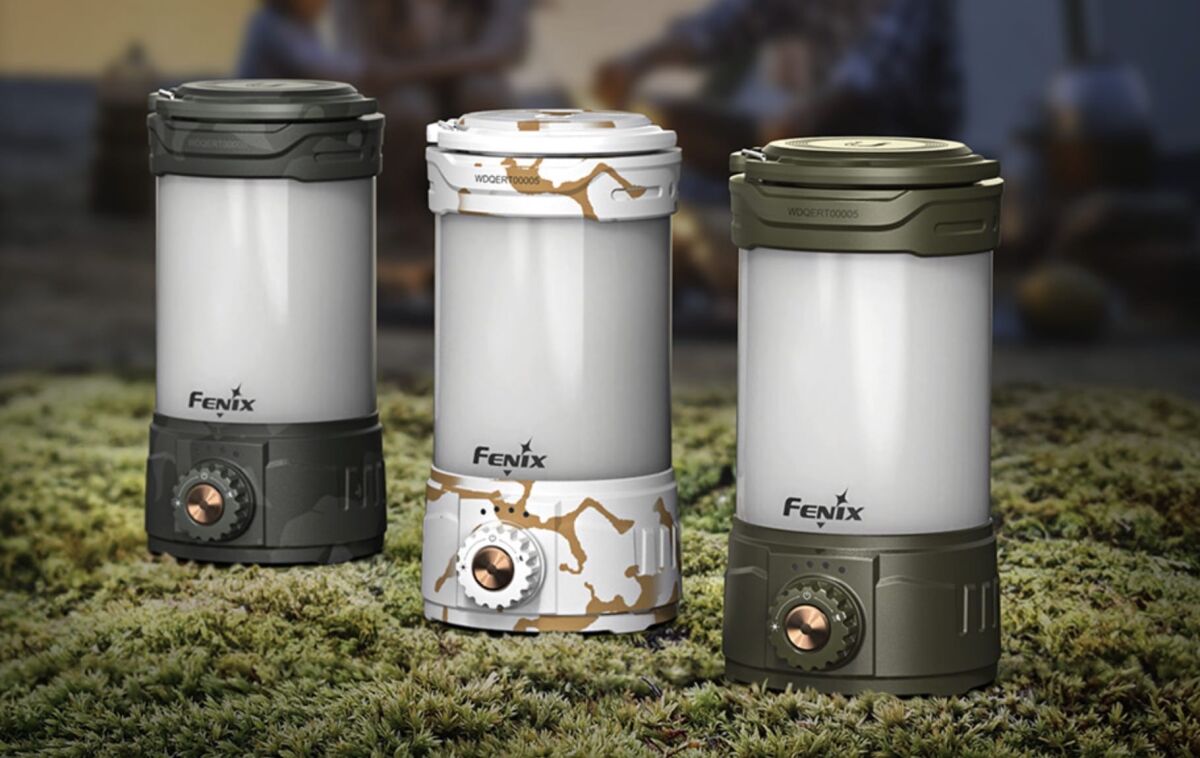 The CL26R Pro is compact and lightweight, making it perfect for camping. It features a range of useful functions that make camping even more enjoyable.
I have created a video (in German) specifically for you. Watch it and then continue reading:
One of the best features of the CL26R Pro is its USB-C port. This allows me to charge the lamp with a USB-C cable, eliminating the need to carry an extra battery pack for the lamp.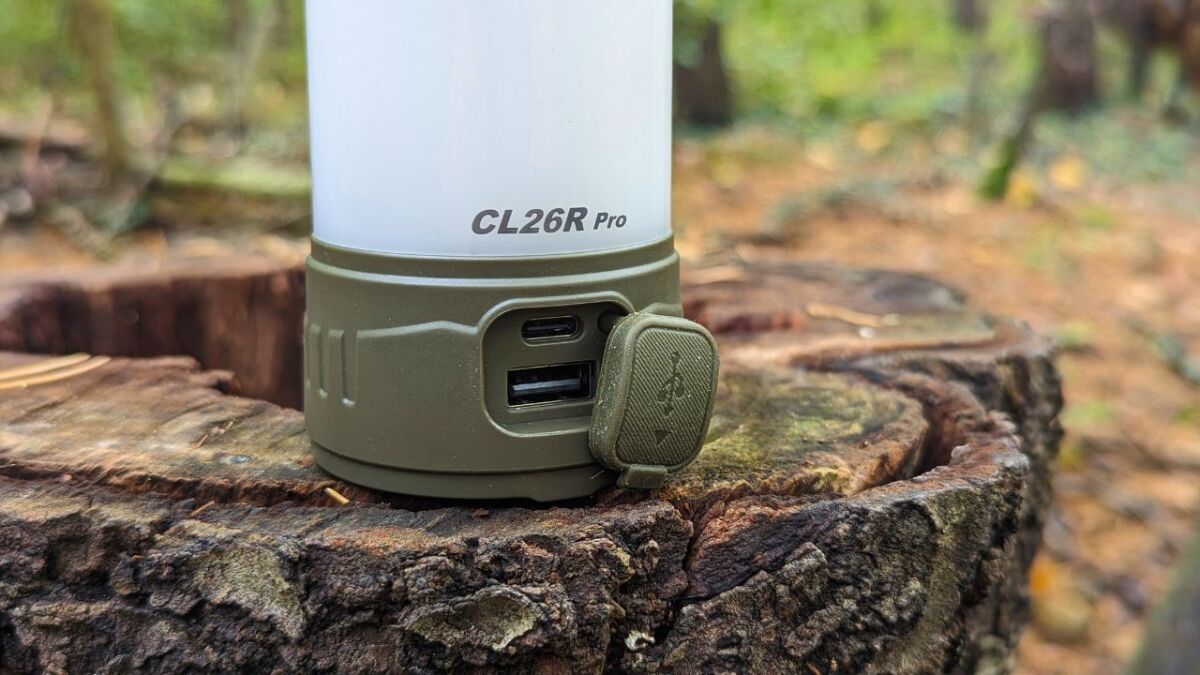 The USB function is also useful if you want to use the lamp as an emergency power bank.
If your smartphone or tablet is out of juice, simply connect the CL26R Pro and extend the battery life (with the USB Type-A discharge port).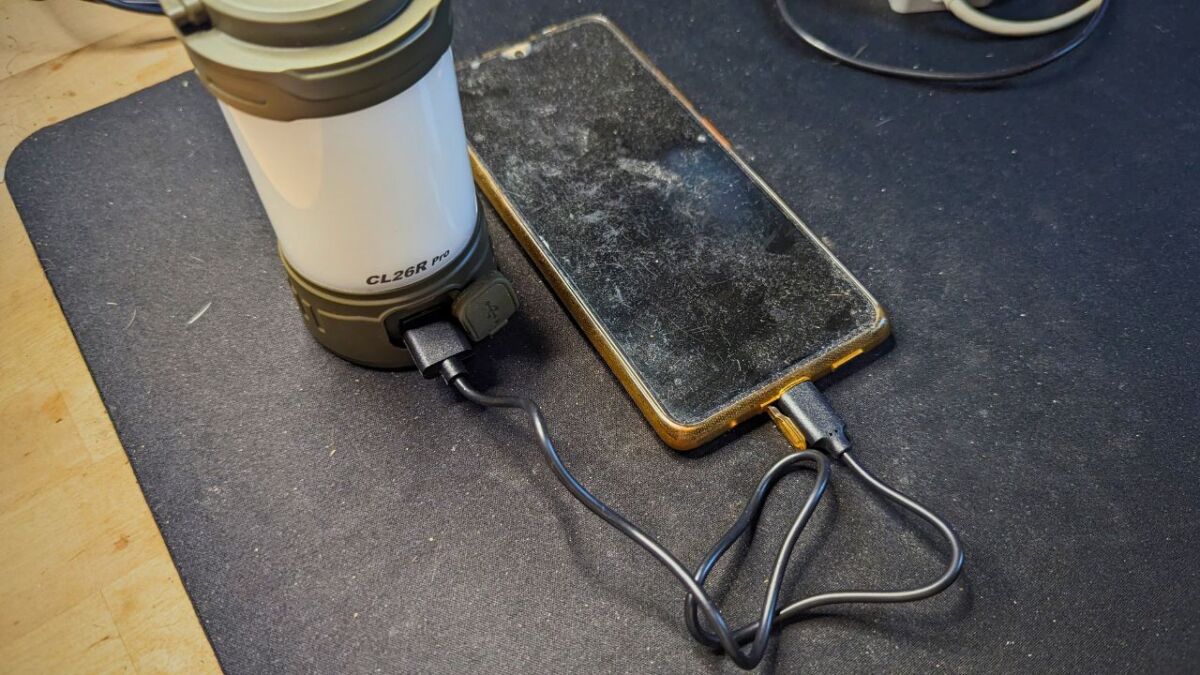 Furthermore, I noticed that the CL26R Pro has a long battery life. I had the flashlight in use for 3 days, repeatedly at full brightness - and the 21700 battery kept going and going.
The fact is: The lamp manages to shine for more than 400 hours (with 5 lumens) before it needs to be recharged. The appropriate lithium-ion batteries are included.
This is perfect for long camping trips or for use in areas with poor access to electricity.
I use the Fenix CL26R Pro for car camping and for work when it's already dark. I use it to illuminate an entire area for a whole group.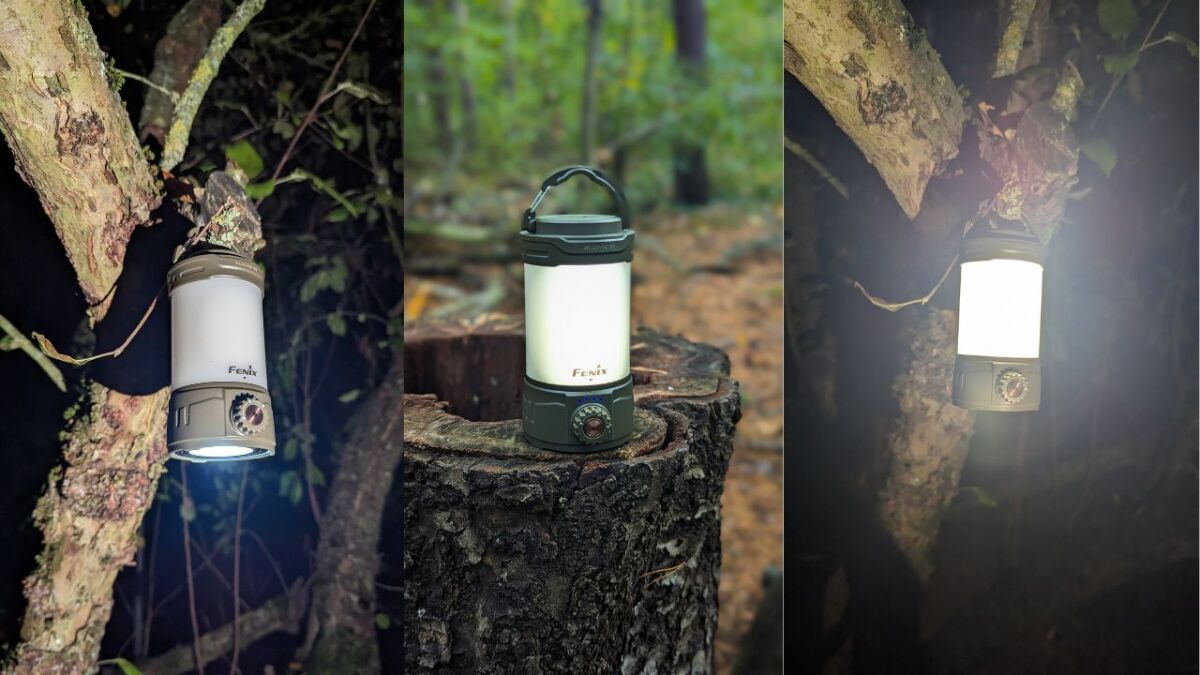 And when it's darker in the forest, I also like to use the lamp so that I can see every detail while carving.
You know, good visibility and brightness is also a safety feature when working with tools.
The CL26R Pro has different light modes, so you can adjust the lighting to your needs. However, it is not continuously dimmable.
You will receive the lamp with two lighting modes:
Ambient light: bright and completely sufficient
Focus light: Use the CL26R Pro as a flashlight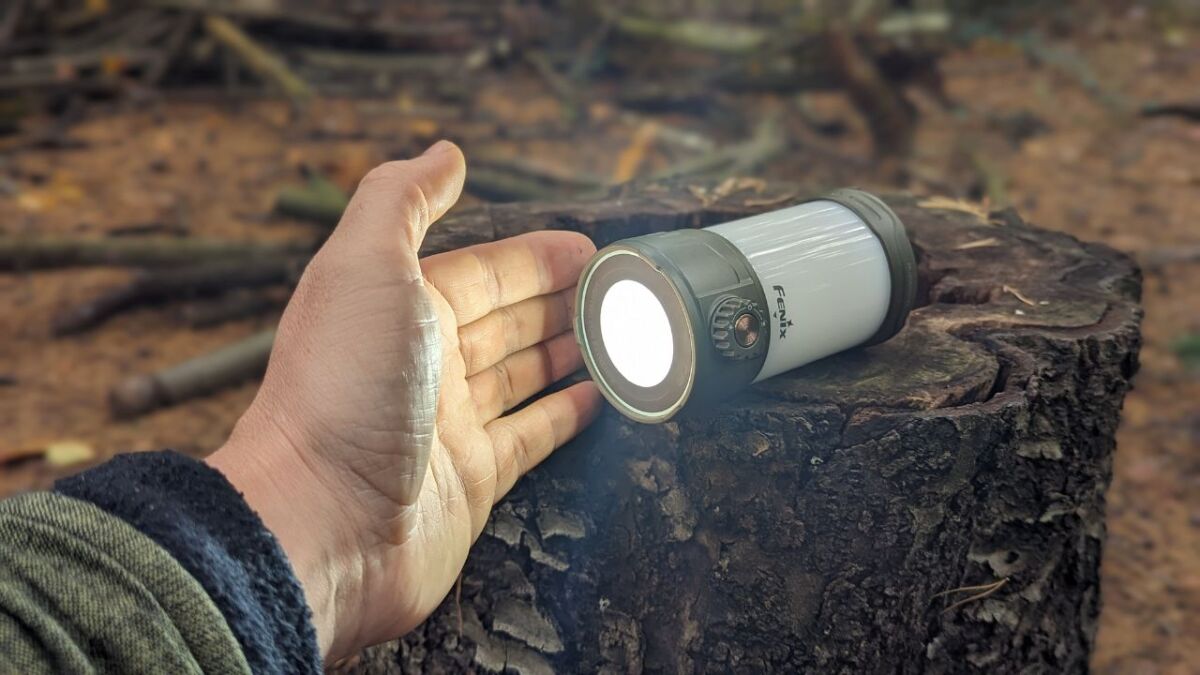 Overall, the Fenix CL26R Pro is a very useful and practical camping lantern. I wouldn't want to be without it anymore.
It is compact, lightweight at 272 grams (199 grams without battery), and has a range of useful features.
The USB function is particularly practical, and the long battery life is perfect for long camping trips.
Fenix CL26R Pro LED Camping Lantern: Various Mounting Options
The Fenix CL26R Pro LED camping lantern offers you various options to quickly attach it anywhere. This is very convenient if you want to have your hands free.
The strong magnet
On the top of the lamp there is a strong magnet. This allows you to easily attach the light to any metallic surface.
No matter if on the roof of the car, on an iron tent pole, or on other metallic objects. It stuck to the metal surface like Spiderman. Even if you drive over uneven terrain, it won't fall off.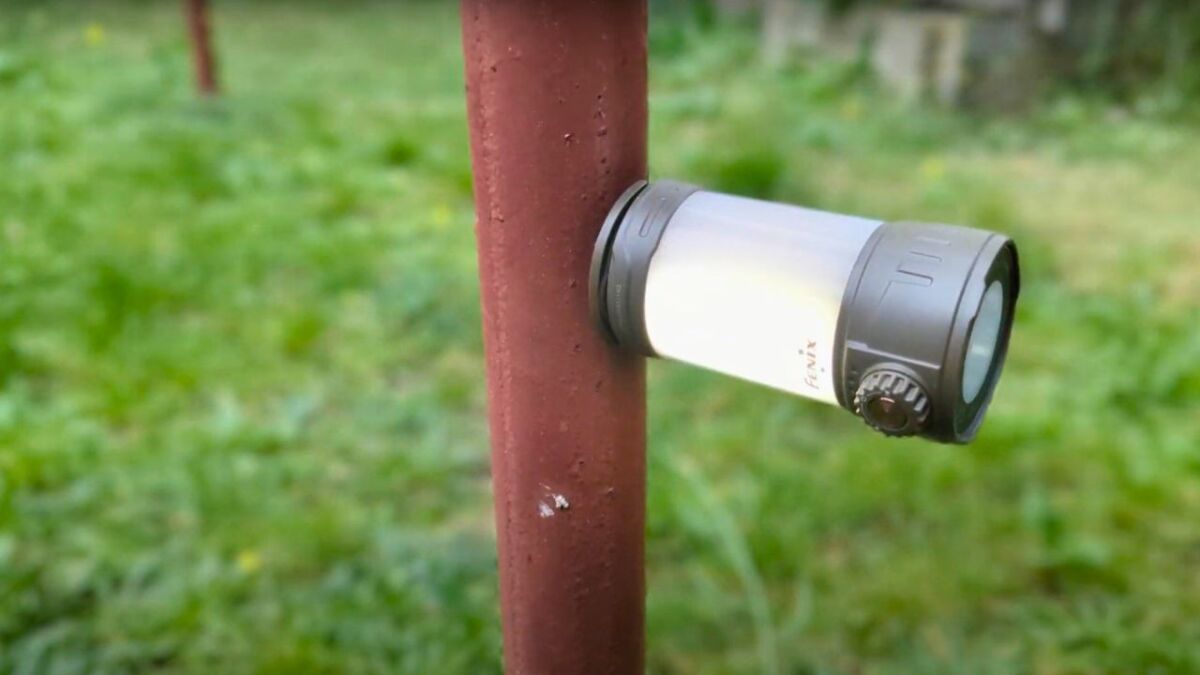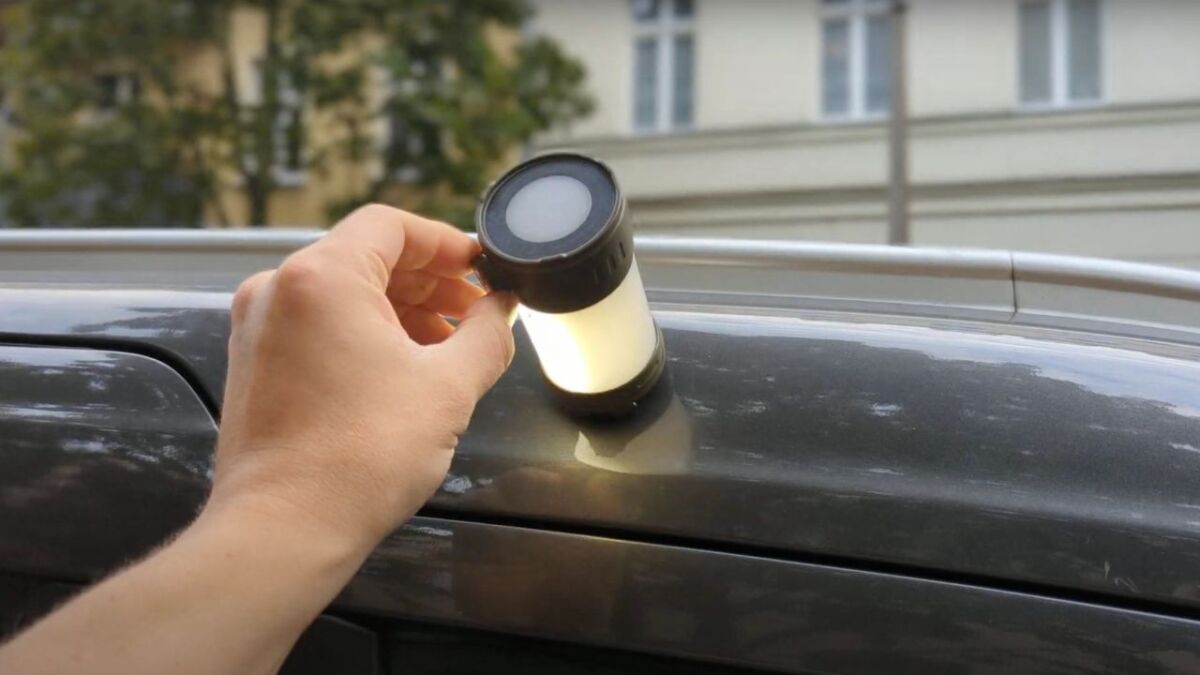 The foldable hook
In addition, the Fenix CL26R Pro features a clever foldable hook on the top. This allows the flashlight to be easily hung anywhere:
at the tent
on a branch
or even on a nail or hook
The hook is stable and wide so that the lamp holds securely. Additionally, you can fold it completely into the housing when you don't need it.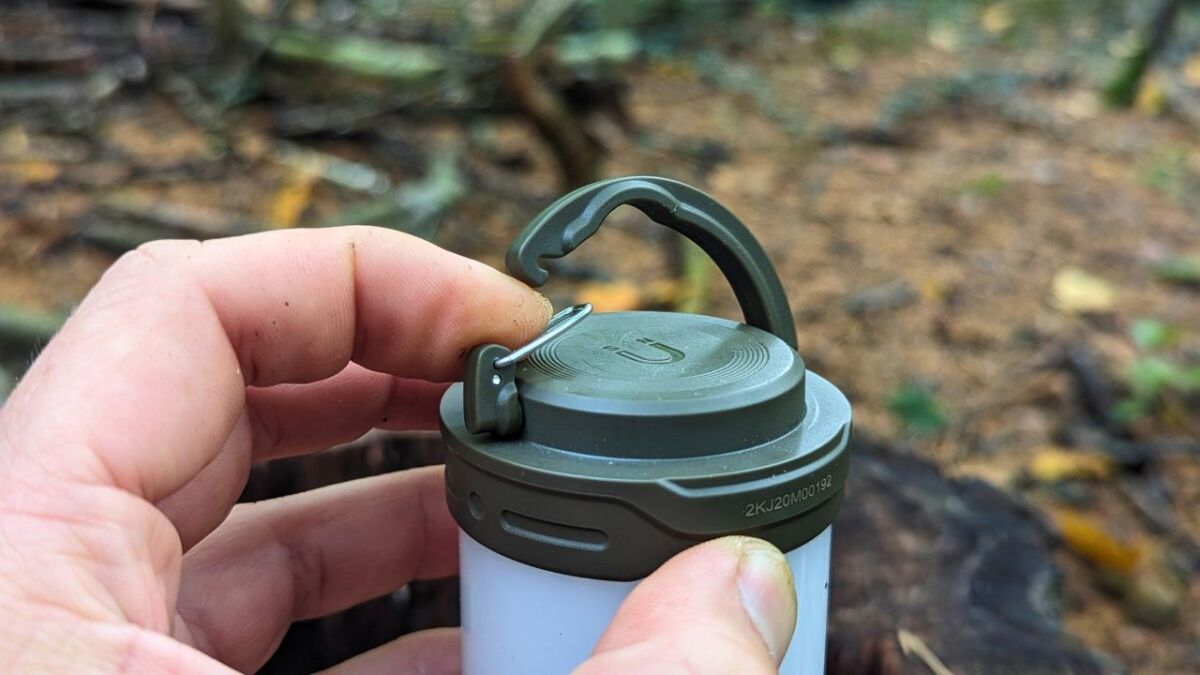 By combining a magnet and a hook, you have two flexible options to quickly attach the lamp anywhere.
Your hands remain free, and you don't have to hold the lamp continuously.
Flashlight and lantern in one product
The Fenix CL26R Pro LED camping lantern is versatile.
Because it combines the advantages of a flashlight with those of a camping lantern.
Two lights in one device
The CL26R Pro has two different lighting modes:
Ambient light
Focus light
This practically replaces two devices.
Bright ambient light
When set as an ambient light, the lamp illuminates your entire surroundings evenly and brightly. The light spreads over a large area.
Ideal for nighttime
to illuminate the tent
to sit by the campfire
or to help with cooking
You see everything that happens around you.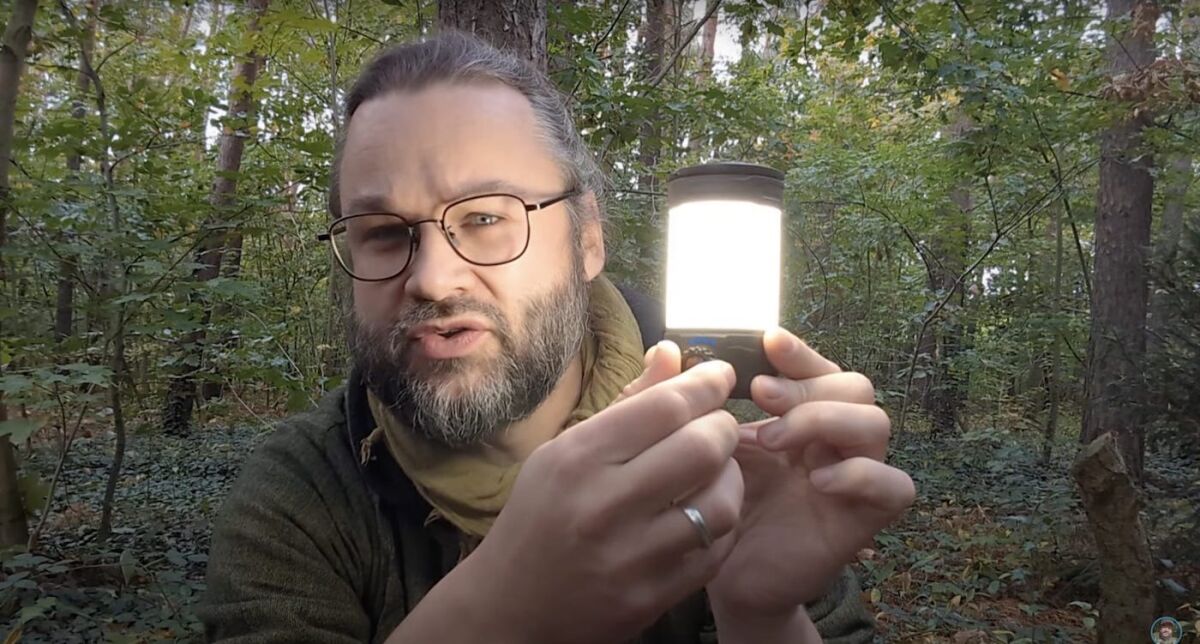 Focused Light Cone
If you want to use the lamp as a flashlight, simply switch to the focus mode. The lamp for this is on the bottom.
Then the lamp forms a focused beam of light, with which you can illuminate individual objects very specifically.
It works similarly to a classic flashlight with focus.
With up to 150 lumens of brightness, you can quickly find small objects or markers in the dark.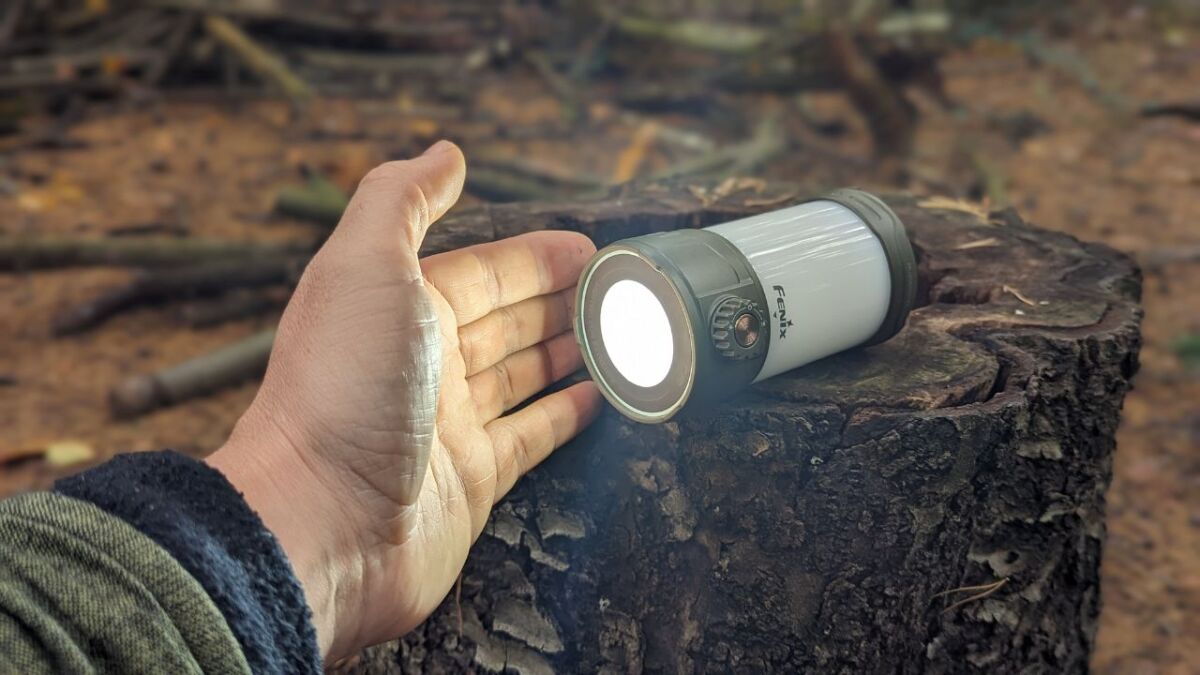 Advantages of dual use
Thanks to the dual use, outdoor enthusiasts only have to carry one device instead of a lamp and flashlight separately. This saves weight in the backpack.
The CL26R Pro is the perfect 2-in-1 solution for nocturnal outdoor enthusiasts. It's like a Swiss Army knife for light.
Seven white light levels and 2 red light levels
A major advantage of the Fenix CL26R Pro LED camping lantern is the enormous range of different brightness levels.
Here is a table showing the different brightness levels of the Fenix CL26R Pro LED camping lantern:
Color of Light
Light Levels
Duration
White Ambient Light
- Front (25 LM)
- Low (50 LM)
- Med (200 LM)
- High (500 LM)
- 67 hours
- 40 hours
- 13 hours
- 10 hours
White Focused Light
- Down 1 (5 LM)
- Down 2 (50 LM)
- Down 3 (150 LM)
- 408 hours
- 58 hours
- 15 hours
Red Light
- Red Light (3 LM)
- Flashing Red Light (3 LM)
- 125 hours
- 240 hours
LM = Lumen
The table shows the available brightness levels for white ambient light, white focus light, and red light. In total, there are 7 white and 2 red brightness levels available, allowing for a very fine adjustment to the respective needs.
Seven graduated brightness levels
With the white ambient light (turning switch to the right), you have the choice between four different brightness levels:
Front (25 Lumens)
Low (50 Lumens)
Med (200 Lumens)
High (500 Lumens)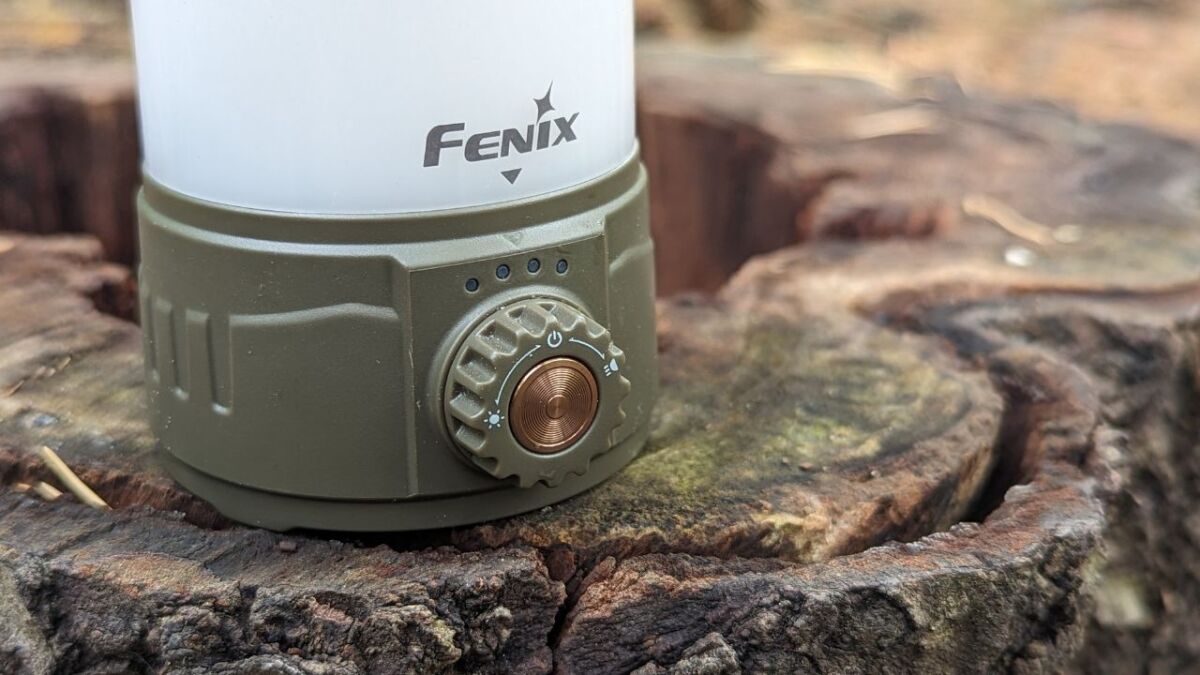 You can adjust the brightness exactly to your specific needs.
The first mode "Front" only illuminates the front part of the lantern, all other modes then illuminate the lantern all around.
In the lowest level "Front", the battery lasts over 400 hours. That's more than enough for a multi-day trekking vacation.
---
The bright focus light (turn switch to the left) can be found in three levels:
Down 1 (5 Lumen)
Down 2 (50 Lumen)
Down 3 (150 Lumen)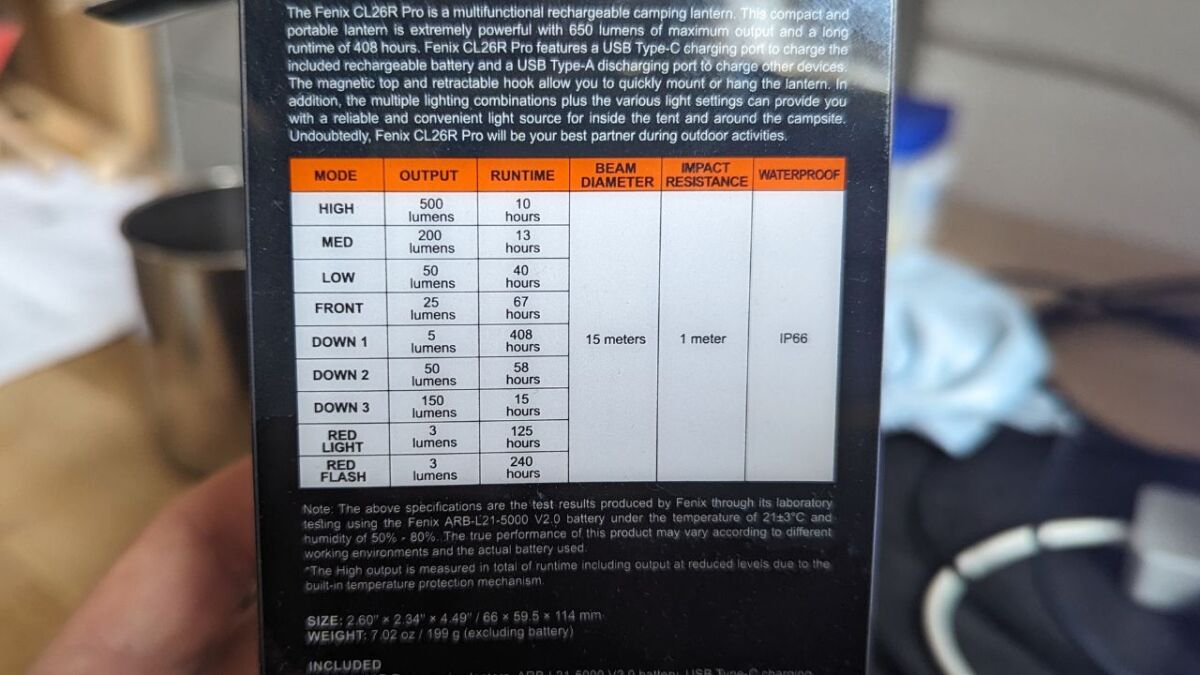 Two dimming levels for red light
You activate the red light by pressing the rotary knob for a longer period of time.
It is adjustable in two stages:
Red light (3 lumens)
Flashing red light (3 lumens)
Red light is ideal for not impairing night vision at night. You can prepare your equipment or read compass and maps without being blinded.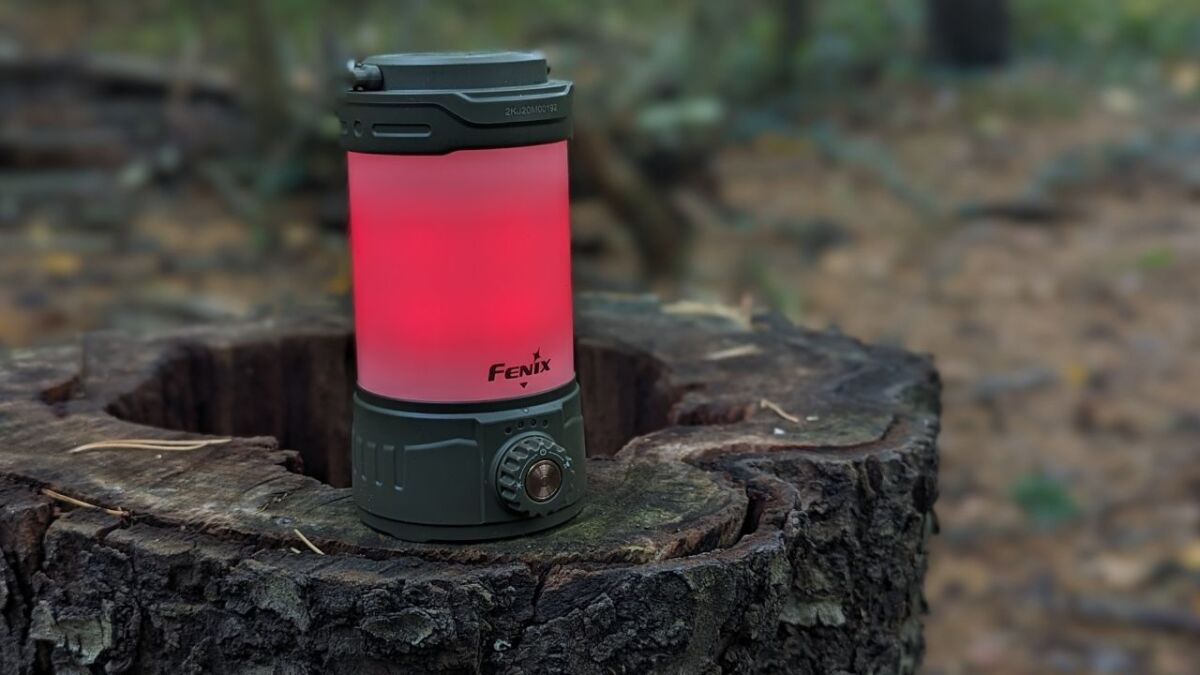 Optimal adaptation to any use
With the extensive range of brightness levels, you can perfectly adjust the Fenix CL26R Pro to your specific needs.
Bright light, if you want to illuminate a wide area
Dimmed light, to conserve battery
Red light, to preserve night vision
Design, Durability, and Battery Indicator
The Fenix CL26R is made of high-quality plastic and metal and is very durable. Additionally, it is waterproof.
And I particularly like these features because I spend a lot of time outdoors. The lamp can sometimes fall down.
A forest floor is rather ridiculous, any lamp can handle that. But what about concrete?
Unfortunately, this has also happened to me, but no scratches have occurred, and the camping lamp continues to perform perfectly.
The rotatable toggle switch can be turned smoothly and not too hard or too light - perfect. The suspension is robustly made, and the design fits perfectly for me.
If the button on the toggle switch is briefly pressed, the charge of the lamp will be displayed with a maximum of 4 LEDs.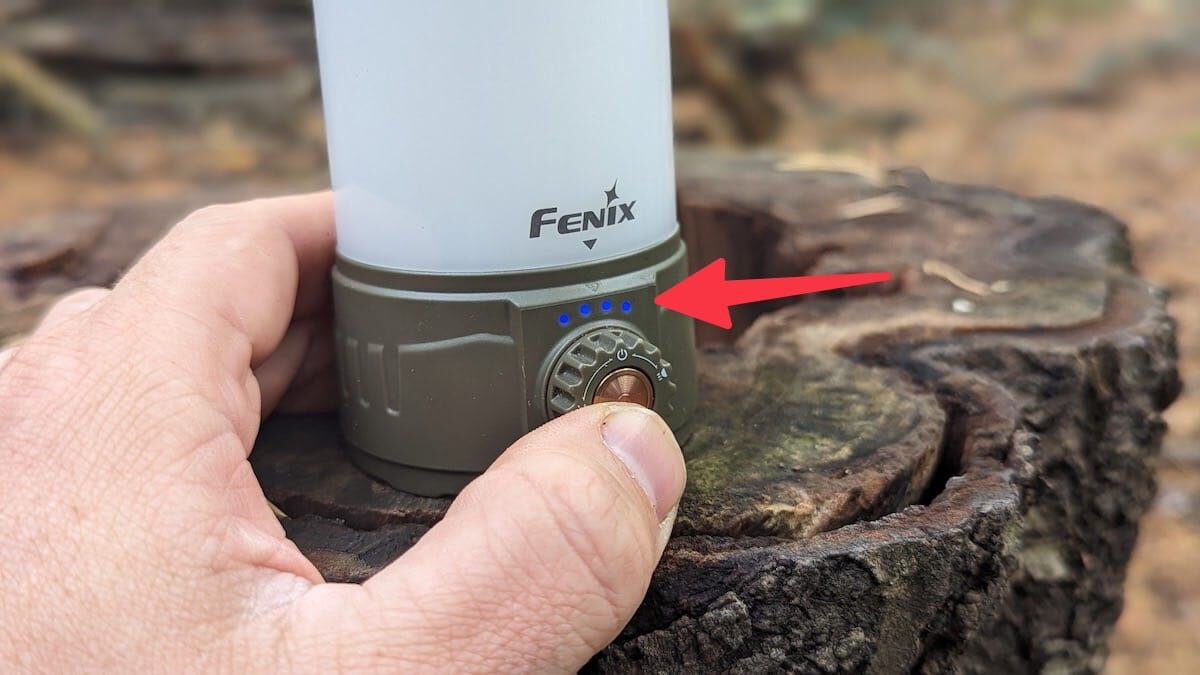 What are the advantages and disadvantages of the Fenix CL26R Pro?
7 white light levels
2 red light levels
USB Type-C charging port
USB Type-A discharge port (usable as power bank)
Flashlight and lantern in one product
Sturdy and well-made
5000 mAh battery included
Charging function only available with battery
Only cold light, no warm light
A bit expensive at 75 to 85 €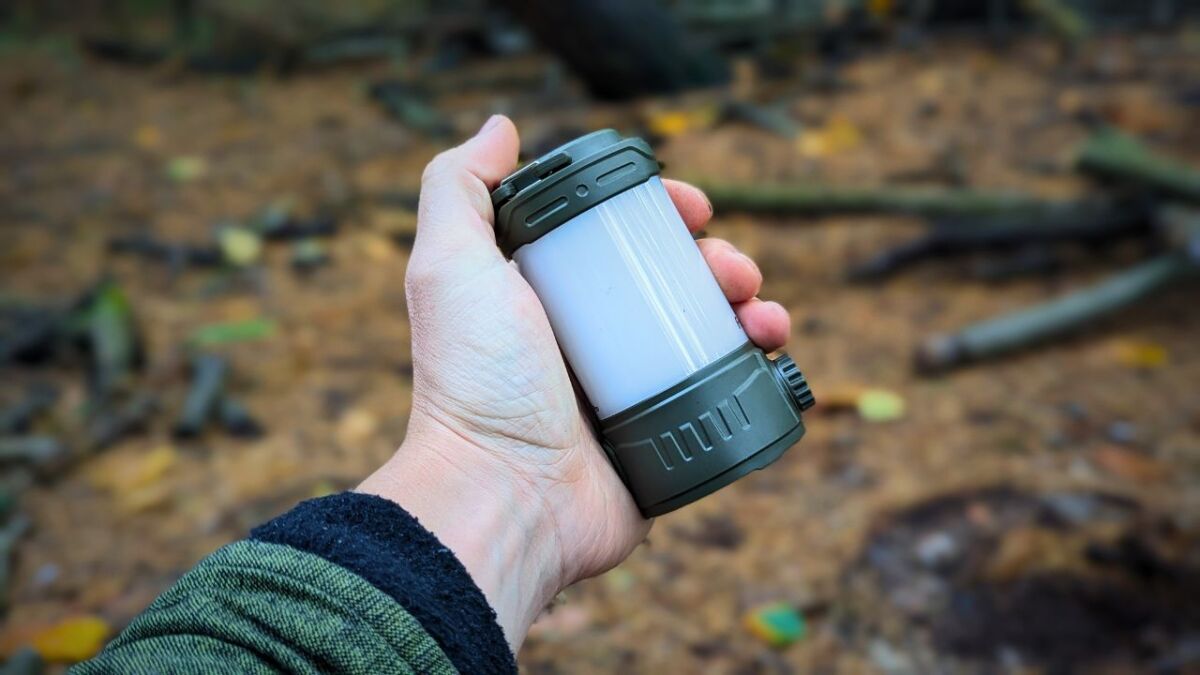 My impression? Buy - even if it's a bit expensive
I have been using the Fenix CL26R Pro LED camping lantern for a few months now, and I am impressed with its versatility and the many useful features it offers.
The lamp is small and lightweight, so it fits perfectly in my bag when I'm on the go.
The various mounting options are extremely practical and the USB function is also very useful.
The lamp provides a strong, clear light and I have already used it multiple times at night during seminars, camping or hiking.
FENIX CL26R Pro LED Campingleuchte mit USB Anschluss 650 Lumen Olive drab
Super Bright Camping -Laterne - Der Fenix ​​CL26R Pro verfügt über eine maximale Leistung von 650 Lumen, die einen Campingplatz mit einem Durchmesser von bis zu 16,4 Metern beleuchten kann.
Einstellbares weißes und rotes Licht - Ein Drehschalter und ein elektronischer Schalter gewähren einfache Zugriff auf sieben weiße Lichtmodi und zwei rote Lichtmodi. Im niedrigen Modus kann es bis zu 408 Stunden ausgeführt werden.
Wiederaufladbar-Ein integrierter USB-C-Anschluss bietet eine schnelle Ladelösung. Eine Leistungsanzeige signalisiert bequem, wenn eine Aufladung fällig ist.
Backup -Stromquelle - Der USB -A -Entladungsanschluss des CL26R Pro kann auch das Telefon oder eine andere Elektronik aufladen.
Inhalt: Fenix ​​CL26R Pro Lantern, ARB-L21-5000 V2.0, USB-C-Ladekabel
85,90 €
View Product
It is weatherproof (IP66) and I have no problems using it even in heavy rain.
The battery life of the included 5000mAh battery is great, and I can use the lamp for several days without the battery running out.
I particularly like the high-quality craftsmanship of all components: rotary switch, suspension, plastic parts - everything is coordinated. And the price is right for that.
Overall, I am very satisfied with the Fenix CL26R Pro LED camping lantern and can highly recommend it. You can buy it here.

Since this is a gear guide, here ...
---
🤝

8 reasons to trust my recommendation
Practical Experience: I have tested most of the products I recommend under extreme conditions myself.

Independence: As a wilderness mentor, I am not tied to any specific brands - this means my recommendations are unbiased.

Expertise: My many years of experience allow me to understand the intricacies and details of various products that a layperson might overlook.

Target group understanding: I understand the needs and challenges of outdoor enthusiasts, from beginners to seasoned experts.

Quality focus: I attach great importance to quality and longevity. These are characteristics that are crucial in the wild.

Clear communication: I try to explain the pros and cons of each product clearly and understandably so that you can make an informed decision.

Currentness: I always keep my guides up to date and adapt them to new findings or products.

Community Feedback: I work in wilderness schools, teach courses myself, attend courses and am active in various outdoor and survival communities and therefore integrate the feedback and experiences of others into my recommendations.
So when I introduce the best survival knives or flashlights, you can be sure that every recommendation is based on solid experience and extensive knowledge.
Was this guide helpful?
11 people found this guide helpful.
5.00 out of 5 points (11 Ratings)