Back to german article
Fire with the sun: 8 professional tips you need to know
Start a fire with a magnifying glass. Quietly and effectively. Read my top 8 tips and light your fire with a magnifying glass like a pro.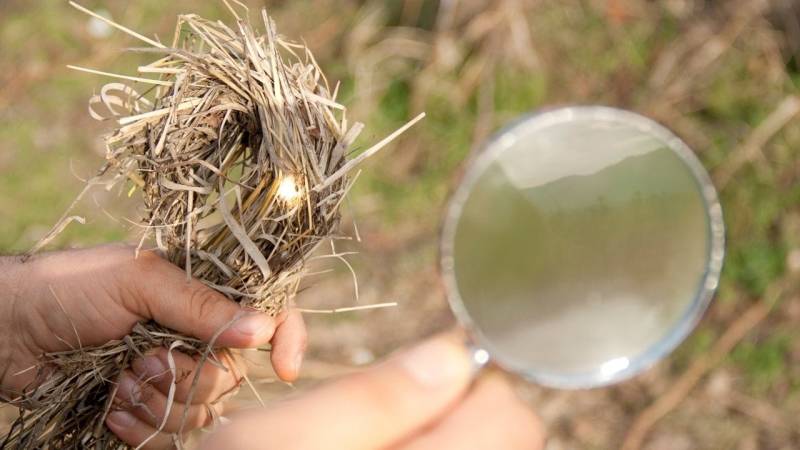 ---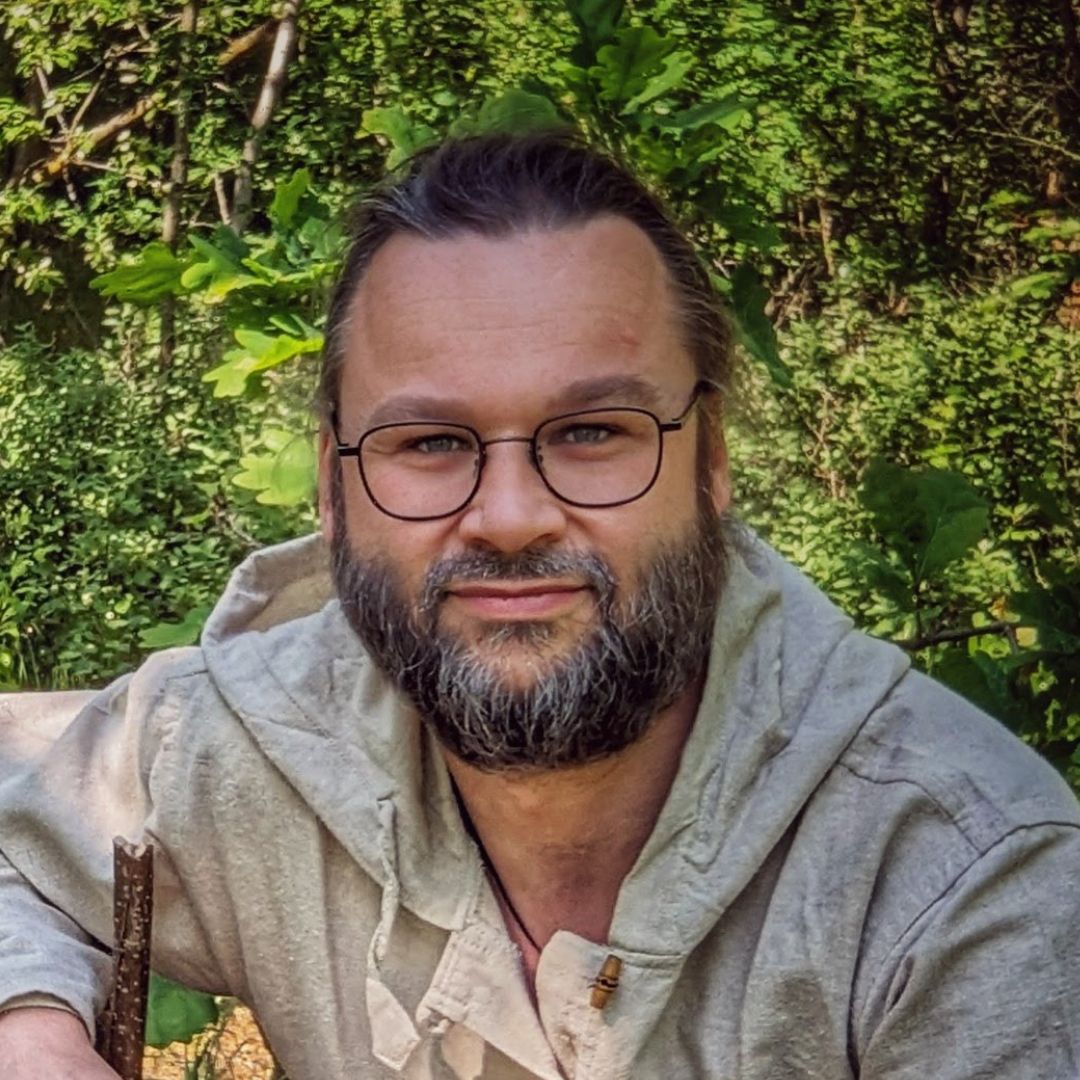 ---
👉 The key facts from this guide
The full sun is crucial for igniting a fire with a magnifying glass. Cloudy skies make ignition more difficult.
The tinder must be bone dry. Moisture hinders ignition.
The angle to the sun should be 90 degrees to utilize the magnifying glass's maximum power.
Black or dark tinder absorbs more light and converts it into heat more effectively.
The focus of the magnifying glass should be directed to the smallest and tightest point to generate the most heat.
It is more effective to create an ember instead of a flame and then place it in a prepared tinder nest.
The selection of the right tinder is crucial. Punk wood, charred cotton, and certain tree fungi are particularly suitable.
The tinder should be finely crushed to reduce the fiber structure and make ignition easier.
I have a favorite method for starting a fire.
It is quiet and banal.
But it is effective.
I'm talking about a magnifying glass.
Every time I'm surprised at how simple the method is.
The sun is a bombastic survival resource.
However, it can be disappointing to try to start a fire with a magnifying glass.
To speed it up for you, I have compiled my 8 best tips in this guide.
Each of these points is significant and can make the difference between success and failure.
Let's start with point 1, the sun.
Fire with the sun, tip 1: full sun
It sounds obvious. However, with a cloudy sky, starting a fire with a magnifying glass is difficult or even impossible.
You are certainly not carrying your 1 x 1 meter solar lens in a survival situation, as this can also start a fire in slightly cloudy weather.
So make sure there is a clear view of the sun.
Make sure there are no obstacles.
Where the sun is doesn't matter. I got a glow in seconds in midsummer and in winter, when the sun was low on the horizon.
For practice, I recommend noon at 12 o'clock, as it is easiest to find the focal point at this time.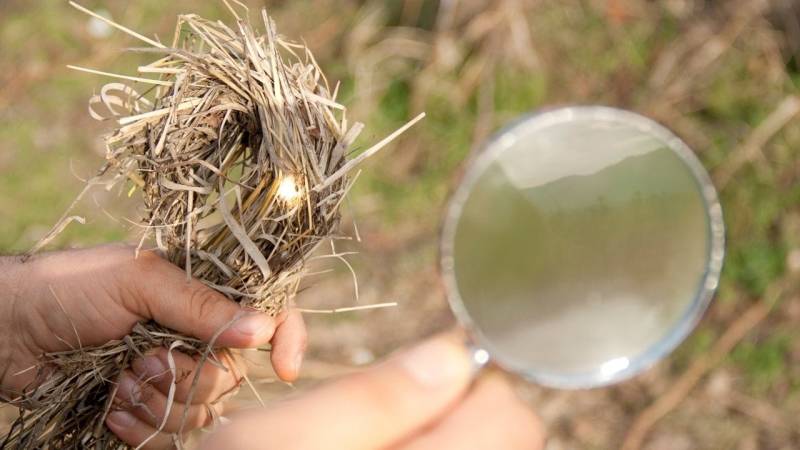 Fire with the sun, tip 2: Your tinder must be bone dry
Obvious, isn't it?
This applies to all forms of making fire. Whether you're igniting a fire with a fire bow drill, a fire steel, or a magnifying glass.
I often see people using wood and tinder that isn't completely dry.
My secret tip: Most people test the dryness of wood with their hands. But for me, that's not enough. I've noticed that my lips, cheeks, and chin are more reliable than my fingertips.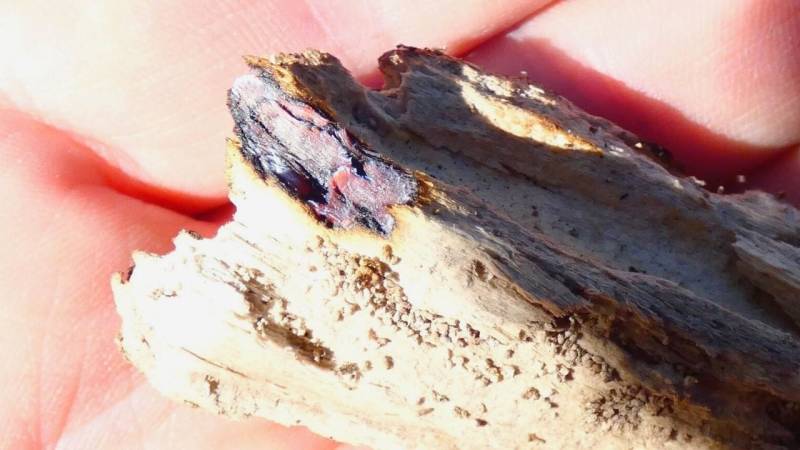 Fire with the Sun, Tip 3: The Angle to the Sun
Do it like a pro: hold the lens perpendicular to the sun. Whether you use a magnifying or parabolic lens doesn't matter.
Any angle less than 90 degrees reduces the performance of your magnifying glass.
Take a look at my infographic for more information: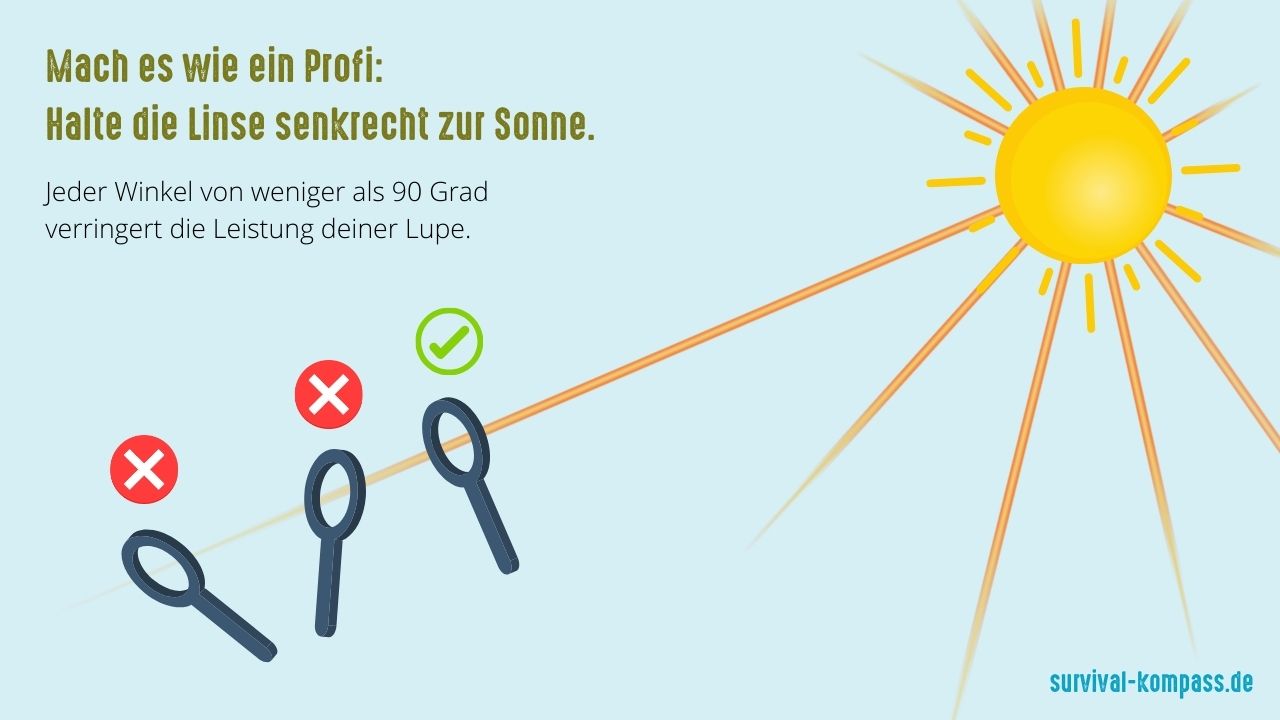 Fire with the Sun, Tip 4: Black is Better
With a solar lens, we try to convert light energy into heat energy.
And you should know that light consists of waves. When these waves hit an object, the color of the object plays a role.
Here's an example:
In the winter on the ski slopes, snow reflects a lot of light, so many skiers wear sunglasses. In the summer, however, you should avoid wearing completely black clothing. You'll sweat more than everyone else.
What does this tell us?
Bright objects reflect light. But you don't want the sunlight to reflect when you want to start a fire with a magnifying glass. Because most of the light is NOT converted into heat.
However, black or dark tinder absorbs all or most wavelengths of light, converts them into heat, and increases the temperature of your tinder.
So, does that mean you shouldn't use bright tinder?
No. For example, I usually use bright punk wood to create an ember (more on tinder later).
However, you should remember that in a real survival situation, every detail counts. In an emergency, there may be no perfect conditions, like a clear lens or an ideal angle to the sun.
Here are three tricks on how to make your tinder darker:
Take charcoal from an old fire: rub your tinder with it, or use the old charcoal to create an ember with it.
If you have a pencil, pen, or marker, use it to color your tinder dark. The graphite from the pencil also works well.
Dirt and grime: most dirt is dark and dry. You can rub this on your tinder. Just make sure everything is dry.
Fire with the Sun, Tip 5: Focus!
To ignite a fire with a magnifying glass or parabolic reflector, you must find the focal point.
Because only at the narrowest point does the solar energy concentrate.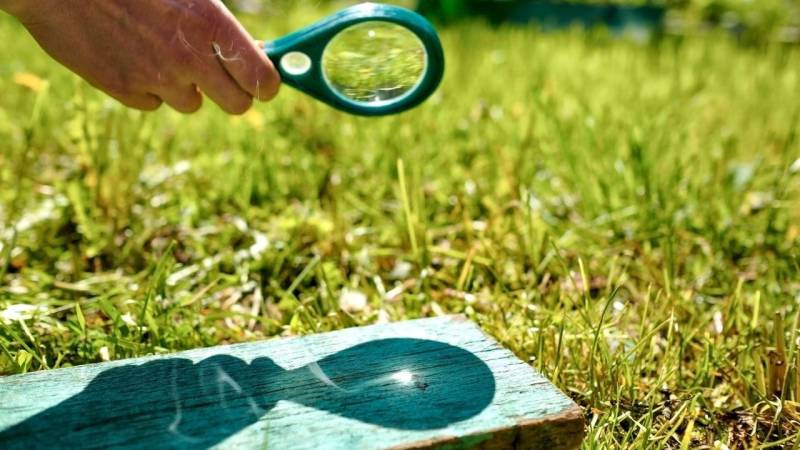 Follow these steps to find the focal point:
Hold your magnifying glass very close to the tinder (at a 90-degree angle to the sun's rays)
Slowly move the magnifying glass away from the tinder
The focus point will now become smaller
Continue moving the magnifying glass back until the focus point is at its smallest and tightest
With the correctly adjusted focus point, you will generate the most heat and this will be absorbed by your tinder.
Fire with the Sun, Tip 6: Create Embers, Not Flames
It is difficult to immediately create a flame using the sun's rays. It has often tested my patience, and now I take an easier route.
If you don't have a forceful lens, you will only waste time.
Instead, do this: Create an ember, then place it in a prepared nest of tinder and blow on it until flames appear.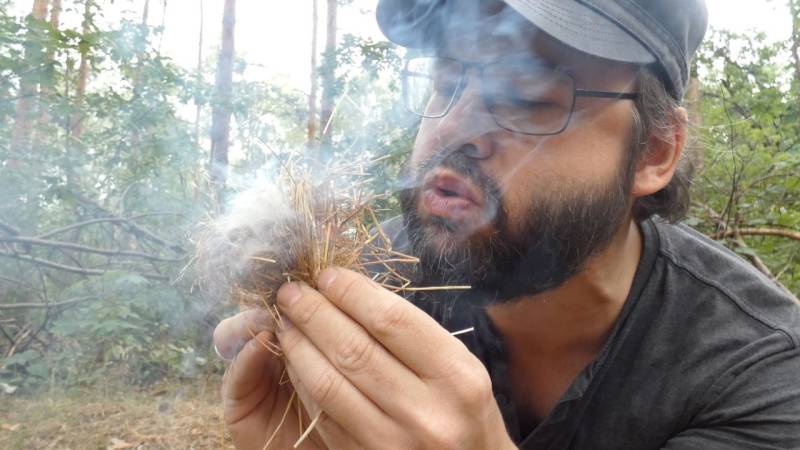 However, this is easier said than done. Especially for beginners, it can be challenging and you should practice gradually.
Don't stress, take things slow and deliberate – then it will work.
Let's now look at useful kinds of tinder.
Fire with the Sun, Tip 7: The Right Tinder
This tip is worth its weight in gold and you should never forget it.
Selecting the right tinder is essential. And there aren't many kinds of tinder that are suitable for creating a solar fire.
Because you need a tinder that will spread and maintain an ember on its own.
Only by using such a tinder will start a fire with a lens be child's play.
Here are my favorite kinds of tinder:
Punk Wood
This kind of tinder is genius because you can find Punk Wood abundantly in nature. And you don't have to create it yourself.
Punk Wood is extremely rotten and fibrous wood. A fungus has decayed the wood so much that it is soft, light, and fragile. Basically, it feels similar to Styrofoam.
This tinder does not burn, it glows on its own.
Punk Wood is my favorite when I am looking for tinder for burning glasses.
Make sure to check out my detailed guide to Punk Wood as tinder. There, I'll show you how to find and process Punk Wood.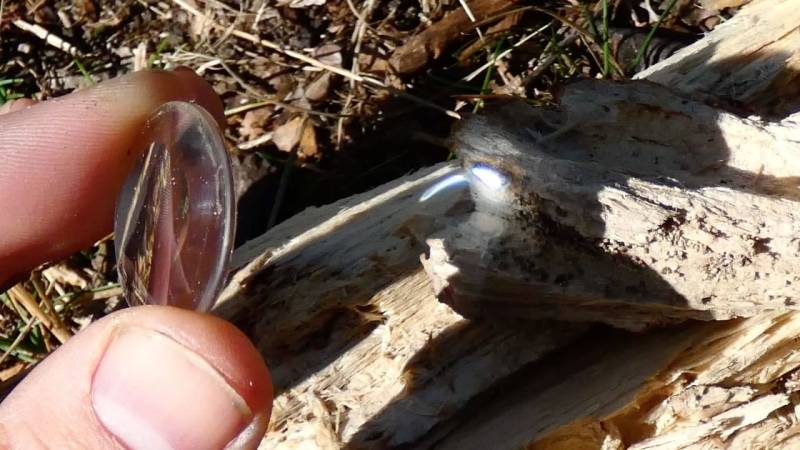 P. S. Charred Punk Wood burns in seconds. So let's take a look at the next tinder, which is also charred.
Charred Cotton (Charcloth)
This is how you make the tinder: Cotton is burned under oxygen exclusion. In the end, the charred material remains.
I can promise you: The charred cotton – also known as Charcloth – glows particularly quickly.
The disadvantage is that you have to make the charred cotton in advance. So, you need a fire to make this great tinder.
Nevertheless: Charred cotton burns even with a mini lens that is as scratched as my 20-year-old glasses. Additionally, the dark color is perfect for heat development.
You don't know how to make charred cotton? Then check out my illustrated step-by-step guide "How to Make Charred Cotton" now.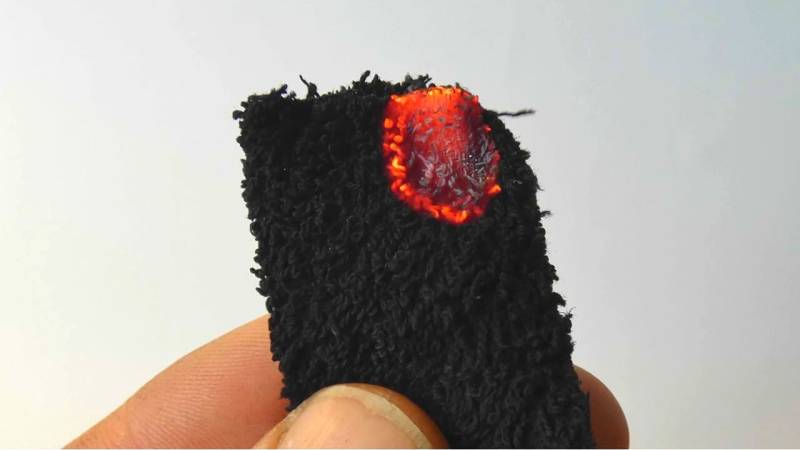 Tinder fungus / Birch polypore / Chaga
Our ancestors already knew about these three tree mushrooms. And they knew how ingenious their uses are.
Ötzi already had a Birch polypore with him. And all three mushrooms have one thing in common when they are bone dry: they slowly smolder.
The Tinder fungus: This brown mushroom mainly grows on birch trees, but also on other trees.
The Birch polypore: Only grows on birch trees and is light brown on top and white as snow on the underside. Furthermore, white on the inside.
The Chaga: exclusively grows on birch trees. It actually looks like black charcoal from the outside. The inside is orange and porous.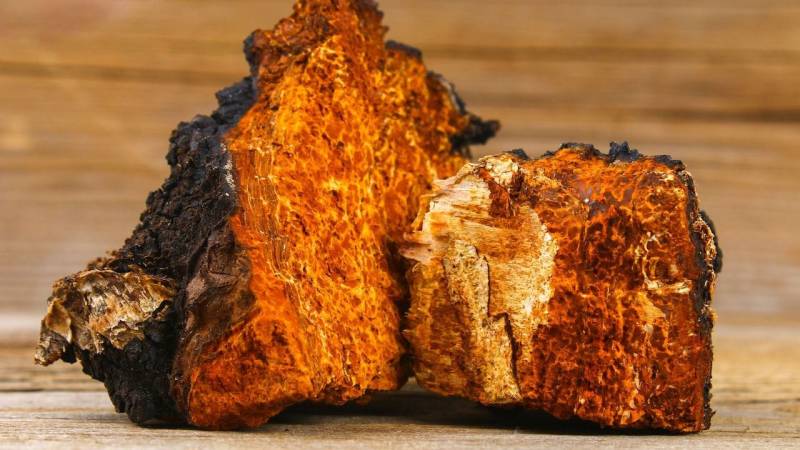 Animal droppings
Did you know? Dried dung from rabbits, deer, or horses burns and slowly smolders.
Crush it in your hand or in a container. Just make sure the dung is very dry and comes from a herbivorous animal.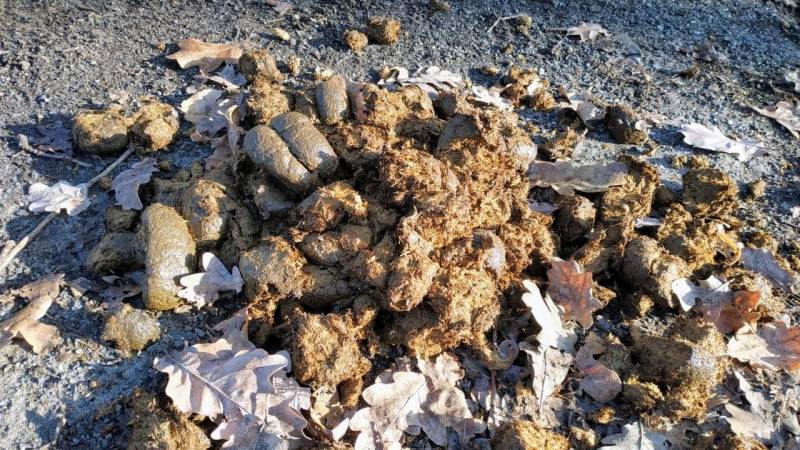 Fire with the sun, Tip 8: Create fine material
Most kinds of tinder ignite better if you crush them beforehand. This reduces the fiber's structure and makes them easier to ignite.
For example, I've found that crushed punk wood will smolder beautifully. Similarly, if you beat and manipulate the fuzzy layer on a fungus like the tinder fungus, it will smolder more quickly.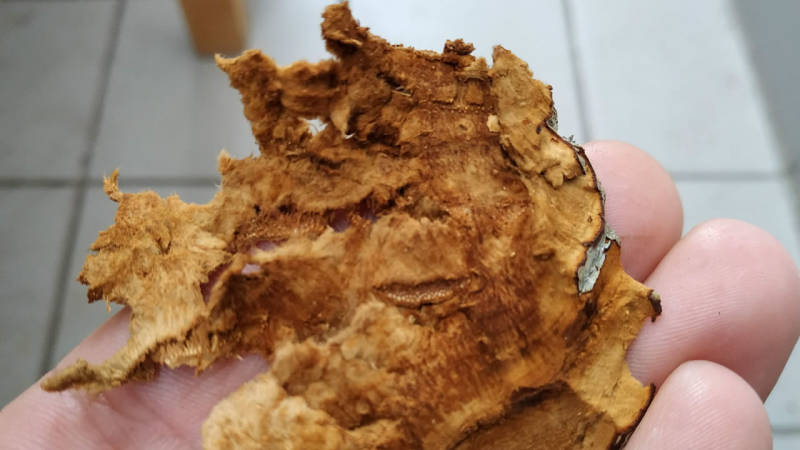 Extra: You Can Also Ignite Fire with Bottles, Cans, and Glasses
In my book The Fire Primer, I go into great detail about various ignition methods. Here are a few (there are more) that I'd like to share with you, and maybe they'll surprise you.
The Plastic Bottle: If you get the right angle, it creates a hot focal point.
The Reading Glasses: It's simple but brilliant. Reading glasses should never be left out in the open. Always pack them away in a case.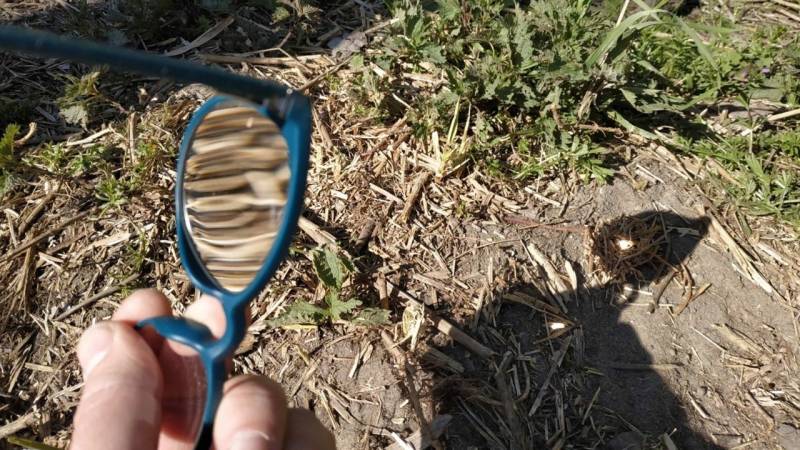 The Metal Can: The bottom of a can is a parabolic mirror and with it, you can create a hot focal point.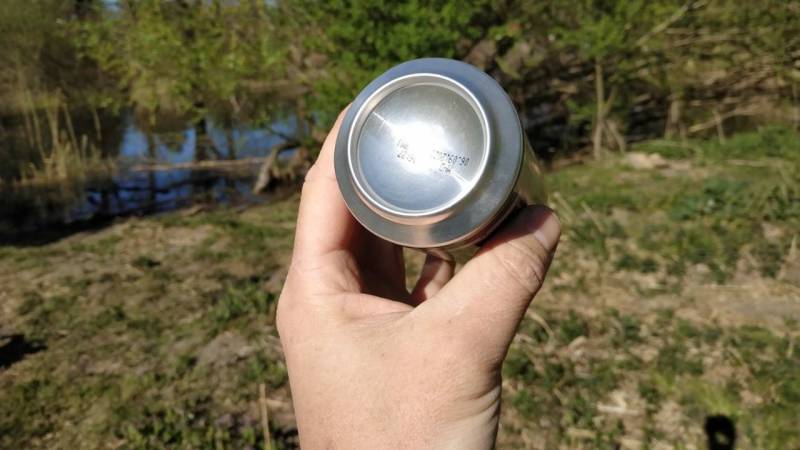 I couldn't believe it until I tried it myself. In the video below, you can see how simple the method is and how quickly the charred cotton ignites.
Pack a mini solar lens
These magnifying lenses are fantastic because they fit in any wallet.
They are durable, thin, and effective.
I use these lenses myself and can confirm that they create a hot focal point.
Finally, I want to say: lighting a fire with the sun is a simple and effective method - if you follow my tips.
I hope that it gains more significance and that I have now been able to "infect" you with it.
---
Did you like my tips? Which one will you consider?

Was this guide helpful?
37 people found this guide helpful.
4.89 out of 5 points (38 Ratings)