Back to german article
Outdoor Adventures: The Essential First Aid Tips Every Camper Should Know
Are you ready for your next camping trip? This guide takes you through all the important first aid measures when camping and in the wilderness.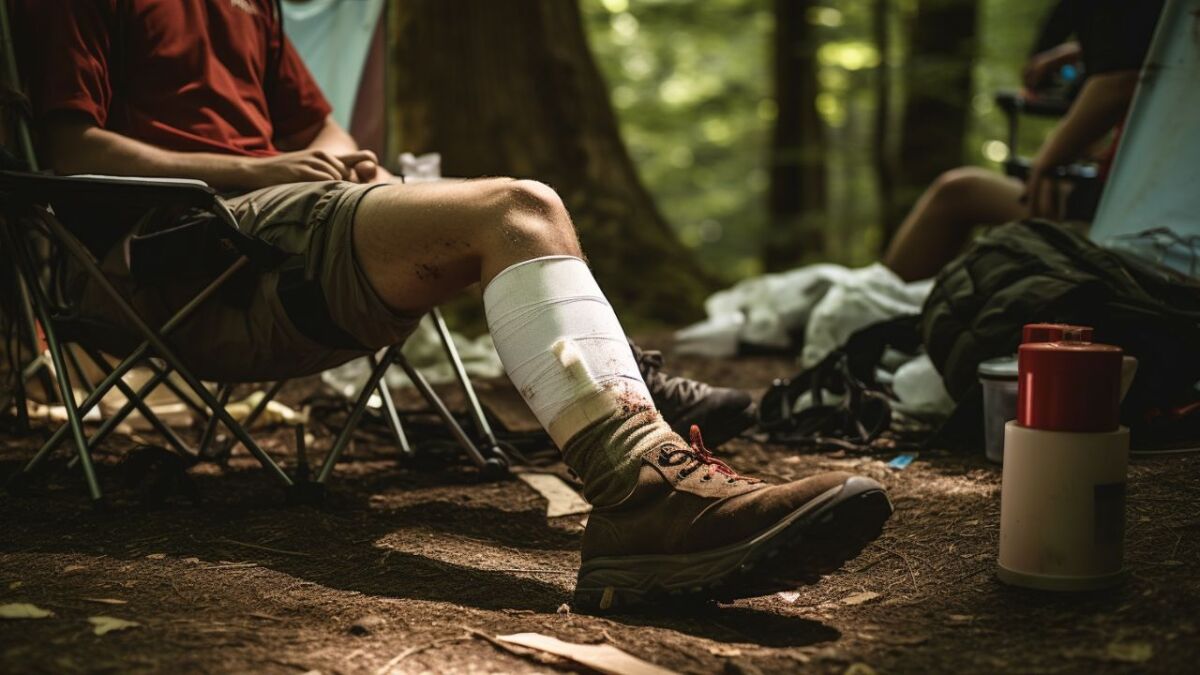 ---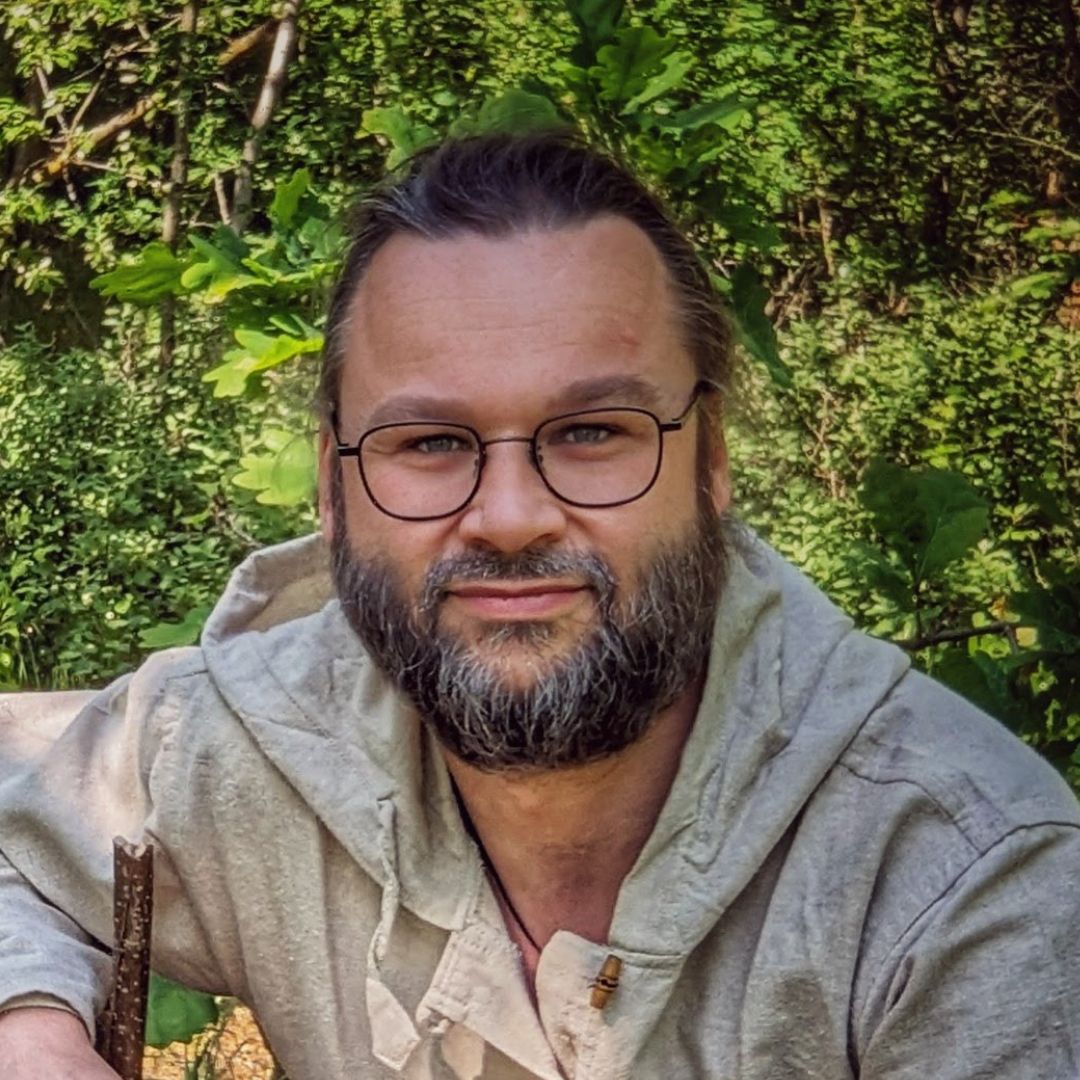 ---
👉 The key facts from this guide
Be prepared: A well-equipped first aid kit is essential for camping.
Treat wounds properly: Quick and proper first aid for cuts and abrasions can prevent infections.
Protect against insects: Use insect repellent and know the first aid measures for insect bites.
Avoid sunburn: Use sunscreen and know the treatment methods for sunburn.
Pay attention to dehydration: Drink enough water and know the symptoms and treatment of dehydration and heat stroke.
Take hypothermia seriously: Be prepared for cold conditions and know the symptoms and treatment of hypothermia.
Keeping calm and acting responsibly is crucial for providing effective first aid.
Have you ever had a tiny little scrape on a hike?
It sounds harmless, doesn't it?
But you know, something as simple as an untreated or improperly treated small wound can lead to a serious infection that abruptly ends your outdoor fun.
Or even worse, it could put you in a dangerous, life-threatening situation.
And this little accident is just one example.
Imagine you stumble, sprain your ankle, or suddenly can't walk due to dehydration.
But let's be honest - accidents can happen - and we need to be prepared for them.
Your head may already be spinning from all the worries.
But relax - that's why we're here. In this detailed guide, I'll guide you through what I call "First Aid Basics for Camping".
Be ready. Be safe. And above all - enjoy your journey and the adventure. Let's get started.
First Aid while Camping - Why is it so important?
During one of my wilderness camps, I stumbled upon a hidden branch one morning.
It was a small cut, hardly worth mentioning.
I wiped off the dirt and thought everything was fine.
However, in the evening the wound throbbed and was red.
I realized that the wound had become infected.
It was a sharp pain that reminded me that even small injuries should be taken seriously in the wilderness.
Fortunately, I had alcohol swabs in my first aid kit. After cleaning the wound, I immediately felt relief.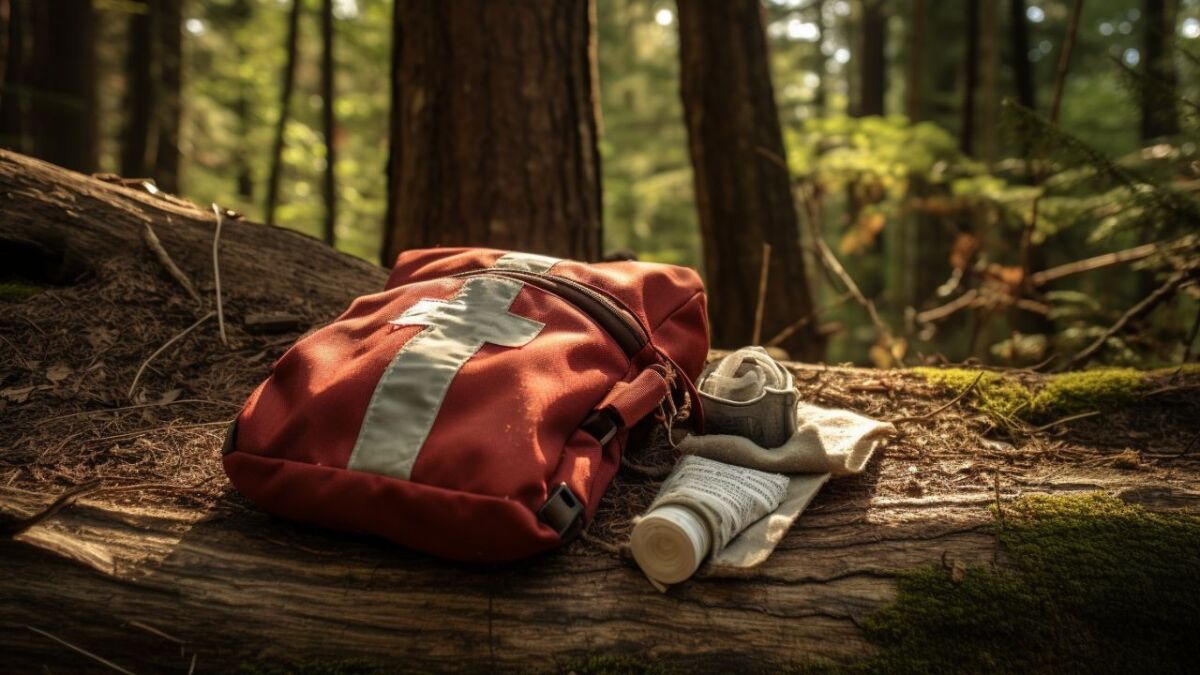 The next morning, the redness had disappeared, and the pain had subsided.
This experience was a valuable lesson for me and for the group I was leading: even small abrasions can turn into big problems in the wilderness.
It is always better to be prepared and take first aid seriously.
In this outdoor world, you rely on yourself in certain situations
Therefore, it is essential to not only recognize the importance of first aid while camping, but also to anchor it in your outdoor arsenal.
The core element of first aid when camping is a well-equipped first aid kit.
But a first aid kit is of little use if you don't know exactly what's inside and how everything is used.
It is important to know the individual components of the kit and their respective uses.
Another thing that makes first aid so important when camping is the fact that you are often far away from medical help in nature.
You may be miles away from the nearest road or hospital, and it can take hours for professional medical assistance to arrive.
In such situations, a well-executed first aid can mean deciding between life and death.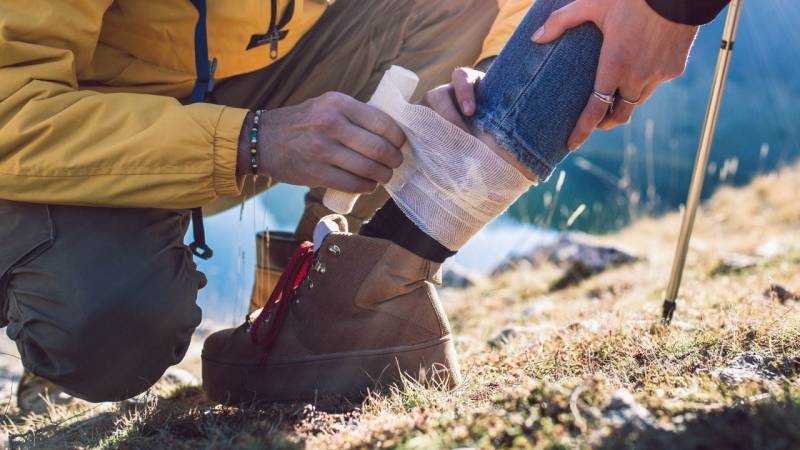 First aid is not just a set of techniques, it is also a philosophy - it is about thinking ahead, staying calm, and having the courage to do the right thing when time is running out.
First aid should be on every camper, scout, and hiker's adventure checklist.
It can be the key to not only navigating through the wilderness more easily, but also to achieving the ultimate goal of every adventure:
Safely returning home to share the stories of the wonderful adventures experienced along the way.
Therefore, it is necessary to equip oneself with basic first aid knowledge.
This not only helps us in case of a sudden injury or accident, but also provides the security and confidence to immerse ourselves in the unknown paths of outdoor life.
Now that we understand the importance of first aid while camping, let's learn all about a first aid kit and its significance.
The Importance of a First Aid Kit
Do we appreciate the little red box called First Aid Kit enough?
She is like your little, trustworthy companion, always ready to help you when you are in trouble.
Whether it's cuts, scrapes, burns, or insect bites, a well-equipped first aid kit is the first line of defense against all major and minor outdoor ailments.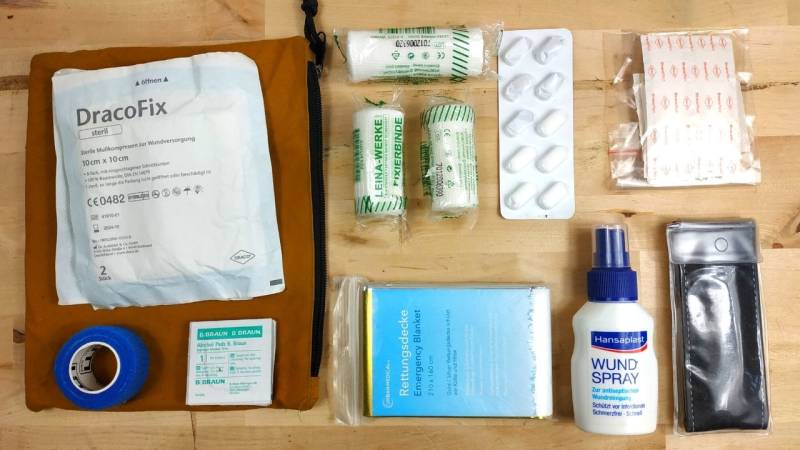 But what makes a good first aid kit for campers?
Here is a small but important list that covers the essentials:
Wound dressings & bandages of various sizes
Sterile compresses
Scissors & tweezers
Thermal blanket
Eye irrigation solution
Adhesive tape
Disposable gloves
Resealable plastic bags
First aid manual
Pain relieving medication
Antihistamines
Antiseptic wipes or solutions
In addition, it is strongly recommended - based on your individual medical needs - to include additional items in the kit.
If you or someone in your group regularly needs medication, make sure you have enough of it with you.
And remember to pack a few extra water and energy bars - they could be the only thing standing between you and a weak body on a challenging trail.
Check your first aid kit regularly
At least as important as assembling the kit is to regularly check it.
Check the kit at least once a year and replace expired or used items.
If you are an enthusiastic camper, I would suggest doing it even more often.
A first aid kit is like the heart of your camping equipment - it is vital.
Detecting and Treating Cuts and Abrasions
A wrong step, a moment of carelessness while cooking, or an unfortunate branch - and suddenly, you are confronted with a wound at the camp.
And in the wilderness, even the smallest scrape or cut can be a gateway for harmful bacteria. That's why proper cleaning and disinfection of wounds is a must.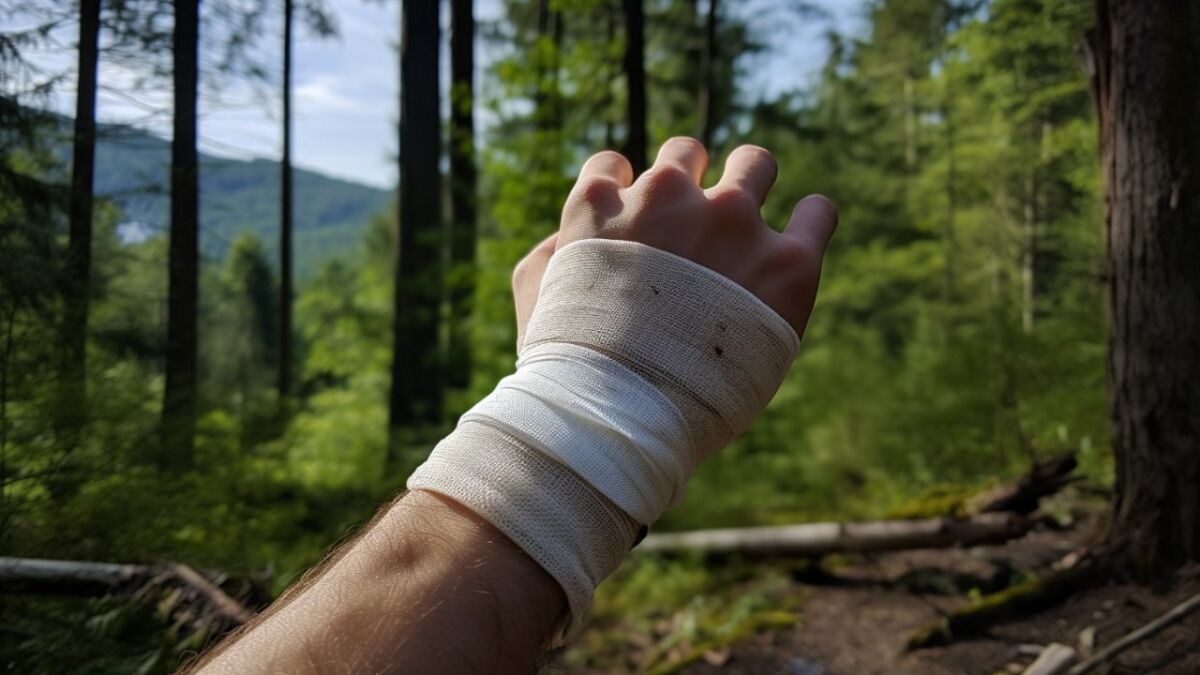 If you have a wound, first do the necessary: Calm down.
Then proceed as follows:
Examine the wound closely:

Is it bleeding heavily?
Are there foreign objects that are difficult to remove?
Are there intense pains?
Is the injured person having difficulty moving limbs?
👉 If these signs are present: Seek medical help.

Treatment of minor wounds:

Clean as soon as possible.
Use water and mild soap for cleaning.
Gently dry the wound.
Use antiseptic cloth or solution.
Apply a plaster or bandage.

Care for the wound:

Change the plaster or bandage daily.
Change immediately if wet or dirty.

Observation of the wound:

Is the redness worsening?
Is pus forming?
Is the wound swelling?
Is the pain getting stronger?
👉 If these signs are present: Seek medical help.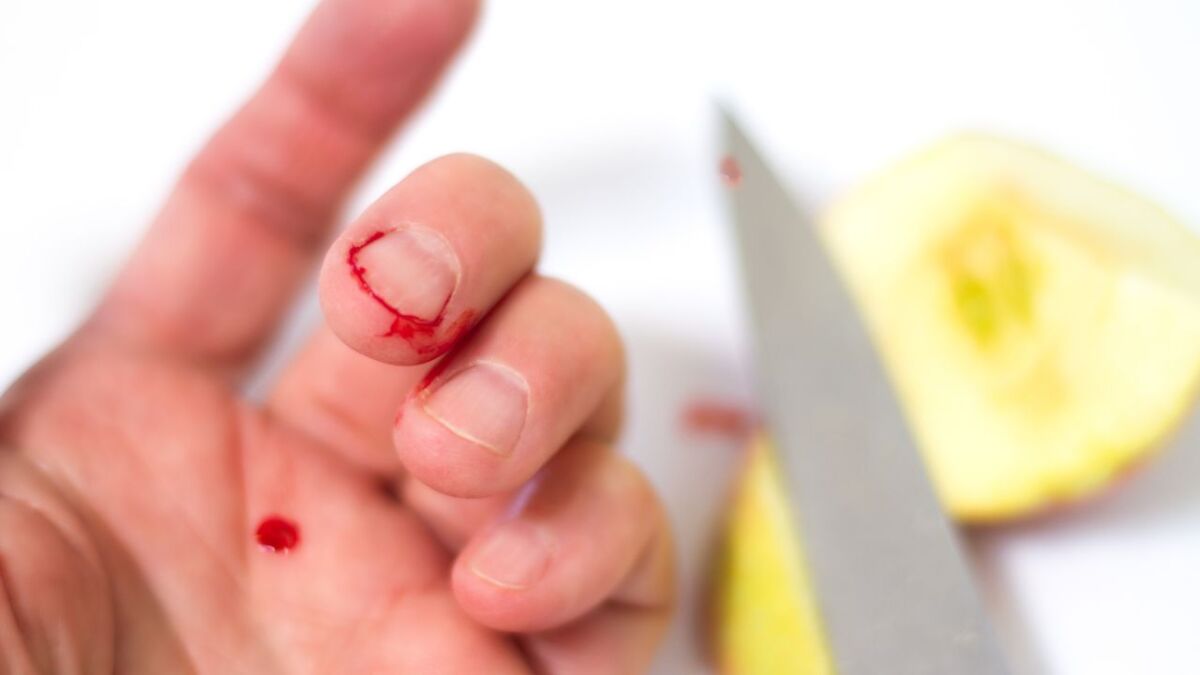 Remember: It is important to stay calm and proceed methodically, whether the wound is small or large.
It also helps to keep your mind open and curious to learn new first aid skills.
Then you are always well-equipped to treat injuries and continue to enjoy the wonders of nature.
Of course, a first aid kit is a perfect match for this.
Here in very small:
Daten aktualisiert vor einer Stunde
Mini Erste Hilfe Set - Outdoor - FLEXEO - Fahrrad - wandern - Reise - Klein - First Aid Kit - Unterwegs - Kinder - Klein
Immer dabei - Durch die geringe Größe unseres Mini Erste-Hilfe Sets ist es ideal geeignet um überall mit dabei zu sein. Egal ob beim Fahrrad fahren, Wandern oder Reisen. Hauptsache Outdoor und Unterwegs. Unser First Aid Kit ist bei allem dabei.
Für den Notfall gewappnet - Trotz der geringen Größe, sind dennoch alle wichtigen Materialien und Verbandstoffe zur Erste-Hilfe vorhanden. So sind Sie für jeden Notfall gewappnet und allzeit bereit zu helfen, wenn es sein muss. Ganz egal, wie und mit was Sie unterwegs sind.
Robust und widerstandsfähig - Beim Design der Tasche haben wir sowohl auf Funktionalität als auch auf Widerstandsfähigkeit geachtet. Dadurch ist unser Mini Erste-Hilfe Set extrem robust und widerstandsfähig und für jeden Einsatz ideal geeignet.
Vielseitig Einsetzbar - Beim Sport, Wandern, Skifahren, Klettern, Fahrrad fahren, Unterwegs oder auf Reisen ist unser kleines Mini Erste-Hilfe Set der ideale Begleiter. Sie haben immer alles nötige zur Ersten-Hilfe vor Ort dabei, verbrauchen aber nicht viel Platz.
In auffälligem Rot - Durch unsere Farbwahl der Tasche in auffälligem rot ist sie überall gut erkenntlich und lässt sich Beispielsweise im Wanderrucksack schnell finden. Dadurch ist eine schnelle und zuverlässige Erste-Hilfe gewährleistet. Egal ob beim Wandern, beim Fahrrad fahren, auf Reise oder Outdoor.
6,29 €
UVP: 7,94 €
View Product
And here is a comprehensive set:
Daten aktualisiert vor einer Stunde
Erste Hilfe Set - 90-teiliges Premium Erste-Hilfe-Set - enthält Sofort Kühlpacks, Augenspülung, Rettungsdecke für zu Hause, Büro oder Auto - Rot
Premium Erste Hilfe Set: Umfangreicher Erste-Hilfe-Koffer bestehend aus 90 Teilen.
Strapazierfähige Tasche: Wasserabweisende Nylon Tasche mit besonders beständigen Material.
Kompakt + Tragbar: Praktisches und platzsparendes Design erlaubt einfaches Verstauen und sicheren Transport.
Extra Inhalte: Sofort Kühlakkus, sterile Augenspülung, Rettungsdecke, Verbände, Bandagen, Knöchel- und Fingerspitzenpflaster.
Mit Zertifizierung: Der Inhalt verfügt über eine CE-Kennzeichnung. Ideal für Haushalt, Büro, Auto, Wohnwagen, Reisen, Wandern, Outdoor Sport.
19,95 €
UVP: 24,95 €
View Product
Well, now that we know about cuts and scrapes, let's explore little pests like insect bites and stings.
Dealing with insect stings and bites
The nature is full of small creatures, and while many are harmless or even beautiful, there are some that can be quite a nuisance.
Insect bites and stings can be painful and in some cases, cause serious health problems.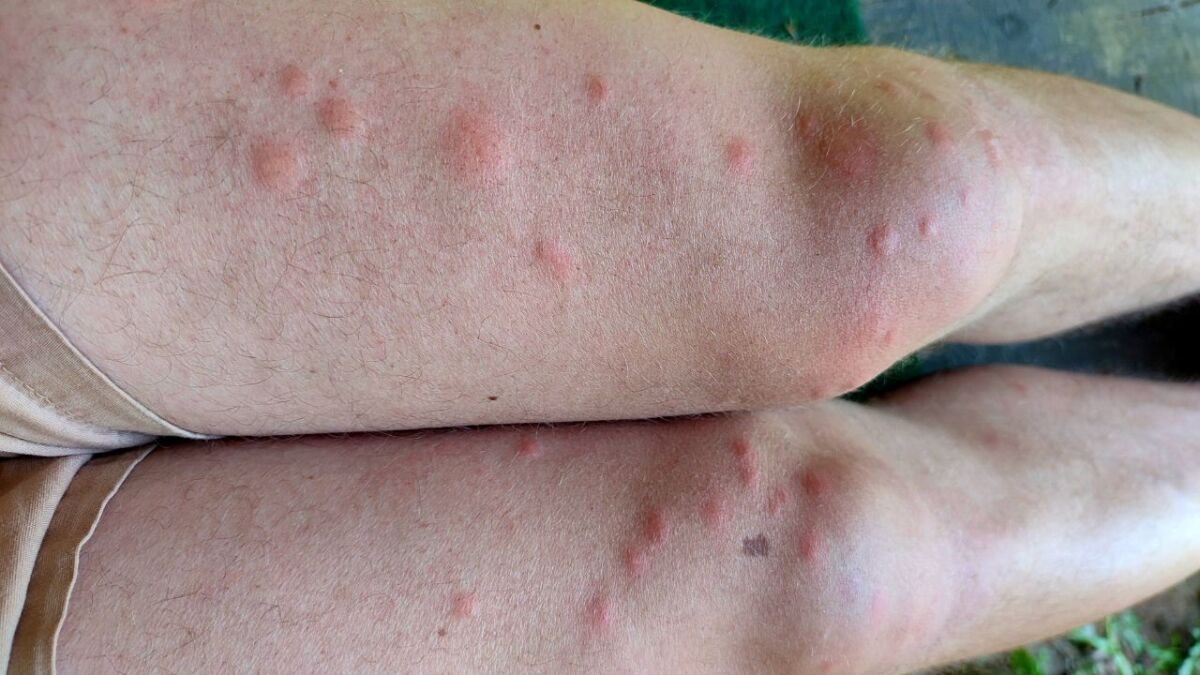 First and foremost is prevention. Mosquito repellent, long sleeves and pants, and a mosquito net for your bed can be true lifesavers.
But what if you still get stung or bitten despite all precautions?
Swarming mosquitoes, buzzing bees, stinging wasps, ticks - they cause different types of bites.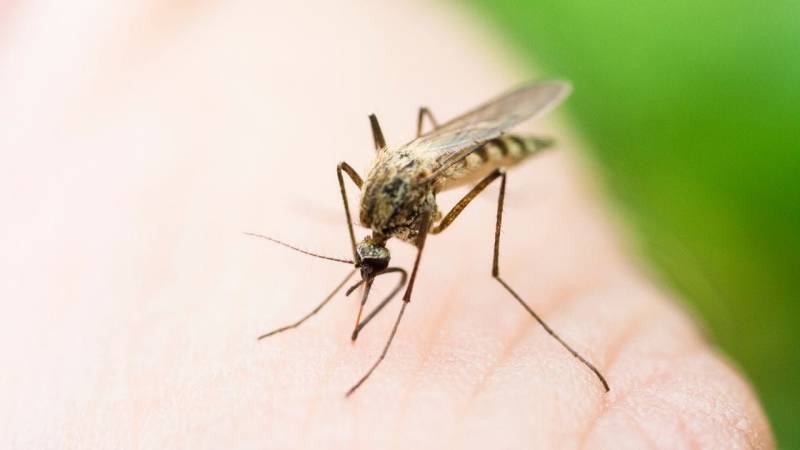 In general, clean the affected area with water and soap, and cool it to reduce swelling and pain.
If a sting is visible - as is the case with bee stings - remove it carefully with tweezers or your fingernails.
Observation and reaction to symptoms after an injury or sting
Observation of the affected areas:
Pay attention to growing redness
Observe swelling
Check for pus formation
👉 These could be signs of an infection.
Severe allergic reactions:
Difficulty breathing
Swelling in the face
Rash on the body
👉 If experiencing these symptoms: Seek immediate medical assistance.
Speaking of swelling - itchy bumps scattered on the body can be a sign of flea or bed bug bites. In most cases, gentle cleansing and an antiallergic ointment relieve the itching.
Insect bites and stings can be annoying, but in most cases they are harmless.
With a little knowledge and preparation, however, you can ensure that they do not affect your outdoor activities.
Here is my recommendation:
I can also recommend the "Uriage Pruriced SOS Roll-on for insect bites, 15 ml". Check here or go to the pharmacy (usually more expensive).
Detecting and Treating Sunburn
Who doesn't love a sun-drenched camp?
But the radiance of the sun also has its dark sides.
Because even though the sun provides plenty of vitamin D, its ultraviolet rays can damage your skin if exposed for too long without protection - and cause a painful sunburn.
The best defense against sunburn is, of course, prevention.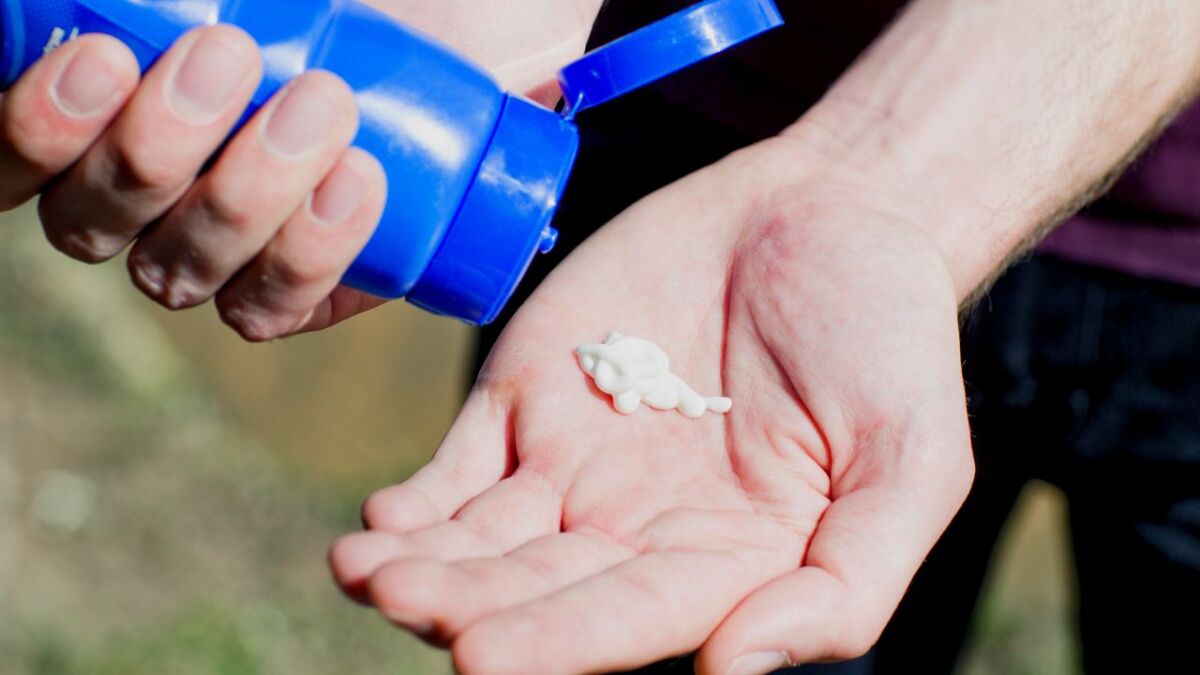 Always remember to apply sunscreen, especially if you intend to spend a long-time outdoors.
Wear a hat (Here's my guide) that covers your head and face, and remember to apply sunscreen even on cloudy days.
But what if you still get sunburned despite all precautions?
First, you should immediately move away from the sun and seek shade.
Drink plenty of water to compensate for the dehydration often associated with sunburn.
Cream the affected areas with a moisturizing cream that contains Aloe vera or hyaluronic acid. Avoid products with alcohol as they can dry out the skin.
Keep the affected areas cool - a cold shower or cold compresses can work wonders.
It may take several days for the sunburn to fade. If you experience severe burns accompanied by blistering, intense pain, or fever, you should seek immediate medical assistance.
Sunburn is more than just a minor blemish - it can increase the risk of skin cancer. Therefore, it is essential to always protect your skin well.
Dealing with Dehydration and Heat Stroke
Let's talk about water.
Water is essential for the health of our organs, the regulation of our body temperature, and even joint function.
But when we are out in the wilderness, we tend to forget to drink enough - and that can quickly lead to dehydration.
Dehydration occurs when your body loses more fluids than you intake.
First signs of dehydration:
Thirst
Dry mouth
Fatigue
Dark urine
Headaches
Dizziness and confusion in extreme cases
Measures for dehydration:
Search for shade
Lie down
Drink small amounts of water until the symptoms subside
A heat stroke is a more severe form of dehydration.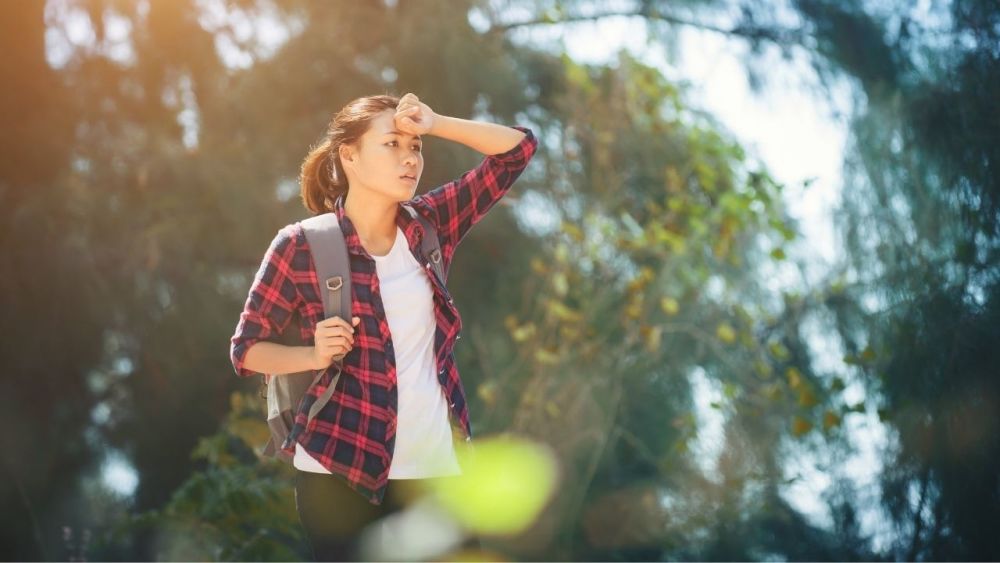 He occurs when your body overheats, usually as a result of too intense physical activity in the heat and without sufficient fluid intake.
Symptoms of heat stroke:
High body temperature
Accelerated breathing
Rapid pulse
Headaches
Nausea
Confusion or unconsciousness in severe cases
First aid measures for heat stroke:
Immediately move from the sun to the shade or to an air-conditioned environment, if possible.
Start cooling the body immediately, e.g., with cold compresses or slow immersion in cool water.
Drink small amounts of water.
👉 Seek medical help as soon as possible.
All these points make it clear how important it is to pay attention to your fluid intake and avoid overheating when you are outdoors.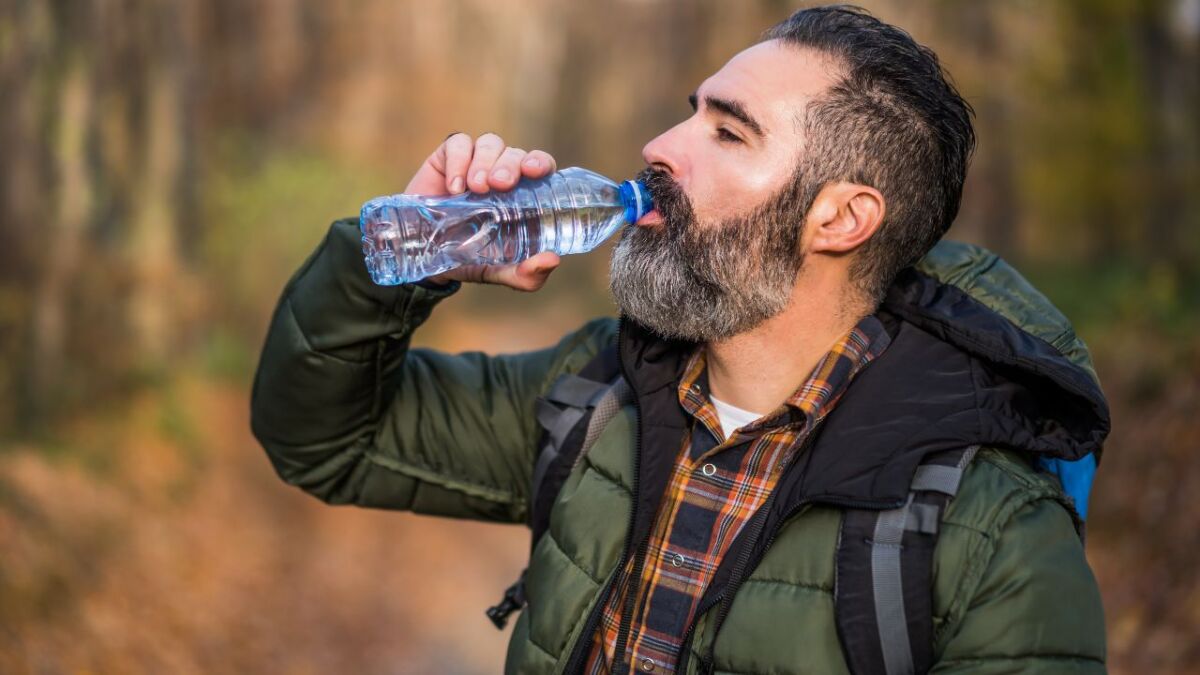 With the right precautions, however, you can ensure that dehydration and heat stroke do not sabotage your adventures.
Let's now enter freezing terrain and explore hypothermia.
Detecting and Treating Hypothermia
While we often tend to focus on the dangers of heat, it is important to remember that the opposite can also affect us.
Hypothermia can also be a serious problem, especially when you are out in colder months or at higher altitudes.
Hypothermia occurs when your body temperature drops far below the normal level of about 37 degrees Celsius.
This can happen if you are not dressed properly in cold weather (here is my guide on clothing), or if you get wet and are unable to warm up quickly enough.
The symptoms of hypothermia develop gradually and can easily be overlooked.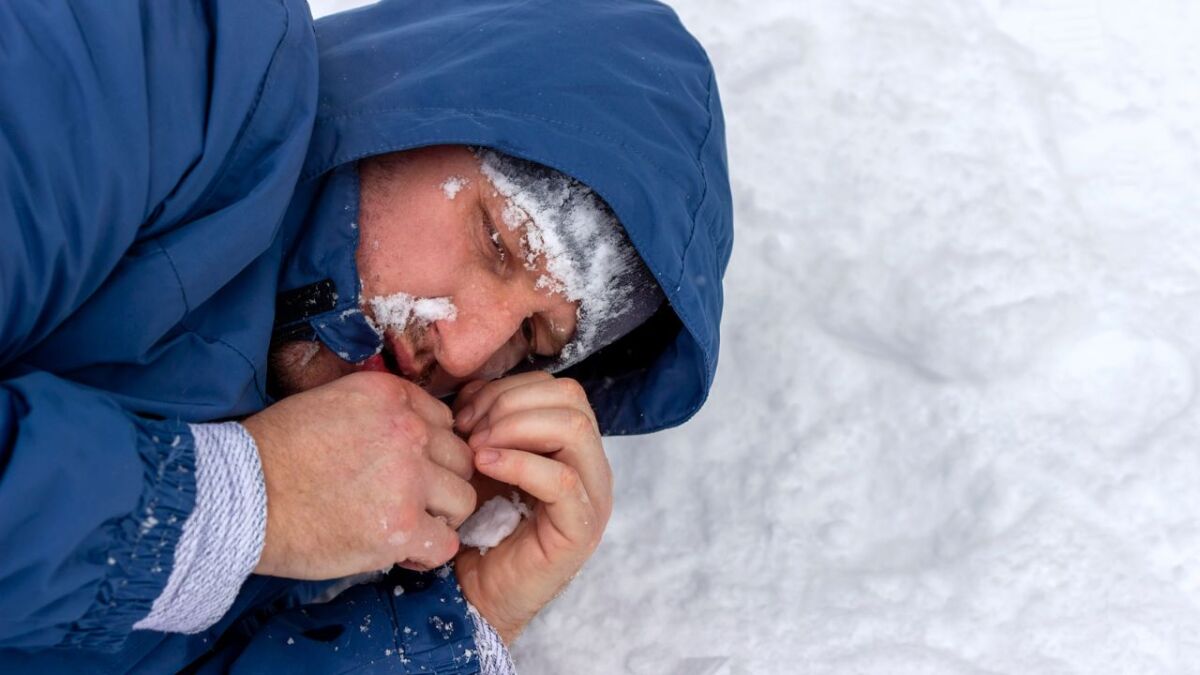 They range from:
Shivering from cold
Fatigue
Confusion
Blurred vision
Slow breathing
Loss of consciousness in severe cases
When suspecting hypothermia, it is important to move yourself or the person to a warmer environment and provide them with dry clothing.
If possible, she should consume a warm (but not hot!) liquid.
For more severe cases, immediate emergency measures are necessary, including hospital transport and professionally monitored rewarming.
To minimize the risk of hypothermia, you should always pay attention to appropriate clothing, observe the weather, and keep yourself nourished and hydrated.
If you are prepared and aware of your surroundings, this will be your best protection against the cold.
Dealing with Sprains and Fractures
If we dreamily walk on uneven ground or if the descent from a steep hill does not go so smoothly, we can quickly be confronted with sprains and fractures.
Distinguishing between a fracture and a sprain can be challenging, but it is crucial for further treatment.
A sprain is a stretching or tearing of the ligaments that hold the bones together. Think of a sprained ankle, which is characterized by pain, swelling, bruising, and difficulty moving.
A fracture is a damage to the bone itself. Fractures can range from small cracks to complete breaks and are often very painful. If you suspect you have a broken bone, you should seek medical help as soon as possible.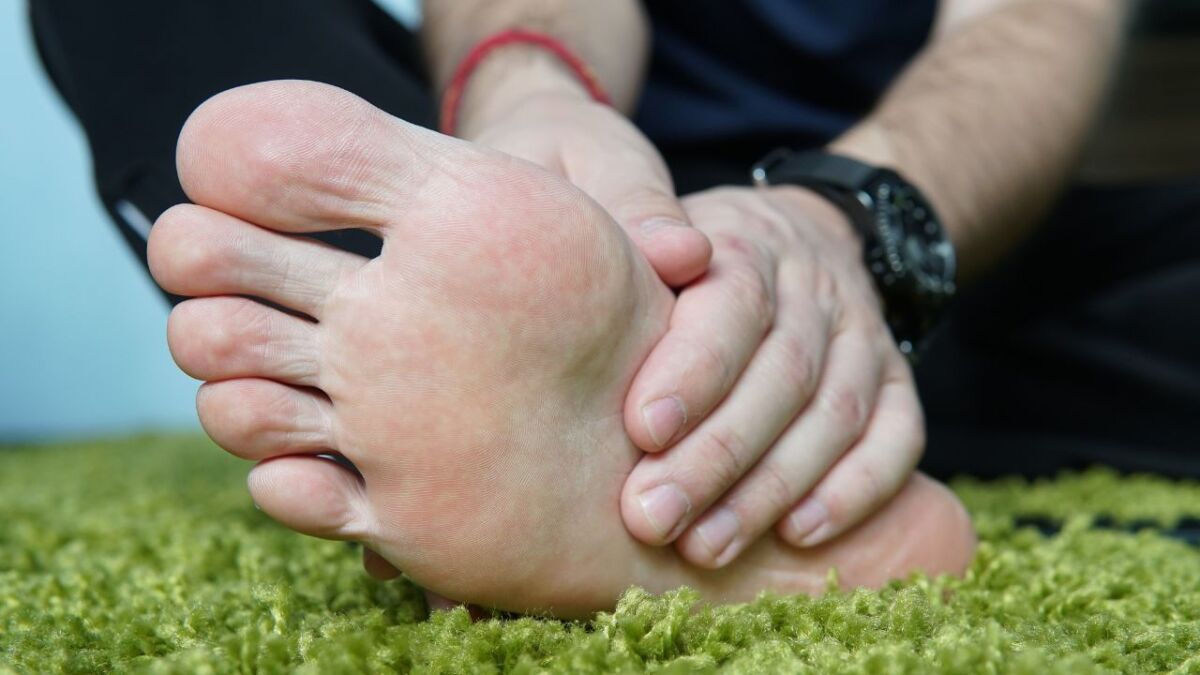 What to do for sprains?
When it comes to first aid for sprains, the goal is to reduce swelling and pain.
You can achieve this by elevating the injured area and applying an ice pack to it. In more severe cases, pain medication and a splint or support bandage may be necessary.
What to do with fractures?
Here are some important tips for dealing with fractures while camping:
Stay calm. Panic can worsen the situation.
Keep the injured body part still and immobilize it. A splint made of rigid material can be helpful.
For open fractures, cover the wound with a sterile dressing. Stop any bleeding.
Severe pain can be a sign of a bone fracture. In this case, administer pain medication.
If there is suspicion of a spinal or pelvic fracture, do not move the person.
Seek medical help. In remote camping sites, it can take a long time for an ambulance to arrive. Therefore, if possible, drive to the nearest hospital yourself.
Fractures should always be treated by a doctor. Improvised measures are only for first aid until professional help is available.
After initial care, calm the injured person and protect them from hypothermia.
The main goals are therefore, immobilization, pain relief, and prompt medical care. With calmness and caution, one can manage the situation until the patient receives medical treatment.
---
Remember to stay calm in any emergency situation, as panic could worsen the situation.
Your ability to act calmly and methodically could make a big difference in the long-term outcome.
Safety when dealing with fire
A crackling campfire under the starry sky is the epitome of the camping experience.
It provides warmth, enables cooking of food, and creates a wonderful atmosphere. But like everything in life, fire also brings risks, and it is important to understand and minimize these risks.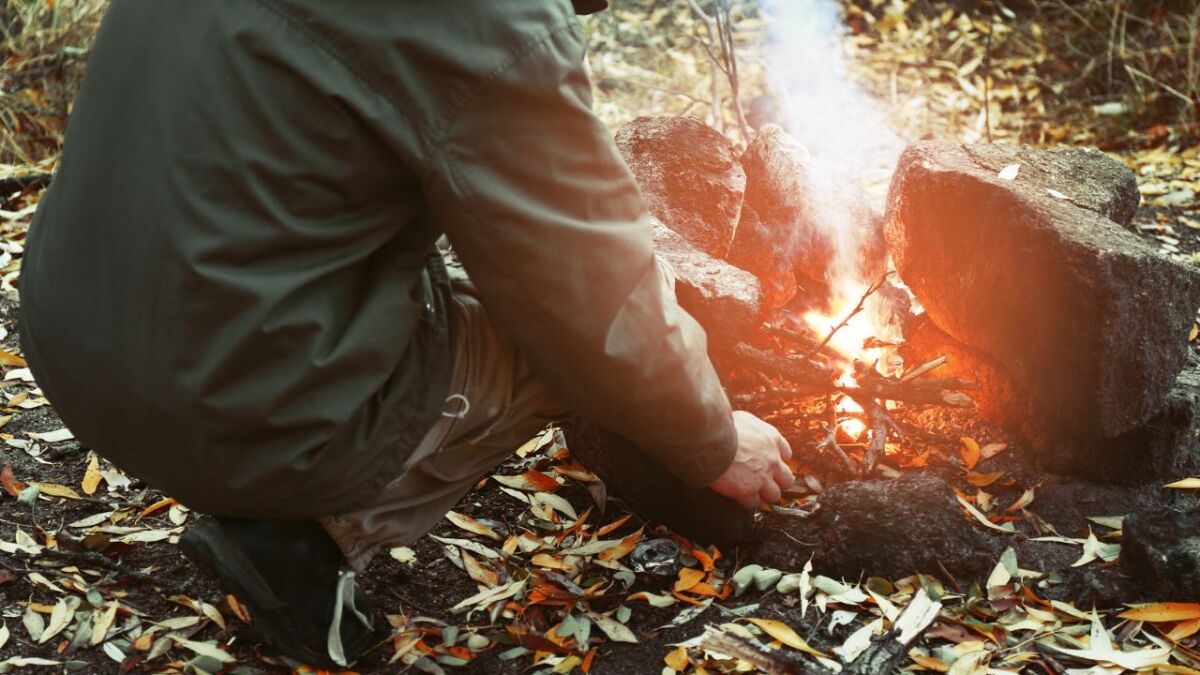 To begin with, always observe the rules and regulations of the area where you are camping. In many regions, there may be restrictions, especially during times of high wildfire risk.
If you make a fire, make sure it is at a safe distance from tents, trees, and anything else that could easily catch fire.
Use the existing fire pits or create a safe fire pit by placing a circle of stones and keeping the inside free of leaves and branches.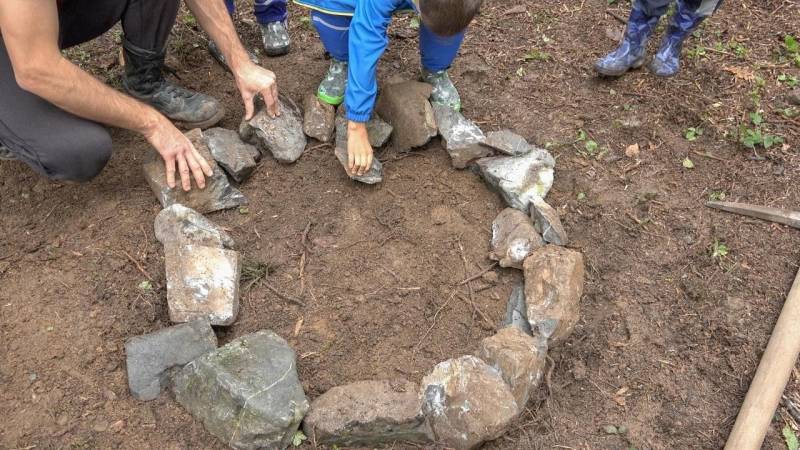 Before going to bed or leaving the camp, completely extinguish the fire. Never leave the fire unattended and make sure that children and animals are safe at all times.
Here is a more detailed description of how to handle burns and smoke inhalation at the campfire:
Dealing with Burns
Burns can unfortunately occur regularly when dealing with open fire.
They range from minor, superficial burns to severe injuries to the skin and underlying tissues.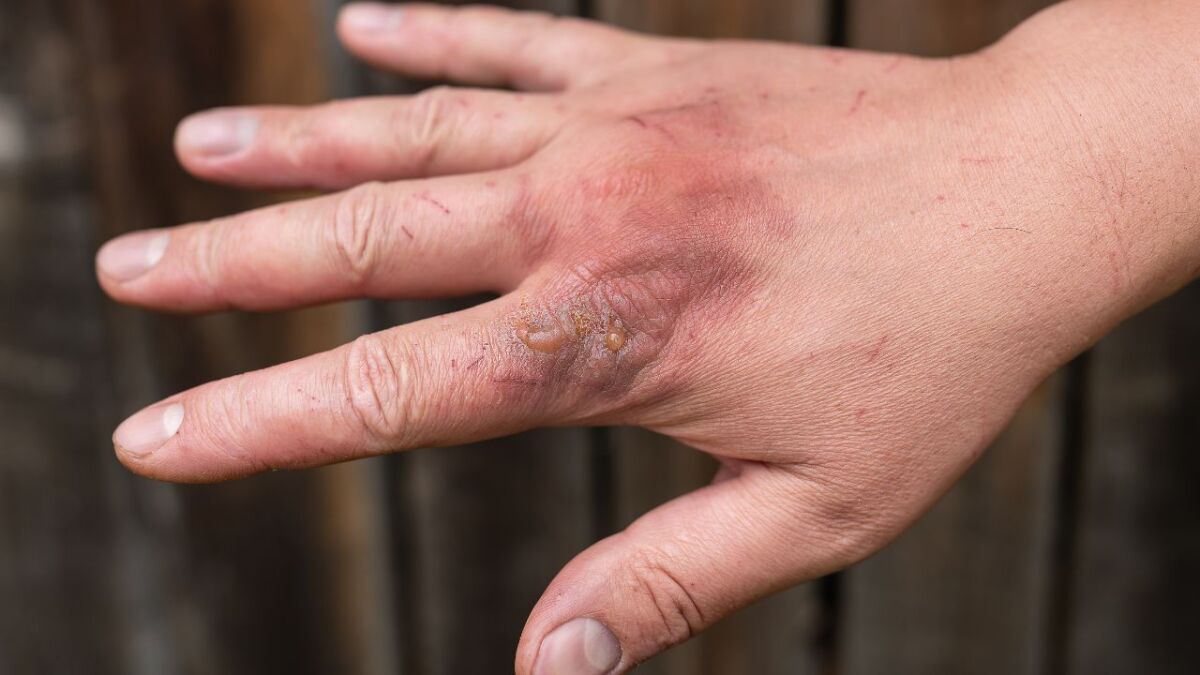 When dealing with any kind of burn, it is important to immediately hold the affected area under running, preferably cold water.
The best suited is cool water. The cold water cools the skin and stops the burning process. The affected area should be cooled for at least 10–20 minutes.
Afterward, superficial burns should be covered with a clean bandage to prevent infections. Creams or gels based on water, such as those with Aloe vera, can also help cool and soothe the skin.
For severe burns that form blisters or very deep burns, medical help should be sought as soon as possible.
Such burns can leave scars and require medical treatment to prevent infections.
It is important to calm the affected person, protect them from hypothermia, and administer pain medication for pain relief.
Prevention against smoke poisoning
Smoke inhalation is unfortunately a common risk when spending extended periods of time around a campfire. The smoke contains carbon monoxide, which is highly toxic when inhaled.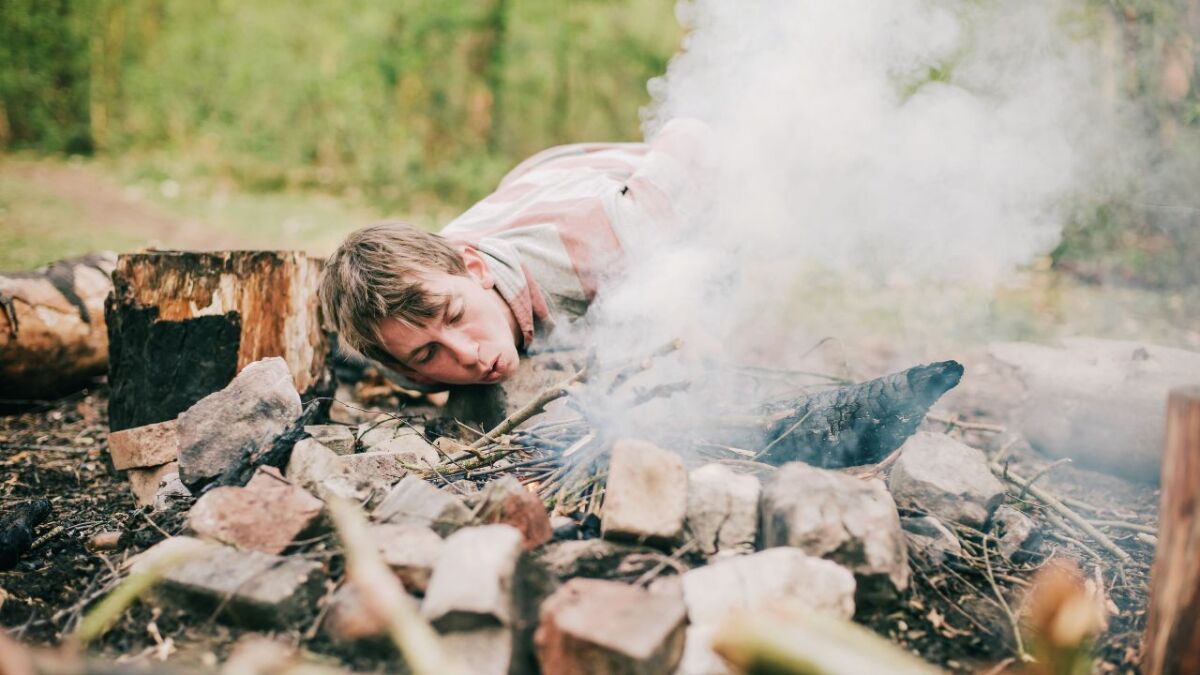 Symptoms of smoke poisoning are:
Headache
Dizziness
Nausea
Vomiting
Confusion
Unconsciousness
Often the affected person does not notice the signs in time.
To avoid smoke inhalation, you should only light campfires outdoors and never in enclosed spaces.
Tents or tipis with a campfire inside pose a high risk of poisoning.
If you make a campfire in a tipi, make sure to have sufficient ventilation!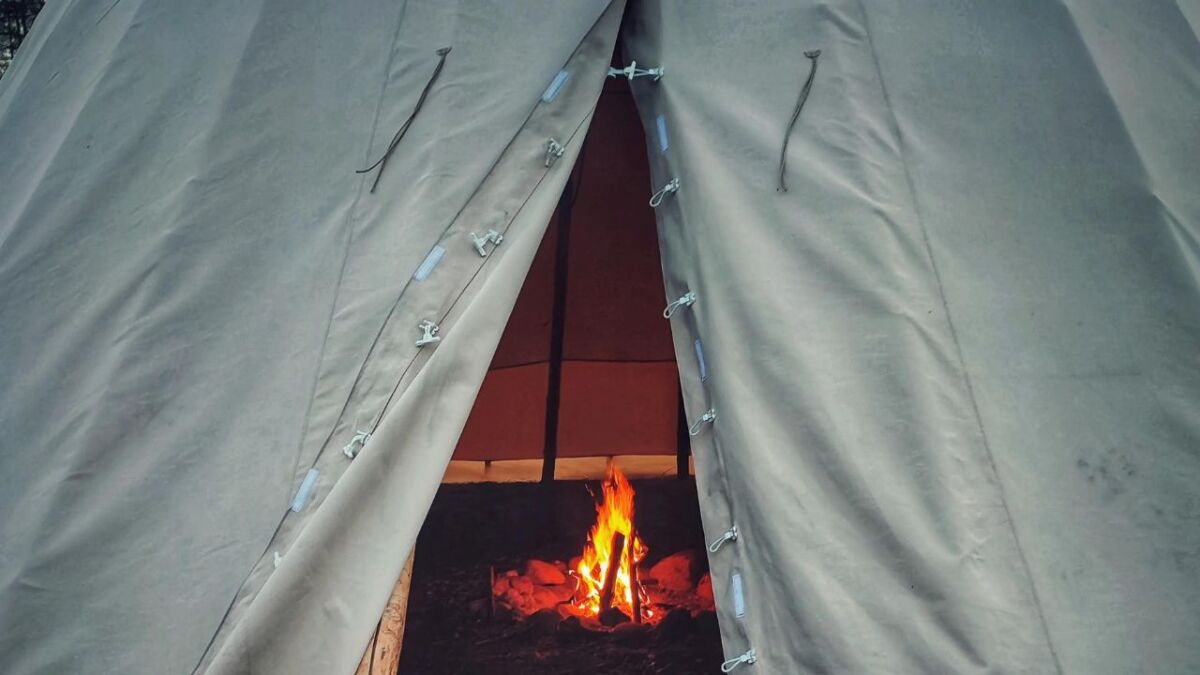 Even outdoors, it is important not to inhale the smoke directly and to regularly change position around the fire. If feeling unwell, possible smoke poisoning should always be considered.
When there is suspicion of smoke poisoning, fresh air and rest are important. In severe cases, medical assistance should be called immediately.
With the right precautions, burns and smoke inhalation can be easily avoided.
However, if something should still happen, it is important to stay calm and initiate the appropriate first aid measures.
Conclusion and Summary
The nature is a generous teacher and a reliable healer, constantly offering us opportunities to challenge ourselves, to grow, and to evolve.
But she also demands respect and caution in our actions.
Therefore, it is crucial to recognize both the immense potential and the challenges that outdoor life brings.
In this guide, we have explored the importance of first aid while camping and the significance of a well-equipped first aid kit.
We have discussed wounds, insect bites, sunburn, dehydration, and hypothermia and how to recognize and treat them. We have also seen how to deal with sprains and fractures and the safe handling of fire.
Here is the summary:
| Injury/Illness | Symptoms | First Aid Measures |
| --- | --- | --- |
| Cuts and Scrapes | Bleeding, dirt in the wound, severe pain | Clean, disinfect, dress the wound |
| Insect Bites and Stings | Itching, swelling, allergic reaction | Cool, apply itch-relieving cream, call emergency services for allergic reaction |
| Sunburn | Redness and pain of the skin, blistering, fever | Get out of the sun, cool, apply moisturizing cream |
| Dehydration | Thirst, headache, weakness | Seek shade, rest, drink slowly |
| Heat Stroke | High fever, rapid pulse, unconsciousness | Immediately cool and move to shade, call emergency services |
| Hypothermia | Trembling, fatigue, confusion | Wrap person warmly, slowly warm up, provide warm drinks |
| Sprains | Pain, swelling, limited movement | Cool, elevate, apply a firm bandage |
| Fractures | Severe pain, misalignment | Immobilize, do not move, call emergency services |
But the real journey begins when you grab your backpack and hit the road, ready to discover and master the endless surprises and challenges that outdoor life offers.
Equipped with knowledge and caution, nature can become your playground - a place for learning, growing, and rejuvenating.
So let us continue to be enchanted by nature, fill our bags with care and caution, and step into the wild beauty that awaits us with open eyes and hearts.
Remember, safety and preparation are not optional extras for outdoor adventure, they are the heart of it.
With them, you can embark on your next journey safely and confidently while fully appreciating nature.
The best thing about learning outdoor skills is that you can pass on what you've learned to others, helping to foster a community of responsible and respectful nature enthusiasts.
I wish you a safe and fulfilling journey into the wilderness. Until next time - on further paths of exploration and learning.

Was this guide helpful?
0 people found this guide helpful.
0 out of 5 points (0 Ratings)