Back to german article
Testing: The Goal Zero YETI 500x - small, handy and full of power
The Goal Zero YETI 500x is a small and powerful power station. Is it the right one for you? We will find out in this test & review.
from Martin Gebhardt
|
Gear
| reading time 5 Min
---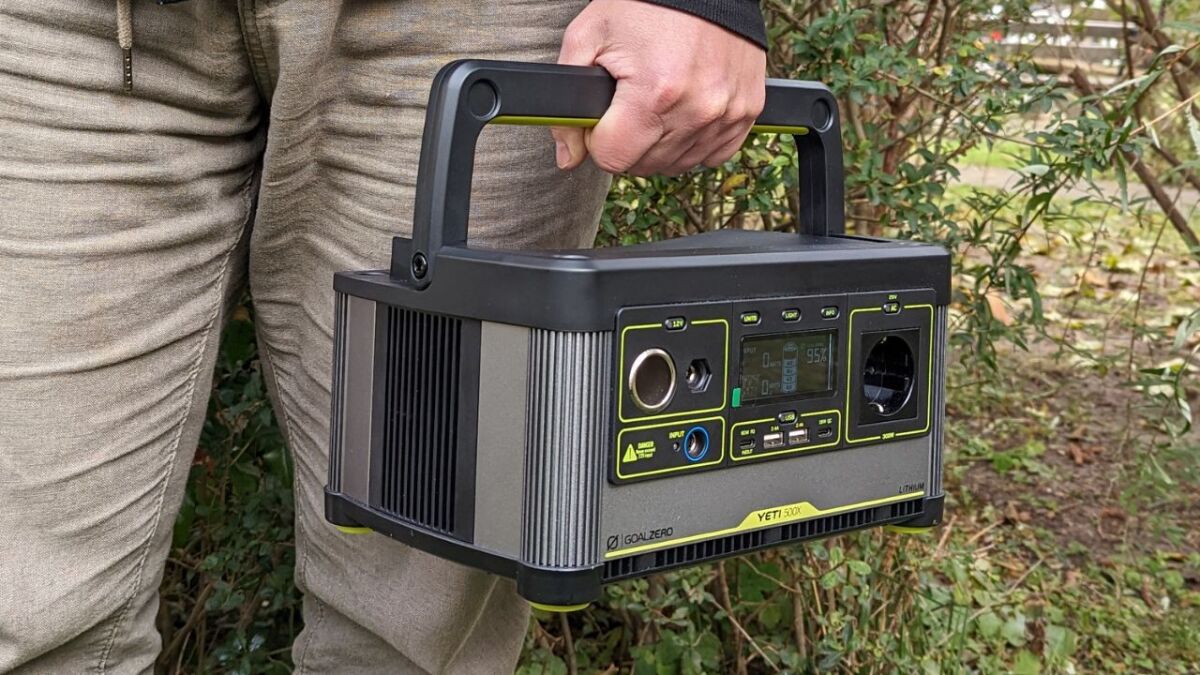 ---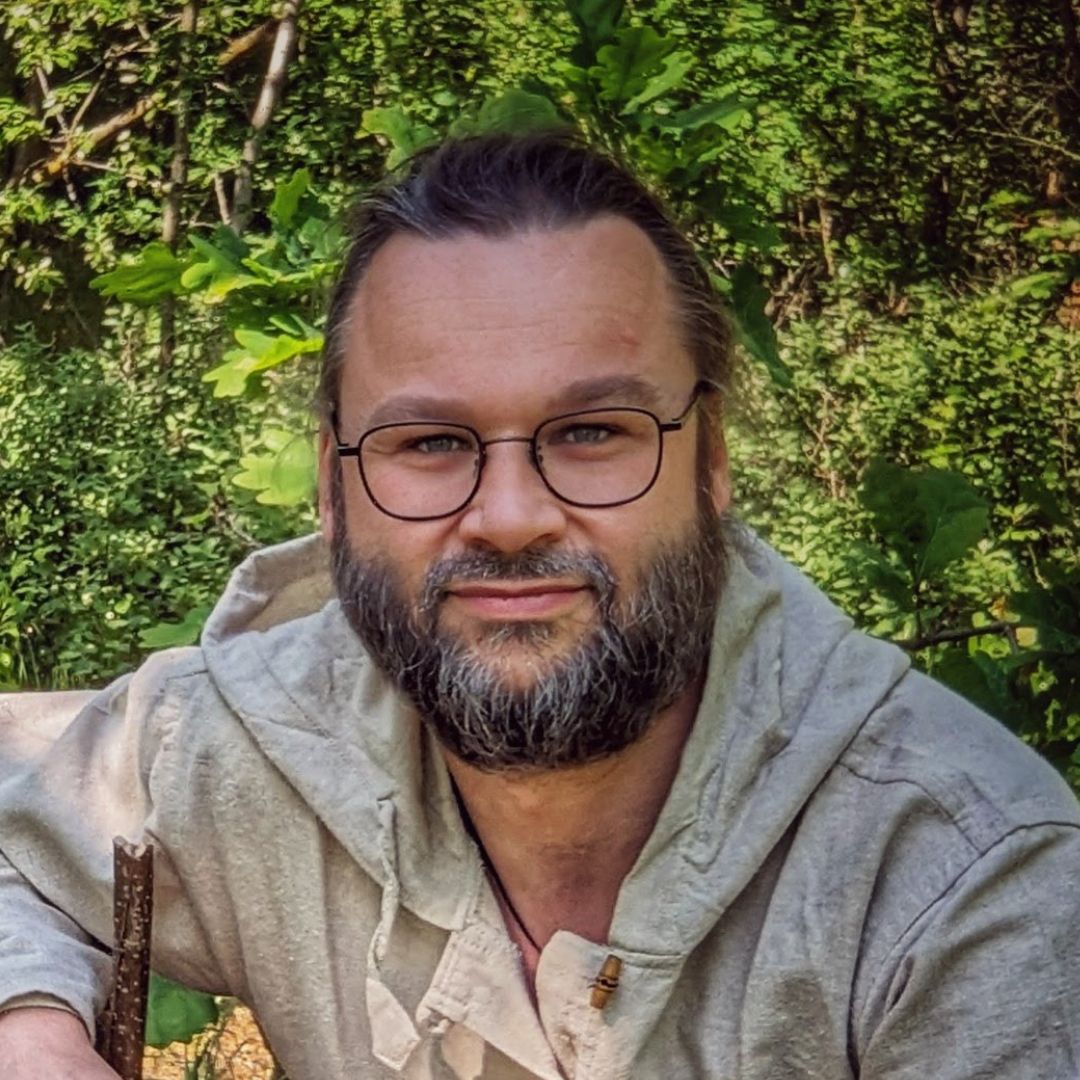 ---
👉 The key facts from this guide
The Goal Zero Yeti 500x is a portable power station that is perfect for camping trips, road trips or as an emergency backup. It offers plenty of connectivity options and can be quickly charged via dual charge.
The Yeti 500x delivers a battery capacity of 505 watt-hours and can charge a variety of devices, including smartphones, cameras, drones, GPS devices and laptops.
The power station is small and compact, weighing 5.8 kg and measuring 19 x 28.5 x 14.7 cm. It is made of sturdy plastic and aluminum and has a convenient carrying handle.
The Yeti 500x can be charged in four different ways: through the wall outlet, a solar panel, the USB-C port, or the car charging cable.
The Yeti 500x has a variety of outputs, including a 230 V AC socket, USB-A and USB-C ports, and a USB-C PD port that serves as both an input and output.
After just a few days, I noticed how lightweight and handy the YETI 500x is.
I thought to myself: Brilliant, this will be my new favorite power station for short trips.
And so it happened. The Goal Zero YETI 500x will now accompany me on my travels.
What I like so much about this little powerhouse, you will now read in this assessment.
And whether it is suitable for you, you will definitely know after reading the review here.
Arrive, Unpack, Get Started?
When the Goal Zero YETI 500x arrived at home, I thought: Wow, it's so small and handy. (I have to admit that I hadn't studied the dimensions exactly before.)
So, I unpacked the power station and wanted to test it right away.
I immediately noticed the rectangular shape, which makes the power station easy to store. No curves or protruding handles visible, which waste space.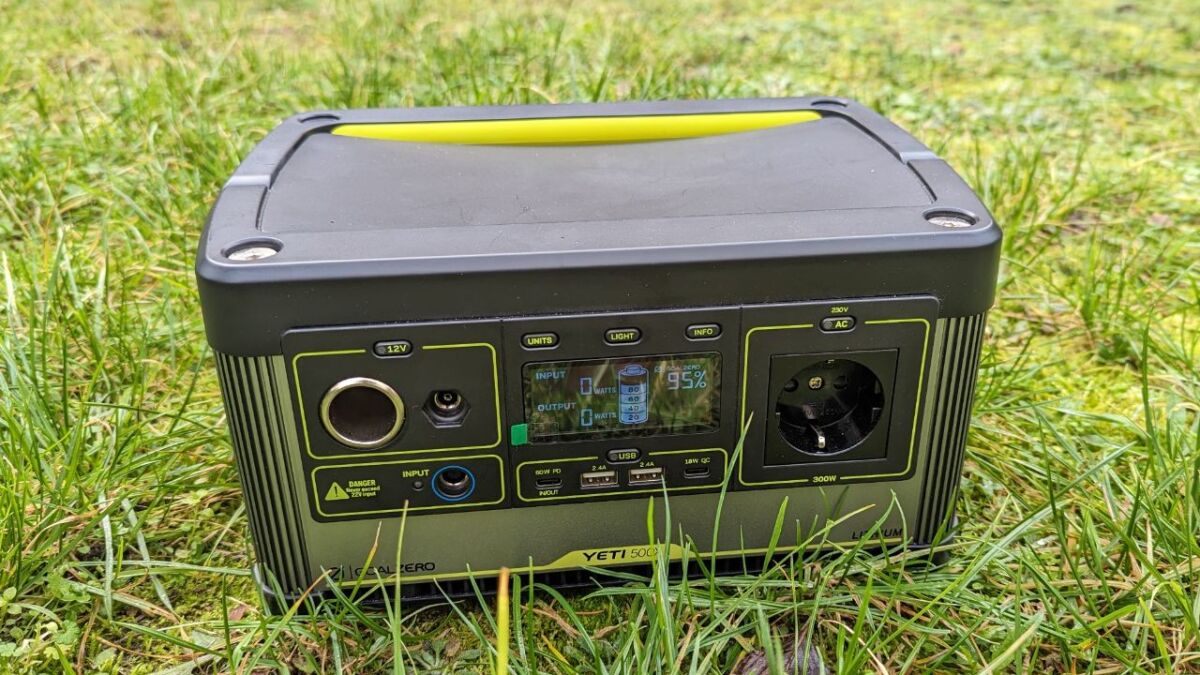 The great carrying handle on top of the device immediately caught my attention. The engineers at Goal Zero clearly put a lot of thought into it. But there's even more to it than that.
So, I take the device out of the box and activate the screen - but nothing happens.
Did I do something wrong? Apparently, there is no power at all on the mobile power station. So, I connected it. There isn't much to consider, as there is only one cable included.
Nothing is happening yet. Not even after 5 minutes. Not even after 10 minutes. But then it starts. The display turns on, it loads, and I let it charge in peace for a while.
Therefore, remember that your Goal Zero may not come fully charged. For me, that's okay, I don't need a power station that's 100% full straight out of the package.
But now, first, my quick assessment, so you have an overview.
What I love about the Goal Zero Yeti 500x
There are a few points that immediately caught my attention in terms of positive usage.
1. The format: small, compact, cleanly processed.
2. A good mix of inputs and outputs: the USB-C port with 60W is great for laptops.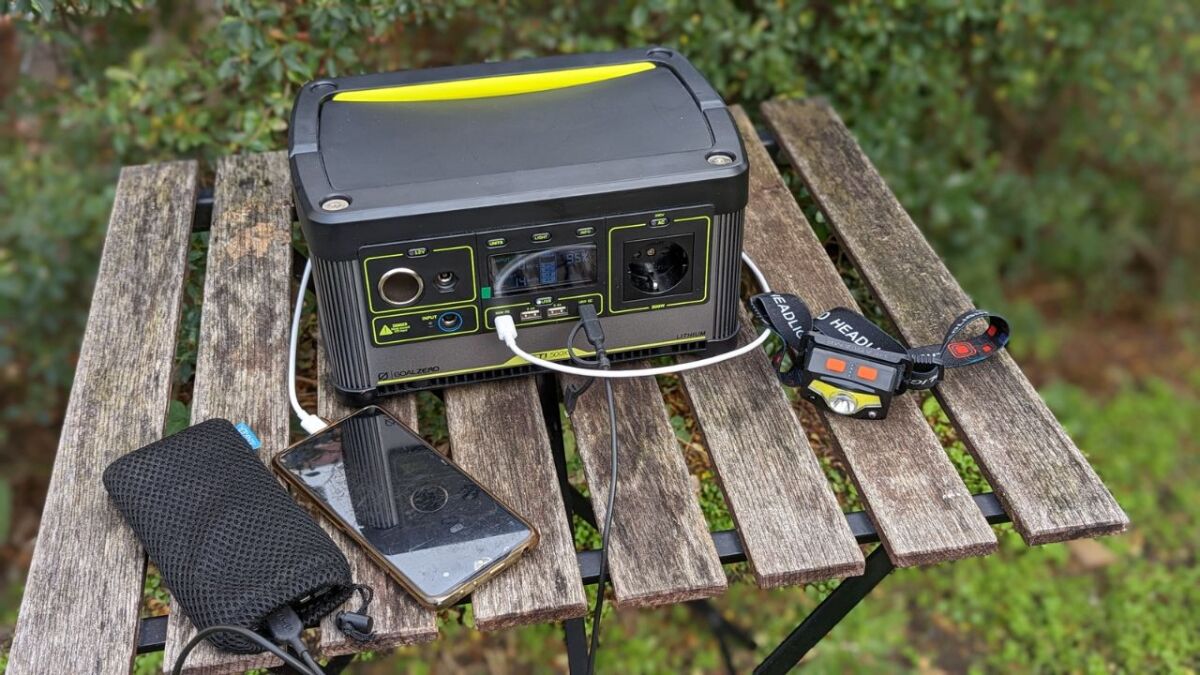 3. I like the curved shelf on top for my smartphone and small items.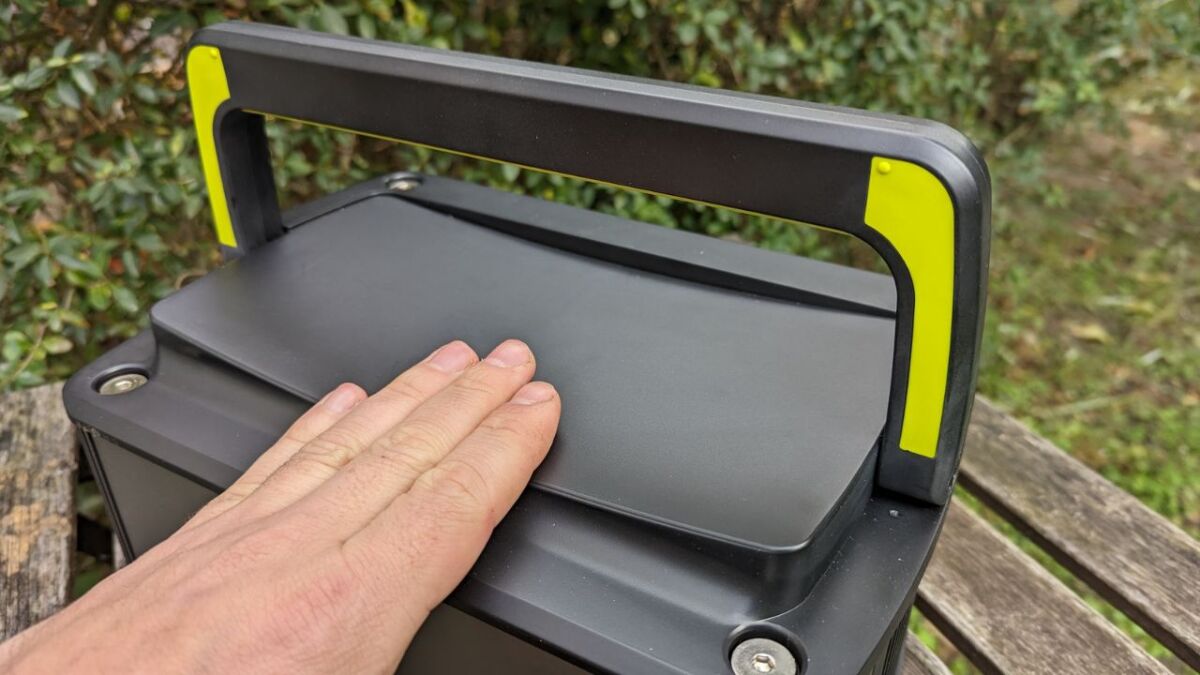 4. The screen display is visible in light and there are some detailed indicators on the screen, such as the number showing how long the power station will last.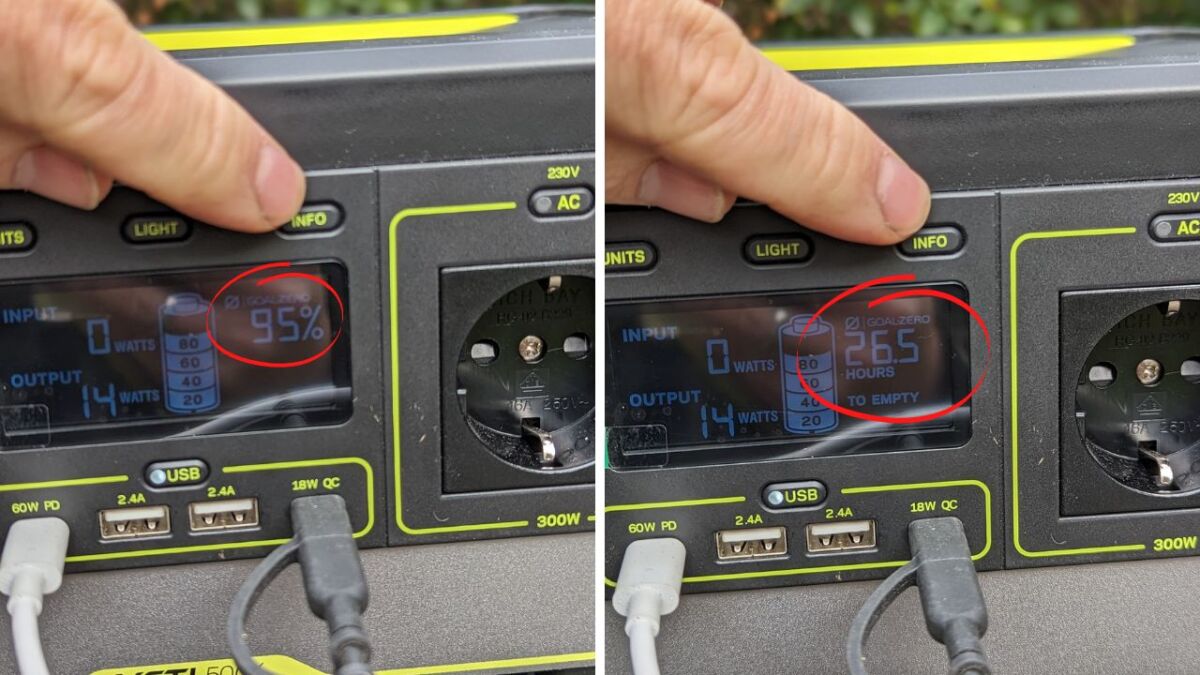 5. The screen can be turned on and off using the "Light" button.
6. The carrying handle on the power station is simply ingenious. It is not too easy or too difficult to move – just right. The rubber on it allows me to hold the handle firmly in my hand. Additionally, the handle closes flush when you fold it.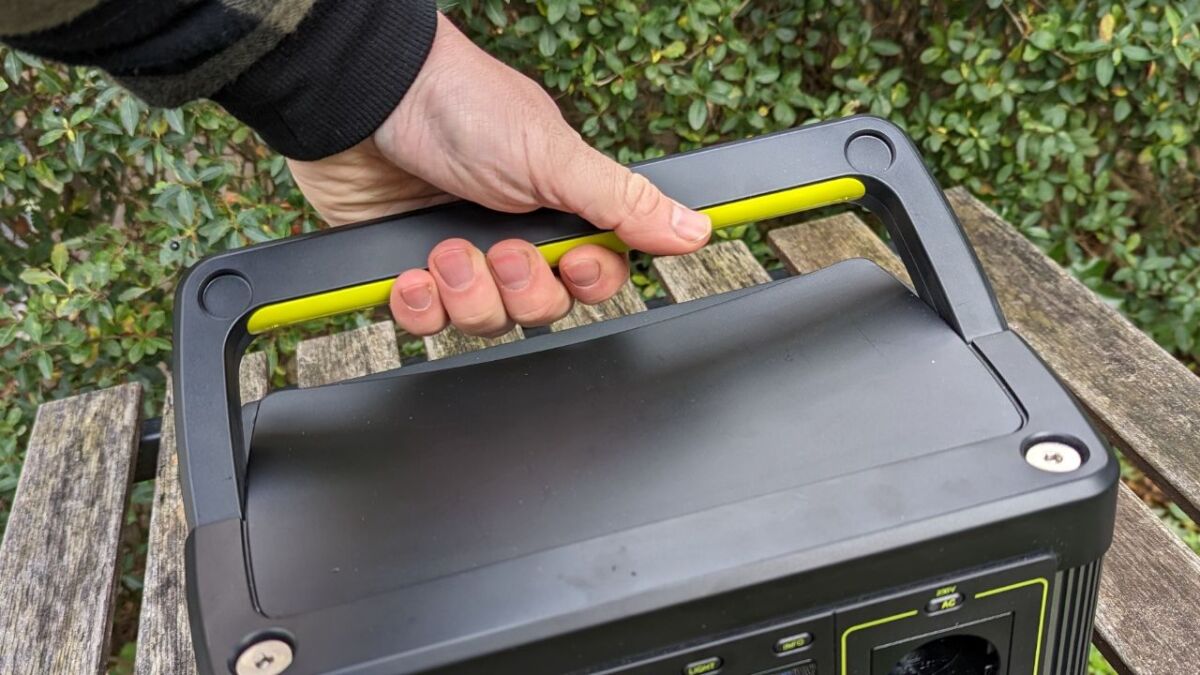 7. The fan never turned on during normal operation, except once during a test with a hot glue gun. But it turned off again after a few seconds.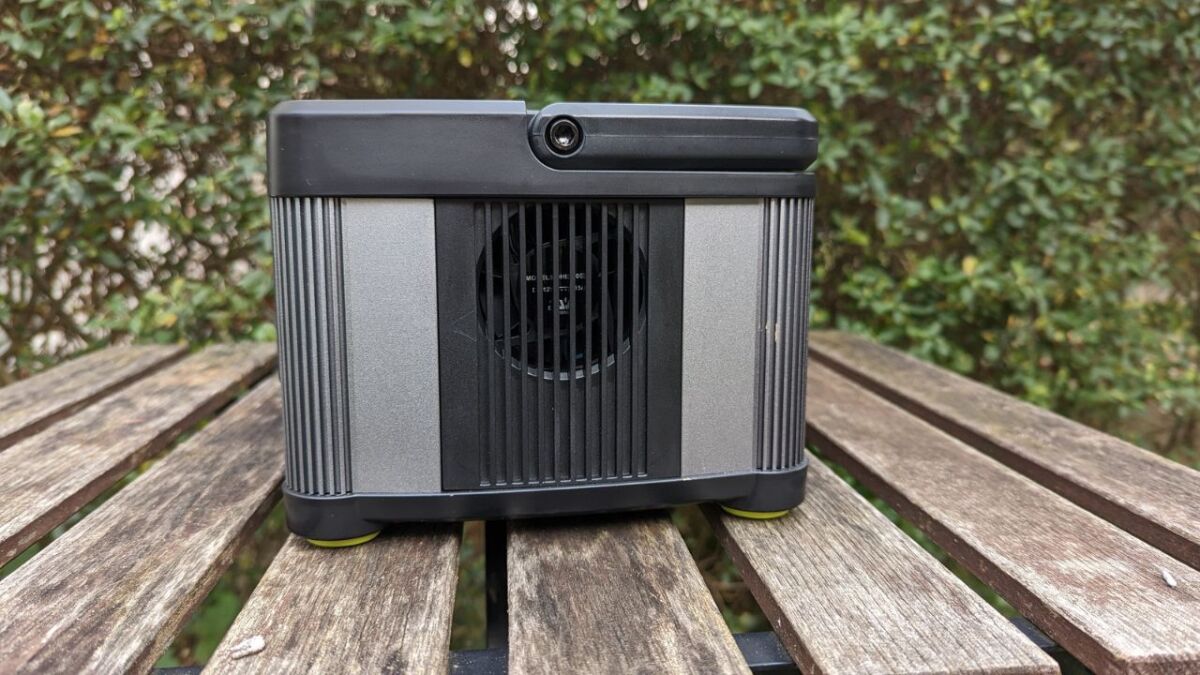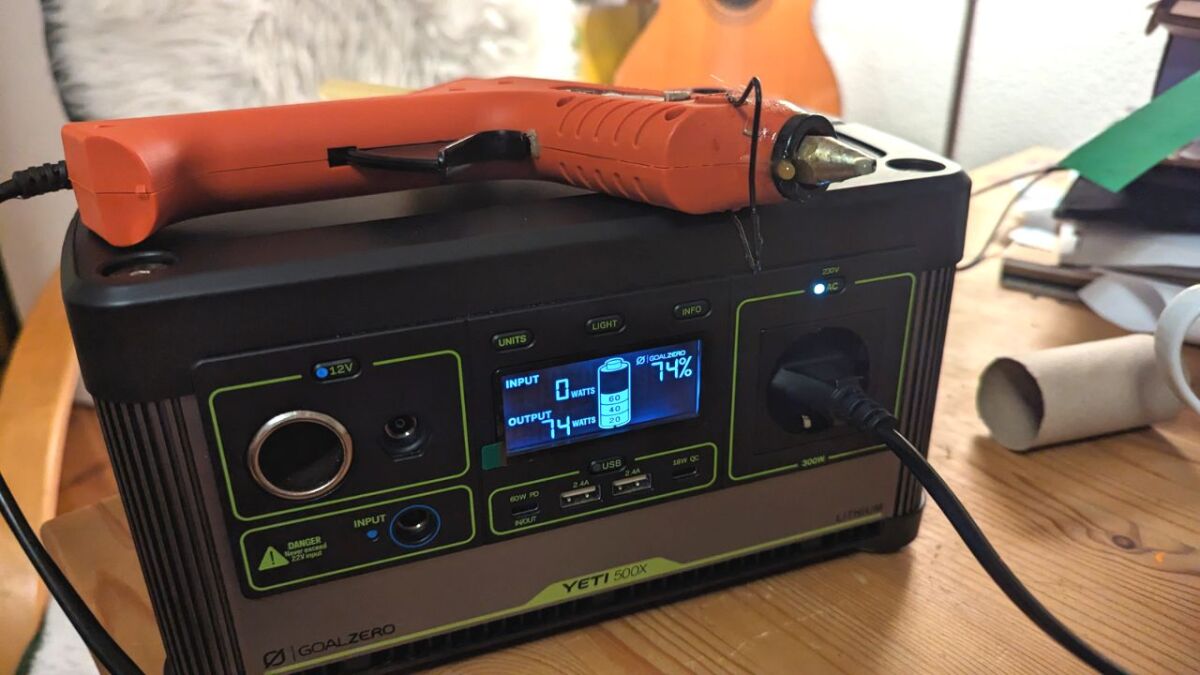 What I don't like about the Goal Zero Yeti 500x
The charging process was uncertain at the beginning: At least that was the case for me, I can't say if it's always like that.
The blue light blinks on the front and back while charging: This can be disturbing in a dark room if you want to sleep right next to it. On the other hand, if it stops blinking and shines continuously, you know that the Yeti is fully charged.
There is no car charging cable included: Unfortunately, you have to buy this separately.
Let's get to the facts
You probably already know that the Goal Zero Yeti 500x is a portable power station. With a power station, you can provide mobile power supply. And like almost all power stations, the Yeti 500x can also be charged via solar panels.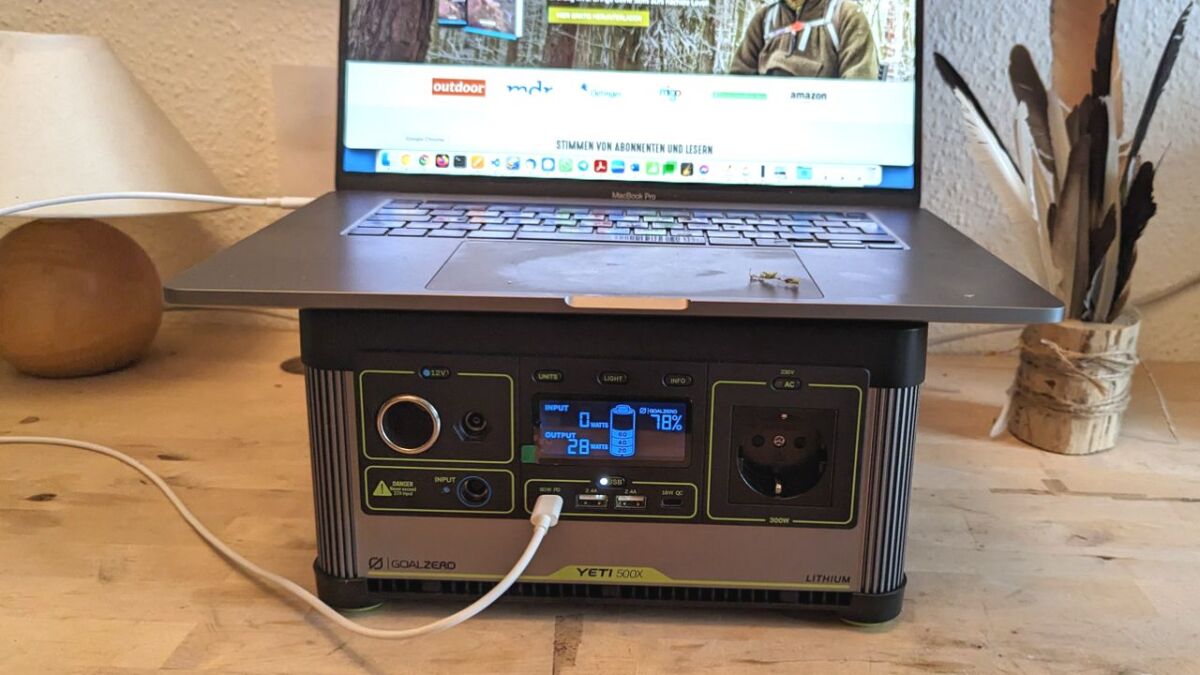 These power stations are perfect for longer camping trips, garden parties, or for power supply during an emergency (such as during a power outage/blackout).
I would like to briefly introduce you to the technical specifications of the Yeti 500x so that you know the facts and can determine whether the power station meets your needs.
The Performance of the Yeti 500x
With the Yeti 500x, you will receive a power station that provides you with 505 watt-hours (10.8 V, 46.8 Ah) of battery capacity. The watt-hours (Wh) are calculated from the volts (V) and the ampere-hours (Ah). The calculation is therefore Wh = V * Ah.
Specifically, this means that you can connect a device that requires 500 watts for one hour - then the power station is empty. If your device, like a smartphone, only requires 10 watts, then you can recharge your smartphone multiple times with 505 Wh.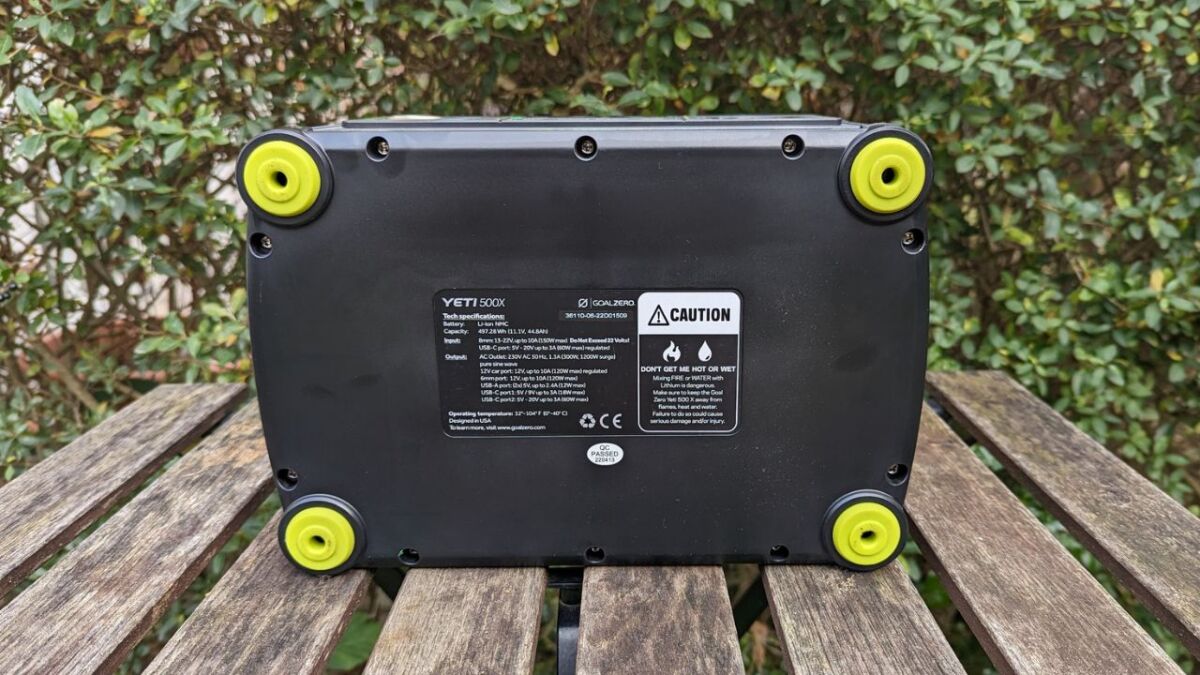 But you must be aware that you cannot operate a hair dryer that requires 1500 watts or a kettle that requires 2000 watts with the Yeti 500x.
But if you're out and about, camping for example, the Yeti 500x will easily charge smartphones, cameras, drones, GPS devices, and lamps. You can also charge your laptop, such as a MacBook, perfectly with the 60 watt USB-C port.
The Battery and Charging Times
The Yeti 500x contains a Lithium-Ion NMC battery. Unlike a LiFePO4 battery, the charging time is higher, but the energy density is higher in Lithium-Ion batteries, which affects the weight. Whether a Lithium-Ion battery or a LiFePO4 battery is better? Experts argue about this, and there are some advantages and disadvantages to both types of batteries.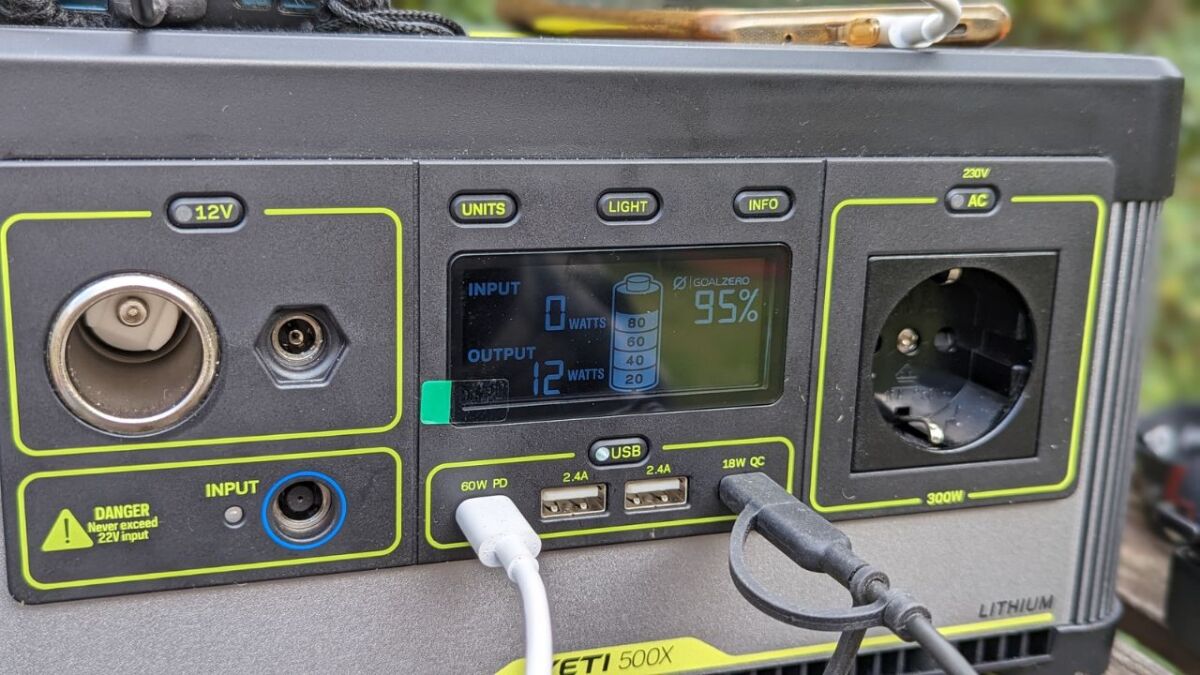 The charging time of the Yeti 500x is 9 hours via the wall socket and 4–7 hours via the cigarette lighter.
If you charge the Yeti 500x with a solar panel, such as the Boulder and Nomad from Goal Zero, then expect the following charging times (according to the manufacturer):
Goal Zero Nomad 20: 29–58 hours.
Goal Zero Nomad 50: 12–24 hours.
Goal Zero Boulder 50: 12–24 hours.
Goal Zero Boulder 100: 6–12 hours.
Goal Zero Boulder 100 Briefcase: 6–12 hours.
Goal Zero Boulder 200 Briefcase: 3–6 hours.
The weight and dimensions of the Yeti 500x Power Station
The compact box made of sturdy plastic and aluminum weighs a total of 5.8 kg. This puts the power station in the lower range. In comparison, the Jackery Explorer 500, which also has approximately the same number of watt-hours, weighs 6.4 kg.
The power station measures 19 x 28.5 x 14.7 cm and is therefore quite compact and small. Here you can see a photo compared to the Jackery Explorer 500.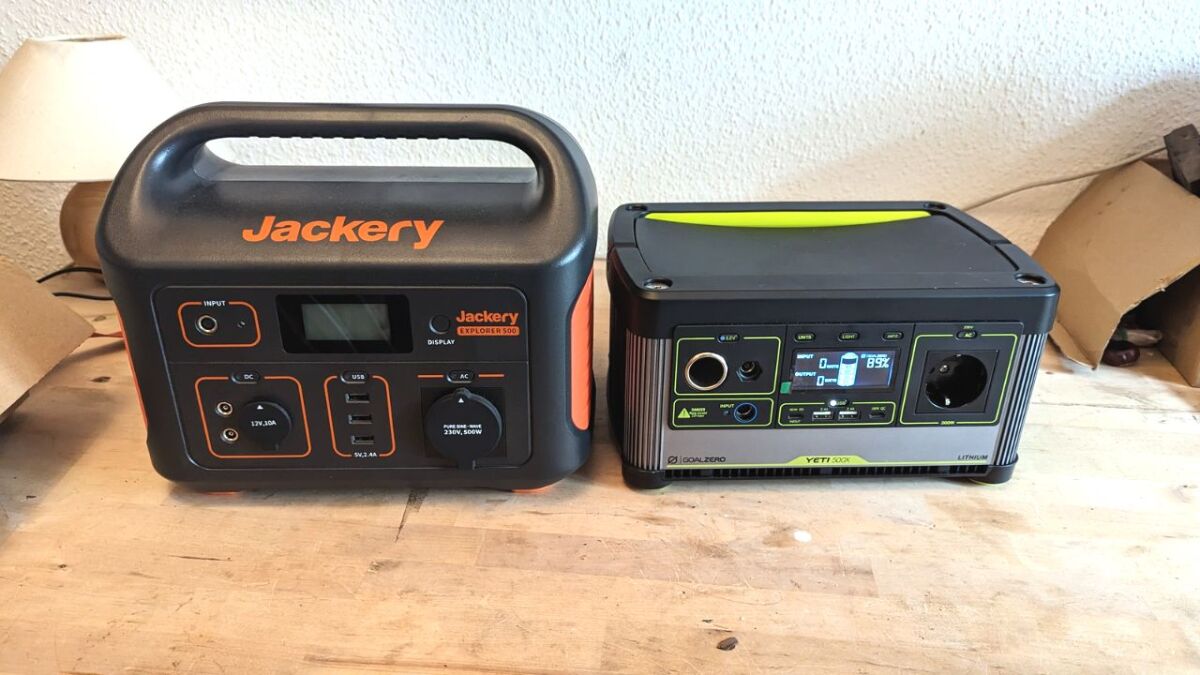 The connections of the Yeti 500x Power Station
You can charge the Yeti 500x in four different ways: via the wall socket, a solar panel, the USB-C port, or the car charging cable. The power station provides the following connections for this purpose:
1x 8 mm Charging Port 13-22V, up to 10A (150W maximum)
6 mm, 12V, up to 10A (120W max.), for solar panel
1x USB-C PD 60W (input + output) 5-20V, up to 3.0A (60W maximum)
12V car charging cable, up to 10A (120W maximum)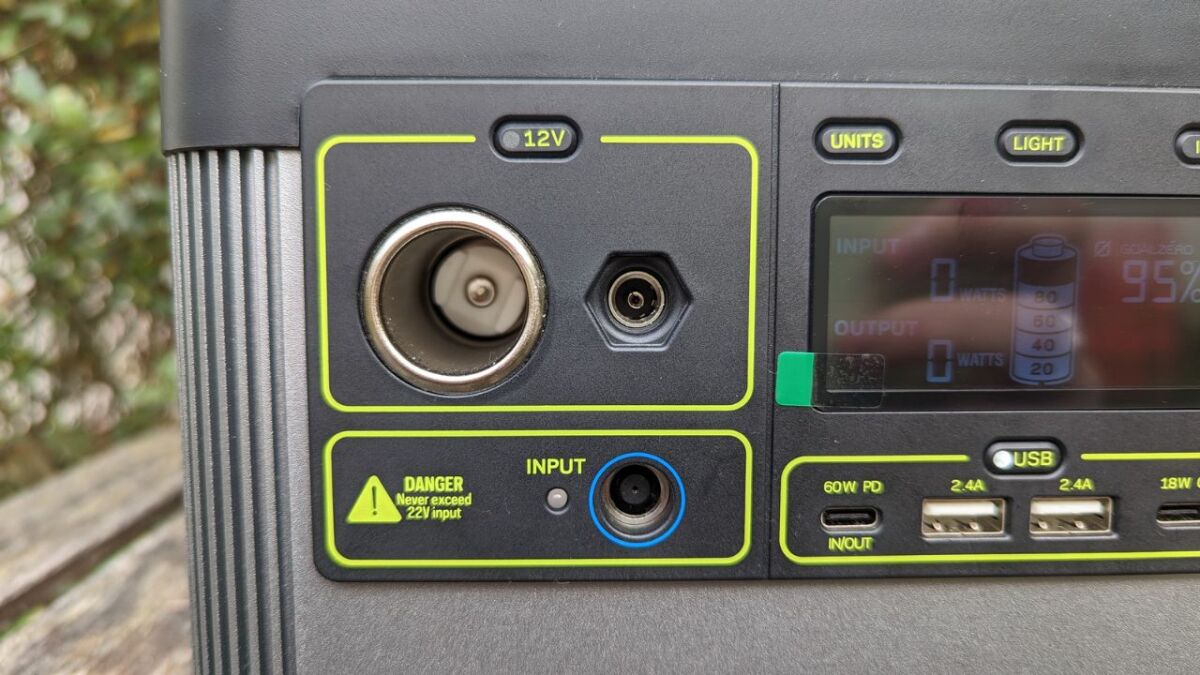 It is interesting that there is an 8 mm charging port on the front and back of the power station. Additionally, the power station can be charged with dual input. You can use the 8 mm charging port with 150W and the USB-C port with 60W.
The Goal Zero Yeti 500x provides the following outputs:
230 V AC, 60Hz, 2.5A (300 W, 1200 W surge)
USB-A Port: 5V, up to 2.4A (12W maximum)
USB-C Port: 5/9V, up to 3.0A (18W maximum)
USB-C PD Port (Input/Output): 5-20V, up to 3.0A (60W maximum)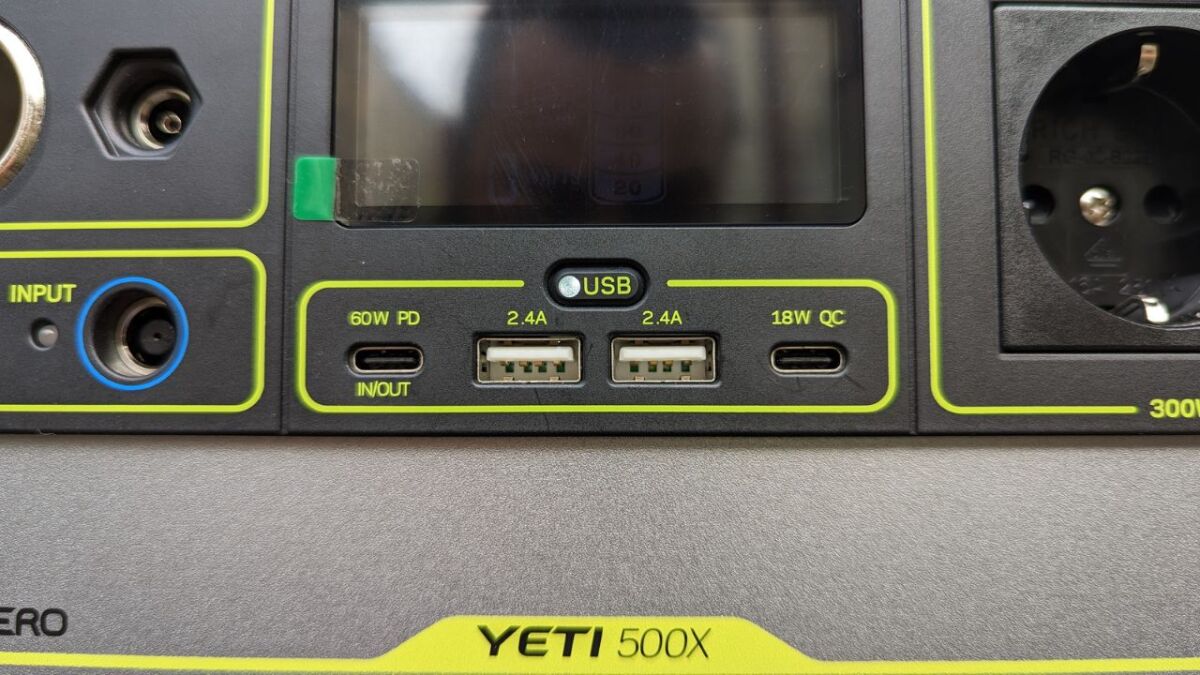 My summary of the Goal Zero Yeti 500x
The Goal Zero Yeti 500x is perfect for camping trips or road trips – whether you're traveling in a car or van. It's also great for anyone who just wants to keep an emergency backup in the closet.
The Yeti 500x has enough connection options and can be charged faster with Dual-Charge. Goal Zero also offers its own solar panels that harmonize with the Yeti 500x.
Daten aktualisiert vor einer Stunde
Goal Zero Unisex – Erwachsene Yeti 500X Kraftpakete, Black, Einheitsgröße
Hochwertiges Material
Mit mehr als doppelt so viel Power wie der Yeti 200X, versorgt der Yeti 500X Ihre ganze Familie mit Strom
Im Gegensatz zu seinem Vorgänger hat der Yeti 500X mehr Power und ist zeitgleich kleiner und leichter
Er ist perfekt für längere Campingausflüge, Gartenpartys oder für die Stromversorgung bei einem Notfall
Der USB-C 60W Ausgang ermöglicht außerdem das Schnellladen von Smartphones, MacBooks und anderen USB-C Geräten
494,96 €
UVP: 800,00 €
View Product
In addition, there are also various accessories, such as the matching protective case "Goal Zero Yeti 500X protective case" and the amazing camping lantern "Goal Zero Light-a-Life 350 LED" with 350 lumens, which you can use with any Yeti.
If you don't demand such a high standard from your equipment, you will probably be better served with a smaller device.
But if you absolutely want to keep everything running in a remote location, then it's better to go for the Goal Zero Yeti 500x.
Buy here:
Matching solar panels:
---
Disclosure: Many thanks to Goal Zero, who provided me with the featured product for testing. I was not paid to write this review.

Was this guide helpful?
18 people found this guide helpful.
5.00 out of 5 points (18 Ratings)