Back to german article
9 Ways to Stay Warm Without Electricity and Heating
Has your heating gone out? No power either? Then read these 9 tips and learn how to stay warm in your home without electricity and heating.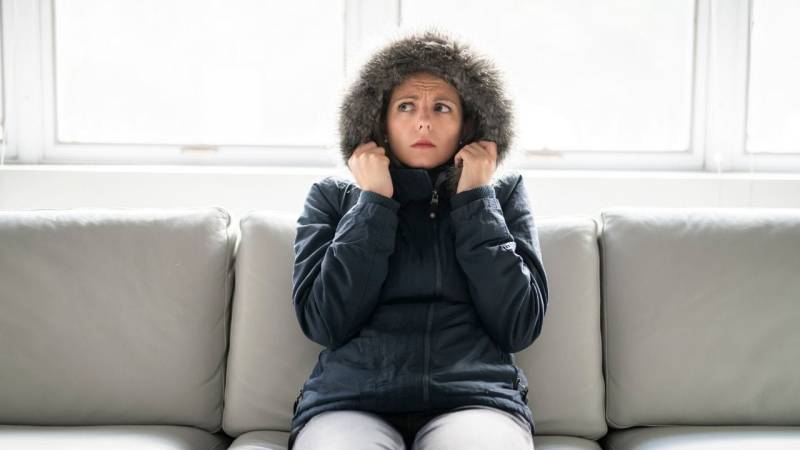 ---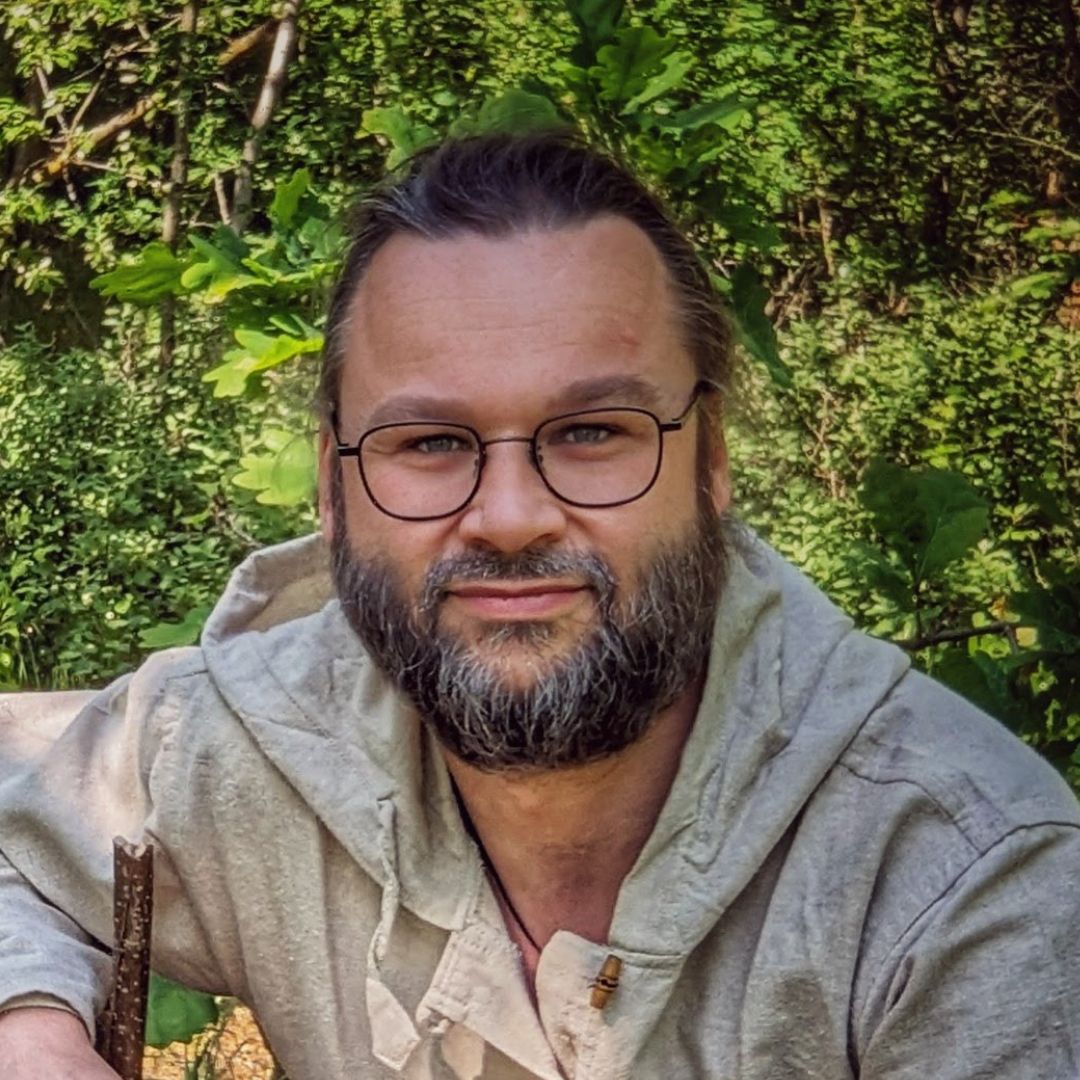 ---
👉 The key facts from this guide
Keep your body warmth by dressing warmly. A wool hat can help since a lot of body heat is lost through the head.
Multiple layers of clothing will keep you warm. Start with a long-sleeved cotton shirt, followed by a wool or wool-blend shirt and a wool sweater.
Pay attention to your toes and fingers. Wool socks and wool gloves can help keep them warm.
Blankets and sleeping bags, preferably made of wool, are great for warming up. They can store your body heat and keep you warm.
Hot drinks like tea or soup can warm your body from the inside. If you don't have electricity, you can use a gas stove or a mini-cooker.
Movement can help you stay warm. Simple exercises like squats or jumping jacks can get your cardiovascular system going and warm you up from the inside.
In an emergency, you can use a heating source. Gas heaters, fireplaces, or stoves can be a suitable option if you don't have electricity.
I was in a terrible situation.
The heating in our home went out.
In the middle of winter. For three whole days.
The thermometer showed zero degrees.
My family was freezing the entire time. There wasn't even any hot water.
I had to think about how to improve the situation.
What I found out, I'll share with you today.
So, you'll be well-prepared for a similar situation.
What material keeps you warmest?
As so often, nature provides us with the best.
Wool is the perfect material to keep humans warm.
Of course, wool can be itchy at times.
But: there's nothing better to keep you warm.
Why do sheep have wool? Or why did nature give animals fur?
Because they're the best materials to protect animals from the cold.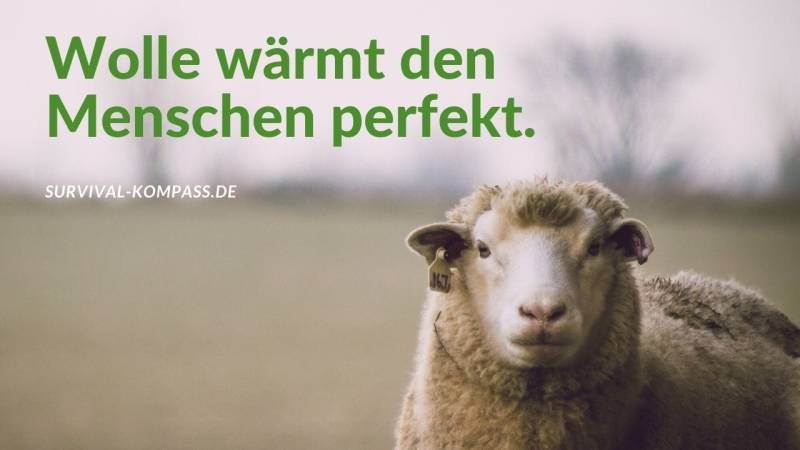 Let's start with tip number 1: How to maintain your body heat.
1. Maintaining your body heat
Dress warmly.
Yes, I know, it looks silly to walk around the apartment with a hat on.
But your body gives off heat.
And you want to avoid that as much as possible.
Put on a wool hat that covers your ears - it keeps you warm the best.
You'll immediately notice how you feel warmer inside.
Up to 10% of body heat is lost through the head.
If you're warm from the inside out, your fingers and toes will stay warm too.
2. Stay hot with multiple layers of fabric
Wool keeps you perfectly warm. But it has one disadvantage.
If you sweat, and it's cold, it becomes uncomfortable.
Why? The wet wool fabric sucks out your body heat.
What you can do about it: Put on a long-sleeved cotton shirt (buy here) as the first layer.
Next, add another wool or wool-blend shirt.
And then add a layer of a wool sweater.
Finally, as needed, add a vest or coat.
The positive effect of layering is that warm air is trapped between the layers, created by your body heat, which reduces the amount of cold that reaches you.
3. Take care of your toes
There is a great tip for staying cool in the summer.
Put your feet in cold water and your body will cool down quickly.
As you can see, your feet are important.
When it's cold, do the opposite: wear wool socks.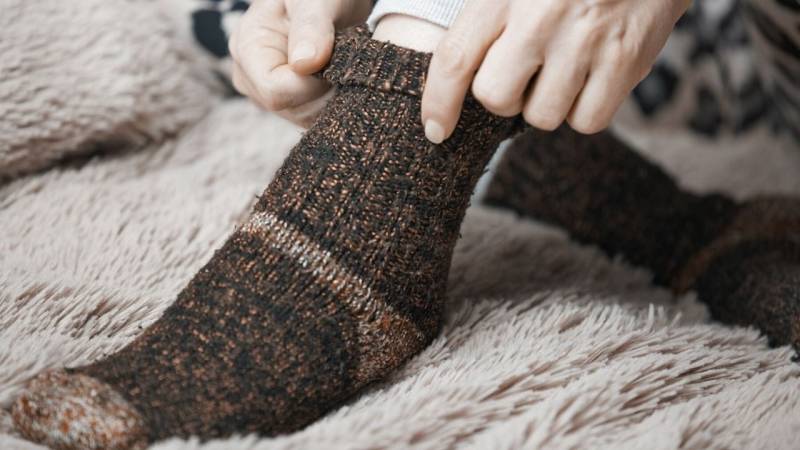 If that's not enough, add another layer of socks.
And then put on insulated shoes.
I can recommend these wool socks:
4. Keep your fingers warm
When your fingers are cold, you can't grip properly.
Chopping wood, cooking, dressing yourself: everything becomes difficult when your fingers are freezing.
So, wear gloves.
Choose wool gloves. There are types that can fold back at the fingertips.
This allows you to perform tasks quickly and precisely without having to take off your gloves.
My tip: Use small, handy pocket warmers (buy here) to keep your fingers and toes warm. They fit perfectly in shoes, gloves, or pockets and keep you warm.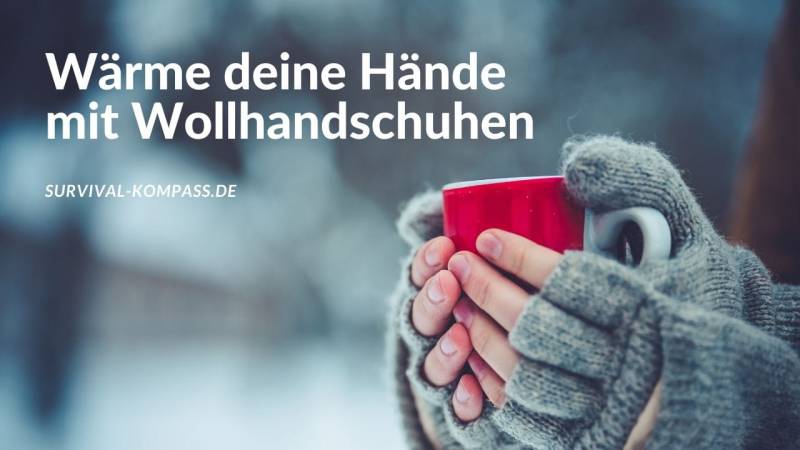 5. Blankets for the family
Blankets are great for getting warm.
Even though you may have read it often: Yes, the blankets should be made of wool.
Heavy wool blankets are the best.
Larger wool blankets that can fit your family are especially efficient.
Because everyone shares their body heat and it becomes really cozy.
6. A sleeping bag for you
I don't like it when I can't move freely.
However, a sleeping bag works wonders. Especially if you get one that is rated for at least zero degrees.
Such a sleeping bag is also good to use when camping, doing bushcraft or survival training.
Here is an inexpensive recommendation:
kein Preis ermittelbar (B07V3D9DPM)
Nevertheless, I recommend that you take a look at my sleeping bag buying guide because then you will definitely find a suitable sleeping bag.
7. Hot drinks
A hot drink warms your hands and your body.
Nothing beats a hot soup or tea to keep your body warm.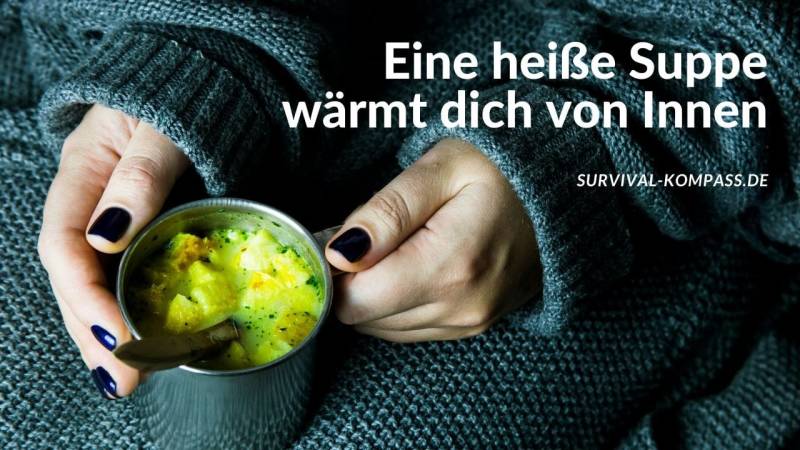 If your electricity still works, use an electric kettle or your stove.
But what happens when the power goes out too?
Then you need a cooker that burns gas, wood, or coal.
Do not operate outdoor cookers, such as a wood gasifier, gas stove or hobo, in your apartment. Don't do it!
If you have nothing else to prepare hot drinks, take your outdoor cooker outside your house or onto the balcony.
Otherwise, my tip: Get a gas cooker for your apartment (get it here) or use a mini cooker that screws onto gas cartridges (buy it here).
8. Move and you'll get warm
A basic principle: you move = you get warm.
When I'm cold, I do squats, climb stairs, jog in place, or jump rope.
This gets my cardiovascular system going and the exercises warm me up from the inside.
Practice for 15 to 30 minutes and your body will glow for an hour.
9. Use emergency heating
Heaters only work when there is electricity. That's why I'm mentioning these heating systems at the end.
In case of a blackout or a gas crisis, you should rely on gas heaters, fireplaces, or stoves. It's best to get such devices for emergencies and store them safely. In my guide to emergency heating, you'll find many methods for heating your apartment.
My tip: Use these devices in a single room, and it will quickly become warm. Close all doors and sit with your family close to the heater.
---
How did you like the tips?
I would like to know if they helped you stay warm.
Write your opinion in the comments!

Was this guide helpful?
110 people found this guide helpful.
4.76 out of 5 points (117 Ratings)