Back to german article
The best sleeping bags for camping and bushcraft in the year 2023
The right sleeping bag is essential to spend a restful night. Because those who sleep deeply are full of power. Find now the best sleeping bags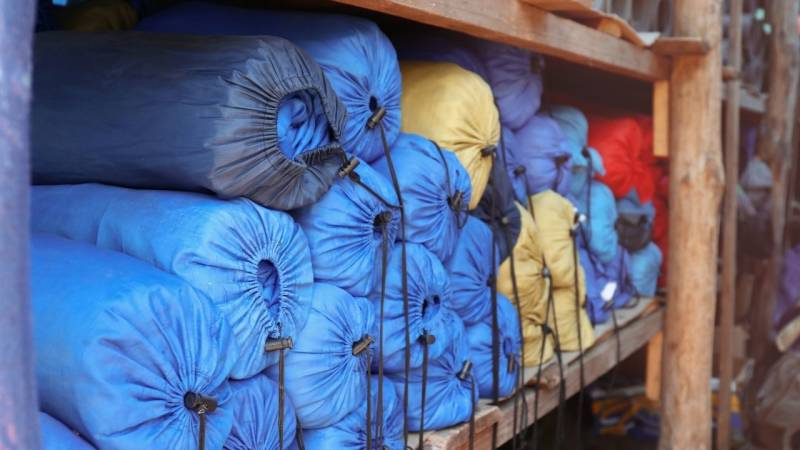 ---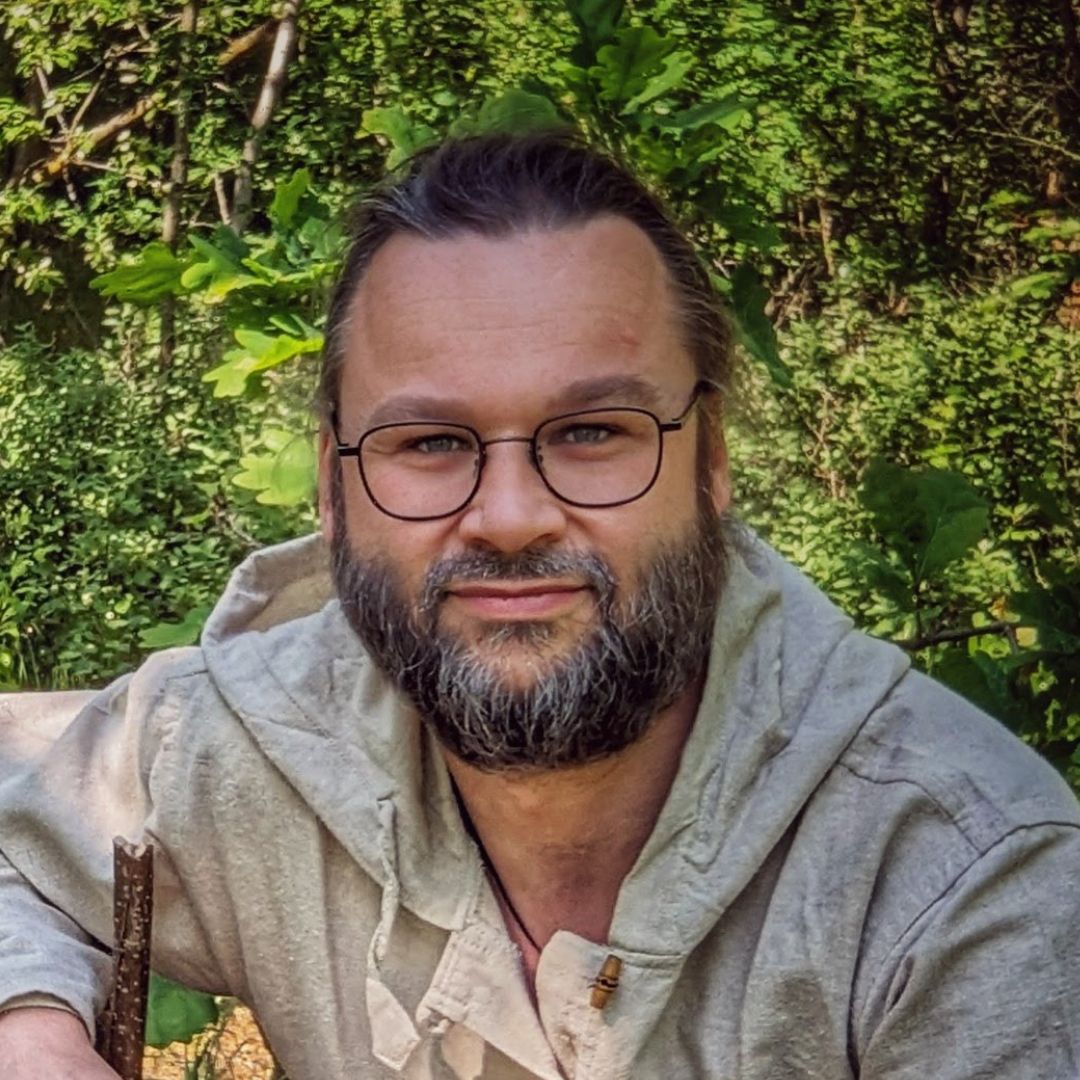 ---
👉 The key facts from this guide
Choosing the right sleeping bag is essential for a restful night outdoors. Size and weight play an important role, especially when you're backpacking.
There are different types of sleeping bags designed for various needs and weather conditions. For people who move a lot during sleep, a spacious rectangular sleeping bag might be more suitable than a classic mummy bag.
In winter, you'll need a well-insulated sleeping bag that can withstand sub-zero temperatures. In summer, the sleeping bag should be breathable to avoid excessive sweating.
There are both single and double sleeping bags. Some recommended models for individuals are the Kelty Galactic 30, the Sea to Summit Traveler TrI, and the Coleman Pacific, as well as the Big Agnes Dream Island 15 and the Coleman Hampton for two people.
Some sleeping bags, such as the Marmot Nanowave 45, are specifically designed for hiking, cycling, and kayaking tours as they are lightweight and compressible.
There are also special winter sleeping bags, such as the Carinthia Defence 6 and the Mammut Protect -18 °C, which are designed for extremely low temperatures.
The right sleeping bag is essential for a restful night. Because those who sleep comfortably are full of energy.
This applies to all people who sleep outside, whether it's a rooftop tent, icy winter camp, or a warm summer sky.
There is nothing worse than waking up at night from cold or with icy feet.
And it is just as unpleasant to sweat through the night in a cheap plastic bag.
But when it comes to choosing the best sleeping bag for camping, there are many options to choose from.
Why you shouldn't just take any sleeping bag
Size and weight are the most important criteria when choosing a sleeping bag for backpacking. But the best sleeping bags for car camping are not necessarily the lightest or smallest.
If you are traveling by car, size, and weight don't matter much, and you will probably get additional comfort.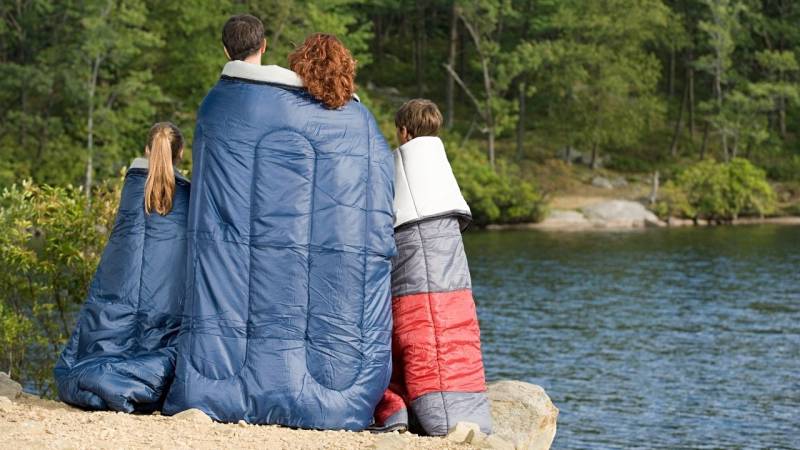 People who move a lot during sleep may prefer a spacious rectangular sleeping bag over a traditional mummy bag. While campers in winter need a perfectly insulated sleeping bag that can withstand sub-zero temperatures.
Whether you're preparing for your next epic Bushcraft Winter Camp or packing the trunk for a weekend in the wilderness - be sure to check out my recommendations for the best single and double sleeping bags.
Summary of the best sleeping bags for camping
Let's now take a detailed look at the sleeping bags.
The best individual sleeping bags for camping
Kelty Galactic 30
The Kelty Galactic 30 combines the comfort of a rectangular sleeping bag with high-quality "600 Fill DriDown" insulation.
This dries faster and is more water-resistant than regular down insulation, making the Galactic 30 perform well in temperatures around 0 °C.
The Galactic 30 is made of a 50D 300T polyester taffeta shell, making it durable and tear-resistant.
I like that the construction prevents the filling from accumulating at the bottom of the sleeping bag. Additionally, I appreciate the two-way anti-snag zipper, which allows me to fully open the sleeping bag and use it as a blanket.
Alternatively, you can also partially unzip the zipper in the middle to allow air to circulate around your feet. On colder nights, you can use the top drawstring to trap hot air and keep yourself warm.
When it comes to value for money, Kelty is known for producing high-quality camping gear at affordable prices. The Galactic 30, with its included stuff sack, is no exception.
I particularly like the rectangular design, as it allows me to stretch my feet in all directions.
Advantages
Comfortable and spacious design
High-quality insulation
Suitable for both warm and colder conditions
Disadvantages
Currently none
---
Sea To Summit Traveler TrI
The Sea to Summit Traveler TrI is perfect for summer camping trips. It is equipped with a robust YKK side zipper that you can open from the inside or outside.
Saco de plumas TRAVELLER TrI R
kann dank des ganzseitigen Reißverschluss auch als Decke genutzt werden ultraleichtes 15D Nylon Material minimiert Gewicht und Packmaß RDS zertifizierte 750+ Loft ULTRA-DRY Down lässt sich mit einen zweiten Traveller zusammenzippen als Decke über einen anderen Schlafsack sorgt der Traveller für zusätzliche Wärme
205,92 €
View Product
The full-length zipper allows you to open, flip, or connect it with another sleeping bag like a blanket.
On cooler nights, you can tighten the tapered rectangular shape with drawstrings at the collar and foot. These trap warm air without compromising comfort.
The Traveller TrI is insulated with water-repellent down filling that retains warmth even when damp. I want to mention that the Sea to Summit Traveler TrI does not keep you warm in winter at the recommended temperature of 10 °C and is limited to use in spring and autumn.
With the Sea to Summit, you get a versatile, extremely compact, and lightweight sleeping bag. For me, one of the best summer sleeping bags for camping, hammocks, or backpacking.
Advantages
Super lightweight
Can be used as a blanket
Water-repellent
Disadvantages
Only suitable for summer camping
High price
---
Coleman Sleeping Bag Pacific 220
The Coleman Sleeping Bag "Pacific" for adults is undoubtedly the sleeping bag with the best price-performance ratio on the market. It costs no more than 50 €.
Coleman Schlafsack Pacific, 220 x 100 cm
Extra Lang und Ultraleicht: Der XXL Schlafsack bietet extra viel Platz für große Leute, wiegt nur 1,8 kg und ist einfach zu transportieren (Packsack enthalten). Auch als Schlafsack für Kinder nutzbar
Wärme und Komfort: Thermolock - isolierender Wärmekanal entlang des gesamten Reißverschlusses reduziert Wärmeverlust; dank Comfort Cuff haben Sie nur angenehm weichen Stoff um Ihren Hals bzw. Gesicht
Kein Verhaken und Klemmen - ZipPlow verhindert das Einklemmen des Reißverschlusses (rechts angebracht) und sorgt für extra leichtgängiges Öffnen und Schließen des warmen Reiseschlafsacks
Atmungsaktiver und Wasserfester Stoff: Campingschlafsack mit angenehmem Baumwoll-Flanell Futter, Füllung 1x 200 g/m² Vollkernfaser und strapazierfähigen, wasserabweisendem Obermaterial 100% Polyester
Ausstattung Komforttemperatur bei 12°C Außentemperatur; warmer Schlafsack für Frühling / Sommer; Größe: 220 x 100 cm; Packmaß: 46 x 24 cm; Gewicht: 1,8 kg; Pflegehinweis: Maschinenwäsche bei 30°
40,33 €
View Product
However, for the price, you do not get down filling. Nevertheless, the Coleman Sleeping Bag Pacific 220 is comfortable for all tall and wider people. It is 2.20 meters long and 1 meter wide. Everyone will find their place in it.
However, it is only designed for summer use, as the comfort temperature is at 12 °C outside temperature. It is a warm sleeping bag for spring and summer.
The Coleman Sleeping Bag has a soft cuff lining the top of the sleeping bag at the neck area. Another practical feature is the ZipPlow zipper, which protects against zipper snagging.
Advantages
Good price
Perfect for tall people
Disadvantages
No down filling
---
Marmot Nanowave 45
The Marmot Nanowave 45 mummy sleeping bag for three seasons is an affordable option for a high-quality synthetic sleeping bag.
Daten aktualisiert vor 12 Stunden
Marmot NanoWave 45, Mumienschlafsack, ultra leichter Sommer Schlafsack, ideal zum Camping und Trekking, Brick, 183 cm
Der Mumienschlafsack mit synthetischer Spirafil High Loft Isolation für maximale Wärme und Haltbarkeit des Schlafsacks; die perfekte Kombination aus Wärme, Komfort und geringem Gewicht
Drei-Jahreszeiten Schlafsack mit anatomisch optimierter Passform im Kopf- und Fußbereich garantiert bessere Insolierung und mehr Komfort beim Schlafen; zusätzliche Belüftung durch extra Reißverschluss
Das 50D 100% Polyester Außenmaterial ist atmungsaktiv und winddicht; Wärmekragen und Kapuze; kann auch als Decke verwendet werden; Temperaturbereich von 13°C bis -2°C
Warmer Schlafsack mit flauschigem Innenmaterial aus 100% Polyester; durchgehender Reißverschluss links mit 2-Wege Schließung und Klemmschutz; kann auch als Decke verwendet werden
Ultra-leichter Schlafsack, ideal für Camping, Backpacking, Trekking, Radtouren; Packvolumen 5.01 L; Packmaß 31 x 19 cm, zwei Reißverschlüsse; Gewicht: 950g; Länge: 183 cm; inkl. Kompressionssack
61,16 €
UVP: 72,48 €
View Product
The Marmot Nanowave 45 synthetic sleeping bag uses a synthetic insulation called "Spirafil High Loft Insulation". It keeps you warm and dry while camping between spring and autumn (temperature range from 13 °C to -2 °C).
The mummy design with a hood, internal draw cords, and zipper keeps the warmth in and the draft out on cool nights.
It's clear that its narrower shape doesn't offer as much room to move as a rectangular sleeping bag. The two-way zipper is great for camping in the summer.
The Marmot Nanowave 45F is primarily designed for hiking, cycling, and kayaking trips due to its lightweight design and compressibility.
Its high comfort and compact pack size make it, in my opinion, a budget-friendly sleeping bag for car camping and road trips. It's well-suited for people on long journeys or those with limited space in the car.
Advantages
Great value for money
High-quality materials
Suitable for 3-season camping
Can be used as a blanket
Disadvantages
A bit small for tall and wide people
"
The best winter sleeping bags for camping
Winter sleeping bags are exclusively for low temperatures. I do not recommend using a winter sleeping bag for summer, as it will be too hot for you.
Carinthia Defence 6 High-Performance Winter Sleeping Bag
The Defence 6 by Carinthia is a high-performance winter sleeping bag with a comfort limit of -18 °C and an extreme limit of -40 °C.
Daten aktualisiert vor 12 Stunden
Carinthia Defence 6 Hochleistungs-Winterschlafsack für Temperaturen bis -18°C, Large (200)
Wasser- und windabweisender Hochleistungs-Winterschlafsack für arktische Bedingungen mit einem Komfort-Limit bis -18°C(♂) / -11°C(♀) und einem Extrem-Limit bis -40°C.
Exzellentes Wärme- und Gewichtsverhältnis sowie Packmaß - komprimierbarer Packsack inklusive.
Mumienschlafsack mit Mittel-Reißverschluss, Differenzialschnitt und 3-Lagen-Konstruktion für optimale Wärmeleistung und Isolation
DATEN: Füllung: G-LOFT, 100% Polyester / Außenstoff: 100% Polyamid / Innenstoff: 100% Polyamid / Außenmaße (cm): 215/85/57 (M), 230/87/60 (L) / Gewicht (g): 2.450 (M), 2.600 (L) / Packmaß komprimiert (cm): 25x45
Größe L für Körpergröße <200 cm / Größe M für Körpergröße <185 cm /
245,00 €
UVP: 289,00 €
View Product
These are extreme values, and you should also be aware that everyone reacts differently to the cold. Some people may feel cold in the sleeping bag at -1 °C, while others may still feel too warm.
Regardless, the Defence 6 is a synthetic sleeping bag with a total length of 230 centimeters. The two-way zipper is located in the middle of the sleeping bag. There are zipper covers on the inside and outside to prevent cold air from entering.
The thermal collar is extremely useful for freezing temperatures. It can be tightened with a drawstring, similar to the opening for the face.
The Defence 6 weighs 3.0 kilograms with the stuff sack. This means it has a large, rather heavy pack size. But if pack size and weight don't bother you, then you will get a fantastic winter sleeping bag with the Defence 6.
Advantages
suitable for winter
great insulation properties
robust and water-repellent outer shell
good, clean workmanship
Disadvantages
pack size and weight
---
Mammut Protect -18 °C Sleeping Bag (Men)
The Swiss manufacturer Mammut offers sleeping bags - like the Mammut Protect -18 °C - for all seasons. The company's focus is clearly on the cold season.
Mammut Herren Protect -18C Schlafsack
Erholsamer Schlaf dank neu entwickeltem Schlafsackschnitt
Intuitive Klimaregulierung dank zentriertem 2-Wege-Zipper
Bequemer, weicher Stoff in der Kapuze reduziert Lärm und erhöht den Komfort
Inklusive Deep Sleep Maske und Ohrstöpsel zur Reduzierung von Licht und Geräuschen
PFC-freie DWR-Behandlung
435,55 €
View Product
And with the Mammut Protect -18 °C, the warmth is noticeable within a few minutes of packing. The outer material is windproof and water-repellent, ideal for those who like to camp in the wild without a tent.
It is worth mentioning that the hood is well-designed and fits snugly around the face in the right places. The sleeping bag is filled with polyester.
Furthermore, there is an inner pocket and the sleeping bag is made of a special material so that your tent neighbor doesn't wake up immediately when you turn over.
All in all, the Mammut Protect is an expensive sleeping bag, but it is and remains a Swiss product that you can rely on.
Advantages
Swiss product quality
excellent for winter
---
VAUDE Kamor 700 Down -3 °C, Sleeping Bag
Since I like rectangular sleeping bags because I need freedom of movement while sleeping, I got the VAUDE Kamor 700 Down.
And indeed, this is a great piece. I get cold quickly in winter, but I still enjoy going into the wilderness and camping outdoors. And since I like to stretch out my legs and keep them away from my body, the VAUDE Kamor 700 Down is just right for me. I don't feel restricted in any way, but it's still cozy and warm.
With the VAUDE Kamor 700 Down, you get a warm down sleeping bag (75% recycled duck down, 25% recycled duck feathers) for camping, bushcraft, travel, or hut tours. The zipper works smoothly and rarely gets tangled.
Here are the temperature facts again:
Comfort temperature: 2 °C
Limit temperature: -3 °C
Extreme temperature: -20 °C.
In one sentence: a great option for environmentally conscious travelers.
And if you prefer mummy sleeping bags, then it's best to check out the entire VAUDE store. There you will surely find a great sleeping bag.
Advantages
Freedom of movement
Suitable for winter
Disadvantages
Currently none
---
Alexika Canada Plus Sleeping Bag
And since I like rectangular sleeping bags, the Alexika Canada Plus sleeping bag comes into play. Alexika states -6 °C as the comfort limit for men and 0 °C as the comfort limit for women.
ALEXIKA Camping & Outdoor Schlafsack Canada, Linke Reißverschluss Deckenschlafsacke, grau, 230 x 90 cm
Deckenschlafsack ist für Outdoor, familiencamping, Angeln, Jagen, Trekking, Wandern und andere Outdoor-Abenteuer für den ganzjährigen Einsatz, auch für den Winter
En 13537 Zertifizierte Temperaturen: -6 Grad C ist komfortgrenze für Männer, 0 Grad C ist komfortgrenze für Frauen; zweischichtige apf-isotherm Isolierung mit 650 g/M2 haltet Sie auch bei Nässe warm
Wasserabweisendes, strapazierfähiges, winddichtes Gewebe an Kapuze, Rücken und Beinen hält Wärme herein und Kälte heraus
Personen mit einer Körpergröße von bis zu 187 cm haben im Schlaf viel Platz zum Spreizen von Armen und Beinen - der Schlafsack ist 230 cm lang (195 cm im Hauptbereich + 35 cm in der Kapuze und Kopfstütze) und 100 cm breit
Komfort in Details: warmes, langlebig, leicht zu reinigendes, hautverträglich 100% Baumwoll-Flanell-Innenfutter fühlt sich weich an, ist atmungsaktiv und hält Sie trocken
229,95 €
View Product
The Alexika Canada Plus is extremely comfortable and provides warmth from the moment you get in (insulation with 650 g per square meter). It is equipped with 100% cotton flannel on the inside. Perfect for those who spend time in a tent all year round or never want to freeze again.
Its water-repellent, durable, windproof fabric on the hood, back, and legs keeps the warmth inside the bag and keeps the cold out.
It should be noted that people with a height of up to 187 centimeters have plenty of room in the sleeping bag to spread their arms and legs. So if you're a tall guy and maybe a bit heavier, you'll like the sleeping bag.
It is 230 centimeters long (195 cm in the main area + 35 cm in the hood and headrest), 100 cm wide, and weighs 4.2 kilograms.
Winter sleeping bags all have one thing in common: they are large. And the Alexika Canada Plus sleeping bag is therefore not suitable for taking on a motorcycle, bicycle, or hiking without a car.
Conclusion: If you get cold quickly and aren't concerned about the pack size, this sleeping bag is a good choice. The sleeping bag is particularly worthwhile if you go camping for more than a few days.
Advantages
comfortable
plenty of space
great value for money
Disadvantages
large pack size
The best double sleeping bags for camping
Big Agnes Dream Island 15 Double Wide
The Big Agnes Dream Island 15 double sleeping bag is currently one of the most comfortable double sleeping bags on the market.
It features a breathable nylon lining that feels soft against the skin and is a dream to snuggle into. The rectangular shape provides more sleeping space than most sleeping bags. The integrated sleeping pad sleeve ensures that neither camper gets pushed off the bed.
Similarly, the separate hoods and pillow pockets prevent your head from landing on a rough surface. They also help retain warmth in cooler nights.
Considering its quality features such as YKK zippers and the reliable brand name, the Dream Island 15 is affordable and one of the best sleeping bags for camping with a partner.
The only downside is that the Big Agnes Dream Island 15 is heavy, so it's better to pack it in the car.
Advantages
Very comfortable
Reasonable price
Durable fabric
Suitable for use in temperatures below 0 °C
Disadvantages
currently none
---
Coleman Hampton Sleeping Bag
The Coleman Hampton is a lightweight summer sleeping bag for two adults or multiple children. The comfort temperature is 6 °C outside temperature, making it suitable for late spring to early autumn.
What I particularly like about this sleeping bag is the pleasantly soft flannel lining on the inside. It feels almost like a real duvet. Inside the sleeping bag, there are small pockets with Velcro closures on the left and right sides.
The ZipPlow zipper prevents the zipper from getting caught and ensures easy opening and closing. You can open the sleeping bag from both sides, so you won't disturb your partner when getting up.
The sleeping bag can also be completely opened and used as a blanket. A practical stuff sack is included.
Advantages
affordable
cozy
spacious
---
Teton Sports Mammoth Queen Size Sleeping Bag
The Teton Sports Mammoth double sleeping bag is another product specifically designed for cold weather camping. The interior lining of this queen size sleeping bag is made of a soft and comfortable poly flannel fabric.
TETON Sports Mammoth 0F Queen-Size Double Sleeping Bag; Warm and Comfortable for Family Camping
COMFORTABLE FAMILY SLEEPING BAG: Soft lining; Zipper and shoulder draft tubes keep the warm air in; Unzips on each side and the bottom for easy access; Innovative fiber fill for warmth
NEVER ROLL YOUR SLEEPING BAG AGAIN: TETON provides a great compression sack for stuffing your sleeping bag; Start at the bottom and stuff the bag in, then tighten the heavy-duty straps
SIZE DOES MATTER: Double sleeping bag is longer and wider than queen-sized mattress; 94x62 inches (239x157 cm)
SLEEP WARM: Fluff your sleeping bag and use a camp pad to sleep warmer; Hang loops for long-term storage to maintain maximum loft
TETON SPORTS PROMISE: Reach out to our AMAZING product support team if you have any questions or concerns; YOU CAN COUNT ON US to get you taken care of and back OUTDOORS with TETON Sports
136,17 €
View Product
Its double-layered construction, combined with thermal reinforcement, creates a pleasant warmth inside the sleeping bag. The synthetic fiber insulation and mummy hood are designed to trap air and keep you warm between temperatures of -1 °C (comfort) and -18 °C (extreme).
With a weight of just over 7.2 kg, you certainly won't be carrying this sleeping bag around in a backpack. However, for camping weekend trips and winter road trips, the Teton Sports Mammoth is an affordable sleeping bag. It is also available in a range of attractive colors.
The only downside for me was the stuff sack: I had a hard time compressing the sleeping bag to the appropriate size, so I ended up getting a larger one.
Advantages
Ideal for winter camping
Very spacious
Affordable price
---
Kelty Tru Comfort Doublewide 20
Equipped with two integrated blankets and a shared hood with drawstring, the Kelty Tru Comfort Doublewide provides a comfortable sleep in temperatures as low as -7 °C.
The oversized hood allows plenty of space for your favorite pillows from home, and the CloudLoft insulation keeps you warm.
With the separate blankets, you can regulate your temperature so that no camper wakes up with icy toes.
The large front zipper can be opened from both sides, while the Comfort-Tuck zipper system keeps cool drafts out.
The sleeping bag is extremely spacious, making it suitable for campers over 1.80 meters. And if you have children, the sleeping bag is not only great for two adults, but also for two adults and one child.
One small drawback of the Kelty Tru Comfort Doublewide is that, unlike the other double sleeping bags on this list, it does not have loops for attaching sleeping pads.
Advantages
Features two separate integrated blankets
Comfortable for tall campers
Reasonable price
Plenty of room for children
Disadvantages
No sleeping pad loops
Things to consider when choosing the best sleeping bags
Types of Sleeping Bags for Camping
As you can see from my list, I divide it into three categories: single sleeping bags for regular seasons, single sleeping bags for cold seasons, and double sleeping bags. There are obviously differences, and we will now take a closer look at them.
Single sleeping bags for regular seasons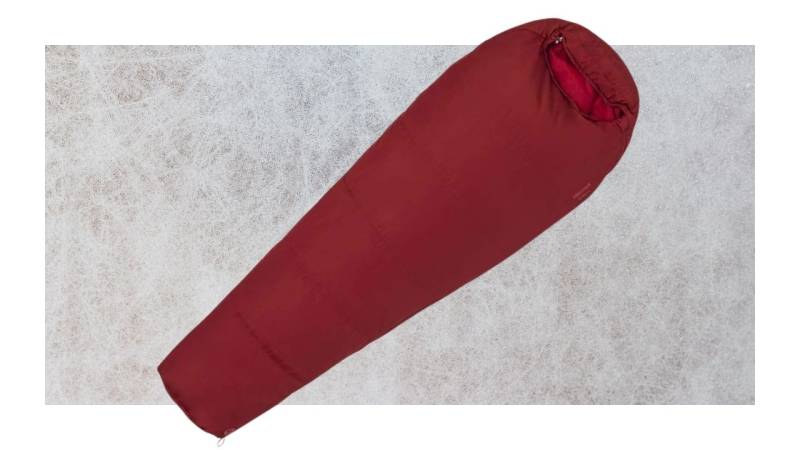 Single sleeping bags are generally more versatile because you don't have one large sleeping bag like with a double sleeping bag. And for the times when you want to get cozy with your camping partner, many single sleeping bags can be connected to form a double sleeping bag.
In addition, sleeping bags for the regular seasons are usually cheaper, lighter, and have a small pack size. On the motorcycle, while hiking or trekking, you will make fantastic progress with individual sleeping bags for regular seasons.
Single sleeping bags for cold seasons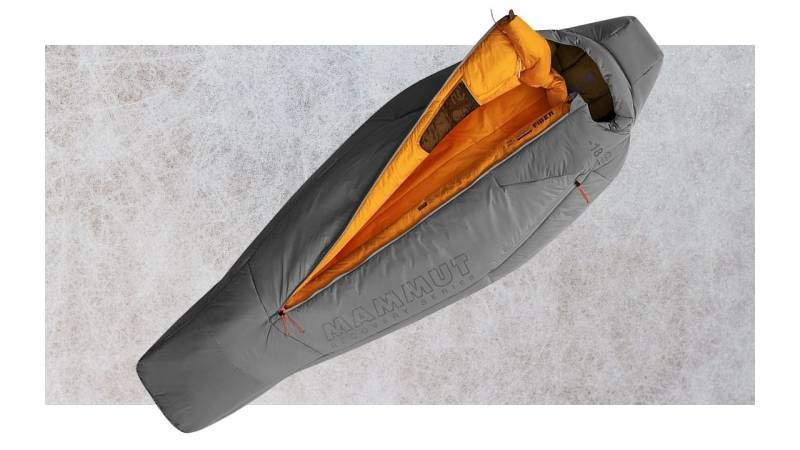 Winter sleeping bags are designed for icy temperatures. If you want to go out in autumn, winter, and spring, grab one of the winter sleeping bags from my list.
One thing should be clear to you: winter sleeping bags are heavy, and the pack size is usually so large that you don't transport the sleeping bag on a bicycle. It is better to transport these sleeping bags by car or camper.
Double sleeping bags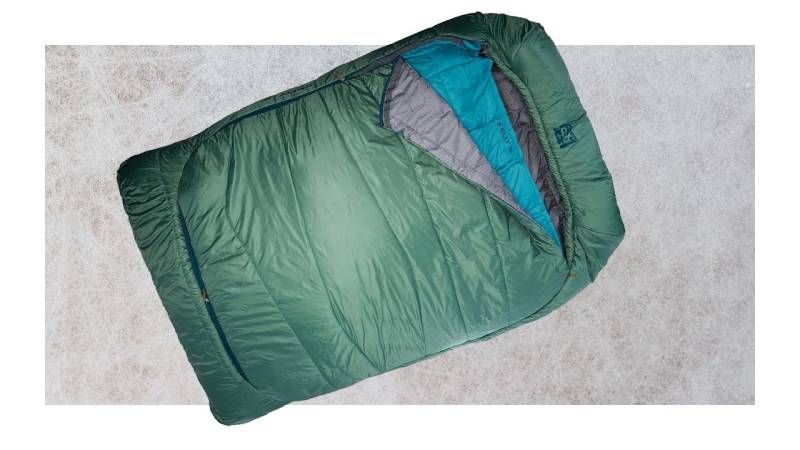 The choice of a double sleeping bag over two single sleeping bags may initially deter many people. But cuddling with your partner at night can add more comfort and luxury to your camping trip. Additionally, sharing body heat can mean that everyone stays warmer.
Double sleeping bags are also preferred by people who want to camp comfortably with their dog. And they are ideal for co-sleeping families. In general, double sleeping bags tend to be slightly lighter and less bulky than two single sleeping bags.
My recommendation for a double sleeping bag is the Big Agnes Dream Island 15.
Types of Sleeping Bags for Camping
Usually, there are two types of filling material in sleeping bags.
I will now briefly show you the differences between down and synthetic sleeping bags:
Advantages of down sleeping bags
Good heat-to-weight ratio
Sustainable material (if sourced responsibly)
Can be packed small
Long-lasting
Disadvantages of down sleeping bags
Not as warm when wet
Expensive
Advantages of synthetic sleeping bags
Insulate even when wet
Dry quickly
Significantly cheaper than down
Disadvantages of synthetic sleeping bags
Not as compressible as down
Heavy
Since weight and pack size are not really a problem when camping with a car, the lower price of synthetic sleeping bags makes them a much more attractive and practical option compared to down bags.
If, however, you are looking for a single sleeping bag for many camping adventures, a compressible down sleeping bag may be the better option.
If sustainability is a concern for you, you should take a look at synthetic sleeping bags made from recycled materials. More and more companies are also heading in this direction.
Read also: How to wash, store, and care for your sleeping bag like a pro
Temperature rating
Almost all sleeping bags can be evaluated based on a standardized temperature class. This is practical because otherwise comparing would be difficult.
Basically, sleeping bags can be divided into four temperature ratings, although manufacturers usually only provide two or three:
Comfort range - the temperature at which an adult woman can sleep comfortably.
Transition range (Limit) - the temperature at which an adult man can sleep comfortably.
Risk range (Extreme) - the lowest temperature at which the sleeping bag can keep an adult woman alive. It is a temperature that also poses a significant risk of hypothermia and frostbite.
Both specifications are standardized according to the EN 13537. The EN13537 standard requires a thermal test for sleeping bags, which provides four temperature results: upper limit, comfort limit, lower limit, and extreme limit.

This means that if you stay within the specified temperature range, you will most likely sleep comfortably in a sleeping bag with a comfort temperature rating.
A sleeping bag that you use near the extreme limit of temperatures will help you from freezing – but you won't sleep comfortably in it.
So be sure to consider the temperature rating when choosing a sleeping bag. You need to carefully think about the temperatures you are likely to camp in before making a purchase.
If you want to be certain, then add a few degrees to the comfort temperature and search within that range.
If you can't find the size information, then refer to the filling. Most manufacturers indicate how many grams per square meter are used for the filling. For example, a filling of 700g per m² is suitable for winter. A filling of 300g per m² is suitable for summer.
Types of sleeping bags by temperature
To further narrow down your search for the perfect sleeping bag, most types of sleeping bags are categorized into one of these three types.
| | | |
| --- | --- | --- |
| Sleeping bag type | Lower temperature limit (ºC) | Upper temperature limit (ºC) |
| Summer | 1.6 ºC | Above 1.6 ºC |
| 3-season | -12 ºC | 1.6 ºC |
| Winter | -20 ºC | -12 ºC |
Sleeping bag shapes
Generally, sleeping bags can be divided into two forms: mummy sleeping bags and rectangular sleeping bags. Let's now take a look at both forms with their characteristics.
Mummy sleeping bags
In general, mummy sleeping bags are better suited for low temperatures than rectangular sleeping bags. They usually have a hood that keeps your head warm.
Mummy sleeping bags are a fantastic option if you're looking for strong insulation and backpacking. They can usually be packed small and keep you warmer in unpredictable temperatures.
Rectangular sleeping bags
These are ideal for camping trips in the summer when high and efficient insulation is not necessary. Most rectangular sleeping bags can also be completely opened and formed into a blanket. This is very useful in the summer.
And many of them can be connected to other compatible sleeping bags to form a double sleeping bag. Rectangular sleeping bags also offer much more space for sleepers who move a lot or want to bend their legs.
---
My ideal scenario is that eventually there will only be one sleeping bag that I can use in both summer and winter. And it should also be big and comfortable enough for me to move around in. Unfortunately, this type of technology has not been developed yet.
However, I hope that you are now smarter than before and that you can narrow down your search much better than before my guide.

Was this guide helpful?
29 people found this guide helpful.
4.87 out of 5 points (30 Ratings)