Back to german article
Making fire in Switzerland: Where is it allowed in the forest and what needs to be considered?
Do you want to light a campfire in the forest in Switzerland? Here you will find all the information about where and under what conditions this is allowed.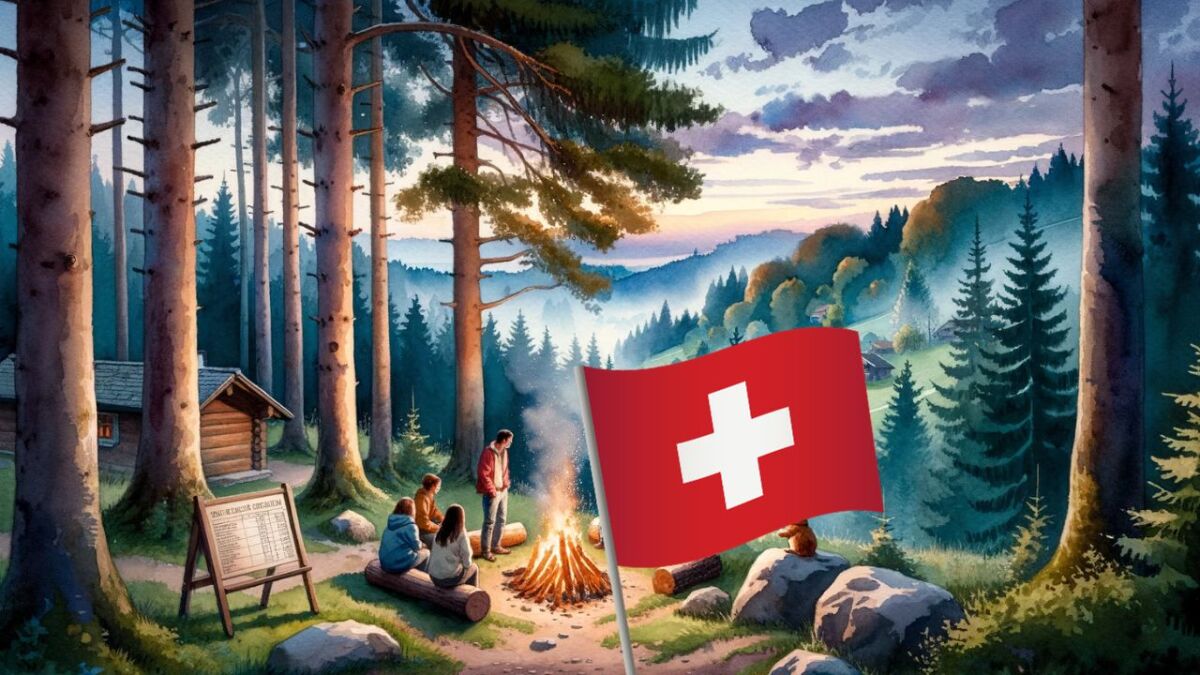 ---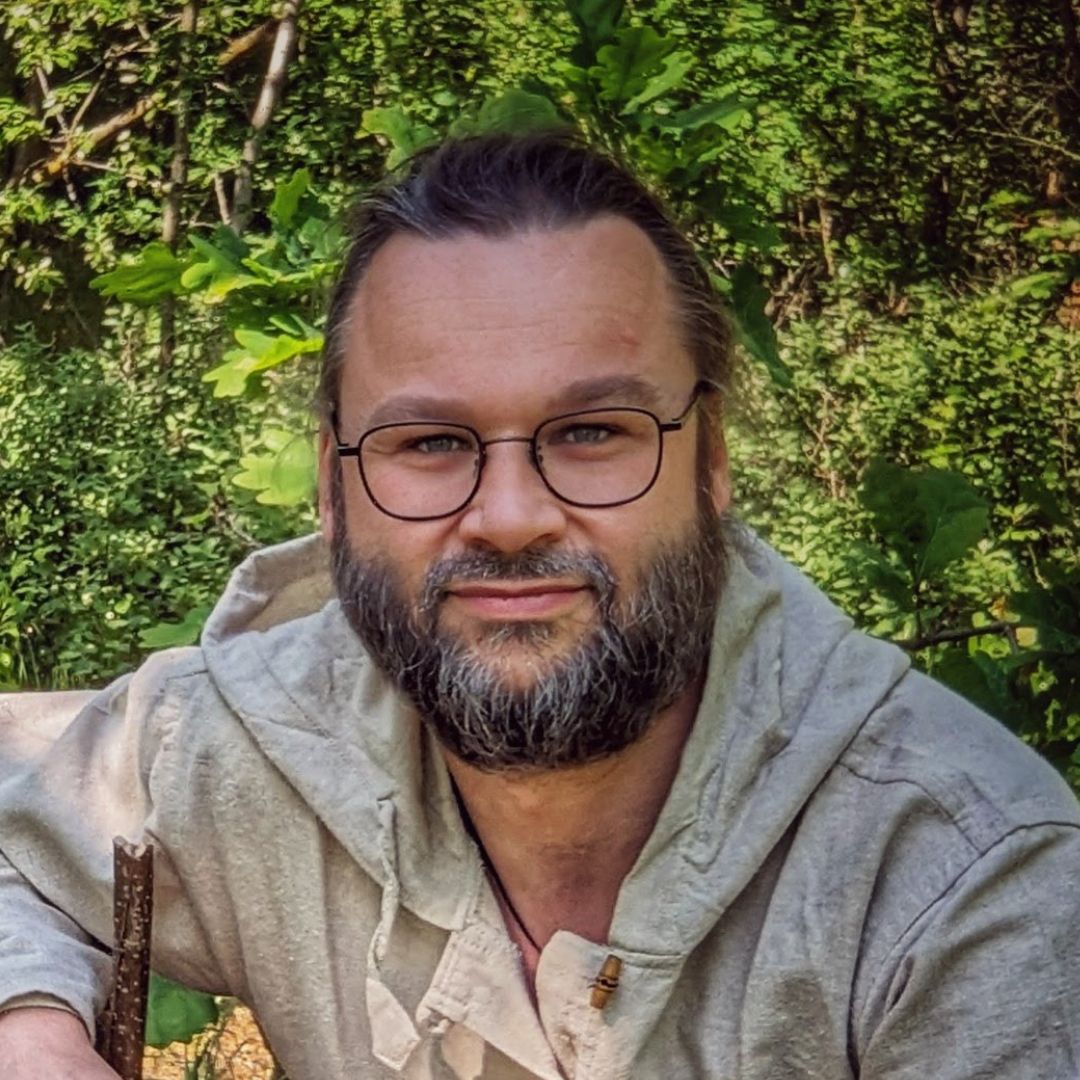 ---
👉 The key facts from this guide
Making fires is generally allowed in Switzerland, but with regionally different rules in the cantons
Always be aware of the risk of forest fires and obey the fire ban
In nature reserves, there is usually a fire ban
Official fireplaces provide the safest framework for making fires
Find out about applicable rules at the location in advance at www.waldbrandgefahr.ch/en/current-situation
Handle fire responsibly and protect nature
You want to light a cozy campfire in the forest during summer, but you're unsure where it's actually allowed.
The last thing you want is to take an unwanted risk of a forest fire or violate local regulations.
The thing is: regulations in Switzerland depend on the canton. In one canton, making a fire may be allowed, but in the next one it may be completely prohibited.
But don't worry.
In this article, I will show you exactly where and how you can make a fire in Switzerland. So you can enjoy your evening without any worries.
Let's get started.
General regulations for making fires in Switzerland
Fire making in Switzerland is generally allowed, but with restrictions. According to the law, consideration must be given to nature and official regulations. Fires must be safely set up and supervised. Particularly important: observe the fire ban during forest fire danger.
The Federal Office for the Environment has made clear statements about this:
"There are no explicit fire bans in the Swiss federal legislation on forests, hunting, or nature conservation. This means that it is generally allowed to make fires."
Sounds good, right?
But be careful, that is only half the truth.
Because making fire in Switzerland is not completely without restrictions.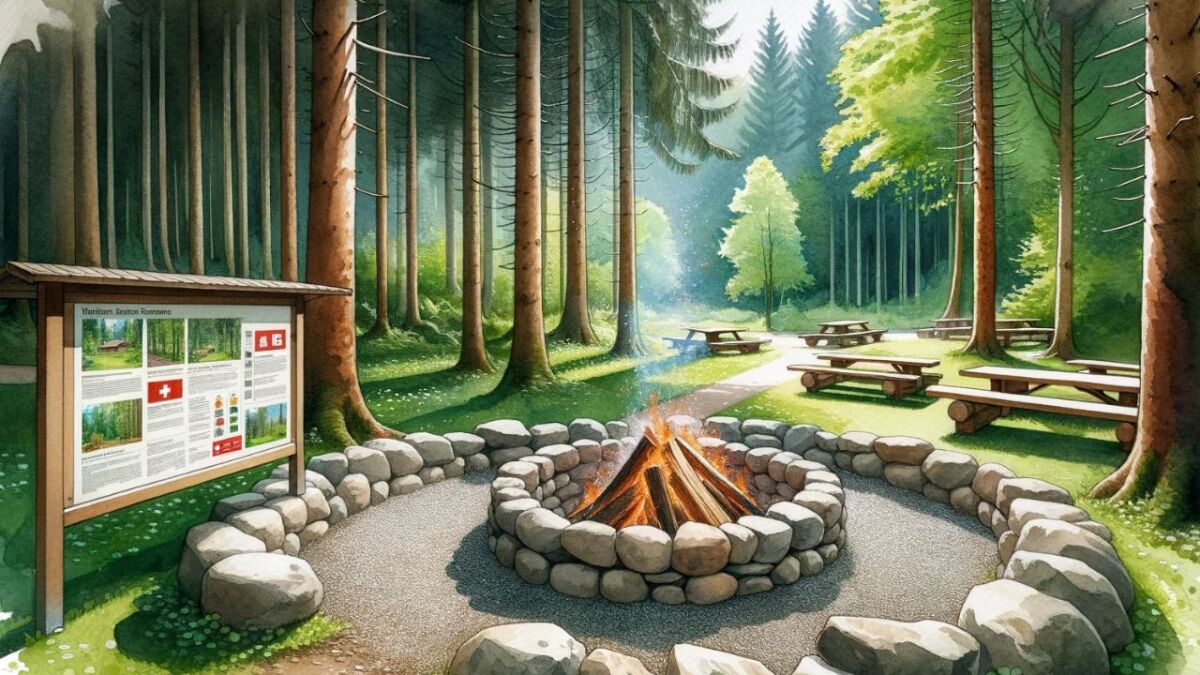 That is also known in other areas of life: Where there are rights, there are also obligations - and where there are possibilities, there are also limits.
In order for everyone to adhere to the rules of the game, there are also certain requirements and rules here. And as a responsible outdoor enthusiast, you should definitely know and follow them.
Restrictions and regional regulations in Switzerland
When it comes to making fire, the detail is the specific regulation on site.
Because although there are no explicit fire bans at the federal level, cantons, and municipalities can indeed establish their own rules.
Two important things:
The Federal Office for the Environment informs and warns in cooperation with the cantons.
The cantons are responsible for taking measures. The cantonal regulations are decisive.
An important point right from the start: If there is a risk of forest fires in an area, making a fire is, of course, prohibited.
And in some parts of Switzerland, unfortunately, there is often a high to very high risk of forest fires. Therefore, it is recommended to always stay informed about the current danger situation.
You can best view this on the website https://www.waldbrandgefahr.ch/de/aktuelle-lage.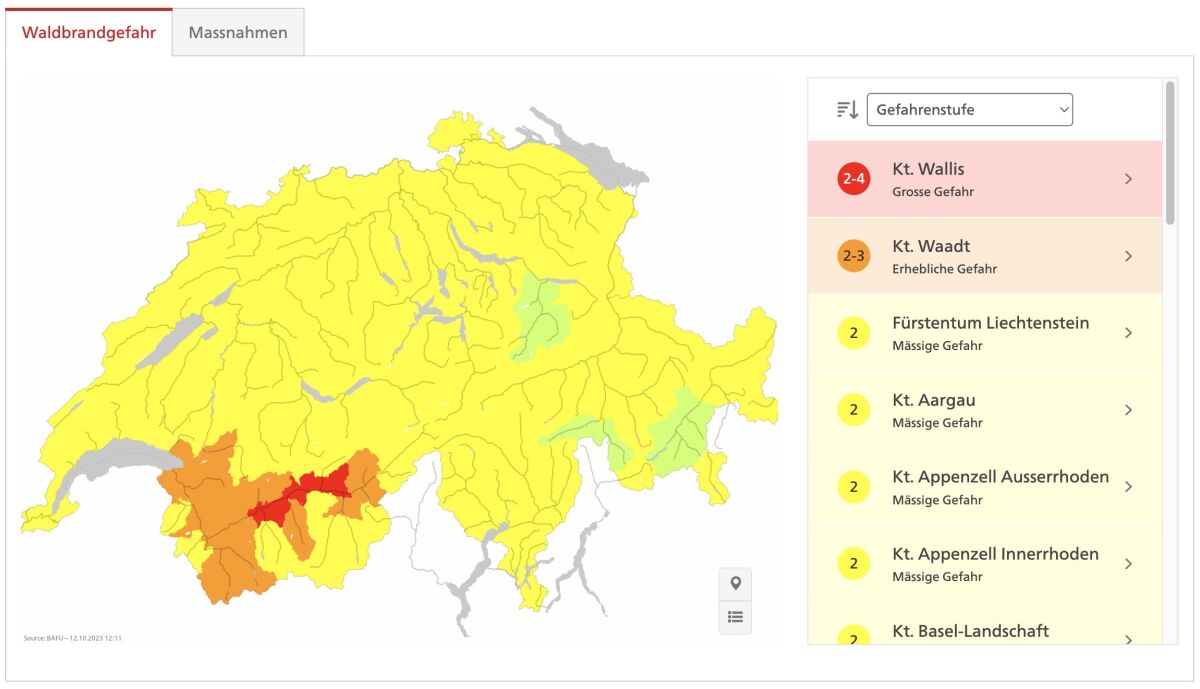 Under the tab Measures, you will find further information about the cantons, such as "Fire is only tolerated on fixed fireplaces, always with the appropriate caution". And you will also find a date since when the measure is active.
I think: It couldn't be better in terms of clarity. It is clearly visible what is allowed or not in each canton.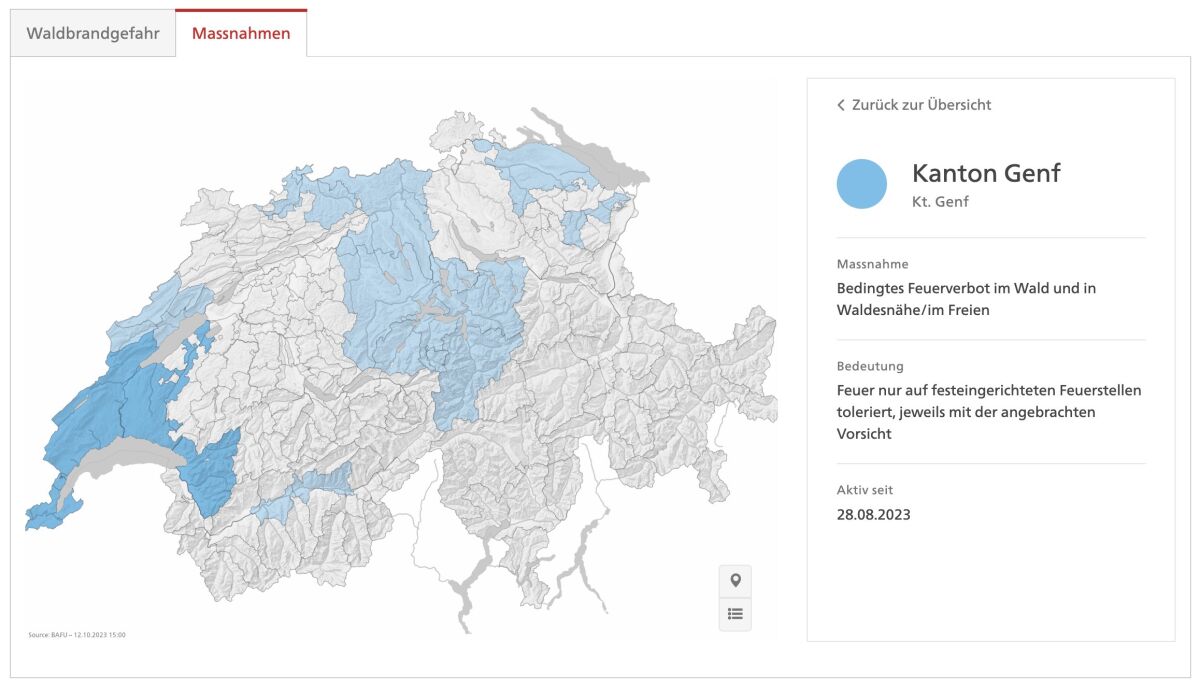 The Role of Nature Reserves in Switzerland
If you find yourself in the midst of the majestic splendor of a nature reserve, you must be aware that special rules and restrictions apply here.
Fire making is regularly strictly regulated or even completely prohibited in these valuable habitats.
This has an important reason: The biodiversity of our Earth is a precious asset. Each of us can help to preserve the unique diversity of species.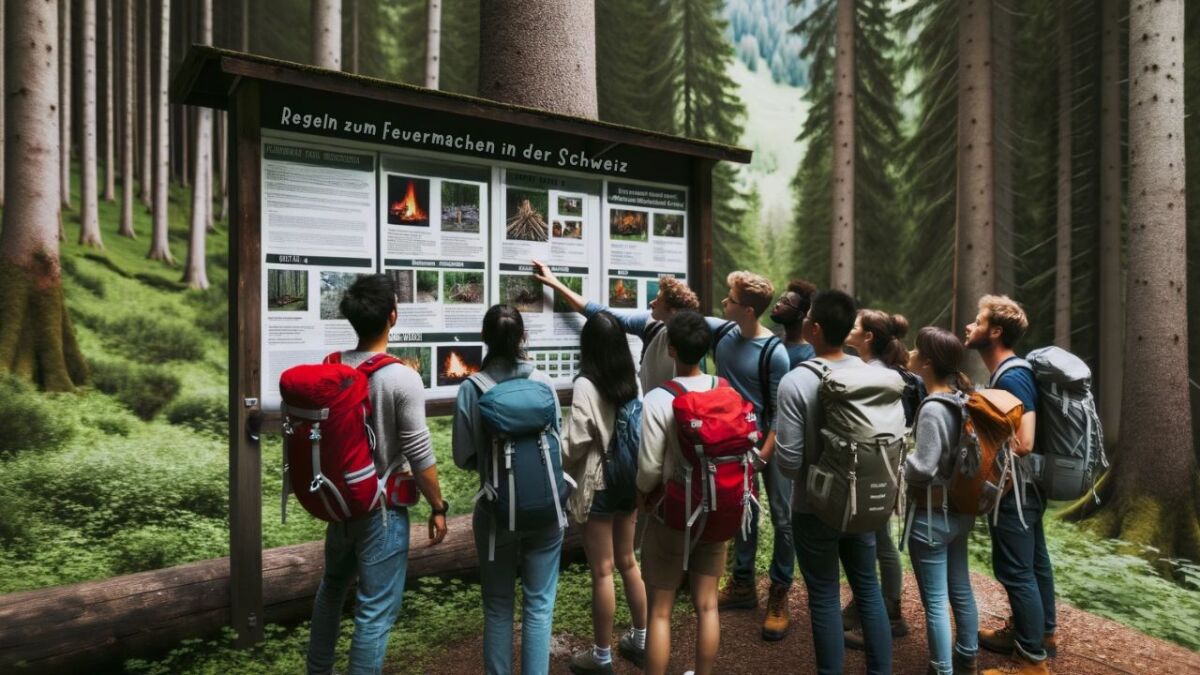 However, it is important to observe and comply with the respective protective regulations.
Always remember: The fireplaces we leave behind are often much more noticeable and lasting than the fleeting pleasure that the fire provides us.
So let's work together to ensure that the wonderful Swiss nature can continue to shine just as brightly in the future as it does today.
Only make a fire when you are sure it is allowed and does not pose a danger to nature.
Are you ready to take on this responsibility?
Then let us together master this challenge. Because our nature deserves our full respect and protection.
Forest Fire Danger - Understanding and Acting
Okay, now we have discussed the general legal framework and local differences.
But there is another essential aspect that we absolutely need to look at: the forest fire danger.
Forest fires are one of the biggest threats to Swiss forests and therefore also to the quality of life in Switzerland.
A small fire can quickly turn into a catastrophe here under the wrong conditions. That's why you should always be aware of the current forest fire danger.
In Switzerland, there is an official warning system for forest fire danger
This system is based on different levels of danger, ranging from 1 (very low) to 5 (very high) (source here). Various factors are considered, such as current weather conditions, soil moisture, the amount of dead wood on the ground, and much more.
Here is a brief overview:
Level 1 - Very low danger: Fires in the forest and at forest edges are allowed.
Level 2 - Moderate danger: Be cautious when making fires in the forest and at forest edges, watch out for flying embers!
Level 3 - Significant danger: Fires in the forest and at forest edges only at designated fireplaces. Control fireplace fires!
Level 4 - High danger: General fire bans may be issued!
Level 5 - Very high danger: Outdoor fires are generally prohibited!
You can easily check the current danger level on the website waldbrandgefahr.ch/de/aktuelle-lage.
And remember, the weather conditions can change quickly, and so can the level of danger.
Therefore, always be prepared and inform yourself online at home or via app before lighting your fire.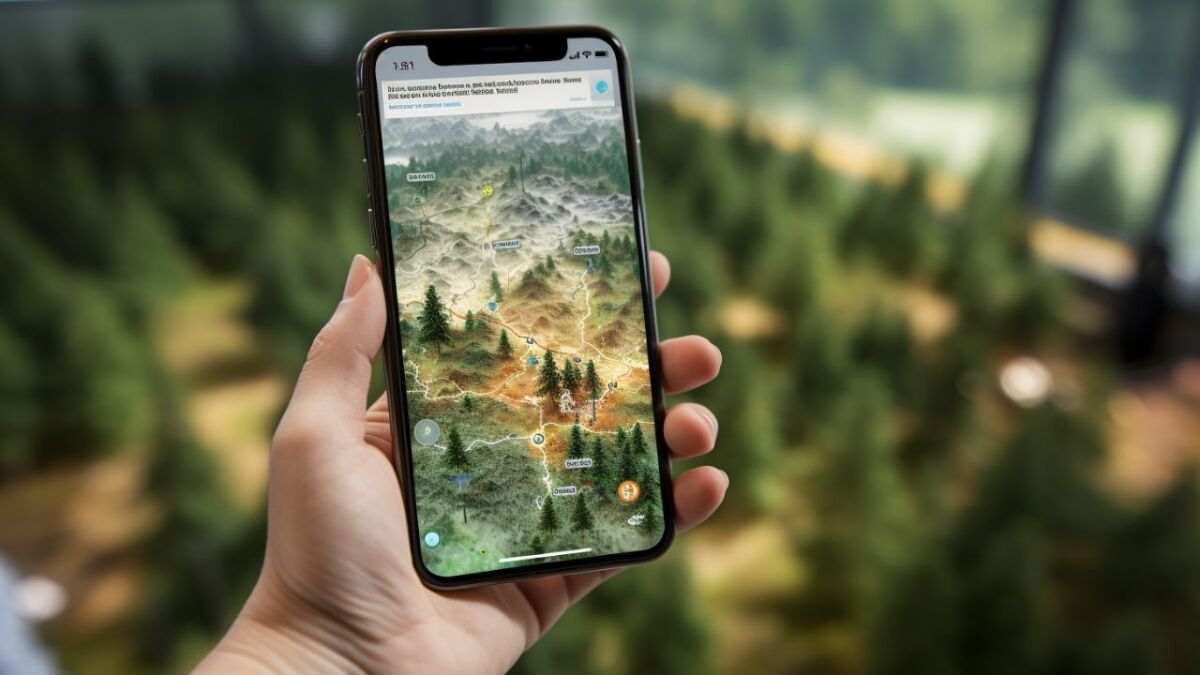 The role of official fire pits and barbecue areas
In addition to the rules for making fires in the great outdoors and the information about the risk of forest fires, there is another important point you should know: the official fireplaces and barbecue areas.
Anyone who has ever made a fire or gone grilling in Switzerland knows: There are many official barbecue areas.
But what makes an official barbecue area?
Is it just a space with a grill grate and an ash container? Or are there other criteria?
Here you should know that an official barbecue area or fire pit is designed to contain the fire safely and can be used in the surrounding area without any concerns.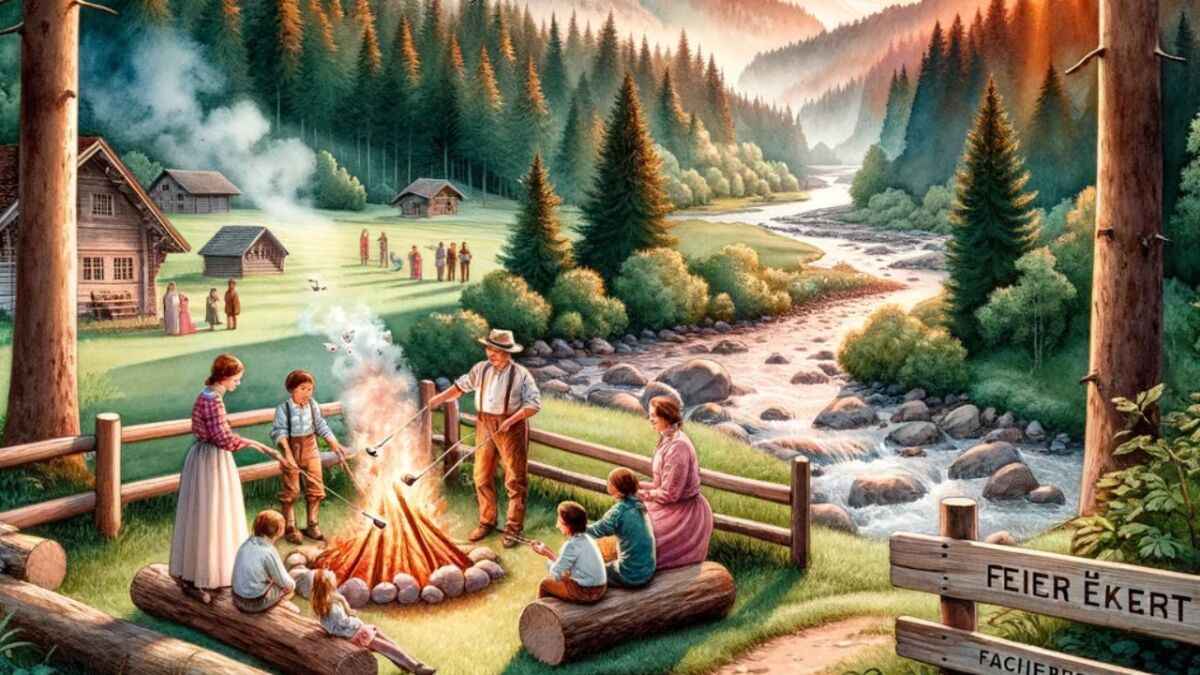 It is therefore a suitable option if you are unsure whether you are allowed to make a fire at your current location or not.
In Switzerland, there are many of these official fireplaces. The fireplaces of the "Schweizer Familie" are particularly well-known - more than 571 are spread throughout Switzerland.
They offer an excellent opportunity to grill safely and comfortably with wood supplies, grill grates, and even tables and benches.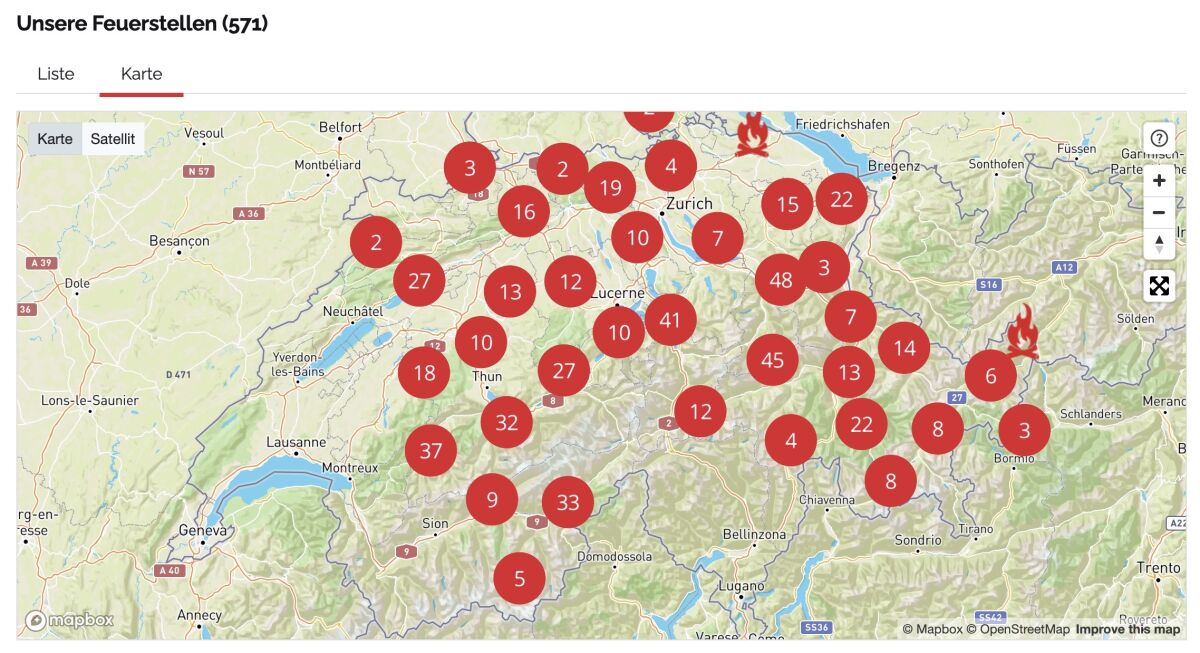 The characteristics of an official fire pit in Switzerland
First: An official fire pit is more than just a place where making a fire is allowed.
These are designated places specifically designed to provide you with a safe and enjoyable grilling and campfire experience.
Typically, you can recognize an official fire pit by the following characteristics:
Existing infrastructure: At an official fire site, you often find certain infrastructure. This can be a grill grate and an ash container, but also tables or benches can indicate that you are at an official fire site.
Clearly defined spot: An official fire site is clearly delimited and defined. So you recognize it by the fact that the place for making a fire is clearly separated from the rest of the surroundings.
Signs: At many official fire sites, you will also find signs that, for example, indicate the rules for making a fire or provide general information.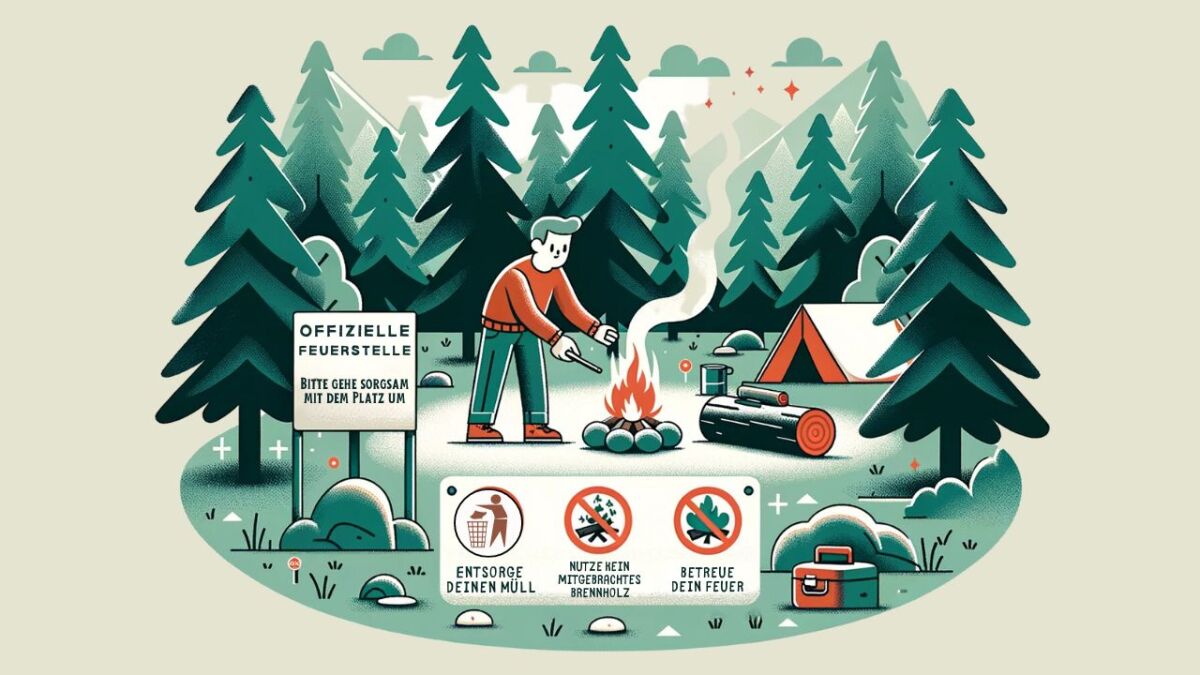 My advice for you:
Making fire is a wonderful thing. It creates a cozy atmosphere and just feels good.
But especially in a country like Switzerland, where the forest plays such a big role, it is particularly important to handle fire responsibly and carefully.
Always comply with current laws and regulations and stay informed about the risk of forest fires.
Only in this way can it be ensured that our beautiful forests are preserved for future generations.
Now it's your turn.
Choose your spot, make your fire, and enjoy the experience.
But always with respect and responsibility.
And then there's nothing standing in the way of your next campfire adventure in Switzerland.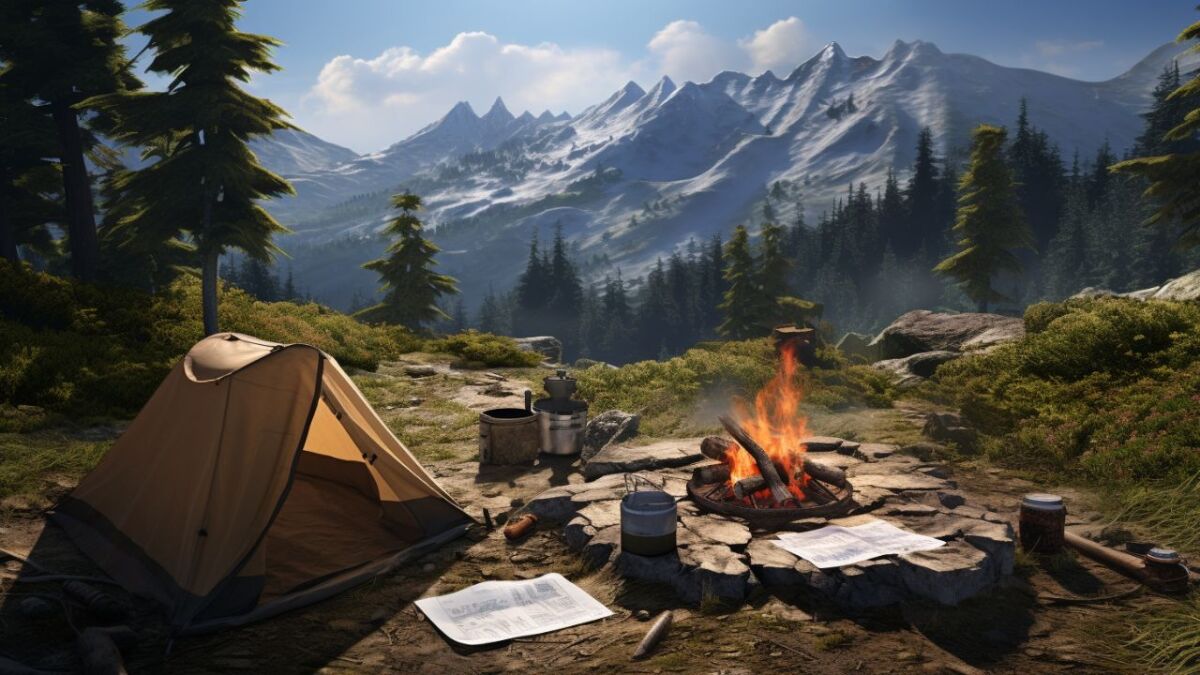 Final Words: Respect for Nature in Switzerland
Making fire is a great thing. It connects us with nature and with our most primal instincts.
But it also requires responsibility and respect. Respect for nature, animals and plants, but also for our fellow human beings.
Using an official fire pit is always a good decision.
It provides you with the safety when making a fire and is designed in a way that you also do not unnecessarily endanger nature.
So go out into nature, find your perfect campfire spot in Switzerland, and enjoy the experience.
But always do it with respect and responsibility. Only then can we ensure that future generations will still have the opportunity to experience the freedom and adventure that making fire in Swiss nature brings.

---
Sources for the guide

https://www.naturgefahren.ch/home/umgang-mit-naturgefahren/waldbrand/gefahrenstufen.html

https://www.srf.ch/sendungen/kassensturz-espresso/services/espresso-aha/espresso-aha-wo-ist-feuer-machen-im-wald-ueberall-erlaubt

https://www.waldbrandgefahr.ch/de/aktuelle-lage

https://www.schweizerfeuerstellen.ch/

https://www.20min.ch/story/darf-ich-ueberall-feuer-machen-und-braeteln-500370232812

https://wetteralarm.ch/blog/feuerverbote-waldbrandgefahr-schweiz.html
Was this guide helpful?
12 people found this guide helpful.
5.00 out of 5 points (12 Ratings)