Back to german article
What do you need when camping with a dog? (with packing list for your dog)
Camping is one of the most flexible forms of vacation ever. But with a dog in your luggage while camping, there is a lot to consider and prepare.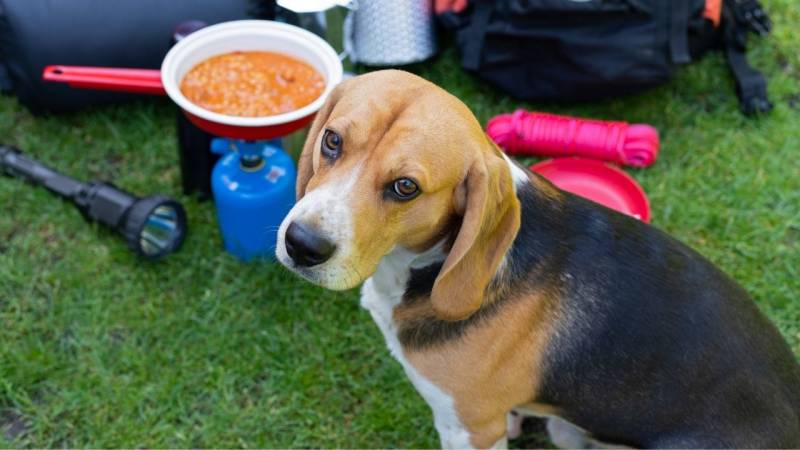 ---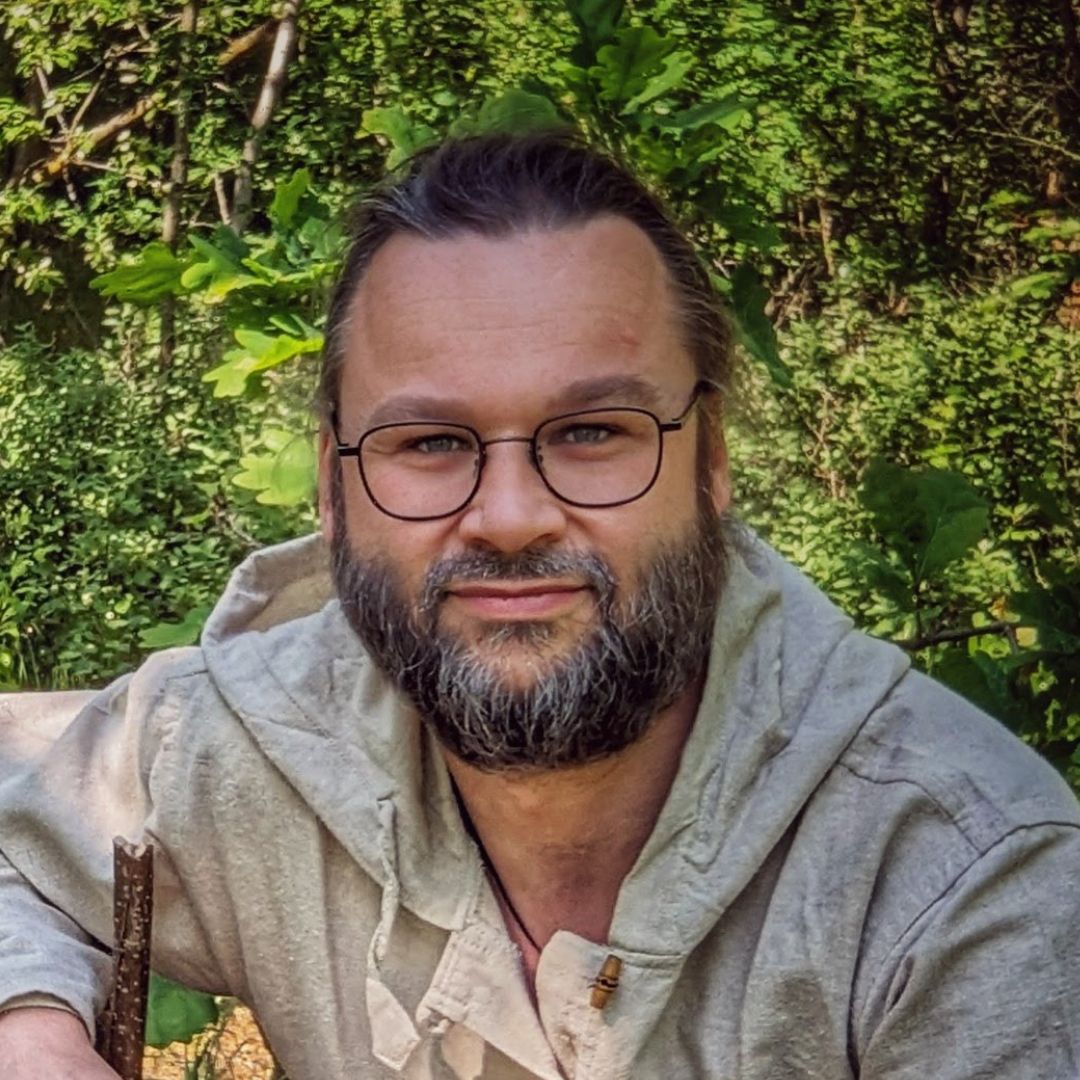 ---
👉 The key facts from this guide
Inform yourself about entry requirements and documents for your dog in the travel destination
Check if dogs are allowed at the selected campsite
Ensure sufficient exercise and green space for your dog at the campsite
Pack the basic equipment for your dog, such as a leash, food, and toys
Decide whether your dog sleeps in the tent or in its sleeping place
Stay with your dog during thunderstorms and ensure its safety and calmness
In many hotels, dogs are not allowed, and you probably don't want to subject your little furry friend to a flight anyway.
Doesn't a camping vacation sound just right? Camping is one of the most flexible forms of vacationing. But with a four-legged friend in tow, there is a lot to consider and prepare.
Basically, when camping with a dog, you need to check the entry requirements of the country and bring all necessary documents. Furthermore, you should find out if your dog is allowed at the campsite. Lastly, you need to remember the basic equipment, such as a leash and food.
So that you and your furry companion can have a wonderful time in nature, here's what you have to consider when camping with your dog.
Read on now and check out my packing list for your dog.
Planning and what you have to consider
Tent and clothes are packed, and you can actually start right away. However, it's not that simple with a dog in tow. Depending on the travel destination and country, you must inform yourself about the prevailing entry requirements.
Furthermore, you need to find out if dogs are allowed at your chosen campsite.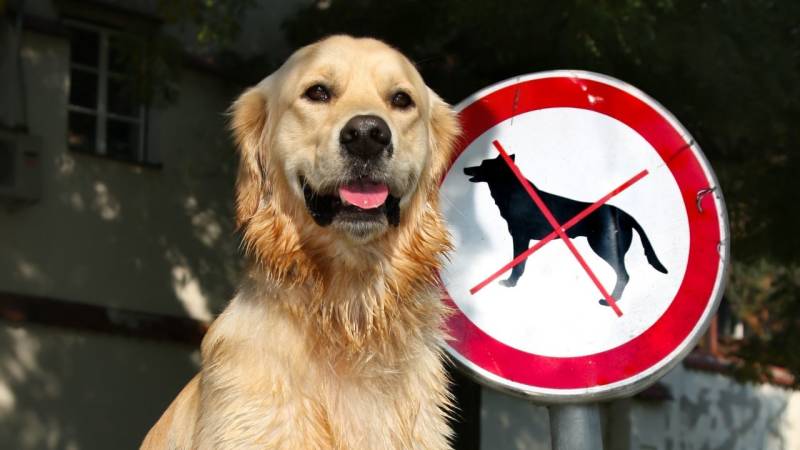 Many countries require specific vaccinations, an identification card, and a microchip. In addition to the entry requirements, you also need to ensure sufficient safety during the journey. You have the option to secure your dog directly with a seat belt or transport him in the car using a crate.
During long car rides, you have to consider that your dog will probably need more breaks than you. So make sure to take breaks every two hours. Furthermore, provide enough water for your dog and let them relieve themselves.
Are dogs allowed on the campsite?
In most cases, dogs are actually allowed on the campsite. However, it's better to ask again before the trip. But just being allowed to bring your dog is not enough to make your furry friend happy.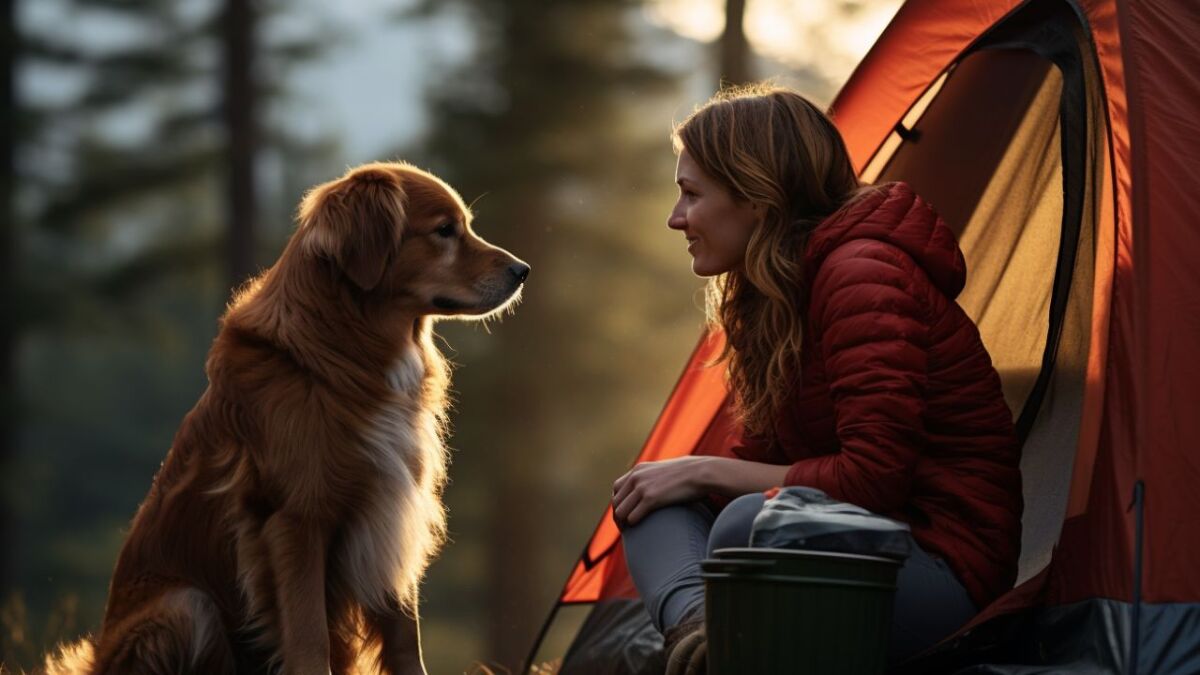 Therefore, when choosing a campsite, make sure that your dog has enough space to run around and that there is plenty of grass available. Sometimes, campsites even have dedicated dog areas with toys or even a course.
A campsite that allows dogs and is a paradise for your four-legged friend is usually not too luxurious. However, if you don't mind that, then nothing stands in the way of your adventure vacation.
The packing list for your dog
Packing is typically the greatest challenge. After all, your dog probably cannot gather his stuff himself.
For entry:
EU pet passport
Travel documents
Vaccination record
Dog tag
Proof of liability insurance
The basic equipment:
Dog collar or harness
Dog leash or long line
Emergency leash
Reflective collar (as it is dark at night on the campsite)
Toys
Food and water bowl
Poop bags
Travel first aid kit for the four-legged friend
Towels for dirty paws
Can opener
Food
Treats
Foldable bowls for on the go
Brush
Blanket or other sleeping option
Just don't forget to pack the food for your four-legged friend and don't be too stingy with it. Often, dogs may not accept different food. So it's better to pack a little more than too little.
Moreover, you have to keep in mind that you will be outdoors all day. Your dog will probably need more food anyway than at home.
Dog in the tent - yes or no?
No matter if you're traveling with a tent or a camper - you will quickly realize that space is limited for everyone. So if you don't already own a camper, it's better to get a slightly larger vehicle. The same goes for a tent.
Also, you have to be aware that you will be carrying more stuff on vacation with a dog than without. By the way, everything should be able to be stored properly.
But how is the sleeping arrangement now? In nice weather with summer temperatures, many dog owners choose to let the dog sleep in front of the tent or camper. This provides the advantage that you have more space and at the same time, a watchdog.
Reading tip: Do you want to buy a tent? Then read this ultimate guide to tents first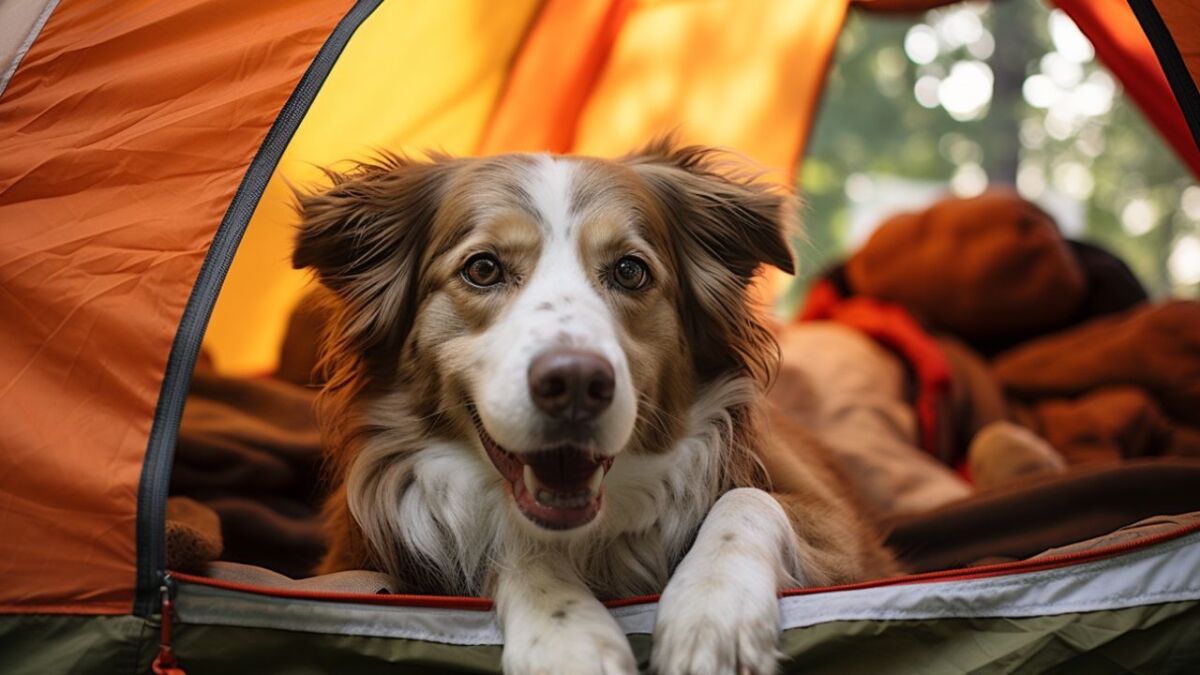 If you would rather not do that, you can also simply take your four-legged friend into the tent. But be aware that wet dogs can smell, and your four-legged friend is not protected from flatulence either.
However, the time spent together in close quarters will only bring you and your four-legged friend closer together.
However, a tent with an awning is best suited. This way, you ensure that your dog also sleeps in a dry place and everyone has their privacy.
However, there are also special tents for dogs. These are slightly smaller and can be set up separately. However, you must consider the temperature - whether the dog sleeps in your tent or in its tent.
On hot days, you should ensure sufficient ventilation, and on cold nights, provide extra warmth. It's best to have an additional blanket with you to cover your dog if necessary.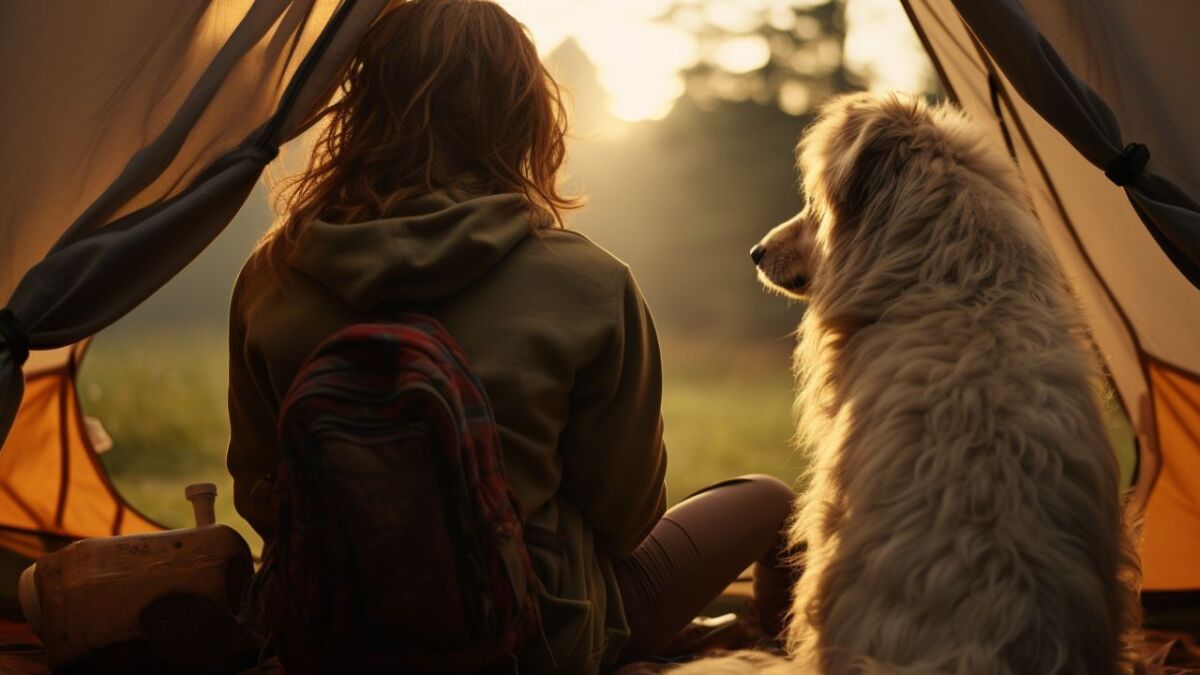 What to do during a thunderstorm in a tent with a dog?
It is well known among many dog owners that a thunderstorm always triggers panic in dogs. Often, the four-legged friends hide in secluded corners of the house. But what does this situation look like on the campsite?
Make sure not to leave your dog alone, especially during a thunderstorm, and keep an eye on them. Panicked reactions may cause your dog to break free and run away.
It's best if you go with him into a building or the car. With gentle strokes and treats, you can calm him down a bit in most cases.
Read also: Is it dangerous to camp during a thunderstorm?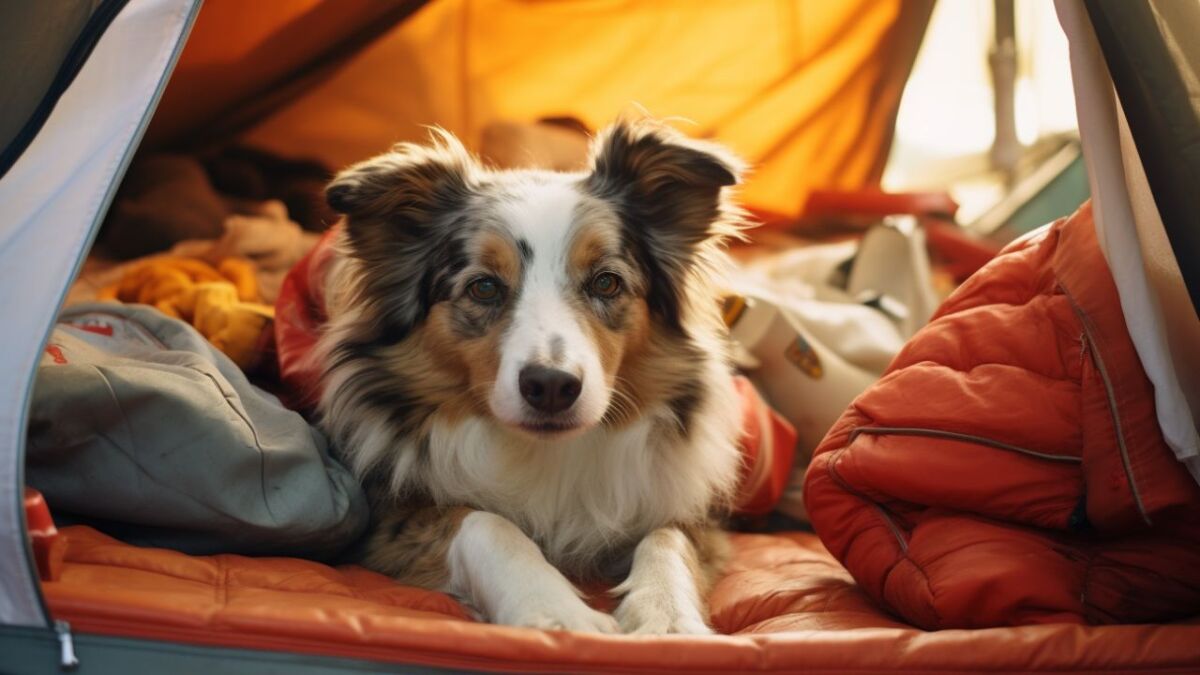 Summary: Camping with dog is great
If you take your dog camping, make sure to bring all necessary documents (such as vaccination records, etc.).
Furthermore, you should get basic equipment for your dog. Make sure to include his food and his familiar treats.
If you are well-prepared, there is not much standing in the way of your adventure.
I wish you a lot of fun with your favorite, and you are welcome to tell me in the comments how your camping trips with your dog are going.

Was this guide helpful?
4 people found this guide helpful.
5.00 out of 5 points (4 Ratings)