Back to german article
Tent Buying Guide: Everything an Outdoor Lover Needs to Know to Find the Perfect Tent
Choosing the right camping tent can be a challenge. Therefore, read this buying guide about tents which will answer your questions about tents.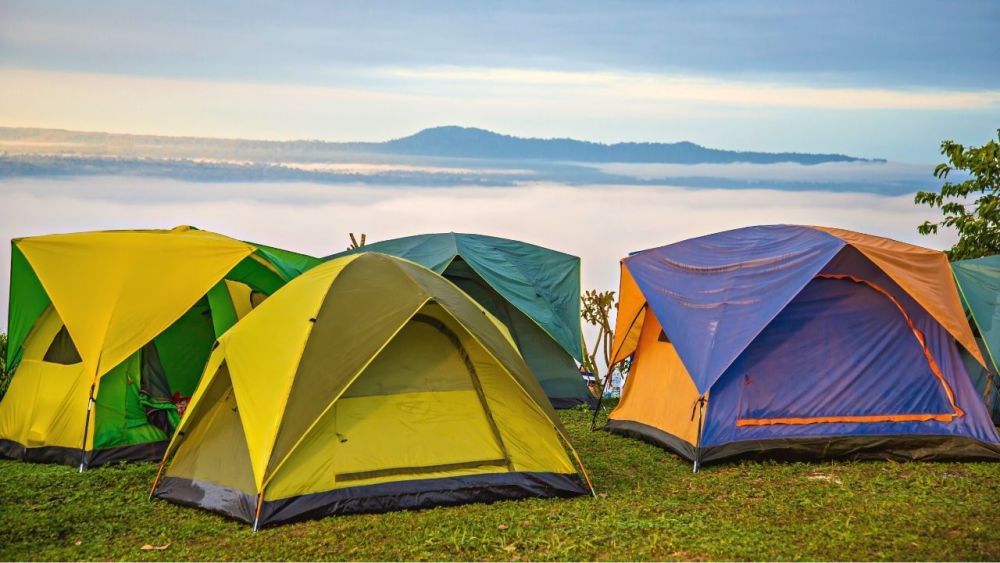 ---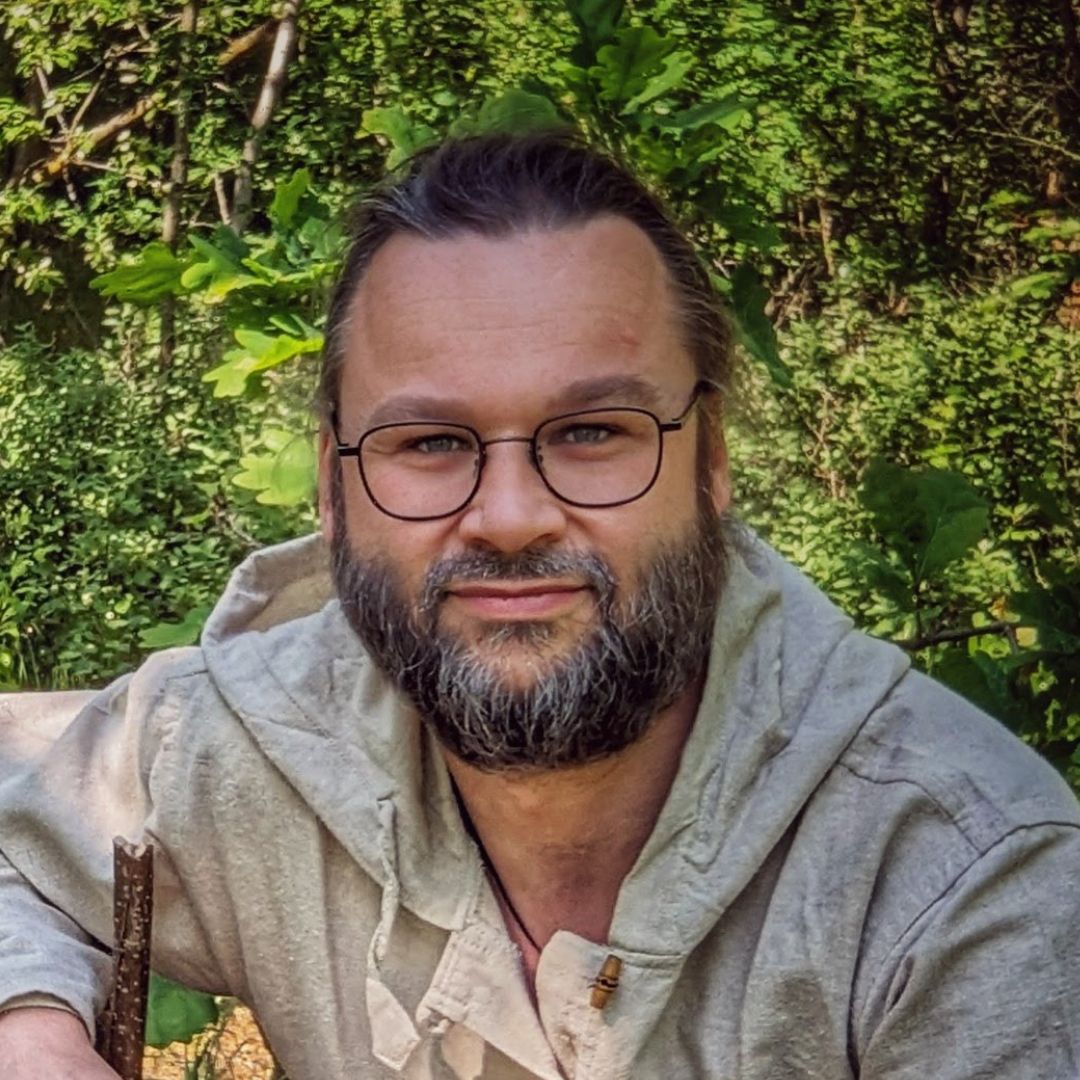 ---
👉 The key facts from this guide
Before you buy a tent, you should consider how often you will use it, how many people will sleep in it, and whether you will need to carry it. These factors will influence the type of tent you need.
The climate zone in which you will be camping also plays a role in choosing the tent. Some tents are better suited for certain weather conditions than others.
The cost of a tent can vary greatly depending on the quality, size, and brand. Consider how much you are willing to spend based on your needs and how typically you will use the tent.
Ventilation in the tent is important to avoid condensation and moisture inside the tent. Look for tents with good ventilation openings.
The features of the tent, such as the number of doors and windows, the shape of the walls, and the layout, can affect the comfort and convenience of the tent.
There are different types of tents, such as traditional tents, pop-up tents, family tents, and instant tents. Each type has its advantages and disadvantages that you should consider.
Camping is not only a popular leisure activity during the holidays, but all year round.
Whether you throw the fishing rod into the water and camp by a river or set up the tent at a campground, camping can be an adventure.
Unfortunately, choosing the right camping tent can sometimes be a challenge.
Therefore, in this article, I have put together a buying guide for tents that will answer your questions about tents.
Among other things, the types and designs, the advantages and disadvantages of the different tents and styles, as well as questions one should ask oneself.
In this guide, we will cover pop-up tents, pitching tents, overthrows, family tents, roof tents, canvas tents, and more.
What to consider when choosing a camping tent
There are numerous tent brands, tent sizes and designs, tent types such as flysheets, trekking tents, instant tents, prices, various qualities, features, and more.
To narrow down your selection at the end of the guide, we will now go through a few questions one by one.
This narrows down the selection and makes it clearer what kind of tent you need.
Here are some questions about it:
How often is the camping tent used?
Are you an enthusiastic camper who goes away most weekends to go fishing? Or do you explore the wilderness in remote locations and set up your tent there?
Or do you only use the tent once a year to set it up for the children's birthday party in the garden?
The fact is: If you go camping regularly, you should get yourself a quality tent.
You don't have to spend a fortune, but it will wear out, so a branded tent should be the right choice.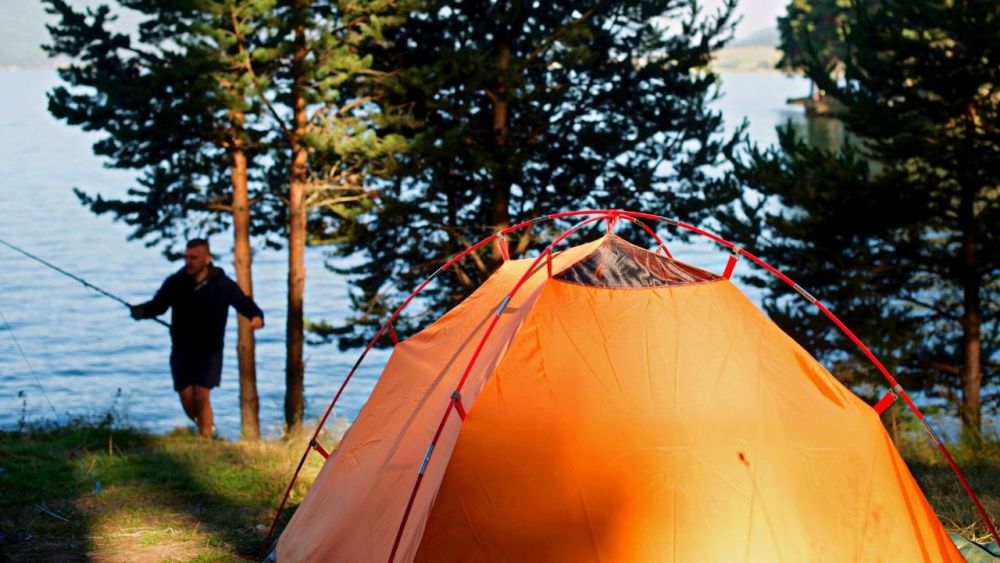 The constant setting up and packing away of the tent can be tiring. So if you camp every free minute, a tent with instant setup might be worth it for you. It saves a lot of time, especially if your leisure and fishing time is very valuable to you.
Or when you go camping with the kids, you spend less time setting up the tent (and curse less) and have more time to explore the wilderness.
If you only camp occasionally, a cheap tent is sufficient.
Since you may only use the tent a few times, a cheaper tent from the discount store may be sufficient.
Your task: Think carefully about how often you want to use your tent.
How many people will sleep in the tent?
This question can be very tricky. Even though tent manufacturers claim that the tent is suitable for so many people, most of them do not consider that people do not really want to be crammed together like sardines in a tent.
In addition, campers want to store some clothes, pillows, and sleeping mats in the tent. This means that the specified six-person tent only provides enough space for three people.
In addition, different tent brands have different standards, which makes comparison difficult.
But a rough rule is to take the sleeping capacity of the tent manufacturer and halve it. So, a 10-person tent can accommodate 5 people with equipment.
I have, among other things, been using the Skandika Egersund Tunnel Tent for my family. It is advertised for 5 people, but we, two adults and two small children, have completely occupied the tent. I can't imagine that 5 adults could sleep in there for several days and store equipment.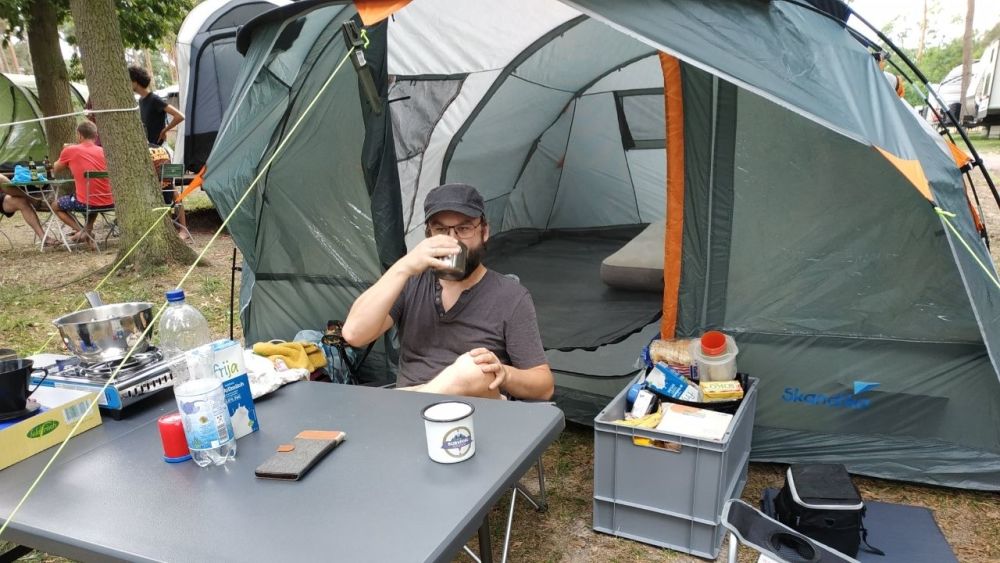 Great is when you can see the tent in a camping store - like Decathlon - on display.
Let your beloved partner and children lie down in the tent to see if you have enough space (of course, it will be embarrassing if the children wrestle in the tent and argue in the store about who gets to sleep where).
But it's better than buying the tent and realizing that a 4-person tent is only suitable for 2 people and a little equipment.
If you use field beds or camping beds, they also take up a lot more space. Some inflatable air mattresses also take up a lot of space in the tent, so you should pay attention to what type of sleeping equipment, mattresses, and sleeping pads you use (here is my guide on that).
Unfortunately, with larger tents that offer more sleeping space, weight, and volume also increase. Do you have a trailer or a roof rack where you can store the tent, or will it be packed in the trunk of the car?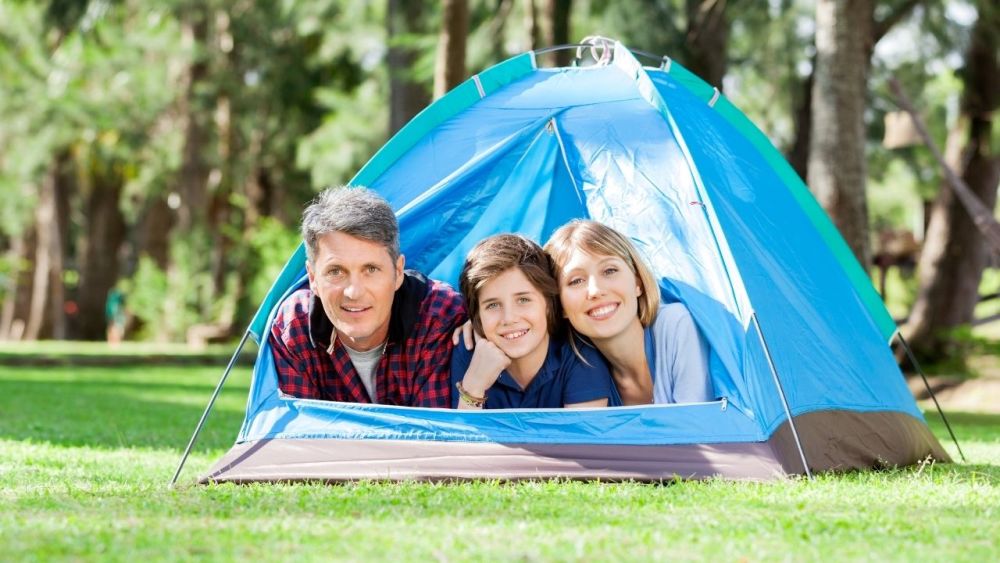 When camping in a small, cramped tent in hot weather, it's no fun - you just want to get out. So, it's worth thinking about how many people will be sleeping in the tent with gear.
Larger tents may have separate rooms. Some good tents have zippers on the partition walls, so you can open the tent into one large room. Or you can zip up the zippers to create separate rooms. This is also convenient if you want to change clothes or check for ticks.
Your task: Think about how many people will sleep in the tent and store their equipment. Assume that the information provided by tent manufacturers is often exaggerated.
Are you hiking with a tent?
Do you have to carry the tent over a long distance? Is your car nearby or are you hiking ultralight for kilometers? Or do you arrive at the campsite and grab the tent from the trunk of the car?
The tent weight is essential for hikers, but not as much for car camping.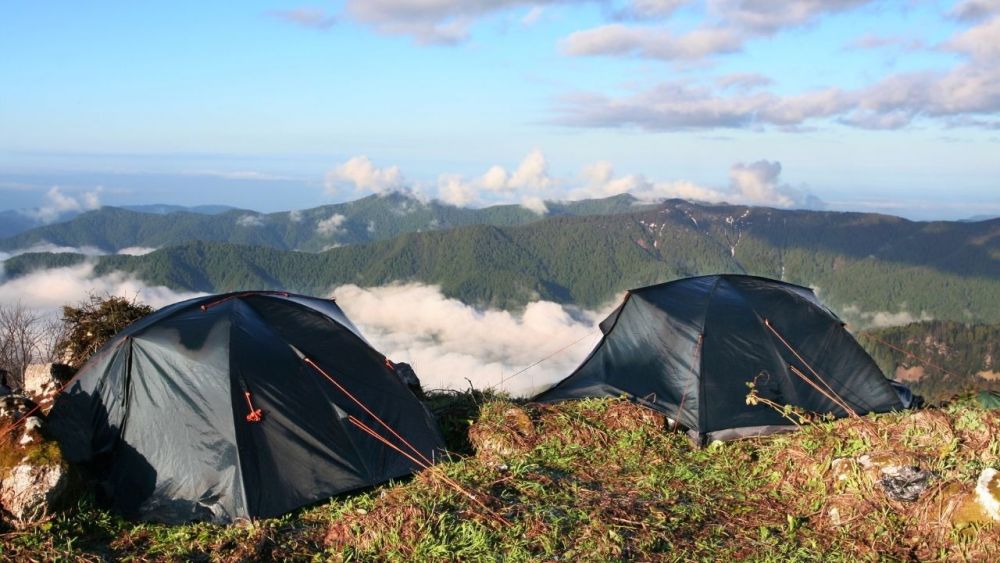 Obviously, larger family tents will be heavy. Tent materials like canvas and steel poles will be heavier than a new lightweight tent material and poles of the modern age.
If grandpa still gets his tent out of the basement, you can almost be sure that it will be heavy.
Another thing to consider when using roof racks on your vehicle: Some larger tents can become extremely heavy. Therefore, check the load capacity of your car roof.
If you are adventurous while camping and, for example, traveling by bike or canoe or doing bike packing, then the weight of the tent is also a crucial factor.
Your task: Determine whether you are traveling by vehicle, bicycle, or on foot. Heavier tents are not always more stable. Lightweight materials are often just as strong and durable.
Which climate zone will you set up your tent in?
Do you want to go camping in the Himalayas in winter? Or do you want to go camping in a warm place in Italy in summer?
The location where you will be camping is another factor to consider when choosing a tent.
A wet and windy place requires a sturdy tent so that you don't freeze while camping. A good canvas or polyester material from the better tent brands withstands bad weather better.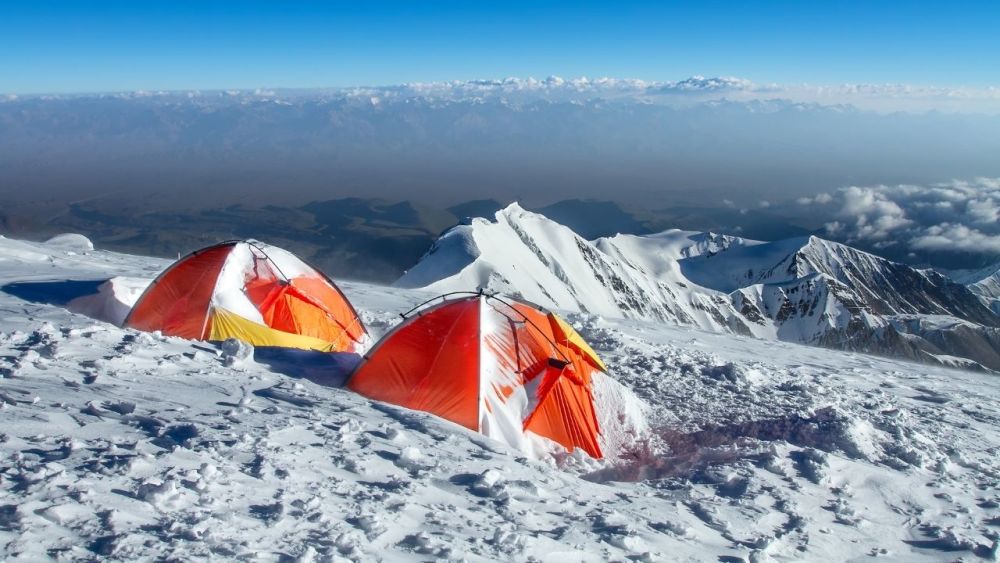 Some tents also have an outer tent. In a two-part tent with an outer tent, the outer tent is placed over the mesh fabric of the main tent and the tent floor, and the outer tent protects the tent from rain. The mesh fabric of the main tent provides breathability and air circulation, while the outer tent protects the tent from the elements.
A canvas tent will likely be made from one piece. In windy areas, a heavy canvas helps minimize the wind that shakes the tent.
A cheap tent of low quality can be torn apart by the wind and has more problems with condensation inside the tent. In a cheap one-piece tent, a lot of moisture can accumulate as it is not well ventilated in hot or cold, humid weather.
In addition, the inferior materials can become leaky. The construction process, such as the seams and the poor design, can also cause water to collect in the tent and make it leaky in wet weather.
Your task: Consider the season and climate in which you are camping.
How easy is it to set up the tent?
Occasionally, there is a screen with a video recording in outdoor stores or a video to watch on online retailers, showing how a specific tent is set up.
The tent manufacturers set up the tent, and you can see what to consider during the setup and how easy it should be. A great advertising idea and these videos are particularly suitable for pop-up and quick-setup tents.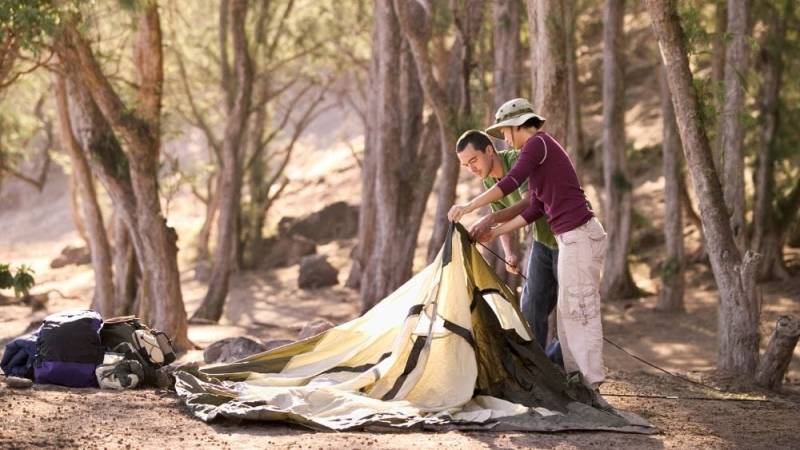 My favorite tents are the quick-setup models. These models can be set up quickly, within minutes or less.
The pop-up tent and the instant tent are well suited if you don't have any helping hands for setting up the tent.
Furthermore, the instant tents save a lot of time and are practical when you arrive at the campsite late at night. Or when it's raining, so you don't get soaked.
One disadvantage of quality tents is that some of them can be expensive. However, the cheaper models can have weaknesses in their connections.
Family tents, on the other hand, are inexpensive but require more time for setup. If you have an extra pair of hands or can spare a little more time, family tents are brilliant.
High-quality poles, tunnel tents, dome tents, and other family tents have proven themselves and are solid. The heavy poles provide stability and withstand even in bad weather.
Your task: Consider how much time and effort you want to invest in setting up the tent.
How much does a tent cost?
We have discussed the quality, size, brands, and type of tent, all of which influence the price of the tent.
Another factor we discussed was how often you will use the tent.
If you only use the tent a few times a year, then one of the best tents may not be worth the money.
If you go camping regularly, then investing in an expensive tent could be worthwhile. The three tents listed below are larger family tents from well-known manufacturers, positioned in the higher price range.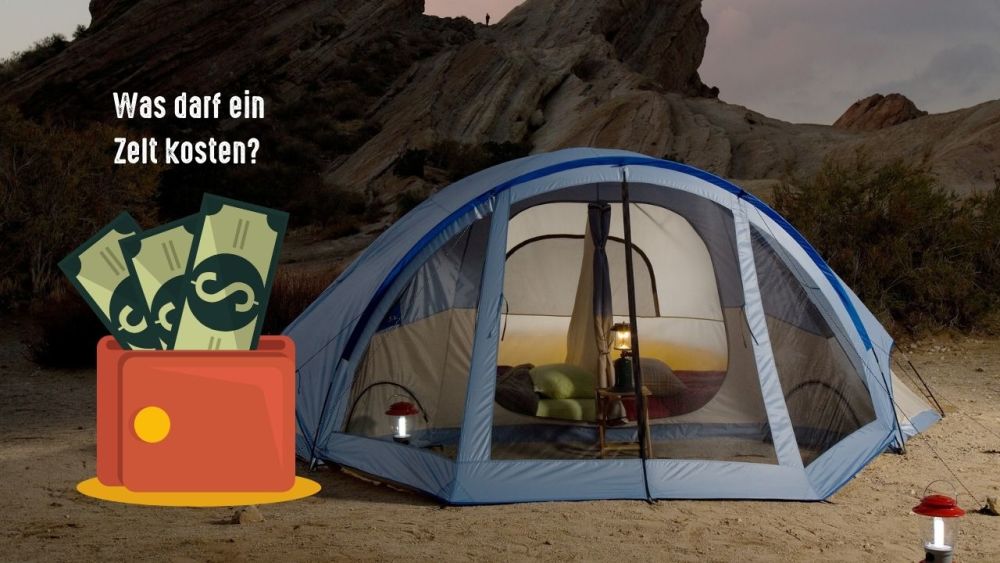 As you may have already guessed, the prices for the tents can vary widely. From the high-end large family tents that can cost over €1000 - to the small dome tents for two people that cost around 50 euros.
If you consider the questions about size, how often you will use it, etc., you can develop a budget for the tent with the best value for money that suits your circumstances.
Between these lower and higher price ranges, there is a variety of tents that are really affordable. It is worth observing the sales days before Easter, Christmas holidays, and Black Friday, etc.
Your task: Rethink your financial situation and consider how much you can and want to spend on a tent.
How should your tent be ventilated?
Have you ever woken up in a damp tent only to find that your sleeping bag is wet because the ventilation is insufficient? If you haven't experienced that yet, then you've been lucky.
If the tent is not properly ventilated or the ventilation slots cannot be opened, it will become wet, damp, and condense in various areas of the tent, depending on the weather conditions in your camping area and other inconveniences. Consider purchasing a tent with good ventilation and a rain fly.
Furthermore, make sure that you can minimize condensation by choosing a tent with large and well-placed ventilation openings.
How should your tent be equipped?
The equipment of the tent refers to how pleasant, comfortable, and luxurious your tent should be. Even tents with the same capacity values are equipped very differently.
Volume - The amount of space in your tent. Sloping walls mean less space (but also less weight).
Floor dimensions - The layout of the floor area. Most camping tents are rectangular, but some are tapered to reduce weight.
Peak height - The highest point of a tent. Use this as a reference for how high the tent is inside.
Wall shape - The shape of a tent's walls is generally the best indicator of its livability. The more vertical the walls are, the more vertical space is available.
Room layout - The layout of the interior space of a tent. Some family camping tents come with room dividers to create separate living areas.
Doors - How many doors do you need? While small families can manage with one door, those camping in larger groups may want a tent with more doors.
Windows - Tent windows offer more than just a view of the outdoors. They also let in light and ventilate the tent. The light coming in through windows can make a tent appear larger.
Ventilation - When you pack many people into a tent, it quickly becomes stuffy. Many camping tents are equipped with mesh windows, ceilings, and doors to allow for improved cross ventilation.
A look at the different types of tents for camping
After discussing some price ranges, tent sizes, sleeping capacities, and the frequency of camping trips, we will now turn our attention to the different types and designs of tents.
Traditional Tents
You may still know this from your parents or grandparents. It usually consists of an inner and outer tent and poles to connect. Then you set up the tent according to the instructions.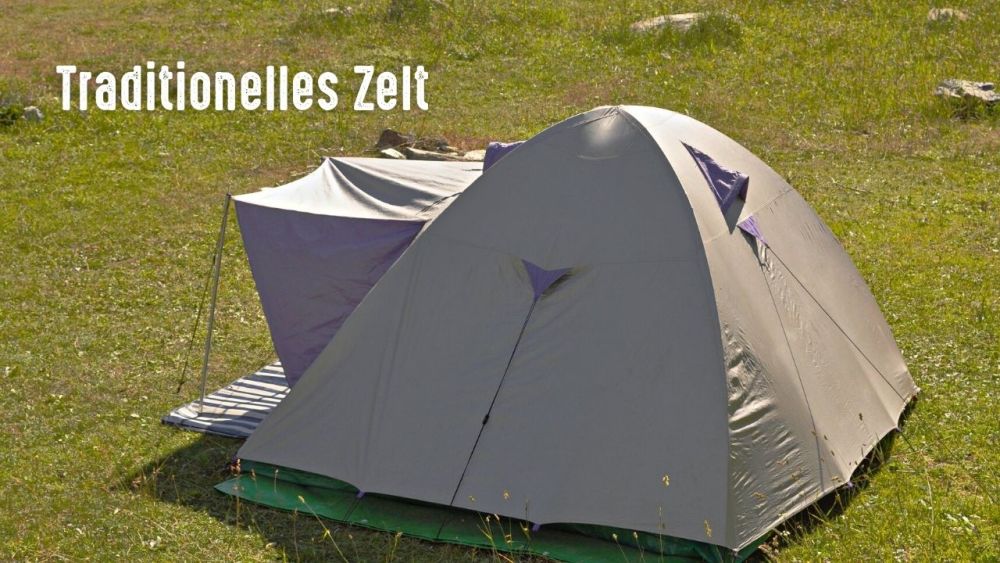 The traditional tent is a good compromise between price and a wide range of sizes. They can range from a sleeping size for two people to spacious tents for twelve people.

Most tents have a separate outer tent that makes the tent waterproof, allows for good ventilation, and prevents problems with condensation during the night.

While they may not be as quick to set up as pop-up tents or instant tents, they are relatively easy to assemble and have a practical design.

These tents are probably the most widely available types of tents, with a variety of brands, sizes, and prices for most campers.
Pop-up tents and instant tents
Pop-up tents are great for quick setup.
Most of them are small dome tents that can accommodate one, two, or three people and can be set up in no time. When you take them out of the carrying bag, they are ready to use and set up immediately.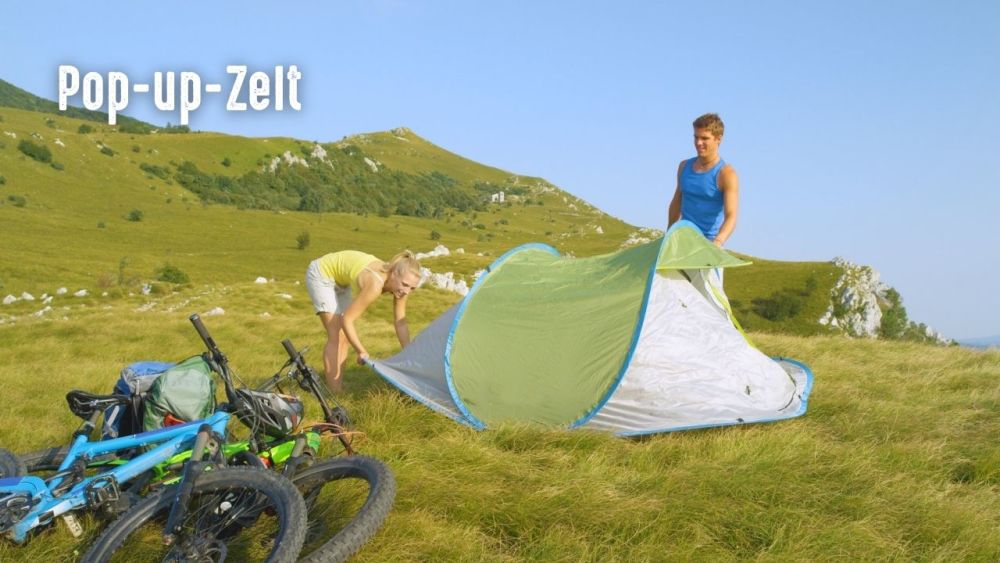 But be careful: I almost knocked over one of my children with a pop-up tent when I took it out of the bag - so be cautious.
Once it opens and is set up, you just need to anchor it in the ground.
I said yes, they are easy to set up, but packing them up is a different story!
You have to turn them in the right direction; otherwise they won't bend and fold together.
Don't do what I did: thinking I can do everything without reading the instructions. In the end, I gave in and studied the instructions.
Speaking of instructions: Be sure to keep them in your tent bag because you don't want to lose them. The better tents have pictures on the carrying bag or are sewn into the tent bag, so you don't lose them.
Pop-up tents are usually lightweight, but bulky when packed on your back for hiking or packing. They can be nice and flat, but still quite round.
Overall, they are great for a weekend camping trip, but the space inside is limited. They are quick and easy to set up, but folding them back up requires some patience.
Pop-up tents are ideal when the children get bigger and there is no longer enough space in the family tent. For a reasonable price, they provide an additional sleeping area and space for the children to set up near the main tent.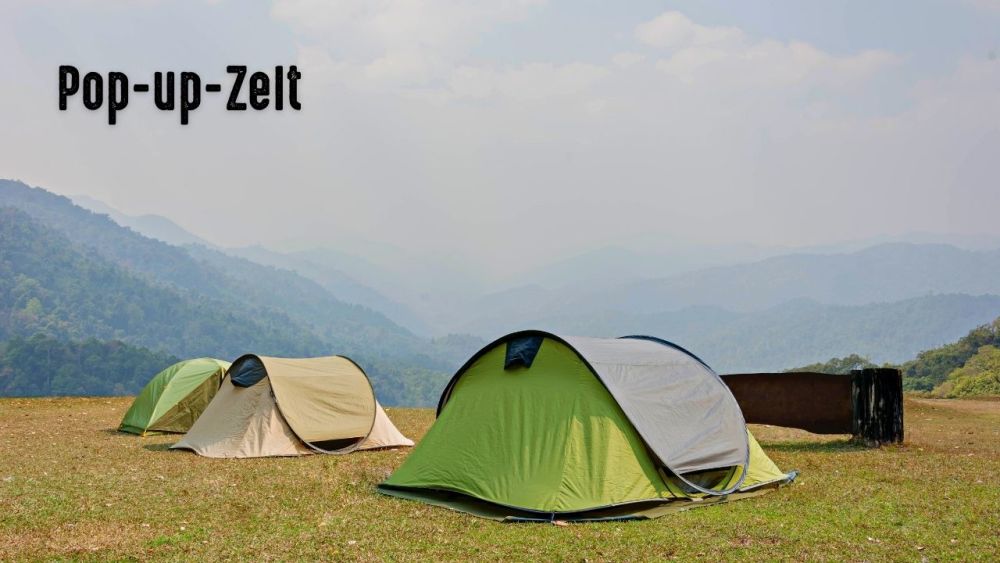 Pop-up sunshades are also ideal for the beach as they can be set up quickly. However, you don't need to buy an extra pop-up tent for sun, wind, rain, flying sand, and mosquitoes - a beach tent is usually better suited for that.
These tents are becoming increasingly popular because they come in a variety of brands, sizes, and prices for most campers.
Larger Family Tents
Some of the best tents in the luxury group are the larger family tents. They offer a lot of flexibility by allowing additional panels or walls to be zipped up to divide the tent into separate rooms or use them as one larger space.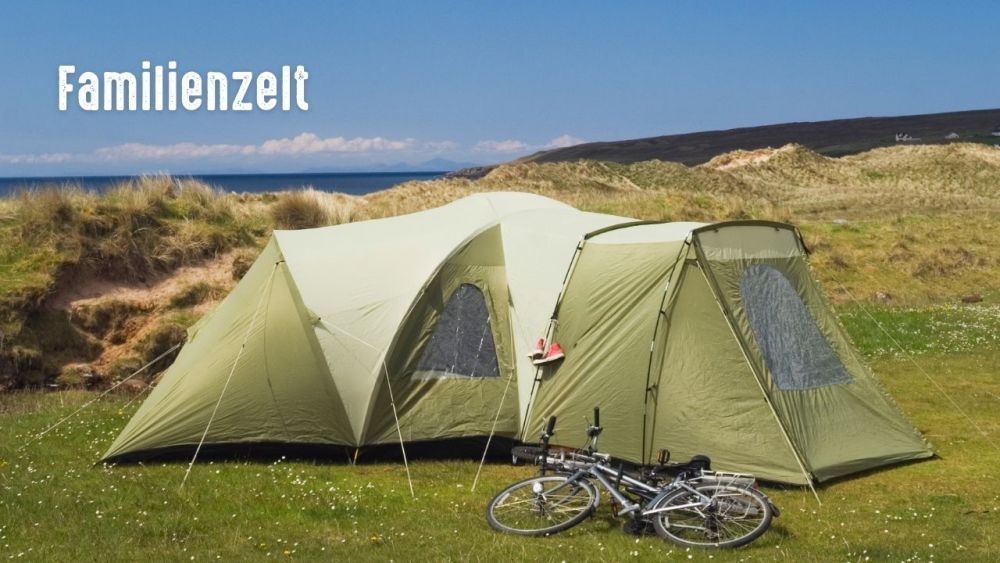 The front areas provide protection to chairs and other camping equipment from the weather. The awnings also provide additional shade in hot climates.
Most family tents are made of good materials, as the larger construction requires stronger walls, roofs, and materials. With more foot traffic, the bathtub floor in quality tents is durable.
If you have a large family or many people in the camping group, a family tent is worth considering.
Although they are heavier and require time and some strength to set up, the additional space and size are worth it for large groups and longer stays.
Quick tents, fast setup tents, instant tents, and second tents
Quick-setup tents are my favorite tents because they can be set up within minutes.
These tents are larger and more durable than pop-up tents, but quicker to set up than traditional tents.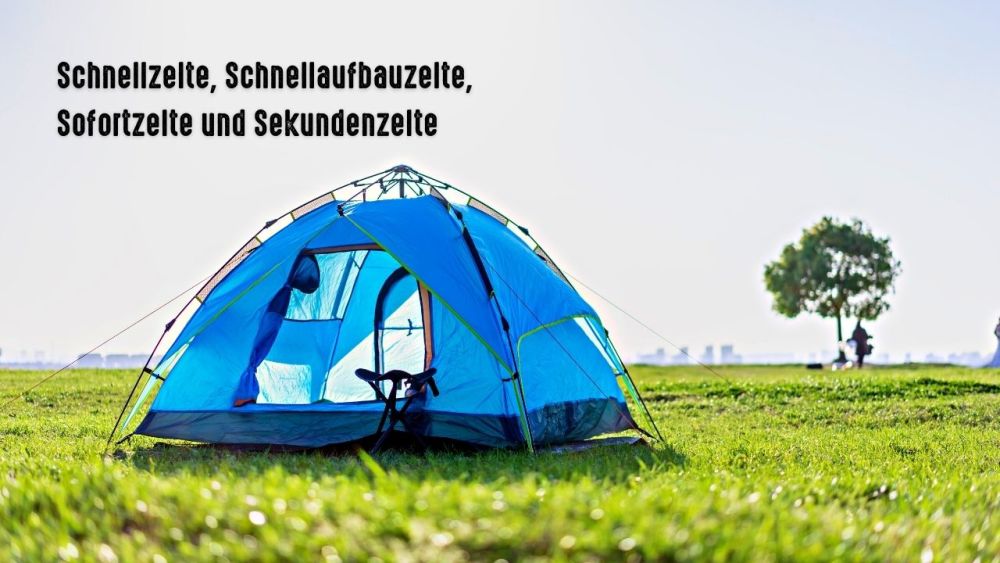 Most have a connected frame that is connected at the joints, and you simply unfold the poles. Then you throw the outer tent over it, drive in the pegs, and you're ready to go.
The more modern instant tents of better quality are almost as stable as the assembly tents.
For an unplanned overnight stay or a planned camping vacation, the quick-setup tent is worth considering.
The tents can be packed down to a reasonable size and are just as easy to pack up as they are to set up.
One disadvantage of quick-setup tents is that they can be pricier for their sleeping size. However, in recent years they have become increasingly affordable and are approaching other types of tents in terms of size and price.
Examples and Recommendations: The "HEWOLF Camping Tent" for 3–4 people can be set up as a dome tent quickly - be sure to check it out. But the "Qeedo Quick Oak 3 Person Camping Tent" is also amazing: unpack, spread out, and it's already set up. Experienced campers can finish in 60 seconds.
Canvas Tents
The older army-style tents do not have a floor. They were heavy, but also very sturdy. The poles are thick and durable, so they withstand strong winds well.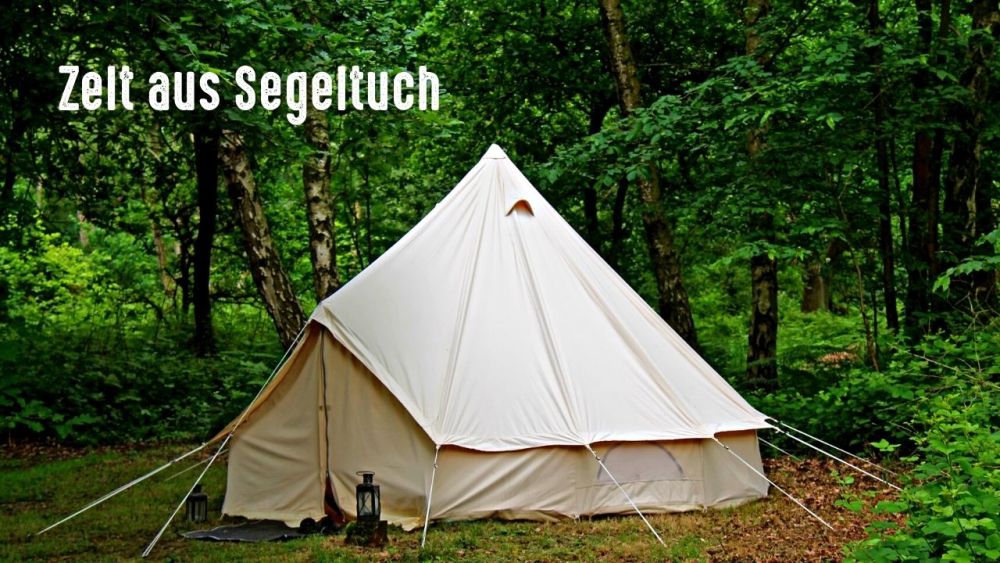 Some newer canvas tents have a built-in groundsheet, these tents are very sturdy and more durable than most materials.
During winter camping, they keep the heat well inside the tent when you use a tent stove. But in the summer, it can get very hot without large windows.
With a good canvas tent, you can go camping for years, and if it is well maintained, it can be passed on to the next generation of campers. Link to article on how to properly set up, clean, and store your tent.
The disadvantage of a canvas tent is that it can be heavy and expensive. The good old canvas tent is a symbol of the old camping scene.
Examples and Recommendations: A good cotton yurt is great for winter, especially when there's a tent stove inside. With the "Sport Tent Tipi-Zelt", you can be sure to get a good canvas tent. The "Nordisk Asgard" is smaller (but weighs less) and is also such a tipi tent made of cotton.
Camping Swags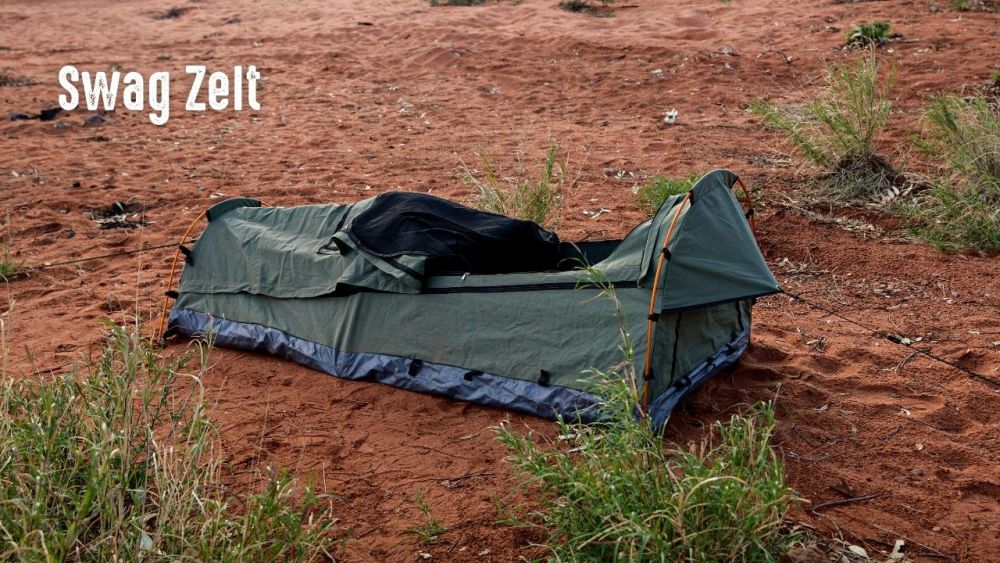 Swags are becoming increasingly popular in the camping scene.
Double swags, single swags, freestanding swags, multiple doors, air vents, and windows with mosquito nets everywhere - the selection is endless today.
The swags from Oztrail, Dune Swags, Boab Swags, Burke & Wills Swags, and Darche Swags are worth checking out.
The advantage of a swag is that the mattress and bedding can be rolled up together. People seem to sleep excellently in a swag.
Due to its small interior, a swag can store a lot of heat in cold areas.
Some of the double swags look more like mini tents.
Despite its popularity among campers, the swag, like most camping gear, has its disadvantages.
Swags are heavy and bulky compared to their small interior.
Swags are not suitable for backpacking trips as they are too heavy.
Swags can be expensive.
Getting in and out of a swag on a rainy day can get you wet.
Changing clothes in a swag is cumbersome.
On hot days, it can become very uncomfortable inside a swag due to the limited space. Even if the air vents are open. Some models are obviously better suited for hot weather than others.
If you understand the many limitations of the Swags, they could be a good choice for you.
Bivvy Bags
The bivvy bags are a great sleeping option for the minimal camper, hiker, or Bushcrafter.
You are basically a waterproof cover that is pulled over a sleeping bag and sleeping pad. Some have a flexible fiberglass pole. Others are designed with a storm flap that is pulled over the head area.
Some bivvy bags have an insect protection net in the hood.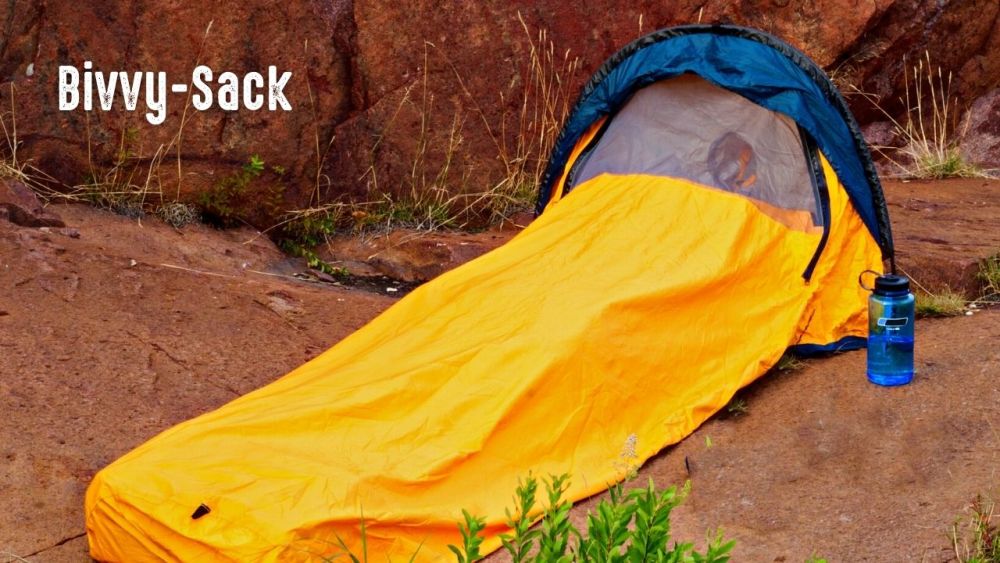 Due to their low weight, they are ideal for lightweight backpackers, minimal campers, and survivalists. They are also popular among military organizations worldwide.
One disadvantage is that a bivvy sack of good quality, for example with Gore-Tex material, can become expensive.
On hot nights, they can become hot and sweaty. Even when getting in and out on rainy days, you can get wet. However, if you set up a lightweight tarp over them, they are a great option for lightweight camping.
Examples and recommendations: Definitely check out the "GEERTOP Bivy Tent", which is easy to set up and weighs approximately 1.3 kg. You should also consider the "Snugpak Stratosphere", even though it is pricier, it delivers on its promise with its 1.1 kg weight. Then there's the "Yate Bivouac Bag", which doesn't have any poles and therefore only weighs 690 g.
Roof Tents
Rooftop tents are placed on the vehicle roof. They are attached to the roof racks and have an access ladder for climbing up and down.
In a roof tent, the mattress is located similarly to a swag. One advantage is that the interior of the vehicle remains free, as the bedding is not located inside the vehicle.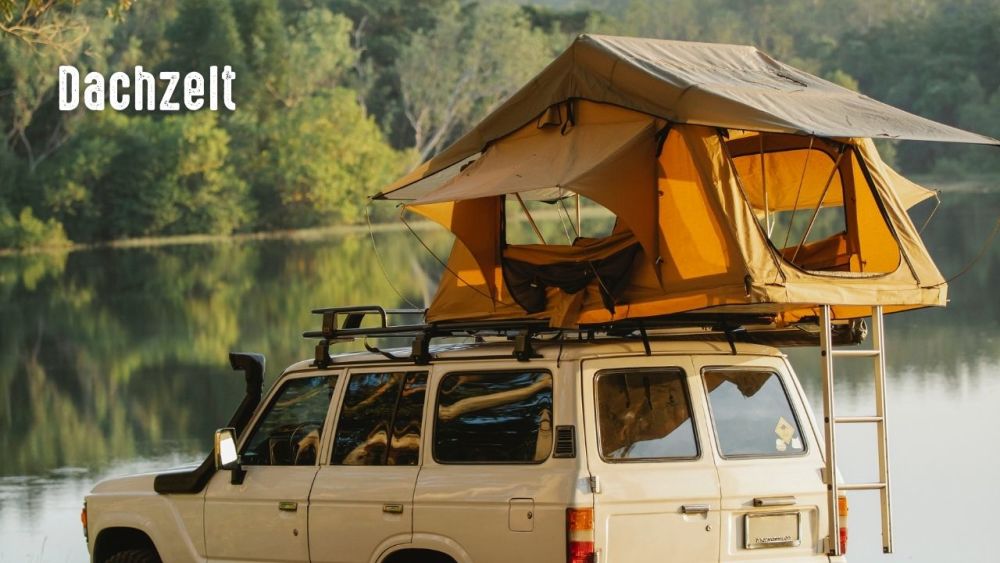 Some brands are easy to build and even have an extension that provides additional space.
For wet areas or limited space, roof tents are a promising idea.
Are you afraid of animals or do you even travel in areas with snakes or crocodiles, a roof tent is a safe option.
Some disadvantages of roof tents are that they can be heavy, so check the load capacity of your vehicle's roof. The structure of the vehicle must be able to support not only the tent but also the people sleeping inside it.
Another disadvantage is that it can get a bit uncomfortable on windy nights, as the wind gets everywhere.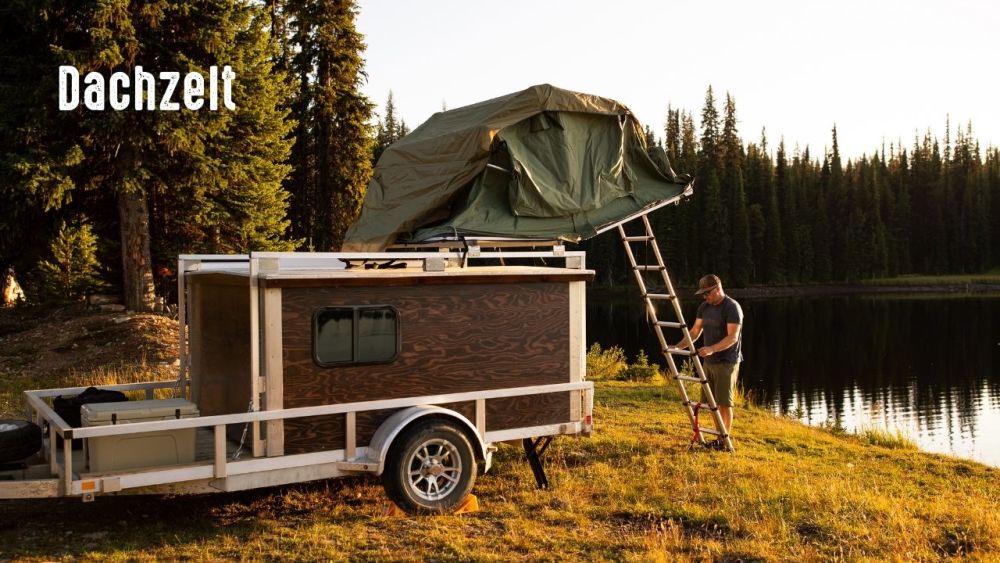 And surely some people will have to get used to a roof tent. Imagine if you have to go to the toilet at night and forget that it's two meters down?
Overall, however, the rooftop tent is a great way to save space.
Trekking tents and hiking tents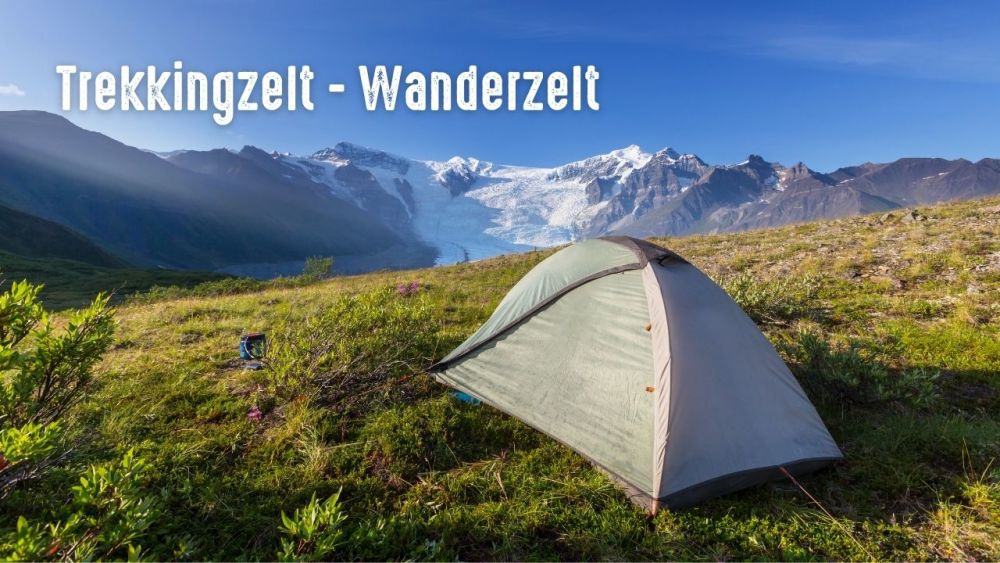 Trekking tents can be roughly divided into three unofficial categories, such as:
Simple trekking tents that are lightweight to medium weight and don't cost too much. Ideal for the average backpacker.
Lighter tents from well-known brands that are expensive.
Ultralight trekking tents made from feather-light materials but are costly. Ultralight trekking tents are also used by specialized hikers who aim to cover long distances as quickly as possible. In some tents, trekking poles are used as tent poles to save weight. Every part of the camping equipment is weighed and scrutinized to save a gram of weight in hiking gear.
The quality of simple trekking tents is getting better every year and prices are cheaper compared to twenty years ago, as the market is becoming more popular and more tent manufacturers are producing them.
With ultralight trekking tents, the materials are very thin, and you have to be careful with some of them.
Geodesic Tents
This type of tent is by far the most advanced type available on the market. Geodesic tents are designed for heavy-duty expeditions and for use in alpine areas.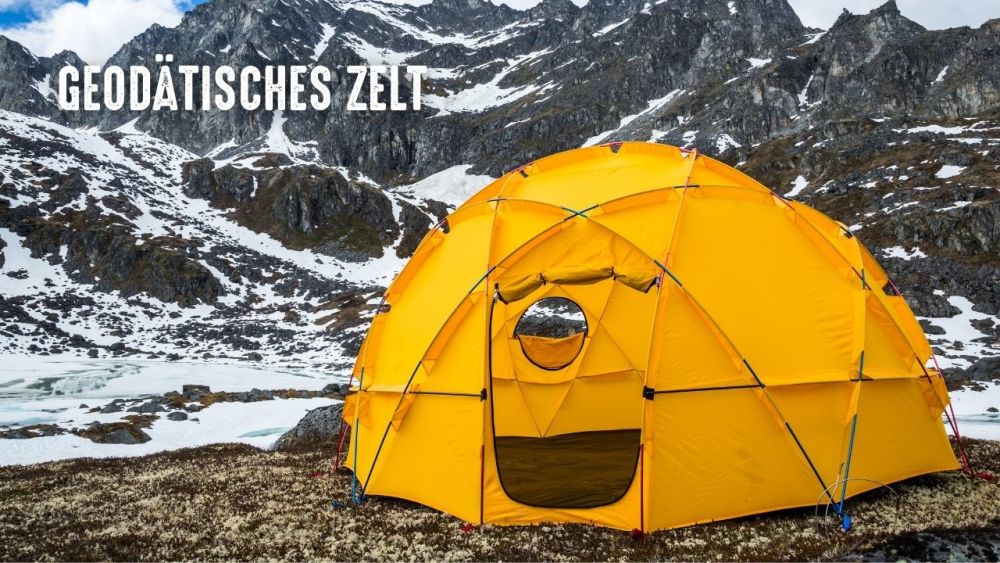 A geodesic tent is a mathematical term where lines intersect to form triangles. This tent uses multiple triangles in its shape, giving it extreme stability in rough weather conditions.
These tents are made from premium fabrics that enhance both comfort and cost. They are the preferred choice for trekking tours in alpine areas, as they withstand strong winds and need to last long. Geodesic tents are the preferred choice for people climbing Mount Everest.
Tents for different seasons and weather conditions
Some manufacturers rate their tents according to the seasons. For example, a two-season tent is suitable for good weather.
Here are the ratings of the categories in detail:
2-Season Tents
These tents are suitable for occasional use or when the children sleep in the garden. They are intended for fair weather or a light shower - not for heavy rain.
They are usually very inexpensive, but the quality is often poor.
Some of the inferior tents can be found in discount stores or online shops. However, over the years, these discount stores and other cheap shops have occasionally offered good tents, so you should keep an eye out for bargains there. However, you should not use these tents for very wet or cold areas.
Before you venture into the remote forest in winter, set up the tent in the garden and spray it with water to see how it performs inside and if it has any leaks.
3-Season Tents
Designed for use in spring, summer, and autumn (3 seasons).
These tents are designed to withstand even worse weather conditions and are generally of better quality than the tents for two seasons.
Normally, an outer tent is used in this construction, which provides better breathability against condensation and rain.
4-Season Tents
Here you will find a better quality and they are suitable for all weather conditions. If you are not currently traveling in Antarctica, these tents are just right for you.
With these tents, you will receive high-quality, state-of-the-art materials. The price for these tents is now also higher. Many good tents on the market are four-season tents.
5-Season Tents
These tents are the most expensive, but they are designed for battling the weather in adverse conditions.
Strong winds and snowstorms? Five-season tents are designed for experienced travelers and explorers, as well as expeditions and high mountains with extreme conditions.
Expert tip: For most campers and family campers, a 3-season tent is the best choice.
Camping tip: an additional tarp
One or two additional tarps (What is a tarp?) are always a promising idea when camping, as you can set them up as additional protection over the tent or the entrance.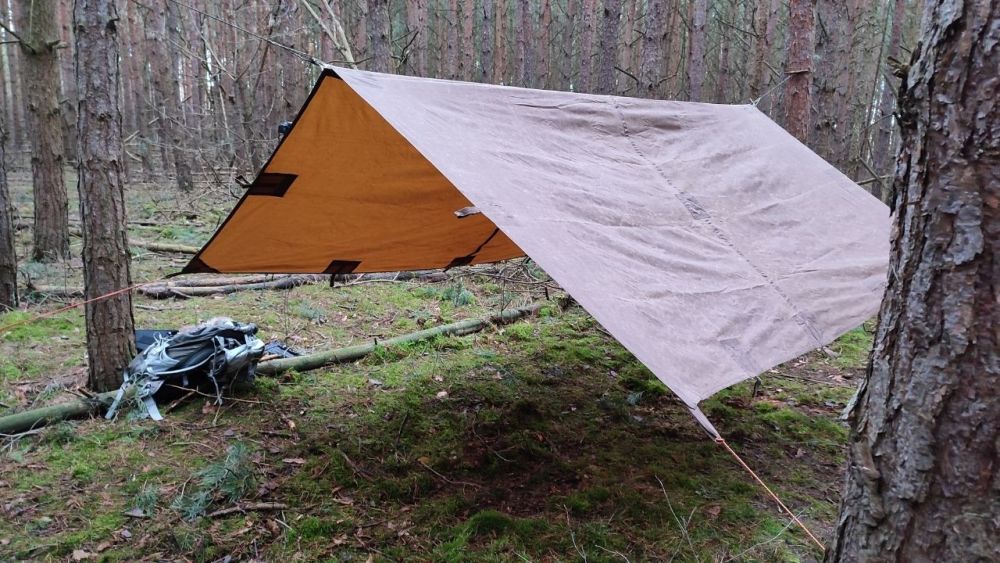 Or you can place a tarp on the ground to prevent water from entering in case of leaky tents.
When the tarp is hung next to the tent, it can be used as an additional covered space, such as a kitchen area to cook your food. Or simply a place to relax on a rainy day instead of being stuck inside the tent all day.
Under the tarp, you can continue to store your equipment safely, so everything is protected from wind and weather.
In hot places, the tarp can also be easily set up as an additional shade provider.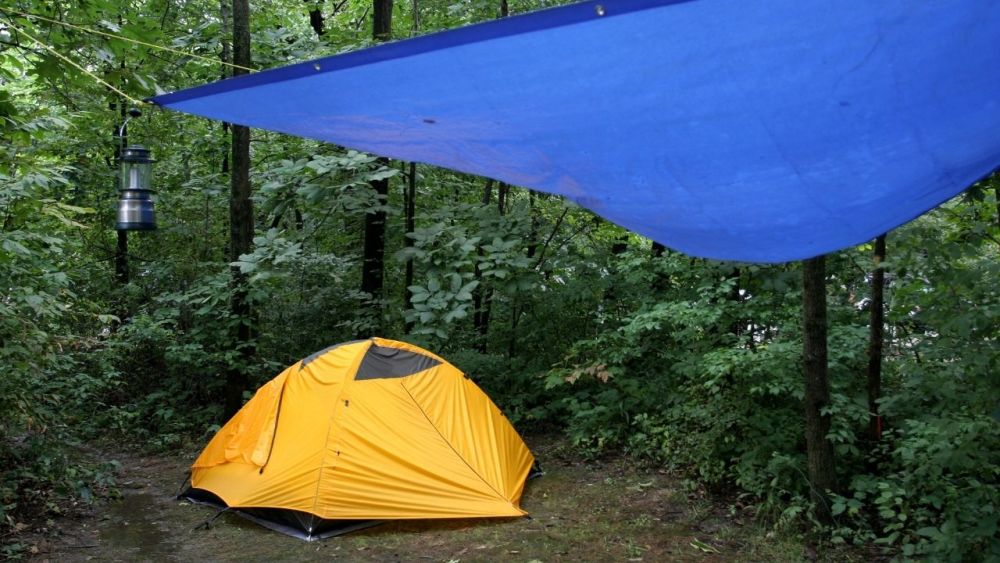 And sporadically, it's a great idea to put a small tarp under the tent floor when you pack up your tent. Because that way you protect it from dirt, wetness, and moisture. Because if you store your tent wet, it starts to mold, and you have to clean it extensively.
With the underlying tarp, you can pack the tent properly and store it for a long time, knowing that it is dry when you put it away.
At the end, you just have to dry and air out the tarp, which is much easier than drying the entire tent.
Reading tip: The 25 biggest camping mistakes you should avoid as a beginner
Conclusion - Choosing the Tent
Hopefully, I have given you a lot of good information about tents and what to consider when buying a tent.
Furthermore, about the many designs and types of tents. Such as: Swags, bivouac sacks, trekking tents, roof tents, instant tents, family tents, etc. and the advantages and disadvantages of each type.
Now that you know what to look out for, you will probably be much better at finding the right tent.

Was this guide helpful?
21 people found this guide helpful.
4.82 out of 5 points (22 Ratings)