Back to german article
Find the best camping lantern 2023: rechargeable, sturdy, and versatile (+buying guide)
Immerse yourself in the vast landscape of the best camping lamps and camping lanterns for backpacking, camping, van living & more, with a detailed buying guide.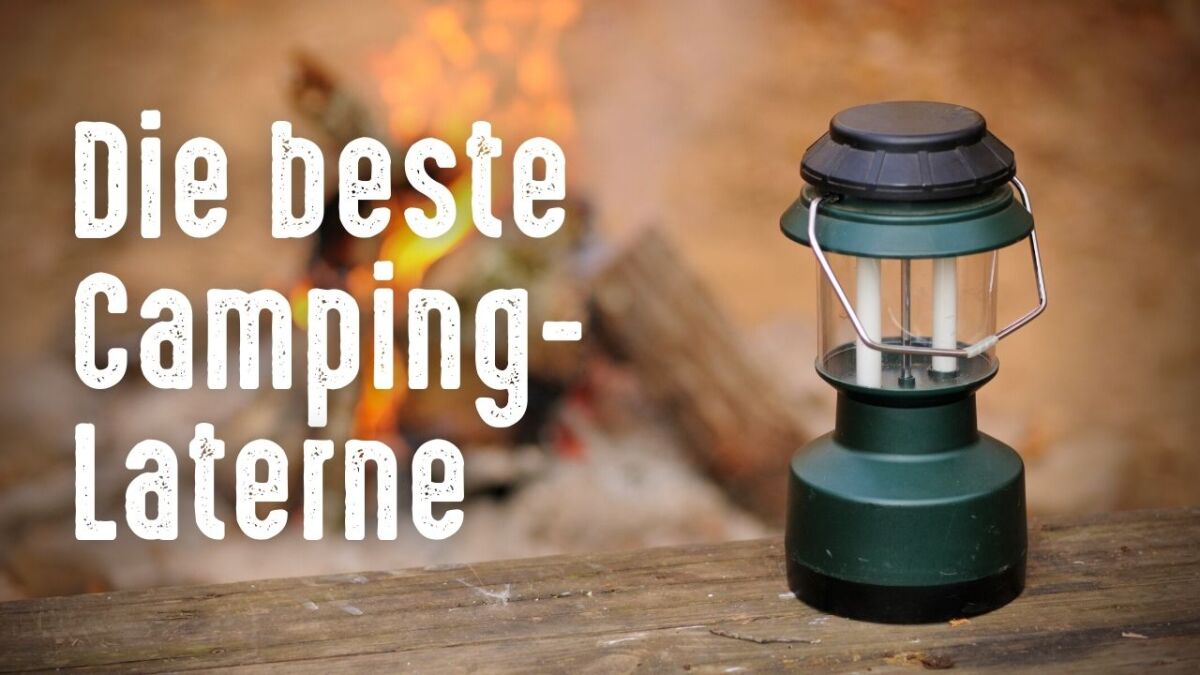 ---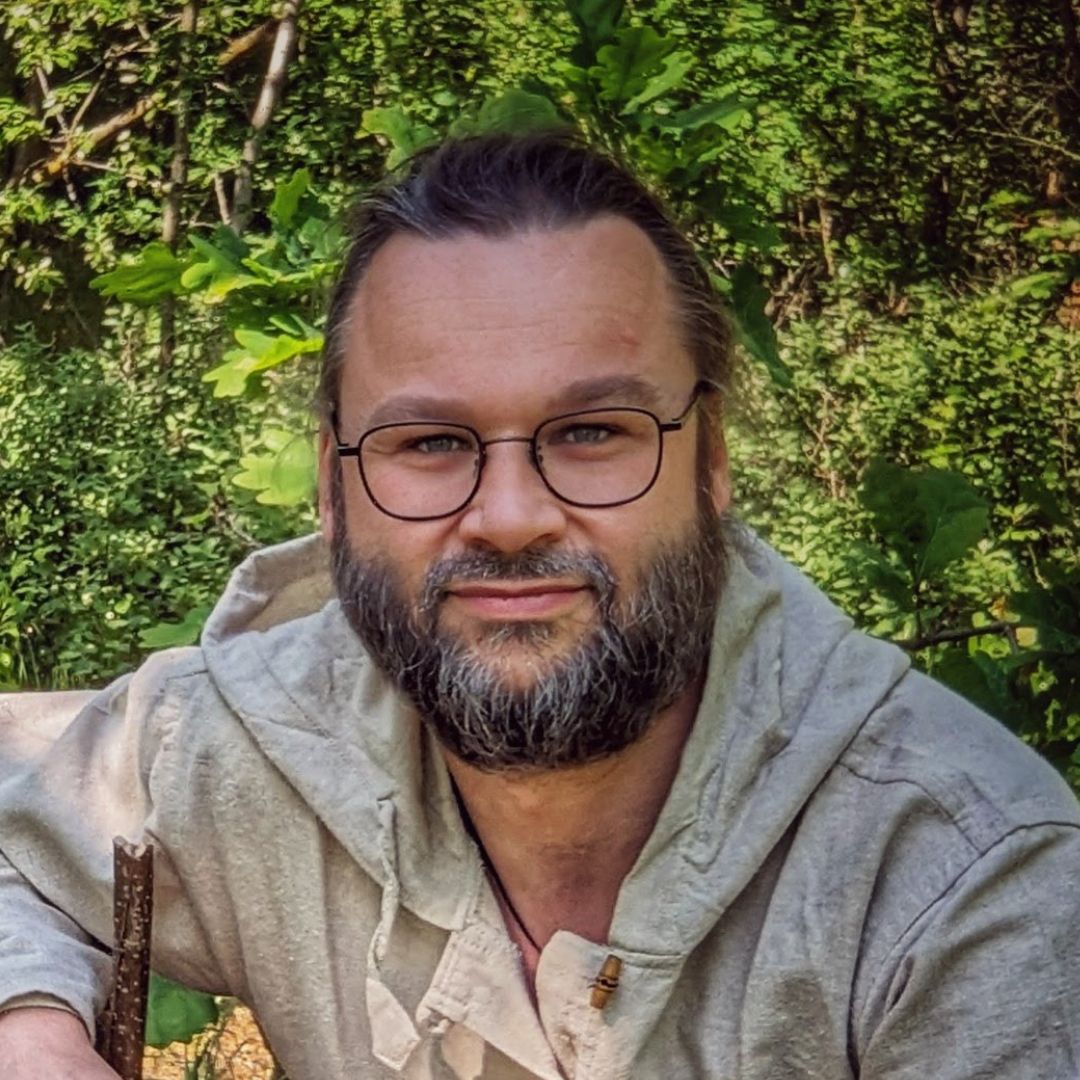 ---
👉 The key facts from this guide
High-quality camping lanterns are useful to orient yourself in the dark and illuminate your way.
The Black Diamond Apollo Lantern is a sturdy and lightweight model that can be charged via USB cable or battery-operated.
There are different types of camping lanterns, including battery-operated LED lanterns, gas lanterns, gasoline-powered lanterns, and petroleum or paraffin oil lamps.
The optimal camping lantern should be lightweight, have an adequate power supply, provide a high number of lumens, be easy to handle, and have a long battery life.
The AiMoxa LED camping lantern offers 360-degree lighting and is rechargeable, both via a built-in battery and solar panels.
The Luminaid Solar inflatable lantern is solar-powered, has a battery life of up to 24 hours, and is ideal for camping, hiking, fishing, and emergency preparedness.
If you find yourself in the great outdoors - whether camping or in an emergency - there isn't always the option of natural light sources.
Primarily at night, you will struggle to see anything in the dark, to orient yourself, to avoid stumbling over rocks and roots, or simply to read a good book in your tent.
Given this, a high-quality camping lantern is often an absolute must.
Your light illuminates your way when you wander through the darkness in the wilderness. But for that to work, a camping lantern must have certain properties.
As the market for camping lanterns and camping lamps is almost flooded, it is difficult to find your way around and filter out the best option for yourself.
That's precisely why the guide you're reading was written. In the end, you will be richer in a few examples and clear recommendations that will greatly facilitate your purchasing decision.
Camping Lantern Overview: Which Camping Lanterns are the Best?
So, we can get started right away, the favorite of the guide with a clear buying recommendation: The Black Diamond Apollo Lantern.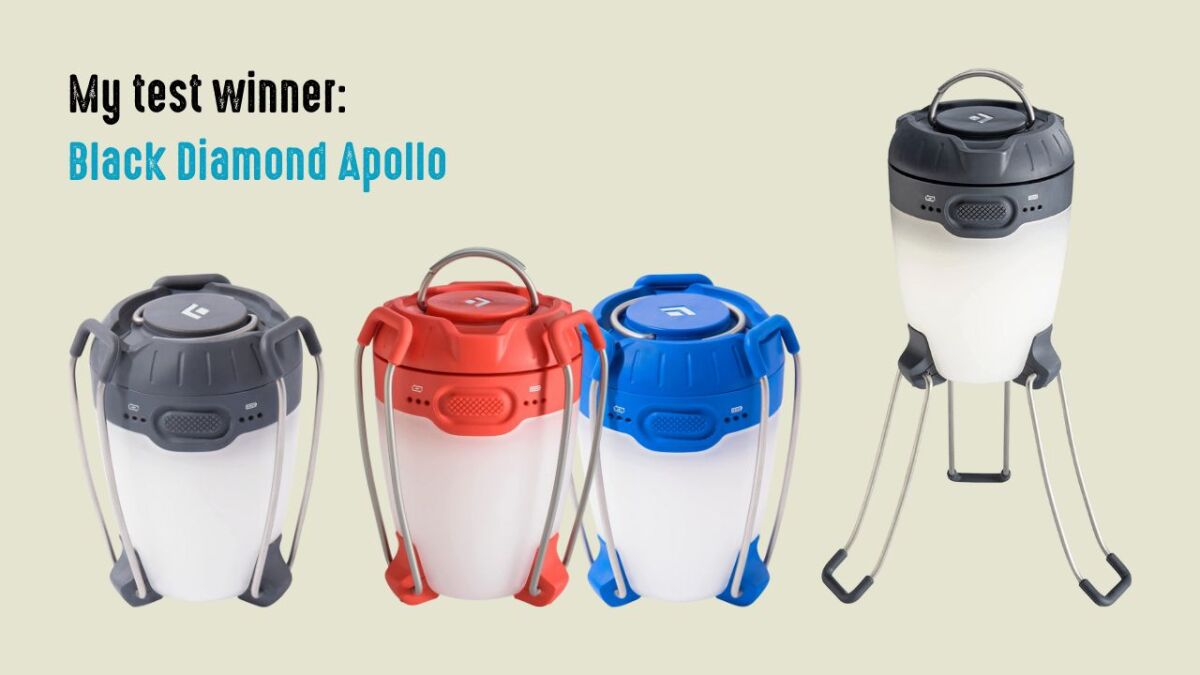 This model is a particularly robust, yet also lightweight (200 g) and therefore flexible camping lantern that is easy to use.
Your flexibility is also expressed in the fact that it can be charged via USB cable and can also be used with batteries. With this absolute outdoor all-rounder, you can immediately venture into the wilderness and start your adventure.
And let's be honest: The Black Diamond shines for up to 90 hours - so you can easily go camping for a week without having to recharge it in between.
The 11 Best Camping Lanterns Overview
I have looked at many lamps and already during my research, over 90% of them did not make it onto the list.
I would like to introduce you to the camping lanterns that made it onto my list.
Further down, I will introduce you to the lanterns in detail with their advantages and disadvantages. So, here are my best camping lamps:
Lamp
Brightness
Price
Black Diamond Apollo Lantern
225 lm
$$
Nite Ize Radiant 200 Collapsible Lantern
200 lm
$$
Black Diamond Moji Lantern
100 lm
$
AiMoxa LED Camping Lantern
100 lm
$$
Luminaid Solar Inflatable Lanterns
75 lm
$$
Northpoint 190462 12 LED Vintage
150 lm
$
Streamlight the Siege
340 lm
$$
Coleman LED Lantern | Quad Pro 800 Lumen
800 lm
$$$
Already now, based on this table, you can see which variations there are in terms of price range and brightness for camping lanterns. Once you have read the article, you will understand to what extent.

Set priorities and check which points are important to you for a camping lamp. These primarily differ in the purpose for which you want to use the camping lantern.

But one thing at a time, let's start with the basics and work our way slowly into the details throughout the article to really create added value for you.

What exactly is a camping lantern?

A camping lantern is a lamp that is primarily designed for camping or similar outdoor purposes. However, it is not just an external light source that is characterized by particularly strong light or numerous additional gadgets (at least not only), but especially by stability, durability, and easy use.

What is a camping lantern?

Depending on the environment you are in and how "rough" your camping adventure will be, your choice will vary.

However, make sure that not every product is necessarily suitable for your trip. It would be annoying if you spent a large sum of money and the purchase wouldn't be worth it afterward.

Who are camping lanterns suitable for?

Camping lanterns are a suitable solution for campers who cannot or do not want to rely on a caravan or trailer, and for those who like to camp in actual wilderness.

For whom are camping lanterns suitable?

Mainly when you turn away from society during your camping adventure to the extent that you have no access to the power grid.

But camping lanterns are also suitable for long hikes. If you want to continue walking in the twilight or at night instead of going to bed, you need an external light source outdoors. The moonlight doesn't always illuminate the way enough or even penetrate the dense canopy of some forest landscapes.

Bushcrafters also like to use camping lanterns to have a sustainable source of light available. You can read about what Bushcrafting exactly is here in my guide.

So, a camping lantern is interesting for the following people:

Anglers and fishermen
Individuals who practice crisis preparedness
Caravan campers
Occasional campers
Permanent campers
Bushcrafters
Hikers
Trekking enthusiasts

What types of camping lanterns are there?

Usually, four types of camping lanterns are available:

Gas or propane lanterns, gasoline-powered lanterns, and petroleum or paraffin oil lamps are nowadays only sporadically produced and used, and are considered outdated. This is mainly because battery-powered LED lanterns are easier to use and involve less risk.

Different types of camping lanterns

What are the disadvantages of gas and propane lanterns, gasoline lanterns, and petroleum or paraffin oil lamps?

Gas and propane lanterns as well as gasoline-powered lanterns and petroleum or paraffin oil lamps always require external fuel, which you must transport in case of emergency. Depending on the amount, this can become a heavy and cumbersome task. If you follow the premise of carrying as light luggage as possible, this is not an effective solution.

Furthermore, you must not forget that the flame generated poses a potential fire hazard, which increases the brighter the lantern is supposed to shine.

The fact is also that these lamps are usually not suitable for indoor use.

Advantages of LED camping lanterns

The brightness of an LED camping lantern can be quickly and easily adjusted individually (sometimes even dimmable), while you manually dim or strengthen the flame of a gas lantern by regulating the amount of gas used.

In addition to the types of lighting, there are now numerous shapes and colors, additional gadgets, and charging options for batteries and rechargeable batteries, which further expand the selection of camping lamps.

From classic vintage lanterns to futuristic lighting elements in the shape of a clover, everything is represented.

What can a camping lantern be used for?

Depending on the strength and number of available camping lanterns, you can use them to illuminate paths, brighten up your tent, or even light up an entire campsite.

A camping lantern is an item used for illumination.

Whether as a portable lantern for nighttime journeys or a stationary lighting option, you decide for yourself what you want to use the camping lantern for. A camping light is suitable for all outdoor activities.

What can a camping lantern be used for?

What distinguishes the optimal camping lantern?

The optimal camping lantern should be adapted to the desired use that it should provide for you.

However, there are a few noteworthy factors that are particularly important and that you should not neglect in your purchasing decision. Some things are universally applicable, including the importance of the following factors:

Weight
Power supply of the lantern (gas, electricity, petrol)
Lumens
Handling
Duration of illumination

The focus here is clearly on the flexibility of the camping lantern. The more flexible it can be used while still fulfilling its purpose, the better it performs in objective rankings.

What distinguishes a good camping lamp?

A few not so necessary facts are:

Is the camping light continuously dimmable?
Is the camping lantern rechargeable?
What is the light color (yellowish or bright white or warm white)?
What lighting modes are available?
Does the lamp have protection class IP44*?
Is the battery built-in?
Is the battery also a power bank?
Is there a hand crank for charging?

*IP44 = Protection against splashing water from all sides and is equipped to prevent the penetration of solid foreign objects with a diameter of more than one millimeter

My 11 Best Camping Lanterns

In the following sections, I will introduce you to my best camping lanterns, evaluate them, and present you with facts as well as advantages and disadvantages so that you can make an appropriate comparison and decide on one of the products.

Purchasing Criteria: Using these criteria, you can find the best camping lantern

You can see that there are so many versatile and different models of camping lanterns that it can often be difficult to choose the right one.

Therefore, you should pay particular attention to the following aspects before making a purchase decision:

Weight
Stability
Brightness
Power supply / Lifetime

Buying criteria for camping lamps

The weight of a camping lamp

The weight of a camping lantern is important when you are traveling with a backpack.

If your only goal is to experience a camping trip, for example with your family, then the weight of the lantern probably won't matter much. It doesn't matter how heavy the lantern ultimately is, as long as it stays within reason. In that case, you can also bring the extremely bright Coleman LED lantern, which weighs 1.36 kg.

This is especially true if you are traveling outdoors by car and do not have to carry your luggage yourself, at least not over long distances.

Weight of a camping lantern

If you are planning a bushcraft adventure, stuck in a survival situation, or just want to go out with the things you can carry on your body and in your backpack, weight does indeed play a role.

The heavier your luggage, the more energy reserves you consume on the way and the more difficult it can be for you to cross certain terrain. Maybe the inflatable 10 gram light Luminaid Solar is a good product for you.

Although you won't be crushed by the relatively low weight of the lamp, it quickly accumulates as more equipment is added and ultimately becomes much heavier than expected. Lighter is always better - as heavy as necessary, as light as possible.

Stability and Robustness

You will quickly notice that the purchasing criteria strongly adapt to your intentions, the same applies here.

Basically, a stable and robust camping lantern is always useful so that you can enjoy it for longer, and it doesn't break after the first camping trip. But even here, a closer look is worthwhile.

Camping lantern buying guide: stability and robustness

What is your goal? Do you want to go on a cozy camping trip with friends, or perhaps stylishly illuminate a pool party?

Then it doesn't have to be the steel camping lantern that can withstand every fall from several meters high. In this case, it's better to invest in higher performance, additional gadgets, or easy charging.

However, if you are planning a strenuous trekking tour, a bushcraft adventure, or your personal retreat into the wilderness for an extended period of time, stability, and robustness should be at the top of your list. This is especially true when it comes to crossing difficult terrain, water sources, or very sandy areas.

Here, the handle for the robust Streamlight the Siege makes sense, even though it weighs 400 grams. If you want it a little lighter, then take the all-round lantern Black Diamond Apollo or the Nite Ize Radiant Lantern.

No matter how skilled you may be, your camping lamp can always fall down, whether it's on hard rocks, into cool water, or a mountain full of sand.

Regardless, your camping lantern should still be functional if it promises robustness; otherwise it's not worth your money.

Brightness and Luminosity of Camping Lanterns

Presumably, this is one of the clearest criteria when you want to buy a camping lantern.

It doesn't help you on the one hand if the brightness is so low that you can hardly see anything.

Or you are blinded by a too bright lantern that you cannot adjust in brightness.

So pay attention to both the indication of lumens and the possibility of brightness adjustment. A so-called "dimm switch" should always be present, primarily in very powerful camping lanterns.

Camping lantern buying guide - luminosity

Power supply and lifespan of your camping lantern

Two other critical points are the energy supply and the lifetime of your camping lantern. As it could not be any different - your preferences and intentions also play a big role here, especially when it comes to the energy supply.

If you are on a camping site and always have access to a functioning power grid or gas, you can, of course, always refill or recharge your lantern in case of emergency.

If you value environmentally friendly energy and sustainability, you should look for an energy-efficient and durable product.

Camping lantern buying guide - power supply

If you are planning a long trip without direct access to the power grid or fuel resources, the power supply of your lantern plays a particularly important role.

If it is a lantern powered by gas or gasoline, you must always carry it with you.

If you charge the lantern's battery via a power grid, a power bank is your necessary companion (here is my top list for power banks) on long tours. And by long tours, I mean stays that last more than a week.

Most battery-powered lamps give you light for days. The Black Diamond Apollo Lantern provides light for up to 90 hours. Imagine turning on the lamp every evening from 7 to 12, that's 5 hours a day. This means you can use the Black Diamond Apollo Lantern for up to 18 days without recharging.

Can you run your lantern on batteries? Then make sure to carry enough of them with you. But remember, you will always need to budget for buying batteries again.

The purchasing criteria, as you have noticed, always depend on your personal cost-benefit factor. However, this factor varies greatly depending on your intention. Nevertheless, you now know the basic criteria that you can and should look out for.

FAQ: Frequently Asked Questions and Answers about Camping Lights

FAQ camping lantern

Where can I get the best camping lantern?

Although you can find camping lanterns both online and in stores, the World Wide Web is probably still the best option. Various comparisons, tests, and product information allow you to focus on your preferences and buy exactly the product that you consider suitable.

If you are a fan of shopping in person, you also visit specialty stores for camping equipment. Here, you can receive advice from experienced staff on site. Take enough time to look at a few models and compare them with each other.

How long does a camping lantern usually burn?

The duration of a camping lantern's burn time depends, among other things, on its power source and type of light source. Depending on the capacity of the battery and energy consumption, an average of about 50–60 hours of lighting time is achieved. At least, this applies to conventional standard models.

If you opt for a very high-quality and durable model, you may expect up to 300–400 hours of luminous time.

Which camping lantern is best suited for an awning?

Ideally, you choose a small lamp that has the option of hanging it up. You are particularly energy-efficient if you opt for a solar-powered camping lantern. You usually charge it during the day to use it in the evening, at night, and at dawn.

However, as with all solar-powered camping lanterns, be sure to have a potential backup charging option. Weather conditions can often throw a wrench in your plans. Especially a heavily cloudy sky can make charging a solar-powered camping lantern difficult or even completely prevent it.

How big and heavy can a camping lantern be?

The size and weight of a camping lantern "should" depend entirely on its purpose and use. As you have already learned in the advice on purchasing criteria, the decision is entirely up to you. There are no legal requirements for the size or shape of a camping lantern.

What are the alternatives to camping lanterns?

Finding a real alternative to camping lanterns can be difficult. After all, you are looking for something that offers you the same lighting quality as the original, but of course, stability should also be right. However, there are definitely additions to camping lanterns that you can use in an emergency.

If desired, you can use headlamps and flashlights to bring some light into the darkness on your adventure. However, keep in mind that these types of lamps cannot achieve the even distribution of light that camping lanterns can. Therefore, headlamps and flashlights can only be used as a limited alternative.

What is the average price of good camping lanterns?

Usually, you can expect average costs of about €50 to €60. Camping lanterns within this price range typically come with all the necessary functions. However, there are also models that are priced below €20 or relatively far above €200. To get a good camping lantern, you should aim for the average price.

Lighting a gas lantern

What accessories do camping lanterns come with?

Normally, when you make a purchase, you don't just get the bare lantern, but also some accessories. These include, for example:

Legs
Suspension
Solar panels
Crank for generating electricity
Foldable equipment
USB ports, e.g., for charging smartphones

Is a camping lamp with a hand crank useful?

I can only partially recommend camping lanterns with a hand crank. Most lamps only light up for 15 minutes when you crank for one minute. This is a nice gimmick, but not suitable for regular use - or do you want to crank every 15 minutes at midnight when you want to read a book and wake up your neighbors?

Are all lanterns suitable for camping?

It all depends on what you understand by "camping". You can certainly take any random lantern on your camping trip, but there is no guarantee that it will survive unscathed. Your bedside lamp, even if it runs without electricity, cannot withstand weather conditions (such as moisture in the tent) in the way a camping lantern can.

Camping lanterns are made for this purpose and therefore have corresponding features such as waterproofing and special stability built into them. It therefore makes sense to purchase such a camping lantern.

Are there already professional tests for camping lanterns?

Unfortunately, no official testing institute, such as Stiftung Warentest or Ökotest, has conducted and published a professional test so far. Therefore, there is no appropriate information available on this topic.

Which camping lanterns are good?

The best camping lanterns are characterized by their compact size, portability, and versatile usability. They should be transportable and bright enough to fulfill their purpose.

My conclusion on the best camping lanterns

Throughout this article, you will have noticed that there are numerous camping lanterns available in various price ranges for different applications.

Depending on what you are planning and what intention you have, different models are suitable for your project.

We have also found that the Black Diamond Apollo Lantern is an excellent all-rounder that combines the best features of camping lanterns in an affordable price range.

Given this, it emerges here as the test winner. However, this does not mean that the other lanterns are not also excellent models.

If you love the classic vintage look but don't want to miss out on modern features, you should take a closer look at the Northpoint 190462 12 LED Vintage.

You may have also noticed that most lanterns use batteries as a power source, as the trend is clearly moving in this direction.

However, this does not mean that lanterns powered by gas, gasoline, or petroleum have completely become obsolete. The Coleman Premium Powerhouse Dual Fuel Lantern clearly proves that even old-fashioned methods still have their justification and have not yet been displaced from the market.

Camping lantern buying - what does it depend on?

The fact is that there is a suitable camping lantern for every need. Whether it's classic in vintage look or modern or even futuristic. Whether powered by batteries or traditionally by gas or petrol. From small to large, to be used as a flashlight or even as a table lamp.

Which camping lantern you ultimately buy depends primarily on your preferences, intentions, and financial capabilities.

Think carefully about which product you choose so that you can enjoy it for as long as possible. I hope that this article has helped you and that you now feel prepared to make your decision.

Was this guide helpful?
29 people found this guide helpful.
4.87 out of 5 points (30 Ratings)