Back to german article
What is Bushcraft? – A guide to survival and good living in the wilderness (+equipment recommendation)
Learn what Bushcraft means, where it comes from, and what you need to start Bushcrafting. What is the difference between Bushcraft and Survival?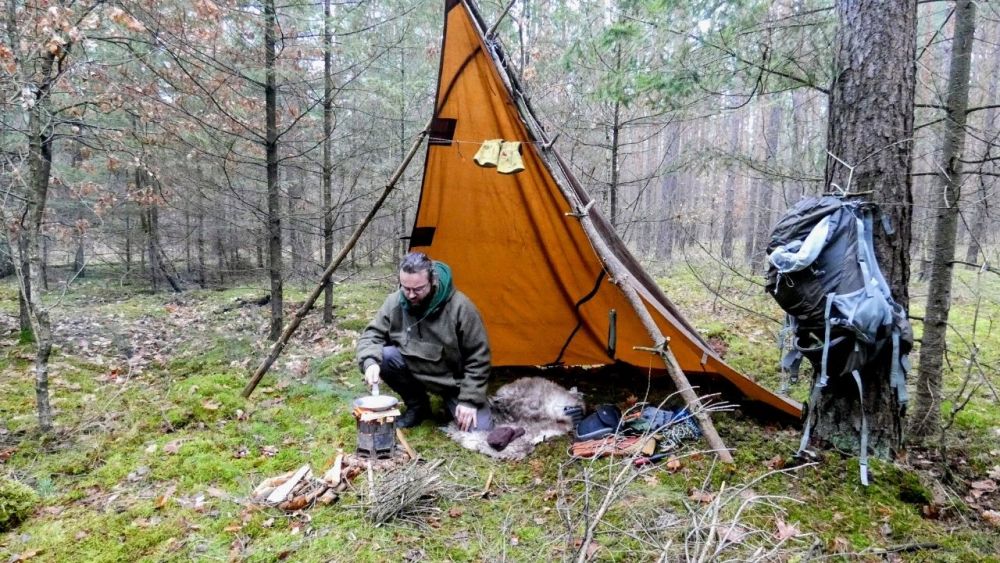 ---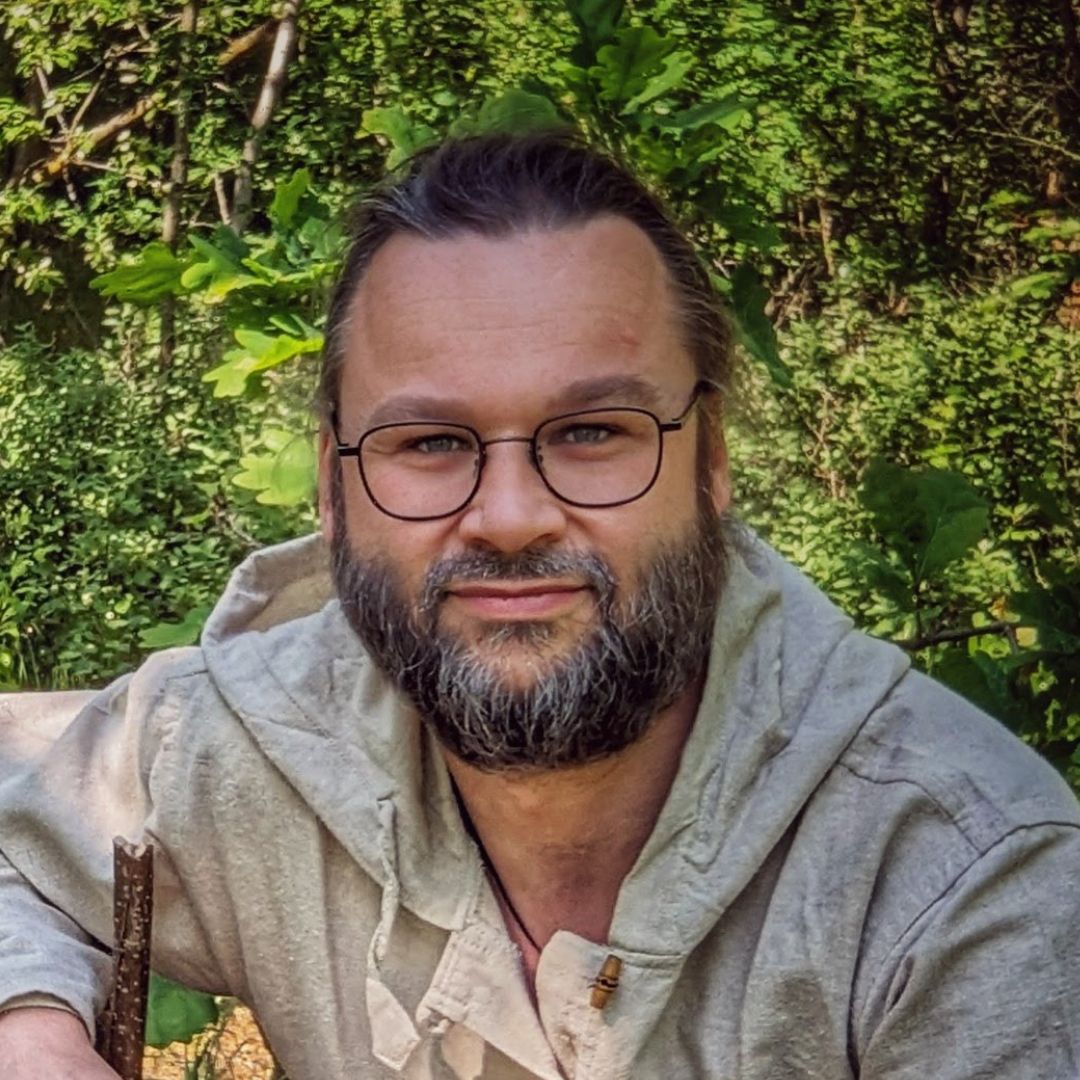 ---
👉 The key facts from this guide
Bushcraft is the art of survival in the wilderness by using natural resources and skills such as starting a fire, finding food, and building shelter.
You do not need special equipment for bushcraft, but rather knowledge and skills. However, a knife, saw, and rope can be helpful.
Bushcraft is suitable for everyone, regardless of age. It is a great way to experience nature and learn practical skills.
The term "bushcraft" originated in Great Britain and the United States, and is derived from the English words "bush" (wilderness) and "craft" (skill).
Bushcraft involves learning the skills and techniques of our ancestors and enables us to live a good life in and with nature.
When practicing bushcraft, it is important to act sustainably and handle the resources that nature provides us with care.
You're here because you came across the term Bushcraft.
Am I right?
Anyway, that's how it was for me years ago when I first heard the term.
What is this Bushcraft? Where does it come from? What equipment do I need?
I would rather not keep you waiting with a long introduction.
Let's get started. Here are the facts.
What is Bushcraft exactly?
Bushcraft is the way of living outdoors by using the skills of Bushcraft to build a camp, find water, navigate naturally, hunt animals, and perform other tasks necessary for wilderness living.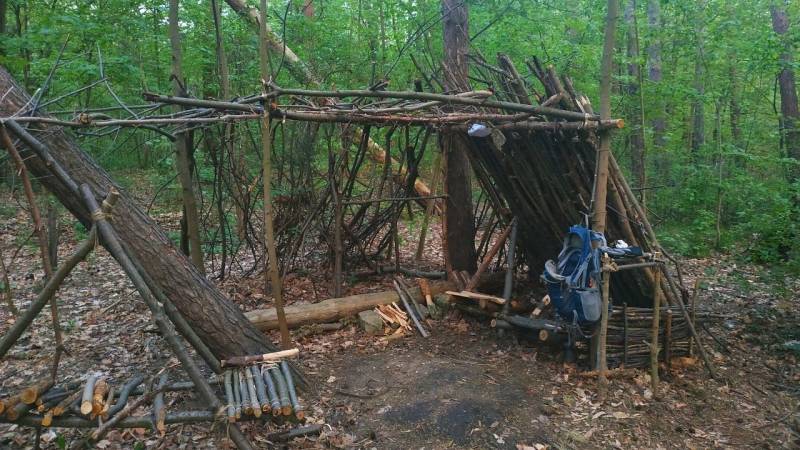 Bushcraft means learning the skills and techniques of our ancestors. It is the practical knowledge of the natural world. We thereby reactivate the ancient powers of our ancestors and acquire knowledge that gives us a good life in and with nature.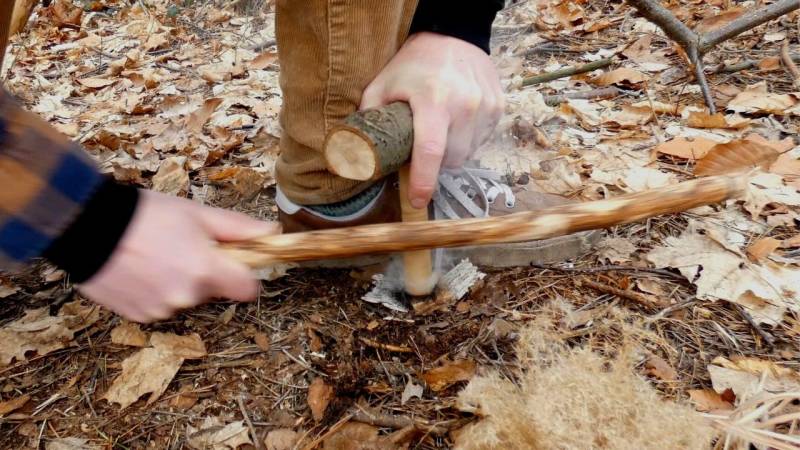 A popular activity among Bushcrafters is working with fire. Every practiced Bushcrafter knows how to ignite a fire without a lighter or matches.
For example, I've packed all my knowledge about fire into my book "The Fire Primer" (in German).
Furthermore, Bushcrafters prepare their meals in the wilderness (you can find my recipes here), build camp furniture such as chairs, tables, tripods, or shelves. They also make tools such as a wooden hammer, simple stone knives, a digging stick, or a plow.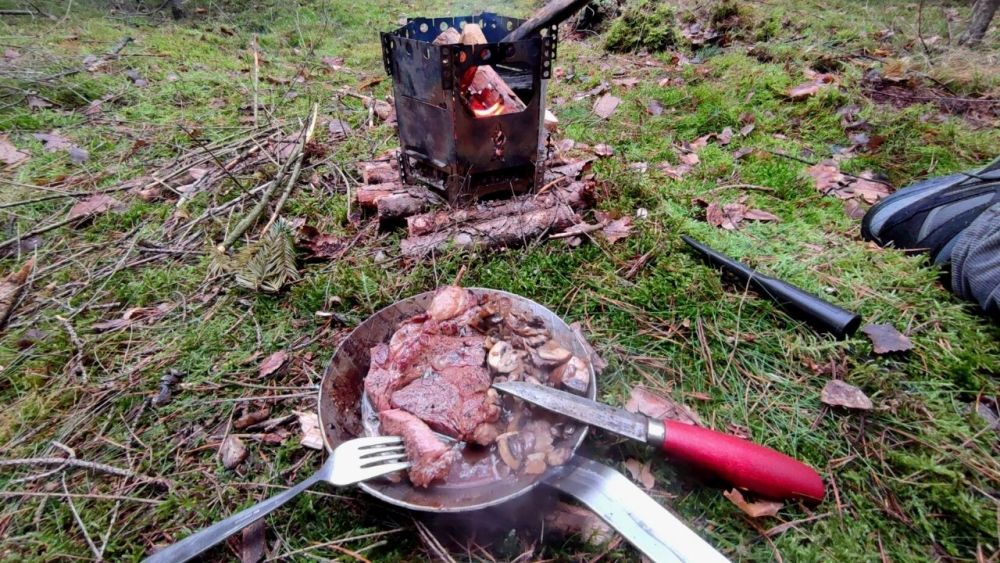 Everyday things our ancestors needed are not foreign to them: twisting ropes from natural materials, making a can from birchbark, knotting a leather bag, or carving a wooden spoon are all examples of Bushcraft projects (here are some more ideas).
Bushcraft is a combination of the following areas:
All outdoor activities, such as trekking, hiking, camping, or canoeing.
Sustained periods in nature and outside of civilization, such as during expeditions.
Learning techniques, skills, and abilities from human history, from the Stone Age to modern times.
Knowledge about nature, such as plant knowledge, animal knowledge, tree knowledge, and tracking.
Bushcrafters also act sustainably and handle the resources that nature provides them with care.
Bushcraft is what you carry in your mind and your muscle.

Ray Mears
However, Bushcrafting does not mean collecting equipment. It teaches many practical skills that allow you to use natural materials to fulfill your survival needs.
This is a crucial skill when we separate ourselves from our modern outdoor gear.
In addition, we carry Bushcraft in our minds, not on our backs. So, it travels with us wherever we go. It is always ready and weighs nothing.
Where does Bushcraft come from?
The term Bushcraft mainly comes from Great Britain and the USA. The term is derived from the two English words "bush" (the habitat of the Australian Aborigines) and "craft" (handicraft, skills). When Bushcrafting, you learn Survival Techniques from indigenous peoples.
Important role models are the Aborigines, Yanomami, Maori, Masai, or Inuit.
Like indigenous peoples, a Bushcrafter is well-versed in flora, fauna, and craftsmanship. For example, he knows how to start a fire, build a shelter, navigate, procure food and water.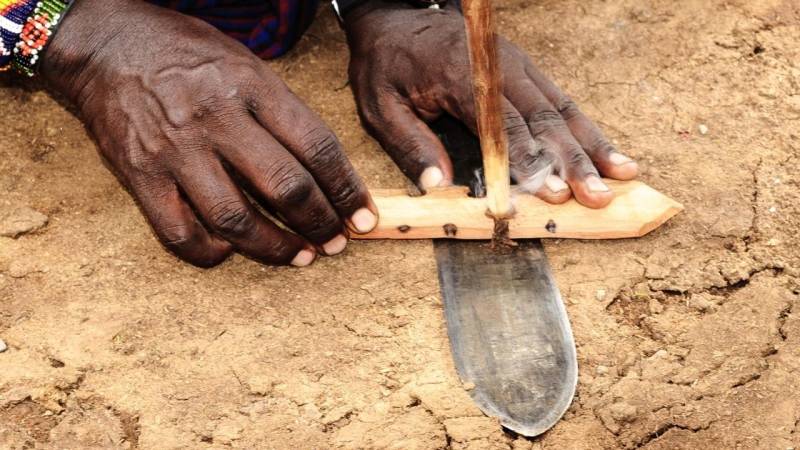 Of course, the Aborigines do not know the term "Bushcraft". We Europeans coined this term during colonial rule.
The traditional knowledge of dealing with nature had long been forgotten by Europeans.
Now, in the fight against indigenous peoples, the Europeans had to relearn this knowledge. And all for the purpose of subjugation - because otherwise they could not have carried out the exploitation of indigenous peoples.
For me, a sad era, but it was during this period that the term was coined.
In Great Britain, people also speak of woodcraft, i.e., woodcraft.
The term "Bushcraft" became known through the survival and nature expert Ray Mears from Great Britain (find more Bushcraft experts here). As a young man, he established the term from 2002 through his TV shows and books because he repeatedly associated it with his activities.
Great and well-known Bushcrafters are therefore Ray Mears from Great Britain, but also Mors Kochanski from Canada. Take a look at my book recommendations.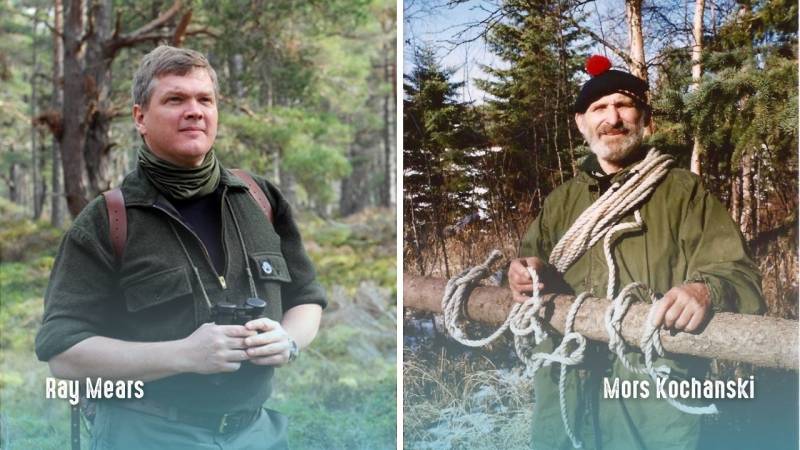 What do you do when Bushcrafting?
As a Bushcrafter, you spend a lot of time in nature. For example, you set up a camp, cook your lunch over the campfire, and carve a wooden spoon on the side. But some also enjoy the peace and quiet because they are looking for a break from their hectic everyday life.
Bushcrafting goes so far that you sleep in your camp under the open sky for several days.
See my article "The first night in the forest: how to sleep well in your camp [location, equipment, mindset]." on this topic.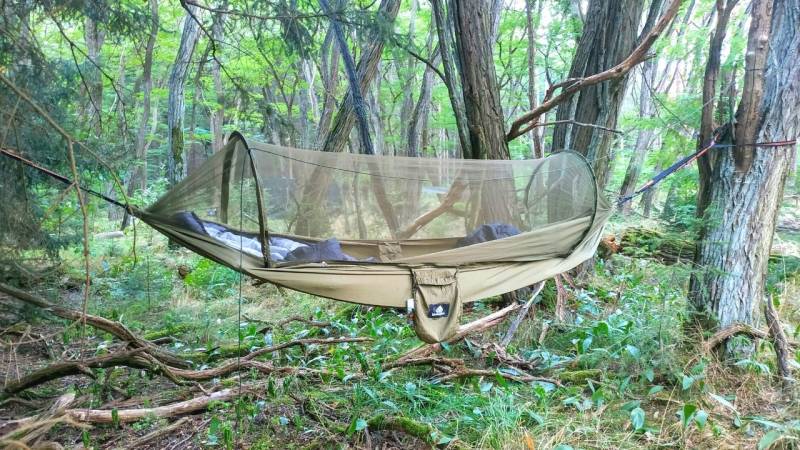 Who can do Bushcraft?
Anyone can do Bushcrafting. It doesn't matter if you're 12 years old or starting at 60.
And anyone can also call themselves a Bushcrafter. The term is not protected, and there is no uniform opinion on where Bushcraft begins and ends.
Some people like to carve and try out various firing techniques - already that is "a Bushcrafter" for many. Others build a small camp in the forest, and such people are also referred to by many as Bushcrafters.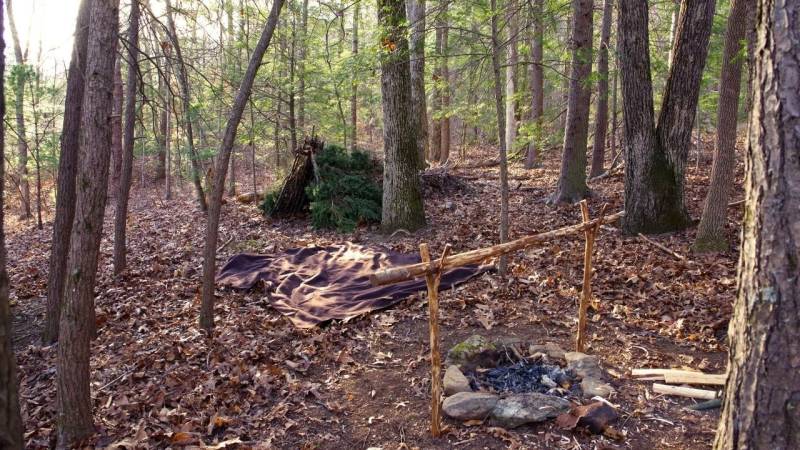 Parents also go out into nature with their children to show them the beauty and diversity on their doorstep. It is a balance and a deceleration for many from the daily over stimulation of digital media.
To go along with this, I've written a book called "Bushcraft for Family (in German)".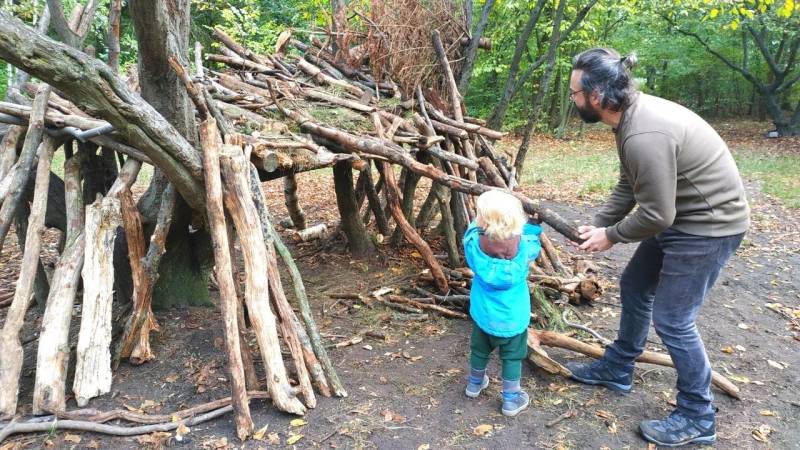 Bushcraft is a giant topic with many niches and styles that often vary due to location, culture, and personality. I advise against speculating whether someone is a real Bushcrafter or whether something is enough Bushcraft. The way you do Bushcraft can be different from the way other Bushcrafters do it, and that's okay.
What Do I Need for Bushcrafting?
Generally, you need a few tools for Bushcrafting, such as a knife and a saw. A hatchet and an axe are not always necessary, but they make work easier for larger projects. For many Bushcrafters, a rope is also important as it allows for sturdy connections.
But it's not just tools that are important, but also your knowledge, as this is the only way you can bring projects to fruition. Learning how to handle a knife skillfully is crucial because it is the most important tool for a Bushcrafter.
Ideal is if you have a passion for being outdoors. The forest should be your second home. Anyone who is afraid of ants and beetles will not feel comfortable in nature.
That's why I have developed the "Wildimpuls" program for beginners (in German). Wildimpuls is aimed especially at people who want to enjoy their time in nature. Find out here what specific content awaits you in the Wildimpuls-Program.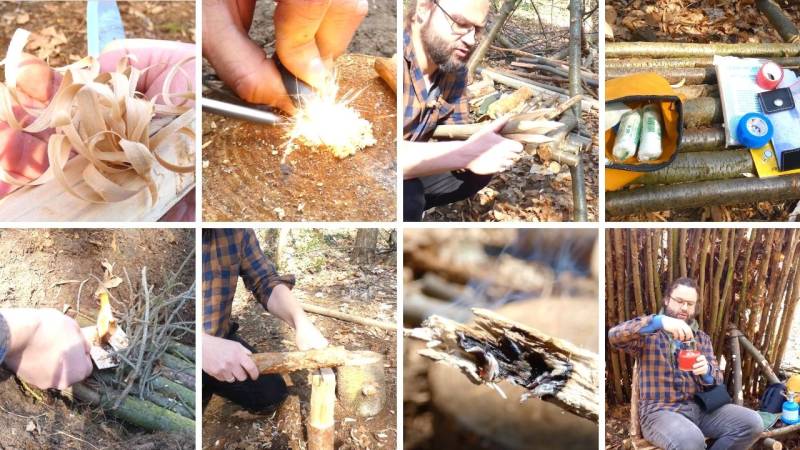 Bushcraft Equipment - The Most Important Gear for Bushcrafting
Basically, all you need is a backpack, weatherproof clothing, hiking boots, some food and water, and your knife. With this equipment, you can start your trek into the woods. If you want to spend the night, you'll need to pack your sleeping gear.
1. Backpack
Bushcrafting is an activity where tactical backpacks or survival backpacks with many compartments have proven themselves. The best ones are made of water-repellent fabric and are easy to carry.
A Bushcraft backpack should be as comfortable as a good shoe. It should always fit perfectly to your body shape. Therefore, it's a good idea to try it on before using it. After all, you're carrying your entire Bushcraft gear in it.
For example, I can recommend the Tasmanian Tiger Unisex Tt Raid Pack Mk Iii, which is great for your first multi-day trip. If you need more space, you can get corresponding side pockets.
And if the backpack is still too small, then take the 100 liter Tasmanian Tiger TT Range Pack MK II.
If you want to spend less, refer to the MOUNTAINTOP Unisex Backpack or the Mardingtop 65L/65+10L Backpack.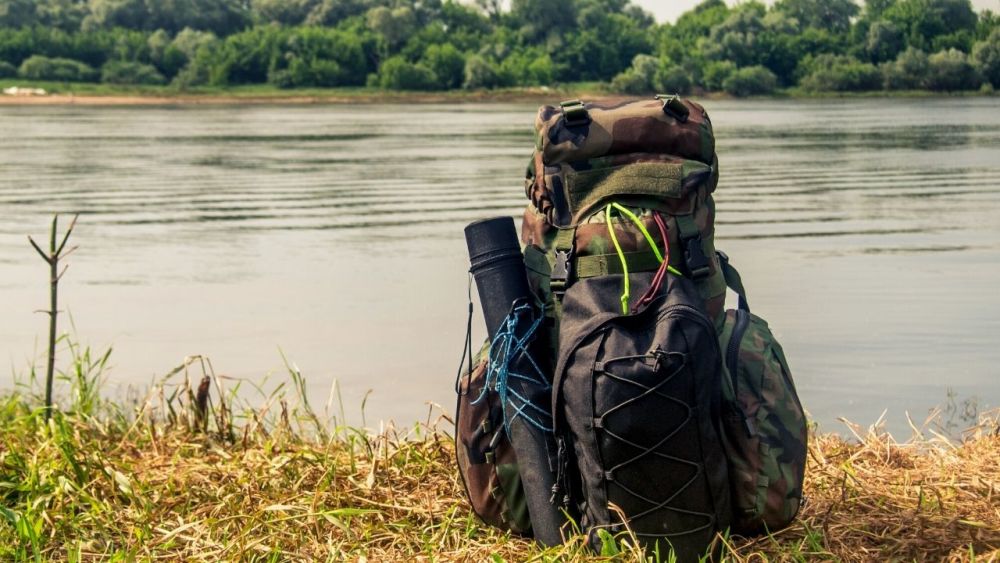 Please keep in mind the dry bags: these are lightweight, waterproof, and sealable bags. They are perfect for storing camping gear, clothing, and many other things in your backpack. My favorites are the Exped Drybags.
2. Knife
A knife is a must-have for any Bushcraft enthusiast and is an essential tool in any Bushcraft gear. A knife is not only a tool for cutting and carving, but also a survival tool.
Bushcraft knives are usually made of strong and durable materials, like stainless-steel or carbon steel (Find here the best steel types for Bushcraft knives). They are available in different blade lengths from small to large – And in different steel hardnesses (HRC).
Some Bushcrafters even carry more than one type of blade. Each blade has its strengths and weaknesses that make them better or worse for certain tasks.
Read here my ultimate guide to the best Bushcraft knife - after reading it, you are guaranteed to know which knife to choose.
Too much to read? Then here are my recommendations: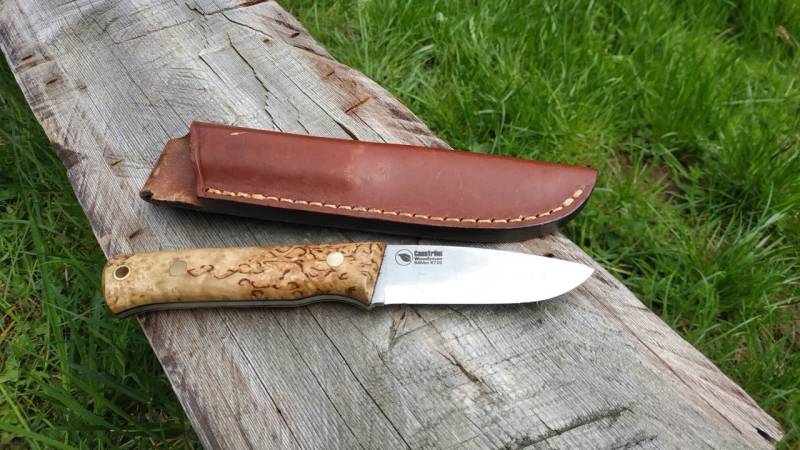 3. Folding Saw
A folding saw is a lightweight and inexpensive saw that can be easily transported in your backpack. The blade can be folded into the handle, making transport and storage easier. The blade is usually made of steel or another metal.
The first folding saw was developed in the 18th century, but over the years there have been many improvements. One of the most important improvements was making them lighter and cheaper because people wanted to take them on their trips to the forest.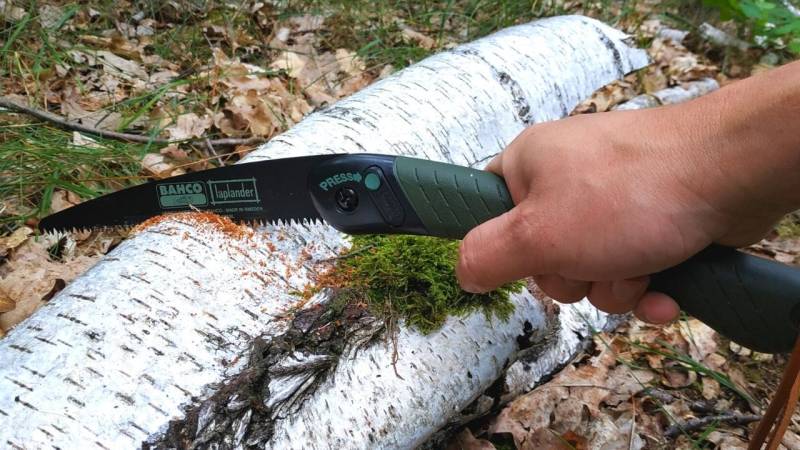 If you are out and about in winter and need a lot of firewood, then go for a folding saw that has a longer cutting blade. For example, I carry the Coghlans folding saw in my Bushcraft gear.
P. S. Take a look at my top list of saws here.
4. Axe or Hatchet
Axes are sturdy tools that can be used for many purposes. They are good for Bushcraft in winter, when you need a lot of firewood.
They can also be used to fell trees, split logs, and provide shelter (Check out the 4 most important axe skills here). Axes have been around since the Iron Age and have been used by people all over the world because of their versatility.
So pack an axe or hatchet (What's the difference?) in your Bushcraft gear.
5. Firesteel and Tinder
A Firesteel is a metal rod that produces sparks when struck with a piece of metal. It is the most important tool in Bushcrafting and one of the most popular survival tools for outdoor enthusiasts.
The Firesteel is used to start a fire without matches or lighters, which is useful when you are out in the wild and do not have access to these things.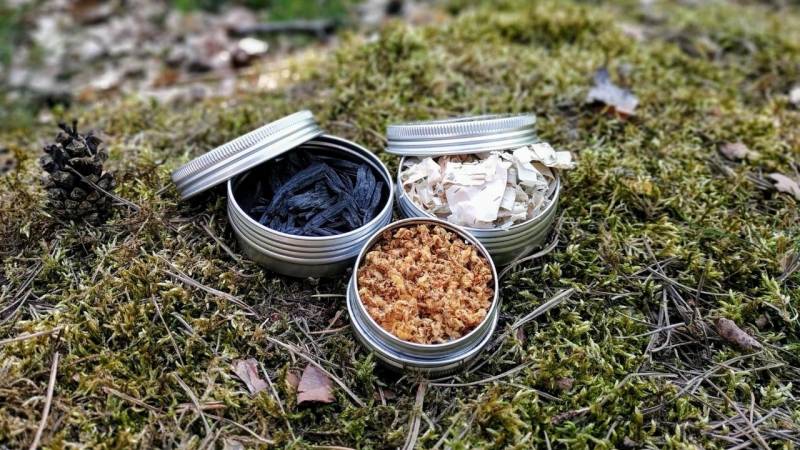 The sparks from the Firesteel generate enough energy to start the combustion in the tinder. The heat builds up until it reaches temperatures that are high enough for most flammable materials to burst into flames and start burning.
Here are my three best Firesteels and one of them is always in my Bushcraft gear:
And if the short list isn't enough for you, take a look at my extensive Firesteel buying guide.
Here's a video review of the Light My Fire Scout:
6. Clothing
When choosing clothing for a Bushcraft trip, it is important to consider what you may be working on. You will spend a lot of time outside and you will need to keep warm. This means you should wear thick clothing that can get dirty.
You should also make sure that your clothes are not too tight, as you may need to move quickly (splitting wood or sawing).
And you should also wear clothing that is comfortable and can get dirty without being damaged.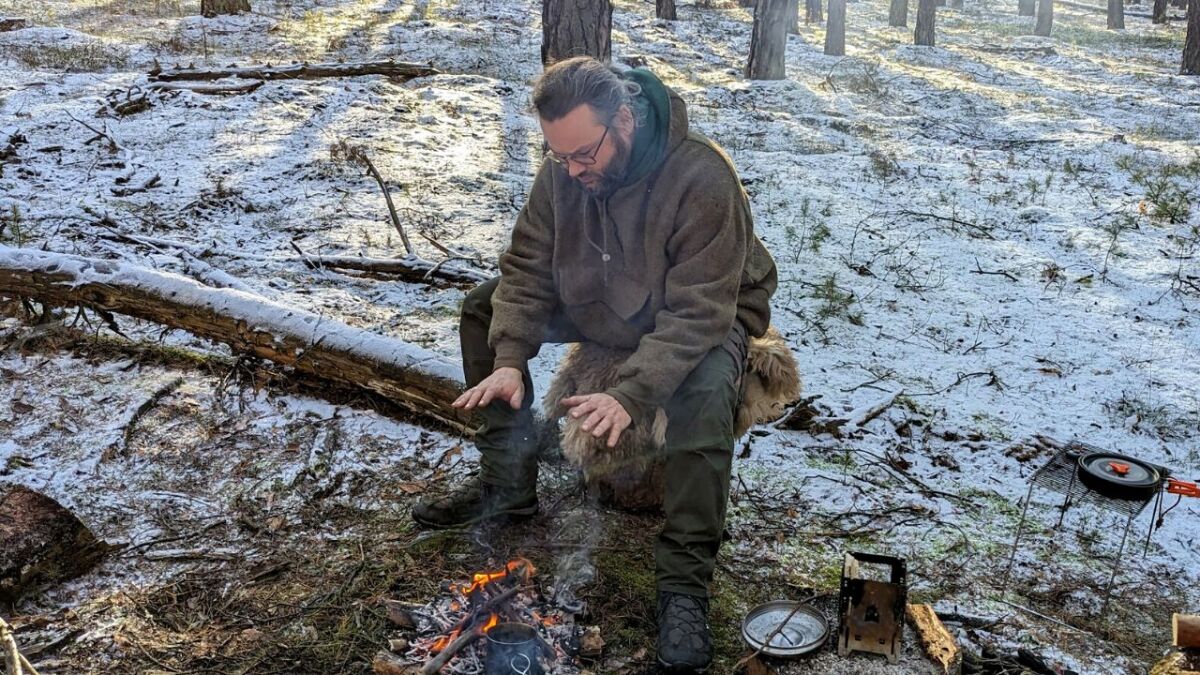 Remember the Shemagh: The Shemagh is a universal piece of clothing that I wouldn't want to be without. For me, it replaces part of my gear, such as a towel, a pillow, a scarf, and a triangle bandage.
7. Wool hat
A good wool hat is essential for any season. It keeps you warm even on cold nights - especially when combined with a proper sleeping bag.
In cold weather, you can even sleep outside without a tent if you protect your head well.
8. Shoes
Bushcraft is an outdoor activity that requires specific equipment to be successful. Shoes are an important part of that equipment.
The reason shoes are so important when Bushcrafting is that they need to be comfortable and sturdy enough to withstand all types of terrain. It is also important that the shoe has good traction.
However, when you look at the prices of good outdoor shoes, you might be shocked. That's precisely how I felt a few years ago. But at some point, I had to get them and I'm happy with the Lowa Renegade GTX Mid.
The right wool socks will keep you warm.
P. S. Read here how to clean and waterproof your hiking boots
9. Cookware
The stainless-steel cup is a simple but very useful addition to your cooking set and belongs in every Bushcraft kit. It's perfect for boiling water, but can also be used to make coffee or tea in the morning.
I have this stainless-steel cup from Tatonka and it has served me well for years! The 1 liter water bottle from Nalgene fits inside the cup and I can take water on a hike to make coffee at the top of the mountain.
Please keep in mind a fork (or spork) and a pot or pan if you're preparing larger dishes. For the pot, I recommend the Billy Can cooking pot from Zebra. I use the Tatonka bowl as a plate. If you need something bigger, you can take the Tatonka stainless-steel plate.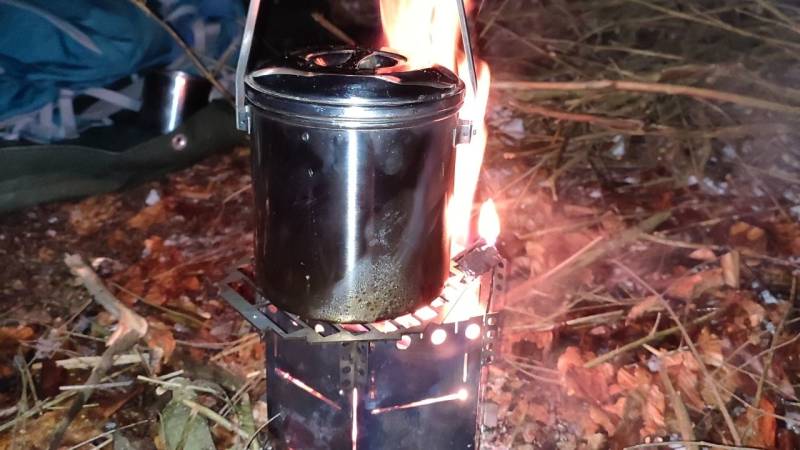 10. Stove
If you like to cook outdoors, you need some kind of stove. It's important to know what kind of stove fits your needs best. Do you want something that's easy to use, or something that's more versatile?
Gas stoves are a good choice for those who want to prepare food with little effort. They don't smell and are easy to use. Solid fuel stoves (Esbit Stove (Read more about the topic in my detailed review)) are also a good choice as they are lightweight and can be used in remote areas without gas supply.
Whichever you choose, a stove is part of the standard equipment in your Bushcraft kit.
11. First Aid Kit
A first aid kit is important when Bushcrafting because accidents can happen from time to time. Some items you should always have with you include a bandana, a few meters of duct tape, a small container of Vaseline, and some water purification tablets.
The bandana can be used as an emergency tourniquet or sling for injuries. The duct tape can be used as a temporary solution for torn tents and other equipment. Vaseline can help protect your skin from the elements, and the water purification tablets can help you stay hydrated during your Bushcrafting trip.
It is also important to know how to use the items in your first aid kit before an emergency occurs.
P. S. Read here for more about the first aid kit in my comprehensive guide.
12. Tarp
A tarp is a piece of fabric used for covering and protecting things. It is usually made of a durable material such as cotton, nylon, or polyester.
Tarps are typically used in the building industry to cover things like wood during storage and transport. However, when Bushcrafting, they are used as tents and you can build a great shelter with them which protects you from rain and wind.
Tarps are not only suitable for use in the rain. They are also good as makeshift sunshades and on some tours even as a makeshift dry bag.
If you want to travel light, I recommend the DD Tarp MC Camo 3 x 3 m. But for starters, a cheap hardware store tarp (e.g., 3 x 3 meters) or a cheaper tarp, like the one from Unigear, will suffice. Please remember paracord for securing.
In my comprehensive buying guide "The Best Tarp" you will find all the decisive criteria that are relevant for a purchase.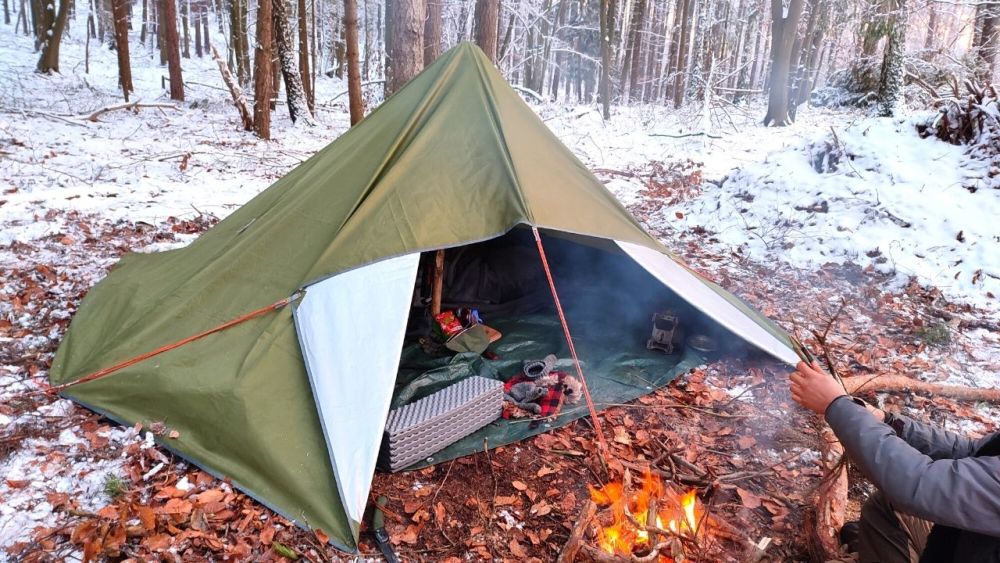 P. S. Also read my guide on how to sew a tarp yourself.
13. Hammock
A hammock is a great piece of equipment for your Bushcrafting gear. It can provide you with an extra layer of warmth, shade, and protection from the ground.
But not all hammocks are created equal. There are many types on the market, so do your research before buying one (many of them are expensive!).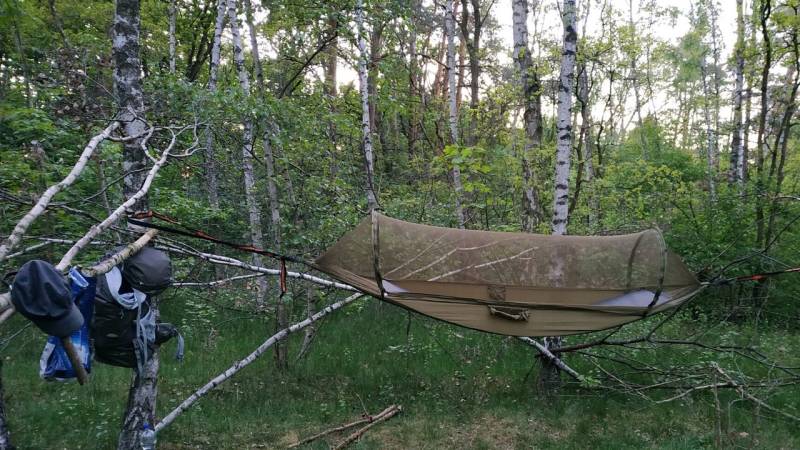 P. S. Also read "Sleeping with the Hammock: Important Basics for Beginners and Required Equipment"
14. Tent
A tent is not always necessary when Bushcrafting. If you are going on a short trip, a tarp will suffice. However, if you are going on a longer trip or bad weather is expected, it's better to choose something sturdier for your Bushcraft gear.
A tent can also be the first shelter you want to sleep in because it feels safer.
They are perfect for beginners who want to try Bushcrafting but don't know where to start.
Tents can be expensive and bulky, so I recommend delving deeper into it by reading my tent buying guide.
15. Sleeping Bag
When choosing your sleeping bag, pay attention to the temperatures you will face at night. I prefer synthetic sleeping bags because they are more durable and dry faster.
When it comes to weight, most people will probably opt for a down sleeping bag. However, this also costs more.
You can find my list of the best sleeping bags at "The Best Sleeping Bags for Camping and Bushcraft".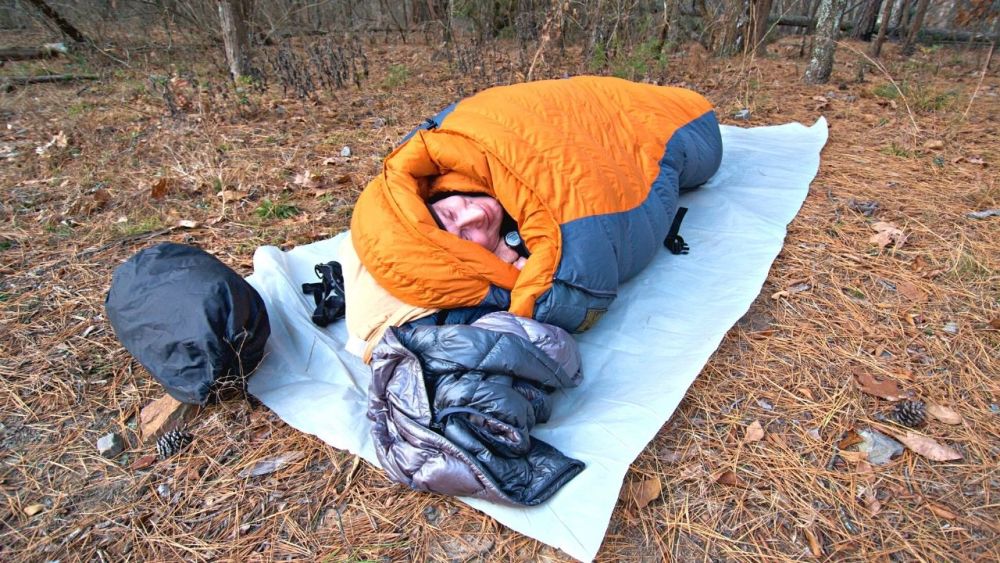 16. Sleeping Pad
Sleeping pads are an essential part of your Bushcraft gear. They can be used as sleeping mats, for sitting, and as pillows.
The most important thing to consider when buying a mat is the material it is made from. Foam mats are comfortable, but they will eventually break and dissolve.
Air mattresses are more comfortable, but they also break more easily. When weighing these advantages and disadvantages, air mattresses are better suited for short-term use, while foam mats are better for long-term use.
The best thing to do is to check out my comprehensive guide to sleeping pads.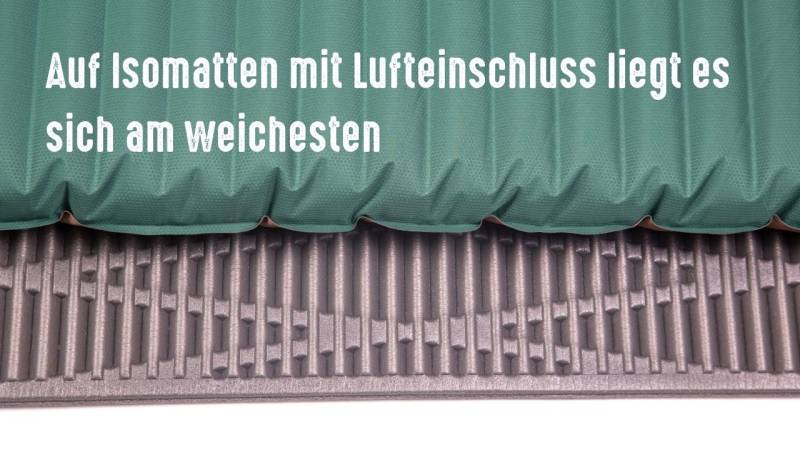 Important Bushcraft Skills
Bushcraft skills are essential for surviving in the wilderness. They can help you find food, find shelter, navigate difficult terrain and much more.
Some of these skills include fire making, building shelters, trap building, and foraging for food.
Using Tools
Bushcrafting is all about self-sufficiency and harmony with nature. Therefore, a good set of tools is an absolute necessity.
Knives, saws, and axes are the three most important tools. When all else fails, you can probably do most things with a knife.
Knives are not just for cooking and carving. They can be used to build shelters, make fires, sharpen sticks, and ensure that you could hunt and slaughter animals in an emergency. In my article "5 Knife Skills You Need to Know for Bushcraft", I wrote more about this.
Another important tool is your saw. A saw can make a variety of cuts quickly and efficiently and help you fell trees to make room for campfires or tents. Read "Why a Folding Saw Belongs in Your Backpack" for more information.
The axe is an important tool in Bushcrafting. It is a multipurpose tool used for felling and splitting trees. It is also used to make firewood and build shelters for time spent in the great outdoors. Here are some important axe skills you should master in the wilderness.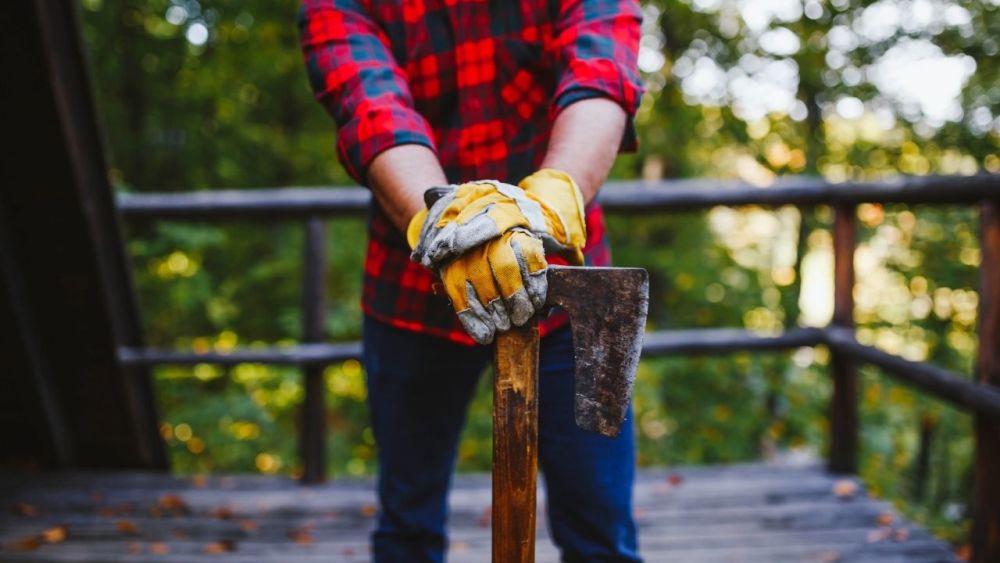 Starting a Fire without Lighters and Matches
Bushcraft is the manner of living in the wild. One of the most important skills that Bushcrafters must master is starting a fire. There are many ways to do this, but one of the most common methods is with a fire starter.
The fire starter is used by scraping it against a piece of metal until it produces sparks that can ignite kindling. The process requires practice and patience, but once you master it, you will never have problems making fire in the great outdoors again.
Another primitive method is using the flint and steel. In this video, I show you how it works.
Read also: How to make fire without a lighter or matches (18 ways)
Building a Bushcraft Camp
Bushcraft is not just about surviving in the wild, but also about enjoying nature and spending time with friends and family. Bushcraft camps are an excellent way to do this.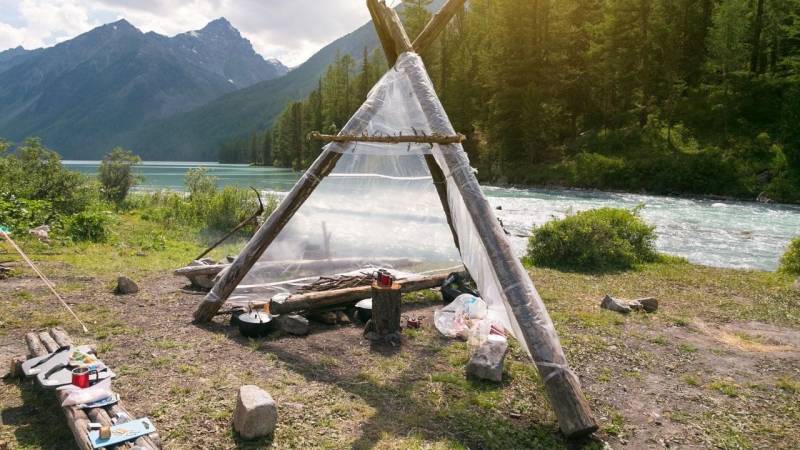 To build a Bushcraft Camp, you only need minimal equipment – some rope, a tarp, an axe, or a knife. The rest of the supplies can be found in nature – wood for shelters or fire pits, plants for food and insulation.
Read also:
Finding Food
Bushcraft is the kind of living in the wilderness – it's about knowing where to find food and herbs when you need them.
It's important to know that not all plants are edible. Some plants can be poisonous, so it's a promising idea to research thoroughly before starting to eat anything you find in the wild.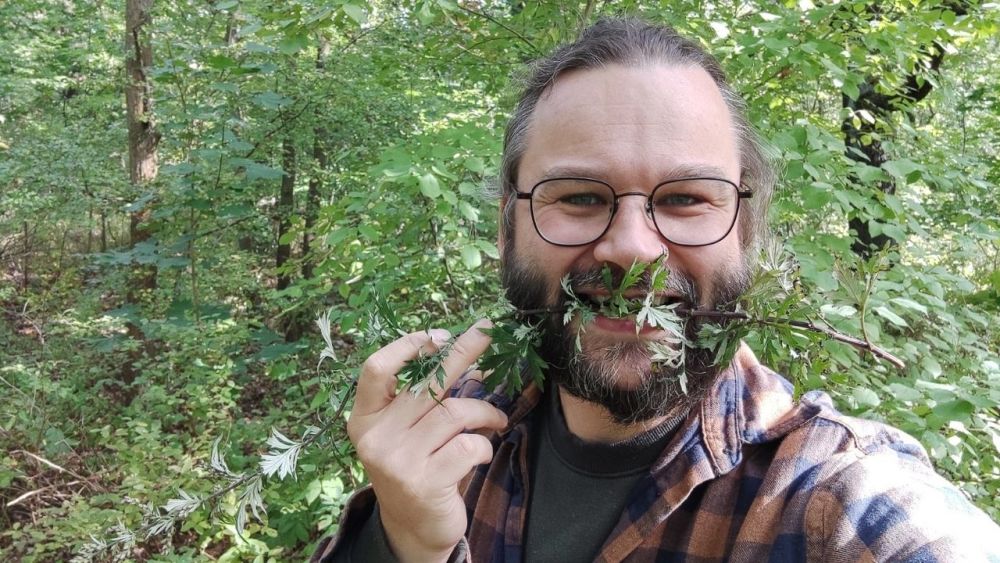 Some of the plants that are edible include:
Strawberries
Mulberries
Blackberries
Raspberries
Parsley
But there are so many more plants, leaves, roots and fruits. Be sure to check out my guide "Edible Plants: This Emergency Food Can Be Found in the Woods (List + Pictures)".
Manufacturing Furniture, Tools and Equipment
Bushcraft is a type of wilderness living that focuses on self-reliance and survival skills. Bushcraft skills include the ability to carve and make Bushcraft tools such as utensils, containers, and shelters.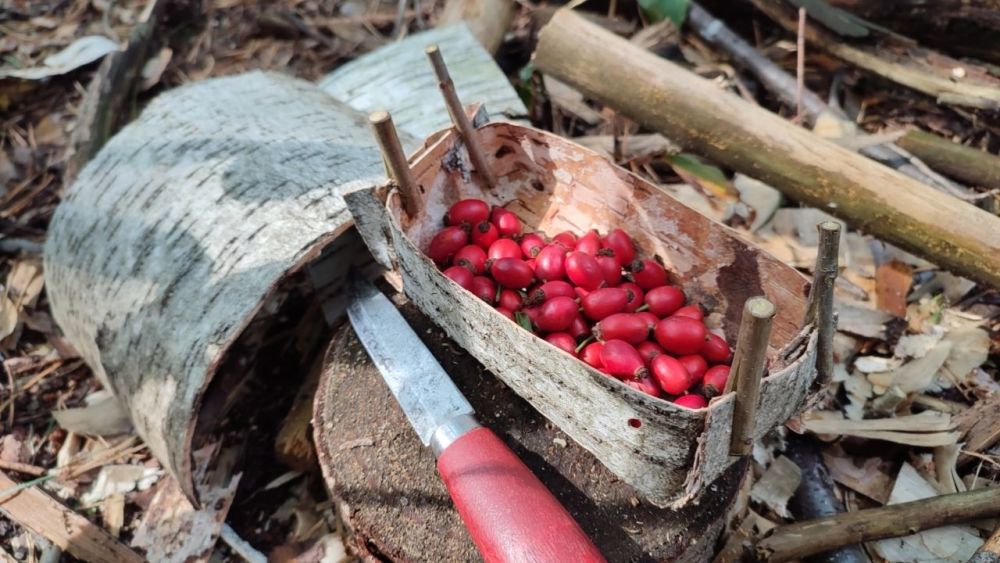 The most common Bushcraft tools are spoons, forks, and knives. These can be made from a variety of materials, including wood, bone, or antler.
To make these tools, you need a blade to cut the shape from the material you have chosen. You should also use some sort of saw or file to smooth rough edges on your new tool.
You can make a tripod or a chair out of thick beams – you just need to know the right knots. And from nettles, you can make your own ropes.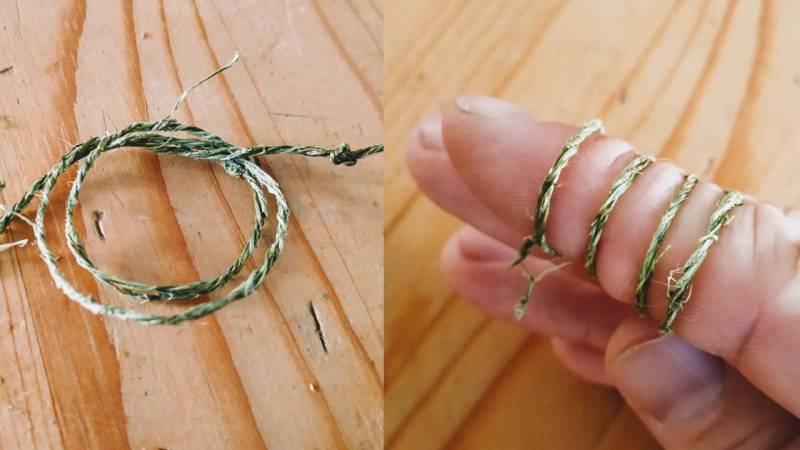 Making Bushcraft tools is an excellent way to spend time outdoors and learn about nature while strengthening your survival skills.
I'll show you many projects in my Wildimpuls program. There you will learn how to have a great time in your Bushcraft camp.
Why should you do Bushcraft? What are the benefits of Bushcrafting?
Bushcrafting is not only about survival skills, but also about connecting with nature and having a sense of freedom.
The benefits of Bushcrafting are endless – it teaches you how to be self-sufficient, improves your mental health, and teaches you to be patient. And, perhaps most importantly, Bushcraft teaches you how to appreciate what we have today.
Other positive effects that many Bushcrafters share:
You get closer to nature and get to know it, as well as yourself as a natural being
You escape from everyday life, can reduce stress, breathe, slow down and ground yourself
Creating things yourself can be incredibly satisfying
You build self-confidence by acquiring knowledge, skills, and abilities
You make new friendships with like-minded people
You gain freedom, peace, movement, and work creatively
You strengthen your survival skills
And the best is yet to come, which is why I am so committed to MORE Bushcrafting: Bushcrafting raises an awareness for nature. And only those who know and learn to appreciate nature will also protect it.
Is Bushcraft allowed in Germany?
Without permission, you are not allowed to build a Bushcraft camp, make fire or wild camp in a German forest. To obtain exceptions, you must contact the owner of the forest. However, you are allowed to stay in the forest and use deadwood for your carving projects, for example.
As you can see, there are restrictions for us in Germany. But there are also exceptions, for example when sleeping in the forest.
The legal issue is partly complex, but you can learn all the laws and rules from me. Look around here:
Reading tip: Is your knife legal? Take a look at my ultimate knife law guide.
What is the difference between Bushcraft and Survival?
Bushcrafters like to spend a long time in nature and do so voluntarily. In contrast, survival is when you are stuck in a survival situation with minimal equipment and want to leave as quickly as possible.
Furthermore, most people who practice Bushcrafting pay attention to sustainable use of nature. A Bushcrafter is aware that he has only limited resources. In survival, the person generally doesn't care if they behave sustainably, as they want to leave their crisis as quickly as possible.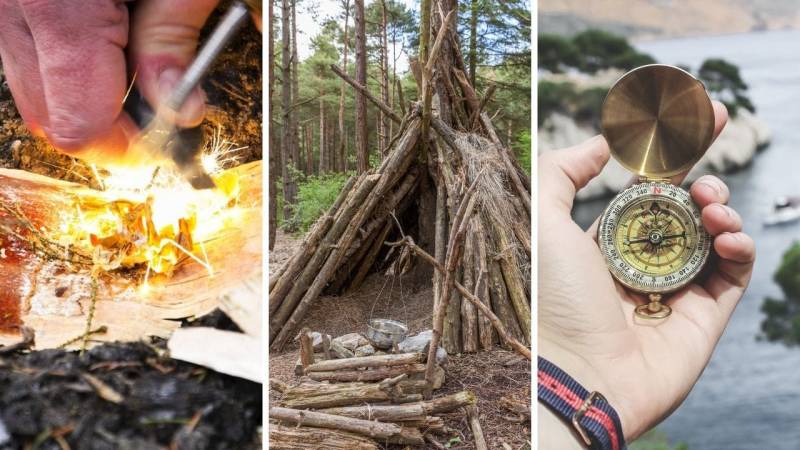 Moreover, a Bushcrafter does not see nature as a threat, but as Mother Nature, which is good as it is. It gives him what he needs to live. Nature does not need to be tamed or conquered.
Take a look, I've created a table for you that shows you the differences at a glance.
| | |
| --- | --- |
| Bushcrafter | Survivalist |
| Wants to go into the wilderness and leave civilization | Wants to get out of the wilderness and into civilization |
| Sees nature as a partner and works with it | Sees nature as a threat and fights against it |
| Uses resources sustainably, so that he can still benefit from them in the future | Uses whatever is available and isn't concerned about sustainability |
| Uses natural resources | Relies on artificial resources (gear) |
| Feels comfortable in nature and is hopeful | Feels fearful in nature and threatened by it |
What do Bushcraft and survival have in common?
Bushcrafters and survivalists work with natural materials and use natural and traditional methods to create things that they need to live well in the wilderness or to survive and escape emergencies.
For example, both groups should be able to:
Start a fire using a bow drill or Firesteel
Construct a shelter to protect from weather
Search for, process, and cook food
Create tools or ropes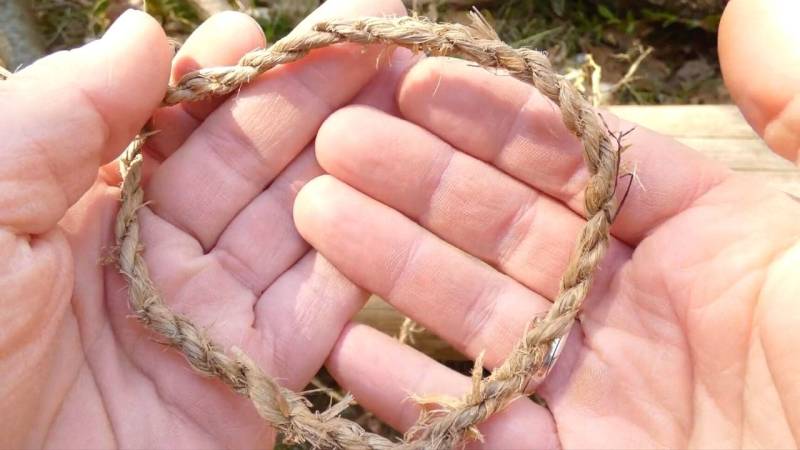 How does Bushcrafting affect the environment and animals?
The most important factor to consider when Bushcrafting is its impact on animals and the environment.
If Bushcrafters do not pay attention to their food consumption and waste disposal, they can have negative effects on animals. When hunting, they must ensure that they only take what they need and not over-hunt in an area.
They must also ensure that they do not hunt endangered species or fish in areas where it is illegal.
To reduce further negative impacts, campsites should be kept clean and campfires should be burned down to ashes before leaving the area.
It is also important to ensure that plants are not damaged while seeking shelter, collecting water, or searching for food.
Would it be possible to practice Bushcraft in urban areas?
Some people believe that the meaning of Bushcraft has changed, and now it is possible to practice these skills in an urban environment.
The original interpretation of the word was someone who lived in a very rural and untouched environment. But today, some people believe that this craft can also be applied to urban life.
So, are you ready to start?
Do you feel like giving Bushcraft a try?
Then take a look at my website, where you will find a wealth of guides and tutorials that will help you get started.
For beginners, I recommend my guide "How to get started with Bushcraft?"

Was this guide helpful?
38 people found this guide helpful.
5.00 out of 5 points (38 Ratings)