Back to german article
The top 7 gravity filters for camping, bushcraft & outdoor
Find out which gravity filters are best for your outdoor adventures. Discover the top 7 models that guarantee clean drinking water.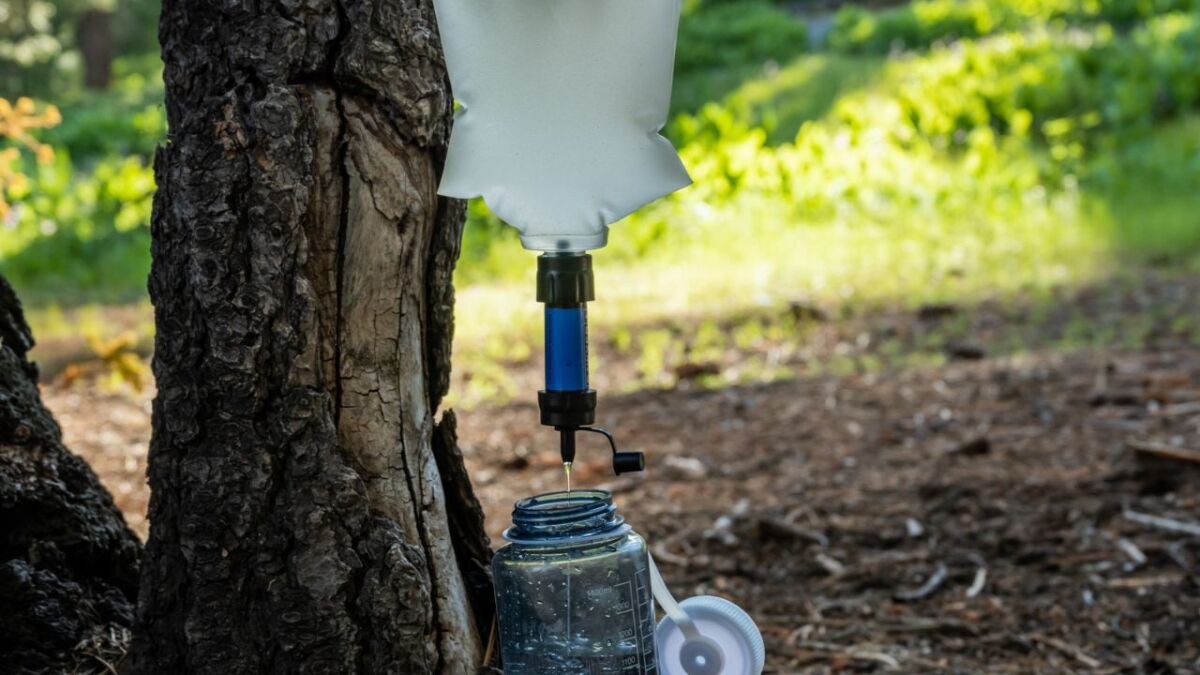 ---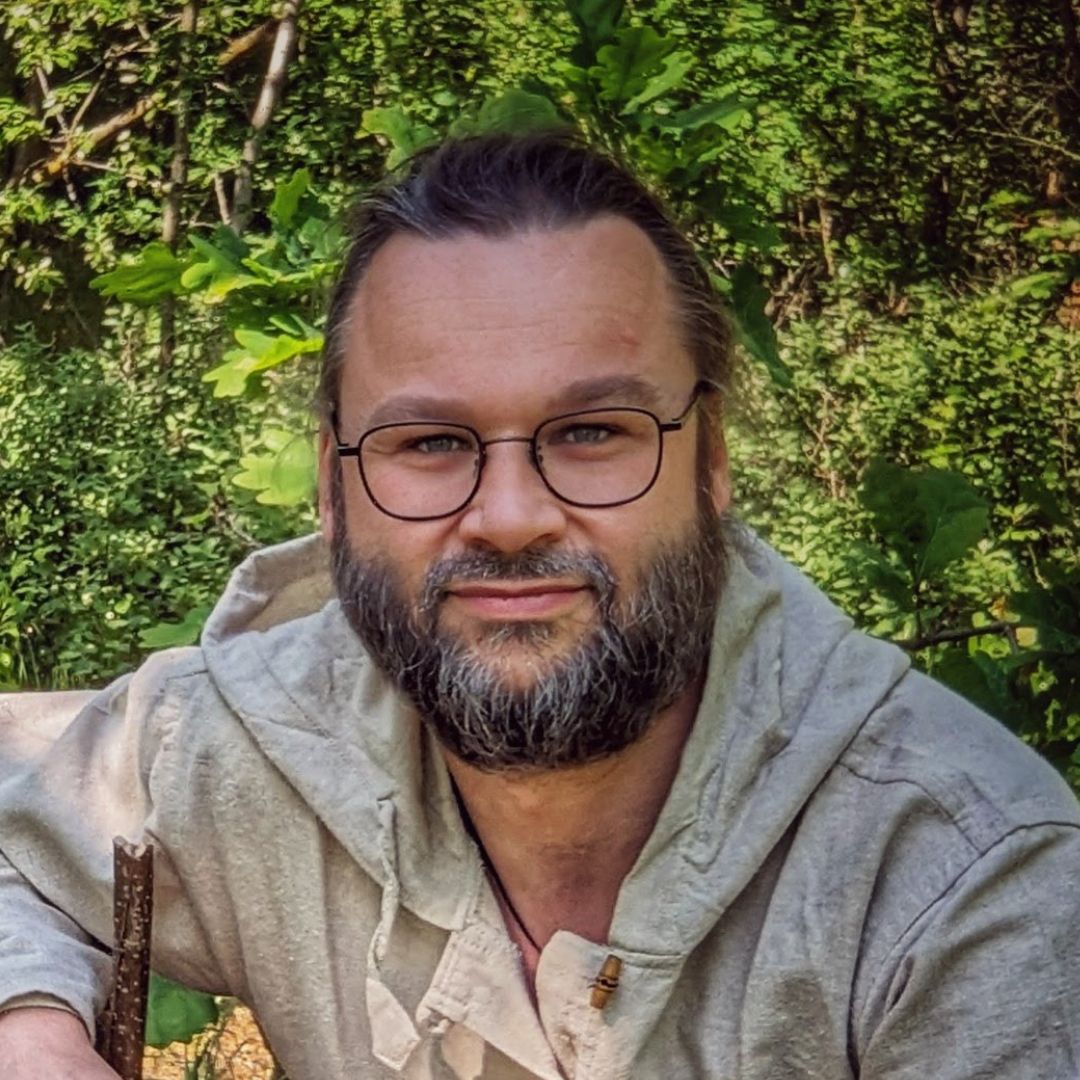 ---
👉 The key facts from this guide
Gravity filters guarantee clean drinking water without the need for pumping or suction.
Discover the top 7 models of gravity filters, including the MSR AutoFlow XL, the Katadyn BeFree Gravity water filter, and the Miniwell Mini water filter with drinking water bag.
Realize that choosing the right gravity filter depends on your specific needs, including the size of your group and the duration of your trip.
Learn how to find the best gravity filter for you by considering various factors such as filter capacity, weight, and flow rate.
Be aware that it is important to keep your water filter in top shape to ensure it is working effectively and providing you with clean drinking water.
Do you know the problem when you're camping or on a Bushcraft tour and can't be sure if the water you find in the wilderness is spotless?
That can be quite worrying, can't it?
Not only do you always have to have enough water with you to quench your thirst, but you also have to be careful not to swallow any contaminants that could harm your body.
Out there in nature, there are numerous invisible dangers in the water, such as bacteria, viruses and other pollutants that can cause serious health issues.
But don't worry, I have exactly the solution for you: the best gravity filters for outdoor, camping, and Bushcraft.
With these filters, you can relax and enjoy the adventure because they ensure that you always have clean and safe drinking water available - without pumping or sucking, like with normal water filters.
Now let's find out together which gravity filter is best suited to your needs.
My recommendation to you for the best gravity water filter
In this buying guide, as a first step, I would like to introduce you to three of my best water filters for your outdoor adventures.
Each of them has its advantages, so you are sure to find the right one for your needs.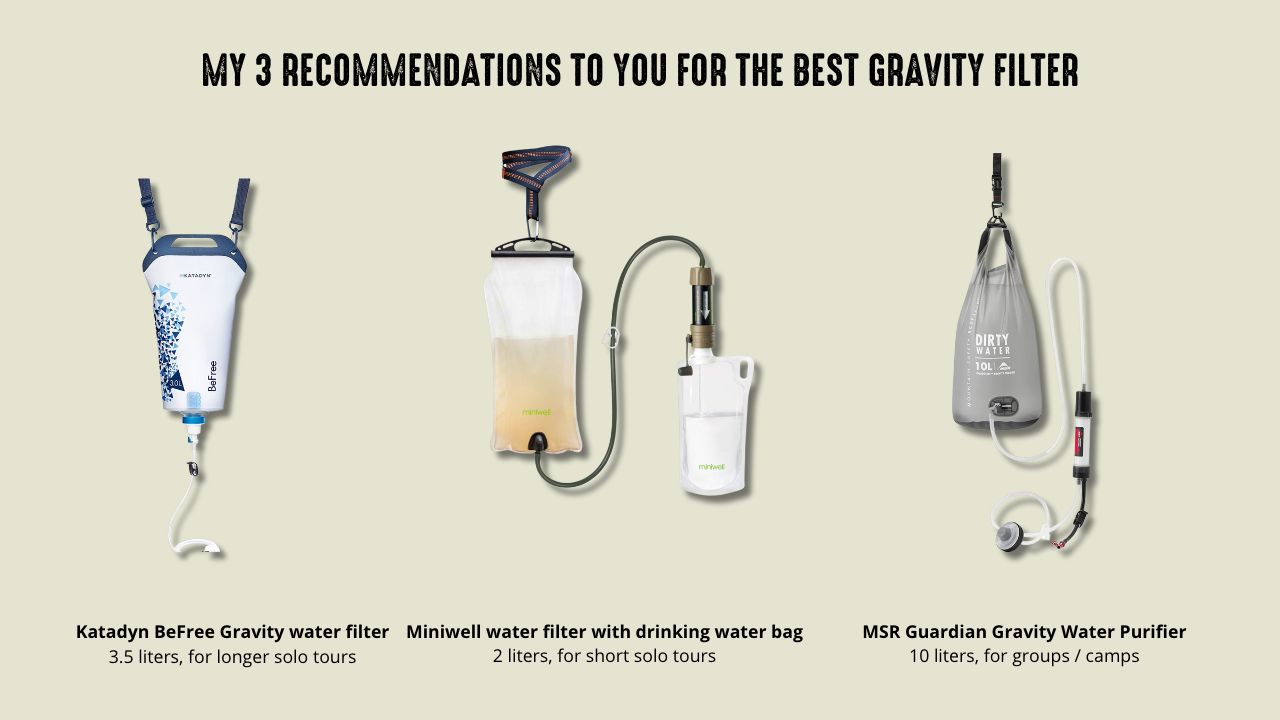 These are the clear winners:
Katadyn BeFree Gravity Water Filter: This affordable and lightweight water filter is perfect for individuals. With a capacity of 3.5 liters and a weight of only 100 grams, it is ideal for your solo trips in nature. (You can buy the gravity filter here)

Miniwell Mini Water Filter with Drinking Water Bag: Another affordable filter that can be used as both a gravity filter and a suction filter. The set includes a 2-liter drinking water bag and therefore offers excellent value for money. (You can buy the gravity filter here)

MSR Guardian Gravity Water Purifier: This rugged and high-quality water filter is pricier, but is perfect for groups. With a capacity of 10 liters, you can be sure that no one in your group will remain thirsty. (You can buy the gravity filter here)
These three water filters offer different advantages for different outdoor situations and budgets. Whether you're alone or in a group, one of these filters will surely meet your needs.
Here's a quick overview in a table of my top gravity water filters.
Note: The prices listed in the table are approximate and may vary depending on the retailer and availability. Please check the current prices on the respective product pages.
Now, let's explore the other gravity filters on my top list.
My Top 7 Best Gravity Filters for the Wilderness
MSR AutoFlow XL Gravity Filter (10 L)
The MSR AutoFlow XL gravity filter with a 10-liter capacity is a fast, fine, and durable filter (hollow fiber filter) for outdoor use.
It filters bacteria, protozoa, and particles from the water and can be cleaned on the go with a sediment trap.
Daten aktualisiert vor 7 Stunden
MSR AutoFlow XL Schwerkraftfilter (10 Liter) 30,5 x 12,7 cm
Wirksam gegen: Bakterien (99,9999 %), Protozoen (99,9 %) und Partikel. Der Hohlfaserfilter erfüllt EPA-Standards und die NSF-Norm P231 zum Entfernen von Bakterien und Protozoen.
Schnell: Kann mithilfe von Schwerkraft ganz von selbst 1,75 Liter Wasser pro Minute filtern.
Vielseitig: Separate Hängeriemen und Clip für einfaches, besonders praktisches Aufhängen.
Robust: Trinkwasserbehälter aus robustem 3D-Film, mit HF-geschweißten Nähten und 1000 Denier starker sowie abnutzungsresistenter und flacher Unterseite.
Unterwegs wartbar: Sedimentfalle unten. Filter lässt sich ohne Werkzeuge leicht unterwegs reinigen.
119,09 €
UVP: 140,00 €
View Product
The gravity filtration makes it self-sufficient, and the HF-welded seams and robust material increase durability and stability. The filter is versatile and easy to hang and operate.
Advantages
Fast gravity filtration without a pump (1.75 liters of water per minute)
Easy and versatile hanging
Durable and stable material
On-the-go serviceable with sediment trap
Disadvantages
May clog in very turbid water
Katadyn BeFree Gravity Water Filter (3 liters)
Katadyn BeFree Gravity Water Filter is perfect for outdoor use. Using gravity, you can get clean, fresh water that can easily be transported from the water source to the camp.
The filled filter can be easily transported and hung in a nearby tree using a carry strap.
Katadyn 8020471 BeFree Gravity Wasserfilter, Volumen: 3 Liter
Das schlanke, faltbare Katadyn BeFree Gravity Filtersystem nutzt die Schwerkraft, um frisches, sauberes Wasser zu erhalten, auf das man vertrauen kann.
Mit dem praktischen Tragegurt kann der gefüllte Filter problemlos von der Wasserquelle zurück ins Camp transportiert und in einen nahegelegenen Baum gehängt werden.
Das Herzstück des BeFree Gravity ist die EZ-Clean MembraneTM. Das Hohlfaserfilter, der mit seiner Porengröße von 0,1 Mikron (0,0001 mm) entfernt zuverlässig Bakterien, Zysten und Sedimente entfernt.
Die EZ-Clean Membrane kann durch Schütteln oder Schwenken ganz einfach gereinigt werden. Der Auslassschlauch lässt sich über ein Schnellverschlussventil mit automatischem Auslaufstopp leicht abnehmen.
Leistung: bis zu 2 l/min - Die Leistung des Filters ist abhängig vom Höhenunterschied zwischen Filter und Behälter. * Lebensdauer: bis zu 1.000 l abhängig von der Wasserqualität.
69,20 €
View Product
The heart of the BeFree Gravity is the EZ-Clean MembraneTM. The hollow fiber filter with a pore size of 0.1 micron reliably removes bacteria, cysts, and sediments.
The filter hose is easy and quick to attach, and the EZ-Clean membrane can be easily cleaned by shaking or swiping. The outlet hose can be easily removed via a quick-release valve with automatic shut-off, making it easy and convenient to use.
Note: The gravity water filter is also available in other sizes. You can get the filter with a capacity of 3, 6, and 10 liters.
Advantages
Lightweight with 100 g
Filters up to 2 liters per minute
Easy to use
Carrying strap makes transportation easy
Filter hose is easy to attach
Disadvantages
Not suitable for large groups and long tours
Miniwell Mini Water Filter with Drinking Water Bag (2 liters)
The Miniwell Mini Water Filter with Drinking Water Bag is the perfect companion for camping, travel, and emergencies.
The water filter is versatile and can be easily attached to any standard drinking bottle. With a flow rate of up to 600 milliliters per minute, the filter can filter up to 2 liters of water.
Daten aktualisiert vor 7 Stunden
Miniwell Mini Wasser Filter mit Trinkwasserbeutel – tragbarer Outdoor-Wasserfilter mit Strohwasser-Filter-System, zur Wasseraufbereitung & Notfallvorsorge für Camping, Reisen, TÜV-geprüft
TRINKWASSER IN ÜBERLEBENSSITUATIONEN: Der Saugwasserfilter eignet sich hervorragend bei Einzel- oder Gruppenaktivitäten als Überlebensausrüstung für jederzeit sauberes und zugängliches Trinkwasser
BEQUEME ANBRINGUNG AN STANDARDGRÖSSE: Der ultraleichte und flexible Mini Wasserfilter kann ganz bequem an einem Standardgewinde von 28 Millimetern jeder herkömmlichen Trinkflasche angebracht werden
GROßE KAPAZITÄT UND DURCHFLUSSRATE: Filtern Sie mit dem Camping Strohfilter bis zu 2000 Liter Wasser zu reinem Trinkwasser bei einer konstant hohen Durchflussrate von 600 Milliliter pro Minute
PERSÖNLICHER WASSERFILTER: Profitieren Sie auch als Survival Anfänger vom intuitiven Mechanismus und machen Sie sich die Gesetze der Schwerkraft zur perfekten Herstellung von Trinkwasser zu Nutze
LANGLEBIGE WASSERAUFBEREITUNG: Durch regelmäßige Rückspülung kann die Lebensdauer des Produktes deutlich verlängert werden. An einer abnehmenden Durchflussrate erkennen Sie Bedarf zum Spülen
43,95 €
UVP: 46,95 €
View Product
Advantages
Versatile
Can be attached to any standard drinking bottle (28 mm standard thread)
Flow rate of up to 600 ml per minute
Can filter up to 2 liters of water
TÜV-tested for quality and safety
Disadvantages
No disadvantages found
MSR Guardian Gravity Water Purifier (10 liters)
The MSR Guardian Gravity Water Purifier is a robust water filter suitable for mountaineering, trekking, camping, expeditions, and travel.
With the ability to filter and purify up to 10 liters of water, it is a must-have for adventurers who want to protect themselves against water-borne diseases.
Daten aktualisiert vor 7 Stunden
The Gravity Water Purifier has been made of durable and long-lasting material to ensure a long lifespan and stability. In addition, the filter is replaceable, so you always have a clean and effective water purification system.
The filter is said to be effective against viruses by the manufacturer. However, with a pore size of only 0.2 micrometers, I would be cautious about this claim. Other filters have pore sizes as small as 0.1 micrometers and do not advertise this feature. Read here for more information about my research on the MSR Guardian water filter and viruses.
Advantages
Durable material
Replaceable filter
Large capacity of 10 liters
Flow rate of 0.5 liters per minute
With cartridge replacement indicator
Disadvantages
High price
Heavy weight at 530g
KATADYN Water Filter Base Camp Pro (10 liters)
The KATADYN Water Filter Base Camp Pro enables fast filtering of up to 2 liters per minute thanks to its gravity filter, without the need for pumping.
KATADYN 8019296 Wasserfilter Base Camp Pro 10L, Default
Schwerkraftfilter dank dem ohne Pumpen eine Filterung möglich i Der Filter schafft bis zu 2l/min und hat eine Lebensdauer bis 1.500 l abhängig von der Wasserqualität
Durch das Sichtfenster im Wassersack ist klar ersichtlich, wann ein erneuter Gang zur Wasserquelle erforderlich ist
Der Auslaufschlauch lässt sich über ein Schnellverschluss-Ventil mit automatischem Auslaufstopp ganz einfach entfernen, damit er beim erneuten Befüllen nicht mit kontaminiertem Wasser in Kontakt kommt
Lebensdauer bis zu 1.500 l abhängig von der Wasserqualität; Leistung: bis zu 2l/min
Material: Silikon, Glasfasern, schlagfeste und lebensmittelechte Kunststoffe
kein Preis ermittelbar (B00QT6JFZ0)
View Product
The filter has a lifespan of up to 1,500 liters, depending on water quality. A viewing window on the 10-liter water bag indicates when a return trip to the water source is necessary. The filter weighs 350 grams.
Advantages
Fast gravity filtering
AntiClog cartridge with 0.2 micron glass fibers
Large water bag with 10-liter capacity
Easy handling without pumping
Can be turned into a shower bag with an available shower adapter
Disadvantages
Higher purchase price compared to other water filters
Waterdrop Water Filter Set with Gravity Water Bag (5.6 liters)
The Waterdrop Gravity Water Filter with Gravity Water Bag is a portable camping filtration system suitable for emergencies, hiking, travel, and backpacking.
The filtration system effectively removes 99% of harmful substances through the 0.1-micron hollow fiber filter and improves the smell and taste of water. With a capacity of 5.3 liters, the water filter ensures clean drinking water in any situation.
Waterdrop Wasserfilter Outdoor - Entfernt 99,99% Aller Bakterien, Wasserfilter Outdoor Survival Wasserfilter Camping Filtersystem mit Gravity - Wasserbeutel für Notfälle, Wandern, Reisen (Orange)
Hochwertige Materialien: Entfernt effektiv 99% aller schädlichen Substanzen. Durch die hochwertigen Kokosnussschalen-Aktivkohlefasern verbessert es den Geruch und Geschmack, gewährleistet die Wassersicherheit und sorgt für einen besseren Trinkgenuss.
Vielseitig verwendbar: Nutzen Sie den Filterstrohhalm mit Wasserbeuteln oder nutzen Sie ihn mit Wasserflaschen, um Ihr Trinkwasser zu reinigen. Beide Enden können zerlegt warden, sodass es für sauberes Trinkwasser überall und zu jeder Zeit verwendet werden kann.
Wasserfilter Outdoor Survival: Erfüllen Sie alle Ihre Outdoor-Wasserbedürfnisse: Wandern, Camping, Reisen im In- und Ausland, Notfallvorsorge (Tornados, Regenstürme, Erdbeben, Überschwemmungen usw.).
Innovatives super-wash Design: Eine zusätzliche Rücklaufspritze ist nicht notwendig. Dadurch entfallen unhandliche Anschlüsse und es spart Platz, Sie erhalten daher mit größtmöglicher Bequemlichkeit und Komfort sauberes Trinkwasser.
Kleinerer Rahmen: Kleinerer Rahmen aber größere Kapazität! Der Waterdrop Filterstrohhalm sorgt für bis zu 1400 Gallonen (5300 Liter) sauberes Trinkwasser. Es ist unkompliziert, damit Wasser zu trinken und sofort und jederzeit Ihren Durst zu löschen. Kombinieren Sie es mit Wasserbeuteln oder -flaschen für das ultimative Trinkerlebnis.
32,99 €
View Product
The innovative filtration system is versatile as it can be used with water bags or water bottles. The entire set weighs 470 grams.
Advantages
Effectively removes 99% of harmful substances
Can be used with water bags or water bottles
Versatile for outdoor activities and emergency preparedness
Contains coconut shell activated carbon fibers
Filters 700 ml per minute
Disadvantages
No known disadvantages
Life Solution Water Filter for Emergency and Crisis Preparedness (16 liters)
The gravity water filter is perfect for crisis preparedness and emergency situations, as it can filter water from almost any source.
It is extremely long-lasting and can be assembled and easily transported by car, making it an indispensable companion for travel as well.
Wasserfilter für Krisenvorsorge und Notfall - Outdoor Filter für Gruppen - hoch Effektiv - inkl. 2 Mikro-Keramik Filterelementen
ABSOLUT ZUVERLÄSSIG: Sicher gegen Krankheitserreger. Der Krisenfilter filtert alle Bakterien & Keime, Mikroplastik und und sichtbare Verunreinigungen (Partikel)
PERFEKT FÜR DIE KRISENVORSORGE: Für Wasser aus fast jeder Quelle nutzbar. Der Krisenfilter ist extrem lange Lagerbar.
MOBIL EINSETZBAR: Zusammensteckbar und leicht zu Transportieren. Auch auf Reisen (z.B. Camping) ein super Begleiter.
ERGIBIG IN DER NUTZUNG: Der Wasserfilter kann ganze Familien und sogar große Gruppen mit sauberem Wasser versorgen.
EINFACHE NUTZUNG: Mit ausführlicher, deutscher Anleitung. Schnell und einfach Auf- und Abgebaut. Zusammensteckbar.
119,90 €
View Product
This water filter is a reliable companion for crisis preparedness and emergencies. The set includes 2 micro-ceramic filter elements and can reach a capacity of up to 57 liters per day.
Advantages
Reliably filters all pathogens, bacteria, germs, microplastics, and visible impurities (particles)
Water tank of 16 liters
Perfect for crisis preparedness and emergency situations, as water from almost any source can be used
Can provide clean water for entire families and even large groups
Easy to use with detailed German instructions
Includes 2 micro-ceramic filter elements
Easy to assemble and disassemble
Disadvantages
Relatively high price
Filters 57 liters per day (40 ml per minute)
Not suitable for backpacking
Larger weight and size than other portable water filters, due to higher capacity
Buyer's Guide: How to Find the Best Gravity Water Filter
A gravity filter for outdoor use is incredibly useful for us forest lovers, hikers, trekkers, and camping enthusiasts to ensure clean drinking water in the wilderness.
You want to buy a gravity filter, but don't know exactly what to look for? Here is a detailed buying guide that will help you make the right choice:
Filter type: There are two main types of gravity filters - hollow fiber filters and ceramic filters. Hollow fiber filters have finer pores than ceramic filters, which means they can filter out smaller particles. However, ceramic filters are generally more durable than hollow fiber filters.
Filter performance: An effective gravity filter should be able to remove bacteria, viruses, protozoa, and other impurities from the water. Make sure to check the specifications of each filter before making a purchase decision.
Capacity: Gravity filters have different capacities. Some can filter several liters of water at once, while others can only filter half a liter of water per minute. Consider how much water you need to select the filter's capacity.
Weight and size: If you want to use the gravity filter on a backpacking trip, make sure it is lightweight and compact. Choose a filter that is easy to store in your backpack and not too heavy to carry.
Easy operation: A gravity filter should be easy to assemble and use. Check if it is easy to clean and if the instructions are easy to understand.
Brand and price: Brand and price are also important factors when deciding on a gravity water filter. Make sure to read reviews and compare different gravity filters from different brands to find the best filter at a reasonable price.
What sets normal pump or suction water filters apart from gravity filters?
Gravity filters and pump or suction filters are two different types of water filters that each have their advantages and disadvantages. Here are the main differences between these two types of filters:
Functionality: Gravity water filters use gravity to pull water through a filtering medium (such as ceramic, activated carbon, or hollow fiber membranes). The water flows from a higher container to a lower container, with impurities being trapped in the filtering medium. Pump or suction water filters, on the other hand, require manual labor to push or pull the water through the filtering medium.
Speed: Gravity filters typically work slower than pump or suction filters, since the water is only moved by gravity. Pump or suction filters can filter water faster, as the manual pump increases the pressure and pushes the water through the filtering medium more quickly.
User-friendliness: Gravity filters are typically easier to use, since they don't require any extra effort once set up. You simply set up the filter and wait for the water to pass through. Pump or suction filters require manual labor, which can be tiring, especially for larger amounts of water.
Maintenance: Gravity filters are typically easier to maintain, since they don't have any moving parts that can wear out or need to be replaced. Pump filters, in particular, have moving parts that can wear down over time and may need to be replaced.
Capacity: Gravity filters can typically filter larger amounts of water at once, since they have a larger container for the water to be filtered. Pump or suction filters are typically designed for smaller amounts of water and are better suited for personal use or small groups.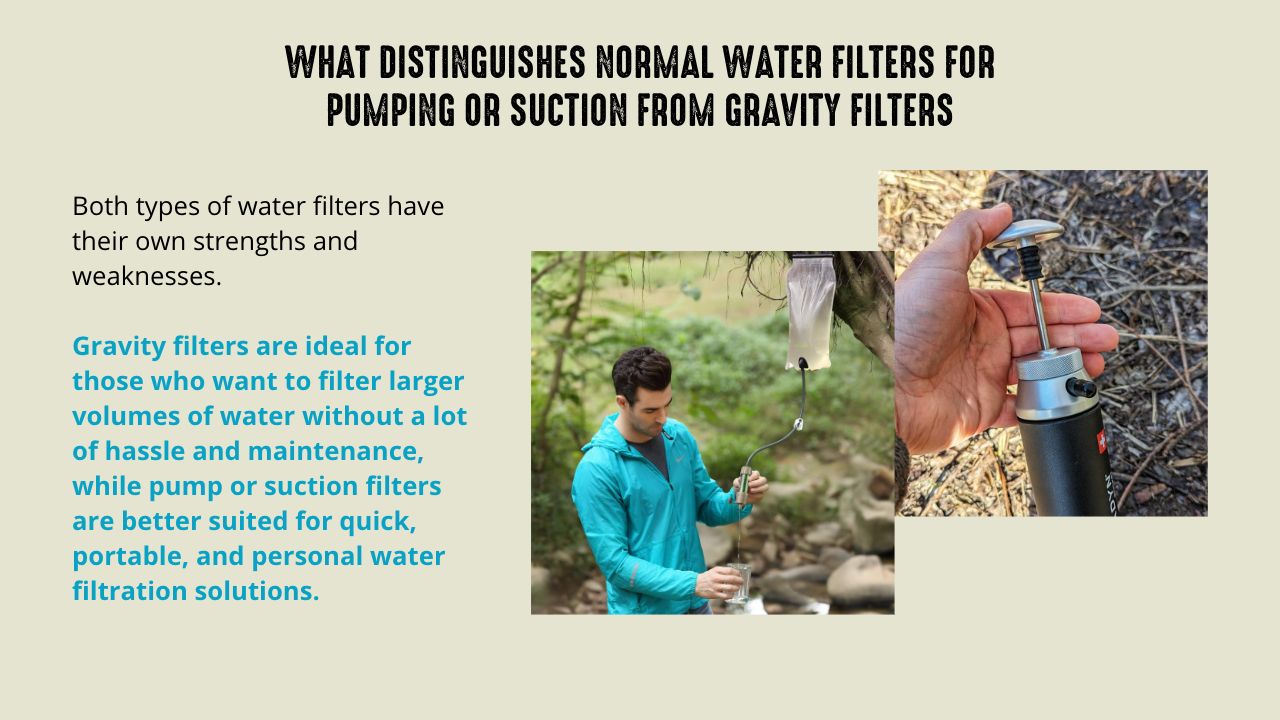 Both types of water filters have their strengths and weaknesses. Gravity filters are ideal for those who want to filter larger quantities of water without much effort or maintenance, while pump or suction filters are better suited for quick, portable, and personal water filter solutions.
Questions and Answers about Gravity Filters in the Outdoor Area
What is a gravity filter for the outdoor area and how does it work?
A gravity filter is a type of water filter used in the outdoor area to clean the water from various impurities. It works by allowing water to flow through a container or tank filled with various types of filter media to remove dirt, bacteria, and other impurities.
What are the advantages of a gravity water filter for the outdoor area?
A gravity filter has many advantages for us nature lovers, as it provides a simple and cost-effective way to obtain clean and drinkable water. It is also easy to install and maintain, making it ideal for use in remote areas or while camping.
What types of gravity filters are available for the outdoor area?
In the wilderness, there are various types of gravity filters, including ceramic filters, charcoal filters, and membrane filters. Each filter has its advantages and disadvantages, depending on the specific requirements of the user.
What factors affect the performance of a gravity filter in the outdoor area?
The performance of a gravity filter depends on various factors, including the quality of the water flowing through the filter, the type of filter, and the type of filter medium used. Other factors such as maintenance and storage can also impact performance.
How often should a gravity water filter be maintained in outdoor areas?
As someone who spends a lot of time outdoors, I know that the recommended maintenance frequency depends on the type of filter and frequency of use. Generally, it is recommended to clean the filter at least once a year or replace the filter medium to ensure optimal performance and durability. It is also important to regularly check the filter to avoid clogging of the filter media.
Tips for water treatment - how to keep your water filter in top shape
Your water filter alone cannot do everything, so you should think about how to get the most out of it - after all, it's about your health.
To ensure that each filtering method works optimally, you should avoid some crucial mistakes and take precautions. But don't worry - with our tips, you are well-prepared:
Separate your containers for clean and dirty water and label them clearly.
Look for clean water, as sediment can affect the effectiveness of the treatment. If only cloudy sources are available, use a pre-filter or wait until the sediment settles.
Follow the instructions carefully, as each product contains detailed steps to avoid cross-contamination (introduction of untreated water into your treated water).
Keep your hands clean by packing and using hand sanitizer frequently.
Keep camping, toilet, and dishwashing areas at least 50 to 60 meters away from any water source.
Frost conditions require special attention: Melting snow is a safe choice.
Filters that can freeze and crack should be stored in your sleeping bag overnight.
Boiling the water kills any viruses – better safe than sorry!
It is critical to me that you are healthy and safe on your journey. With my tips and recommendations, you can rely on optimizing your water filter – and therefore be well-equipped for your adventures.
Don't have a pot? Then there's a guide to boiling water without a pot.
Summary
The fact is: a gravity water filter is an important component of your outdoor gear.
In this guide, I have compiled my best gravity filters for your outdoor adventures.
Here's the list again:
If none of them were right for you, my buying guide will surely help you focus on the most significant things to consider when buying a gravity filter.
When choosing a filter, pay attention to the following:
Filter type
Filter performance
Capacity
Weight
Size
Easy operation
Brand
Price
My recommendation is the Katadyn BeFree Gravity Water Filter for individuals due to its affordable price and lightweight. Furthermore, the filter is available in various capacities and Katadyn has already convinced me of its quality in the past.
Essential: Choose a gravity filter that suits your needs and budget, and regularly check the filter to ensure it remains effective.
I hope the guide has helped you and you can now make a selection.

Was this guide helpful?
11 people found this guide helpful.
5.00 out of 5 points (11 Ratings)