Back to german article
BOXIO-WASH - the clever mobile washing station for camping enthusiasts
BOXIO-WASH offers a mobile washing solution for camping & outdoor adventures. Practical & convenient, can be used anywhere. Read my test report and review here.
from Martin Gebhardt
|
Gear
| reading time 3 Min
---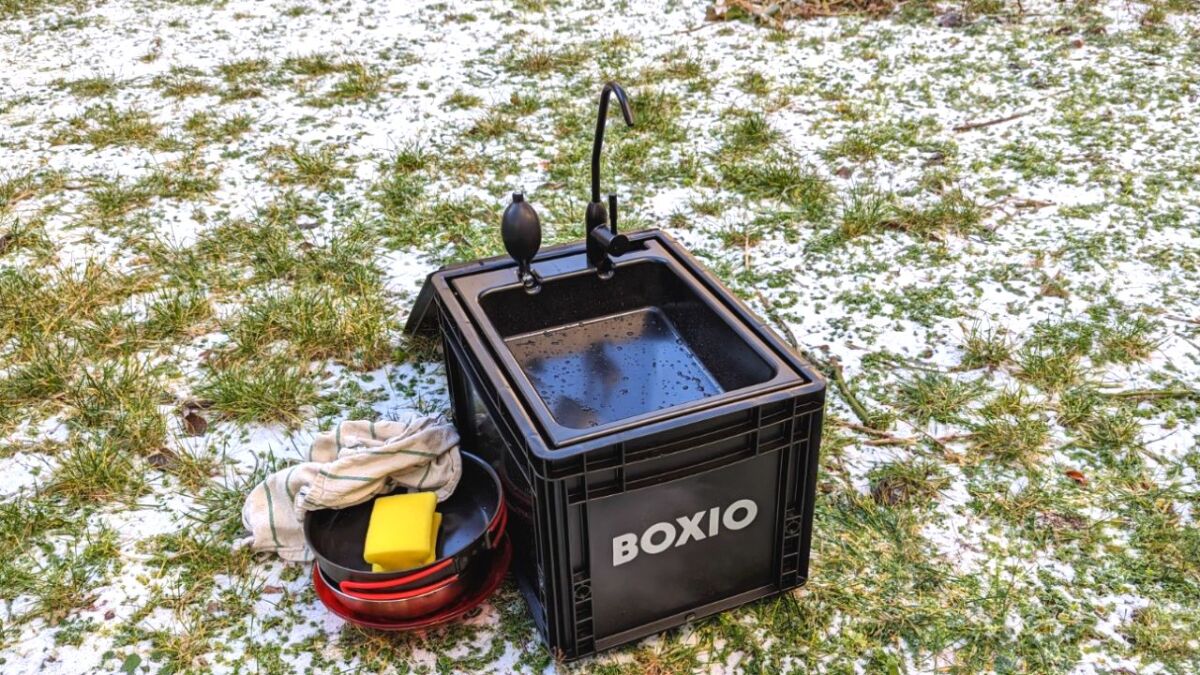 ---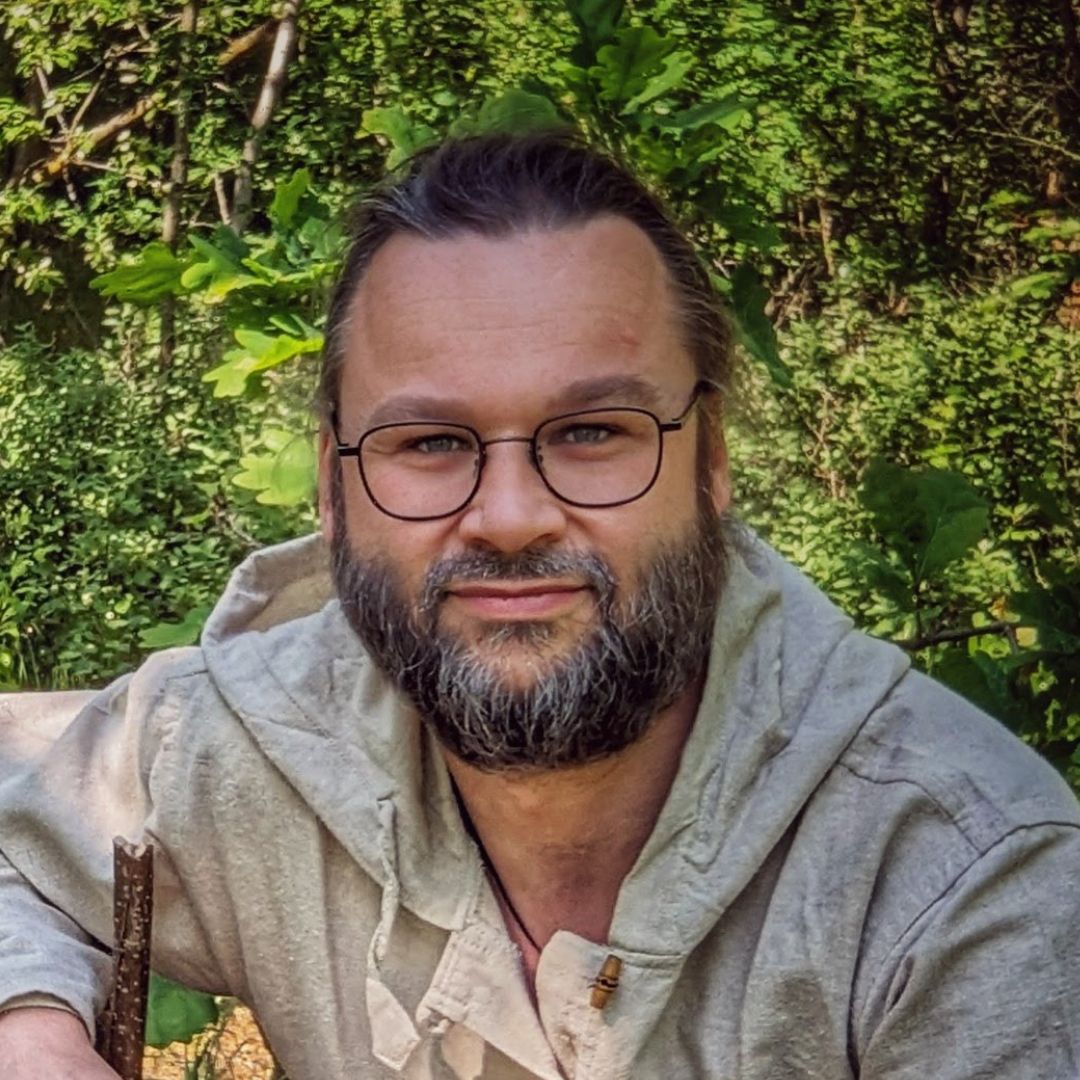 ---
👉 The key facts from this guide
The BOXIO-WASH is a mobile washing station that is ideal for camping, outdoor activities, and emergency preparedness. It is compact, easy to transport, and easy to use.
The washing station has a 5-liter fresh water tank and a 5-liter wastewater container. It operates without electricity and allows you to wash your hands or clean dishes wherever you are.
The BOXIO-WASH is environmentally friendly as it consumes less water than traditional washing methods. It is made of high-quality, easy-to-clean plastics.
The washing station is easy to assemble, and all necessary parts are included in the delivery. It can be made ready for use in just 15 minutes.
The BOXIO-WASH will be available from March 2023 and can be pre-ordered in the official BOXIO online shop. It costs about €159.90.
The BOXIO-WASH is an excellent choice for anyone who enjoys camping and being outdoors and is looking for a practical and environmentally friendly solution for washing.
If you enjoy camping and being on the go, you know that it can sometimes be difficult to keep your equipment clean.
Occasionally, I also have the urgent need to wash my hands or give myself a quick cat wash.
However, this is no longer a problem and can be easily done with BOXIO-WASH, which provides a simple and practical solution.
A few pumps and you can wash your hands or clean your dishes in peace.
Let's take a closer look at the mobile sink now.
The mobile washing station BOXIO-WASH for camping purposes and its advantages
Perhaps you are wondering why you need a mobile washing station?
That's how it was for me in the beginning. I thought to myself: Hey, I have fresh water in tanks with me, that's okay for me.
That may also be possible, but if you're looking for a little more comfort, take a look at what the BOXIO-WASH can do for you:
Mobility: A mobile washing station can be taken anywhere and is therefore ideal for camping trips or travels with a camper, motor home or car.
Environmental friendliness: Another big plus of the BOXIO-WASH is its environmental friendliness. The system uses less water than conventional washing methods and also does not require electricity.
Compact: A major advantage of the BOXIO-WASH is its size. It is compact and lightweight, making it easy to transport and store. This makes it the perfect choice for camping trips, hikes, fishing trips or other outdoor activities.
Convenience: With a mobile washing station, you can enjoy a warm wash anytime and anywhere without relying on a public shower. Heat up the water and you can wash yourself comfortably.
Hygiene: A mobile washing station like the BOXIO-WASH allows you to stay clean anytime and anywhere, which is especially important when traveling for a long time.
Independence: A mobile washing station gives you the freedom to be independent of public facilities and power supply.
Time savings: A mobile washing station allows you to save time and effort in searching for a public shower or sink.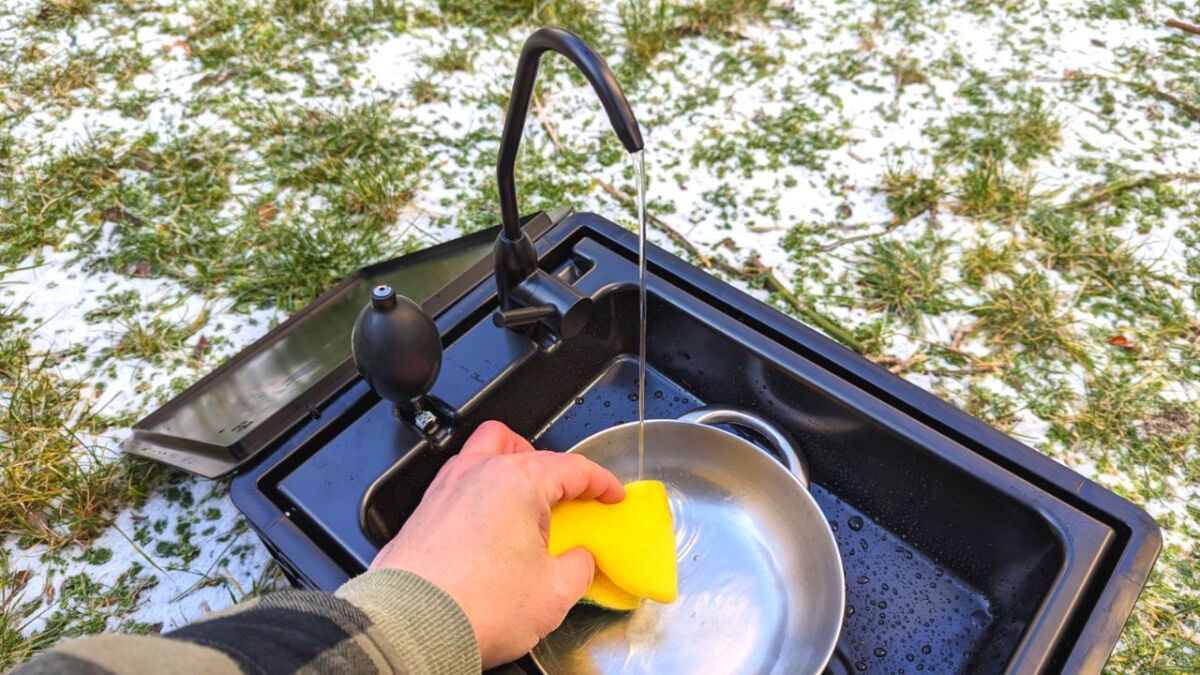 Purposes of Application
The BOXIO-WASH can be used for a variety of applications, including:
Camping: Ideal for camping trips as it is space-saving and easy to transport.
Outdoor activities: Perfect for remote locations and other outdoor activities, as it provides a hygienic washing facility.
Crisis preparedness: Do you not want to do without running water even in the event of a water outage? Then the box is definitely something for your crisis preparedness.
Disaster relief: In emergencies, a mobile washing station can be quickly deployed to meet the hygiene needs of those affected.
Cottage, cabin, garden: Do you not have a water connection in your cabin? Ideal for cleaning tools, equipment, and dishes as it is easy to transport and install.
Events: Excellent for events such as festivals, concerts, and sports events as it provides hygienic washing facilities.
Now that you know the benefits and applications, let's take a look at what the BOXIO-WASH has to offer.
Details about the mobile BOXIO-WASH washing station
The BOXIO-WASH is a mobile camping sink with dimensions of 400 x 300 x 280 mm (L x W x H with lid). Essentially, it is a black box that is great for storage in a camper or for car camping.
The mobile bathroom sink has a 5 liter fresh water tank and a 5 liter waste water container. If necessary, you can securely lock both canisters. So if you drive on a dirt road, everything is safely sealed.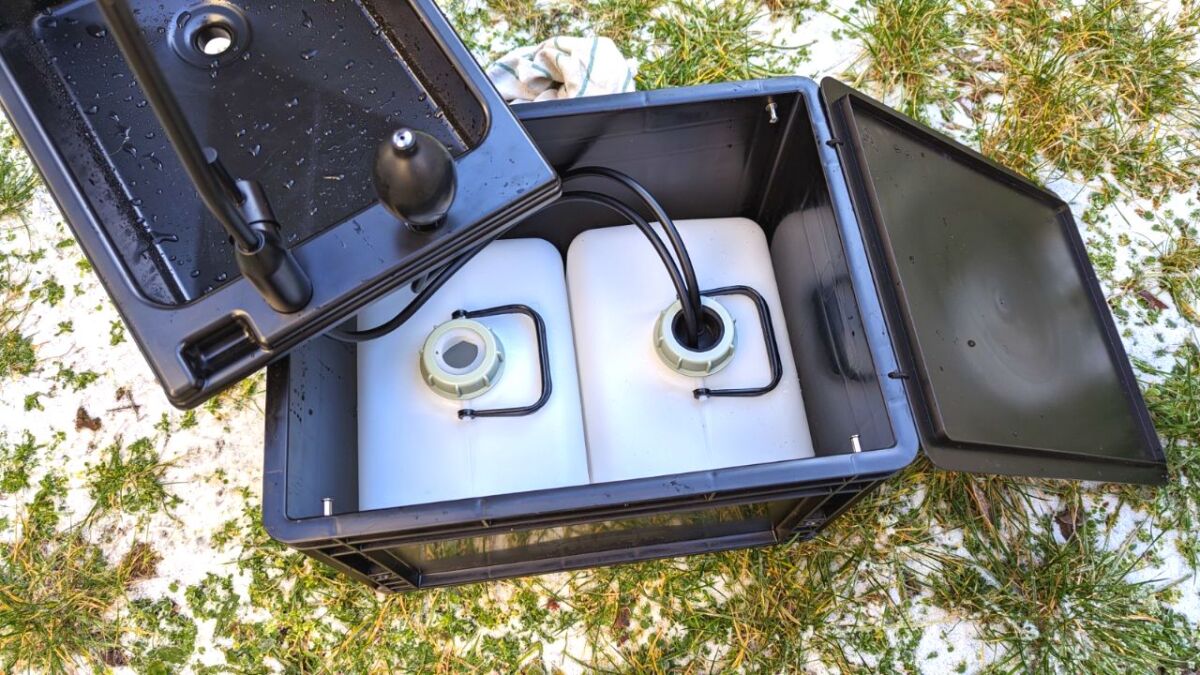 The hand pump allows for effortless operation. Children can handle the pumping motion just as well as older people. No battery or even charging of batteries is necessary, the portable washing station works without electricity.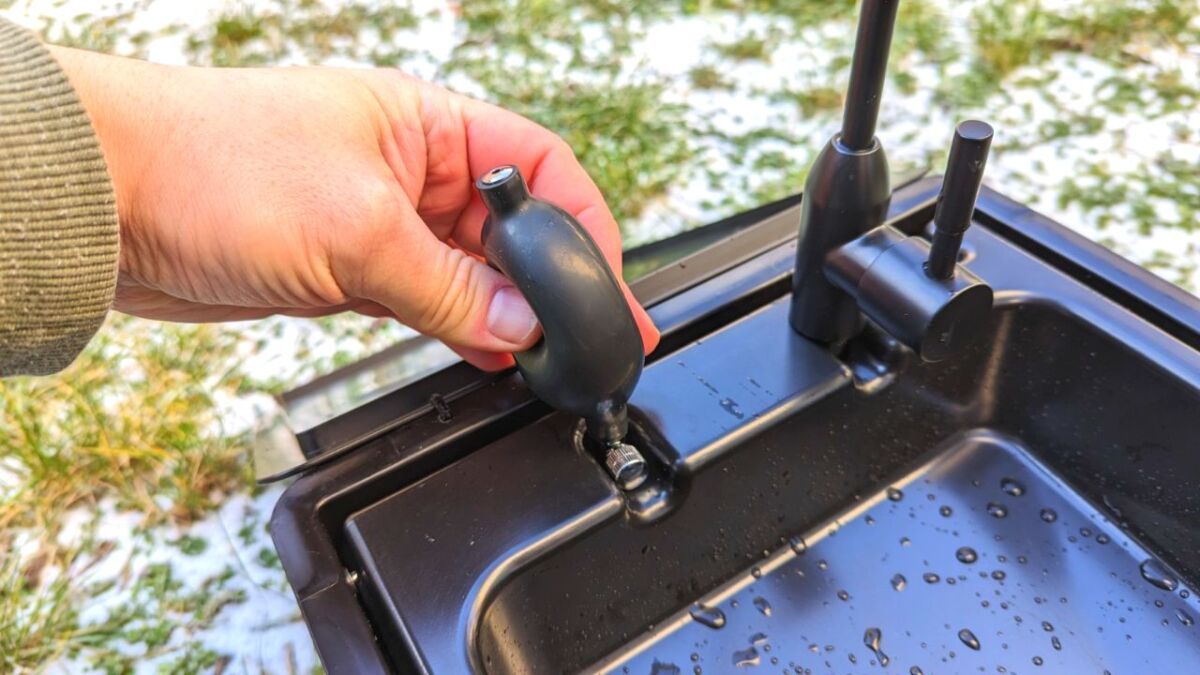 The faucet/tap is made of stainless steel and flawlessly produced. Nothing wobbles or drips anywhere – everything is tight, and it is easy to use.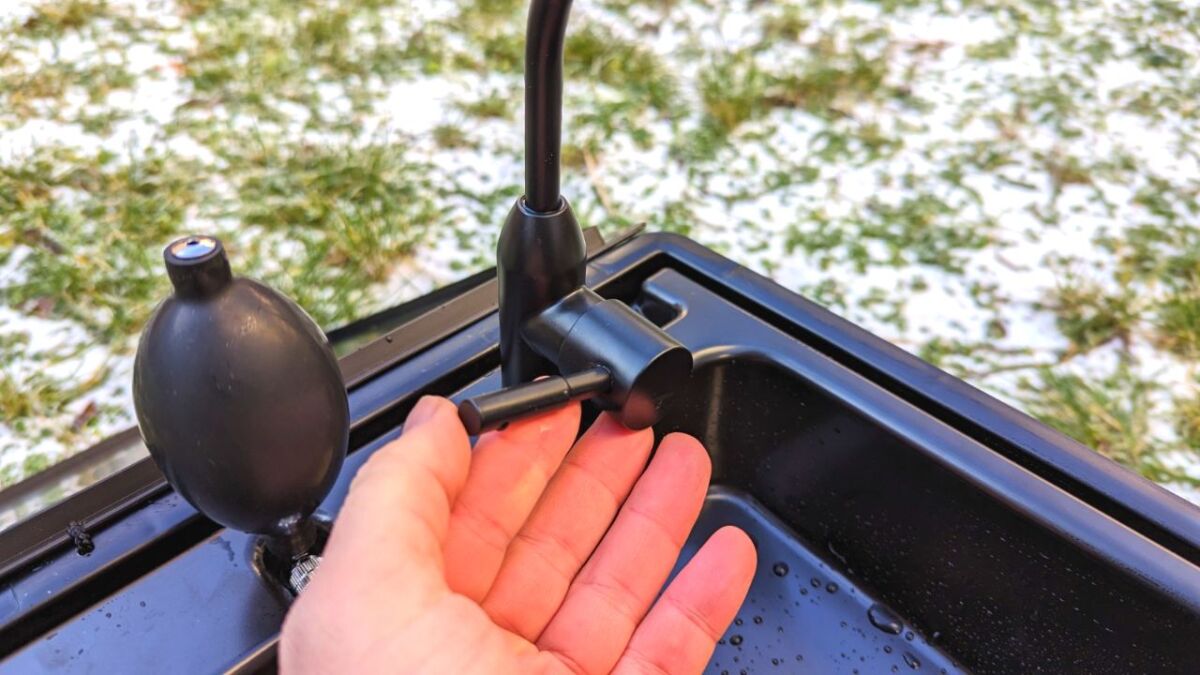 All necessary parts are included in the delivery. The assembly with the four small screws and the connections of the hoses included in the delivery with the pump, faucet, and tanks took me less than 15 minutes.
I urge you to read the user manual carefully. You must attach all rubber rings and hoses correctly so that the required pressure is also generated in the canister.
To store the mobile sink, simply pull on the hoses and place the pump and faucet in the sink. Put the lid on and you're done.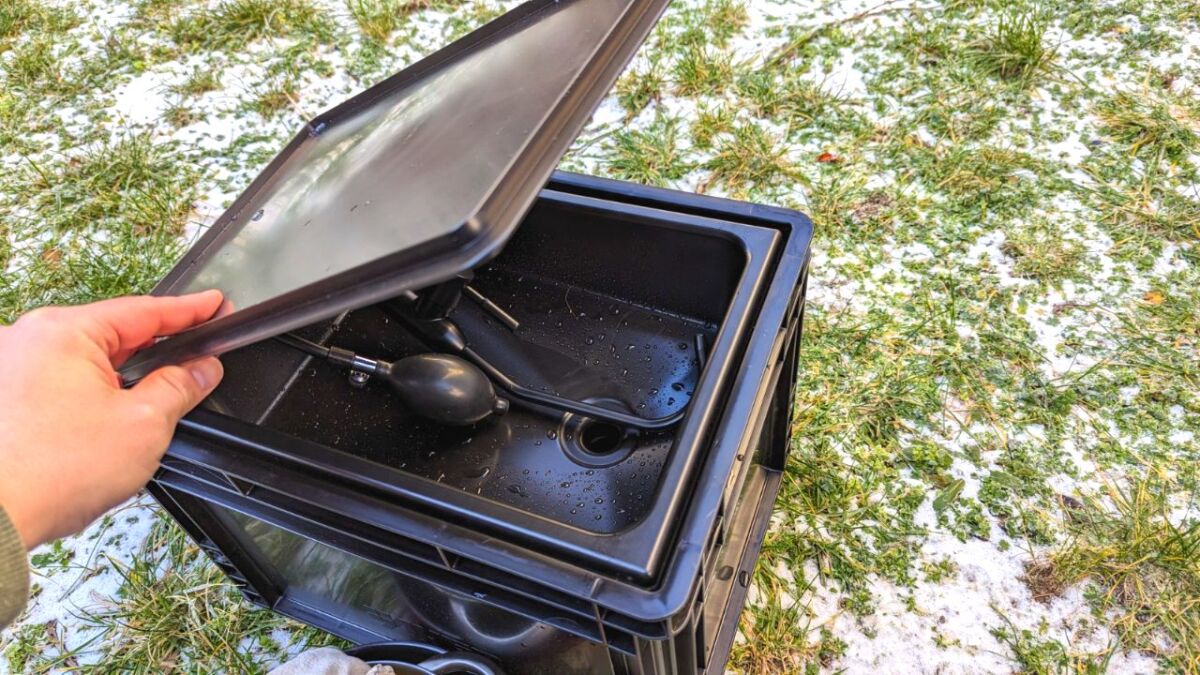 The functionality consists of filling the fresh water tank and storing an excess pressure in the fresh water canister by operating the hand pump, which brings the water to flow when the faucet is opened.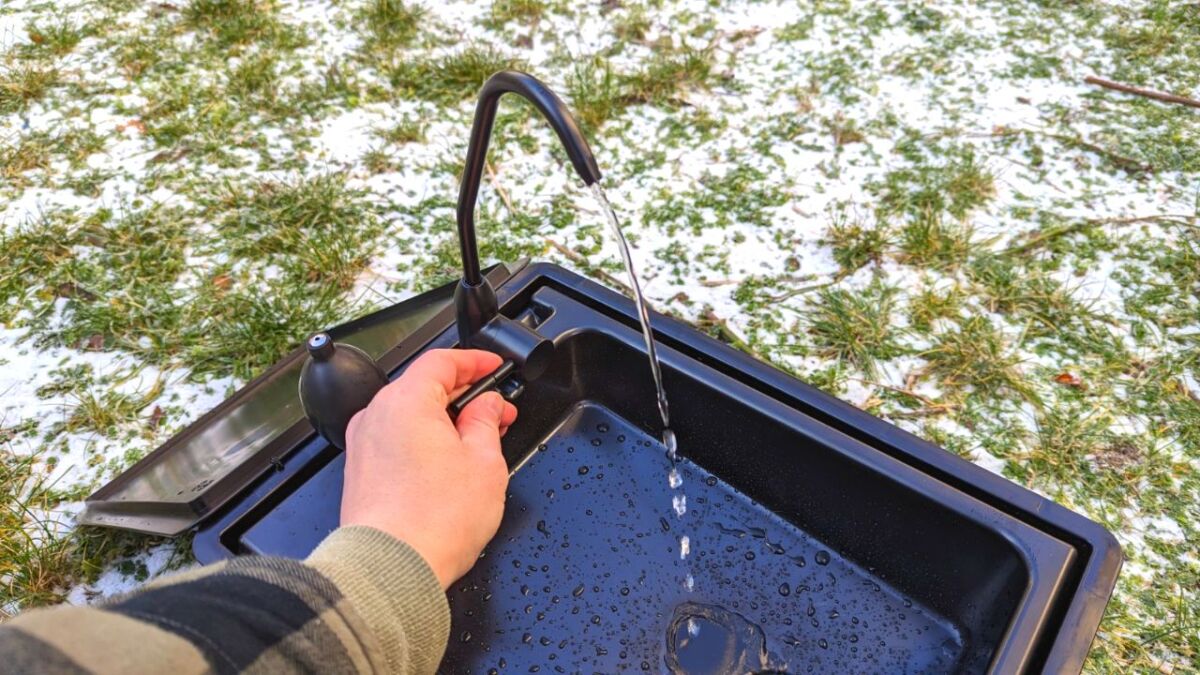 Good to know: The BOXIO-WASH is made of high-quality, easy-to-clean plastics.
Delivery Contents
All of this belongs to the BOXIO-WASH:
BOXIO Eurobox 40 x 30 x 28 cm with lid
Washbasin insert
Fresh water canister (5L)
Wastewater canister (5L)
Hand pump
Water tap
Hoses and fresh water tank passage
2 x screw cap for fresh water (1 x closed, 1 x cap for tank passage for fresh water tank)
2 x screw cap for used water (1 x closed as splash protection, 1 x with sealing membrane)
Drainage sieve
Drain plug
4x screws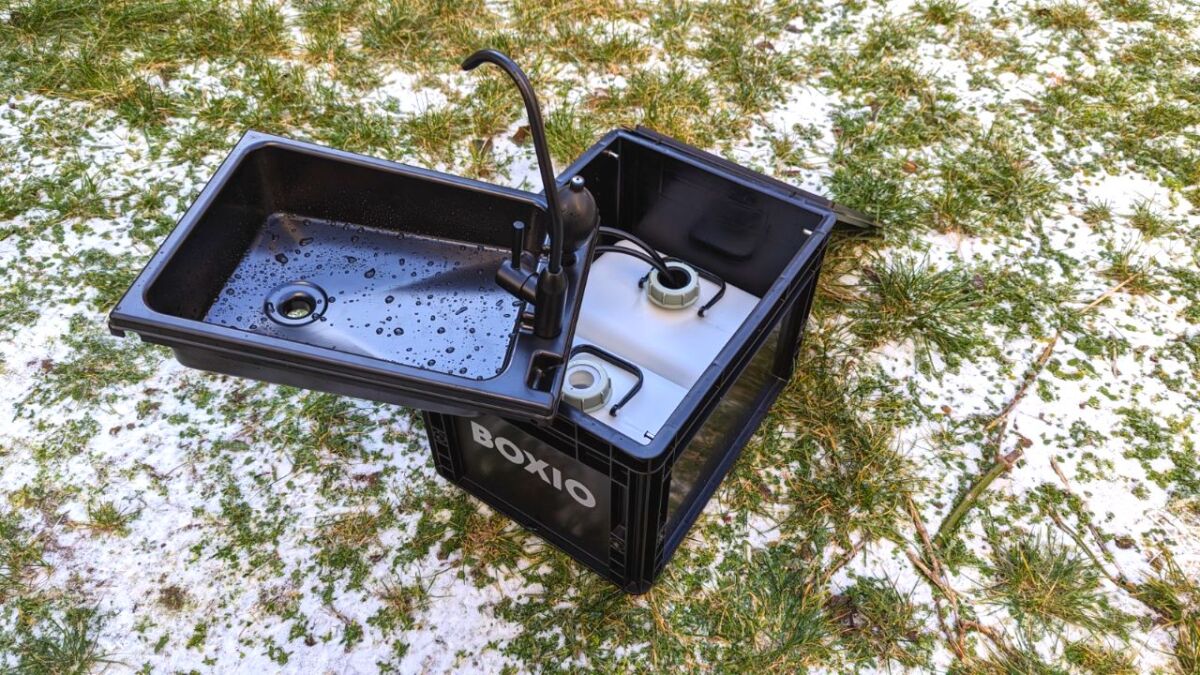 The video about BOXIO-WASH
In the video, I will show you the setup as well as the washing station in action. I hope that this will give you an impression of how it is handled.
Where can I get the BOXIO-WASH and how much does it cost?
You can get the BOXIO-WASH at the official online shop of BOXIO. The German company is based in Rostock and their goal is to offer environmentally friendly camping equipment at a fair price.
You can now pre-order the mobile washbasin, but it will only be delivered from March 2023. The cost is €159.90 and here you can order the BOXIO-WASH.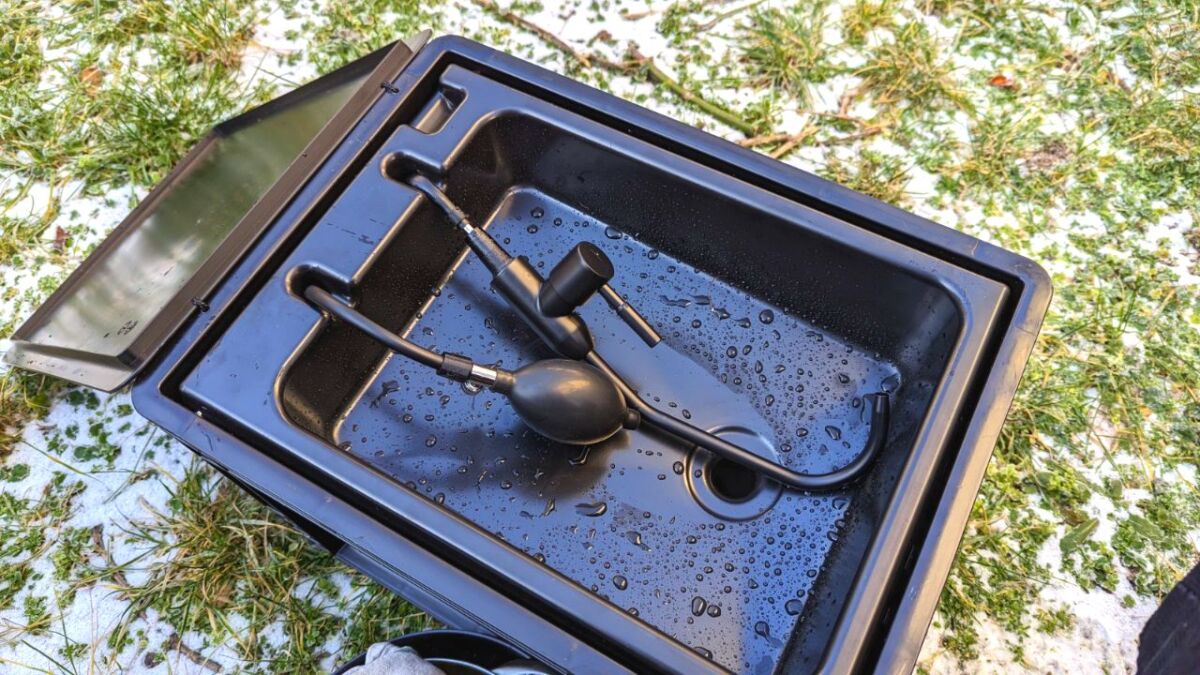 My conclusion on the BOXIO-WASH
Finally, I can tell you that the BOXIO-WASH is an excellent choice for anyone who enjoys camping and being on the go.
It is easy to transport, easy to use, and environmentally friendly. Additionally, it fits perfectly with the BOXIO Separating Toilet, which we reported on here: "In Test: The BOXIO Separating Toilet - Setup, Tips, and Use for Chemical-Free Toilet Solution for Camping and Emergency Preparedness".
If you find the BOXIO-WASH interesting, then check it out in the official shop. You can now order it.
In this sense: Let the water flow! 😊
Disclosure: Many thanks to the BOXIO team for providing me with the sink to test. I was not paid to write this review.

Was this guide helpful?
12 people found this guide helpful.
5.00 out of 5 points (12 Ratings)