Back to german article
In test: The BOXIO Separating Toilet - Assembly, Tips, and Use for Chemical-Free Toilet Solution for Camping and Crisis Preparation
In testing: The BOXIO is a practical and environmentally friendly composting toilet that can be used at home as well as in a van, bus, car or camping.
from Martin Gebhardt
|
Gear
| reading time 3 Min
---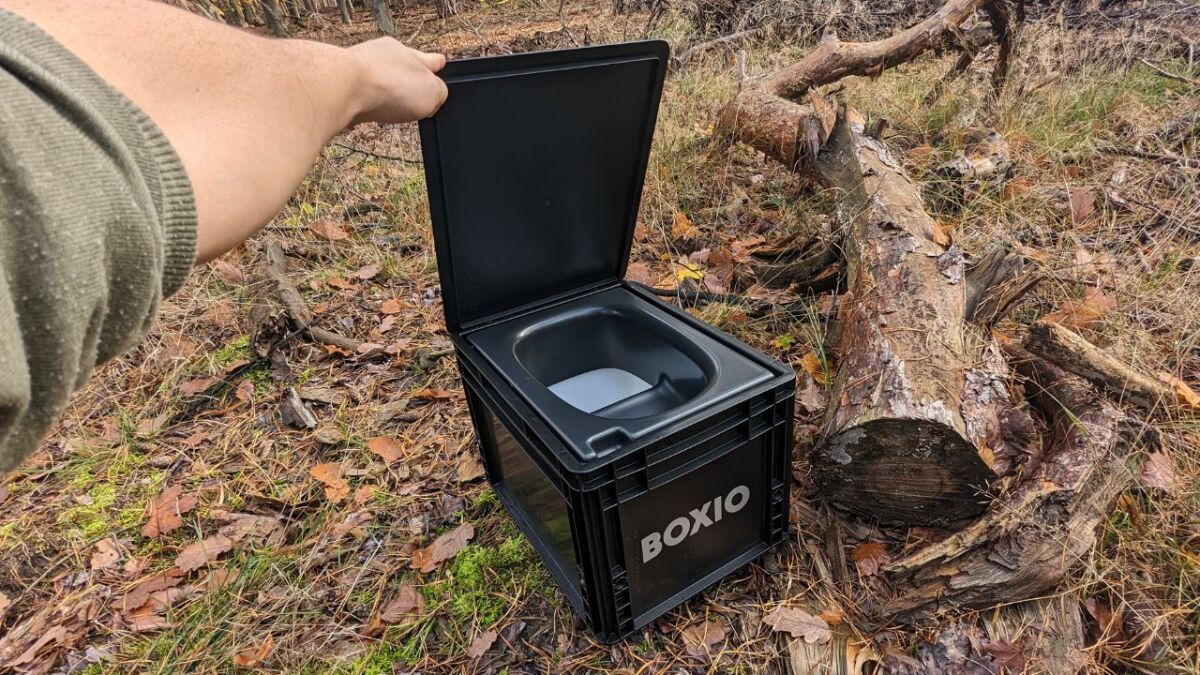 ---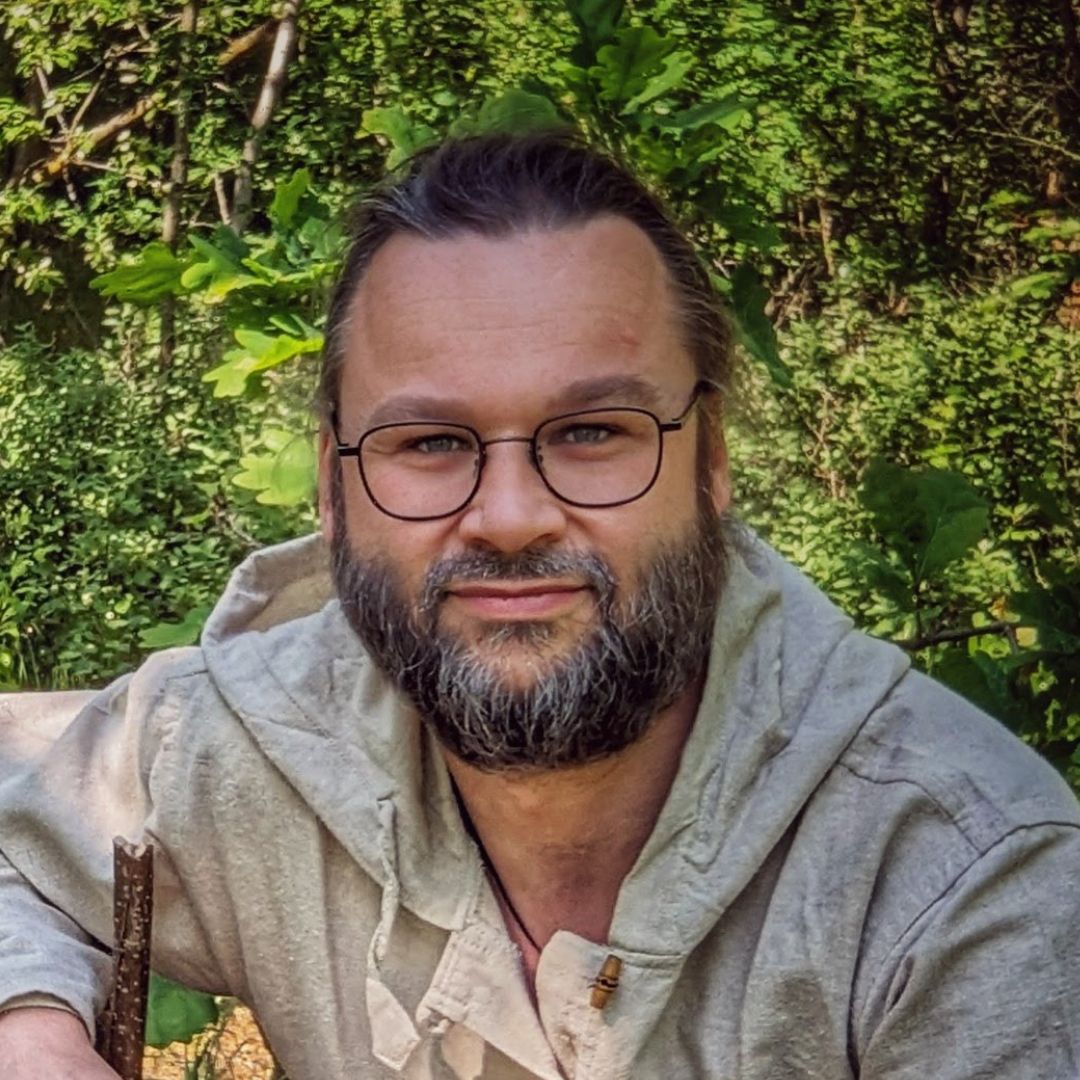 ---
👉 The key facts from this guide
What is the BOXIO Separating Toilet: The BOXIO Separating Toilet is a compact, environmentally friendly, and affordable solution for camping, van life, or emergency preparedness. It separates solids and liquids to prevent odors.
How does it work: The toilet consists of two containers, one for urine and one for solids. Both containers have a capacity of 5 liters and can be locked. After use, litter is sprinkled over the solids to bind odors and cover the solids.
Assembly and cleaning: The BOXIO Separating Toilet is easy to assemble and clean. It is made of recycled plastic, making it easy to maintain.
Price and availability: The BOXIO Separating Toilet is available directly from the manufacturer and costs about €149.90 for the base model and around €200 for the complete set.
Advantages: The BOXIO Separating Toilet is compact, environmentally friendly, and affordable. It is ideal for camping, van life, or as an emergency toilet at home.
Disadvantages: You always need to have enough litter and bags on hand. But you can also get litter outside, in the form of dry grass or leaves.
Are you just starting out with car camping or van life?
Or do you want to prepare for a crisis and be independent of electricity and water supply?
Then you have surely wondered how you could go to the toilet.
Whether in a car, van or at home, when the water supply fails - a solution must be found.
That's precisely what happened to me, and I was looking for a toilet that is easy to clean and ideally also environmentally friendly.
The solution is a separating toilet because I would rather not store and dispose of chemicals.
And I took a closer look at the BOXIO Separating Toilet.
Now find out in my test and review what the BOXIO can do and in the end, hopefully, you will know if it is also suitable for you.
The first impression of BOXIO
When the package arrived, I was pleasantly surprised that it wasn't bigger. I have no experience with boxes in the Eurobox format and had imagined them to be larger.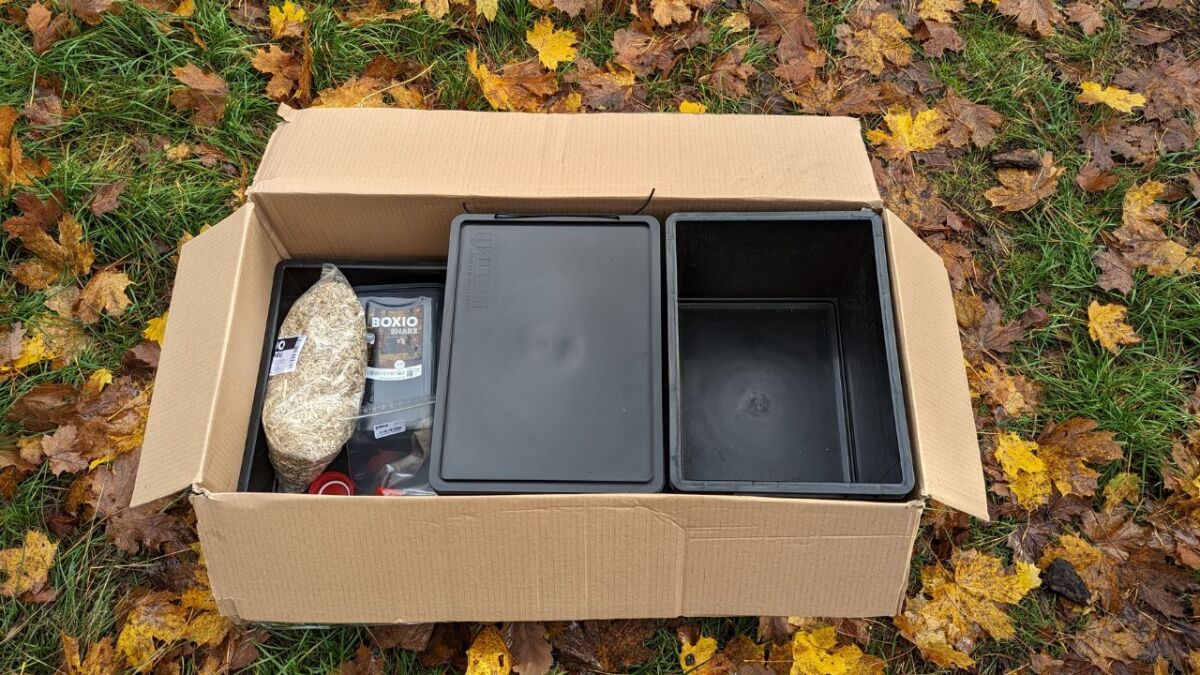 And when unpacking, I noticed that there are even two Euroboxes next to each other (one is for raising the toilet higher, which, I think, is brilliant - more on that later).
The BOXIO toilet is compact and therefore perfect for storing it as an emergency toilet in a van, car or at home.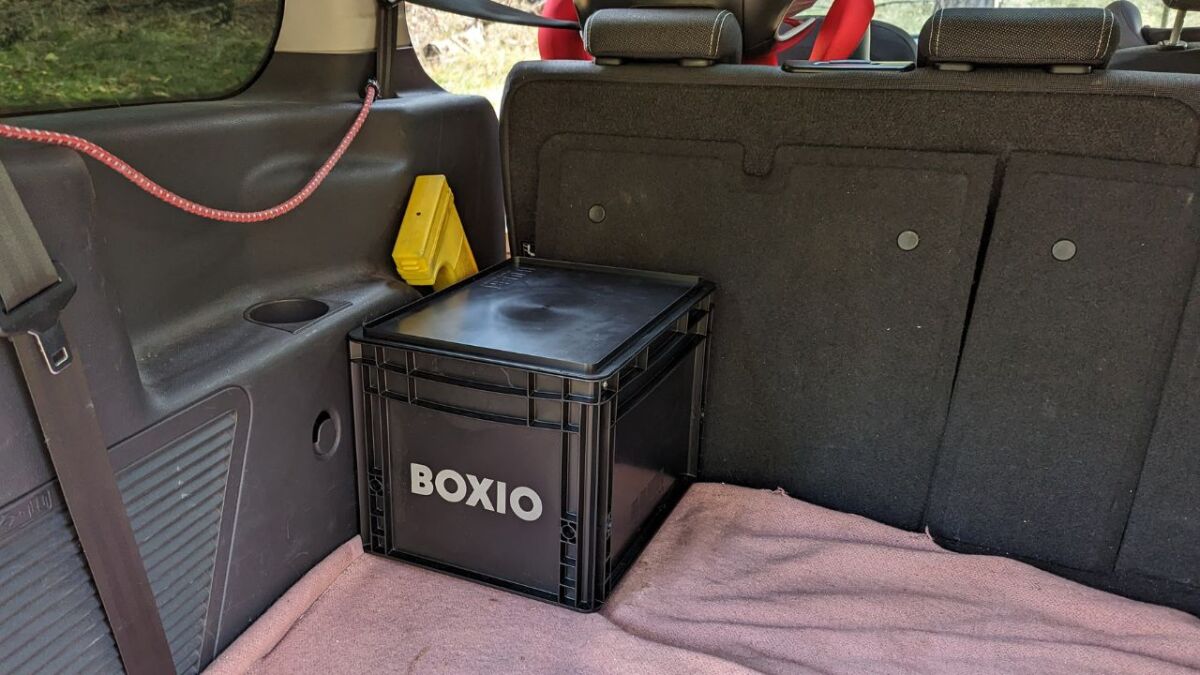 As I want to use the toilet for car camping as well as for emergency preparedness, I can easily store the boxes in the closet. There, the emergency toilet fits nicely among all the other devices, food and supplies (check out my emergency preparedness list here).
How does a separating toilet work?
If you have never dealt with a composting toilet before, let me briefly explain how it works.
It's quite simple, as the name suggests, "solid" and "liquid" are separated.
That means your urine is collected in a container and the solid waste ends up in a box with litter.
Put a garbage bag in the solid waste bin. Use litter for the solid waste so that any contained liquid is absorbed and everything is covered.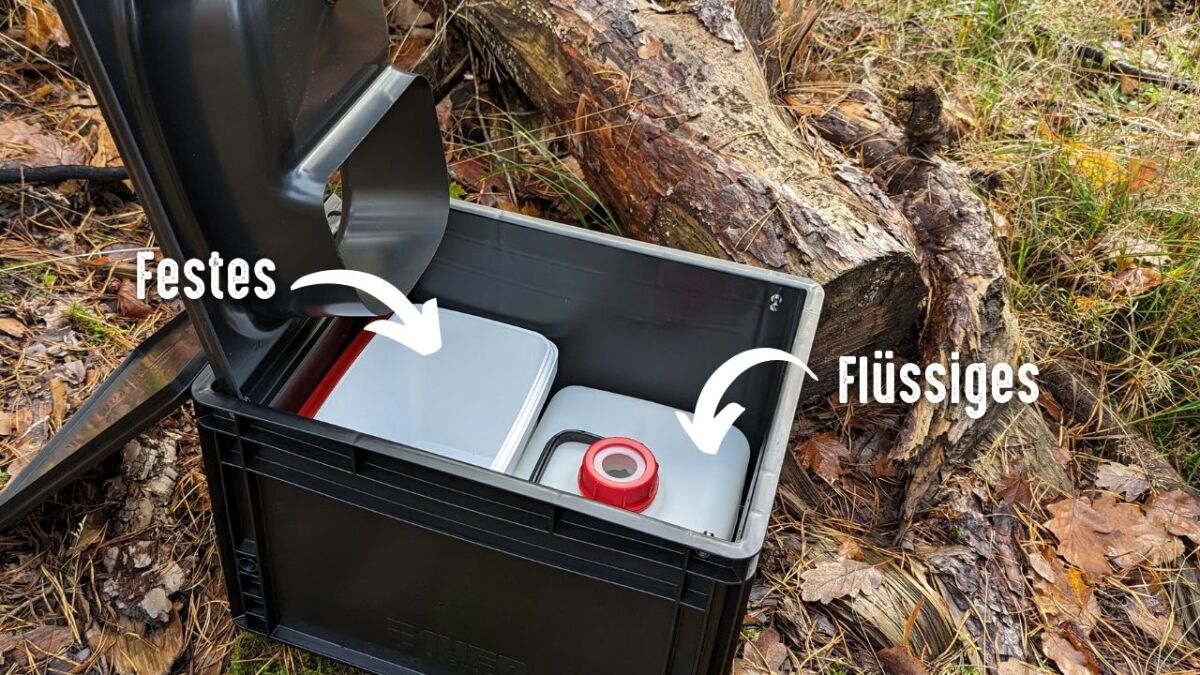 If you do everything right, you won't notice any smell… But why is that?
Well, it's like this: when liquids and solids come together, they react with each other - and that creates the well-known unpleasant odor development. This doesn't happen with a separating toilet.
Let's now take a look at how the BOXIO separating toilet is constructed and used.
How smoothly does it work to set up the BOXIO separating toilet?
First: The setup is quick and there is no clear instruction.
In this video, I briefly introduce the toilet and assemble it.
Here is the written instruction:
You take all the parts out of the packaging and prepare the following to use the separating toilet right away.
Screw the four screws on the sides into the Eurobox.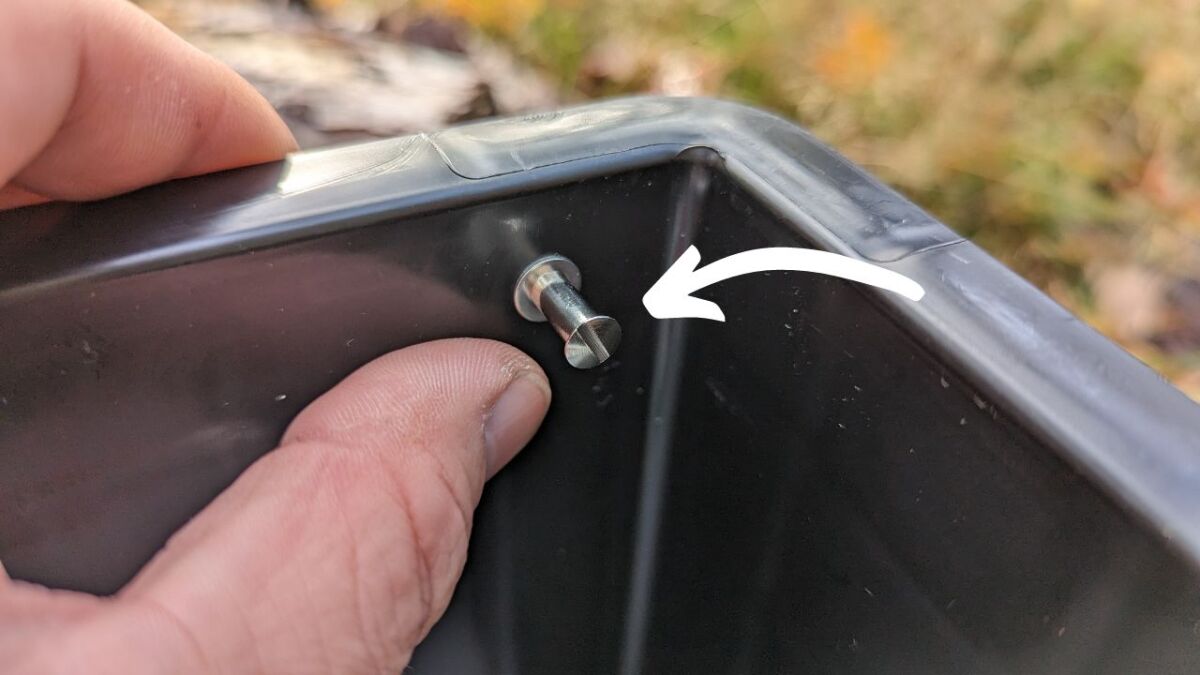 Attach the lid with the string at the back. Make sure the lid is correctly inserted and you attach it on the right side.
Now the BOXIO separating toilet is almost finished.
Now find the lid with the hole and the membrane. Attach both to the canister.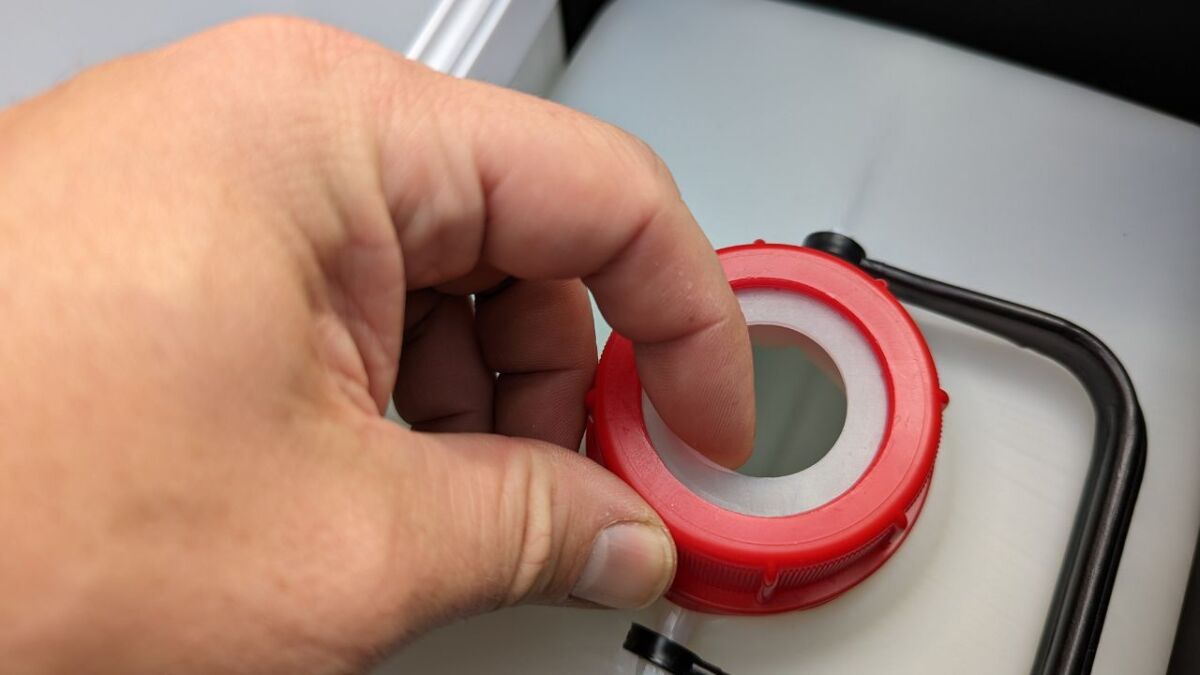 Then you take a garbage bag and place it in the fecal container. In the end, you open the litter and fill a handful into the garbage bag.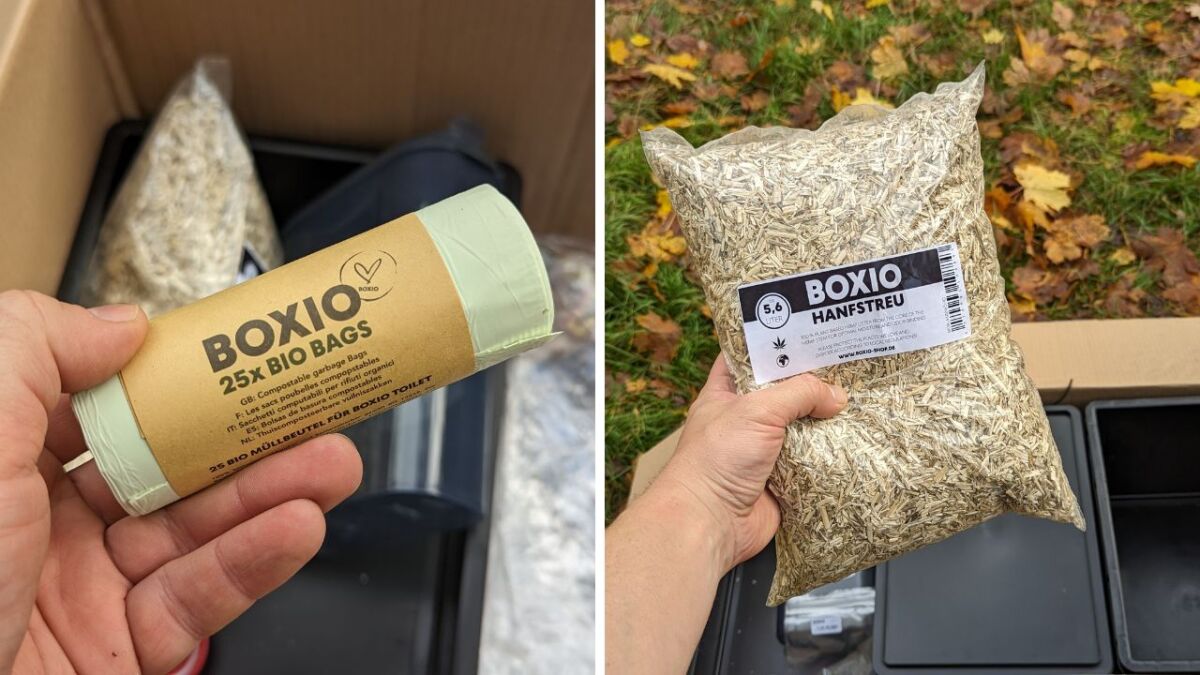 Now you can get started and go to the toilet. When you're finished, close the urine container and pour some odor-binding litter on the solids. Close the box with a lid and dispose of everything promptly.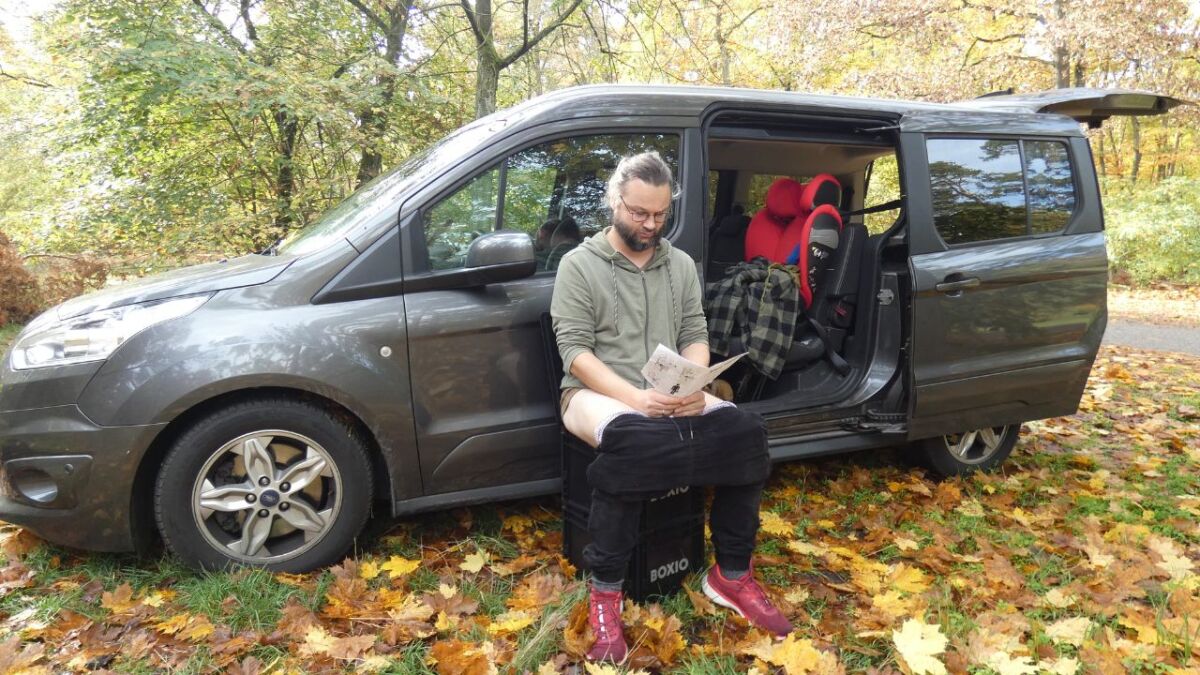 Where can I get the BOXIO separating toilet, and how much does it cost?
The BOXIO Separating Toilet is best purchased directly from the manufacturer. You can find the offer here: https://boxio.de/products/boxio-toilet
The individual BOXIO costs approximately €149.90, but I recommend that you take the complete set.
There you will receive one more box, the booster seat, and the organic waste bags. Altogether, it costs about €200.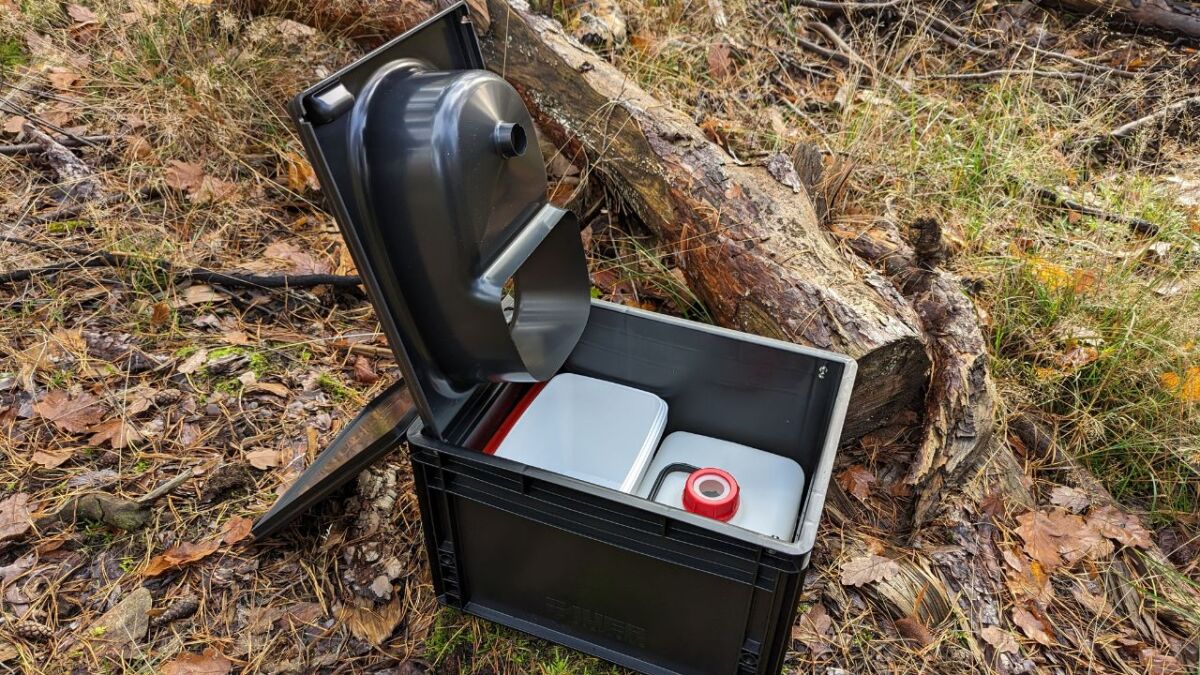 What I love about the BOXIO separating toilet
First, I have to say that I find the price unbeatable. For 150 EUR, a separating toilet / emergency toilet that is also so compact, I think is brilliant. Most separating toilets for such purposes start at €250 and go up to €1000.
Furthermore, the box is only 40 x 30 x 28 cm in size, making it fit anywhere. Whether in a car, van, bus, or in the basement as an emergency toilet.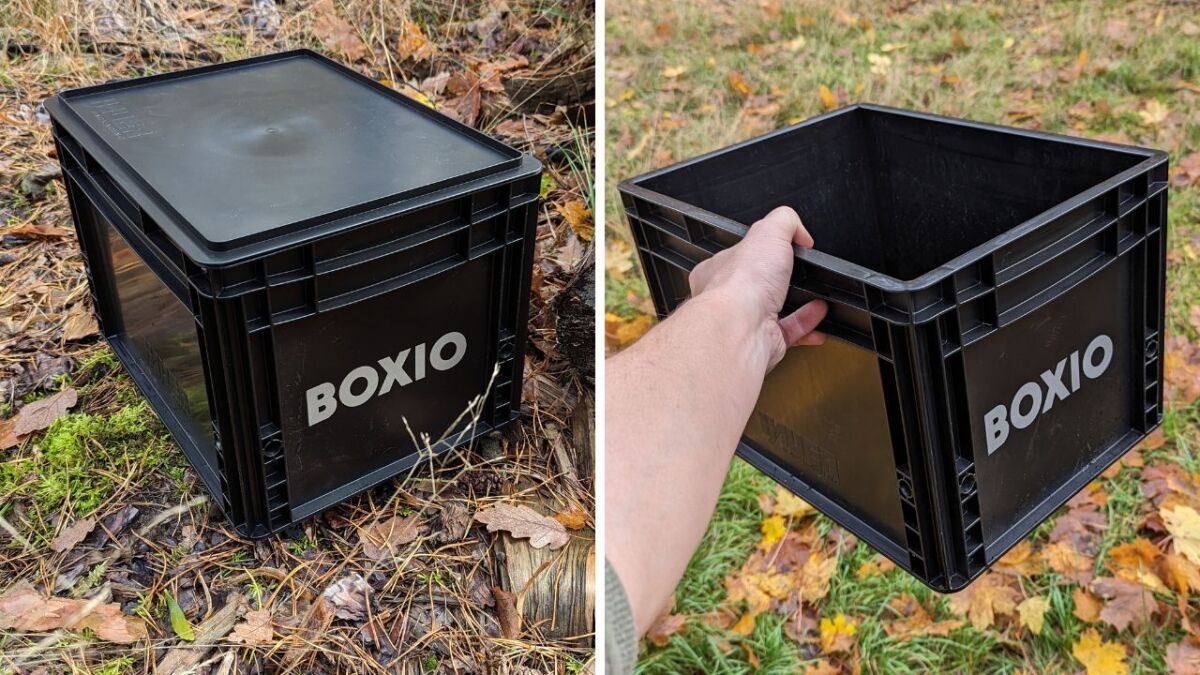 And don't think that the small box can't handle anything - it's very sturdy and can easily support up to 100 kg.
Furthermore, the volume of the canisters of the BOXIO separating toilet is designed for 8-10 toilet visits. Both containers (5 liters each) - for urine and solids - are lockable and secure.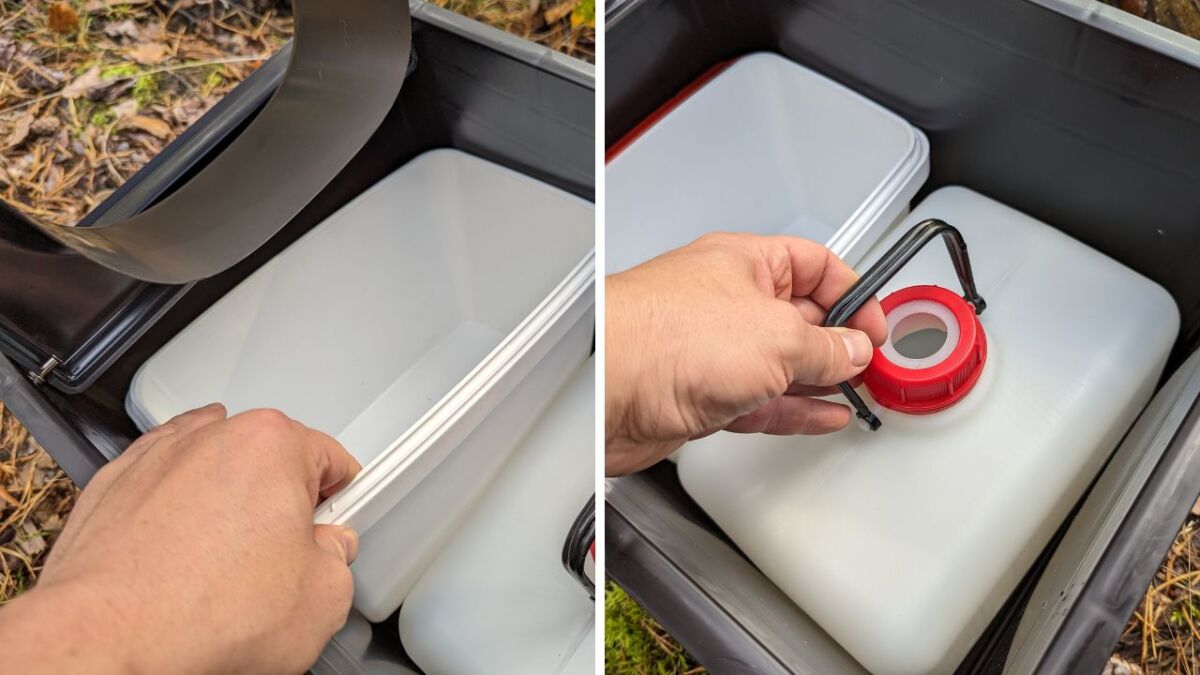 And since I prefer environmentally friendly products, the BOXIO Separating Toilet also scores points here. Because it is a regional product made from recycled plastic and also an environmentally friendly alternative to chemical toilets.
While wood may look more elegant, remember that it tends to become musty over time and is harder to clean.
What bothers me about the BOXIO separation toilet?
I have to honestly say that I can't think of any disadvantage for the BOXIO separation toilet at the moment. Maybe I will add this part after extensive testing.
It is clear, however, that with separating toilets you always have to have enough litter and bags ready. Bags are the most important because you can also get litter outside in the form of dry grass or leaves.
My conclusion on the BOXIO Separating Toilet
For a long time, I have been thinking about how to go to the toilet in the car or in case of a crisis in the city.
With the BOXIO Separating Toilet, I have now found a wonderful solution - both for camping and as an emergency toilet.
I can store it great and it is so compact and small that it always fits in the car.
I particularly like the environmentally friendly solution, as it is so stable and quick to set up.
Furthermore, I can definitely recommend the composting toilet to you if you are looking for such a mobile solution. And if you are looking for a mobile sink, then check out my guide to BOXIO-WASH.
Disclosure: Many thanks to the BOXIO team for providing me with the separating toilet for testing. I was not paid to write this review.

Was this guide helpful?
23 people found this guide helpful.
5.00 out of 5 points (23 Ratings)