Back to german article
Camping: Sleeping in the car - the best tips and is it allowed?
Sleeping in the car: What should you consider? Which car makes sense? Do you need a mattress and is sleeping in the car even allowed in Germany?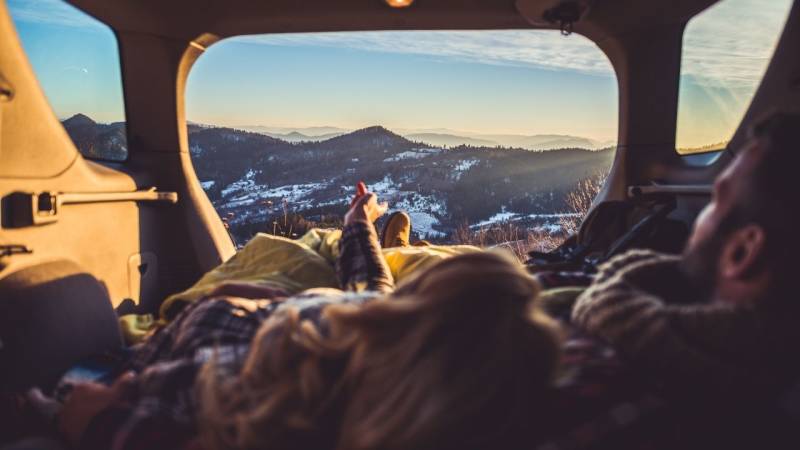 ---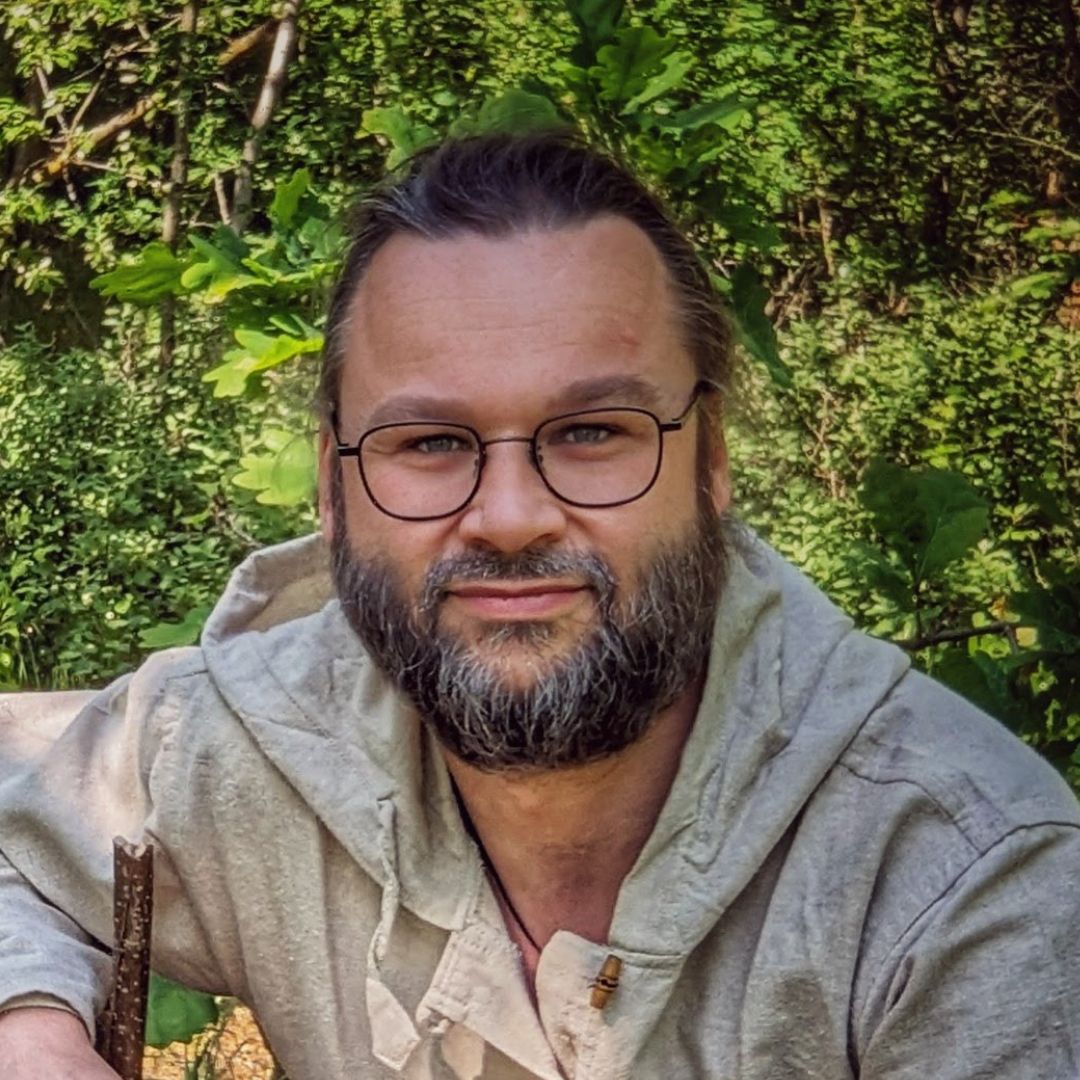 ---
👉 The key facts from this guide
Choose the right car, e.g., a station wagon, to have enough space to sleep
Use a suitable base such as an air mattress or folding mattress
Opt for a blanket or sleeping bag to stay warm
Efficiently store your luggage, e.g., in a roof box or on the front seat
Equip your car with appropriate gear, such as insect protection and lighting
Observe the legal regulations for sleeping in a car in different countries
A camper offers many advantages as you always have all your important things with you.
However, many camping enthusiasts cannot afford their caravan or camper.
A tent provides a good shelter, but it does not withstand all weather conditions.
In addition, you have to rebuild this over and over again while you simply park your caravan.
If you still want to be safe while camping on the go, but don't have the financial means for your caravan, here are the best tips for sleeping in your car.
The right car for sleeping in the car
It's clear that you can't just sleep in a car. A Smart is hardly suitable for comfortably sleeping in. A station wagon offers better conditions for that.
He has a large trunk and the seats can be folded down. This creates a sleeping area that is spacious enough to stretch out your legs.
Look, I have a Ford Tourneo Connect and I can sleep wonderfully in it.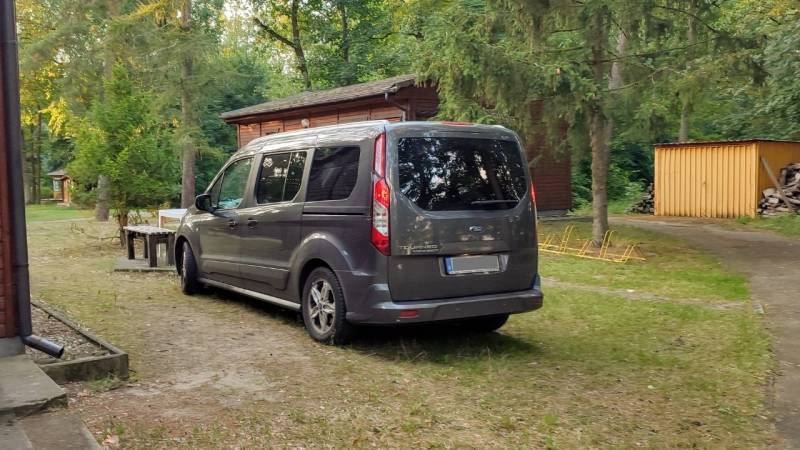 Of course, it depends on how tall you are. If you are only 1.60 m tall, you probably don't need too much space. However, you also have to consider that your bags need to be somewhere.
A station wagon allows you to easily store your luggage from the back to the front and keep your sleeping area free. With the right car and the right size, it is therefore possible to spend cozy nights in your vehicle.
The Underlay, when you're sleeping in the car
If you only want to spend one night in the car, and you are traveling alone, you probably won't even fold down the back seat.
If you would like to spend several nights, however, more space and a proper base are essential.
You won't be able to transport a full mattress. It's too bulky and most likely won't even fit in your car. However, if you only plan to use your car for camping and keep the back seat permanently folded down, you can simply get a customized mattress.
However, air mattresses are well suited for this. You can easily inflate them and deflate them again when you continue your journey. This way, they don't take up unnecessary space and are quickly accessible. Another option is sleeping mats.
However, these are usually relatively thin and only protect against cold, so you don't have to freeze. They don't provide much padding. If you decide to go for a sleeping pad, be sure to check out my buying guide for sleeping pads.
I prefer to travel with a thick and foldable mattress. Since I am traveling alone in the car, I have enough space to transport it.
And here's my secret tip: Buy one that is thick enough for your needs. 7 or 8 cm height is too little for me, I prefer 15 cm because with that, I lie soft and sleep deeply and soundly.
Here is my recommendation:
Badenia Trendline faltbare Polyester Gästematratze XXL, Komforthöhe von 15cm, 196 x 65 x 15,5 cm Liegefläche, Plüsch, Öko-Tex zertifiziert, hellgrau, produziert nach deutschem Qualitätsstandard
MULTI-FUNKTIONAL - Platzsparende Gästematratze, bestens geeignet auf Reisen, zum Campen oder als Gästebett für Ihren Besuch
HOCHWERTIGER BEZUG - Strapazierfähiger und besonders anschmiegsamer Polsterbezug aus 100 Prozent Polyester (250g/m²)
ATMUNGSAKTIVER KERN - bequemer und langlebiger Komfortschaumkern mit 15 cm Komforthöhe. Besonders die angenehme Schlafhöhe unterscheidet unsere Gästematratze von herkömmlichen Gästematratzen
DETAILS - Größe ausgeklappt 196 x 65 x 15,5 cm. Größe zusammengeklappt 65 x 65 x 45 cm - so lässt sich die Gästematratze leicht transportieren und verstauen
NACHHALTIGKEIT - Badenia Trendline Matratzen sind geprüft nach Öko-Tex Standard 100
77,90 €
View Product
Blanket or Sleeping Bag?
Many cars have a built-in parking heater. This provides you with cozy warmth during the night. However, the unnecessary waste of gasoline contradicts eco-friendly camping.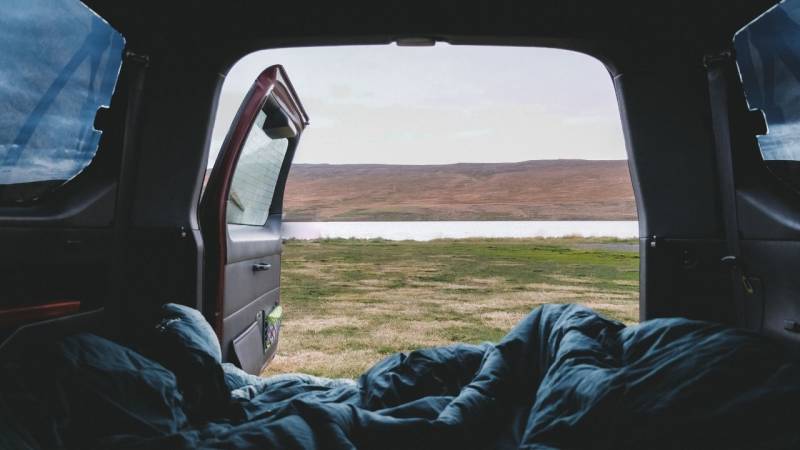 The right blanket or sleeping bag is therefore necessary. A car has many windows through which cold air can enter. Therefore, it is usually much colder here than in a caravan.
A sleeping bag offers you the advantage of being completely wrapped up and no heat escaping. Take a look at my list of the best sleeping bags for that.
An additional blanket provides extra protection in extreme temperatures. Simply place it directly over the sleeping bag. If it's still too cold, add a hot water bottle.
Where to put the luggage?
You must don't bring too much luggage in the first place. When camping, less is more and often not much is needed. So reduce your clothing and equipment to a minimum.
Especially when you're traveling by car, you typically don't have built-in cabinets to store your stuff. A roof box often provides a solution here.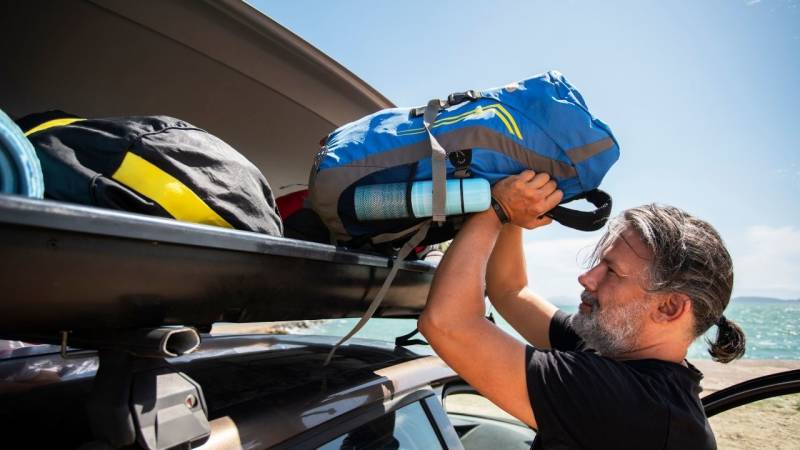 In a roof box (find one here), you can store your clothes and all the items you don't need as often. This way, you don't have to constantly open and close it.
Things you require more often are stored on the front seat of your car. This mainly includes your dishes, toiletries, and food.
The right equipment for sleeping in the car
The equipment here primarily includes clothing and various camping utensils. When choosing clothing, always make sure to check the weather forecast.
Generally, it's always good to have functional clothing with you. This dries quickly and is usually waterproof.
A good tip is also to dress in layers. This way, you can take off something whenever it gets warmer. The following clothing items are a must:
Rain jacket
Functional shirts
Hiking pants / Rain pants / Outdoor pants
Hiking shoes
Functional underwear for cold nights
However, it gets more interesting when planning your camping kitchen. For this, it's best to take a large box (such as an Eurobox, which I use). In it, you store all utensils and keep them together at all times.
The box can be easily moved from the back to the front or from the front to outside for cooking. You must not forget the following things:
Reading tip: What food can you take camping?
Don't forget to bring a cooler box on your trip - especially if you're bringing perishable food items like milk or meat. It's best to get one that you can connect to your car's cigarette lighter or charge it using a second battery.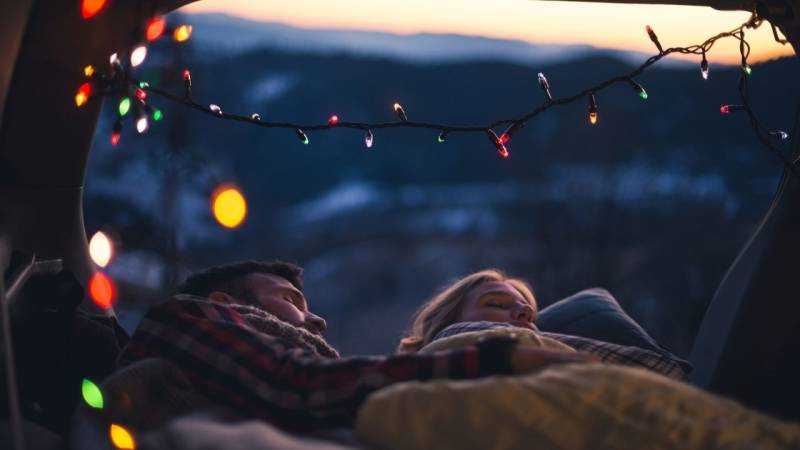 You also need to equip your car with something. While sleeping, a person exhales a significant amount of moisture. Up to two liters can accumulate. To prevent mold from forming in the car or everything from starting to rot, you need to leave the windows slightly open.
It is best to attach wind deflectors to the windows. This way, you can leave them slightly open without rain entering the interior. You should also consider insects.
If you leave your trunk open permanently, you will quickly have mosquitoes in the interior that will keep you awake all night. With magnets, you can easily attach a mosquito net, which you can effortlessly remove again.
That should not be missing in the trunk:
Headlamp or flashlight
Drinking water
Powerbank (here's my top list)
Mosquito repellent / mosquito net (if you sleep with an open window)
Reading tip: What should you not forget when camping?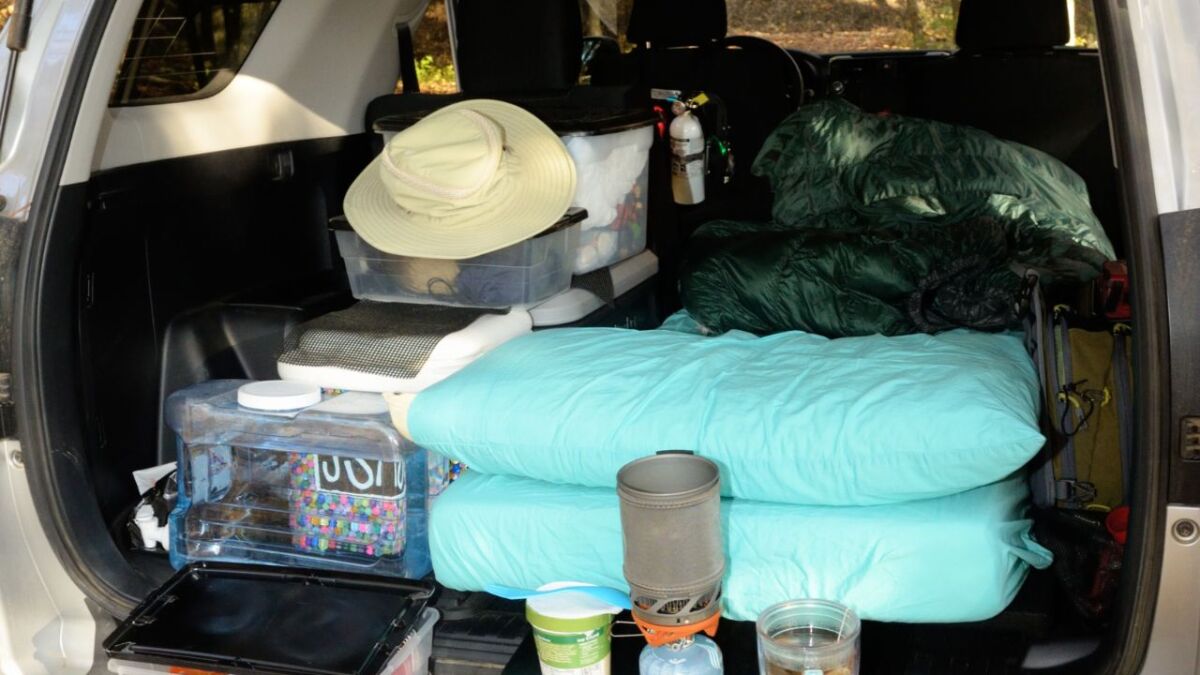 Sleeping in a Car - The Rules in Germany and Other Countries
In general, sleeping in a car is allowed in Germany. However, you must make sure that you are not parking on private property or in a no-parking zone.
However, there are a few rules to consider:
You cannot simply sleep in public parking lots or on the side of the road. There is usually a no-parking rule in effect between 10 pm and 6 am.

Parking on private property is also not permitted.

Wild camping, which means camping outside of official camping sites, is generally prohibited in Germany. This includes both sleeping in a tent and in a car. There are only a few designated legal wild camping sites.

Sleeping in a car is not a problem on a camping site. You will just need to pay the usual fee per vehicle.
The fines for unauthorized camping in a car can be up to €1000. Therefore, it is important to know the rules.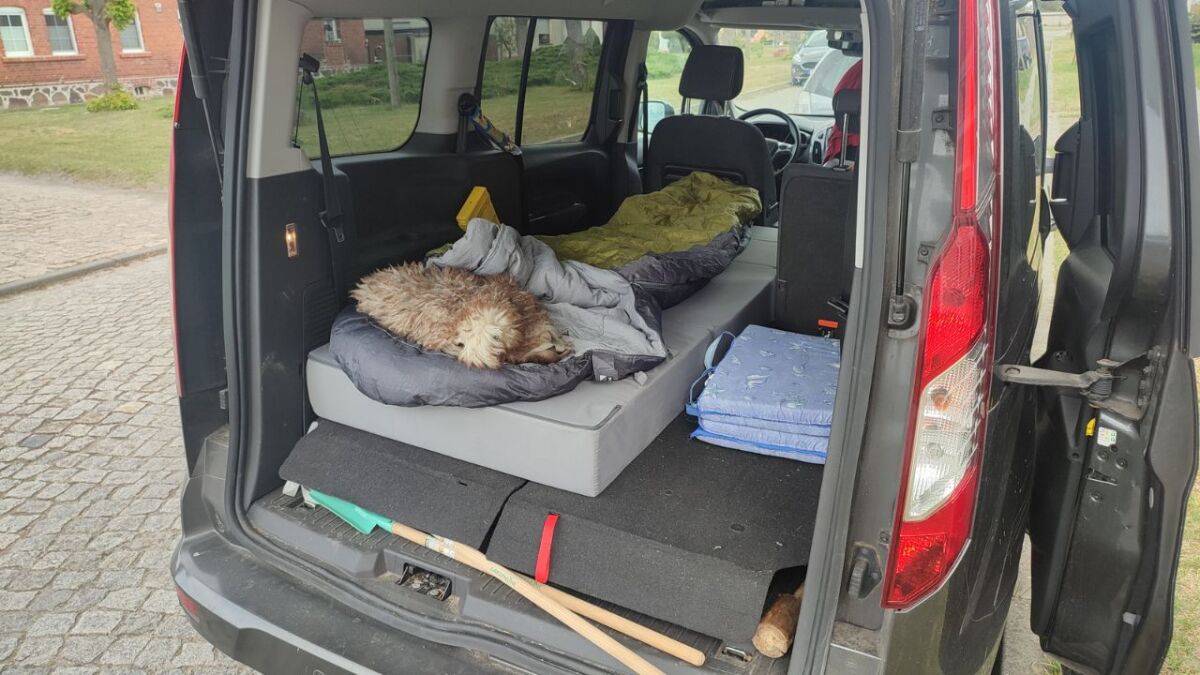 What about other countries?
In the Scandinavian countries such as Sweden, Norway, and Finland, wild camping is largely allowed outside of camping sites. You are allowed to sleep in the car in the wilderness. However, you should consider the environment and take your garbage with you.

In France, sleeping in a car outside of camping sites is mostly prohibited and can result in fines. It is allowed on camping sites.

Spain has very liberal camping rules. You can sleep in the car both in public parking lots and in the wilderness. The only restriction applies to protected nature parks.

In the USA, sleeping in a car is usually possible without problems. You can often camp in parking lots along highways. However, you should stay away from private property. There are also designated camping zones in national parks.

New Zealand allows "freedom camping" in many places. You can camp for free with your car on public land but should dispose of rubbish and respect nature. There are also designated overnight parking areas.
It is best to inform yourself about the applicable rules of the country before going on a camping trip. This way, you can avoid unpleasant surprises in the form of fines.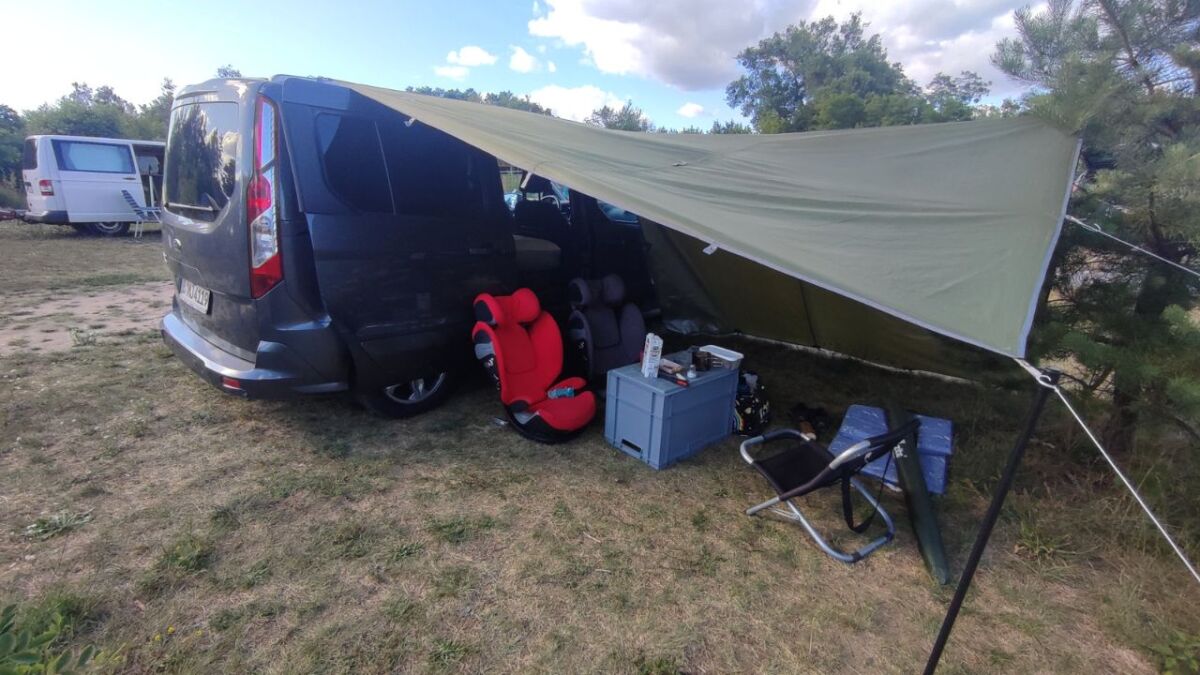 Conclusion – the benefits of sleeping in the car
Sleeping in the car offers a flexible and cost-effective alternative to camping in a caravan or tent.
With the right vehicle and the right equipment, you can spend the night in your car very comfortably.
The advantages are obvious:
Independence and flexibility in route planning
You are independent of the weather and can go to a protected retreat at any time
Compared to tents, you are better protected from mosquitoes and insects
You don't have to break down in the morning, you can just drive off
With the right mattress and equipment, you can sleep super comfortably
You always have all the important things with you and don't have to carry anything
There are no campsite fees like there are for camping
Of course, sleeping in the car also requires certain preparations and adjustments.
But with the tips presented here for optimal equipment and organization, nothing stands in the way of a restful night on the bike.
If you would like to know more about this topic, then read now: Sleeping in a car or tent? – the advantages and disadvantages

Was this guide helpful?
17 people found this guide helpful.
5.00 out of 5 points (17 Ratings)