Back to german article
Should I take my bicycle with me to camping? - 8 reasons that speak for it and which type of bicycle could be the best for you
This article helps you decide whether it's worth taking your bike to camping and what type of bike is best suited for it.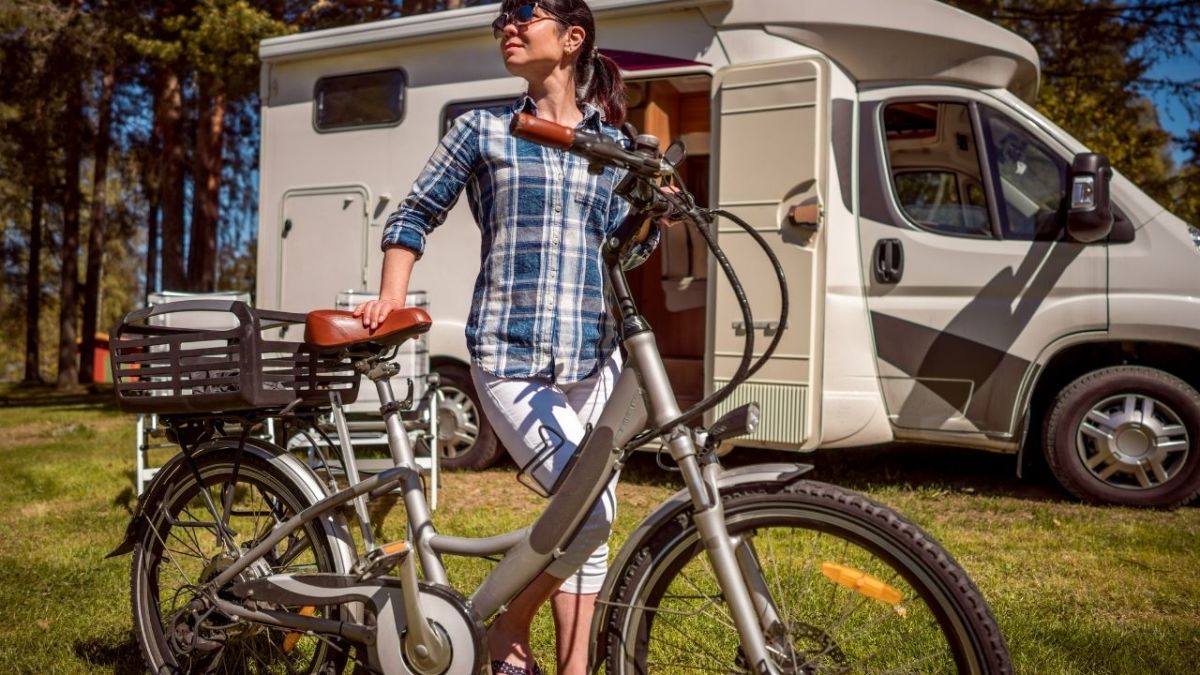 ---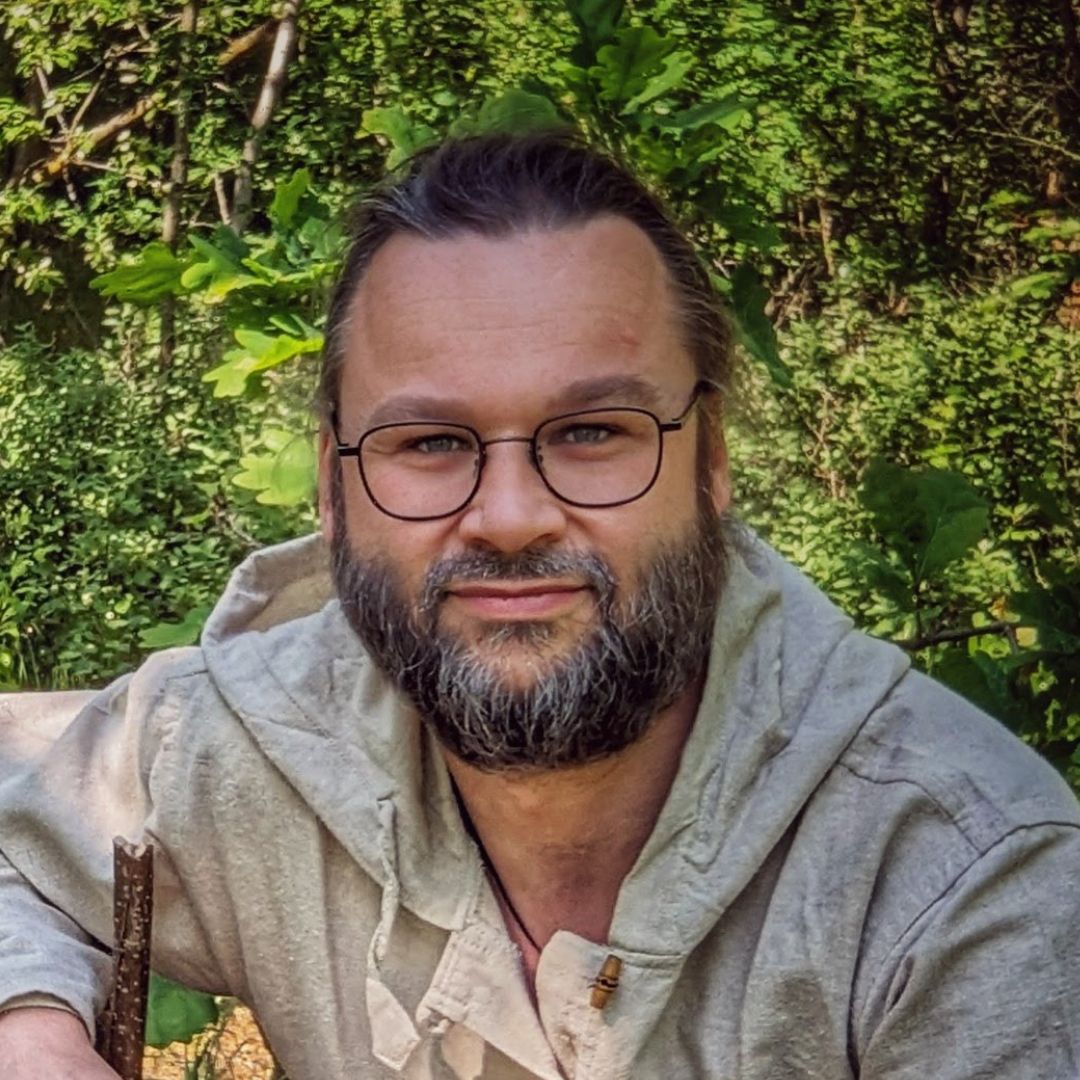 ---
👉 The key facts from this guide
A bicycle is environmentally friendly and helps preserve nature.
Cycling is healthy and promotes physical and mental well-being.
Explore more places and discover hidden corners with a bicycle.
Save fuel costs and avoid parking fees.
Make it easier to hitch and unhitch caravans or motor homes.
Cycling is fun and enriches the camping experience.
In the minds of some people, camping and cycling go hand in hand.
However, many campers choose to leave their bicycles at home when embarking on a camping trip.
That's a shame because on the seat of a bicycle you can have many wonderful experiences.
Because a bicycle enriches a camping trip and can make it even better than it would otherwise be.
You're probably wondering how an ordinary bicycle can make such a difference?
Take a look at these 8 advantages that a bicycle offers while camping.
And then I will list for you the types of bicycles there are, so you know which bicycle is best suited for your needs.
1. The environmentally friendly bicycle
If you love camping, you probably want to be close to nature and enjoy it.
Your interest is therefore to preserve nature and maintain its beauty so that you can continue to enjoy it for a long time.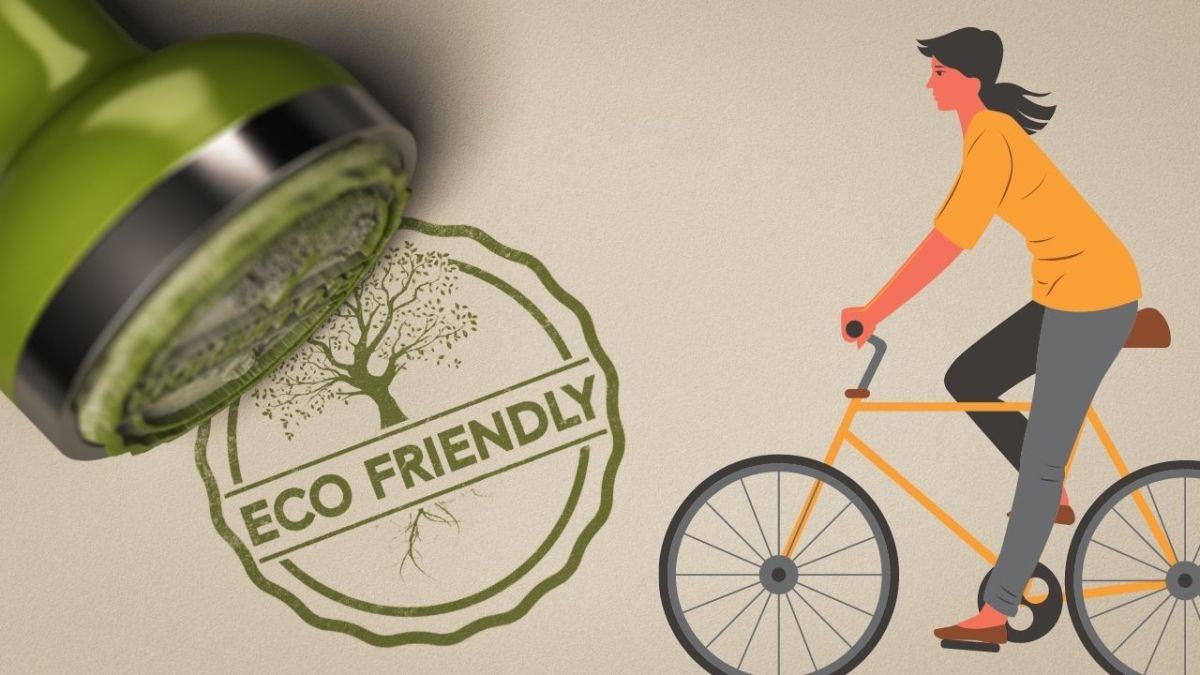 So what could be closer than leaving the car or motor home behind and hopping on your bike?
The traffic causes more than 20% of greenhouse gas emissions in Germany (Source). That is a significant amount that can be easily reduced if more people choose bicycles instead of cars.
2. Healthy Alternative
That spending time outdoors, such as hiking, is good for your health is well known today.
Actually, this health benefit is one of the best reasons to go camping.
However, this can be greatly improved if you have some movement during your camping time.
Getting from A to B by bike is a great way to incorporate some exercise into your journey while reaching your desired destinations.
It's no secret: Cycling is great for your physical and mental well-being.
30 to 60 minutes of daily physical activity such as cycling are associated with low blood pressure and low hypertension.
Cycling burns an average of 540 calories per hour. Those who travel faster than 24-28 km/h burn even more than 800 calories.
Active commuting, which includes cycling and walking, is associated with an overall 11% reduction in cardiovascular risk.
And the best part: You spend even more time outside!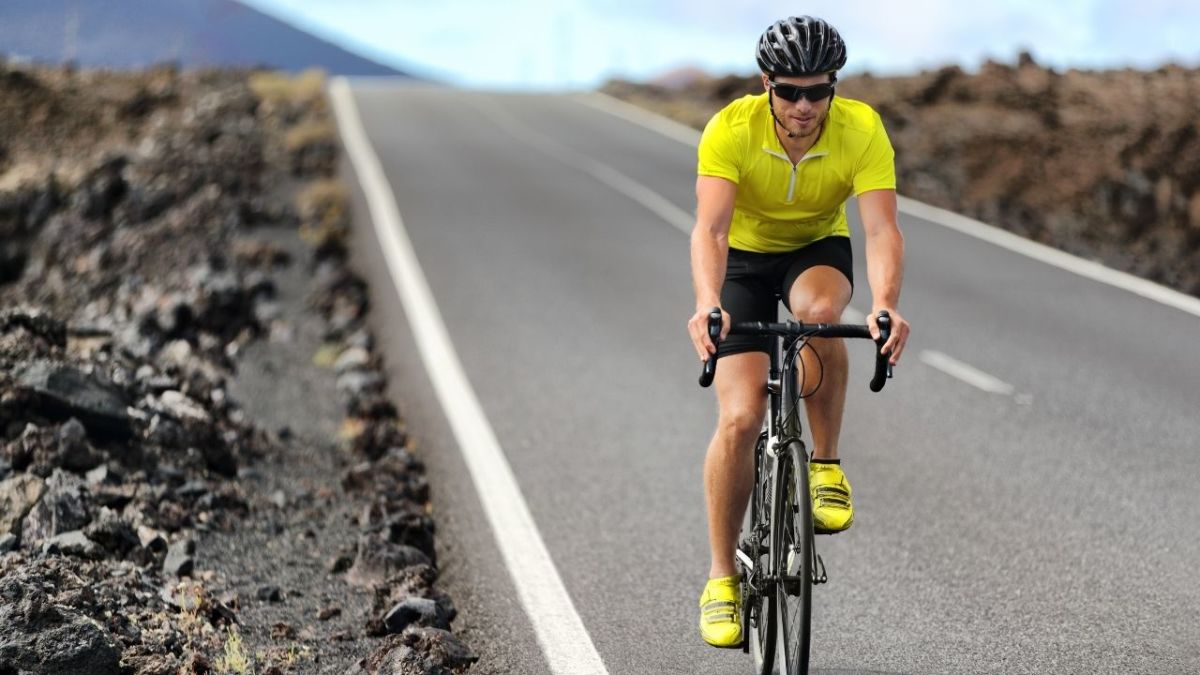 3. Explore more
The nature offers fantastic perspectives for exploring and discovering. Unfortunately, many of them are not accessible by car.
And the hiking is progressing slowly - which means it can be difficult to reach the most hidden corners and angles.
Bicycles solve this problem by providing a means of transportation that is more adaptable than a car, yet faster than walking.
That makes a bicycle a great solution if you plan to ride in the forest, explore lakes (like those in Berchtesgaden, for example), or discover new idyllic villages.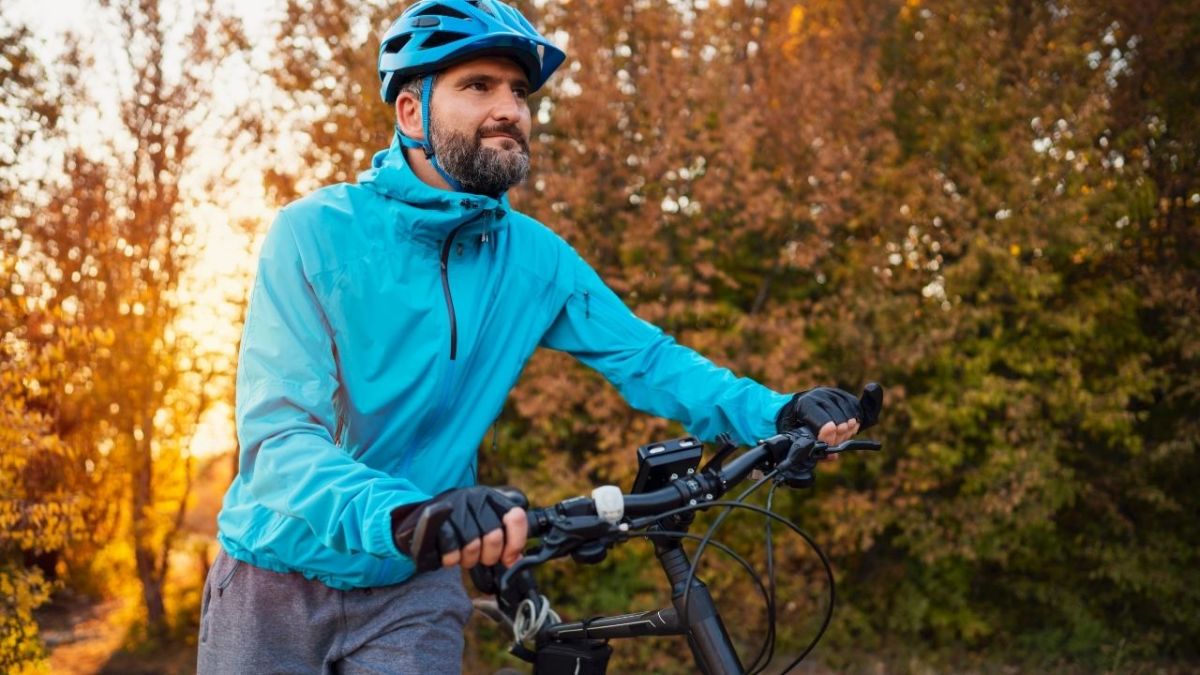 4. It is cheaper than fuel
I believe I don't need to explain this further: A bicycle does not consume fuel.
Except for electric bicycles - but the electricity for charging costs nowhere near as much in consumption as a vehicle that runs on gasoline or diesel.
The electricity costs also vary depending on the location and type of charger used (e.g., regular wall socket or solar panel). They also depend on how often you use your bike and how far you ride each time.
Here's a calculation example: If the electricity price is 0.30 euros per kWh and you have a 500 Wh battery and can travel 80 km per charge, then you only pay 19 cents per 100 km. If you ride 3000 kilometers per year with your e-bike, it will cost you 4.50 € per year. Amazing, isn't it?
5. Stay connected
Those who camp in a caravan probably know how tedious hitching and unhitching can be.
Usually, it's like you can't really leave, right?
With a bicycle, however, you can stay connected throughout your entire journey without having to sacrifice mobility and transportation.
Do you want to explore a local museum? Or the secluded bathing bay by the lake?
Ride your bike and leave your motor home or caravan behind.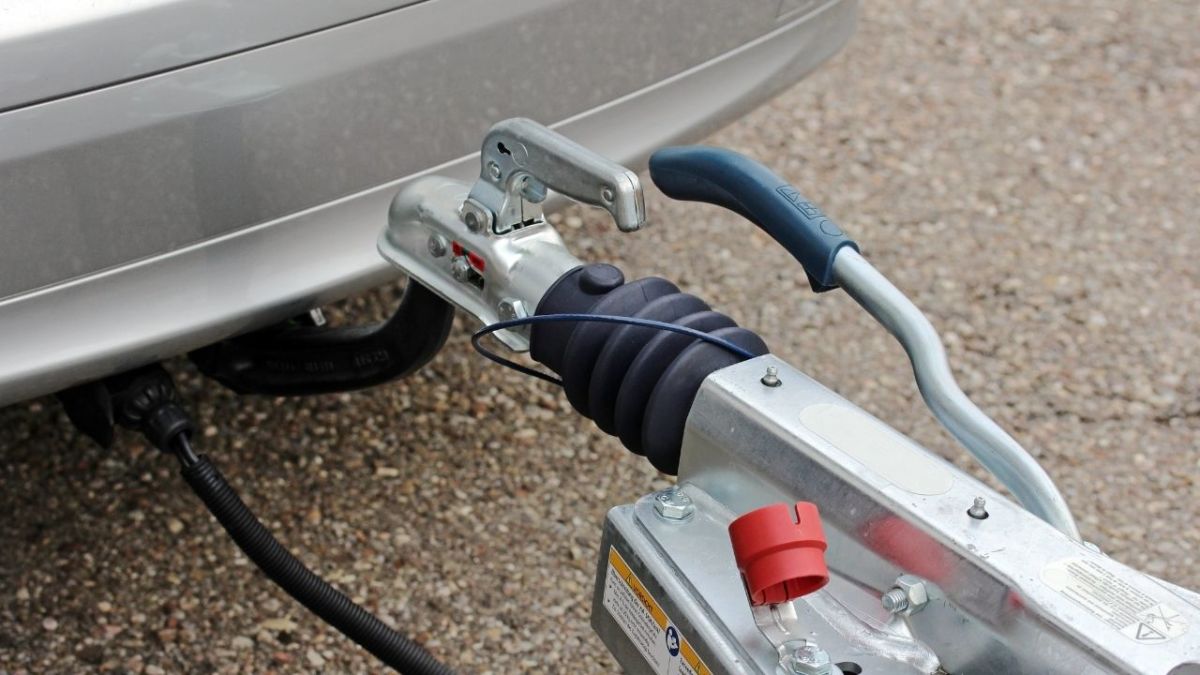 6. Leave the car behind
If you prefer to travel by motor home, you don't have to hitch and unhitch, of course.
But surely, you also know that it is time-consuming to constantly tidy up everything to get going.
And there are also motor homeowners who choose to bring a small car with them to get around the city once they have arrived at their campsite.
This is often very time-consuming, which is avoided by using bicycles.
Because who needs a car when you can just ride a bike to wherever you want to go?
7. Skip parking fees
Most people do not camp in big cities because they would like to be close to nature.
However, you may have to stay overnight in the city or even stay longer.
In these cases, bicycles can be incredibly practical for getting around the city without using public transportation and without getting stuck in traffic.
If you use a bicycle instead of driving through the crowded city in your car, you also save money on parking fees.
8. It's fun!
Not least, cycling is fun.
Just that should be reasoned enough to pack up the bike and take it on the next camping trip.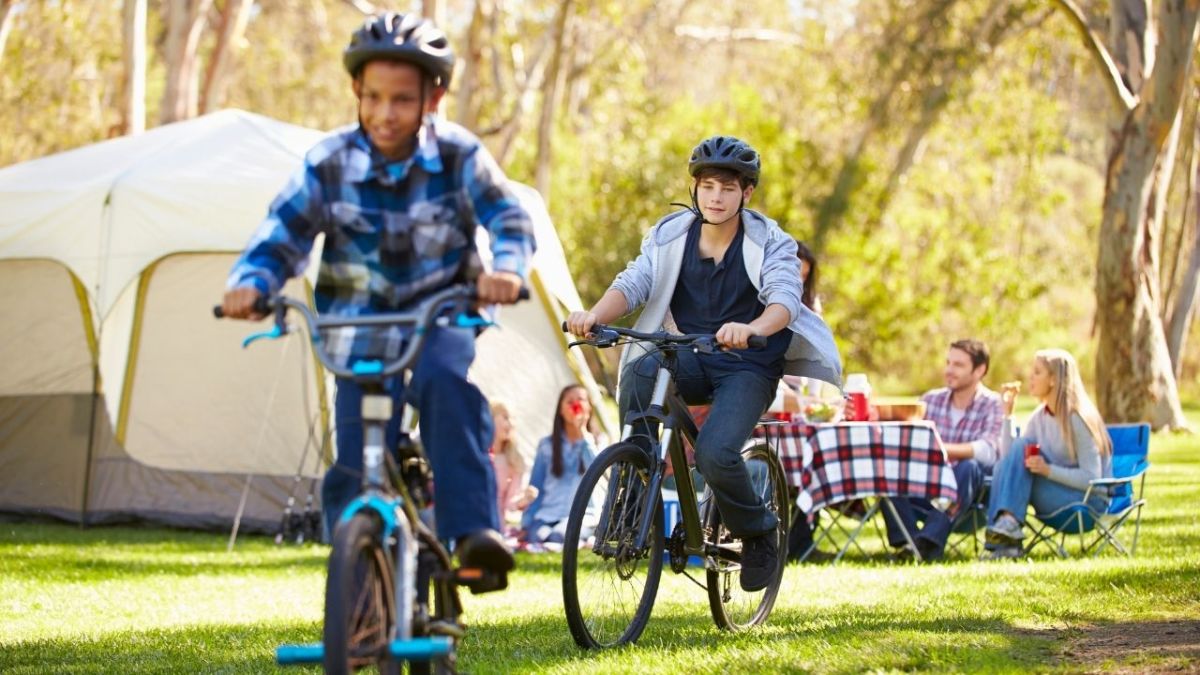 You now know the benefits of taking your bike camping with you.
Which bike, however, makes sense and which one suits you?
Let's now take a look at the different types of bicycles.
From folding bikes to mountain bikes: Which type of bicycle is suitable for your camping trip?
Which bike is the right one for a trip with the motor home? With such a large selection, you as a camper have many options.
Here are some questions you should ask yourself before getting a bike for camping.
Hopefully, I will answer your questions and help you make the appropriate purchase decision.
Here are the questions you should ask yourself:
What do you want to use your bike for when camping?

To get bread at the weekly market?
To explore the mountains and forests?
To cycle to the hidden lake?

Does the size of the bike matter?

Should it be foldable?
Should it be lightweight?
Should it be sturdy?

How much money can you spend?

Cheap bikes are quickly bought, but usually not as high quality.
High-quality bikes naturally cost more, but you will typically enjoy them longer.

Do you want an e-bike?

The advantages are clear: you arrive quickly and without sweating at your destination. However, you should think in advance about how to charge your e-bike.
Below I will now introduce you to the 5 most important types of bicycles with their characteristics for camping.
The Mountain Bike - Off to the Woods
Mountain bikes are bicycles that are also designed for rough terrain. They have much thicker tires than racing bikes or city bikes, a sturdy frame, and gears that can be shifted while riding.
The wider tires provide you with more stability when riding off-road, and mountain bikes often have suspension forks to reduce the impact on the rider's body.
These bicycles are regularly heavier and more robust than other types of bicycles, as they have to withstand the rigors of off-road riding under less than ideal conditions.
A stable frame does not necessarily mean that a mountain bike has to be heavy. There are models that weigh less than 10 kilograms - but they are pricier.
If you are up for adventure while camping and the altitude challenges you in the wilderness by bike, then you can't get around a mountain bike.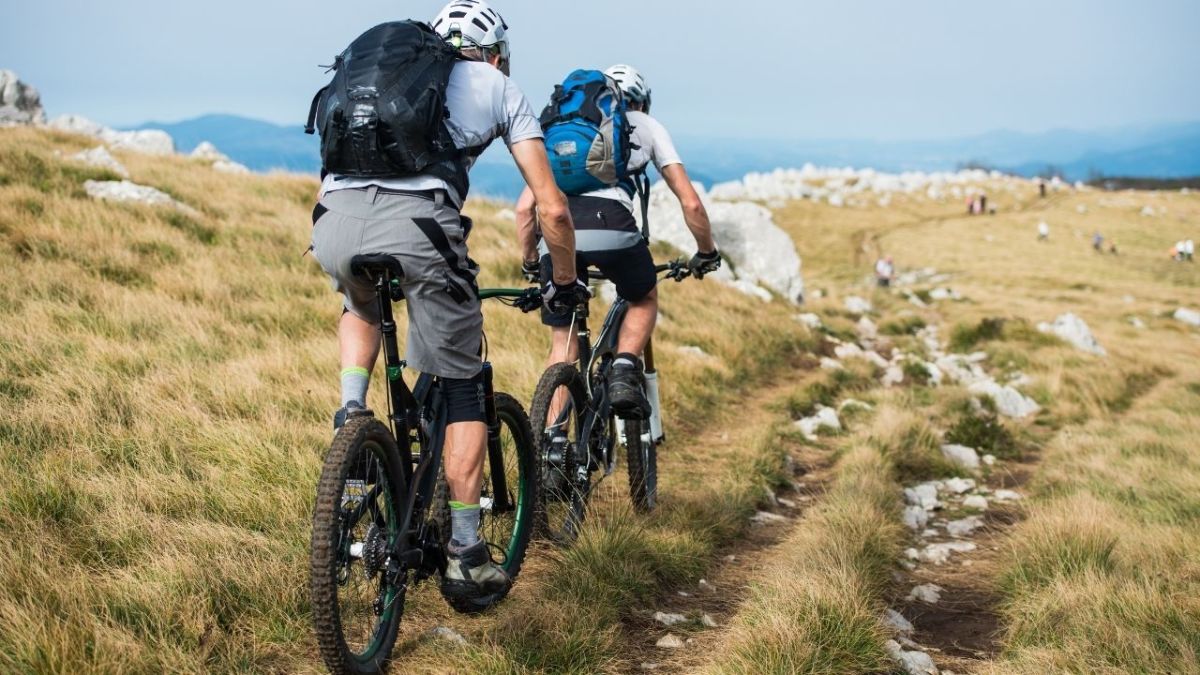 The City Bike - comfortable through the city
A city bike is a bicycle designed for commuting in the city. They are typically referred to as "commuter bikes" or "Dutch bikes" and have many features of a typical bicycle, such as gears and hand brakes.
City bikes are often designed to be ridden in an upright position to prevent fatigue. These bicycles also make it easier to mount and dismount.
You usually also have a larger, more comfortable saddle than other bicycles. Some city bikes are even equipped with built-in lights and baskets for transportation.
For camping, the city bike is well suited if you ride short distances or stay on the bike path. You can easily get started with the "Licorne Bike Stella Premium" as a city bike - it is equally suitable for teenagers as well as adult women and men.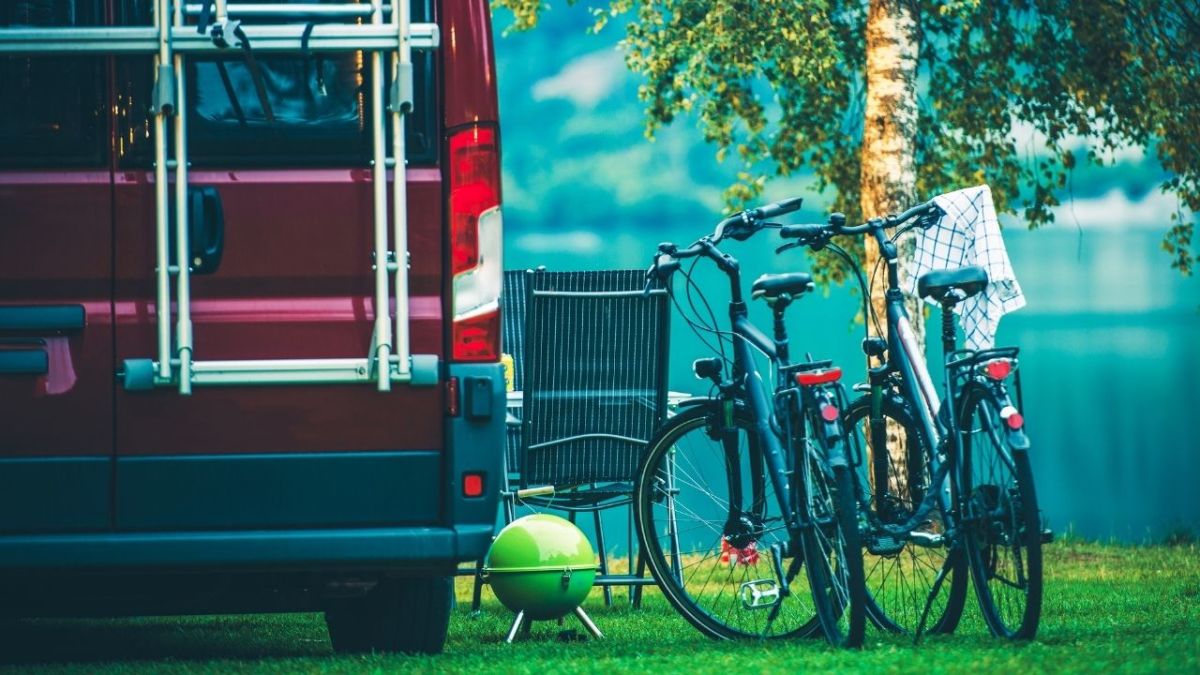 The racing bike - light and slim
The racing bike is a type of bicycle that was specifically developed for racing. It has a lightweight frame and narrow tires.
It is designed to ride quickly over short distances. A racing bike is lightweight, slim, and therefore faster than other types of bicycles.
Since racing bikes do not weigh much, they are suitable for motor home campers who have to consider their permissible total weight.
You won't find luggage racks or baskets on a racing bike, so it's not the best means of transportation for getting fresh bread and eggs in the morning.
If you love to take a fast trip on the slopes, then you should pack your racing bike as a camper.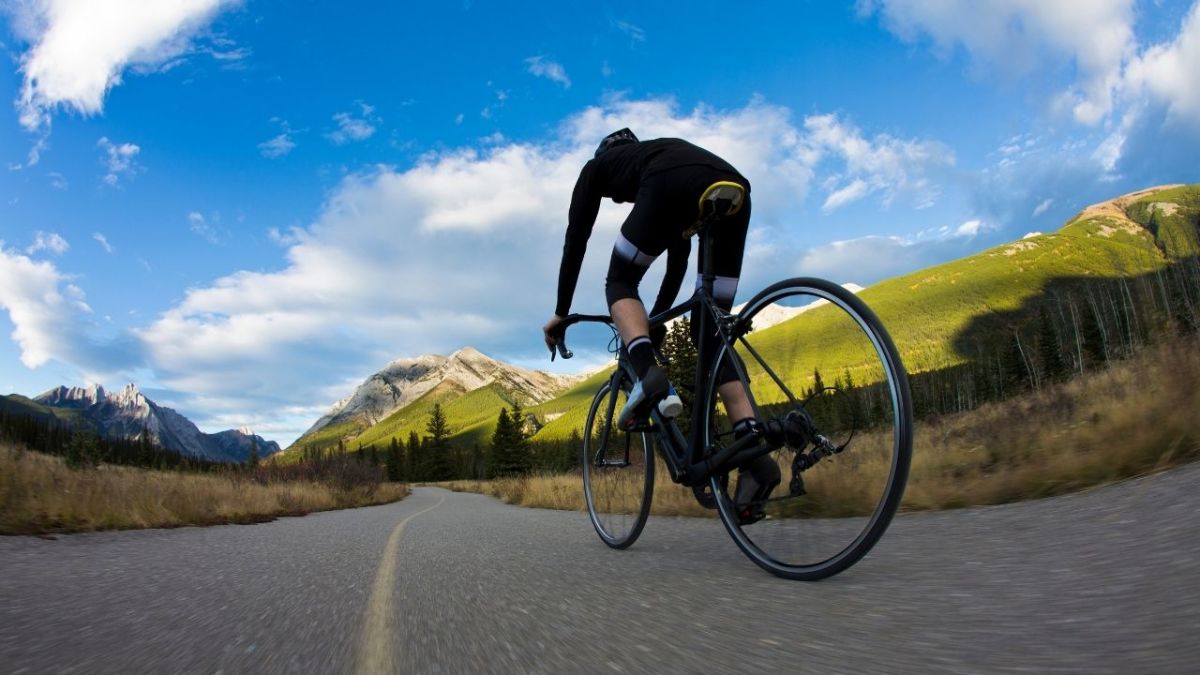 The folding bike - fold it up, store it away, let's go!
The folding bike is also called a foldable bike or compact bike and is a bicycle that can be folded and stored. It is good for campers with limited space because it takes up less storage space than conventional bicycles and is easy to transport.
Folding bikes are not only good for the city, but also perfect for people who live in small caravans or want to combine bicycles with public transportation.
A folding bike is sufficient to go shopping or to ride to the nearest restaurant.
And let it be said that folding bikes were not only built for the bike path. Innovative folding fat bikes easily handle forest trails that only mountain bikes can otherwise withstand.
A great manufacturer is for example, myvelo and here you can find a detailed test of the new e-bikes myvelo Rio and Palma.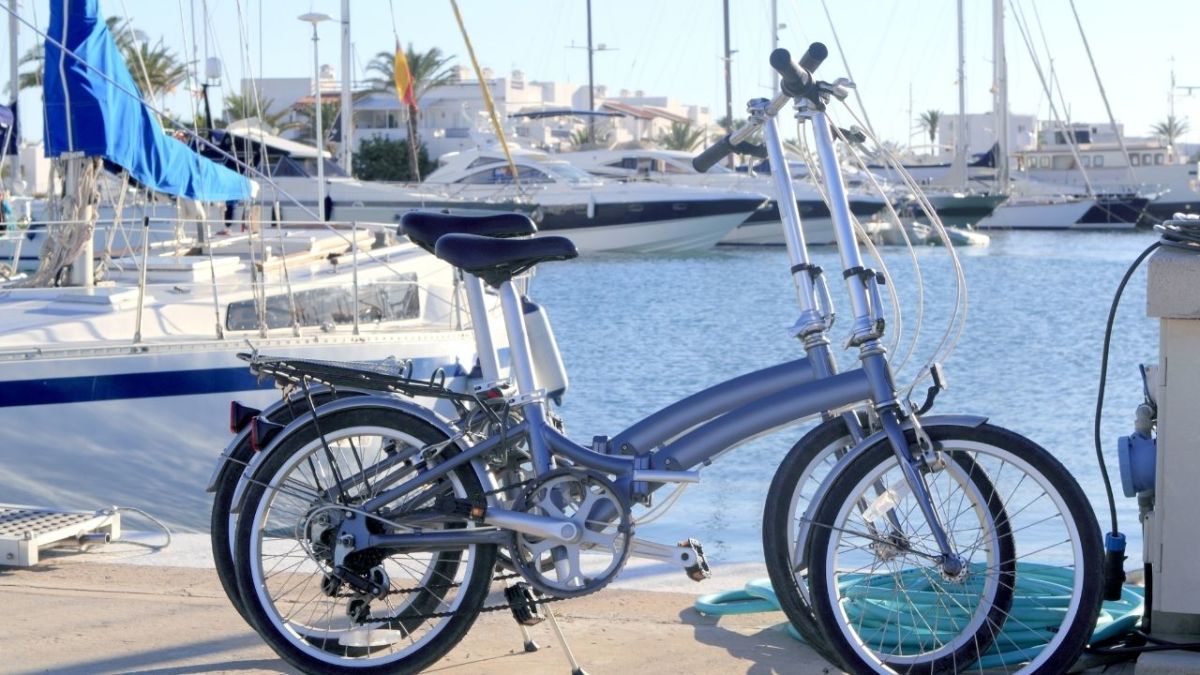 The E-Bike - mobile with ease
The e-bike is a bicycle with an electric motor and battery. It is a great option for those who are looking for the best of both worlds.
It offers the same benefits as a conventional bicycle, but with the added advantage of allowing you to ride longer distances without fatigue.
Especially during uphill rides, you will notice how it supports you and makes your ride easier.
Good e-bikes for the city include the "Telefunken E-Bike with 250 Watt Motor" or the "ESKUTE Electric Bicycle" with 250 Watt rear motor.
If you are looking for a folding bike that performs well off-road, I recommend a fat bike (with extra thick tires) with electric assistance. With this bike, you can comfortably ride through the city to the bakery - whether on forest trails, snow, or sand. Fat bikes are ideal for off-road cycling. Take a look at this comprehensive buying guide for electric folding bikes in fat bike style.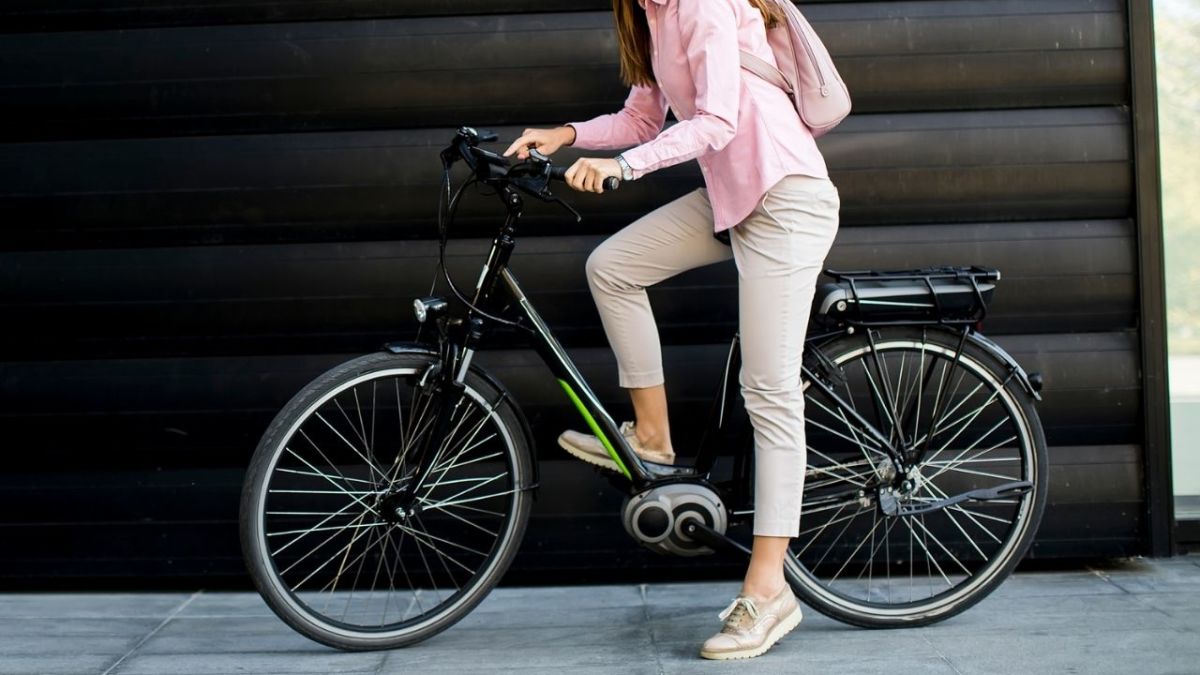 How do I bring my bicycles to the campsite?
If you don't own a folding bike, you probably won't be able to simply load multiple bicycles into your camper. Therefore, I would now like to show you how to transport your bicycles for camping.
1. Bicycle carrier from A to Z
Most commonly, bicycles are transported on a bike carrier. Depending on your setup, a bike carrier can be mounted on a roof, a rear hitch, or a roof ladder.
Every option has been designed to securely hold your bike in place, keeping it safely stored during rides, parking, and camping.
Bike racks are popular because they clear the bike out of the way and are still accessible.
Here are the advantages:
Many luggage rack configurations make it easy and quick to load and unload your bike.
Some bike racks can accommodate up to four bikes.
Many racks can be moved from vehicle to vehicle as needed.
Before you decide on bike carriers, you should also consider the disadvantages.
For thieves, the bicycle is always visible - this is an important consideration when transporting expensive bicycles.
A bicycle that is attached to the outside of your vehicle is exposed to significant weather conditions that can damage the bicycle over time. A cover can help mitigate this, although few covers are designed for high speeds.
Here are some of my favorites: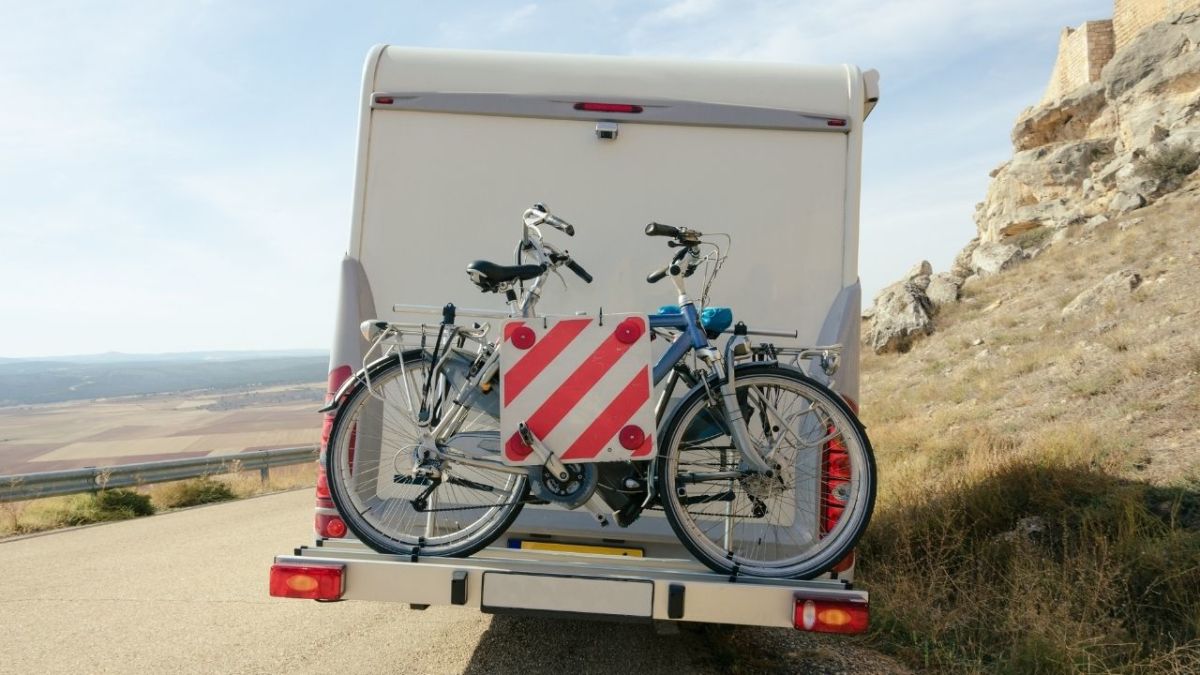 2. Store your bicycles in your camper
If you have space, one of the best ways to store bicycles is in a motor home.
For many, this is not possible, but nowadays, manufacturers of motor homes have realized that people like to travel with all their toys and customize accordingly.
There are motor homes that have a "garage" in the rear. Often, this garage is accessible through a large ramp door that opens from the back of the camper to the ground. These garages are popular among ATV/Quad and motorcycle riders, but some cyclists are starting to jump on the bandwagon.
Here are the advantages:
Bicycles are protected from weather conditions and stored out of sight.
A ramp door allows for easy loading and unloading of bicycles.
These garages are typically large enough to perform maintenance on the bicycles inside.
Disadvantages:
Motor homes with such garages are huge and therefore also expensive.
Even if you don't own such a motor home with a garage - it is often possible to store your bicycle in it, especially when you're traveling.
Conclusion: A bicycle is enriching when camping
Cycling is one of the most efficient and environmentally friendly ways to explore a new place. It is also a great way to stay in shape, get some fresh air, and enjoy the beautiful scenery.
With a bike tour, you explore the unknown and enjoy the scenery. The best thing about a bike tour is that you don't have to worry about finding parking or paying for gas.
When choosing a bicycle, it is important to know what you want to do with it. If you mainly ride on the road, a city bike, folding bike, or a racing bike is probably best suited for you.
If, however, you intend to ride off-road and desire more versatility for your bike, a mountain bike or a folding fat-bike-style bike is a good choice.
Finally, you should consider how you transport your bike.
If everything is clarified, the journey can begin.

Was this guide helpful?
14 people found this guide helpful.
5.00 out of 5 points (14 Ratings)