Back to german article
19 Advantages of Hiking: Why you should go hiking today
Hiking is an excellent activity for anyone seeking time in the great outdoors. And hiking offers health benefits - both physically and mentally.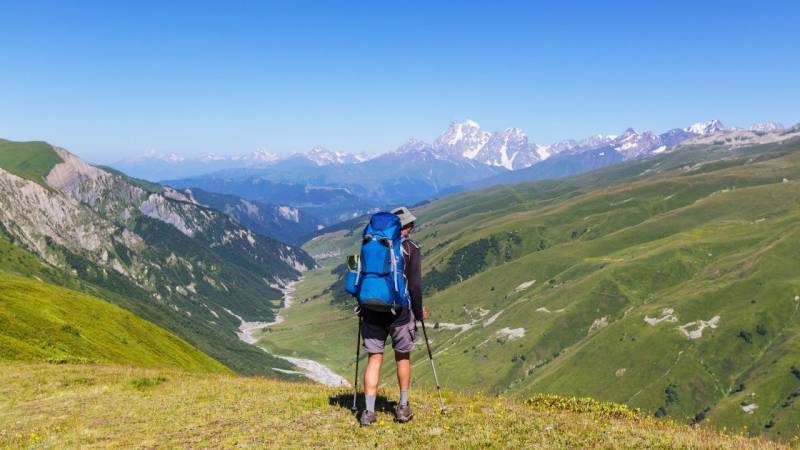 ---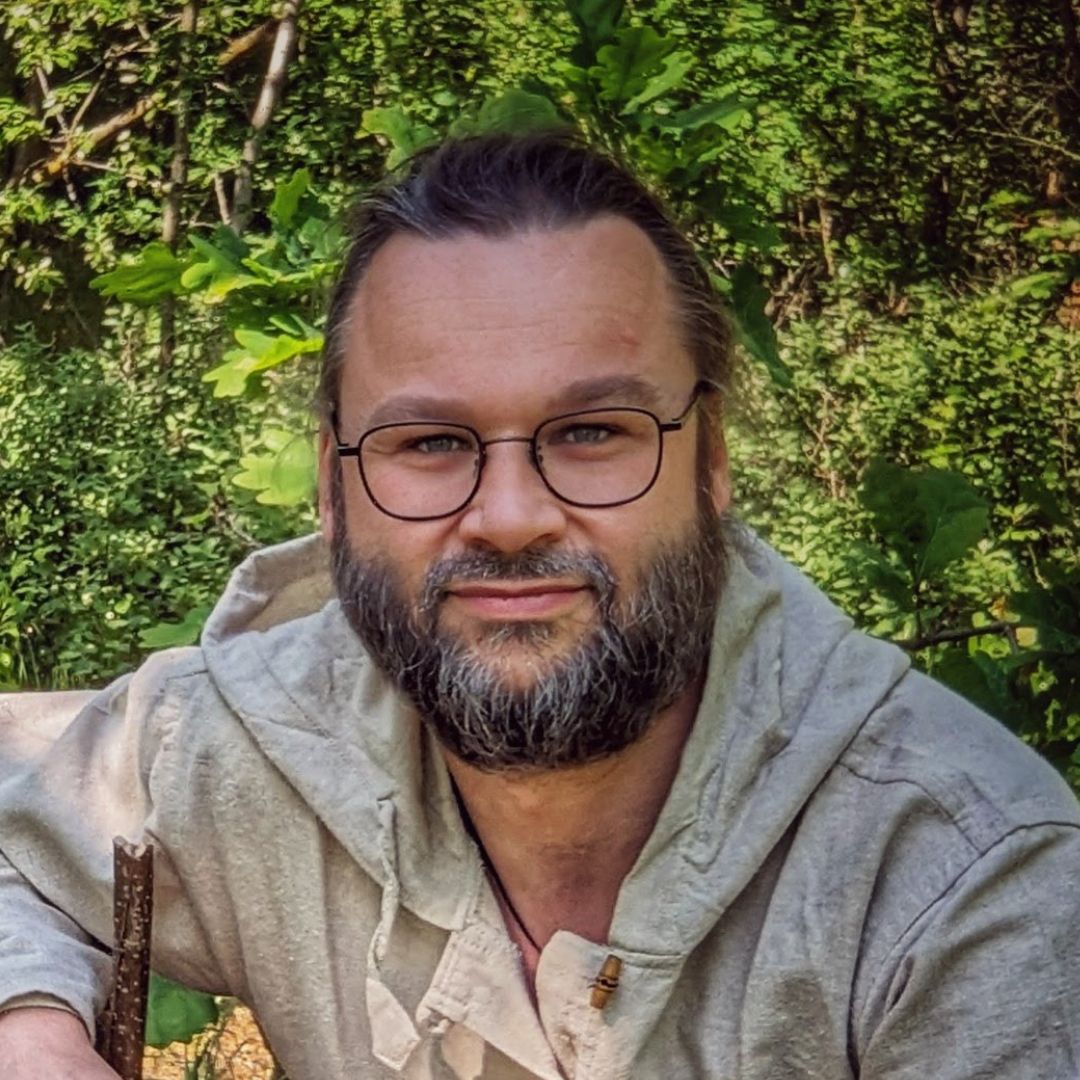 ---
👉 The key facts from this guide
Walking is free, easy to start, and suitable for all fitness levels
It offers numerous health benefits, such as improving cardio fitness, strengthening muscles and bones, and reducing stress
Walking promotes creativity and mental well-being
It's a great activity for the whole family and allows you to meet new people
Walking can be done alone or in groups, depending on personal preference
It helps prevent diseases and enhances overall well-being
One of the biggest advantages of hiking is that it is extremely easy to do, regardless of your fitness level.
You don't have to run a million kilometers, you don't need fancy equipment, and you don't even have to go far from home to do it.
Hiking is an excellent activity for those who seek adventure in the great outdoors.
In addition, hiking offers many health benefits, both physically and mentally.
And there are some social benefits of hiking - if you want them. Or you simply enjoy the meditative effect of hiking alone.
Either way, there is very little negative about a hike, and you will almost always return with the feeling of being a better person than when you started.
If you are completely new to hiking and don't know where to start, then read my beginner's hiking guide.
The general benefits of hiking
Before I delve into the health and social benefits of hiking, I would like to touch on the other reasons why hiking is a promising idea.
1. Hiking is free
One can hike almost anywhere without having to pay money for it. There are some national parks that charge entrance fees, but those are only an exception.
There are thousands of hiking trails of all lengths that are completely free. To find them, you can, for example, check out komoot.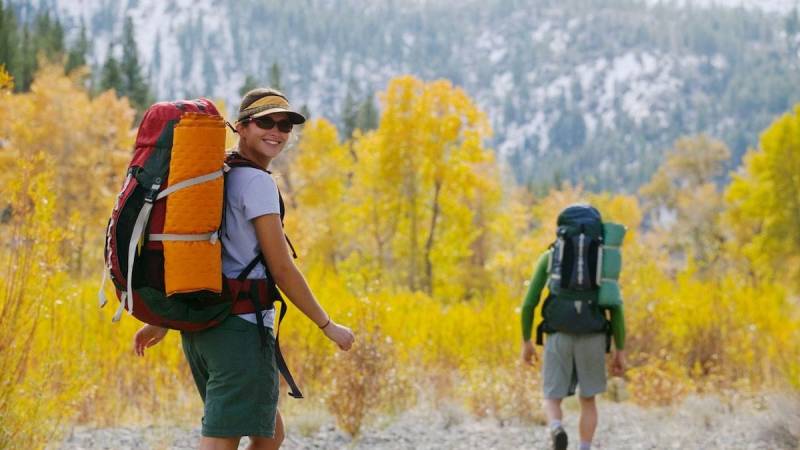 2. You don't need much equipment for hiking
If you don't plan on hiking in bad weather and difficult terrain for a long time, you don't need much hiking equipment.
A solid pair of sneakers or running shoes is sufficient for short, light hikes.
Comfortable sportswear is fine, and you need a comfortable backpack to carry water, food, and other things.
Of course, there is a lot of great hiking gear to make your time on the trail more enjoyable and safer. But to start with, you just need a few basic things for hiking.
3. Hiking is a great activity for the whole family
Hiking is an excellent, family-friendly activity that allows children to get closer to nature and explore the outdoors in an adventurous way.
If you're worried that they might get bored, choose an interesting route with lots of highlights (streams, trees, rocks, etc.). Or print out a scavenger hunt for them.
4. With hiking, you can adjust the distance to your fitness level
To go hiking, you don't need to be extremely fit. In fact, many people start hiking to get fitter.
Start with short and easy hikes and gradually increase the difficulty as your fitness improves.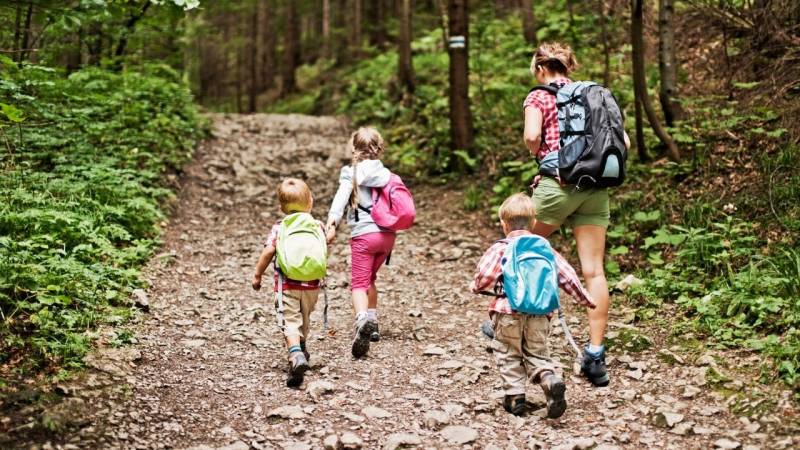 5. You can hike alone
Many people enjoy the social aspect of hiking. However, if you prefer to hike alone, hiking is ideal as long as you take the necessary safety precautions.
It is advisable to let someone know where you are going. Additionally, there are times when no one else is available to hike with you. So, go on a solo hike to enjoy nature.
Read also: Avoid these 9 mistakes as a hiking beginner for a better first hiking day
The health benefits of hiking
The list of health benefits of hiking is endless.
Have you ever read a report about the negative health effects of hiking? I don't think so.
It is being increasingly researched how beneficial this simple pastime is for our health, and not just for our physical health.
The health benefits of hiking are so significant that doctors have started prescribing hiking to patients with chronic illnesses.
And did you know that there is a trend towards hiking and doing yoga at the same time? Hiking and yoga go well together, as yoga relaxes your muscles and prepares you for the next ascent.
The Mental Benefits of Hiking
6. Hiking improves mental well-being
The proximity to nature has been proven to have many positive effects on mental well-being.
So much so that in 1996 the term "ecotherapy" was coined, but it has not yet arrived in Germany.
The ecotherapy, also known as nature therapy, is a therapeutic treatment. It aims to improve the mental well-being of people suffering from depression and anxiety.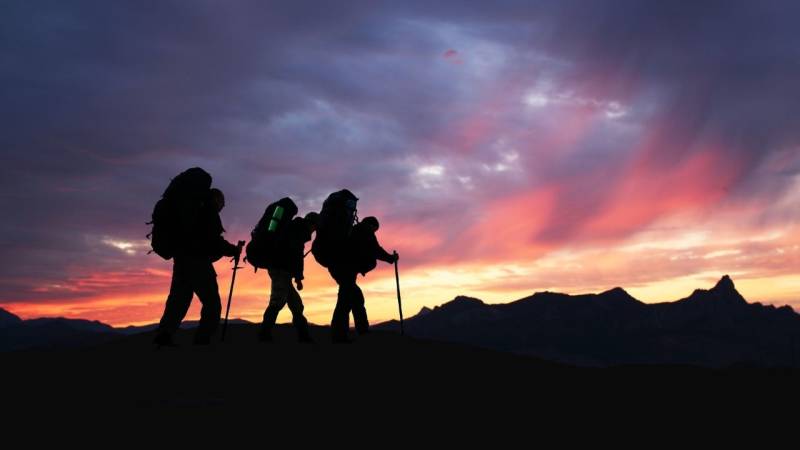 7. Hiking promotes creativity
Separating from devices and technology is an excellent way to foster our creativity, as it allows our brain to pause and even get bored. Facebook, Instagram, and emails can then take a break.
Other research findings suggest that only spending time in nature can foster creativity. Whether this is a result of limited screen time and increased leisure time remains to be proven.
Whatever the cause may be, the results are definitely beneficial for anyone who needs space to think clearly.
8. Hiking relieves stress
In our world of increasing sensory overload, it is becoming more and more important to escape the everyday and unwind.
A hike is the perfect way to relax and calm a busy mind.
A conducted study has shown that hiking reduces rumination, which is focusing on the negative aspects of one's self.
In addition, the rhythmic movement and repetition of walking is an excellent way to practice walking meditation.
If a hike feels like too big of a challenge for you right now, you should start small by simply going outside and engaging with nature.
This can also be a simple wandering.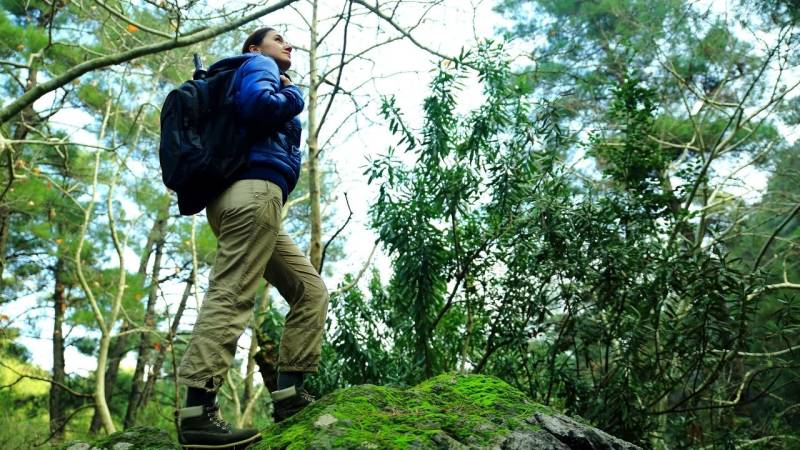 9. Hiking lifts your mood
If you had a really bad week, then go hiking on the weekend.
Doing something just for yourself will satisfy you.
In addition, when hiking, your body produces endorphins. And endorphins have been proven to help combat mood swings, depression, and anxiety.
The physical benefits of hiking
10. Hiking brings back your power
If you're just starting hiking and thinking about it, you might feel unmotivated and tired because of it. This lack of motivation is enough to prevent you from even starting.
But that is a wrong mindset of your head. Because when you go hiking, you will probably be tired afterwards, BUT in the long run, you will become fitter and more alive.
You increase your energy level and become stronger through regular hiking. This strengthening happens at the cellular level. The mitochondria produce energy for your body in addition to nutrition, and the more active you are, the more mitochondria your cells develop.
11. Hiking strengthens the legs
Hiking in flat terrain is a promising way to gradually increase leg endurance and maintain strength.
However, if you start hiking in steep terrain, you also build strength in your legs.
Hiking uphill and downhill is like taking hundreds of lunges. At first, it will be difficult, but as you gain strength, you will be able to climb longer and with more confidence.
12. Hiking activates the core
Whether you realize it or not, every step you take on the trail engages your core muscles.
Sure, you won't finish the hike with sore abdominal muscles. But you activate the small, deep muscles of the core in a subtle and natural way.
The more challenging the hike, the more you have to engage your core. And when you carry a lot of equipment on your back, all the muscles around your torso are excellently trained.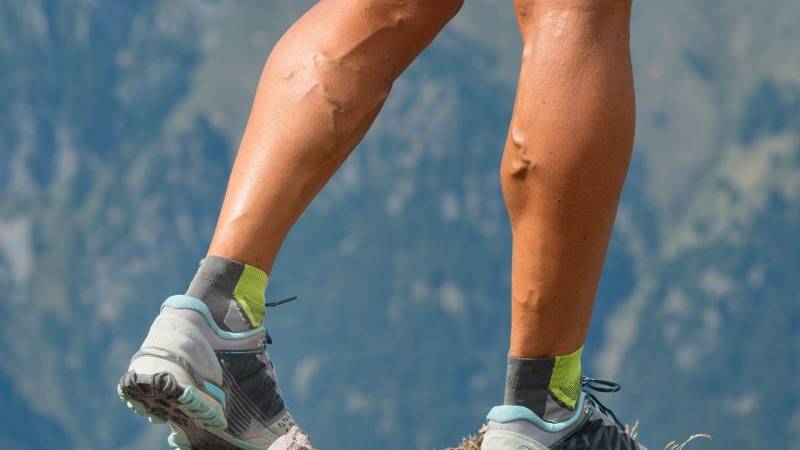 13. Hiking improves cardiovascular fitness
Just like jogging, cycling, or swimming, hiking trains your lungs in a brilliant way, and that too for several hours.
If you venture into the mountains, you will feel the benefits of hiking for your fitness faster than if you stay in the plain.
And if you go hiking for the first time, you may find that a short, flat hike is enough to get your lungs moving.
14. Hiking stabilizes the joints and improves balance
Hiking on uneven terrain is one of the most natural ways to stabilize the joints of the lower body.
Unlike walking or running on a treadmill, every step on an outdoor hiking trail is different, as the feet land on the ground at a different angle each time.
This results in the activation of all small supporting muscles surrounding the joints.
The more you exert yourself, the stronger and more stable your muscles become. This in turn helps improve balance on the more challenging sections of the track and avoid injuries.
15. Increase your bone density through hiking
Your bones are not dead - think of them as very slow-growing tissue.
And the genius of hiking is that new bone tissue is formed through movement. This strengthens your bones.
Think of bone density like a muscle. When you train your bones by putting pressure on them, they become stronger as the density increases.
Furthermore, arthritis is relieved when your joints become softer.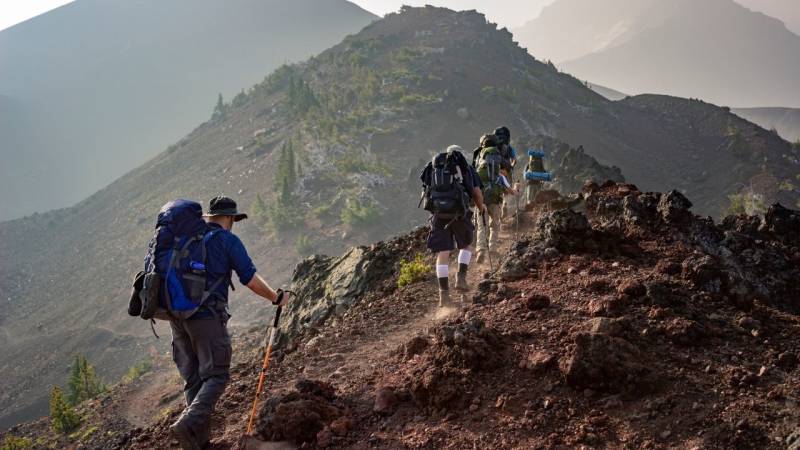 16. Weight Loss through Hiking
Hiking is an excellent activity for people who want to lose weight.
Firstly, it doesn't feel as intimidating as running, and a short hike is also doable for people with a very low fitness level.
Secondly, it's the type of fitness that doesn't always feel like fitness.
Sometimes it can be tiring, of course. But most people with moderate fitness can hike for hours without feeling like they are "working out".
Add some weight to your backpack and choose hilly hikes, and the calorie burn will increase.
Read also: What food to take for hiking? - 5 delicious recipes for backpacking
17. Hiking prevents diseases
Hiking for a healthy lifestyle is so convincing that doctors prescribe it.
Unfortunately not yet in Germany, but in other countries like the USA, this is normal.
Regular hiking reduces the risk of heart disease, improves blood pressure, and stabilizes blood sugar levels.
Social Benefits of Hiking
18. Meet new people through hiking
Since hiking is so easy, it appeals to many social groups and Germans love hiking.
If you join a hiking group in your area, you have the additional advantage of exploring your surroundings.
And if you join a group, you can share transportation to and from the hiking trail if needed.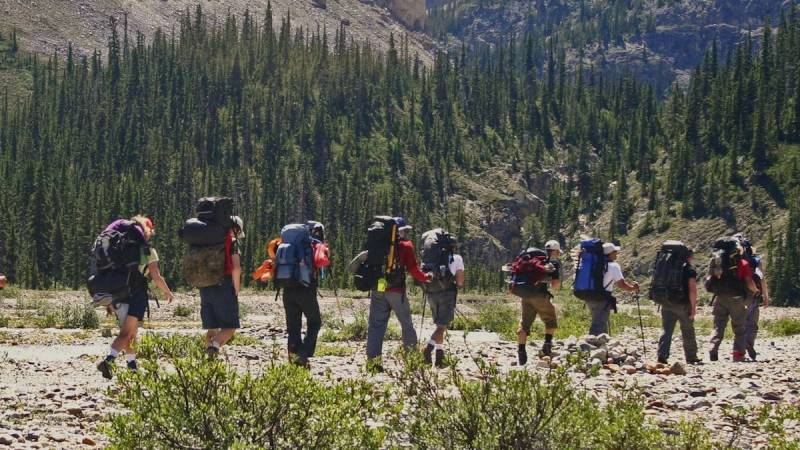 19. Time to talk while hiking
If you really want to get to know your friends and family, go on a hike with them.
There are few other situations in life where you spend several hours in a row with a person without the distractions of everyday life.
Think about all the things you can talk about during a 6-hour hike. And since your smartphone is turned off and your brain has had time to relax, you will be creative and all sorts of interesting conversations will arise.
---
No matter if you want to get fit or lose weight, or if you need a break from everyday life - hiking will make you feel good for sure.
The benefits of hiking are obvious: hiking affects so many areas of life, including disease prevention. Additionally, your mental well-being will improve.
So, let's go. Get out! Hiking!

Was this guide helpful?
27 people found this guide helpful.
4.86 out of 5 points (28 Ratings)