Back to german article
The 7 Best Camping Solar Panels to Provide You with Power Outdoors
Whether you're hiking, camping, or seeking self-sufficiency, a solar panel can power many devices. Here are 7 of the best solar panels for camping.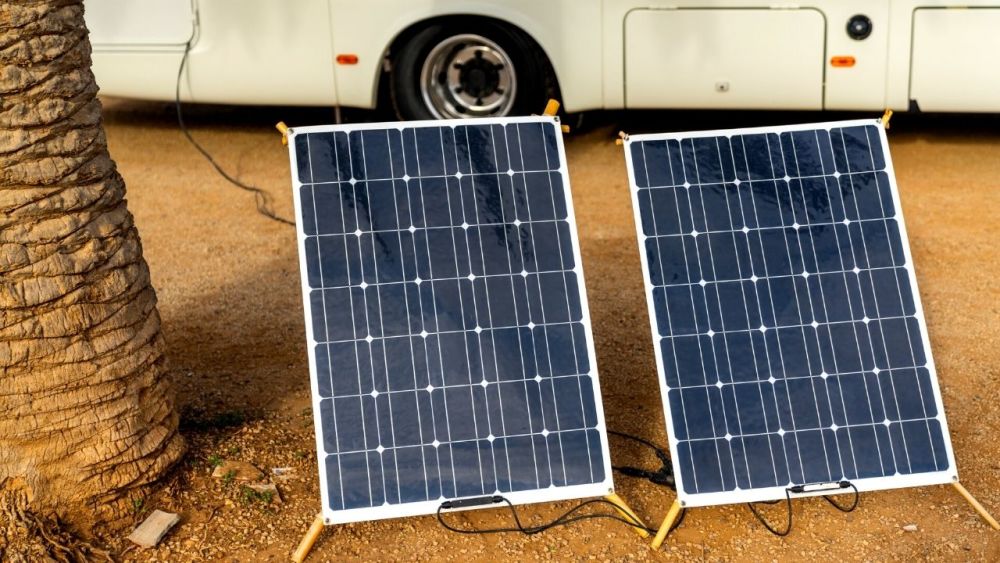 ---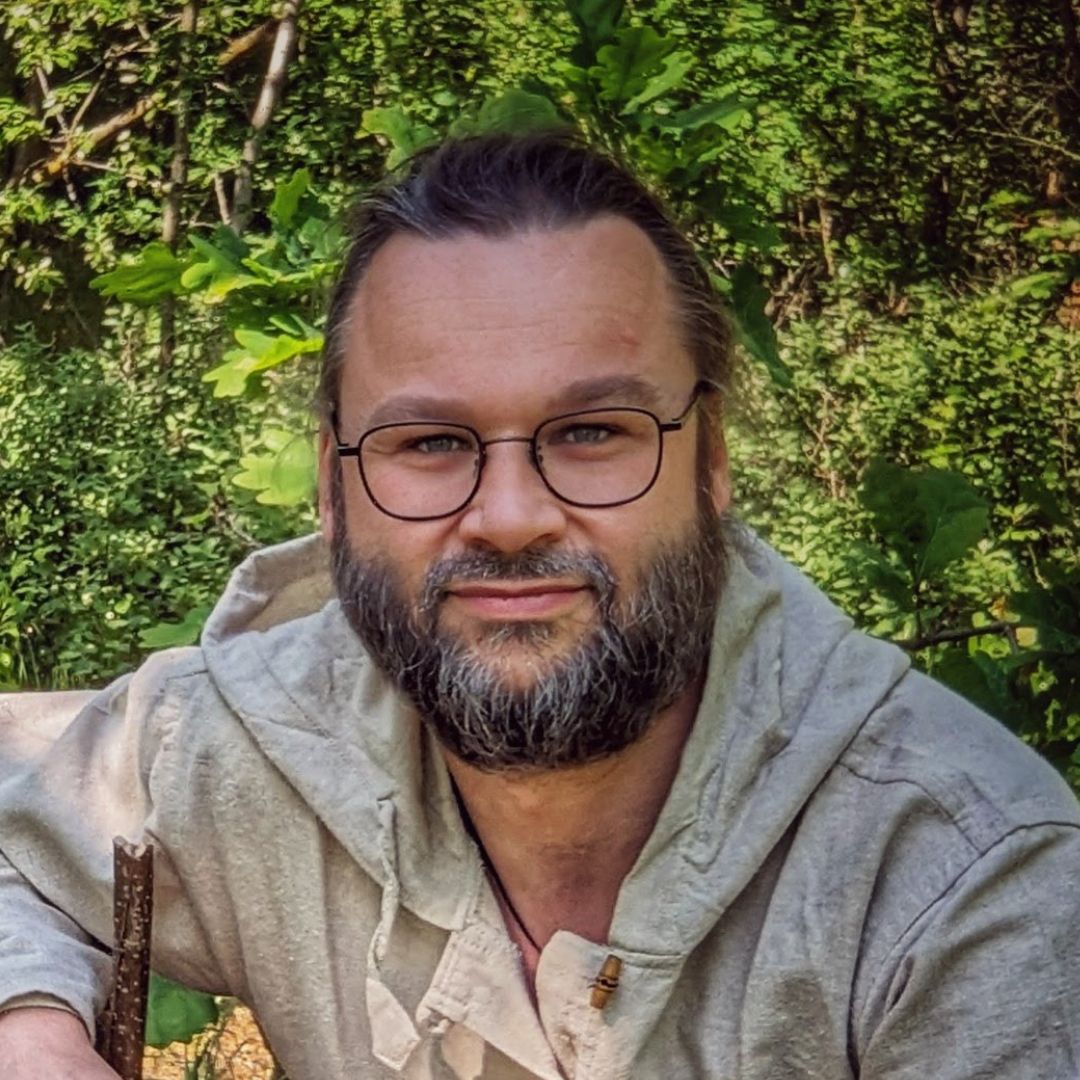 ---
👉 The key facts from this guide
Solar panels are ideal for camping, hiking, and off-grid living. They can power many devices.
The Eco Worthy 120W foldable solar panel is lightweight and efficient. It can charge many devices and weighs only about 4 kg.
The GoalZero Boulder 100 solar charger is rugged and powerful. It has a capacity of 100W and is ideal for power-hungry campers.
The Jackery foldable SolarSaga 100 solar panel is sturdy and well-designed. It is ideal for charging portable devices and works well even in cloudy weather.
The ITEHIL solar panel has a capacity of 100W and is durable and waterproof. It is ideal for campers and can charge a variety of devices.
The BigBlue 63W 19V foldable solar panel is a perfectly sized solar solution for on-the-go. It is lightweight and portable.
There are many types of solar panels that can be used for camping. However, not all of them are created equal.
To help you make the right decision, I have compiled a list of the 12 best camping solar modules for you.
We will go through the different types of solar panels and the pros and cons associated with each type so that you can make an informed decision.
I will also provide you with a shopping guide to assist you in the purchasing process.
Everyone owns electronic devices, but where do you get electricity from in the wilderness?
Most campers nowadays – whether they are car camping, RVing, or backpacking – carry more than a handful of electronic devices.
All of these devices require power, and it can still be difficult to find power when camping.
This is where solar power comes in.
Maybe you know the feeling? You only need a bit of power at the campsite, but the campground operator charges 8 euros per day for electricity. At least that's how it was for me, and now I'm independent with a solar panel.
Today's portable solar panels and solar generators have the capacity to keep us almost unlimitedly away from the power grid – and some can even be carried in a backpack.
In light of this, I've done the work for you to summarize the best camping solar panels of the year.
I'll start with the best solar panels that have a high wattage and then work our way down. So at the beginning, you'll find the panels that are heavy and not suitable for backpacking. Further down, we'll look at the best solar panels that are smaller and lighter.
The 7 Best Camping Solar Panels to Power You Outdoors
Here's an overview of my best solar panels for generating power:
1. Eco Worthy 120W Foldable Solar Panel
The Eco Worthy solar panel is the perfect solution for hikers, climbers, and campers looking for a way to charge essentials (light, GPS, phone, etc.). It folds up like a briefcase and weighs only about 4 kg.
But it's not just for charging your smartphone or power station, you can also charge car batteries with it.
Daten aktualisiert vor einer Stunde
ECO-WORTHY 100W Solarpanel Faltbar, Solarpanel 12v mit 10 DC Adapter, MC-4 und 30°/40° Verstellbarem Ständer, Solarmodul für Die Tragbare Powerstation Wohnmobil Caravan Camping
⚡Leicht faltbar, leicht zu bewegen Gefaltete Größe nur 24,6 x 18,3 x 2,2 Zoll, 7,6 Pfund leicht zu tragen. Lässt sich auf eine schöne, kompakte Größe zusammenfalten und stört nicht, wenn es nicht verwendet wird. Sie können einfach die Ständer an den Paneelen ausklappen, das anschließen, was mit Strom versorgt werden muss, und schon können Sie Ihr Camping und Ihre Reise genießen.
⚡Geeignet für 95% Generatoren 100W faltbares Solarpanel Kompatibel mit den meisten Solargeneratoren auf dem Markt. Das faltbare Solarpanel enthält Anschlüsse in verschiedenen Größen (Anderson-Adapter / MC-4-Kabel / 9-DC-Kabel für Jackery Explorer, Bluetti EB-Serie und andere Stromstationen).
⚡Wasserdicht & Langlebig Das faltbar Solarpanel besteht aus FR-4-Substrat und hat eine hohe Festigkeit, Flammhemmung und Wasserdichtigkeit. So ist das Panel extrem stark und wasserdicht, um sich an jedes Outdoor-Abenteuer anzupassen. Verwenden Sie ein 118-Zoll-Verlängerungskabel, um das Kraftwerk im Schatten zu betreiben, um das Kraftwerk haltbarer zu machen.
⚡Einstellbar für höhere Effizienz Dieses faltbare Solarpanel kann den Beleuchtungswinkel des Solarpanels auswählen, indem es den Winkel des Solarmodulhalters (30° oder 40°) so einstellt, dass er zur Sonne geneigt ist, anstatt flach auf dem Boden zu liegen, was die Effizienz des Solarpanels um 25% oder mehr erhöhen kann, um den maximalen Ertrag zu erzielen.
⚡Paket & Kundenservice 1* Faltbares Solarpanel 100W; 1*MC4; 1 * Anderson-Kabel; 9,84 Fuß Verlängerungskabel (5,5 * 2,1 mm); 8 * DC-Adapter ( 7,86 * 5,75 mm, 7,41 * 5,16 mm, 6 * 4,3 mm, 5,5 * 1,7 mm, 5,5 * 2,5 mm, 5,5 * 3,5 mm, 4,8 * 1,7 mm, 3,5 * 1,35 mm). Es gibt 1 Jahr Garantie und 24*7 technischen Support, bitte kontaktieren Sie uns zuerst, wenn Sie Fragen haben.
93,49 €
UVP: 109,99 €
View Product
The Eco Worthy foldable solar panel can be unfolded and set up to capture full sunlight in any direction.
It's sturdy in design and includes a bracket that can be adjusted to set the angle of the solar panel on practically any terrain.
Campers will find that this portable foldable solar panel is capable of charging devices and electronics with minimal effort—it's easy to set up and has two USB ports for charging laptops and mobile phones as well as a power station.
The foldable Eco Worthy 120-watt solar panel includes 10 charging adapters that are compatible with the following solar chargers:
Webtop
Zieltom
Goal Zero Yeti
Rockpals
Jackery
Prymax
Paxcess
Suaoki
Acopower
This foldable 120W solar panel comes with a 20A solar charge controller and can charge a variety of electronic devices. The charge controller has short-circuit protection, open-circuit protection, reverse protection, and over-load protection.
The Facts:
120W output power
Weight: 4.2 kg
Dimensions (folded): 54.61 x 37 × 7 cm
Dimensions (unfolded): 157.988 x 54.61 × 0.5 cm
10 in 1 DC adapter
Advantages
High performance
Many adapter and connection options
Disadvantages
Transportable only by car
Considering other brands offering the same setup with practically identical specifications, I can confidently say that the portable 120W solar panel kit from Eco Worthy is a great buy for the money.
You get everything you need to charge your devices and your solar generator. Anyone looking for a lightweight, portable 120W solar panel with all the options and specifications will generally be satisfied.
2. Goal Zero Boulder 100 Solar Charger 7000mA 100W
As the name suggests, the Boulder 100 solar panel from Goal Zero is a medium-sized, rigid "briefcase" of solar modules with 100W power.
The panel is ideal for power-hungry car campers or even smaller RVs.
The built-in stand allows you to adjust and maintain the optimal angle to the sun all day long.
When you're ready to leave your site, fold the sturdy aluminum frame in half to ensure it doesn't get damaged on the go.
High-quality monocrystalline panels, a robust aluminum housing with reinforced corners, a nice carrying handle, sturdy legs, and a waterproof connection box all add up to a solid panel.
It's not super light (11.75 kg), but the folding size makes it easy to handle and transport.
In my test, I was able to achieve 70W power output in sunny November weather.
The Facts:
100W output power
Weight: 11.75 kg
Dimensions (folded): 67.95 x 101.6 x 4.45 cm
Dimensions (unfolded): 67.95 x 110.49 x 4.45 cm
8 mm output to connect to power stations
Advantages
Sturdy
High performance
Disadvantages
Heavy
Smartphones/tablets cannot be directly charged
Only transportable by car
Attention, this solar panel does not have a USB port. You need to operate this panel with a power station, such as the Goal Zero Yeti.
3. Jackery foldable solar panel SolarSaga 100
Like Jackery's popular solar generators, the SolarSaga 100W is robust, well-designed, and built for outdoor use. For me, it is one of the best solar modules that reliably generate electricity.
Daten aktualisiert vor einer Stunde
Jackery Faltbares Solarpanel SolarSaga 100 - Solarmodul für Explorer 500/1000 Pro/1500 Pro - Solarladegerät mit 2 x USB-Anschluss -100W Outdoor Solargenerator für Camping und Garten
PERFEKT FÜR JACKERY EXPLORER - Die umweltfreundliche Solaranlage ist der ideale Generator für die Jackery Explorer 240/500/1000 Pro/1500 Pro Powerstationen (separat erhältlich). In Kombination ergibt sich damit die perfekte Stromversorgung für unterwegs.
HOHE EFFIZIENZ - Die hocheffizienten monokristallinen Solarzellen erreichen eine Umwandlungseffizienz von 25%.100W hohe Ausgangsleistung. Strapazierfähiges ETFE-Material auf der Oberfläche sorgt für eine lange Lebensdauer, hohe Lichtdurchlässigkeit und leichtes Gewicht.
TRAGBAR, FALTBAR - Der Jackery SolarSaga 100 Sonnenkollektor zur Gewinnung von Solarenergie ist ergonomisch, einfach mitzunehmen, robust und langlebig.Wasserdicht gemäß IP65.Geeignet für alle Standorte im Freien.
PRAKTISCH, SICHER & ZUVERLÄSSIG - Ausgestattet mit 1 USB-A (5V, 2,4A) und 1 USB-C-Anschluss (5V, 3A), zum Laden von Smartphone, Tablet und Kamera. Abmessungen: Entfaltet: 122 x 53,5 x 0,5 cm, Gefaltet: 61 x 53,5 x 3,5 cm; Gewicht: 4,68 kg.
ZUFRIEDENHEIT GARANTIERT - Die Zufriedenheit unserer Kunden ist uns bei Jackery besonders wichtig, wir sind stets offen für Fragen, Meinungen und Vorschläge, und unser Serviceteam ist immer erreichbar.
229,99 €
UVP: 329,99 €
View Product
The ultraportable design features rubber handles and two stands for easy carrying and setting up in camp. A sturdy IP65 design also protects it from occasional splashes and light rain showers.
On a sunny day, the SolarSaga easily charges your smartphones or iPads as well as a few power banks for later charging.
The panel itself looks stylish, works straight out of the box, and folds neatly into its own suitcase-like form. The soft legs are sturdy enough to properly align the solar panel and the eyelets in the corner allow it to be securely fastened if necessary.
This panel is ideal for charging portable devices and also works well on cloudy days. Do not expect miracles when it's not sunny, but the SolarSaga works as efficiently as the technology allows under cloudy conditions.
The facts:
100 W output power
Weight: 4.68 kg
Dimensions (folded): 61 x 53.5 x 3.5 cm
Dimensions (unfolded): 122 x 53.5 x 0.5 cm
1x USB-A (5V, 2.4A) output
1x USB-C port (5V, 3A) output
8 mm output for connection to power stations
Advantages
USB-A and USB-C ports
Lighter than some other panels of its size
Foldable and with eyelets for hanging
High performance
Disadvantages
Too heavy for backpackers
The Jackery SolarSaga 100 solar panel is a great product that I highly recommend to anyone who wants to generate electricity outdoors. If you are keen to learn more about the interaction between a solar panel and the Jackery power station, then read my review "In Review: The Jackery Solar Generator 500 (Explorer 500 Power Station + SolarSaga Solar Panel)".
4. ITEHIL Solar Panel, 100 W, 18 V
The 100W solar panel kit from ITEHIL offers the same performance, lightweight design, and high-efficiency modules as other branded solar modules.
ITEHIL Solarpanel, 100 W, 18 V, monokristallines tragbares Solarpanel, hocheffizientes wasserdichtes Solarpanel-Ladegerät mit USB/DC-Ausgängen für Kraftstationen, Outdoor-Camping
100 W monokristallines Solarpanel – unter den gleichen Bedingungen produzieren Solarzellen aus monokristallin mehr Energie als Solarmodule aus anderen Elementen. Die monokristalline bringt hohe Umwandlungseffizienz bis zu 23 %, und 100 W Leistung kann die meisten Ladebedürfnisse im Freien erfüllen.
Langlebig und wasserdicht – Die Oberfläche aus Verbundwerkstoff ETFE-Film macht das Solarmodul widerstandsfähiger gegen Oxidation, hohe Fleckenresistenz, leicht zu reinigen und haltbarer und langlebig. Und verwenden Sie Oxford-Tuch und wasserdichten Reißverschluss, um IPX4 zu erreichen.
Faltbares und tragbares Solar-Panel: Es kann als Aktentasche gefaltet werden und alle Zubehörteile können darin aufbewahrt werden, Sie können es überall anheben. Entworfen mit Ständer, die verwendet werden können, um das Solarpanel zu stützen und den Winkel einzustellen.
Vielseitig einsetzbar: Mit 1 x USB 3.0 Ausgang (15 W), 1 x USB 2.0 Ausgang (10 W), 1 x 100 W ITEHIL Solarpanel, 1 x DC 5521 auf DC 5521 Kabel, 11 x Adapter, 4 x Karabiner, geeignet für die meisten Kraftstationen, Handys, Tablets und andere elektronische Geräte.
KUNDENSERVICE & LIFETIME GARANTIE - Sie sind nicht nur ein Kunde. Du bist ein Freund und wir widmen uns, Ihnen erfolgreich zu helfen. Unser Versprechen: Um sicherzustellen, dass Sie mit Ihrem ITEHIL Kauf 100% zufrieden sind. Wenn es etwas gibt, was Sie brauchen, hilft Ihnen unser freundlicher Kundensupport da.
kein Preis ermittelbar (B0956L74NP)
View Product
The IPX4 construction is durable and waterproof - exactly what campers need. Combine up to four modules in series to charge a portable 500-watt power station or solar generator from zero to full in less than two hours.
On a partially cloudy day, the panels still delivered 80 to 90 watts to my power station.
The built-in stand allows you to set up the panel to maximize the ideal charge angle.
The package also includes suction cups for glass, which you can attach to the hard shell surface.
The eleven adapters are brilliant, and the big surprise are all the different cables that come with it to connect to various types of solar modules (parallel connection), USB-C, and other power stations.
The facts:
100 W output power
Dimensions (folded): 52 x 36 x 5 cm
Dimensions (unfolded): 171.45 x 52.07 x 3 cm
Weight: 5.37 kilograms
1x USB 3.0 output (15W)
1x USB 2.0 output (10W)
1x DC 5521 to DC 5521 cable
11x adapters
4x carabiners
4x suction cups
Advantages
Many cables included
Many possible connections due to many included adapters
Suction cups for the window
Disadvantages
Somewhat expensive
Too heavy for backpackers
5. BigBlue 63W 19V Foldable Solar Panel
The portable 63W solar charger from BigBlue is a perfectly sized solar solution for travelers who prefer to travel light, especially for campers.
The 63-watt power output is sufficient to charge small devices like smartphones and tablets off the grid.
BigBlue 63W 19V Faltbares Solar Ladegerät Tragbar SunPower Solarpanel mit 5V USB+19V DC- Ausgang+ USB-C-Port - für Powerstation, iPhone, Huawei, 12-V-Batterie für Boote/RV
Weite Kompatibilität: Das zusammenklappbare 63W-Solarpanel kann Ihren Powerstation mit dem 10-in-1-Anschluss-Kit (außer MacBooks) direkt vor Sonnenlicht aufladen. Mit USB-Anschlüsse, Einem USB-C-Anschluss Und einem 19V/3A DC-Ausgang können zwei Geräte gleichzeitig mit Strom versorgt werden. Enthält auch ein SAE-to-Clamp-Kabel. Dieses Solarladegerät ist erforderlich, wenn Sie eine Notstromversorgung für Ihr Auto benötigen
Smart IC-Technologie: USB-Anschlüsse (5V/2.4A; 9V/2A; 12V/1.5A) sind mit SmartIC-Technologie ausgestattet, die Ihr Gerät intelligent erkennen und die optimale Ladegeschwindigkeit je nach Gerät variieren kann. Ausgestattet mit Spannungsreglertechnologie, wird sichergestellt, dass Ihre Geräte während des Ladevorgangs nicht beschädigt werden. CE/FCC/RoHS-zertifiziert, BigBlue garantiert 100% sicheres Aufladen mit Überladung, Überhitzung und Kurzschlussschutz
Tragbare: Mit einem zusammengeklappten Format von 290 x 175 x 65 mm wirkt das Solarladegerät wie eine Aktentasche und lässt sich leicht überall hin mitnehmen. Das SunPower-Solarmodul ist leichter, flexibler und bricht nicht so leicht wie das monokristalline Solarmodul
Hohe Energiekonvertierung: Hoch effiziente Solarzellen wandeln bis zu 21,5% - 23,5% der Sonnenenergie in kostenlosen Strom um
Lieferumfang: 1 x 63W faltbares Solar-Ladegerät, 1 x 10-in-1-Anschlusskabel für Laptops, 1 x SAE-to-Clamp für Speicherbatterie, 1 x Micro-USB-Kabel, 1 x USB-C-Kabel, 1 x DC-Kabel, 1 x Benutzer Manuelle und Garantie
kein Preis ermittelbar (B07SPJQDPP)
View Product
I recently used it for a five-day outdoor adventure in Germany, and it was able to generate enough power every day to charge my smartphone and headlamp, even on cloudy days.
The foldable solar panel from BigBlue is lightweight and easy to transport, making sure that my battery never runs out during my hikes and extensive trips off the grid!
The facts:
63W power output
Dimensions (folded): 29.0 x 17.5 x 6.5 cm
Dimensions (unfolded): 86.5 x 70.0 × 0.5 cm
Weight: 1.92 kg
USB output: 5V/2.4A; 9V/2A; 12V/1.5A
USB-C output: 5V/2.4A; 9V/3A; 12V/2.2A
DC output: 19V/3A
Cable: 1 x Micro-USB cable, 1 x USB-C cable, 1 x DC cable, 1 x 10-in-1 connector cable for laptops (not MacBook), 1 x SAE-to-Clamp for power stations
Advantages
Lighter than 100W devices
Small and foldable
Suitable for backpacks
Disadvantages
Charges devices slower due to lower power compared to larger devices
You shouldn't expect electricity to come out of the solar panel like it does from the socket. Solar panels with this wattage are not designed for this.
For me, this solar charging station is a perfect combination of weight and charging power to charge my Anker 20,000 power bank (check out the best power banks here).
6. Anker PowerPort Solar Charger 21W
The foldable 21W solar panel from Anker comes with a compact design and can be folded smaller than an A4 paper but unfolds to over 60 cm in diameter for efficient energy intake while camping.
Anker PowerPort Solar Ladegerät 21W 2-Port, USB Solarladegerät für iPhone 7 / 7s / 6s / 6, iPad Air 2 / Mini 3, Galaxy S7 / S6 / S6 Edge und Tablet, Kamera usw.
DAS ANKER PLUS: Schließe dich den über 50 Millionen glücklichen Kunden an. Lade Anker.
SCHNELLADETECHNOLOGIE: PowerIQ Technologie liefert die schnellstmögliche Ladegeschwindigkeit von bis zu 2.4A pro Port oder 3A insgesamt unter direktem Sonnenlicht. 21W SunPower Solarzellenanordnung weist einen Wirkunsgrad von 21.5 bis 23.5 Prozent auf und liefert somit genug Kraft um zwei Geräte gleichzeitig zu laden!
UNGLAUBLICH STRAPAZIERFÄHIG: Die mit PET-Polymer beschichteten Solarpanels sind in robustes Polyestergewebe eingenäht und bieten widerstandsfähige Wetterbeständigkeit.
KOMPAKT UND LEICHT: Dank der kompakten Größe (28.2 x 16.0 cm zusammengefaltet oder 67.1 × 28.2 cm geöffnet) sowie die praktischen Ösen aus rostfreiem Edelstahl kannst du das Solarladegerät einfach anbringen, wo immer du möchtest z.B. auf deinem Rucksack, einem Baum oder auf einem Zelt. Die wenigen 417 Gramm sind durch das schlanke Design einfach ideal für lange Trekkingtouren!
WAS DU BEKOMMST: Ein Anker PowerPort Solar (21W 2-Port USB Solarladegerät), ein 90 cm Mikro-USB-Kabel, eine Bedienungsanleitung, 18 Monate Garantie sowie immer freundlichen Kundenservice.
94,99 €
View Product
The rugged polyester canvas case is equipped with stainless-steel eyelets, so you can easily attach the panel to a tree, tent, or even your hiking backpack.
The two USB ports that the Anker PowerPort Charger has are stored in a Velcro pocket that can fit a regular smartphone and protect it.
The panel requires direct sunlight, like all other solar panels, to efficiently charge devices. On cloudy days, a red indicator light may light up depending on the degree of cloudiness to indicate that it's receiving solar energy. But in my experience, this weak light is not sufficient to charge a device.
Although it has two USB ports, the panel has to distribute the charging power between the two ports when charging two devices at the same time, which takes longer to charge.
The facts:
21W power output
Dimensions (folded): 28.2 x 16.0 cm
Dimensions (unfolded): 67.1 × 28.2 cm
Weight: 417 grams
2x USB ports: 2.4A per port or 3A overall under direct sunlight
Cable: 90 cm micro-USB cable
Advantages
Lightweight
Coated solar panels
Ideal for long trekking trips
Can be attached to backpacks
Disadvantages
Low power for larger devices
Many people use these small solar panels to charge their power banks, which also works well with the Anker PowerPort Solar Charger 21W. To me, this is the most efficient use.
An alternative to the Anker solar panel is the BigBlue 28W solar panel.
7. X-DRAGON 20W Portable Solar Charger
The X-DRAGON 20W solar panel is not as lightweight as the Anker solar panel for hiking, but it is ideal for camping or caravanning.
Daten aktualisiert vor einer Stunde
X-DRAGON Solar Ladegerät 20W 2-Port USB Faltbar SunPwer Solar Panel Handy Ladegerät für iPhone, Andriod Smartphone, Tablets, iPad, Samsung usw
▶Exklusive SolarIQ-Technologie: Das faltbare Solarladegerät X-DRAGON liefert den schnellstmöglichen Strom mit 2 eingebauten USB-Anschlüssen zum gleichzeitigen Laden von 2 Geräten. Mit einer maximalen Ausgangsleistung von 5V/4A (insgesamt 2 Anschlüsse) können Strom und Spannung automatisch angepasst werden, um eine maximale Leistung zu erzielen. Die hocheffiziente Solarzelle wandelt bis zu 22% - 25% der Sonnenenergie in kostenlosen Strom um.
▶Sicheres Aufladen: Das tragbare USB-Ladegerät X-DRAGON ist so konzipiert, dass der USB-Anschluss im Inneren geschützt ist. Sie können Ihr Telefon in einer Reißverschlusstasche aufbewahren, um es sicher und sauber zu halten. Ideal für Outdoor-Aktivitäten wie Camping, Klettern, Angeln usw.
▶Duales USB-Netzteil: Das tragbare 20-W-Solarladegerät liefert genug Energie, um Ihr Telefon und Tablet gleichzeitig aufzuladen.
▶Wasser- und staubabweisendes PVC-Gewebe der Güteklasse A: Das Gehäuse des X-DRAGON-Solarmoduls ist aus einem speziellen hitze- und korrosionsbeständigen Oberflächengewebe der Güteklasse A gefertigt, während die Solarmodulplatte aus mehreren Schichten PET, EVA und Batterien besteht, um Wasser- und Staubbeständigkeit für Ihre Outdoor-Aktivitäten zu gewährleisten und Ihr Solarmodul und Ihre Ausrüstung vor gelegentlichem Regen oder nassem Nebel zu schützen.
▶ Schlank und leistungsstark: 1/3 leichter als Solarsilizium gleicher Leistung. 1/3 mehr Gesamtleistung im Vergleich zu Solarmodulen gleicher Größe. Die Ösen erleichtern die Befestigung am Rucksack beim Wandern; Tragbares und gerahmtes Design für den Außen- und Innenbereich. Zum Beispiel Camping, Klettern, Angeln etc.
29,99 €
UVP: 59,99 €
View Product
The solar panel is excellently crafted and looks solid. It also has two hooks for hanging and an interior pocket for storing cables.
In good sunlight, the X-DRAGON 20W solar panel quickly charges devices. If you connect two devices at the same time, it will charge slower.
Specifically, I used the solar panel with two power banks and charged many of my USB devices (smartphone, headlamp, watch) – even outside the wilderness.
The facts:
20 W output power
Dimensions (folded): 30.6 x 18.2 x 1.3 cm
Dimensions (unfolded): 59.2 x 30.6 × 0.3 cm
Weight: 610 grams
2x 5V2A USB ports
Advantages
Coated solar panels
Lightweight design
Ideal for long trekking tours
Can be attached to the backpack
Disadvantages
Low-power output for large devices
Buying Guide: Solar Panels for Outdoor, Camping, and Bushcraft
In this section, I will go into more detail about the buying process.
It is not helpful to buy a solar panel right away, but rather to first consider various factors.
What do I need the solar panel for in particular? Can I take it in the car or am I traveling on foot? How expensive can it be at the most and how heavy?
As you can see, there are several questions to consider beforehand. Let's get started and get to the bottom of them.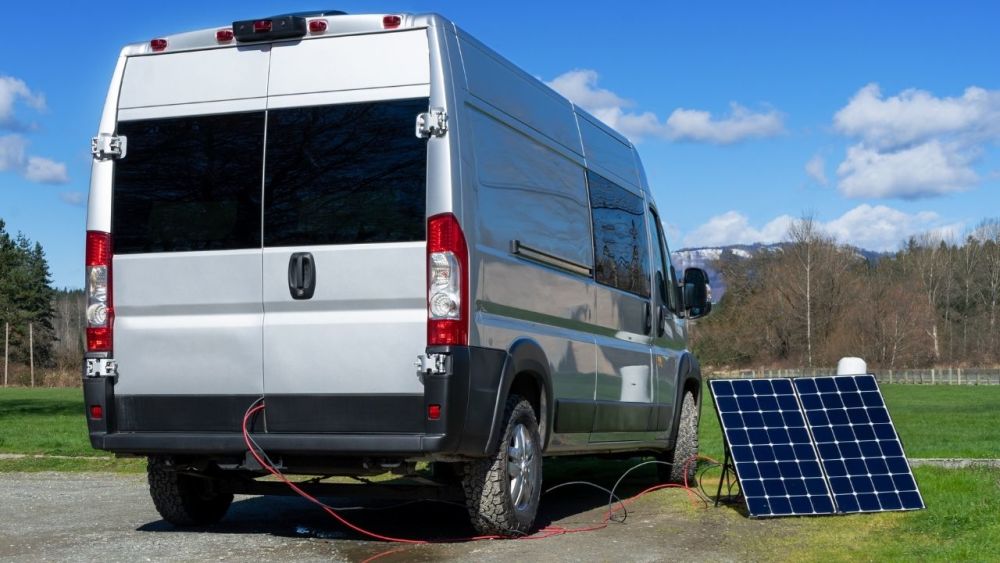 Types of Camping Solar Modules
Once foldable
These solar chargers are generally the largest when fully unfolded, not because each panel is large, but because there are many individual panels. They are usually designed to be portable for short distances when folded. However, when unfolded, they are anything but mobile and portable.
Multiple foldable
These solar chargers are designed to be portable, whether they are being charged or not. Solar chargers with three or four panels with a canvas housing can be carried on backpacks and charge your devices on the go.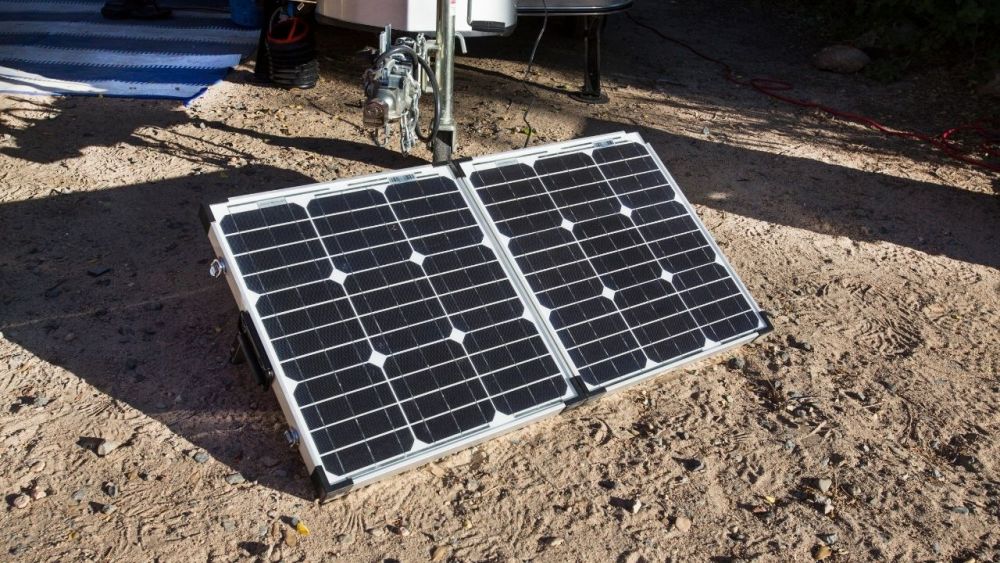 Top brands of solar panels
JACKERY
Jackery was founded in California in 2012 and has established itself as a leading provider of innovative outdoor energy solutions. This includes large rechargeable batteries (power stations, such as the Explorer series) and solar panels like the Jackery SolarSaga 100W Portable Solar Panel. I have extensively tested the Explorer 500 and Explorer 1000 power stations.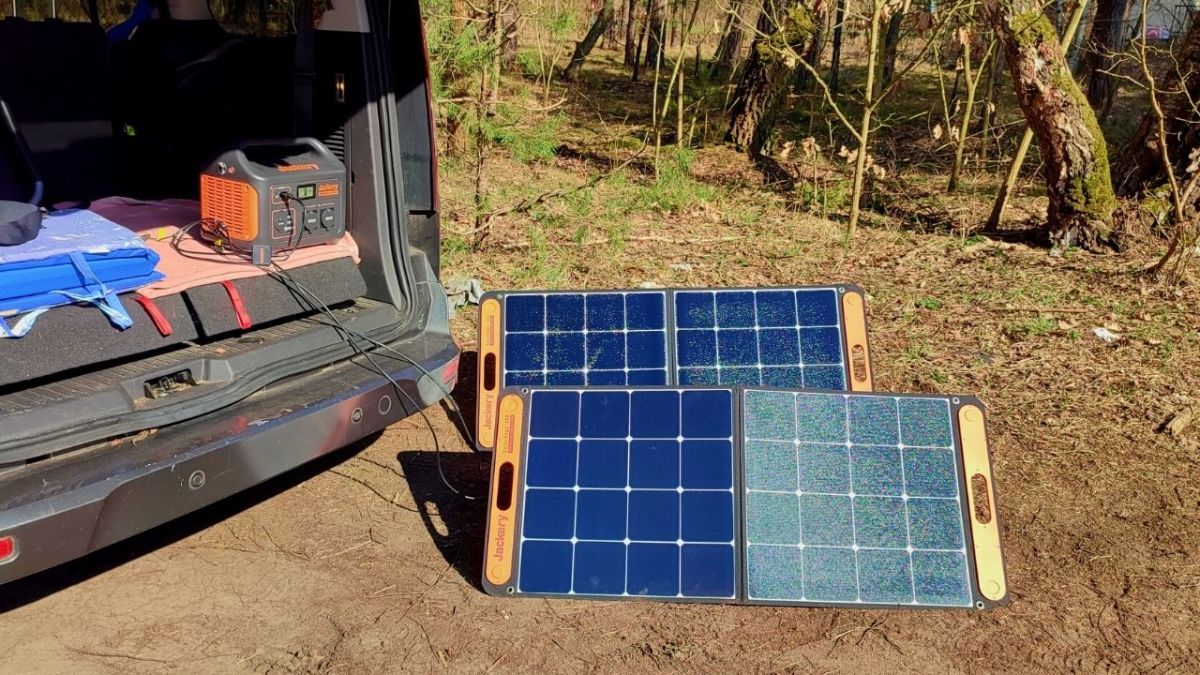 ANKER
Anker was founded by Steven Yang in 2011 and is a Shenzhen-based company specializing in high-quality charging.
With a wide range of products that can charge almost any device under any circumstances, one of the most popular products is the Anker 21W 2-Port USB Portable Solar Charger (buy here on the official Anker website).
The large Anker 625 Solarpanel with 100W is also powerful and compact and works great with the Anker 757 PowerHouse power station.
BLUETTI
Bluetti is a clean energy company that builds producer storage systems for high-quality power for households.
The Bluetti PV200 solar module (buy here at Bluetti) is a highly effective source of green energy that can be folded up and taken anywhere. It is particularly suitable for camping trips and vacations in sunny locations, as the performance of this panel depends on the available sunlight. It is versatile, compatible with many power stations, and effortless to use.
Efficiency of solar devices
Most good solar modules convert almost a quarter of the sunlight that hits them into useful energy. 23 percent and slightly more is the key figure for portable high-end solar modules, while lower-quality solar modules are about 20 to 21 percent efficient.
So check the product description of the various solar panels, as manufacturers usually indicate the efficiency there.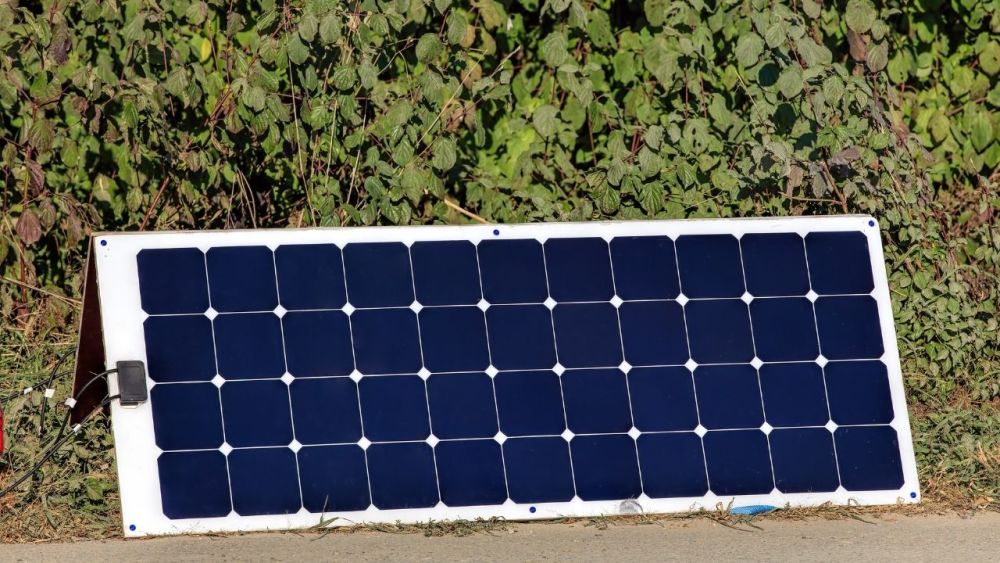 Charging ports
Most portable solar chargers have only two USB output ports. That's fine if you only want to charge one or two devices during the day. But for extra juice, more solar modules are needed if you need more power. Even if you're charging a power bank, one of the ports is unusable.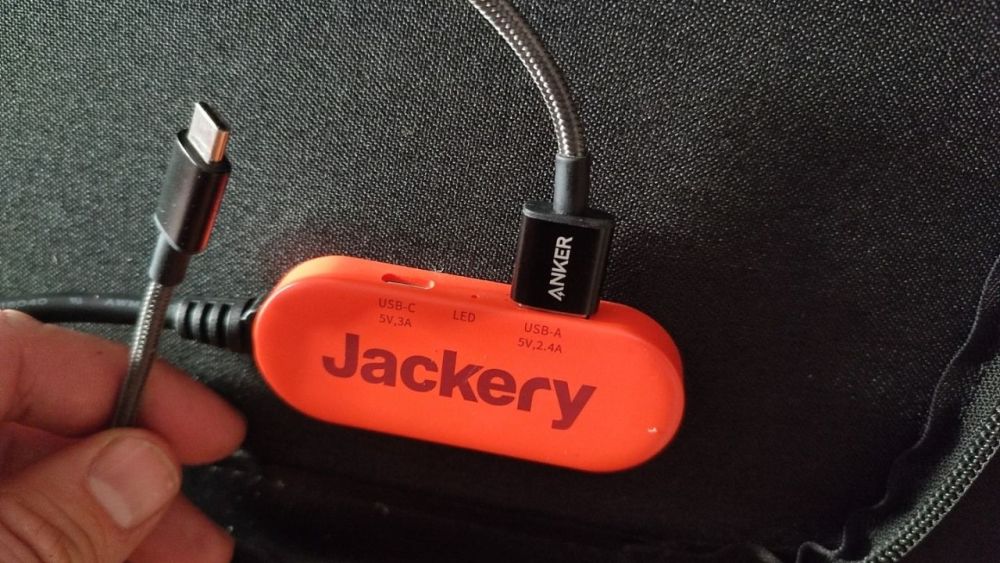 Current strength of solar panels
Many solar chargers have only 2.4 amps of current at the output port and will not be able to charge newer devices quickly.
Only high-end solar modules allow for fast charging of smartphones and devices that require more power. Be sure to check how many amps your selected solar panel can supply.
Size of a solar panel
The size of a solar panel depends on the usage and your energy needs.
The wattage determines how much energy it can generate and how long it takes to charge the battery.
It is essential that the size of the solar module meets your needs and requirements.
A 5 watt device may be able to charge your smartphone slightly, but you won't be able to fully charge a 20,000 mAh power bank in cloudy weather for a week.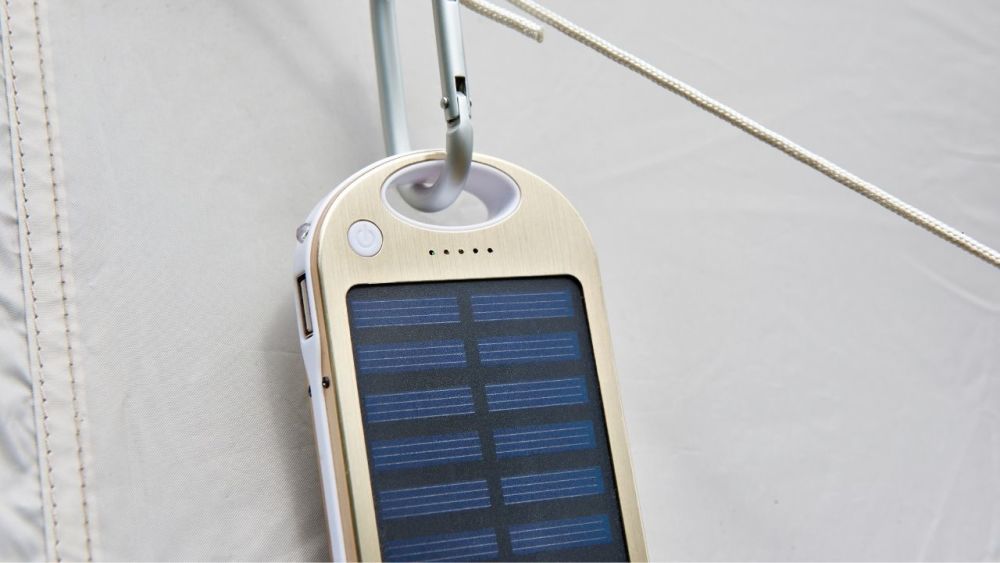 Weight of a Solar Panel
A solar panel is a device that captures the energy of the sun and converts it into electricity. The weight of the solar module is determined by its size, measured in watts. A 100-watt solar panel is heavier than a 10-watt solar panel.
When purchasing a portable solar charger for travel or backpacking, low weight is a top priority. It is important to carry less weight when you are on the go and covering long distances.
On the other hand, heavy solar panels are also more robust, and you can expect to enjoy them for longer.
How much should a camping solar panel cost?
The second question to consider is how much money you want to spend on a solar panel. Camping solar panels cost between 200 and over 2000 euros.
The most important consideration when buying a camping solar power system is what type of camping you will be doing and how much time you will spend in the wilderness on each trip.
But in general, one thing can be said:
Under €100: These solar chargers are sturdy and portable, but not the most efficient or powerful.
Over €100: These are solar panels that function more like stationary solar collectors; less portable, but more efficient and powerful.
Why Should You Choose Solar Energy?
The benefits of solar energy are manifold. Let's take a look at some of them.
Solar energy is clean, quiet, and renewable, meaning it does not burden the environment like other energy sources do.
Solar energy is also safe, reliable, and affordable. For example, the cost of solar modules has declined by 80% in the past 10 years.
Solar energy does not require any special fuel, as is the case with generators. The fuel for the energy is the sun.
While it's true that solar modules can only charge devices when the sun is up, solar panels can be combined with rechargeable power banks to provide electricity throughout the night, as well as during daylight hours.
And finally, solar panels offer us independence from energy providers, as you generate your electricity without relying on others.
Of course, there are not only advantages, but also disadvantages. Solar energy is not 100% clean, as carbon dioxide is also produced during the production of a solar panel. Furthermore, you are dependent on good weather for the solar collectors to generate enough energy.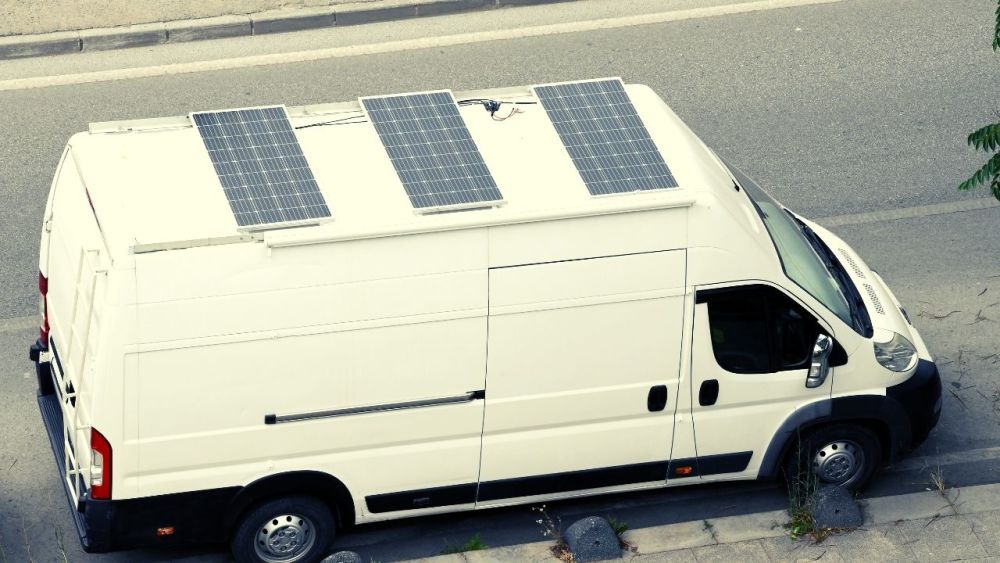 Why Solar Panels Are the Best Choice for Camping or RVing
Solar panels are a good choice for camping, RVing, other outdoor activities, and emergency preparedness.
They can be easily installed in front of your tent or on the roof of your RV and don't take up much space.
The installation is effortless, and I trust anyone can do it. Solar panels are definitely lighter than diesel generators, but large solar panels are not suitable for long-term carrying. The smaller devices, however, are well suited for backpackers.
In addition, solar panels have a long service life, so you don't have to worry about replacing them after a few years.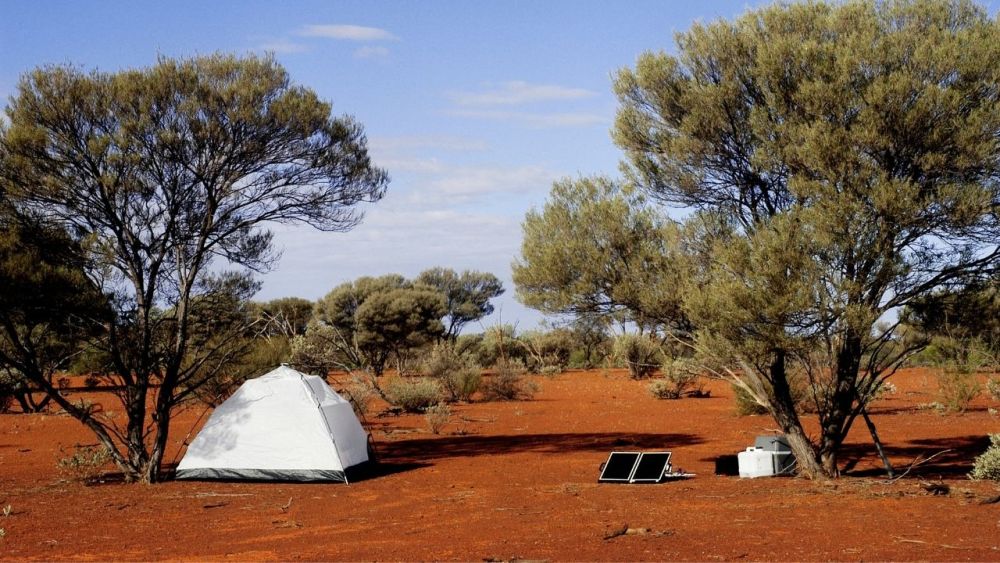 Tips for Efficient Charging with Solar Panels
Here are some tips on how to optimize the charging of your devices:
The larger the solar panel, the better, and faster you can charge
Keep in mind that your end device may limit power consumption
Blue skies bring power, clouds often bring zero power
Charge quickly: heat damages the solar panel, power bank, and devices
Devices with fast charging mode are ideal
USB 3 on solar panels is ideal for fast charging devices
Power banks with fast charging mode (input and output) are ideal
Pro-tip: Keep in mind that the wattage stated by manufacturers is often determined under ideal conditions. Subtract approximately 1/3 and you will get a realistic wattage.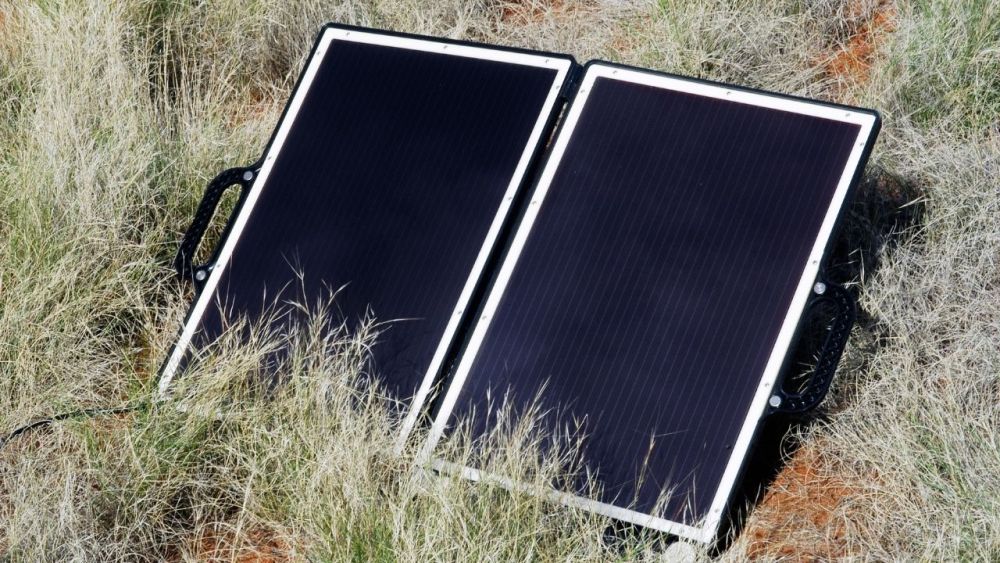 Conclusion
Solar panels are excellent tools for living independently, especially when camping.
When it comes to the best panel you can get your hands on, the foldable Anker PowerPort Solar Charger (buy directly from Anker) with a total of 21W is a great option for hiking.
But heavy solar panels, like the Jackery SolarSaga 100, are ideal for driving trips. Simply unfold, plug in, and have power.
If you're looking for a slightly cheaper camping solution for your car, go for the Eco Worthy Solar Panel.

Since this is a gear guide, here ...
---
🤝

8 reasons to trust my recommendation
Practical Experience: I have tested most of the products I recommend under extreme conditions myself.

Independence: As a wilderness mentor, I am not tied to any specific brands - this means my recommendations are unbiased.

Expertise: My many years of experience allow me to understand the intricacies and details of various products that a layperson might overlook.

Target group understanding: I understand the needs and challenges of outdoor enthusiasts, from beginners to seasoned experts.

Quality focus: I attach great importance to quality and longevity. These are characteristics that are crucial in the wild.

Clear communication: I try to explain the pros and cons of each product clearly and understandably so that you can make an informed decision.

Currentness: I always keep my guides up to date and adapt them to new findings or products.

Community Feedback: I work in wilderness schools, teach courses myself, attend courses and am active in various outdoor and survival communities and therefore integrate the feedback and experiences of others into my recommendations.
So when I introduce the best survival knives or flashlights, you can be sure that every recommendation is based on solid experience and extensive knowledge.
Was this guide helpful?
30 people found this guide helpful.
5.00 out of 5 points (30 Ratings)