Back to german article
Camping Hacks - these 10 tips you should pack when going camping
So that you are prepared for any situation on your camping trip, here are the best camping hacks. These 10 tips should be packed when camping.
---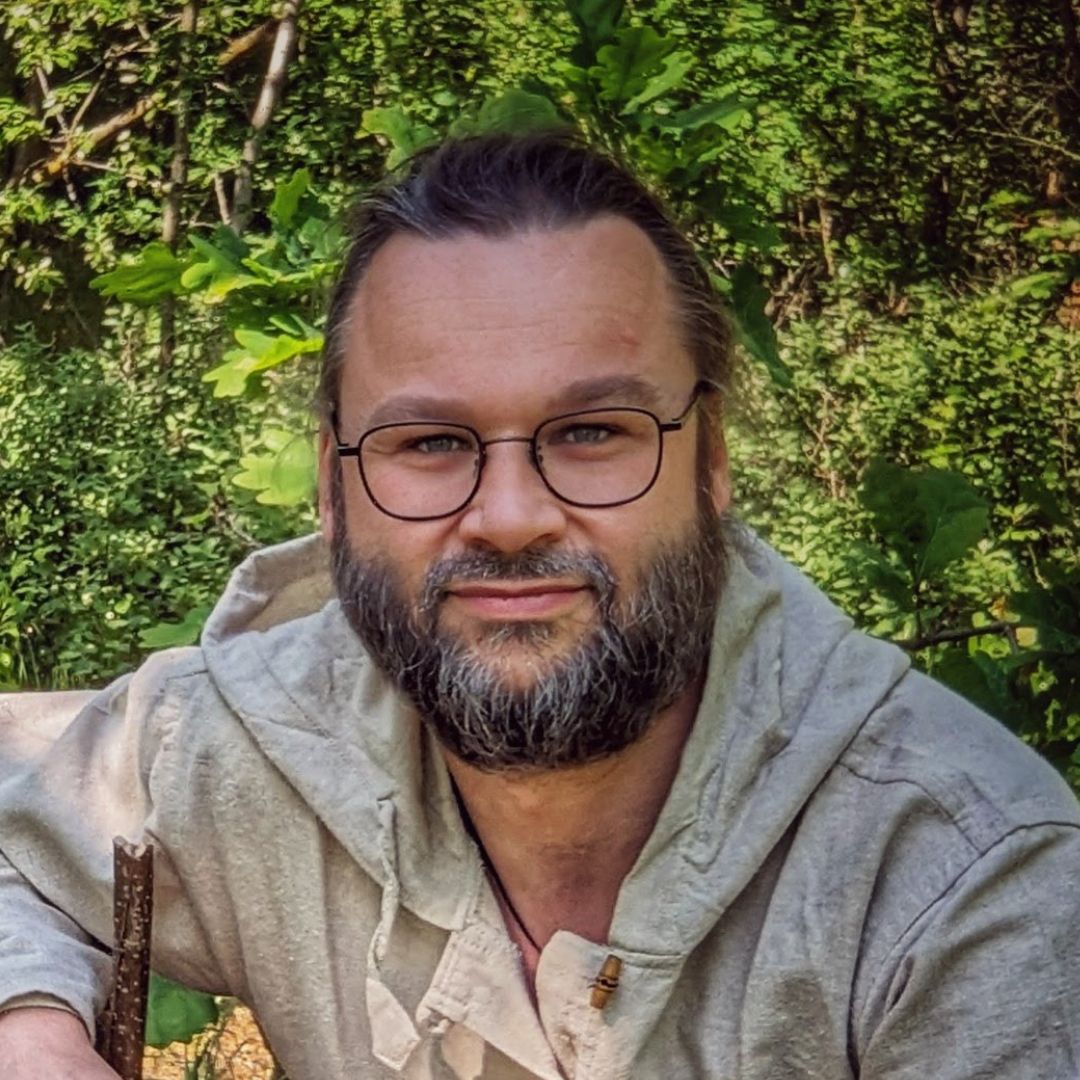 ---
👉 The key facts from this guide
Sage against mosquitoes: Put sage leaves in the campfire to repel mosquitoes.
Chips and oil as a grill starter: Use chips and oil to quickly start your fire.
Magnets and clothesline for wet clothes: Hang wet clothes on a clothesline or with magnets on your car.
Spice cans in mini format: Fill spices in small cans to save space.
Tea bags and coffee filters for small amounts of coffee: Use tea bags or coffee filters to prepare only small amounts of coffee.
Bar soap and bottles for showering: Fill shower gel and shampoo in smaller bottles or use bar soap to save space.
Camping is not about bringing all the luxuries of home into nature.
Much more, it's about getting by with little and recognizing what things are actually important.
However, it can always happen that you forget important items at home.
So that your camping trip doesn't end in disaster, and you are well-prepared for every situation, here are the best camping hacks.
1. Sage against mosquitoes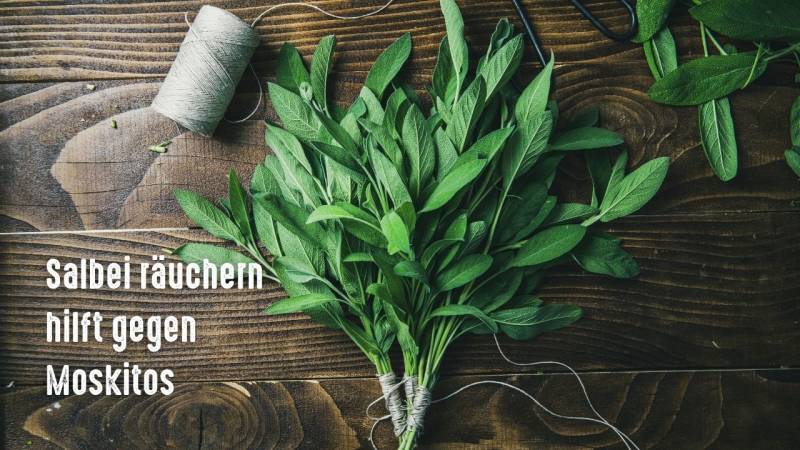 Insects and mosquitoes are one of the biggest problems when sleeping in nature.
At home, you surely have a mosquito net on every window to keep those annoying bloodsuckers away. However, when camping, it's not that easy.
Unintentionally, the tent is left open or the door of the motor home is not locked, and before you know it, you have buzzing mosquitoes at your sleeping spot. There is only one solution for this: close the door and turn off the lights.
But on a warm summer night, you surely want to sit comfortably by the campfire or enjoy your dinner outside. Here too, you quickly get unpleasant mosquito visits.
If you would rather not resort to chemical substances that you smear on your body, natural remedies are needed.
Sage is ideal for repelling mosquitoes. Just put a few leaves in the campfire, and you will immediately notice that the pests leave you alone.
2. Chips and oil as a barbecue lighter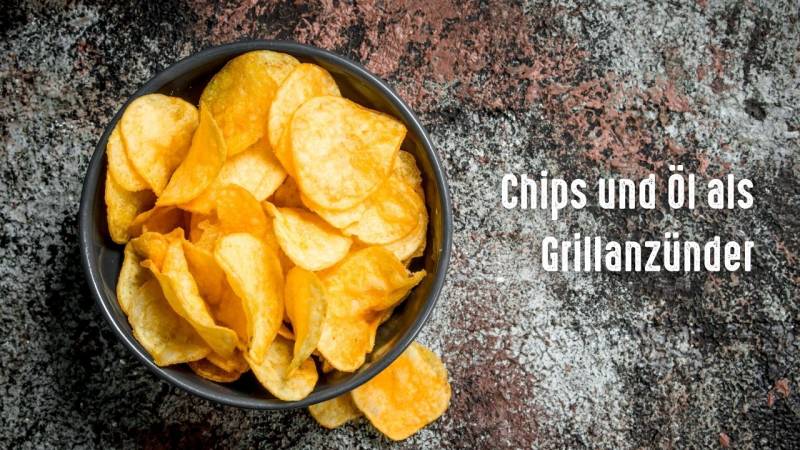 If you want to start a campfire or light your grill while camping, you will need fire starters. But what if you leave them at home and there is no supermarket in sight? With simple things, you can easily replace the fire starters.
Chips and oil help you get your fire going quickly. The fat in the chips not only provides a delicious taste in your mouth, but also makes your fire really blaze. It is generally known that oil should not come into contact with fire.
There is a risk of a flash flame here. However, with the small amount present in the chips, you don't need to worry about it. But if you have already finished all the chips, just take a piece of toilet paper and drizzle some cooking oil on it.
But don't take too much of it, as there is a risk of flare-ups. From now on, you won't need any conventional firelighters anymore!
Reading tip: 5 tips for campfire safety that all campers should be aware of
3. Magnets and clothesline for wet clothes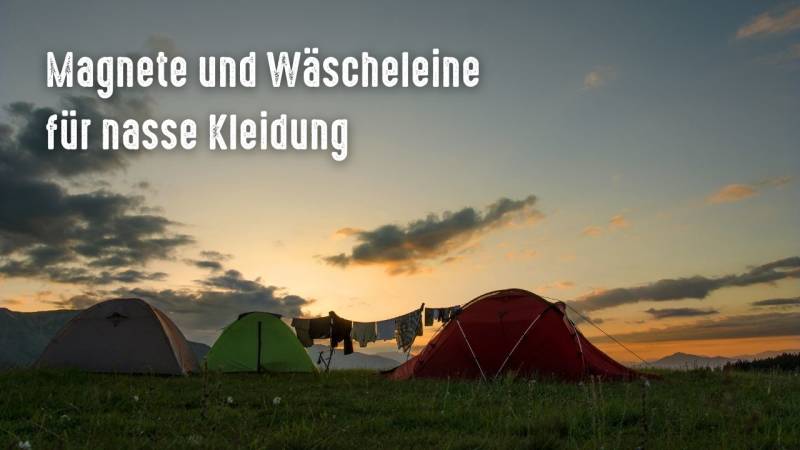 If you spend some time in nature, you will, of course, need to wash your clothes occasionally. There is not enough space for a lot of clothing. You have to make do with less.
Either use a small amount of bottled laundry detergent or simply use your shower gel to wash your clothes. But what should you do with the wet clothes?
It is important that you only wash on warm and sunny days. This way, the clothes dry quickly and do not stay damp for long. To hang them up, you must definitely bring a rope.
You can simply hang this between two trees and you have a clothesline.
If you only want to dry your towels, use magnets. However, the prerequisite is that you have a car or a camper with a tailgate.
You simply open the tailgate, and then you can attach your towels with magnets and let them dry in the wind.
4. Mini-sized spice jars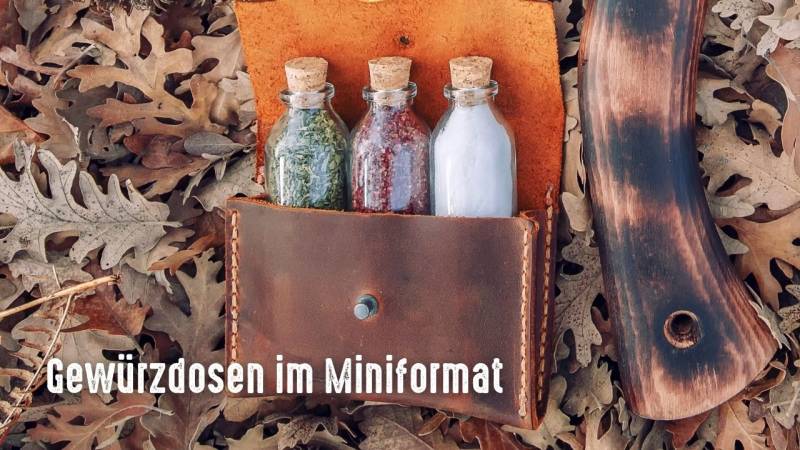 Not only is the space for your clothes small, but the kitchen also doesn't offer much storage space. Spices are bulky and take up unnecessary space. Especially when you're only traveling in a tent, you certainly don't have room for five different spice jars.
There are specially made spice tins for camping, which are smaller. The small tins are conveniently stored in a small bag, so they cannot get lost.
However, you don't have to spend any extra money for this. With a few empty TicTac cans, you can achieve the same effect! Simply fill your favorite spices into the small cans, and you can store them perfectly in your camping kitchen or in your backpack.
5. Tea bags and coffee filters for small amounts of coffee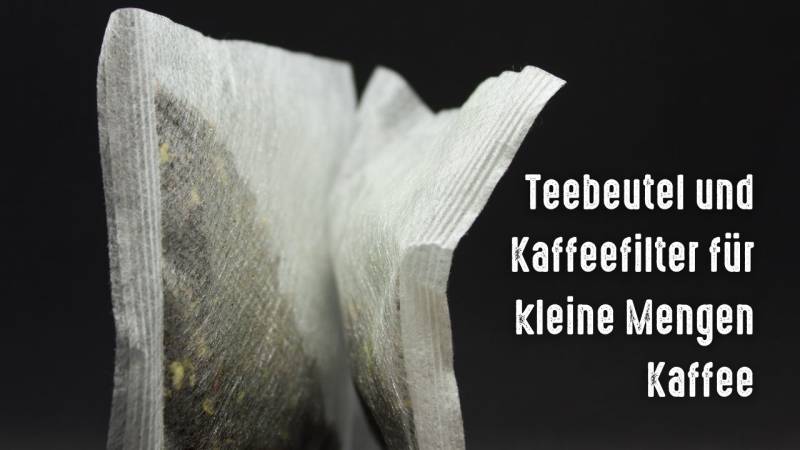 There are plenty of tips and devices that can help you enjoy your beloved morning coffee even while camping.
In addition to the Bialetti and a French Press, you can of course also take your coffee machine from home with you. However, if you are traveling alone, you only need a small amount of coffee.
Here, coffee filters or tea bags can help you. Simply fill loose coffee into tea bags and pour water over them. If you don't have empty tea bags, you can also use coffee filters.
Fill the coffee into the coffee filter and tie it with dental floss, a rubber band, or a string. Place it in your cup and pour hot water over it.
Reading tip: Master the art of camp coffee with these 6 methods (+ DIY tip)
6. Bar soap and shower bottles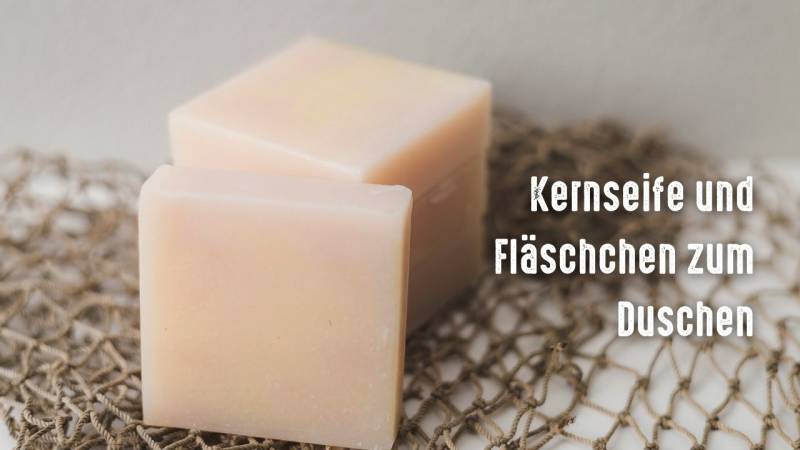 You don't have much space for shower gel, shampoo, and conditioner in the tent or camper. Fill your wash gels into smaller bottles and take them with you. This way, you save yourself from buying expensive trial sizes.
If you are frequently on the road staying in hotels, simply collect all the travel-sized products and use them for your next camping trip. However, the travel-sized products are not the most environmentally friendly option. In this case, bar soap provides a better alternative.
By now, you can buy solid soap and solid shampoo in every drugstore and supermarket. These not only offer the advantage of producing no waste, but are also space-saving.
Simply pack your soap bars into a soap bag and hang it up in the tent or camper. This way, the soap doesn't take up any space, it can dry properly, and it also spreads a pleasant scent.
7. Plastic bags or packing sacks for clothing
When camping, the sun doesn't always shine continuously. However, to protect your dry clothes from rain or high humidity, simply use plastic bags.
Trash bags are not only useful for your garbage, but also for keeping fresh clothes dry.
The more environmentally friendly option, of course, is dry bags. These are waterproof and do not let water in or out. Simply place your dry clothes in a plastic bag or a dry bag.
This prevents it from getting wet on rainy days. By the way, it also helps with high humidity.
Here's a recommendation from me for a stuff sack:
MNT10 Dry Bag Ultra-Light Set I Packsack in 5l, 10l, 15l I Wasserfeste Tasche Ultra-Light für Reisen und Outdoor I Trockenbeutel leicht & widerstandsfähig I 3er Set (5L, 10L, 15L)
🏔 𝗠𝗡𝗧𝟭𝟬 - 𝗘𝗫𝗣𝗟𝗢𝗥𝗘 𝗧𝗛𝗘 𝗨𝗡𝗞𝗡𝗢𝗪𝗡 Die Freiheit ruft! Wir bei MNT10 wollen, dass Du als allererstes deine Kopf frei hast. Deswegen haben wir für jeden Deiner Pläne das passende Produkt, und klar: hohe Qualität, fairer Preis!
🙏 𝗗𝗘𝗜𝗡 𝗩𝗜𝗘𝗟𝗦𝗘𝗜𝗧𝗜𝗚𝗘𝗥 𝗕𝗘𝗚𝗟𝗘𝗜𝗧𝗘𝗥. Egal ob auf der nächsten Rucksack-Tour, im Skiurlaub, beim Boot oder Kajak fahren oder im Alltag. Perfekt geeignet für den Transport von Kleidern, Schuhen, Deiner Kamera, Handy und Elektronik – der MNT10 DryBag Ultra-Light schützt deine Sachen zuverlässig vor Regengüssen, Spritzwasser und hält Nässe fern. Wichtig an dieser Stelle: der Dry-Bag darf nicht lange unter Wasser getaucht werden!
𝗦𝗧𝗔𝗕𝗜𝗟𝗘𝗦 𝗠𝗔𝗧𝗘𝗥𝗜𝗔𝗟 & 𝗣𝗟𝗔𝗧𝗭 𝗢𝗛𝗡𝗘 𝗘𝗡𝗗𝗘. Unsere wasserdichte Tasche bietet mit 5, 10 oder 15 L Volumen jede Menge Stauraum. Das Ripstop Nylon ist wasserfest und zusätzlich hat der Dry Bag versiegelte Nähte. So ist der Inhalt gut geschützt und maximale Sicherheit ist garantiert.
👌 𝗠𝗜𝗡𝗜𝗠𝗔𝗟𝗜𝗦𝗧𝗜𝗦𝗖𝗛 & 𝗙𝗨𝗡𝗞𝗧𝗜𝗢𝗡𝗔𝗟 Um den Packsack wasserdicht zu verschließen, einfach den Roll-Top-Verschluss 3-4 Mal umklappen und den Clip-Verschluss schließen. Nun lässt sich die wasserdichte Tasche am Tragegriff einfach und kompakt transportieren und deine wichtigsten Sachen sind sicher verstaut.
💯 𝗚𝗘𝗡𝗜𝗘𝗦𝗦𝗘 𝗨𝗡𝗦𝗘𝗥𝗘 𝗭𝗨𝗙𝗥𝗜𝗘𝗗𝗘𝗡𝗛𝗘𝗜𝗧𝗦𝗚𝗔𝗥𝗔𝗡𝗧𝗜𝗘. Wenn Du nicht zu 100% zufrieden bist, finden wir eine Lösung - schreib uns einfach! Worauf wartest Du also noch? Lege jetzt Deinen MNT10 Dry Bag Ultra-Light in den Einkaufswagen!
39,99 €
View Product
8. Flashlight and water bottle for cozy light
You forgot the candles at home again and also didn't think about the fairy lights?
Sure, a campfire always creates a cozy atmosphere and provides plenty of light. But in rainy weather, the fire doesn't burn for very long.
To not have to sit in the dark, but also not be blinded by the bright light of a flashlight, use a water bottle.
Simply turn on the flashlight of your phone and place your phone with the screen facing down on a table.
Place a water bottle in the direct light. The light will be refracted through the bottle, creating a cozy and not too bright light.
9. Newspaper and the car blower for dry shoes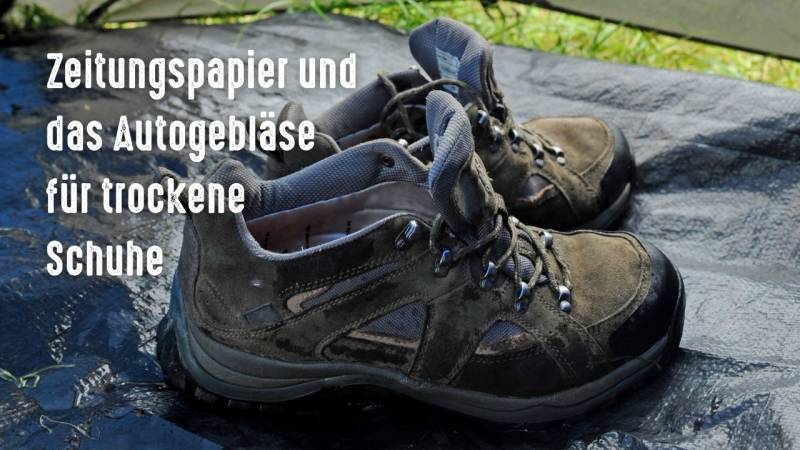 Even waterproof shoes can get wet. For example, if you just leave them outside in the rain… However, they dry quickly and are ready for use again in sunny weather. But what about continuous rain?
Barefoot running is only a partial solution when camping. Firstly, it is usually too cold, so you can catch a cold or the ground simply hurts when walking. Shoes are therefore a must, at least in bad weather.
If it's raining again and your shoes are already soaking wet, two options can help you, and it's best to use both tips together. Crumple some newspaper into your shoes and place them in the foot well of your car.
During your next car ride, turn the heater to maximum temperature and maximum strength. You will see that your shoes will be dry again within 10 minutes.
If you don't have a newspaper with you, that's not a problem either. Just stuff some worn clothes into the shoes or simply place them in front of the fan without anything.
Reading tip: Stay warm while camping with these tricks
10. Toilet paper in the water bottle
It may sound strange at first, but it is one of the best and most important hacks for every camper.
In an empty, well-dried water bottle, simply stuff a roll of toilet paper. You are probably wondering now how the thick roll should fit through the small opening.
For this, you just have to cut the bottle at one spot and then seal it again with duct tape or waterproof adhesive tape. However, it is important beforehand that you first thread the end of your roll through the opening of the bottle; otherwise you won't be able to reach it anymore.
So you have an ideal toilet paper dispenser. This is mainly brilliant because you can simply close the bottle again. This way, the toilet paper does not get wet and remains always ready for use.
Conclusion
With these 10 camping hacks, you are well-prepared for any situation on the campsite or in the great outdoors.
So there is no reason to panic anymore if you have left something important at home or if the weather is not cooperating.
For most problems, there is a solution and a bad mood is really not appropriate on vacation.
Take it with humor when things don't go as planned and get creative.
---
What other camping hacks do you know? Write them here in the comments and let us all benefit from them.

Was this guide helpful?
7 people found this guide helpful.
5.00 out of 5 points (7 Ratings)