Back to german article
Can I eat raw fish in a survival situation and if not, what is an alternative?
Is raw fish useful in a survival situation? Can I safely eat raw fish and which fish are best for raw consumption?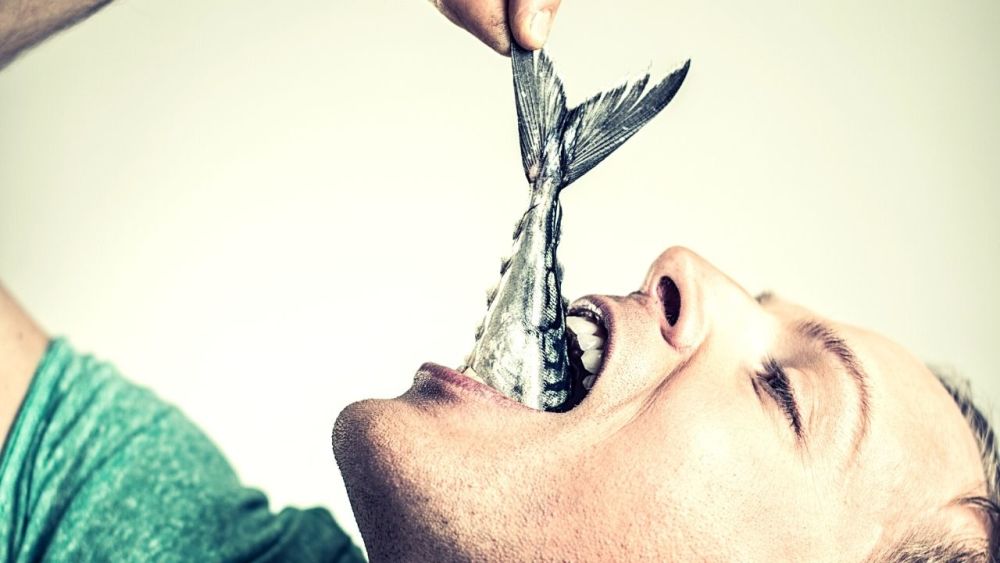 ---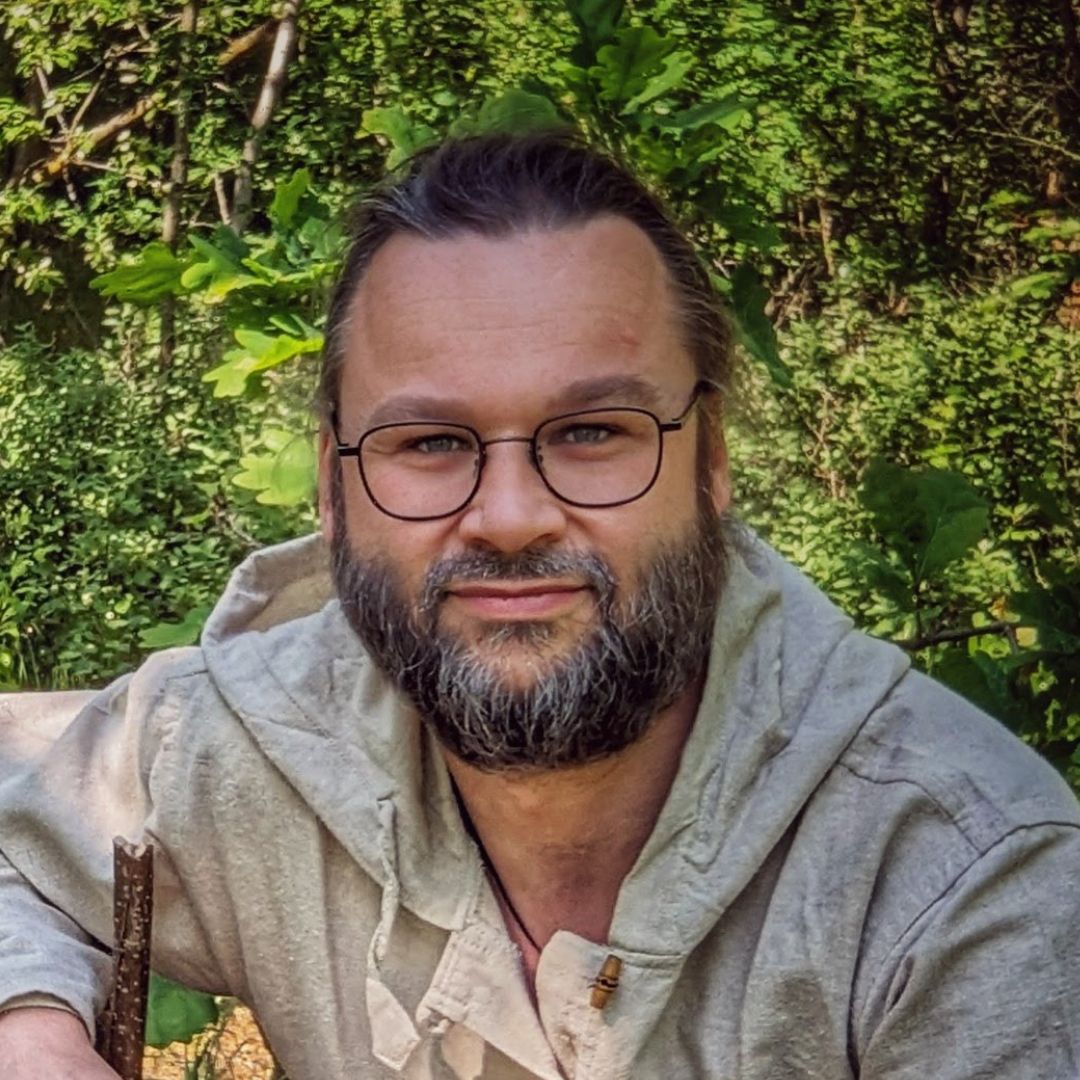 ---
👉 The key facts from this guide
Eating raw fish in a survival situation comes with risks, as it can contain parasites and spoil easily.
Freshwater fish are generally more risky to eat than saltwater fish, as they can have a greater variety of parasites.
If you choose to eat raw fish, make sure it looks healthy and inspect the meat and organs carefully.
Cooking fish is a safer option, as it kills parasites and makes the fish more durable.
There are various methods to cook fish, including simmering over a fire, grilling, boiling in a pot, smoking, and drying.
In a survival situation, other food sources such as plants and insects should also be considered.
It can take a lot of time to cook in the wilderness and you may not always be able to make a fire.
However, in a given survival situation, it may be possible for you to fish and catch a fish.
The hunger overcomes you and you would love to eat your fish right there and then. What could be so bad about it?
Animals don't cook their prey either and natural food is currently on trend.
Unfortunately, I have to urgently advise you against it!
Even though famous survival celebrities have already shown this on TV, eating raw fish is associated with a great risk. Especially when you are alone.
Raw fish is not the best option as survival food, as it can contain parasites. It also doesn't last long and can easily spoil.
Now you may be thinking that raw fish is also eaten in sushi. Here, the fish is carefully inspected and in most cases, frozen beforehand.
There are certain exceptions with farmed fish, but with wild catches, this is legally regulated. Freezing kills all parasites, which are also the main danger for the consumer, in this case, you.
If you still want to prepare for an extreme situation, I will explain how to minimize the risk:
Which fish are suitable for raw consumption?
Tendentially, all freshwater fish are associated with a high risk.
In freshwater, there is a higher diversity of parasites that can be taken up by fish. In addition, freshwater is heavily affected by human pollution, which promotes the frequency of bacteria and germs, among other things.
On the other hand, saltwater hosts far fewer parasites and therefore has a lower likelihood of being dangerous to you.
Salt also naturally possesses antibacterial and antiparasitic properties. Unfortunately, this does not mean that there are no bacteria or parasites present in saltwater.
Anisakiasis is one of the most well-known diseases caused by parasitic infestation, specifically by a threadworm. It does not live in freshwater, but primarily in saltwater.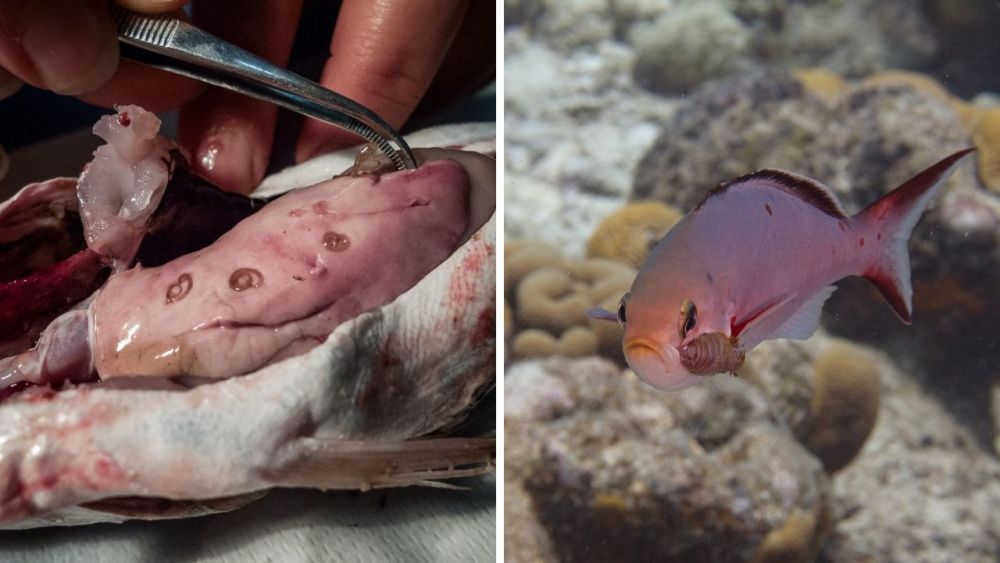 Additionally, in many urban fish, you will find a certain amount of mercury. The larger the fish, the more mercury it may contain. High amounts of mercury in your body can lead to a range of mental disorders such as hallucinations and tremors.
Exactly what you don't need in any survival situation! While this also applies to cooked consumption, it should still be kept in mind. Moderate fish consumption is not harmful.
What should I look for if I want to eat raw fish?
As mentioned above, the fish should come from the sea. Of course, in most survival situations, you will not be near the sea unless you are stranded on a deserted island.
The most common types of fish are sea bass, trout, and salmon. However, it is also possible to eat raw seafood such as shrimp, crabs, scallops, or squid.
Here, however, it is even more difficult to identify the health of the animal. And that brings us to the second point: make sure the animal looks healthy.
Here are the characteristics of a healthy sea creature:
Plump and black eyes are the first sign of a healthy fish.
Red gills indicate good blood circulation.
Shiny, undamaged scales are also a good sign.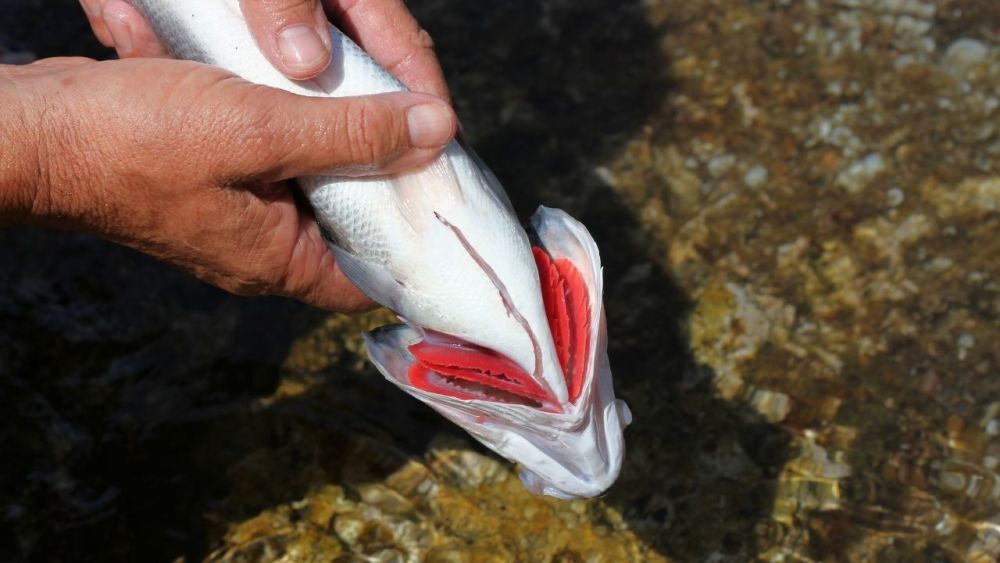 On the other hand, a thick slime layer on the scales is an indication of disease.
In addition, when preparing the fish, you should inspect the flesh and internal organs carefully. Discoloration also indicates a sick fish.
Finally, you can also use your sense of smell. A strong odor is clearly bad here.
All of these are indicators that you should pay attention to. Even if all of the signs of a healthy fish have been met, the fish can still be infected with parasites or sick in the end.
If it is a freshwater fish, take a close look at the body of water in addition to the fish. A river high up in the mountains probably has fewer parasites than a lake in the valley. If possible, inform yourself about the country you are visiting. The tropics, in particular, are known for parasite-rich bodies of water.
Preparation: how do I prepare a fresh fish?
It is important in Germany to have an angling/fishing license and to strictly observe animal welfare laws.
Inspect the fish; if in doubt, return the fish back into the water.
Remove scales as best as possible by using the back of a knife against the grain of the scales; use little pressure to avoid damaging the flesh.
Remove the fins.
Gut fish larger than 10 centimeters

To do so, cut from tail to head along the underbelly.
Then it should be possible to remove the entrails without resistance; be careful not to damage the organs to prevent contamination.

To fillet the fish, open it up and lift the bones from underneath with the tip of the knife. They should come loose, and the backbone can be removed in one piece.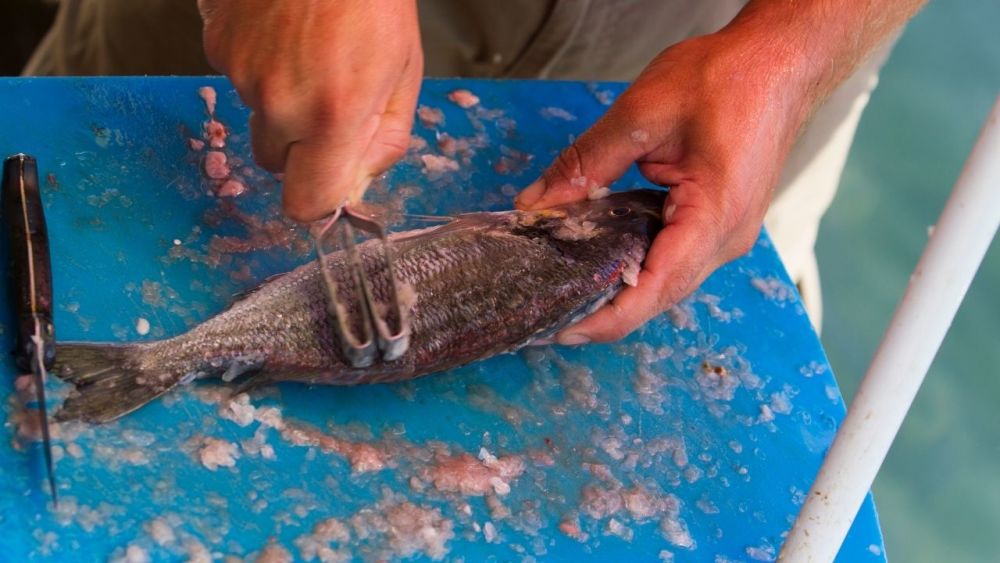 Tip: If you are in a survival situation, do not throw away the entrails. They can be used as bait for your next catch.
To Cook or Not to Cook?
If you decide to cook the fish despite all my warnings, here are some ways to prepare it almost risk-free. Then you can eat it much more relaxed.
Roasting over the fire: Spear the fish with a stick and hold it over the fire. The fish becomes crispy but loses nutritious and delicious oil. The advantage is that you don't have to do much with a burning fire and it's quite quick.
Grilling: Similar disadvantage as with roasting, the fish loses its fat. If you don't have a grill grate, a flat stone that you place in the embers is also suitable.
Cooking: Fish soup gets the nutrients from the fish and can be the basis for other dishes. Simply cook the fish in a pot with as much water as you like. Depending on the fish, this takes between 10 and 20 minutes.
Smoking: Ideal for storing the fish for a while. By soaking the moisture in the fish, bacteria are deprived of any living conditions.
Drying: Fish can be dried just like meat. You can find the exact procedure here: Method for preparing dry fish.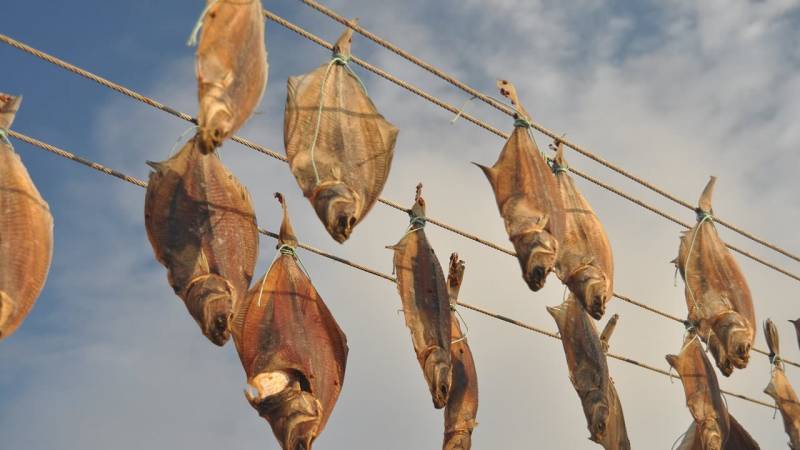 Alternatives to Raw Fish
In a survival situation, it is important to find emergency food. The emergency food should be high in calories, easy to prepare, and nutritious.
Plants
There are many things to consider when it comes to eating in a survival situation. The first thing you should do is find out which plants are safe to eat.
Many plants that are easy to identify and grow in Germany can also be found all over the world.
Such as: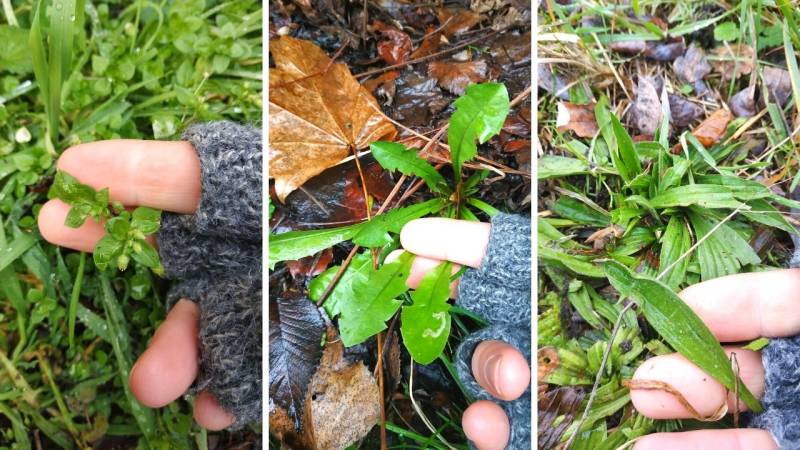 If you're interested in emergency plant food, be sure to read my article "Edible Plants: This emergency food can be found in the forest (List + Pictures)".
Insects
There are also some wonderful little creatures that can provide you with plenty of protein.
Some people may think that eating insects is disgusting. However, this is not always the case because some insects actually taste really good. For example, many people enjoy eating crickets because they taste like bacon or shrimp.
Insects are a good source of protein and fat. They can be eaten when no other food is available.
But here too: Do not eat any insect that you cannot identify.
Read my comprehensive guide: Survival Basics: Eating Insects (Preparation, Catching, Breeding).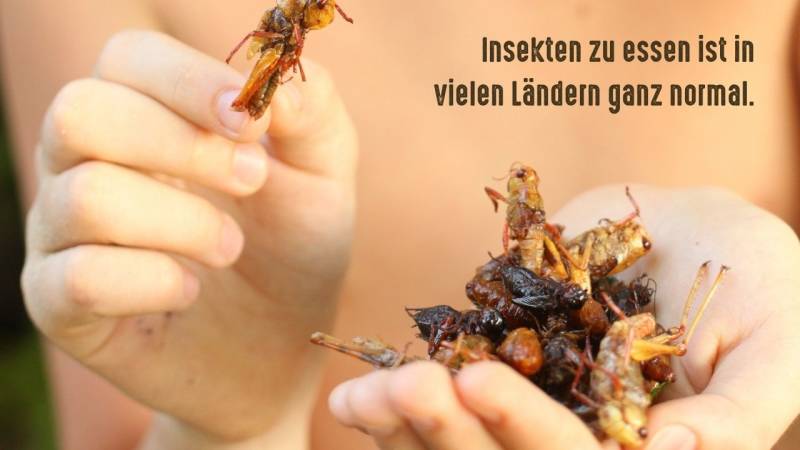 Conclusion
In my opinion, the risk is not worth it to eat raw fish in the wild.
You don't want to experience the consequences of a parasitic infection in a survival situation.
If possible, you should always cook fish and meat. The many preparation options even allow for enough variety and you play it safe!
If such an emergency does occur, where only fish is available and no fire is possible, inspect the fish very carefully and consume the animal in small quantities.

---
Sources for the guide

https://offgridweb.com/survival/how-to-eat-raw-fish-in-a-survival-scenario/
https://www.sciencedirect.com/science/article/abs/pii/S0020751916000035?via%3Dihub
https://www.sciencedirect.com/science/article/pii/B9780128028445000312
https://foodfreaks.ch/know-how-fisch-roh-essen/
https://www.irinoxhome.com/deu/sushi-mit-irinox
https://survivalfreedom.com/can-you-eat-raw-fish-to-survive/
https://www.apotheken-umschau.de/krankheiten-symptome/infektionskrankheiten/bilharziose-schistosomiasis-733799.html
https://www.blinker.de/angelmethoden/angeln-allgemein/angeltipps/parasitenbefall-wie-gefaehrlich-sind-nematoden-in-fischen/
https://www.laves.niedersachsen.de/startseite/lebensmittel/lebensmittelgruppen/fisch_fischerzeugnisse/parasiten-in-fischen--ein-problem-152520.html
https://www.outdoor-magazin.com/wandertipps/fisch-am-lagerfeuer-die-besten-zubereitungsarten/
https://www.ndr.de/ratgeber/kochen/Fisch-richtig-zubereiten-Die-Garmethoden,fisch564.html
https://en.wikipedia.org/wiki/Anisakis_simplex
Was this guide helpful?
11 people found this guide helpful.
5.00 out of 5 points (11 Ratings)