Back to german article
Bushcraft Food: How to easily make dried meat yourself [3 options + video]
Dry meat, meat stripes or jerky can simply be made at home. Learn everything about marinades, types of meat and the shelf life of the meat.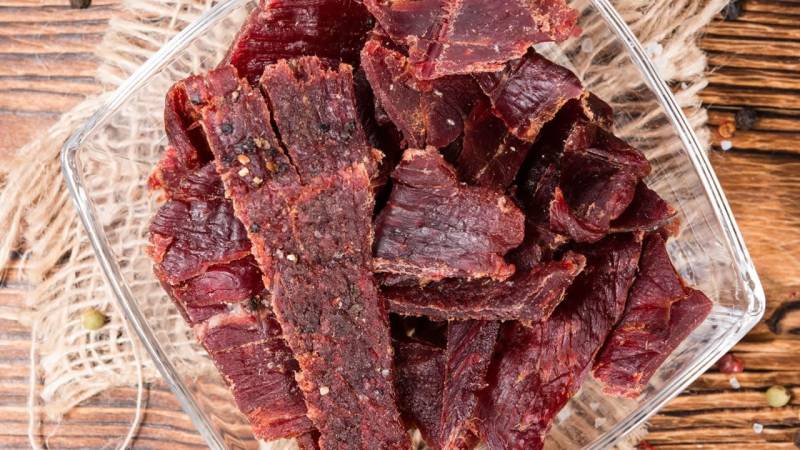 ---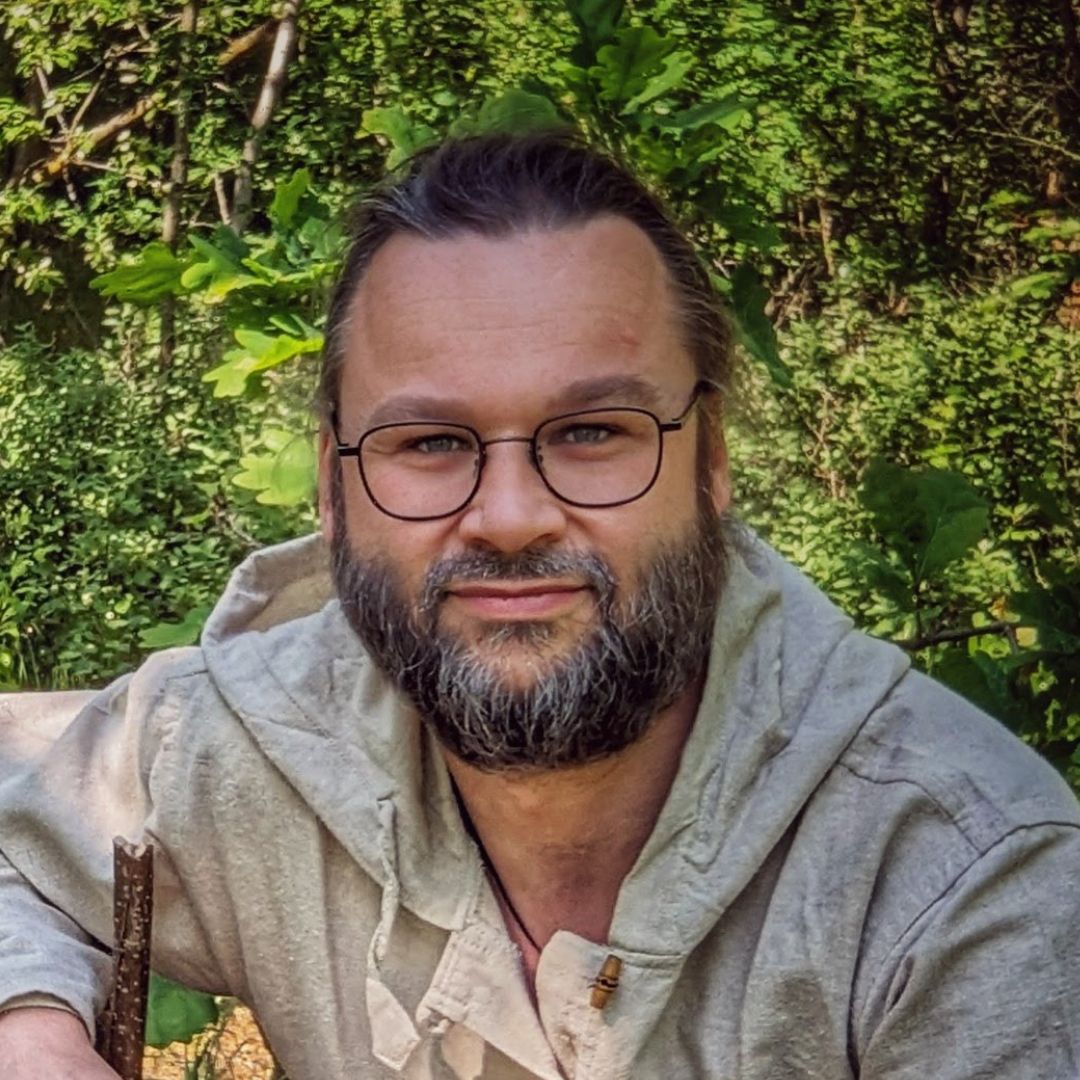 ---
👉 The key facts from this guide
Dried meat, also known as meat stripes or jerky, is an excellent protein source for bushcraft and survival. It is long-lasting and high in energy.
Almost all types of meat can be dried, including beef, lamb, pork, and poultry. It is important to remove as much fat as possible.
The meat can be enhanced with various marinades and spices for flavor. A marinade should sit for at least 5 hours, ideally overnight.
Dried meat can be made by air-drying, oven-drying, or using a dehydrator. Each method has its advantages and disadvantages.
Well-dried meat with a residual moisture content of around 10% can be stored for at least a year and, optimally, even two to three years.
It is important to store the meat properly after drying. It should not be stored in a cool space, as high temperatures do not affect its palatability.
Bushcraft offers a departure from everyday life and a timeout in nature.
Nature offers us humans many foods that are already edible with little effort.
These are mainly plants, vegetables, and fruits. But protein-rich food can also be easily integrated into your bushcraft meal plan.
We are talking about dried meat, also known as meat stripes or jerky.
Here you will learn everything about the topic of dried meat and, above all, how you can easily make it at home.
In addition, I will provide you with useful information about tasty marinades, suitable meat types, and the shelf life of meat products.
The video for this article
You will learn in the video how to make dried meat at home. And that without a dehydrator and oven.
In the instructions, I show everything from raw meat, through the marinade, to the finished dried meat. Dried meat is perfect as food in the wilderness. High in energy, many proteins, and long-lasting. Particularly suitable for bushcrafters and survival training.
What are the advantages of dried meat?
Drying removes the majority of the water from food.
This greatly reduces spoilage and increases shelf life. Dried meat, dried fruits, and the like are therefore a popular component of bushcraft food.
Since meat also contains a lot of iron, protein and other important substances, you are optimally providing your body with energy.
You will survive the day with all its challenges and give your muscles enough input!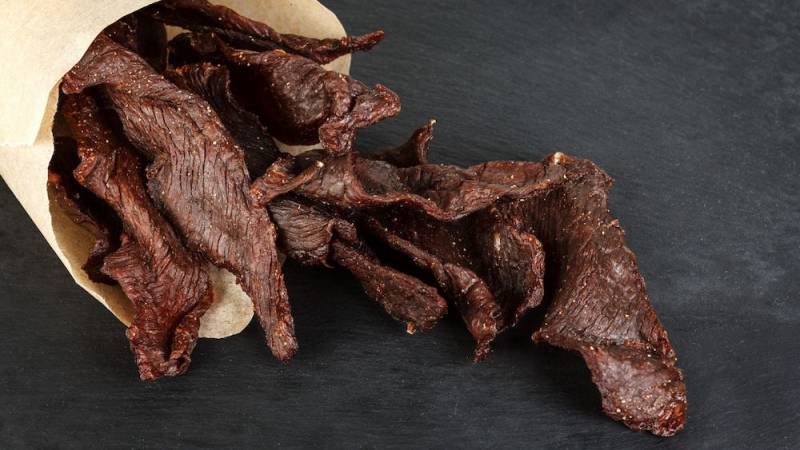 Which types of meat can be dried?
Almost all types of meat are suitable for the process.
The most popular are:
Beef (especially tender fillet pieces, for example from the back or shoulder)
Lamb
Pork (less fatty parts are preferred here)
Poultry (e.g., chicken, turkey, duck)
more exotic varieties (zebra, crocodile, kangaroo)
It is significant to remove as much fat as possible.
If you leave too much fat on the meat, it will affect the drying process and the result will not be satisfactory.
But don't throw away the fat, you can use it for all kinds of other things or utilize it.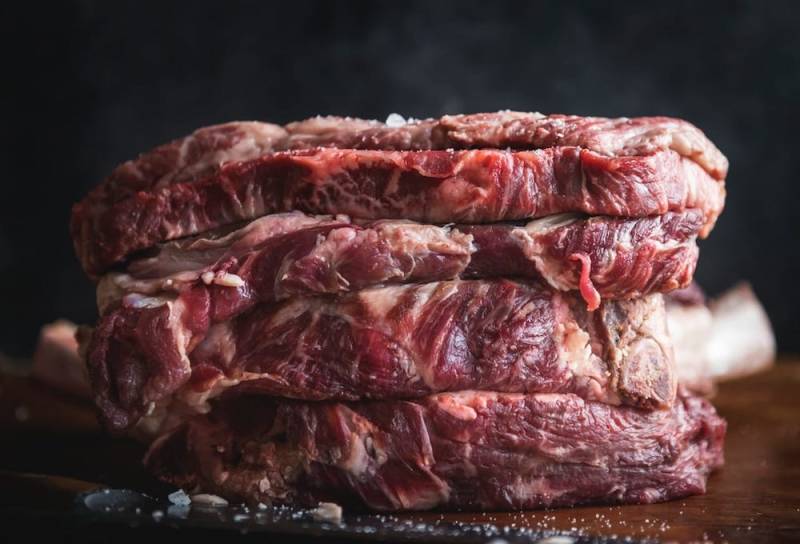 The right taste
If you have ever eaten unseasoned meat, you know that something is missing.
It's the same with dried meat.
You have to use tasty marinades and spices to give the selected meat flavor.
You can easily make the corresponding marinades yourself by mixing the ingredients to taste and letting them steep.
The following ingredients are particularly popular for dried meat:
aromatic herbs like rosemary, thyme, tarragon, and more
a spicy addition with chili or cayenne pepper
a splash of wine or beer
a touch of vinegar to let the marinade soak in well
a light sweetness from ketchup, honey, Worcestershire sauce, or tomato paste
natural spicy flavor carriers like onions or garlic cloves
The time the marinade is left to work is also crucial. You should budget at least 5 hours for it.
The flavor becomes even more intense if you give the sauce to the meat overnight and let it sit in the refrigerator for about 12–16 hours.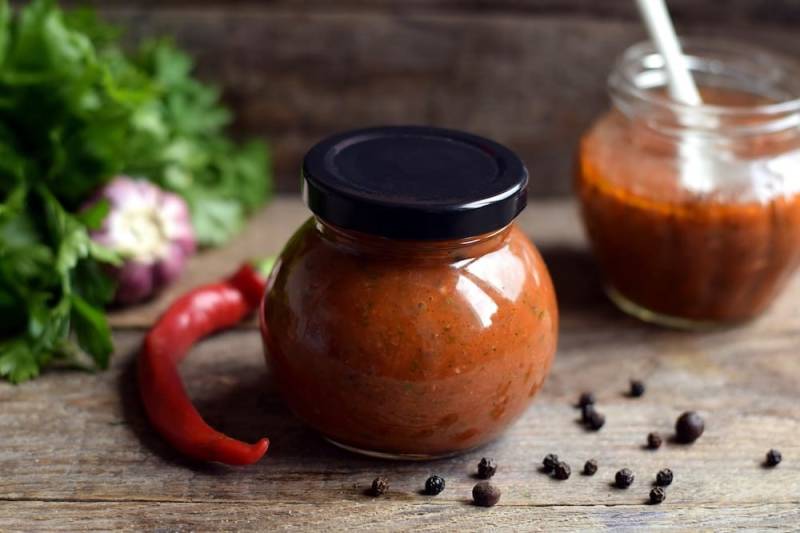 Examples of marinades
I use one of the three tasty sauces that you can use to marinade the meat for an especially delicious flavor.
If you don't have individual spices in stock, simply replace them with similar ingredients (for example, replace rosemary with thyme).
1. Fruity-Sour Marinade:
Ingredients: 1 tsp honey, 3 tsp salt, 1.5 tsp apricot jam, 3 tbsp tomato sauce, 1 sprig fresh basil, 1 tsp black pepper, 2 tsp vinegar, 2 tbsp olive oil
2. Aromatic Thyme Marinade:
Ingredients: 1 sprig fresh thyme, 1/2 tsp dried oregano, 2 tsp salt, 1 tsp white pepper, 2 tbsp semi-dry white wine, 2 tbsp sunflower oil, 1/2 tsp honey
3. Spicy Worcester Marinade:
Ingredients: 2 tsp Worcestershire sauce, 1 dash of Tabasco, 2 tbsp olive oil, 1 tsp dried rosemary, 1 tsp honey, 2 tbsp white wine vinegar, 2 tbsp tomato sauce, 1 tbsp soy sauce vinegar, wine, and beer ensure that the flavor is absorbed well into the meat fiber, a small spoonful of honey balances out the resulting acidity.
The shelf life of this delicacy
By removing the water from the meat, the shelf life is multiplied.
Normally, you must always store meat chilled and cannot consume it raw - but thanks to dried meat, a light snack in between meals is possible anytime!
Drying removes between 80 and 90 percent of the liquid in the tissue from the meat fibers.
The lower the remaining residual moisture, the better the shelf life.
Well-dried meat with a moisture content of around 10 percent is at least one year shelf-stable, and in the best case even two to three years.
You don't have to store dried meat in the refrigerator, high temperatures can no longer harm its eatable quality.
Since bacteria require a moist environment to multiply, they no longer find any food in dried meat. This way, your self-made product stays fresh and edible.
By the way, you can dry raw as well as cooked or slightly browned meat. By heating it beforehand, you even kill any bacteria that may be present, ensuring the healthy quality.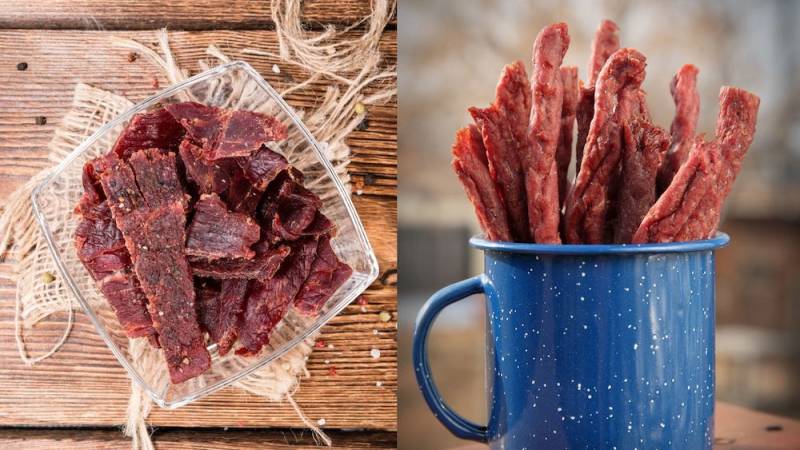 How to Make Dried Meat
There are various methods you can use to make good dried meat.
This involves air drying, drying in the oven and treatment through dehydration.
1. Drying the meat using air
This method is the most traditional and quite uncomplicated.
All you have to do is hang the meat and let it dry properly.
Important: The room must not be damp, and the temperature should be rather high. This will draw out the water faster and prevent the meat from going bad.
By the way, you don't need to buy an extra drying rack for this, it's enough to hang the strips on a thick cord.
Drying in the air can easily take one to two weeks.
To accelerate the process a bit, you should use fire. This will quickly remove the water and give you a spicy and intense smoked flavor.
2. Drying the meat in the oven
Now your kitchen comes into play.
First, preheat the oven to 45 °C. Then switch to "convection", spread the meat evenly on a baking sheet and place it on the middle rack.
Now the meat has to dry for about 9 hours.
To ensure that the moisture does not stay in the oven and moisten the meat, you must leave the oven open a crack. This is faster than air drying, but it uses a lot of electricity and wastes energy.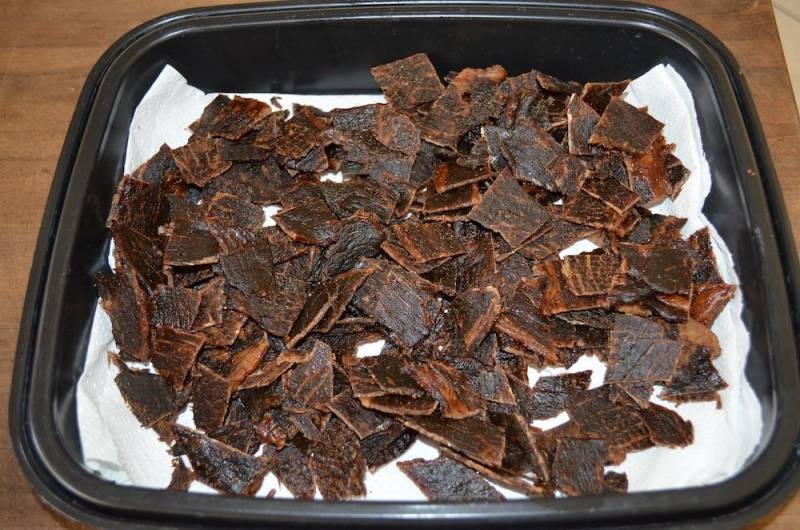 3. Professional drying with a dehydrator
A dehydrator is ideal for you if you want to have dried meat with you more often.
He heats up to a constant temperature and can thus prepare a larger amount of meat for you.
Comprehensive devices have three levels that you can fill at the same time for a plentiful result.
The temperature is adjustable, so you can adjust the drying to the respective type of meat. This way, nothing becomes tough, and the meat is still reliably made durable.
Usually, the medium level is sufficient for drying, overall, you have to calculate 7 - 11 hours for the process.
Recommended dehydrator: I can fully recommend the dehydrator from Klarstein. It can be used to produce top-quality dried meat.
Klarstein Bananarama - Dörrgerät, Dörrautomat, Obst-, Fleisch- und Früchte-Trockner, 6 Etagen, stapelbar, 550 W, einstellbare Temperatur, Umluftbetrieb, LCD-Display, BPA-frei, schwarz
LEISTUNGSSTARK: Der leistungsstarke Dörrautomat Bananarama von Klarstein trocknet Obst und Gemüse in Rekordtempo und stellt damit lang haltbare Snacks und Zutaten her. Mit 550 Watt Heizleistung sorgt er dafür, dass kein Wasser in den Lebensmitteln verbleibt.
REGELBAR: Der kräftige Motor verkürzt die Trocknungsdauer im Vergleich zu anderen Geräten deutlich, ohne Einbußen in der Qualität hinterlassen. Für die flexible Zubereitung unterschiedlicher Lebensmittel, ist der Temperaturbereich von 40 - 70 °C einstellbar.
GROSSE TROCKNUNGSFLÄCHEN: Auf insgesamt 6 Etagen werden Obststücke, Gemüsescheiben, Pilze und Kräuter schonend getrocknet. Selbst ganze Fleischscheiben können vom Klarstein Bananarama verarbeitet werden, so lässt sich Beef Jerky selbst herstellen.
GLEICHMÄSSIGE WÄRMEVERTEILUNG: Die luftdurchlässigen Ablagen ermöglichen in Verbindung mit dem Umluftbetrieb, eine gleichmäßige Hitzeverteilung. Die feinmaschige Zusatzauflage ist besonders praktisch für die Trocknung kleiner Früchte wie Beeren.
QUALITÄT: 2008 begann Klarstein die Welt der Haushaltswaren auf den Kopf zu stellen. Inzwischen begeistert der Mix aus hochwertigen Materialien, modernem Design und einer interaktiven Community App viele Hobbyköche.
83,99 €
View Product
Summary
Now you know everything you need to easily make your own dried meat at home.
For a good taste, you need to pay attention to the quality of the raw product, and your trusted butcher or an organic market can help you with that.
Experiment with marinades to find your favorite sauce, and thus refine practical snacks for your hiking tours, trekking trips and other outdoor experiences.
Long live bushcraft dried meat!
---
What do you think about dried meat?
Do you know the overpriced packages from the supermarket? Have you ever thought about making your own?
Or do you even have a dehydrator and can report on how well the meat dries in it?

Was this guide helpful?
20 people found this guide helpful.
5.00 out of 5 points (20 Ratings)