Back to german article
What is Fatwood? (meaning, origin, application, finding)
In this article, you will learn what Fatwood is, where the term comes from, how Fatwood was used in the past application, examples and how to make it.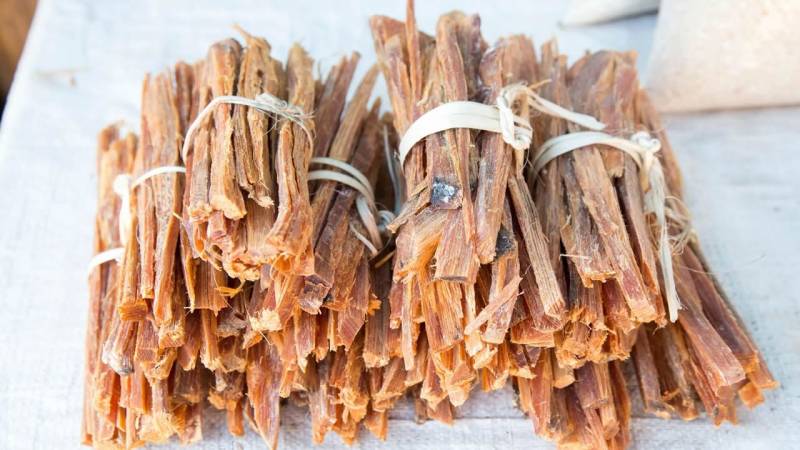 ---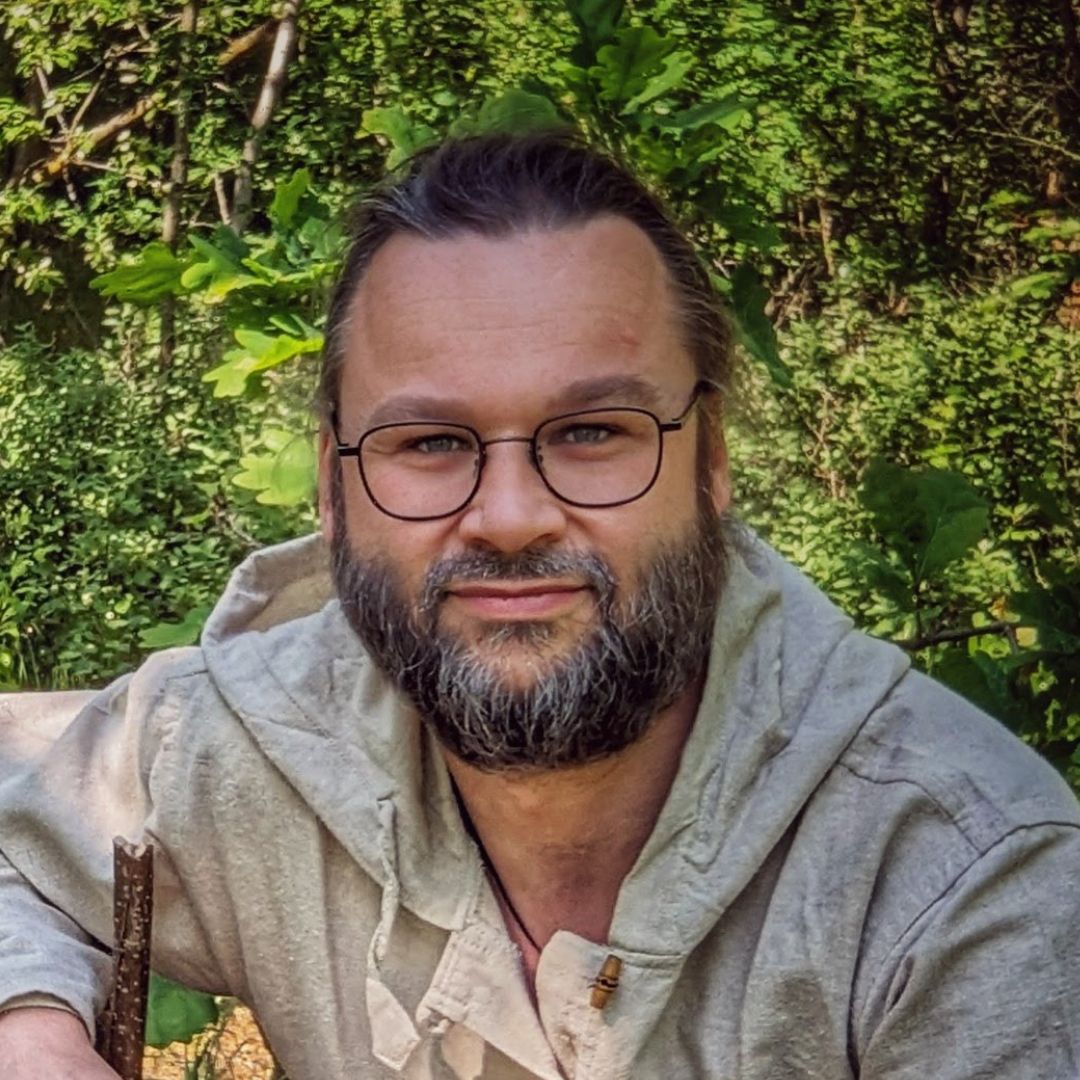 ---
👉 The key facts from this guide
Fatwood is a small piece of particularly resinous wood that was previously used as a source of light and nowadays mainly serves as tinder for igniting a fire.
The German term "Kienspan" first appeared in the 17th century and refers to a particle that was separated from a certain workpiece, in this case a piece of wood.
Kindling is obtained from resinous wood that forms at places where the tree bark was injured. The best type of wood for this purpose is pine.
Collecting kindling is legal as long as it is dead wood and the kindling is used for personal use. However, it is forbidden to damage living trees or collect kindling in large quantities.
Kindling can also be purchased if it is difficult to find in local forests.
The use of kindling as tinder allows for a more calm approach to building a fire and controlling the burning speed.
You've probably heard of the infamous kindling wood or fatwood.
But you're still not sure what it is? Then you've come to the right place.
In this article, I'll explain to you what fatwood is, where the term comes from and how it used to be used. Additionally, I'll give you some practical examples of its use and a guide for making and finding your fatwood.
What is fatwood?
Fatwood or resin-rich pine wood is a small piece of wood that is square or directly flat-split. It used to be used as a source of light. Nowadays, fatwood is mainly used as tinder to start a fire.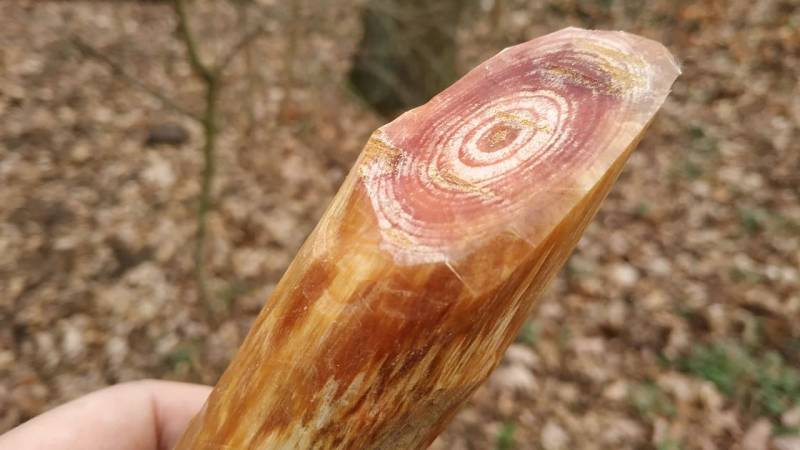 Fatwood is also called Maya sticks or in German "Kienspan". At the end of this article, I'll take a closer look at which types of wood are best for making fatwood.
Video tip: Also check out my video (in German) where I discovered an inconspicuous old tree. Surprisingly, its branches were saturated with resin. That's how I obtained great fatwood.
Meaning and origin of the word "Fatwood" and "Kienspan"
The name "Fatwood" refers to a natural, resinous wood that is often used to start fires in the wild. "Fat" refers to the high resin content in wood, which serves as fuel and makes the wood highly flammable. Fatwood is also known as "fat lighter", "lighter wood" or "rich lighter".
The German term "kienspan" first appeared in the 17th century. The term is a so-called determinative compound, simply a combination of words. The term kienspan generally refers to a small particle. This was separated from a specific workpiece, in this case a piece of wood.
The word kien, on the other hand, means wood shavings or torch. Alternatively, kien also describes a piece of wood that contains a relatively large amount of resin. Therefore, it can be concluded that a kienspan is a piece of resinous wood.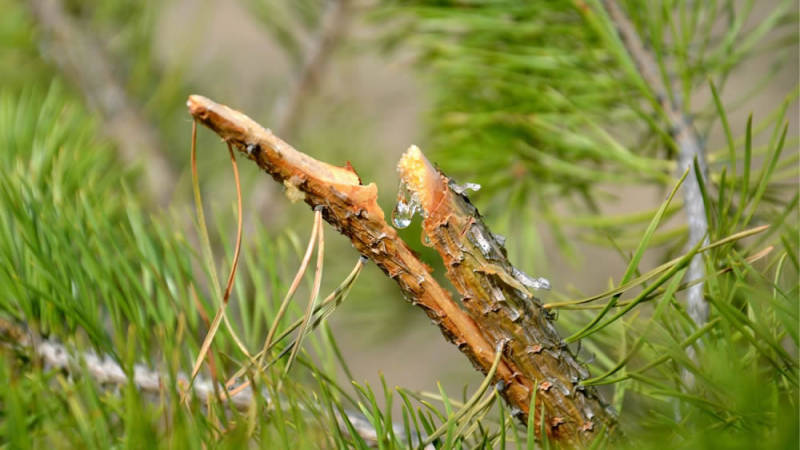 Read more: Take a look at my article on 16 ways resin can help you in the wilderness.
Uses of Fatwood
Basically, there are only two main uses for fatwood. As a source of light and as tinder.
For these two, fatwood is better suited than most other materials you could use for them.
Source of Light
Like other simple kindling, fatwood can be ignited or heated. For a certain period of time, the piece of wood then served as a source of light. Compared to a simple campfire, there are some advantages to using fatwood.
For one, the burning can be better monitored and controlled. Additionally, you can control the burning speed.
However, disadvantages also arise. On the one hand, a piece of fatwood only burns for about 20 minutes. On the other hand, it must be constantly balanced, as the flame otherwise flickers particularly unevenly.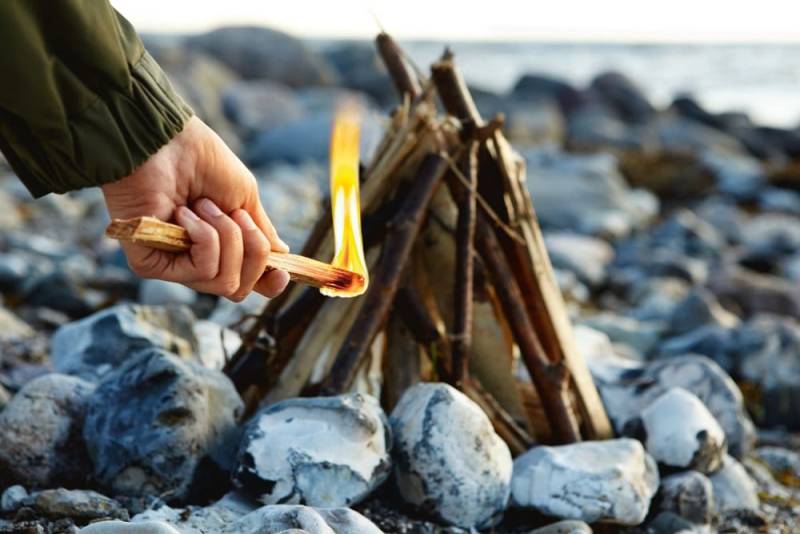 Tinder
Because tiny and fine pieces of pine torch burn for a long time and consistently, they are ideal as tinder.
Many outdoor enthusiasts know fatwood as tinder and have even made a fire with it. A survey on my YouTube channel shows the following statistics:
Ignite the pieces of fatwood to start a larger fire. You will find that using this type of tinder allows you to approach building your fire more calmly.
Scrape the fine pieces with the back of your knife. This will result in "fatwood wool", as you can see in the picture.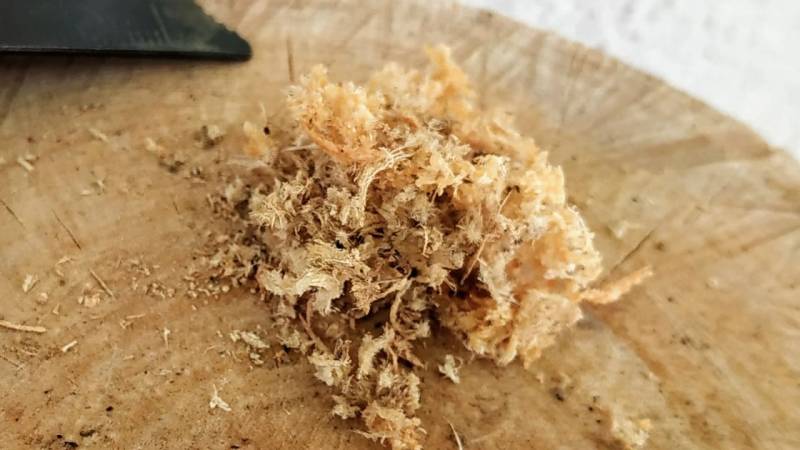 Then ignite the fatwood bundle with a fire starter. If the fatwood is dry, it will work with the first one or two ignitions.
In my guide for Using the Fire Starter, I have described exactly how to handle the tool.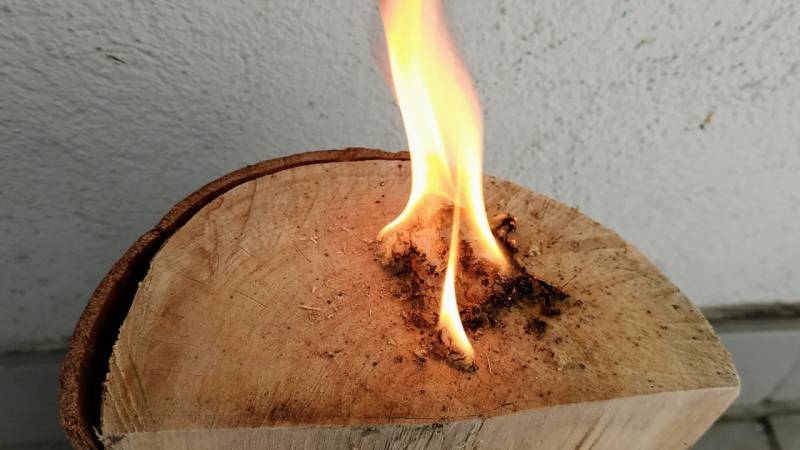 Here is an infographic to share: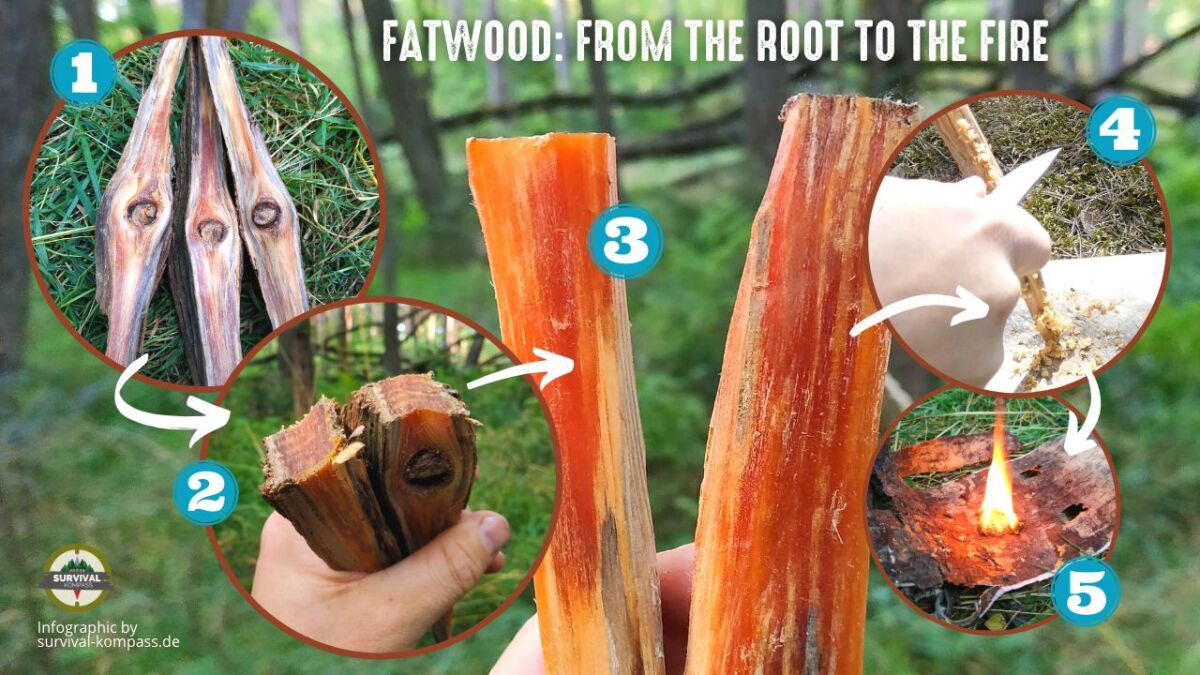 Reading tip: Are you seeking more options for kindling? Take a look at my article "Survival Basics: Collecting and Making Your Own Kindling".
How was fatwood used in the past?
Fatwood was used as a particularly popular lighting source from the Paleolithic era, the Old Stone Age, until the 19th century. As early as 700 BC, Homer provided the first written evidence of lighting with fatwood.
Alternative, artificially created light sources were much pricier and therefore unreachable for the poorer population groups. These mainly included candles and similar lighting methods.
Miners carried a burning piece of fatwood in their mouths during their work. This was clamped between their teeth. If such an original miner lost his teeth, he was referred to as "mountain ready". He was invalid.
Fatwood was also part of various funeral rites. Here, a piece of the resinous wood was placed in the deceased's hand. This was to light the way for him through the dark valley of the dead.
Finding Fatwood
If the bark of a tree is damaged, resin is created at this spot as a "wound" and the tree strengthens the production of resin in order to naturally and quickly close the "wound". While this resin is mainly transported to the site of the injury, a large part of it also accumulates in the trunk. After some time, the resin hardens and takes on a crystalline form.
Attention: Do not intentionally harm any trees, as it is prohibited!
Therefore, search for fatwood in areas that have proven to be particularly good and environmentally friendly.
You can find fatwood:
on an old tree stump
in areas where there was an injury
in areas on the trunk where branches emerge
The image below shows a relatively fresh tree stump that produces resin. It will take some time before the wood is completely soaked with resin, and good fatwood cannot be found here.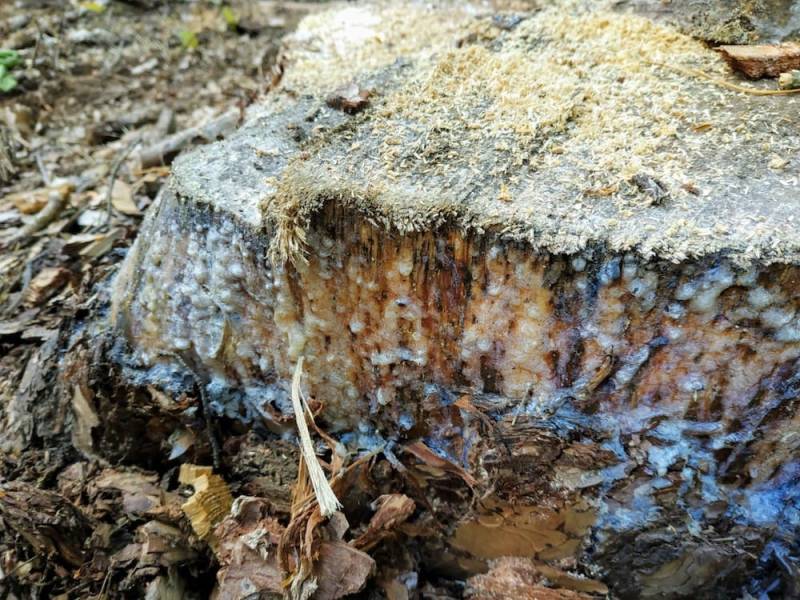 In the next picture, you can see an inconspicuous pine tree stump, which was rotting on the top. However, over the years, the roots have collected a lot of resin, resulting in great fatwood.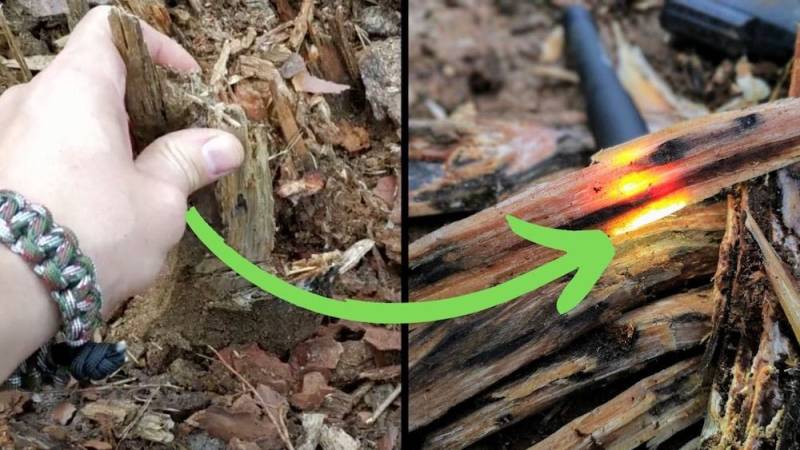 So, work your way towards a useful spot with resin-soaked wood. Afterward, you have to cut or chop the wood into small, short pieces.
For example, with the axe "Fiskars recreational axe X5" and the knife "Morakniv ELDRIS, Neck-Knife made of Sandvik steel".
You then continue to work on these until you get long, thin shavings. This is the fatwood.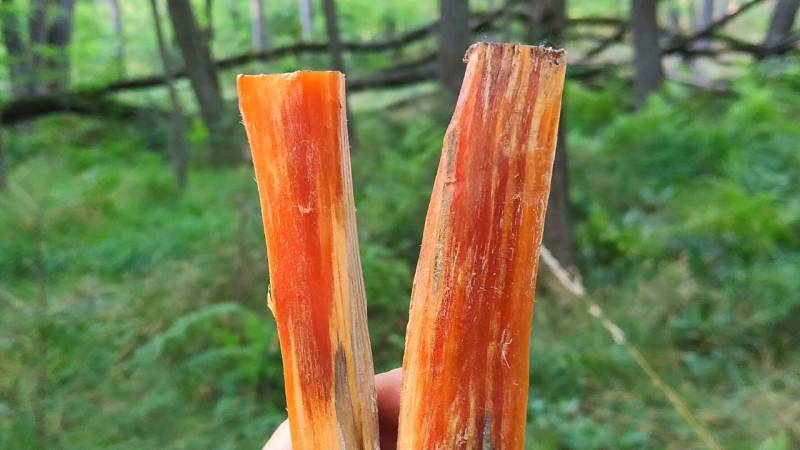 The picture below illustrates that resin also collects at the point where a branch leaves the tree.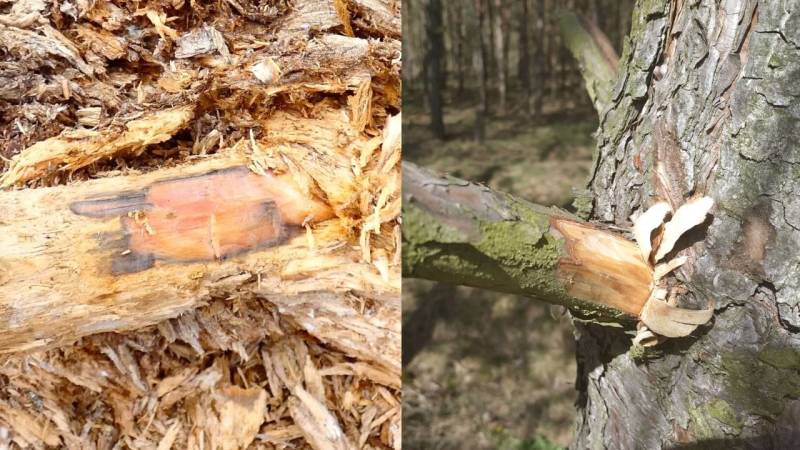 Which wood is best?
The pine tree has been used for centuries to produce fatwood shavings. It is the best wood for this purpose. It is not for nothing that it is called the fatwood pine or resin pine.
The spruce, larch, cherry tree, or even the rose-like dogwood tree are also suitable as alternatives to the pine tree. However, finding and collecting fatwood from these trees is much more difficult. They simply do not produce as much resin.
You will not find any resin in the fir tree as it does not have resin channels.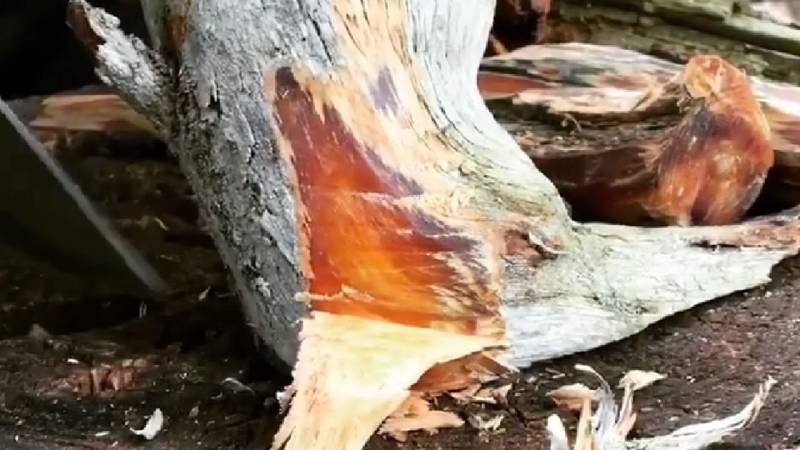 Is it legal to find and collect fatwood?
I occasionally receive inquiries about whether collecting fatwood is legal?
Collecting fatwood is legal in principle if it is dead wood, and you use the pine shavings for your needs.
However, you must not damage living trees and also must not collect fatwood in masses (e.g., to sell them).
If you want to act in a truly sustainable way, leave as much dead wood in the forest as possible and only take the fatwood.
The forest requires this dead wood. Because dead trees - whether on the ground or standing - are the soil (humus) of the future.
Buying recommendation
You don't always find fatwood in your local forests. It can take a long time to find a stump with enough resin.
Therefore, you can buy fatwood for example, on Amazon.
---
Have you already had any experiences with fatwood?
What do you use the wood for? How do you extract it? Do you buy it or produce your own fatwood? Are you convinced, or do you use alternatives? Which ones?
You are welcome to share your experiences with fatwood in the comments.

Was this guide helpful?
69 people found this guide helpful.
4.83 out of 5 points (72 Ratings)