Back to german article
45 Ideas and 7 Recipes for No-Cook Camping Food for Your Next Outdoor Adventure
Whether annoyed, not in the mood or just no time while camping: Get yourself 45 recipe ideas and 7 detailed recipes that you don't have to cook while camping.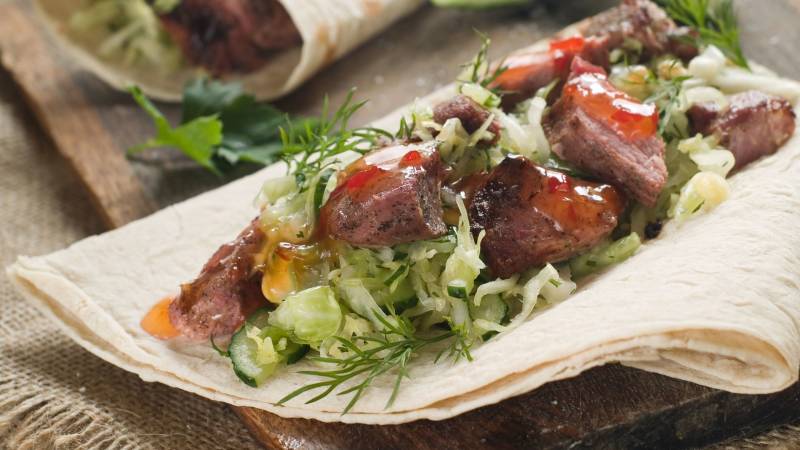 ---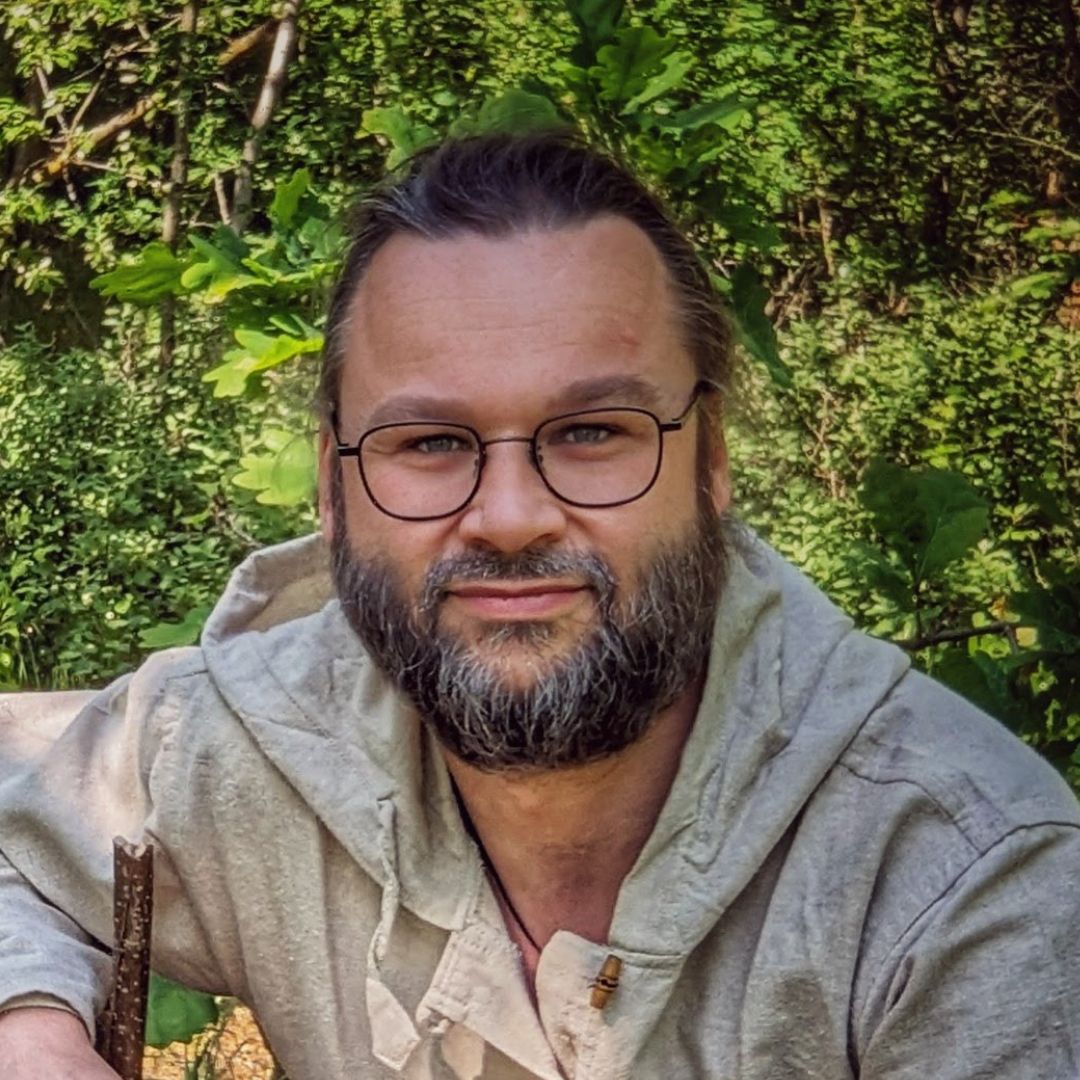 ---
👉 The key facts from this guide
Best camping food: sandwiches, wraps, filled rolls, cereal, oats, salads, snacks
Breakfast ideas: yogurt, cereal, chia pudding, croissants, hard-boiled eggs, bagels, pancakes, overnight oats
Lunch ideas: sandwiches, tuna salad, colddogs, vegetables with hummus, ham and cheese, pita sandwich, smoothies, salads, wraps
Dinner ideas: cold chicken, ramen noodles, miso soup, canned food, stews, canned meat, pre-cooked pasta and sauce, dehydrated meals
Recipes: wraps, colddogs, couscous salad, sausage salad, avocado toast, tuna and bean salad, flatbread with pesto
Some love it, others hate it: cooking while camping.
For many, cooking at the campsite is part of the cozy atmosphere.
Others, on the other hand, are simply annoyed by it or have no time.
Whether annoyed, not in the mood, or short on time: Here are my 45 ideas and 7 detailed recipes where you don't have to cook.
What is the best food for camping that doesn't require cooking?
The best foods are those that are easy to prepare and that you and your fellow campers will actually eat and feel satisfied. For example, sandwiches, wraps, or filled rolls are a suitable option. But muesli and oatmeal are also a good choice, as well as salads or a snack with sausage, cheese, fruit, nuts, and crackers.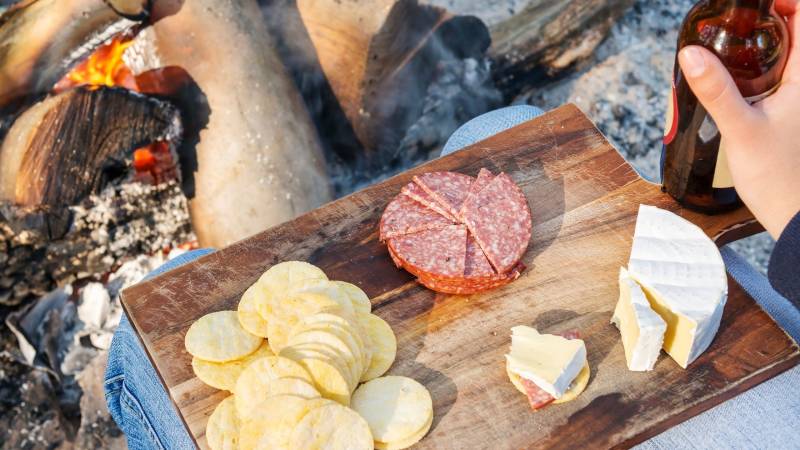 That's why today I'm giving you 45 ideas and 7 recipes to try while camping.
For none of these 7 recipes do you have to cook or stand in the "kitchen" forever.
Have fun imitating and trying it out!
45 recipe ideas for your camping kitchen where you don't have to cook
I have collected and tried out these recipe ideas over the years. They were all good, and I even tested the sweet ones, although I prefer savory food. ;-)
Camping breakfast ideas without cooking
Breakfast is the most important meal of the day. These no-cook meals are high in protein and perfect for car camping or backpacking.
Most of them also don't require cooling! So if you have to leave early and want to go hiking with the kids, throw your food in the backpack for a breakfast on the go.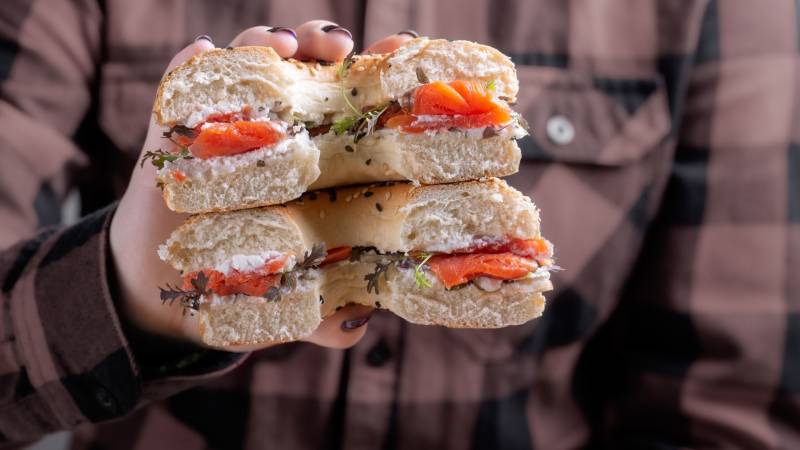 Here are my favorite ideas:
Yogurt - Your favorite yogurt with fresh or dried fruits, nuts, muesli, etc.
Muesli with milk
Chia pudding
Butter croissants with sliced ham and cheese or butter and jam
Hard-boiled eggs (homemade or store-bought and kept in the refrigerator)
Bagels with cream cheese and smoked salmon
Pre-made pancakes with powdered sugar (my kids love this)
Overnight oats - mix in a glass or container at home and then add liquid the night before.

One serving of overnight oats: 1/2 cup oats, 1 tablespoon ground flaxseed, 2 teaspoons brown sugar, a pinch of salt and a pinch of cinnamon. Finally, add 1–2 tablespoons of dried fruits, fresh fruit, nuts, pomegranate seeds, etc. In the evening, add 2/3 cup milk and 1/3 cup plain yogurt.

Sandwich with mashed avocado and sliced hard-boiled egg
Muffins / Donuts
Peanut butter sandwiches or chocolate cream sandwiches
Protein or muesli bars
Apple-peanut butter wrap on a whole grain tortilla
Fruit salad with coconut flakes and chopped nuts
Trail mix - dried fruits, nuts, granola bars/energy bars
Pre-made waffles with Nutella or maple syrup
Banana bread
More breakfast ideas - including cooking - can be found in this guide by me.
Camping Lunch Ideas Without Cooking
On many days, I am not near our campsite with my family at lunchtime.
We are often on the go to explore hiking trails, on the water, or simply to visit sights.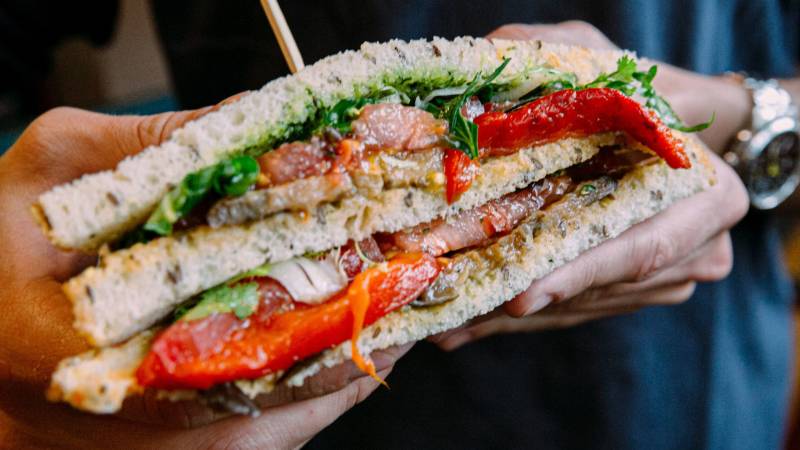 Instead of packing cooking utensils, a lunch pack is usually our first choice. Here are my favorite camping meals for lunch without cooking.
Sandwich with sliced cheese, pickles, lettuce, and sliced tomatoes on whole grain bread, or a tuna salad sandwich
Canned tuna with crackers
Colddogs
Sliced vegetables (such as carrots) with hummus as a dip
Hard-boiled eggs with bread
Ham and cheese on rye or pumpernickel bread with some whole grain mustard
Pre-made pancakes with powdered sugar
Pita sandwich with hummus and tomato slices, zucchini, olives, lettuce, and feta cheese
Pre-made fruit smoothies
Lunch table with sausage, hard cheese, cheese cubes, fruit, and fresh bread
Sandwich wraps with flatbread or tortillas
Pre-made salads, such as couscous salad, chicken salad, Caesar salad, etc.
Chicken fajita salad with chicken, beans, salsa, cheese, lettuce, olives, sour cream, and guacamole
Sushi - California rolls with cucumber, avocado, and (pre-cooked) shrimp with sushi rice
Antipasti salad - chopped salami, pepperoni, mozzarella cheese, pepperoncini peppers, tomatoes, red onions, artichoke hearts, and Greek or Italian dressing
Pita or flatbread pizza with marinara sauce or pesto, shredded mozzarella, spinach, pepperoni or salami, olives, etc.
Beef Jerky / Dried meat (here I show you how to make it yourself)
Fresh fruit
Camping Dinner Ideas Without Cooking
Many of the simple camping meals that you can serve for lunch are suitable for dinner.
I will add a few more ideas without cooking, but also some that require boiling water or reheating for serving. Hopefully, you can make use of many of them.
Cold chicken - I think chicken tastes just as good cold as it does hot. Fry some chicken legs at home and take them with you
Ramen noodles - Ramen instant noodles are a super easy meal that only requires boiling water
Miso soup - There are some excellent instant miso soup products
Canned food - Simply heat up on a camping stove or over a fire, like canned noodles
Canned soup is a classic
Stews
Canned meat
Canned beans
Precooked noodles and sauce - I don't really like canned noodles, so I often opt for tortellini and ravioli, preferably with pesto sauce
Dehydrated meals - There are great companies that offer dehydrated meals for camping
---
Now I want to show you my favorite recipes that I like to prepare when I need something quick and don't feel like cooking.
1. Wraps - delicious, versatile and easy
Wraps are a brilliant dish. They are not only super quick and easy, but also completely customizable. Depending on what you have on hand, you can simply fill them into the dough sheets.
Therefore, the following list of ingredients is only provided as an example. You are welcome to let your creativity run wild.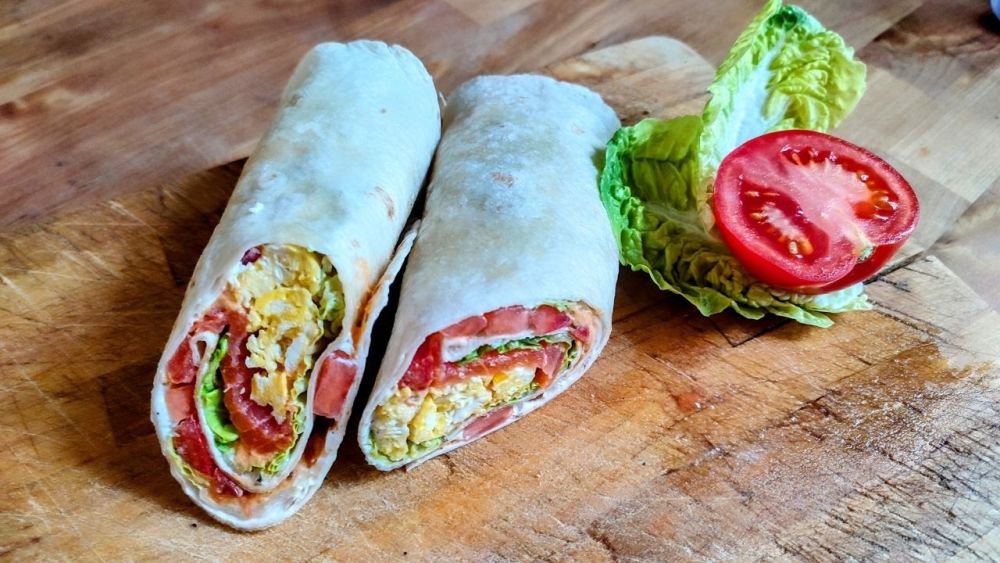 Ingredients for 1 serving:
2 wraps
One piece of cucumber
A few tomatoes
A few strips of bell pepper
0.5 can of kidney beans
Some natural yogurt
Preparation:
Cut all ingredients, except for the wraps, beans, and natural yogurt, into small pieces.
Wash the beans and fill the wraps.
The natural yogurt serves as a sauce so that the whole thing doesn't get too dry.
Once you have filled the wraps, simply roll them up. To achieve this, fold the bottom side up first and roll the wrap to one side.
More tips:
If you have any spices with you, you can also add them to the wrap as you like. You can also pimp up your yogurt sauce with it. With some salt and pepper - possibly mustard - you can conjure up a really good sauce.
2. Hot dogs - or better: Colddogs
Even though the name here is a bit confusing, hot dogs can be easily integrated into a cold kitchen.
Sausages in a jar you must have in your camping kitchen, unless you are a vegetarian! They are long-lasting and can be enjoyed both warm and cold.
For the hot dogs, you don't necessarily need hot dog buns. Regular buns are perfectly fine. Maybe you even have some left over from your morning breakfast?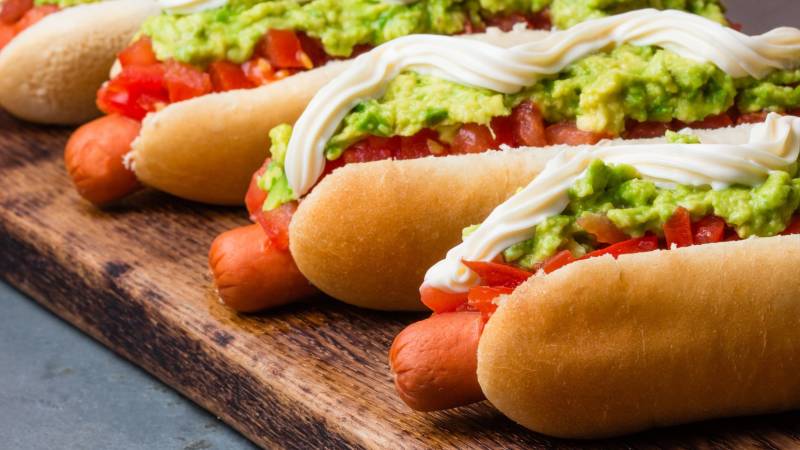 Moreover, here you can top your hot dogs however you like. Depending on what your camping kitchen has to offer.
Ingredients for 1 serving:
1 roll
2 sausages
Some ketchup
Some mustard
A few pickles
Preparation:
The preparation of the hot dogs is very simple and speaks for itself. Simply cut open the bun, place the sausages inside, and top with whatever is available.
3. Couscous Salad - Fresh and Savory
Couscous is part of the so-called superfood. It has few carbohydrates, a lot of protein, and healthy fats. The good news: It is ideal for camping cuisine.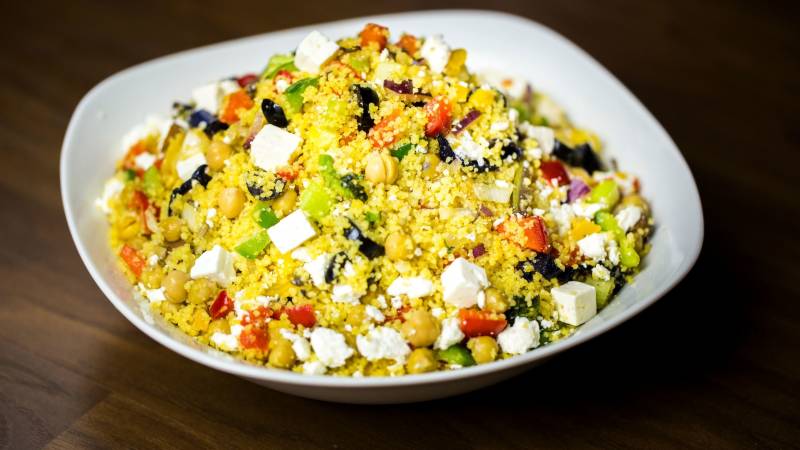 Couscous salad is versatile. There are countless variations. It's best to use the ingredients you have on hand.
My example recipe is about a couscous salad with tomato paste and smoked tofu. So ideal for vegetarians and vegans!
Ingredients for 1 serving:
125 g Couscous
175 ml water
100 g smoked tofu
1.5 tbsp tomato paste
salt and pepper
Preparation:
First, you need to prepare the couscous. To complete this, simply put it in a bowl and pour water over it. Because it is not boiling water, you need to let it soak for at least 20 minutes. It is ready when all the water has been absorbed by the couscous.
You can chop the smoked tofu into small pieces during this time and add it to the swollen couscous at the end. Also add the tomato paste and spices now. Mix everything together well.
More tips:
If you have any leftover natural yogurt, you can eat it perfectly with it. But you can also make a delicious yogurt sauce out of it. You can also chop up any leftover vegetables and add them.
4. Sausage Salad - fruity and hearty
Sausage salad is mainly known in southern Germany and is a popular dish after a long hike.
Also perfect for us campers and outdoor enthusiasts! However, this form of sausage salad is not the original, but a slightly fresher and fruitier version.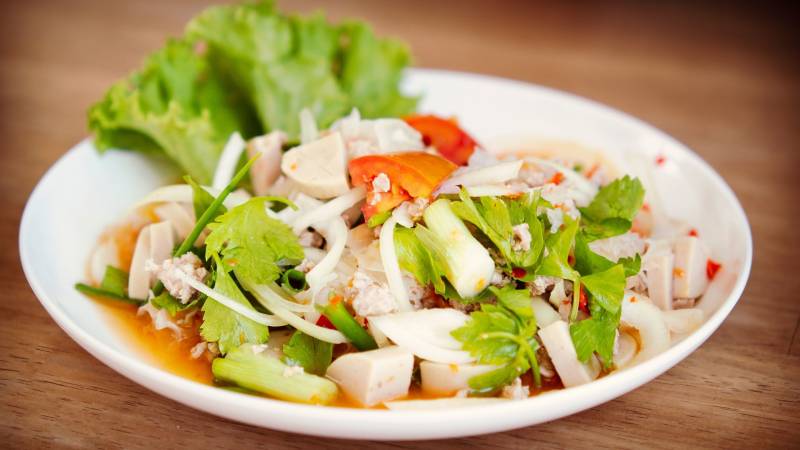 Ingredients for 1 serving:
100 g bologna sausage
50 g cheese
0.5 onion
0.5 apple
2 tbsp oil
2 tbsp vinegar
salt and pepper
Possibly, some mustard
Preparation:
First, cut the onion, apple, cheese, and sausage into strips. For a more intense flavor, I recommend using a mountain cheese. However, you can also use any other cheese you have on hand or that you particularly like.
Mix the chopped food together. Finally, add vinegar, oil, and spices. Give it that special something with a small spoonful of mustard.
More tips:
In Bavaria, it is traditional to eat a pretzel with it. However, you can also do without the bread or simply eat a roll with it.
5. Avocado Bread - vegetarian and spicy
By now, the world is only talking about avocados. It is now well known that the super fruit does not have the best ecological balance. However, that does not necessarily mean completely giving up on this fruit.
It's about enjoying them in moderation and being aware of it. Nevertheless, the avocado is perfect to take with you when camping. It is versatile and keeps for a long time.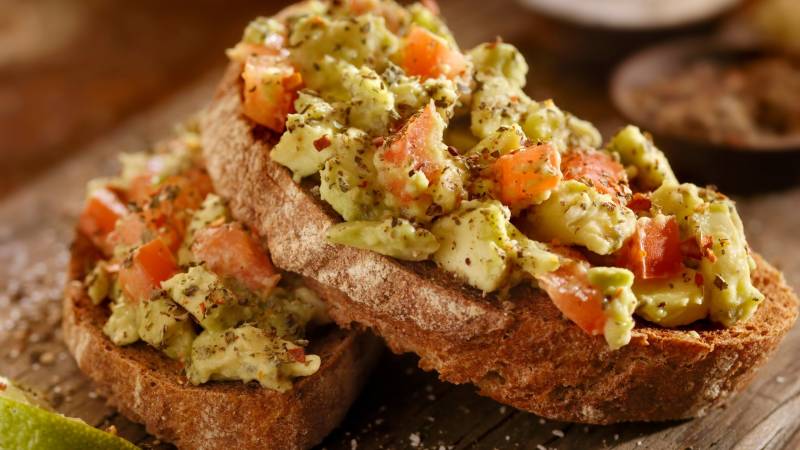 This recipe is now one that really goes quickly and is therefore perfect for a big appetite.
Ingredients for 1 serving:
2 slices of bread
0.5 avocado
A few tomatoes
Salt and pepper
Possibly, some lemon juice
Preparation:
You now have the option to hollow out the avocado from one half and place it directly on the bread, or you can simply make a kind of guacamole out of it. For the guacamole, mash the avocado half, chop the tomatoes small, and add them.
Finally, season everything with salt and pepper. If you have any lemon juice left, you can also add that.
Spread the guacamole on the bread and enjoy it. The healthy fats from the avocado will keep you full for a long time.
More tips:
If you have chips or other snacks with you, you can also use the guacamole as a dip. Give it a try!
6. Tuna and Bean Salad - Protein Power for Campers
Tuna is not for everyone. Some people think it tastes like cat food, while others find the fish extremely delicious. Personally, I also think this recipe is perfect!
The best part: all the ingredients are perfect for camping. The nutrients of the food are also ideal for us outdoor enthusiasts. With the beans and the tuna, we get plenty of protein, and they provide enough energy to dive into the next adventure.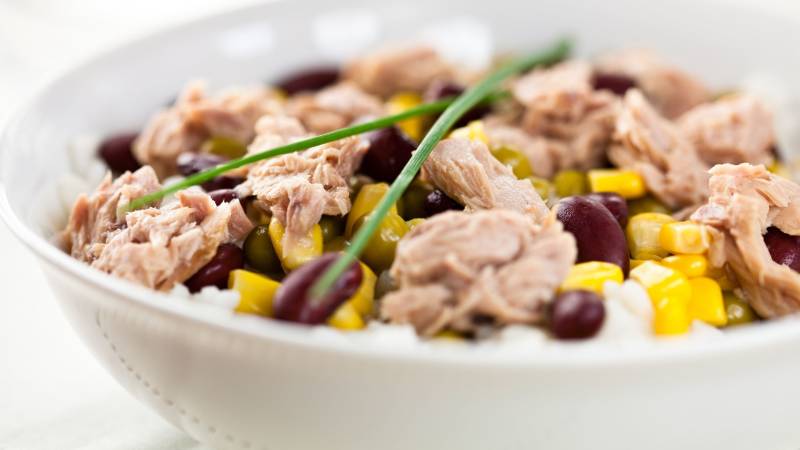 Ingredients for 1 serving:
0.5 can of white beans
0.5 can of tuna
1 onion
1 small can of corn
1 tbsp oil
Some vinegar or lemon juice
Salt and pepper
Optional: 0.5 package of feta cheese
Preparation:
First, you drain the beans and rinse them a little.
You also drain the tuna.
Then you cut the feta and the onion into small cubes.
Now mix all the ingredients together.
For the dressing, add some oil, vinegar or lemon juice, and salt and pepper. Mix everything well.
More tips:
Best enjoyed with a piece of bread or rolls. Instead of feta cheese, you can, of course, use any other cheese that you like.
7. Flatbread with Pesto - Italian Flair in the Tent
Pesto is something that should not be missing in any camping kitchen. Normally, the finished sauce is poured over pasta. However, if you don't feel like cooking, you can also use the pesto in other ways.
With the following recipe, it is about a type of sandwich. Whether you actually use flatbread is ultimately irrelevant. You can use any bread you have on hand.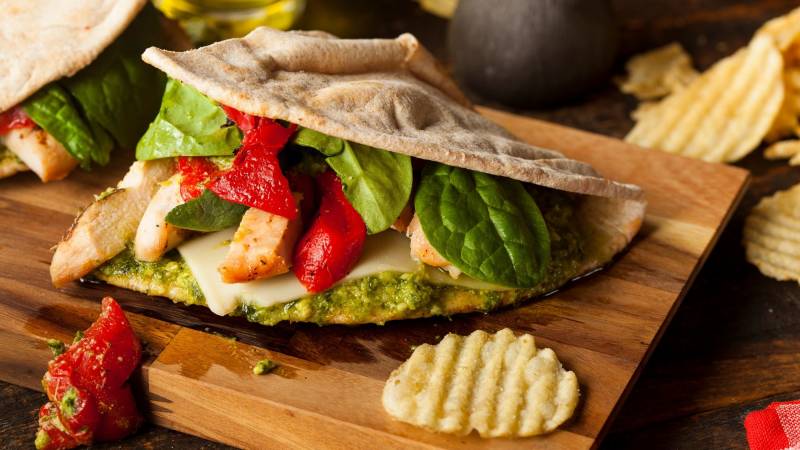 Ingredients for 1 serving:
1/4 flatbread or 1 roll
Some pesto for spreading
Some cream cheese for spreading
A few tomatoes
Some cucumber
Salt and pepper
Preparation:
The flatbread or the bun you cut open and spread with pesto and cream cheese. Then you add your vegetables. Of course, you can use whatever you have for this.
Season the whole thing with a little salt and pepper.
More tips:
There is not only green basil pesto, but also red pesto. Personally, I am not a fan of green pesto. That's why I always use tomato-based sauces.
---
And, how do you like the recipes and ideas? Which one will you cook first?

Was this guide helpful?
23 people found this guide helpful.
5.00 out of 5 points (23 Ratings)