Back to german article
Test: Bluetti EB70 PowerOak Powerstation with PV200 Solar Panel everywhere off-grid power
Looking for a solar generator? Look no further, as I have thoroughly tested the Bluetti PowerOak EB70 power station with solar panels. Is it something for you?
from Martin Gebhardt
|
Gear
| reading time 9 Min
---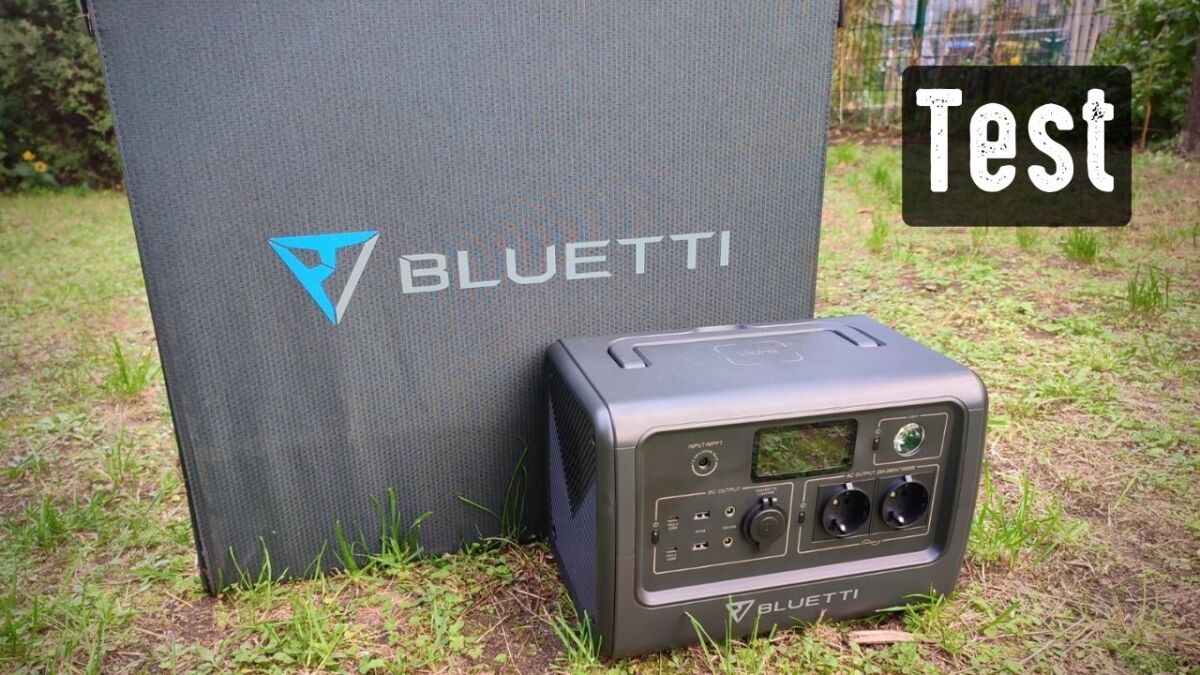 ---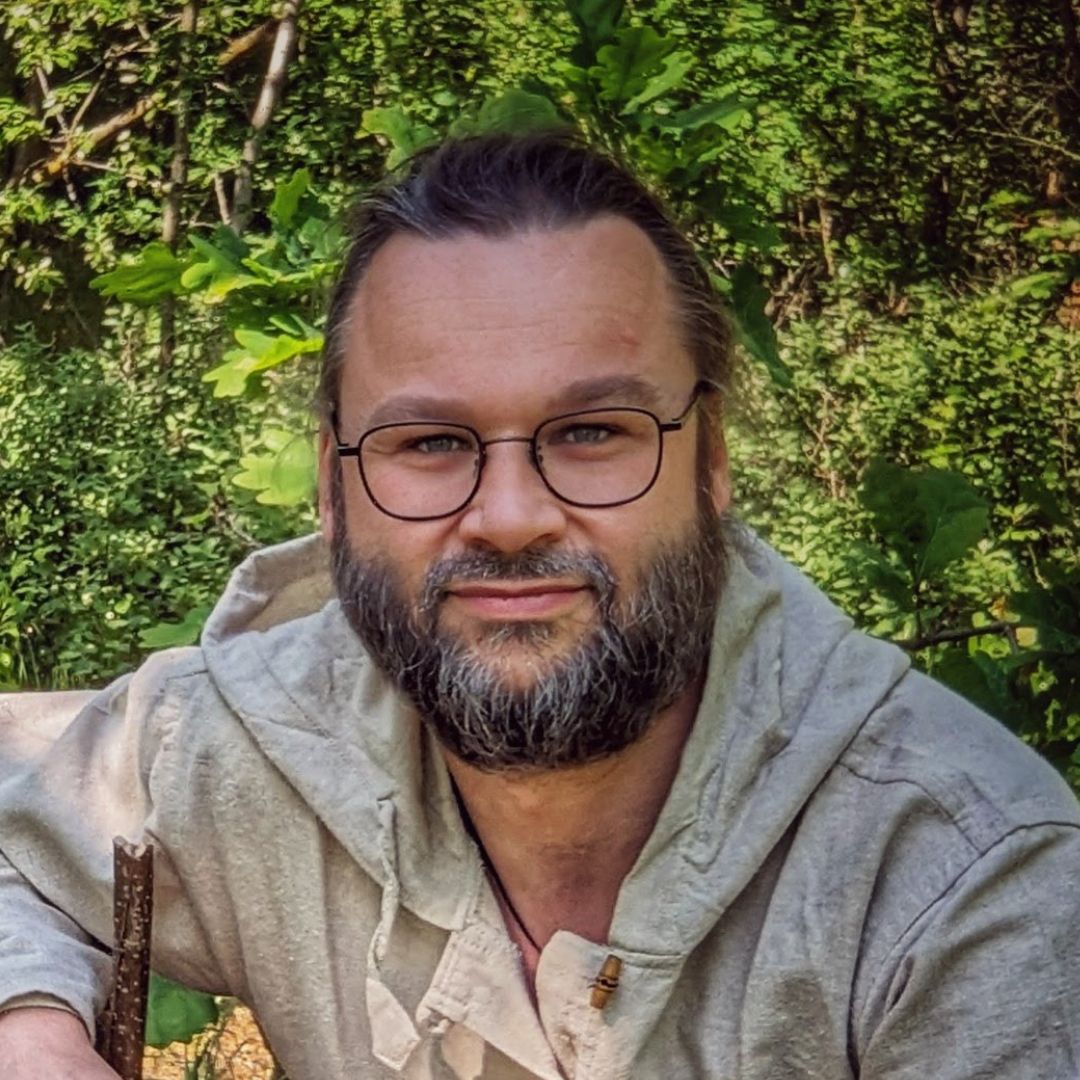 ---
👉 The key facts from this guide
The Bluetti EB70 Powerstation is a powerful and portable power station equipped with a 716-Wh/700-W battery that can power a variety of devices.
The Powerstation can be charged through the Bluetti PV200 solar panel, the cigarette lighter of a car, or with the included power adapter.
The EB70 offers a variety of connections, including two 100W USB-C ports, two USB 3.0 ports, two DC barrel ports, and a 15W wireless charging pad.
The Bluetti PV200 solar panel is an efficient and portable solar panel that can fully charge the EB70 Powerstation in 5–6 hours.
Despite some minor flaws, such as the loud fan of the power adapter, the Bluetti EB70 Powerstation is a reliable and versatile source of energy for camping, caravanning, and emergencies.
The combination of the Bluetti EB70 Powerstation and the PV200 solar panel provides a sustainable and efficient power supply on-the-go.
Are you looking for a robust and powerful solar generator for off-grid camping or for emergency preparedness?
Whether you're camping in a car, sitting in a tent, in a caravan, or at home - the portable Bluetti EB70 has a lot to offer.
This powerhouse will easily charge all your important communication or night lighting devices.
If you also enjoy working with your laptop without being dependent on the power grid, then the EB70 with the 200 watt solar panel PV200 will bring you a lot of joy.
Read my review now and find out if the Bluetti EB70 is also something for you.
What I think about the Bluetti EB70 - the EB70 in review
I am writing this review in the middle of a field in Brandenburg on my laptop. The sun is not shining continuously in September, and it is about 16 degrees.
Perfect for my final test of the Bluetti EB70 PowerOak Powerstation.
Recently, I have repeatedly tested various power stations, from simple small power banks (here is my top list) that provide a few charges for a smartphone, to power stations designed for off-grid living.
I have found that portability, a large battery capacity, performance, and the ability to charge a battery on the go via a solar panel are the perfect combination for me.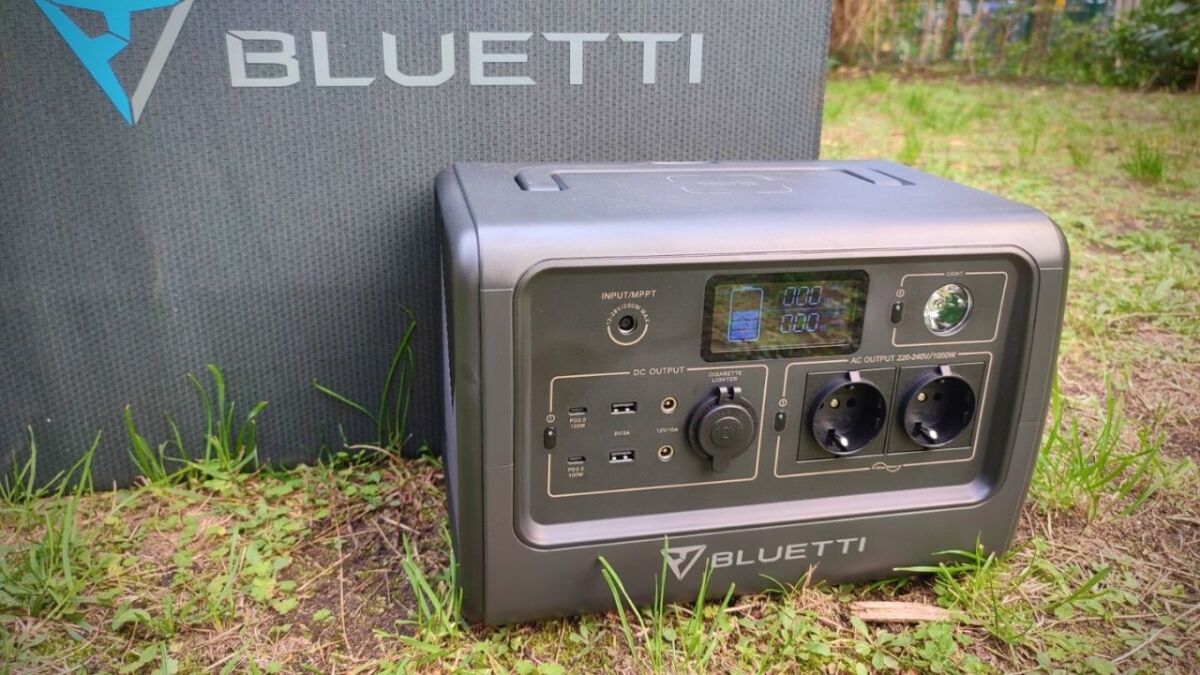 And the Bluetti EB70 Power Station with the Bluetti PV200 Solar Panel (200 W) is possibly the best I have tested so far.
Before my last car camping trip, I had already depleted the power station to about 10% battery capacity. Then I connected it to the solar panel. Four hours later, it was fully charged, and I was able to go camping.
Well-balanced option between performance and portability
The portable power station Bluetti PowerOak EB70 was designed to offer a balanced option between power and portability - and I can definitely confirm that.
You will receive a power station that, compared to others in its league, is okay in terms of weight (9.7 kg) and still delivers a lot of power with the 200 watt solar panel.
Although the 700W battery limits what you can connect, it fits most devices, you need while camping or in an emergency.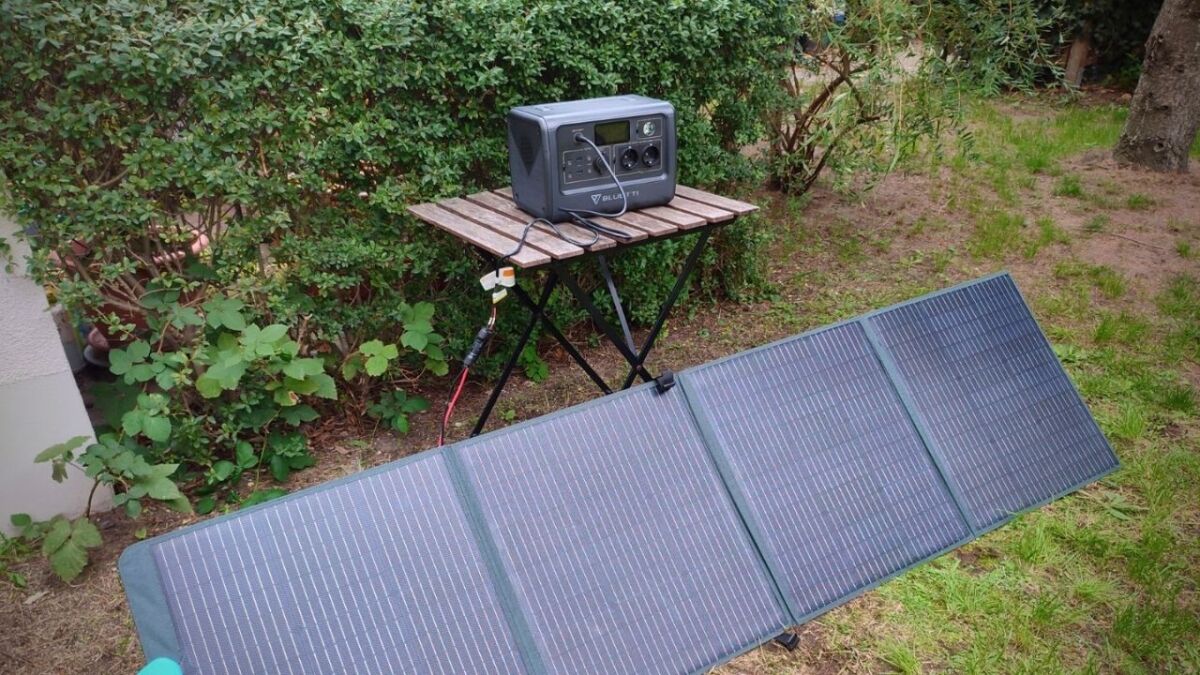 The two 100W USB-C ports are certainly a must-have nowadays, as more and more laptops accept USB-C power for charging (which is good because then you don't use the normal power-hungry socket).
The fan noise of the charger - even when it is only connected at home - could bother some of you.
For me, this is negligible, as the portable Bluetti Powerstation EB70 will become a valuable part of your home or travel.
Here is my list of positive things that I noticed about the EB70 with the Bluetti solar panel:
2x 100 W USB-C ports
Large LiFePO4 battery with 716 Wh/700 W
Pure sine wave inverter works as advertised
Readable and self-explanatory display
Input compatible with various other solar panels (Jackery, Anker)
2 Schuko socket outputs with a maximum output power of 1000 watts
Integrated carrying handle
Wireless charging with 15 W
SOS signal at the touch of a button on the lamp
Three stable supports with adjustable angles on the solar panel
Maybe I'm being too strict, but I also noticed some negative points:
No precise battery capacity displays (readable in increments of 20)
Audible fan noise from the power supply when only connected
Audible fan noise from the EB70 power station when charging via power supply (approx. 48 DB)
Solar panel does not have USB-C or USB-A ports like some other solar panels
The entire system of power bank and solar panel is quite heavy, so not something you want to carry far
Difficult to see the on-off mode of the components (lamp on or off) in the sun
No single button available to turn on the display
Now you know the facts and my opinion on the Bluetti EB70 with the solar panel.
Read on now and let's go into even more detail.
Features of the Bluetti EB70
Most of you are interested in this, right? What can I connect to the Bluetti EB70 power station?
As I mentioned earlier, I think the two USB-C outputs with 100 W are brilliant. Some competitors' devices don't have them, and I've missed them.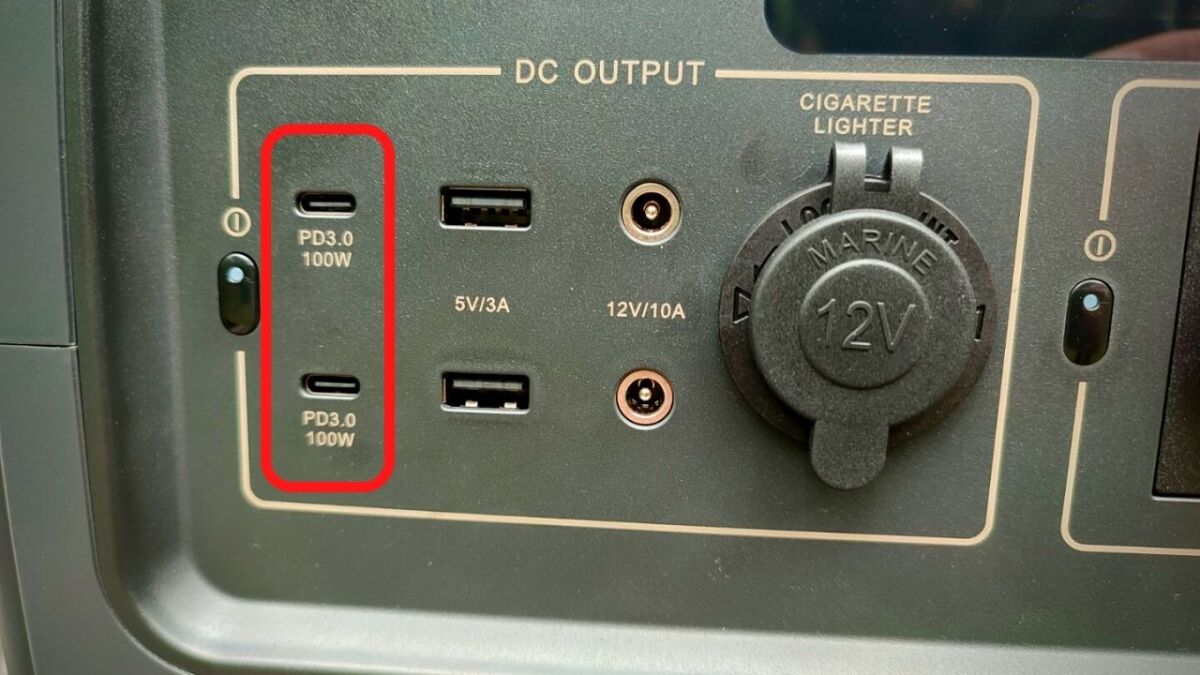 That means you can reliably power electric lights, laptops, phones, and USB devices with it. Ideal for camping, caravanning, and as an emergency power source at home.
So, here are the facts that Bluetti provides for the EB70:
2x 1000 W outputs
Battery capacity 716 Wh (22.4 V, 32 Ah)
Over 2,500 charging cycles to 80% of the original capacity
15 W wireless charging
Solar and socket input maximum 200 W
Weighs 9.7 kg
Integrated carrying handle
The charging times
The charging times also play a big role for me because with some power stations you have to charge for 8 hours or more. The values that I was able to achieve here are okay for me.
With a maximum input power of 200 W, the EB70 can be fully charged with solar modules (OCV 12-28 V, 200 W) in 5–6 hours
You can charge the EB70 with an AC socket in 4-4.5 hours
At a 12V carport, the power station is fully charged in 7 hours (100 W) or 4.5 hours (200 W)
A faster charging is limited by the 200 watt input power. However, a normal Schuko socket can easily deliver 3000 watts or more and would shorten the charging time.
Design of the Bluetti EB70
Almost all portable power stations, at least those that are meant to be literally carried around, start with a rectangular box shape.
From there, the manufacturers add all the decorations they need to stand out from the crowd. These are often curved bodies or unusual handles.
However, the Bluetti EB70 sticks to the basics to create a space-saving design as much as possible.
The device is a large polycarbonate plastic box that only bends minimally at the corners and edges. Its molded plastic handle can be folded flat into the body when not in use.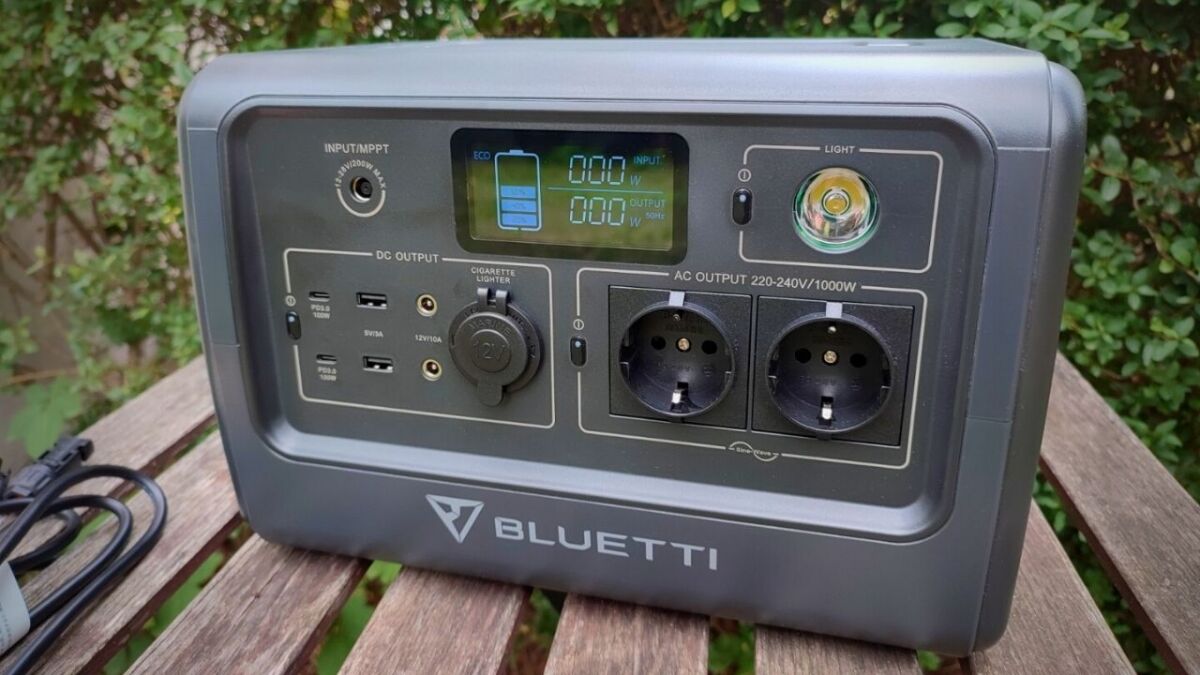 Except for the cover of the car charging port, nothing protrudes from any side of the power station. In practice, this means that no space is wasted for odd angles and curves.
Despite the plastic material used throughout the casing of the Bluetti EB70, the power station feels sturdy and well-built.
At 9.7 kilograms, the EB70 is also on the heavier side, which you wouldn't expect from such a small box. On the other hand, as you already learned above, Bluetti delivers well for all camping enthusiasts or people preparing for emergencies.
Speaking of emergencies, it also comes with a brilliantly bright LED flashlight located conveniently at the front. No more struggling to aim the light like a giant and heavy flashlight.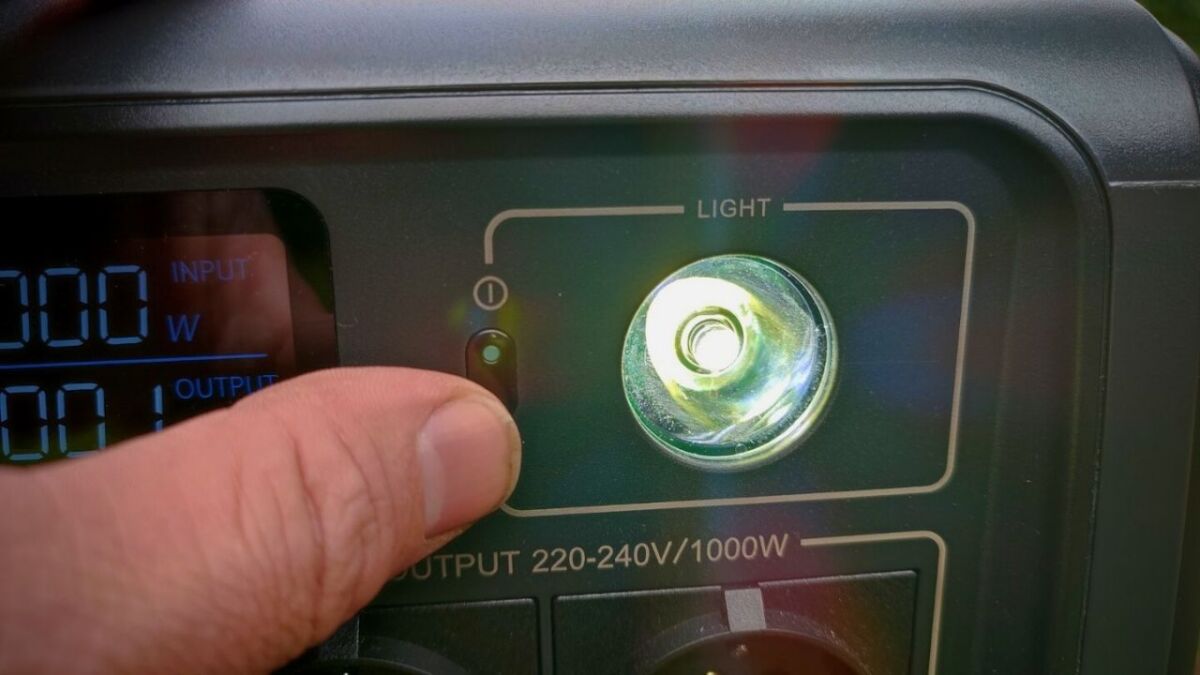 Battery and Charging
The Bluetti EB70 features a 716 Wh / 700 W battery, which surpasses some mobile power stations. Part of this weight comes from the use of a LiFePO4 battery (Lithium Iron Phosphate accumulator), which is also used in electric vehicles.
While you can definitely connect many electronic devices, the battery actually has limits on what you can connect to it.
Electric kettles, coffee machines, or microwaves can work, but only if they do not exceed the maximum power. Anything at 800 W or more forces the safety system to intervene and shut down the power station for safety reasons.
Like most mobile power stations these days, the EB70 offers three charging methods.
The most environmentally friendly way to charge it is through Bluetti's own 200W solar modules.
You can also charge the power station through a car's cigarette lighter.
Most people will likely charge the EB70 through the giant 200W power adapter.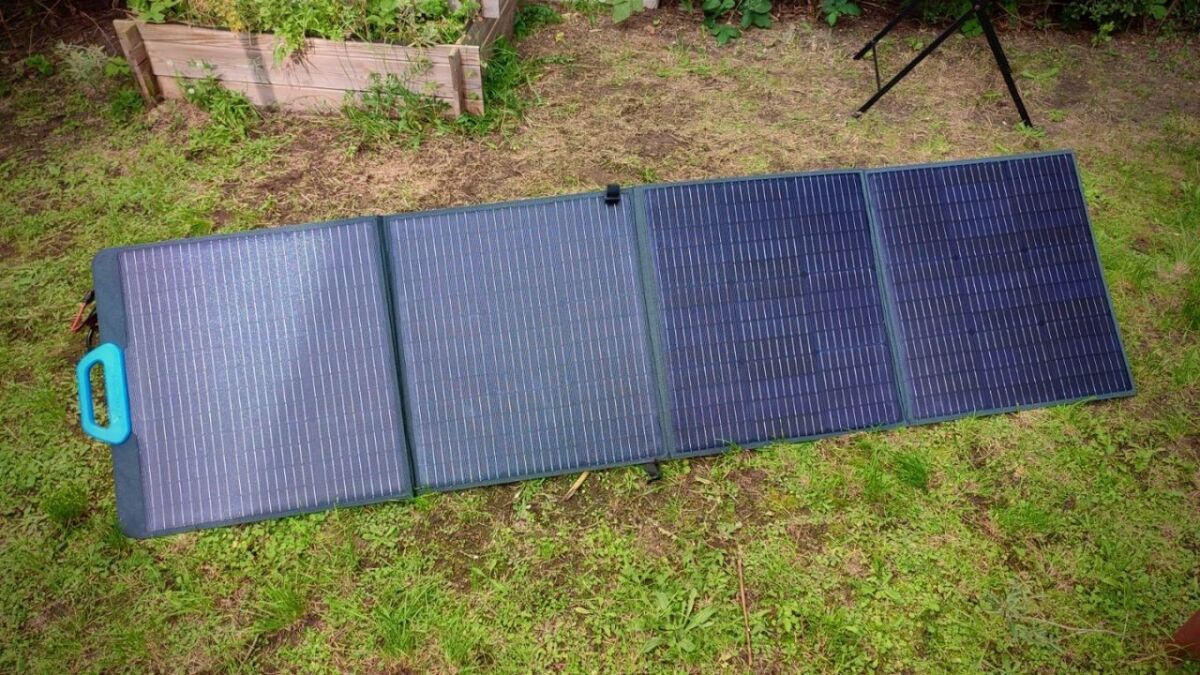 While the power supply method is the easiest and fastest charging option and fully charged in less than 4 hours, it is also the loudest.
Unlike most portable power stations I've come across, the Bluetti EB70 power supply has a fan, and it's pretty loud.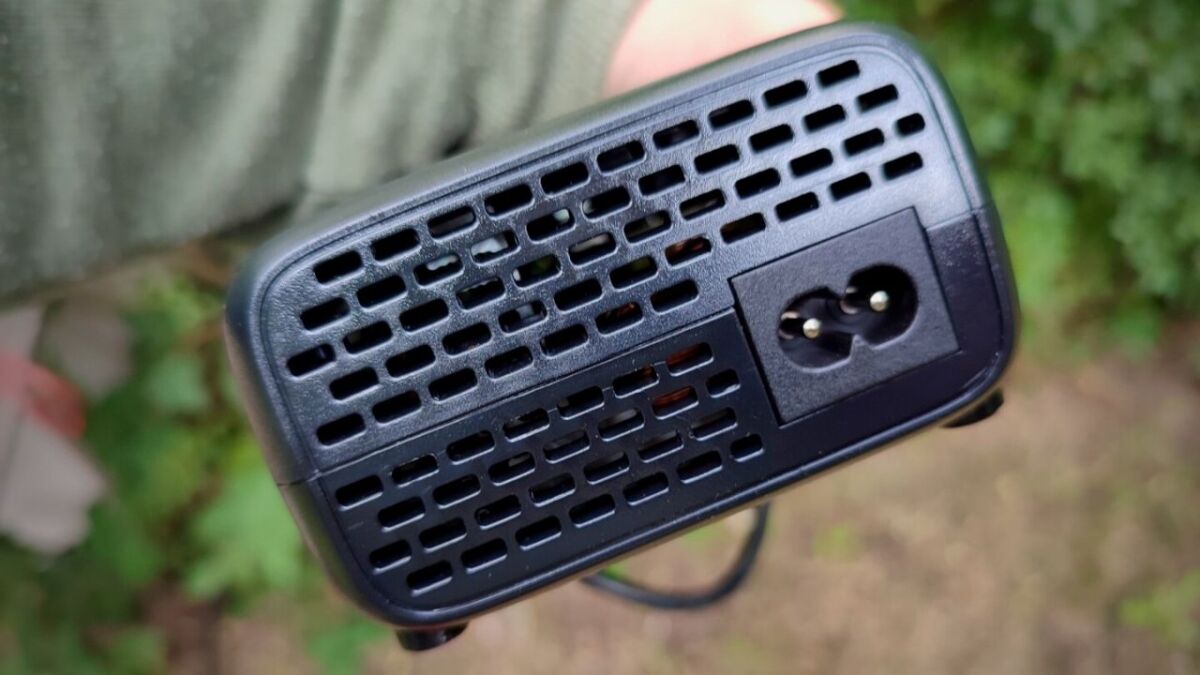 Strangely enough, these fans turn on even when the EB70 is not being charged, as long as the charger itself is connected.
In other words, you have to unplug the charger when it is not in use, and it may annoy you one day.
Output Power
The Bluetti EB70 has two sockets on the right side to meet all requirements and more. This is what distinguishes a power station from a power bank.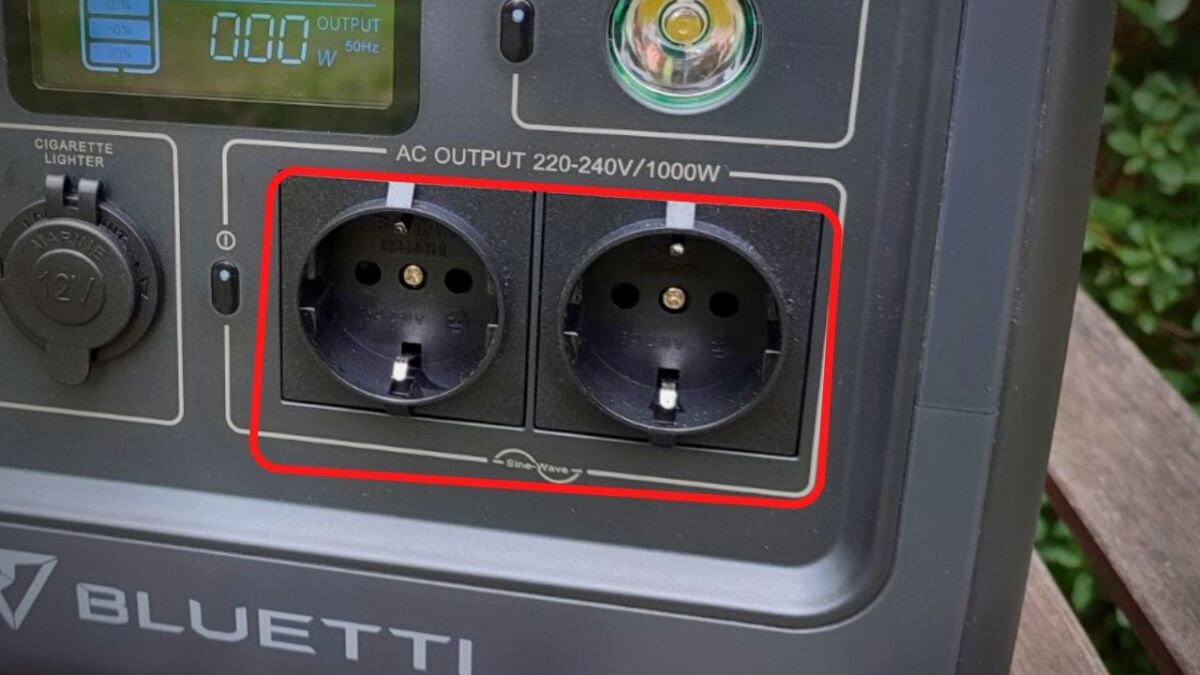 On the opposite side is the DC group with a car charger, two DC barrel ports, two USB 3.0 ports, and two 100W USB-C ports.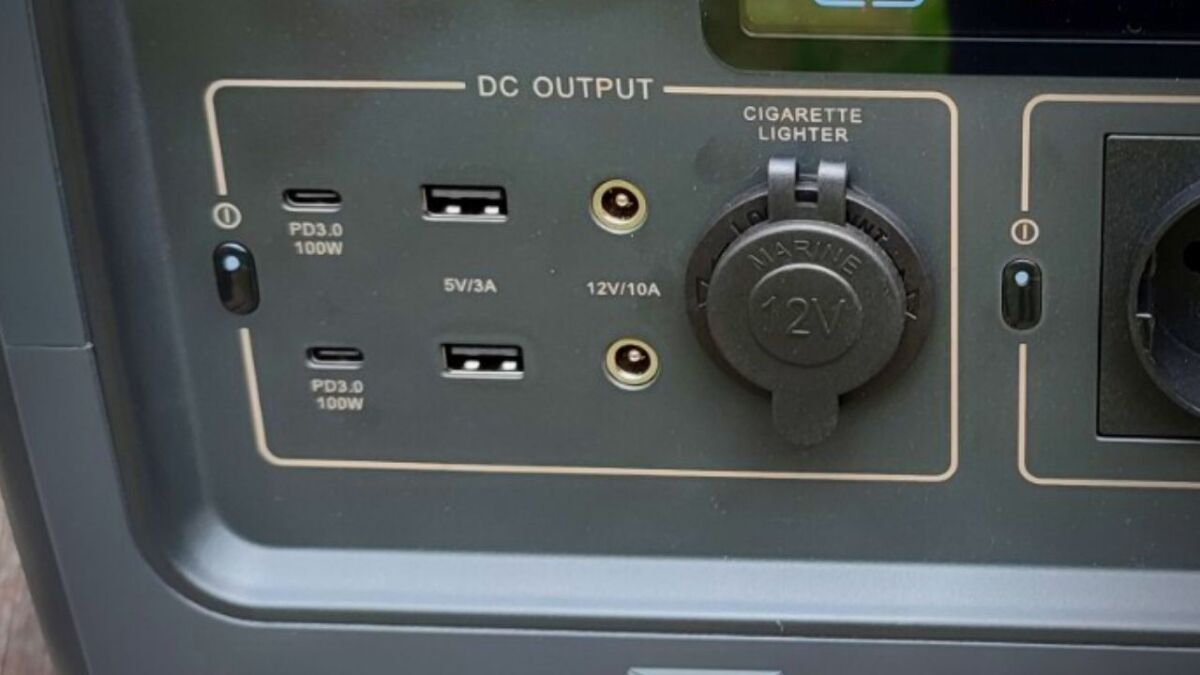 (No translation needed as it is an image URL)
The top also features a wireless 15W charging pad - making it convenient that the carrying handle can be folded out of the way.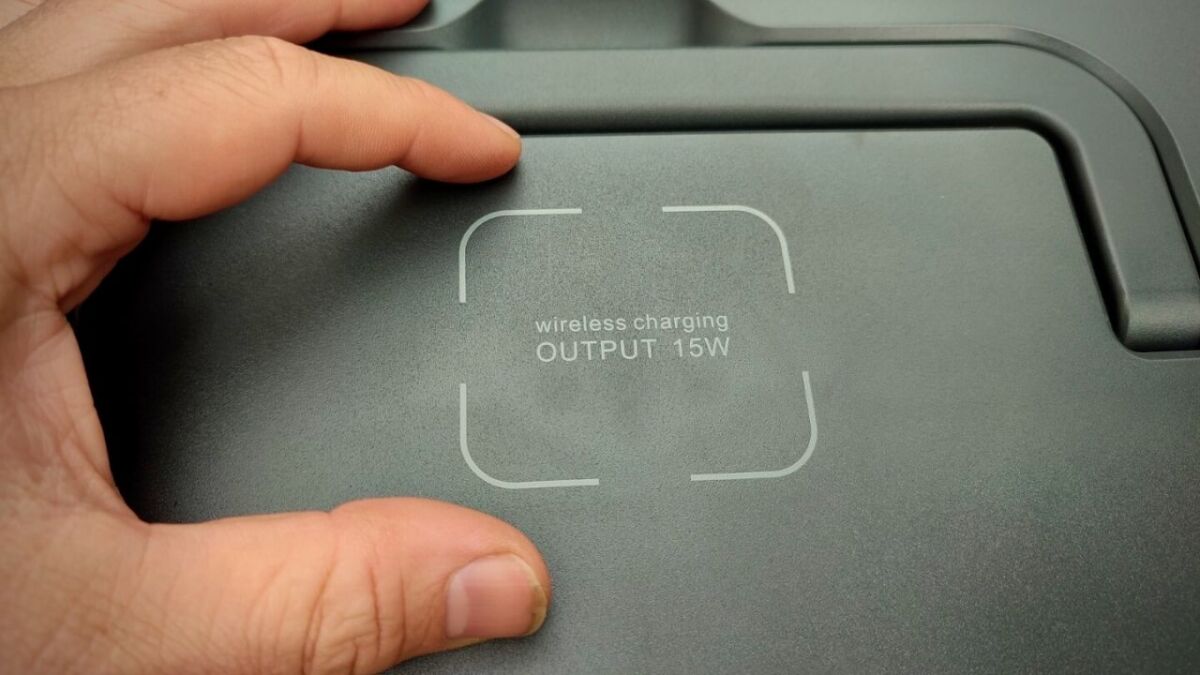 What makes this particular Bluetti power station special are these two USB-C ports. It not only supports the USB-C Power Delivery standard, but can also output a maximum power of 100W.
And it's not just 100 W that is divided between the two outputs - but rather 100 W each.
With all these output options, the Bluetti EB70 can power almost any device with medium power, any smartphone, tablet, or MacBook Pro.
The AC and DC outputs of the power station, like almost all power stations, must be activated by pressing a button. This works well, but the LED status is difficult to recognize in sunlight.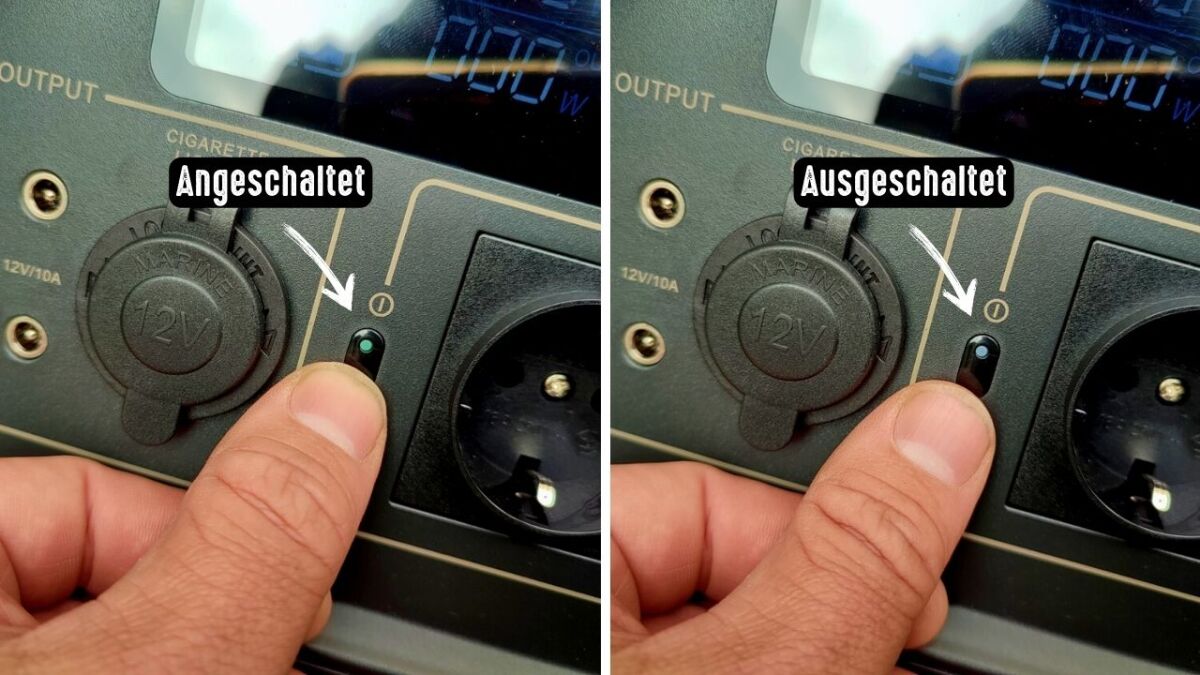 The EB70 itself has fans to keep it cool, and fortunately, they are quiet during operation. However, they also start when charging and can be a loud affair, especially when interacting with the already loud power supply.
The Bluetti Powerstation supports pass-through charging on both DC and AC ports, allowing you to charge the power station and electrical devices simultaneously.
Bluetti once again boasts about its pure sine wave inverter for maximum efficiency when it comes to alternating current. The system works as advertised and can deliver this 700 W power.
The Bluetti SP200 Solar Panel
Of course, the power station is only a part of the setup in the test, the other part is the SP200 solar module.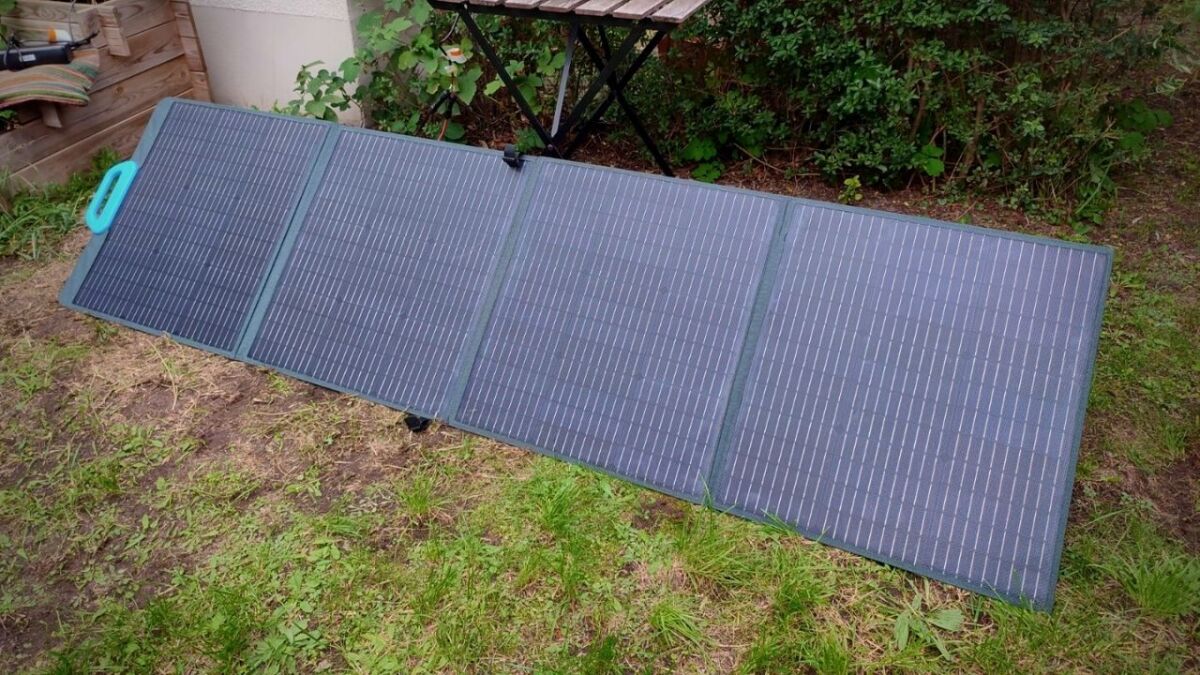 The Bluetti PV200 solar panel consists of four panels that can be folded into a neat package. Some solar panels use a magnetic closure to secure everything… not so with the SP200 solar module, which has two click closures.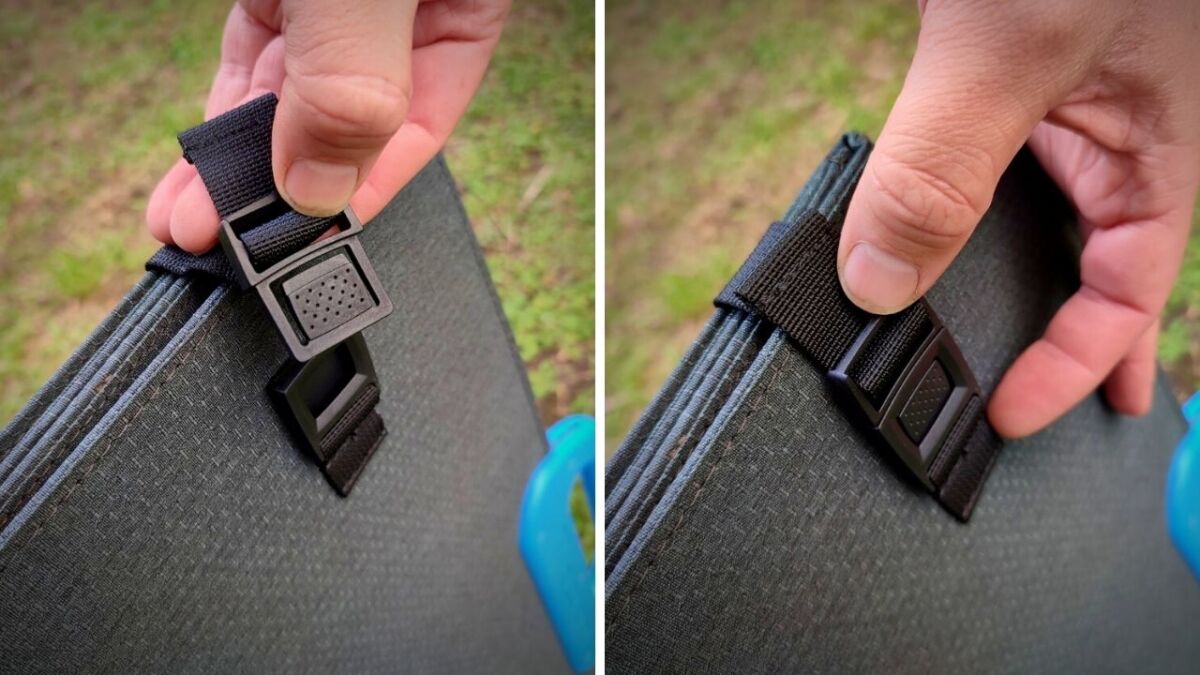 Once the solar panel is set up, the cables can be taken out of the zipper pocket on the back and then plugged into the front of the Bluetti EB70.
On a sunny day, I found out that I could fully charge a nearly depleted Bluetti EB70 in six to eight hours.
On a cloudy day, it takes about one and a half to two days to fully charge a discharged battery. Unfortunately, only 10 to 20 watts are generated, which is completely normal and other solar panels in this size range do not achieve more.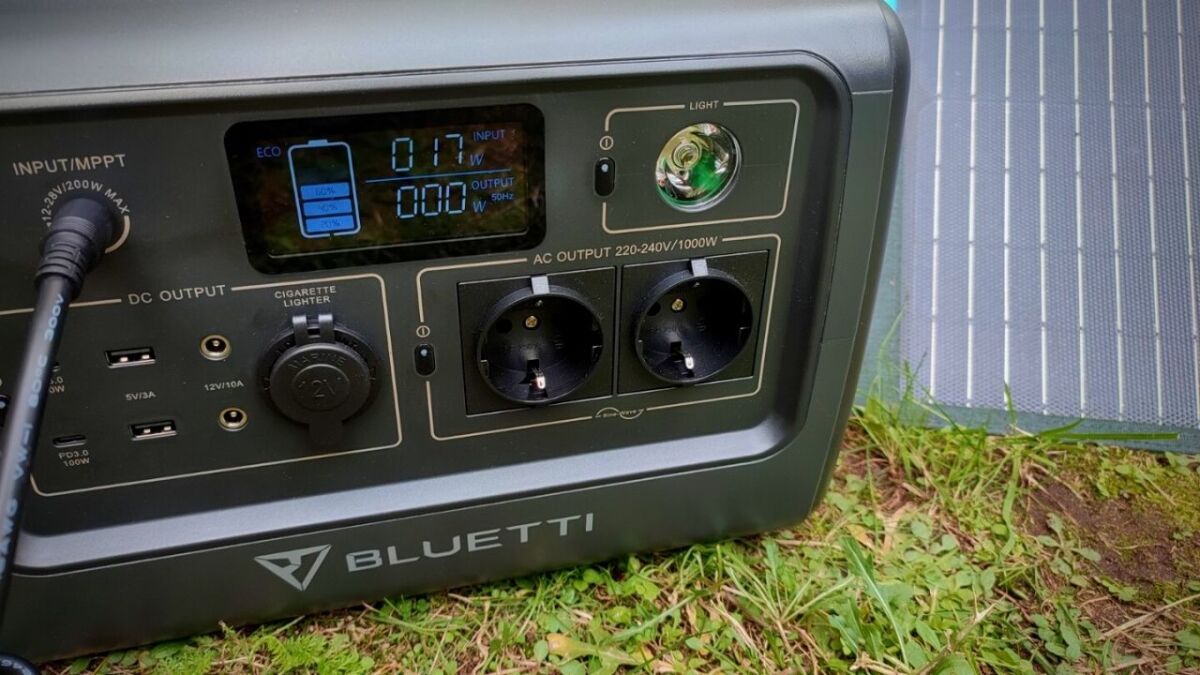 On the back of the panel are 3 legs attached with Velcro that can be folded down. The great thing is that I can adjust the legs and align them the same with the snap buttons.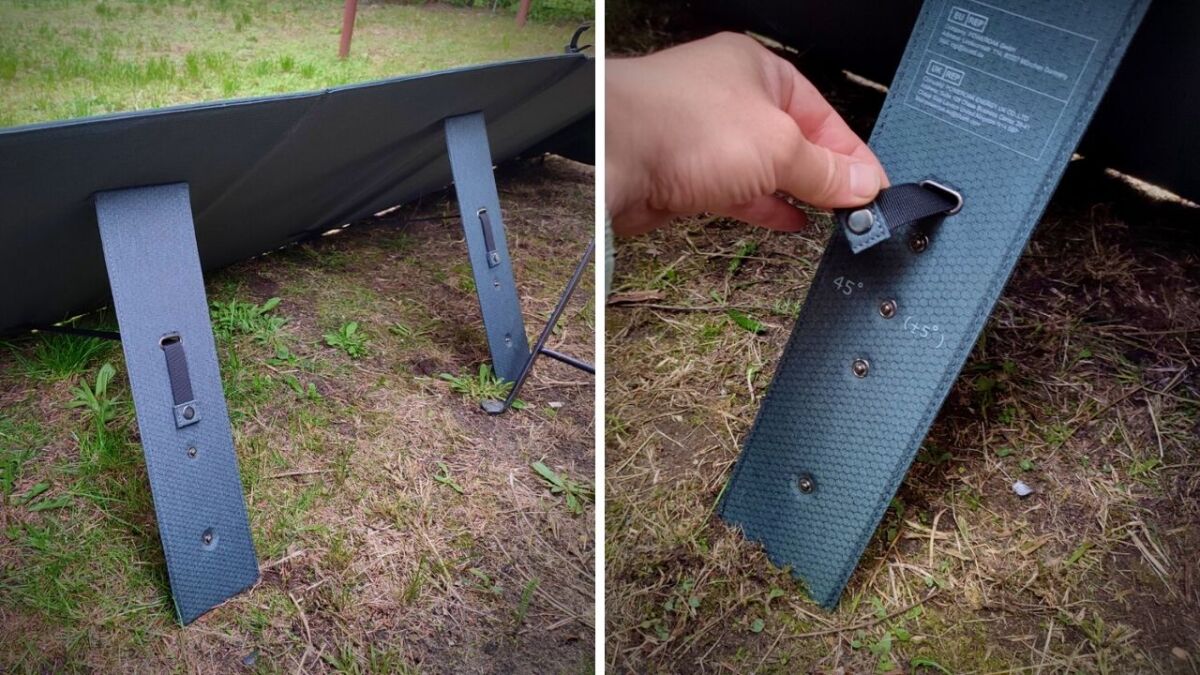 Unfortunately, there are no eyelets for hanging the solar panel on a caravan, van, or balcony. You will have to create something yourself.
The solar panels work highly efficiently and the monocrystalline solar cells have an efficiency of up to 23.4%.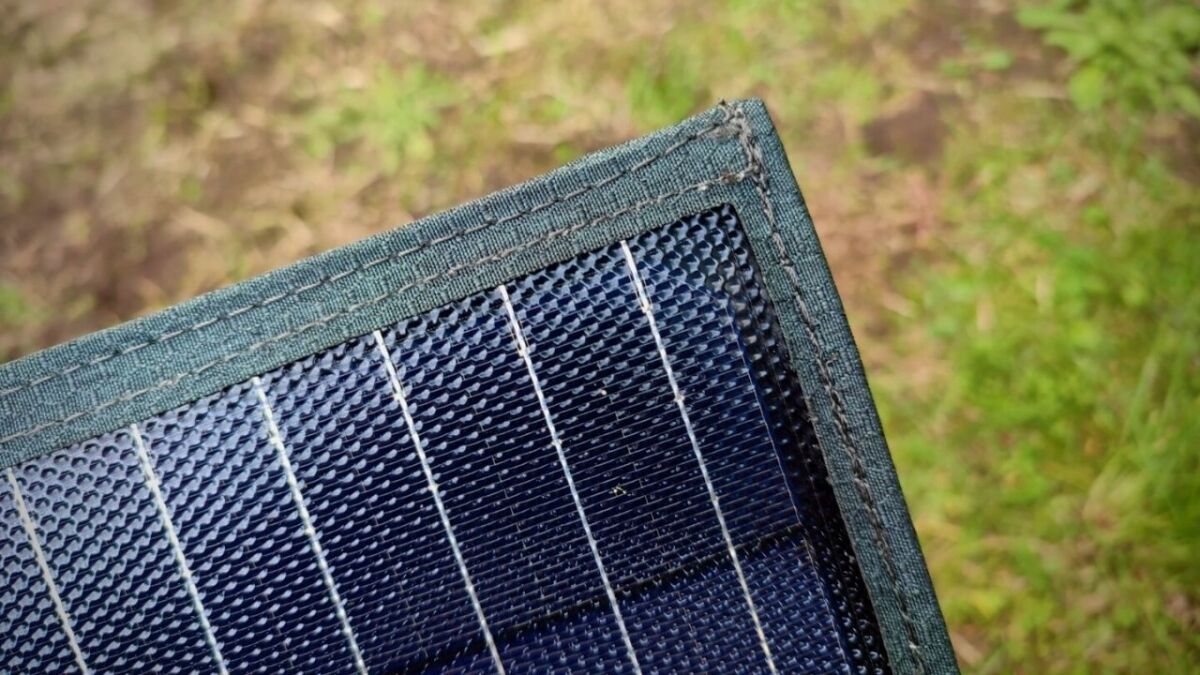 I think the 200-watt performance is brilliant, and I love the power that is sucked from the sun and delivered to my EB70 solar station.
Unfortunately, this comes at the cost of weight and at 7.3 kg you are carrying around a few kilos - but they are completely okay in comparison.
In comparison: The Anker 625 Solar Panel with 100 watts weighs 5 kg, the Jackery SolarSaga 100 Watt Solar Panel weighs 4.68 kg and the Jackery 200 Watt Solar Panel weighs 10.76 kg.
Here are some technical specifications for the Bluetti PV200 solar panel:
Power: 200 watts
Lamination: ETFE (Ethylene Tetrafluoroethylene)
Cell type: Monocrystalline Silicon
Cell efficiency: up to 23.4%
Item dimensions L x W x H: 63 x 59 x 10 cm
Weight: 7.3 kilograms
Connection: Standard MC4 connector
Cable length: 3 m
Questions and Answers
Can I also use two Bluetti 120 W solar panels to charge the Bluetti EB70?
You can also use two Bluetti 120 W solar panels, but the device only takes a maximum of 200 W and not the expected 240 W.
I have a device with 50 watts. How long can I use it with a fully charged EB70 power station?
You can use your device for approximately 12 hours. The calculation is as follows: 716 Wh * 0.85 / 50 Watt = 12 hours.
Can the solar panel stay connected at night and continue to charge the EB70 power station independently when exposed to sunlight?
The charge controller of the EB70 starts charging automatically even after a longer interruption.
Would it be possible to connect the Bluetti EB70 to both the solar panel and the power grid at the same time for faster charging?
The EB70 only supports one way of charging, while the Bluetti EB55 supports charging from two directions simultaneously.
Does the Bluetti EB70 Power Station automatically turn off when there is no active consumer?
When the Eco mode is active, the AC output will turn off after 4 hours if the connected load is less than 10 watts. According to the description, everything should remain on the DC side.
Which solar panels can I still connect to the Bluetti EB70 power station?
All solar modules that have a voltage range of 12 V - 28 V and up to 200 W.
Where is Bluetti produced?
Bluetti produces its power stations and solar panels in China.
Bluetti EB70 Review: My Conclusion on the EB70 Power Station
The Bluetti EB70 is a well-designed portable power station in the mid-range field.
Although the capacity is in the middle range of power stations of this type, the small additional power you get compared to the EcoFlow River is fully sufficient.
Even with the stronger Jackery Explorer 1000, I found that the smaller and lighter weight of the Bluetti EB70 makes transportation easier, especially if you have to carry it several times.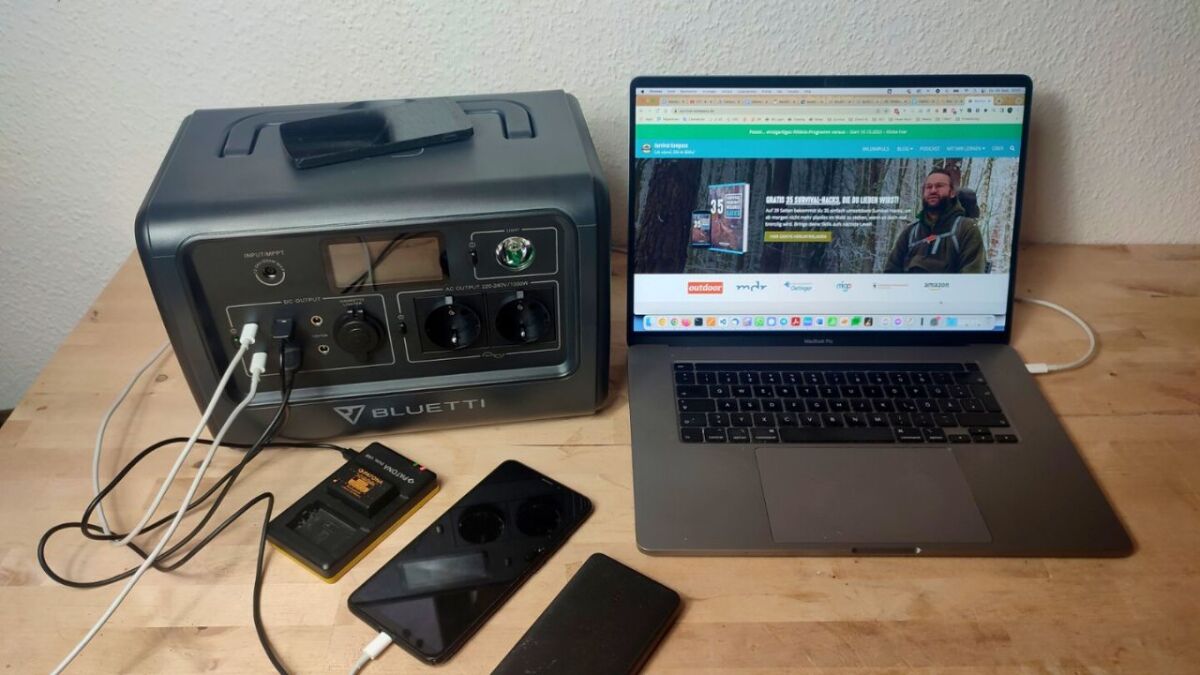 There are several things that I really like about the Bluetti EB70:
Firstly, the simple design as a box with the sockets on the front, including the power input. This positioning of the power input and output allows you to easily connect devices without them getting in each other's way or covering the power buttons.
Secondly, the wireless charging pad on the Bluetti EB70 is also great and one of those essential extras that I didn't know I needed until I discovered it.
What is somewhat clumsily constructed: The fan of the power supply always runs as soon as it is connected to the power (at 52 DB). This also means that the power supply fan rotates even when the Bluetti EB70 is fully charged - so maybe half the night.
I also really like the Bluetti Solar Panel SP200. It's still a bit fiddly to set up when you fold down the three legs attached with Velcro – but the individual panels are relatively light and slim, which makes them easy to carry.
I think the 200 watts of the SP200 solar panel are great, but unfortunately, there are no USB-A or USB-C connections available, as is the case with the solar panels from Jackery or Anker.
The panels are still perfectly designed, with well-arranged cable positions and clean folding of sections that can all be folded together for transport or storage.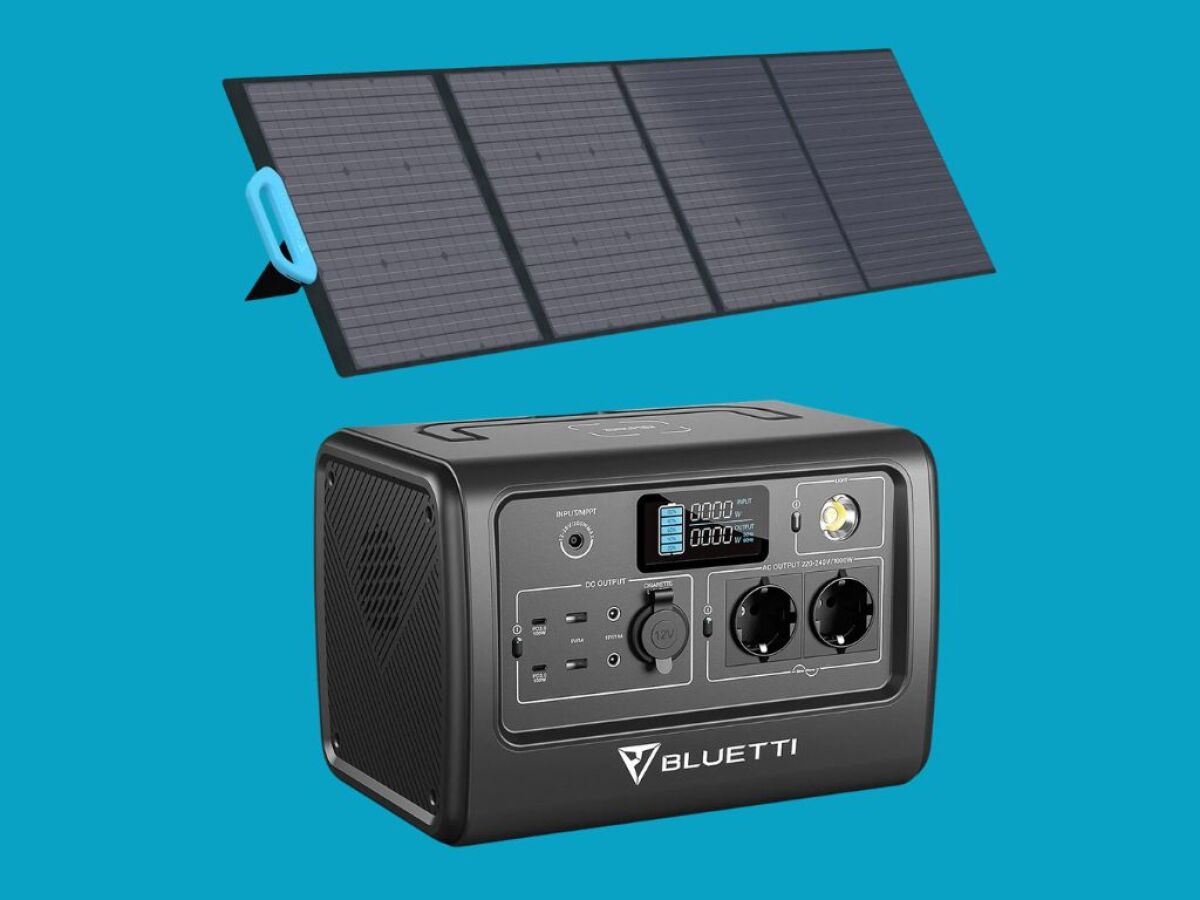 Bluetti EB70 PowerOak Power Station with PV200 Solar Panel
With 716Wh LFP cells and a 1000W inverter, the EB70 can power almost all important devices on the go with a weight of only 9.3 kg.
Complete package: €1,199.00 (currently on offer)
Buy Bluetti EB70 Power Station + Solar Panel
And if you're looking for something smaller, then check out the solar generator with the Bluetti PowerOak EB55 with 537 Wh.
---
Disclosure: Many thanks to Bluetti for providing me with the product featured for testing. I was not paid to write this honest review.

Was this guide helpful?
16 people found this guide helpful.
5.00 out of 5 points (16 Ratings)