Back to german article
Jackery Solar Generator 1000 Review - a reliable and powerful power station for camping, bushcraft and crises
The Jackery Solar Generator 1000 is a reliable and powerful power station for camping, bushcraft and crises. Read the test and the review now.
from Martin Gebhardt
|
Gear
| reading time 14 Min
---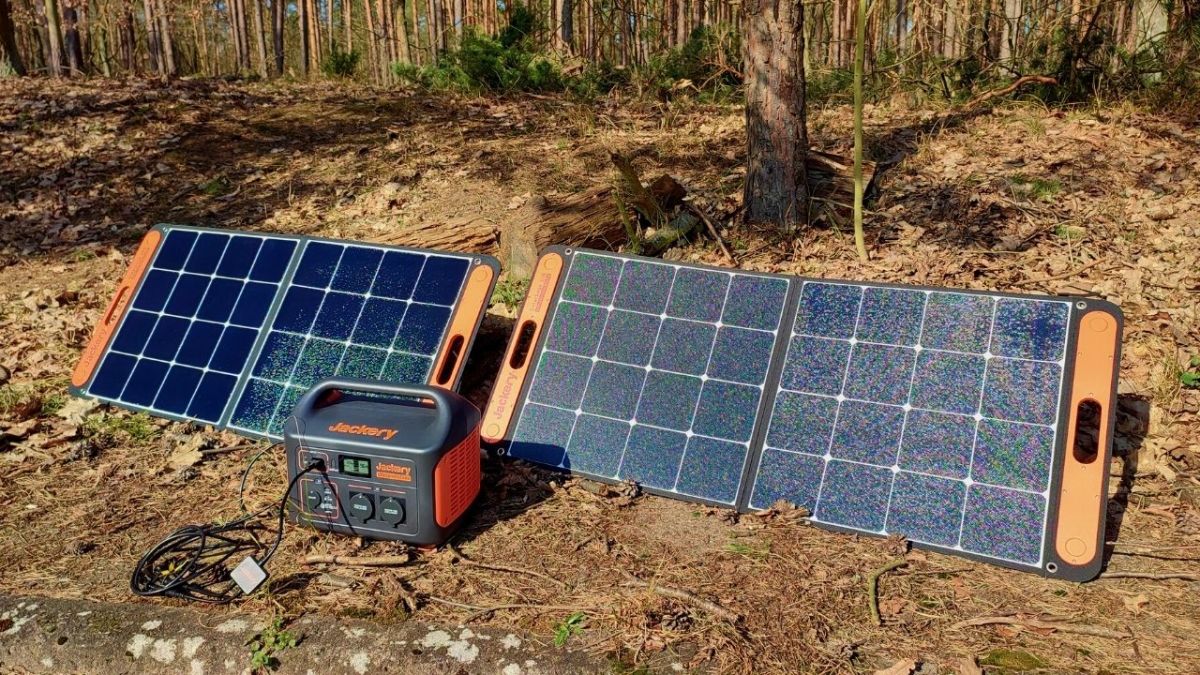 ---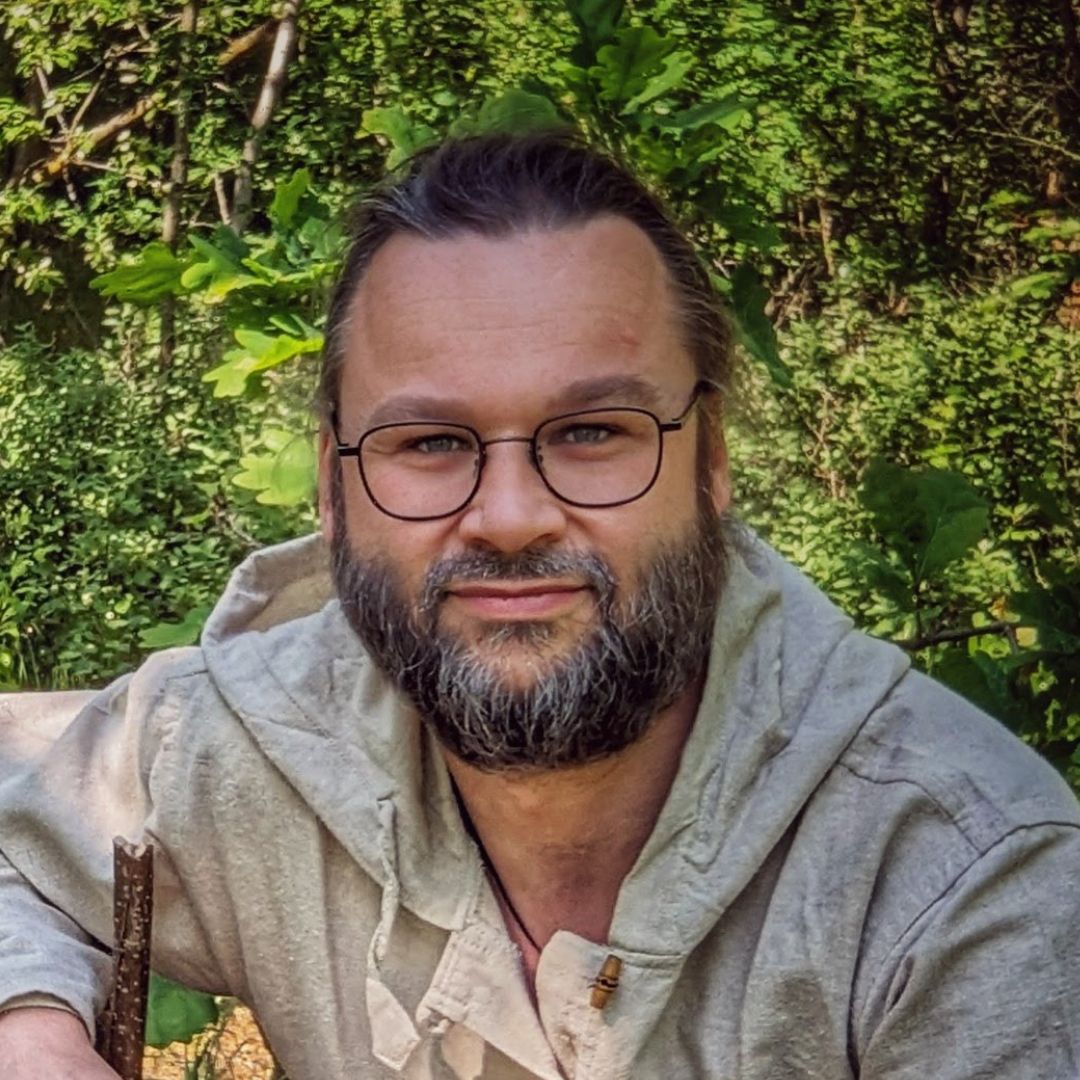 ---
👉 The key facts from this guide
The Jackery Solargenerator 1000 is a powerful and portable power source, ideal for camping, bushcraft, and crisis. It offers 1000 watts of output power and a total of 8 connection options.
The power station can be charged using the included power adapter, through a car, or via solar panels.
Two SolarSaga 100-watt solar panels are included and can fully charge the power station in about 8 hours.
The power station has a capacity of 1002 Wh and can power devices up to 1000 W. It is equipped with two AC sockets, two USB-C ports, and two USB-A ports.
The Jackery Explorer 1000 power station is silent and has an LCD panel that provides information about power consumption and output. It also has a built-in LED light for emergencies.
The SolarSaga solar panels are portable and easy to use. They have a power conversion efficiency of 23% and can be directly connected to the power station.
The Jackery Explorer 1000 power station and SolarSaga solar panels are a good choice for outdoor enthusiasts in need of a reliable and portable power source.
We live in an electricity-powered world, which shouldn't be news, but we will always find times when electricity is not always available.
Whether it's a power outage at home or a dead battery in the wilderness - there will come a time when we wish we had a power source.
Ideally, we can take this power source with us, and it is more powerful than a smartphone power bank.
The Jackery Explorer 1000 is definitely the right choice when it comes to raw power.
But is that all the power station has to offer with solar panels?
I am looking at the latest and greatest portable power station from Jackery to see if size is everything that the solar generator possesses.
In a hurry: My opinion
With the Jackery Explorer 1000, you can also power important devices in the middle of nowhere. With SolarSaga modules, you can set up your tent off the beaten path or provide emergency power to your home while staying 100% sustainable.
With 1000 watts of output power and a total of 8 connection options, you can rely on it whether you're planning a road trip in your van or are surprised at home in the middle of a nationwide blackout.
This portable generator is quiet yet powerful, environmentally friendly, and compact. It offers many useful features and only a few drawbacks. Considering this, I would recommend the Jackery 1000 as a great choice for your next camping trip or emergency kit for home.
Is the Jackery 1000 worth it?
The Jackery Solar Generator 1000 with the Explorer 1000 and the solar panel is mainly admired by users for its impressive build quality, amazing energy efficiency, and compact form factor. These three features make it an excellent solar generator for camping. Anyone looking for a solar generator for their RV should definitely check this out.
If you now want to delve into the details with me, then read on - I will take a close look at the Explorer 1000.
What is the Jackery Solar Generator 1000?
The Jackery Solar Generator 1000 consists of several devices: the Jackery Explorer 1000, the power station, and two SolarSaga solar panels.
The Jackery Explorer 1000 Power Station is an electric generator that can power any device with a capacity of up to 1000 W.
This is more than enough for any charger, lamp, or laptop when I'm on the road for several days by car.
The design is simple and compared to old diesel generators, it is silent. You will only hear a slight humming of the fans when higher wattage are drawn.
Imagine the Jackery Explorer 1000 as a huge power pack that can operate many standard devices.
I own the German version, with two main sockets, two USB Type-C and two USB Type-A ports, all available for powering your devices.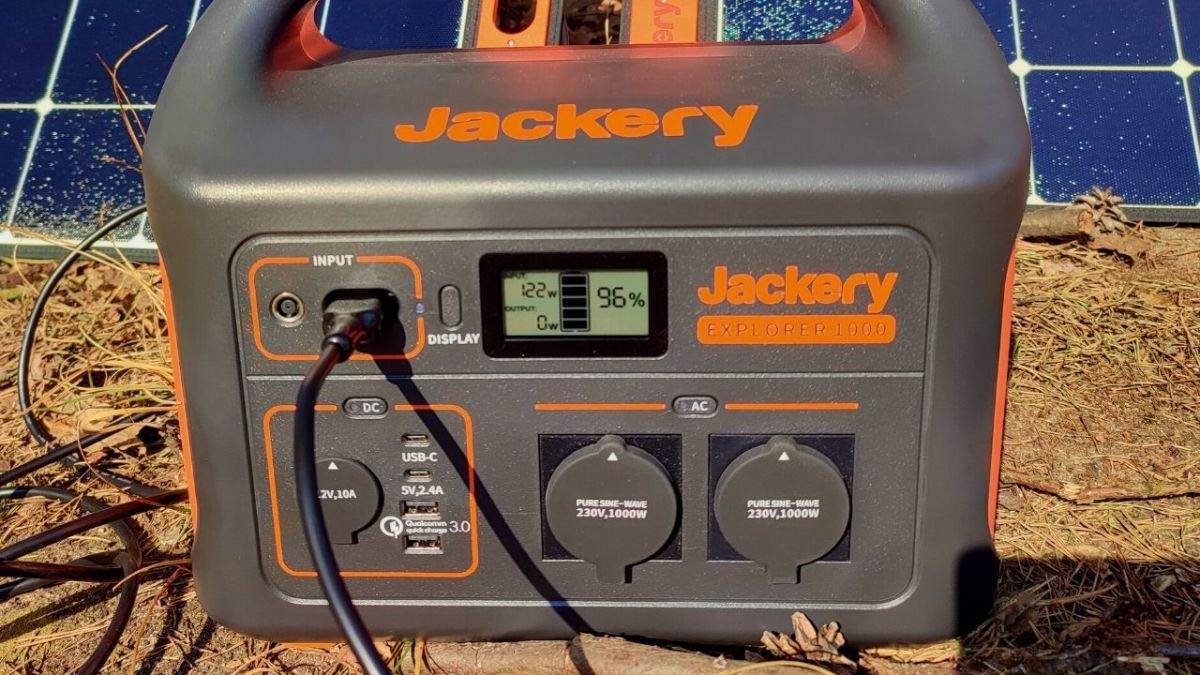 But what makes the Jackery Explorer 1000 so interesting is that it can be charged not only through the power grid, but also through solar panels.
Jackery also produces the corresponding solar modules. According to the documentation, two panels charge the power station in just over 8 hours - provided that the sun is shining strongly.
As a passionate camper, this electric generator seems like a great idea to me. Even without solar panels, I have never seen so much power in such a large power bank.
A week in the forest with the Explorer 1000 is no problem. The power station easily charges smartphones, headlamps, lamps, and power banks without even coming close to running out of power.
However, what interests me is the possibility of charging the generator exclusively with solar energy, especially when it is not summer.
Because in autumn, winter, and spring, the weather conditions are challenging for any solar-powered device, the days are short, and the sunlight is limited. Additionally, I work a lot with my MacBook Pro, which easily draws up to 96 watts at full performance.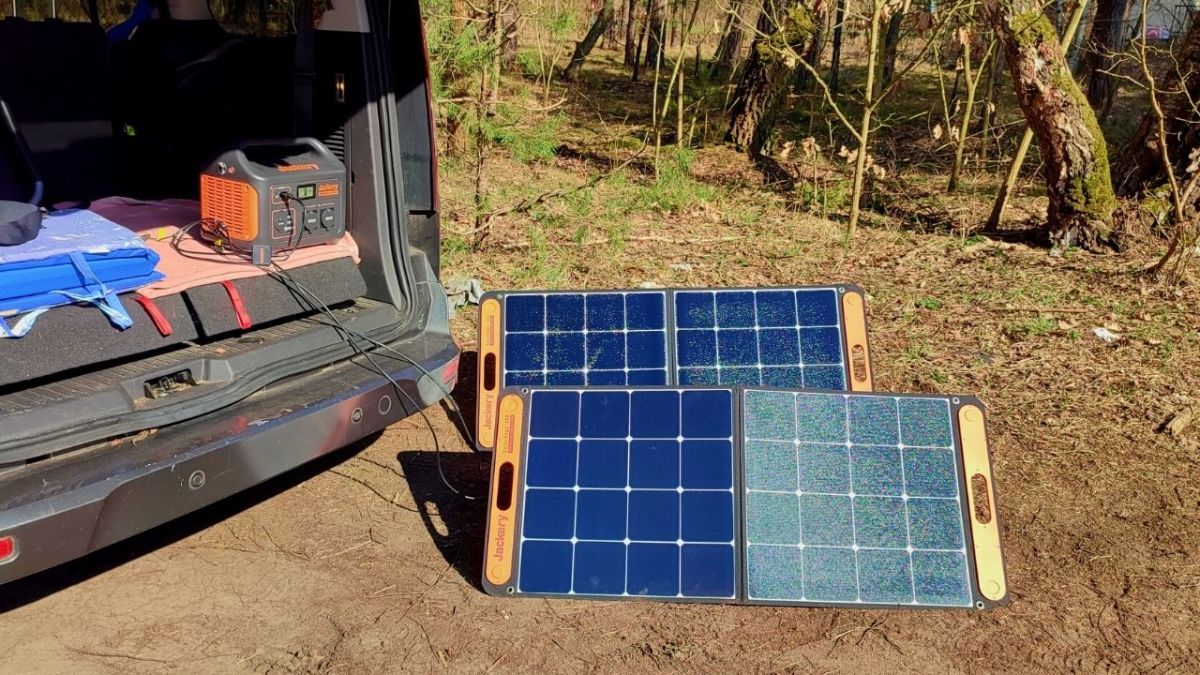 My idea for the next seven days, since I started writing this article, was to operate as many electrical devices as possible with the Jackery Solar Generator 1000. That means my smartphone, my headlamp, my camera batteries, and my laptop.
When the battery runs out, I'll let it charge outside and see where that takes me.
Technical specifications of the Jackery Solar Generator 1000
As I already mentioned above, the Jackery Solar generator 1000 consists of several devices. Let's first take a look at the Explorer 1000 Power Station and then the SolarSaga Solar Panels.
| | |
| --- | --- |
| Input options: | AC/Solar/Car |
| Power supply (included): | 24 V, 180 W |
| Car charger (included): | DC 12 V, 10 A |
| Outputs: | AC 2 x 230V (pure sine wave) |
| | 2x USB-C with PD |
| | 1x USB-A |
| | 1x USB-A Quick Charge 3.0 |
| Battery type: | Lithium-ion battery |
| Capacity: | 1002 Wh (46.4 Ah, 21.6 V) |
| Cycles: | 500 cycles up to 80% capacity |
| Management system: | MPPT, BMS (Battery Management System), overcurrent protection, short circuit protection, overcurrent protection, overcharge protection, overvoltage protection, thermal protection |
| Max. power: | 2000 W |
| Volume: | Intelligent fan at 0 dB below 45 °C. Maximum 55 dBA fan noise. |
| Housing material: | Polycarbonate |
| Dimensions: | 33.3 x 23.3 x 28.3 cm |
| Weight: | Approximately 10 kg |
| Warranty: | 2 years |
Technical specifications of the SolarSaga solar panel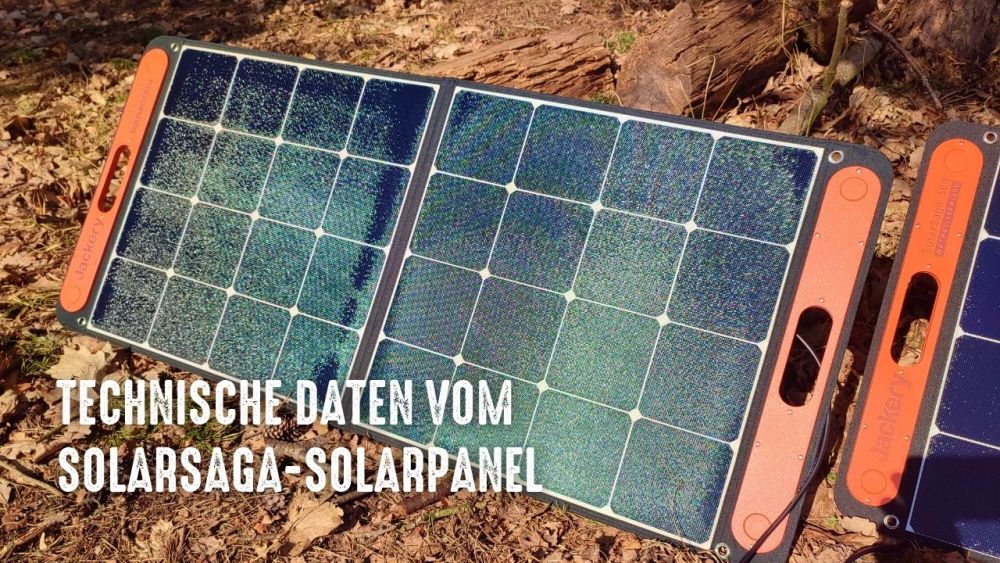 | | |
| --- | --- |
| Product: | 2 x SolarSaga 100 (each 100 W 5.55 A, 18 V) |
| Outputs: | 1 x USB-A (5V, 2.4A) |
| | 1 x USB-C port (5V, 3A) |
| Dimensions unfolded: | 122 x 53.5 x 0.5 cm |
| Dimensions folded: | 61 x 53.5 x 3.5 cm |
| Weight: | 4.68 kg |
| Warranty: | 2 years |
Further versions of the Explorer Powerstations
The Solar Generator 1000 is also available in a smaller version, namely the Jackery Solar Generator 500. I have also taken a detailed look at this and here you can find the review.
Furthermore, you can also purchase all versions of the Explorer and the SolarSaga solar panel individually. Depending on what you have planned and what you need the power stations for, you choose the appropriate size.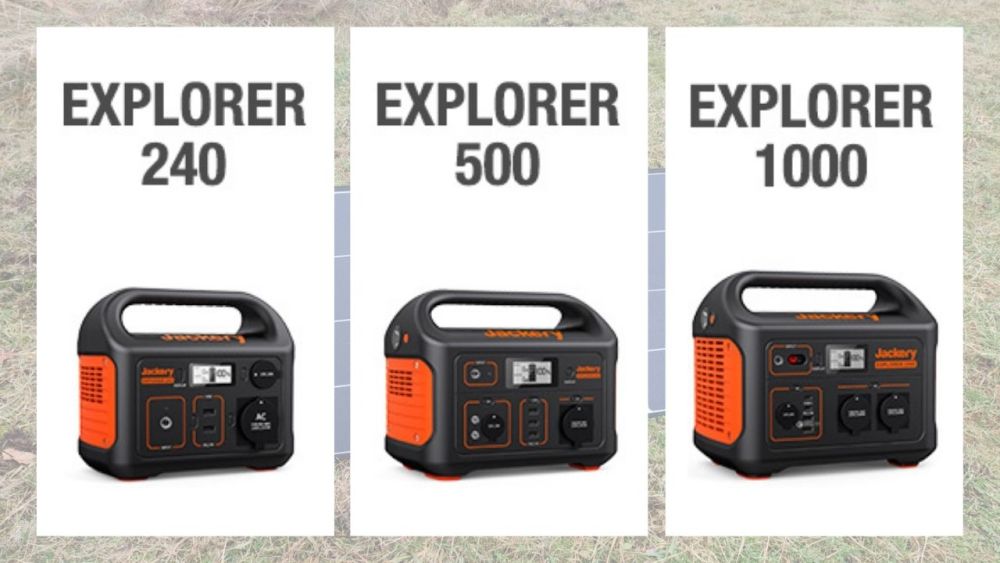 The Jackery Explorer series consists of three models:
Structure and Handling
Before I go into the performance and how long the battery actually takes to charge and discharge, I think it makes sense to give you a brief tour of the Jackery Explorer 1000.
Imagine the Jackery Explorer 1000 as a well-designed car battery, with an ergonomic design, a striking orange/gray housing with handle, several sockets, and a screen.
On the front side there are a series of sockets, which are divided into three groups. The first one is alternating current, and here you have two German household plugs. There you can connect devices for charging, such as a laptop or a coffee machine.
The second group has two USB Type-C and two USB Type-A ports. You need these ports to charge your smartphones or headlamps.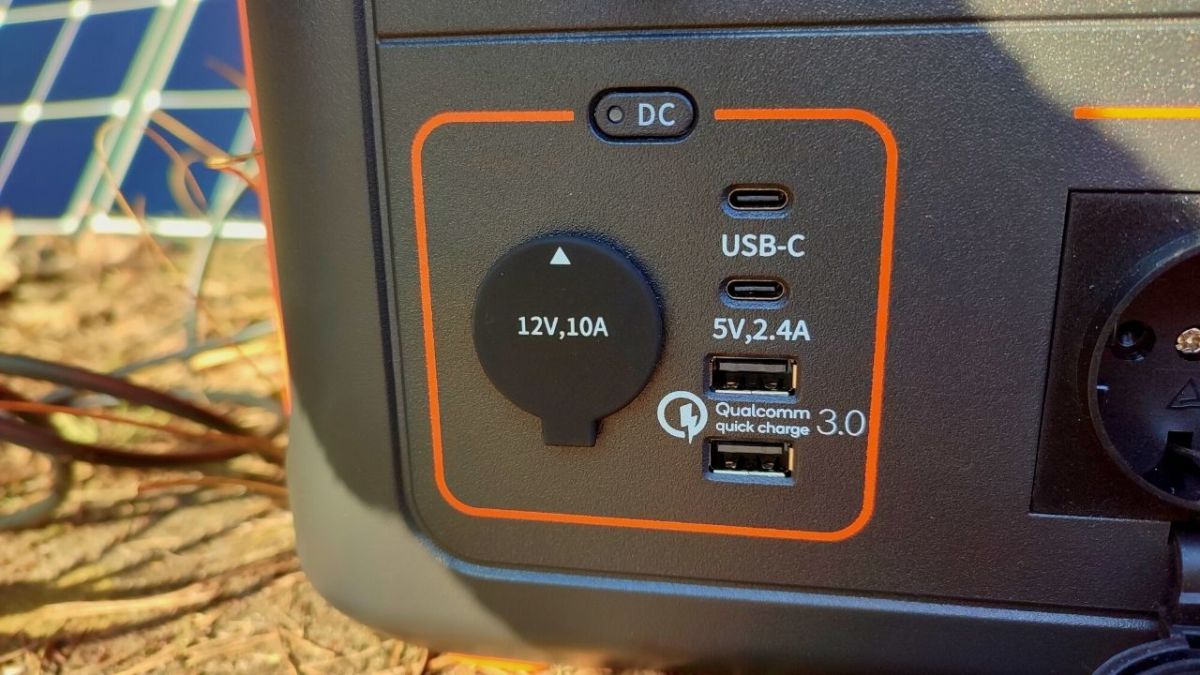 Finally, the Explorer 1000 has three power inputs, one for the power grid, a 12V car socket (cigarette lighter style), and the last one for connecting to solar panels (1x 8 mm DC input for one solar panel or red-black connectors (Anderson input) for two solar panels).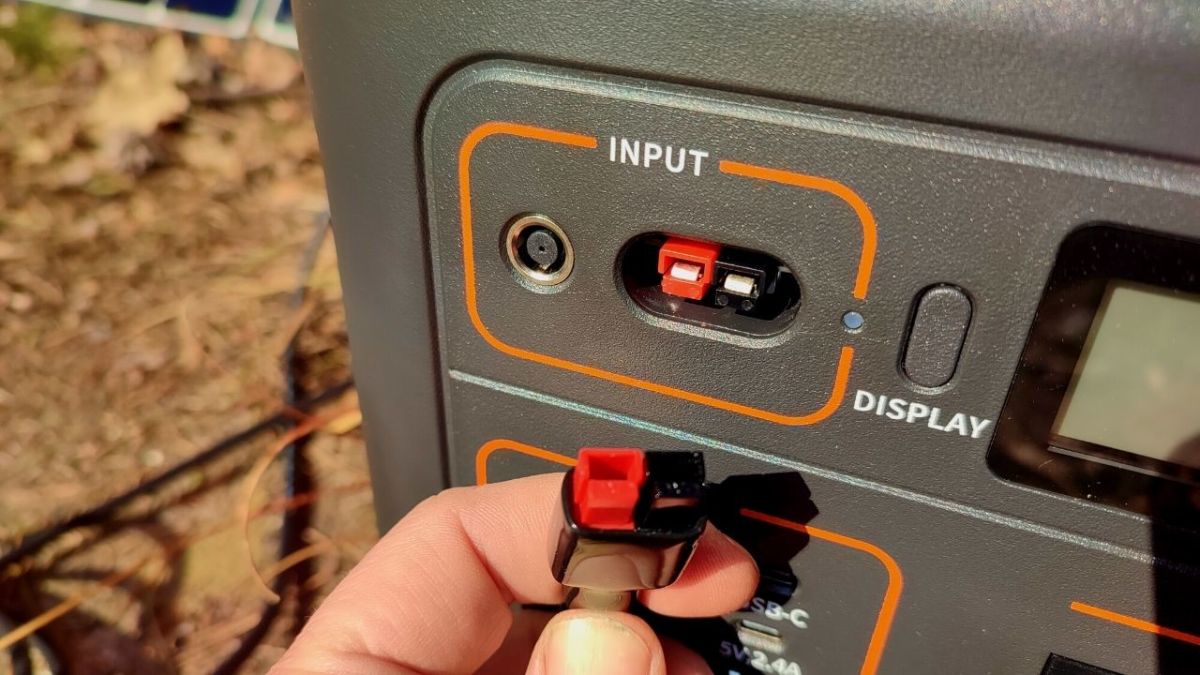 Jackery provides the appropriate Y-cable for the Solar Generator 1000.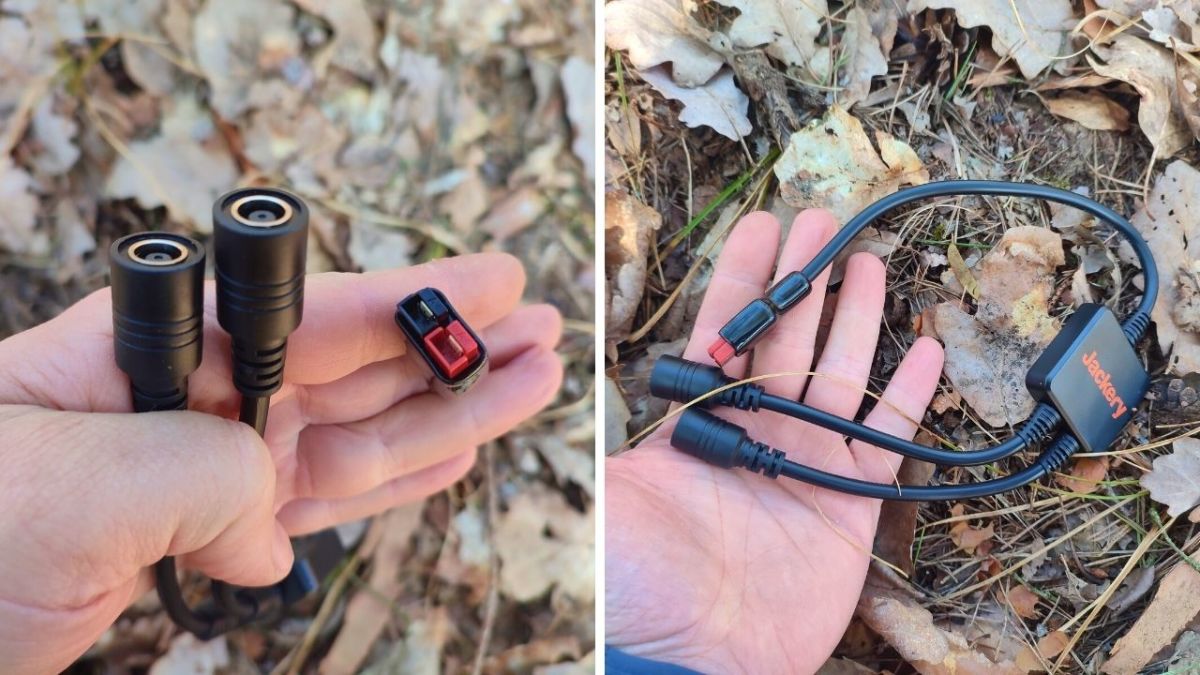 To activate the power supply, you need to press a small button next to the outputs to select the appropriate power source. The rest is self-explanatory.
At the top there is a small LCD panel that provides you with information about power consumption and power output.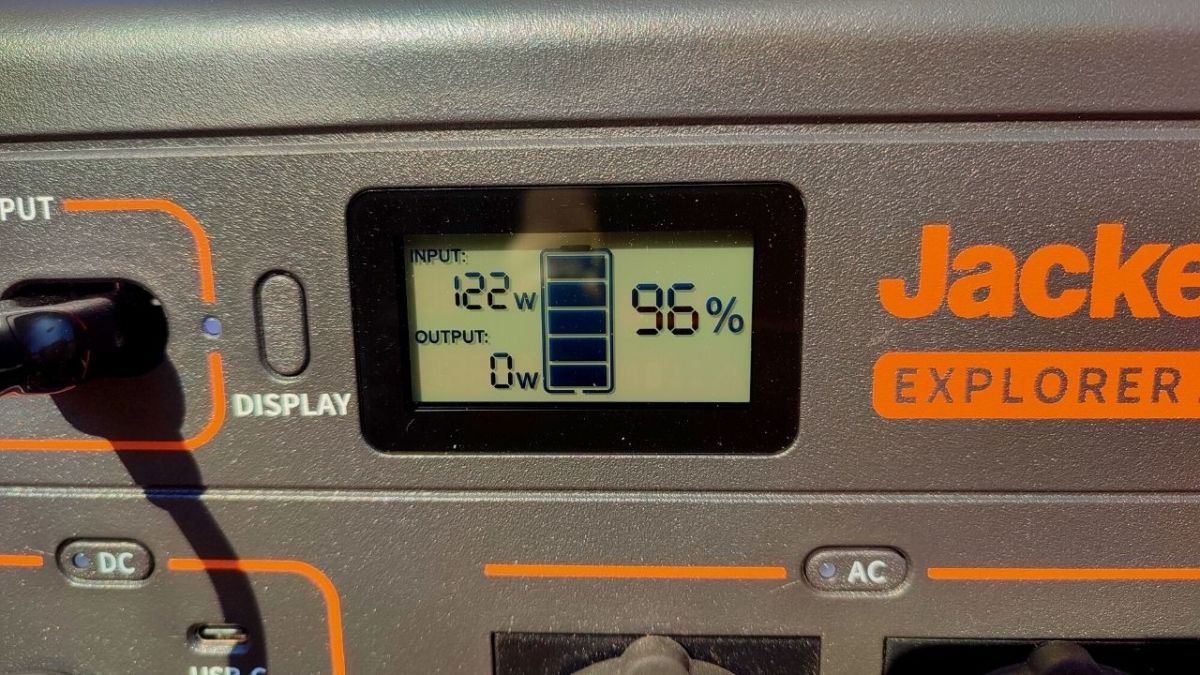 Aside from the power supply, ventilation openings and fans are built into the power station to keep it cool. Occasionally, the fans start when you connect a device, but then they quiet down again.
Here you can see the solar generator while it is charging:
On the side there is an LED light for sufficient illumination in case of emergency. This light is surprisingly bright and practical when you need a quick source of light. Additionally, you can trigger an SOS Morse code with it by holding down the button for a longer period of time.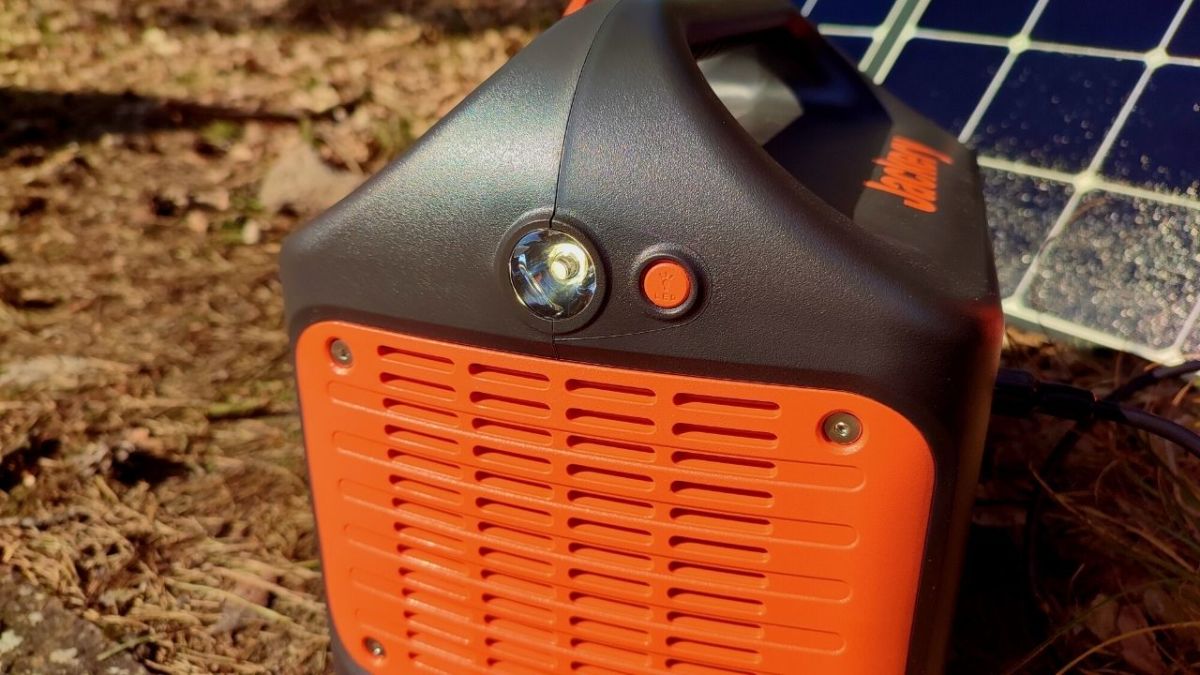 When you purchase the Jackery Explorer 1000, you will receive two solar panels with the solar generator 1000 - also known as SolarSaga 100 W.
Basically, every SolarSaga solar panel is capable of converting 100 W of power charge into the Jackery Explorer 1000.
Essentially, my MacBook Pro 16 inch (ca. 41 cm), on which I am currently writing this review, requires about 100 watts of power (sometimes more, sometimes less).
So on a sunny day, it should be more than enough to charge my MacBook with enough solar energy to charge the Jackery Explorer 1000 Powerstation.
The solar panels open through a magnetic mechanism, and you can set them up with two reinforced fabric stands that can be folded down from the back.
In a small bag, you will find the output cable that is connected to the power station. Additionally, the solar panel has two ports with which you can charge USB devices directly from the solar module without using the Jackery Explorer 1000.
Finally, a small parallel Y-cable connects the two panel cables to connect the two panels to the Jackery Explorer 1000. It is then plugged directly into the input port on the power station. Once this is done, the charging process starts automatically.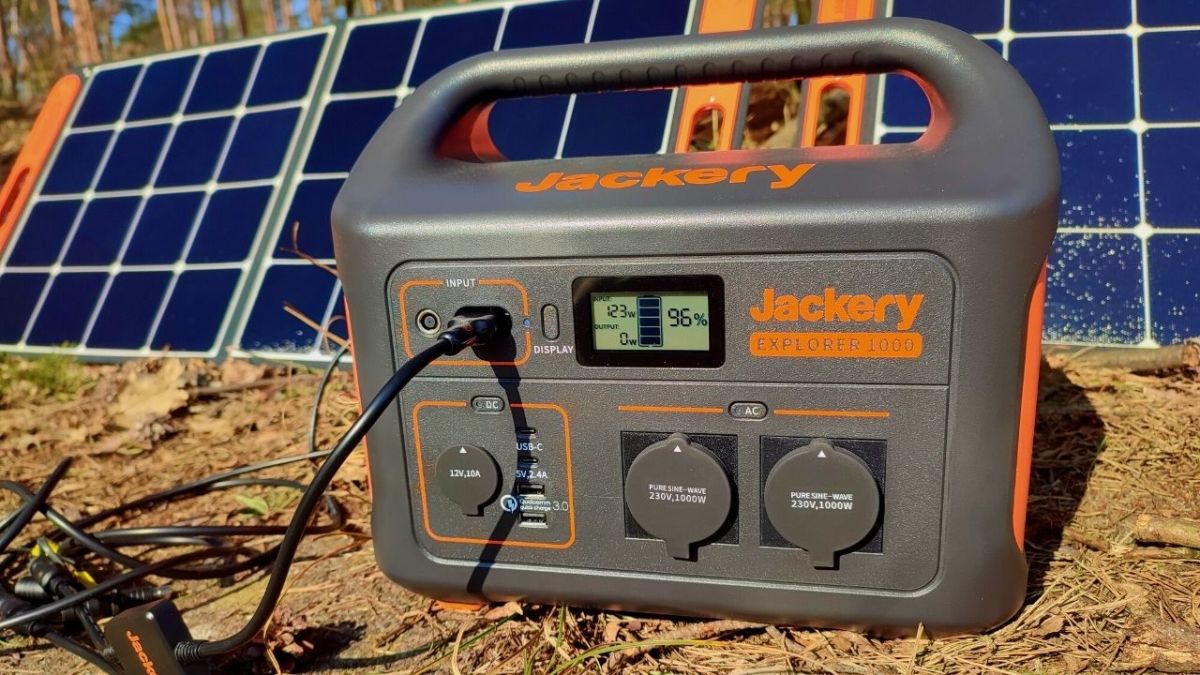 Performance of the Jackery Solar Generator 1000
Indoor Use
The Jackery Explorer 1000 can be charged most quickly with the included power adapter. This generates an input power of about 145–150 watts, so the entire device is fully charged in about 7 to 7.5 hours.
If you turn on the flashlight in the dark, you will see a beautiful bright spot on the wall. However, the device is too heavy to illuminate the washing area while camping.
But you can trigger an SOS mode by holding down the power button for 2–3 seconds. This is very useful in case of emergency.
Since the Jackery Explorer 1000 delivers up to 1000 watts of continuous power, it can easily supply both a laptop and a desktop computer with electricity.
That means that if the power goes out at your place, the Jackery Explorer 1000 could make the difference between your food spoiling in the fridge or not. Or whether you finish watching the movie or get your work done.
In Germany, the BKK (Federal Office for Civil Protection and Disaster Assistance) also recommends owning a prepper kit in case of a power outage or natural disaster.
The Jackery Solar Generator 1000 could be a useful part of this package.
Outdoor Use
On a sunny day in March, I immediately received 122 W. On a cloudy day in February with some clouds, 40 W flowed into the power station. On a completely cloudy day, the power drops to about 20 W.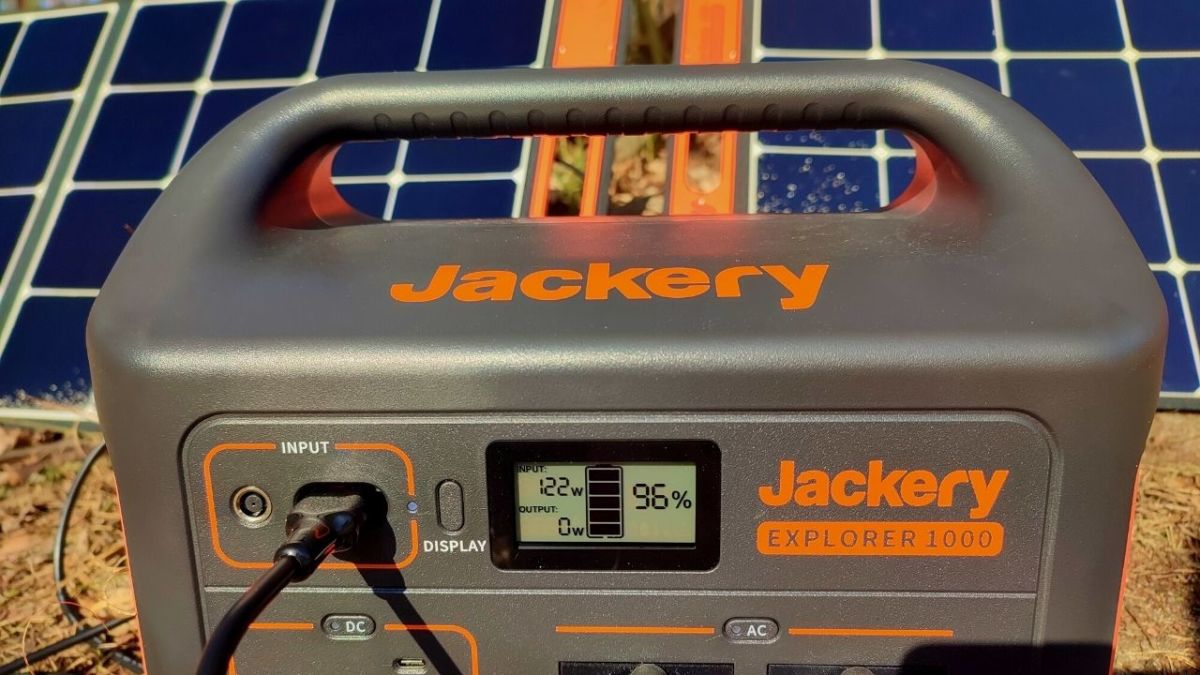 As the solar panels are not weatherproof, I have not exposed them to winter rain nor have I observed how the panels behave in water.
In March, I tested the charging time in the backyard of my house. With 50% battery capacity, I set up the Explorer 1000 and connected both SolarSaga solar panels. After 5 hours and a few clouds, the battery was fully charged again at 100%.
During the next few test days, I had more than a few cloudy days, and although the charging rates were lower, the battery was still being charged.
To summarize: The charge from the SolarSaga solar panels was sufficient to power all of my devices for a full seven days. My MacBook Pro, two Xiaomi smartphones, two camera batteries, my Anker power bank, and a headlamp (which I use for jogging in the dark).
In most situations, the Jackery Explorer 1000 Power Station ran silently, with occasional humming from the fans when the device's power consumption increased. Especially when the MacBook Pro (with video processing software) and the power bank were connected, the fan ran more consistently.
I also tested the Jackery Explorer 1000 Powerstation during a four-day wilderness weekend. First, I made sure it was fully charged. On site, I only connected my smartphone and occasionally the laptop.
I certainly don't need to mention that the Powerstation 1000 survived without any noticeable loss of charge. After four days and three nights, I returned home with 86% battery level. In between, I did not charge the Powerstation with the solar panels.
The next day, cold but sunny, I set up the Jackery Explorer 1000 and the solar panels in the courtyard and let the power station charge in the morning sun. The battery was at 97% after 90 minutes and the input power was 120 watts.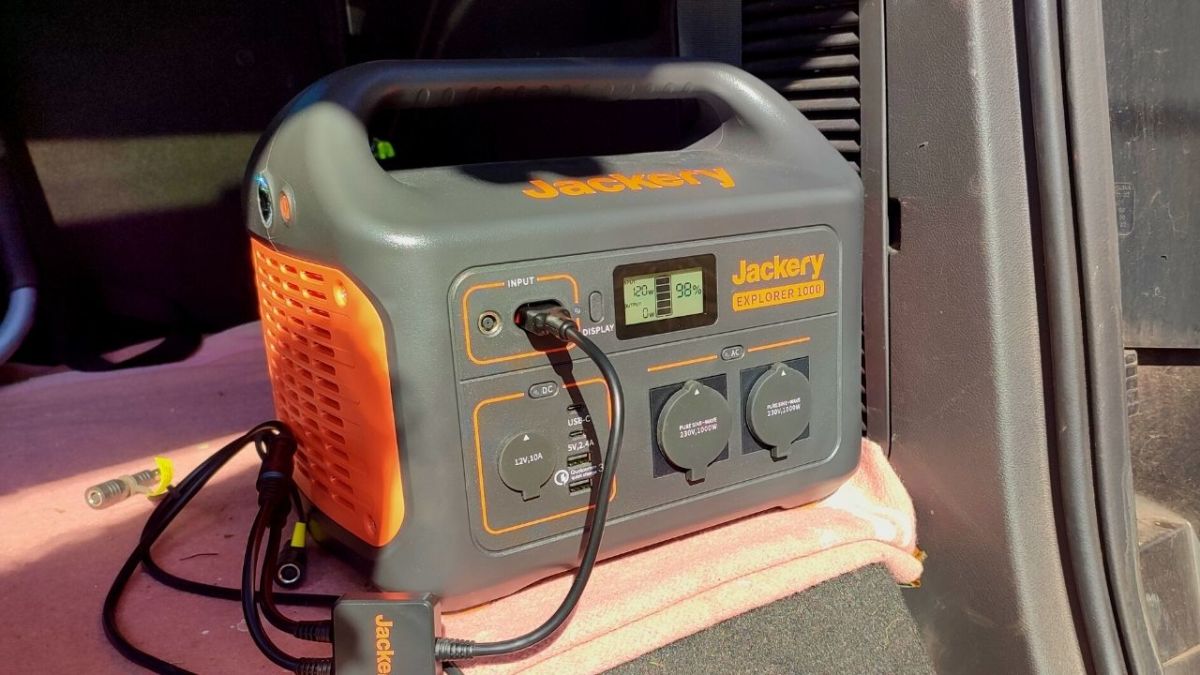 Jackery recommends that you do not let the Jackery Explorer 1000 battery fall below 20%. This is normal for any battery of this type. When the capacity drops to this level, the LCD will blink to remind you to charge the power station.
Jackery SolarSaga 100 Watt - A Closer Look
The SolarSaga modules are approximately 61 cm high, 53.5 cm wide, and 3.5 cm deep when folded. The bright orange handle integrated into the fine fabric material feels sturdy.
The built-in cable is 3 meters long and uses the same connector as the power supply. If you only choose a single solar module, you can connect it directly to the Jackery Explorer 1000 without an adapter.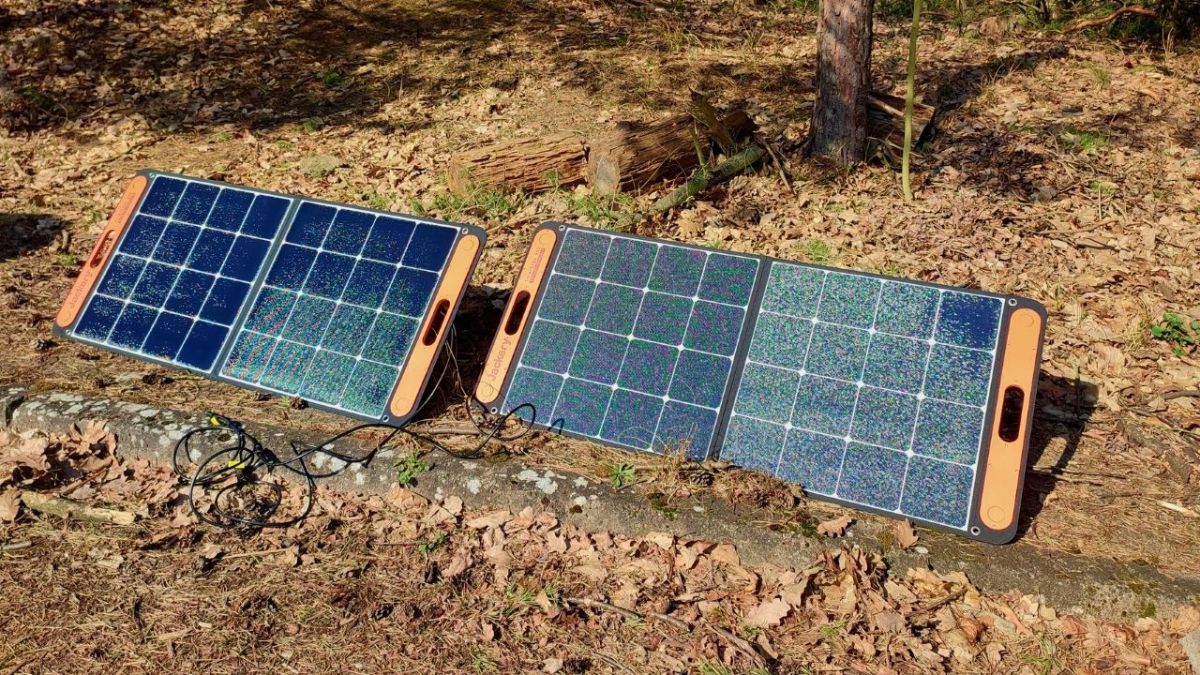 Furthermore, there is a USB-A 2.4V and USB-C 3V output on the back of the solar module. You can directly connect your tablet or smartphone to charge it. This means that the SolarSaga 100 solar panel could be useful on its own without the power station.
The SolarSaga panels are held together by strong magnets, and when unfolded, the solar area is revealed, which converts sunlight into energy.
You can lay it flat or use the fold-out legs to tilt it towards the source of light.
While the feet work well, they are basic and also covered with fabric, which in turn leads to them easily picking up the dust and dirt of the great outdoors.
The monocrystalline silicon solar cells offer a power conversion efficiency of 23%, which is quite normal for such a product.
The entire panel setup is IP65 certified, which means it is protected against splashing water. Jackery recommends not leaving it outside in bad weather to ensure the longevity of cables, connectors, and plugs.
Questions and Answers about the Jackery Solar Generator 1000
How long can the Jackery Explorer 1000 Power Station power a refrigerator?
Fortunately, the Explorer 1000 can power a household refrigerator with a rated power of less than 1000 W for up to 7 hours depending on conditions.
---
Can the Explorer 1000 Power Station operate a heater?
If your heating device consumes around 1000 watts, it is possible. However, most portable electric heaters consume around 1,500 watts. In general, it is not very efficient or practical to operate an electric heater from a battery source.
---
How many solar panels do I need for Jackery Explorer 1000?
The Explorer 1000 can be fully charged within 8 hours by connecting two SolarSaga 100W solar panels with an adapter cable (included in delivery). Prerequisite is bright blue sky and access to the sun.
---
Should I leave my Jackery on the charging cable?
If the power station is not used for a long time, the user manual states that you should fully charge your Jackery Explorer every 3 months. However, disconnect the charger once the Explorer is fully charged.
---
What can I operate with the Jackery Explorer 1000?
With the Jackery Explorer 1000 power station, you can power the following: camping lights for 76 hours, electric grill for 50 minutes, mini fridge for 66 hours, MacBook Pro for 8 charges, and iPhone for 100 charges.
---
Can I charge the Jackery Explorer while driving?
A DC charging plug and cable are included in the delivery. So, you can charge the Explorer 1000 while driving. Simply connect the power station to the cigarette lighter and get free power on your travels.
---
How many years does a Jackery Explorer 1000 last?
All portable power stations from Jackery contain lithium batteries. Lithium-ion batteries are typically designed for 500 full charge cycles and 2–3 years. At this point, you will have approximately 80% of the original battery capacity, and it will gradually decrease from there.
---
Can the Jackery Explorer 1000 Power Station power a hot plate?
It is possible as long as the wattage does not exceed 1000 watts permanently. Cook on low heat, and you will be able to use the hotplate for a long time.
---
What happens if the Jackery solar panel gets wet?
If you read the Jackery user manual, you will learn that the SolarSaga solar panel can lose efficiency if it gets wet. So, do not leave the SolarSaga solar panels in the rain. Furthermore, do not clean them with water, but use a damp cloth instead.
---
Can the Jackery Explorer 1000 Power Station be charged and discharged simultaneously?
The power station can be charged via the power supply or a solar panel, and at the same time, electrical devices can be charged via the outputs of the power station.
---
Why doesn't the Explorer 1000 charge with 200 W using two solar panels?
The technicians at Jackery limited the charging power during the development of the product to consider factors such as heat generation, battery tolerance, safety, and reliability. The power station supports a charging power of up to 7.5 A, so the power consumption is limited to a maximum of 135 W (±5%).
Summary
The Jackery Solar Generator 1000 - consisting of the Explorer 1000 power station and two SolarSaga 100 W solar panels - has only one goal: to deliver the promised performance to you. To achieve this, the Jackery solar generator delivers great performance.
I had the Solar Generator 1000 with me on a multi-day trip, and it was a great experience. Do you need your own quiet power at the campsite? Take the Jackery Solar Generator 1000 with you.
The Jackery Explorer 1000 is a clean solution and particularly suitable for camping enthusiasts. But also photographers or people who like to work outside on their laptop or are mobile benefit significantly from this mobile power supply.
You can operate all devices that consume no more than 1000 watts with the Explorer 1000 Power Station. The peak load even reaches 2000 watts for two seconds. If you exceed the connected devices, the power station will shut off.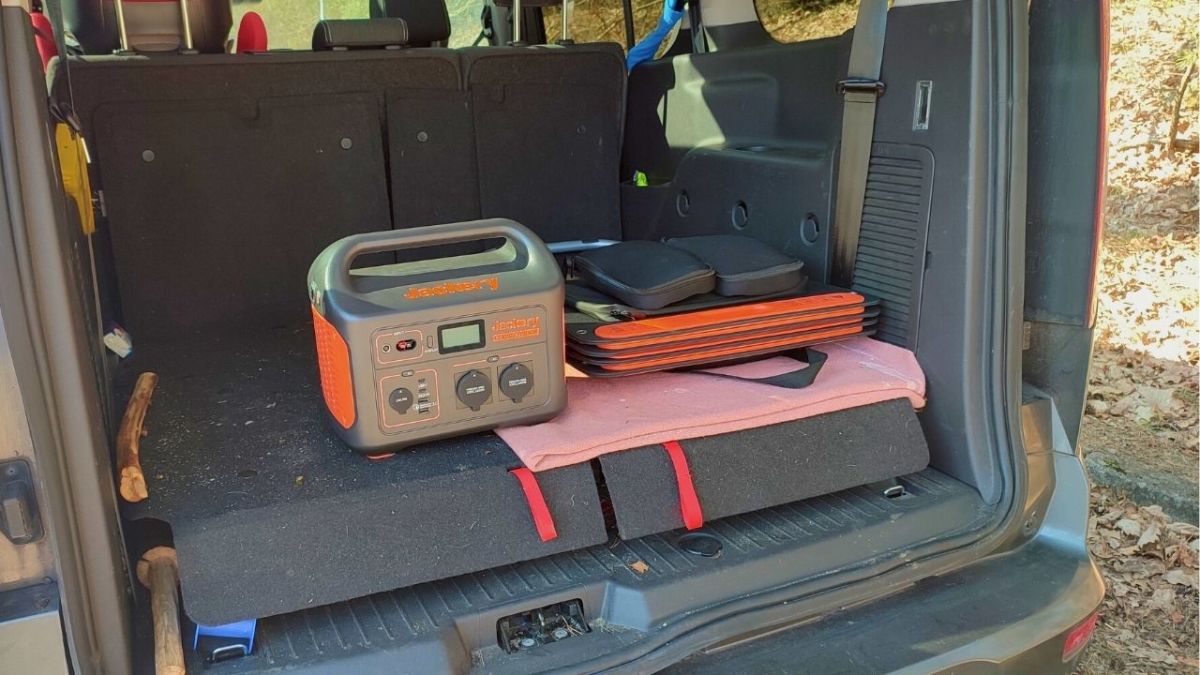 Although I can't say that the Jackery Explorer 1000 is an essential tool for camping, I always bring it along when I'm on an adventure with my car.
Because the Jackery Solar Generator 1000 makes my life a little easier. Knowing that I have power everywhere gives me an enormous sense of security.
And this applies not only to camping, bushcraft, or other wilderness adventures. I also stock the Jackery Solar generator 1000 as a means of emergency preparedness as a backup power source.
Power outages can happen at any time and with a fully charged power station, I have enough power to charge all smartphones and flashlights for the family.
During the seven-day test, I was very impressed with the Jackery Explorer 1000 and the SolarSaga solar modules. All cables are foolproof, and the power station is easy to operate.
I also love the idea of using the power of the sun to charge and power my devices. When the panels first arrived, the winter sun was weak and the charging rates were slow.
However, in the last few weeks, when the intensity of the sun broke through at the beginning of March, I was able to fully charge the battery from 20% to 100% in one day.
The only point of contention is the battery system: Jackery uses a traditional Li-ion battery, designed for about 500 charging cycles, instead of something like a LiFePO4 battery (Lithium Iron Phosphate battery), which is good for 3000 or more charging cycles.
But when I look at it from a temporal perspective and real usage, I can fully charge the Jackery Explorer 1000 Power Station once a week for 8 years.
The other element in which the Jackery Explorer 1000 Power Station may be limited is that it only processes an input power of up to 168 watts via the power adapter and 125 watts via two solar panels.
Nevertheless, you should be able to fully charge the Jackery Explorer 1000 Power Station in about 7–8 hours.
For a 1000 Wh battery, the Jackery Solar Generator 1000 is priced exactly where it should be: not too expensive, but also not incredibly cheap.
Jackery Solargenerator 1000, 1002WH Tragbare Powerstation mit 2* SolarSaga 100W Solarpanels, 2*230V 1000W AC Steckdose mobile Stromversorgung für Wohnmobil Outdoor, Heimwerken und als Notstromaggregat
AUTARKE STROMVERSORGUNG: Der Jackery Solargenerator 1000 ist eine Kombi aus der 1*Explorer 1000 Powerstation und den 2*SolarSaga 100 Solarpanels. Es kann die Sonnenenergie in Strom umwandeln und die Multi-Geräte dann jederzeit aufladen. Ausreichend Leistung für unterwegs, einschließlich Autoreisen, Wohnmobilreisen, Überlandfahrten oder Wildcampen!
UNBEGRENZTE SOLARENERGIE: Die Explorer 1000 ist mit professioneller MPPT-Technologie ausgestattet für eine maximale Ladeeffizienz. Durch die Verbindung mit zwei SolarSaga 100 lässt sich die Explorer 1000 Powerstation in ca. 8 Std. voll aufgeladen. Neben der Aufladung durch die Sonne kann die tragbare Powerstation auch mit dem Netzteil oder über das Auto aufgeladen werden.
KLIMANEUTRAL & EINFACH ZU BEDIENEN: Im Gegensatz zu Gasgeneratoren erzeugt der Solargenerator 1000 saubere Energie, ohne Kohlenstoff auszustoßen. Dank der Plug & Play-Funktion kann die Powerstation alle wichtigen Geräte unterwegs aufladen! ​Darüber hinaus gibt es eine Durchgangsladung, wodurch die Powerstation aufgeladen wird und gleichzeitig Ihre Geräte geladen werden können.
ÜBERZEUGENDE LEISTUNG : Die Explorer 1000 mit erhöhter Kapazität (1002 Wh) und einer Dauerleistung von 1000 W (2000W Max), verfügt über 2 REINE SINUSWELLE AC-Anschlüsse, 1*QC 3.0, 2*USB-C und 1*USB-A-Anschluss, somit kann sie Geräte unter 1000W Leistung einfach aufladen, z.B. Kühlbox, Beamer, E-Bike, Reiskocher und sogar die Kaffeemaschine! Ideal für Reisen im Freien und als Notstromquelle.
WAS SIE ERHALTEN: 1* Jackery Explorer 1000 Tragbare Powerstation, 2*SolarSaga 100W, 1*AC Adapter, 1* Autoladekabel, 1*SolarSaga Y Parallel Kabel , 2* Benutzerhandbuch.
1.259,30 €
View Product
Here you can buy the Solar Generator 500 and the Solar Generator 1000 directly on the website of Jackery Germany.
Overall, the Jackery Solar Generator 1000 is a great and versatile package for those who need sufficient power on the go for a range of devices.
As such, the solar generator is suitable for family camping or longer off-grid trips, especially if you use your vehicle as a charging source during a car ride.
Many thanks to Jackery for providing me with the Solar Generator 1000 for testing. I was not paid to write this review and rating.
P. S. I have also tested the Jackery Solar Generator 500.
And now to you? Do you like the Jackery Solar Generator 1000?

Was this guide helpful?
14 people found this guide helpful.
4.73 out of 5 points (15 Ratings)