Back to german article
Zendure SuperBase V6400 + Satellite Battery + Solar Panel in Test and Review
Practical test and review of the Zendure SuperBase V6400, satellite battery and solar panel. Find out everything about performance, durability, and user-friendliness!
from Martin Gebhardt
|
Gear
| reading time 12 Min
---
---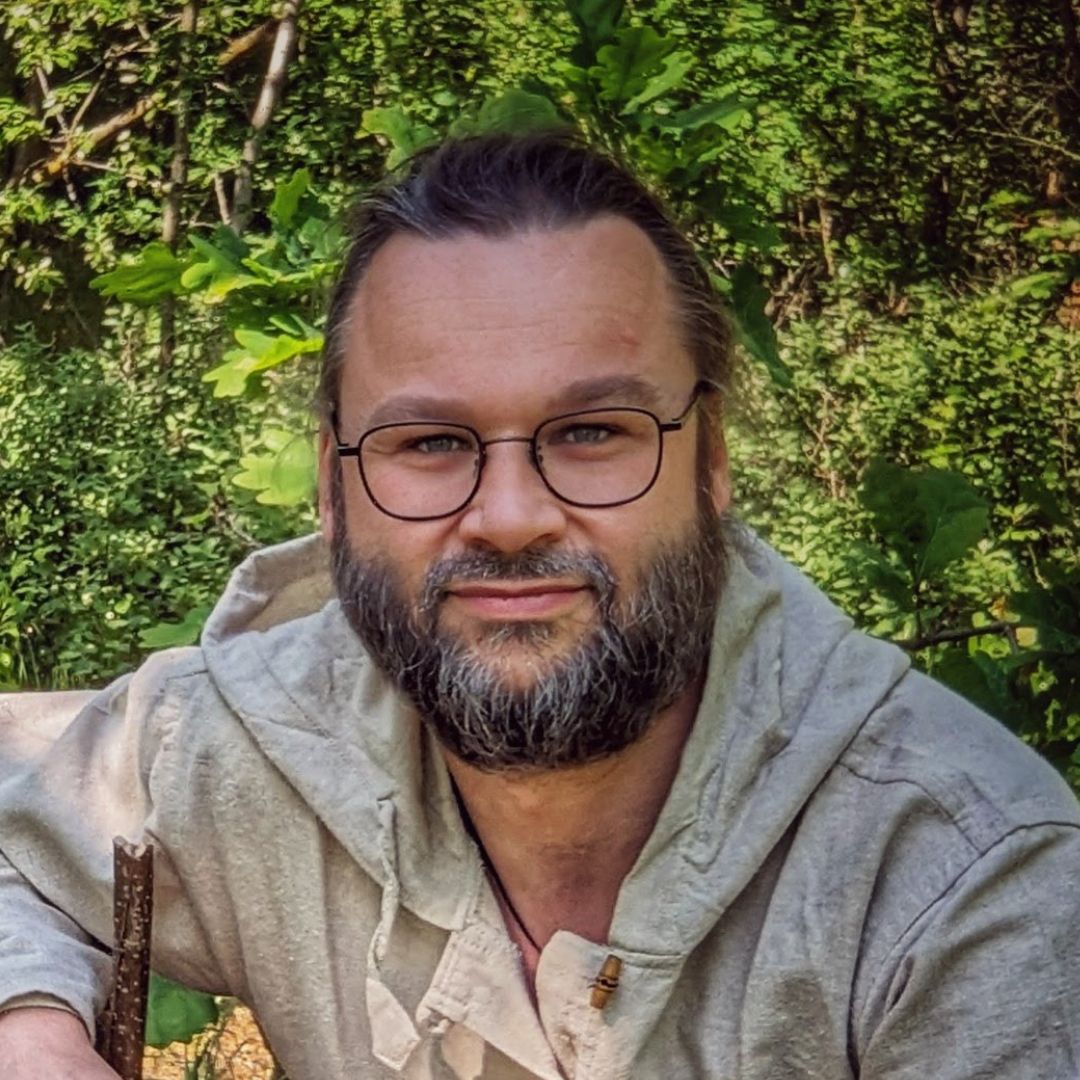 ---
👉 The key facts from this guide
The Zendure SuperBase V6400 is an extremely powerful power station that can supply your entire house and even your electric car with energy.
It is equipped with motorized wheels to facilitate transport as it is quite heavy.
The SuperBase V6400 can be charged via the power grid or by solar power and can serve as an emergency power supply.
The power station can be controlled with a mobile app that allows you to check the system's status remotely.
The SuperBase V6400 is expensive, but it offers high performance and is a secure and flexible way to store and transport a lot of power.
The power station comes with a variety of connections and can operate a variety of devices.
Do you know these thoughts? You're at home and suddenly, there's a power outage, or maybe you're even afraid that your electric car will run out of energy on the way.
That can be scary and annoying, right?
Especially if you don't have a reliable solution on hand to bridge these bottlenecks.
That's where the Zendure SuperBase V6400 comes into play - a monster among power stations!
This power station is not suitable for camping trips as it is quite heavy, but it is perfect for use at home during power outages.
It can not only charge your electric car, but also provide your entire house with energy for several days.
Let me tell you more about this impressive device, and you will know in the end whether this machine is right for you.
A pallet suddenly appeared at my doorstep
It rang on a sunny morning in March.
"Hello, Mr. Gebhardt, we have a pallet for you here."
Suddenly, I was faced with this giant package.
When a power bank is so big and heavy that it arrives on a pallet and weighs over 100 kg, you know you're dealing with something massive and powerful.
I don't think I've ever tested anything so big and heavy that it actually intimidated me.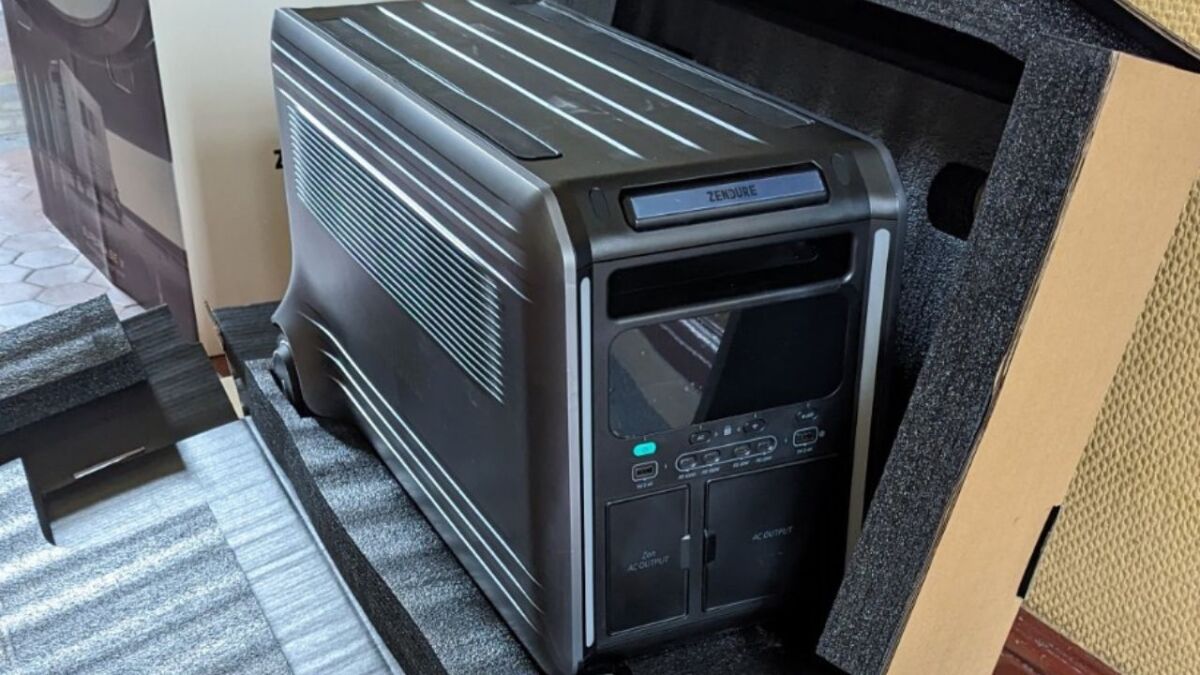 Regular readers will know that I've tested power stations and power banks of all sizes - from compact ones that fit in your jacket pocket, to giant ones that are more like a suitcase full of energy.
And now, huge power stations are being developed to provide you with power in places where there is no power.
But none of this prepared me for the incredible power of the Zendure SuperBase V.
As a power station, satellite battery and solar panel stood in my apartment, I knew this was different from any power station I had tested before.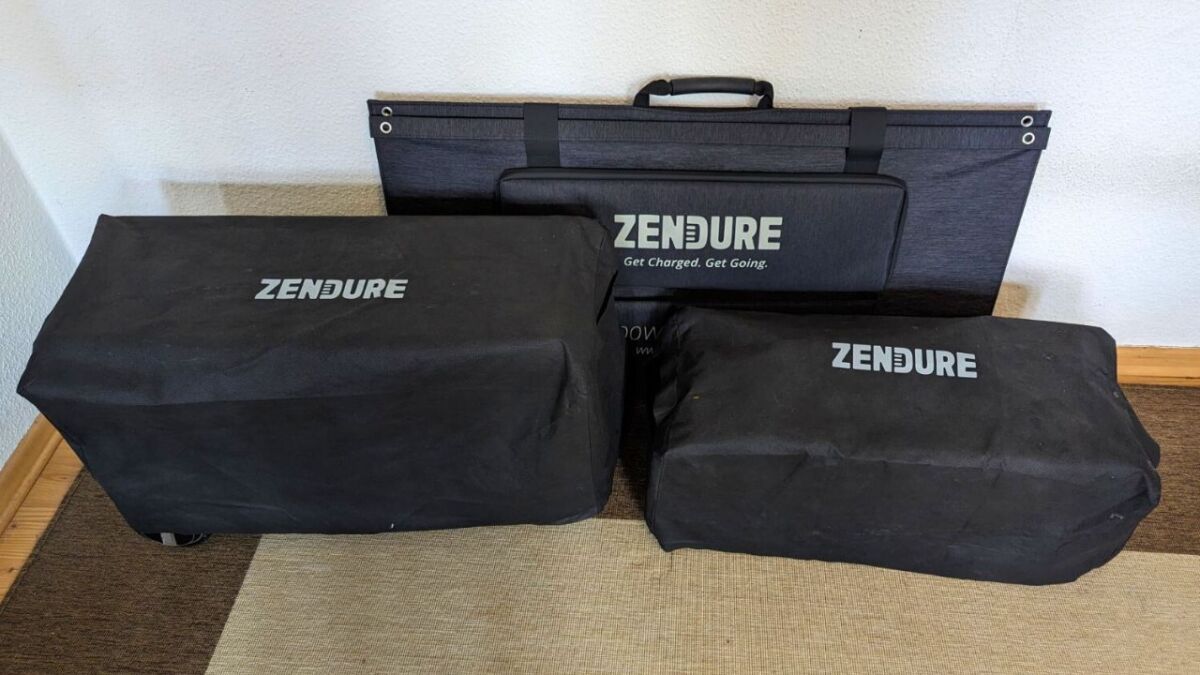 So, what is the SuperBase V?
Think of the power station as a colossal power bank for your home or electric car.
You can charge it via the power grid or via solar panels and use it throughout the day or as an emergency power supply if the lights go out.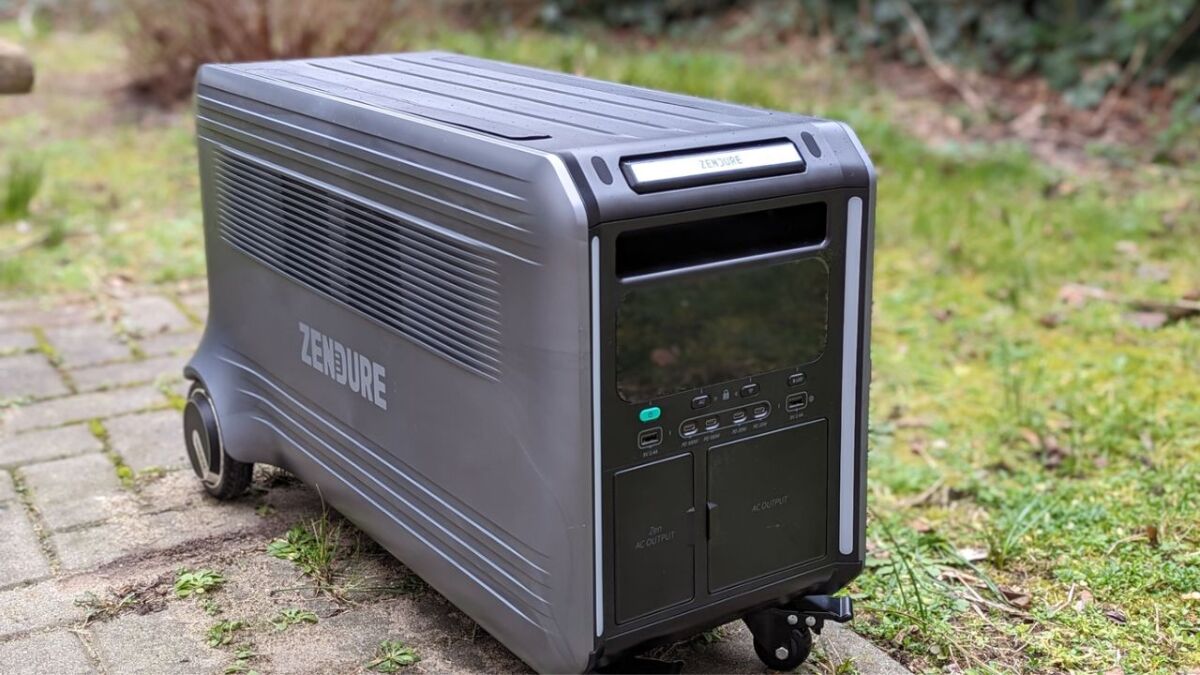 You can also pack the SuperBase V in your car or camper van and use it to power your devices while on the go, power your devices in your camper van, or use the stored energy to increase the range of your electric car.
The SuperBase V that I have here consists of two components: the SuperBase V base station, available with capacities of 4,608 Wh and 6,438 Wh, and the optional satellite batteries, also available with capacities of 4,608 Wh and 6,438 Wh. I have the versions with 6,438 Wh.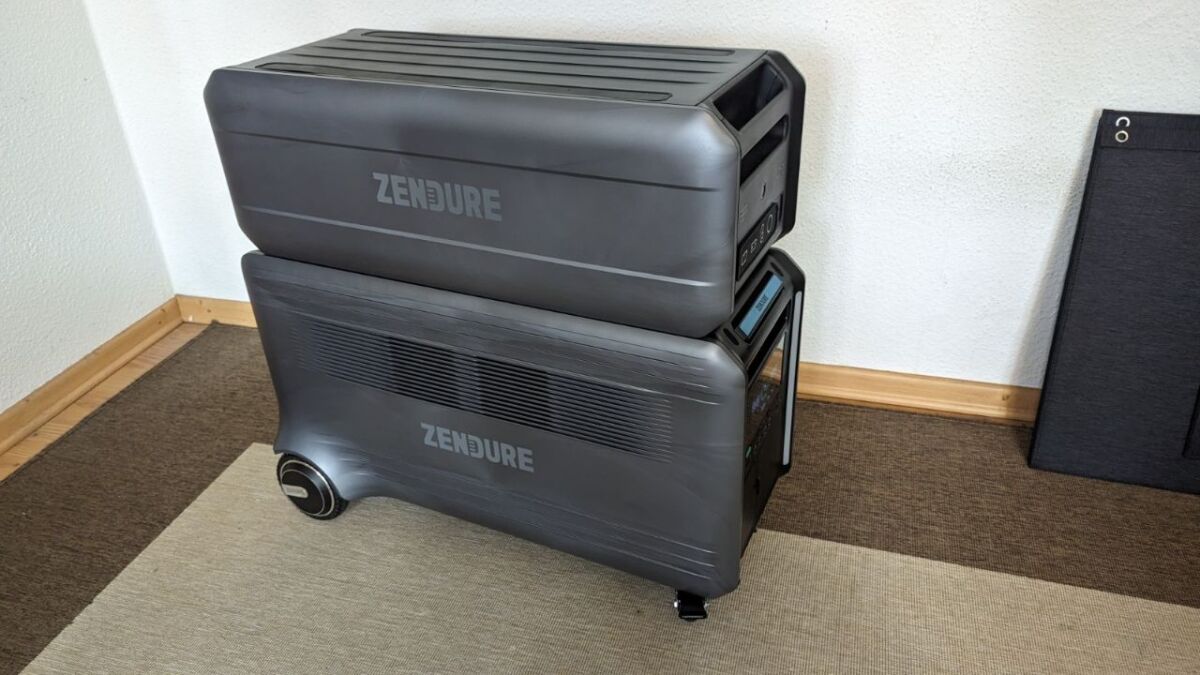 Each base station can be connected to up to four satellite batteries, making the system scalable from 6.4 kWh up to 64 kWh by connecting two base units with four satellite batteries in series.
If you have enough space for such a large backup system (and can afford it), it can easily provide electricity to your entire house for two or more consecutive days.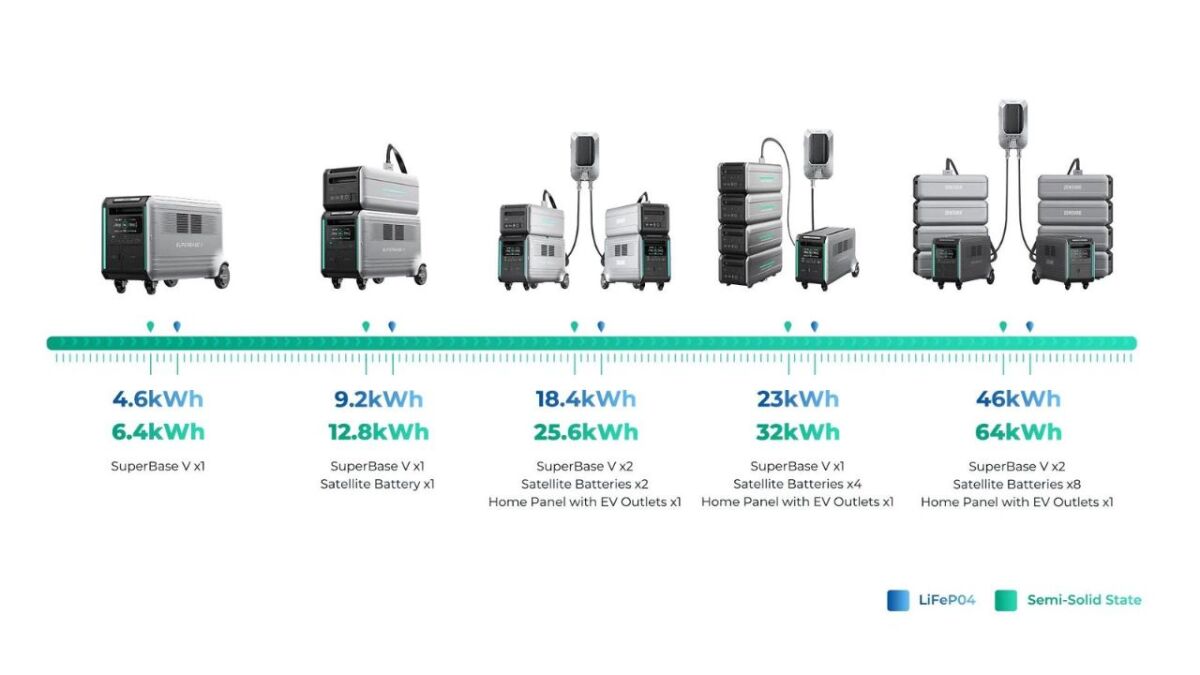 The system features an uninterrupted power supply (UPS), a 30-amp RV outlet, multiple 120-volt and 240-volt outlets that can be used simultaneously, and several other standard output ports, such as USB-A and USB-C.
With the simple Zendure app, you can remotely check the status of the system and even operate the power station via remote control.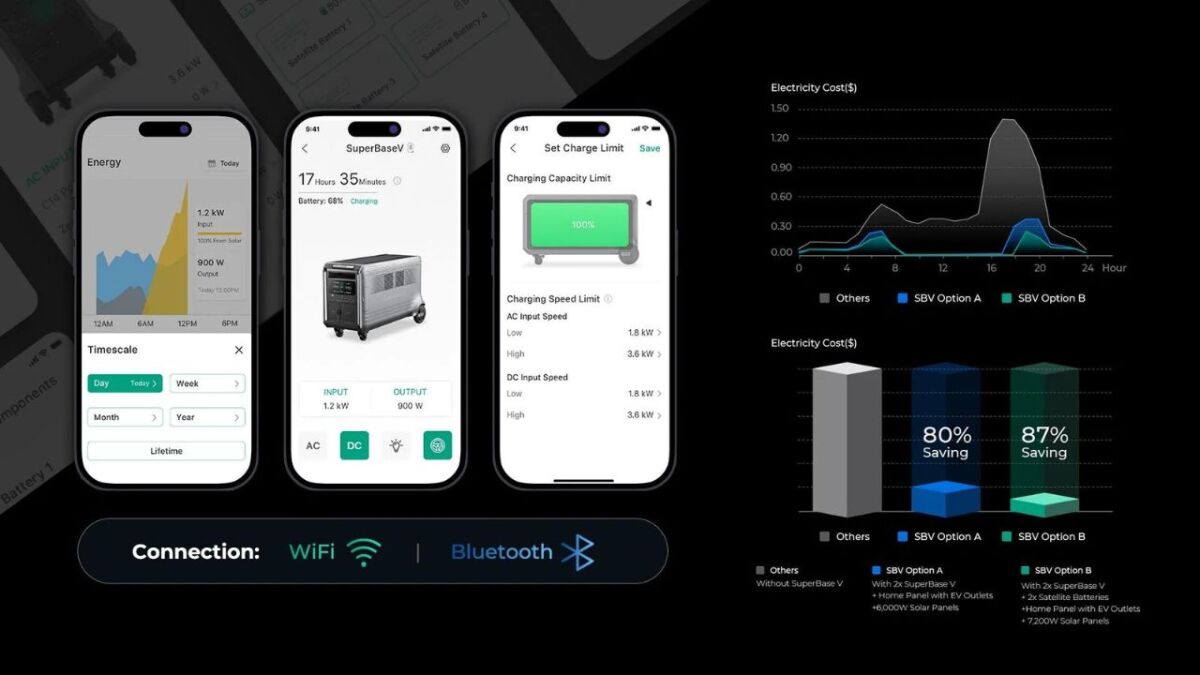 My impression of the Zendure SuperBase V6400
Further down you'll find all the technical data, and I think they're easily available online anyway.
What you're probably interested in is, "What does this person think about this monster?" right?
So, here are my impressions and experiences:
What immediately caught my attention was that the base unit weighs 59 kg – that's a lot, and I had a hard time moving it upstairs.
But there's an excellent feature when you don't have to overcome stairs: To easily carry the station around, Zendure equipped it with a handle and motorized rear wheels, so you can move it around your home.
And I can assure you, these motorized wheels are practical.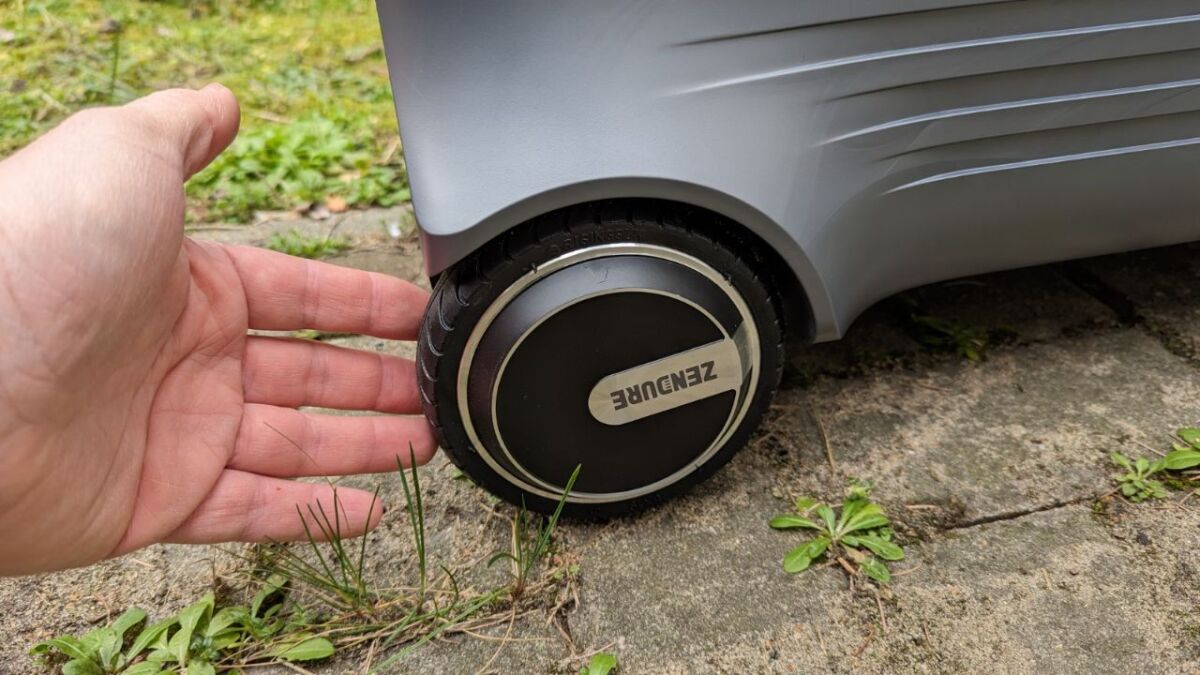 The satellite battery sits and rides on the base unit, and if you thought the motorized wheels were handy when moving the 60 kg base unit, you'll be glad to have them when you add another 46 kg to the load.
The satellite battery has a 12-volt car socket, a 12W/30A Anderson connector, and a 10A XT-90 connector.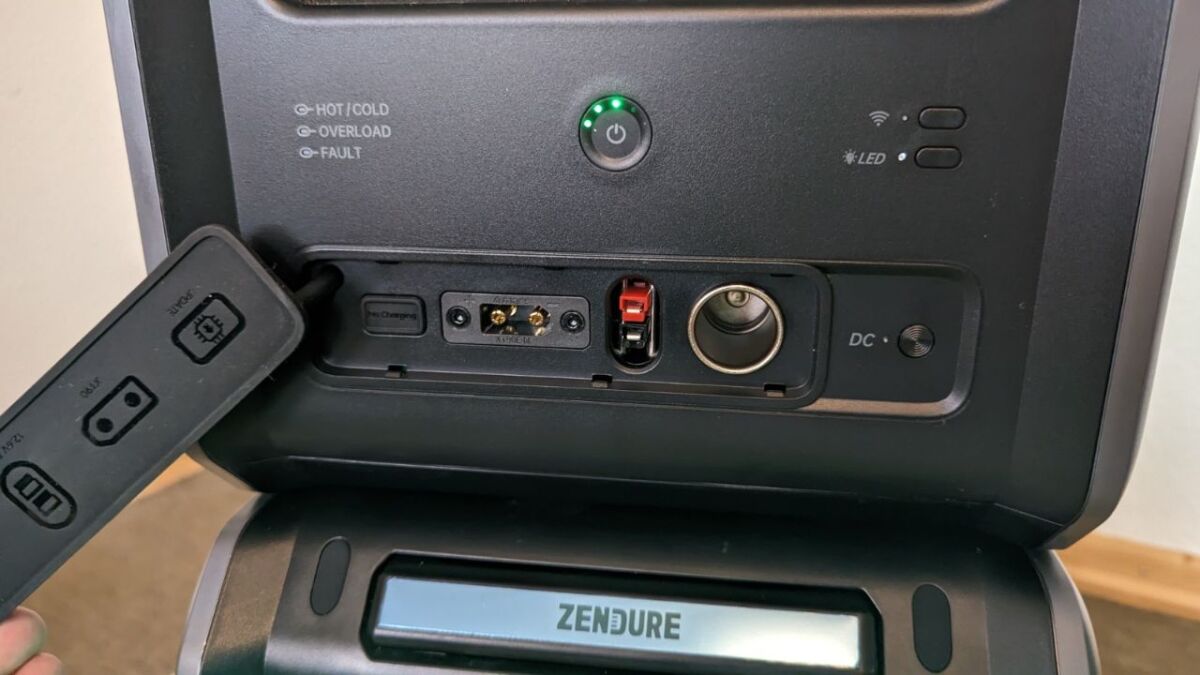 Given the size of the SuperBase V, it needs to be robust, and it seems that Zendure has achieved this.
The durability, fit, and finish are perfect for me, which you can expect from a Zendure product (and I have tested many power stations in my time).
I've had the Zendure SuperBase V and satellite battery for a few weeks now, and although that's not long enough to fully test the system, it was long enough to test the basics. So far, I'm pleased with everything.
The power outputs are all fine, and the SuperBase V lives up to everything that Zendure promises.
The screen is nice and clear, showing you everything you need to know at a glance without overwhelming you with too much information.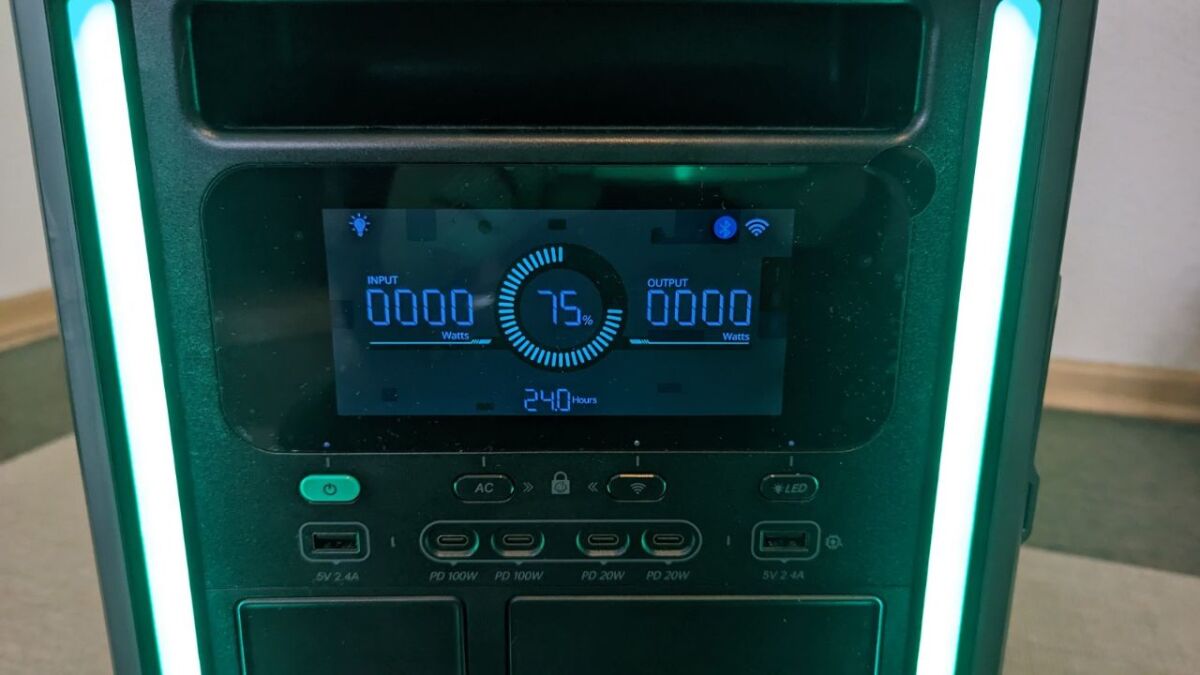 The fan that runs to keep the device cool during operation is not excessively loud. However, it's clear that you can't sleep right next to it. If you're charging the SuperBase V, do it in another room or during the day. Nevertheless, there are two charging modes via the socket, where you can charge it quickly or normally - and accordingly, the fan also runs quieter or louder.
Here's a video I made about it, so you can get an idea:
Oh, and this battery capacity is simply stunning. Previously, the largest power station I had tested had a capacity of about 2,000 Wh.
It really is groundbreaking to have more than triple that amount of power available.
To have 3,800 W output power also means I can run demanding devices - including power tools and household appliances - without worrying about overloading the SuperBase V.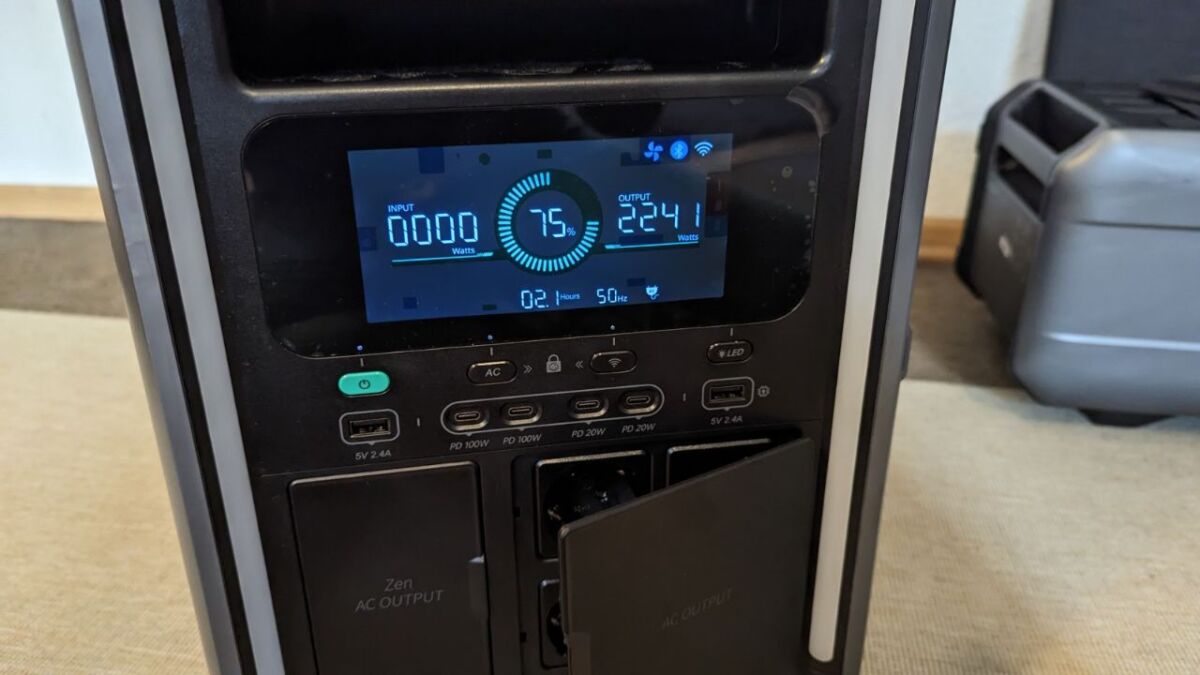 And if I try to draw too much power, the built-in safety features mean that things graciously back off, rather than causing a scene.
The SuperBase V4600 starts at €4,499 (4,608 Wh) and the V6400 with 6,438 Wh costs €6,999. That's not cheap by any means, but when you compare it to the power output in the world of power stations, it's not expensive either.
The system I have here, with the V6400, a satellite battery and the 400 W solar panel, costs €13,499.
And while not everyone needs a SuperBase V, for those looking for a secure and flexible way to store and transport a lot of power, it's a unique system that does it really well.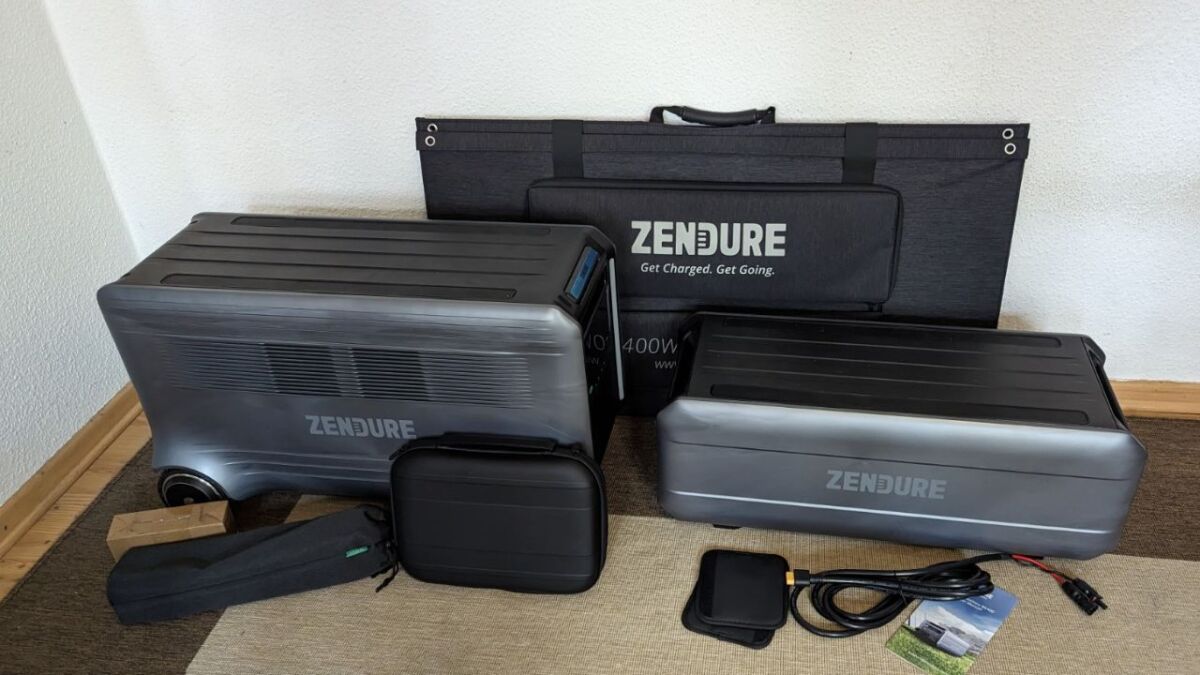 Advantages of the V6400 that I see here
Semi-solid-state battery with a high-energy density of 228 Wh/kg, which means that the V6400 can store more energy in a smaller and lighter battery than conventional lithium-ion batteries.
Mobility with motorized wheels and telescopic handle, which makes it easier to transport and move the power station.
Zero-downtime UPS, which means that there is a seamless transition between AC and battery power to maintain power supply.
6.4 kWh capacity, expandable up to 64 kWh with satellite batteries, which means that the V6400 can store a large amount of energy to ensure longer power supply.
Full charge in just two hours through AC power, which means that the V6400 can be quickly charged.
MPPT solar charge controller that improves solar module efficiency and increases charging speed.
Connects to the house distribution panel with EV ports, which means that the V6400 can be used as a backup system for the entire house.
Expandable with satellite batteries to increase capacity and power supply time.
Controlled with a mobile app, which allows monitoring and control of the V6400 from anywhere.
It can charge electric vehicles, which means that the V6400 can also be used as a mobile charging station for electric vehicles.
Dual operation with 120V and 240V, which means that the V6400 can operate a variety of electronic devices.
It can achieve a charging power of up to 3,000 W through solar energy, which means that the V6400 can be quickly charged and provide high power.
Disadvantages that I noticed
Heavy, which makes it difficult to transport and move the V6400.
Expensive, which means that it may be financially unaffordable for some people.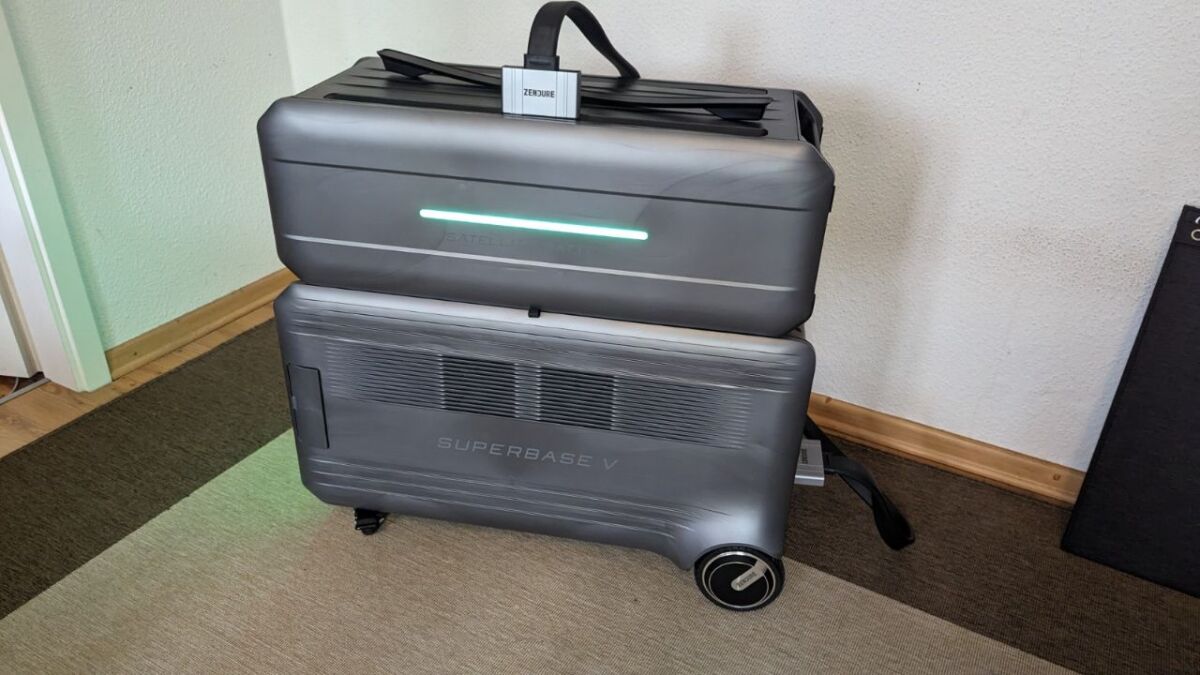 What's in the Box?
The SuperBase V6400 comes with the following accessories:
MC4-to-XT90 cable (3 m)
AC cable (1.5 m)
Car charging cable (1.5 m)
Accessory pouch
Quick Start Guide
Warranty card
My test kit also included these optional add-ons and accessories:
B6400 satellite battery
Battery cable for satellites
400W solar panel
EV T1 adapter with Type 2 plug socket to Type 1 plug
Mobile 32A EV charger with adapter cables
Dustproof SuperBase V bag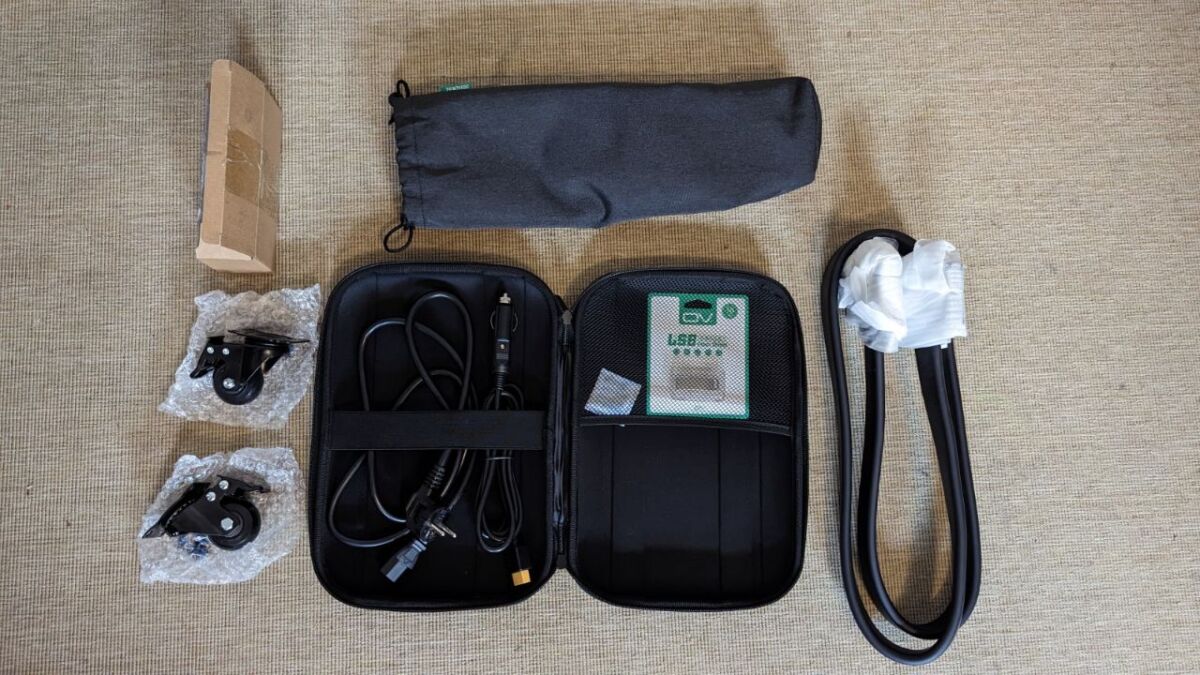 Delivery
Due to its weight, you will receive your SuperBase V and all extensions on a pallet.
My pallet was wrapped in plastic and the packages were secured with straps. You will need a utility knife or strong scissors to cut the straps.
Since the V 6400 weighs 59 kg, you should use a transport cart to bring the SuperBase V-Box to its final destination. The same applies to all satellite batteries ordered (46 kg). If you have a helper, you can also unpack and carry each unit by the handles on site.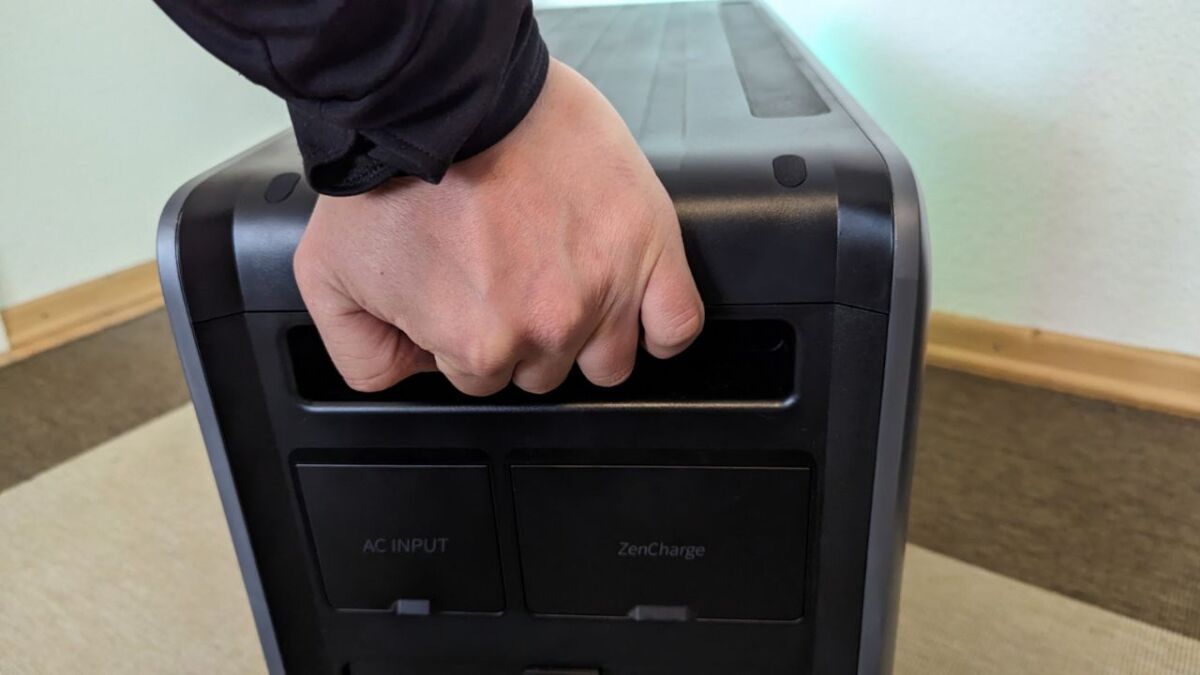 If you don't have to worry about stairs, simply unpack the SuperBase V. Then place the unpacked satellite battery on it, turn on the SuperBase V and the motorized wheels will now support you massively.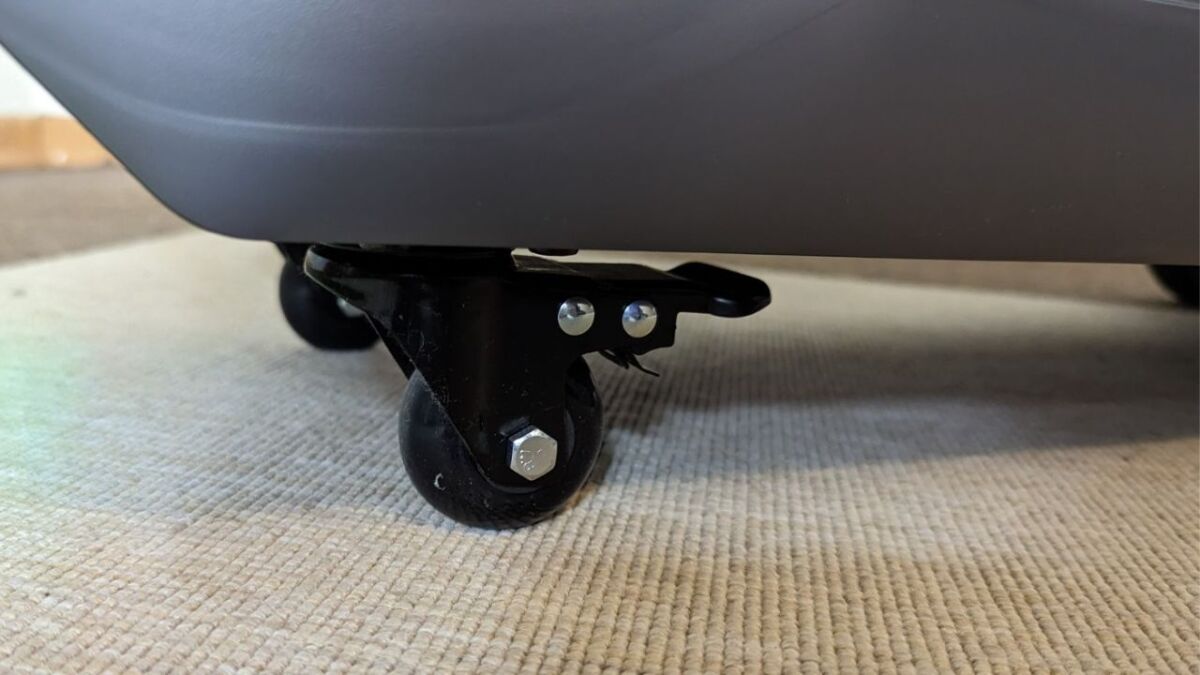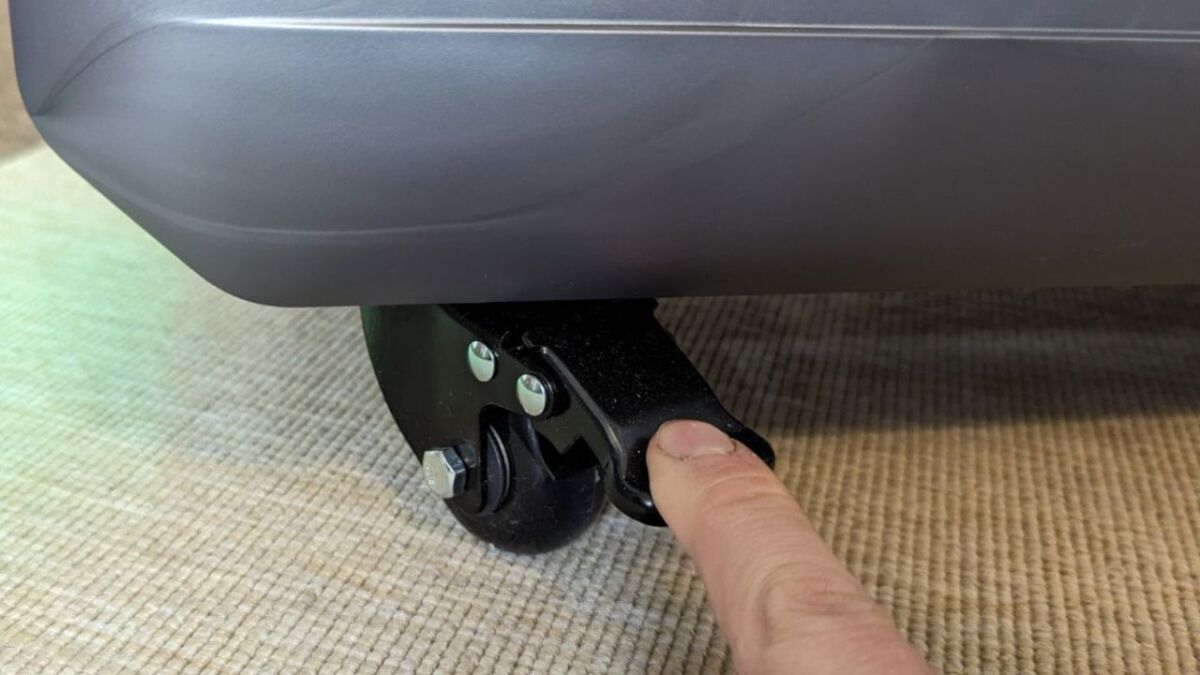 Product Details and Technical Data
Continuous power: 3.8 kW
Battery capacity: 6,438 Wh
AC input max.: 2900 W
Solar charging input: 3000 W
Output voltage: 230 V, 12.6 V, 5 V
Other Features
Case colors: black, gray
Equipment: WLAN transmitter, Bluetooth adapter, app support
Mobility: mobile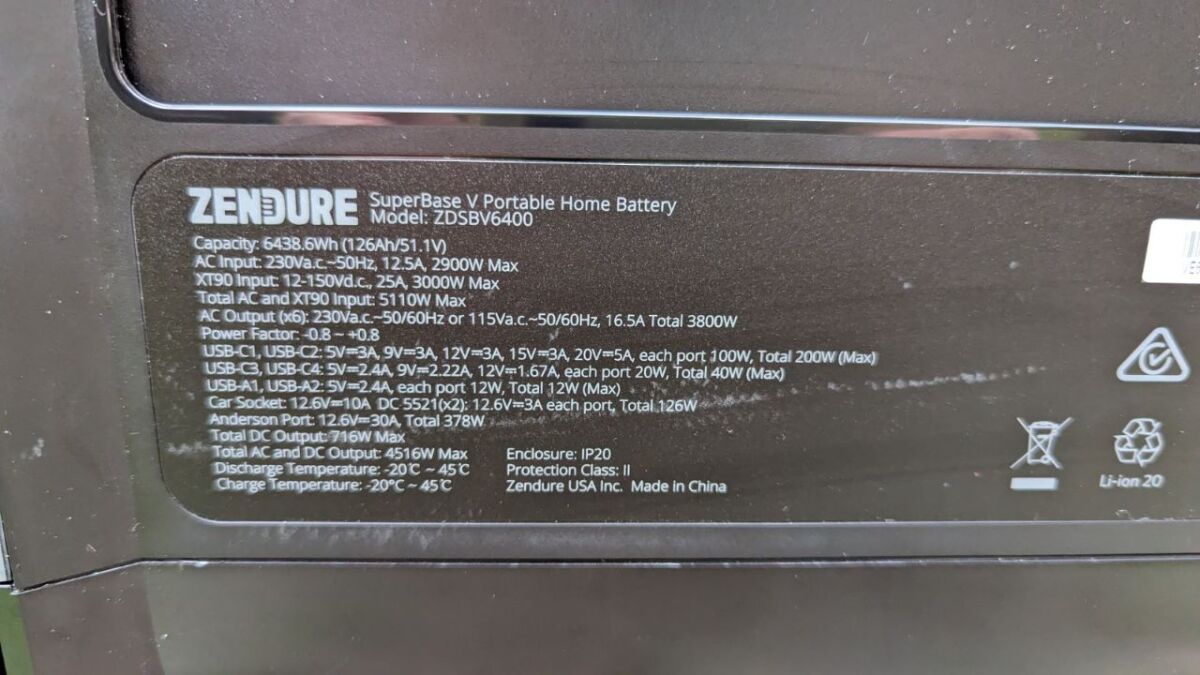 Dimensions and Weight:
Weight: 59 kg
Size: 73 x 34.6 x 44.2 cm
Battery Capacity
With a huge battery capacity and an almost overwhelming number of ports, the SuperBase V6400 is powerful and versatile enough to charge your entire home and electric vehicles. Let's take a closer look at the details.
Both the SuperBase V6400 and the B6400 satellite battery have a capacity of 6,400 Wh. You can pair up to four satellite batteries with any SuperBase V, giving you a total of 32 kWh.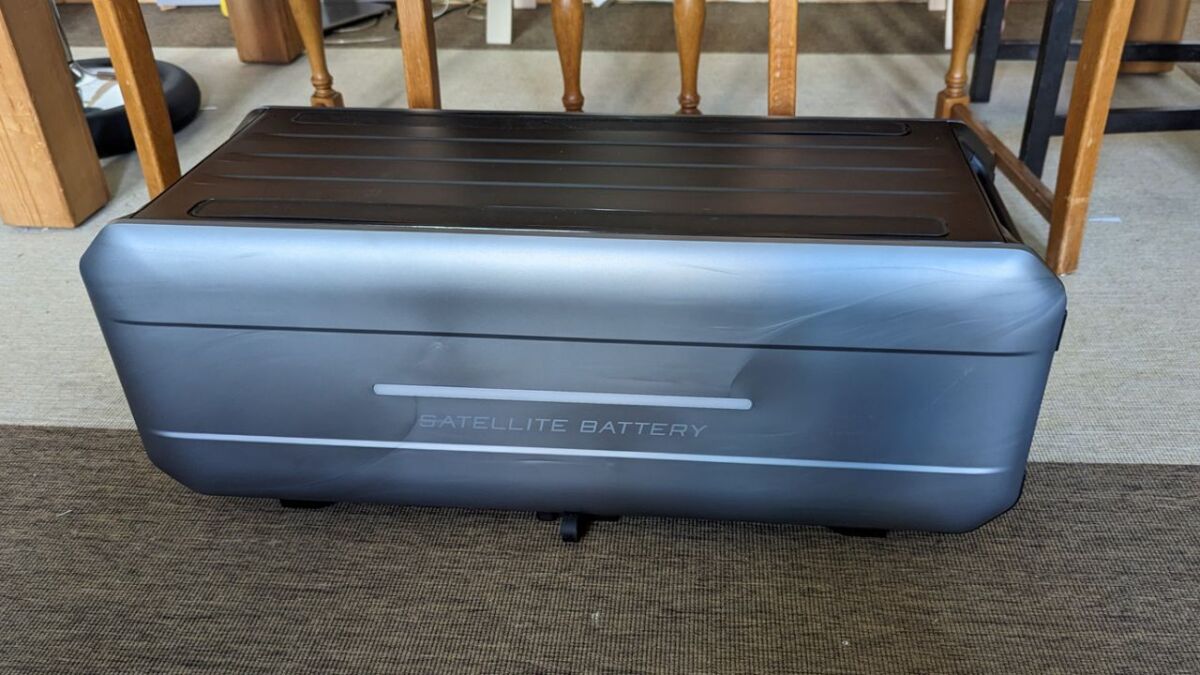 In addition, you can operate two SuperBase V's in parallel, which gives a total capacity of up to 64 kWh. This is enough to fully charge a Tesla Model 3 with a 60 kWh battery or to power an average German house for two full days and beyond.
But can the SuperBase V actually charge an electric car? Yes, it can.
Capacity: 6.4 kWh (V6400)
Battery type: V6400: Solid-State / V4600: LiFePO4 batteries
Cycles: Solid-State: 3,000 (10-year warranty) / LiFePO4: 6,000 (8-year warranty)
Charging temperature: 20 to 45 °C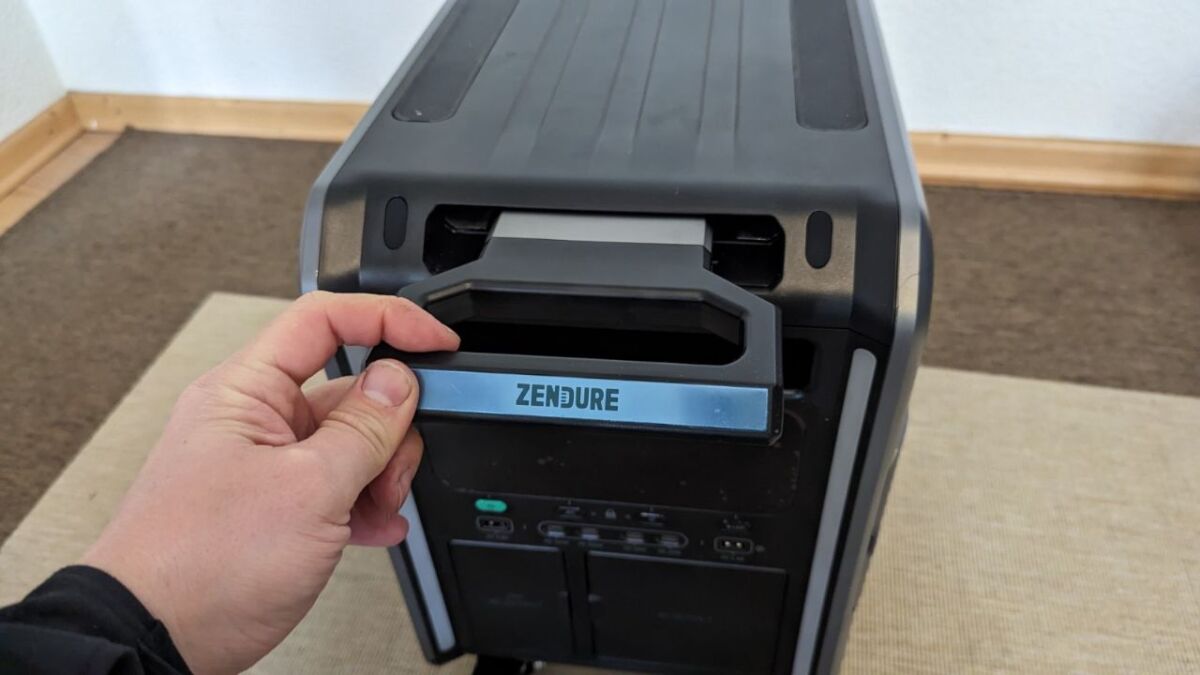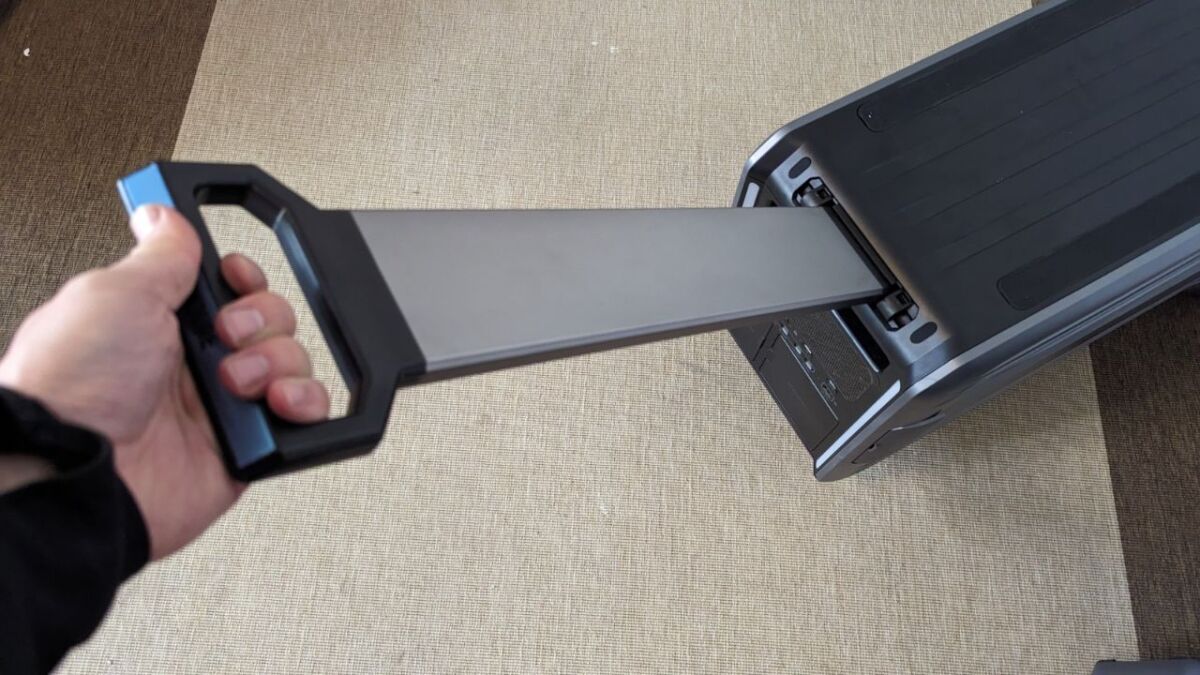 Ports
The SuperBase V6400 has all the inputs and outputs you could possibly need, including a 230-V-6-20 plug, which you can also find in a Tesla wall charger.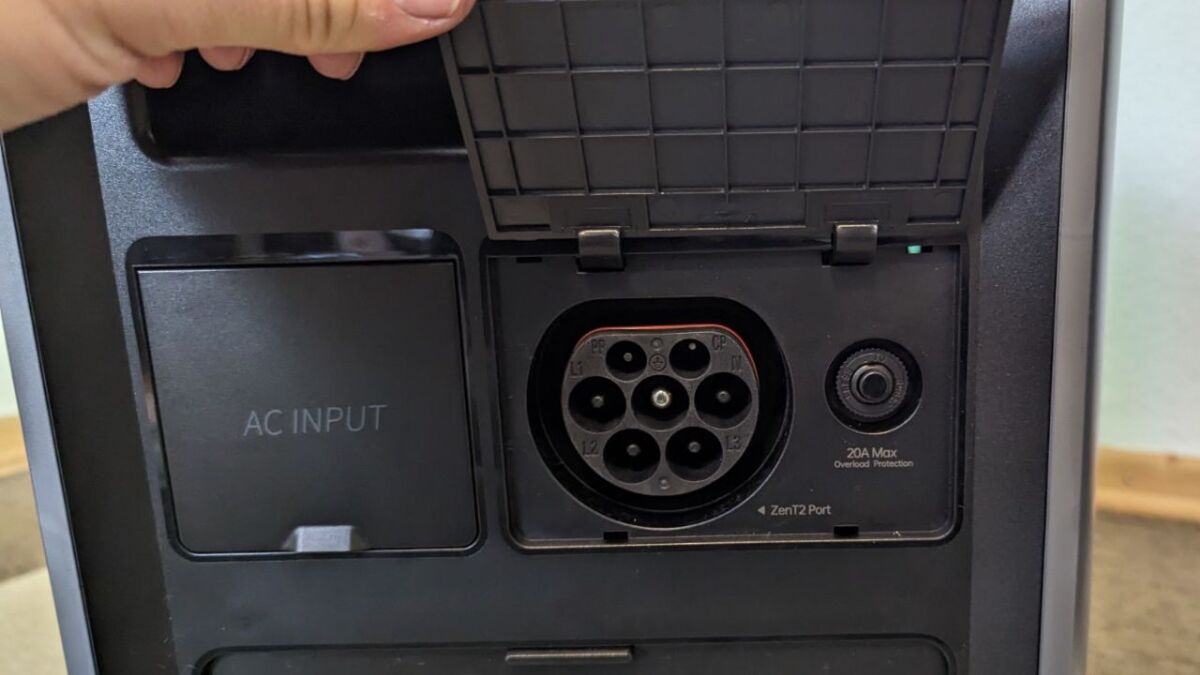 Both batteries use a pure sine wave inverter with 3,800 W and a short-term peak power of 7,600 W. With AmpUp, the SuperBase V6400 can operate certain devices that would normally require up to 5,150 W or 6,600 W when connected to a satellite battery.
Especially remarkable is the industry's first dual 120/240-V output, which allows you to charge your 130-V and 240-V devices simultaneously.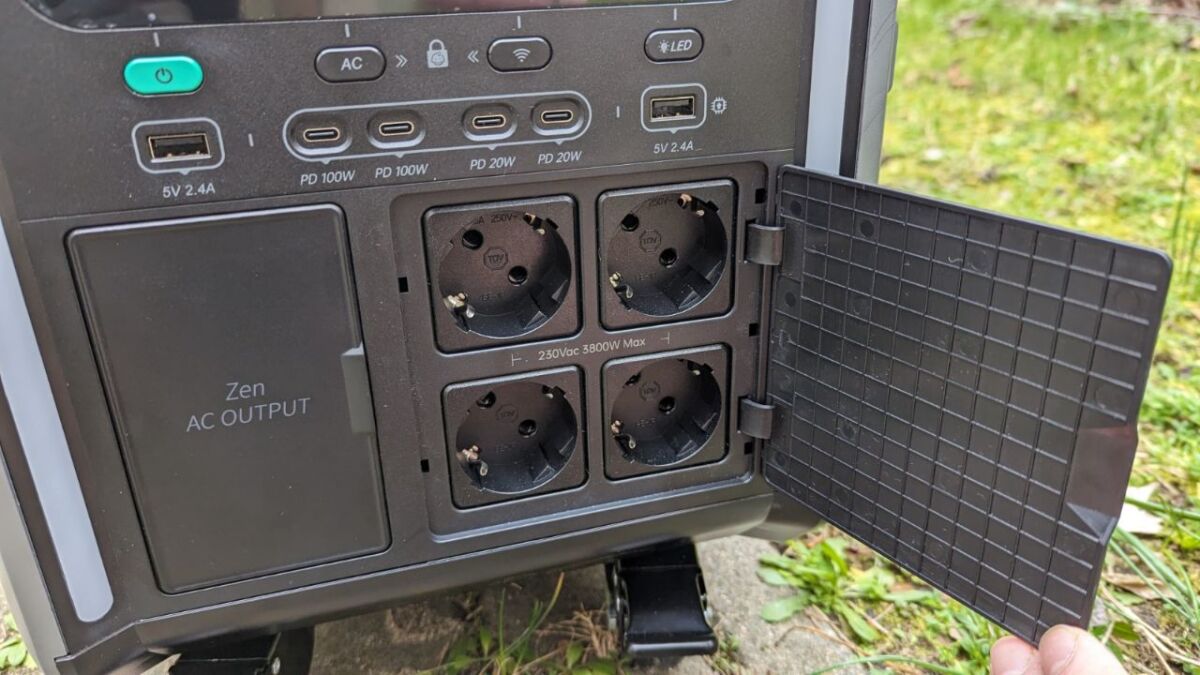 Other power stations do support both 120-V and 240-V charging, but not simultaneously.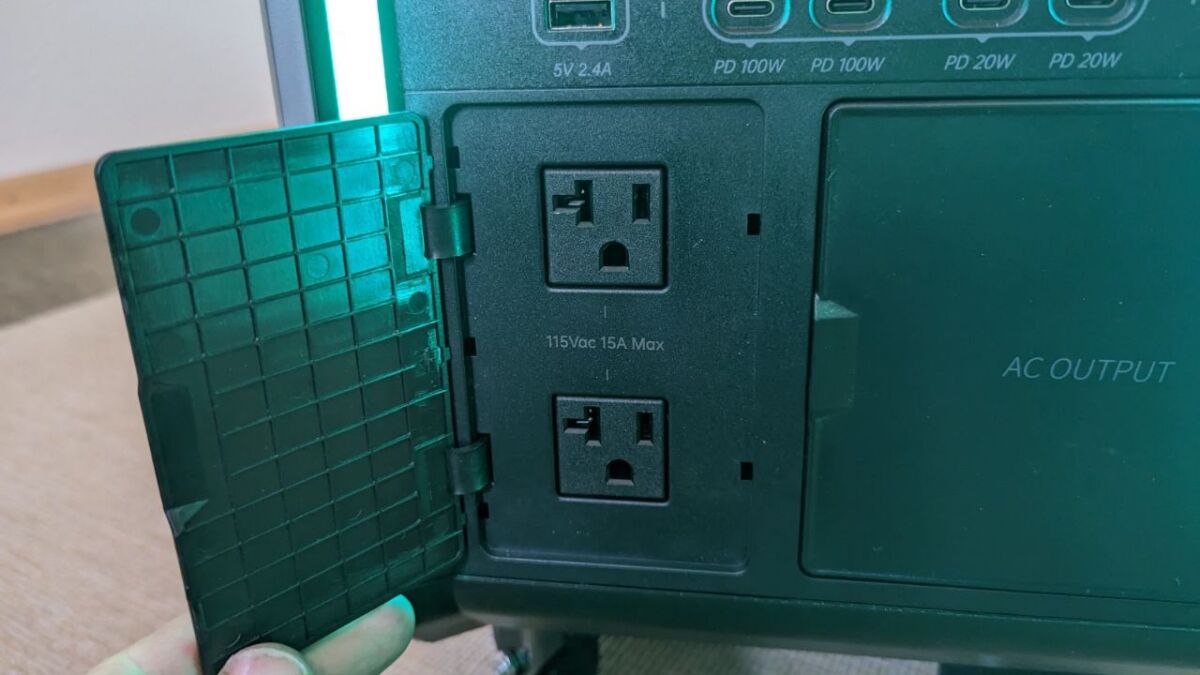 Charging with two voltages is great if you want to charge your 240-V electric vehicle, or operate your 240-V oven while simultaneously powering your 120-V entertainment system.
In addition to the standard 240-V AC, USB-A, USB-C ports, and the previously mentioned 240-V-6-20 plug, the SuperBase V6400 also includes a 120-V-TT-30 plug and an Anderson output port that can supply 30 amps to your RV.
If you need more output ports, you can find Anderson, car, and DC5521 outputs on the side panel.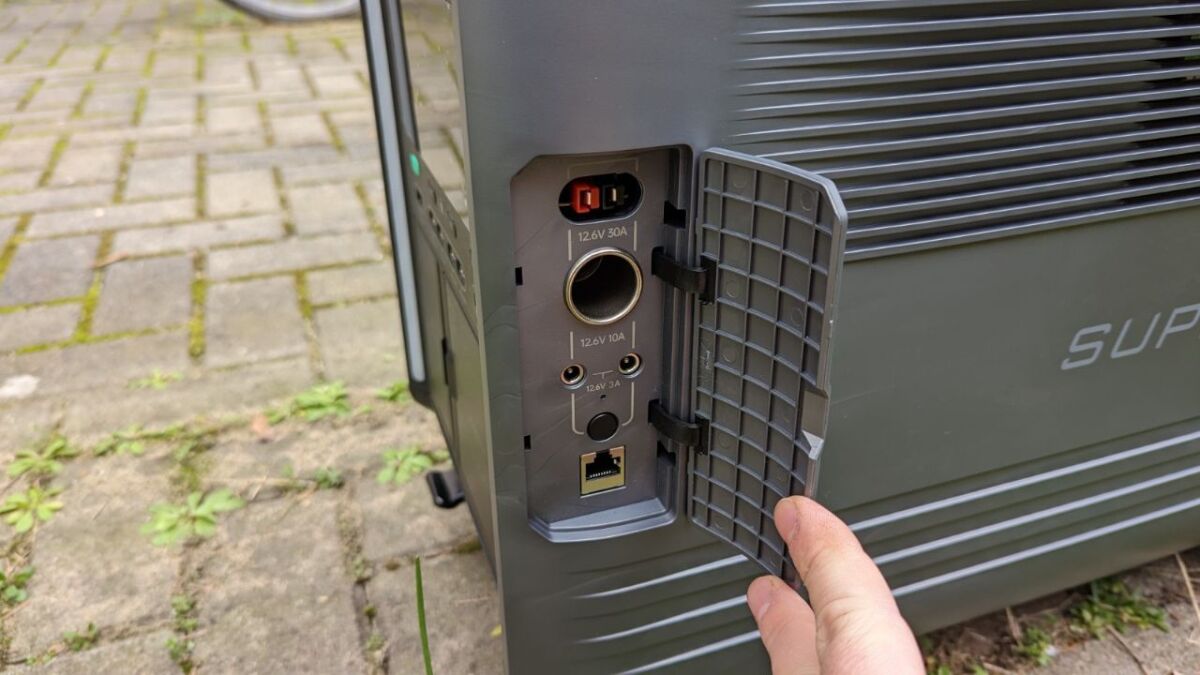 Here's an overview:
Outputs:

4x AC Outlet 120V 60Hz, Total 3800 W
2x Zen AC Outlet 240V 60Hz or 120V 60Hz, Total 3800 W
1x Auto Outlet 12.6V 10A, 126W Max. with DC-Output DC5521
2x DC5521 12.6V, 3A
1x Andersen 12.6V, 30A, 378W Max.
USB C1, USB C2: 5V 3A, 9V 3A, 12V 3A, 15V 3A, 20V 5A (each port 100W Max, Total 200W)
USB C3, USB C4: 5V 2.4A, 9V 2.22A, 12V 1.67A (each port 20W Max.)
USB A1, USB A2: 5V 2.4A (each port 12W, Total 12W Max.)

Input:

1x AC, 120V 60Hz, 1800W Max. or 240V 60Hz, 3600W Max.
1x Solar XT90, 12V-150VDC 25A, 3000W Max.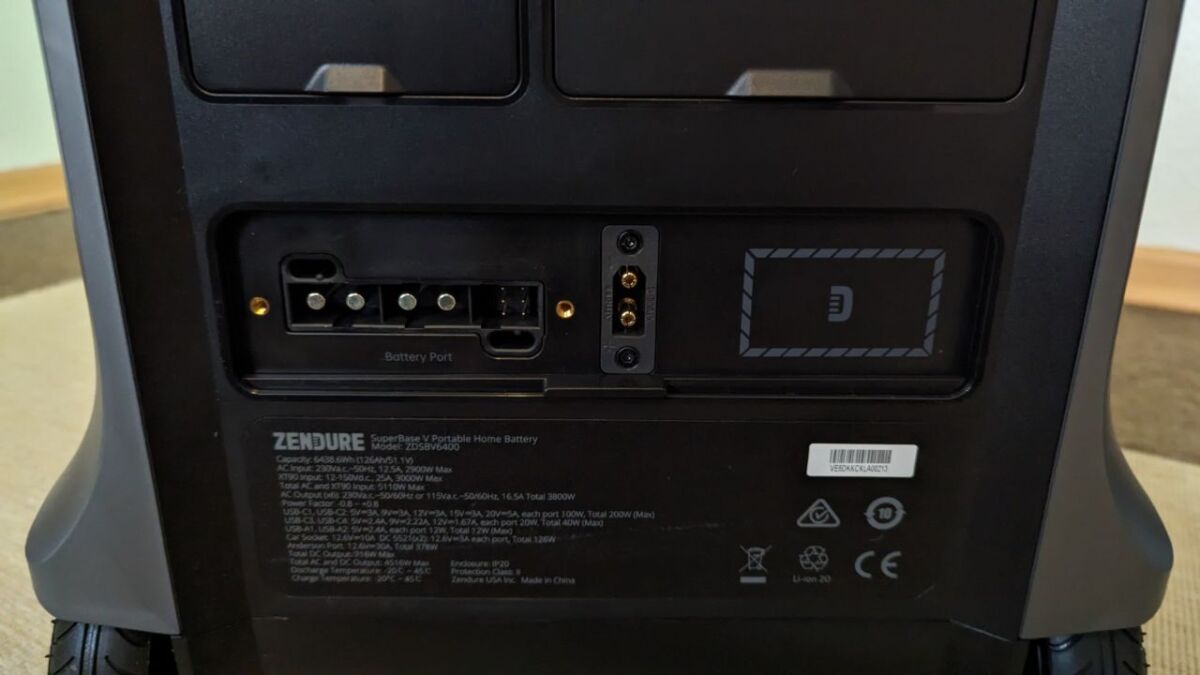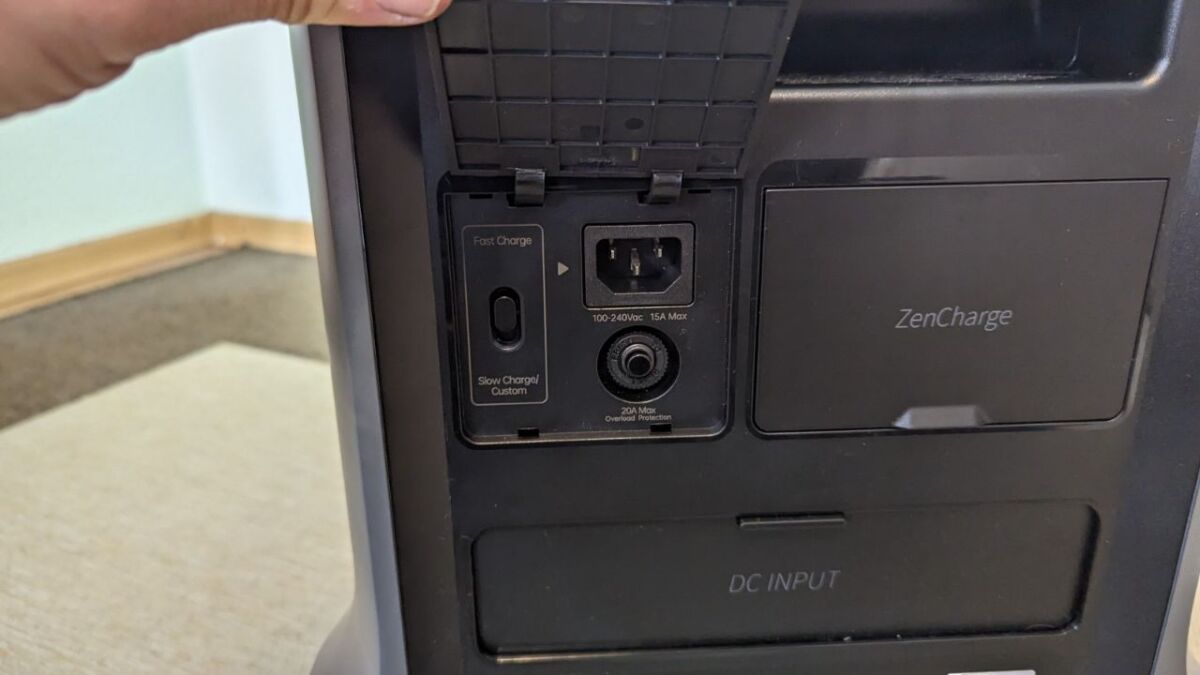 Performance and Charging Speed
But what about charging the SuperBase V6400 and the satellite batteries?
Each unit includes an MPPT solar controller for solar input via an XT90 connector.
The SuperBase V6400 can handle up to 3,000 W at 12-150 V DC and 25 A, while the Satellite Battery can be charged up to 600 W (12-150 V DC / 10 A).
At maximum capacity and under ideal conditions, the SuperBase V6400 can be charged solely through solar energy in 2.5 hours.
The V6400 can be charged in about 2 hours
Maximum discharge current: 3,800 to 7,600 W via AC
Uninterruptible power supply (Zero-Downtime UPS): less than 13 ms
Solar charging capacity: maximum 3,000 W
Voltage: 115 V / 240 V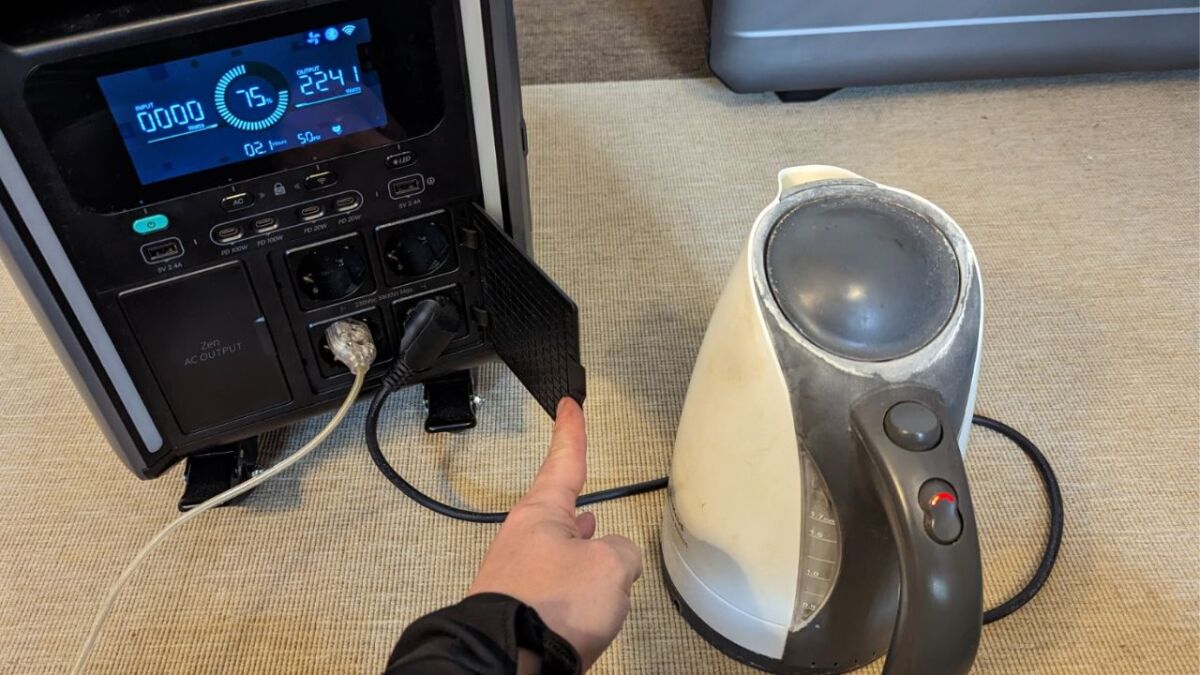 Setting Up and Controlling the Zendure Power Station
To test your SuperBase V6400 and B6400 Satellite Battery, I recommend placing them in your basement or garage, especially if you intend to install them for mobile use or charging your electric vehicles with the Zendure Power Station.
You can control your SuperBase V through physical buttons and check its status through the screen. However, it's much more convenient to monitor the power station from your living room rather than going into the garage or basement.
Setting Up the Zendure App
To get the most out of your system, install the Zendure smartphone app and pair your SuperBase V and your Satellite Batteries.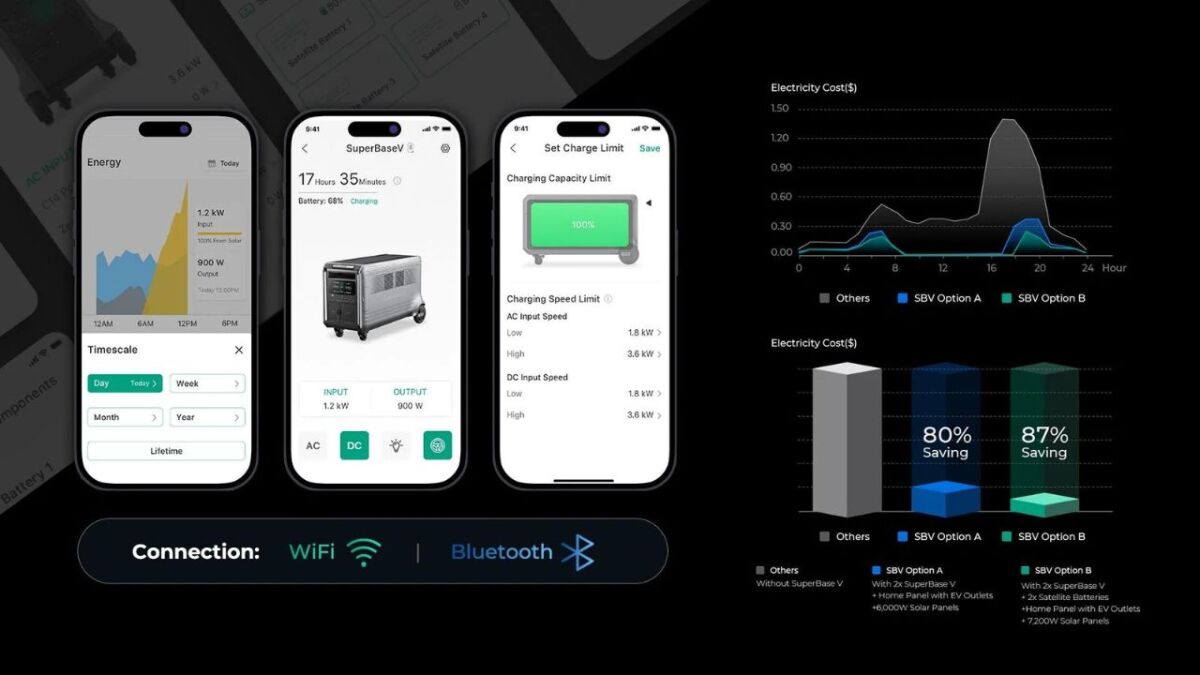 Tap the "+" button in the top-right corner of the app, choose the product you want to pair. Make sure it is turned on, follow the instructions to enable Wi-Fi and Bluetooth, then pair it to your home Wi-Fi or Bluetooth. Please note that if you select Bluetooth, not all functions may be available.
After you have paired your SuperBase V and all its satellite batteries with the app, turn everything off. Physically connect the batteries and the SuperBase V by using the cable of the satellite battery that is connected to the top of the satellite battery (remove the protective strip) and to the back of the SuperBase V.
If the satellite batteries are properly stacked, that is, if the protective strips and plugs are removed, they will be automatically connected to each other.
Now turn on your SuperBase V. If you have done everything correctly, your satellite batteries should automatically turn on, and you should see them listed as external SuperBase V battery packs in the app.
If this is not the case, repeat your steps or try updating the firmware of your satellite batteries through the app.
Functions of the Zendure app
The app includes the following functions:
Check the AC and DC charging and discharging status.
Battery status: Check the battery temperature, remotely turn off the power station, set the maximum state of charge (SOC management), set the AC input power limit up to 3,000 W, switch the AC output mode from RV mode to 240 V, and change the output frequency from 50 Hz to 60 Hz.
Turn on the AC and DC outputs.
Battery pack: See which satellite batteries are connected to your SuperBase V.
Function: Activate the Idle Mode (input limited to 600 W, lights and speakers disabled) and AmpUp Mode (discharge up to 5,000 W of alternating current).
Light: Switch the front LED panels of the SuperBase V from flashlight to ambient light status, turn them on/off, change modes, adjust brightness and color.
Motorization: Control the drive wheels of the SuperBase V remotely, meaning you can literally drive it like a remote-controlled vehicle.
Data: Track running data per day, week, month, and year.
Settings: Set temperature units, network settings, enable/disable sounds, and more.
The setup and control of your Zendure Power Station may seem complicated at first, but once everything is set up, you'll be able to take advantage of the numerous features and capabilities it offers.
Voice Control and Automation
Theoretically, you can control the SuperBase V through Amazon Alexa or Google Assistant.
If you can connect to one of these services, you can control the power station by voice or set up automations based on the charging or discharging status of the power station, such as charging it at night when electricity rates are cheaper.
The 400-watt Zendure Solar Panel
To charge the SuperBase independently, Zendure offers the appropriate solar panel, which delivers up to 400 watts.
Weighing 13.2 kg, the Zendure solar module is portable, foldable, and compact.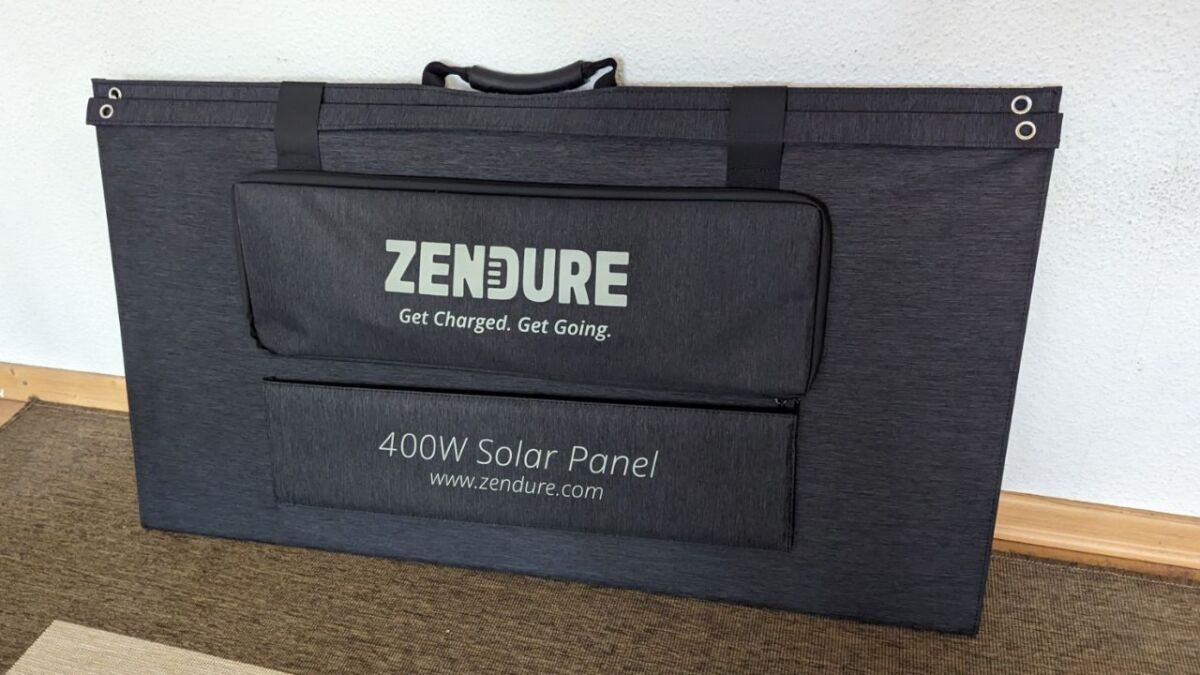 The Zendure solar module 400W is like a true sun worshiper! It uses state-of-the-art technology to capture as much sunlight as possible.
The brand new monocrystalline solar cells boost efficiency to the max - even in poor light, they are up to 22.5% better than their polycrystalline cousins.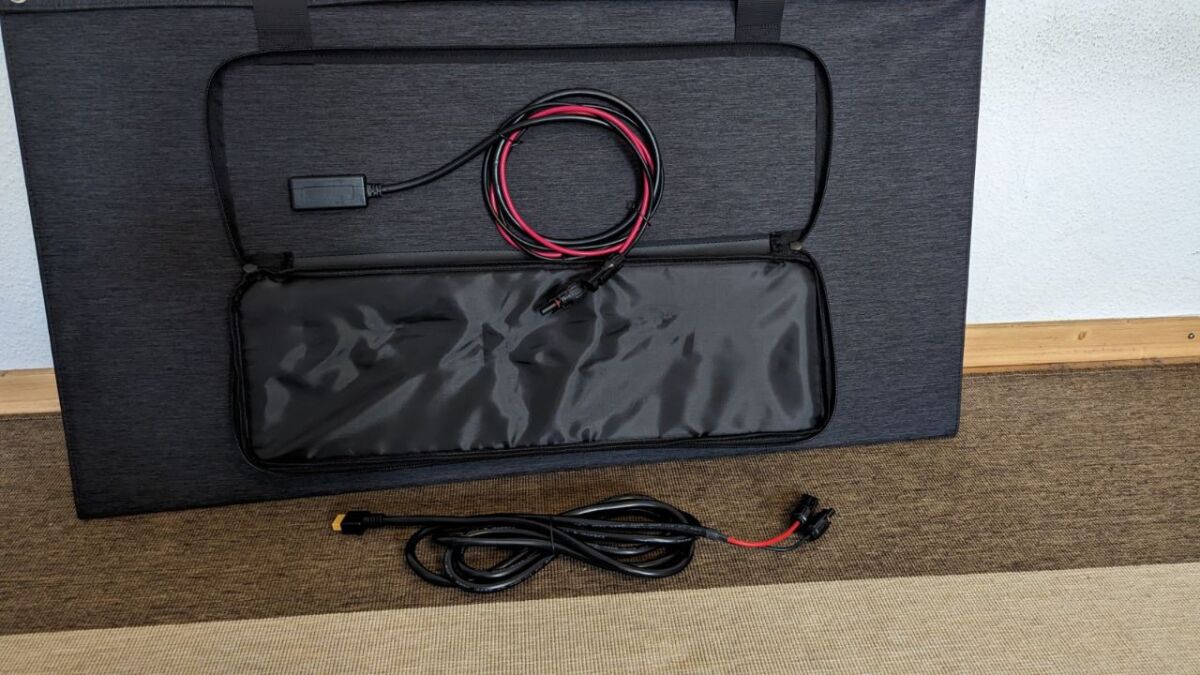 Technical Specifications:
Output voltage: 40V (+/- 5%)
Maximum current: 10A
Rated power: 400W (+/-5W)
Connection plug: MC4
Operating temperature: -10 °C to 65 °C
Protection class: IP65
Dimensions unfolded LxWxH: 1000 x 2240 x 25 mm
Dimensions folded LxWxH: 547 x 1000 x 57 mm
Weight: 13.2 kg
Scope of delivery: Solar panel, carrying case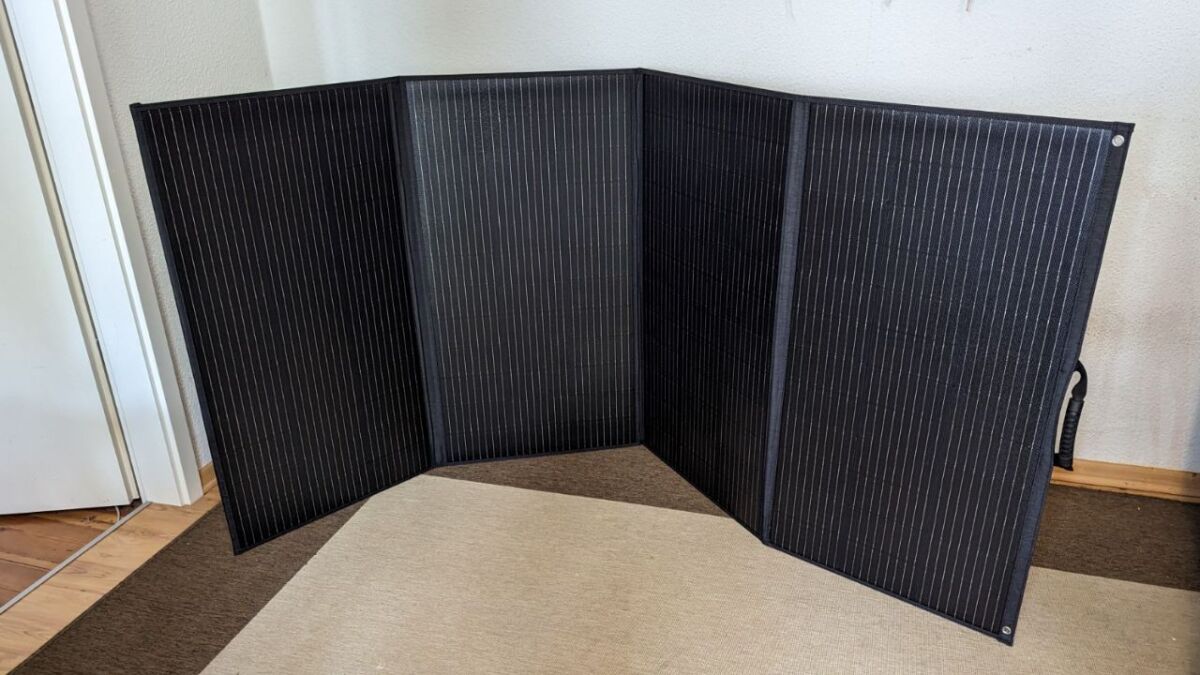 It is not only dust and waterproof to IP65, but also perfect for outdoor adventures such as camping and hiking thanks to its seamless, one-piece design.
As a little extra, it has an adjustable stand, so you can place it in any direction or orientation - always getting the best angle for maximum solar power.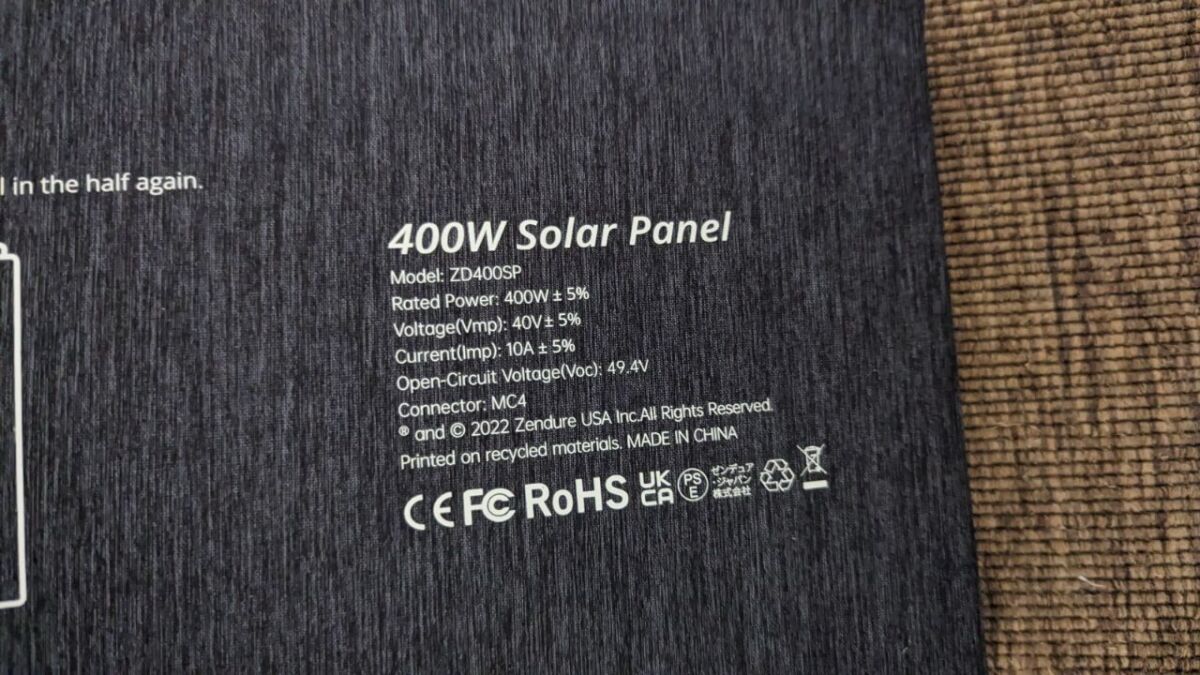 Practically, the loops at the corners are useful because you can hang the solar panel – maybe on the balcony or on the motorhome?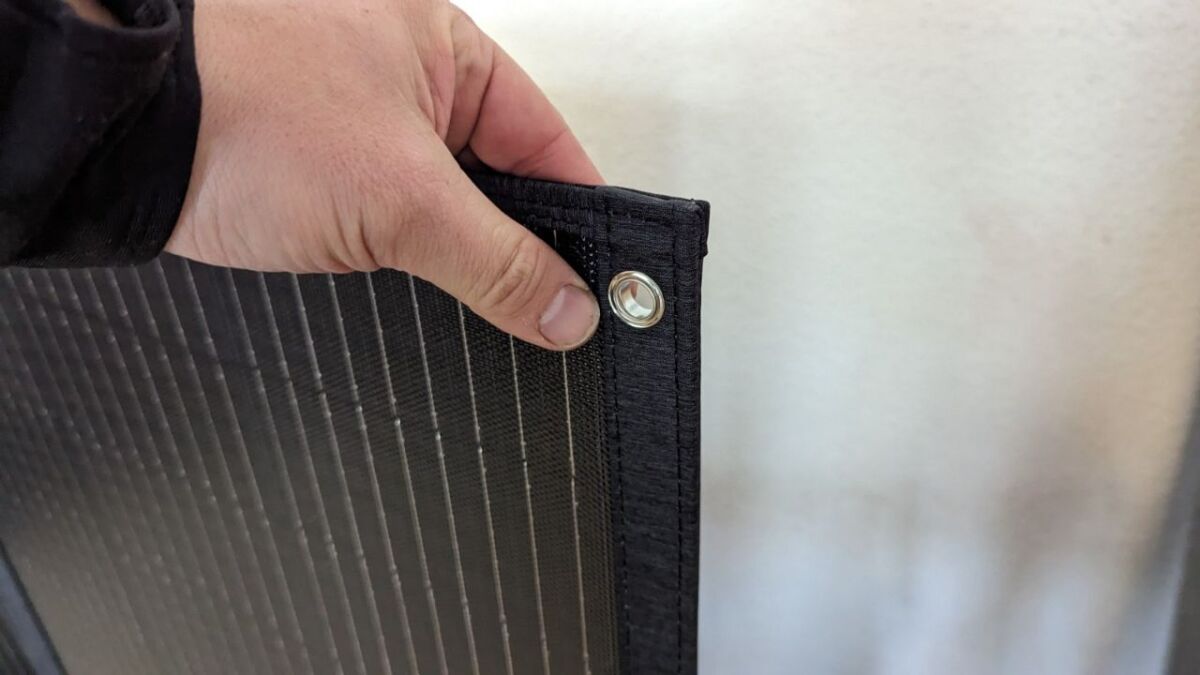 Should you buy the Zendure SuperBase V?
If you are looking for the ultimate, durable powerhouse, then it is the Zendure SuperBase V6400 and its B6400 satellite batteries.
This system can easily be scaled to power your whole house for days. If you have enough solar power available, you can even go off-grid completely. Currently, this set is the most powerful option on the market.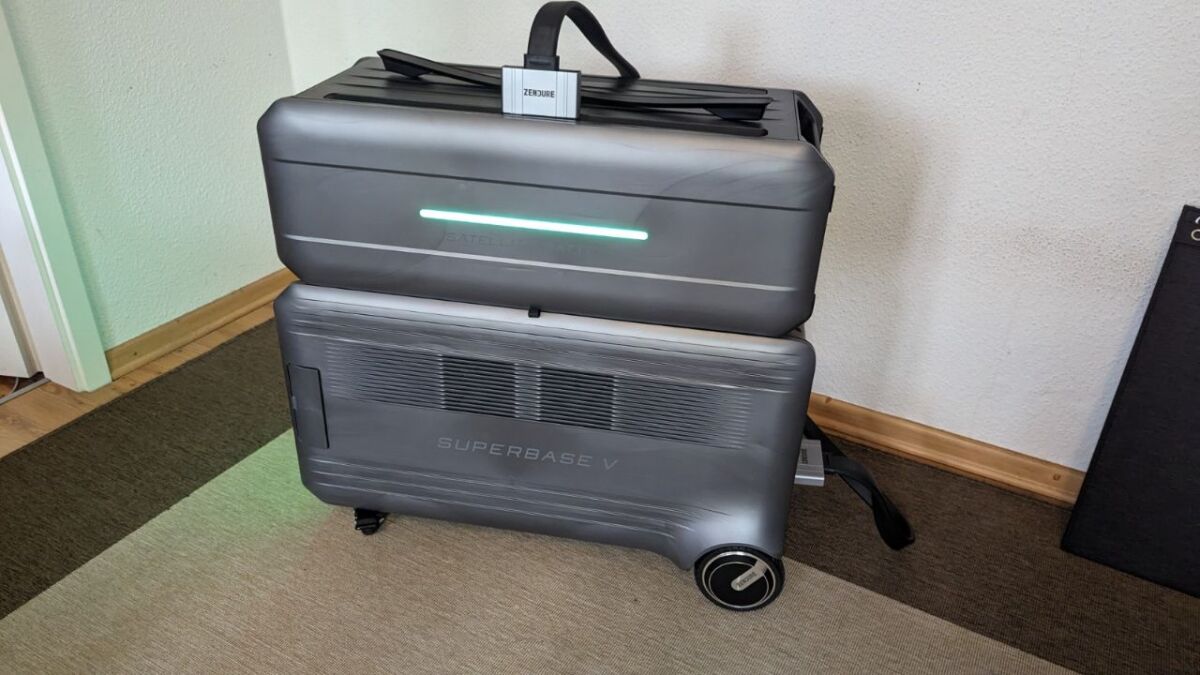 What sets this system apart from competitors is that it is mobile, modular, and easy to self-install. If you already have a switch in your home, this system is essentially plug and play. Zendure also offers a home panel with outlets for electric vehicles
While other competitors like Bluetti or EcoFlow have released similar portable and stackable systems, Zendure's SuperBase V6400 currently offers the most comprehensive package in this segment.
Specifically, it is currently the only one with semi-solid-state batteries, the first in the industry with dual 120/240-volt operation, and one of the few that offers a UPS (unfortunately only in the US market) with such a low downtime.
What could also convince you, if you value portability, are the powered wheels of the Zendure SuperBase V6400, which other systems like the Bluetti AC300 lack.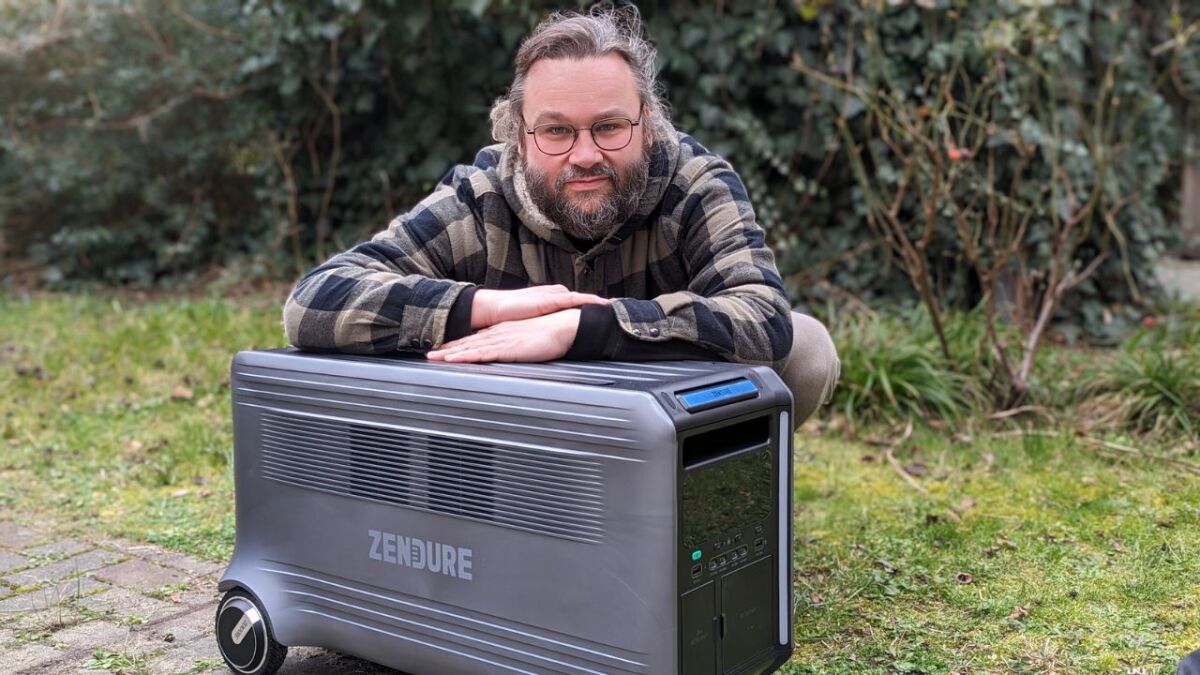 Another disadvantage of the Bluetti is that the B300 satellite battery only has a capacity of 3,072 Wh, while the AC300 has no battery capacity at all, compared to the up to 6,400 Wh of Zendure both for the base station and the optional satellite batteries.
While the Zendure SuperBase V6400 can literally power everything, up to 5,000 W alone or up to 10,000 W when using two SuperBase V's in series, it could, of course, be exaggerated for your requirements.
In my tests, the fans were quite loud, even when devices with low wattage were being used. So if that's a problem, you should seek a quieter alternative.
But to be honest, there is little in this area that is truly quiet, unless you opt for a 500W power station like the Goal Zero Yeti 500X.
If you have a limited budget, a smaller system with fewer features may be the better option for you. In this case, take a look at the power station's Anker 757 PowerHouse (here's my review) or the Bluetti AC300+B300.
The SuperBase V6400 is best suited for those seeking maximum portability and emergency power supply for off-grid use or extended power outages.
Zendure SuperBase V Powerstation
Semi-Solid-State Battery
Dual Voltage 115V/230V
Scalable up to 64 kWh
3,800 - 7,600 W Output
It can be used as a UPS
from 4,499.00 €
Buy Zendure SuperBase V Powerstation
In the official shop, you can also get the SuperBase V as a solar generator – along with a matching solar panel.
However, if your system is stationary and frequently recharged, the SuperBase V4600, the LiFePO4 version with lower capacity, may be more cost-effective.
Disclosure: Thanks to the team at Zendure for providing me with the Powerstation and solar panel for testing purposes. I was not paid to write this review.

Was this guide helpful?
12 people found this guide helpful.
5.00 out of 5 points (12 Ratings)