Back to german article
What food to take for hiking? - 5 delicious recipes for the backpack tour
What to eat while hiking? Learn 5 simple recipes to cook afterward. The dishes are perfect to take them on your next hiking tour.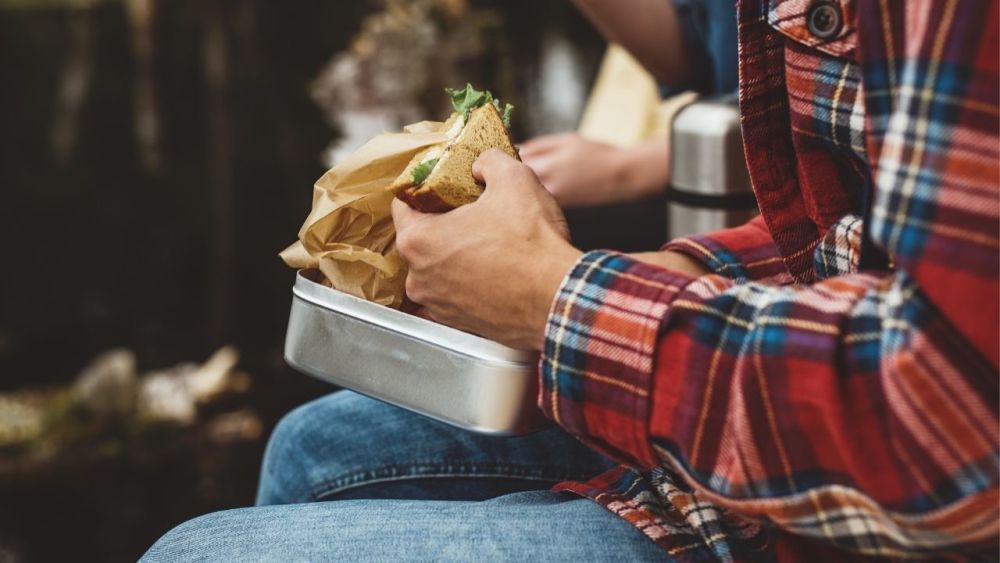 ---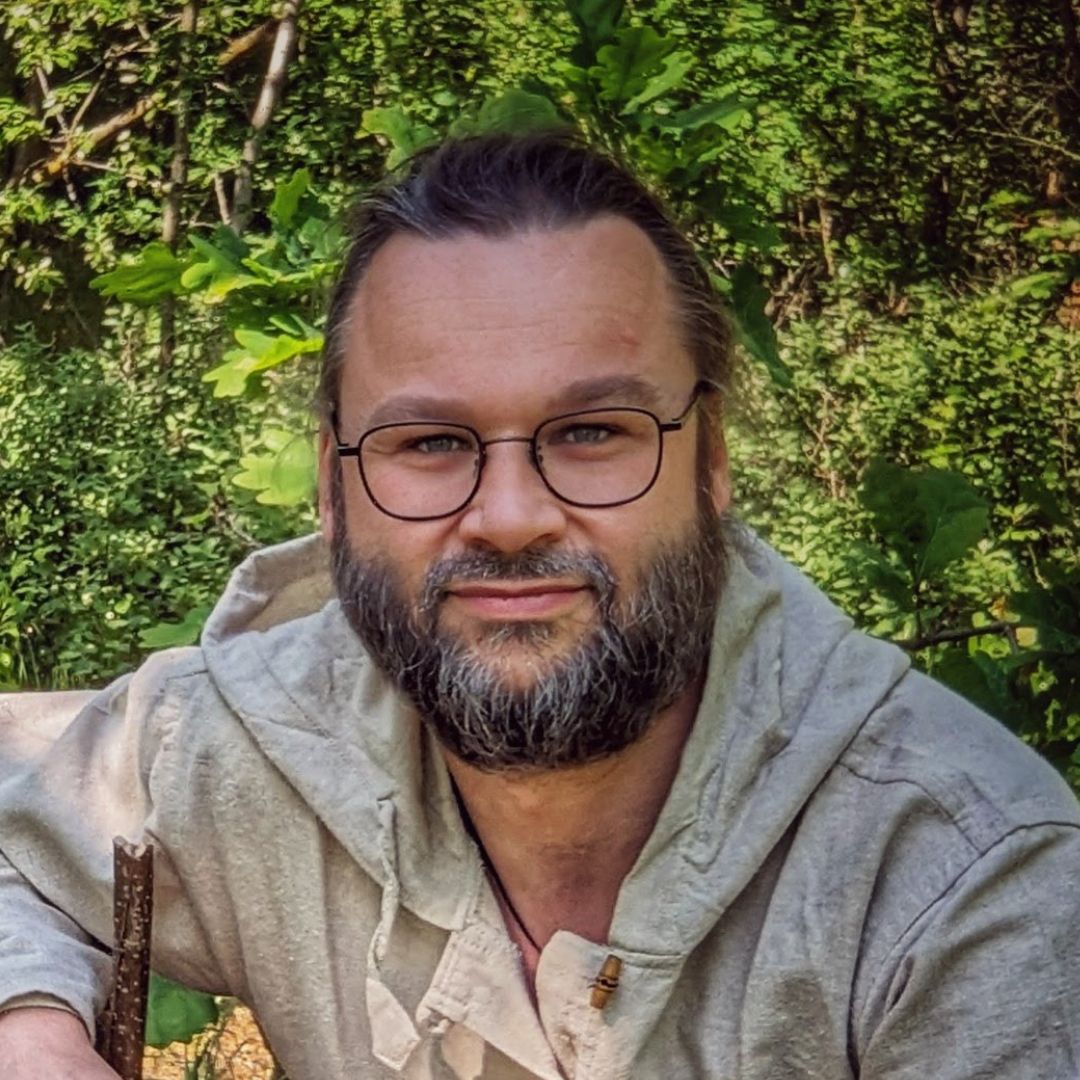 ---
👉 The key facts from this guide
Snacks for hiking: nuts, granola bars, dried fruits, beef jerky, and water
Snack ideas: boiled potatoes, apples, trail mix, salami sticks, rice or corn cakes, vegetable sticks, homemade granola bars
Recipe 1: Pasta salad - a light and filling meal
Recipe 2: Wraps - crunchy, fresh, and delicious
Recipe 3: Rice pudding - for those with a sweet tooth
Recipe 4: Chickpea salad - crunchy, fresh, and healthy
Recipe 5: Banana bread - moist and sweet for hiking
During a long hiking tour, it is not only important to wear the right clothing, but also to have enough provisions in your backpack. However, the choice of food can sometimes be quite limited.
I have often had the problem that I simply didn't know what food to take on my next hiking trip.
I had eaten enough of standard cereal bars and sandwiches.
That's why you will now learn 5 simple recipes to cook. The dishes are perfect to take with you on your next backpacking trip.
Enjoy reading, cooking, and hiking!
What food should you take for hiking?
Generally, one or two healthy snacks are suitable. Some of these snacks include nuts, granola bars, dried fruits, and beef jerky. This finger food provides an energy boost and keeps you going for hours.
Another important thing you should bring is water! It's important to keep your body hydrated while hiking, so bring along water bottles or other beverages along with food.
Which snacks are suitable?
Before I start with the 5 hiking recipes, I want to give you some snack ideas to take with you on the way. These snacks are perfect to have in your backpack while hiking. If your main meal is not enough, you can rely on these.
It is also not always necessary to bring a large meal. For smaller tours, snacks are often sufficient.
Cooked potatoes
Apples
Trail mix
Salamisticks or jerky
Rice or corn cakes
Veggie sticks
Granola bars (recipe coming soon!)
Granola bars
Muesli bars are the most classic snack option when hiking. They provide plenty of carbohydrates and thus ensure enough energy. Unfortunately, many commercially bought bars contain industrial sugar.
Due to the high sugar content, the insulin level drops as quickly as it has risen. As a result, you immediately get hungry again.
Therefore, today I'm giving you a recipe for a really delicious bar, without any refined sugar!
Bonus Recipe: Granola Bars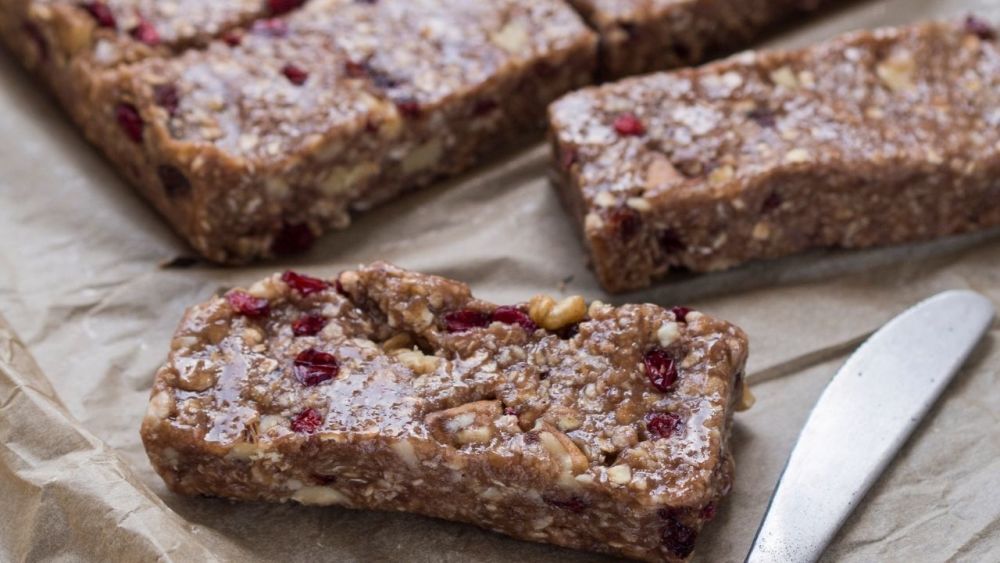 Ingredients for about 10 large bars:
90 g dates
50 g oat flakes
30 g ground almonds
15 g chopped almonds
15 g chopped hazelnuts
50 g peanut butter
100 g dark chocolate
Some coarse sea salt
Preparation:
First, chop the dates in a blender.
Then, chop the chocolate.
Now, combine all the ingredients and knead them well.
Now line a baking sheet or casserole dish with parchment paper and press the mixture onto the sheet.
Finally, sprinkle some coarse sea salt on top.
Let the mixture cool well overnight.
The next morning, you can cut small bars out of it.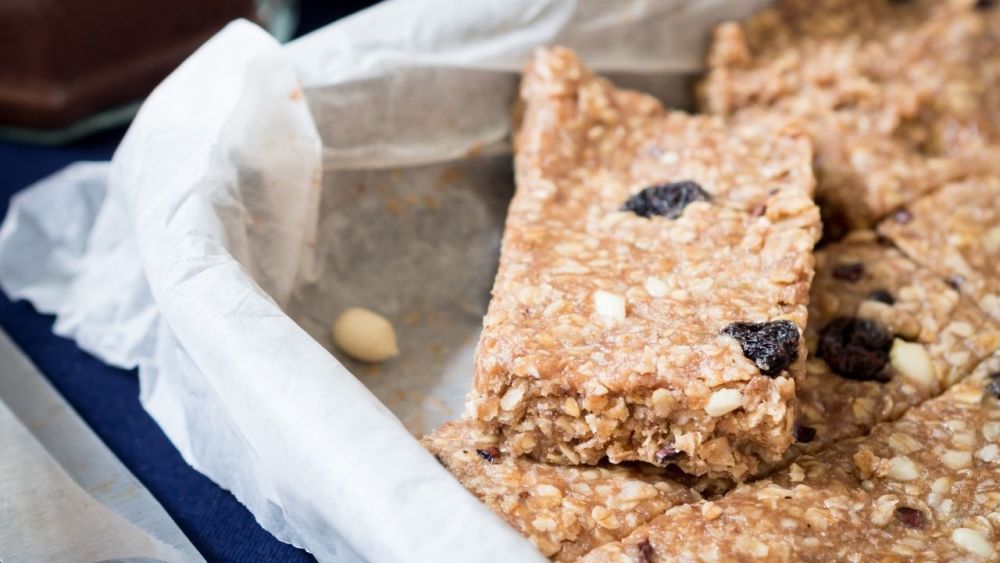 Attention: This is not a conventional cereal bar. The bar is inspired by the well-known CLIF Bar and therefore has a slightly softer consistency. Don't let that confuse you.
The bars are not only delicious and healthy, but also incredibly addictive!
So, but now to my 5 most delicious recipes for hiking.
1. Pasta Salad - Light Satisfying Meal
Pasta salad is not only a hit at every barbecue party, but also ideal to take with you on a hike. There are many different recipes and variations for pasta salads.
Since the fatty version with mayonnaise and Lyoner sausage is a bit too heavy for the hiking tour, here is a light recipe for pasta salad.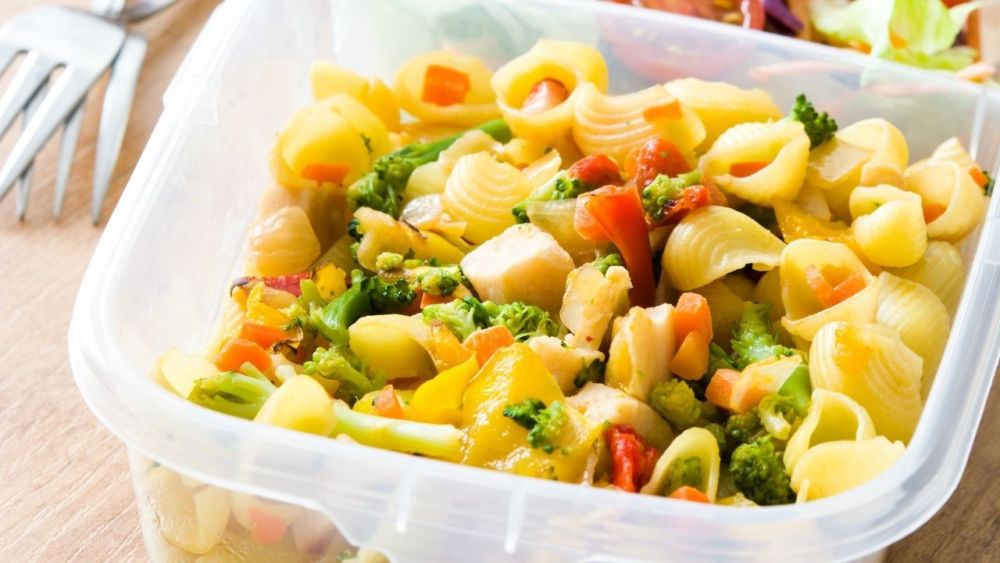 Ingredients for 1 serving:
80 g pasta
Half a bell pepper
A piece of cucumber
A small onion
A few tomatoes
1 egg
Salt and pepper
Vinegar and oil
Preparation:
First, cook the noodles and then let them cool completely. If you don't let the noodles cool enough, the other vegetables will become warm and soft. You also cook the egg and let it cool.
Cut the vegetables into small pieces and mix vinegar, oil, salt, and pepper together to make a dressing. Once the egg has cooled down, peel it and cut it into small cubes or strips.
Now add all the ingredients, including the noodles, together and mix everything well.
More tips:
The egg serves as a source of protein in this case. If you want to consume more protein, either add another egg or include some legumes.
Also cheese or dried tomatoes are also excellent for mixing them into the salad.
2. Wraps - crispy, fresh and delicious
Instead of a boring bread or roll, take a wrap with you on your next hiking tour! I've already given you a wrap idea in the camping recipes. Here's another one for you!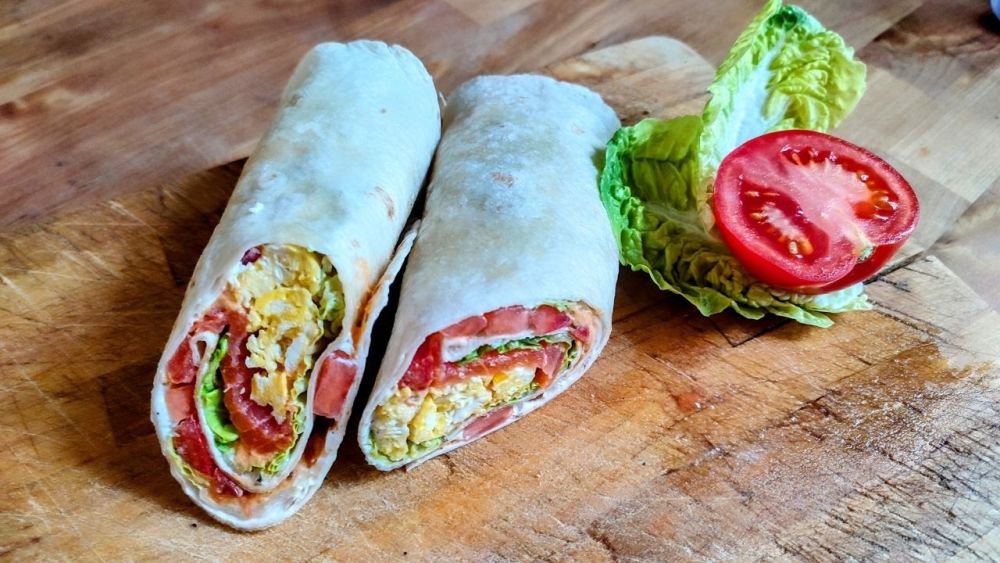 Since you ideally prepare your provisions at home, you have more options available to you. Therefore, I have come up with a hiking recipe that is slightly more elaborate.
Ingredients for 2 wraps:
2 wraps
100 g minced meat
1 can kidney beans
0.5 pack of tomato passata
1 tbsp tomato paste
1 onion
Possibly a can of corn
A few tomatoes
Salt and pepper
Paprika powder and chili powder
Possibly some grated cheese
Preparation:
First, cut the onion into small cubes and fry them in some oil. Then add the ground meat and fry it until crumbly. Add the tomato paste while doing so.
Season everything well and add the crushed tomatoes. Let it simmer for a few minutes. Drain the kidney beans and cut the tomatoes in the meantime. Now add both ingredients.
Also drain the corn and add it. Taste everything again and let it simmer briefly. However, be careful not to let it boil for too long, as the beans will become too soft.
Now you can fill your wraps. If you like, you can spread some grated cheese on the warm filling and then close the wrap.
Even though the wrap will be cold until the hiking tour, it still tastes really good. Thanks to the beans, the dish is a good source of protein.
3. Rice Pudding - for the sweet tooth
If you prefer sweet dishes while hiking, you will love this recipe! Rice pudding can be easily made at home and tastes just as good warm as it does cold.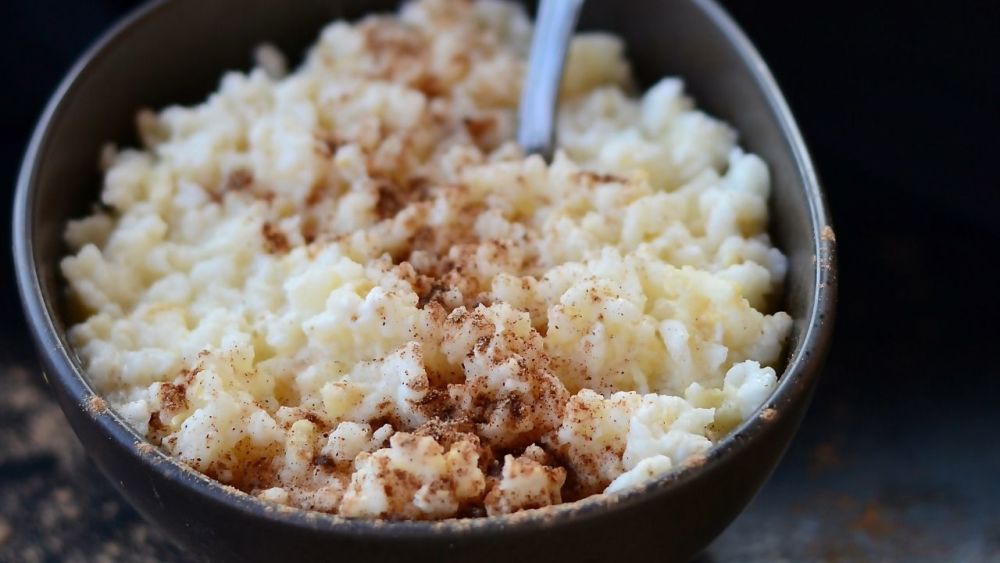 Ingredients for 1 serving:
125 g rice pudding
0.5 liter milk
1 tbsp sugar
Preparation:
Put the milk, sugar, and rice in a pot and let it slowly come to a boil. Make sure to stir regularly to prevent the mixture from burning.
Once everything is boiling, reduce the heat and let it simmer for about 20 to 25 minutes. Stir occasionally!
The rice pudding is ready when the rice has absorbed all the milk and a creamy consistency has formed.
More tips:
The best accompaniment for rice pudding is, of course, a mixture of cinnamon and sugar. You can easily make this yourself with some cinnamon and sugar.
Fill your rice pudding into the container that you want to take with you on your hiking trip and sprinkle the cinnamon-sugar mixture over it. You can also add some fruit puree on top. Then put everything in the refrigerator.
If you're missing the protein content in this recipe, you can simply add some protein powder during the cooking process. However, you may need about 100 ml more milk.
4. Chickpea Salad - crunchy, fresh and healthy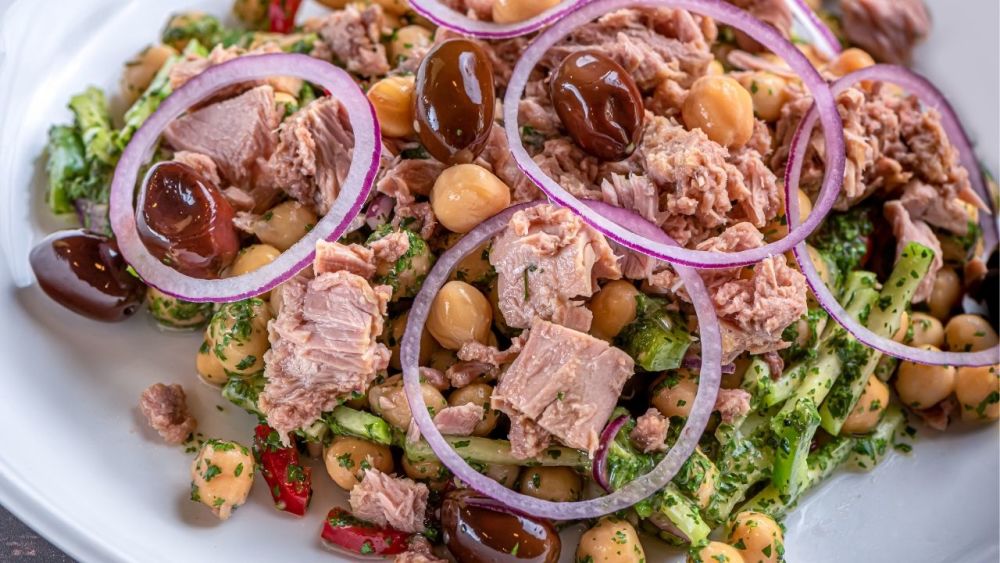 That's why I'm giving you my recipe for a delicious chickpea salad here.
Ingredients for 1 serving:
1 can of chickpeas
0.5 onion
Some feta cheese
1 can of tuna
Salt and pepper
Vinegar and oil
Spices of your choice (chili goes well)
Preparation:
First, drain the chickpeas and tuna. In the meantime, dice the onion into small cubes and make a dressing out of salt, pepper, vinegar, and oil.
Now put the tuna, chickpeas, and onion in a bowl. Then crumble some feta over it. After that, pour in the dressing and mix everything well together.
More tips:
If you want to add even more vitamins, you can chop up some more vegetables. Cucumber and tomato work particularly well for this. You can also slice some zucchini thinly, grill it, and add it to the mix.
5. Banana bread - moist and sweet for hiking
The banana bread takes by far the longest, but it is prepared quickly. The bananas make the bread super moist and really sweet. Give it a try!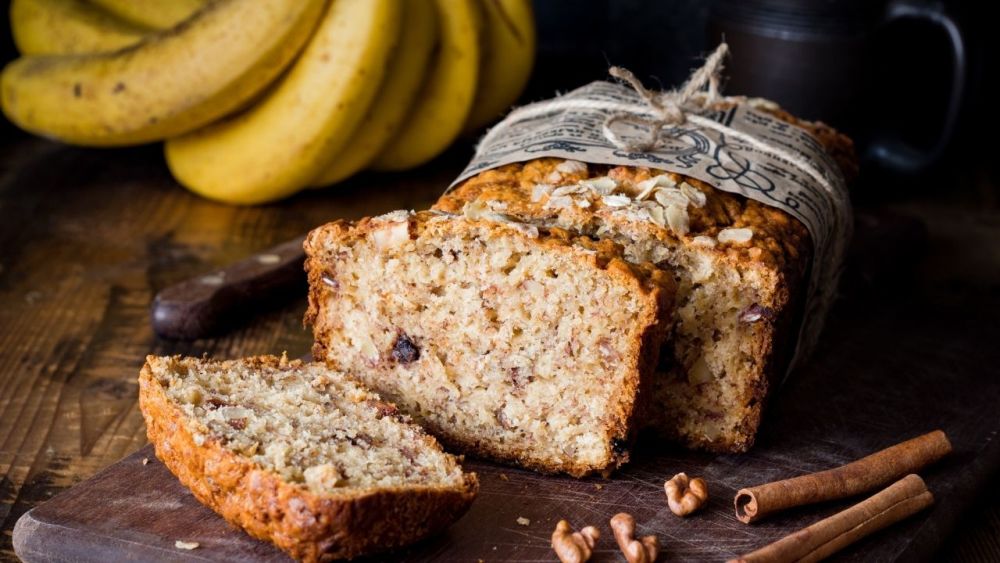 Ingredients for 1 bread:
200 g oat flakes
3 tbsp chia seeds
1 tsp cinnamon
3 ripe bananas
0.5 packet baking powder
150 g applesauce
50 g chocolate
Preparation:
Preheat the oven to 180 degrees Celsius (350 degrees Fahrenheit) and line a loaf pan with some parchment paper. Then mix the chia seeds with about 9 tablespoons of water and let them soak for about 10 minutes.
Mix the baking powder with the cinnamon and grind the oats in a blender. Now combine the dry ingredients. If you don't have chocolate chips, chop the chocolate now.
Crush the bananas, mix them with the applesauce and the chia pudding, and add the mixture to the dry ingredients. Mix everything well and finally fold in the chocolate chips or chopped chocolate.
Now put the dough into the mold and let it bake for about 1 hour. Check occasionally. If the bread is already turning brown, cover it with some aluminum foil.
More tips:
You can add plenty of other ingredients to the dough. For example, chopped nuts or even blueberries are also suitable.
When the bread is finished baking, slice it and simply take it with you to eat. But of course, you can also spread something on it, such as jam or peanut butter.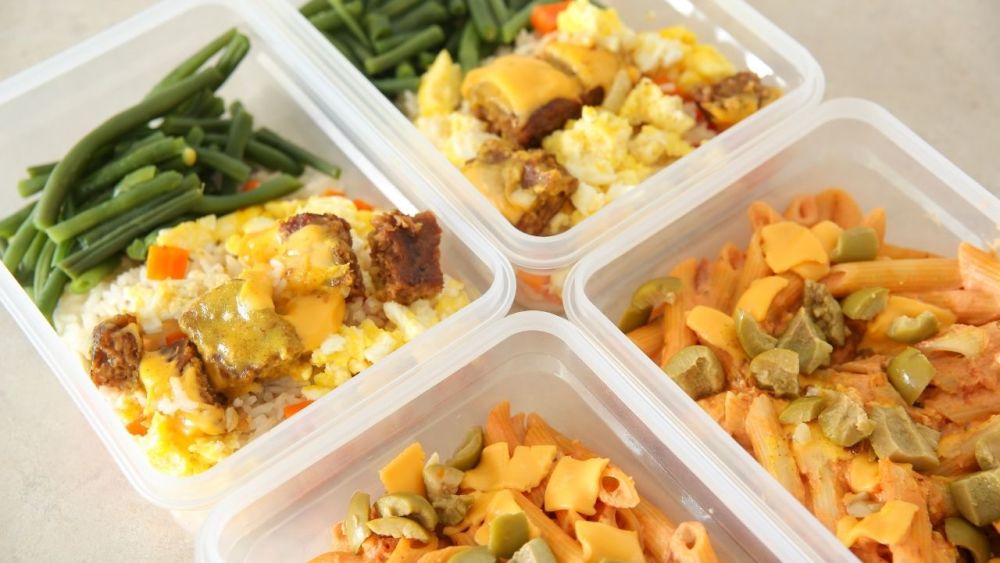 Questions and Answers (Q&A) on the topic
How much fluid should I take for hiking?
Generally, it is good if the chosen liquid is water or tea. You should have at least 1.5 liters with you. Most of the time, you have the opportunity to refill your bottle on the go.
Which foods are suitable to take with you in your backpack?
Soft foods are not recommended. Just like foods that melt quickly, such as chocolate. If you don't want your entire backpack full of lunch boxes, prefer harder foods, like an apple, instead of a banana. These have the advantage that they don't easily get squashed and dirty the whole backpack.
How much food do I need for a day trip?
This question is not easy to answer, as each person consumes energy differently. However, a main meal, some fruit, and a few snacks are the best choice. This way, you always have something to fall back on in case of emergency.
Do I need to bring any food if I can also stop at a hut?
Of course, you can also eat in a hut. However, it is advisable to always have a snack with you. You never know if the hut is actually open. To avoid being empty-handed, it is better to have something with you.
---
What do you take with you to eat when hiking? Do you have any other ideas? Write it in the comments!

Was this guide helpful?
14 people found this guide helpful.
5.00 out of 5 points (14 Ratings)