Back to german article
The 30+ best items for a hike - this is what you should pack
For beginners, it can be stressful to consider what to pack for a hike. Take a look at the guide to the best gear now.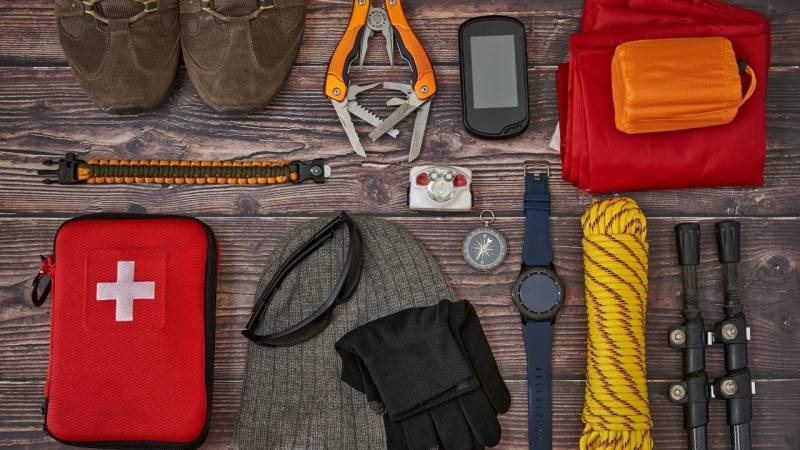 ---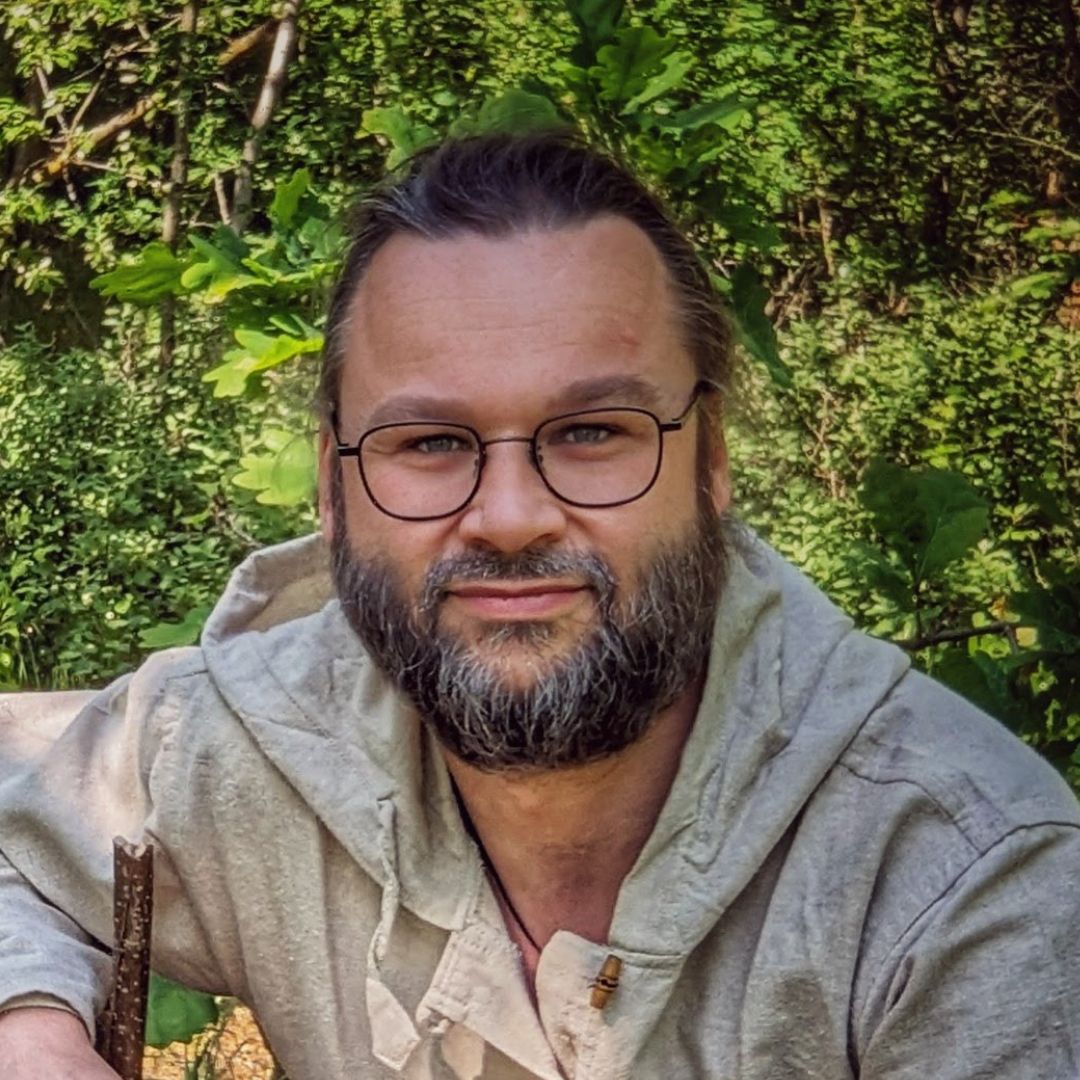 ---
👉 The key facts from this guide
Choose the right backpack: A good hiking backpack is essential. It should be lightweight and distribute the weight evenly. The size depends on the length of the hike and the amount of items to be carried.
The 10 most important things: These include navigation devices, a first aid kit, water, emergency shelter, extra layers of clothing, sunscreen, fire starter, food, a light source, and identification as well as money.
Select the right clothing: Wear breathable, durable, and comfortable clothing. Avoid fabrics like jeans and cotton as they are heavy and soak up sweat and water.
Hiking shoes are essential: High-quality, broken-in hiking shoes or shoes with a good tread are essential to avoid blisters.
Be prepared for weather changes: The weather can change quickly, so you should always have extra clothing and a rain jacket with you.
Extra equipment: In addition to the basics, extras such as toilet paper, insect repellent, and a mini repair kit can be helpful.
Hiking is one of the best ways to escape everyday life and explore nature.
But a perfect hike requires much more than just finding the perfect trail. You also need to pack the right equipment.
Especially for beginner hikers, it can be difficult to know exactly what to pack for a hike.
Therefore, I have compiled a list of the best hiking equipment, including a list of the essential items you should bring on every hike.
This guide contains the 44 most important things for a hike, including:
Best day pack and gear for hiking
The essential things for hiking
What to wear when hiking
Must-have gear for hiking
Luxurious amenities to make hiking more enjoyable
Discover now the irreplaceable things that belong on your hiking packing list.
How to know what to bring for hiking
For beginners, it can be stressful to know what to bring on a day hike.
When hiking, you should not only bring the necessary safety equipment, but also some comfort items.
For day hikes, you should have the following goal:
Take all the necessary safety equipment for hiking, such as a first aid kit and the 10 most important things
Pack some conveniences, like a camera, comfortable clothing, and sunglasses
Keep your hiking backpack light - you don't want to carry unnecessary weight
This guide will walk you through each of these goals and I have provided links to my favorite hiking gear.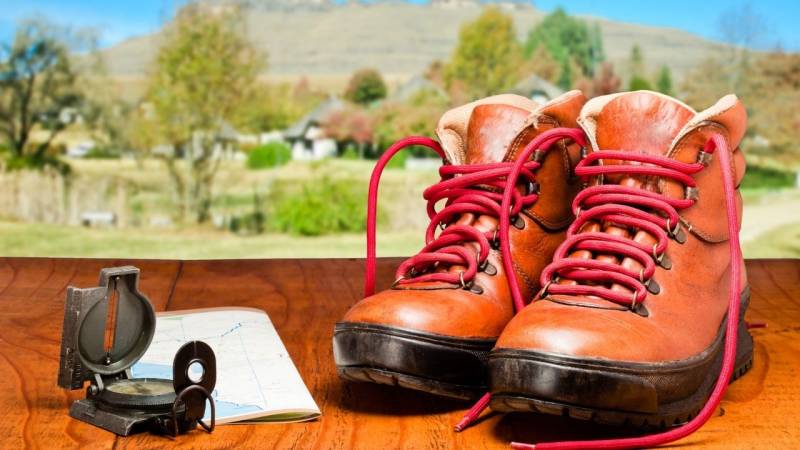 The best day packs for hikes
Before you embark on a hike, you should invest in the right equipment. While there is a seemingly endless amount of hiking gear, one is truly important: a good hiking backpack.
Your day hiking backpack should be a backpack - not a shoulder bag, not a messenger bag. A backpack allows you to have your hands free and evenly distributes the weight of your gear while hiking.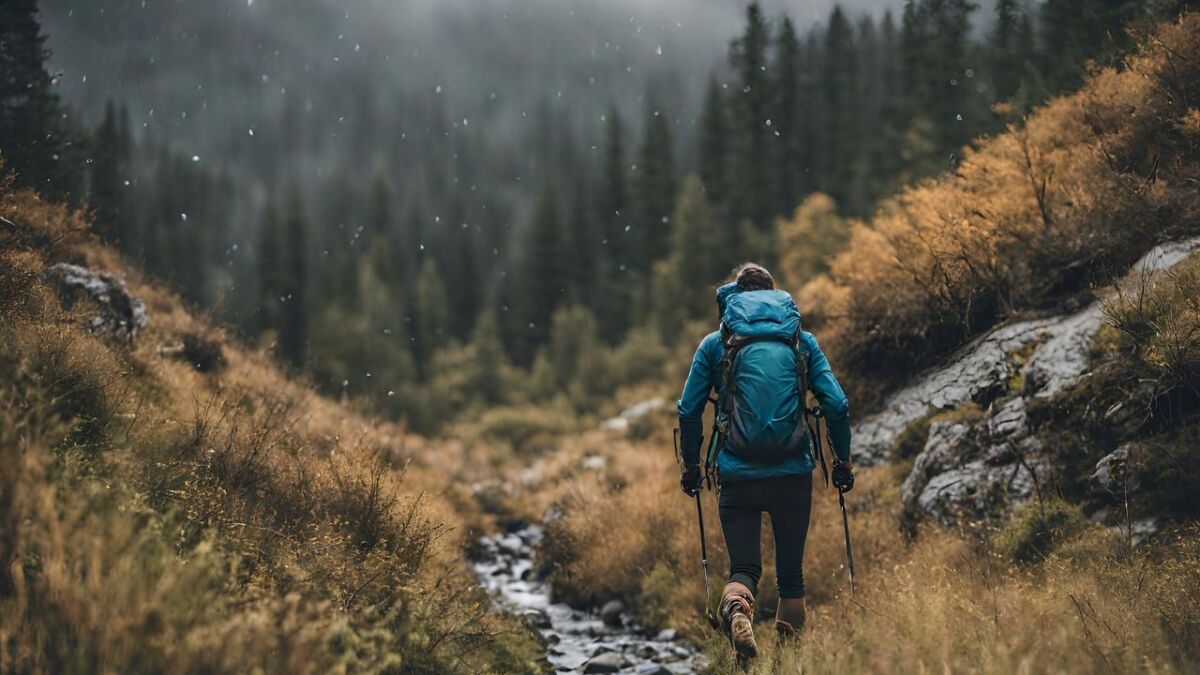 The size of the backpack depends on the length of the hike and how much you want to take with you. The capacity of a backpack is measured in liters, based on the volume contained inside the backpack.
For most hikes, a backpack with a volume between 15 and 30 liters is sufficient.
Those who only bring the essentials and a thin outer layer should be able to manage with a backpack under 20 liters.
The choice of a high-quality backpack suitable for outdoor use is important.
Osprey is one of the leading brands for outdoor backpacks. They produce everything from day packs to trekking backpacks.
For men, I recommend the Osprey Talon 22.
Daten aktualisiert vor 6 Stunden
For women, I recommend the Osprey Tempest 20.
Daten aktualisiert vor 6 Stunden
These two backpacks were specifically designed for hikers and offer:
Pockets in the right places, including interior pockets and hip pockets
Chest and hip straps to distribute weight off the shoulders
Mesh panels on the back for breathability while hiking
Clips for bike helmets and trekking poles
Pocket for the hydration reservoir (I also recommend the Osprey reservoir!)
Essential things for hiking
If you read my article about hiking for beginners, you will hear about the 10 most important things.
These are the most important things to bring on a hike, regardless of the distance.
Among the 10 most important things are equipment such as navigation devices, a first aid kit for hiking, and water that can save your life if you are stranded overnight.
These things should be at the top of the list of items to pack for a day hike.
1. First Aid Kit for Hiking
When hiking, unexpected injuries can occur, and you should be prepared to deal with the common injuries.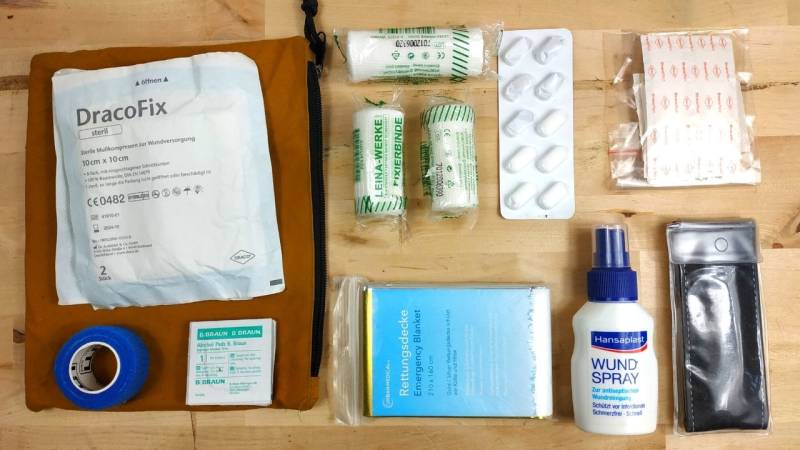 I recommend the Outdoor Medical Kit as it is specifically designed for injuries while traveling and hiking. A small first aid kit can be a lifesaver - I have used mine many times.
If you are in a larger group, several people should have first aid kits with them. If you are hiking with a dog, you should also bring a first aid kit for your pet.
Also read: First Aid Kit: assemble and apply
2. Water
The most important point on the list of day hikes is undoubtedly water.
This applies especially to strenuous hikes or hot, dry environments.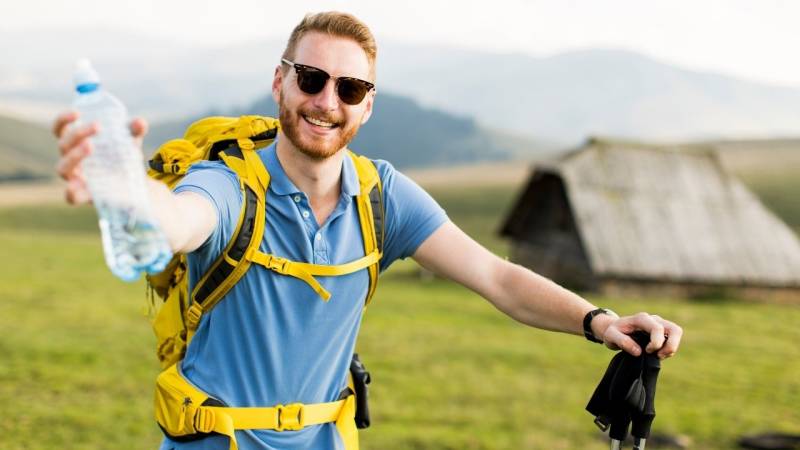 For every hour of hiking, you should bring at least 0.5 l of water.
For strenuous hikes in high heat, it is recommended to double the amount.
Take your water in a lightweight, reusable water bottle. Avoid using heavy stainless-steel water bottles on hikes as they add extra, unnecessary weight.
For longer hikes, I recommend using a 3-liter hydration reservoir (also known as a hydration bladder).
These are lightweight, hold a lot of water for day hikes, and fit into a hiking backpack.
I also recommend packing a small water filter device for emergencies.
If you are stranded and have a way to filter water from a stream, it can save your life! I recommend the Lifestraw as it is lightweight and compact.
Also read: Find, collect, filter and make drinking water drinkable - the ultimate water guide
3. Emergency Shelter
The temperatures can drop drastically overnight. That's why you should always have a compact shelter, an emergency sleeping bag (also known as a bivvy), with you. It will protect you if you have to sleep outdoors.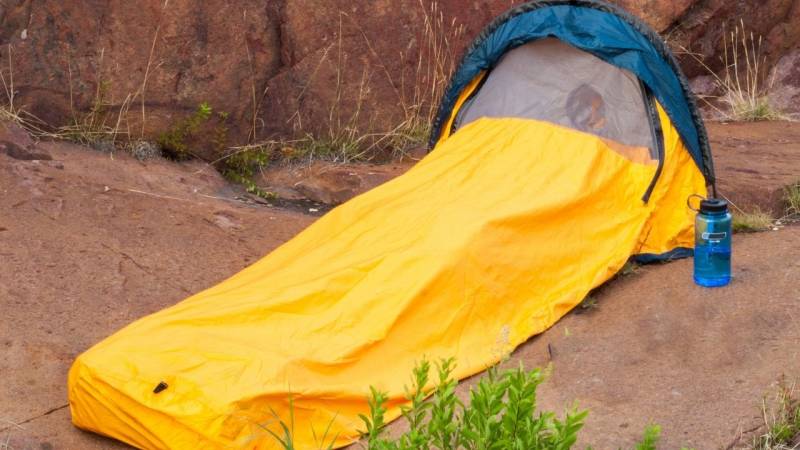 An emergency sleeping bag is like a small, heat-insulating sleeping bag that can be rolled up to the size of your fist. It is lightweight and fits perfectly in the bottom of your backpack, where hopefully you will never have to use it.
Also read: How to build an emergency shelter [Guide]
4. Additional Layers
Regardless of the season, you should have extra clothes in your backpack.
The weather can change in the blink of an eye (especially in the mountains), so you should be prepared for cold and rain.
I recommend packing either a lightweight sweater or a fleece jacket, depending on how hot it is.
5. Navigation
Even if you have a strong sense of direction, you should bring some kind of navigation device on your hike.
The most reliable navigation is a physical map. You can purchase such a map at the park administration or sometimes at the starting point of the hike. If there is a hiking map available at the beginning of the hike, I also like to take a photo of it.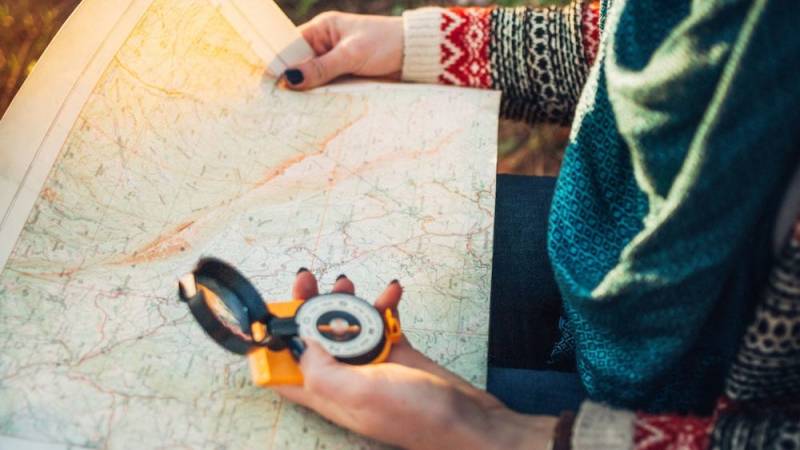 Otherwise, of course, you get the appropriate map online beforehand.
Physical maps are the most reliable, but digital maps are more convenient.
I like to use digital maps from AllTrails to track my progress on the hike. With AllTrails Pro, you can download hikes and make them available offline.
For advanced hikers, it is recommended to purchase a Garmin InReach device. The GPS device helps you navigate and communicate in the wilderness, but it is not cheap.
A more affordable solution for shorter hikes is a compass and a whistle.
Also read: How to use a compass with a map? - The complete beginner's guide with video
6. Sun Protection
If you are outdoors, you should protect yourself from the sun. Therefore, sunscreen is essential for every hike.
But protection doesn't just stop at sunscreen. You should also bring a sun hat and sunglasses to protect your face, neck, and eyes.
If you are looking for a hiking hat, pay attention to moisture-wicking, quick-drying materials.
7. Fire starter
One of the most important of the 10 Essentials is a way to make fire when you have to spend the night in the wilderness.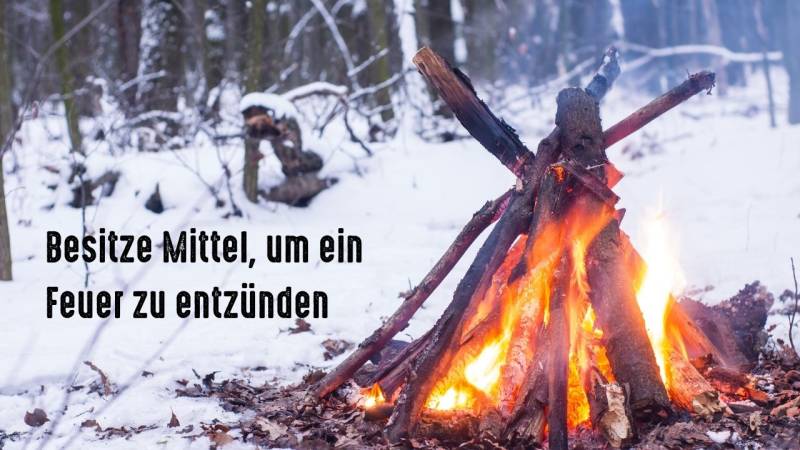 I recommend that you bring storm matches and tinder. Both items are lightweight, affordable, and don't take up much space in your hiking day pack.
Also read: Making fire without a lighter or matches (18 ways)
8. Nutrition
You will be hungry during your hike, as you will be using up a lot of energy. Therefore, make sure to pack enough snacks.
You should also pack additional food, just in case you get lost or stranded overnight.
I prefer calorie-rich foods like nuts or granola bars. Don't forget to bring a trash bag to dispose of your waste - an essential part of the Leave-No-Trace principle.
Also read: What food to take hiking? - 5 delicious recipes for backpacking
9. Headlamp
Every hiker should have some kind of light source. And no, the flashlight on your smartphone doesn't count.
I clearly prefer a headlamp over a flashlight when hiking to keep my hands free.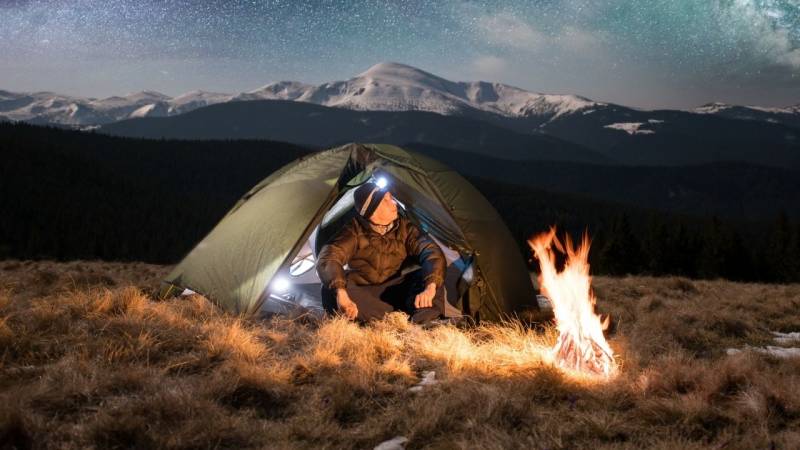 Black Diamond headlamps are the best for hikers, with many great features. The price-performance ratio is unbeatable.
Make sure that your headlamp is equipped with fresh batteries or is fully charged before you start a hike.
10. Identification and Money
Even though it technically doesn't belong to the top 10 things to bring while hiking, it's always a promising idea to bring along identification, credit cards, insurance cards, and cash.
You never know when you'll need things. And it's better to be prepared.
Furthermore, I recommend that you inform your loved ones before every major hike where you will be and when you will be back.
Ideally, you send your GPS coordinates via WhatsApp or another messenger, like SMS:
11. Repair kit and tools
Even the best backpack can tear at times. If it's a shoulder strap, it can become problematic.
Therefore, it is important to pack a mini repair kit with which you can resolve any problems on the go.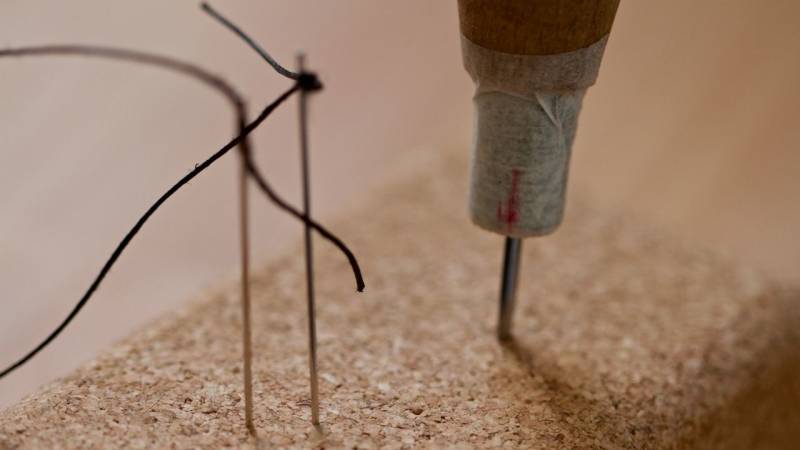 While repair tape can be useful for equipment like tents, tape is sufficient for shorter hikes.
However, if you are going on a longer trip, take a needle and thread with you. Ideally, it should be a strong thread and a thick needle (here's everything in a set) that can also be used for leather working.
I also recommend carrying a Swiss Army Knife (with sewing awl) in your hiking backpack (Find my best list + buying guide here).
A fixed blade knife, like the Morakniv Companion (affordable and sturdy), is always with me as well.
What to wear when hiking
Another important point when preparing for a hike is the right clothing.
When it comes to what to bring on a hike, you should wear breathable, durable, and comfortable clothing.
I recommend avoiding fabrics like jeans and cotton, as they are heavy and absorb sweat and water, making them even heavier.
I have an extensive guide here, "Hiking in Any Weather: How to Dress when Hiking in Nature", but I would like to give you the most important items and tips again.
12. Hiking Shoes
Since you put a lot of strain on your feet while hiking, your shoes will determine your success or failure.
For every hike, you should wear high-quality, broken-in hiking shoes or shoes with a good tread - because that way you also avoid blisters.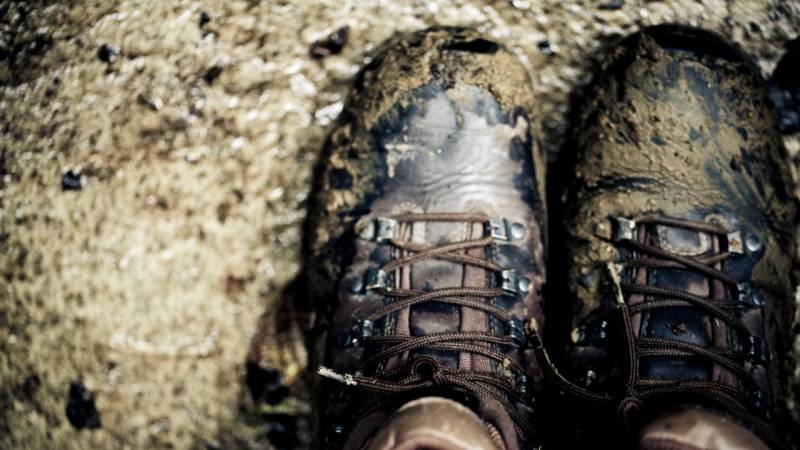 Oh, yes: Old sneakers or sandals are not hiking shoes!
For hiking in rough terrain, I recommend hiking boots. They provide more stability and firm grip while also supporting the ankles. Take a look at the hiking boots by Columbia, they are durable and affordable.
For hikes on paved or smooth trails, I recommend hiking shoes like "Trail Runners". Since they were specifically designed for runners, Trail Runner hiking shoes are incredibly lightweight and provide excellent traction and grip.
13. Hiking Pants
When it comes to pants, they must be made of durable, tear-resistant material. The best option is hiking pants that are quick-drying and provide complete protection for your legs.
As a man, I recommend the hiking pants from "The North Face", and as a woman, you can consider the "Aphrodite 2.0".
For women, leggings or hiking pantyhose are also a good choice. Choose high-quality brands for leggings that will last for years.
14. Breathable underwear
Just when it goes uphill and the sun is beating down on you, it can get quite warm and humid between the buttocks. This can cause wet skin to rub against each other and lead to sore spots.
Therefore, breathable and sweat-resistant underwear is essential for long hikes. You need quick-drying and odor-resistant materials.
My favorite brand for hiking underwear for both women and men is Exofficio.
15. Base Layers
This is the first layer you wear when hiking over your underwear.
Depending on the weather, you can wear a short-sleeved lightweight hiking top or, in cold weather, a long-sleeved merino wool sweater.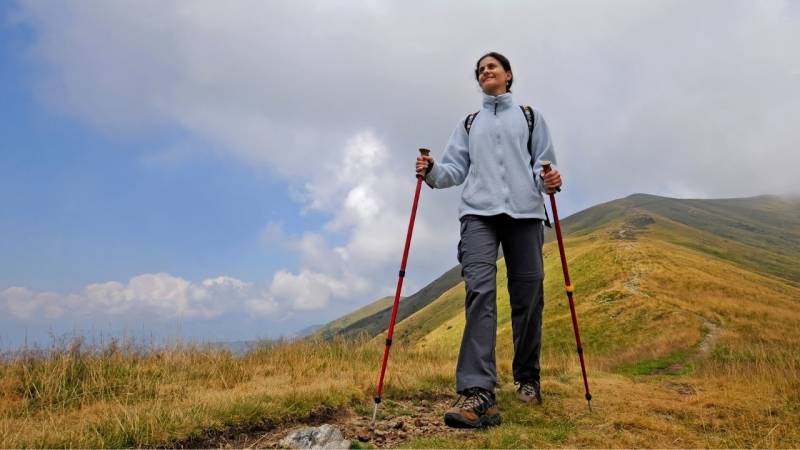 Regardless of the temperature, you should choose a base layer that dries quickly and is odor-resistant.
Tops made of merino wool are odor-resistant, making them a good choice for long hikes or backpacking trips.
For warmer weather, I recommend a short-sleeved hiking top like the Alpin Loacker Merino T-Shirt Men or the Salomon T-Shirt. These are the best alternatives to a regular cotton t-shirt.
For colder weather, I recommend a base layer made of merino wool, for example from Smartwool. These lightweight but incredibly warm long-sleeved tops are perfect for layering.
16. Woolen socks
Merino wool is the ultimate material for hiking.
In socks, merino wool prevents blister formation thanks to its quick-drying properties.
Without a pair of quality socks made of merino wool, you should not go hiking. They come in different thicknesses and heights, so you can wear different types of socks with different hiking shoes.
17. Outer Layers
Depending on the weather conditions, you will need multiple outer layers when hiking.
For hot summer hikes, I recommend a thicker long-sleeve shirt made of merino wool, such as the Mountain Warehouse Merino Long Sleeve. It is durable, lightweight, and will keep you warm on a cool summer morning.
In spring and autumn, you should opt for something warmer, like a fleece sweater.
If you don't need it, you can roll it up and store it in your hiking backpack.
I like the Patagonia Better Sweater because it is incredibly versatile. It is sporty and durable enough for hikes, but also good enough to wear outside the forest.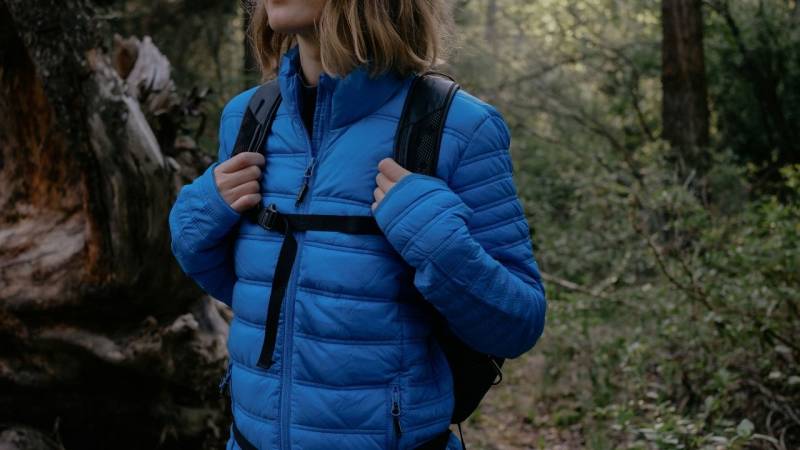 For the colder months, I recommend a down jacket. These jackets are the best way to stay warm on a hike.
The best thing about it is that down jackets can be easily compressed. Down jackets are classified according to their filling (higher down filling = more warmth). I recommend a down jacket with a filling of 850.
18. Raincoat
During a hike, rain showers can occur unexpected.
I always have a poncho in my backpack. I never leave the house without it.
If I'm rushing, I just pull it over and everything - including my backpack - is protected and stays dry.
Or you can choose a rain jacket.
Take a rain jacket with Gore-Tex - that's a waterproof, breathable material. For example, this Gore-Tex jacket is very popular. Completely waterproof rain jackets are a bit pricier, but it's worth it.
Also read: Hiking in the Rain: What, Why, and How? 7 Tips to Make it Work!
19. Hat
It is advisable to protect yourself from the sun while hiking. One of the best ways to do this is by wearing a hat or cap.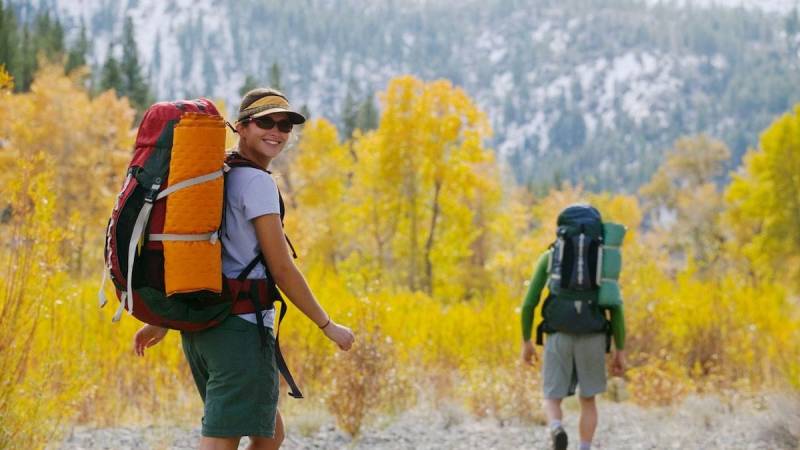 You can choose from everything, from a wide-brimmed sun hat to a baseball cap.
When it's colder, I like to wear a woolen hat.
20. Gloves
If you go hiking in cold weather, you should pack a pair of gloves to keep your fingers warm.
Looking for touchscreen-friendly gloves, like the Smartwool Liner Tech Gloves.
For particularly cold days, I recommend packing some more heavily insulated gloves, such as the Black Diamond ScreenTap Gloves.
More than the essentials for a hiking tour
The only really important things for a hike are a backpack, the 10 most important utensils, and the right clothing, but I recommend packing a few extras.
These items contribute significantly to making your hike even more enjoyable.
21. Toilet paper
Everyone has to go to the toilet, that's a fact. And you should make your toilet visit as sustainable as possible.
One of the principles of the Leave-No-Trace principle is to bury your waste.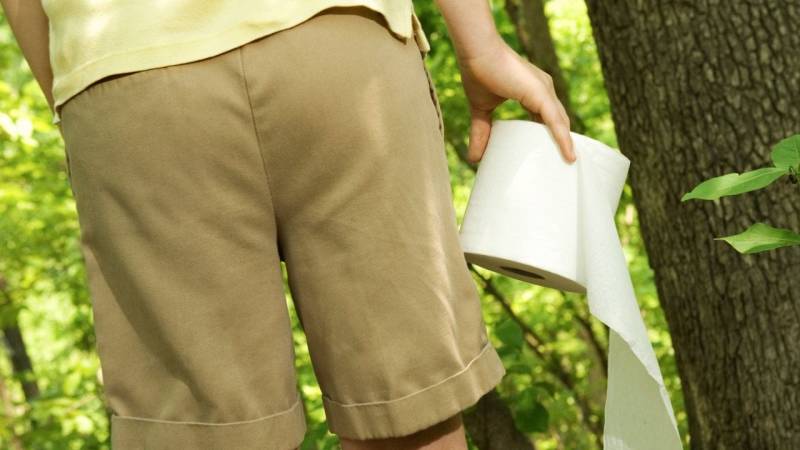 Take a sturdy stick or even a small garden trowel for that. In the hole, you then bury a deposit.
For the toilet paper, I recommend either burying it in the hole or packing it in a Ziploc bag.
But be careful, I specifically wrote only toilet paper because wet wipes do not count, which is a horror for the environment. Diapers and tampons also do not belong in the forest.
Also read: How to properly and sustainably go to the toilet in the forest
22. Insect spray
Mosquitoes are quite a nuisance, especially in summer.
A small travel-sized mosquito spray is a promising way to repel them.
I like to use a natural mosquito spray, like this one from incognito. I find that the scent is not quite as overpowering, and I don't feel like I'm smearing toxic chemicals all over my body.
On the other hand, when it gets really intense, I have also had excellent experiences with the Anti Brumm® Naturel Spray.
And if you're looking for something stronger (also against ticks), then go for NOBITE.
23. Walkie-talkies
Walkie-talkies I find quite practical when you are on the go with a group and there will be no smartphone reception.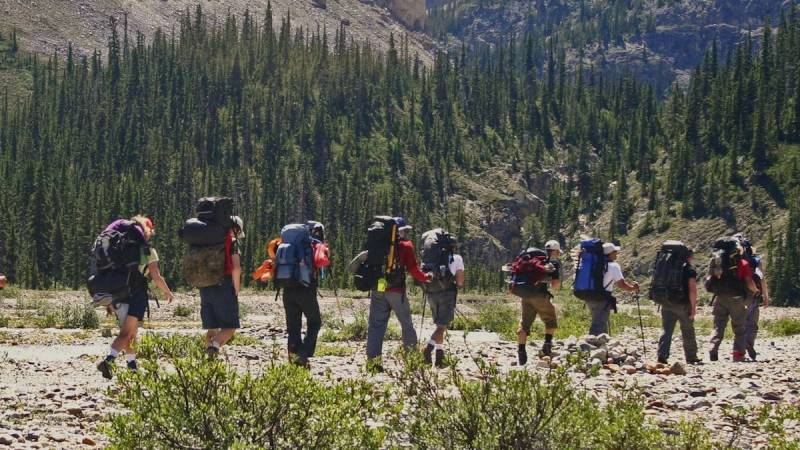 If you separate from a group or meet at waypoints, walkie-talkies are a promising means of communication.
Positively, I noticed the Motorola walkie-talkies.
24. Bear repellent spray
Of course, this does not apply to Germany, but if you are in bear country, a bear repellent spray is a must.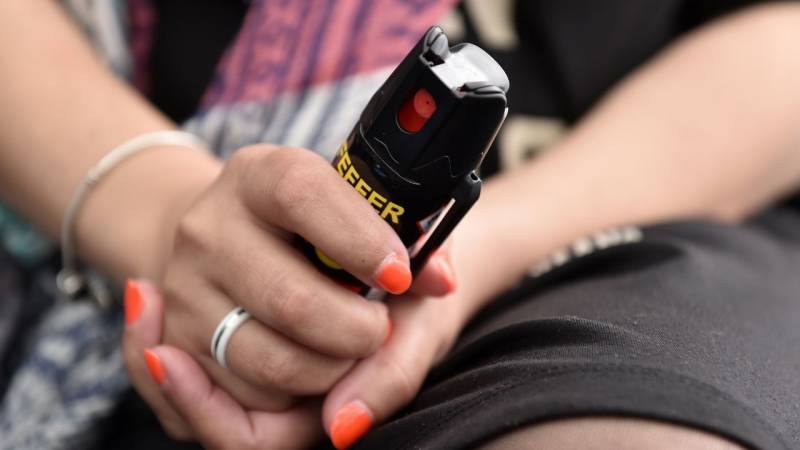 A bear defense spray is a type of pepper spray, but specifically for bears.
In case of emergency, spray the bear to then bring yourself to safety.
This is more or less the last resort when a slow retreat is no longer possible.
25. Protection for the lips
The protection of the lips from sun damage is just as important as applying sunscreen.
A budget-friendly lip balm with sun protection factor provides additional protection when you are outdoors.
26. Trekking poles
When hiking steep trails, trekking poles are a great help.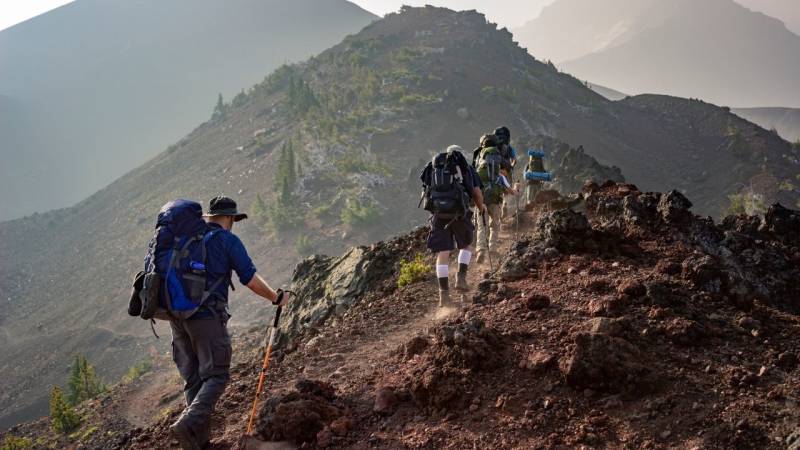 The sticks help you walk steadily and take the pressure off your knees.
Many hikers, especially beginners or backpackers, have found that trekking poles alleviate pain while hiking.
As with any hiking equipment, a low weight is key. Carbon fiber trekking poles are the gold standard.
Also read: Why you should use trekking poles
27. Hair ties
If you have long hair, you should always pack extra hair ties, even if you want to hike with your hair down.
You will be grateful for extra hairbands when you get hot or your only hairband breaks.
I always keep my spare hair ties in my first aid kit.
28. Garbage bag
If you are out and about, we need to make sure that future hikers also find a clean hiking trail.
Therefore, as responsible hikers, we adhere to the Leave-No-Trace principle. This means that we always take our trash with us.
This includes everything from snack packaging to water bottles to banana and orange peels.
For hikes, you can bring a garbage bag.
I also try to take all other waste that I find by the wayside while hiking.
Luxurious things for a hike
We have thus dealt with the basic things and with the things, that, although not belonging to the basic things, are still useful.
In this final section, we will discuss the more minor things that one should bring for hiking.
You don't necessarily have to take these things with you, but they will definitely make your hike more enjoyable.
29. Binoculars
I like to take my binoculars with me, even though it's quite heavy for such a small thing.
But the view or the animals simply tempt me too much.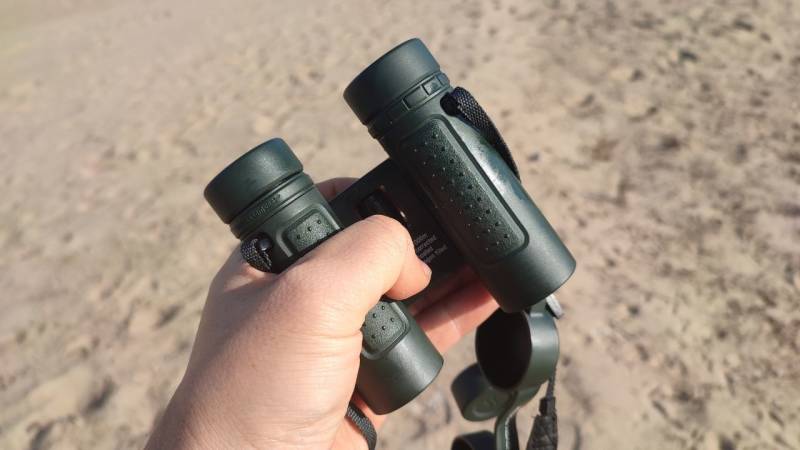 You should always keep a safe distance from the animals, so a pair of binoculars would be quite useful here.
I have observed a lot with my binoculars, from gray herons, buzzards, falcons to red deer.
A pair of binoculars doesn't have to be expensive either. For most hikers, a simple, compact binoculars is sufficient.
30. Go Pro or Camera
Imagine you arrive at the mountain and set up your camp. Then the sun sets and the view is simply breathtaking.
I like to share these moments with my family and take photos or film the events.
No matter if you take photos and videos with your smartphone or an expensive camera, you will enjoy your pictures for years to come.
For those who want to take excellent photos and videos of the hike, I recommend investing in a GoPro Hero. GoPros record in high resolution, are waterproof, and extremely durable.
If you're hiking with a camera, I recommend investing in a clip to attach it to your backpack. The Peak Design Camera Capture Clip is the best one available.
31. Drawing pad and pens
I like to draw during my hikes, among other things trees, animal tracks or plants.
I find so many interesting things that I like to jot down on pen and paper. That's why I often bring along an A5 notepad and good pencils.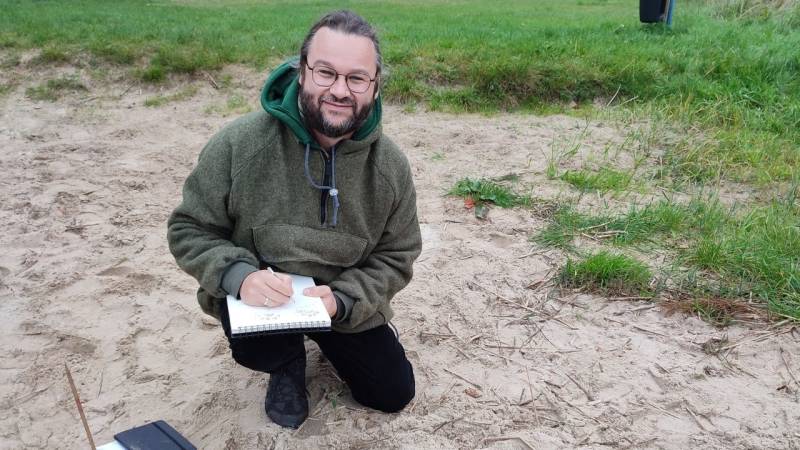 32. Powerbank
Unfortunately, today's smartphones don't last as long as they used to.
Do you still remember the Nokia phones? They lasted for a week. Incredible!
And if you're out and about, hiking with GPS or running various apps, and even taking photos, then your smartphone will quickly run out of battery.
I always take a power bank with me on my hikes. This ensures that I can still navigate, charge my headlamp or fitness tracker even with a dead battery.
I can recommend without any restrictions the Anker PowerCore Essential 20000. I can charge my smartphone with it 4 to 5 times. So, it lasts me excellently for 5 to 7 days.
I would stay away from no-name manufacturers. I also have a cheap power bank here, which quickly discharged and some LEDs no longer function correctly.
I have really gotten into the topic of power banks and have also found a power bank ranking - check it out here.
Frequently Asked Questions about "What to bring for hiking?"
What should I pack for a day hike?
You should pack a hiking backpack, the 10 most important hiking utensils, additional layers of clothing, sturdy hiking shoes, and a few unimportant things like binoculars, a portable charger, and your smartphone.
What are the 10 things you need to survive?
The 10 essential things for hiking are: navigation, lighting, sun protection, first aid kit, repair kit and knife, fire starter, emergency shelter, extra food, extra water, and extra layers of clothing.
What do first-time hikers need?
Beginner hikers should always have the 10 most important things and a hiking backpack with them. The 10 most important things include potentially life-saving equipment such as navigation devices, headlamps, a first aid kit, and extra water. Make sure to also pack extra layers and snacks.
What should you not bring on a hike?
Valuable items, such as jewelry or nice clothing, should not be taken with you. Do not bring multiple pairs of shoes and unnecessary jackets. Avoid clothing made of cotton or denim, as these materials become heavy when wet and do not dry quickly.
What should I wear for a day hike?
For a day hike, you should wear lightweight, breathable, and quick-drying clothing. Look for materials like merino wool for the base layer, fleece or down jackets, and hiking pants. On colder days, be sure to wear gloves and a hat.
Final thoughts on packing for hikes
Don't get overwhelmed when packing for your next hike.
This list includes more than 30 of the best equipment items for day hikes, but ultimately, you only need the essentials.
Before you start your hike, you should definitely pack:
A high-quality day pack for hikes
The 10 most important things for hiking
Additional layers, such as a rain jacket and a sweater
Durable hiking boots or shoes
And a few luxurious, not necessarily essential items that will make your hike even more enjoyable

Was this guide helpful?
41 people found this guide helpful.
4.81 out of 5 points (43 Ratings)