Back to german article
The best bushcraft gloves for camping and survival in the wilderness (buying guide)
In this outdoor guide, you will find an overview of the 7 best bushcraft gloves and the factors to consider when buying gloves.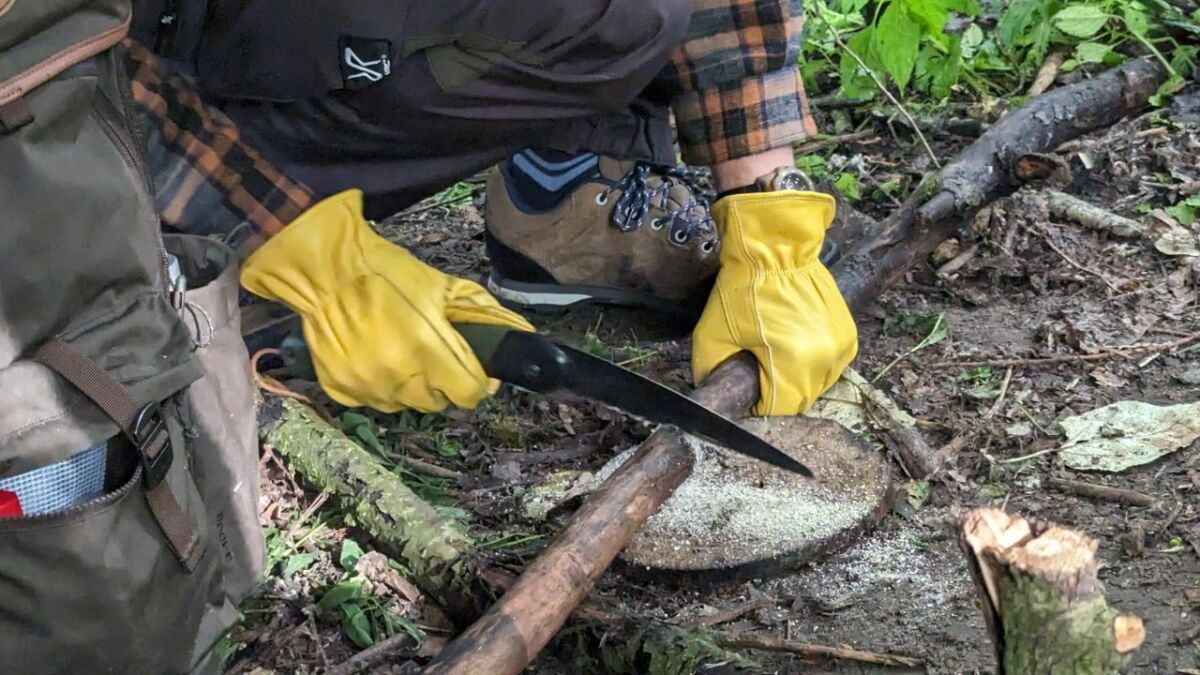 ---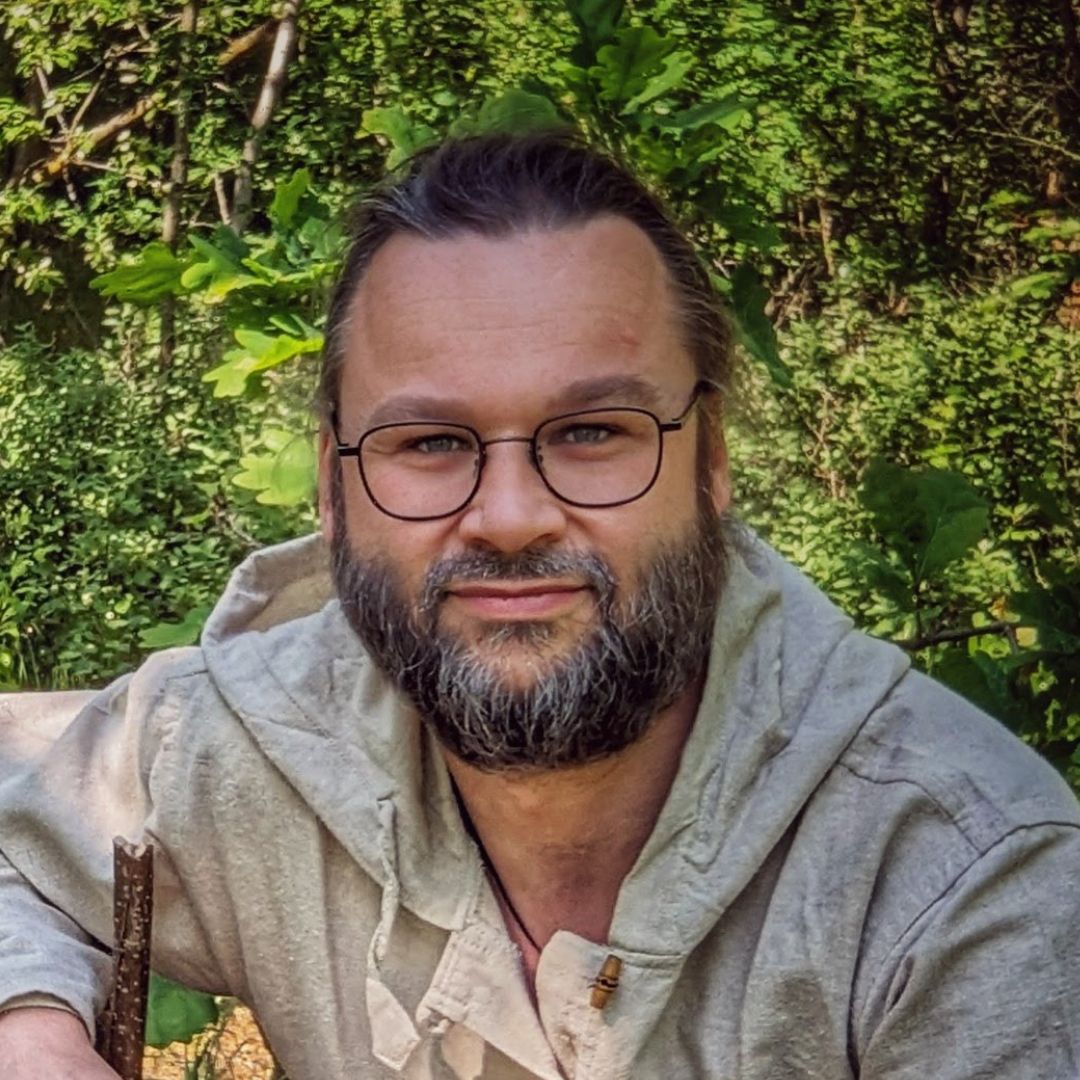 ---
👉 The key facts from this guide
When buying Bushcraft gloves, durability and strength are important. They should be sturdy enough to withstand rough work.
The gloves should protect your hands from cuts, blisters, thorns, and other potential hazards.
Choose gloves that keep your fingers flexible, as many Bushcraft tasks require dexterity.
If you work in wet, cold, or wintry conditions, you need waterproof gloves to protect your hands from frostbite.
The gloves should provide good grip to facilitate the handling of tools.
If you're out in cold weather, you require gloves with good insulation to keep your hands warm.
During all rough outdoor activities, there is a risk of injuring your fingers or developing blisters. Therefore, it is important to protect them well.
Wearing bushcraft gloves can help protect your hands from blisters and injuries caused by thorns and other dangerous things.
The best pair of gloves should adequately protect your hands while still being flexible enough for your fingers to easily handle your adventure tasks.
This way, you can easily and safely practice your bushcraft skills.
Fortunately, there is a wide range of outdoor gloves available to protect your hands in extreme conditions and make your adventure more enjoyable.
If you're wondering what the best bushcraft gloves are, you should stop wondering because you're on the right page.
This article provides an overview of the 7 best bushcraft gloves and the factors to consider when purchasing this equipment.
Top 7 Best Bushcraft Gloves
Now, I'll list my favorites that I've had good experiences with in the field.
Hestra Fält Guide Leather Gloves
The Hestra Fält Guide Leather Gloves are high-quality gloves developed by Swedish survival expert Lars Fält.
That's why they're named after him. They come in two colors, either black or brown.
Hestra Herren und Damen Skihandschuhe: Guide Leder Winterhandschuhe mit Wollfutter, Naturgelb/Off White, 8
Leder: Rindsleder und Armee-Leder Ziegenleder auf der Handfläche
Herausnehmbares Futter: Innenfutter mit Woll-Frottee auf der Handfläche und Wollflor auf der Oberseite der Hand
Merkmale: Karabiner, Öse, Außennähte, Befestigungspunkte für Hancuffs
Größe: Verwenden Sie die Hestra-Größentabelle, um Ihre perfekte Passform zu finden
Rückhand aus imprägniertem Rindsleder;Handfläche aus Armee-Leder Ziegenleder;Herausnehmbares Futter mit Wollfrottee auf der Handfläche und Wollflor auf der Oberhand
143,85 €
View Product
These gloves are made from a combination of goat leather and impregnated cowhide leather.
Thanks to these materials, they are among the most durable bushcraft gloves available on the market today.
Since their development, they have established themselves as the best bushcraft leather gloves in the industry.
Additionally, these gloves are water- and wind-resistant, ensuring that your hands stay warm and protected during your adventure.
The Hestra Fält gloves have a removable wool terry lining for the side that covers the palm of the hand. The side on the back of the hand is also lined with wool to ensure that both sides stay warm in cold weather.
Since the lining is removable, you can quickly wash and dry the gloves if they get dirty. You can also insert a lining of your choice.
The gloves come with long cuffs that are closed around the wrist area so that no part of the arm feels the cold.
They also come with a carabiner closure, allowing you to keep them together and securely stored.
However, the Hestra Fält gloves require special care when cleaning. You should not wash either the lining or the outer leather in a dry cleaner.
It's best to wash them manually with soap and cold water and then lay them flat to dry.
Advantages
High-quality
Water- and wind-resistant
Designed by a survival expert
Wool lining for best warmth
Increased durability
Removable lining
Disadvantages
Limited color selection
Requires special care when washing
These gloves are the best choice for anyone who wants to keep their hands warm even in the coldest weather. You can rely on them for outdoor work and adventures during the winter season.
Hestra Skullman Outdoor Work Gloves
The Hestra Skullman Outdoor Work Gloves are exceptional gloves that are made with excellent craftsmanship and high-quality materials.
They are flexible and comfortable for any type of outdoor activity, yet still protect your hands from injuries.
They are made from durable fabric and a CZone membrane to ensure that these gloves can withstand even the toughest outdoor conditions. The CZone membrane makes these gloves waterproof, windproof, and durable.
These gloves are used by experienced survivalists like Ray Mears, who consider them to be high-quality gloves.
They are made from goat leather and feature elastic hand loops to ensure that they don't slip and protect your hands.
The Skullman by Hestra is unlined, but it works well as a thin glove or as a liner glove in winter and fall.
The light padding on the palm provides additional protection against blisters and injuries when working with hand tools.
Advantages
Durable
High-quality product
Waterproof, windproof, and breathable
Flexible
Disadvantages
No inner lining
If you also value aesthetics in gloves, then you can't go wrong with these gloves, as they are adorned with a leather drawstring.
This glove is ideal for the camp, lifting pots off the fire, lifting kettles from a tripod, and collecting firewood.
Wells Lamont HydraHyde Leather Work Gloves
The Wells Lamont gloves are considered the best for bushcraft due to their dexterity and ability to protect hands.
WELLS LAMONT Unisex-Arbeitshandschuhe für Erwachsene und Herren, wasserabweisend, Leder, mit HydraHyde-Technologie, Rindsleder, Größe L 11, Saddletan, Größe L 1 Stück
Pannensicher: 100 % genarbtes Rindsleder schützt vor hohem Abrieb und Durchstichen, um einen langlebigen Arbeitshandschuh zu schaffen, der lange hält
Verschleißfest: Verstärkte Leder-Handfläche erhöht die allgemeine Abnutzung und Griffigkeit
Wasserfest: HydraHyde Leder lässt Wasser bei Kontakt abperlen und sorgt dafür, dass Ihre Hände trocken bleiben
Schlupf-Handgelenk: Hält Handschuhe an Ort und Stelle und hält gleichzeitig Schmutz und Ablagerungen fern. Das Slip-On-Design ermöglicht ein einfaches An- und Ausziehen
Einsatzbereich: Diese Vollleder-Arbeitshandschuhe sind ideal für Bau, Abrissarbeiten, Landwirtschaft, Wartung, Ranching und mehr
59,73 €
View Product
The design of the gloves is focused more on hand protection than on falling temperatures.
They are great for a variety of outdoor activities such as stacking wood, carrying large objects, or carrying hunting tools.
The Wells Lamont gloves are made of tough grain leather on the front.
The back is made of stretchy spandex, with padded index fingers, thumbs, and knuckles for added safety and comfort.
The palm area is made of suede, which is good for using tools that require flexibility. It also gives you a professional look and protects your hands from blisters.
Advantages
Affordable
Flexible and breathable
Suede palm provides more comfort
Padded finger knuckles, thumbs, and index fingers
Wide range of uses
Disadvantages
Requires special care when cleaning
Not very practical for rough conditions
Difficult to take off as they fit tightly
If you're looking for a pair of gloves that combines the best features of a bushcraft glove, then the Wells Lamont gloves are perfect for you.
These gloves combine features such as high dexterity, durability, breathability, and flexibility.
Smartwool Ridgeway Glove
For many years, leather and wool have been used together in various outfits to keep people warm. The Smartwool Ridgeway Glove is a natural product made from durable leather and wool.
The lining of this glove is made of merino wool, keeping your hands warm. It also gives you an antibacterial aspect that prevents odor formation.
The wrist closure and durable leather make this glove windproof.
To clean the outside of the gloves, wash them with water and saddle soap. Use only cold water for the merino wool inside and lay it flat to dry. Do not use machine cleaners or dryers.
The Smartwool Ridgeway Glove is available in different sizes to accommodate different preferences.
Advantages
Various sizes
Durable leather
Double-coated thumb and forefinger for added protection
Clipped handcuff
Closure to keep them together
Disadvantages
Short handcuff
No touchscreen capability
Requires special cleaning
If you're looking for high-quality bushcraft gloves, you might like the Smartwool Ridgeway.
KINCO 901
The KINCOs are another pair of affordable and high-quality bushcraft gloves. They have an appealing design yet are good enough to protect your hands.
These gloves are very versatile, allowing you to work diligently under different circumstances. They provide safety and the comfort you need for all outdoor activities.
They're made of durable pigskin leather that guarantees long life.
But the pigskin leather needs to be treated with a waterproofing agent like Nikwax to be waterproof. Fortunately, the waterproofing wax is included when you purchase these gloves.
To improve dexterity, the KINCOs have no finger patches. They feature a heat-retaining thermal lining that traps warm air next to the skin and wicks away moisture, keeping hands dry.
Advantages
Durable pigskin leather
Heat-retaining thermal lining
Reasonable price
Nikwax Waterproofing Wax included
Patches at wear points
Comfortable knit cuff
Disadvantages
The leather needs a wax coating to be waterproof
Small fittings
Requires care for cleaning
If you're looking for the best bushcraft gloves that work in most weather conditions, these KINCO gloves are perfect for you.
Mechanix Gloves
Are you planning to go camping, hiking, or hunting? Then you should equip yourself thoroughly with the right bushcraft gloves to ensure that your hands remain free of blisters and thorns.
Daten aktualisiert vor einer Stunde
The Mechanix gloves protect your hands even during strenuous work due to their materials. These gloves are made of the most durable leather that you can expect from high-quality bushcraft equipment.
The wrist area of these gloves is sealed, so your hands won't feel any cold. They are also lightweight, so you can use them in any weather without weighing down your hands too much.
Thanks to their high breathability, you can work thoroughly for hours with these gloves. You will not feel any fatigue or discomfort.
Advantages
Breathable design
Adequate protection and warmth
Durable leather
Sealed wrist area
Good comfort
Disadvantages
Untidy stitching
Thin lining
Most people who want to avoid thorns, splinters, or blisters while camping or doing other outdoor activities in the wilderness prefer the Mechanix gloves.
U.S. Military Arctic Gloves
The U.S. Military Arctic gloves are designed for icy weather. They are the most suitable gloves for anyone who would like to embark on an adventure in the coldest winters.
8415-00-268-8312
Mittel
Salbeigrün, hellbraun
kein Preis ermittelbar (B000J38CZ8)
View Product
Since they are approved by the U.S. Air Force, these gloves can also protect you under the toughest conditions you may face.
They feature an elaborate hand design that allows your fingers to warm each other and improve blood circulation in your hand.
Another fantastic feature of these gloves is the lining. One of them is made of 100% alpaca, and the other is made of pure gray wool.
These materials provide a lot of warmth and comfort to your hands. Additionally, they absorb moisture if your hands get sweaty.
The back of these military gloves is coated with a wool-nylon pile, which warms your face.
The long handcuff of this glove is made up of multiple fasteners that prevent wind and snow from freezing your hands.
These gloves can be worn with bare hands, but some inserts can also be used.
However, the bulkiness of the gloves limits finger dexterity, making it difficult to perform various tasks. Some people find it challenging to work with them, while others use them effectively.
Advantages
High-quality leather and merino wool lining
Windproof and waterproof
Breathable
Air Force standards
Long cuffs with drawstring
Face-warming properties
Disadvantages
Long sleeves can be cumbersome at times
No touchscreen capability
Requires special care when washing
For those who love to be outdoors in any weather, the U.S. Military Arctic Gloves can be a lifesaver in the winter. You can use them for hiking, skiing, mountaineering, and more.
Buying advice: Die best Bushcraft-Gloves
The best bushcraft gloves should provide enough protection while not limiting finger dexterity.
However, it can be challenging to find the right pair of gloves that meet your needs.
In this guide, you will find the things you should consider when buying bushcraft gloves.
Now, I will list the factors to consider before buying bushcraft gloves.
Durability and Strength
Outdoor work gloves come in various materials and designs. Whether you are looking for gloves for camping or hunting, you must ensure that you choose durable and long-lasting gloves.
In the wilderness, your hands will be confronted with rough tasks in one way or another. Therefore, you should decide on gloves that can withstand all these tasks.
Strong gloves are not easily destroyed by thorns. Speaking of durability: gloves made of leather are thick enough to last a long time.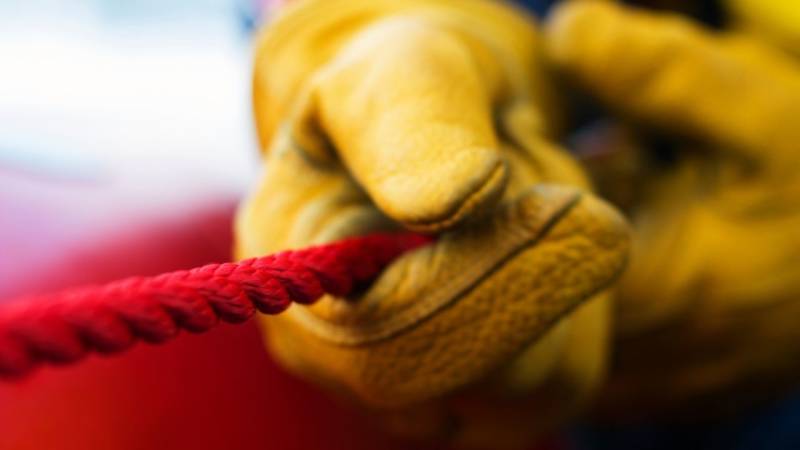 Protection
Protection is the main reason why you require a pair of strong gloves when you are out in the wilderness or doing rough work.
The best bushcraft gloves should protect your hands from cuts, blisters, thorns, and other potential hazards.
In the woods, you often work with sharp materials like bushcraft knives and other blades that are dangerous, especially when hands are uncovered.
Your bushcraft gloves should, therefore, be thick enough to adequately protect your hands.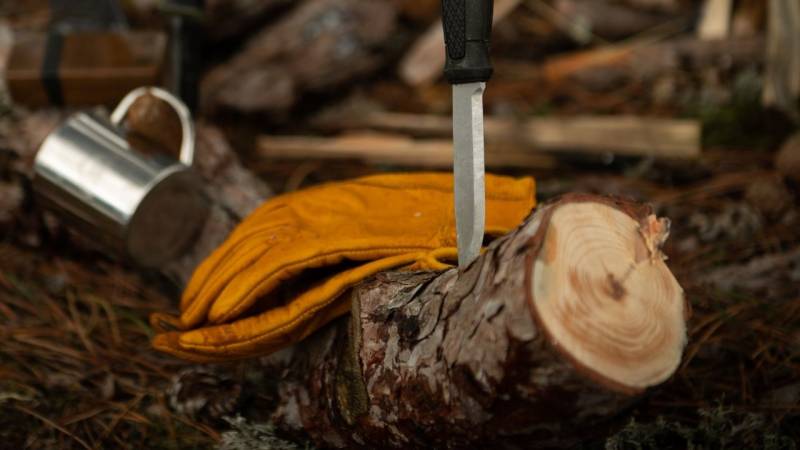 Dexterity
Even though the best gloves provide sufficient protection, your fingers still need to remain flexible.
After all, many bushcraft tasks, such as making a fire, hunting, and gathering, require the use of your fingers.
If your fingers are compromised, no manual work can be done easily. When doing woodworking in cold weather, you need flexible and warm gloves that keep your hands warm and still allow you to work comfortably.
Gloves with high dexterity will never get in the way of your work. Occasionally, you'll even forget you're wearing them.
Waterproofness
Some gloves are waterproof, while others easily absorb water. If you work in a wet environment, you undoubtedly require a pair of waterproof gloves.
In cold or rainy weather, your fingers are susceptible to frostbite. Frostbite is an injury that mainly occurs when body parts are exposed to icy or windy conditions.
This can be prevented by wearing waterproof gloves that keep your fingers dry and warm.
The weather can also be unpredictable, and it may suddenly rain while you're still outside. That's why you should choose waterproof gloves. However, this is not a problem in hot and dry seasons.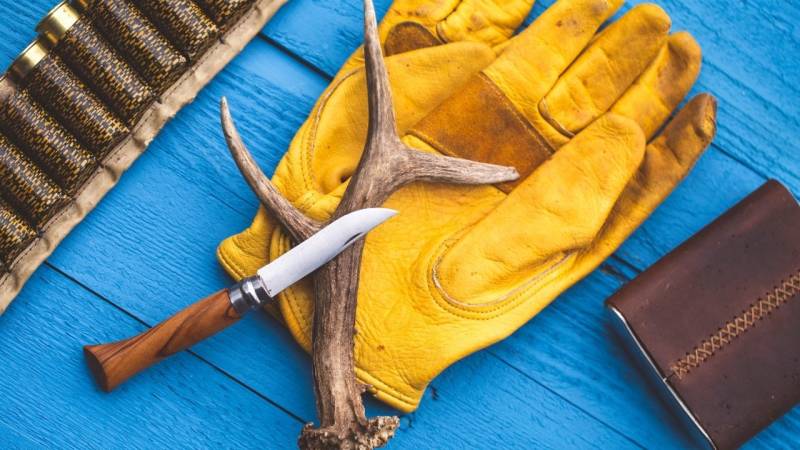 Grip
For most bushcraft tasks, you need to use your hands to grasp things and tools.
The best gloves for bushcraft should support your grip when using any type of tool, including axes or knives.
Choose bushcraft gloves that are rough and sticky on the palm of your hand. This way, you can work reliably while wearing them because tools with smooth handles won't slip out of your hands.
Warmth and Insulation
If you go on an adventure trip in cold weather, you need gloves with good insulation to keep your hands warm. Keep in mind that there are also cooler nights in the summer, so you require warm gloves for such situations.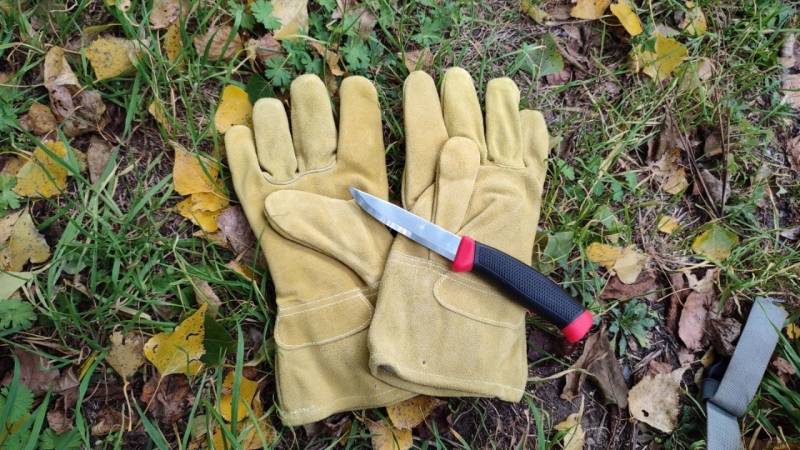 Conclusion
A reliable pair of gloves is an important thing to consider whenever you plan a trip into the wilderness.
They offer a range of benefits, including the most essential: warmth and protection.
Experts advise against cotton gloves because they are hardly waterproof and do not fully protect your hands from injuries.
If you want to enjoy bushcraft, you should select at least two pairs of gloves that cater to your needs.
As a beginner, I recommend the WELLS LAMONT HydraHyde Leather Work Gloves, and if they ever break, or you require something more durable, then get the Hestra Skullman Outdoor Work Gloves, which are also twice as expensive.
And if money is not a problem, and you like branded products and their quality, then you are definitely best off with the Hestra Falt Guide gloves.

Since this is a gear guide, here ...
---
🤝

8 reasons to trust my recommendation
Practical Experience: I have tested most of the products I recommend under extreme conditions myself.

Independence: As a wilderness mentor, I am not tied to any specific brands - this means my recommendations are unbiased.

Expertise: My many years of experience allow me to understand the intricacies and details of various products that a layperson might overlook.

Target group understanding: I understand the needs and challenges of outdoor enthusiasts, from beginners to seasoned experts.

Quality focus: I attach great importance to quality and longevity. These are characteristics that are crucial in the wild.

Clear communication: I try to explain the pros and cons of each product clearly and understandably so that you can make an informed decision.

Currentness: I always keep my guides up to date and adapt them to new findings or products.

Community Feedback: I work in wilderness schools, teach courses myself, attend courses and am active in various outdoor and survival communities and therefore integrate the feedback and experiences of others into my recommendations.
So when I introduce the best survival knives or flashlights, you can be sure that every recommendation is based on solid experience and extensive knowledge.
Was this guide helpful?
44 people found this guide helpful.
4.59 out of 5 points (49 Ratings)