Back to german article
How you wash your sleeping bag (and store it afterward)
How do I properly wash my sleeping bag in the washing machine? How does it dry the fastest and how do you best store it after washing.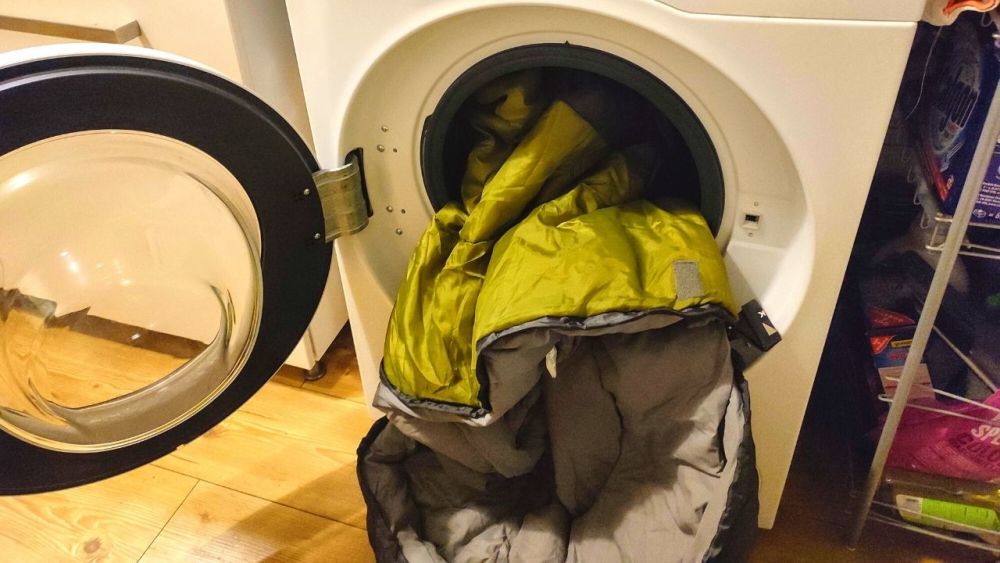 ---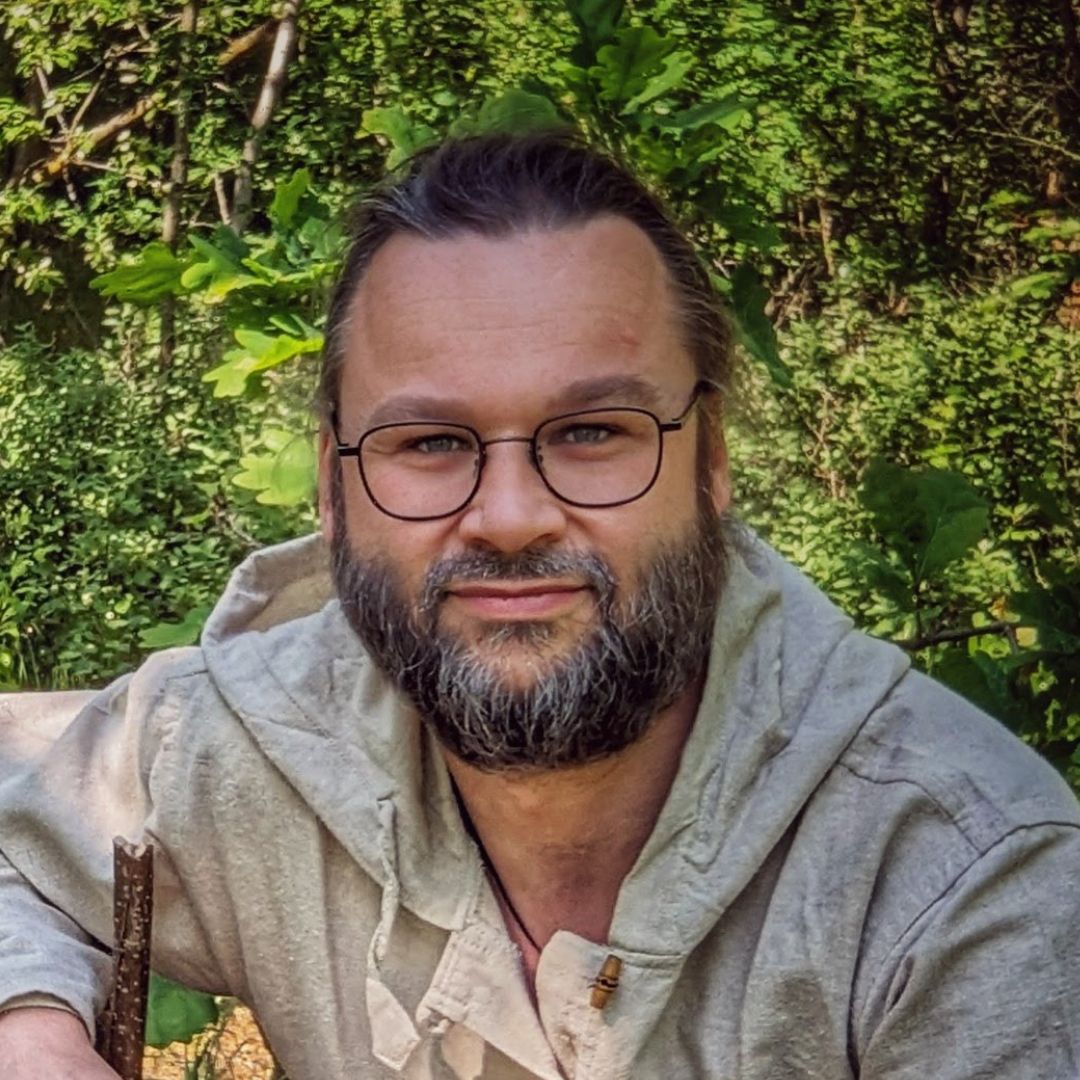 ---
👉 The key facts from this guide
Start by reading the label on your sleeping bag to get specific care instructions. Unzip your sleeping bag completely. Select a low-speed setting for the wash cycle. Do not use any detergent, as it could damage the materials of the sleeping bag. Use a separate rinse cycle to make sure all residue is removed.
After washing, completely remove the sleeping bag from the washing machine. Squeeze out any excess water from the sleeping bag carefully.
When drying the sleeping bag, it is important to let it fully dry to prevent bacteria formation. You can air dry it or use a dryer on low heat. Use tennis balls in the dryer to prevent clumping of the filling.
To keep your sleeping bag clean while camping, sleep on a sleeping pad, wear sleepwear, use a sleeping bag liner, and air out your sleeping bag every morning.
For home care of your sleeping bag, air it out, remove minor stains with a cloth, let it air out for several days, and patch any tears or holes.
When storing your sleeping bag at home, avoid storing it in damp areas such as the basement or car. Instead, store it in your apartment, either hanging up, in a large laundry bag, or loosely folded in the wardrobe.
The sleeping bag is our most important companion on an outdoor trip. It is not only small and compact, making it easy to take with us everywhere. It also keeps us super warm and protects us on icy nights.
However, there are different types of sleeping bags. There are those with down filling, completely synthetic sleeping bags, or sleeping bags with fleece.
No matter what type of sleeping bag you have - it is always a hassle to wash it properly.
One day, however, you can't avoid it. The moment will come for you too, when you simply find your sleeping bag disgusting. Dirt and stench spread further and further.
It's time to put it in the washing machine! But how do I wash the sleeping bag correctly? How does it dry the fastest, and how do I store it best after washing?
Today, I will answer these questions and more for you and provide you with additional important tips about your sleeping bag.
Let's get started.
How to wash a sleeping bag in the washing machine
So that it may not come to the point of having to put the sleeping bag in the washing machine at all, you must take good care of it. This means that you have to air it out well after every trip. You can remove minor dirt with a damp cloth.
However, it can always happen that you spill a cup of coffee on your sleeping bag or sweat too much over several nights, causing bacteria to spread in the sleeping bag. Then, of course, the way to the washing machine is advisable.
Sleeping bags are very sensitive when it comes to washing. Due to their filling and construction, they can be damaged by high spin speeds or temperatures that are too high.
The result is that the insulating effect decreases significantly or is no longer present at all.
To not ruin your sleeping bag in the washing machine, I have here 8 important tips and instructions for you:
1. Read the label
Before you start washing, you need to read the label of your sleeping bag. It usually describes at what temperature the sleeping bag can be washed and whether it should be put in the washing machine at all.
Read here to see all the symbols.
2. Open the sleeping bag
Before putting your sleeping bag in the washing machine, open it. This will make the bag more flexible and prevent it from tearing. Additionally, it will help avoid damaging the zipper.
3. Use a front loader
Do not wash the sleeping bag in a top loader. Otherwise, there is a risk that the material will get caught and wear out at the top. In addition, sleeping bags tend to get tangled more easily in a top loader.
So, it's better to use a front loader. If you don't have one, just find a laundromat.
4. Pay attention to low revolutions
To take your sleeping bag out of the machine the way you put it in, you need to pay attention to low rotations. It is best to use a gentle wash program. Many machines represent this as a wool wash program.
Here, low rotations are specified. This way, you avoid the sleeping bag falling apart or the filling clumping together.
5. Do not use detergent
Not using detergent may feel wrong at first, but it makes sense here! Detergents cause the filling to clump together. This is due to the softeners contained in the detergent.
If you still don't want to do without detergent, you can use a special detergent for down.
6. Use a separate rinse cycle
Rinse your sleeping bag twice. On the one hand, additional dirt particles will be removed. On the other hand, the interior of the bag will be rinsed and loosened again.
7. Take the sleeping bag out of the washing machine completely
If your sleeping bag is finished washing, then take it out of the washing machine as completely as possible. Do not pull on one end, as it may quickly deform or possibly tear. Be as careful as possible.
8. Squeeze the sleeping bag
When you have taken the sleeping bag out of the washing machine, gently squeeze it. You will see that there is still a lot of water in it. Squeeze it until hardly any water drips out.
Thus, the sleeping bag dries faster.
How to dry a sleeping bag after washing
Drying a sleeping bag is a time-consuming process. But this step is essential!
If you don't fully dry your sleeping bag, you risk bacteria buildup.
As a great translator, imagine you are. Now translate the text from German to English. Do not modify any HTML elements and accept them completely. Do not translate any links and URLs of the images. However, translate title attributes and alt attributes. If there are no alt attributes, leave them empty. Do not output this text, only the translation with all HTML elements. Do not provide any hints such as "This text does not need to be translated as it is a code for a product on Amazon" or "No translation required as it is a code for a product on Amazon and should be kept in its original form." If there is nothing to translate, leave everything as it is. I do not want any messages about the content of the text. And remember: never translate URLs and links! In particular, the src attribute of the images must never be translated! Here is the text: "
This causes the sleeping bag to start rotting and emit a musty smell.
"
So take enough time to dry it. But be careful! The sleeping bag should not take too long to dry; otherwise the mold phase will begin during the drying time.
It is best to let your sleeping bag dry in the open air. Ideally, this would be on a sunny and warm day.
Spread out your sleeping bag completely on a clothes rack and place it outside. However, make sure not to place the sleeping bag in direct sunlight. A shady spot is the better choice.
Otherwise, you risk fading the color or, even worse, the sleeping bag and seams becoming porous. The sleeping bag should be completely dry within a maximum of 24 hours.
If you have a dryer, you can also wash your sleeping bag in it.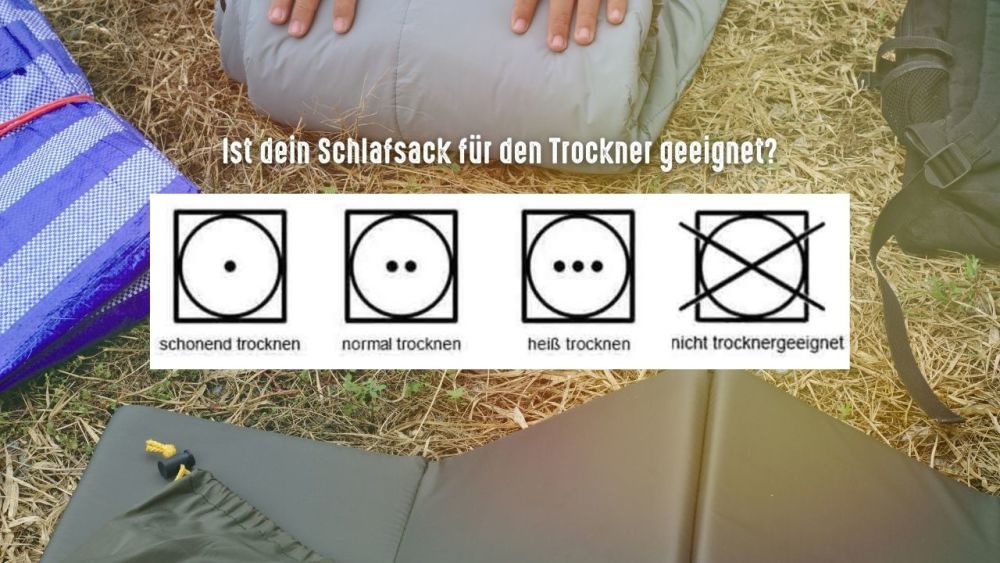 However, pay attention to the label to make sure that your sleeping bag is actually suitable for it. If so, then consider the following 4 tips and instructions:
1. The dryer must be big enough
It is important that your dryer is large enough for your sleeping bag to unfold and move well.
2. Use low heat
So that your sleeping bag doesn't end up as big as a baby's, you should only dry your bag on the lowest heat setting. This will prevent it from shrinking. Additionally, less heat is gentler on the material.
3. Let the sleeping bag dry completely
By omitting only low heat, the dryer now takes much longer to dry. Nevertheless, you must ensure that the sleeping bag is completely dry in the end. If this is not the case, run it through the dryer again.
4. Use tennis balls
If you put two or three tennis balls in your sleeping bag in the dryer, you will prevent the filling from clumping. This is mainly necessary for a down sleeping bag.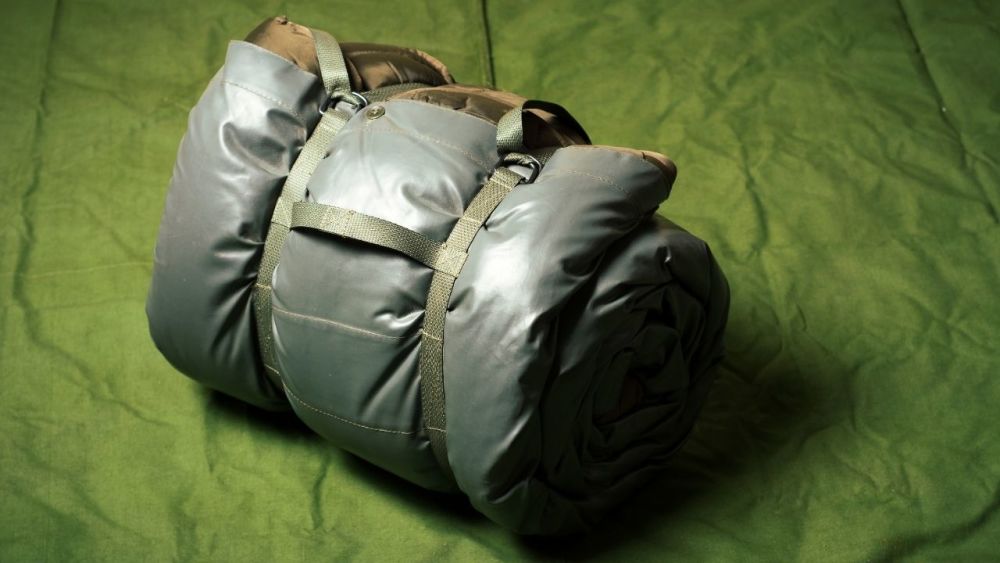 How to keep your sleeping bag clean while camping
So that it doesn't come to a complete washing catastrophe, you have to handle your sleeping bag carefully. With normal use, you can easily use a sleeping bag for two years without having to wash it.
So that you can enjoy your sleeping bag for a long time, please consider the following 4 tips and instructions:
1. Sleep on a sleeping pad
That you should sleep on a pad (here are my top sleeping pads), I probably don't need to tell you. Only a few people find it comfortable to sleep on cold forest floors. Nevertheless, a pad like a sleeping pad helps keep your sleeping bag clean from underneath.
Even if you sleep in a tent, a groundsheet is useful. It keeps your sleeping bag off the ground and ensures that the material stays clean.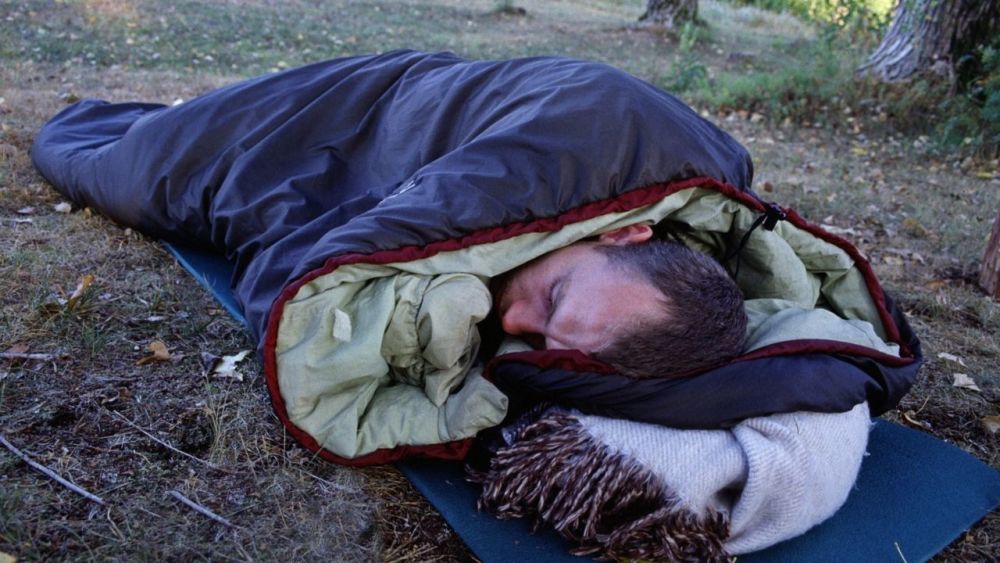 Reading tip: How to clean and store your tent like a pro
2. Use sleepwear
A sleeping bag can only reach its full potential if you don't wear too much. This maximizes its insulating effect.
When you wear clothing, you prevent excessive sweat from accumulating on the sleeping bag. This keeps your sleeping bag clean and fresh on the inside for a long time.
3. Use sleeping bag liners
However, when it's cold outside, and you want to fully utilize the insulating effect of your sleeping bag, you can use a sleeping bag liner. This is simply integrated into the sleeping bag with a zipper. However, there are also models that are simply inserted into the sleeping bag.
So, it's a sleeping bag inside a sleeping bag. The great thing about a sleeping bag liner is that it's much easier to clean. It's usually made of fleece, which makes it even warmer.
4. Air out your sleeping bag
Aerate your sleeping bag every morning - even when camping. This will prevent unpleasant odors from settling into the material in the long run. Ten minutes is sufficient for this.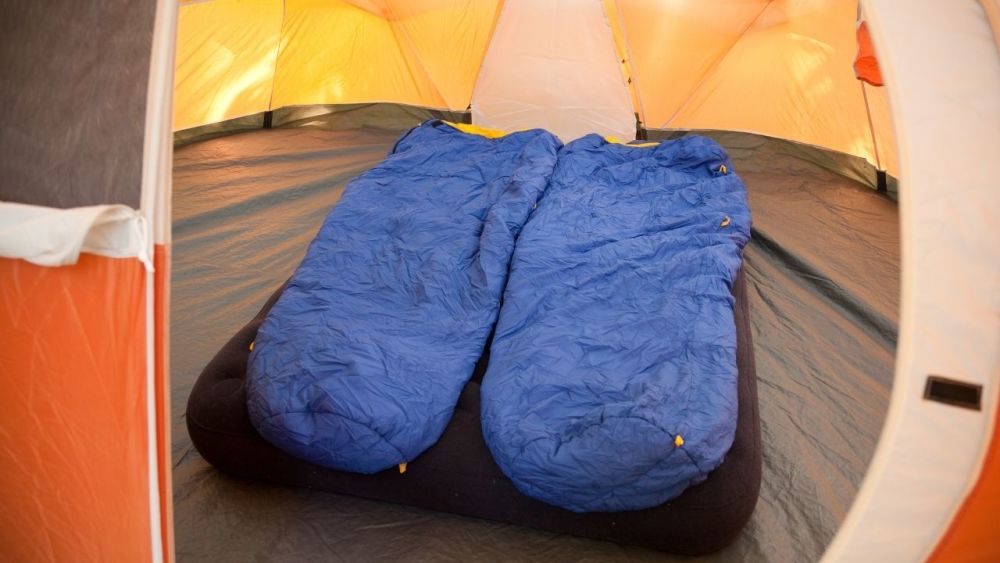 How to care for your sleeping bag at home
When you come back from your trip, you shouldn't just put your equipment back in the basement. First, check everything for functionality.
You should also hang your sleeping bag here to air it out. If you notice any minor stains, you can simply remove them with a cloth. Shake the sleeping bag well to loosen up the filling.
If you have the opportunity, let the sleeping bag air out for several days before storing it again. Now is also the perfect time to mend any tears or holes.
In addition, there is special adhesive tape that you can use to patch holes and restore the insulating effect completely.
How to store your sleeping bag at home
The proper storage of the sleeping bag is just as important as airing, washing, and drying it. If you store your sleeping bag permanently in the car, camper, or basement, you risk unpleasant odors.
That is because these places are usually humid, and the moisture also spreads to the sleeping bag. It is also not advisable to store your sleeping bag permanently in the stuff sack or sleeping bag compartment.
The material cannot breathe and takes on a strange smell again. Furthermore, you ensure that your sleeping bag is compressed all the time. The filling cannot expand and clumps together.
So, your sleeping bag loses its insulating effect. It is best to store your sleeping bag in your apartment. Ideally, you would have enough space for the sleeping bag to always fully unfold and lie on a clothes rack.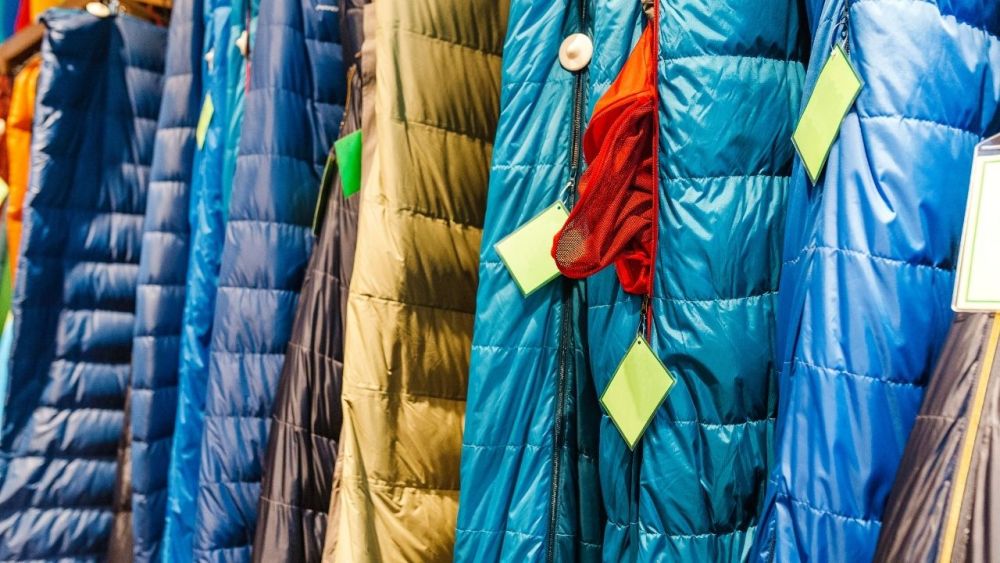 If, however, you don't have much space, you can also simply put the sleeping bag in a large laundry net. In there, it lies loosely and can breathe.
It is also possible to fold the sleeping bag loosely and place it in the wardrobe. This is regularly opened. This way, old air is exchanged for new air and unpleasant odors are avoided.
---
And now please tell me in the comments if you have always done it this way so far or if you will do something different now.

Was this guide helpful?
5 people found this guide helpful.
5.00 out of 5 points (5 Ratings)