Back to german article
15 great family camping tips for beginners
When camping, as a beginner, you should leave little to chance. There are tips you should look at, so your camping adventure becomes a success.
---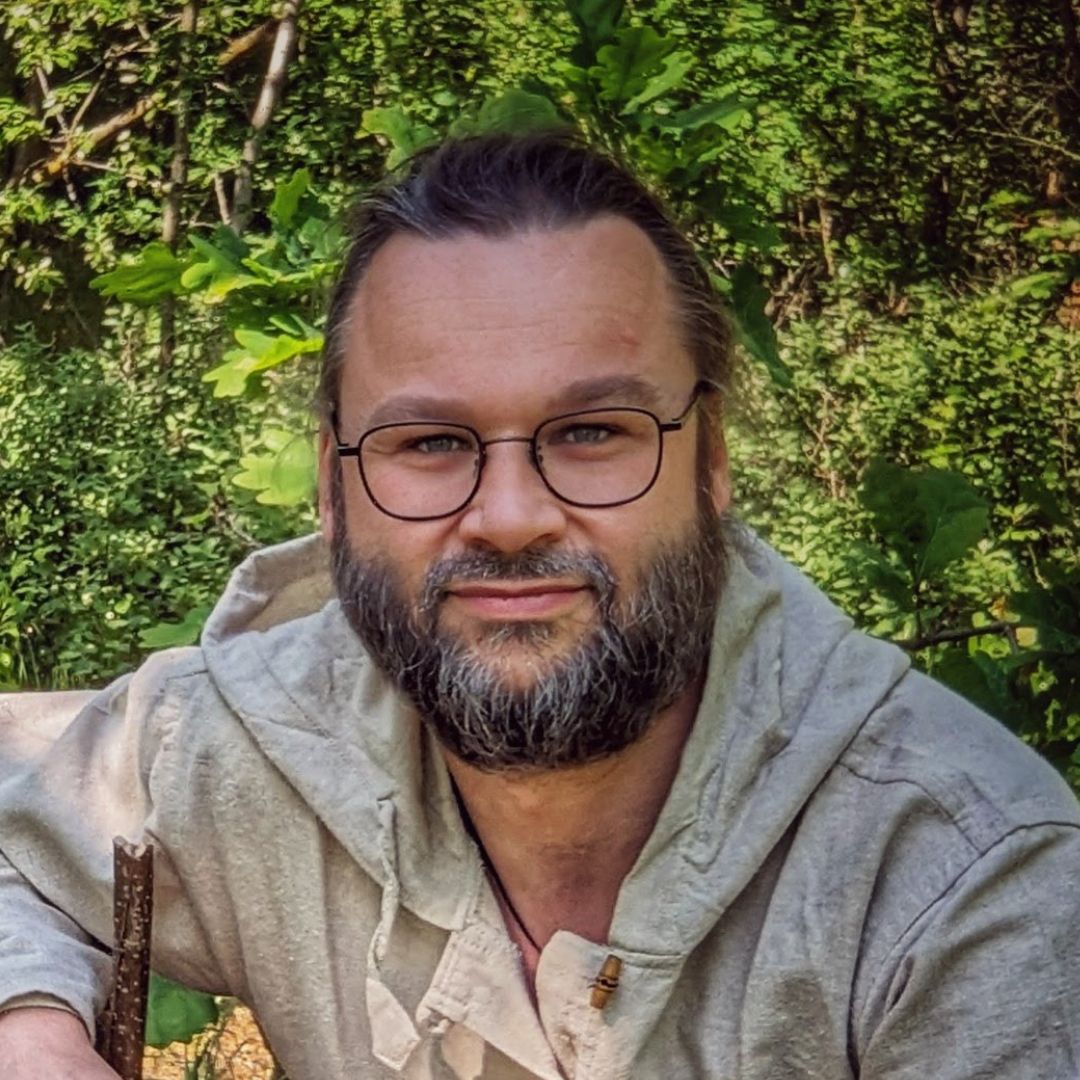 ---
👉 The key facts from this guide
Plan ahead: Reserve campsites, organize food and supplies.
Start small: Begin with a weekend trip before planning longer camping trips.
Check all amenities: Choose campsites with running water and toilets, if necessary.
Dress appropriately: Pack warm, comfortable, and weather-resistant clothing.
Organize equipment: Use sturdy storage boxes to keep your camping gear safe and organized.
Bring a sleeping bag: Ensure warm nights even when temperatures drop.
Anyone can go camping, but it takes more than just packing tents and sleeping bags to have an unforgettable camping experience.
Wouldn't it be great if your camping trip is a complete success?
It's not that difficult. Give me a few minutes, and I'll show you my tips and tricks for camping beginners.
Whether you're planning a trip to the woods or just want to set up a tent in your backyard, these tips are ones you shouldn't ignore.
1. Plan ahead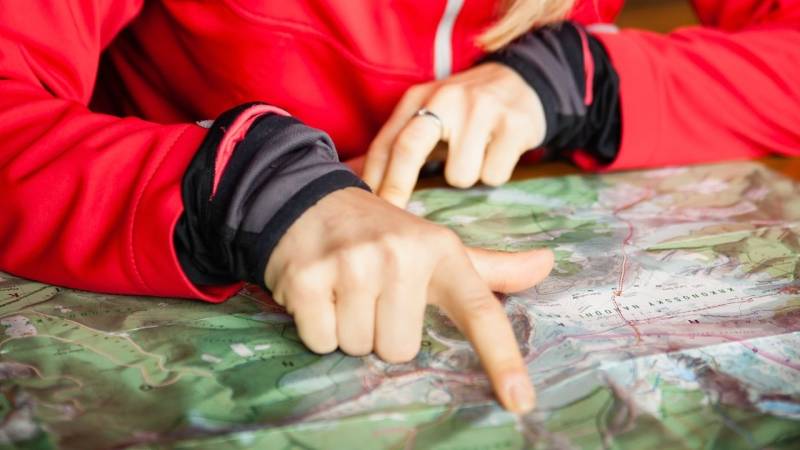 If you plan ahead before going on your camping trip, the adventure will be a breeze for you and your family.
That includes reserving campsites, paying the pitch fee, and planning for food supply.
Safe, you know that unexpected things happen from time to time. So go the extra mile and get organized. The more organized you are, the smoother your trip will go.
2. Start small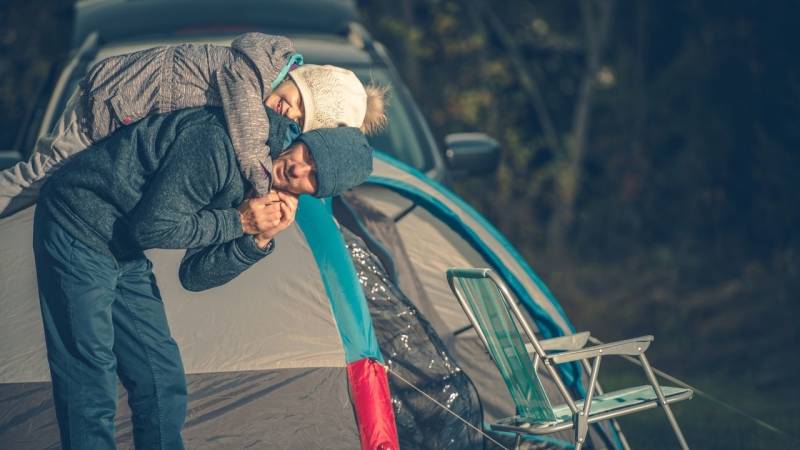 Do not try to camp for a whole week when you go camping with your family for the first time. It's perfectly fine to just take a weekend trip to make it easier for you and your children.
Remember that not all of your family members will easily adapt to the rough adventure. This is especially true if your family was used to staying in hotels before.
Moreover, I don't recommend you to go on a canoe tour right away, climb the highest mountains, or start in cold seasons.
And if it's just the backyard for testing, that's perfectly fine too.
3. Check all amenities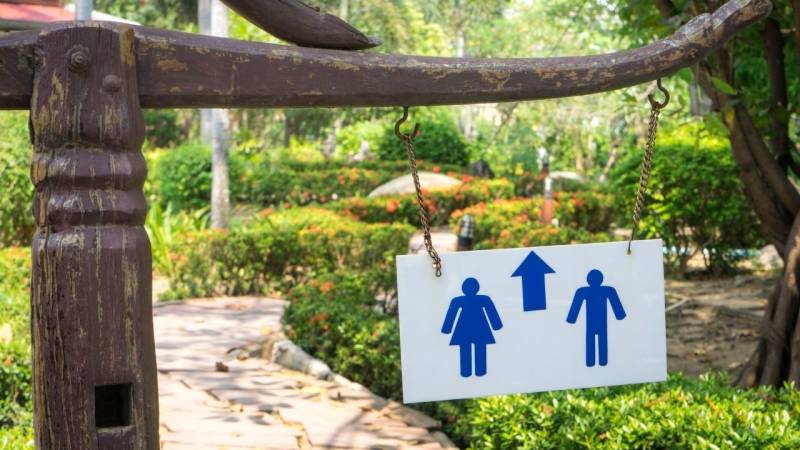 Decide together where the entire family wants to go camping. Should it be a lake, a deep forest, or a mountain? What are the sports activities at the campsite?
If someone in your family is not willing to give up amenities, try looking for campsites with running water and toilets.
4. Wear the right clothing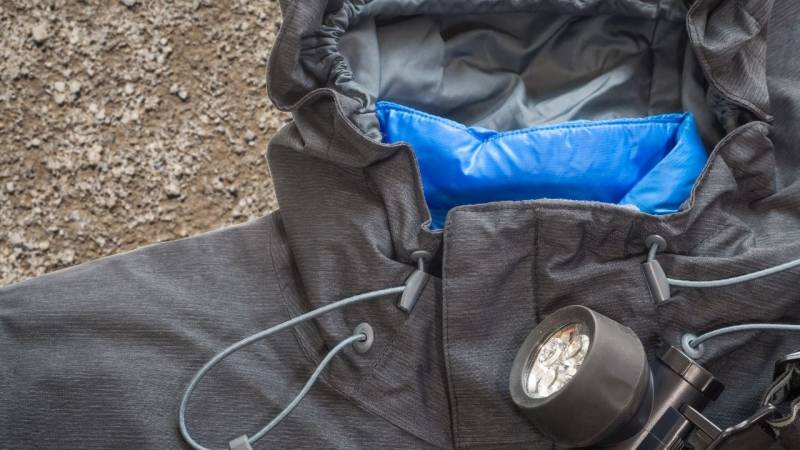 The great outdoors is not necessarily the most comfortable place, so it's helpful to be prepared. First, think about the appropriate clothing - it should be warm and comfortable.
Pack light items as well, especially when you go camping with your family in the summer. Durable and waterproof clothing is also essential, as it protects you in the rain.
Simply put: Good equipment makes your journey more comfortable.
5. Organizing Equipment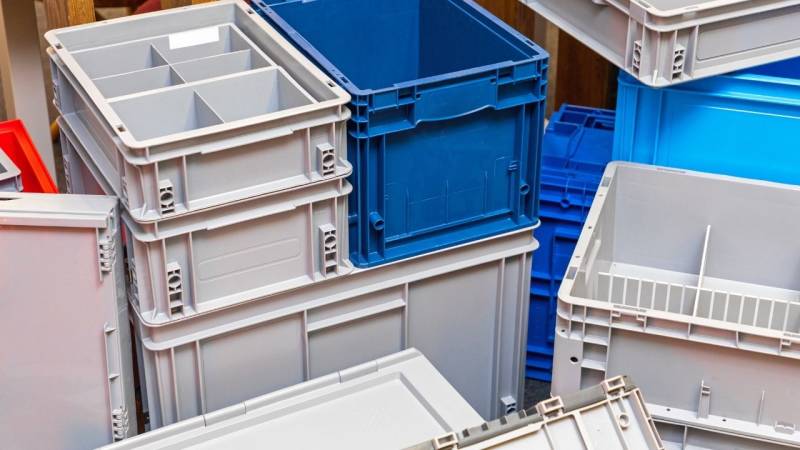 I had all sorts of small items with me at the beginning of my camping career. Things were flying around everywhere. But then I had enough and got myself sturdy transport boxes.
Plastic storage containers are so brilliant for keeping your camping equipment safe and organized. You can find them at the hardware store or order online. I use ones without lids and also ones with lids that seal waterproof.
6. Bring a sleeping bag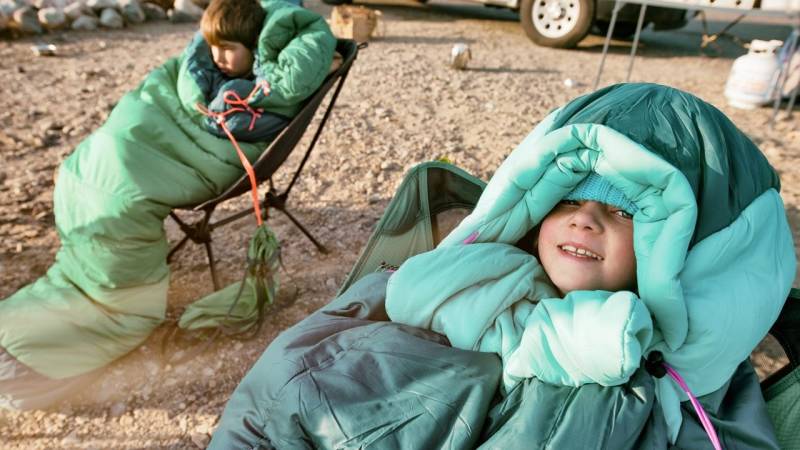 That should go without saying, but I have to mention it - especially for the beginners among you.
The weather can be very unpredictable. In summer, it's 25 degrees in the shade during the day, but at night the temperature drops to below 10 degrees.
The nights can be so cold that you freeze, especially when camping with your family on a mountain or in a high-altitude location.
Therefore, it is advisable to bring along not only the right clothing but also a good sleeping bag (here is my top list). This way, you will stay warm and won't wake up with goosebumps.
7. Light is needed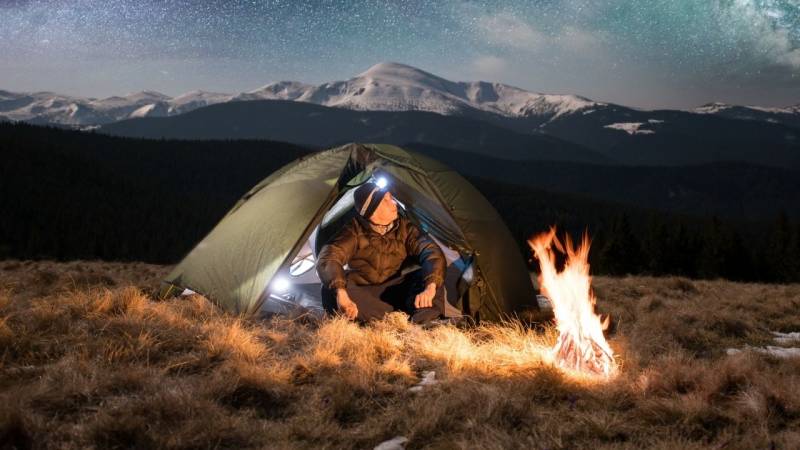 To make your camping trip even more comfortable, take a flashlight with you for the night.
Especially headlamps have proven themselves because they allow you to have your hands free. This is perfect for going to the toilet at night. ;-)
Here's my trick: Strap your headlamp around a plastic container filled with water. This will dim the light and allow you to use the brightness to read inside the tent.
Reading tip: What do you need for a night of camping? (Packing list and tips)
8. Fun and games should not be missing
Camping trips don't have to be boring. On the contrary.
First, there is always something to discover in a new area. Since children have a natural curiosity for exploration, it is obvious to explore the area.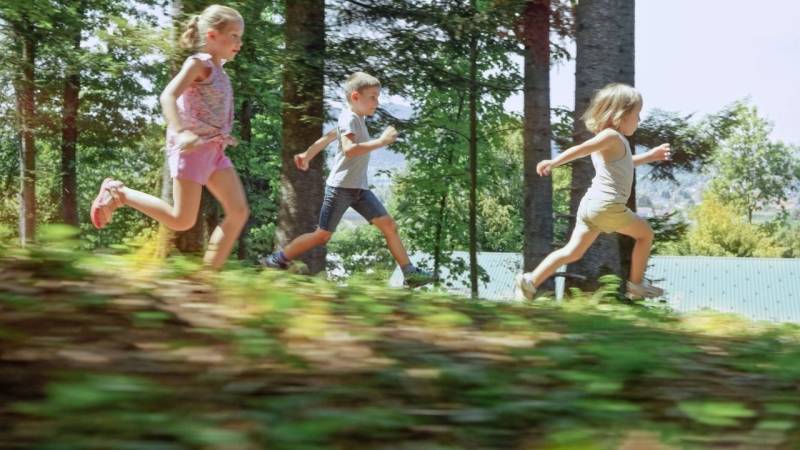 If you are in or near a forest, take a look at my 15 forest games that you and your children will definitely enjoy.
Divide yourselves into groups and challenge each other, for example, to see who can set up the tent the fastest or who can collect the most trash at the end of the trip.
And, what if it's raining? Then take out the deck of cards and make yourselves comfortable in the tent.
9. Make your own mosquito repellent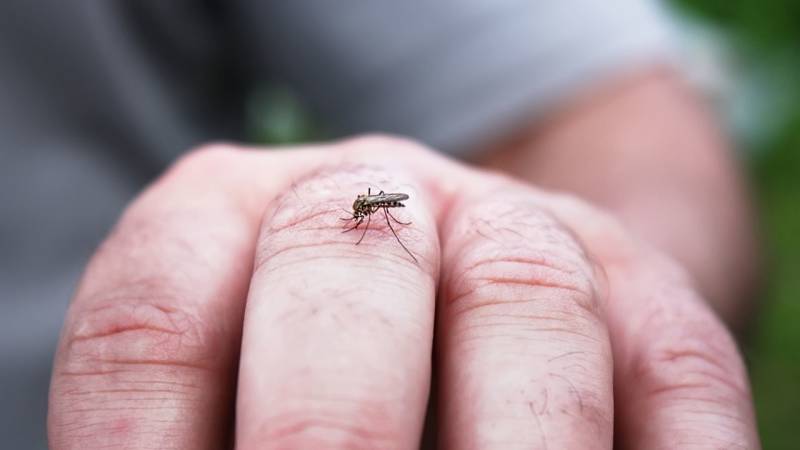 One of the most effective and natural mosquito repellents is sage. By burning a small amount of it or occasionally placing it on your campfire, you keep the annoying mosquitoes away.
10. Buy yourself high-quality camping equipment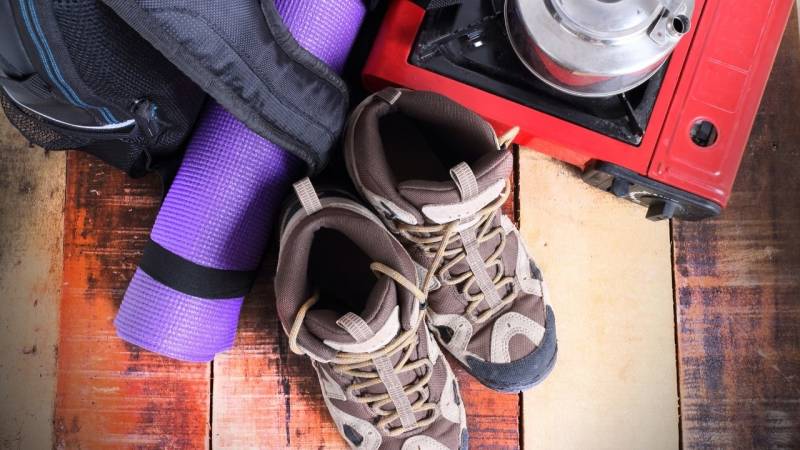 Certainly, cheap camping equipment can get the job done.
But if they break every time you use them, you should invest more in the long run.
Choose high-quality equipment and look out for items that are on sale.
11. Take firelighters with you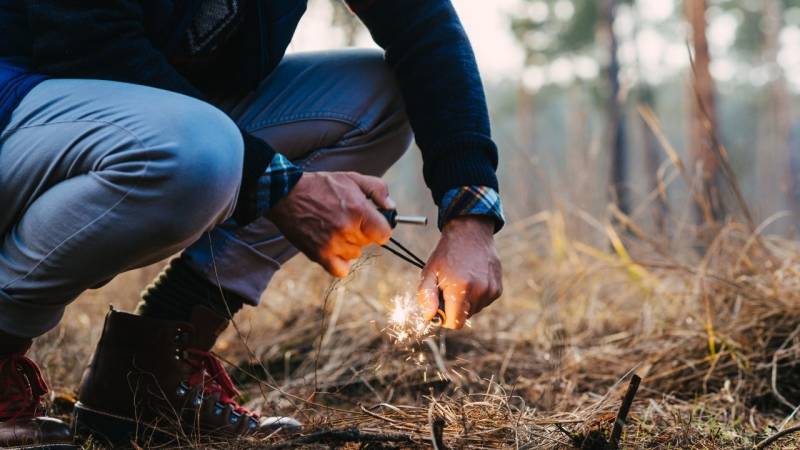 It goes without saying how important fire is on a camping trip.
Instead of using many matches to ignite a fire, cotton balls or cotton pads soaked in Vaseline or wax can also serve the purpose.
Once lit, they are good fire starters that burn for several minutes.
Furthermore, I also recommend familiarizing yourself with a fire steel. With the sparks, you can quickly ignite your gas stove, and you have thousands of ignitions.
Reading tip: How to quickly and easily ignite a fire with a Firesteel (Instructions + Video)
12. Take baby wipes and antibacterial wipes with you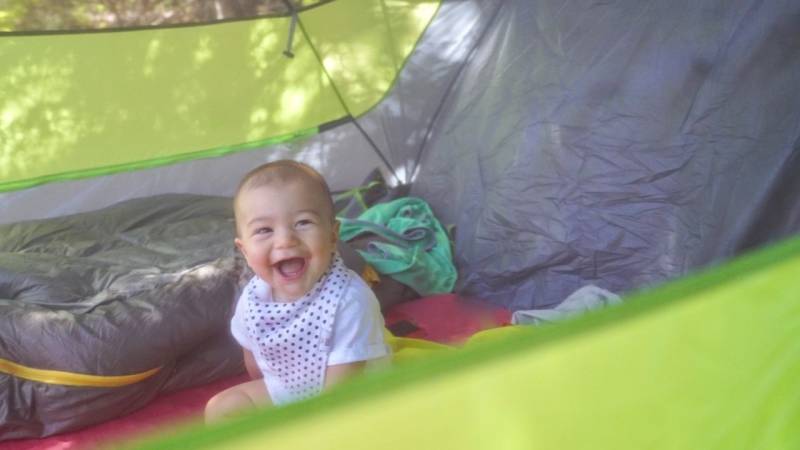 Baby wipes and antibacterial wipes are ideal when your children would rather not bathe or shower. This way, they stay fresh and clean.
The towels are also generally suitable for cleaning hands and feet before entering the tent or simply for cleaning the sticky fingers of children.
13. Leave nothing but footprints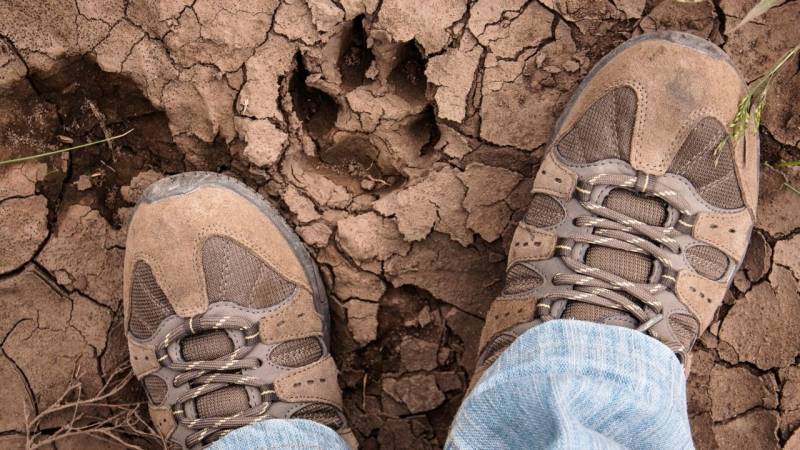 Do you know the "Leave no trace" rule? It is incredibly essential when you are out in nature.
And there is a saying among outdoor enthusiasts: "Take nothing but pictures, leave nothing but footprints, and kill nothing but time."
If you want your children to continue enjoying the same fantastic environment in which you camped as adults, then dispose of your trash properly and make your fire pit disappear correctly (Video).
14. How's the weather?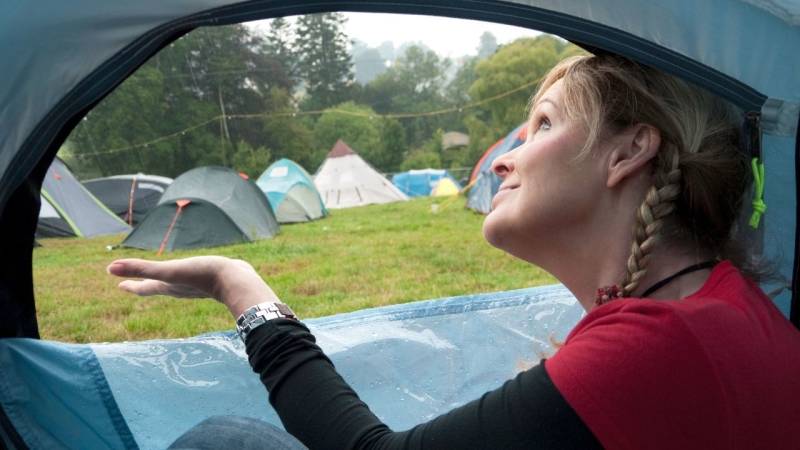 Before your journey starts, you should study the weather forecast. Will it rain? Is a storm coming? What temperature can be expected during the day and at night?
Based on the weather information, you pack your equipment and plan your trip.
15. Inform yourself about the location where you want to camp
Get information about facts about the camping area and share them with your family. What leisure activities are available? What is the predominant weather? If you are traveling in a foreign country, inquire about country-specific things such as tolls, opening hours, holidays.
In addition, you will learn about the advantages and disadvantages of the campsite, and if the negative outweighs the positive in the end, you will choose a different place next time.
Summary
Camping can be a fantastic adventure for you and your family.
It gets even better if you come with a good plan and organize the trip.
It may seem like a lot at first glance, but keep these camping tips for beginners in mind, and you will have less to worry about.
Camping is not easy, especially for beginners, but with the right strategy, it can become the best and most enjoyable outdoor adventure of all time.
---
Which of these camping tips do you usually not do? I want to know. Tell me in the comments.

Was this guide helpful?
12 people found this guide helpful.
5.00 out of 5 points (12 Ratings)