Back to german article
What do you need for a night of camping (Packing list and tips)
For one night in a tent you should not lug around half of your household. However, you should remember the most important things to spend a good night in the tent.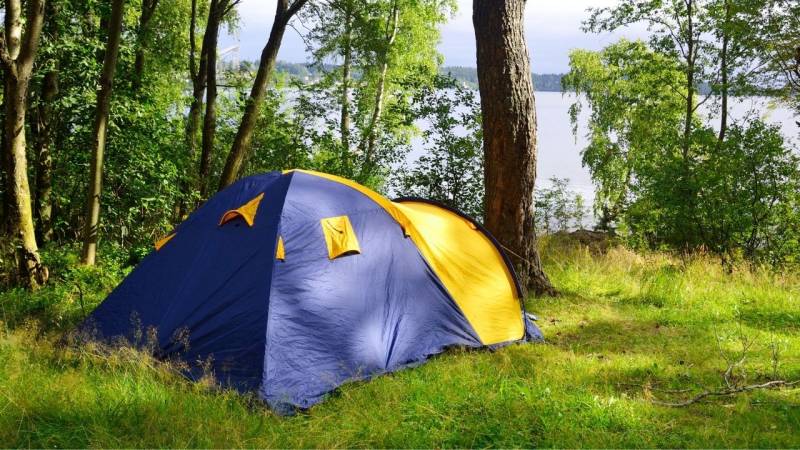 ---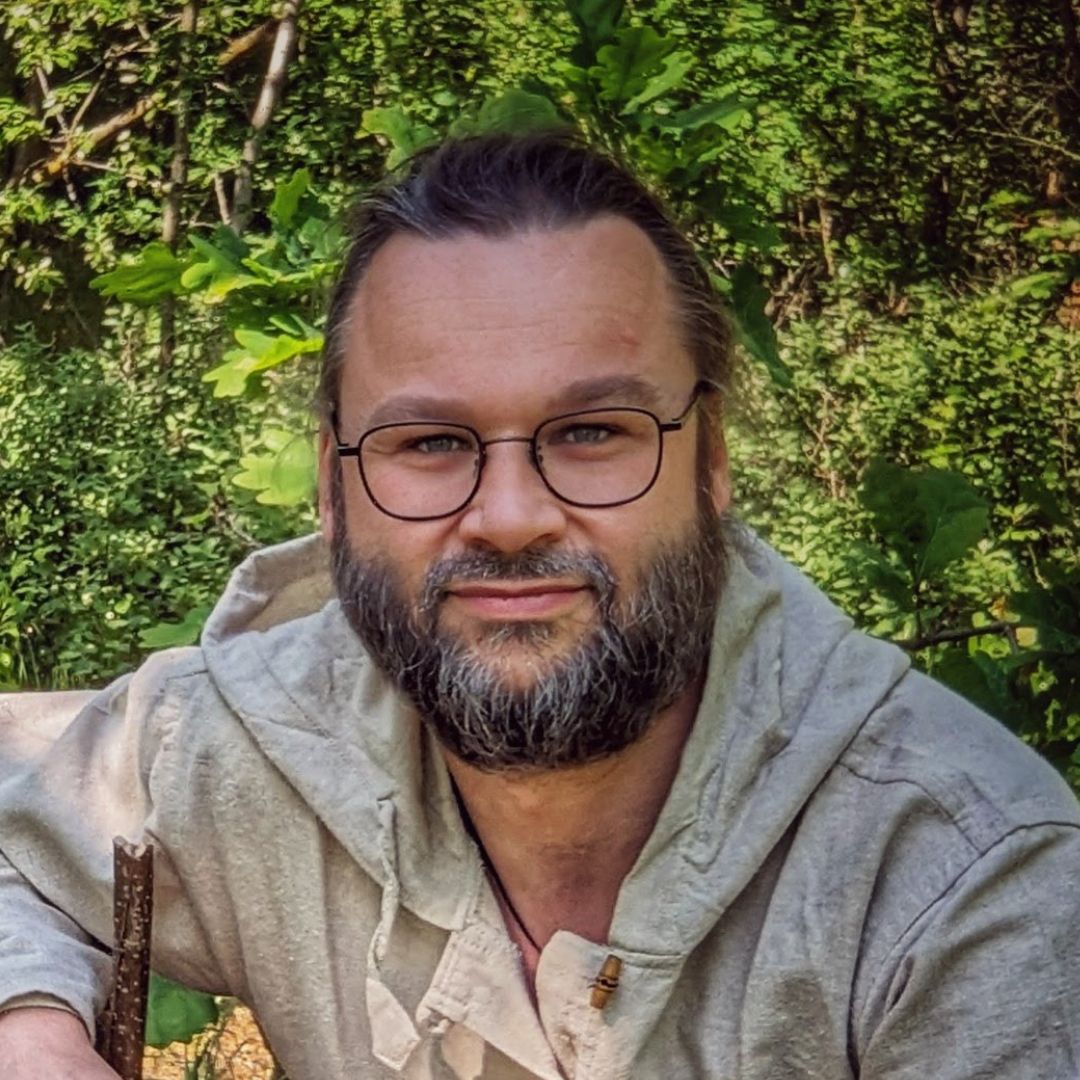 ---
👉 The key facts from this guide
Basic equipment: tent, sleeping bag, sleeping pad, flashlight, water, food, clothing, first aid kit, and emergency medicine
Tent equipment: tent pegs, guy ropes, tarp or groundsheet
Sleeping accessories: pillow, sleeping pad or air mattress
Clothing: functional underwear, rain jacket, hiking pants, t-shirt, fleece jacket, hiking socks, hat, or sun hat
Electronics and tools: flashlight, power bank, pocket knife, fire starter
Personal items: toothbrush, toothpaste, towel, tissues, first aid kit, insect repellent, travel medicine
Camping is the simplest way to stay overnight in nature. However, it often seems to be the most difficult for many people. When staying overnight in nature, the goal is to use as little as possible.
I think of the saying: Keep it simple. Especially for a night in a tent, you don't have to drag along half of your household. However, you should think about the most important things to camp for a night.
Basically, a tent, a sleeping bag, a sleeping pad, and a flashlight are your most essential companions. Furthermore, bring enough water and food. Since it gets cooler at night, it's better to pack an extra sweater. Always take your first aid kit and a small emergency pharmacy with you.
Keep reading, and I'll give you even more tips so that your night in the tent doesn't end in a disaster.
Packing list for a night in a tent
I will now present you my packing list for a night in a tent. I only take the essentials with me and some readers might think that I am foregoing all kinds of comforts.
However, this does not represent a sacrifice of comfort for me, as I feel extremely comfortable with this equipment.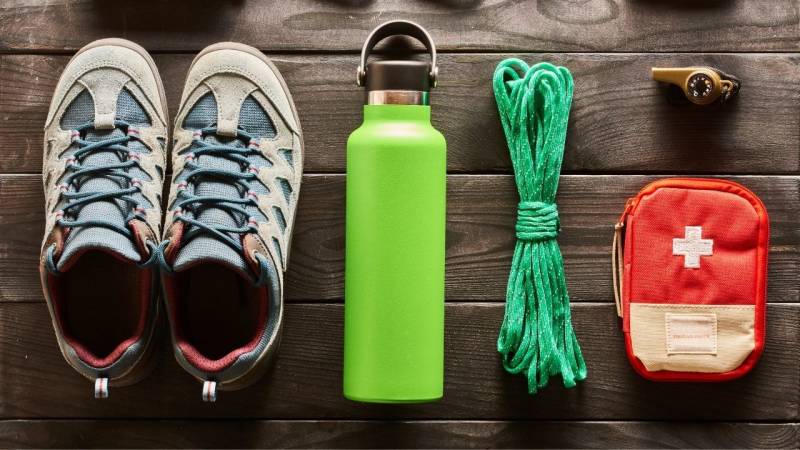 Let's get started. Of course, we'll start with the shelter that protects us from wind and rain.
Tent and Co.
Pegs
Guy ropes
A tarp, a tarpaulin (if your tent is not waterproof, here's my top list)
Everything about sleeping
Read also: How to sleep best in a tent? [Sleeping options and tips]
The right clothing
Hiking shoes
Functional underwear
Rain jacket
Hiking pants / Outdoor pants
Rain pants (if your hiking pants are not water-repellent)
T-shirt (preferably made of merino wool, as it dries quickly)
Fleece jacket
Hiking socks (preferably also made of merino wool)
Depending on the temperature, a hat, gloves, or sun hat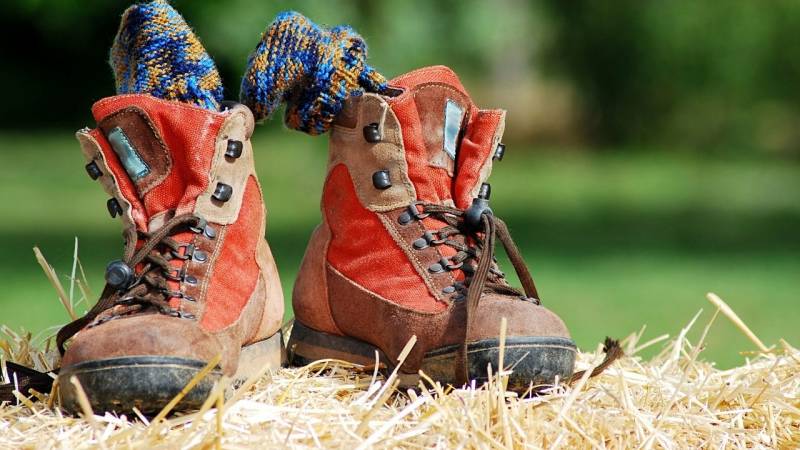 Food
Water (2 liters are usually enough for one night)
Sandwiches or rolls
Snacks, such as sausages or vegetables (carrots, bell peppers, cucumbers)
Granola bars or trail mix
Electronics and Tools
Flashlight / Headlamp
Powerbank (if you can't do without your phone, please keep in mind your charging cable)
Firesteel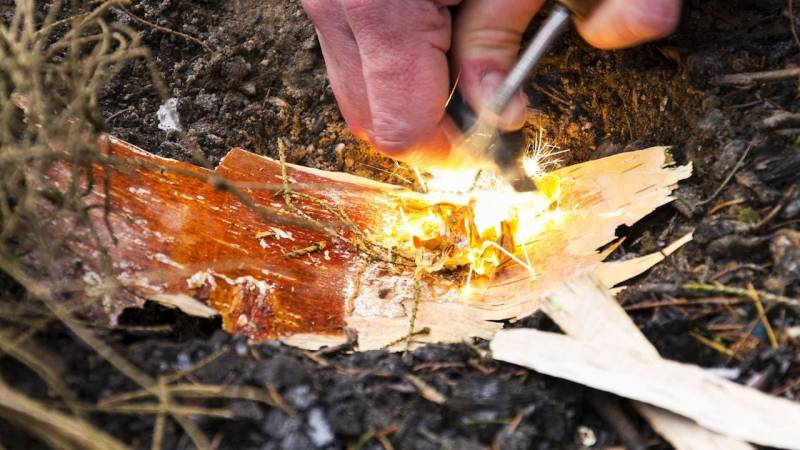 Reading tip: "How to quickly and easily ignite a fire with a Firesteel (Instructions + Video)"
Personal
Toothbrush and toothpaste
Possibly sunscreen
A small towel
Tissues or toilet paper
Don't forget!
First aid kit
Insect repellent
Travel pharmacy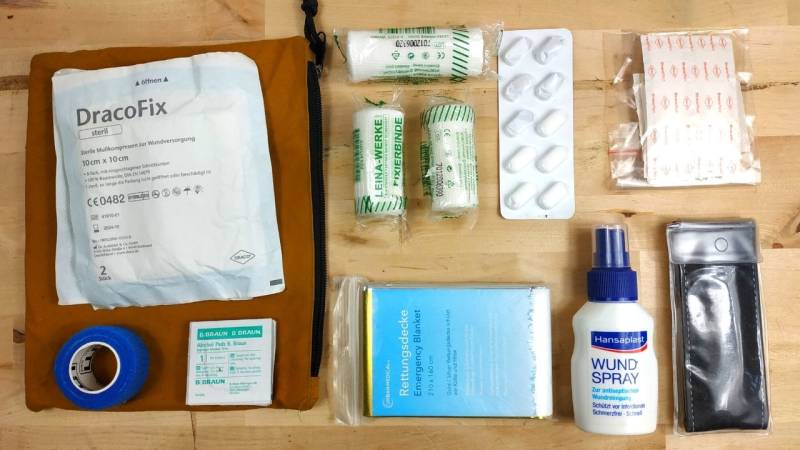 Reading tip: Assemble and use an outdoor first aid kit
At the campfire
Firelighter for the campfire (or use tinder from nature)
A small card game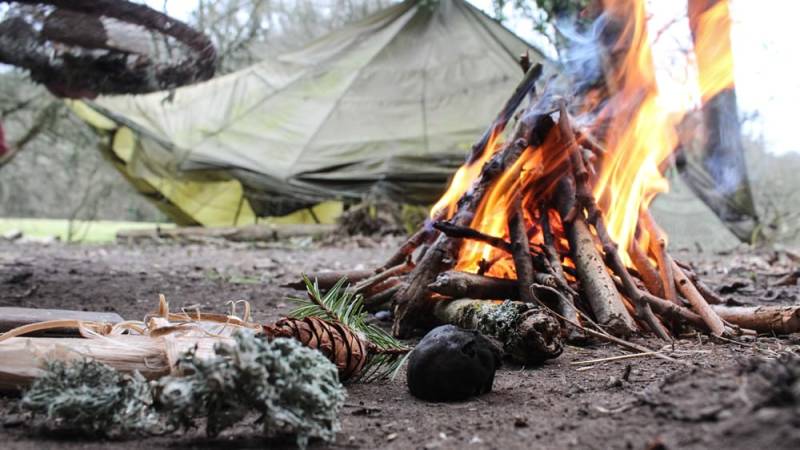 Furthermore, make sure you learn how to operate your campfire safely.
As you can see, this list seems quite long at first glance. However, it includes everything necessary for a night in a tent. What you ultimately take with you is up to you.
The right mindset is everything. Embrace the adventure of living with less. You will see how much unnecessary stuff you actually own at home.
Read also: Sleeping outside in winter - with these proven tips it will definitely work
Less is more
When camping, it's important to get by with as little as possible. Especially for one night, you don't need too much.
Instead of packing a suitcase, take a backpack. You will see that most things fit into it as well.
When choosing your clothing, it naturally depends on the reason for going camping. If you're just spending a night in nature for fun, it's not necessary to bring a complete hiking equipment.
Even if you don't bring hiking pants or hiking shoes, still make sure to wear slightly rugged pants and possibly water-resistant shoes.
When it comes to food, it is not necessary to cook a three-star menu. Prepare some sandwiches and snacks at home or find simple outdoor recipes. You don't need a gas stove, pots, plates, spices, and cutlery for a night in nature.
If you can't do without your coffee in the morning, get yourself a small gas stove for your bag. I use the Primus Essential Trail Stove Duo and here you can learn how to make coffee without a coffee machine.
If you would rather not take a water canister with you, two liters are usually enough. However, keep in mind that you may also need water for brushing your teeth (Here's my guide on how to brush your teeth in the wilderness). If you're not camping by a river, it's better to bring a small bottle as well.
You don't need to carry tables and chairs. Use the natural surroundings and sit on a tree trunk or the sleeping pad.
If you have a child (Camping with a baby?) or a pet (Camping with a dog?) with you, you also have to pack for them.
---
What else is important to you for a night in the tent? Tell us in the comments.

Was this guide helpful?
18 people found this guide helpful.
5.00 out of 5 points (18 Ratings)