Back to german article
In the test: The Jackery Solar Generator 500 (Explorer 500 Powerstation + Solar Panel SolarSaga)
In the test: The Jackery Explorer 500 is a power station with versatile charging options. With the solar panel a generator for camping, outdoor and crises.
from Martin Gebhardt
|
Gear
| reading time 12 Min
---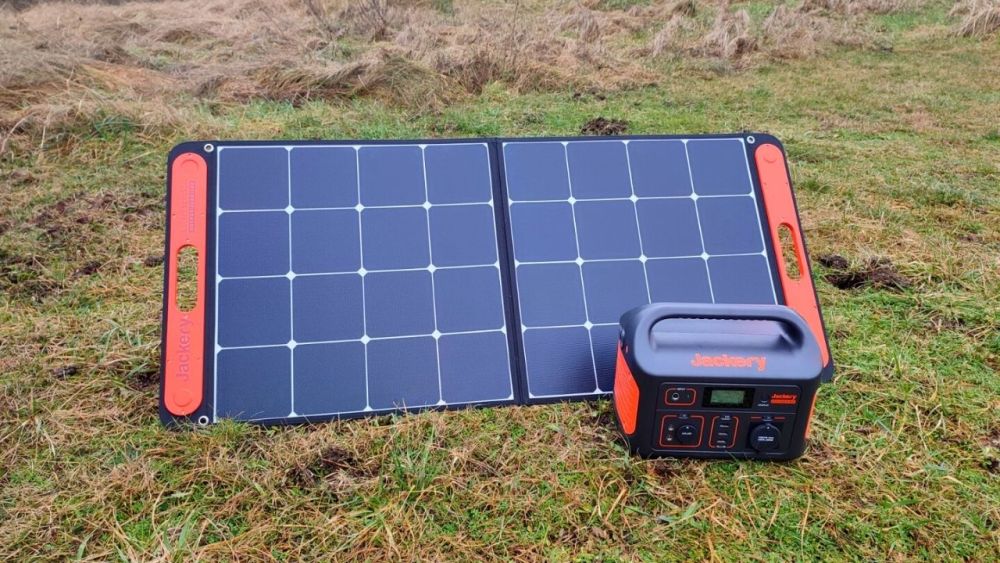 ---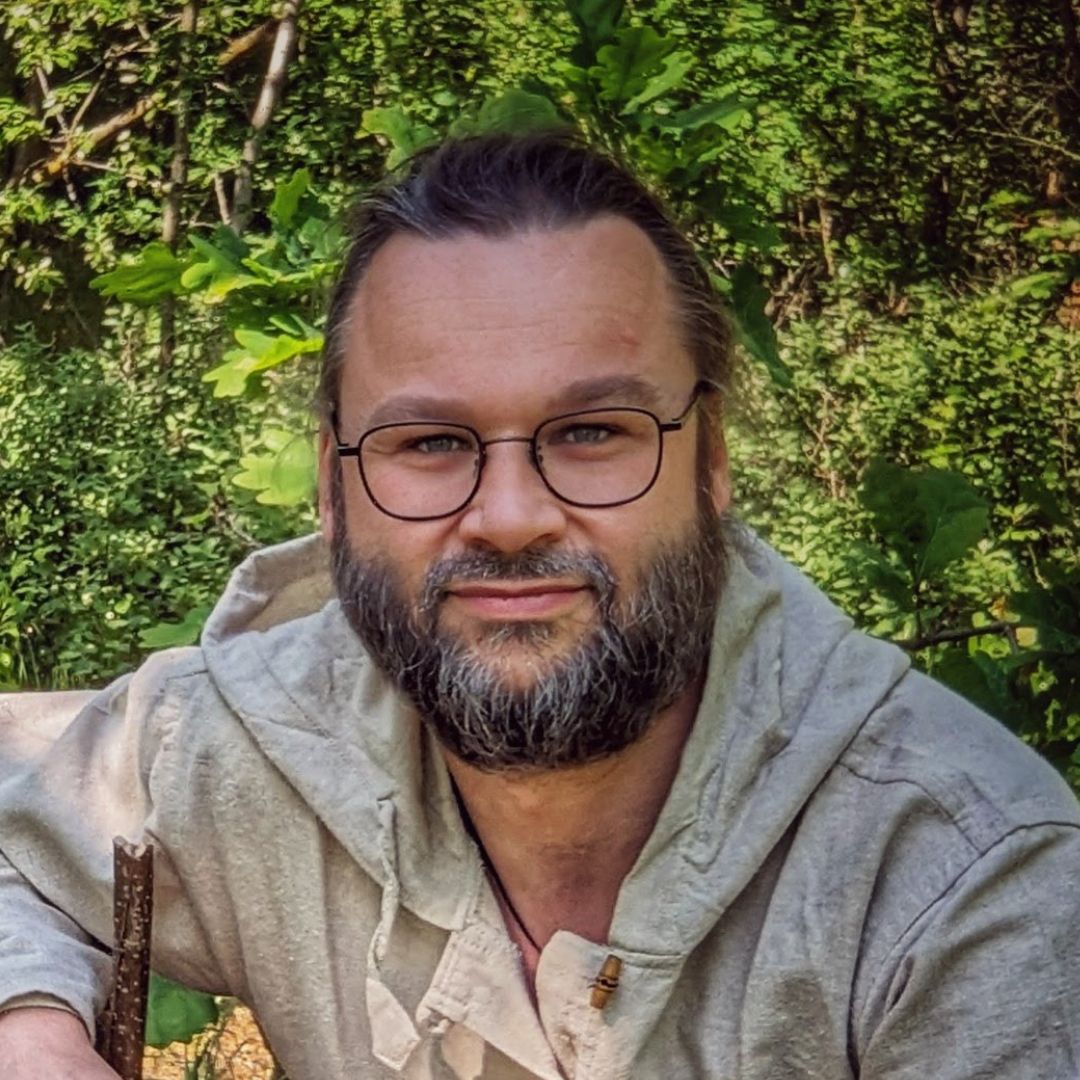 ---
👉 The key facts from this guide
The Jackery Solar generator 500 is a system consisting of the Powerstation Explorer 500 and the Solarpanel SolarSaga, which provides independent power supply for camping and crisis situations.
The Jackery Explorer 500 Powerstation has a capacity of 518.4 Wh and offers versatile charging options, including a 230 volt socket.
The Jackery Solarpanel SolarSaga 100 delivers up to 100 watts of power and can be used independently of the Powerstation.
The Powerstation can be charged and discharged simultaneously, which means you can charge it with the solar panel and charge your devices at the same time.
The Powerstation is not suitable for high-power consuming devices like kettles or heaters, but ideal for smaller devices like smartphones, laptops, and electric lamps.
The Jackery Explorer 500 Powerstation should not be dropped below 20% charge level to avoid deep discharge, which can lead to dangerous defects within the battery cells.
From time to time, I come across a camping product that blows me away and makes it onto my list of essential utensils.
The Jackery Solar generator 500 is such a product.
From now on, there will never be any more power problems at the campsite and in crisis situations I am independent of the power grid.
Read on for my full review.
What is the Jackery Solar generator 500?
Let's clarify right away what product we're talking about.
The Jackery Solar generator is a system that provides power to electrical devices. The system consists of the Powerstation Explorer 500 and the Solarpanel SolarSaga.
And I will introduce these two devices to you first.
What is the Jackery Explorer 500 Powerstation?
The Jackery Explorer Powerstation is a large power bank with versatile charging options and a 230 volt socket. With this, you can charge not only your smartphone, but also your mini fridge in the car, a drone, your laptop, or a portable television.
The possible uses are diverse, such as in a motor home, in the garden, for DIY projects, and as an emergency power generator.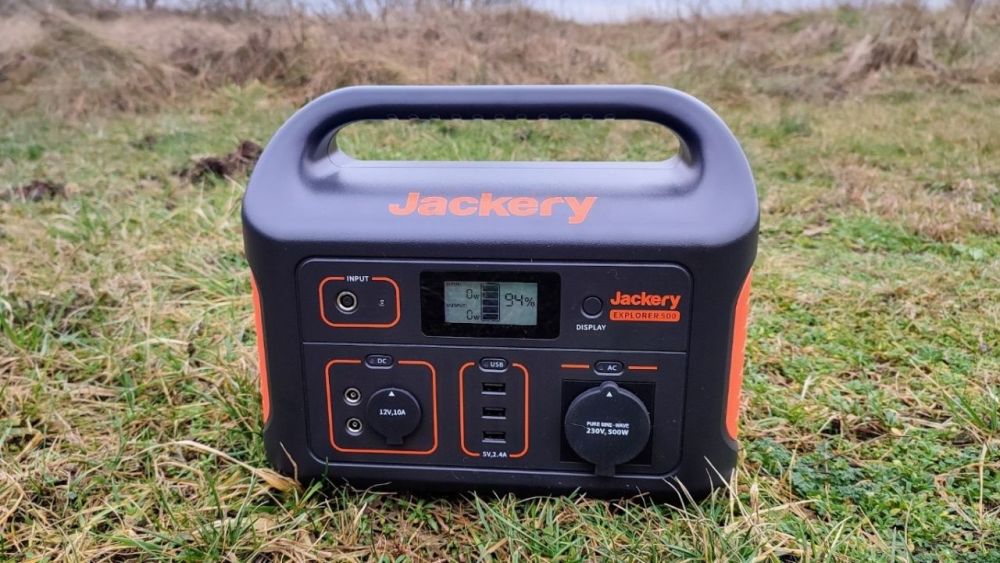 What is the Jackery Solar Panel?
The Jackery Solar Panel is a solar charger with USB ports for your devices. You can use the solar panel independently of the power station. When the solar panel is paired with the Jackery Explorer, you will receive the Jackery Solar Generator.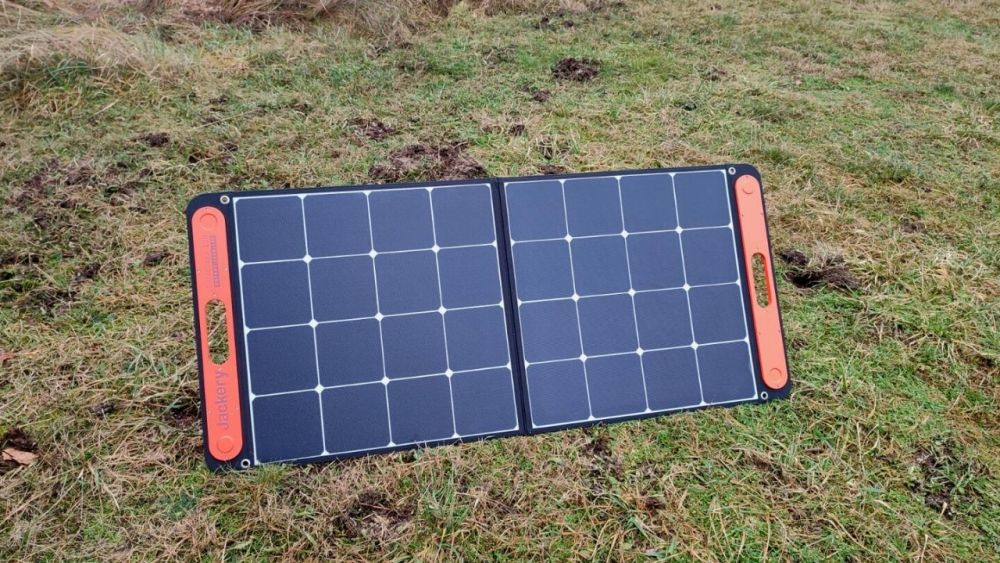 With both devices, you are independent of the power grid as long as you have access to the sun or at least a cloudy sky.
And now allow me to introduce both devices to you in detail. Let's start with the Jackery Explorer 500 Powerstation, and then we will take a look at the solar panel.
Properties of the Jackery Explorer 500
I would like to briefly list the product features for you so that you know if the device is suitable for you.
Here is the key data for the Jackery Explorer 500:
Capacity: 518.4 Wh / 24Ah / 21.6 V
500 Watt output power / 230 volts
Digital display of battery charge level and input and output power
1 x 110V AC socket
2 x 12V DC connectors
3 x USB-A output with 5V / 2.4A each
Maximum input 100W
Weight approx. 6.4 kg
Cycles: more than 500
24mAh lithium-ion battery
Built-in flashlight
Take a look, this is how quickly you can fully charge the Jackery Explorer 500 according to the manufacturer:
with a wall socket in about 6 to 7 hours
with a compatible solar panel (100W) in about 14 hours under optimal conditions
with the car charger, it takes about 8 hours
an electric generator can do it in about 7 hours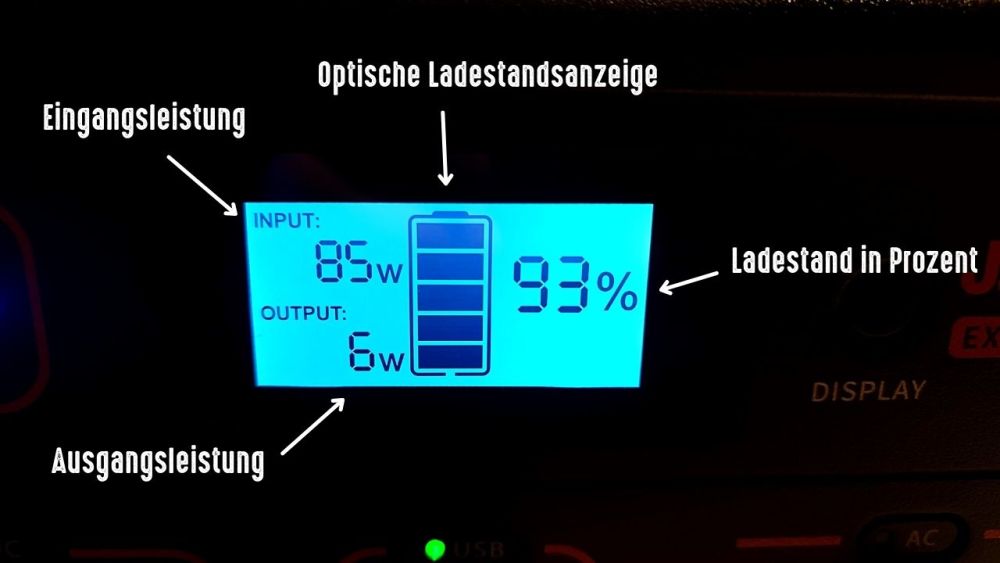 Properties of the solar panel Jackery SolarSaga 100
Peak power: 100 W in full sun
Grid voltage: 18 V
Current: 5.55 A
1x USB-A (5V, 2.4A)
1x USB-C port (5V, 3A)
Weight: 4.68 kg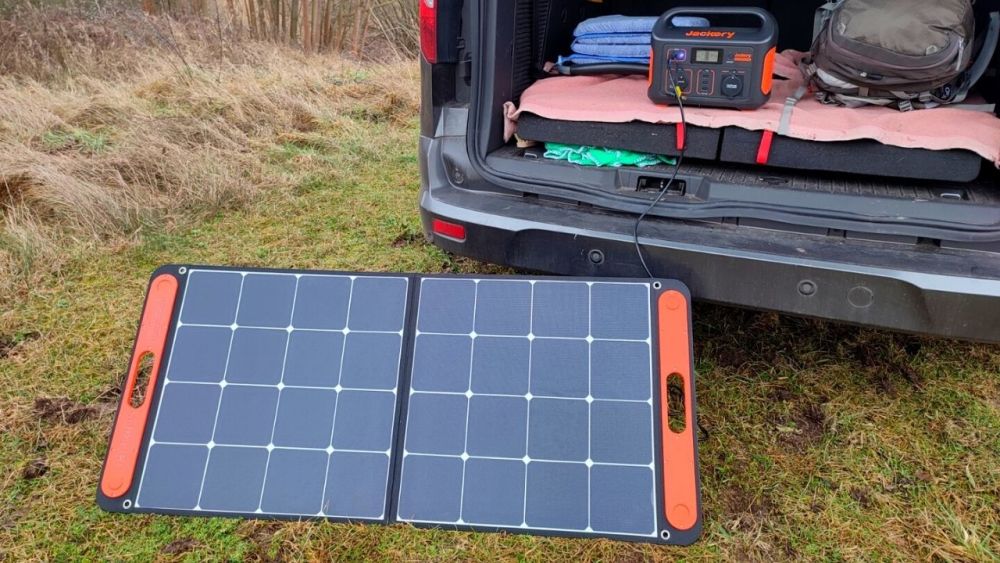 How I will proceed with the test
The goal of an outdoor excursion is usually to escape everyday life and enjoy nature, but in reality, I still need to use some electrical devices.
Since I often spend several days on the road or go camping with my family, I need a power supply. Leaving my car running just to charge my smartphone is definitely out of the question for me.
Of course, I can use my Anker power bank (here's my top list of power banks) when I want to travel light. But when it comes to going to the campsite with the family or wild camping (here you can find legal places), I require more power.
Smartphone, MP3 players, tablets, laptops, camping lanterns, and headlamps are just a few devices on my list.
As much as I love to disconnect, sometimes in the evenings I snuggle into my sleeping bag and look at photos, call my wife and kids, or indeed watch a downloaded movie - mainly after a long day of hiking on my solo trips.
I don't pretend to have a great understanding of volts and watts or to know what a "pure sine wave AC output" is, so in this test I am more interested in the practical side of things and the real performance.
I therefore focus on the question of how quickly the Jackery Explorer 500 can be charged, which electrical devices can be charged with it, how long the power station reliably supplies power, and how practical it is to use on a camping trip in Germany and at home.
The Jackery Explorer Series
Jackery was founded in 2012 in the USA and since 2021 the products are widely available in Germany.
The company specializes in environmentally friendly outdoor power solutions for explorers.
The Jackery Explorer series consists of three models: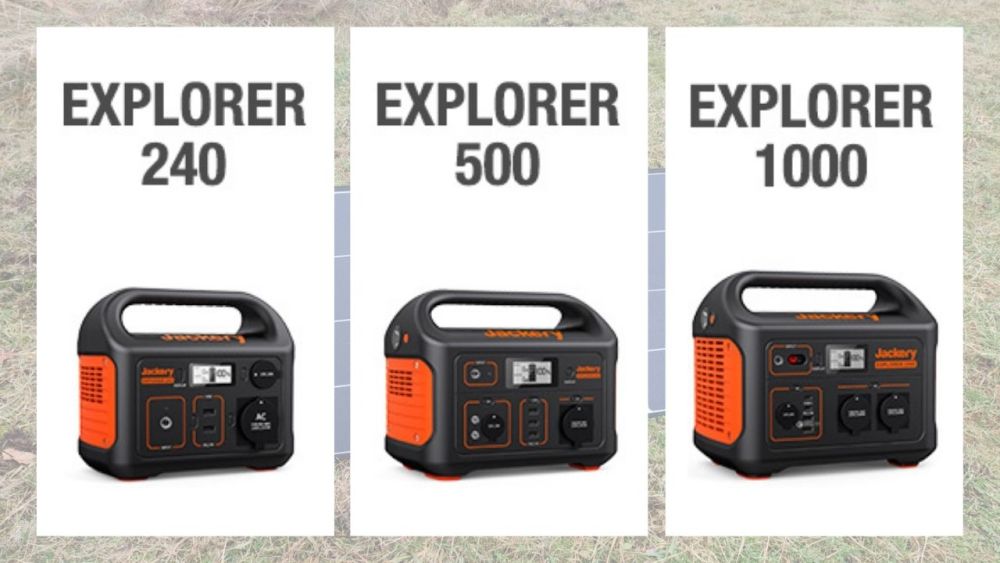 If you want to be able to power the power station during camping, you should consider the additional SolarSaga 100 solar panel, which is sold separately for €299 and works with 100 watts in conjunction with all 3 power stations in the Explorer series.
The power station and the solar panel are also available as a set and are called Solar Generator 500 or Solar Generator 1000.
Attention: Read here my detailed review and test of the Solar generator 1000.
The Explorer 500 is competitively priced compared to similar products from manufacturers such as Bluetti (e.g., the PowerOak EB70 [my review]), Anker, and EcoFlow.
Charging the Jackery Explorer 500
When the device arrived, I simply had to connect it to the power grid for a few hours to charge it.
With a power connection, it takes 6 to 7 hours to reach a full charge from 0% to 100%. But be careful, you should not let the power station drop below 20%, as deep discharge is harmful.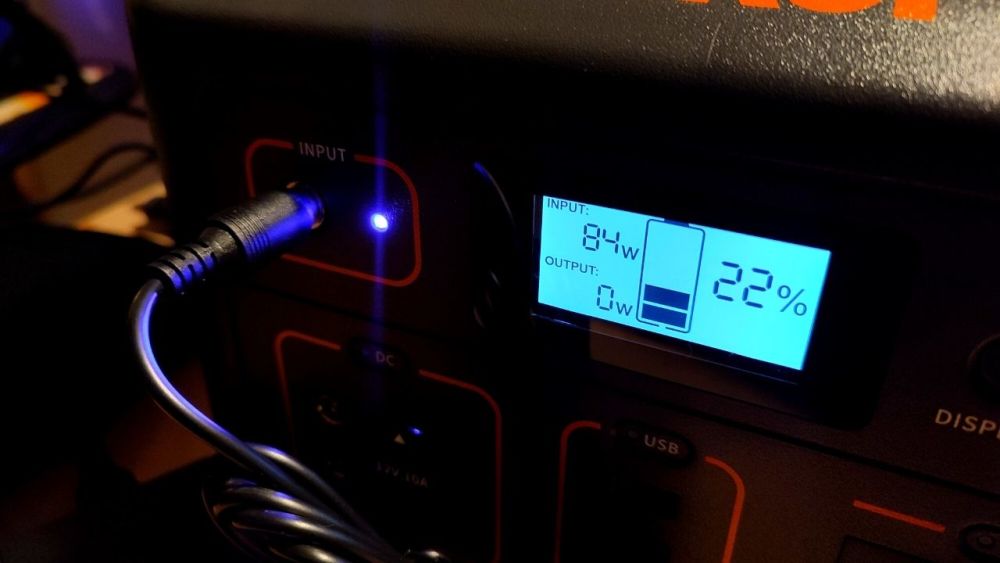 You can also charge the power station using the 12-volt AC cable in the car or with a solar panel. The necessary cables for grid and car charging are included in the delivery. If you buy the solar panel separately, the cable you need to connect the panel is also included.
The digital display is very practical and clearly shows the device's battery level, power consumption during charging, and power consumption of connected devices.
Once the loading process is complete, the display shows 0 watts under "Input".
Let's summarize. There are three charging options, which are:
Wall socket
Cigarette lighter in the car
Solar panel
Practical Design
The design of the Explorer 500 Powerstation is really well-thought-out, and thanks to the integrated carrying handle, it is easy to transport, while the multiple outlets (3 USB, 2 DC, and 1 AC socket) ensure the power supply for multiple devices.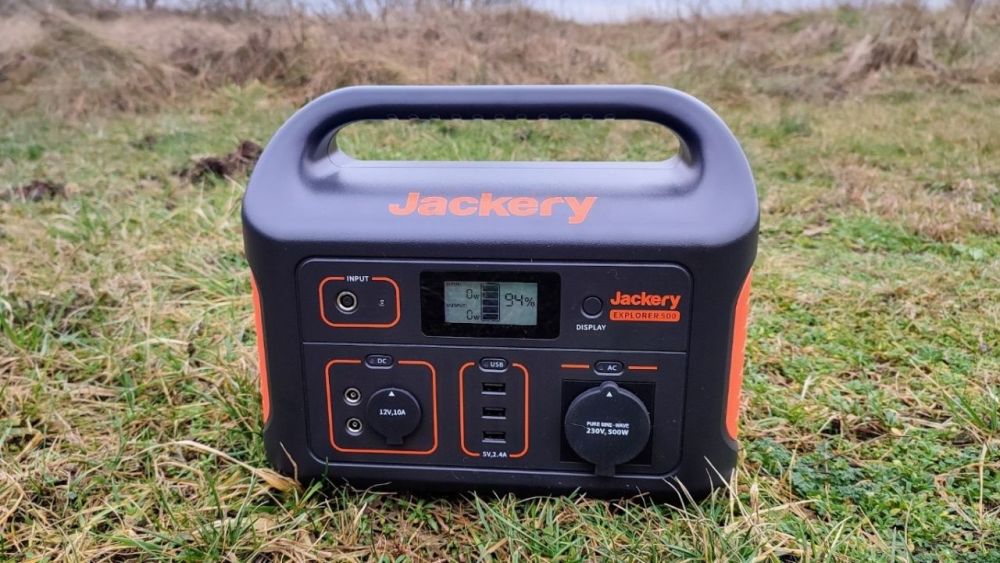 With a power output of 500 W, the Jackery Explorer 500 can provide power to pretty much any small device. So, when it comes to things like smartphones, camping lanterns, smartwatches, and tablets, the Explorer 500 does an excellent job.
And as a family, we found the ability to charge multiple devices at the same time extremely useful.
The great thing is that you can simultaneously charge the Explorer with the solar panel and charge your smartphones or other devices at the same time.
This does not work with most power banks!
Performance? But of course…
Here are some examples from practice when I used the charging station both at home and on my trips.
My MacBook Pro with a lot of power (up to 96 watts) was, for example, charged from 50% battery level (while in continuous use!) to 100% in 1 hour and 55 minutes, with only 22% of the Explorer 500's capacity being consumed.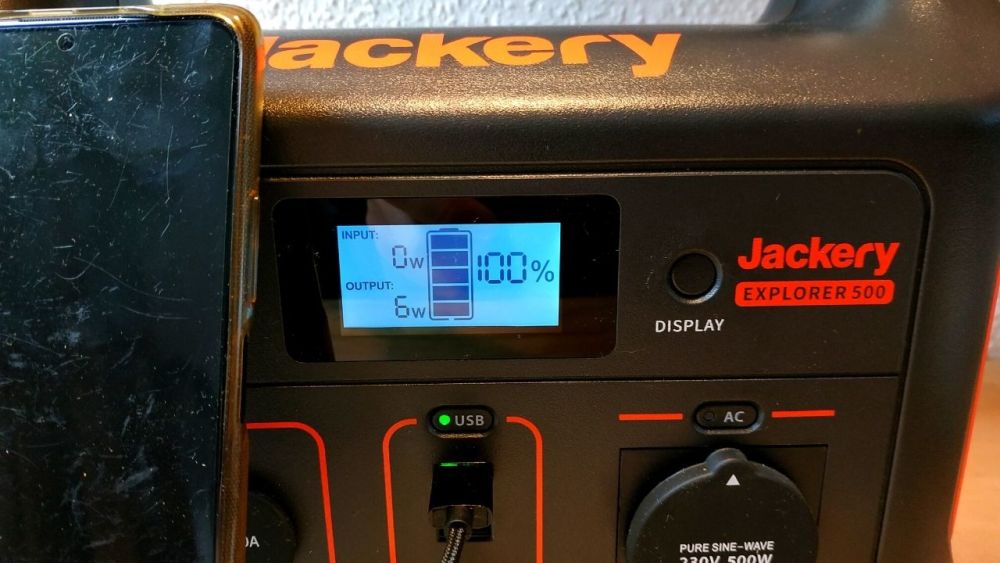 But look at the table, there I measured exactly how long the loading processes took:
| | | | | |
| --- | --- | --- | --- | --- |
| Device | Battery Level Start | Battery Level End | Charging Time | Explorer 500 Battery Drain |
| MacBook Pro | 50% | 100% | 115 minutes (1 h 55 m) | 22% |
| Xiaomi Mi Max 3 | 37% | 100% | 143 minutes (2 h 23 m) | 3% |
| Xiaomi Redmi Note 10 | 0% | 100% | 241 minutes (4 h 1 m) | 4% |
| Lenovo Tablet | 41% | 73% | 84 minutes (1h 14 m) | 1% |
During my four-day training in tracking and wilderness education, I had the Jackery Powerstation with me for two consecutive weeks - WITHOUT recharging it in between. All my devices were always fully charged thanks to the Powerstation, and it didn't even come close to giving up.
The lowest value I have brought the Explorer 500 to during a 2-night/3-day camping trip was 41%, without using the solar panel.
Of course, I also wanted to experiment with what I can connect. So, I grabbed my kettle and wanted to boil 1 liter of water with it. That didn't work, of course, because my kettle requires at least 1300 watts.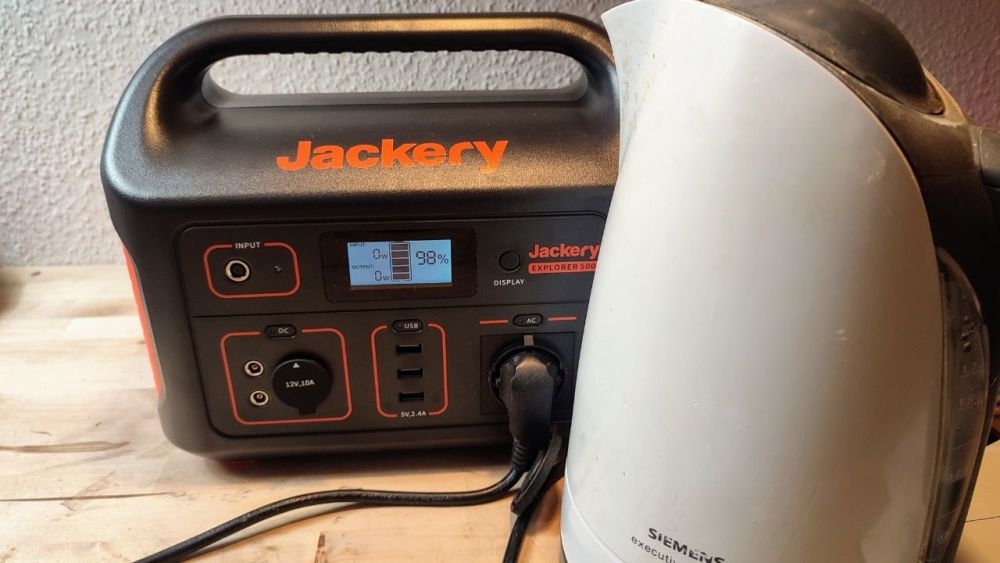 What's great: The power station automatically shuts off when you connect something with excessive power consumption - that is, over 500 watts of power.
If you have a sound system that draws 500 watts, you can run it for 60 minutes with the power station. If your sound system has 800 watts, it will not work.
Please do not consider the Jackery Powerstation as a replacement for a power outlet, as it is incapable of operating high-power devices such as a kettle or heater.
Here are some examples of running times for electrical devices:
| | | |
| --- | --- | --- |
| Device | Watt | Runtime |
| Cooler box | 10 watts, Eco mode | 50 hours |
| Cooler box | 60 watts, full load | 8.3 hours |
| USB speaker | 15 watts | 33.3 hours |
| Mini laptop | 16 watts | 31.2 hours |
| Mini fridge | 66 watts | 7.5 hours |
| Electric blanket | 60 watts | 8.3 hours |
| Television | 80 watts | 6.25 hours |
| PC | 100 watts | 5 hours |
| Immersion heater | 300 watts | 1.6 hours |
| Coffee machine | 1000 watts | Explorer 1000 required |
| Electric grill | 1500 watts | operation not possible |
| Hair dryer | 1500 watts | operation not possible |
For simplicity reasons, the required power of the internal electronics of the power station is not included.
What is the difference between a power bank and a power station?
I also wondered about that at the beginning and thought to myself:
"With a power bank - which weighs much less - I can also charge my smartphone. Why a power station?"
Here is the answer:
USB power banks (battery packs) are used for charging USB devices such as smartphones, tablets, MP3 players, or action cameras. Mobile power stations have USB and DC outputs, as well as one or more 230V outputs (Schuko socket). So, you can connect almost any device, from a television to a refrigerator to a laptop.
And the applications are also different.
I take a power bank with me when I am on survival training or staying in the Bushcraft Camp for two nights.
And I take a power station with me when I go camping, with the car or caravan, go on a road trip, or want to protect myself against power outages in the house.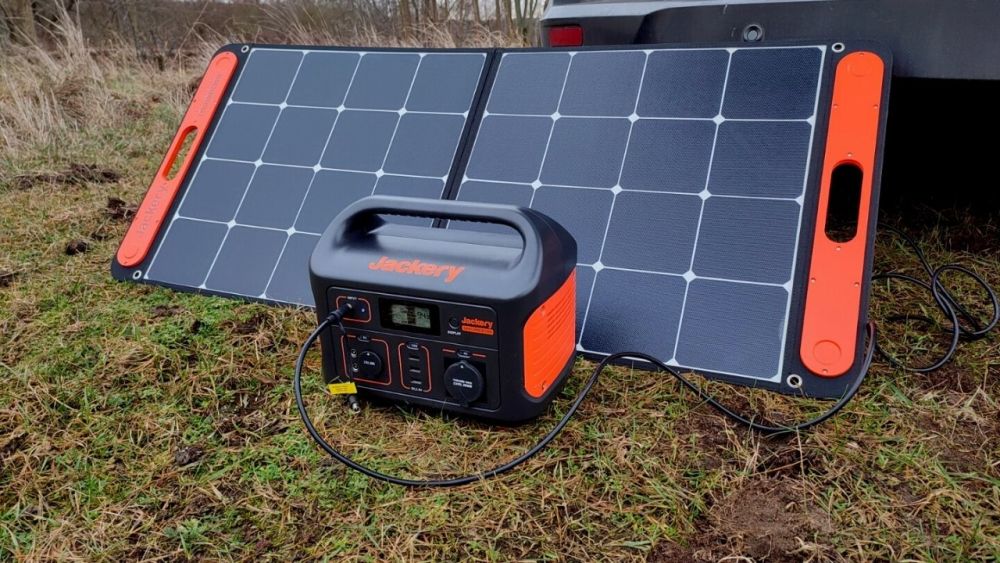 Performance of the solar module
I received the Explorer 500 in winter, which here in Germany means short, gloomy days with very little sun. And the sun we do get is not particularly strong at this time of year.
On a gloomy day in January, the power ranged between 5 and 10 watts, while on a sunny day in mid-January, I achieved an impressive power of 30 to 40 watts.
During a gloomy camping trip in autumn or winter, 1 to 2 watts are naturally very little, especially when a smartphone is being charged on the power station, which requires approximately 6 watts.
I will update this review in spring/summer with more details about the performance of the solar module. Drawing firm conclusions about the performance of the solar module based solely on the test conditions in winter is still too early at this time.
The great thing about the solar panel is that you already have a USB-C port there. You won't find this on the Powerstation 500, but you will find two of them on the Explorer 1000.
Solar Panel SolarSaga vs. Solar Panel on Power Banks
Previously, I thought that with my power bank, such as the popular ADDTOP Solar Powerbank 25000mAh, I am completely independent thanks to the attached solar panels.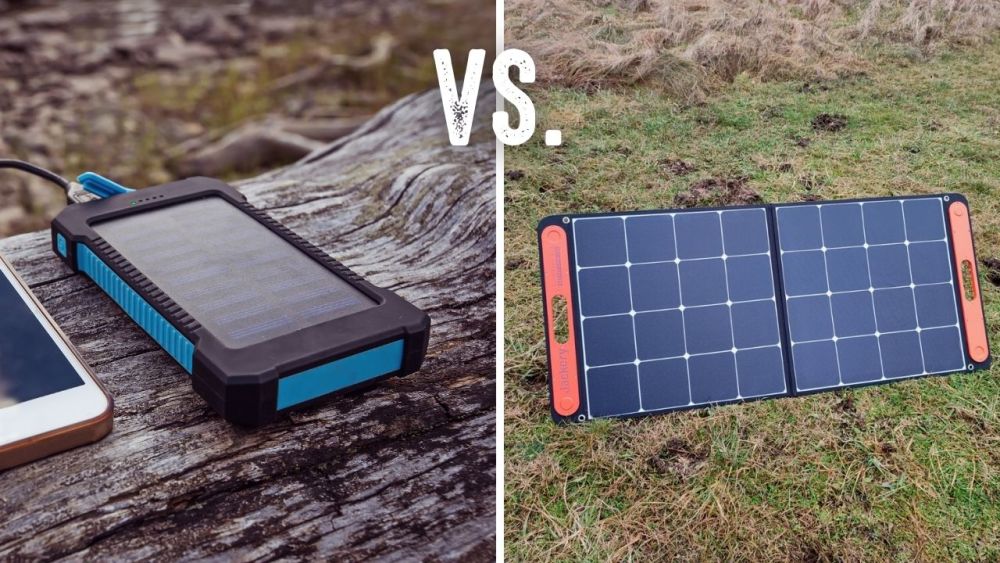 But don't buy into the fairy tale, because these solar panels on the power banks deliver a maximum of 2 to 5 watts. In comparison, the SolarSaga delivers 100 watts. According to the manufacturer of such no-name power banks with solar panels, it takes 25–35 hours to fully charge at 5 watts.
And I assume that this is exaggerated and takes much longer. Let me calculate that for you based on an average of 30 hours.
For example, in summer. The sun shines for about 16 hours in June. So charging would take about 2 days, and you shouldn't remove the power bank from the sun.
Even worse in autumn. In November, the sun shines for about 9 hours. This means that the charging process of the power bank takes more than 3.3 days.
The situation is different with the solar panel SolarSaga from Jackery. This solar panel delivers a whopping 100 watts and really charges your devices. Jackery is in an entirely different league there. It's also clear why, the solar panel is just a lot bigger.
In addition, a power bank / power station should never be exposed to direct sunlight for a long time. With the SolarSaga solar panel, this cannot happen to you, as the cable to the power station is long enough to place the power station in the shade.
Let's now take a look at a few tips to get you ready to go.
Tips and Tricks for the Jackery Explorer 500
1. Activate the output
When I wanted to test the device, after a few minutes I thought the device was defective. I plugged in a USB cable to charge my smartphone - nothing happened. I changed the cable, I changed the smartphone - still nothing.
Until I realized that you have to activate the outlet at the power station. The LED lamp then lights up - before that, no power flows to your device.
Handbooks should be read beforehand…
2. Load early
The manufacturer Jackery recommends never letting the power station drop below 20% charge. This so-called deep discharge can lead to dangerous defects within the battery cells.
3. Check the charging status of your devices
You need to know that the automatic shutdown occurs after 12 hours if the discharge is less than 10 watts.
4. Consider the air temperature
The optimal operating temperature of the Jackery Powerstation is 0 to 40 degrees. In warm tents, cars, or caravans, you should not store the Powerstation. Open windows or find a well-ventilated and shady spot for the Explorer.
5. Combine with small power banks
I own an Anker PowerCore power bank and am very satisfied with it. To ensure it is always fully charged for a long hike on my camping trip, I simply charge it with the Jackery Powerstation. Thanks to the solar panel, I always have power - in the tent and on my hikes.
6. Charge USB devices, such as smartphones, using the USB outputs
If you charge your smartphone via the USB outputs, the power station consumes 6 to 12 watts depending on the device. However, if you charge your smartphone using the Schuko socket and a USB fast charging adapter, the power station consumes five times or more.
Advantages
Technically, everything works wonderfully and the design of the Jackery Powerstation Explorer 500 is great. The power station feels sturdy and is clearly well-thought-out.
The following has caught my attention positively regarding the Powerstation in combination with the Solarpanel:
Compact and easily transportable
Manufacturer's capacity stated correctly
Exact indication of remaining capacity in percentage
Clear LED display showing both power consumption and power input
LC display is excellent, readable even in direct sunlight
Can be used for emergencies at home and in the garden
Quiet operation, even with a fan, compared to a real generator
Ideal for smartphones, tablets, laptops, electric lamps (such as camping lanterns), and pretty much anything that requires power
Enough power to enable several days of off-grid work with a laptop
2-year warranty for additional peace of mind
Extremely successful design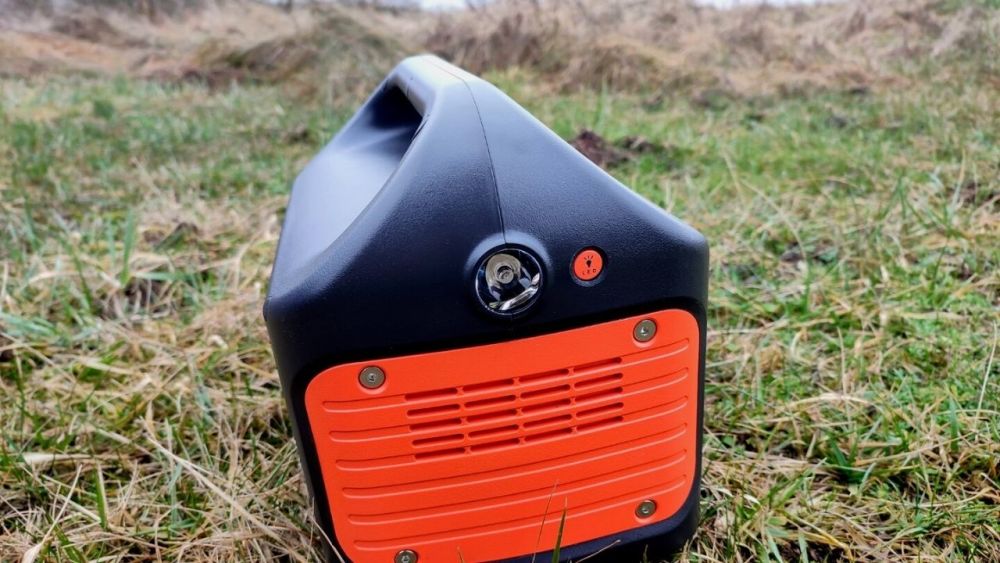 Disadvantages
The solar panel is not completely waterproof, so it cannot be stored outside the tent when you are on the go during the day or overnight.
Moreover, the power station must be protected from extreme temperatures. So, if it is used in a tent during the summer, you must ensure that it is in the insulated carrying bag or stored in a cooler, shady place.
The problem with the heat is also present in other devices in the same price range, as well as in all power banks that have a solar module.
With the solar module, I still receive a constant power of about 2 to 4 watts from the module even in winter. That is enough to supply the power station with electricity and fully charge our mobile phones and tablet during weekend camping trips, which hardly drain the power station's battery.
With a price of just under $600, the Jackery 500 Powerstation is a serious investment. But it is affordable compared to other competitors and is an incredible device for enthusiastic campers and off-grid campers, along with the portable solar panel, with only a few minor drawbacks.
Since the solar panel is not waterproof, you need to pack it up before leaving your camp in case it rains instead of letting it charge during that time. An alternative is to place the panel behind the windshield of your car. That worked well for me.
Aside from that, everything works fantastically and the design of the Explorer 500 is sturdy and easy to use.
The LED panel clearly displays the power consumption of all devices that are powered by it, as well as the performance of the solar module (if connected), making it easy to balance your power consumption.
Questions and Answers about the Jackery Explorer 500 Powerstation
Can the Jackery Explorer 500 Powerstation be charged and discharged at the same time?
The power station can be charged using the power adapter or a solar panel, and at the same time, electrical devices can be charged using the power station's outputs.
Can I charge my e-bike with the Jackery Explorer?
Basically, this is possible, but it depends on the charging power of your device that charges your e-bike. For example, if the output power is approximately 150 watts, this is possible.
How much charge should the Jackery Explorer have before I don't use it for two to three months?
Optimally, the power station should have approximately 100% charging capacity. If you store the Jackery Explorer for a longer period, fully charge it every 3 months and store it between -20 and 45 °C.
Could the Jackery Explorer Powerstation be used to jump-start a car?
That is not possible because the power is too low. Car batteries have between 150 and 800 amperes.
Can I connect multiple devices to the Jackery Explorer 500 using a power strip?
As long as all connected devices do not consume more than 500 watts, this is possible.
Can I also connect two SolarSaga solar panels and then charge the power station faster?
Unfortunately, the Explorer 500 does not support parallel charging, so it is also not possible to increase the input power with two panels when it is cloudy.
Final Consideration
The Jackery Explorer 500 Powerstation reliably delivers off-grid power. It is portable, well-designed, and affordable - an excellent quality product that you should definitely consider if you are in search of a solid high-capacity power station.
Make sure to activate the outputs when you want to charge. All other functions are self-explanatory.
Only the price can deter, but you must also consider that the "Jackery Explorer" series are not ordinary power banks.
Daten aktualisiert vor 18 Stunden
Jackery Solargenerator 500, 518WH Tragbare Powerstation mit SolarSaga 100W Solarpanel, 230V/500W mobile Stromversorgung mit LCD Anzeige für Urlaub auf dem Campingplatz, Outdoor Abenteuer & Notfälle
LEISTUNGSSTARKER SOLARGENERATOR:Jackery Solargenerator 500 ist eine Kombi aus 1*518Wh tragbare Powerstation und 1*SolarSaga 100W Solarpanel. Es kann die Sonnenenergie in Strom umwandeln und die Multi-Geräte dann jederzeit aufladen. Tragbare Powerstation und faltbare Solarpanels in EINEM! Ein ideale Produkt für kurze Familienausflüge.
TRAGBAR & LEICHT ZU VERWENDEN: Der integrierte Tragegriff in der Jackery Explorer 500 sowie im SolarSaga 100 sorgt für einen leichten Transport und flexible Platzierung. Echt Plug & Play, auch superhandlich für Elektronik-Laien! Ideal für netzunabhängige Reisen, Autoreisen, Überlandfahrten und Wohnmobilabenteuer.
UMWELTFREUNDLICHE STROMVERSORGUNG: Im Gegensatz zu herkömmlichen Generatoren ist der Solargenerator 500 dank seiner innovativen Solarpanel-Komponente eine unbegrenzte und nachhaltige Energiequelle, ohne Kohlenstoff auszustoßen. Die professionelle MPPT-Technologie ermöglicht maximale Ladeeffizienz.
HOHE KOMPATIBILITÄT: Der Solargenerator 500 verfügt über 1*AC-Ausgang(230V, 500W, 1000W MAX), 1*Autoanschluss, 3*USB-A Anschluss, 2*DC Ausgänge, 1*DC Input. Es is geeignet für verschiedenen Geräten, einschließlich Laptop, Kühlbox, E-Bike, Drohnen und andere elektronische Outdoor-Produkte.
WAS SIE ERHALTEN: 1* Jackery Explorer 500 Tragbare Powerstation, 1* SolarSaga 100W Solarpanel, 1* AC Adapter, 1* Autoladekabel, 2* Benutzerhandbuch.
614,89 €
UVP: 945,99 €
View Product
You can also buy the Solar generator 500 from the official website of Jackery Germany.
Thank you to Jackery for providing me with the Solar Generator 500 for testing. I was not paid to write this review and rating.
And now, what about you? Do you like the Jackery Explorer 500 Powerstation?

---
Sources for the guide

https://www.laenderdaten.info/Europa/Deutschland/sonnenuntergang.php
Was this guide helpful?
22 people found this guide helpful.
4.83 out of 5 points (23 Ratings)