Back to german article
The best power station in test 2023 - for camping, road trips and power outages.
Get power wherever and whenever you need it with a portable power station. We tested the top power stations to find the best (with buying guide).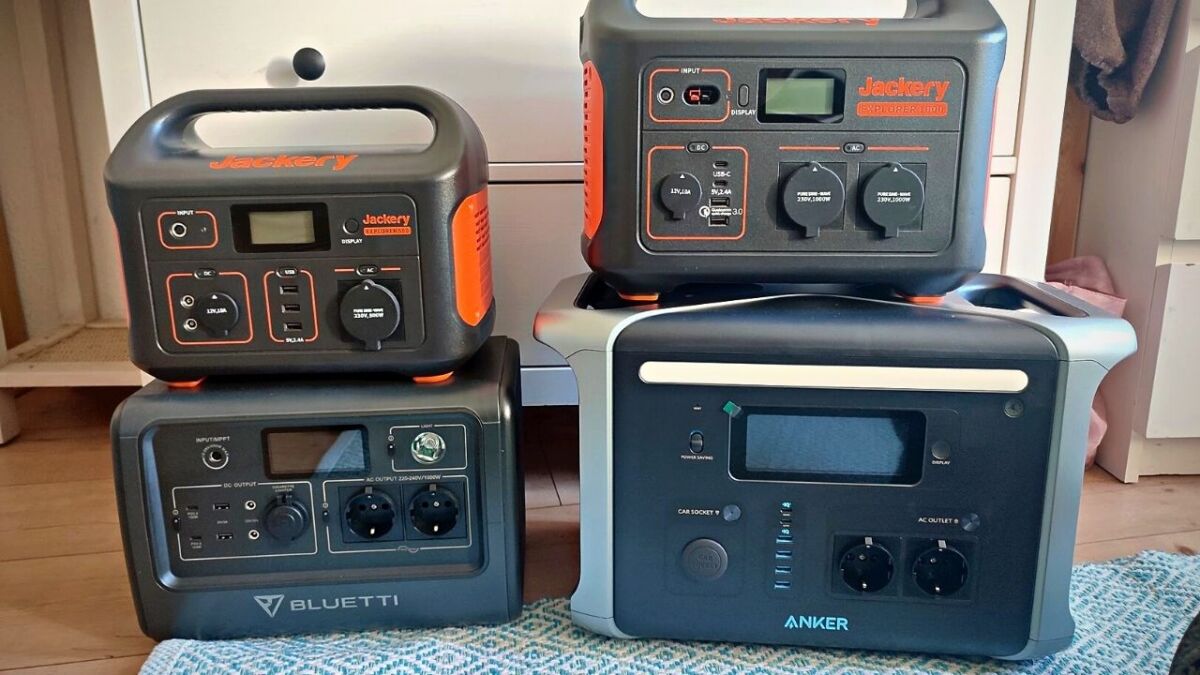 ---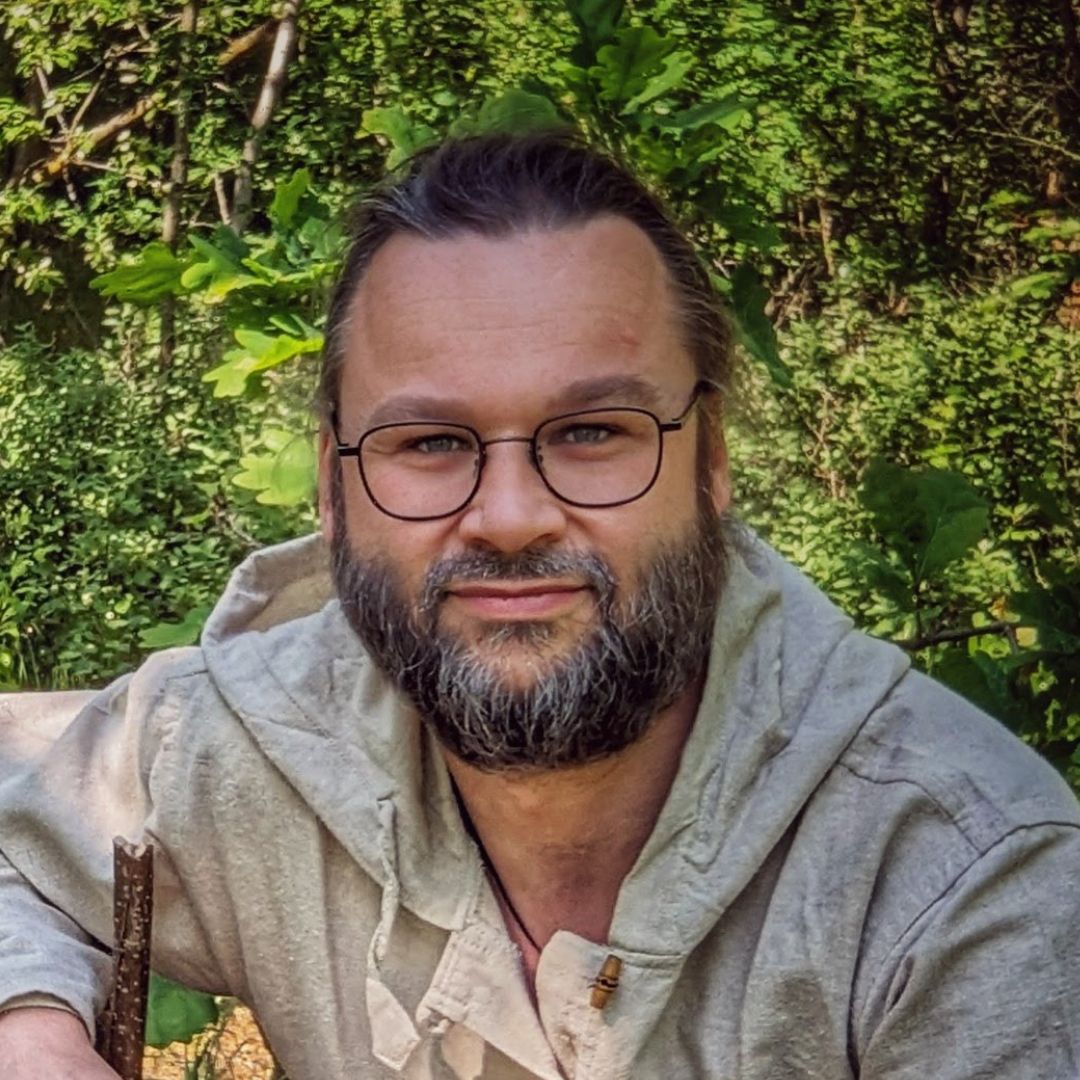 ---
👉 The key facts from this guide
A power station is a large portable battery that can supply power to various devices, ideal for camping, road trips or as an emergency power supply.
The Anker 757 Powerhouse and the Bluetti EB70 are two of the best power stations on the market, both offering high capacity and a variety of connections.
When purchasing a power station, you should pay attention to the battery capacity and output wattage to ensure that it meets your needs.
Power stations can be charged with solar panels, making them ideal for use in remote areas.
The Bluetti EB70 power station combined with the Bluetti PV200 solar module offers efficient and sustainable energy supply.
The Jackery Explorer 500 power station is another suitable option, especially for camping or multi-day trips.
The battery life of our devices is always a topic, and it's not just a problem for smartphones.
If you go camping or on a road trip, your devices need to be charged. And what happens when the power goes out at home?
With good power stations, you no longer have to worry about charging your devices when you need them most.
The best power stations provide sufficient power for multiple devices at once and can also be used as a backup power source during power outages.
With this small but powerful device, you are ready for the day.
Let's now take a look at the best power stations, and surely, you will find a device that suits your needs.
Power Station Comparison - Quick Overview
Let's get straight to my best power stations that I have had in my hands and was able to test.
The table gives you a quick overview to find the right power station for camping.
Power Station Test - The 8 Best Devices at a Glance

| Power Station | Battery | Charge Cycles | Battery Technology | Weight | Max. Input Power | Outputs | Price |
| --- | --- | --- | --- | --- | --- | --- | --- |
| Jackery Explorer 500 - Best Entry-Level Power Station for Camping | 518 Wh / 500 Watt | 2500 | Li-Ion | 6 kg | 100 W | 1x 230V/500 W Socket, 3x USB-A Output | $ |
| Bluetti EB70 PowerOak - A Mega-Team with Solar Power | 716 Wh / 1000 Watt | 2500 | LiFePO4 | 9.3 kg | 200 W | 2x 1000 W AC Output, 1x 100W PD Output, 1x USB-A Output, 1x DC 5521/Car Interface, 1x Wireless 15W Charging Pad | $ |
| Goal Zero Yeti 1000X - Self-Sufficient Power Supply for Emergencies | 1045 Wh / 1500 W | 500 | LiNMC | 17.2 kg | 300 W | 2x 2.4 A USB-A Output, 1x 60 W USB-C PD Port (Input/Output), 18 W USB-C Output | $$$ |
| EcoFlow DELTA mini - Best Camping Power Station | 882 Wh / 1400 Watt | 800 | Li-Ion | 10.7 kg | 900 W AC / Solar 300 W | 2x AC Socket Output, 2x USB-A Output, 1x USB-C Output | $$ |
| EcoFlow RIVER Pro - Expandable for Full Power | 720 Wh / 600 Watt | 800 | Li-Ion | 7.5 kg | 500 W AC / Solar 200 W | 2x AC Socket Output, 1x Car Charging Socket, 1x USB-C 100 W Output, 2x USB-A Output | $$ |
| Anker 757 Powerhouse - Ample Power for Emergency Preparedness and as UPS | 1229 Wh / 1500 Watt | 3000 | LiFePO4 | 19.9 kg | 1000 W | 2x AC Output, 4x USB-A Output, 2x USB-C Output | $$$ |
| Jackery Explorer 2000 Pro - The Best Jackery Yet | 2160 Wh / 2200 Watt | 1000 | LiNMC | 19.5 kg | 1800 W AC / 1400 W Solar | 2x AC Output, 2x USB-A Output, 2x USB-C Output | $$$$ |
| Zendure SBP2000 Solar - The Newcomer | 2096 Wh / 3000 Watt | 3000 | LiNMC | 21.2 kg | 1800 W AC / 2400 W Solar | 4x AC Output, 4x USB-C Output | $$ |
Below, I will now go into detail, and you will learn what power stations are and who uses them.
Afterward, you will see what the advantages and disadvantages of the individual power stations are.
At the end, an in-depth power station buying guide awaits you, which will help you find the best power station for your needs.
Short and sweet: What is a power station?
A power station is a large portable battery that has various connections, such as USB ports and standard electrical outlets. A portable power station can light up a room by powering a lamp or, in some cases, keep a mini fridge running during a power outage.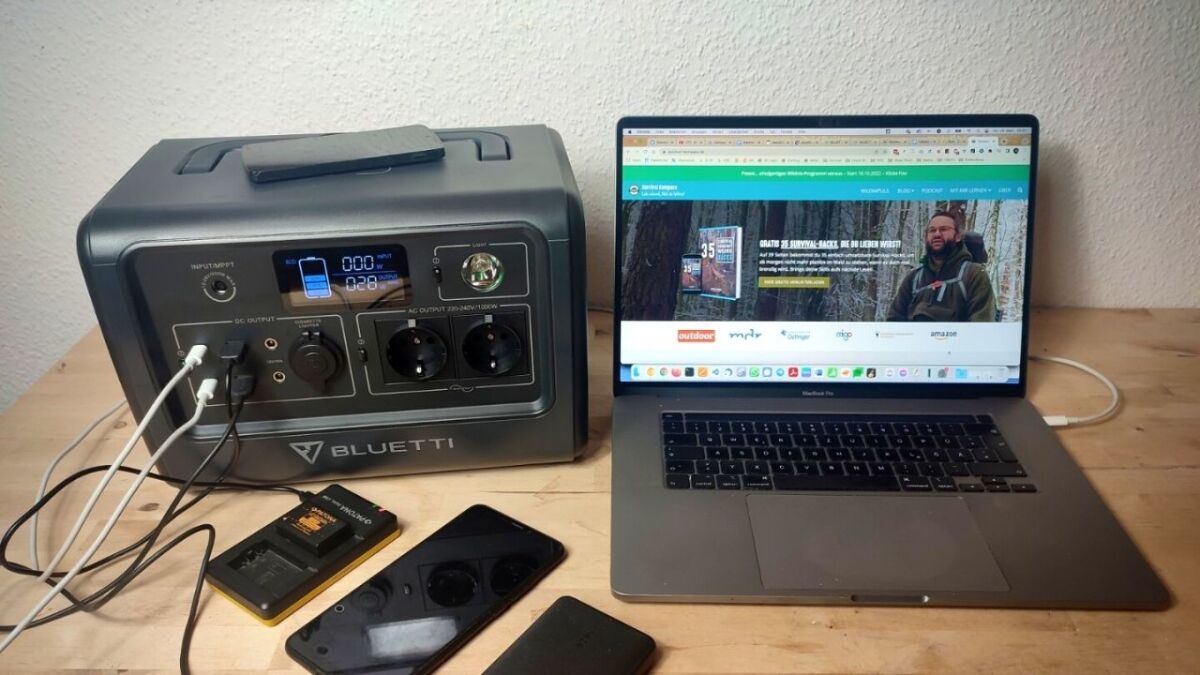 Power stations are a great convenience on camping trips or a tool for a movie night in the backyard when a projector and speakers are running.
Especially great is that you can charge most power stations with a solar panel. With the mobile power supply, you can also charge and operate your devices in the wilderness.
Furthermore, a power station with a solar panel is the perfect backup for emergency preparedness, such as during a blackout or during flooding.
However, if you are only looking for a smaller power source - one that only charges your smartphone - check out my summary of the best power banks in this category.
Who needs a mobile power station?
A mobile power station is particularly interesting for those who want to be self-sufficient on the go. So for those who do not have or have too little self-sufficient electrical installation in their vehicle.
Here are some examples:
Permanent campers: A power station for camping is ideal for those who travel with a tent but still want to charge cameras, smartphones, and computers. Devices can only be charged and operated to a limited extent in the car.
Occasional campers: Campers who are on the road with a sparsely equipped bus or other vehicle for camping, a portable battery is a comfortable solution that is not permanently installed.
Caravan campers who do not have a 12V installation but still want to be self-sufficient occasionally without having to modify the electrical installation can be more independent on the road with a power station without installation.
Crisis prevention: Those who are concerned that they may be affected by a power outage or blackout can stock up on a power station.
Owners of older buses who do not want to modernize the technology but still want to carry modern electrical devices can also have a convenient retrofit option with a power station.
Travelers who need to operate medical devices. Patients can operate the corresponding devices, for example, with a power station.
Anglers who want to prepare coffee, tea, or food have a virtually noiseless power plant with them.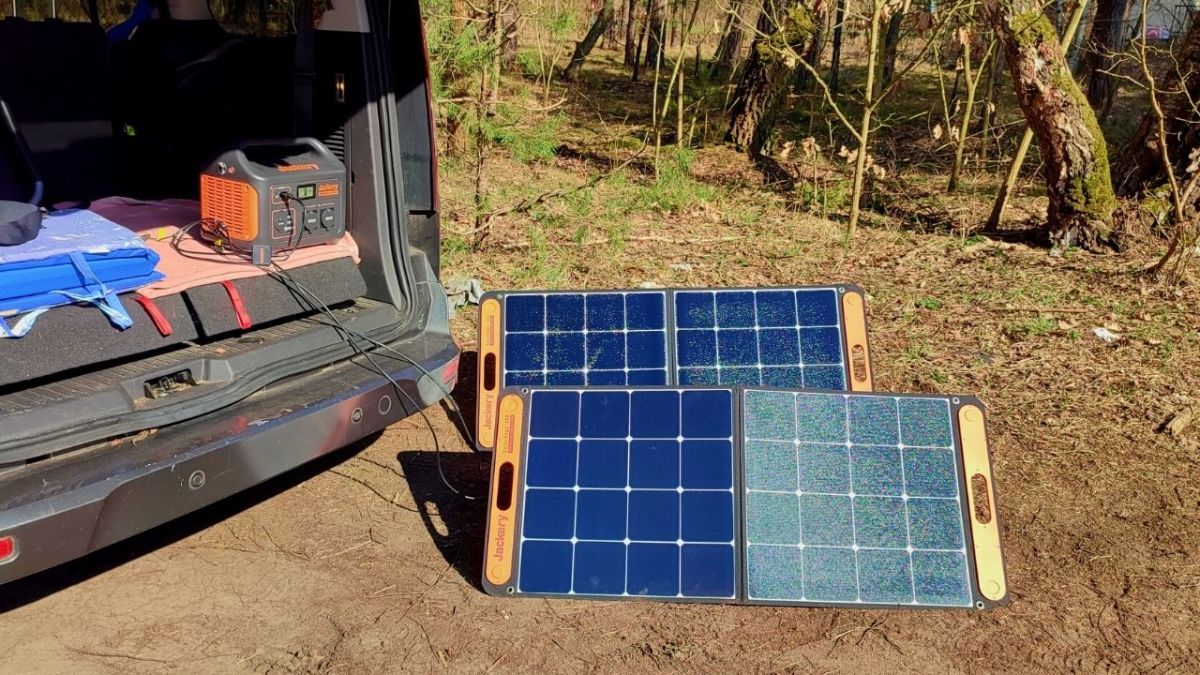 Quick Overview: What to Consider When Buying a Power Station
Mobile power stations provide electricity where and when you need it, whether during a power outage, on a camping weekend with the family, or elsewhere.
When choosing a portable power station, I recommend paying attention to two essential things:
Battery capacity: Battery capacity is crucial - because you want a battery that can handle any situation you need it for. Workplaces, camping, and emergencies all have different demands, so make sure you choose the right power station for your needs.
Output wattage: Another thing to look at is the output wattage - which tells you how much power the mobile power station delivers. If you have an output wattage of 500 watts, for example, you won't be able to operate a water boiler that requires 1000 watts.
I have examined dozens of power stations, from large solar generators to ultraportable power banks, and have examined key factors such as battery capacity, output power, size and portability, as well as functionality to find out which ones stand out.
My favorite power stations currently are the Anker 757 Powerhouse and the Bluetti EB70
I particularly like the Anker 757 Powerhouse for its powerful performance. It's great for emergency preparedness, but unfortunately heavy and large. A true powerhouse with well-thought-out technology and fantastic connections for my devices (available here in the Anker shop). To complement it, I also own the Anker 625 Solar Panel with 100 watts (available here in the Anker shop). You can also find everything in a set in the Anker shop.
For camping, I take the Bluetti EB70 with the PV200 Solar Panel. This power station is much lighter and more mobile than the Anker 757. Additionally, I only need to power my MacBook Pro at most while camping, and that works wonderfully with the EB70 due to its two 100-watt USB-C ports (buy here at Bluetti, buy the 200W solar panel here, or buy as a set).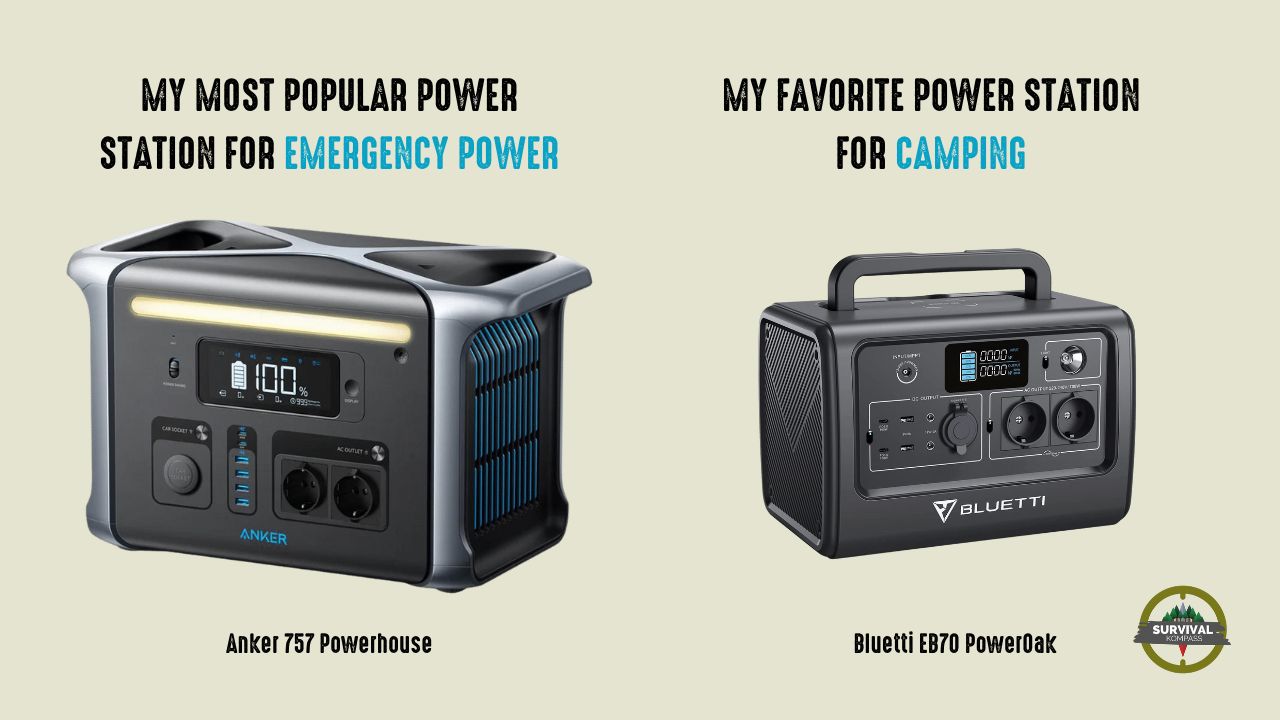 If the Anker 757 Powerhouse is not available (because it is borrowed), then I turn to the Jackery Explorer 2000 Pro Powerstation. It offers sufficient battery capacity, can power almost any device, and is compact enough to transport or store. You can buy it on the Jackery website, where you will receive a +1-year warranty.
Now here are my best portable power stations and afterward you will find a detailed buying guide where I go into more detail about battery capacity and output wattage.
Power Station Test - My 8 Best Devices
Jackery Explorer 500 Powerstation - Best Entry-Level Power Station for Camping
The Jackery Explorer Power Station is a large power bank with versatile charging options and a 230-volt socket. The power station is recommended by experts almost everywhere and highly rated by buyers, and for good reason.
A robust construction houses a lithium-ion battery with a capacity of 518 Wh at full charge. With its three USB ports, a 230-volt AC socket, and two 12V DC ports, the Explorer 500 can easily power a variety of devices.
The Jackery itself can be charged via a socket or with a solar panel setup, which is not included.
Jackery Explorer 500, 518Wh Tragbare Powerstation Mobiler Stromspeicher mit 230V/500W (Spitze 1000W) Steckdose + USB, Mobile Stromversorgung mit LCD-Anzeige für Party, Camping, Wohnmobil, Heimwerken
VON JACKERY ENTWICKELT - Unser Explorer 500 ist eine mobile Powerbank der Premiumklasse. Hergestellt aus PC+ABS Materialien, verschleißfest und langlebig. Smartes LCD-Display zur Anzeige von Eingangsleistung, Ausgangsleistung und verbleibender Batterieleistung. Die eingebaute Lampe kann als automatisches SOS-Signal genutzt werden. Abmessungen: 30 x 19,3 x 23,4 cm; Gewicht: 6 kg.
IDEALE MOBILE STROMVERSORGUNG- 1) Unterwegs: Digitale Geräte wie Kameras, GoPro und Drohnen bleiben voll aufgeladen. 2) Wohnmobile: Mini-Kühlschränke, Kaffeemaschinen und Herde ohne zusätzliche Ausrüstung mit Strom zu versorgen. 3) Partys: Mixer, Projektoren, Fernseher, um viel Spaß zu haben. 4) Outdoor Aktivitäten: Unterstützt das Laden des E-Bikes, der Kajak Batterie uvm. 5) Zuhause: perfekte Wahl für Ihre Werkzeuge oder als Notstromaggregat.
ÜBERZEUGENDE LEISTUNG - Die hochwertige Lithium-Ionen-Batterie mit langer Lebensdauer versorgt die 230V/500W Steckdose (Spitzenwert 1000 W), 3 USB-A-Anschlüsse und den 12V Autoanschluss mit genügend Power. Einfach aufzuladen mit Solarmodul, Netzteil oder im Auto.
KLIMANEUTRAL & SICHER - Im Vergleich zu den traditionellen Generatoren ist Jackery Powerstation umweltfreundlicher und benötigt kein Benzin oder sonstigen Kraftstoff. Integrierter Solarladeregler mit MPPT-Technologie hilft dabei, die maximale Ladeeffizienz zu erreichen. Das BMS-Batteriemanagementsystem ermöglicht Überhitzungsschutz, Kurzschlussschutz, Überstromschutz und Überladeschutz für maximale Sicherheit.
AUSGEZEICHNETE QUALITÄT - Jackery ist spezialisiert auf nachhaltige Lösungen für die Outdoor-Stromversorgung. Unser Produktdesign ist Gewinner des Red Dot Awards 2016 und erfreut sich damit höchster Beliebtheit bei Hunderttausenden von Kunden weltweit.
659,99 €
View Product
Want a longer warranty? Buy the Jackery Explorer 500 here on the official Jackery website and get an extended warranty!
With the Jackery Explorer 500, you can not only charge your smartphone, but also a drone, your laptop, or power your mini-fridge in the car or a small portable TV.
The possible uses are diverse, such as in a motor home, in the garden, for DIY projects, and as an emergency power generator. A compact, lightweight power storage, especially for camping or multi-day trips.
Facts:
Battery capacity: 518 Wh / 500 watts
Number of charging cycles: 2500
Battery technology: Lithium-ion battery
Weight: 6 kg
Max input power: 100 W
1x 230V/500 W socket, 3x USB-A output
3-year warranty if you buy on the Jackery website
Advantages
Good selection of charging options
Robust construction
Multiple methods for charging
Disadvantages
The weight (6 kg) is too much for hiking
Solar panels are an expensive accessory
No USB-C output for laptops
Read my detailed review and test of the Jackery 500 with the SolarSaga 100 Watt solar panel.
And if you're looking for a smaller power station, refer to the Jackery Explorer 240 (official website link), which has 200 watts of power.
Bluetti EB70 PowerOak Powerstation - Solar power with 200 watts
The Bluetti EB70 is a power station with perfect hardware, which, however, becomes somewhat loud when charging via the socket. If that doesn't matter to you, you can hardly go wrong with the Bluetti EB70 power station.
Daten aktualisiert vor 19 Stunden
BLUETTI Tragbare Powerstation EB70, 716Wh LiFePO4 Solar Generator mit 2 1000W AC Ausgängen (1400W Peak), 100W Typ-C, Batterie-Backup für Autoreisen, Netzunabhängig, Stromausfälle (Solarpanel Wahlfrei)
[Großartige Kapazität aber Kleine Größe] - Mit 716Wh LFP-Zellen und 1000W Wechselrichter kann das EB70 mit einem Gewicht von nur 9,3 Kg fast alle wichtigen Geräte unterwegs mit Strom versorgen, vom Telefon bis zum Elektroherd.
[Stromversorgung für Reise] - In einem Gerät, einschließlich einer 1000W AC-Buchse/100W PD/USB-A/DC 5521/Autoschnittstelle. Ein kabelloses 15W Ladegerät macht das Aufladen Ihres Telefons einfacher.
[Schnelles Aufladen] - Mit dem eingebauten MPPT-Controller kann die EB70 Powerstation innerhalb von 3 Stunden von 0 auf 80% aufgeladen werden. Es kann auch über 200W Solar- oder AC- Eingang aufgeladen werden.
[2500+ Lebenszyklen bis 80%] - Die EB70 übertrifft alle anderen in Bezug auf die Batterielebensdauer mit seinen ultrasicheren LiFePO4 Batteriezellen und der Premium BMS-Technologie, was ihn zu einem zuverlässigen und sicheren Strom-Backup macht.
[Was Sie bekommen] - BLUETTI EB70 tragbare Powerstation, Netzadapter, Solarladekabel, Autoladekabel, Benutzerhandbuch, 24 Monate Garantie und freundlicher Online-Kundendienst.
769,00 €
UVP: 799,00 €
View Product
I think it's absolutely great that Bluetti uses the safer LiFePO4 cell technology, which allows for 4x more charge/discharge cycles than standard Li-ion batteries and effectively quadruples the lifespan compared to most competitors.
LiFePO4 is also much safer than Li-ion in terms of explosion risk. With a family in tow, this is a big concern of mine to use this technology.
I think the maximum output power of 1000 W is sufficient for most camping requirements. From cooking a travel water kettle to operating a microwave or small heater, the EB70 covered everything.
And I had no problems with the relatively low overvoltage limit of 1400 W. There are numerous outputs in terms of USB and 12V connectivity as well as the two AC sockets. I also like the wireless phone charging, which is a distinguishing feature from the competition.
With the Bluetti PV200 solar module, I believe the two works perfectly together, with sufficient energy generated on a decent summer day in Germany. If the light is dimmer, or it's cloudy, I wouldn't expect more than about 50 W from the 200 W solar panel.
But when does the power station run out of power? Unfortunately, the display of the Bluetti EB70 is inaccurate on this topic, as only 20% steps of the battery are displayed. Do you still have an hour, or will it go out in the next five minutes? There is no way to know. Please Bluetti, organize a software update to fix this.
Overall, you can't go wrong with the EB70 power station and the PV200 solar panel - both are great devices that do their job.
Facts:
Battery: 716 Wh / 1000 Watt
Number of charging cycles: 2500
Battery technology: LiFePO4
Weight: 9.3 kg
Max input power: 200 W
2x 1000 W AC output, 1x 100W PD output, 1x USB-A output, 1x DC 5521/car interface, 1x wireless 15W charging pad
24 months warranty
Advantages
Great duo with the 200 watt solar panel
Two 100W USB-C ports
Large LiFePO4 battery with 716 Wh/1000 W
Pure sine wave inverter works as advertised
Optimal point between performance and mobility
Disadvantages
Loud fan on the power station when charging
Power supply with fan that is always active
Inaccurate display of capacity
Goal Zero Yeti 1000X Power Station - Self-Sufficient Power Supply for Emergencies
If you want maximum readiness, the Yeti 1000X from Goal Zero is the right choice for you. This 983 Wh power station can power multiple devices during a power outage.
Daten aktualisiert vor 19 Stunden
The Yeti system is also expandable and offers options such as a Home Integration Kit to connect the 1000X to your home's electrical system or a battery expansion to increase the capacity of the power station. Admittedly, this type of power also comes at a cost.
The mobile power station Yeti 1000X from Goal Zero is impressive because it has enough capacity to power small devices.
And if you buy a €250 Yeti Home Integration Kit from Goal Zero, you can connect the 1000X to your home's electrical system to power important devices.
You can also buy a €400 Yeti Link Expansion Module and a Yeti Tank Expansion Battery that go beyond the 983 Wh capacity that the 1000X offers for additional capacity at €450.
Overall, you can get around 5 kWh of power through Yeti power stations and expansion packs. That's a crazy amount of power (it won't power an entire house for too long, but you can power important things like lights and a refrigerator for a while).
Facts:
Battery: 1045 Wh / 1500 W
Number of charging cycles: 500
Battery technology: Lithium Nickel Manganese Cobalt Oxide (LiNMC)
Weight: 17.2 kg
Max input power: 300 W
2x 2.4 A USB-A output, 1x 60 W USB-C PD port (input/output), 18 W USB-C output
Advantages
Power for days, literally
Many connection options
USB-C output
Disadvantages
Expensive
Heavy
Also check out my review of the Goal Zero Yeti 500x. This small power station is packed with power, extremely compact, and perfect for camping.
EcoFlow DELTA mini 882 Wh - My Best Camping Power Station
The EcoFlow DELTA Mini has a lot of power in a relatively small and lightweight box. Therefore, it is my favorite compact mobile power station for on-the-go power supply.
EcoFlow DELTA mini 882 Wh Stromgenerator versorgt bis zu 9 Geräte mit einer 1400 W AC-Ausgangsleistung, Schnellladung und Solar-Generator für Outdoor, Camping oder Reisen
[Energie in kleiner Größe]: Der DELTA mini ist ein 882 Wh Akku-Stromgenerator in einem leichten Design von 23,6 lb (10,7 kg). Versorgen Sie überall im Freien Energie, damit Sie beim Camping oder auf Reisen nicht ohne Strom sind.
[Versorgt praktisch jedes Gerät]: 1400 W Wechselstromausgang und 9 Anschlüsse ermöglichen die Stromversorgung von Geräten wie Laptops, Geschirrspüler und Kühlschränken. Hervorragend als Outdoor-Generator oder für Rückwärtsenergie. Mit X-Boost können Sie Geräte mit bis zu 2200 W versorgen.
[X-Stream + Solar]: Schnelllade-Stromerzeuger erreicht 80 % in weniger als 1 Stunde. Darüber hinaus kann er als Solargenerator für saubere Sonneneinstrahlung und bis zu 300 W Eingangsleistung mit der Optimierung des maximalen Points (MPPT) verwendet werden.
[Sicherheit ist das Wichtigsten]: Ein tragbarer Stromerzeuger mit robustem Design und BMS-System-Schutz, um Ihre Sicherheit zu gewährleisten. Überwacht Spannung, Strom, Kurzschluss und Temperatur in Echtzeit.
[Inhalt der Box] 1. DELTA Mini Solarenergie-Generator; 2. Kabel DC 5521 auf DC 5525; 3. Solar- und Wechselstrom- und Auto-Ladekabel; 4. Manuell Außerdem erhalten Sie eine 24-monatige EcoFlow-Garantie und einen hervorragenden Kundenservice, wann immer Sie es brauchen.
kein Preis ermittelbar (B09GY277YG)
View Product
Buy the EcoFlow DELTA mini 882 Wh here on the official EcoFlow website.
There are smaller and more powerful options, but the Delta Mini does an excellent job and offers incredible continuous power, a large battery capacity, and a good selection of inputs and outputs.
The power station has all of this in a package that is small enough to store in your closet for emergencies or throw in your car or RV for a road trip.
With a weight of about 10.7 kilograms, the Ecoflow DELTA Mini has a large 882-watt-hour battery that keeps your phone and laptop charged during a longer power outage or provides power to your cooler, microwave, or even a mobile coffee maker for a short time.
If you are worried about an approaching blackout that could cut off your power, this power station has a fast charging function that can bring it from zero to full in just over an hour and a half. Of course, you can also connect a solar module.
The only problem with this power station is that it lacks amenities like wireless charging for your phone and there is no built-in emergency light.
Facts:
Battery: 882 Wh / 1400 watts
Number of charging cycles: 800
Battery technology: lithium-ion battery
Weight: 10.7 kg
Max input power: 900 W AC / solar 300 W
2 x power outlet output, 2x USB-A output, 1x USB-C output
2 years warranty
Advantages
Compact and lightweight
Good battery capacity for size
Fast charging option
Great app
Disadvantages
No wireless charging
No emergency light
EcoFlow RIVER 2 Pro - Expandable for Full Power
If you are regularly separated from a power source, whether in your car or because you go camping a lot, the EcoFlow RIVER 2 Pro has the power to meet your off-grid requirements.
Daten aktualisiert vor 19 Stunden
EF ECOFLOW Tragbare Powerstation RIVER 2 Pro, 768 Wh Solargenerator mit LiFeP04, Schnellladung in 70 Minuten, 3x 800 W AC-Steckdosen, Balkonkraft für Notstrom/Camping/Wohnmobile/zu Hause
[Schnellste Aufladung auf dem Markt]Mit der X-Stream-Schnellladetechnologie von EcoFlow laden Sie das Gerät mithilfe einer Netzsteckdose in nur 70 Minuten vollständig auf.
[Versorgt 80 % aller Geräte] Versorgen Sie mit bis zu 1600 W Ausgangsleistung 80 % Ihrer Geräte mit Strom, selbst solche mit hoher Wattzahl. Mit 11 Ausgängen – von 300 W AC-Steckdosen bis hin zu USB-C – können Sie alle Ihre Geräte gleichzeitig aufladen oder betreiben, ohne sich um eine Überlastung des Geräts zu sorgen.
[Langlebige LFP-Batterie] Laden Sie die RIVER 2 Pro mit ihren LFP-Batteriezellen über 3000 Mal, bevor deren Kapazität auf 80 % fällt. Das entspricht fast 10 Jahren regelmäßiger Nutzung. Die RIVER 2 Pro verfügt über einen erweiterten BMS-Schutz, der Spannung, Strom und Temperatur überwacht, damit Ihre LFP-Batterie jahrelang hält.
[Schnelles Laden mit Solar] Verwenden Sie saubere, umweltfreundliche erneuerbare Energie, um die RIVER 2 Pro mit einer Solareingangsleistung von 220 W in 4,5 Stunden aufzuladen.
[Leicht & tragbar] Mit einem Gewicht von nur 7,8 kg ist die RIVER 2 Pro der ideale Outdoor-Generator für all Ihre Abenteuer fernab vom Stromnetz. Dank des integrierten Griffs können Sie diese tragbare Batterie einfach und bequem überallhin mitnehmen, wo Sie Strom benötigen.
699,00 €
UVP: 719,00 €
View Product
Buy the EcoFlow RIVER Pro here on the official EcoFlow website.
For normal devices, tablets, smartphones, and lamps, the battery should last for several days before needing to be charged. However, the power station can also handle more powerful devices.
Given the size of the battery inside, the EcoFlow RIVER Pro 2 is comparatively inexpensive, and the three AC plugs provide additional flexibility. I didn't find the Wi-Fi connection very useful, and the flap that covers the charging ports could be more robust, but apart from these minor issues, this is an excellent mobile power station.
Facts:
Battery: 768 Wh
Number of charging cycles: 3000
Battery technology: LiFeP04
Weight: 7.8 kg
Max input power: 940 W AC / Solar 220 W
2x AC outlet output, 1x car charging outlet, 1x USB-C 100 W output, 2x USB-A output
2-year product warranty
Advantages
Built-in charger
Significant UPS operation possible: switch time 0.3s
Charges fully in 70 minutes
100 W USB-C power supply for laptops
Can handle TV and household appliances
Built-in LED light
EcoFlow app
Disadvantages
Expensive
Relatively low capacity
Missing wireless charging pads
Anker 757 Powerhouse Powerstation - Powerful Performance for Emergency Preparedness and as UPS
The Powerhouse 757 is a solid, sturdy, and large power station. If you're looking for a power station with over 1,000 Wh, the Anker 757 is a great choice.
Daten aktualisiert vor 19 Stunden
Anker SOLIX F1200 tragbare Powerstation, 757 Powerhouse 1229Wh, LiFePO4 Akku, 2X 230V/1500W Steckdosen, 2X USB-C Anschlüsse, LED Licht für Draußen, Camping, Stromausfälle
10 JAHRE LEBENSDAUER: Mit unserer leistungsstarken Technologie InfiniPower, kombiniert mit LiFePO4-Akkus, extrem langlebigen elektronischen Komponenten, intelligenter Temperaturregulierung mit bis zu 100 Messungen pro Sekunde und einem sturzfesten Design, ist Anker PowerHouse 757 so gebaut, dass es auch bei täglichem Gebrauch über ein Jahrzehnt hält.
5 JAHRE HERSTELLERGARANTIE: Anstelle der durchschnittlichen 2 Jahre ist die Anker 757 Powerstation so konzipiert, dass sie deine Geräte jeden Tag 10 Jahre lang zuverlässig mit Strom versorgen kann. Außerdem bieten wir eine verlängerte 5-Jahres-Garantie für ein garantiert sorgenfreies Erlebnis.
BLITZSCHNELLES WIEDERAUFLADEN: Mit unserer hauseigenen, branchenführenden Technologie HyperFlash ist die Ladestation in nur 1 Stunde auf 80% Akku aufgeladen. (Alternativen benötigen ca. 5,6 Stunden.)
MÄCHTIGE KAPAZITÄT: Mit einer Kapazität von 1229Wh und 1500 Watt ist dieses PowerHouse nicht nur die ideale Lösung für dringende Notfälle und Stromausfälle, sondern auch beim entspannten Camping mit einem Elektrogrill, einer Kaffeemaschine, einem Kühlschrank und mehr. Es ist mit 2 AC-Anschlüssen, 4 USB-A-Anschlüssen, 2 USB-C-Anschlüssen und einer Autosteckdose ausgestattet.
WAS DU BEKOMMST: Eine Anker 757 Ladestation, 3 Ladekabel (1x AC, 1x Autoladekabel, 1x Solarladekabel), eine Bedienungsanleitung, 5 Jahre Herstellergarantie und freundlichen Kundenservice.
991,00 €
UVP: 1.199,00 €
View Product
There are a few notable features that Anker has put into this device, which is why the power station dominates in the upper category.
Firstly, I want to mention the battery here because the battery is a LiFePO4 battery and is a standout compared to the more common Li-ion batteries.
This newer type of battery is safer to use and will last five to six times longer than a Li-ion battery. This means that compared to the current standard of a lifespan of 500 cycles, LiFePO4-equipped batteries can run for 3,000 cycles or more.
This allows Anker to offer a five-year warranty compared to the two-year warranty of many competing devices.
Next, many current generation power stations come with a UPS mode to provide backup power to critical devices during power outages. You plug the power station into your socket and the device in question into your power station. The Anker 757 also has such a UPS mode.
When the UPS mode is activated, the power station turns on and supplies everything connected to it with its internal battery.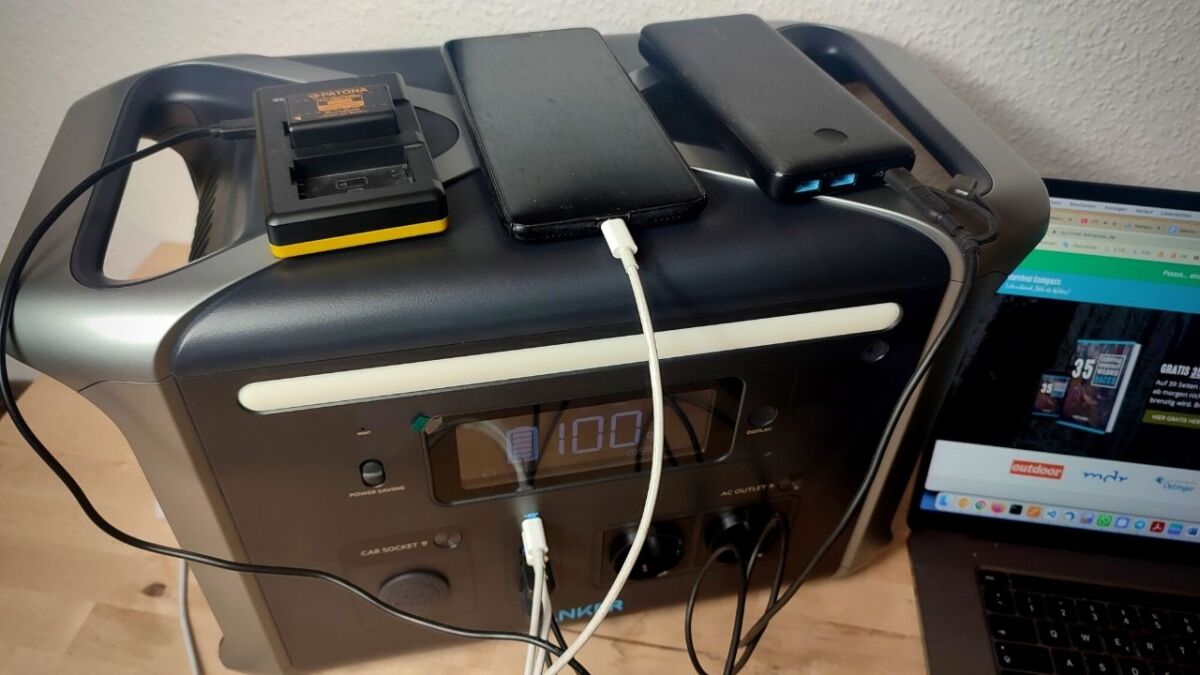 It's hard for me to fault the Anker PowerHouse 757. The 1500 W power is enough to power even power-hungry devices, and the 1229 Wh battery can keep lower-powered devices running for days.
The charging speed also convinced me. I was able to fully charge this device directly from the power grid in less than 1.5 hours.
Read my detailed review of the Anker 757 and the Anker 625 solar panel.
Facts:
Battery: 1229 Wh / 1500 Watt
Number of charging cycles: 3000
Battery technology: LiFePO4
Weight: 19.9 kg
Max input power: 1000 W
2x AC output, 4x USB-A output, 2x USB-C output
5-year total warranty
Advantages
Plenty of power - 1500 W AC output with up to 2400 W surge
Built-in charger
Fast charging - fully charged to 80% battery in just 1 hour
Excellent selection of output ports
Helpful energy-saving mode
Built-in LED area light
Solar-friendly
Can function as a UPS battery backup
Disadvantages
hardly bearable
Expensive
No dust or water resistance
Not extensible
Jackery Explorer 2000 Pro - The Best Jackery Yet
Jackery solar generators are essentially massive lithium-ion batteries, and in the Explorer series, the number of each model roughly corresponds to the battery's power in watt-hours.
For the Explorer 2000 Pro, this means a total capacity of 2160 Wh, with up to 2200 W continuous power and 4400 W surge power.
Jackery Explorer 2000 PRO, 2160Wh Tragbare Powerstation mit 230V/2200W Steckdosen, schnelle Ladung mit AC/Solarpanel, Mobile Stromversorgung für Outdoors Wohnmobil Heimwerken und als Notstromaggregat
GIGANTISCHE KAPAZITÄT: Die tragbare Powerstation Explorer 2000 Pro liefert eine enorme Ladekapazität (2160 Wh) und versorgt alle Geräte mit Strom, darunter Kochplatten, Mixer, Klimaanlagen und mehr. Die perfekte Lösung für netzunabhängige Outdoor-Aktivitäten (Camping oder Wohnmobil) und Notstrom für zu Hause.
SUPERSCHNELLE AC-LADUNG: Die Powerstation kann mit 6 SolarSaga 200-Watt-Solarmodulen in weniger als 2,5 Stunden und in nur 2 Stunden über eine Wechselstromsteckdose vollständig aufgeladen werden. Dieses fantastische Ladeerlebnis ermöglicht es Ihnen, Ihre Geräte netzunabhängig aufzuladen.
ERSTKLASSIGE SICHERHEIT: Die erstklassige Lithium-Batterie enthält zwei Chips für doppelten Batterieschutz und vier Kerntemperaturfühler. Für noch mehr Sicherheit und einen zuverlässigen Ladevorgang.
INSTANT PRESS & PLAY: Mit einem simplen Knopfdruck wird eine hervorragende Ladeeffizienz in Sekundenschnelle ermöglicht. Der Explorer 2000 Pro arbeitet mit weniger als 53 dB und gewährleistet einen leisen und friedlichen Ladevorgang.
HERVORRAGENDES PASS-THROUGH-CHARGING: Die tragbare Powerstation unterstützt Pass-Through-Charging. Auf diese Weise können Sie Ihre Powerstation aufladen, während gleichzeitig wichtige Geräte angeschlossen sind. Für einen schnellen und bequemen Ladeprozess all Ihrer Geräte.
2.299,00 €
View Product
The Jackery Explorer 2000 Pro itself is by far the highest quality design I have seen from Jackery so far. Everything about the power station feels extremely high quality and is an improvement over previous models.
While previous Jackery solar generator products had a permanently attached handle protruding from the top, the 2000 Pro's handle can be folded back. Simple improvements like this are important for storage and transport.
The SolarSaga 200 solar panels leave something to be desired in terms of efficiency, but the Explorer 2000 Pro lives up to its name. Six solar panels with a peak power of 200 W should provide a theoretical maximum input power of 1200 W, and although I don't expect 100% efficiency, my tests showed 960 W under ideal conditions.
If you want to use the Explorer 2000 Pro with the recommended six solar panels, you'll get a sophisticated product, but you'll pay more than €6000 for it. Since that's a lot of money, I recommend buying it from the official Jackery website - where you'll get a 5-year warranty!
But you get what you pay for. It's difficult to find anything truly essential to criticize about this product.
Facts:
Battery: 2160 Wh / 2200 Watt
Number of charge cycles: ≥1000 cycles to 80%
Battery technology: Li-Ion NMC
Weight: 19.5 kg
Max input power: 1800 W AC / 1400 W solar
2x AC output, 2x USB-A output, 2x USB-C output
5-year warranty if you buy from the Jackery website
Advantages
Ideal mix of capacity, power, and portability with numerous ports
Supports up to 1400 W solar input and 2200 W AC output
Great build quality
One-touch output activation
Intuitive display
Foldable handle
Disadvantages
Expensive, but not a true replacement for gasoline-powered backup generators
Manufacturer-specific solar panel connectors
No app
Zendure SBP2000 Solar Powerstation - Best Value for Money
The scene of mobile power stations has experienced a mini-revolution since the beginning of the pandemic. The price per watt has dropped significantly thanks to the tough competition of many newcomers in the industry.
Zendure, a company founded in 2013, is one of them and has recently introduced its first battery-based high-performance generator SBP2000.
Zendure SBP2000 Solar Powerstation, 2096Wh Tragbarer Solar-Generator, Stromgenerator mit 4 AC 2000W Ausgänge für den Einsatz im Freien, UPS, Geeignet für Camping Stromausfälle
2096Wh Riesige KapazitätDie große Kapazität von 2096Wh kann bei Stromausfall, Campingausflügen etc. für eine dauerhafte Stromversorgung sorgen und kann auch als Notstromversorgung für Tesla-Autos verwendet werden.
Schnelles Aufladen auf 80% in 1 StundeUnterstützt den branchenweit höchsten 2400W Solareingang, 1800W Netzeingang usw. bis zu 7 Lademethoden, 80% Vollladung in 1 Stunde und die schnellste 1,5 Stunden Vollladung.
BMS-Battery Schutz SystemZendure SBP 2000 ist mit einem BMS-Batteriemanagementsystem ausgestattet, um Spannung, Strom, Kurzschluss und Temperatur in Echtzeit zu überwachen, um Sie und Ihre Ausrüstung zu schützen.
Tragbar Bewegen EntworfenTragbares Design mit Rädern in Industriequalität, einziehbarem Aluminiumgriff und niedrigem Schwerpunkt für einfachen Transport und Mobilität für einfache Campingausflüge.
4G IoT & APP & GPSMit integriertem GPS und 4G-IoT-Hardware ist das SBP2000 das erste Solarladegerät auf dem Markt, das die netzunabhängige Nutzung von 4G unterstützt.
kein Preis ermittelbar (B0B1Q9J788)
View Product
The 2000 W SuperBase Pro is equipped with a 2 kW inverter (with an efficiency of 92.9%), a battery capacity of 2.1 kWh, and many USB ports as well as DC and AC outputs.
The power station stands out from the competition in that it is a connected device thanks to 4G and Wi-Fi radios. The accompanying app offers some options that are not available through the front display on the device. Features such as a power factor display and many USB Type-C ports set the Zendure SBP2000 Solar Powerstation apart from the crowd.
Two other important ingredients are a fast charging time and a super competitive price. A bonus is that the SuperBase can be used as a UPS - with the battery only being charged when needed while connected to the power grid. What is missing is a stable mobile app and USB-A ports that older phones still use.
The price of Zendure's 2000 W flagship makes for a very competitive product with many features only available on high-end devices. Zendure's products are aimed at an environmentally conscious, tech-savvy, and younger audience.
Facts:
Battery: 2096 Wh / 3000 watts
Number of charging cycles: 3000
Battery technology: Lithium Nickel Manganese Cobalt (NMC)
Weight: 21.2 kg
Max input power: 1800 W AC / 2400 W solar
4x AC output, 4x USB-C output, 4x DC output
2-year warranty
Advantages
Fast charging to 80% in 1 hour
Portable design with wheels
With integrated GPS and 4G IoT hardware
12 output ports
With app
Has a built-in UPS
Disadvantages
Very heavy
Screen always on when in use
Fan is a bit loud
Buying Guide: How to Find the Right Power Station for You?
In my Power Stations test, I have now introduced you to a range of great power plants, and of course, there are other Power Stations on the market.
Perhaps you have already discovered your desired device in the list, but are still unsure? Then read my buying guide, and it will be easier for you to find the right power station for camping, motor home or car.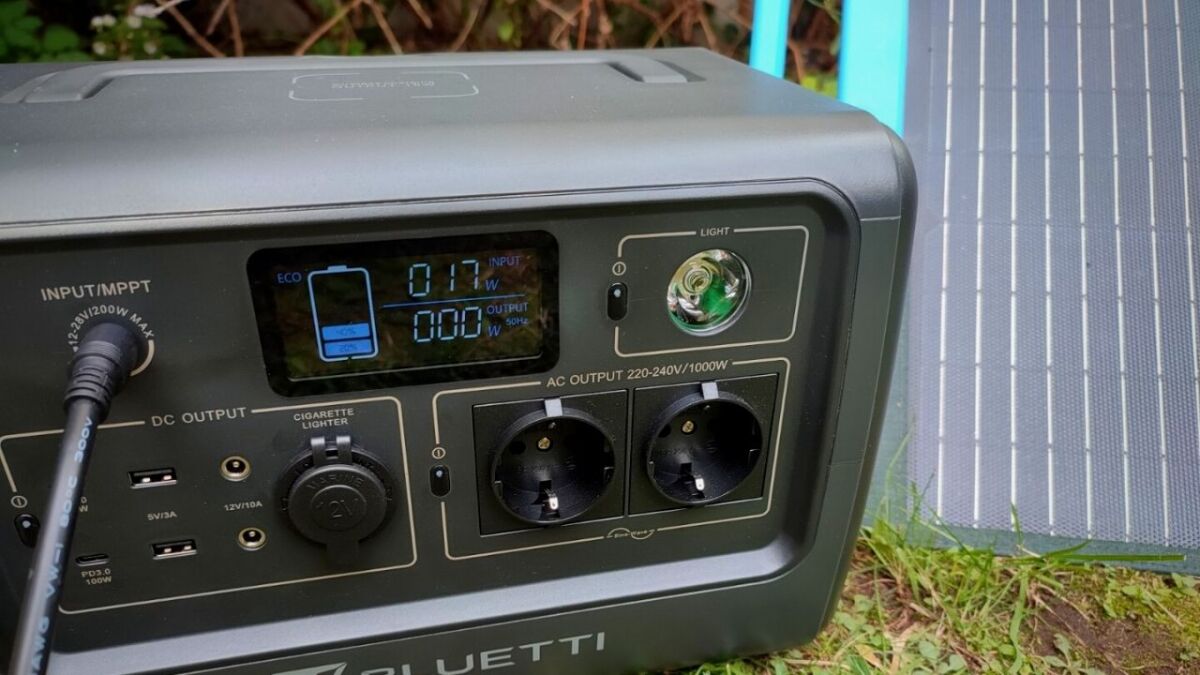 Size and Portability
Mobile power stations are all quite portable, but some are decidedly easier to carry than others. The size of the battery largely determines the overall size and mobility.
Portable power stations with large battery capacities will always be physically large, and there is not much room for innovation. Some manufacturers manage to make their mobile power plants slightly smaller than others or design them to be easier to carry or store.
But first, you should always consider battery capacity and performance oversize.
If a power station does not have enough energy to keep it running, or is unable to power your devices, it doesn't matter how small, light, or mobile it is.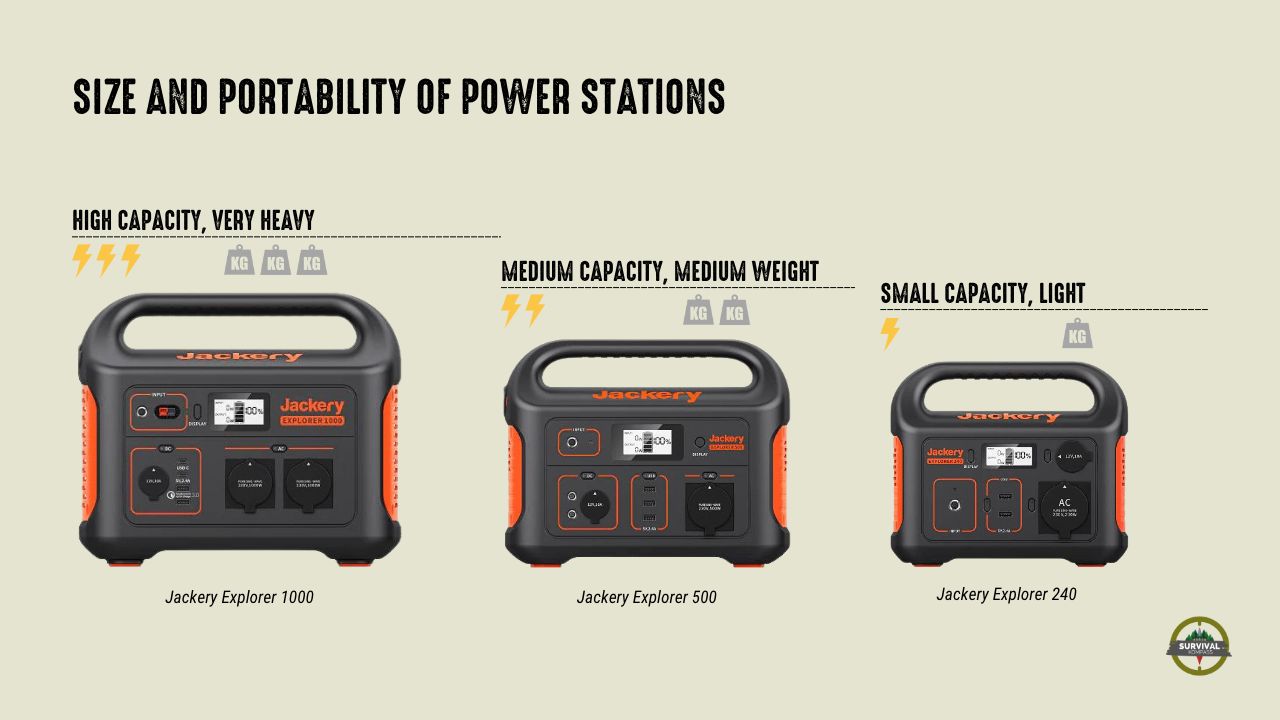 Battery Capacity
The battery capacity refers to the amount of energy that the mobile power station can store. The capacity strongly depends on the scenario in which you will use the power station, so there is no one-size-fits-all solution.
If you are currently looking for something to use in case of a power outage, then you need a battery with a higher capacity. For camping, a power station with a lower capacity may be sufficient. Of course, this also depends on your needs.
Battery capacity is measured in watt-hours. One watt-hour (1 Wh) means that a power of one watt is delivered for one hour.
If you connect a television that consumes 60 watts to a mobile power station with 600 watts of power, the battery would be empty after ten hours of watching TV.
However, also keep in mind that you will lose some power due to inefficiency, heat, and other factors. So, never expect a mobile power station to run as long as you have calculated mathematically under perfect conditions.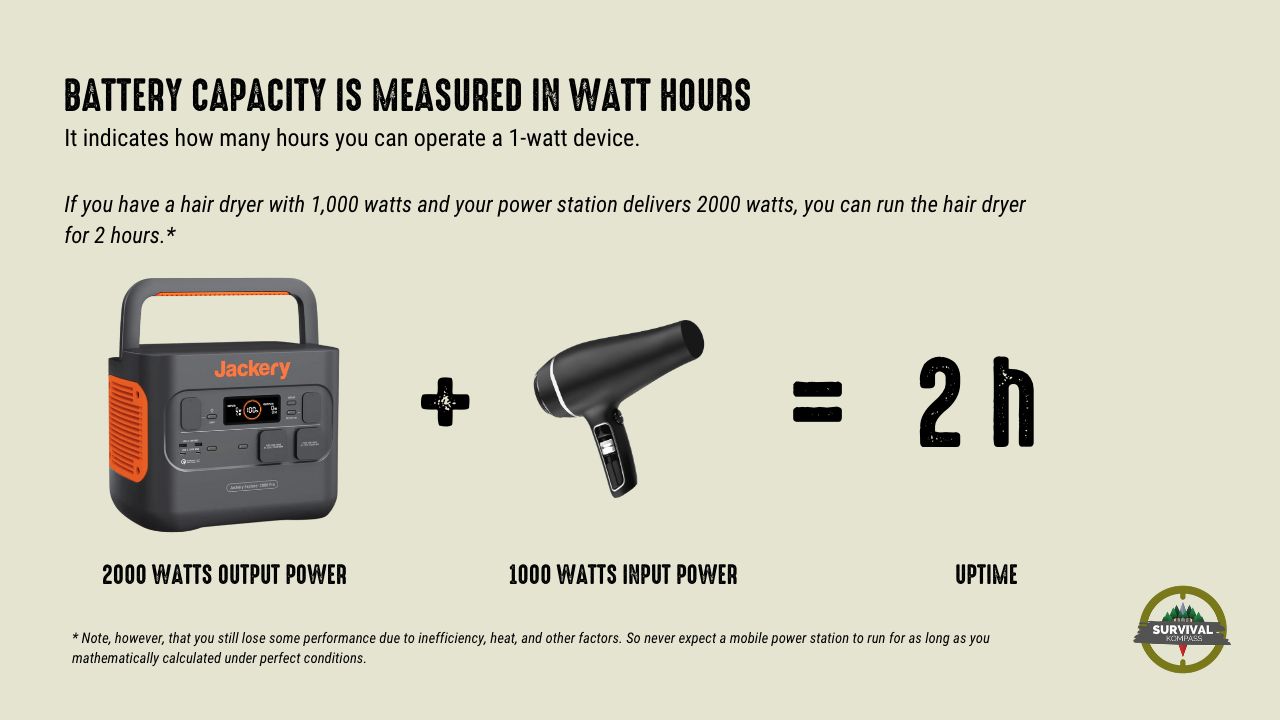 Output
The performance of the mobile power station is measured in watts, and there are two numbers that you need to pay attention to.
Continuous power: This is the wattage that the power station can continuously deliver.
Peak power: This is the wattage that the power station can deliver briefly - also known as peak power.
Some devices, such as air conditioners and refrigerators, consume much more electricity when first turned on than during normal operation, so you can safely connect such a device with a high peak power in watts.
It is essential to check the wattage of each device you want to connect to your mobile power station. Accordingly, you must then purchase the right device.
Tip: If you assume that you need to connect two or more devices at the same time, add up this wattage and add another 10 to 20 percent for safety reasons and use this as a basis.
Charging Speed and Options
The primary methods for charging a power station are by connecting:
to a wall socket
of a solar module
to the cigarette lighter of a vehicle
Charging via a power outlet is usually the fastest and most widely used method. For example, the Anker 757 Powerhouse Powerstation can be charged in 1.5 hours when charged via a 230V power outlet - but it can take eight hours or more when charged via the 12V cigarette lighter in a car.
Charging via the cigarette lighter in the car can be a useful option, but it is also very slow. The most important thing is to look at how much input power the power station has. The higher it is, the faster you can charge.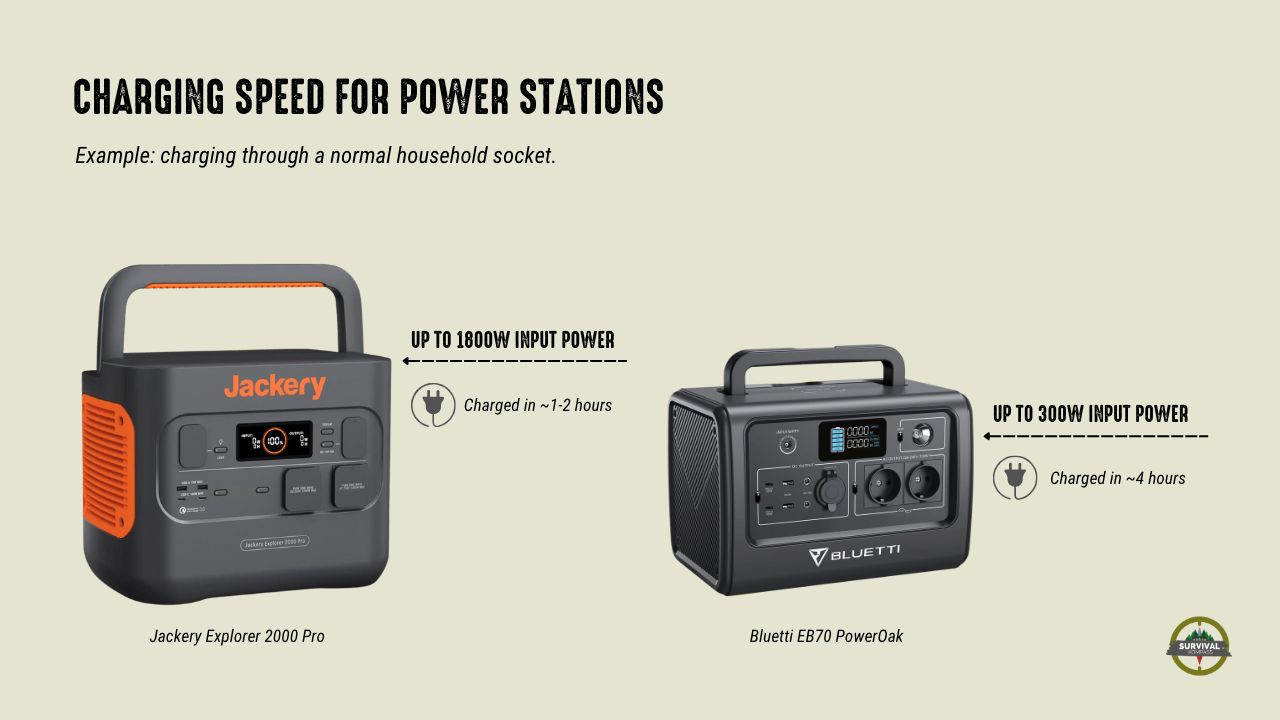 My wall socket in my apartment provides me with up to 3000 watts, but most small power stations can only handle a maximum of 100 (like the Jackery Explorer 500) to 300 (like the Bluetti EB70 PowerOak) watts - that's why charging takes a long time.
Other devices, such as the Anker 757 Powerhouse, can handle up to 1000 watts of input power, and the Jackery Explorer 2000 Pro can even handle up to 1800 watts. These devices are usually fully charged in one to two hours.
The speed of charging via solar panels varies:
depending on the wattage of the solar panel
the local conditions
the maximum input wattage
The great thing about solar panels is that you can use them anywhere. Even when it's cloudy, you can easily charge your smartphone with a 200 W solar panel (such as the Bluetti PV200 solar panel or the Jackery SolarSaga 200). For me, this is perfect, especially for powering up while camping.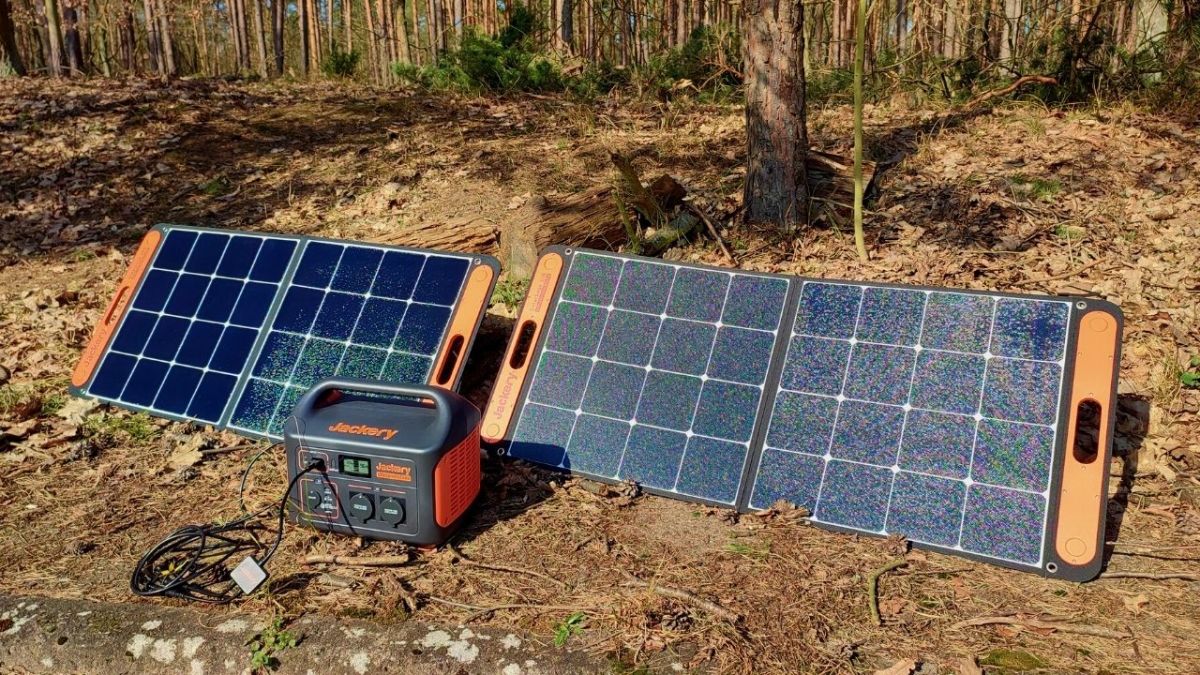 Solar panels are brilliant for use in areas where there is no access to the grid or where only a low-power socket is available. Power outage? This is where the power station comes into play or when you have to stay disconnected from the grid for a longer period of time.
Good to know: Powerful solar chargers are faster than connecting to your car, but slower than connecting to a 230-volt outlet in your home.
Outputs and Inputs
Portable power stations include a variety of ports, including 230-volt outlets, USB-A and USB-C ports, 12-volt accessory ports, and 12-volt DC jacks.
Some include one or more of these options, while others only have USB ports, 230-volt sockets, or various combinations.
If you expect to have to connect two or three 230-volt devices at the same time, choose a portable power station with at least as many sockets.
If you own devices such as smartphones and laptops that can be quickly charged via USB-C, make sure that your power station has at least one USB-C Power Delivery (PD) port.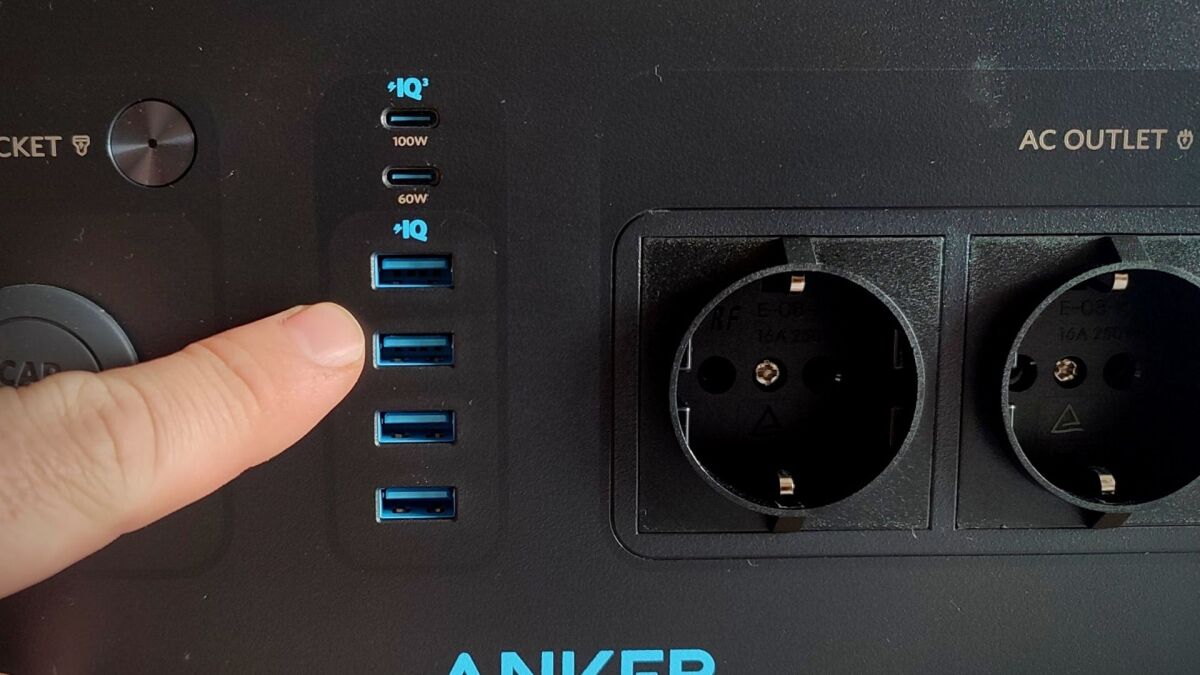 Where should you store your portable power station?
Your power station should be stored in a cool, dry place when not in use. Do not keep it in a place where it gets hot or where moisture or wetness occurs.
It's okay to store the power station in your car or RV during a trip, but if you keep it there permanently, the battery life will be shortened.
In addition to storing the power station in a climate-controlled room, it is also a good idea to store it with about 40 to 50 percent charge. This is better for the battery life of the power station than storing it with a full charge.
Attention, there is one exception, of course. If you live in an area where you expect power outages, then you always charge your power station to the brim. It is more important to have your power station ready for emergencies than to maximize battery life.
Who is a mobile power station not suitable for?
For people who are satisfied with the electrical installation in their motor home, a power station is not necessary. If you only want to use electricity inside the camper, a portable battery does not provide any added value.
And if you buy inverters, solar charge controllers, and batteries as individual components, you can choose the specifications for each component individually.
With a power station, the device is only available as offered by the manufacturer. 600 Wh is sufficient, but if you want a 2000-watt inverter with it? Sorry, that's not available as a package.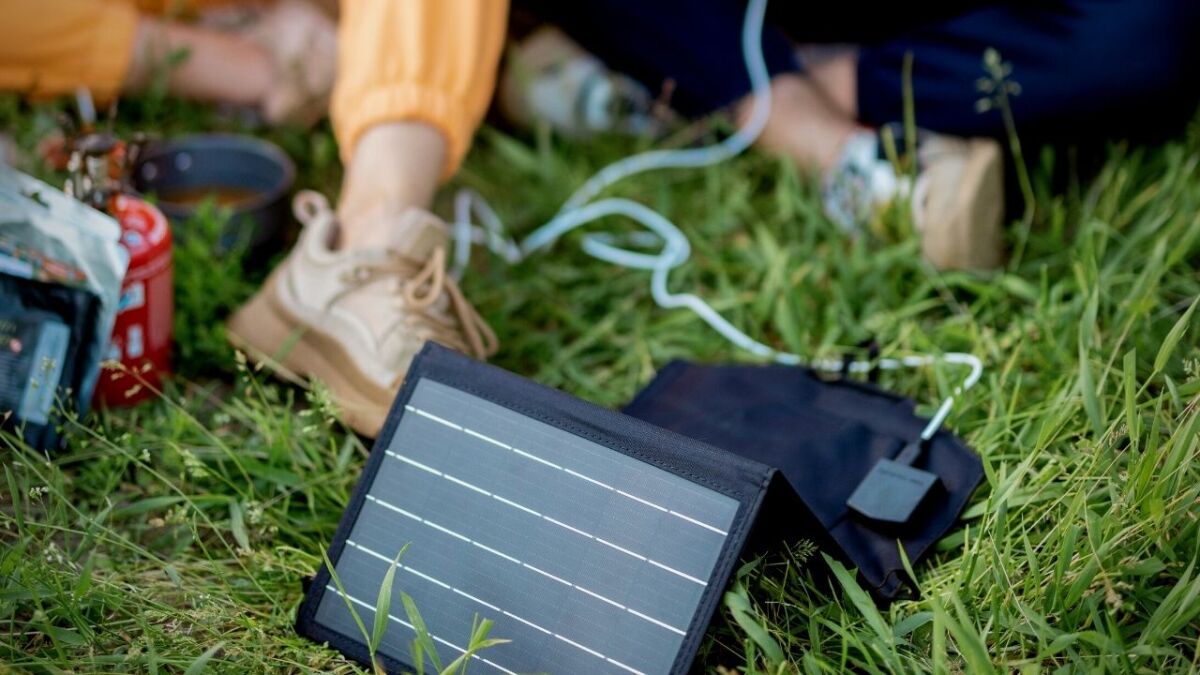 Furthermore, a mobile power station for camping without a car is far too heavy. For backpackers or trekking enthusiasts, it will hardly be the right choice. You simply don't want to carry a 6 kg battery over many kilometers. So, for a power station, you need a car to be able to transport it comfortably.
If you don't own a car but still want to charge your devices, it's better to grab a power bank. I've created a list of the best power banks that I was able to test.
The capacity of the power station compared to the onboard battery in the motor home
How much is 600 Wh actually? Well, to give you a sense, let's compare it to a typical onboard battery in a motor home.
However, comparing it to the battery in a motor home is not as simple, as the capacity is given in Ah (ampere-hour).
So, you have to do some calculations. The capacity of the onboard battery in the motor home must be converted into watt-hours. You do this by multiplying the ampere-hours by the voltage. The voltage in a motor home is usually 12.7 V.
To simplify the calculation, I assume a battery with 100 Ah. You multiply these 100 Ah by 12.7 V. The result: 1270 Wh.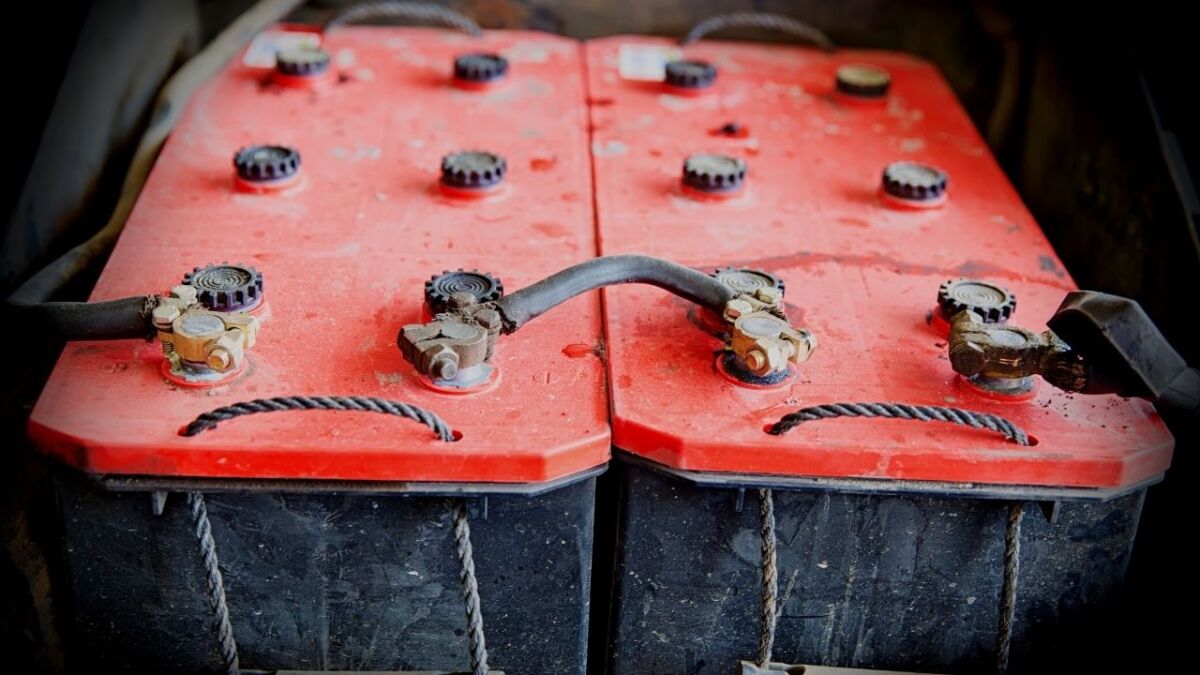 That sounds like a lot, but you should check what type of battery you have. If your camper does not have a lithium or LiFePO4 battery installed, then you should only use half of that as a guideline. This increases the lifespan of the battery.
So, you can effectively use 635 Wh here. Some power stations fall exactly in this range, offering as much capacity as a typical battery in a motor home. And there are some additional advantages: a power station is mobile and often has additional features such as wireless charging, flashlight, or USB-C ports.
Powerbank vs. Powerstation - What's the difference?
A power bank is a small, handy battery that is perfect for on-the-go use. The power bank doesn't weigh much and can easily fit in a backpack or suitcase.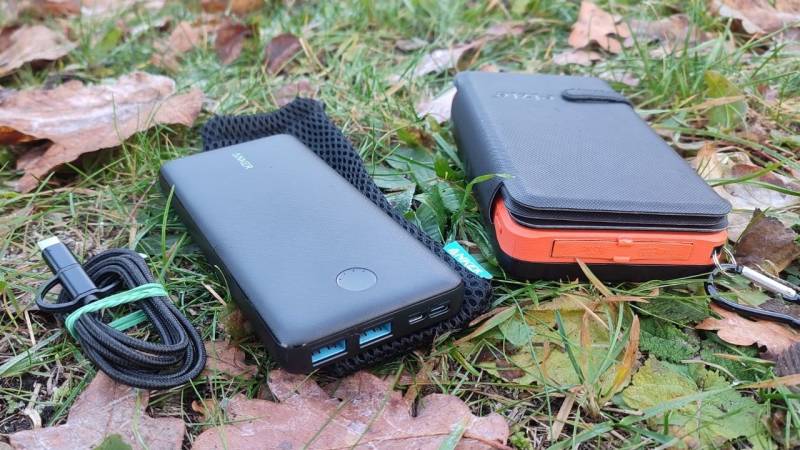 The Powerstation, on the other hand, is a large device that usually does not fit in a backpack and cannot be carried on the back. Small devices weigh around 5 kilograms and larger devices, with more than 1500 watts, weigh over 20 kg.
However, this is only one of the differences between the two devices. Another important factor is the capacity. Most power banks have a battery with 5,000 to 20,000 mAh, while power stations can have up to 100,000 mAh.
This means that you can charge your smartphone hundreds of times – much more than any normal power bank. Additionally, you can connect regular household appliances to power stations.
What is the difference between a solar generator (power station + solar panel) and a fuel generator?
Basically, the difference is that portable power stations use rechargeable batteries instead of gasoline. What power stations lack in power compared to generators, they make up for in portability and easy recharging instead of refueling.
Generators are usually used to restore the power supply to your entire home or at least the majority of your home. A generator is powered by fuel, such as diesel, and is quite loud.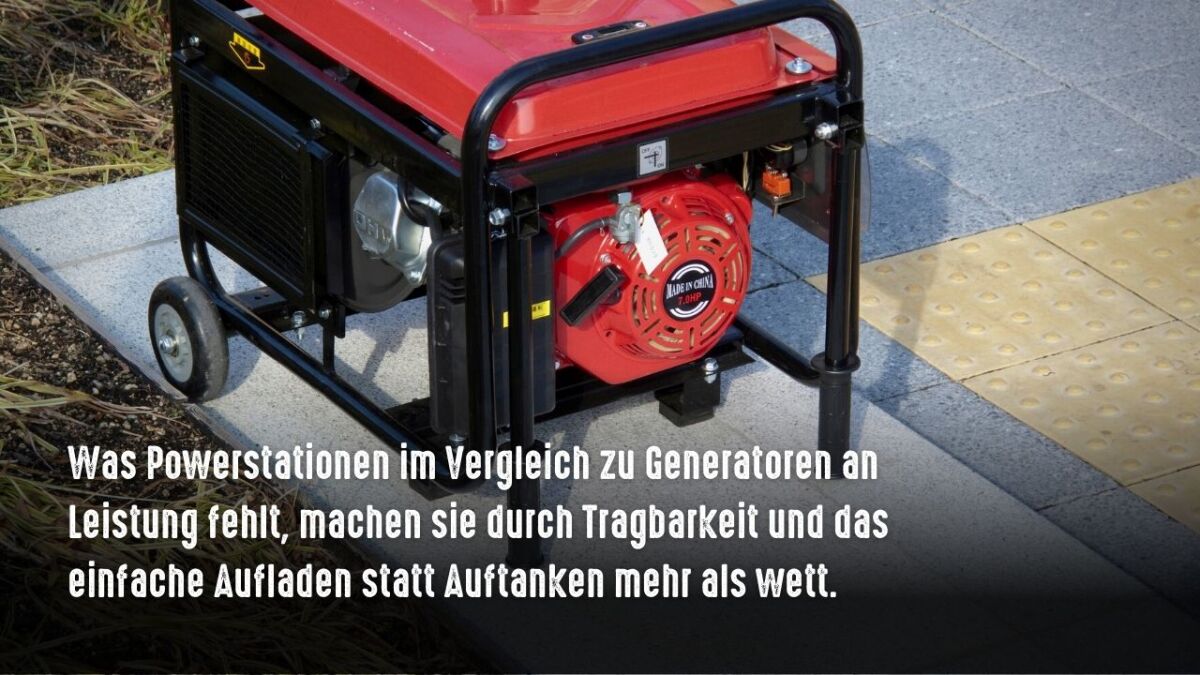 A solar generator often does not have the same energy capacity as a diesel generator and is best used to keep important medical and household devices running until power is restored.
Solar generators do not require diesel or gasoline to operate, making them much safer for indoor use. This also means that you don't have to worry about maintaining the engine.
Additionally, you can charge a power station at any time using a solar panel that you can attach to your balcony or place in the garden.
What is the best power station for me?
This is the big question that I try to answer for you in the guide.
If you're spending a weekend camping and only want to have a tablet charged for watching movies, something lightweight and with not much capacity is fine. For that, I would even just bring a power bank, like the Anker PowerCore II Powerbank with 20000 mAh.
More serious off-roaders or those who spend long periods of time off the grid will need something heavier, preferably 1000 watts or more. Owners of motor homes may fall somewhere in between.
Think about what you want to use a power station for. And consider the specific amounts of power you may need to make the best choice.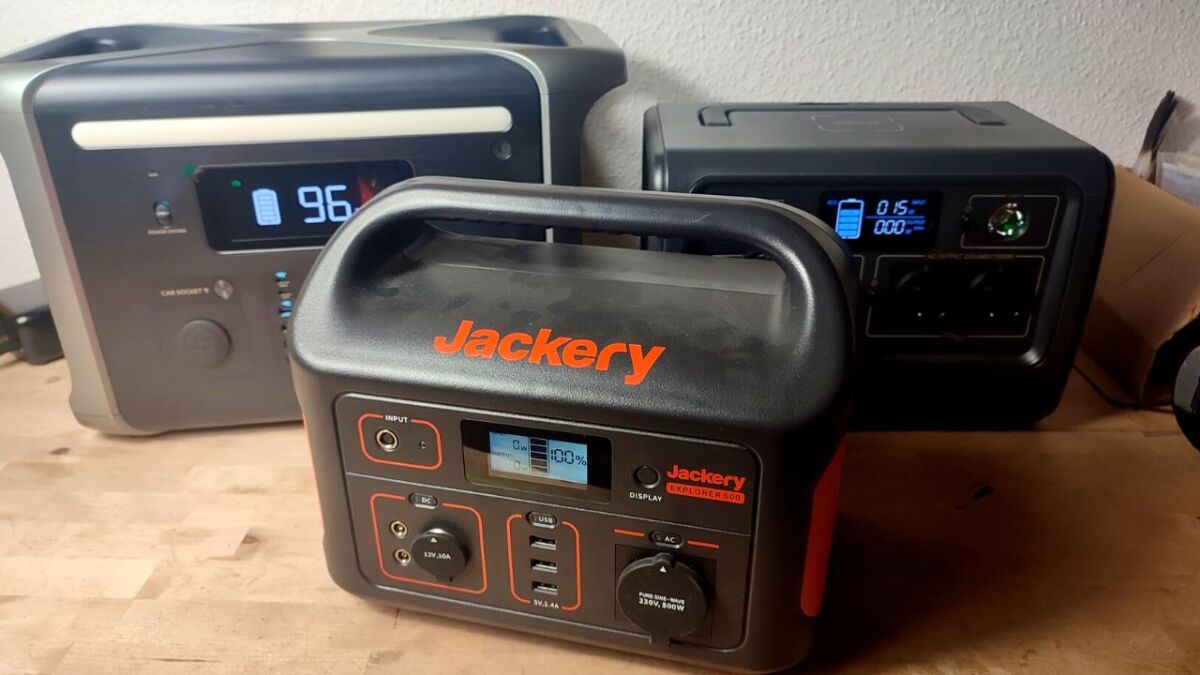 Questions and Answers about the Best Power Stations
How does a power station with a solar panel work?
Solar technology converts sunlight into electrical energy either through photovoltaic (PV) modules or through mirrors that concentrate solar radiation. This energy can be used for electricity generation or stored in batteries or thermal storage systems.
How do I best charge my power station?
In most cases, the battery of a portable power station is charged fastest using a standard AC outlet. Solar panels can be connected to many power stations, but generally, they charge slowly, with some exceptions for higher-end power stations. In case of emergency, some power stations have a port that allows charging through a 12-volt cigarette lighter, but this takes some time.
How long do 500 watts last on a power station?
If you connect a device that consumes 500 watts, the power station will last for one hour. However, if you connect a smartphone that consumes 5 watts, you can charge your smartphone 100 times with the power station.
Can my mobile power station power all of my devices?
When making a purchase, the maximum wattage of a portable power station may be the most relevant value to consider, based on the facts and figures. If you have specific devices in mind, make sure that the maximum wattage of a power station covers them. Otherwise, you risk damaging both the device and the power station.
Which power station to use for a blackout?
For a blackout, you should go for a powerful power station. Anything from 1000 watts upwards is good. The higher the battery power, the longer you can supply your devices, such as a refrigerator or your smartphones, with electricity.
Can mobile power stations charge and recharge at the same time?
All modern power stations can charge and recharge simultaneously, which is a great advantage over smaller power banks.
Do power stations for camping have 230 V connections?
Most mobile power stations for camping have 230V connections. This is the standard voltage in Europe and many other parts of the world.
Is a power station useful for camping?
A mobile power station can be useful when camping if you don't have access to a power outlet on the go. These devices can charge various electrical devices such as laptops, smartphones, and tablets. Additionally, charging via a solar panel is possible.

Was this guide helpful?
38 people found this guide helpful.
5.00 out of 5 points (38 Ratings)