Back to german article
Little Explorers, Big Flavor Experiences: Delicious and Healthy Snacks for Hiking with Children (+Recipes)
Looking for delicious and healthy snacks for your next hike with kids? Here you can find recipes for energy balls, granola bars & more.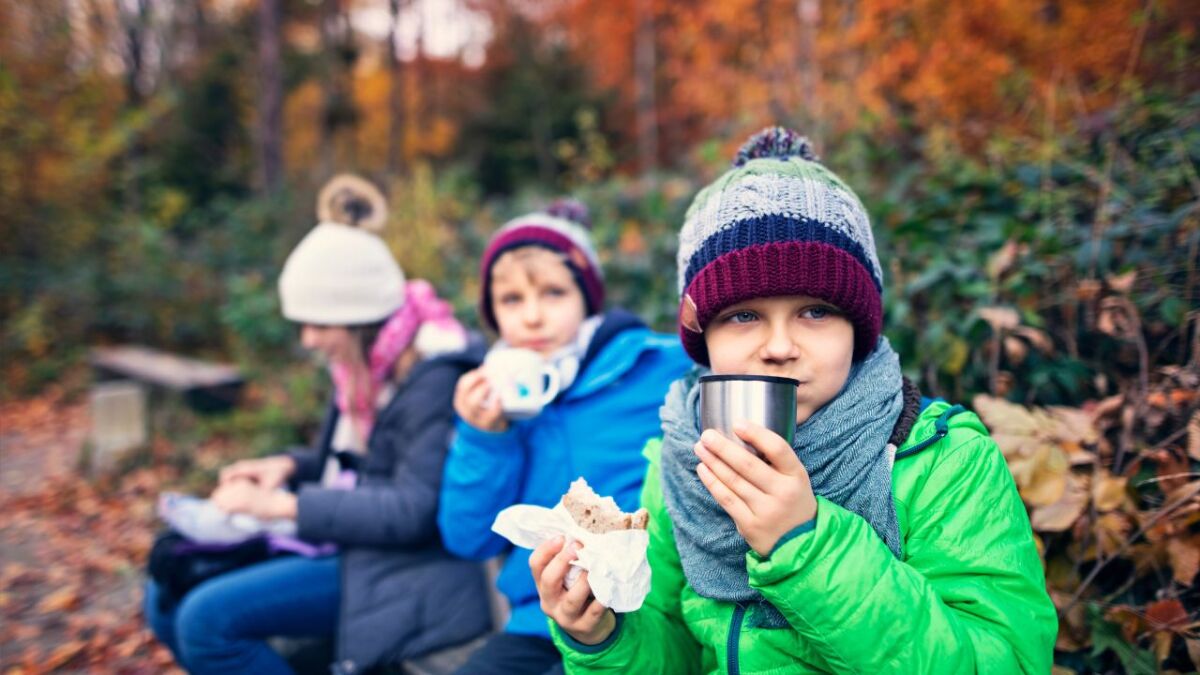 ---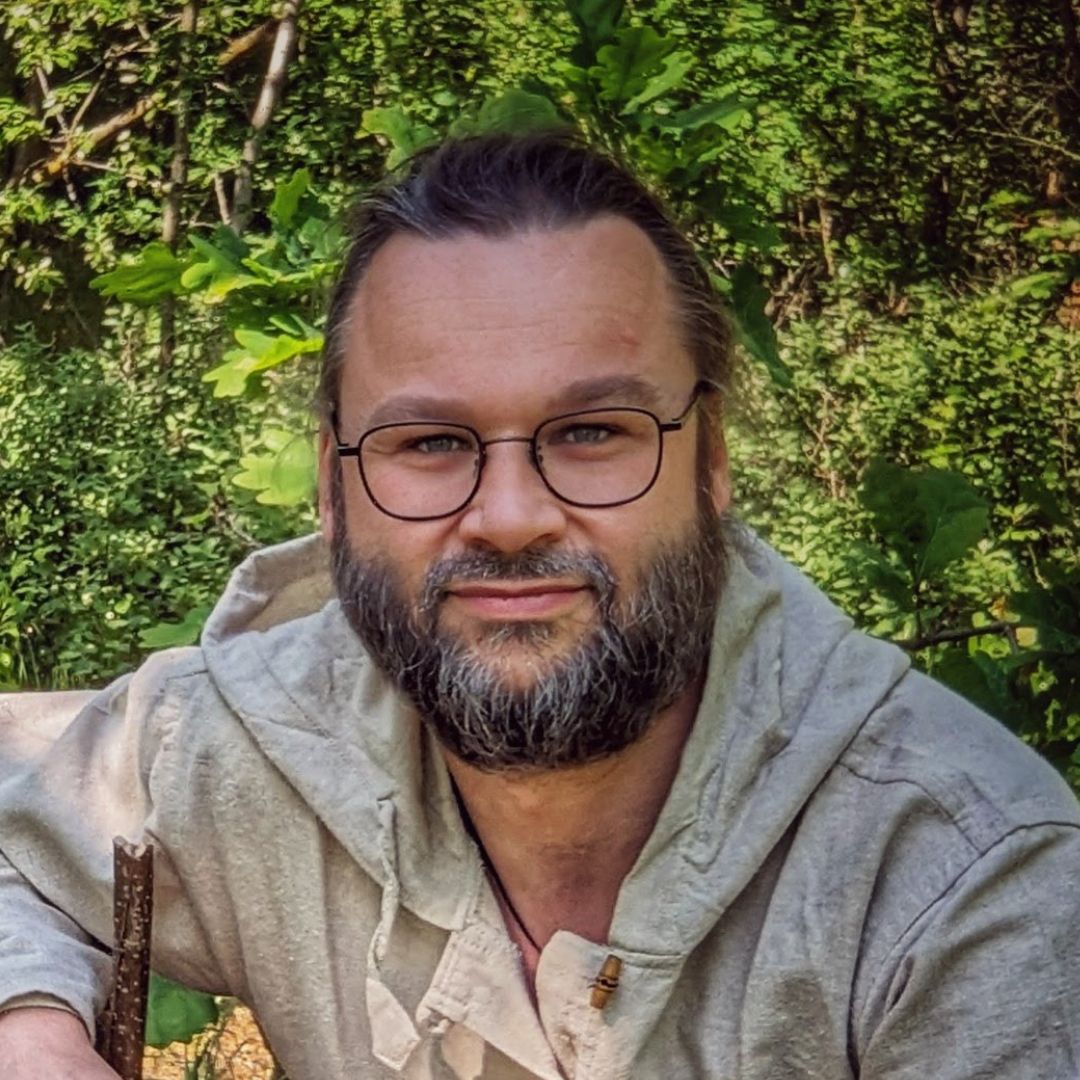 ---
👉 The key facts from this guide
The best snack tips for hiking with children:
Fruit & vegetables - Fresh power for little explorers
Sandwiches & wraps - deliciously spread & rolled deliciously
Nuts & dried fruits - hiking food as well for little students
Cereal bars & energy balls - concentrated power for on the go
Short hiking break: Important things beyond meals
Pasta & couscous salads - Spaghetti Bolognese and much more
Soups & stews & chili con carne - hearty and delicious, especially outdoors!
Potatoes - the great tuber with many possibilities
Popcorn & cookies - The sweet reward for little hikers
Do you know this too?
The mood of your child is sinking and you notice: It's hungry - and that while hiking.
Now it takes more than just hiking boots and a hiking map.
But with the right food preparation, the hike becomes an adventure that delights young and old alike.
Those who have already hiked long distances with children know it well:
You have to set small highlights off the hiking trail from time to time. This keeps the little hikers entertained.
Here's my first recommendation to keep the kids from getting tired and staying active:
Go for healthy, simple, and quick meals.
Ideally, bring snacks that are already prepared. Or ones that can be quickly heated up on the campfire or grill. Recipes with long preparation times outdoors are not suitable for hiking with children.
In this post, I want to introduce you to the 8 most delicious ideas for an extra dose of energy on the go. And they are healthy too.
Enjoy reading, cooking, preparing, and hiking.
Tip 1: Fruits & Vegetables - fresh power for little explorers
Let's start with one of the classics: fresh fruit and vegetables to go.
Fresh fruit and vegetables are not only delicious, but also very healthy. They provide your child with the important vitamins and minerals it needs on the go-to stay fit and happy.
No matter if as a hiking snack in between or as part of a healthy meal break. Fruit and vegetables are perfect for every hiker. Whether big or small.
Good examples of delicious and healthy outdoor finger food are sliced peppers, grapes, or vegetable sticks.
More fresh ideas for hiking with children are:
Apples, pears, bananas, berries, oranges
Cucumbers, radishes, cherry tomatoes, cocktail tomatoes
Cucumber, celery, broccoli, cauliflower, fennel, carrot, kohlrabi
The preparation is very easy. Cut the fruit and vegetables into bite-sized pieces and put them in a resealable bag or small container. Then you can simply pack it in your backpack and enjoy it on the go.
Of course, fruity and colorful drink smoothies are also not a bad idea, as long as there is still space in the backpack.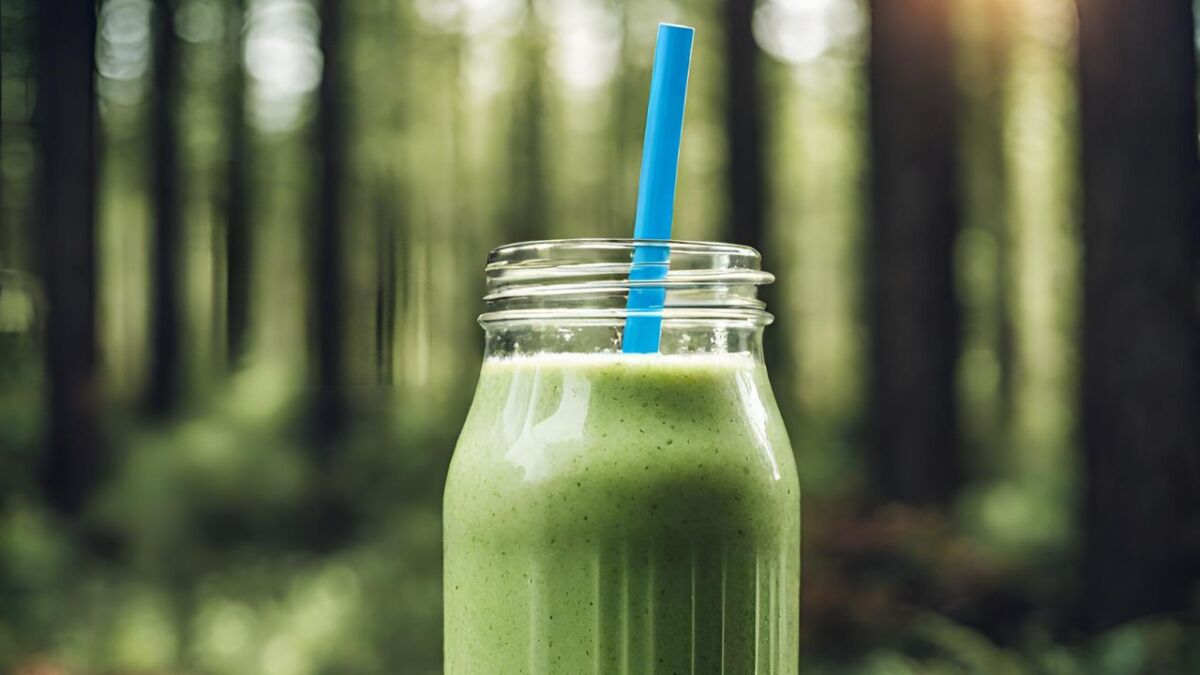 Tip: Simply alternate different fruits or vegetables on skewers to create colorful skewers. The watchful child's eye always eats along!
Also pack some dip sauces like hummus, guacamole to make the vegetables and fruits even more delicious. Ketchup or mayo is also an option, of course.
You can find more exciting outdoor recipes here.
Tip 2: Sandwiches & Wraps - Deliciously Topped & Tastefully Rolled
Are you looking for another great outdoor snack for kids on the go? Easy to prepare and easy to transport?
Sandwiches & wraps are the perfect snack for the upcoming hiking trip with children.
You can also easily fill them with your children's favorite ingredients. And of course, you can prepare them together with the children!
Proven examples are:
Cheese and ham sandwich
Chicken and tomato salad wrap
Avocado, tomato, and cucumber wrap
Peanut butter (+x) sandwich
Sausage, cucumber, and cheese sandwich
Hot + Cold Dogs
And here's how to prepare it in no time:
Choose your favorite bread or wrap, add your desired filling, and you're done.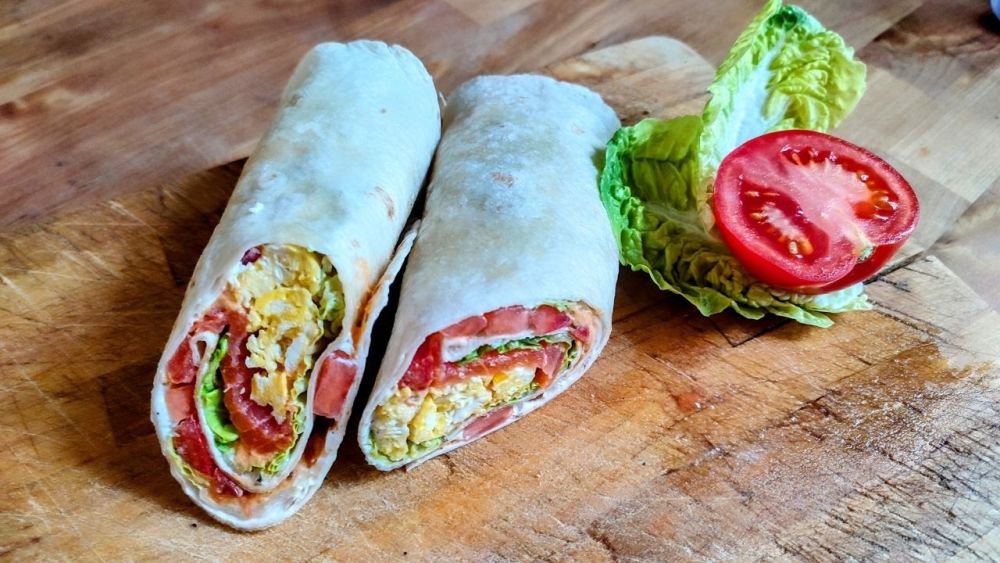 My tip: The peanut butter sandwich is not only very popular among children in North America.
And here's how it works: Take the bread of your choice and spread peanut butter and, for example, (a little) fruit jam on it. Fold the sandwich together and, if necessary, cut it into bite-sized pieces.
My tip: If you want to add some more texture and flavor, you can also add fresh fruits like banana slices or a little maple syrup instead of jam on the sandwich.
Did you know that peanut butter provides a very good nutrient composition and is an excellent source of protein, healthy fats, and fiber?
Unless it contains excessive amounts of sugar, it is an excellent option for a balanced and nutritious snack while hiking.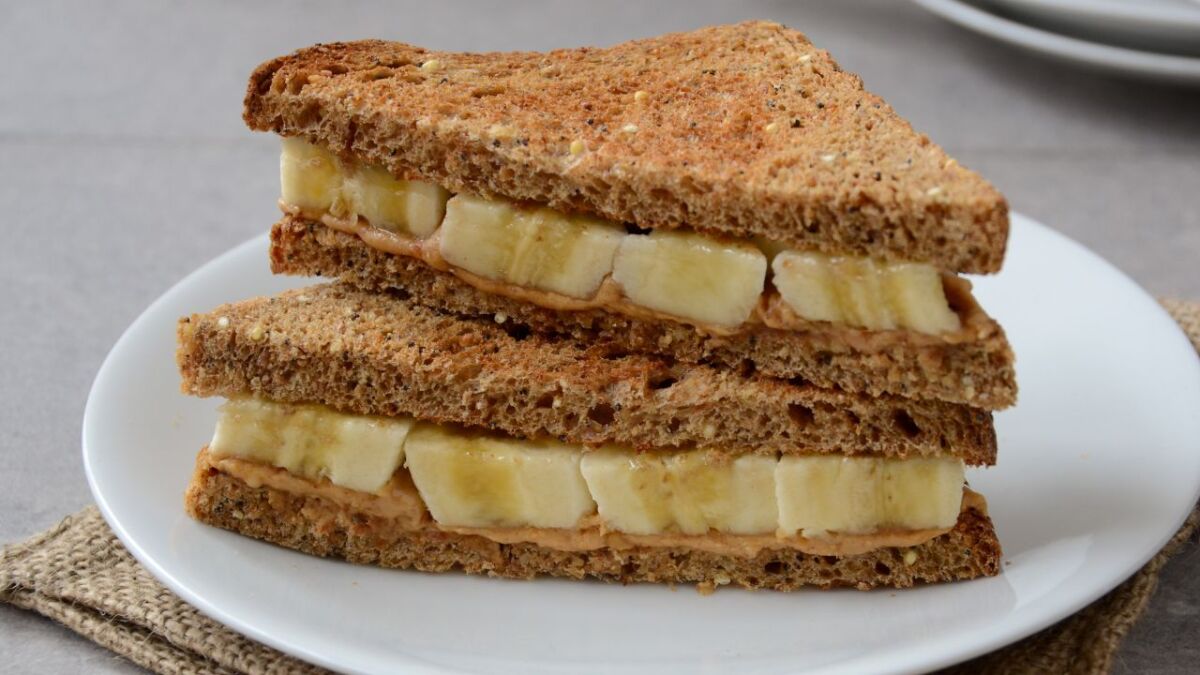 And peanut butter provides the body with energy, proteins, and healthy fats that are important for endurance and satiety. Of course, only in moderation.
Tip: Choose bread with a firmer consistency that won't become soft too quickly after preparation and filling - especially whole grain bread. Always keep the sandwich or wrap separately in a sealable bag to take it fresh and intact for hiking.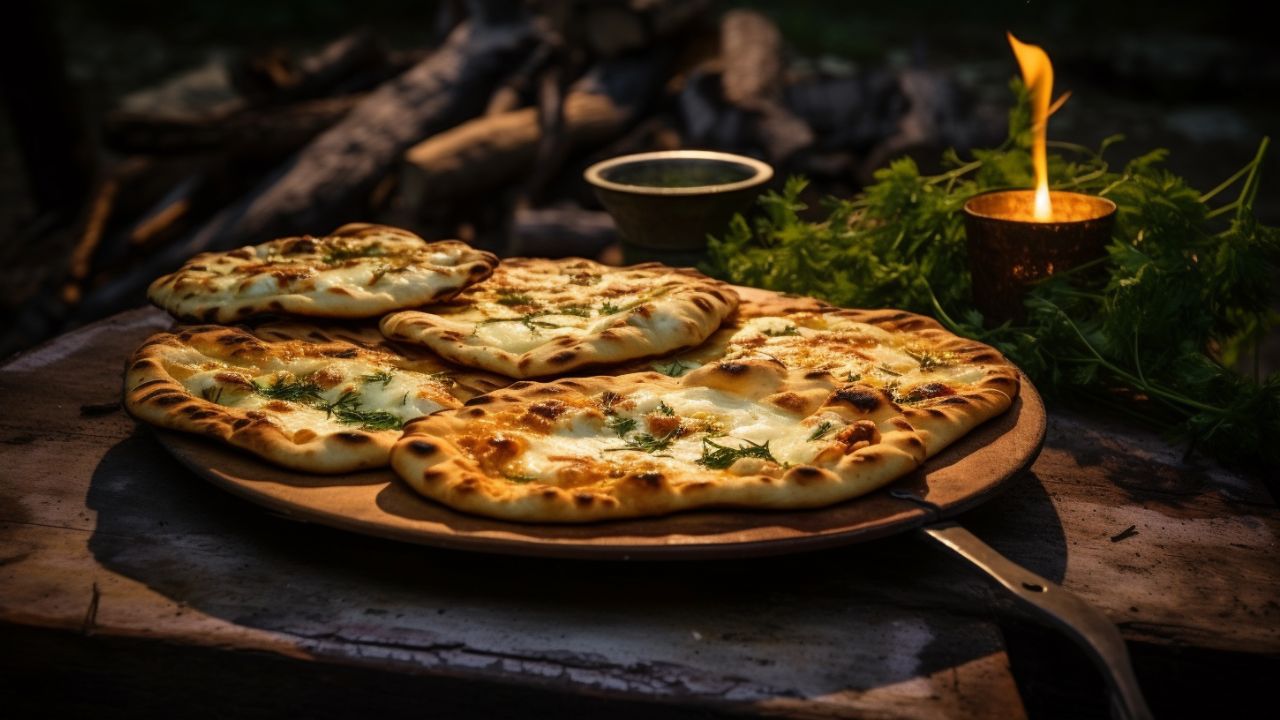 "If necessary," a simple flatbread will do. Get it beforehand at the supermarket, then onto the grill and enjoy your meal on the go. You can find an exciting recipe for it here.
Tip 3: Nuts & Dried Fruits - Snacks for Hiking and Small Students
Nuts and dried fruits are another great snack for a hike with children.
They are delicious, light, and easy to transport. They are also packed with important nutrients that will fuel you and your kids during the hike.
Not without reason, the mix of nuts and dried fruits is called "Trail Mix" in English. It is a perfect source of energy, proteins, fiber, and healthy fats. Ideal for all outdoor activities!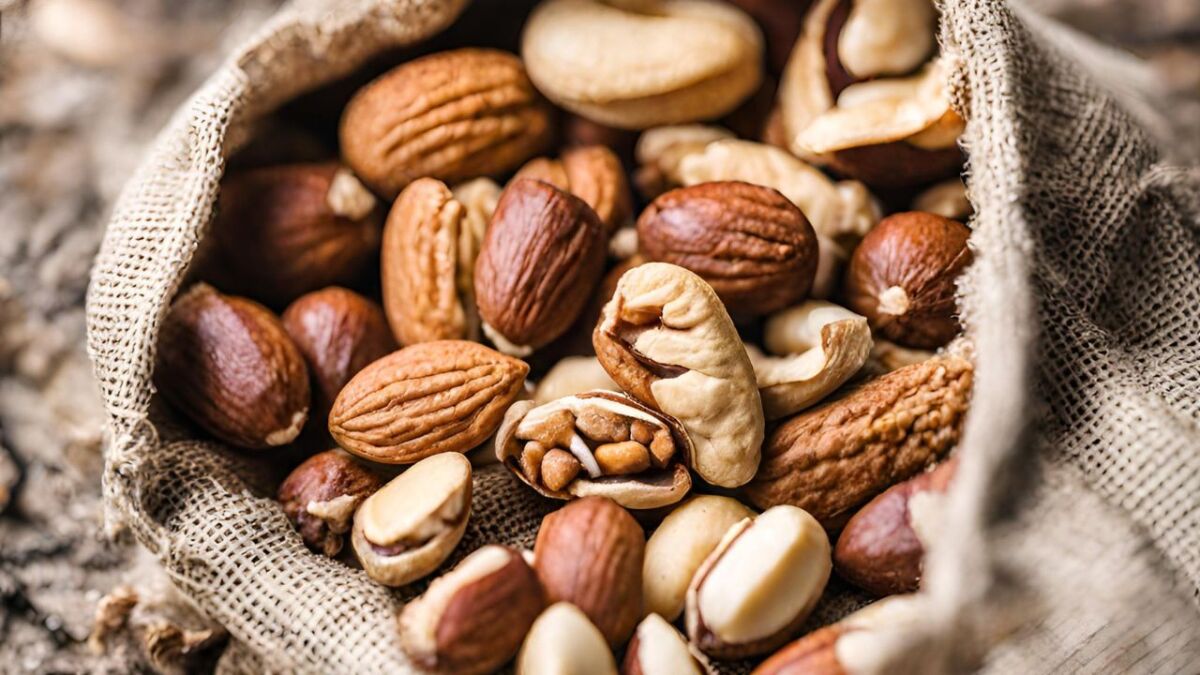 The possible variations are huge - and go far beyond the classic student snack.
"Classics" for the upcoming hike are:
Almonds
Cashews
Hazelnuts
Walnuts
Pistachios
Raisins
Apricots
Apple rings
Dates
Figs
Cranberries
Tip 1: Mix the different nuts and dried fruits in a bowl and put them in small bags or containers that are easy to store in your backpack. This way, you can easily transport them in your backpack and enjoy them on the go.
Tip 2: Buy nuts and dried fruits in larger quantities so that you have them ready for your next hiking trip. Ideally, use unsalted and unsweetened nuts and dried fruits.
Moreover, make sure that the nuts are unsalted, as too much sodium can disrupt the electrolyte balance.
Read also
Seeds and Nuts: What is the Difference? - Are you curious about what distinguishes seeds from nuts? This guide will explain everything to you and you will learn why the peanut is not a true nut.
Tip 4: Granola Bars & Energy Balls - concentrated power on the go
Here comes another snack highlight for your upcoming hike with children!
Muesli bars and energy balls are the perfect choice to give children the necessary energy for a hike. These healthy treats are full of nutrients and make the hiking day an experience for you and your family.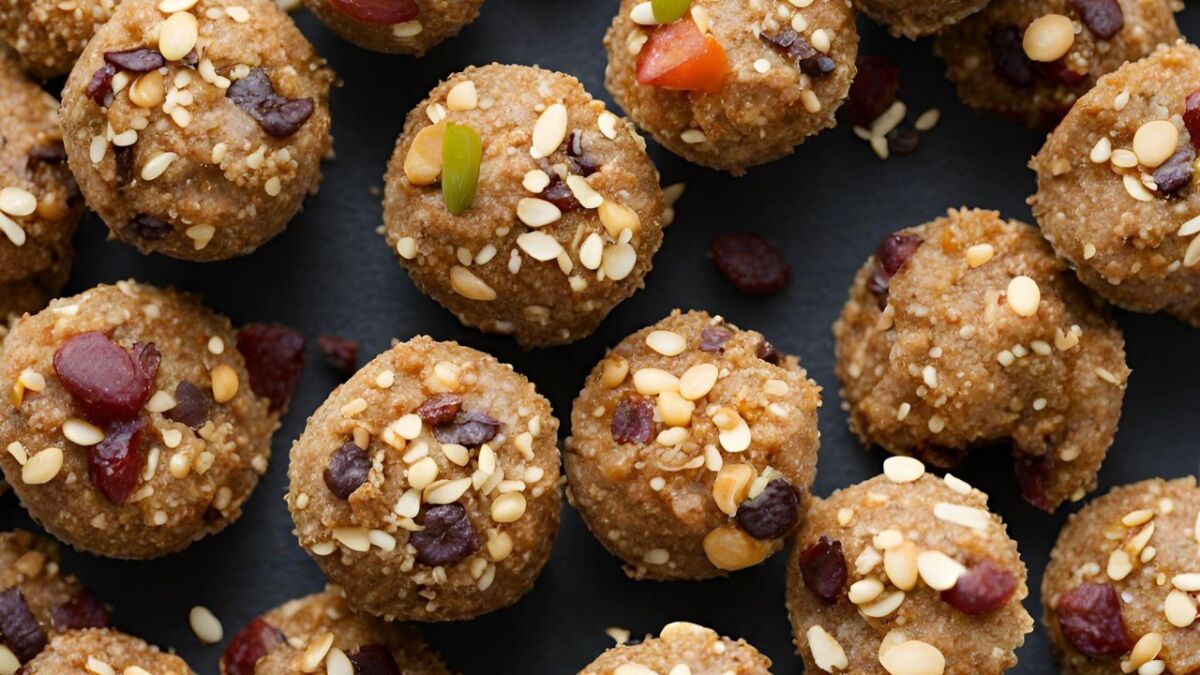 They keep you full for a long time and they taste best when made from scratch!
To prepare muesli bars and energy balls, you only need a handful of ingredients and a little time in the kitchen. And here too, there are no limits to the imagination when it comes to combining the ingredients.
Examples:
Nuts: Walnuts, almonds, cashews
Seeds: Flaxseeds, sesame, chia seeds
Dried fruits: Raisins, apricots, dates
Oatmeal
Honey, agave or maple syrup
Coconut oil
And it's so easy. For crispy nut/oat energy balls, you'll need:
1 cup oats
1/2 cup nuts or seeds of your choice
1/2 cup dried fruits of your choice
1/2 cup peanut butter
1/4 cup honey or agave syrup
And this is how delicious energy balls are made:
Mix the oats, nuts, seeds, and dried fruits in a large bowl
Add peanut butter and honey or agave syrup. Stir the ingredients until well combined
Take about 1 tablespoon of the mixture and shape it into a ball
Repeat the process until all of the mixture is used
Store the energy balls in an airtight container in the refrigerator
Tip: Why not prepare it together with the children? You can also add some chocolate or coconut flakes to make the snack even more interesting for your kids.
Close the cereal bars and energy balls in a sealable container to keep them fresh even on longer hikes. You can find another exciting recipe here.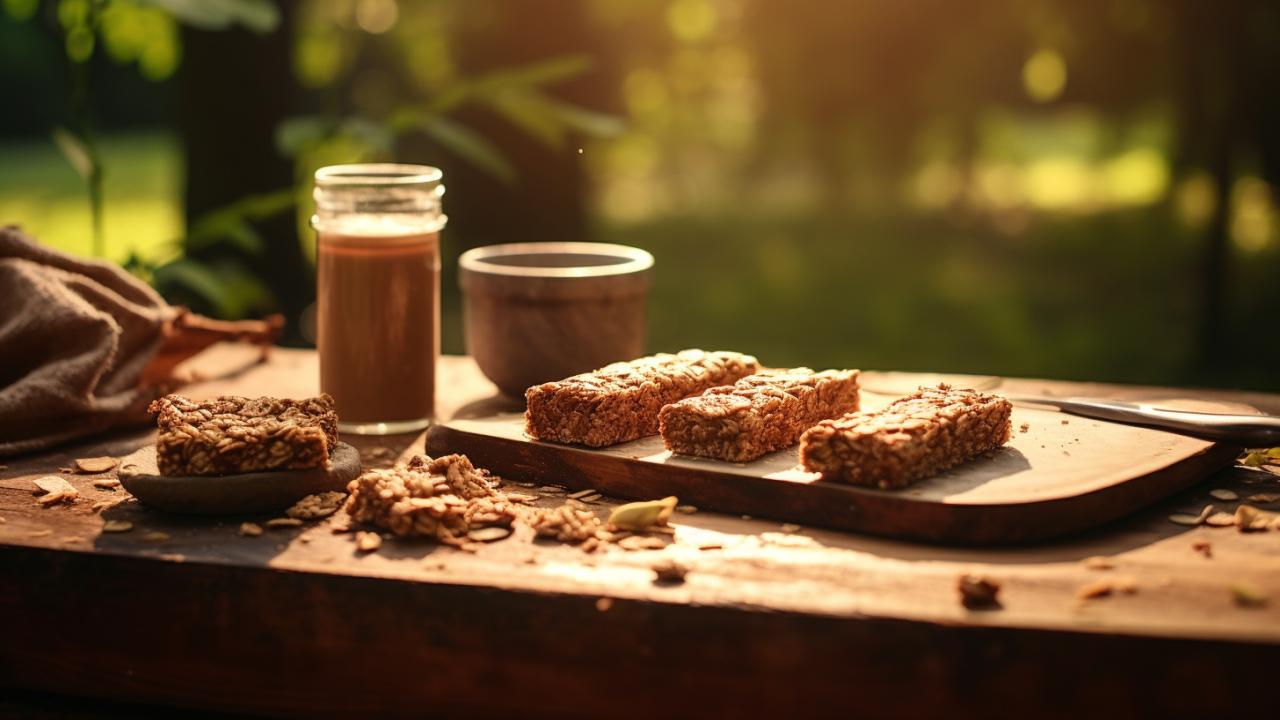 Short hiking break: Important things beyond meals
All questions about healthy snacks and the right provisions are central before hiking with children. But what you should definitely think about in general are the following things:
Break planning: Plan the route and breaks well in advance, considering the abilities and age of the children
Clothing: Make sure the children wear comfortable clothing and suitable footwear
Drinks & emergency kit: Take sufficient food, water, and first aid materials with you, don't lose sight of the children
Weather protection: Remember sunscreen, headgear, and weatherproof clothing - as well as maps and a functioning mobile phone
Backpacks & bags: Bring several to distribute the load evenly
Tip: Pack binoculars or a magnifying glass to observe animals and plants up close. The mobile phone usually stays in the bag. Reduce screen time while hiking and allow the children to enjoy the pure nature!
Tip 5: Pasta & Couscous Salads - Spaghetti Bolognese and much more
Ready-made pasta and couscous salads are a quick and easy way to eat on the go.
Whether cold or heated quickly on the grill or campfire: they are also a great source of carbohydrates and proteins.
Easy to prepare, no cooking skills required, and you can customize them to any taste. They are also a great way to use up leftovers from the fridge in a meaningful and delicious way.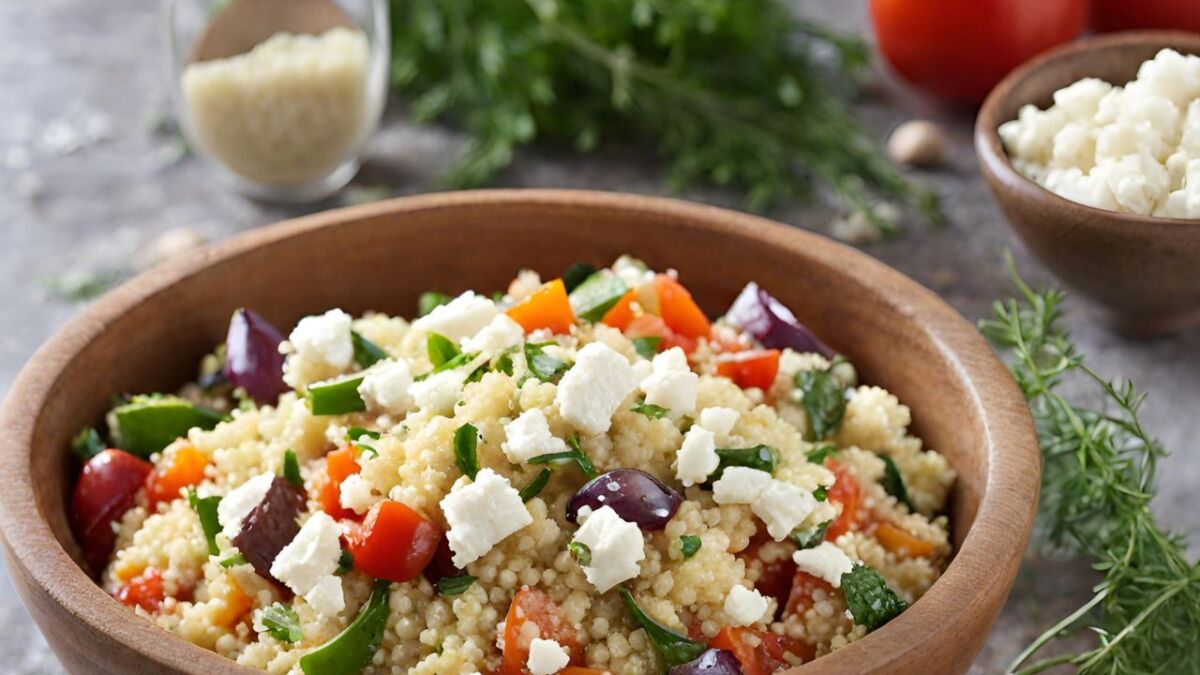 Proven examples for the upcoming hike are:
And here's how to make the couscous salad with vegetables and feta to go. This salad is perfect for hot days and easy to transport. Of course, you can also enjoy it warmed up.
The ingredients:
200 g couscous
1 red bell pepper
1 zucchini
1 bunch of spring onions
150 g feta cheese
2 tbsp olive oil
2 tbsp lemon juice
salt and pepper to taste
And here's how to make it quick and delicious:
Cook the couscous according to the package instructions and let it cool.
Cut the vegetables into small cubes and crumble the feta cheese.
Mix the olive oil with the lemon juice and combine with the couscous, vegetables, and feta cheese in a bowl.
Season with salt and pepper.
Tip: If you let the couscous salad sit in the refrigerator for about 1 hour before serving, it will become even more delicious.
And make sure to keep it as cool as possible when you take it with you. Furthermore, use leak-proof lunch boxes.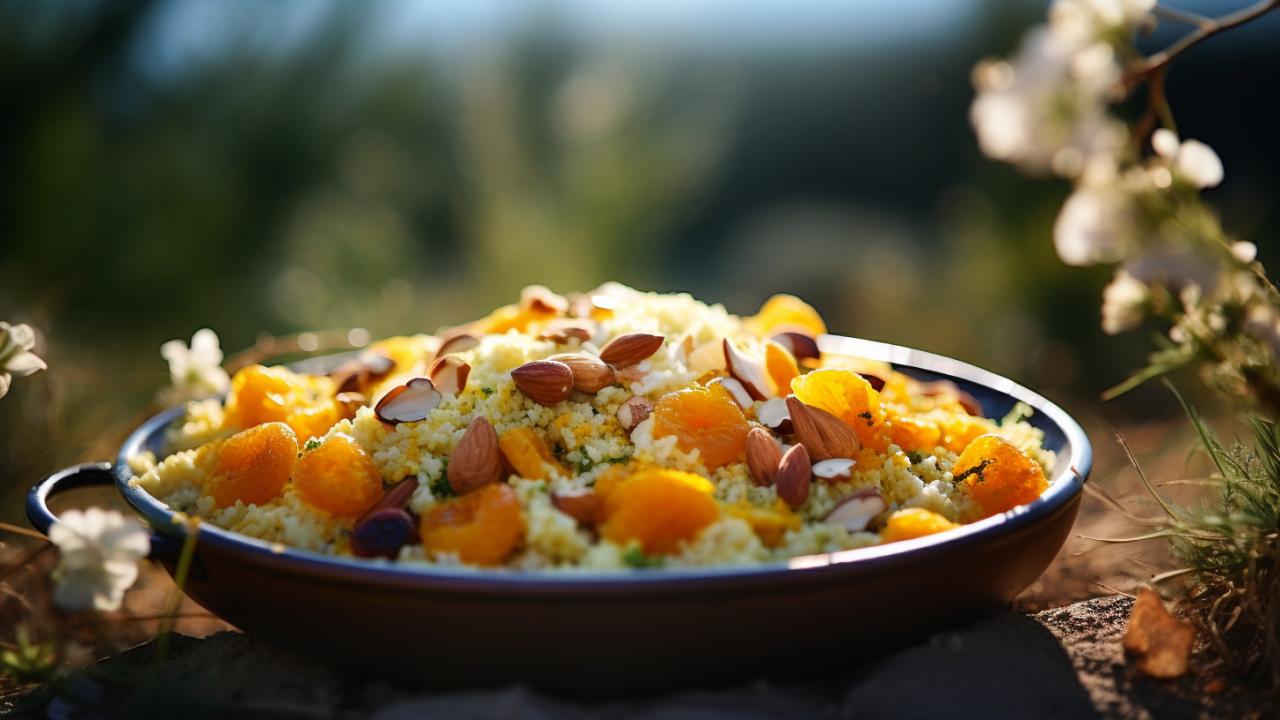 Here I have more recipes of this kind for you:
Tip 6: Soups & Stews: Hearty and Delicious, Especially Outdoors!
Soups, stews, or even chili con (or sin) carne may not sound like the classic outdoor meal.
Especially on cold days, soups, and stews are a perfect choice. They are a great way to replenish your children's energy reserves while enjoying delicious food on the go.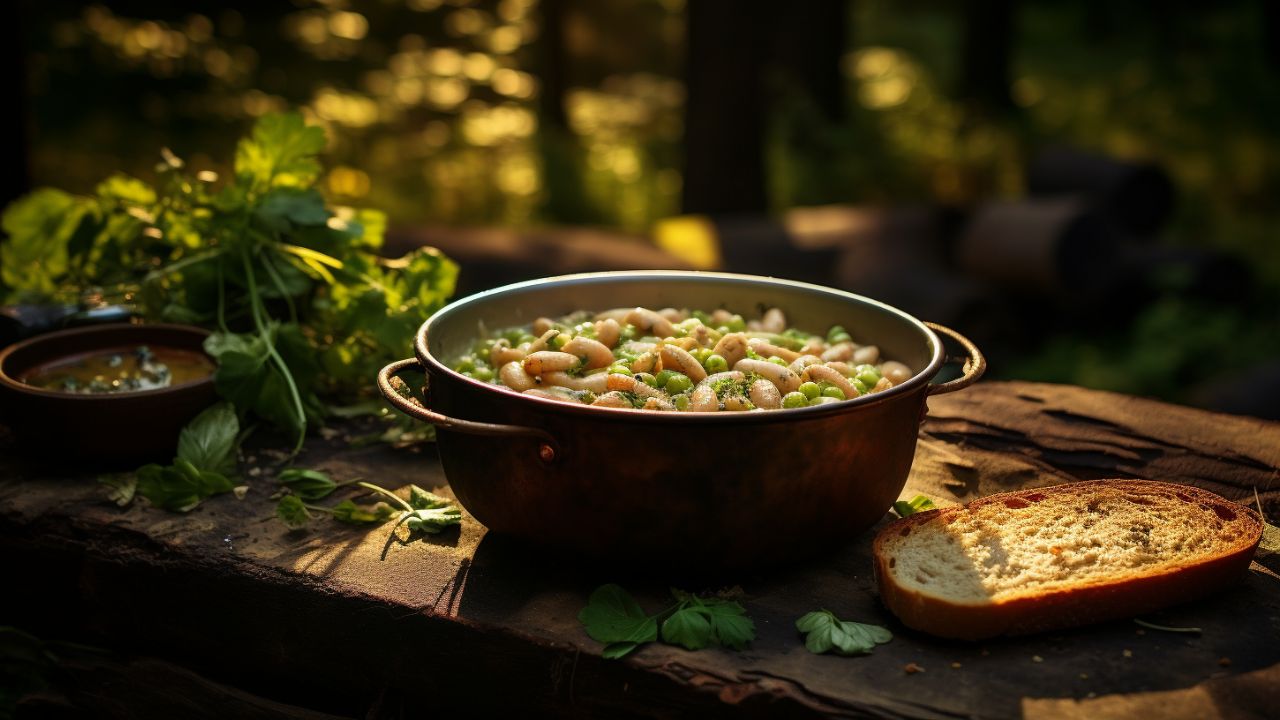 Here too, the variety of options is virtually limitless.
Examples are:
Vegetable stew
Bean soup
Potato soup
Goulash soup
Chili con (sin) carne
Here are some ingredients you need for a delicious soup or stew:
Vegetables such as carrots, bell peppers, onions, celery, leeks, tomatoes, or pumpkin
Potatoes, canned corn, or rice as a filling side dish
Meat, sausage, beans, peas, or tofu as a source of protein
Spices or herbs such as salt, pepper, thyme, oregano, or chili
The preparation of soups and stews is incredibly simple. Cut the vegetables into small pieces and fry them in a pot, then add water or broth and let it cook until the vegetables are soft.
If you want to add meat or tofu, fry it separately first and then add it to the soup. Season the soup with spices or herbs and let it simmer for another 10–15 minutes. Your delicious stew for your hike is ready.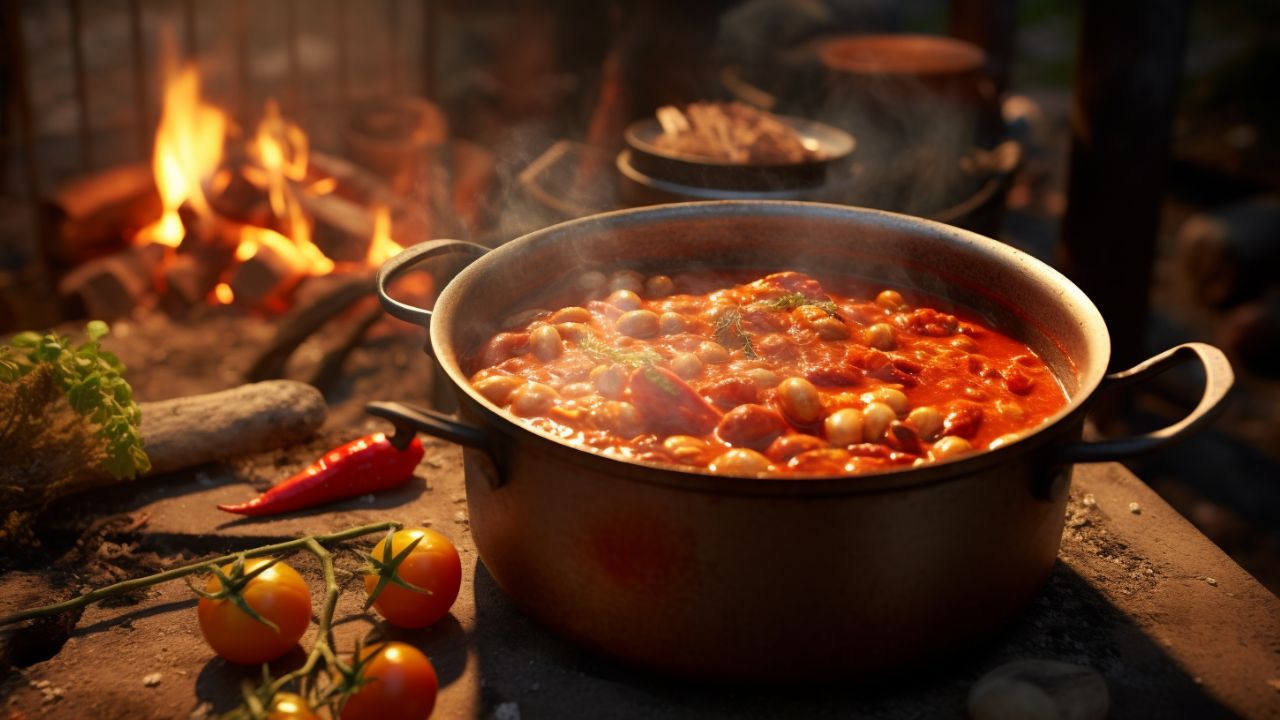 Example Chili con (sin) Carne:
Fry the onions with the minced meat or plant-based mince in oil.
Add the vegetables, garlic, and spices and sauté until translucent.
Pour in the liquid and let everything simmer for about 30 minutes.
Season again, and it's ready!
Tip: Soups and stews are easy to prepare at home and then transported in a thermos container. Simply heat up (if necessary) and enjoy on site.
I use the "Stanley Classic Legendary Thermos Bottle 1.9L (keeps hot or cold for up to 45 hours)".
Make sure that the lid of the thermal container is properly closed to prevent soups and stews from leaking.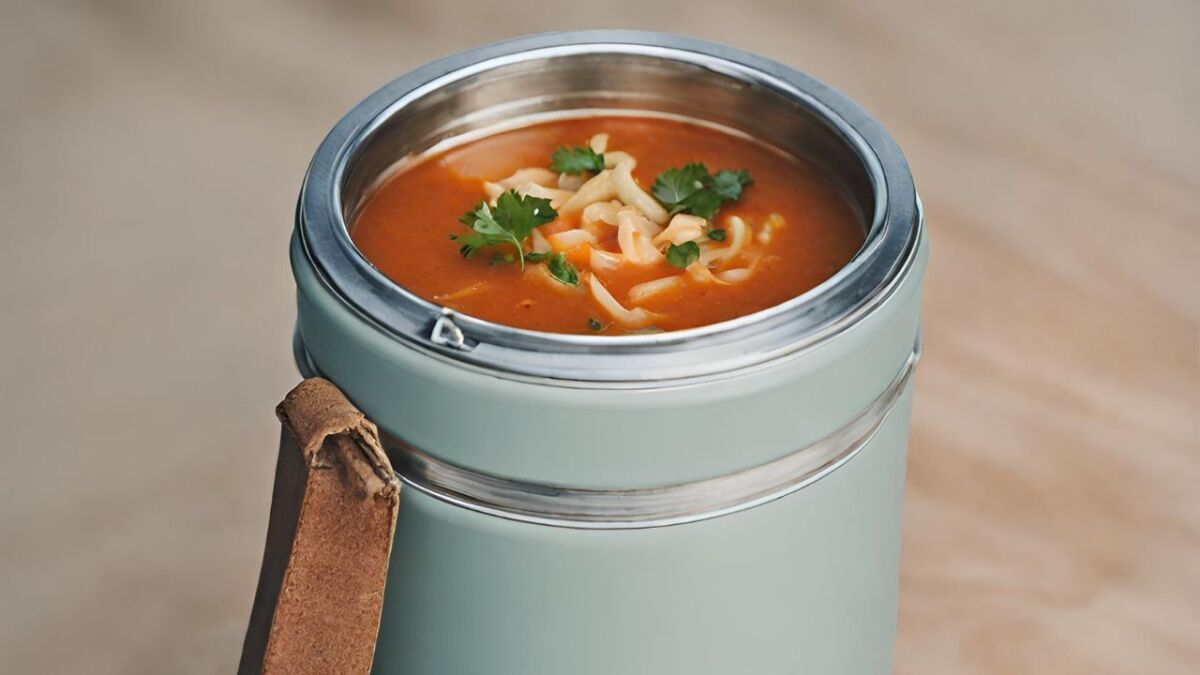 A vegetarian version of Chili con Carne can also be delicious by simply replacing the meat with tofu, plant-based ground meat, or more beans.
👉 Here you can find more stew recipes to cook from me - from outdoor lentil soup to bean spinach curry.
For little hikers, it is often helpful to eat the soup with a ladle or a larger spoon to avoid spilling.
So pack up your pot and hit the road.
Tip 7: Potatoes - the amazing tuber with many possibilities
Potatoes have all the prerequisites to be well received by children.
They are filling, delicious, and versatile. The following variations are possible around the potato as an ideal hiking food with children:
Fried potatoes
Potato pancakes
Potato salad
Baked potatoes
Potato wedges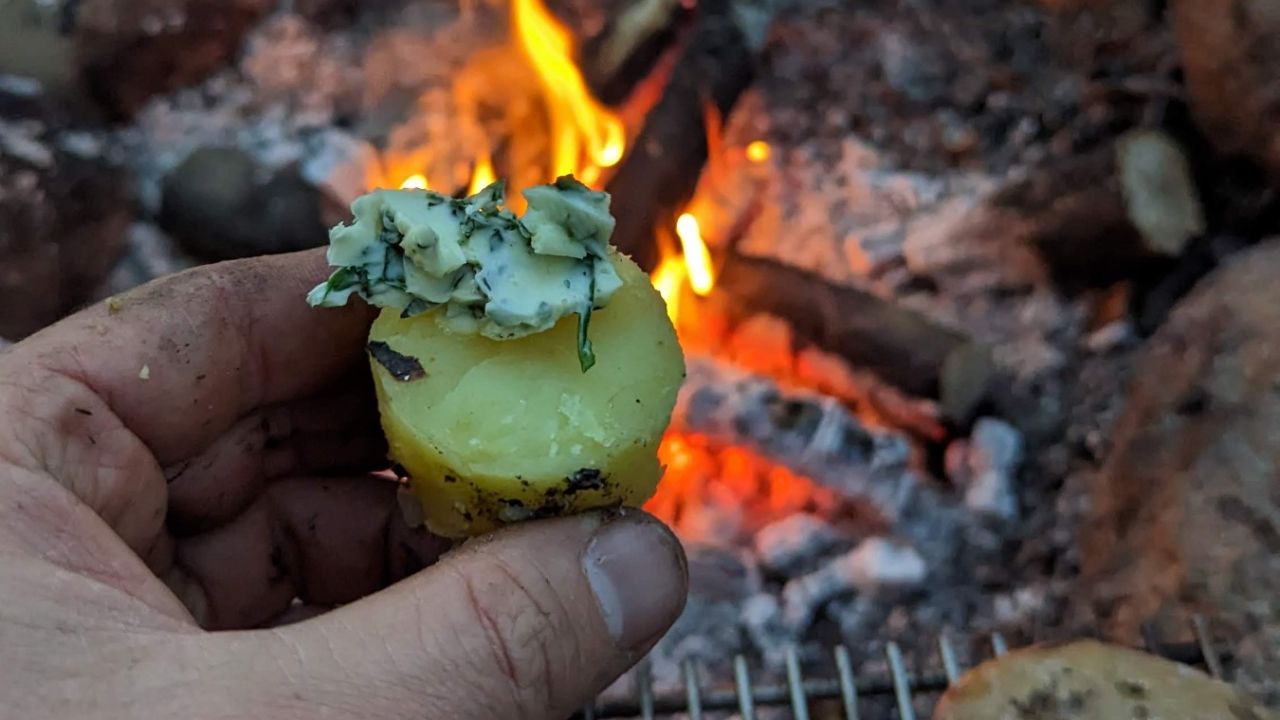 Preparation: Classic fried potato pan - the following ingredients are needed:
Potatoes, e.g., already diced
Lean ham pieces
Peeled and sliced onions
Olive oil
How it works:
Put potatoes in a pan
Sauté with olive oil and onions until they are slightly crispy
Then add pieces of ham and put everything in the storage containers as a snack for the hiking trail
Tip: Jacket potatoes (here's my recipe) are perfect for those who are looking for the adventure feeling by the campfire and want to enjoy a juicy, flavorful potato.
Serve some natural yogurt and chives, hummus or sour cream with it - that will make it an unforgettable culinary hiking snack experience for your children.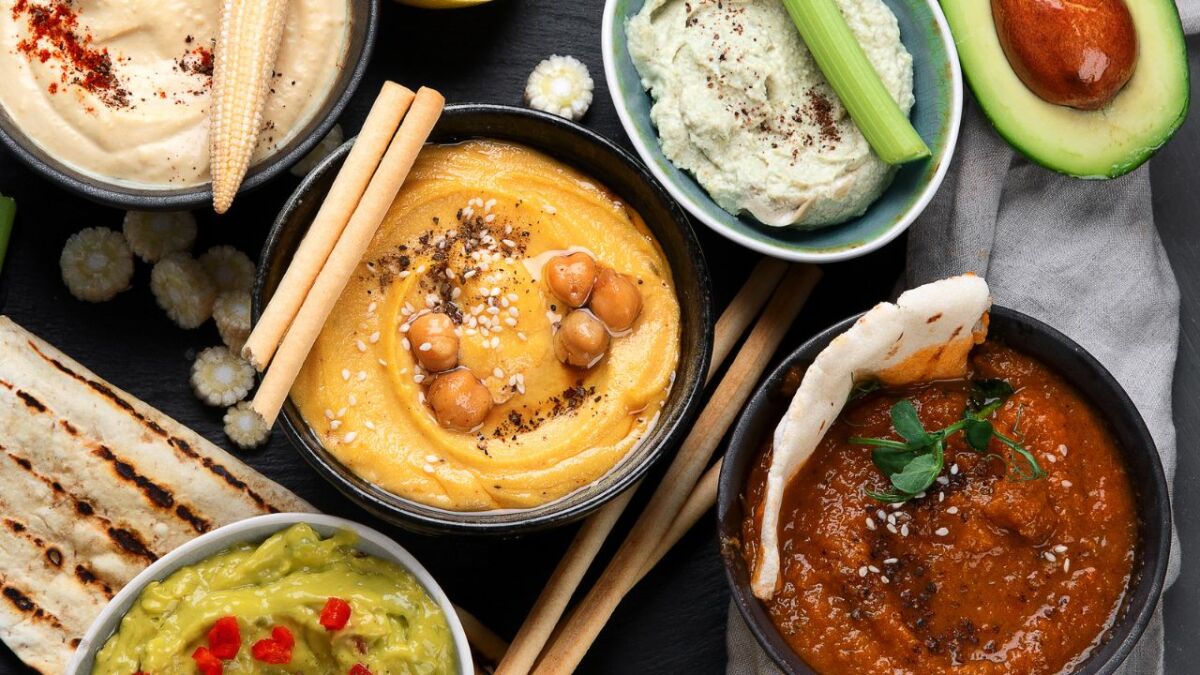 Children love it when they can prepare their meals. Offer them the opportunity to help with all snack ideas. They will enjoy the food even more.
You can find more potato recipes for your upcoming hiking trip here: "Potatoes with herb butterer" or "Simple grilled potato wedges".
Tip 8: Popcorn & Cookies - the sweet reward for little hikers
Every hike needs breaks. And a delicious dessert completes every good meal, even outdoors. Or rather - as a reward or "sweet sin" after a long hike in the fresh air.
To conclude the post, here are my favorite desserts that will please both young and old and make every hike even more enjoyable and fun.
Popcorn
Marshmallow skewers
S'mores
Cookies, Brownies & Muffins
Grilled chocolate banana
Popcorn is a classic snack that is always popular. It is easy to transport and can be made in many flavors.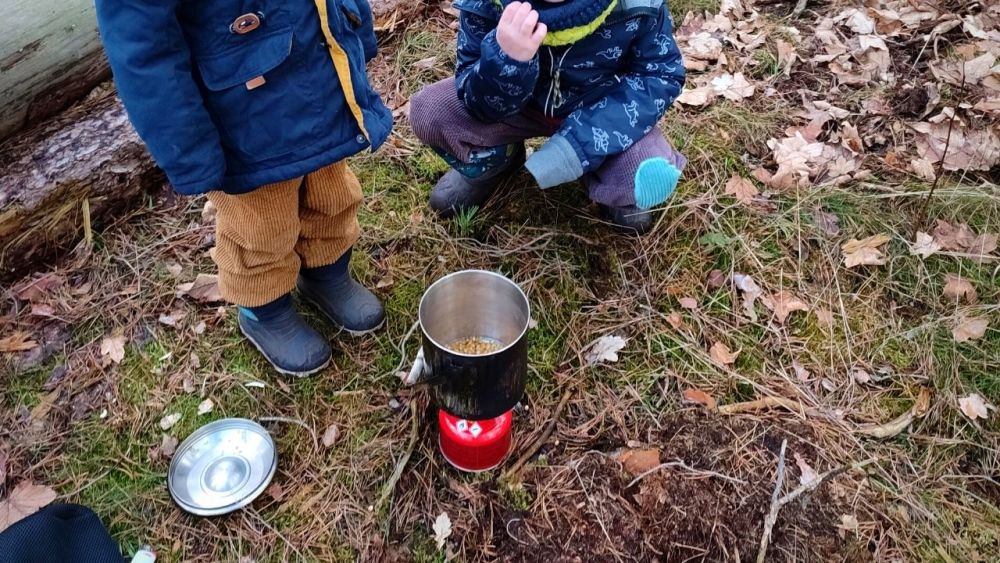 You can season it with salt, sugar, chocolate, or even cheese. It is a great type of sweet or savory snack that provides a lot of energy.
What is your favorite food for eating on the go while hiking with children? Do you have any other ideas? Write it in the comments!

Was this guide helpful?
13 people found this guide helpful.
5.00 out of 5 points (13 Ratings)