Back to german article
9 Recipes with Wild Herbs for Camping and Outdoor
These 9 delicious recipes with wild herbs bring the taste of the forest to your next camping trip. From crispy bread to aromatic soup.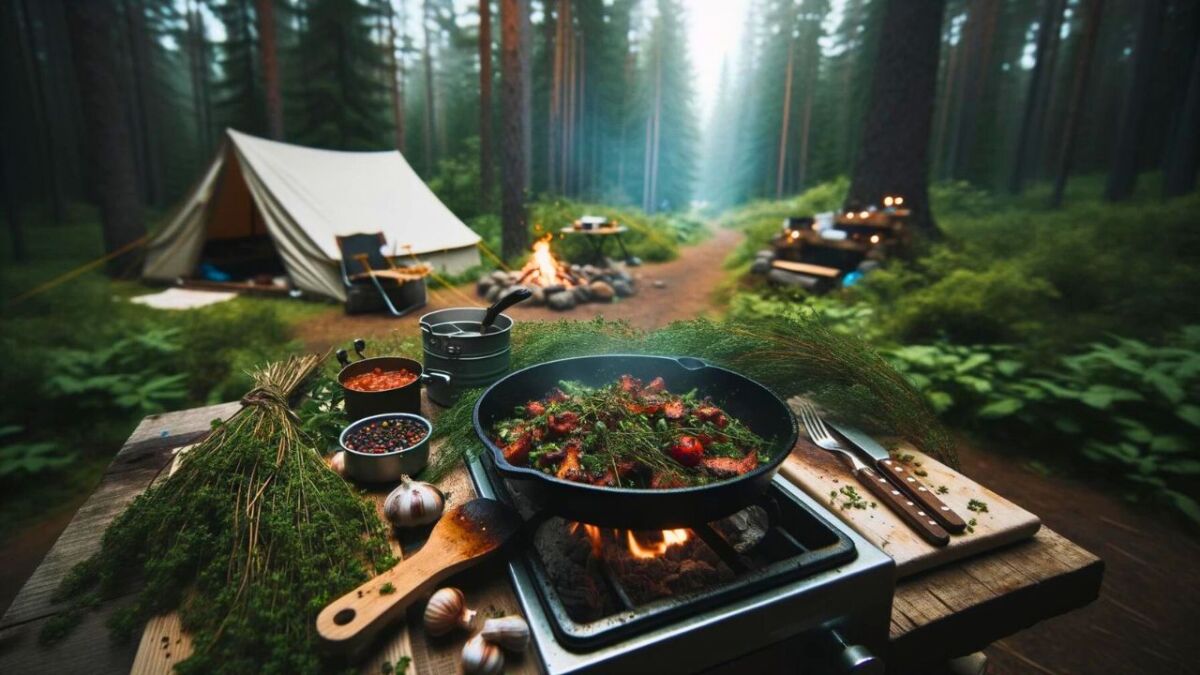 ---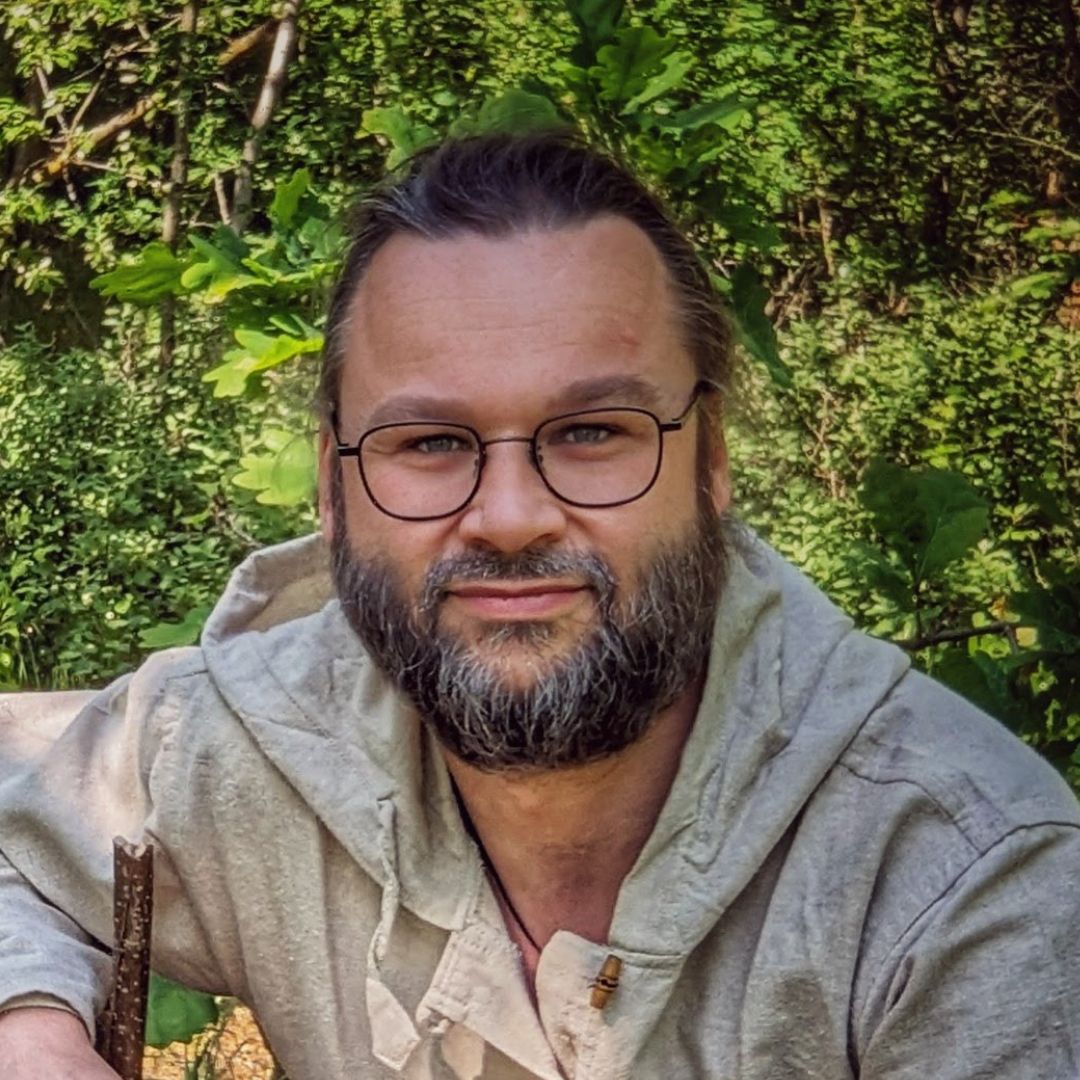 ---
👉 The key facts from this guide
You will find 9 delicious recipes for outdoor and camping here
The dishes can all be refined with wild herbs
There are recipes for pasta salad, wraps, curry, and more
Wild herbs bring vitamin-rich forest flavor
The preparation is also easy for beginners
Try the recipes on your next camping trip
You love being outdoors and camping in nature.
But often you lack inspiration and knowledge to be able to conjure up tasty dishes with wild herbs while camping?
That is annoying!
Finally, you want to take care of yourself outdoors and make the most of the vitamins of nature.
In addition, herbs provide variety to the same old provisions from the bag.
No worries, I have great news: Here are my 9 best recipes for delicious camping dishes with wild herbs.
Whether it's herbal soup, crunchy bread, or pasta - with these instructions, you can create tasty meals in the middle of nature.
So go ahead and try out my recipes. With them, you can quickly conjure up vitamin-rich delicacies from the forest and meadow.
For the wild herb enthusiasts: Why wild herbs are so healthy
You are absolutely crazy about wild herbs and prefer to collect them yourself in nature, right?
I'm glad because wild herbs are real powerhouses for your health!
Unlike vegetables from the supermarket, you can be sure that the wild herbs grow without pesticides or fertilizers.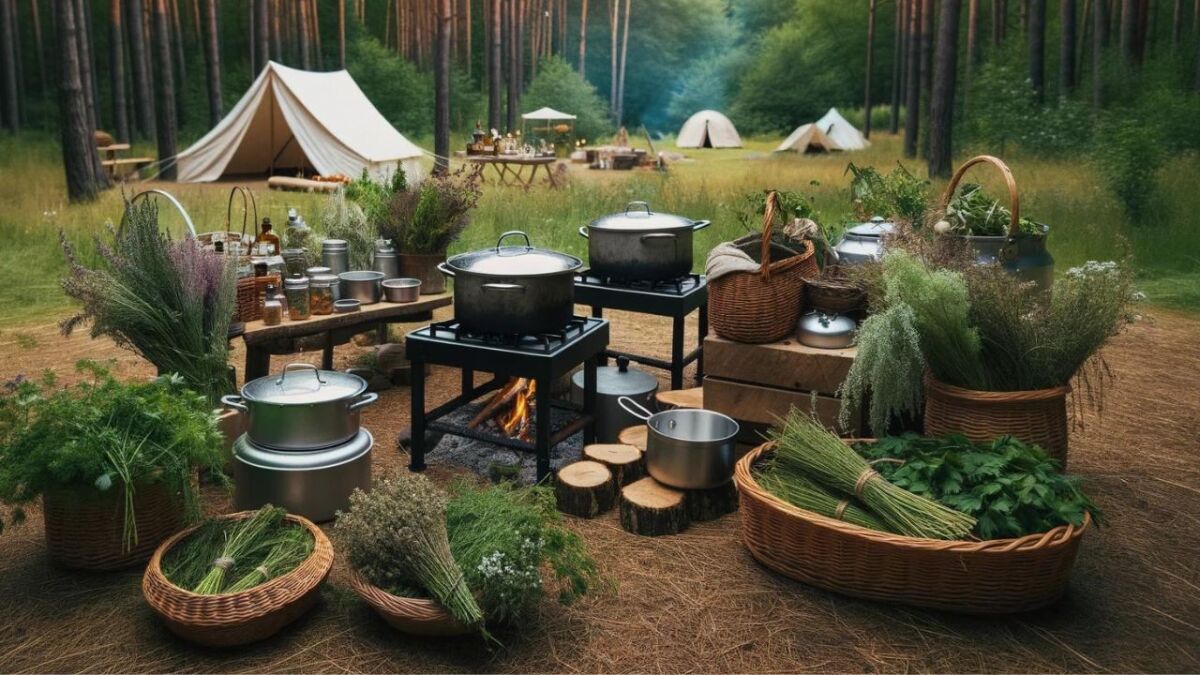 As a result, they are rich in vitamins, minerals, and secondary plant substances. This concentrated load of nutrients strengthens your immune system and prevents diseases.
In addition, many wild herbs contain essential oils and bitter substances that promote digestion. Your gastrointestinal tract will thank you!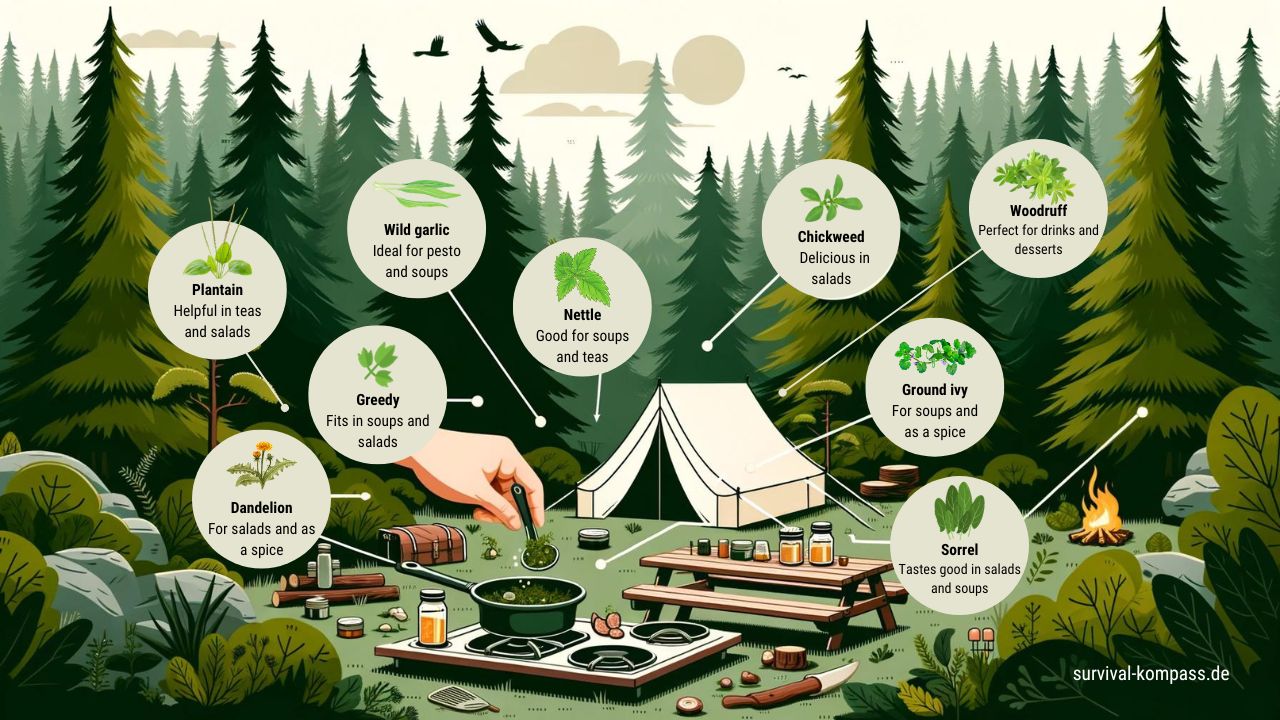 I think it's great that you're enthusiastic about these natural powerhouses. You're doing your body a real favor.
Let's now take a look at 9 delicious recipes that you can cook outdoors and that are excellent for enhancing with wild herbs.
1. Wilderness Gourmet: The Pasta Salad for Adventurers
Ah, the forest - my second home!
Where civilization ends, the real life begins for us outdoor enthusiasts.
You are here not only to read, but to discover the culinary delights of nature. So unpack your outdoor cooking equipment. It's going to be delicious and natural.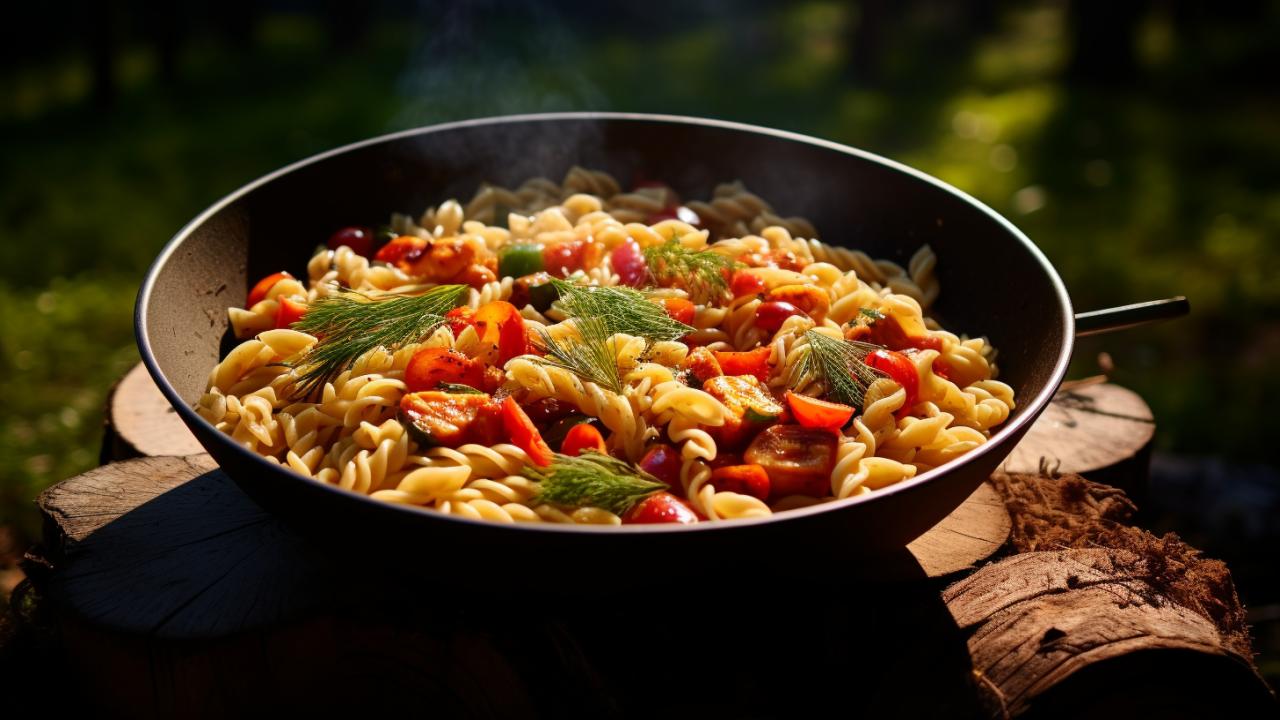 Preparation time: 25 minutes
Cooking time: 10 minutes
Total time: 35 minutes
Difficulty: Easy, like a walk in the forest
For: 2 people
Ingredients
200 g of your favorite pasta
Vegetables of your choice (bell peppers, tomatoes, cucumbers, etc.)
Olive oil
Vinegar
Salt
Pepper
Instructions
Cook the pasta, but only until firm and slightly chewy. That's like setting up a tent: stable, but not stiff!
Grab the vegetables you have or like. Cut them into bite-sized pieces.
For an extra kick, briefly fry the vegetables. It's like breaking in your hiking boots - it makes everything better!
Mix everything together and drizzle olive oil and vinegar over it. Salt and pepper for seasoning - nature likes variety too!
Stir and enjoy!
These wild herbs go well with this recipe
Do you want more nature in your salad? No problem! Fresh wild herbs like dandelion, nettle, or ground elder are not only healthy, but also bring the taste of the forest directly to your bowl.
Dandelion for a bitter note. Chickweed for the salad. Nettles for more iron.
For vegans: Replace pasta with chickpeas and pimp the dressing with lemon juice and tahini. This will make your salad the vegan highlight!
2. Wilderness Wok: The Bulgur Bowl with the Kick of Wild Herbs
You love the wilderness and are looking for a meal that satisfies both your soul and your stomach?
Then this Bulgur Bowl is just right for you. In half an hour, you'll be full and happy, and you'll have plenty of time to enjoy the forest and its treasures.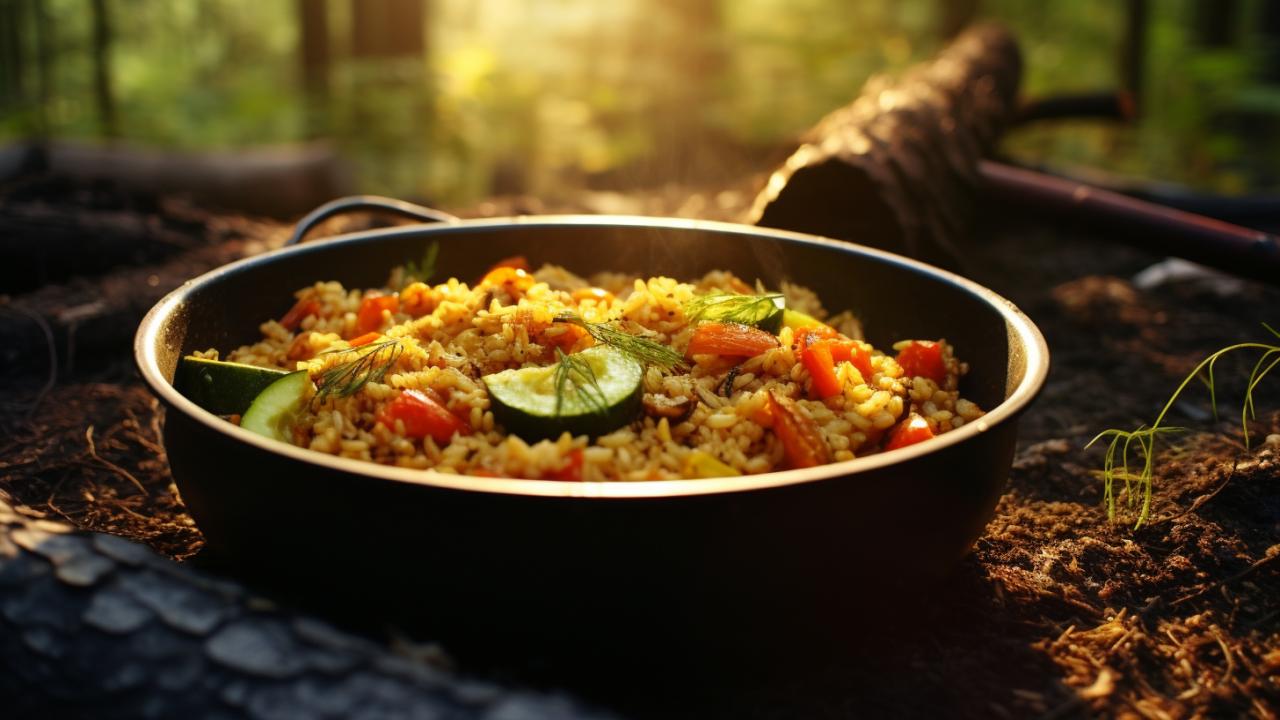 Preparation time: 30 minutes
Cooking time: 10 minutes
Total time: 50 minutes
Difficulty: Medium
Serves: 2 people
Ingredients
200 g bulgur
vegetables of your choice (e.g., bell pepper, zucchini)
2 tbsp hummus
2 tbsp soy sauce
Instructions
Cook the bulgur according to the instructions on the package.
While the bulgur is cooking, sauté the vegetables.
Season the vegetables with soy sauce.
Mix the bulgur and the vegetables in a bowl.
Add the hummus and mix everything well.
These wild herbs go well with it
Now comes the real bushcraft touch! You can give your bulgur bowl a personal touch by adding wild herbs.
Nettle, dandelion or wild garlic go great with it. These herbs are not only delicious, but also full of nutrients that will make you fit for your next adventure.
This is more than just a recipe; it's a ticket to the treasures of nature, right on your plate. So pack your bags, head to the forest, and enjoy your meal.
3. Nature-friendly Wraps with Wild Herb Peanut Sauce
Our Forest Friend Wraps with Peanut Sauce are the perfect companion for your next outdoor adventure.
In just 20 minutes, you can create a dish that is both delicious and nutritious. Perfect for a quick refuel between hiking and camping!
Try it out and bring nature directly to your plate.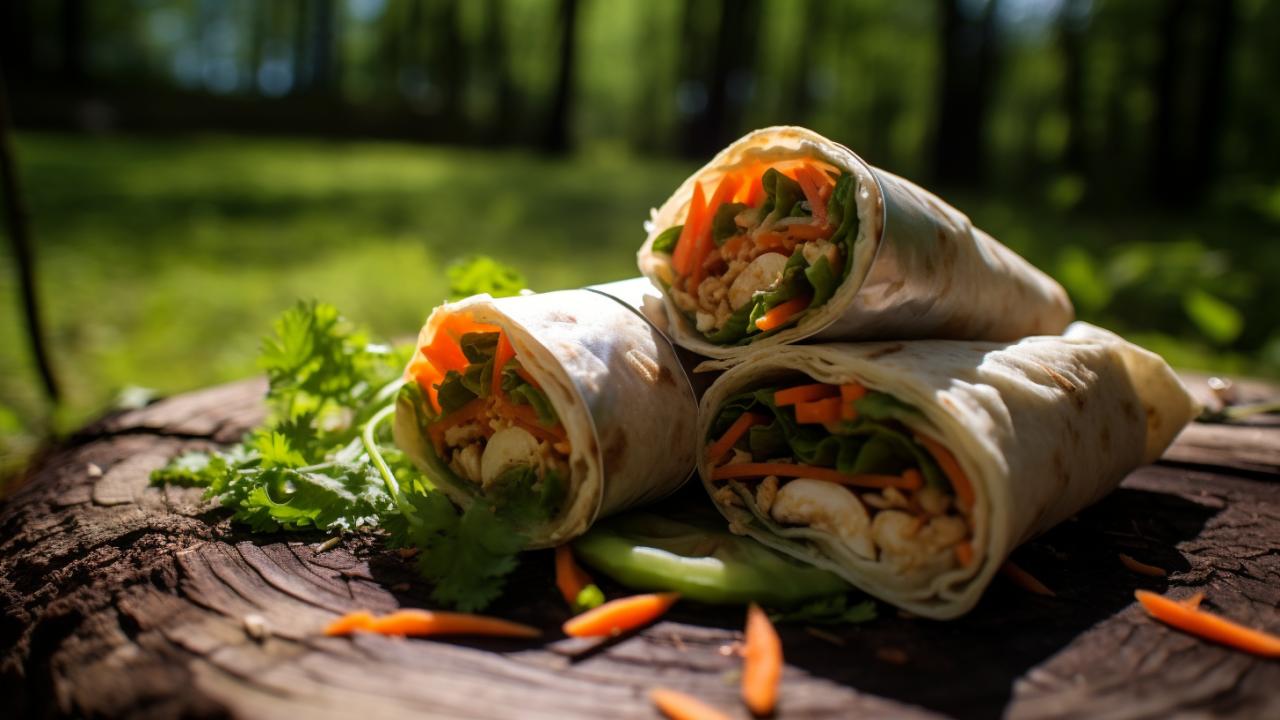 Preparation time: 15 minutes
Cooking time: 5 minutes
Total time: 20 minutes
Difficulty: Easy
Serves: 2 people
Ingredients
Tortilla wraps or large lettuce leaves for a vegan option
Fresh vegetables (carrots, bell peppers, cucumbers)
Peanut sauce (store-bought or homemade)
Optional: Tofu or tempeh for a protein source
Wild herbs of choice (nettle, dandelion, ground elder)
Instructions
Grab a pan and heat the wraps slightly, or do it like a true adventurer and warm them over the campfire.
Cut the vegetables into strips.
If using tofu or tempeh, fry them.
Place the vegetables and tofu/tempeh on the wrap.
Add some peanut sauce on top.
Roll up the wrap and enjoy it to the fullest!
These wild herbs go well with this recipe
Nettle: Gives the wrap a hearty, nutty flavor.
Dandelion: Adds a slightly bitter note that pairs well with the vegetables.
Ground elder: Adds a mild spiciness and is super healthy.
Meadow sage: A pinch of it beautifully rounds off the taste.
The forest offers us more than just a backdrop for adventures. It also provides us with ingredients that can transform a simple meal into a forest feast.
Use what nature offers you and become an outdoor gourmet.
4. Wanderlust Quinoa Salad: Your Energy Boost in the Wilderness
Hey, you adventurer. Do you want to cook something simple and delicious in the outdoor paradise?
Then dive into the forest with me and let's make the Wanderlust Quinoa Salad together.
This is not only nutritious, but also super quick to make. So, let's get started!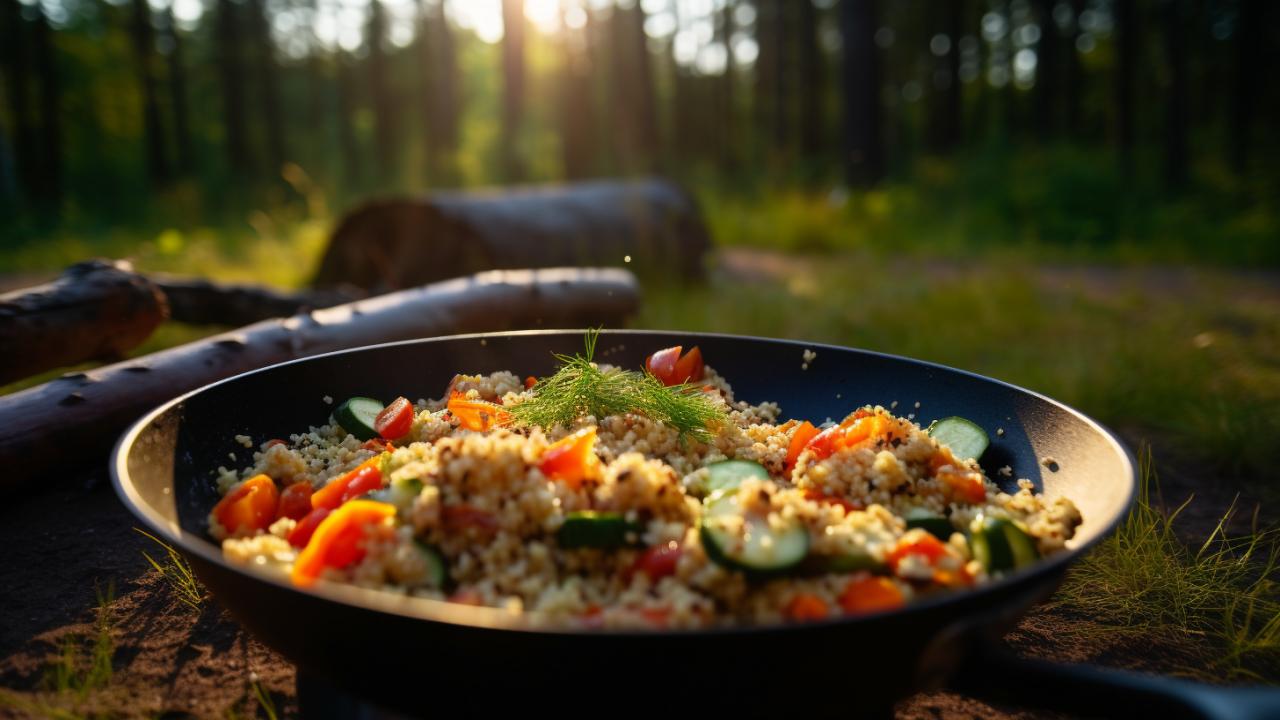 Preparation time: 30 minutes
Cooking time: 15 minutes
Total time: 45 minutes
Difficulty: Easy
Serves: 2 people
Ingredients
Quinoa (1 cup (0.24 l))
Fresh vegetables of your choice (bell pepper, cucumber, carrots)
Olive oil (3 tablespoons)
Lemon juice (1 lemon)
Salt and pepper
Instructions
Cook quinoa: Throw one cup of quinoa into two cups of water and bring to a boil. Then reduce the heat and let it simmer for about 15 minutes. When it looks like a little ocean full of pearls, it's done.
Chop vegetables: While the quinoa is cooking, you can chop the vegetables. No matter which vegetables you choose, the sky is the limit!
Create dressing: Mix olive oil, lemon juice, salt, and pepper in a bowl.
Mix everything: Drain the quinoa and mix it with the vegetables and dressing in a large bowl.
Gourmet tip: For a Mediterranean touch, you can also add olives and dried tomatoes. Your stomach will rejoice!
These wild herbs go well with this recipe
Wild garlic: For a fresh garlic flavor without ruining your breath.
Ground elder: Adds a spicy and slightly sweet note.
Dandelion leaves: For a tangy, slightly bitter variation.
Ground ivy: for a subtle seasoning.
There you have it: A recipe that not only fills your stomach, but also your soul. And you know, in the wilderness, food is not just sustenance, it's a part of the great adventure!
So pack your things and head into the forest. The next culinary highlight awaits there.
5. Flatbread with Garlic Twist for Campfire Romance
Sure, flatbread, and garlic are great on their own. But combined? A real taste experience.
Ideal for starry nights by the campfire, where the forest becomes a second home.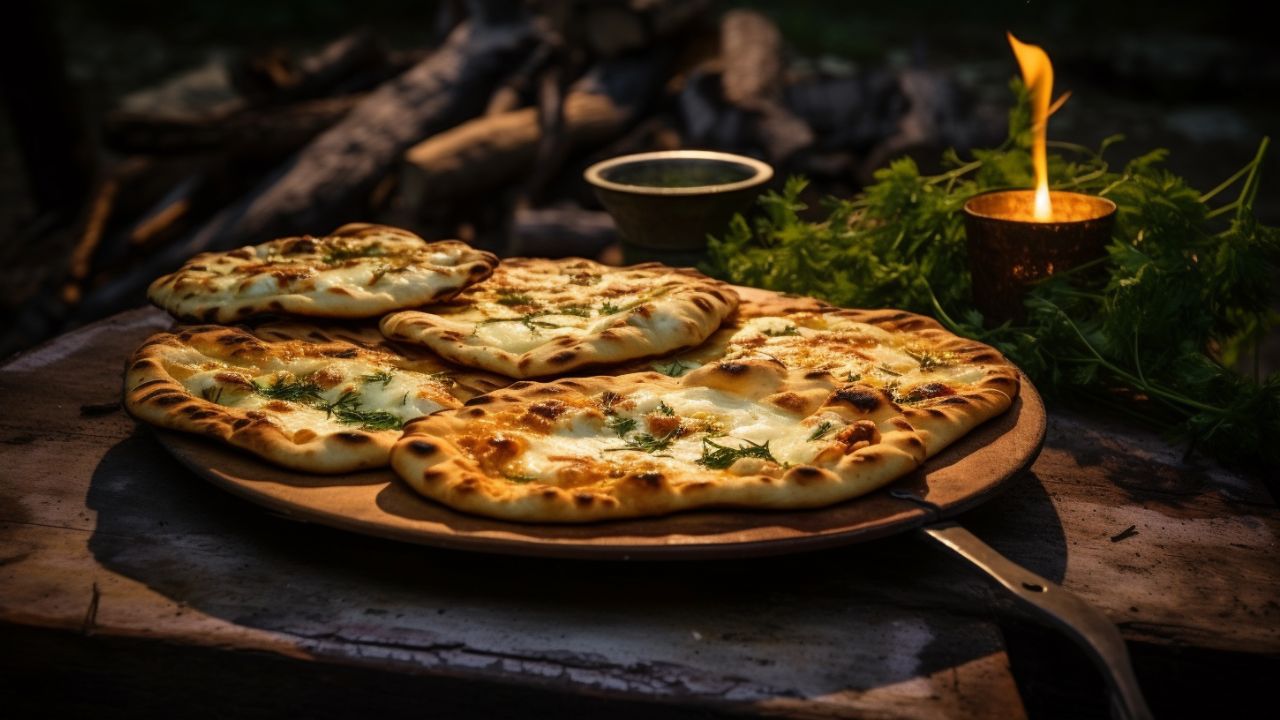 Preparation time: 5 minutes
Cooking time: 5 minutes
Total time: 10 minutes
Difficulty: Easy
Serves: 2 people
Ingredients
1 soft flatbread
4 cloves of garlic
50 ml olive oil
Instructions
Preheat the campfire.
Crush the garlic cloves and mix them with olive oil.
Spread the garlic-oil mixture on the flatbread.
Place the bread on the grill grate and bake it until crispy.
These wild herbs go well with this recipe
Wild garlic and wild thyme take flatbread to a whole new level. Wild garlic adds a delicate garlic flavor, while wild thyme adds an earthy spice. Simply chop them finely and stir them into the olive oil.
And there you have it: A simple, yet ingenious recipe that brings the forest to you or takes you to the forest.
So, grab a piece of flatbread, listen to the crackling of the fire, and feel one with nature. Enjoy your meal!
6. Wilderness Sausage Spaghetti: The One-Pot Hit for the Campfire
Do you feel like experiencing Italian flair in the forest?
Imagine sitting by the campfire and conjuring up a gourmet meal with simple ingredients. Yes, it's possible! And all in just one pot. Get ready for Wilderness Sausage Spaghetti.
Preparation time: 45 minutes
Cooking time: 30 minutes
Total time: 75 minutes
Difficulty: Medium
Serves: 2 people
Ingredients
1 tbsp olive oil
1 large onion, finely chopped
2 cloves of garlic, finely diced
200 g spicy Italian sausage, crumbled
680 g tomato sauce
6 cups (1.42 l) of water
Salt and pepper, to taste
450 g thin spaghetti
1/2 cup fresh basil, chopped
1/2 cup fresh Parmesan, grated
Instructions
Grab all the ingredients and utensils.
Heat a large pan or Dutch oven. Whether on a campfire or a gas stove.
Add the oil to the pot.
Once the oil is warm, add the onion and garlic. Stir until they are soft.
Now add the sausage. Crumble it and cook it almost through.
Add tomato sauce, water, salt, and pepper and bring everything to a boil.
Break the spaghetti and stir into the sauce.
Reduce heat and simmer. Spaghetti should be done in about 10 minutes.
Serve with basil and Parmesan. Delicious!
These wild herbs go well with this recipe
Are you such a nature lover like me? Then add wild herbs.
Nettles add a nutty kick.
Dandelion leaves provide an earthy note.
And ground elder? It's a secret star in forest cuisine and brings a subtle spiciness to the table.
A bit of ground ivy for a light seasoning.
Enjoy it and let the forest be your kitchen.
7. Forest figs filled with goat cheese and thyme-honey syrup
Do you like to wander through the forest and sniff the fresh air? Of course, I do too.
Good snacks are part of it. This recipe for forest figs is a delight and connects you even more with nature.
Sweet figs meet savory goat cheese and are enhanced with a thyme-honey syrup. That's pure forest magic in your mouth.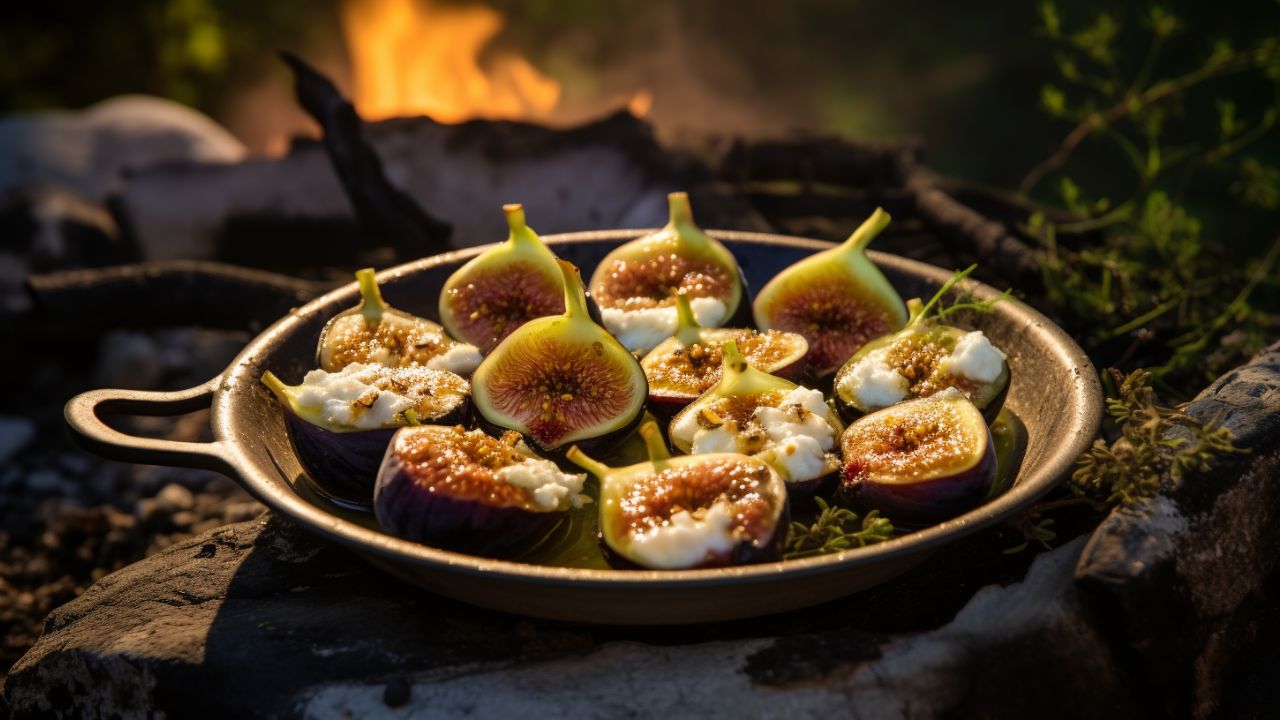 Preparation time: 15 minutes
Cooking time: 15 minutes
Total time: 30 minutes
Difficulty: easy
Serves: 2 people
Ingredients
8 ripe figs
200 g goat cheese
4 tbsp honey
4 sprigs fresh thyme
Instructions
Preheat oven or pan with lid to about 180 degrees.
Wash the figs, make a cross-shaped incision. But not all the way through.
Put a piece of goat cheese in each fig.
Place figs on baking sheet / in pan.
Drizzle honey and thyme leaves over them.
Bake for 15 minutes until the cheese melts and lightly browns.
Let cool briefly and then enjoy.
These wild herbs go well with this recipe
If you want to enhance the taste of the forest, try adding these wild herbs:
Wild garlic for a light garlic flavor
Wild oregano for seasoning
Ground elder for a slightly sweet and savory note
Doesn't that sound like music to the ears of a forest dweller? I'm telling you, give it a try. It won't disappoint you.
8. Forest-style fried potatoes with bacon crunch: A recipe for adventurers
Believe me, nothing smells as good as fried potatoes and bacon amidst spruce and fir trees.
If the forest is your second home like mine, you will love this simple yet delicious recipe.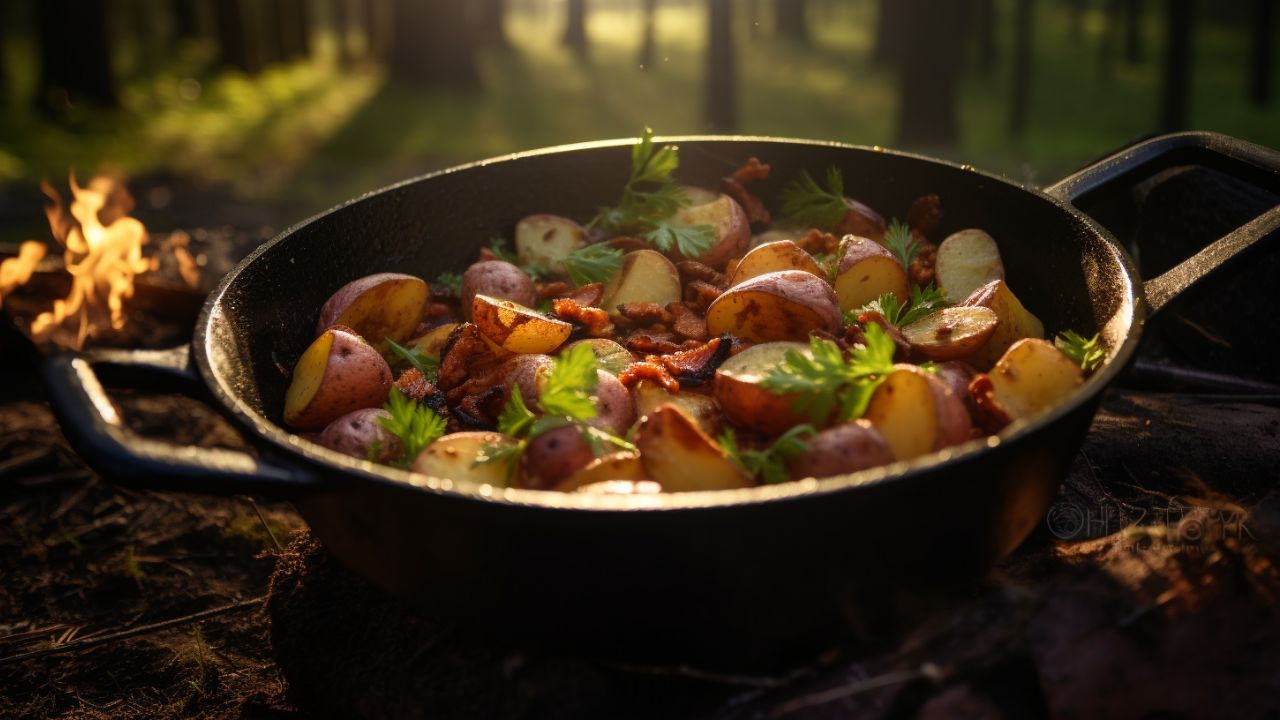 Preparation time: 60 minutes
Cooking time: 30 minutes
Total time: 90 minutes
Difficulty: medium
Serves: 2 people
Ingredients
500 g potatoes
2 onions
100 g bacon
Half a tablespoon of salt
Half a teaspoon of pepper
2 tablespoons of fresh wild herbs
Instructions
Peel the potatoes and cut them into slices.
Peel the onions and cut them into rings.
Cut the bacon into cubes.
Heat a pan and fry the bacon until crispy.
Add the potatoes and onions and mix well.
Sprinkle salt, pepper, and wild herbs over it.
Cook over medium heat until the potatoes are golden brown.
Your forest meal is ready. Enjoy!
These wild herbs go well with this recipe
Pick fresh herbs directly from the forest. Wild garlic, Parsley, Thyme, and Rosemary are great companions for this dish.
9. Scrambled Eggs from the Forest: A Culinary Adventure for Nature Lovers
There is hardly anything better than turning the forest into a kitchen studio.
Imagine being surrounded by trees, and your stove is a campfire. Here I will show you how to prepare a delicious scrambled eggs with forest mushrooms and wild herbs.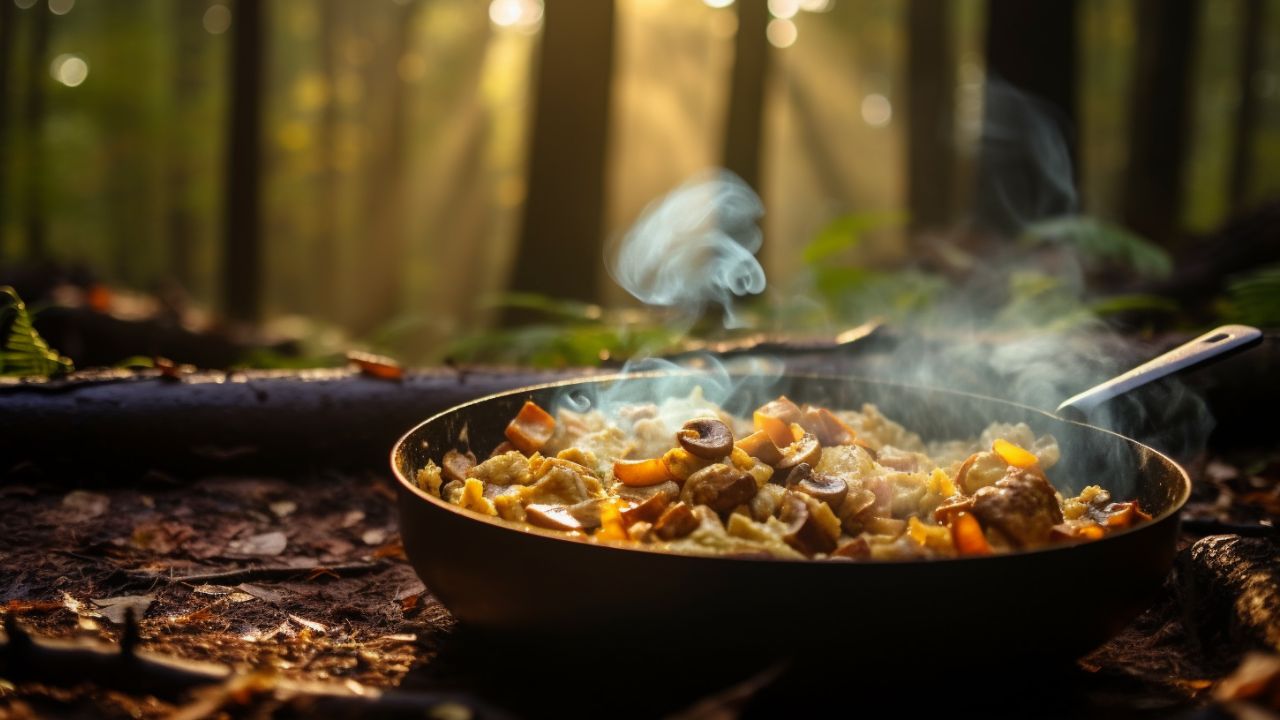 Preparation time: 45 minutes
Cooking time: 15 minutes
Total time: 60 minutes
Difficulty: easy
Serves: 2 people
Ingredients
4 eggs
200 grams of forest mushrooms, maybe self-collected
1 onion
2 cloves of garlic
salt and pepper to taste
2 tablespoons of vegetable oil
Instructions
Collect the forest mushrooms and clean them. Then slice them.
Chop the onion and garlic finely.
Heat the oil in your outdoor pan.
Add the onion and garlic to the oil and sauté.
Add the mushrooms and fry until soft.
Crack the eggs into a bowl and season them.
Pour the eggs over the mushroom mixture and stir until the egg sets.
Serve your forest scrambled eggs hot and feel like a true outdoor chef.
These wild herbs go well with this recipe
Nettle, ground elder, and wild garlic are the true stars of the forest when it comes to wild herbs.
A few leaves mixed into your scrambled eggs, and you have a culinary masterpiece straight from nature.
Bonus: Savory Bean-Spinach Curry for Your Next Wilderness Adventure
In the wilderness, one must rely on their senses. But why not also rely on their taste?
Imagine sitting by the campfire, enjoying this bean and spinach curry that warms the heart and soul.
Quick to make and full of flavor, this dish is your perfect companion for an outdoor adventure.
Preparation time: 10 minutes
Cooking time: 25 minutes
Total time: 35 minutes
Difficulty: easy
Serves: 2 people
Ingredients
1 can of beans
1 can of chickpeas
150 g fresh spinach
1 small onion
2 cloves of garlic
2 tbsp curry paste
100 ml water
Instructions
Chop onions and garlic finely. Wash the spinach and roughly chop it.
Heat a pan over medium heat. Add a little oil.
Sauté onions and garlic until they are soft.
Add curry paste and stir briefly.
Rinse beans and chickpeas. Add them to the pan.
Now it's time for the spinach. Stir until it wilts.
Add 100 ml of water. If you like, you can add more.
Let everything simmer for 10–15 minutes.
These wild herbs go well with this recipe
Wild garlic: For an extra garlic kick
Ground elder: Replaces parsley and has a spicy note
Nettle: For more iron and an earthy taste
Now you know how to conjure up something delicious in the wilderness. Do you want the full recipe and even more ideas for your outdoor kitchen?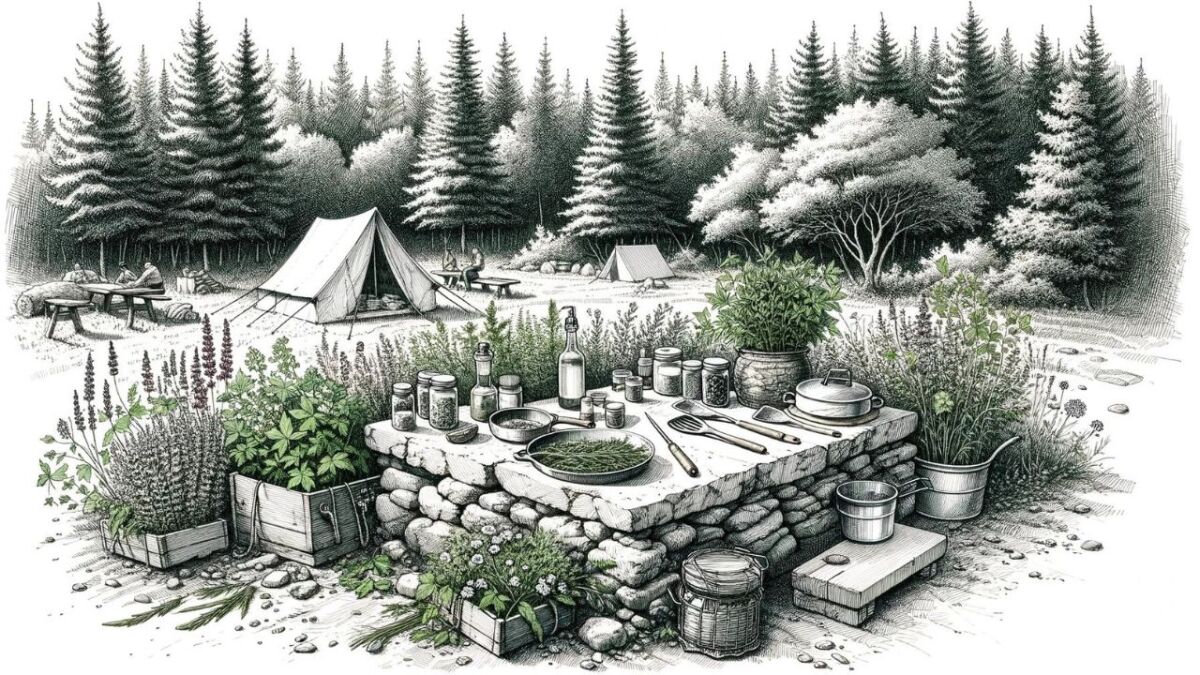 The Compendium of Wild Delights: 9 Outdoor Recipes with Wild Herbs
I hope you enjoyed the guide with 9 delicious recipes for your next outdoor adventure.
Whether it's pasta salad, flatbread, or curry - it simply tastes best in nature when enhanced with wild herbs.
I have already written extensively about many of the wild herbs, such as:
Thank you for staying until the end.
I wish you many beautiful hours by the campfire, exciting explorations through the forest, and unforgettable experiences in the wilderness.
👉 Read also: 45 no-cook camping food ideas and 7 recipes for your next outdoor adventure

Was this guide helpful?
11 people found this guide helpful.
5.00 out of 5 points (11 Ratings)