Back to german article
The best crank radios 2023: Perfect for outdoor adventures and power outages
Outdoor-suitable and crisis-proof: Our recommendations for the best crank radios. Discover the best crank radios in our comparison (with buying guide).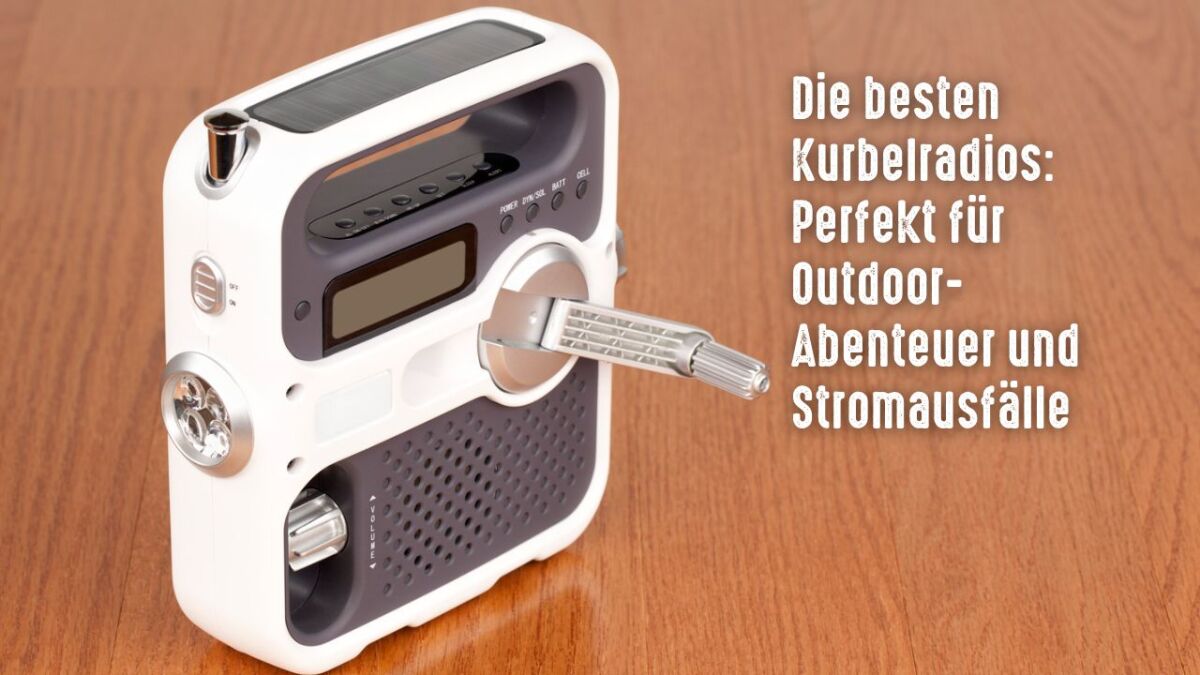 ---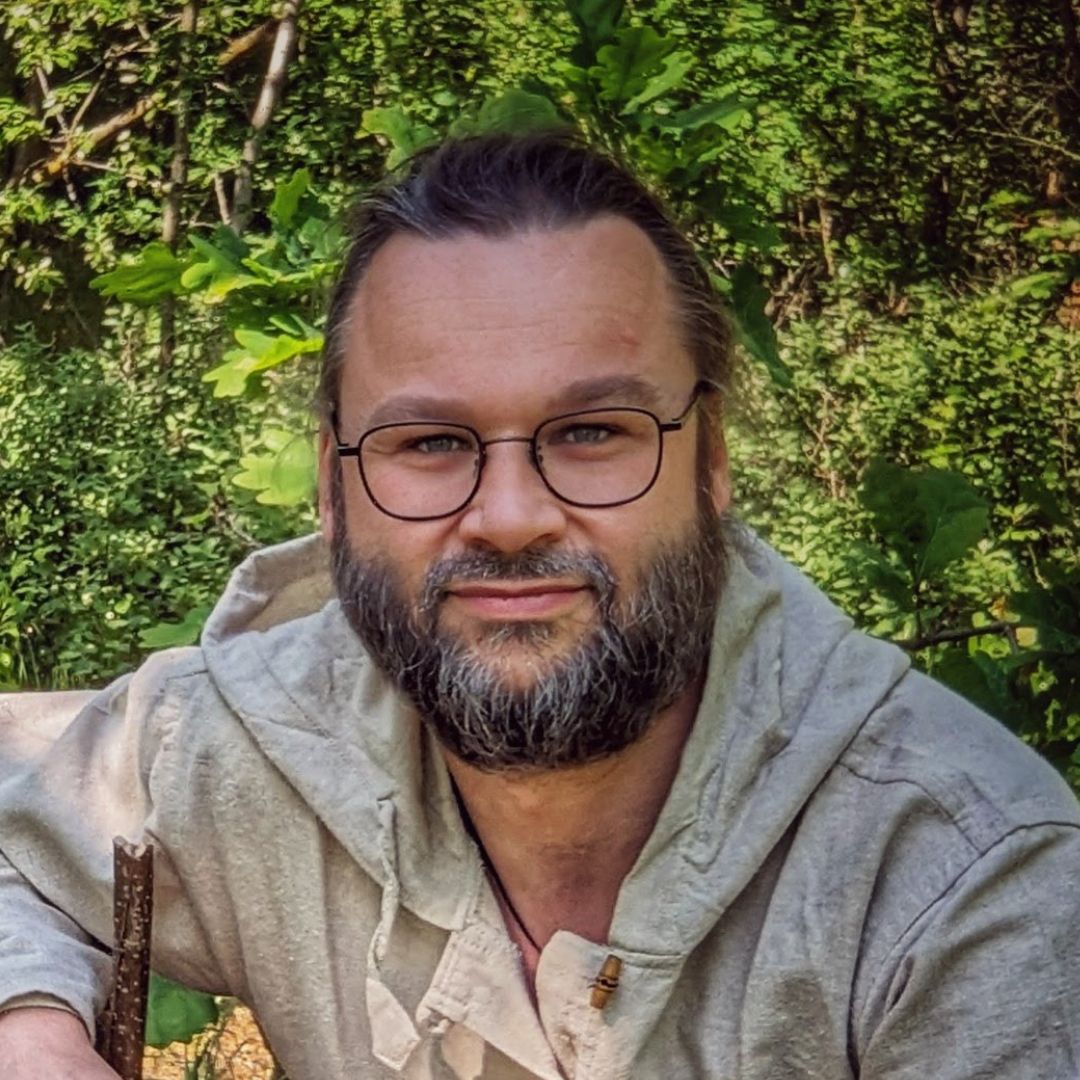 ---
👉 The key facts from this guide
A crank radio is a radio that does not rely on conventional energy sources. It uses alternative sources of energy such as a hand crank, solar cells or batteries to function even in exceptional situations.
Crank radios enable you to receive news and information, especially during crises or power outages.
Midland ER300: This crank radio is my favorite due to its durability and versatile uses, including a 130 lumen LED flashlight, an ultrasonic dog whistle, and an SOS Morse code function.
Crank radios come in different price and weight classes, and with different functions. Your personal needs and preferences determine which model suits you best.
Many crank radios allow additional functions such as an integrated flashlight, an SOS function, or serving as a mobile power bank.
Crank radios are ideal for outdoor activities such as camping and bushcraft, but also for emergency and crisis preparedness.
You know exactly how important it is to always stay informed - especially in uncertain times.
Power outages and crises can happen at any time, and when they do, it's important to have access to news and information.
But what happens when the power goes out and you no longer have access to your television or radio? That can be a real challenge.
The problem is clear: How do you stay informed when the power goes out?
Crank radios are the perfect solution for this problem. They are independent of electricity and still allow you to receive news and information.
They are also ideal for outdoor adventures where you don't have access to electronic devices.
In this article, I will introduce you to my best crank radios that are perfect for crises and power outages.
Let's go through the best models together and find out which one suits you best.
Crank Radio Overview: Which crank radios are the best?
So that you know exactly where you stand, we start with the top recommendation of this article.
My recommendation: The Midland ER300
The Midland ER300 hand-crank radio (buy here) clearly emerges as the favorite in this comparison.
The reasons for this are diverse, primarily the combination of resilience and numerous possible uses. A 130 lumen LED flashlight, an ultrasonic dog whistle, and the SOS Morse code function make the Midland ER300 a true all-rounder among crank radios.
Versatile, robust, easy to use - these three characteristics make the Midland ER300 stand out, and for that reason, I highly recommend it!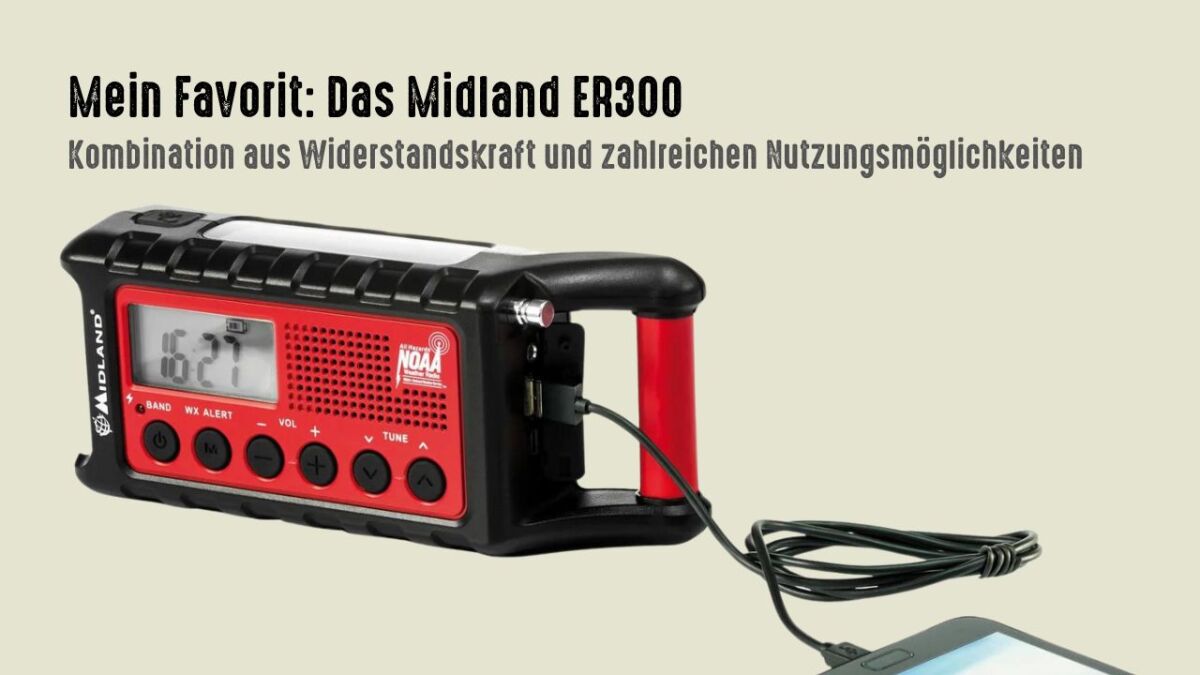 The 7 Best Crank Radios Overview
Here is my top list of the best crank radios. Click on the link and you will be taken to Amazon.
| | | |
| --- | --- | --- |
| Crank radio | Power source | Price |
| Midland ER300 | Battery, solar, rechargeable battery, crank | $$ |
| Midland ER200 | Battery, solar, rechargeable battery, crank | $$ |
| Eton – American Red Cross FRX3+ | Battery, solar, USB, crank | $$ |
| NOAA Weather Alert Radio | Battery, solar, USB, crank | $$$ |
| Nigecue Solar Radio | Battery, solar, rechargeable battery, crank | $ |
| Sangean MMR-88 Survivor M8 Radio | Hand crank, micro-USB, solar | $$$ |
| Kaito Voyager Pro KA 600 | Rechargeable battery, dynamo crank, solar, USB, AC adapter | $$$ |
Crank radios are difficult to categorize. You can find them in various price and weight classes, as well as with different gadgets.
As with almost any purchase, your personal situation and preferences in particular will determine which model you ultimately choose at the end of this article.
However, what counts for every article is the added value that you can gain from it.
So let's proceed step by step and make sure that you can make the purchase decision that will make you happy at the end of the day.
What exactly is a crank radio?
A crank radio is a radio that is not dependent on the typical power supply, but instead makes use of other power sources to be able to fulfill its service even in exceptional situations.
But that doesn't mean you have to constantly turn the hand crank to make the radio work.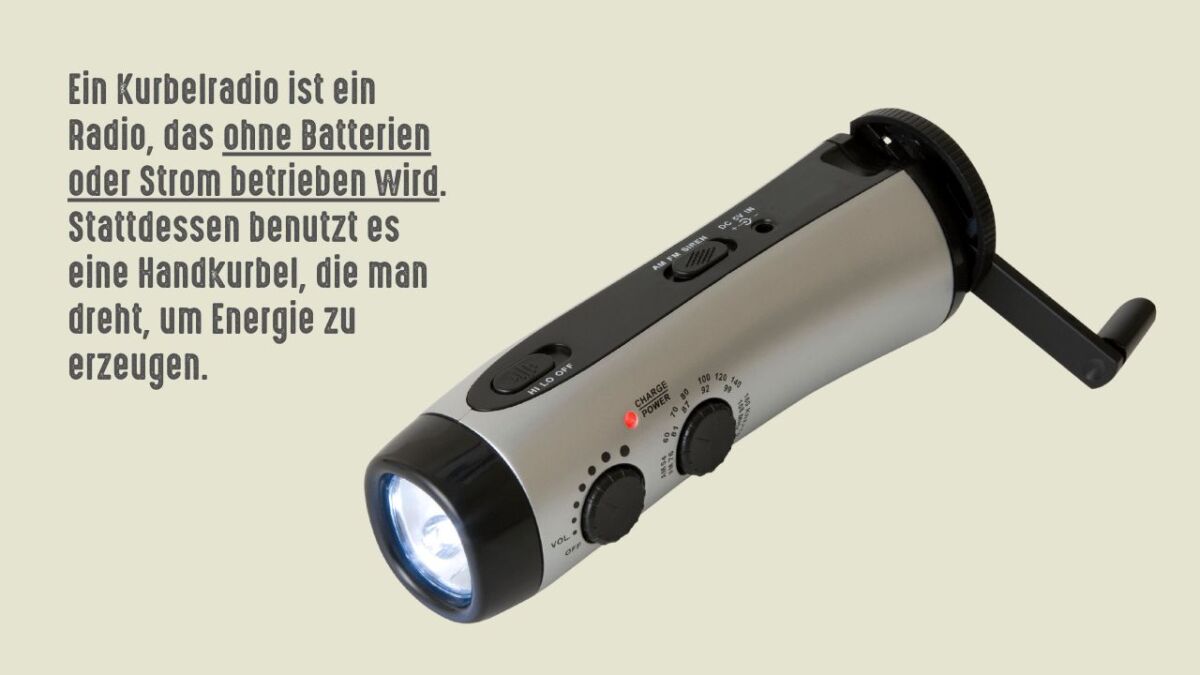 Usually, the crank radio (also known as emergency radio) is equipped with a battery, which you can charge either in the conventional way or by cranking.
The system of a crank radio is based on a dynamo, which you may already know from your bicycle. When you crank it, you operate the dynamo and thus supply the radio with the energy it needs.
However, the term "crank radio" is often misleading and suggests that this is the only way to supply energy. This is, especially in today's world, incorrect.
Many crank radios or emergency radios often have solar cells or other additional energy sources.
Furthermore, most emergency radios do not limit themselves to the basic function of "listening to the radio", but also come with additional gadgets.
Whether it's a mobile power bank, built-in flashlight, or SOS function, with the right emergency radio, you often have a whole range of additional features that can help you out of a jam in an emergency.
Who are crank radios suitable for?
Crank radios or emergency radios are suitable for everyone in principle. You can usually use them anytime and anywhere, regardless of what circumstances you are currently in.
Of course, they were primarily designed for outdoor activities and emergency scenarios, such as:
Camping
Bushcraft
Survival scenarios
Emergency/crisis preparedness
Developed, which makes them particularly suitable for it.
If you are interested in camping, trekking, and bushcraft, or simply want to prepare for an emergency scenario, crank radios are perfect for you.
Of course, this also applies if you simply have a desire for a robust radio with numerous additional gadgets.
What types of crank radios are there?
Emergency radios can be primarily distinguished by their power supply (not to mention the crank).
Crank: The classic crank radio relies entirely on your muscle power, as no other means of energy supply is available. You will actually have to crank the handle regularly. Such crank radios have become relatively rare nowadays.
Crank and battery: The crank radio with battery compartment, on the other hand, still allows you to use batteries for power supply. Of course, the crank is still available for all cases, in case no batteries are available, or they are depleted.
Crank, battery and solar: The crank radio with solar additionally has one or more solar panels that you can use for power supply. Usually, there are still batteries available as well as the crank in any case.
You see, except in the classic crank radio, the crank is almost exclusively used as an emergency solution when nothing else works.
It is also expected that crank radios will continue to evolve and incorporate numerous new additional gadgets into their repertoire. So, we can be excited about what is yet to come!
What can a crank radio be used for?
Basically, a crank radio is used for the same purpose as standard radios: to receive signals, especially from radio stations, to obtain important information.
This is particularly useful in emergencies, or in places where mobile phone reception is almost non-existent.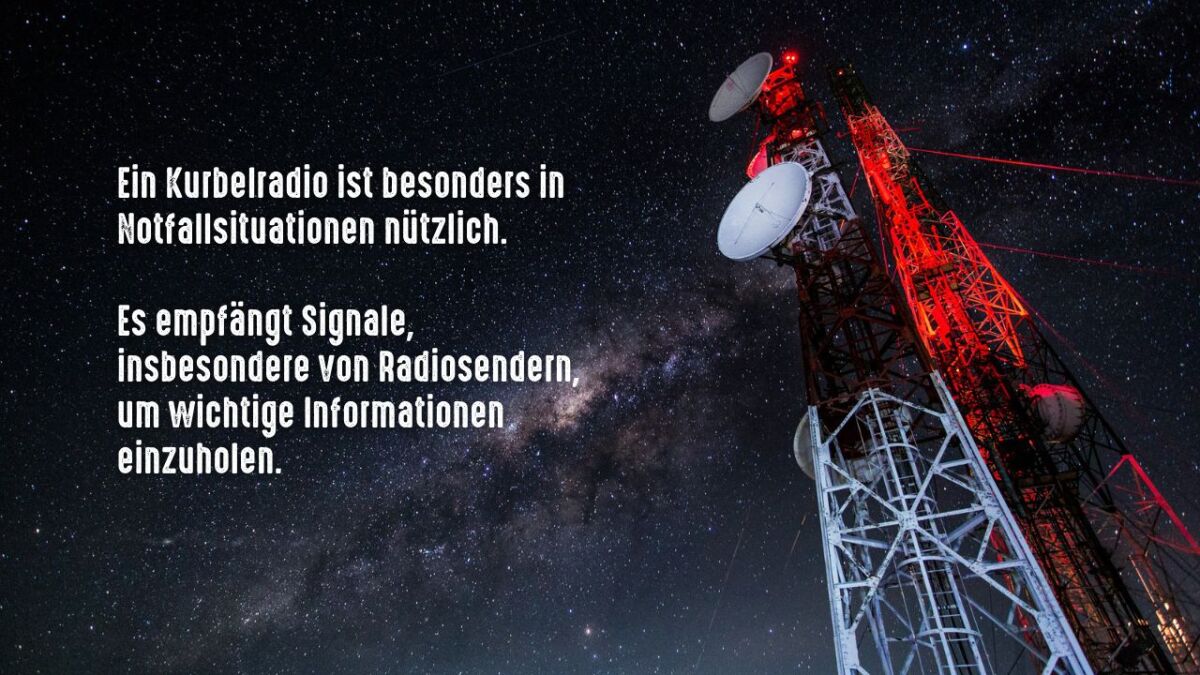 Of course, the crank radio can also be used as a source of entertainment on a camping trip with friends.
In addition to their main purpose, as already emphasized several times, most crank radios nowadays have numerous other functions and gadgets, which you will get to know more precisely in the product comparison.
What distinguishes the optimal crank radio?
There are certainly some preferences and personal preferences when it comes to crank radios. However, there are a few factors that you can take a closer look at when making a purchase. These include:
Battery life
Robustness
Charging options
Usability
Basically, the focus is on making the operation of the crank radio as easy and uncomplicated as possible, while fulfilling its task for as long as possible. The more reliably these criteria are met, the better.
My 7 Best Crank Radios
In the following sections, I will present to you step by step my 7 best crank radios.
You will learn about their facts as well as their advantages and disadvantages. My intention is that at the end of the article, you will be able to compare the products and make the right purchasing decision for you.
1. The multifunctional masterpiece: The Midland ER300
If you are looking for an emergency radio that can be charged in multiple ways and is easy to use, the Midland ER300 is the right choice for you.
Daten aktualisiert vor 6 Stunden
Midland ER300 multifunktionales Emergency Kurbel-Radio, Powerbank, AM/FM-Funkempfänger, Dynamo-Taschenlampe, wiederaufladbare Akkus, USB-Kabel, C1173
Das Midland ER300 ist mit einem AM/FM-Empfänger ausgestattet; Obwohl es ursprünglich für Notfallsituationen entwickelt wurde, ist es auch für den täglichen Gebrauch und Outdoor-Aktivitäten geeignet
Das ER300 kann über die Handkurbel, das Solarmodul, die Akkus und die USB-Buchse aufgeladen werden.
Das ER300 verfügt über verschiedene Funktionen für Notsituationen wie: Ultraschall-Hundepfeife, die Cree 130L LED-Taschenlampe und die SOS-Morsecode-Funktion zum Aussenden eines optischen Notrufs mit der Taschenlampe im Morsecode
Der ER300 ist auch eine leistungsstarke Powerbank mit USB-Anschluss, mit der du alle deine tragbaren Geräte aufladen kannst, ganz egal wo du bist
Verfügt über ein großes und helles LCD-Display, auf dem du die eingestellten Funktionen, den Ladezustand und die Digitaluhr ablesen kannst
58,50 €
UVP: 62,44 €
View Product
This model is an all-rounder that is also suitable for laypeople. The intuitive operation combined with the clear display will never let you lose your orientation.
In addition, it is easy to transport and yet sturdy enough to withstand unfavorable weather conditions or even some falls.
Facts:
Product dimensions: 19.2 x 8.6 x 5.7 cm; 400 grams
Power source: battery, solar, rechargeable battery, crank
USB charging port
FM / AM radio
Rechargeable, replaceable battery
6x AA batteries can be used
Advantages
Choice between solar, battery, crank or rechargeable battery use
Powerful power bank to charge smartphones, for example
Useful additional gadgets such as ultrasonic dog whistle, flashlight, and SOS Morse code function
Disadvantages
Missing protection (e.g., made of rubber) on the corners
Micro switch that switches the type of energy use (battery, rechargeable battery, etc.) is tiny and can only be operated with, for example, a ballpoint pen or paper clip
2. The Affordable Little Brother: The Midland ER200
This model, also from Midland, is something similar to the smaller, more affordable brother of the Midland ER300.
Midland ER200 - Multifunktionales tragbares Aufziehradio, Notfall-Powerbank 2600 mAh und LED Taschenlampe, Solar, Handkurbel und USB AM/FM Radio - 1 Notfallradio, wiederaufladbare Akkus und USB-Kabel
Midland ER200 ist ein kompaktes Handkurbel-Radio mit einem AM/FM-Empfänger, Notfall-Powerbank und LED-Taschenlampe. Ideal für Notsituationen, aber auch für den täglichen Gebrauch und Outdoor-Aktivitäten
3 Ladequellen: Solarpanel lädt den internen Li-Ionen-Akku mit 2200 mAh (im Lieferumfang enthalten), Dynamokurbel für manuelle Aufladung, und USB-Anschluss zum Aufladen des ER200 mit einem PC oder einem beliebigen USB-Wandladegerät
3 Funktionen in 1: Aufziehbares Notfall-Radio mit AM/FM-Empfänger, damit Sie immer verbunden sind; leistungsstarke, helle LED-Taschenlampe (1400 Lux) mit SOS-Funktion und Morsecode; tragbare Powerbank zum Aufladen Ihrer Geräte
ER200 ist eine leistungsstarke, kompakte Powerbank und ein hervorragender Begleiter für Wanderer. Mit dem USB-Anschluss und dem mitgelieferten Kabel können Sie Smartphones, Tablets und tragbare Geräte überall aufladen
Das große und helle LCD-Display ermöglicht es Ihnen, die eingestellten Funktionen, den Akkustand (mit bis zu 25 Stunden Autonomie bei normalem Gebrauch) und die digitale Uhrzeit deutlich zu sehen
64,72 €
View Product
With its compact size, this piece is a little smaller than the 300 model and lacks a feature or two, but it still does its job as it should.
Facts:
Product dimensions: 16.3 x 4.5 x 6.9 cm; 254 grams
Power source: Solar, battery, crank
LED flashlight
Approximately 24 hours of operating time
Li-Ion 2200 mAH battery
Advantages
Comparatively inexpensive
Compact and handy
Easy to use with a carrying strap or attach to a backpack with an appropriate handle
Effective solar charging
Disadvantages
Less stable in terms of falls and shocks
Crank charging takes comparatively long
Low protection against dust and dirt
3. Perfect for longer stays: The Eton American Red Cross FRX3+
While this model may not be quite as optimal for hiking or survival trips where you are on the move a lot, like some other crank radios, it is all the more suitable for longer stays, whether outdoors, at the campsite or in everyday life.
Eton - Amerikanisches Rotes Kreuz FRX3+ Notfall NOAA Wetterradio, rot, Digitalanzeige, Handturbine, Solarenergie, rote LED-Blinklicht, 7 NOAA/Umwelt Kanada Wetterbänder, Handy-Ladegerät
Notfall-Radio: Seien Sie auf Notfälle und Katastrophen vorbereitet mit diesem wiederaufladbaren, wetterwarnenden Radio mit Solarpanel und Handturbinen-Stromerzeuger; kein Notfall-Set ist komplett ohne dieses Mehrzweck-Werkzeug.
Bleiben Sie wachsam: Die "Alert" -Funktion sendet automatisch alle Notfall-Wetterwarnungen für Ihre Umgebung; Halten Sie es über Solarpanel, Handkurbel oder einen eingebauten Akku aufgeladen.
Multifunktions-Digitalgerät: Dieses AM/FM/NOAA Wetterband Digitalradio mit Display und Wecker kann auch ein Smartphone über den USB-Anschluss aufladen; verfügt auch über eine LED-Taschenlampe und eine rote blinkende Leuchtfeuer für Sichtbarkeit überall.
Bleiben Sie in Verbindung: Von World Band und Weather Alert Radios bis hin zu solarbetriebenen Soundsystemen und angeschlossenen Heimprodukten halten wir Sie zu Hause, im Büro, unterwegs oder in der freien Natur immer in Verbindung.
Eton Wir sind bestrebt, Ihnen dabei zu helfen, auf alltäglichen Spaß und unerwartete Notfälle vorbereitet zu sein, egal ob Sie auf einer 10-tägigen Rucksackreise unterwegs sind oder einfach nur im Garten grillen.
59,45 €
View Product
Unlike some other models, the Eton American Red Cross FRX3+ is not designed like a handy flashlight, but rather like an actual radio that is also equipped with a flashlight.
Facts:
Product dimensions: 17.53 x 14.73 x 6.6 cm; 421.84 grams
Power source: Battery, solar, USB, crank
AM/FM/NOAA digital radio with integrated alarm clock and display
Advantages
"Alert" function automatically transmits all emergency weather warnings in your area and keeps you informed
Reliably serves its purpose
Disadvantages
Larger and more unwieldy than other crank radios
Less suitable for on-the-go/longer distances
Cannot use AAA batteries
4. All-purpose helper in modern design: The NOAA Weather Alert Radio
Handy, clear and modern, the NOAA Weather Alert Radio provides you with all the necessary gadgets you need for emergencies.
NOAA Wetterwarn-Radio - Solarbetriebenes, tragbares Radio mit 4000 mAh Akkuleistung für Handy, helle Taschenlampe für Haushalt, Notfall und Outdoor-Überlebenstraining.
Kein Strom? Keine Sorgen Dank seiner 4 Lademethoden ist das Notradio immer einsatzbereit! Es kann mit Solar, Handkurbel, Micro-USB-Kabel oder 3 AAA-Batterien (nicht im Lieferumfang enthalten) aufgeladen werden, was sicherstellt, dass Sie jederzeit und überall Strom aufrechterhalten können, auch wenn Sie einen Stromausfall haben.
Ein Muss für Notfälle Mit diesem AM/FM & NOAA Wetterradio wird es die neuesten Notfall-Wetterwarnungen in Ihrer Umgebung wie Hurrikane, Tornados und schwere Unwetter übermitteln, Notfall-Radio halten Sie Ihren Haushalt auf den unerwarteten Wetter-Notfall vorbereitet, bis zu 10 Stunden Spielzeit bei voller Aufladung.
Lassen Sie sich von der Dunkelheit nicht im Stich Unser hochwertiges Kurbel-Wetterradio ist ideal für Katastrophenvorsorge und schwere Wetterbedingungen. Dieses praktische Notfall-Radio verfügt über weiße Lichter, die helles Licht erzeugen, wenn Stromausfälle hart getroffen werden und eine eingebaute 4000 mAh Lithium-Batterie, so dass Sie nie im Dunkeln gelassen werden, um die Aufmerksamkeit der Menschen mit SOS-Alarm zu erregen.
Ein totes Telefon kann lebensgefährlich seinLassen Sie Ihr Telefon nicht sterben, wenn Sie es am meisten brauchen, wie z. B. Stromausfall. Unser Wetterradio mit 4000mAh kann Ihr Telefon mehr mit Strom versorgt werden. Stecken Sie einfach Ihr Telefon oder andere USB-Geräte in den USB-Anschluss dieses Notfall-Radios für etwas zusätzlichen Saft.
Neuestes Design im Jahr 2019 Großes LCD-Display erinnert Sie an den niedrigen Akku, Upgrade 4000mAh wiederaufladbare Batterie, kommt mit AUX-Musik-Player, ist ideal für Outdoor-Aktivitäten, wie Camping, Wandern, Kajakfahren usw. Wir bieten eine 100% Rückerstattungsgarantie und freundlichen Kundenservice. Wenn Sie mit dem Notfall-Wetterradio nicht zufrieden sind oder Fragen zum Produkt haben, können Sie uns jederzeit für eine Rückerstattung oder ein neues kontaktieren.
74,45 €
View Product
An obvious and simple user interface allows even beginners to work effectively with it. However, this is a comparatively expensive model.
Facts:
Product dimensions: 20.2 x 9 x 8 cm; 500 grams
Power source: Solar, hand crank, USB, battery
Built-in 400 mAh lithium battery
Advantages
Bright integrated flashlight
Strong battery performance
Effortless to use
Disadvantages
Costly compared to other devices that provide similar or equivalent performance
Power bank function consumes comparatively high energy and quickly depletes the internal battery
5. Simple and affordable: The Nigecue Solar Radio
If you don't value a display, automatic warnings, or other gimmicks, then this option is precisely what you're looking for.
The Nigecue Solar Radio doesn't claim to shine with countless additional gadgets, but simply wants to fulfill its purpose - which it does excellently, by the way.
Daten aktualisiert vor 6 Stunden
Nigecue Solar Radio, Tragbar Kurbelradio Dynamo Radio mit AM/FM, Eingebaute 4000mAh Wiederaufladbare Batterie, 4 Modi LED Taschenlampe, LED Leselampe mit Bewegungssensor, SOS-Alarm für Notfall Ourdoor
EIN MUST-HAVE FÜR DEN NOTFALLEingebaute wiederaufladbare Batterie mit 4000mAh zum Aufladen des Handys im Notfall, AM/FM tragbares Radio, eine superhelle Taschenlampe mit 3 Modi, eine Leselampe mit Bewegungssensor, SOS-Alarm, ein Handkurbel und ein Solarpanel zum Aufladen der Batterie. Der Solar-Radio erfüllt alle Ihre Anforderungen, sehr praktisch für den Notfall.
WIEDERAUFLABARE BATTERIE MIT 4000mAh KAPAZITÄTDas Solar Radio von Nigecue verwendet einen austauschbaren 4000mAh Li-Ionen-Akku, die Batteriekapazität ist doppelt oder sogar viermal als andere Solar Radios auf dem Markt, das erhöht die Batterielebensdauer des Radios erheblich, und auch beim Stromausfall oder im Notfall kann das Radio als Powerbank für Ihr Handy verwendet werden.
4 MÖGLICHKEITEN ZUM AUFLADEN Schlechtes Wetter führt immer zu Stromausfällen. Mit dem Handkurbel und dem Solarpanel kann das Radio im Notfall mit Strom versorgt werden. USB-Schnellladung ist die Hauptstromversorgung im täglichen Gebrauch. Der Akku kann auch ausgetauscht werden und ist in allen Geschäften und Supermärkten erhältlich.
SUPERHELLE TASCHENLAMPE & LESELAMPE MIT BEWEGUNGSSENSOR Wenn Sie ein Outdoor-Fans sind oder an Orten ohne Licht gehen müssen, ist dieses Radio mit 3-Modi-Taschenlampe eine großartige Alternative, deren größte Beleuchtungsreichweite 10m übersteigt, weiter als die meisten Solar-Notfallradios. Eine Leselampe mit Bewegungssensor hilft Ihnen auch sehr, mitten in der Nacht aufzustehen, um Ihre Familie nicht zu wecken.
SOS-ALARM MIT BLINKENDEM LICHTDas Solar-Radio ist mit einer SOS-Funktion ausgestattet. Wenn Sie auf ein Dilemma oder eine Gefahr stoßen oder sich an einem dunklen Ort befinden, doppelklicken Sie die SOS-Taste, um eine laute Sirene und ein blinkendes Fernlicht zu aktivieren, um andere zu alarmieren.
12,99 €
UVP: 16,99 €
View Product
So if you're looking for an affordable and comparatively simple crank radio, then you should take a closer look at the Nigecue Solar Radio.
Facts:
Product dimensions: 20.1 x 9.8 x 73 cm; 270 grams
Power source: solar, battery, rechargeable battery, crank
Reading lamp with motion sensor
Replaceable 4000 mAh Li-ion battery
Advantages
Bright flashlight with 3 modes
USB quick charge
SOS function with flashing light
Very handy
Disadvantages
No display
No automatic weather warnings
Relatively slow smartphone charging
6. Numerous options for willingness to learn: The Sangean MMR-88 Survivor M8 Radio
This model offers you many possibilities if you are willing to deal with it a little. It appears to be very robust and resistant, so it will withstand a few bumps and reliably fulfill its service.
Daten aktualisiert vor 6 Stunden
Sangean MMR-88 Survivor M8 Radio - Tragbares Notfall radio - Kurbelradio mit Notsummer und LED Taschenlampe - Schwarz/Gelb
Kurbelradio- Das Survivor DAB, ist ein wieDeraufladbarEs Notfallradio: Wenn Der Strom ausfällt, können Sie wichtige Informationen über DAB+ oder FM-Radio empfangen
Aufladen- zum aufladen diEsEs Radios können Sie die Handkurbel, Micro USB oDer Das Solarpanel verwenden
Bleiben Sie Sicher- Sie können die Taschenlampe sogar in SOS umwandeln: mit dem Morsekode wird Sie anDere wissen lassen, Dass Sie in Not sind.
TYP - Der Baustellenradio DAB verfügt über 20 SenDerspeicherplätze (10 DAB+, 10 FM), einen Stereo-Kopfhöreranschluss sowie eine eingebaute Uhr und einen Lautsprecher. mit Der LED-Anzeige können Sie sehen, ob Das Gerät geladen wird
86,25 €
UVP: 129,00 €
View Product
The operation seems less intuitive, which makes it necessary to read into the model a little and work with it.
In terms of its appearance, the Sangean MMR-88 Survivor M8 Radio resembles a typical construction site radio, whose primary focus is on its resistance.
Facts:
Product dimensions: 6.98 x 15.2 x 8.36 cm; 410 grams
Power source: hand crank, micro-USB, solar
20 station presets (10 FM, 10 DAB+)
Advantages
Extremely resistant and stable
Many energy options
Powerful power bank
Disadvantages
Not very intuitive operation
Less suitable for beginners
7. High-quality with an environmental touch: The Kaito Voyager Pro KA600
With this comparatively expensive but high-quality model, you not only get a simple crank radio, but also an integrated thermometer and barometer. 335 memory presets allow you to quickly access numerous favorite stations.
Kaito KA600L 5-Wege-Wetterwarnradio AM/FM/SW NOAA mit Solar, Dynamo-Kurbel, Taschenlampe und Leselampe, Digitalradio mit größerer Batterie und Solarpanel (schwarz)
AM/FM/LW Kurzwellen- und NOAA Wetterradio mit Hintergrundbeleuchteter Digitalanzeige, NOAA alle Gefahrenalarm & RDS
4 Tuning-Methoden, einschließlich manueller, direkter Zifferneingabe, ATS und Speicher-Tuning mit 335 Speichern für einfachen Zugriff auf Lieblingssender
Kalender, Wecker mit zwei Einstellungen, Schlaf-Timer, Thermometer und Luftfeuchtigkeitsmesser.
180 Grad verstellbares Solarpanel mit 5-LED Leselampe
AUX-Eingang für externe Audiogeräte erhältlich
kein Preis ermittelbar (B01I4W8E1W)
View Product
Facts:
Product dimensions: 20.32 x 5.08 x 13.97 cm; 544.31
Power source: Battery / Lithium battery, crank dynamo, solar panel, USB, AC adapter
5-way power supply
Thermometer and humidity display
Advantages
Integrated thermometer and barometer
5-way power supply ensures safety during power outages
Easy operation
Effective power bank
Disadvantages
Expensive
Not as sturdy as other devices
Purchasing criteria: Using these criteria, you can find the best crank radio
Finding the right crank radio for you is often not that easy. The numerous models that the market has produced do not make it any easier for you.
It is all the more important that you know a few criteria to pay particular attention to when making a purchase.
Even though you have now compared the different models with each other, continue to stay attentive with me so that you can make a long-term, worthwhile purchase decision.
To choose the right crank radio, it's best to keep the following factors in mind:
Weight
Portability and usability
Battery life and power supply
Additional gadgets and price
The weight of a crank radio
You are probably wondering why the weight of an emergency radio is so important. Shouldn't it mainly be able to perform its service in the long term without being prone to errors?
Yes, in principle you are right with this statement, but the weight of the crank radio can still play a role under certain circumstances.
I am not talking about ordinary camping trips or the like, but about actual survival situations, in which you may be walking for several hours or days and have to carry all your luggage with you. Sure, one kilogram of the radio won't make much of a difference, right? No big deal!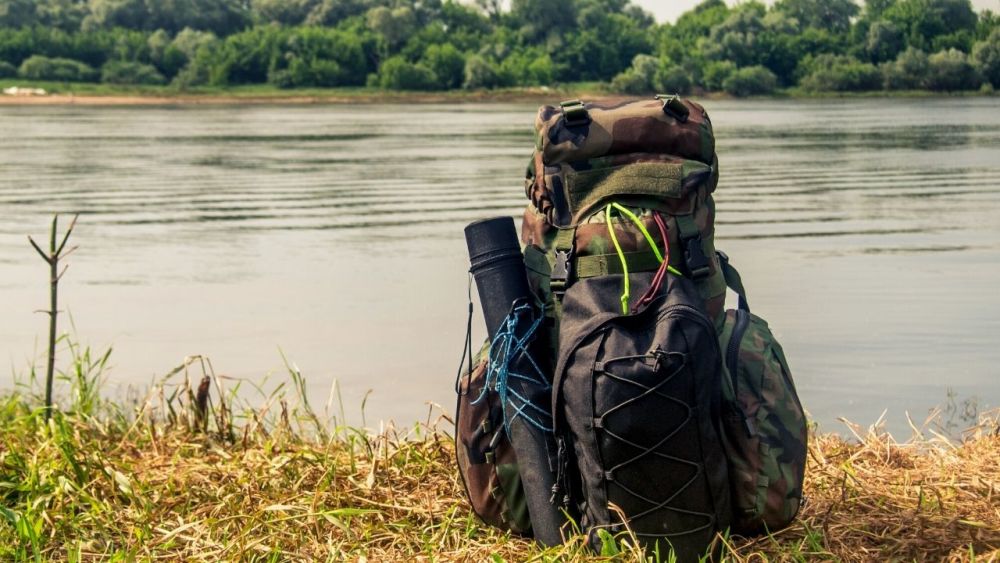 However, keep in mind that you still have to carry numerous other things with you, such as provisions, water, tools, lanterns (here is my top list of lanterns) etc. Even if these things individually may only weigh a few grams or kilograms, the weight adds up over time, the more that is added.
So, in general, pay attention to the weight of your equipment - crank radios are no exception!
How you prioritize this point is up to you and primarily depends on the purpose you are pursuing.
If you just want a useful camping radio for wind and weather, weight plays a subordinate role. In a survival situation, of course, the whole thing looks different.
The portability and ease of use of a crank radio
You have noticed that some emergency radios come in the practical form of a flashlight and are therefore handy and easy to transport. Others, on the other hand, appear exceptionally designed, perhaps even a little bulky.
On the one hand, I could advise you to get a radio with the design that visually appeals to you the most.
On the other hand, however, this criterion can play a big role.
Here again, it is important to consider the purpose for which the radio is intended. If you need it for a camping trip where no unpleasant surprises are expected, or if you want an all-purpose radio for home use, then this point can be pushed further down.
However, if you are planning to use the crank radio in SHTF scenarios, for example as a prepper (What is Prepping?), then portability and ease of use should be higher on your priority list.
Handiness
Handiness means that you can handle the model:
can easily grab
can carry around
can transport from A to B
In exceptional situations, it may definitely be necessary for you to use the emergency radio as a makeshift flashlight or to make a quick escape with it. So, the easier it is for you to grab and carry, the better.
If you see models whose focus is on stylish design rather than practicality, then you should avoid them if you are interested in crisis preparation.
Usability
When it comes to usability, it's similar, and this point also has its clear justification in everyday life. If the emergency radio is difficult to operate and too complicated in structure, it can be simply annoying in the best-case scenario, and very dangerous in the worst-case scenario.
The term "emergency radio" already carries it in its name: the radio should be able to fulfill its service even in an emergency.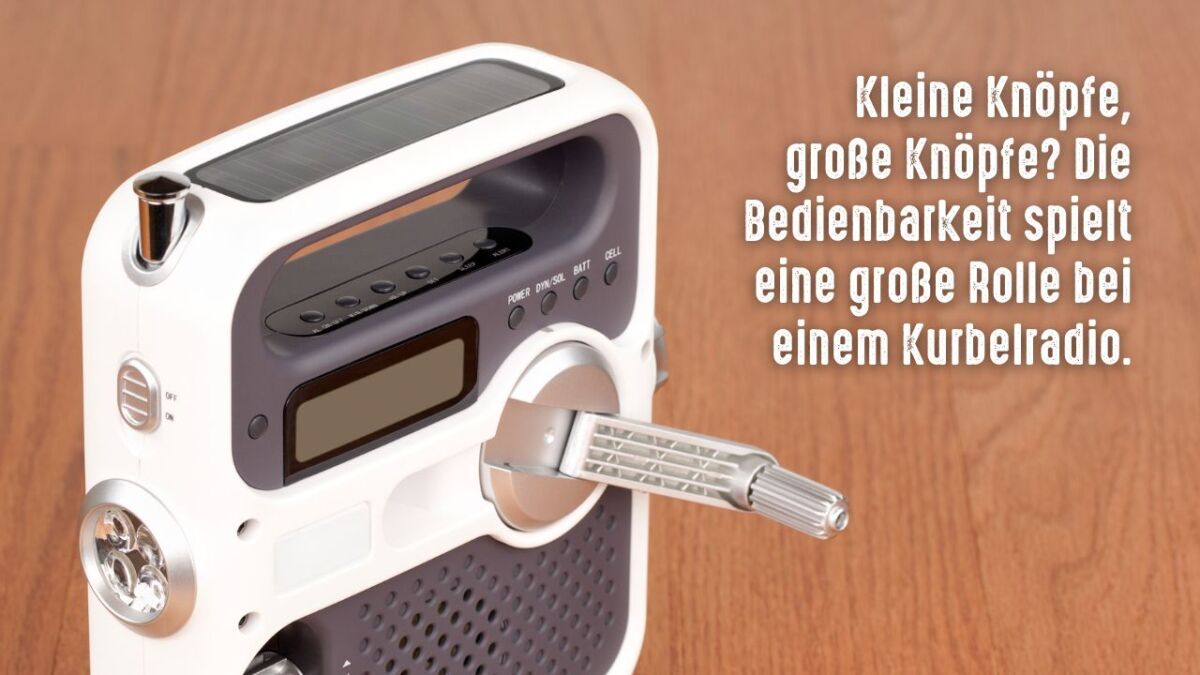 If you find yourself in an emergency, you need to be able to rely on being able to operate the radio without having to study mechanical engineering or electrical engineering.
In the best case, the model has a simple, intuitive operation that you can quickly learn and apply.
The most important switches and buttons should be easily accessible without any major problems, even with limited perception. Therefore, check if the buttons and switches are visible enough and if they can also be felt in case of emergency.
Battery life and power supply of a crank radio
The best crank radio won't help you if its lifespan isn't long enough or if charging isn't possible.
As a minimum value, you should aim for a runtime of 12 to 24 hours with continuous use. Please keep in mind that it should also run reliably in emergencies where you don't have access to electricity.
Furthermore, make sure that the radio can be charged in multiple ways. Power can fail (like a blackout), solar energy may not be available due to weather conditions, and batteries may also die one day. The more charging options, the better.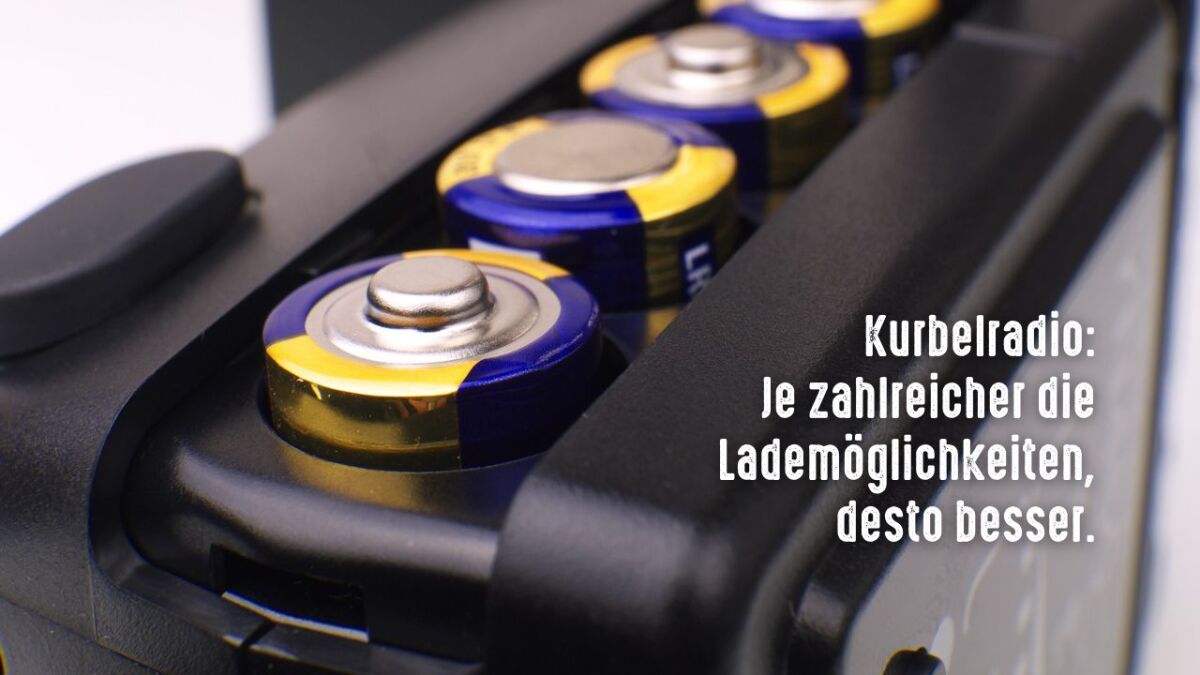 The additional gadgets and the price of a crank radio
With some other products, I would consider the additional gadgets to be secondary. However, it looks a little different here.
However, this is actually more due to the general market development than to essential reasons for survival situations.
You may have noticed that the price range for emergency radios is quite wide. It is not uncommon for cheaper models to have the same qualities as more expensive models and even come with additional gadgets. So, be sure to carefully evaluate whether the model is worth its price.
In plain language, this means: On the one hand, carefully check the quality of the model and ask yourself if the price-performance ratio is appropriate.
Furthermore, add the advertised additional gadgets and ask yourself if both models have the same features. As long as it fits within your price range, act according to the motto: better to have than to need!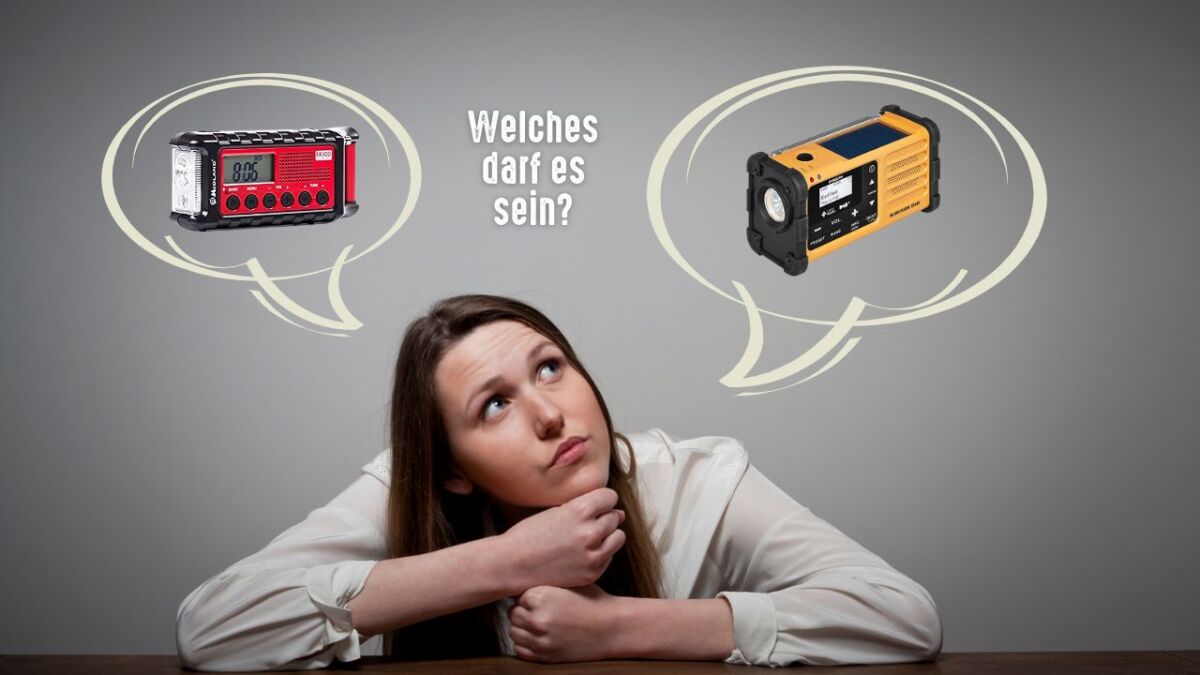 Crank radios are important: Communication is top priority in an emergency
In today's world, we rely on modern technology with almost every fiber of our being.
No matter what it is, our computers and smartphones are capable of providing us with the information we seemingly need so urgently, almost anytime and almost anywhere.
Communication is key: We can communicate with people from all corners of the world and find out what's going on in the world.
We are informed about important events and the weather, so we believe we are prepared for everything.
This may be fundamentally correct, but what do we do if the entire system on which modern communication is based collapses or access to it is not possible?
Imagine a disaster, whether man-made or natural, that cuts you off from almost all communication networks.
Your internet connection is not responding, your mobile reception has completely disappeared, and moreover, the battery life of your smartphone is nearing its end.
You don't have access to a power grid - maybe you're even in an SHTF scenario and rely on every important piece of information from civilization.
Crank radios can be a great help to you in this situation, as they can usually receive signals almost always and can be charged and started by hand crank when needed.
So that you know which crank radio is the best for you, this buying guide has been written.
FAQ: Frequently Asked Questions and Answers about Crank Radios
What types of crank radios are there?
Crank radios all have the same main purpose, but differ especially in their additional equipment and their power supply.
Basically, you can categorize crank radios in terms of power supply as follows:
Solar-powered
Hand-crank powered
Battery-powered
USB-powered
Just to avoid misunderstandings in advance: logically, every crank radio also has a crank, which you can use to supply it with energy in case of emergency.
Although other sources of energy are almost always available nowadays, the hand crank is always available for the most extreme emergencies.
This crank always works thanks to a built-in dynamo, which you should also know from your bike. You use muscle power to make it run and thus supply the radio with energy.
If you charge your crank radio with external power or solar energy, no muscle power is required, in other words, you don't have to crank it yourself.
So if you decide on a crank radio, they do not differ in terms of the existing crank, but only in additional energy sources or additional equipment.
What do I receive with a crank radio?
Which stations you receive with the crank radio depends entirely on which model you ultimately choose. If you have taken a closer look at the radios in my test, you will have noticed that they can also differ in reception or range.
Most crank radios generally receive AM/FM frequencies or shortwave, although the latter is less common.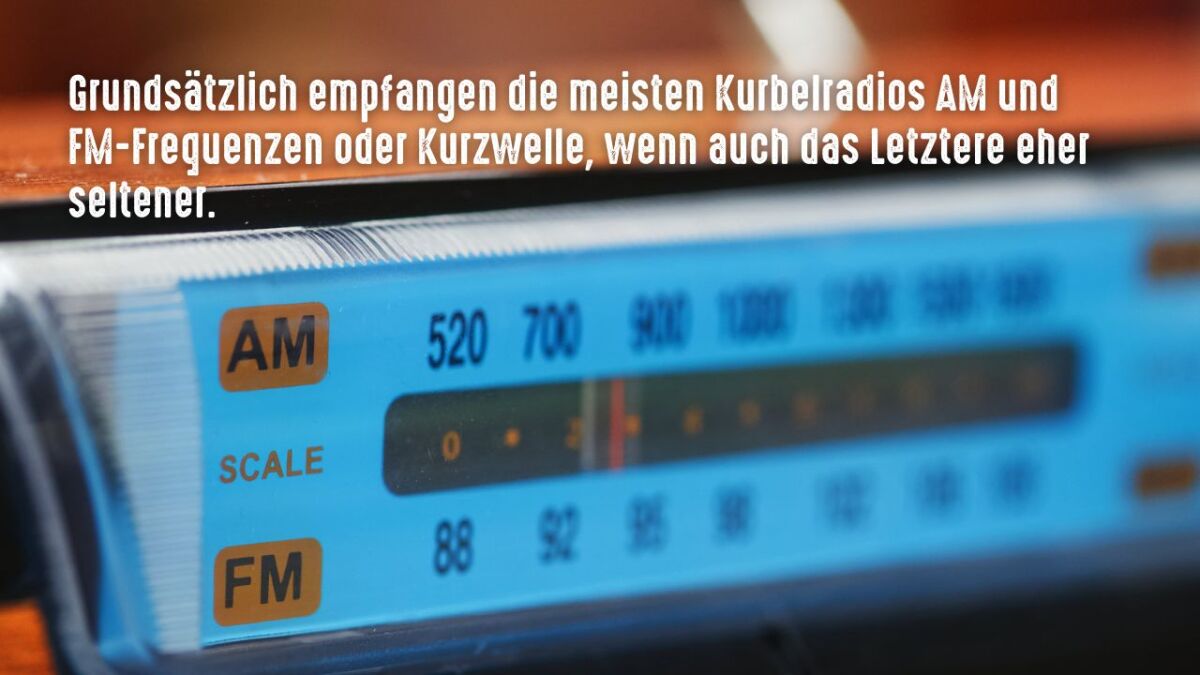 Having a proper world receiver or a DAB radio in the form of a crank radio is no longer uncommon in today's time (like the ROCAM crank radio DAB+/DAB/FM with 5000mAh battery). In plain language, this means that the number of stations with AM/FM frequencies is generally somewhat limited compared to radios with DAB.
However, you will most likely be able to receive the local broadcaster or public broadcasters here to stay up to date at all times.
However, if you value a larger selection of channels, you will probably have to invest a little more, but you should also find what you are looking for here.
Are there official and professional crank radio tests, like those conducted by Stiftung Warentest?
Although there are numerous websites, magazines, and individuals who have published reliable and useful tests, there is currently no such crank radio test from institutions like Stiftung Warentest.
How does a crank radio work?
A crank radio works in a fairly uncomplicated way when considering its basic functions and energy supply via crank. By using the hand crank, you charge the integrated battery of the radio thanks to the dynamo. Ideally, not many turns are necessary to get the crank radio running.
If the battery weakens over time, further cranking is necessary if no other power sources are available.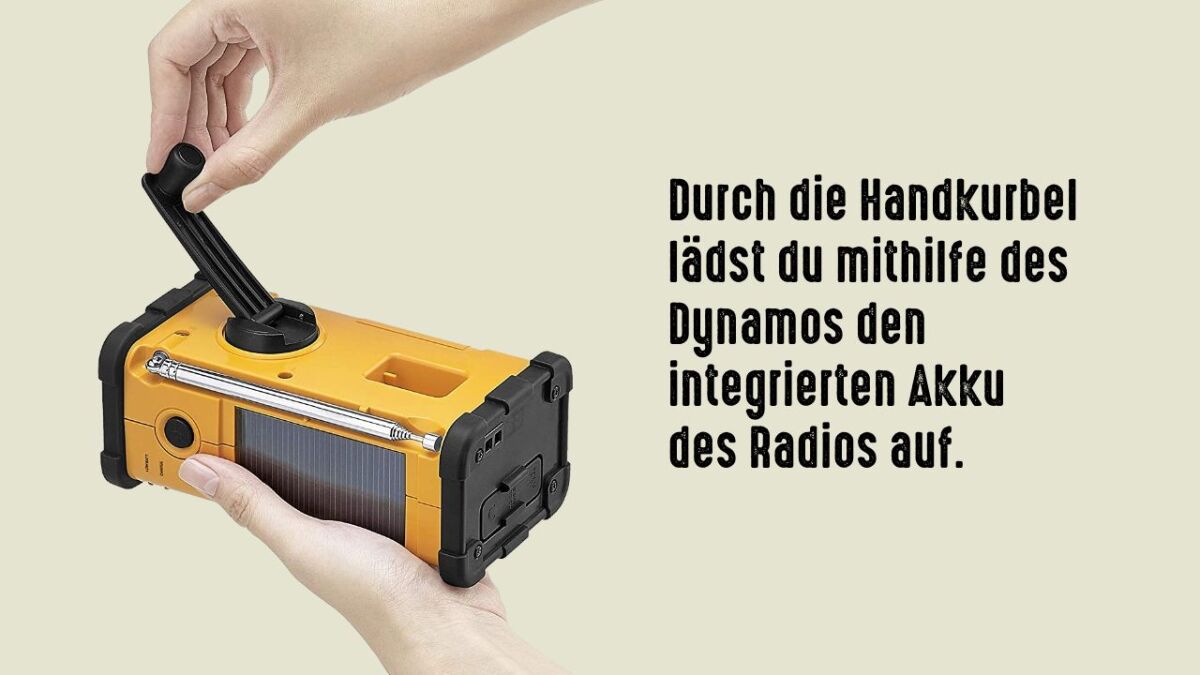 What is a world receiver?
As the name may suggest, a world receiver is a type of radio where signals can be transmitted and received globally, that is, all over the world.
World receivers can receive radio stations on shortwave. Shortwaves can spread across the entire globe, making global reception possible.
What is a solar crank radio?
A solar crank radio is a commercially available crank radio that is additionally equipped with solar panels. Simply put, you can charge this radio by simply placing it in the sun instead of exerting yourself on the crank. However, this can also have disadvantages.
Charging with solar panels only works on almost cloudless days, as even slight cloud cover can interrupt the charging process unnoticed. Furthermore, charging with solar energy often takes significantly longer than charging via crank or electricity.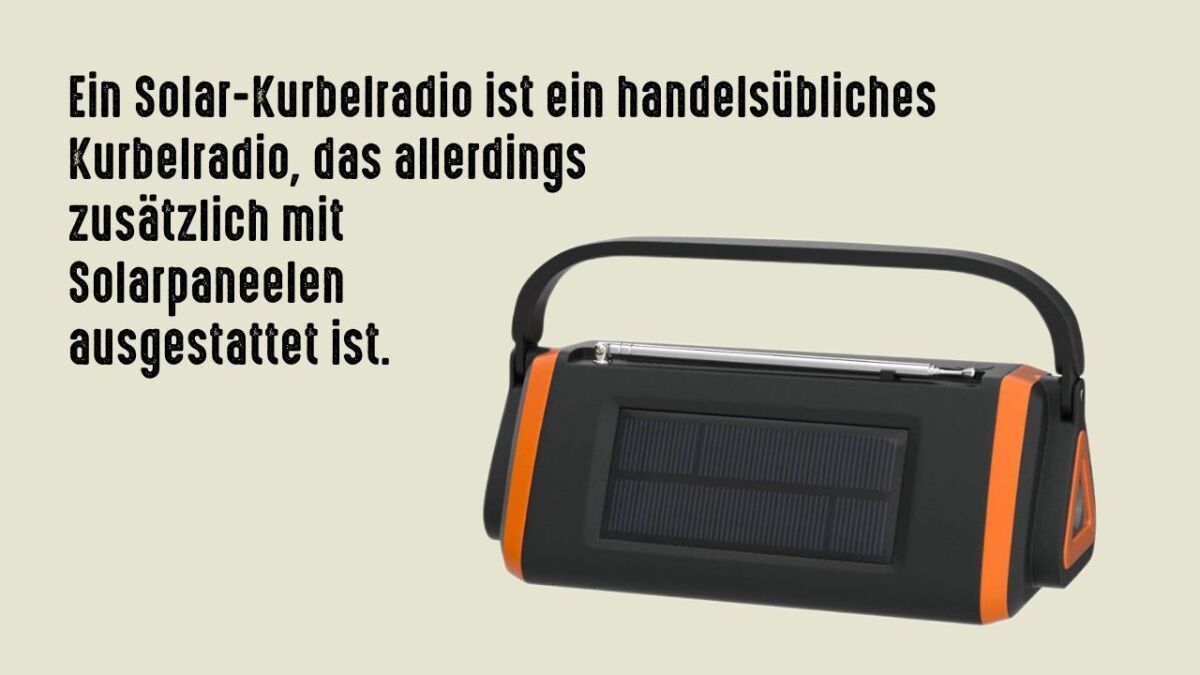 How long does a crank radio last?
The lifespan of a crank radio depends entirely on its charge, usage time, and usage type. In the best-case scenario, up to 24 hours are possible. With energy-efficient models, it may be enough to crank for just a few minutes to get up to an hour of runtime.
Are crank radios waterproof?
Usually, crank radios are not completely waterproof. So be careful, for example, in heavy rain. Most emergency radios are only splash-proof.
Can I use a crank radio during a power outage?
You should definitely use a crank radio during a power outage, as this helpful tool is perfect for this purpose. When all other electrical devices fail, the crank radio is often the only available source of information. As you know, it does not require an external power source to operate.
Where can you buy a crank radio?
You can buy crank radios both online and in certain electronics stores. Both have their advantages and disadvantages that need to be weighed.
In a specialty store on site, you can get advice from staff or even test the reception of the radio of your choice. You can take a closer look at the different models, get a feel for the weight and resistance, and also look for other products.
On the internet, the selection is of course, much larger, and you can take care of price and product comparisons. Use tests like this one to filter out the best product for you.
My conclusion: Pay attention to the needs
You may have noticed throughout this article that fundamental things make a difference when it comes to crank radios: additional gadgets, power, and portability.
Finding a truly top model is therefore not an easy task, but requires an eye for detail and the overall picture of the model.
Given this, the Midland ER300 emerged as the winner (buy it here on Amazon). Not because it is the unbeatable master of all crank radios that outshines all others.
Much rather, because it shines as an all-rounder, which is suitable for both beginners and advanced users, has useful additional gadgets and has a long lifespan and resilience.
However, simpler models should not be underestimated. This is proven by the Nigecue Solar Radio (buy on Amazon), which stands out for its affordable price and relatively simple design.
Some crank radios are easy to use, while others are a bit more complicated. At the end of the day, however, they usually all serve their purpose: to provide you with information in emergencies, in the great outdoors, or during power outages where no other option is available.
Whether buying a crank radio is worth it can undoubtedly be answered with a resounding yes. Only your preferences will then decide which model is best suited for you.
I hope that this guide was able to help you find the right crank radio for you, regardless of what specific purpose it may serve. Thank you for your attention and the trust you have placed in me.

Was this guide helpful?
15 people found this guide helpful.
5.00 out of 5 points (15 Ratings)