Back to german article
What is a Bushcraft drill / snake drill
Learn what a bushcraft drill and mortise joints are. With a snake drill for bushcraft, you can create stable connections for your camp and shelter.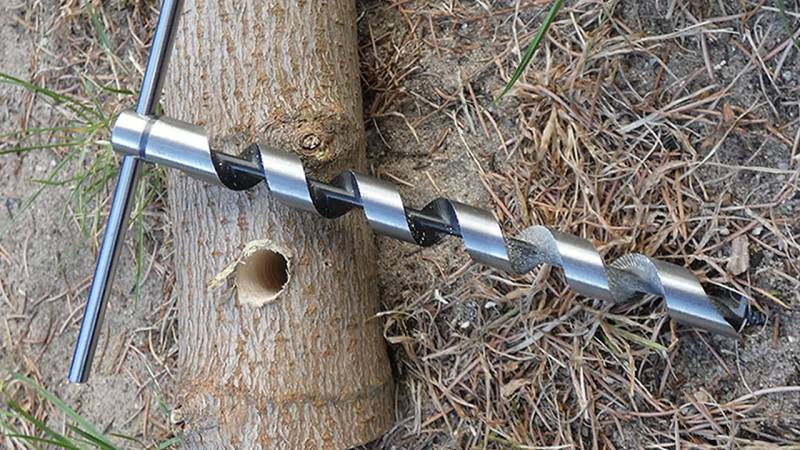 ---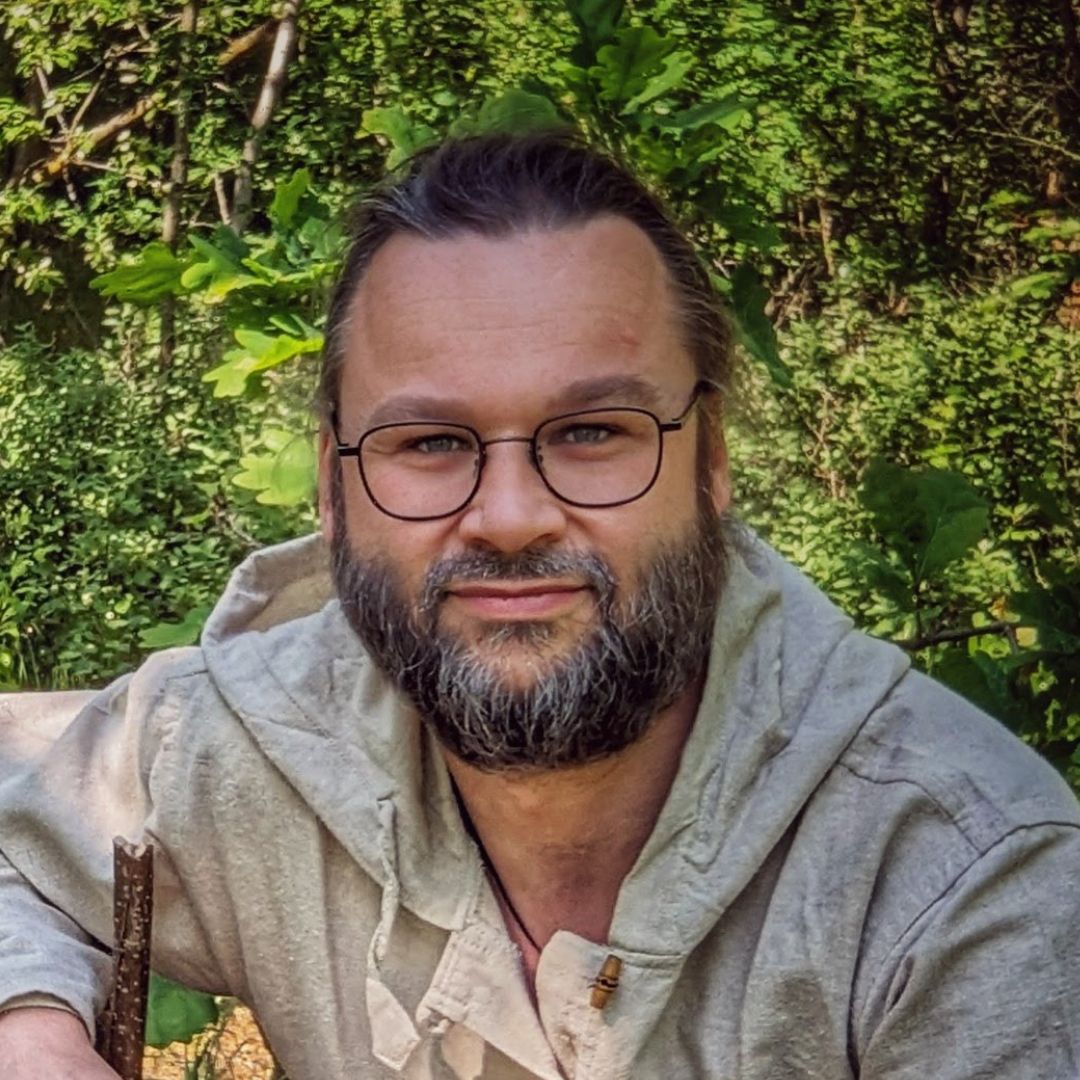 ---
👉 The key facts from this guide
A bushcraft drill, also known as a snake drill, is a tool that you need to create stable connections, called joinery, in the wilderness.
The snake drill is a wood drill that drills into the wood like a snake, creating perfect holes for joinery.
Joinery is essential for stable connections between two pieces of wood, for example when building a bushcraft shelter or a wooden table.
Creating a connection with a snake drill is done through a pin connection, where you connect two adjacent pieces of wood with a carved pin.
You need a bushcraft drill if you want to make strong connections.
These connections are also called joints, and you require them for your shelter. Maybe you even build a small hut, then they are even more important.
The Bushcraft drills are also called "snake drills". Today, you will learn what a snake drill is and how to use it to create joints.
What is a snake drill bit?
A snake drill is a wood drill that bores into the wood like a snake. The drills are usually quite long and built like an Archimedes' screw. This allows the chips, i.e., the removed wood shavings, to be transported upwards more effectively.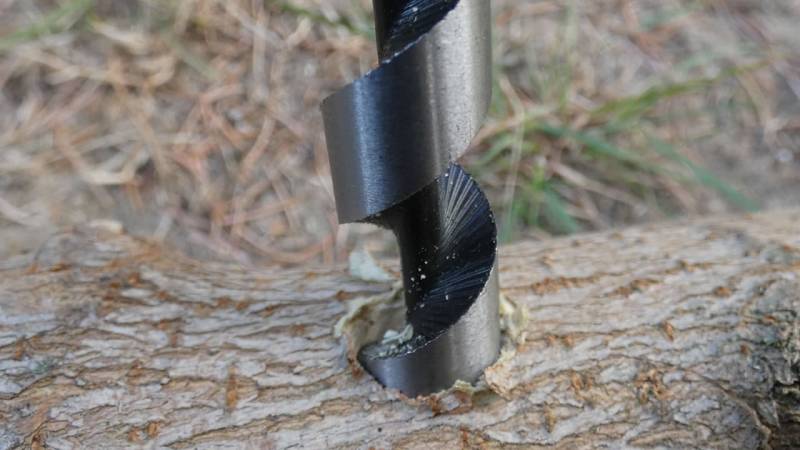 The great thing about these Bushcraft drills is that you don't need electricity to use them. You can drill perfect holes in the wilderness that you require for joinery.
The joints are essential for solid connections between two pieces of wood. This allows you, for example, to build a really sturdy Bushcraft Shelter or a Bushcraft wooden table with solid legs!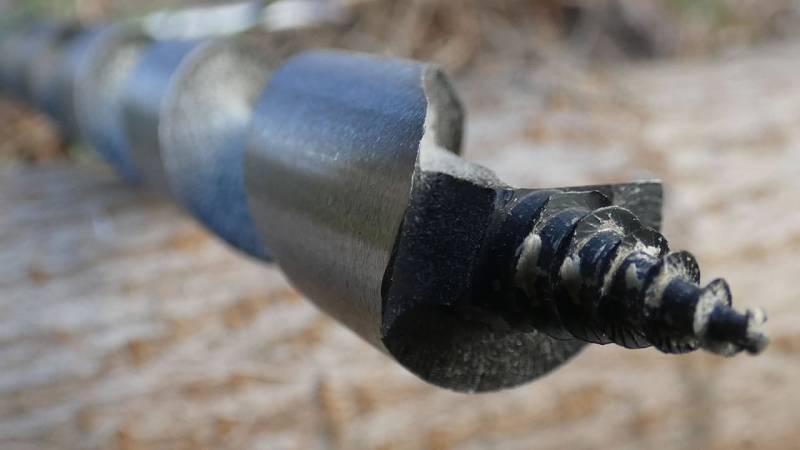 Application of a snake drill
How do you now create a proper connection/link with a bushcraft snake drill?
This is what you do with a dovetail joint. A dovetail joint is a wood joint that originated in carpentry and joinery.
With a dowel, you connect two colliding pieces of wood with each other.
You may already know these cone connections, or at least have seen them. They are often made in the shape of a T or a corner connection (L-shape).
For example, for chairs and tables. However, mainly dowels are used for this.
The Round Pin
Today I want to discuss the conical pegs, which you can wonderfully create with a snake drill.
As the name suggests, in this technique the peg is round. It must also be round, as we are drilling a round hole with the auger bit.
This round peg is also called a wooden nail and dowel.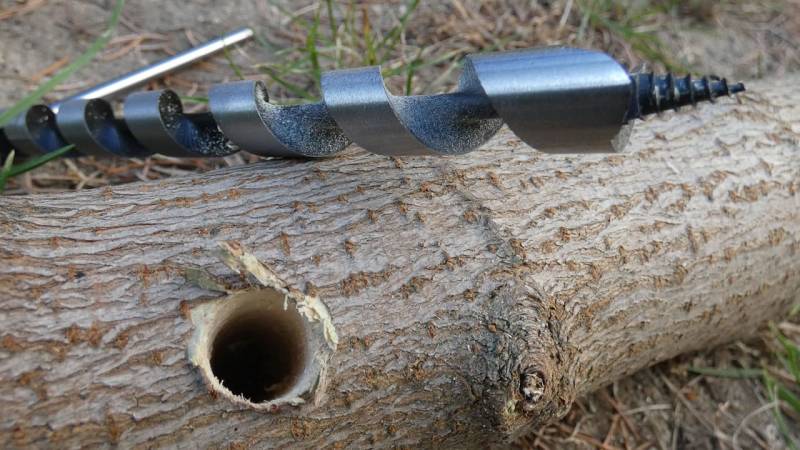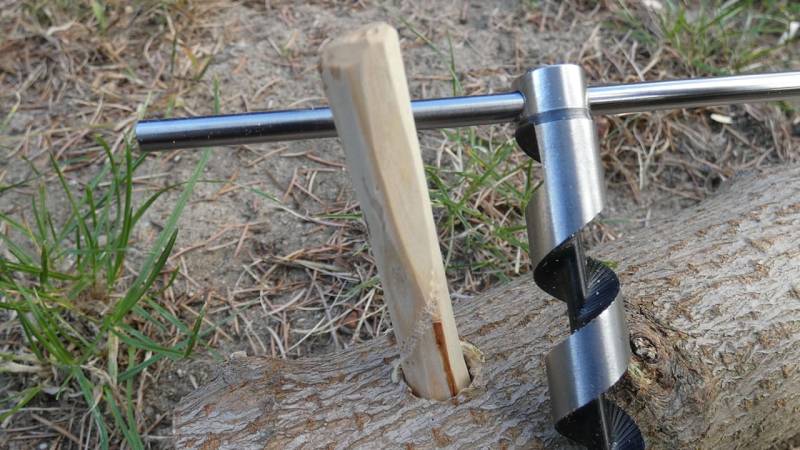 Manufacturing a Round Tenon Joint
With a mortise and tenon joint, you connect two pieces of wood. In Bushcraft, usually two small tree trunks.
Drill a hole in every trunk with your auger bit.
Carve a peg that fits almost perfectly into the drilled holes.
Place both trunks on top of each other so that you can insert the peg through the drilled holes.
Hammer the peg in with a type of hammer so that it sits firmly.
Remove excess wood from the peg.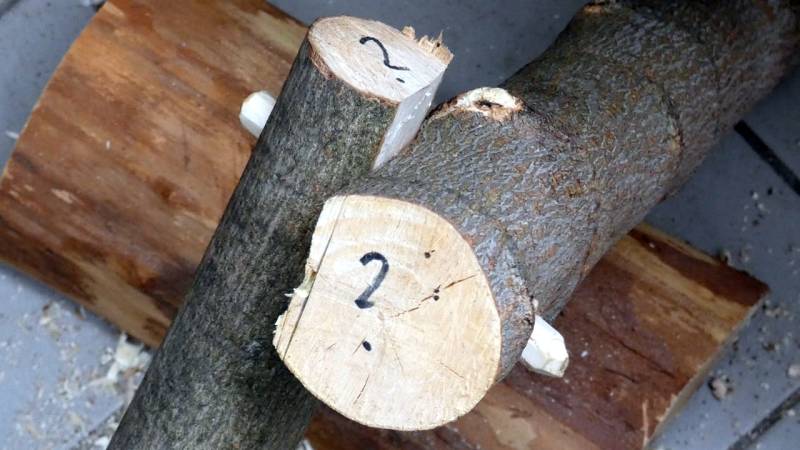 Tips for using a snake drill
Here are a few tips for application.
Do not make the cone completely round. Leave it slightly angular, then it will wedge in tightly.
You will also notice that you need quite a bit of strength to drill holes manually. If the effort is too great, then extend the turning lever.
Your drill will appreciate regular lubrication. This keeps it rust-free and makes it easier to turn into the wood.
Buy Auger Bits
There are two ways to get a snake drill for your bushcraft.
You can easily buy one on Amazon that is ready to use immediately. These are hand drills with different diameters:
Holzbearbeitung Handbohrer, manuelle Schlangenbohrer Sets mit Holster, Outdoor Survival Bohrer Handschraubenbohrer für Bushcraft Siedler Schraubenschlüssel ​(braun)
Heavy Duty StahlHolzbearbeitung Handbohrer besteht aus hochwertigem gehärtetem oxidiertem Stahlmaterial, das stark und langlebig ist. Handbohrer ist das perfekte Werkzeug für jeden Outdoor-Sport, Dschungel-Bastelarbeiten, Holzmann oder Heimwerker usw. Gleichzeitig ist der Handbohrer aus Metallmaterial gefertigt, der Handbohrer haltbarer und die Lebensdauer wird verlängert.
Dschungel Handwerk Werkzeuge und Camping Werkzeuge: Wenn Sie Camping, Wandern, Rucksackreisen, Dschungel Handwerk, EDC oder Gebäude in der Wildnis mit primitiven Hüttenwerkzeugen sind, bringen Sie bitte diesen Outdoor Dschungel Handwerk Erdbohrer mit. Holzbearbeitung Handbohrer ist mit einer Lederscheide ausgestattet, so dass Sie ihn nicht verlieren, wenn Sie in der Wildnis oder beim Camping und Wandern überleben. Aufgrund des kompakten Designs und des geringen Gewichts werden Sie beim Tragen keine Belastung haben, und es ist auch leicht zu tragen.
Schärfe: Jede Spirale des Handbohrers ist professionell poliert, um ein perfektes Loch scharf zu bohren. Das selbstschneidende Schrauben-Design ist praktisch zum manuellen Antrieb des Holzbohrers. Verwendet für Kork/Grünholzprojekte wie Fischfallen, Stühle, Schlägel, Leitern, Ahornsirup und vor allem Überlebensunterstände
Überlebenswerkzeuge VielseitigkeitDieses Mehrzweckwerkzeug für Überleben kann auch als Nagelöffner in kritischen Momenten verwendet werden. Der Spiralbohrer hat eine Stiftschlüssel-Schneidspitze. Verwenden Sie einen Hammer, um einen Nagel in der gleichen Größe wie der Bohrer der Schnecke zu formen. Dieser Handbohrer ist vielleicht die wichtigste Überlebensausrüstung, die Sie haben.
Perfekte Größe: Durchmesser 2,5 cm, Breite 4 cm, Gesamtlänge 16 cm, Schnittdurchmesser 2,5 cm. Geeignet für größere Holzstäbe, um ein größeres Drehmoment und leichteres Bohren zu erhalten
18,08 €
View Product
I can also recommend this one:
N&S Juvyig Bushcraft Handbohrer, Holzbohrer, manueller Schlangenbohrer, Scotch Eye Handbohrer, Bushcraft Survival Tools
Hochwertige Qualität Dieser Holzbohrer aus gehärtetem oxidiertem Stahl mit einem robusten und langlebigen Hochtemperatur-Abschreckungshärte von super stark.
Multifunktionales Design Bringen Sie diesen Outdoor-Strauchbohrer mit Holzschnecken, wenn Sie mit primitiven Hüttenwerkzeugen im Freien Camping, Wandern, Rucksackreisen, Sträucher, EDC- oder Feldbau sind. Empfohlen für Kork-/Grünholzprojekte, wie Fischfallen, Stühle, Schlägel, Leitern, Ahornsirup-Armaturen.
Bushcraft Werkzeuge und Camping-Werkzeuge: Sie können einen Stock durchführen und ihn als Griff für die Erdbohrer verwenden, oder entfernen Sie den Stock und der konische Teil dient als Schneider, um runde Stecknüsse zu schneiden, die so groß sind, dass sie in das Loch passen, das Sie mit dem Bohrer gebohrt haben.
Bedienung Dieses multifunktionale Überlebenswerkzeug ist ein Nagelwerkzeug. Legen Sie zuerst einen kleinen Zweig oder Holz auf die Bohrer-Schaftlochposition ein, wo Sie ein Loch machen möchten und beginnen Sie zu drehen. Dann hat der Spiralbohrer eine Schneidspitze für einen Stiftschlüssel, Hammer in einen Ast für einen Erdspieß der gleichen Größe wie der Holzschneckenbohrer.
ZubehörJeder Handbohrer wird mit einer Ledertasche für einfache Lagerung und Transport geliefert, sie bietet auch Schutz für die Schnecke und für alle anderen Werkzeuge in Ihrem Survival-Rucksack.
26,99 €
View Product
Or you can put together your set. This is usually cheaper if you require multiple drills.
First, you will need regular snake drills in various sizes:
PAULIMOT Schlangenbohrer-Satz, 8-teilig Ø 6 – 20 mm, Länge 230 mm, Form Lewis
Aus gehärtetem Carbon-Werkzeugstahl
Genaues Zentrieren durch Zentrierspitze möglich
Einzugsgewinde an Zentrierspitze, dadurch wenig Druck erforderlich
Sehr gute Spanabfuhr
Durchmesser [mm]: 6, 8, 10, 12, 14, 16, 18, 20 | Gesamtlänge [mm]: 230
21,50 €
View Product
However, since you cannot use these drills as hand drills yet, you require an adapter that is attached to the auger bits.
And then you attach an adjustable brace to this adapter. This allows you to use any auger as a hand drill.
BGS 1900-2 | Windeisen | M6 - M20
Stahlgriffe, abschraubbar
geeignet für Gewindebohrer M6 - M20
Stahlgriffbreite 325 mm
Haltekopf aus Zink-Druckguss zur Befestigung des Gewindebohrers
auch passend als Ersatz-Windeisen für Gewindebohrer-Satz Art. 1900
13,30 €
View Product
Summary
Do you require more stable connections in bushcraft than those with ropes?
Then a snake drill is just the thing for your craftsmanship!
Drill holes, carve pegs, and make connections. Done.
With a bushcraft drill, you can create rock-solid connections between your woods.
---
How do you like the auger bit? Or do you even have one?
Write your thoughts in the comments!

---
Sources for the guide

https://de.wikipedia.org/wiki/Schlangenbohrer

https://de.wikipedia.org/wiki/Zapfenverbindung
Was this guide helpful?
18 people found this guide helpful.
5.00 out of 5 points (18 Ratings)