Back to german article
How to build a Bushcraft Shelter [Guide]
With a bushcraft shelter you build a shelter that protects you against rain, wind, cold, and sun. Learn the most important basics now.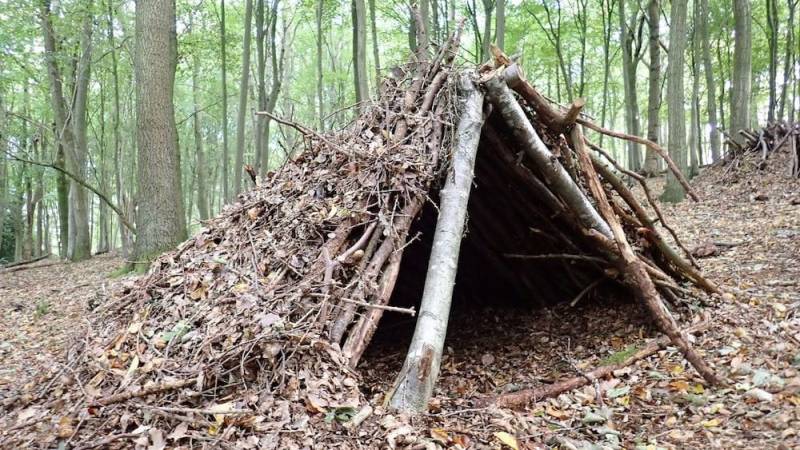 ---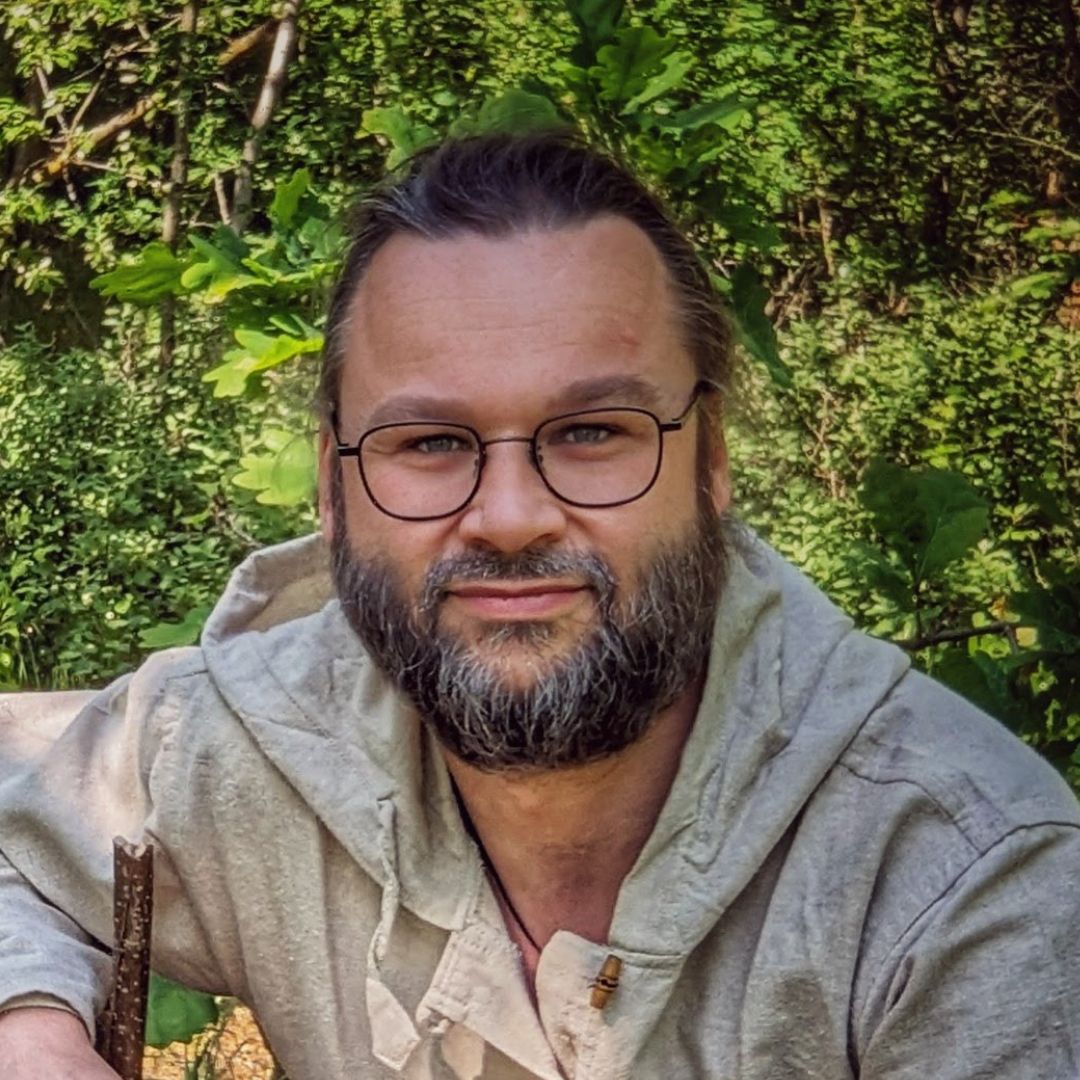 ---
👉 The key facts from this guide
A bushcraft shelter is a refuge that protects you from rain, wind, cold, and sun. It is essential that you learn how to build such a shelter.
There are many different constructions for shelters, but the key is to build a shelter that keeps you warm. A good example is the wilderness survival shelter, also known as the debris hut.
The choice of location is crucial. You should find a sheltered spot and make sure that there are no rotten branches above your camp.
For the construction of your shelter, you preferably use wood. This wood must be stable and must not be rotten. Deadwood is a good choice as it can be quickly collected and does not harm the forest.
Although you do not need any equipment for the construction of the shelter described here, a sturdy knife, an axe, and a saw can greatly facilitate the construction.
Practice makes perfect. In the beginning, it may take you several hours, but over time, you will become better and faster.
Rain, wind, cold and sun can really take a toll on you.
One of the basics of Bushcraft and survival is that you protect yourself and your body.
If you get sick, the whole enterprise is in danger.
If you're wet, you need to get dry first (try lighting a fire at 10 degrees Celsius when you're soaked).
Therefore, it is essential that you learn how to build yourself a shelter.
Construction of Shelters
I will now show you how to build different shelters.
There are many construction methods, such as this one: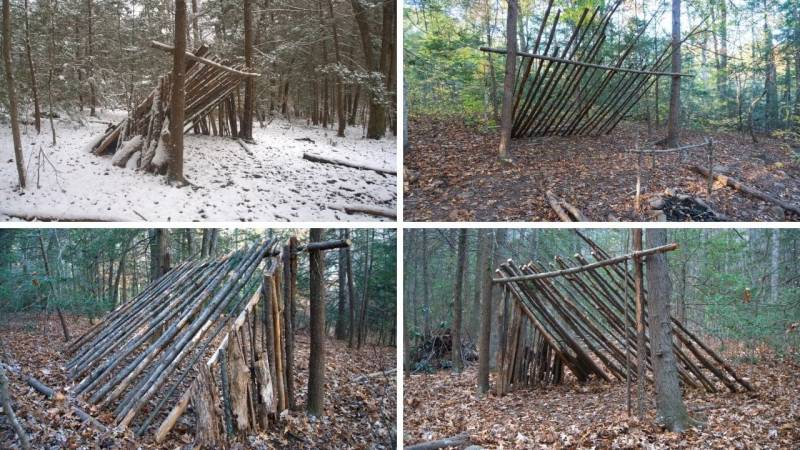 The problem with these constructions is that they don't protect you. In case of emergency, these shelters are not weatherproof. They may look nice, but that's about it.
To be truly protected, you must build a shelter that keeps you warm.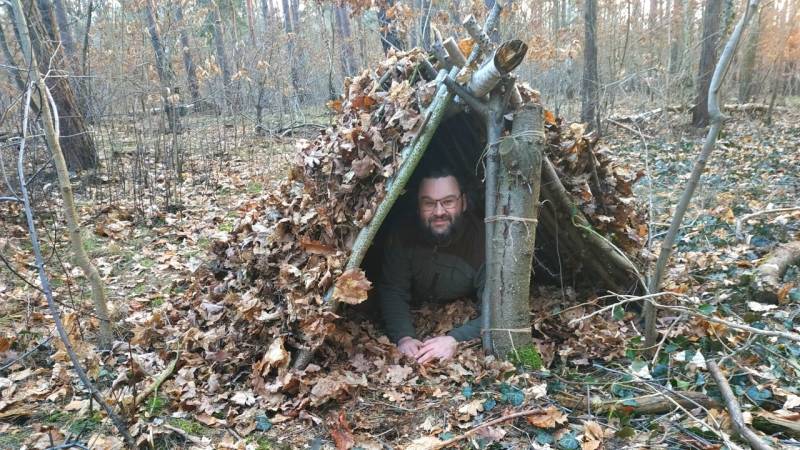 You don't need much, except wood and other materials from nature.
Find a wall to lean the shelter against. This can be a fallen tree, a rock wall, or a cliff.
Or you can build your own wall by leaning a branch against a tree (as shown in the picture).
When building the roof, it is important to maintain a minimum pitch of 45 degrees (can be more).
Only with a sloping roof can water drain well. Flatter roofs let rain through.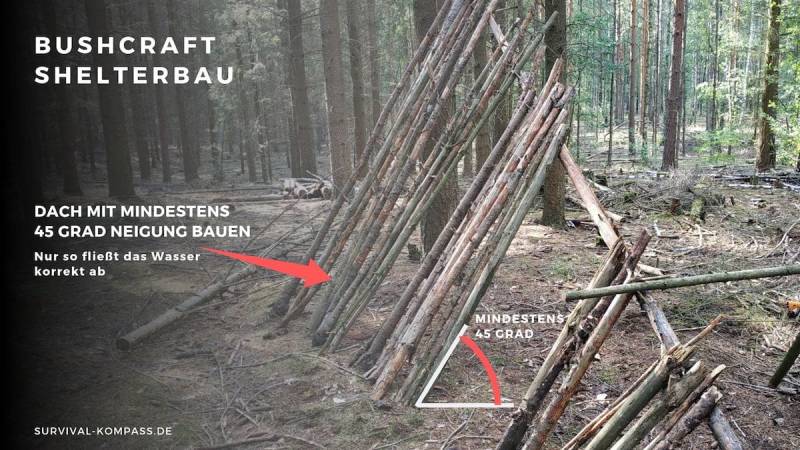 To cover it, you take additional natural materials such as:
Leaves
Large leaves
Grass
Moss
Pine or leafy branches
You lay the cover material from bottom to top. The new top layer covers 1/3 of the underlying layer.
If you want to insulate your roof, i.e. protect it from the cold, it must be covered with natural materials that are at least 30 to 60 cm thick. In winter, the layer of leaves must even be 90 cm thick.
Building a waterproof roof is very time-consuming. Make sure that no sticks protrude from the roof, as water accumulates on them.
If possible, take a tarp, plastic sheet, or emergency blanket.
If you are expecting rain, then create an additional perimeter furrow to drain away the rainwater.
If you don't have a sleeping mat (here's my top list) with you, then pad the ground well (at least 10 cm thick), so that you are protected from the cold from below.
Location
Before setting up, make sure you have found a windless location. A constant wind that blows into every corner can be incredibly unsettling.
Also, you check if there are no rotten branches above your camp. Otherwise, they may fall on you during strong winds.
You can find more information about the ideal location in my article "How to find the ideal location for your bushcraft camp".
Material
To build your shelter, you naturally use wood. This wood must be stable. It may have been lying on the ground, but it must not be rotten.
The good thing about deadwood is that it can be quickly collected with little physical effort. Additionally, you are not burdening the forest with it.
If you lean the roof against your own branch, check whether the main branch is stable enough. Even if your roof is only leaning at a 45 degree angle, the main branch must withstand a lot.
Equipment
You do NOT need any equipment to build the shelter described here.
You can collect or break all wood. But please, if possible, only take dead wood. Never cut down a tree for practice purposes.
Naturally, a sturdy knife, an axe, and a saw will help you tremendously with construction. If you have this equipment with you, then use it.
Also read:
Summary
Now you know how to build a simple shelter. At the beginning, it will probably take you several hours, depending on how much wood you have available immediately.
Over time, you will become better and faster.
And now build your own shelter.
Do you want to know all the tricks? Especially the ones that will definitely keep you warm and protected, then check out my Pocket Field Guide to Wilderness Survival Shelter.
In the video, I built such a shelter and I take a short tour.
---
Have you ever built such a shelter?
What else do you need to pay attention to? Write your opinion in the comments!

Was this guide helpful?
64 people found this guide helpful.
4.94 out of 5 points (65 Ratings)