Back to german article
The Casström Woodsman - a solid and sharp knife for bushcrafters and foresters
If you like Swedish quality and are looking for a bushcraft knife that feels great in the hand, then read my review of the Casström Woodsman knife now.
---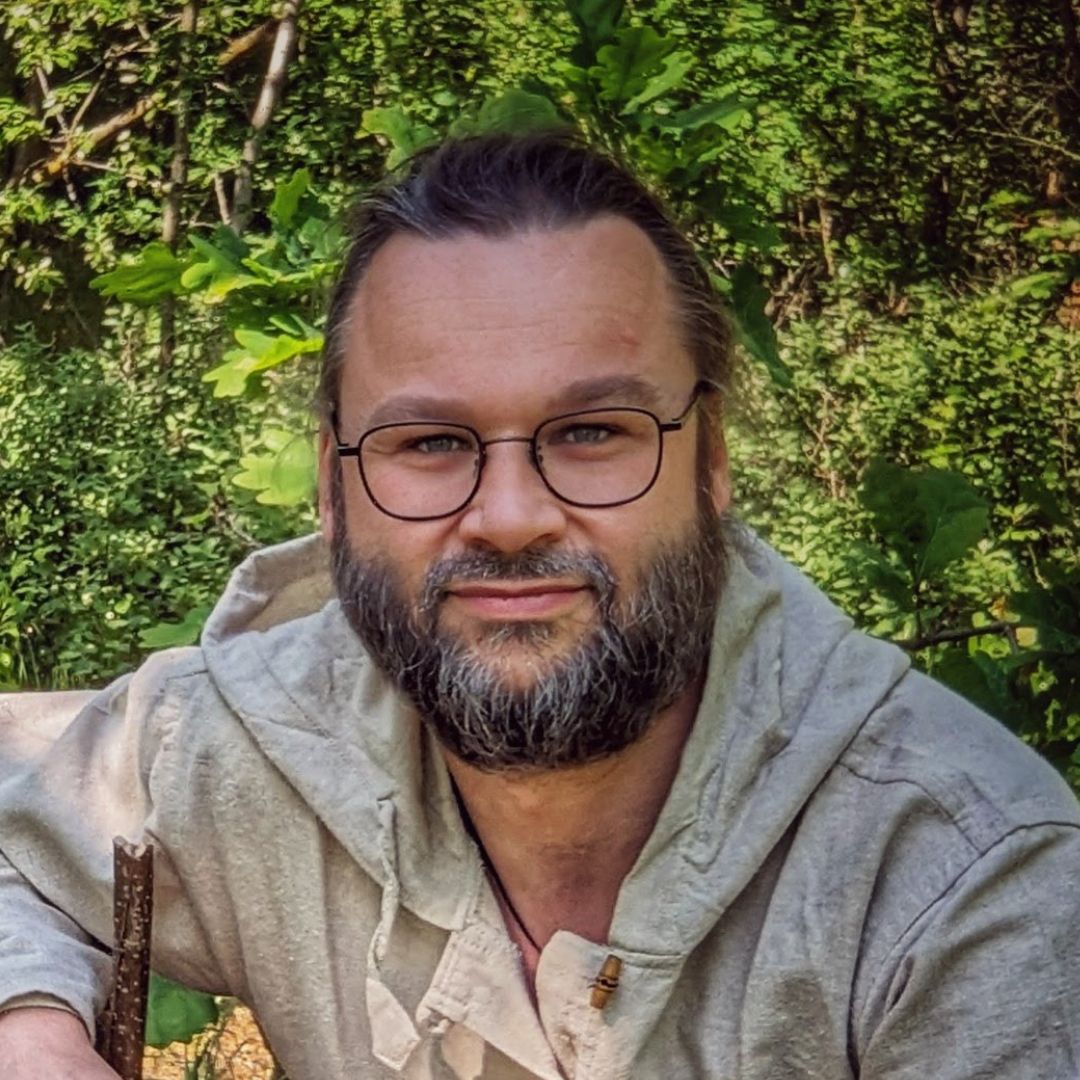 ---
👉 The key facts from this guide
Casström Woodsman knife: A robust full-tang knife made of Böhler K720 tool steel, ideal for bushcraft and outdoor activities. It has a blade length of 8.8 cm and weighs about 156 grams. The handle is made of curly birch or dark bog oak.
Craftsmanship and Design: The knife is carefully crafted and has a full-tang construction. The handle scales are secured with brass pins and a lanyard is included. The leather sheath is made of 3.5 mm thick vegetable-tanned leather.
Field test: The knife is versatile, whether for carving, Batoning, cutting skin, meat, and tendons, or chopping vegetables. It pairs well with a Firesteel and is easy to sharpen on-site.
Conclusion: The Casström Woodsman knife is a robust, stylish, and durable knife that is well-suited for bushcraft and outdoor activities.
Today I am taking a look at the Cassström Woodsman knife.
If you appreciate Swedish quality and are looking for a bushcraft knife that feels fantastic in your hand, then read my review now.
The "Woodsman" is one of Roger Harrington's most popular models
But why this and who is Roger Harrington?
Firstly: Roger Harrington has been a professional knife maker since 1997 and produces excellent bushcraft products. On his website, bisonbushcraft.co.uk and on his Instagram account, you can see more of his work.
He has designed and developed the "Woodsman" knife for Cassström. It took two years to create a completed bushcraft knife.
Secondly: The Woodsman is brilliantly crafted and combines quality with craftsmanship. It is designed for work in the forest.
Let's get straight to the facts.
The video about the knife
If you prefer watching videos, then sit back and enjoy the show.
The facts: hardened Böhler tool steel K720
Casström manufactures the knife with hardened Böhler tool steel K720, HRC 58-60 (What does HRC mean?).
The steel has a high carbon content (carbon steel).
The steel rusts faster than stainless steel. But you probably know that good and sharp Bushcraft knives are made of carbon steel and need to be maintained.
The Böhler tool steel is an oil-hardened tool steel, making it tough and stable. It has a very fine structure that facilitates sharpening to the sharpness of a razor blade.
Due to the low chromium content in the steel, it tarnishes when left moist. Therefore, it is advisable to wipe it after use. If you are not using it for a longer period of time, then use oil or wax to seal and protect the blade.
The handle made of Curly Birch or Dark Bog Oak
Depending on your preferences, the handle is made of Curly Birch or Dark Bog Oak.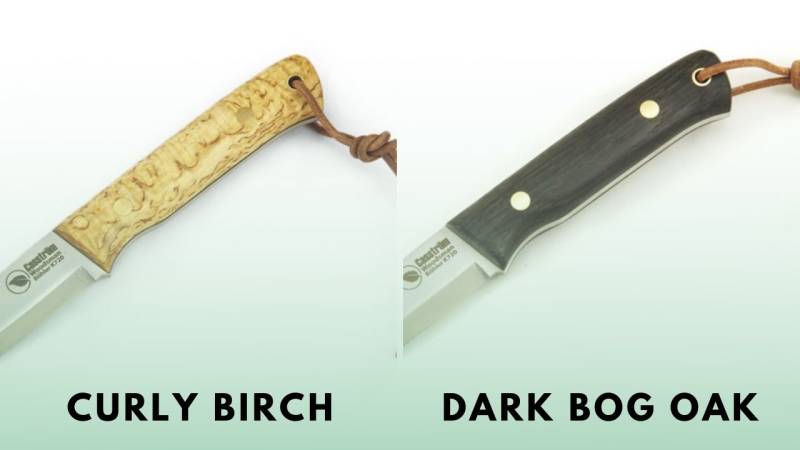 The difference: Curly Birch is a beautifully pale birchwood mixed with a marble-like grain. Dark Bog Oak is oak wood that has been preserved in peat bogs for thousands of years (approximately 5000 years) and is as hard as iron.
The wood of bog oak has a rough texture and the color tone can vary from pitch black to dark brown.
And one thing I love most about the knife: The HANDLE.
Once you have chosen your wood for the handle, you will find that it is perfectly shaped and solid. Never before has a knife fit so securely and comfortably in my hand.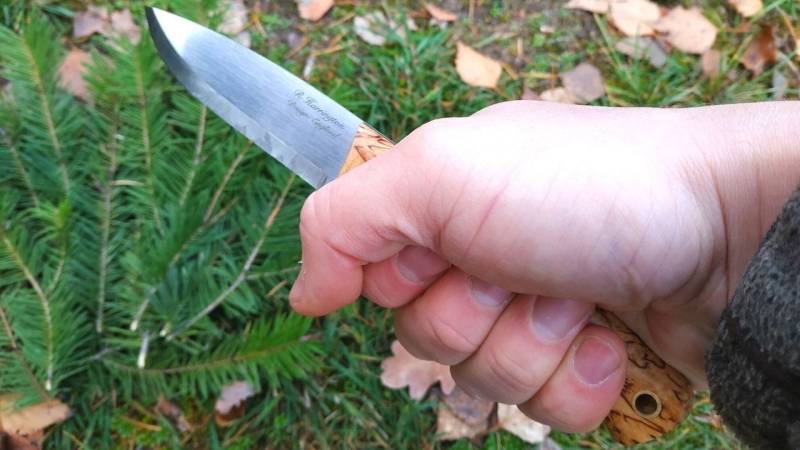 Here are the facts in a list:
Total length approx. 20.5 cm
Blade length approx. 8.8 cm
Blade height approx. 2.7 cm
Blade thickness 3.8 - 4 mm
Weight approx. 156 g
Steel: Böhler K720 (carbon steel)
Hardness 58-60 HRC
Grind: Scandi
Brand: Casström
Full-Tang Construction? Of course!
The knife is a full tang construction and the handle scales are attached to it.
Do you see the black inserts between the steel and the handle? They are there to absorb shocks, like when Batoning, to prevent them from being transferred to the handle scales. This extends the lifespan of your knife. A great idea, isn't it?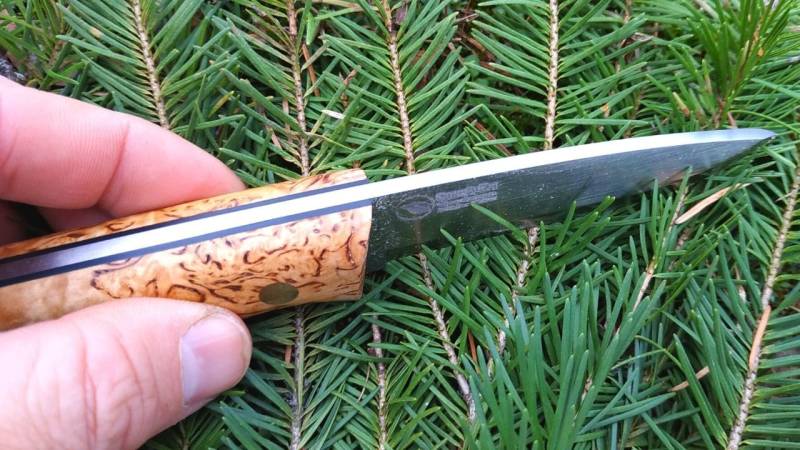 The handle scales are attached with brass pins and a lanyard is also included. However, I am not a fan of lanyards (except in water or on mountains) and therefore have not threaded a leather strap through.
The matte and color-rich leather sheath is made of 3.5 mm thick vegetable-tanned leather, stitched, and the belt loop is partly stitched and riveted.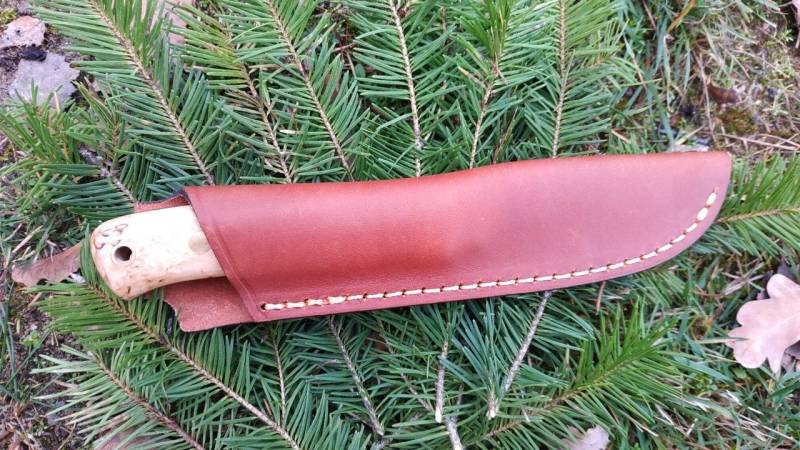 Overall, the knife weighs only 156 g and measures about 20.5 cm, with the blade being approximately 8.8 cm long, maximum 2.7 cm high (at the handle), and 3.8 mm thick.
The Scandi grind is approximately 7.5 mm deep at the ricasso (non-sharpened area) and tapers to about 4.6 mm at the tip, resulting in a very strong blade and point.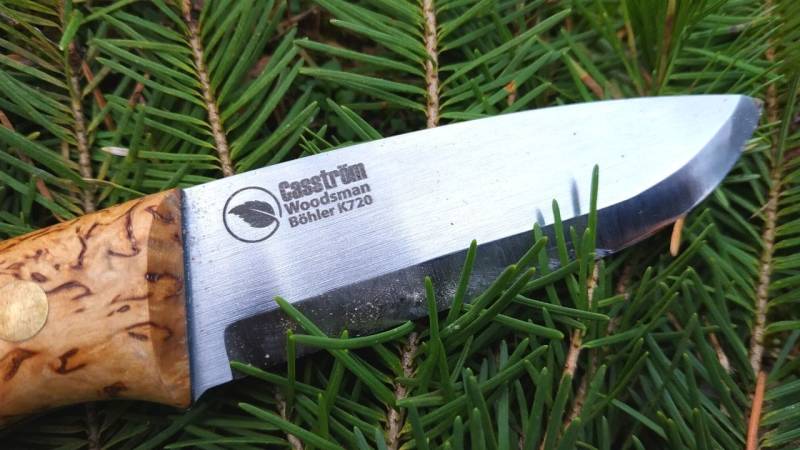 The handle is approximately 11.5 cm long, 2.5 cm wide, and 2 cm thick in the middle, and gently contoured for a very comfortable grip.
The fit and finish is excellent, and the knife has proven to be exceptionally comfortable over extended periods of time in all the different grips I have used during my testing.
The blade - easy to sharpen and durable
The blade can be easily sharpened on site with a simple sharpening stone. Even if you put the knife under extreme stress, such as Batoning with hardwoods (both with and against the grain), the blade does not tend to roll, chip, or tear.
Whether you carve or make Feathersticks, cut skin, meat, and tendons, or chop vegetables: The Woodsman is versatile.
With the knife, I was able to create excellent Feathersticks, while the sharp back of the knife harmonizes wonderfully with a fire steel.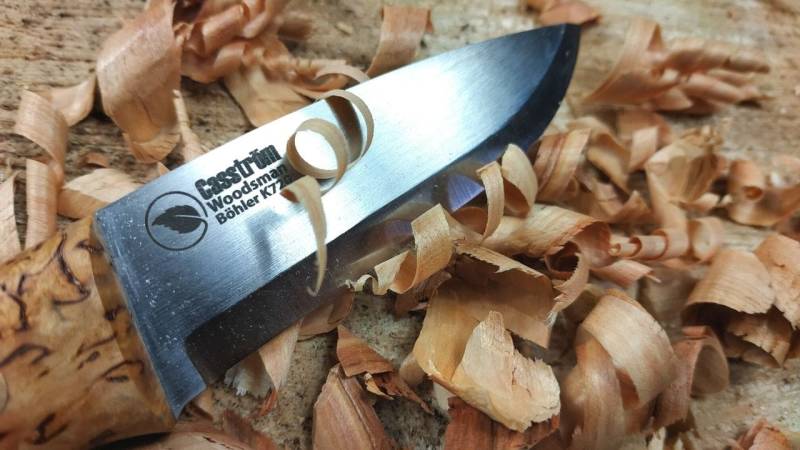 The length of the blade provides excellent control over the tip, and overall, the knife is a strong, functional, and attractive tool for all-around use in Bushcrafting.
It is well-thought-out and made from premium materials for Bushcrafters and woodsmen. I expect to still be using this knife in 30 years.
Here are a few impressions: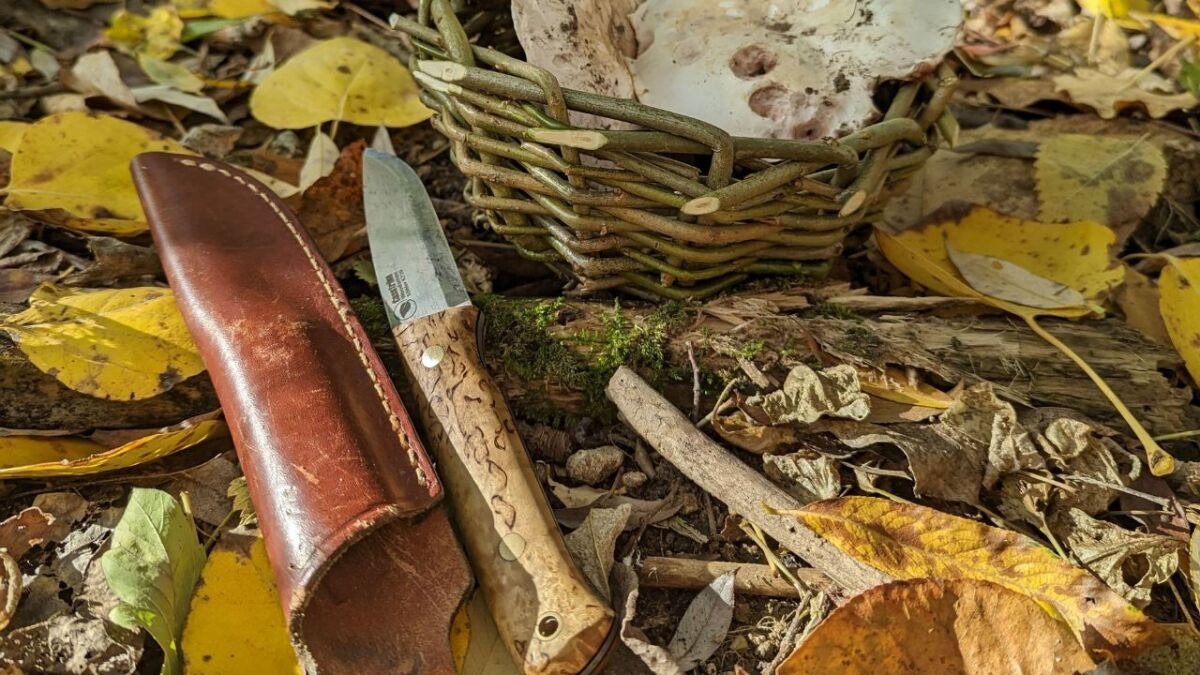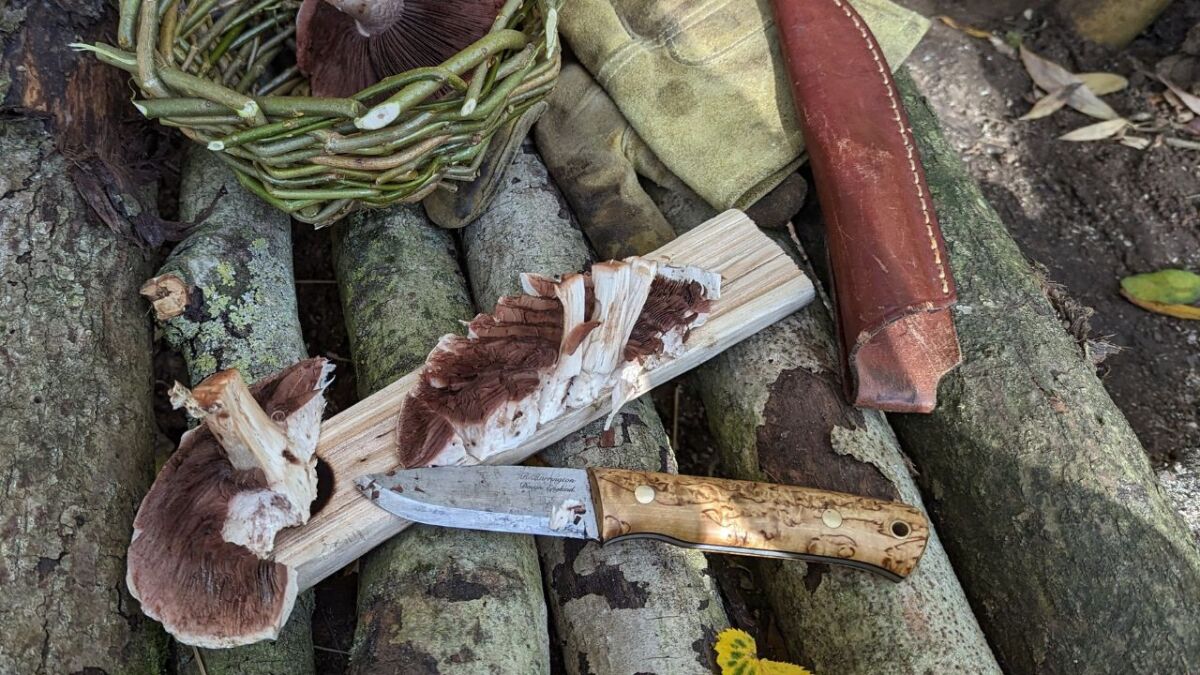 Cost: about 120 to 130 € depending on the offer. The knife is also available with a fire steel and costs about 20 € more.

Was this guide helpful?
16 people found this guide helpful.
5.00 out of 5 points (16 Ratings)