Back to german article
Hultafors Trekking Axe HULTAN in the test
The Hultafors Trekking Axe HULTAN in the test. In this review, I take a close look at this axe, which I have already tested and tried out in the forest.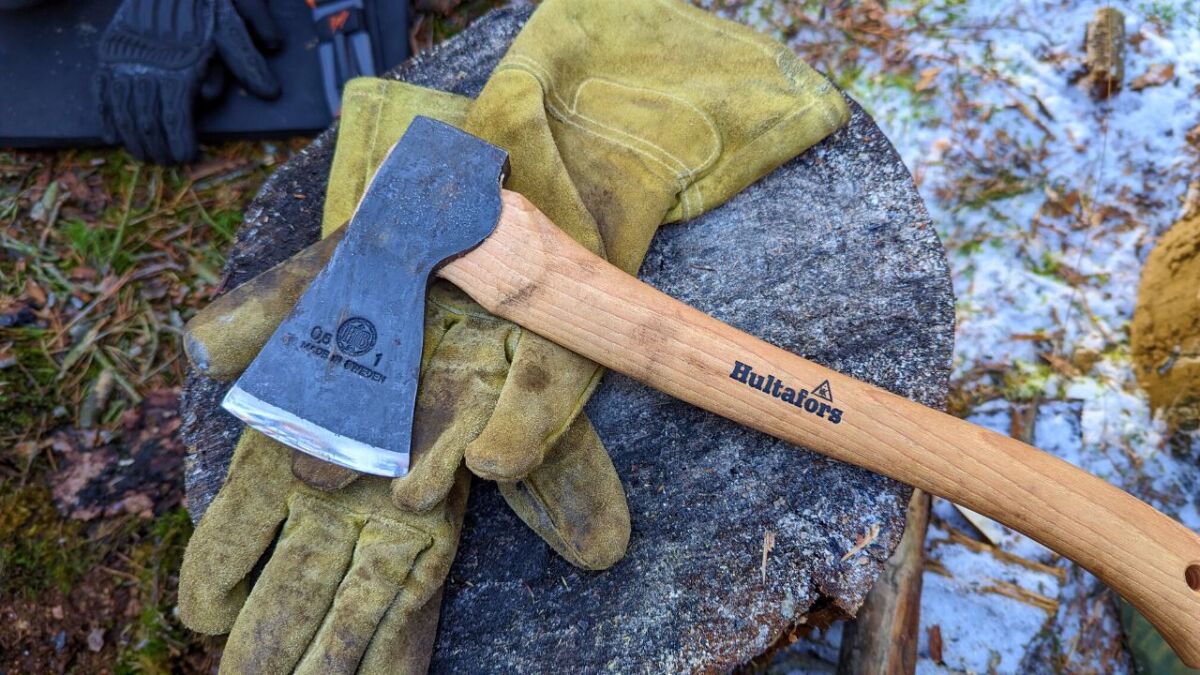 ---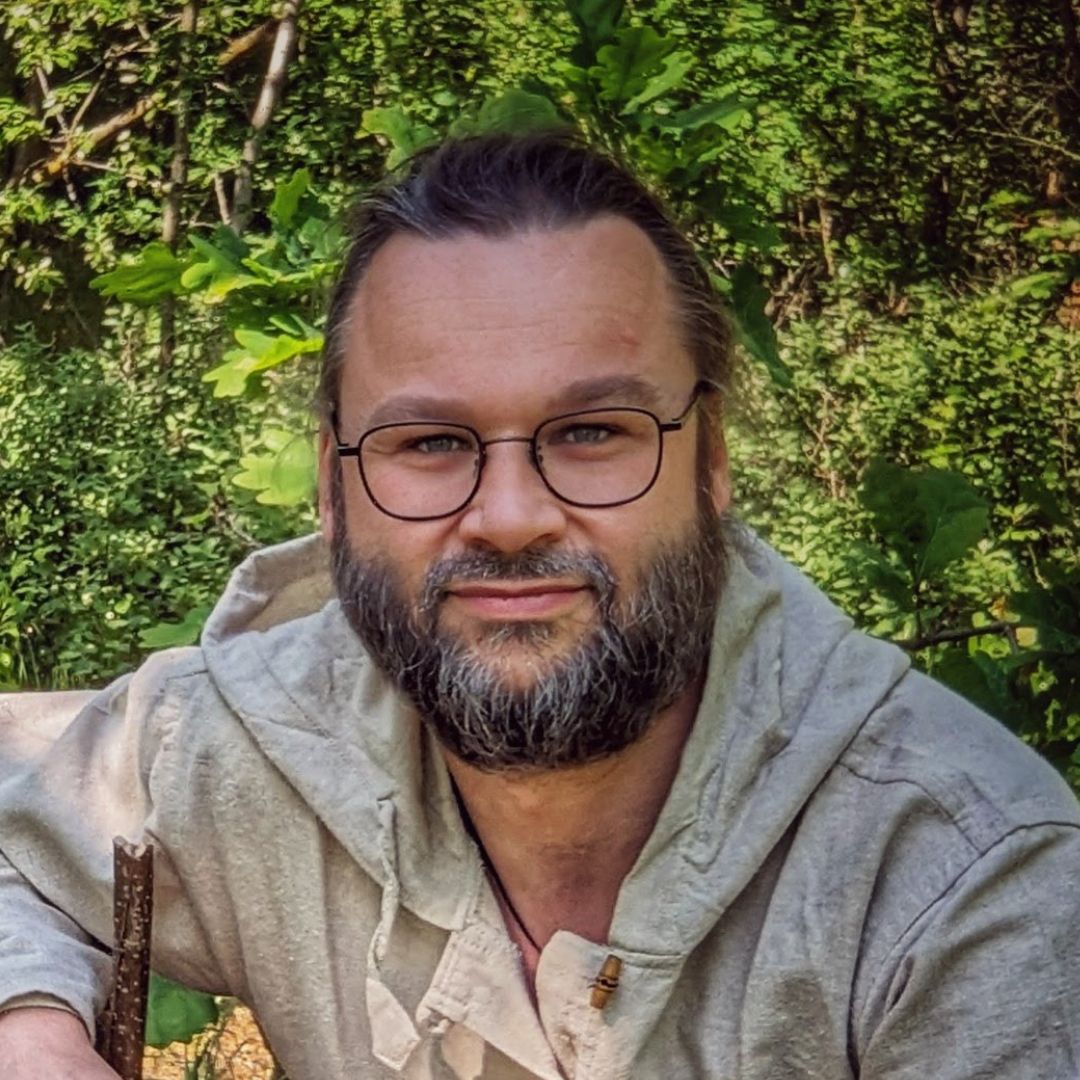 ---
👉 The key facts from this guide
The Hultafors Trekking Axe HULTAN is a high-quality, handcrafted axe that is ideal for a variety of bushcraft activities. It has a total length of almost 40 cm and weighs about 1 kg.
The handle of the axe is made of hickory wood and provides an excellent grip. It has a nice curve that allows for stable handling, and a hole through which a string can be drawn to hang the axe.
The blade and head of the axe are made of forged Ovako carbon steel, making it very robust and durable. The blade is thin but sharp enough to remove hair from the arms.
The axe comes with a high-quality leather sheath that protects the blade when not in use. The sheath has a strap that goes around the blade to hold it in place.
The Hultafors Trekking Axe HULTAN is ideal for delimbing, felling small trees, and chopping wood. It is robust enough to chop branches easily without breaking.
Despite the higher price, the Hultafors Trekking Axe HULTAN is worth its money as it has proven to be a reliable and versatile tool for various bushcraft activities.
For some people, it can be difficult to find the right axe, especially if they don't know what they will be using the axe for.
A big or a small axe? One that is a good all-round axe or one for adventures in the forest?
For me, choosing an axe always meant weighing the pros and cons and objectively considering the characteristics.
In this test, I will do exactly that with a tool that I have already tried and tested: the Hultafors Trekking Axe HULTAN.
The most important thing first - The quality of processing
This axe comes from a long line of high-quality handmade axes, so I expected the craftsmanship to be top-notch.
Fortunately, in this case, I was not disappointed as the axe looks and feels exactly as I had expected.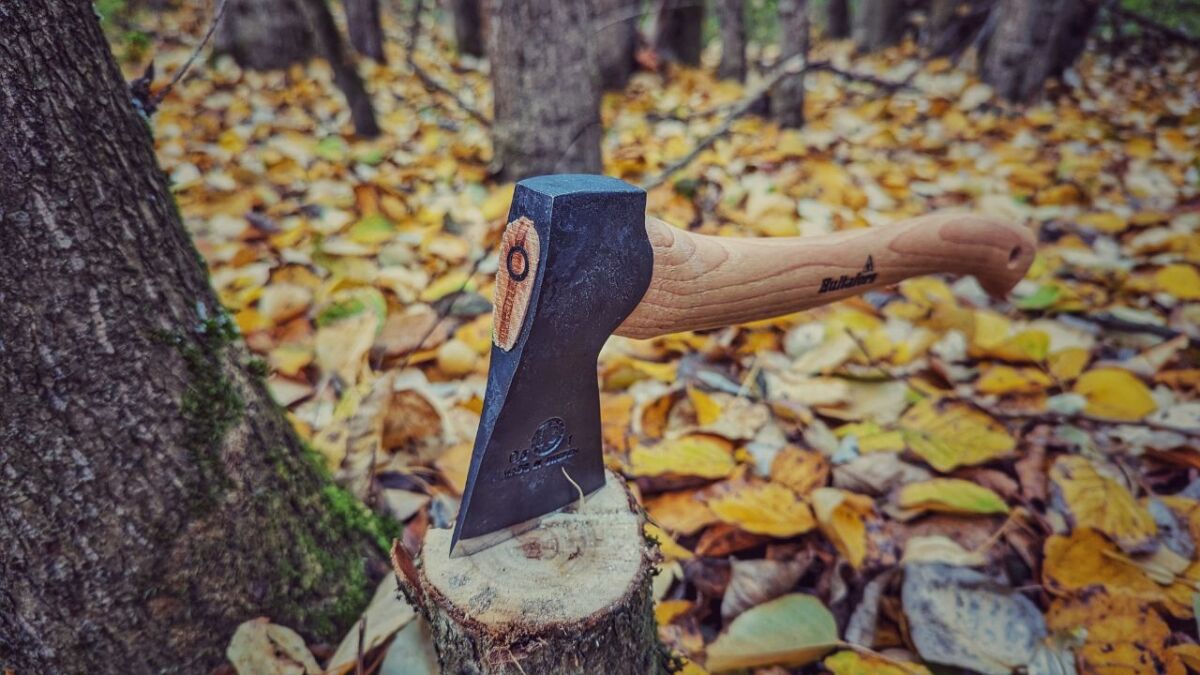 The total length is almost 40 cm when I take into account both the handle and the head.
The weight of the Hultafors trekking axe HULTAN is about 1 kilogram. Therefore, it is not one of those axes where I feel like the axe will become too heavy in the long run.
When I received this axe, the first thing I noticed was that its head is quite thin. Normally, this could cause problems. For example, I was worried that it wouldn't be able to handle large amounts of wood or last for many years.
But in this aspect, I was wrong, as this axe has proven its high quality for years.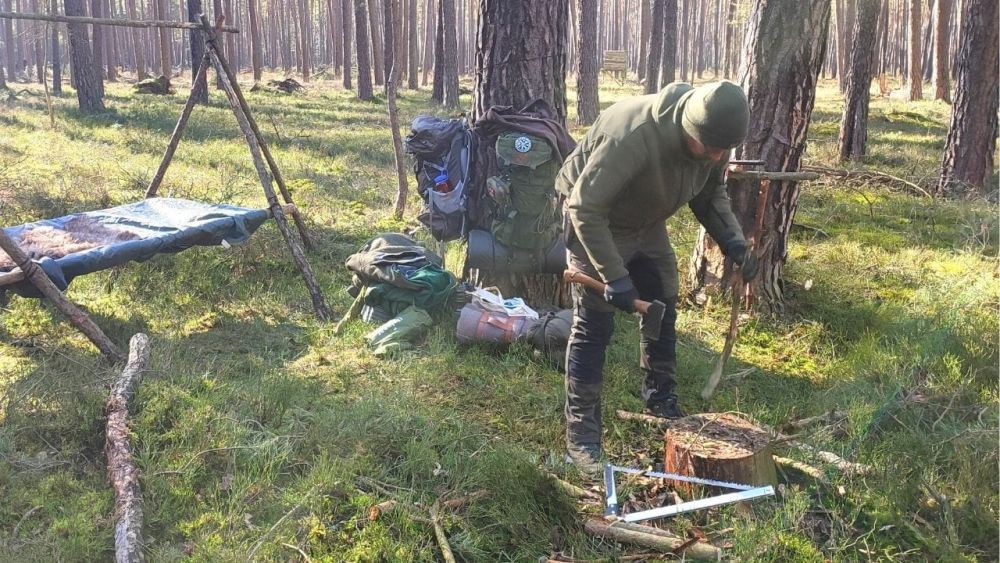 If you're looking for a medium-sized axe that you can easily pack in your pocket, this could be a good choice.
Although the Hultafors Trekking Axe HULTAN is best suited for chopping softwood, that doesn't mean it's not durable. In fact, the company that produces these axes is known for thoroughly testing their constructions.
The handle of the Hultafors trekking axe HULTAN
What immediately caught my attention about this axe is that it looked more sophisticated than some other axes I tried.
The hickory wood handle is smooth and perfect. Additionally, the handle has a nice curve that is excellent for stable handling. This way, my hands won't get too tired or painful after some time.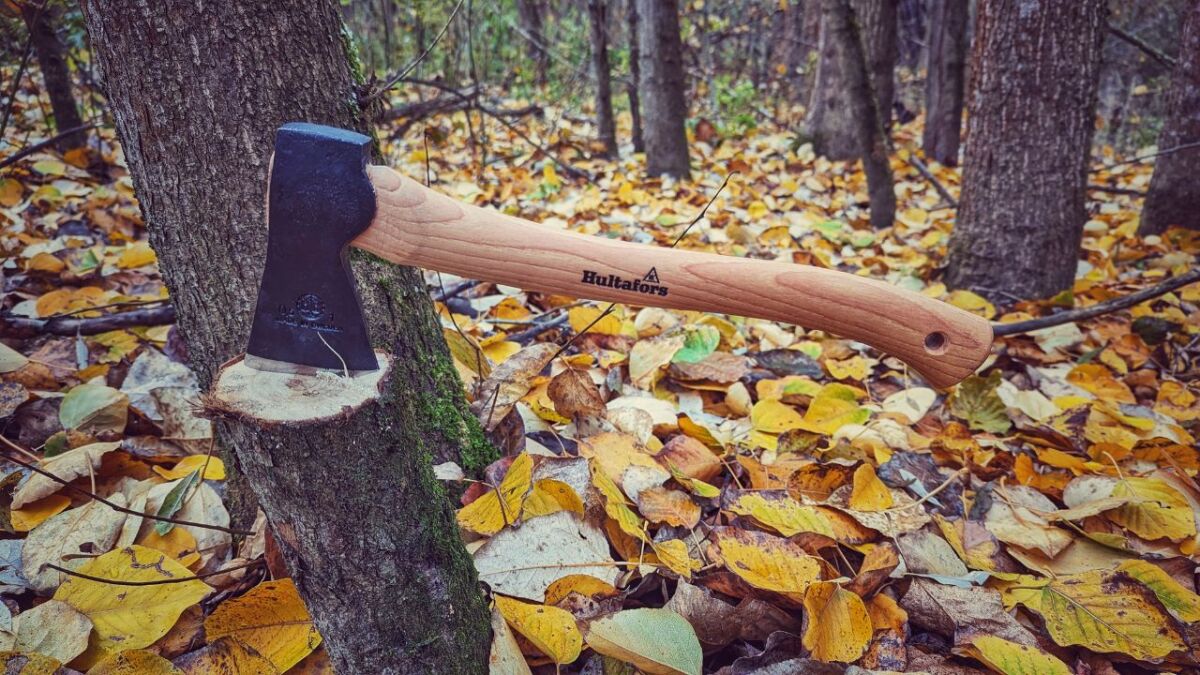 The grip is also excellent. My hand simply glides over the handle. The handle also has a hole, which I found very practical as I can thread a string through it and hang my axe.
Well, one of my main concerns with axes is whether the handle will break over time.
Due to its small size and the fact that the head of the axe is also not large, I thought that I would not use it for very long.
Once again, I was mistaken because the handle still holds up until today - years later.
The construction and the way the wood grain runs in the right direction - this gives this axe enough power to easily chop branches without breaking them.
Overall, the appearance of the Hultafors Trekking Axe HULTAN reminds me of a long axe. However, the trekking axe is not a felling axe, as it is not as long.
It is situated somewhere in the middle, but strongly and beautifully made for a variety of bushcraft activities.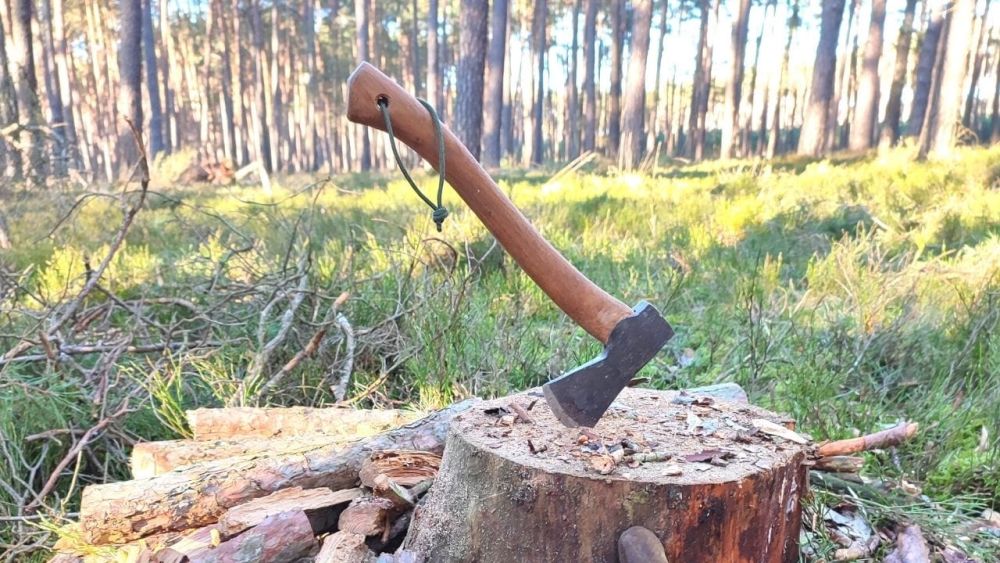 The blade of the Hultafors Trekking Axe HULTAN
The blade of this axe is a sight to behold, as it has a classic shape that we all love in Hultafors axes. It is thin yet sharp enough to remove hair from the arms.
The blade and head of the axe are made of forged Ovako carbon steel, making them very sturdy and durable.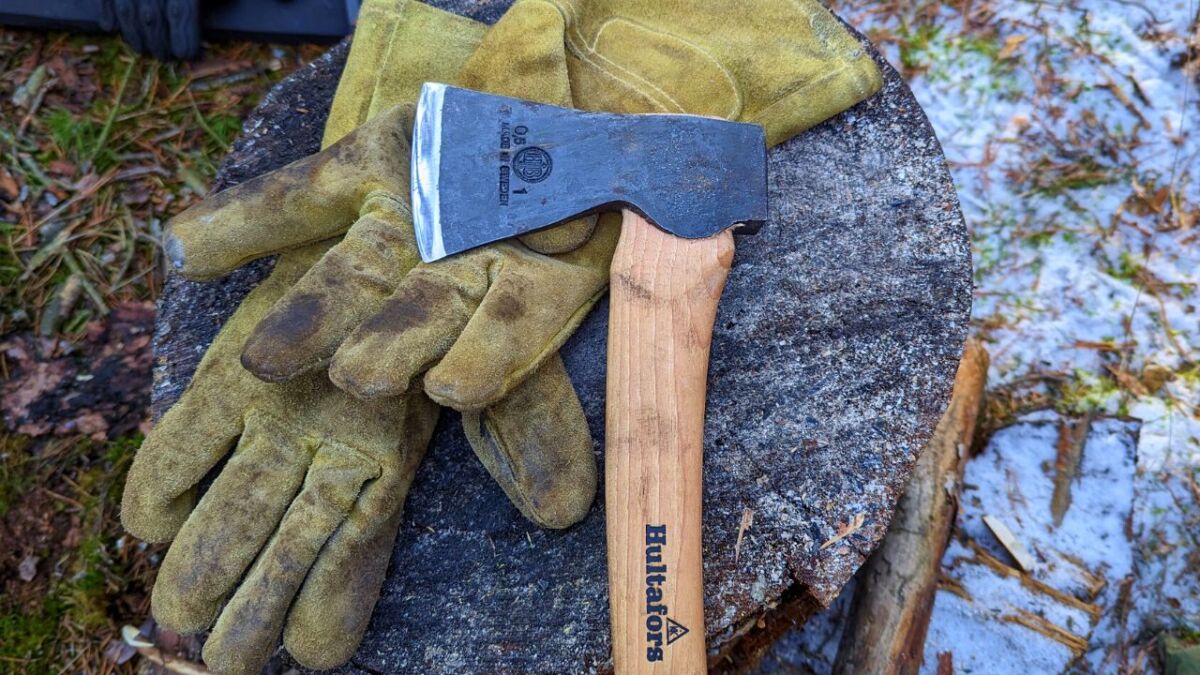 However, some people say that the blade could rust if it gets wet. So if you decide to buy the axe, make sure to take good care of it.
At any rate, I do this regularly. I oil the blade with some mineral oil and rub the wooden handle with linseed oil. This keeps the blade and the wood looking fresh.
What I also noticed: The axe head is securely and firmly attached to the handle. So, there is no real chance that the head will fall off in the foreseeable future.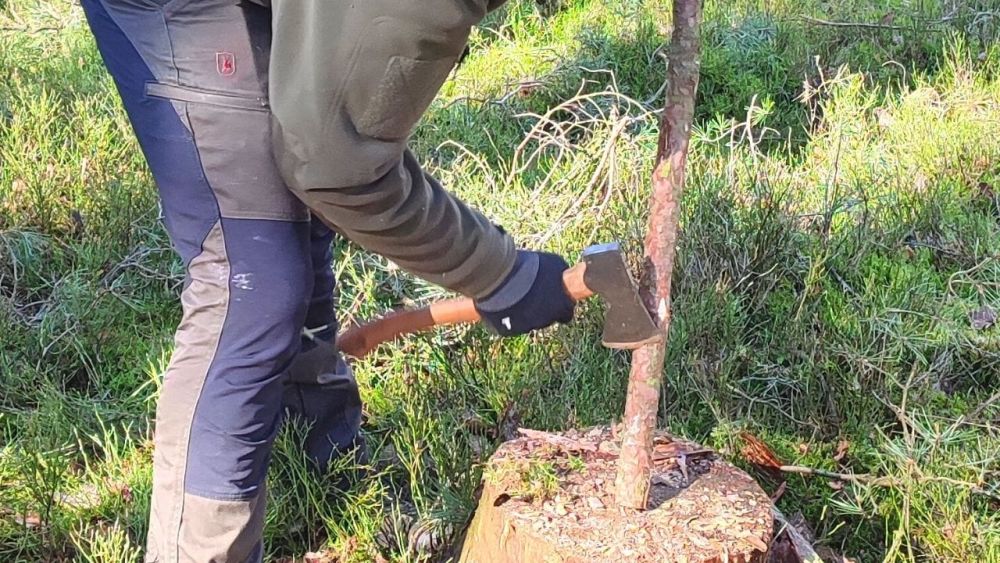 The sheath of the Hultafors Trekking Axe HULTAN
A leather sheath is included in the delivery to protect the blade when you are not using the axe.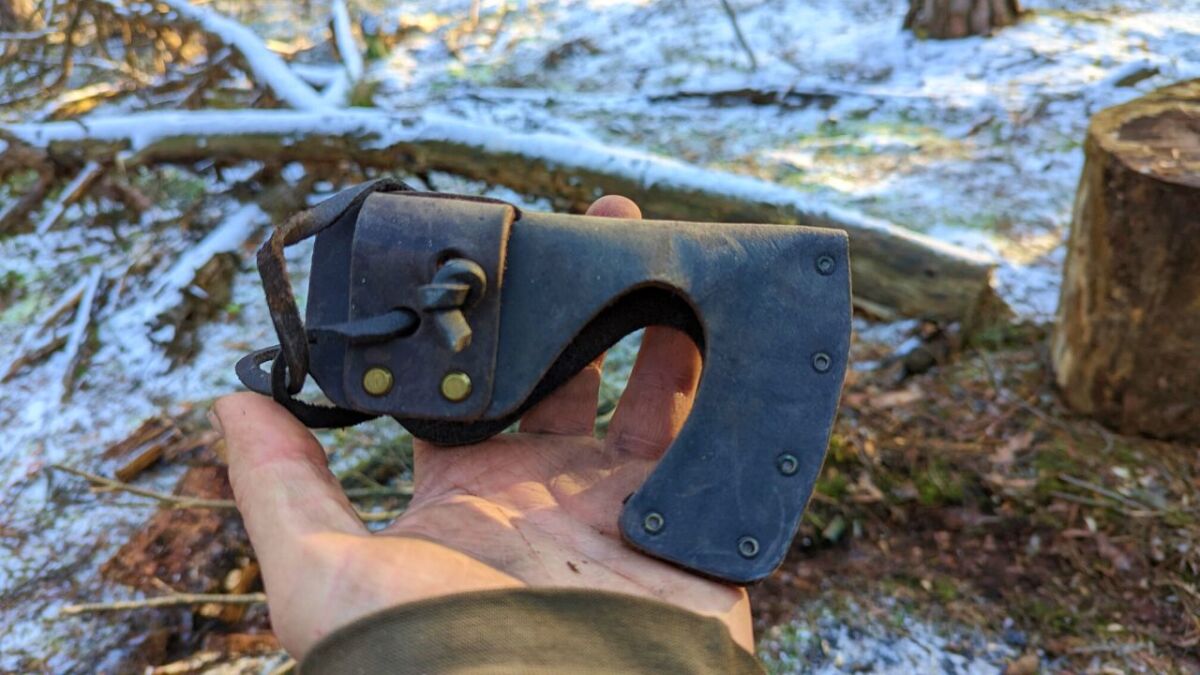 The company uses high-quality leather to make the sheath, and it has a strap that goes around the blade to hold it in place.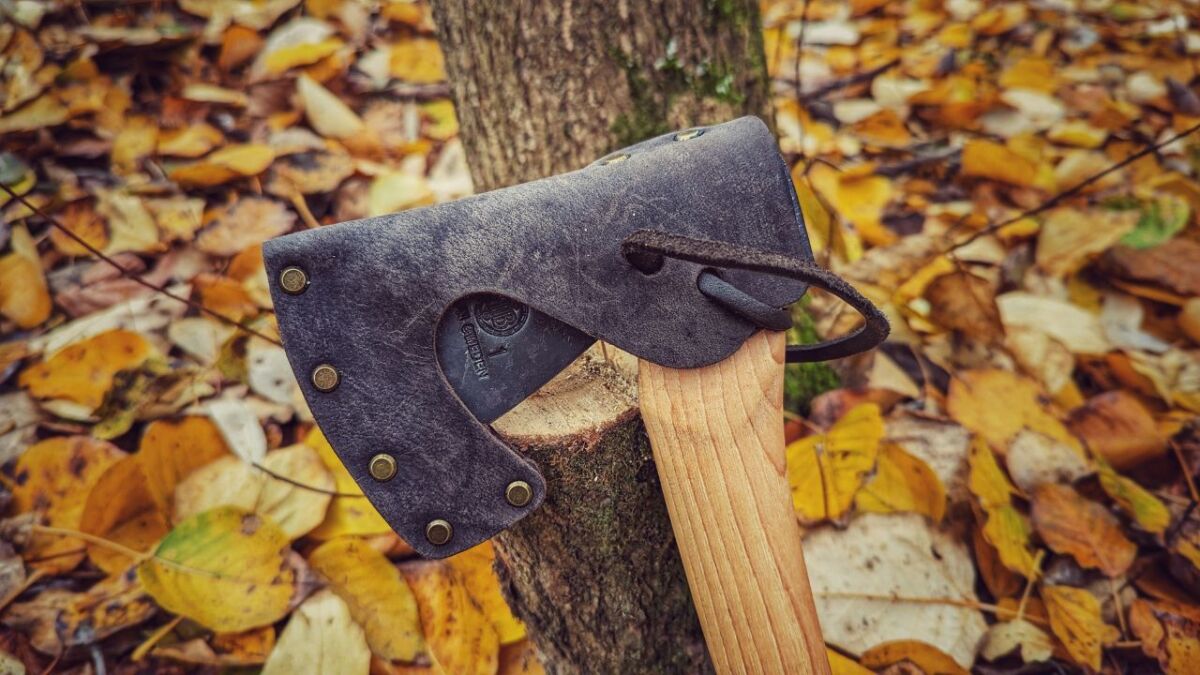 However, you should regularly maintain the axe sheath and use leather grease to keep it supple. Otherwise, there is a risk that the leather sheath will eventually tear.
Is the Hultafors Trekking Axe HULTAN worth the money?
This axe is worth its money because I have found that I use it for various chopping activities, both in my house and in the forest.
I recommend the axe to people who are looking for an axe that is slightly larger than a normal hatchet, but not so big that you can't take it with you.
Especially, I address Bushcrafters here, who undertake trips into the forest and need a reliable axe to carry out various bushcraft projects.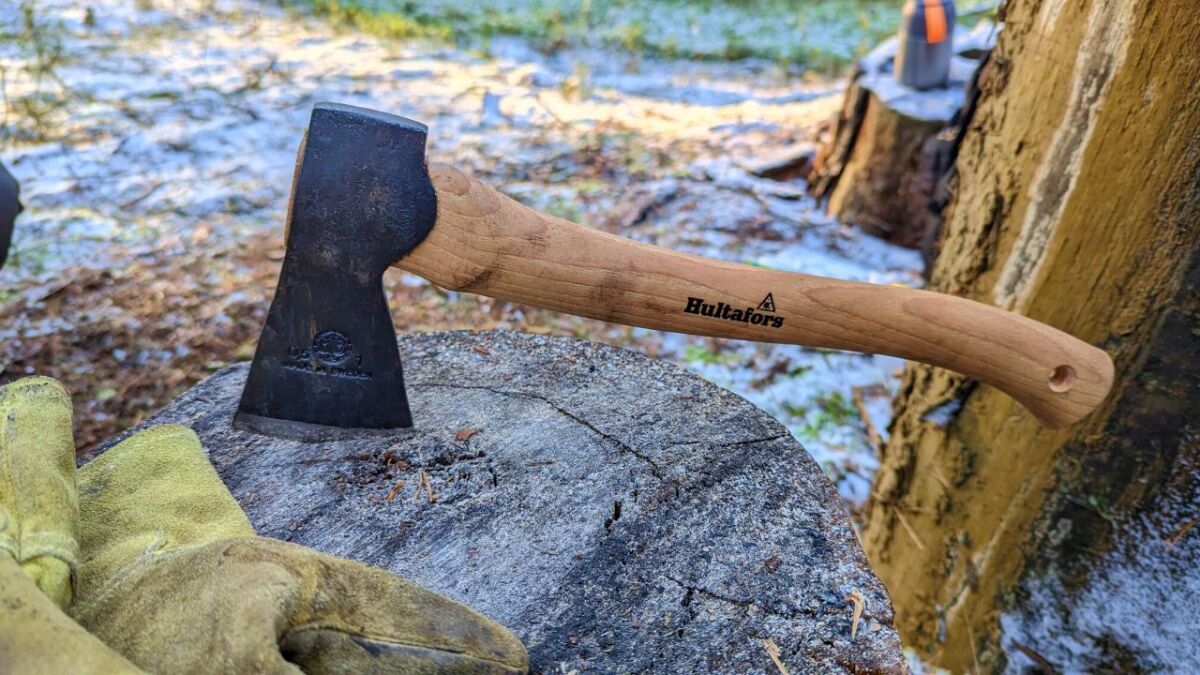 One of the best advantages of this axe is that it is small enough to fit in a backpack. And if it doesn't fit in the backpack, you can strap it to the outside.
With a weight of approximately 1 kilogram, the Hultafors trekking axe HULTAN is also not an impractical tool to carry.
What could influence the decision of this axe are the advantages and disadvantages.
Here are the conclusions I have come to.
Advantages:
Razor sharp straight out of the box, so I didn't have to sharpen it before using
Good-sized blade made of steel
Forged axe head with polished blade
Nice curves on the handle, making the axe easy to handle
Robust design, perfect for a variety of chopping actions
Disadvantages:
Expensive axe, but worth the money
Not suitable for hardwood
When to use the Hultafors Trekking Axe HULTAN
Finally, I would like to address all the situations in which I have used this axe.
Considering the design and weight, it is best to leave splitting firewood and felling thick trees to some larger axes.
In general, smaller axes are not designed for this purpose, especially since it takes a lot of time.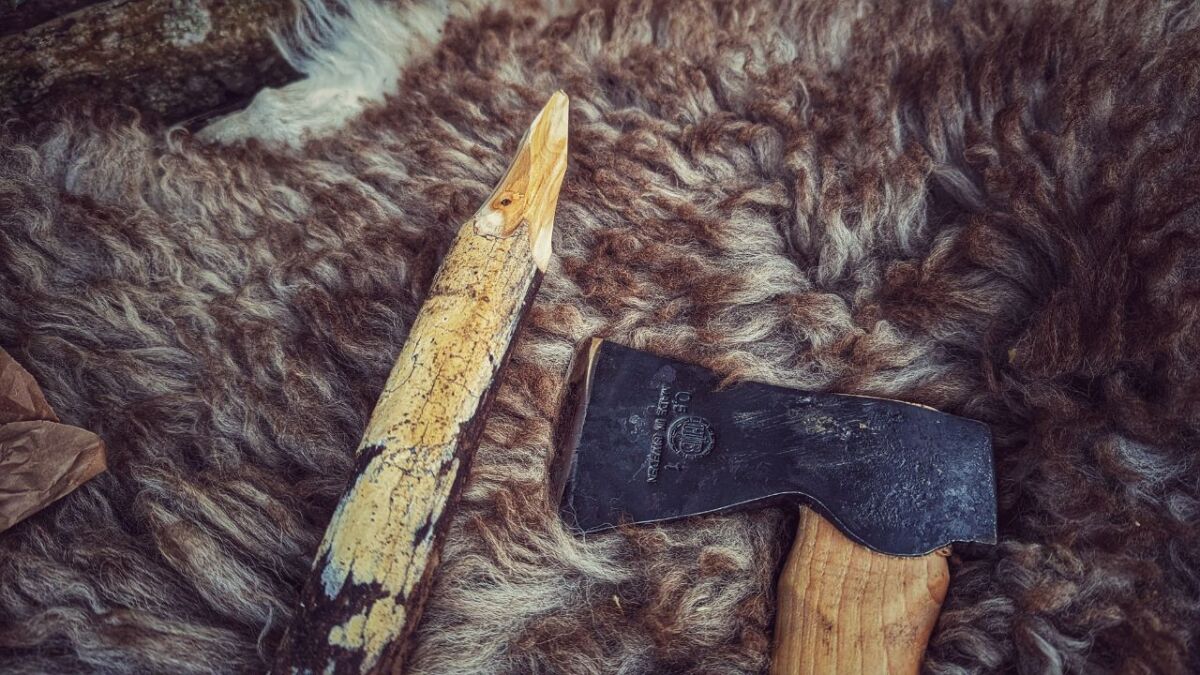 When I use the axe for firewood, I know I have to rely on my muscles. The Hultafors trekking axe HULTAN is simply not big and heavy enough to exert enough force on the wood.
Of course, I also chop wood with the axe and it works. However, if you intend to make a lot of firewood, then you should use a heavier axe. To chop a small pile of wood for the Hobo stove, the Hultafors trekking axe is more than enough.
But what I have discovered when using this axe is that it is overall a good forest axe. Its size is perfect for cutting branches, such as pruning.
If a tree is thin, I also fell the tree with the axe (view the most important axe skills here).
When it comes to debarking wood, this axe is certainly the star of the show. It seems like that's its main use. I never had any problems getting clean cuts with the axe when I was building a tripod.
Overall, cutting down small trees with this axe is not a issue. However, make sure to remove the bark beforehand and only cut down smaller trees in general. Otherwise, it will be a sweaty job.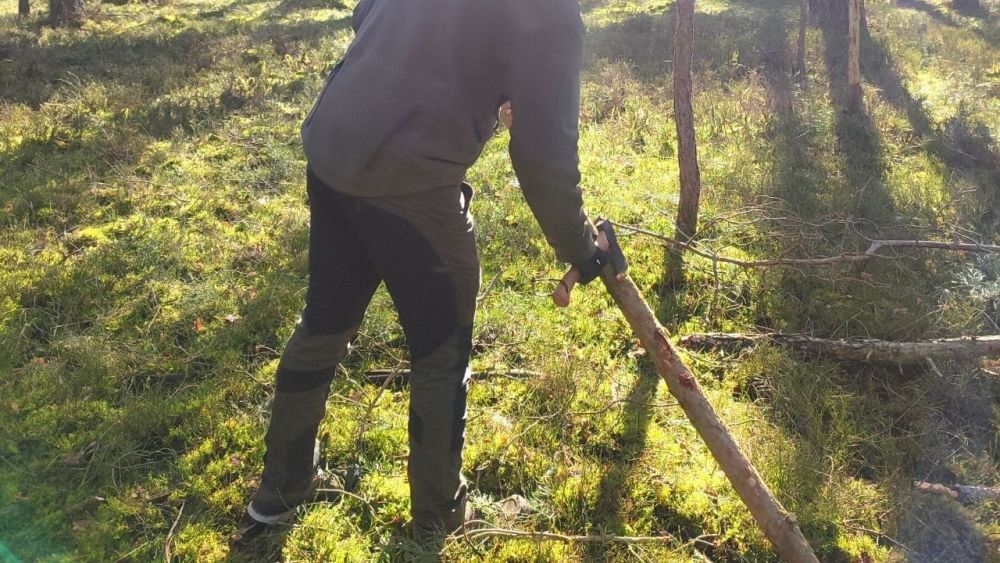 Translation: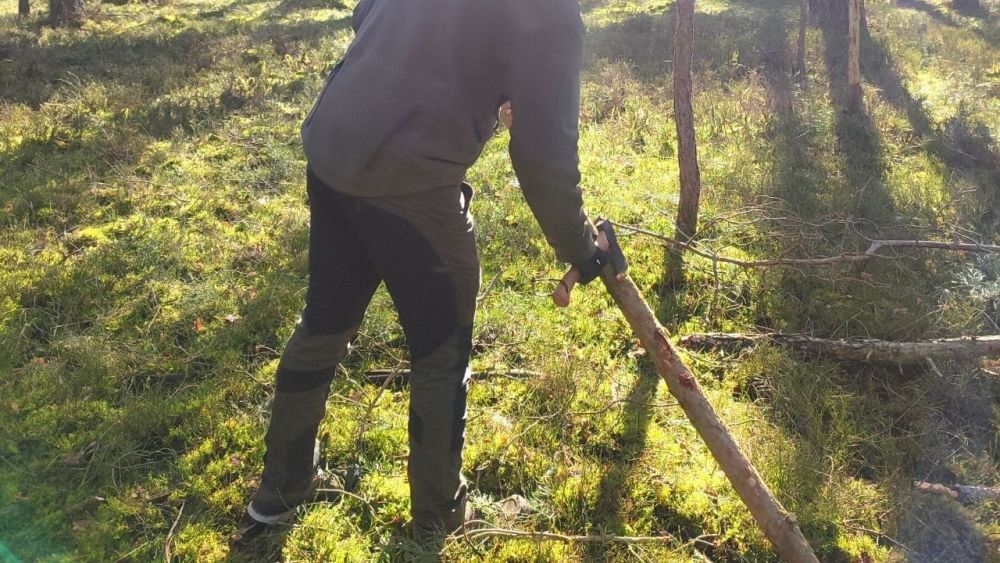 Final Thoughts on the Hultafors Trekking Axe HULTAN
I particularly like the handle, sharp blade, and weight of the Hultafors trekking axe.
The comfortable handle feels good in the hand and is nice and smooth. The sharpness of the blade makes this axe a powerful little tool in the forest.
For my purposes, including chopping firewood, felling small trees, pruning branches, and sharpening branches, the Hultafors Trekking Axe is ideal.
Daten aktualisiert vor 11 Stunden
Handgeschmiedetes Beil Hultan 375mm aus schwedischem Qualitätsstahl I Hultafors I Geschmiedet in Schweden I 805g Premium Axt mit Hickory Holzstil & inkl.Lederschutz I Nachschleifbares Beil I 841701
INHALT - Handgeschmiedete Premium Axt Hultan 805g inklusive Klingenschutz aus nachhaltigem schwedischem Kuhleder. Die Axt kann nachgeschliffen werden.
MAßE - Die kleine Axt ist 375mm lang. Ihr Gesamtgewicht beträgt 805g, wobei ihr Kopfgewicht 500g beträgt.
MATERIAL - Das Beil besteht aus hochwertigen Materialen. Der Axtkopf ist aus qualitativem CO2 neutralen schwedischen Stahl mit einem Härtegrad von 55 HRC gefertigt und als Korrossionsschutz mit Leinöl überzogen. Der Griff besteht aus nordamerikanischem Hickory Holz, das zugleich flexibel und stabil ist. Um eine sicherste Verbindung zum Stiel zu garantieren, ist der Axtkopf doppelt, sowohl mit einem Holzkeil, als auch einem Stahlring am Griff befestigt.
ANWENDUNG - Das handgeschmiedete Beil kann für diverse Arbeiten, wie Schnitzen, Holzbearbeitung, Outdoor und Survival Aktivitäten, Abtrennen von kleinen Ästen und Zweigen uvm. verwendet werden. Es ist klein und praktisch und kann somit immer mitgeführt werden. Der mit Leinöl imprägnierte Griff liegt perfekt in der Hand und erleichtert die Arbeit.
PREMIUM ÄXTE - Seit 1697 werden unsere Premium Äxte im schwedischen Hults Bruk auf traditionelle Weise von Hand gefertigt. Mit über 325 Jahren Erfahrung formen unsere Schmiede schwedischen Stahl zu hochwertigen Äxten und verleihen ihnen eine hohe Haltbarkeit und Lebensdauer. Jede Axt ist ein Unikat, dass bei richtiger Nutzung über Generationen weitervererbt werden kann.
99,90 €
UVP: 114,00 €
View Product
However, for those who find the Hultafors Trekking Axe HULTAN too expensive, they should consider receiving it as a gift. Such a gift is not only individual, but also made for decades.
Have you already used the Hultafors trekking axe HULTAN? What experiences have you had with the axe?

Was this guide helpful?
17 people found this guide helpful.
5.00 out of 5 points (17 Ratings)