Back to german article
19 Bushcraft ideas – guaranteed to sharpen your skills and provide fun in the woods
These Bushcraft ideas for your camp sharpen your skills and are fun. Transform your Bushcraft camp into a comfortable personal space in the woods.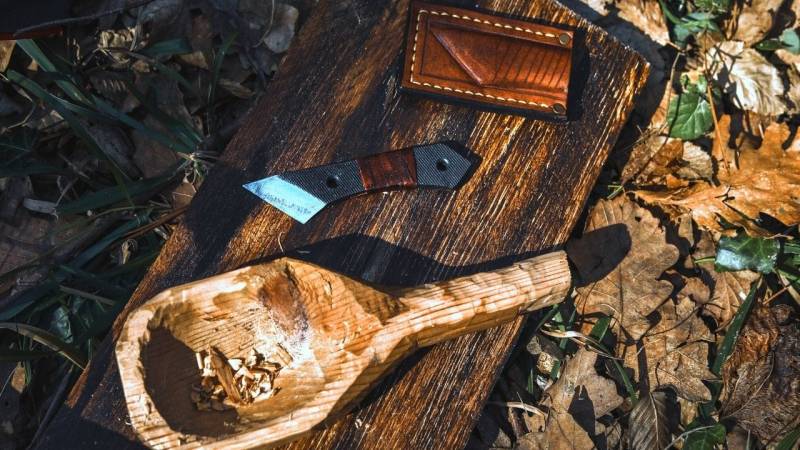 ---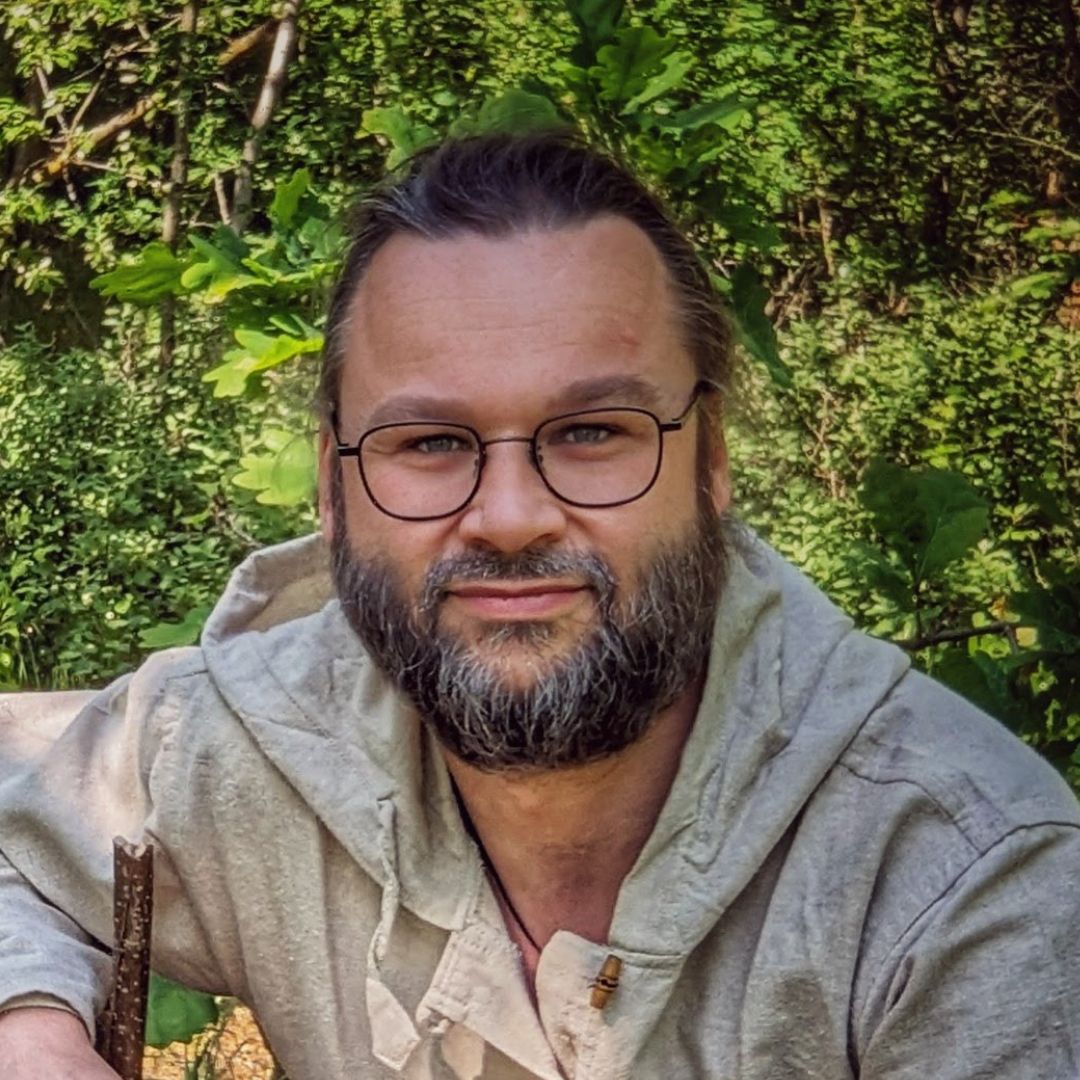 ---
👉 The key facts from this guide
There are numerous ideas to strengthen your wilderness skills.
Build a bushcraft survival shelter to protect yourself from rain, wind, cold, and sun. Usually, you only need wood, some rope, and time.
A wooden mallet is a fundamental tool for Bushcrafting. You can use it to drive stakes into the ground, make mortise and tenon joints, or split branches with your knife.
A tripod is a very useful structure in your bushcraft camp. You can hang your clothes on it, use it for cooking, or use it as a carrier for other structures.
Build a bushcraft chair to rest your tired legs by the campfire. It is quick to assemble.
A wooden table is useful for laying things down and having them within reach. There are many ways to build a table.
If you can make ropes, your projects will be much easier to handle. You only require strong plant fibers, like those from the nettle.
As Bushcrafters, we enjoy the simplicity of forest life for many reasons. Through experience, we have learned how to stay healthy, comfortable, and relaxed in the woods.
To live a good life in nature, it is advisable to strengthen your skills. This can only be done by practicing and implementing projects.
Below are 19 ideas to transform your Bushcraft camp into a comfortable personal space in the woods.
1. Bushcraft-Survival-Shelter
Rain, wind, cold, and sun can take a toll on you. Therefore, build a shelter, a simple dwelling. You usually only need wood, some rope, and time.
Once the structure is built, cover the roof from bottom to top with natural materials to make your shelter weatherproof.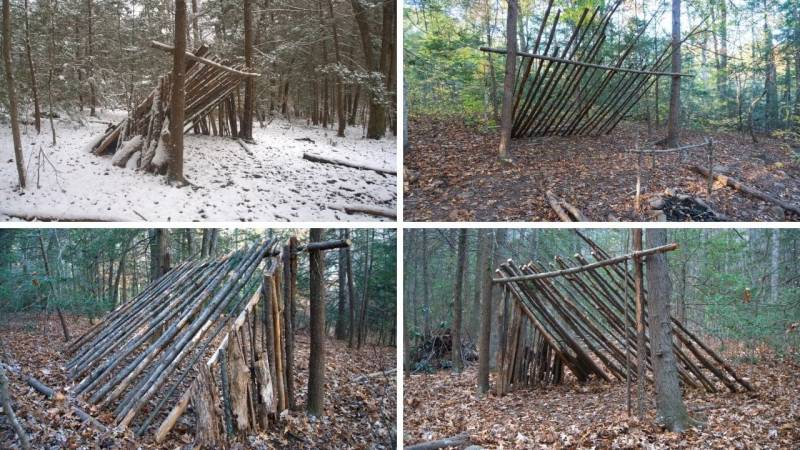 Skills you learn while doing this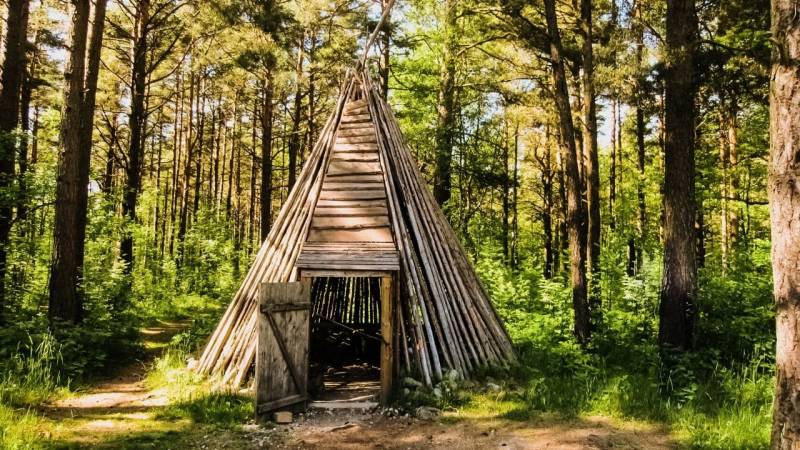 2. Wooden mallet
Building a wooden mallet is not only fun, but also provides you with a basic tool for Bushcrafting. You will constantly need to drive branches into the ground, cut joints, or split branches with your knife.
3. Tripod
Building a tripod is quick and a very useful structure in your Bushcraft camp. You can hang your clothes on it, use it for cooking or as a carrier for various other structures, such as your shelter.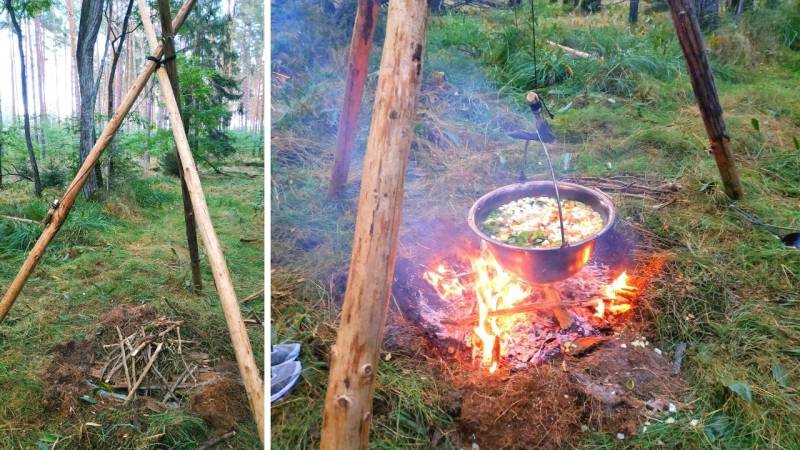 4. Bushcraft Chair
Spent a lot of time working in the woods? Just finished a long hike? Then rest your tired legs by the campfire.
Of course, with a comfortable and solid Bushcraft Chair.
Quickly built and assembled, this chair must not be missing in any permanent camp.
Learn in the "Wildimpuls" program how to build a Bushcraft Chair in an hour - even if you've never tackled such large projects before.
You will sharpen your skills in handling the ax, knife and saw. You will also learn knots and how to carve notches.
5. Wooden Table
Build a table - no matter how big - it is useful to have various things at hand. There are many ways to build a table; one of which is shown in the tutorial article.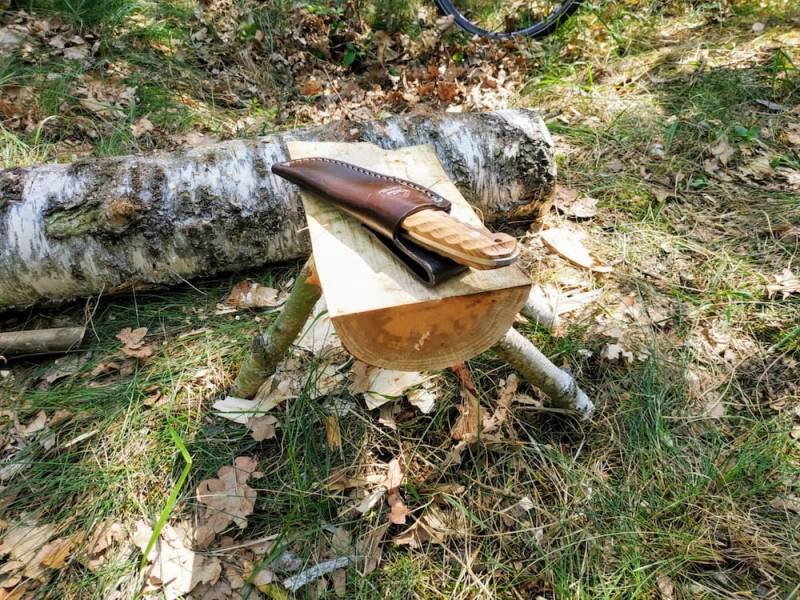 6. Making ropes
If you can make ropes by yourself, your projects will get many times easier. You only need strong plant fibers, such as those from the stinging nettle.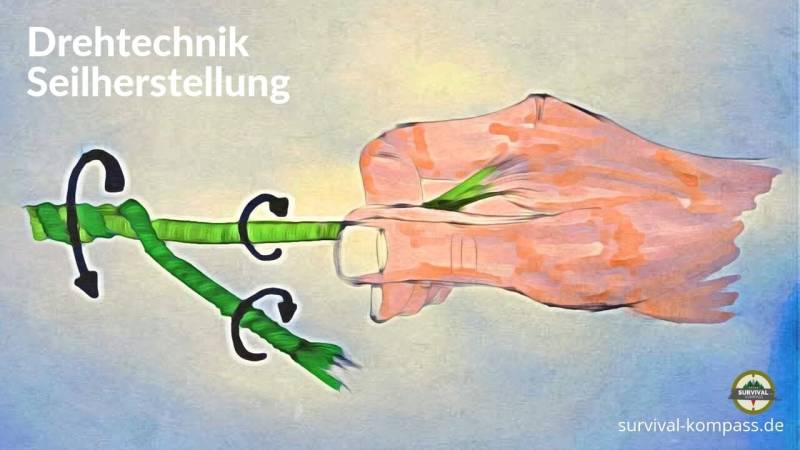 7. Making a leather bag
Why make a leather bag? Well, for transporting and collecting your tinder, of course. A leather bag is perfect for this purpose and can be made quickly.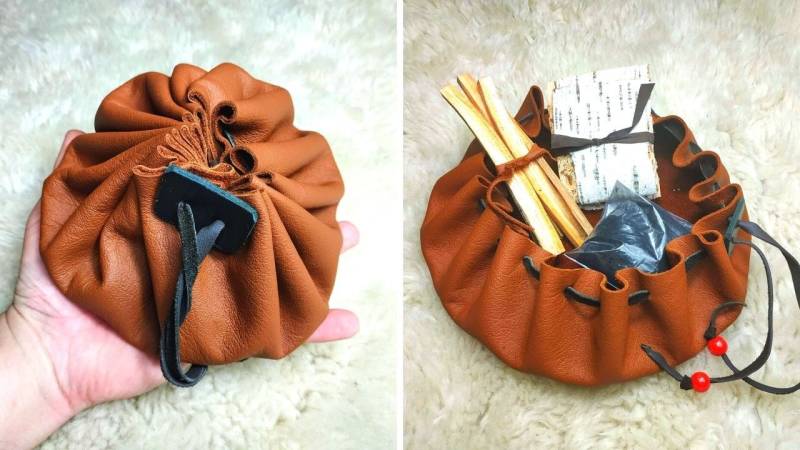 8. Matchbox made from birchbark
Small boxes made from birchbark are perfect for matches, kindling, stones or other small items. You usually only require a large piece of birchbark to build your boxes. To match it, you carve lids and bottoms from branches.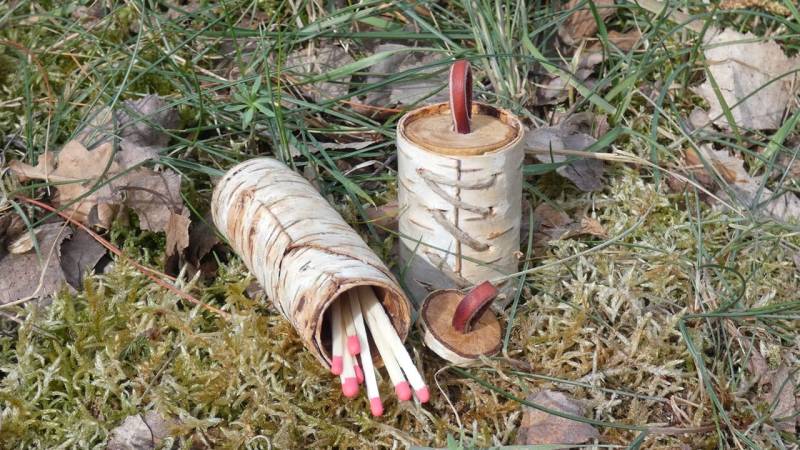 9. Carving wooden spoons
Carving a wooden spoon is an idea that comes to most people while sitting at the campfire and cooking. You stir around with your wooden spoon and use it to eat your bean stew.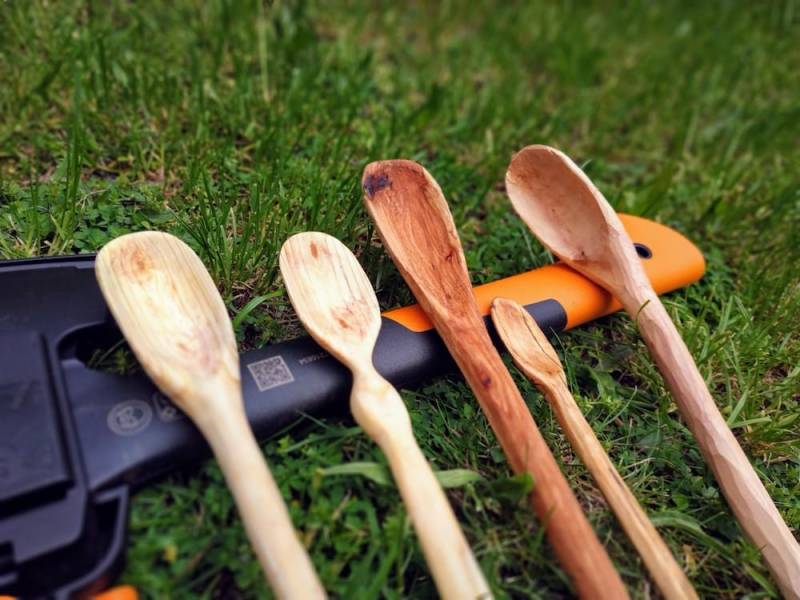 10. Building a Roycraft pack frame
The Roycraft pack frame is an exceptional carrying frame: a lightweight and sturdy A-frame that is made from minimal things and costs almost nothing.
Learn about the design, knots, tie-down straps, and knife skills required to construct the ultimate wooden frame - the Roycraft pack frame.
You will find the complete course - step by step - in my online course "Build the world-famous Roycraft pack frame".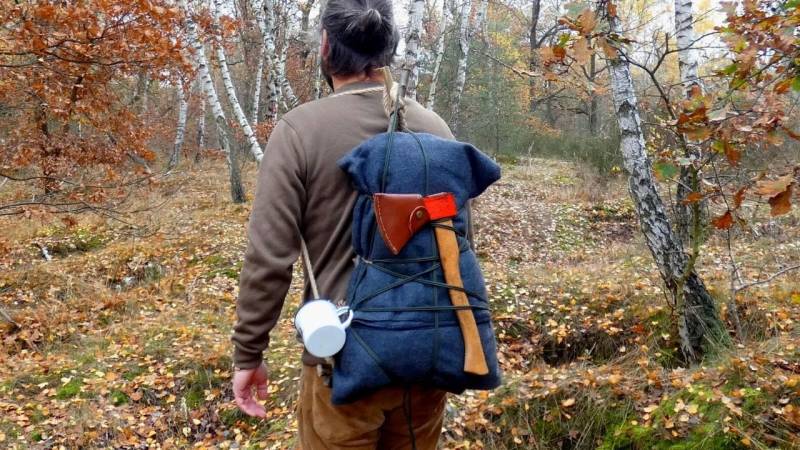 11. Building a pot hanger
You should build a pot hanger right away when your shelter is set up. This way, you can adjust the height perfectly and your food will get just the right heat.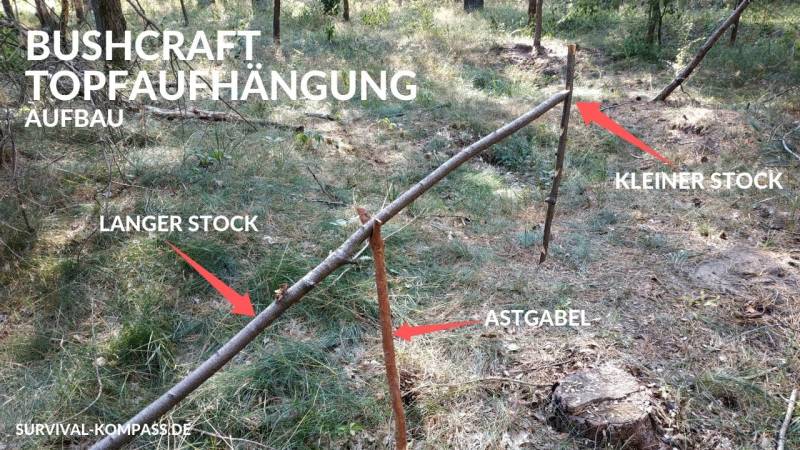 I have captured another idea for a flexible pot hanger in this short video:
In detail, we build this pot hanger in the Wildimpuls distance learning course. There, I will show you the entire construction step by step in a weekly mission.
12. Building a spear
Building a spear in German forests? Yes, it may not be necessarily needed, but it looks great, and you sharpen your skills with the knife and wood.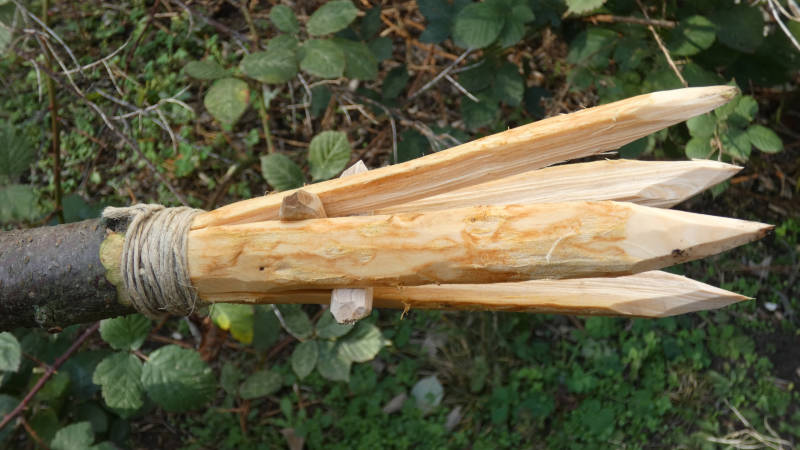 13. Building a trap
You must be able to build traps in a survival situation. Not necessarily in the bushcraft camp, but in case of a real emergency. If you know a simple deadfall trap, you know the basic principle.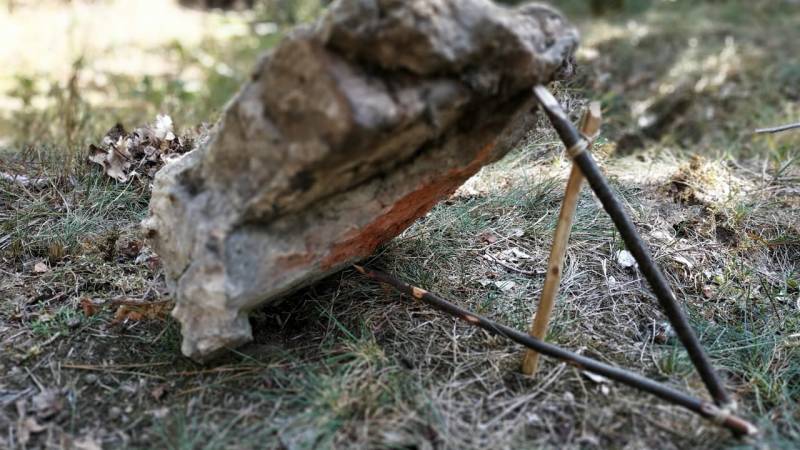 14. Practice Knots
You won't get far without the right Bushcraft knots. It's not until you build your camp that you'll realize how important knots are and how good an idea it is to practice them.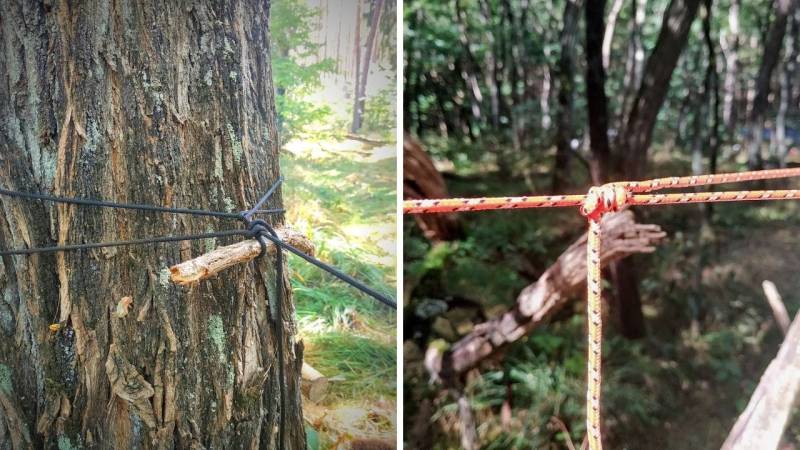 15. Carve Notches
I strongly recommend the 4 most significant notches for Bushcrafting. You will need them again and again for your shelter, your pot suspension, or a forest hook (here's a video) for your backpack.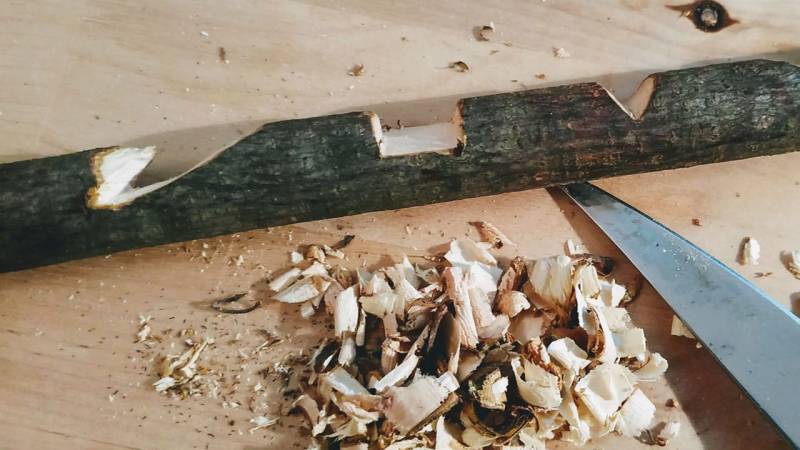 16. Collect Tinder
Are you bored in camp? Then go out and collect new tinder, like Fatwood, birchbark, or punk wood. You can also collect dry grass for the next tinder nest.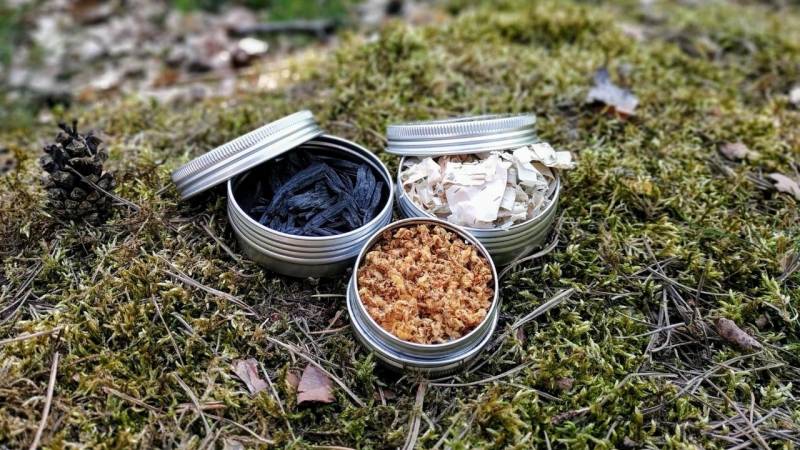 17. Collect Water with the Transpiration Bag
The easiest way to collect water: the transpiration bag. Granted, this skill belongs more in the survival area, but it's good for you to know how you can get water over a longer period of time.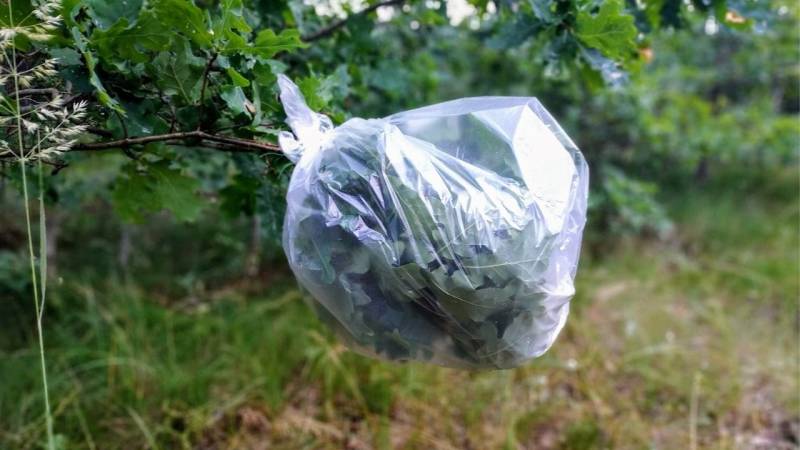 18. Determine Cardinal Directions
Unfortunately, most people cannot determine cardinal directions. I recommend practicing, making you feel less unsure and helpless in case you get lost. Take a look at the shadow stick method.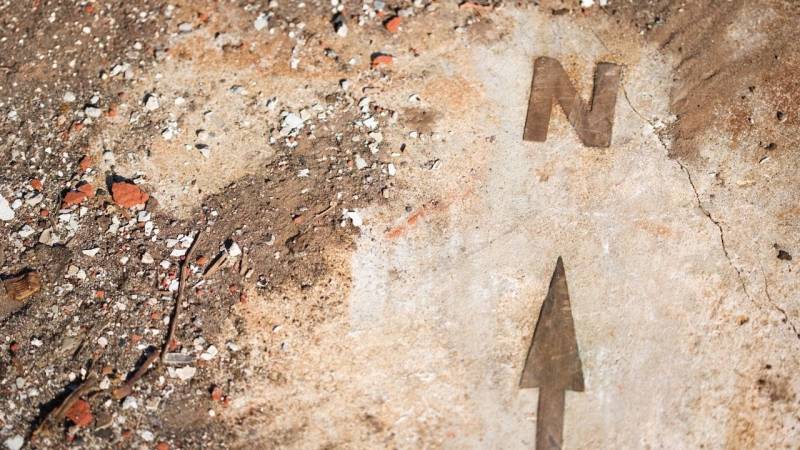 19. Go Camping with Children
Just take children to your bushcraft camp and build simple tools with them, like digging sticks, plows, or stone axes (you'll learn how in the Wild Impulse Program). They love the forest crafts and will fully immerse themselves in them. My guidebook is for beginners and shows you how to start with Bushcrafting with children.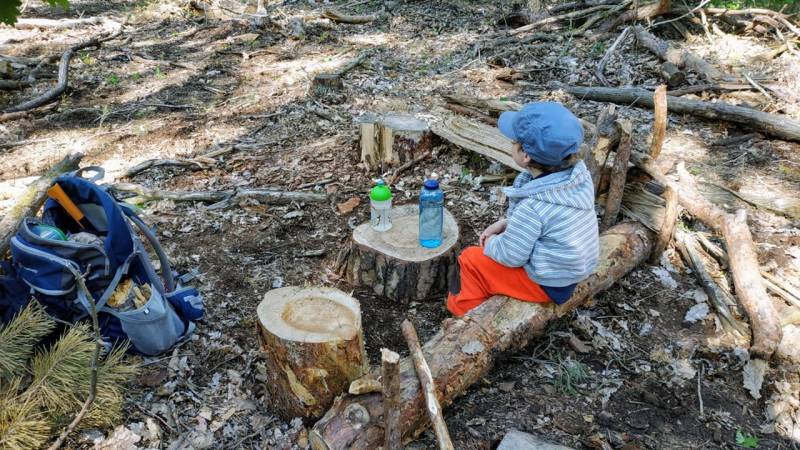 More Bushcraft Ideas
If there is still nothing for you, here are more ideas:
build a sawhorse
burn containers
build a fireplace with reflector
build a large bushcraft table
Or check out the Wildimpulse Program (in German), where you'll learn:
building a splitting wedge
making a stone axe
building a wooden cup
carving a wooden peg
making Feathersticks
and much more.
My bushcraft camp is never finished. There is always more to do and tinker with to make Bushcrafting in the forest fun.
With that being said: Keep up your independence.
---
And now to you? What else do you have in mind? What do you like to build?

Was this guide helpful?
39 people found this guide helpful.
4.71 out of 5 points (42 Ratings)