Back to german article
RV and Prepping: self-sufficient and mobile in a crisis
One way to escape a disaster or crisis could be a motor home to seek refuge. But how do you prepare your prepper camper?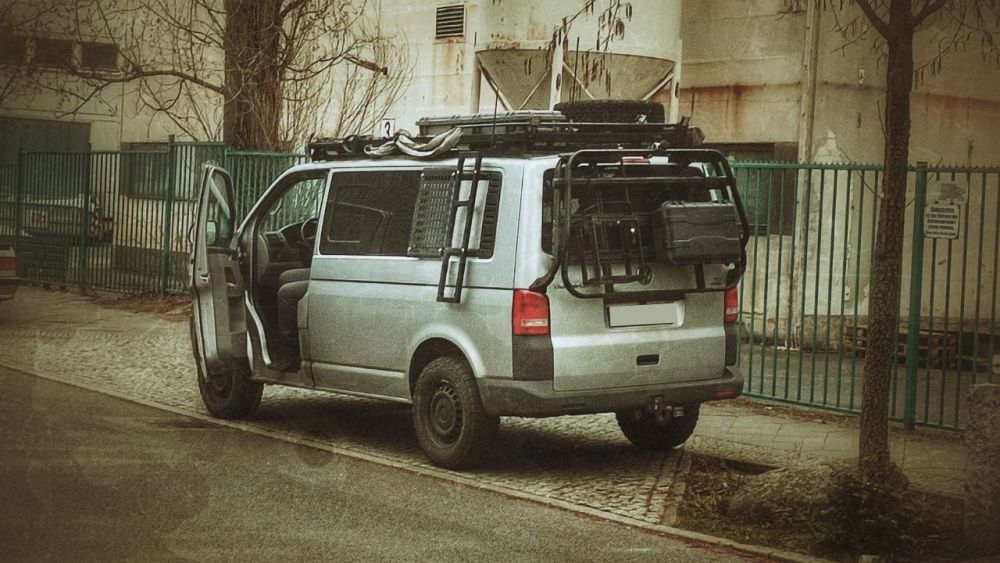 ---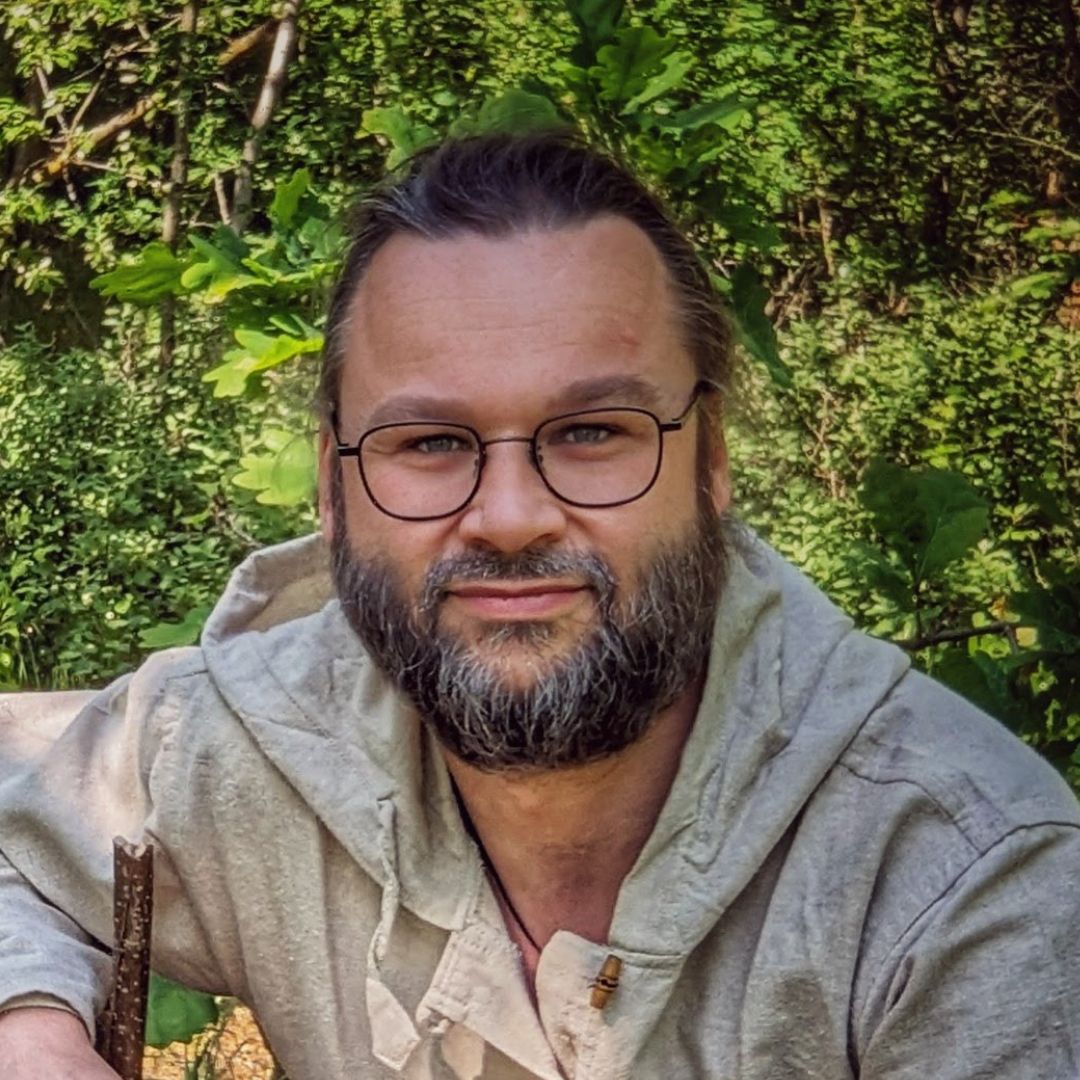 ---
👉 The key facts from this guide
A motorhome can serve as an ideal "Bug Out Vehicle" to quickly and flexibly react in times of crisis. It offers mobility, independence, and safety.
A Prepper motorhome is specially equipped to be able to live self-sufficiently in an emergency. It should have sufficient storage space for food and water, as well as an energy source such as solar panels or a generator.
Water is the most important basis of survival. Most motorhomes have water tanks, but it is significant to bring clean, drinkable water and to have a filtering system when getting fresh water from nature.
The second basis of survival is food. Freeze-dried foods are compact, lightweight, and long-lasting, making them ideal for storage in the motorhome.
Electricity in the motorhome can be provided by solar panels or a generator. It is critical to be able to stay warm, prepare food and stay in contact even without electricity.
When preparing the motorhome for a crisis, it is essential to always have enough fuel, water, and food supplies and to plan a safe "Bug Out Location" that you can drive to in an emergency.
If an emergency or crisis occurs when you are unprepared or have no food or supplies left, panic and fear can arise.
What if there is an environmental disaster? Government shutdown? Financial collapse? Terrorist attack? Hacker attack? Natural disaster? Gas crisis?
What would be your emergency plan in case of a crisis?
One option could be to use a mobile home and hit the road. That's what I'll be discussing in this guide today.
Why You Should Prepare for a Crisis
The world is an unpredictable place. Anything can happen at any time. It's important to be prepared for the worst-case scenario, such as a blackout or a gas crisis – or even worse, warfare.
There are many scenarios that can occur, and you should be prepared for all of them. You never know when you'll need emergency supplies or in what situation you'll find yourself needing an emergency supply.
Prepping is not just a hobby, it's a way of life. It's not about being paranoid or pessimistic; it's about being prepared for emergencies.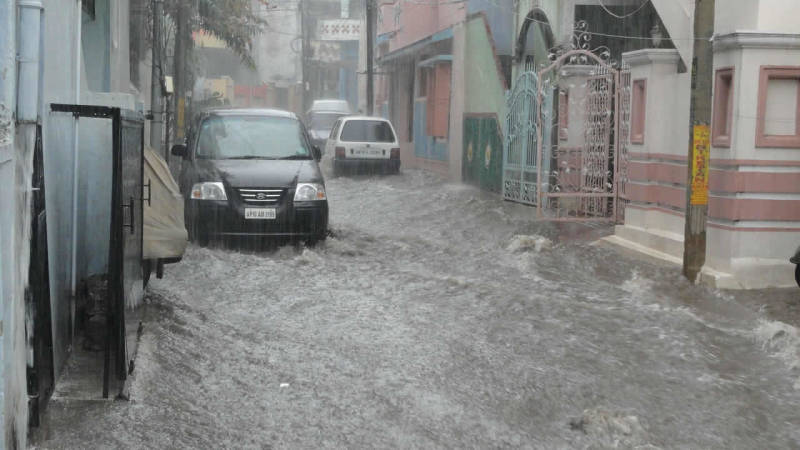 Why a Mobile Home or Trailer is Ideal as a BOV (Bug Out Vehicle)
Prepping used to sound so "out there" that you weren't quite sure if it was something you wanted to be involved in or if you would ever need it?
However, recently, everything has changed, and more and more people are preparing for emergencies.
It's not always possible to stay in your four walls with your prepper list, and a mobile home seems perfect to quickly take your family and yourself away from a hotspot.
If you already own a mobile home, it makes sense to learn about preparation and survival (temporary or long-term) where you have the option to escape if needed.
The first advantage you have with your "ultimate bug-out vehicle" is that you can move throughout the country to an area where you feel most comfortable.
There are many "safe zones" suggested on the Internet if you do a little research. There are some places worldwide that I can recommend.
When you arrive at your chosen location, you already have a roof over your head, food in your pantry, and water in your fresh water tank.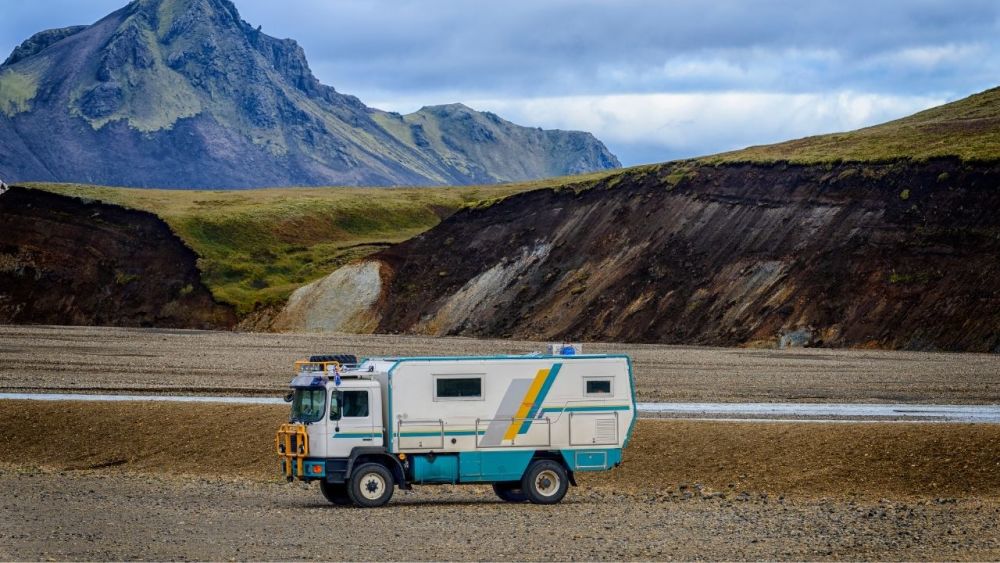 Here are the advantages at a glance
A mobile home offers numerous advantages when it comes to prepping, autonomy, and connection with nature:
Mobility: With a camper van, you can react quickly and flexibly to unforeseen situations. It's like a turtle shell – your home is always with you.
Independence: The equipment of a camper van with self-sufficient systems enables you to live independently of external resources and to rely on your skills.
Safety: A camper van provides protection from the elements and can serve as a secure retreat when the environment becomes unsafe.
Nature experience: As a passionate nature lover, you know that there is nothing better than waking up in the wilderness and enjoying the smell of fresh forest air. A camper van allows you to have this experience without having to give up on comfort.
Versatility: A camper van can serve as a base camp for various outdoor activities such as hiking, fishing or bushcraft, making life in nature easier.
Community: In the prepper and outdoor community, you will find like-minded people who share your passion for nature and self-sufficient living. Together, you can exchange experiences, learn from each other and stick together in times of crisis.
Adaptability: Camper vans can be individually equipped and adapted to your needs. You decide which features you require for your life in the wilderness and how you want to design your mobile home.
Learning effect: Planning, equipping and using a camper van for prepping and self-sufficiency promotes the learning of new skills and understanding of natural resources and processes in nature.
Work-life balance: A camper van allows you to better balance work and leisure by setting up your office directly in nature and shaping your life in harmony with the environment.
Sustainability: By equipping your camper van with environmentally friendly technologies and relying on renewable energies, you are contributing to environmental protection and living more in harmony with Mother Nature.
So, a camper van is not only a mobile home, but also a symbol of freedom, independence and deep connection with nature.
As a passionate forest lover and prepper, you are well-equipped with a camper van to stay self-sufficient and mobile in a crisis and to enjoy life in the wilderness to the fullest.
And as they say, "A life without a camper van is possible, but pointless!" – or something like that.
What is a prepper camper van?
A prepper camper van is a camper van that has been adapted so that you can live self-sufficiently in it in case of emergency.
In the camper van or caravan, as a prepper, you can store everything you need to survive, including food, water and medical supplies.
The camper van is used as a temporary accommodation when needed.
Ideally, a prepper camper van has solar panels (or at least one solar panel, or a solar generator like the Jackery 500 or the Bluetti EB70), storage for food and water, and a generator.
These camper vans are perfect for those who camp in remote areas or want to prepare for an emergency.
If you want to go one step further, you can get a stealth camper.
Stealth campers are disguised camper vans that look like delivery vans. The advantage: with a stealth camper, you don't stand out as much and can keep a low profile in a crisis.
Read also: What is Stealth Camping? Your guide for secret camping.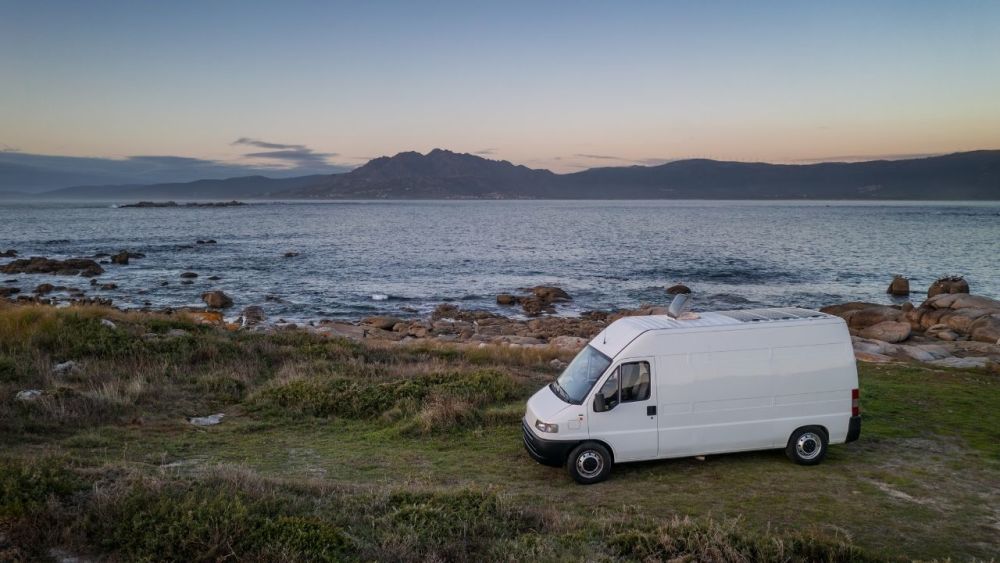 My tip: flower delivery vehicles or refrigerated delivery vehicles are already insulated and partially equipped with air conditioning and a power generator.
For example, a Mercedes Sprinter is suitable for a family of three. These vehicles are reliable, economical to operate and can be repaired anywhere in the world.
The Thing with Water
The most important basis for survival is water. The fact is that a person can only survive a maximum of 3 days without water (±1 day).
Most motor homes have water tanks. However, a freshwater tank is the most essential because you can do without showers, but not without drinking water.
So, the most essential thing is to bring clean water that is drinkable.
Small RVs usually have a water supply of 30 to 50 liters. For larger motor homes with a toilet and shower, 60 to 100 liters are appropriate. And for motor homes over 3.5 tons, the tank should hold 80 to 100 liters.
For the motor home and vehicle conversion, there are great water tanks on the internet that hold over 100 liters. Find out and be prepared.
Since you will probably be standing with your camper in the wilderness, a connection system will not be of much use to you. So, educate yourself on how to get fresh water - such as from a stream - into your water tank.
Essential is also a filtering system if you get fresh water from nature. Bacteria or parasites can hide in it. Most motor homes have a fine-pored water filter, but you should still check it. The safest way is, of course, to boil the water.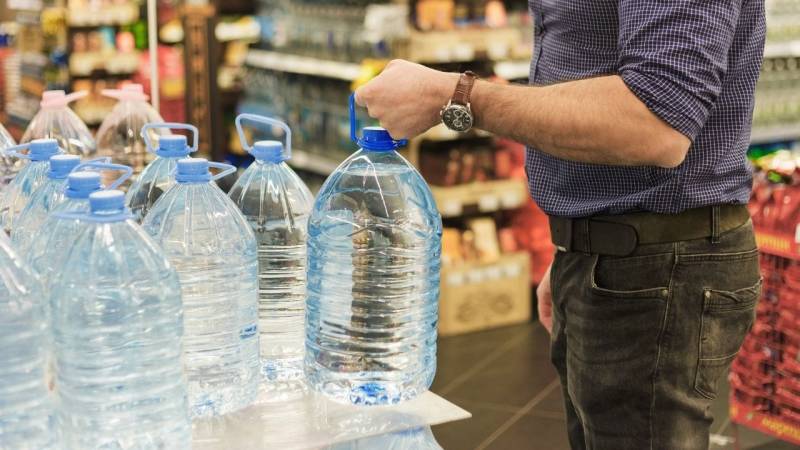 Compact and Lightweight Food Supply
The second basis for survival is food. There are several manufacturers of emergency food. Normally, we are talking about freeze-dried food that is durable for 7 to 25 years.
Here, rely on freeze-dried emergency food and long-term food. Of course, there is nothing wrong with good canned food, but pay attention to the additional weight.
The advantage of freeze-dried food is that it is compact and lightweight and can be easily stored in the motor home. Therefore, MREs are unfortunately also pricier, but this is often justified.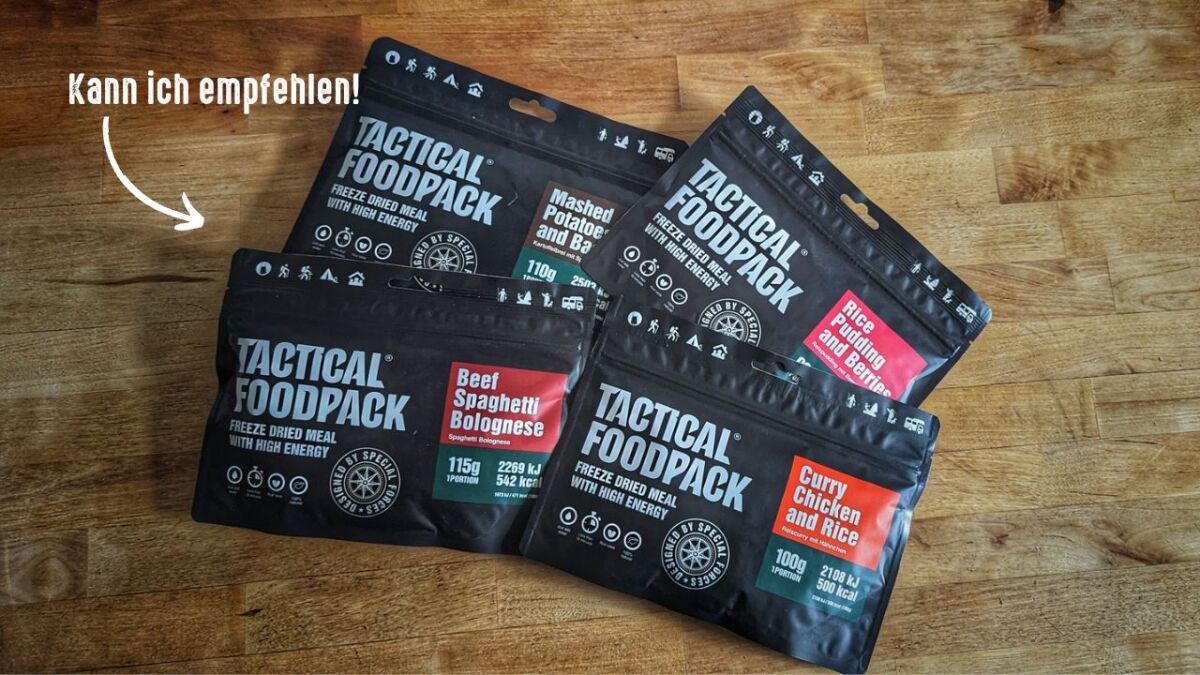 And if you are looking for a top-notch MRE manufacturer, you should definitely consider Tactical Foodpack. These people offer a wide range of delicious flavors that are ready to use and easy to transport.
Save 10% with the coupon code "SURVIVAL10" on all Tactical Foodpack products and be perfectly prepared.
Make sure not to exceed the allowable total weight set by the manufacturer. Every kilogram over in a motor home or stealth camper will cost you fuel, and you'll only be able to travel on paved roads with a heavy load.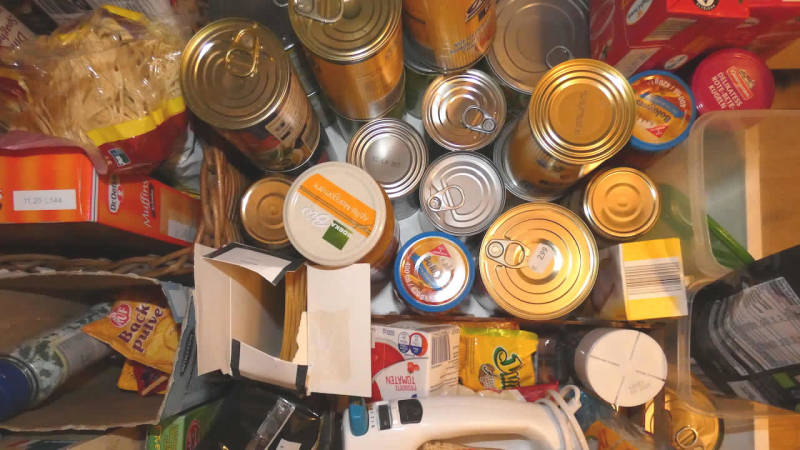 Power in a Motor home?
Some motor homes may already have solar panels with a battery bank installed on the roof, but if you haven't done so yet, this may be something to consider.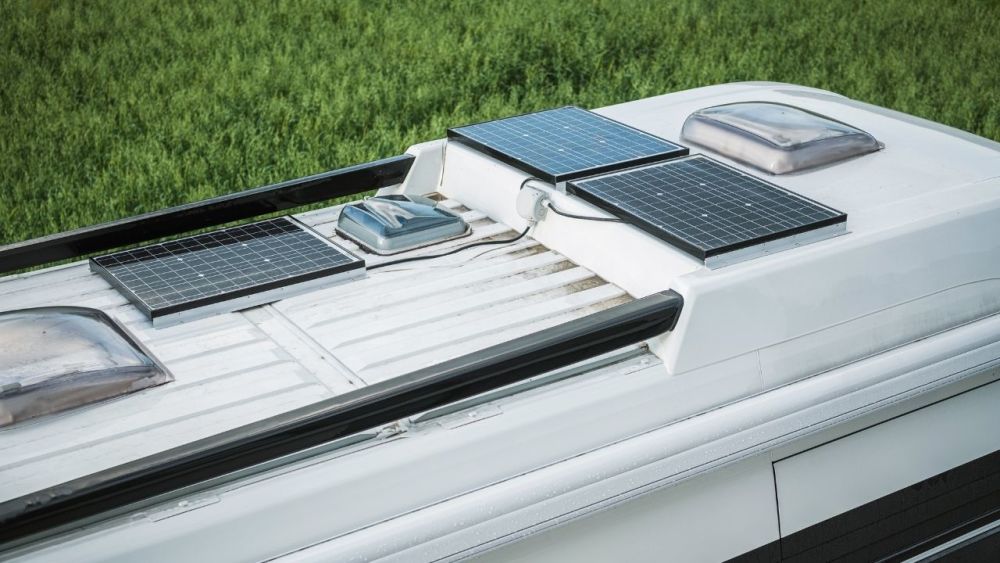 Most motor homes have generators, but they won't run without fuel. So make sure to bring extra fuel with you.
Electricity is great, of course because it allows you to charge your electronic devices. However, your priority should be to stay warm, prepare food, and stay in touch even without electricity.
All of this can be done without electricity, as good clothing and various tricks can keep you warm even if the heating (read here about the different methods of heating) fails. You can also prepare food using a gas stove or simply a campfire. And the best way to stay in touch is with a radio that you can operate with batteries, a hand crank, or a solar panel.
Is a Motor home Ideal as a Bug-Out Vehicle?
Remember that your motor home as a getaway vehicle will be a worthwhile target if civil unrest breaks out. Therefore, choose a safe place and be ready to flee within 24 hours of the outbreak.
It may also be wise to decide a more inconspicuous and dark color for your motor home. On the other hand, dark motor homes also heat up more in the summer. I can also imagine camouflage nets to keep you hidden in the woods.
As mentioned above, a stealth camper is also a good idea, as no one suspects a fully packed prepper camper.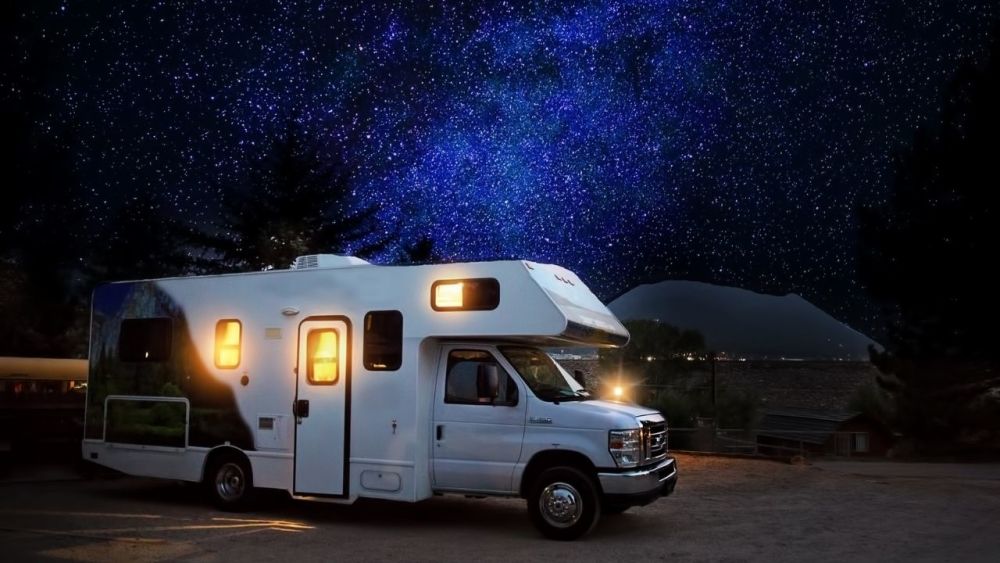 Conclusion: How to Best Prepare Your Motor home for a Crisis?
The best way to prepare your motor home for a crisis is to make sure you have everything you need.
It's always a good idea to keep your motor home fully fueled and the fresh water tank full. Try to fill it up with as much food and essential supplies as possible, so you can leave quickly.
And don't forget to find a BOL - a Bug Out Location - the place where you want to go. It's sage to choose a place and plan multiple routes there before an emergency occurs.

Was this guide helpful?
20 people found this guide helpful.
4.64 out of 5 points (22 Ratings)